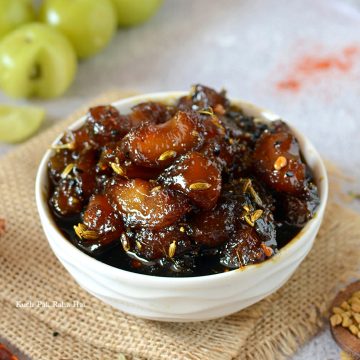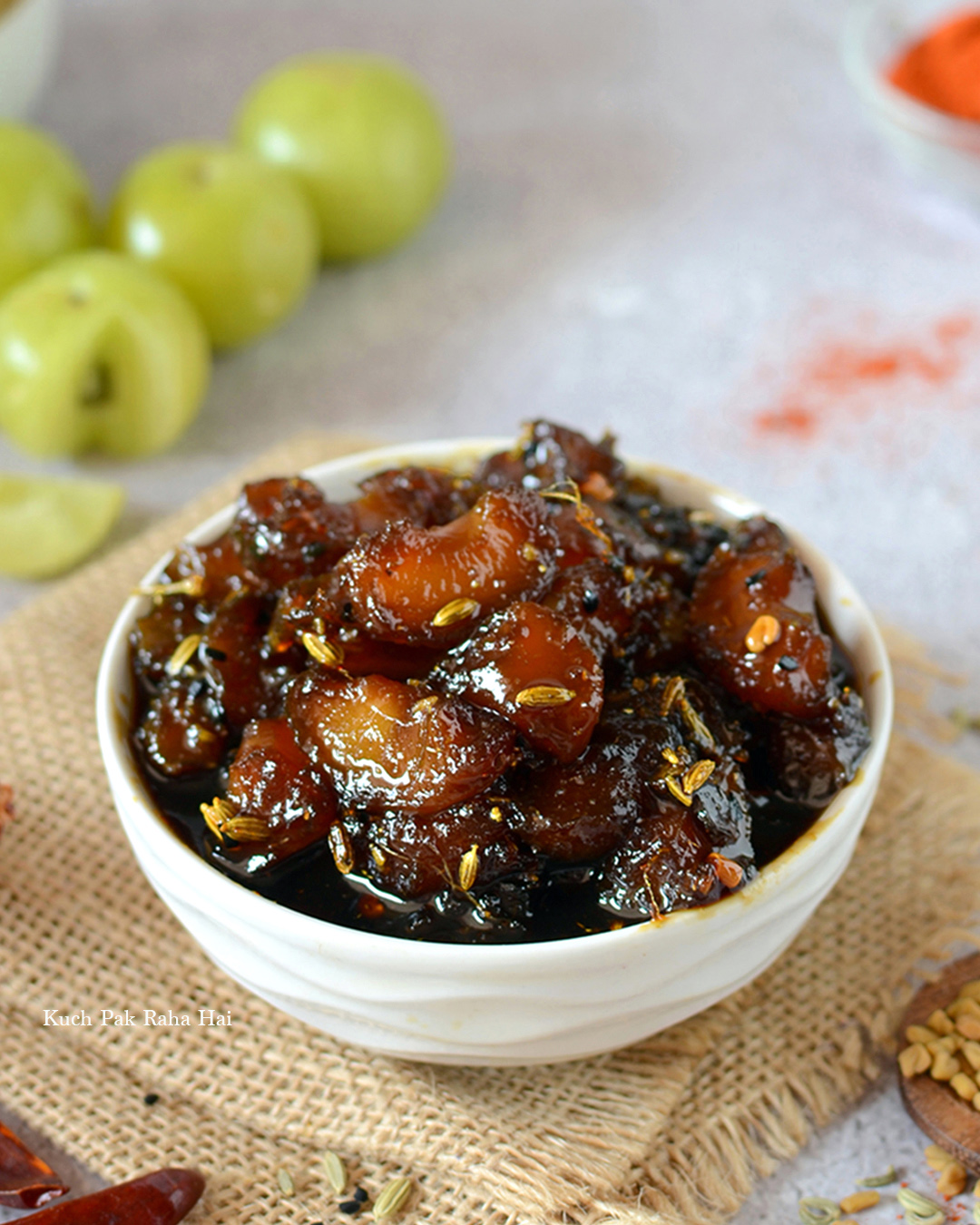 Amla Launji is a flavoursome Indian vegetarian side dish or chutney made using amla (gooseberry), mix of spices and gur (jaggery). It has a typical rustic aroma with sweet & sour taste. This dish is known by many names in Indian households like 'Amla Chutney' , 'Amle Ki Launji' , 'Amle Ki Khatti meethi Launji'. It is completely vegan & gluten free recipe.
Amla is known to have a number of health benefits. It a rich source of Vitamin C and Iron. It is called 'Amalaki' in sanskrit and 'Indian gooseberry' in english. The fresh amla fruit is green in colour & has tangy bitter taste. It is mostly available in winter months in India.
As Amla is sour in taste, in most of the recipes it is often combined with a sweetner. When we were kids, I still remember how my parents used to find ways to make me and my brother eat amla in winters.The recipes included Amla Murabba (whole amla cooked in sugar syrup), Dried Amla candy, Amla Chutney or Amla juice mixed with fresh orange juice.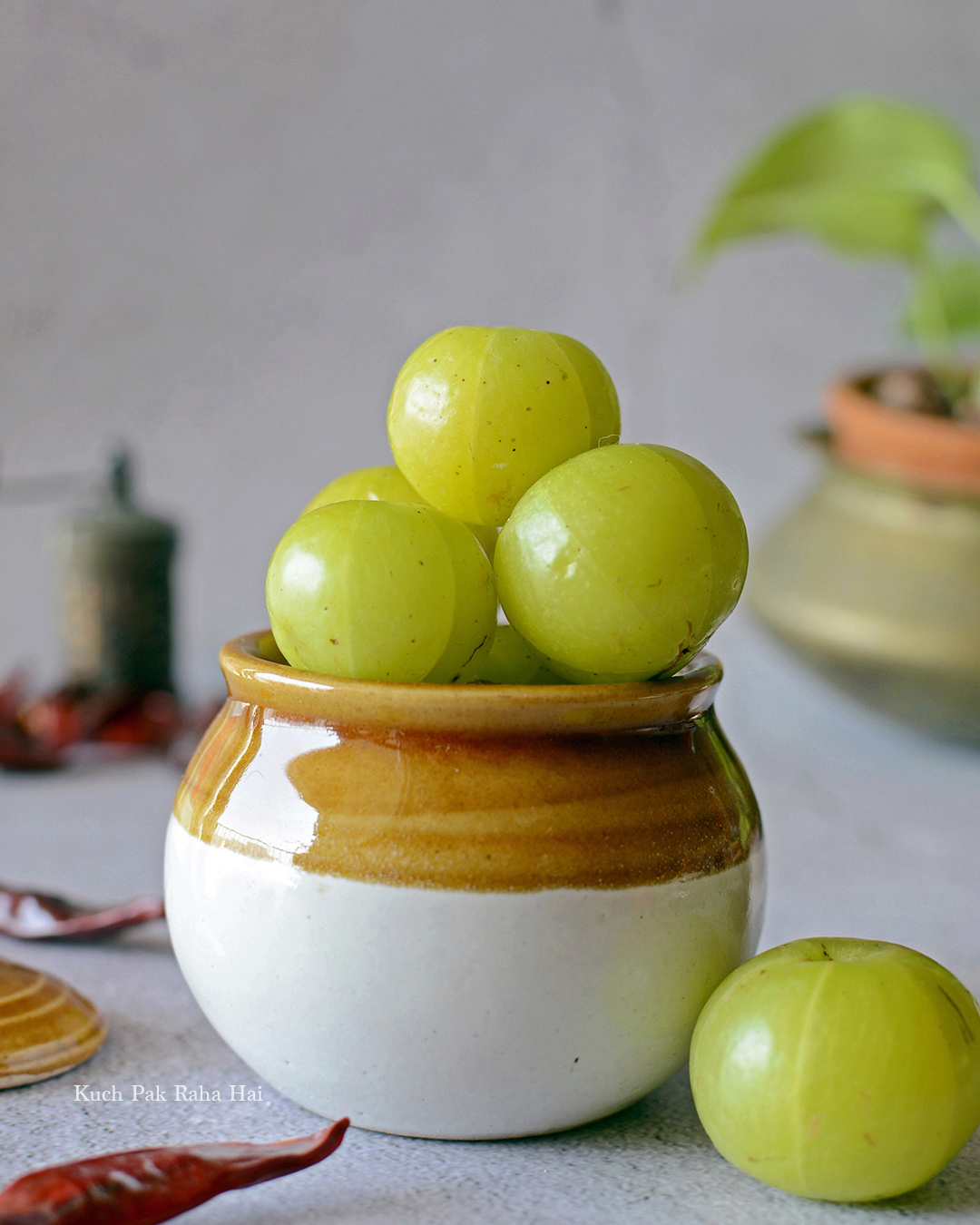 We loved amla chutney with our everyday meals and ate it with almost every Indian bread like roti, parathas and pooris. Instead of refined sugar, jaggery (molasses) is added in this chutney which has in itself lots of antioxidants and minerals. It balances the bitter tangy taste of amla and adds distinct rustic aroma to chutney.
Another important spice which is added to the chutney & worth the mention here is saunf or fennel seeds which further elevates the taste of this chutney. The chutney has other beneficial ingredients too like haldi (turmeric), ginger (adrak), black pepper (kali mirch) which provide warmth to the body in winters and have immunity boosting properties.
Amle ki chutney can be prepared in advance and stored in refrigerator for upto 15 days. Hope you would like this delicious healthy Amla Launji recipe!!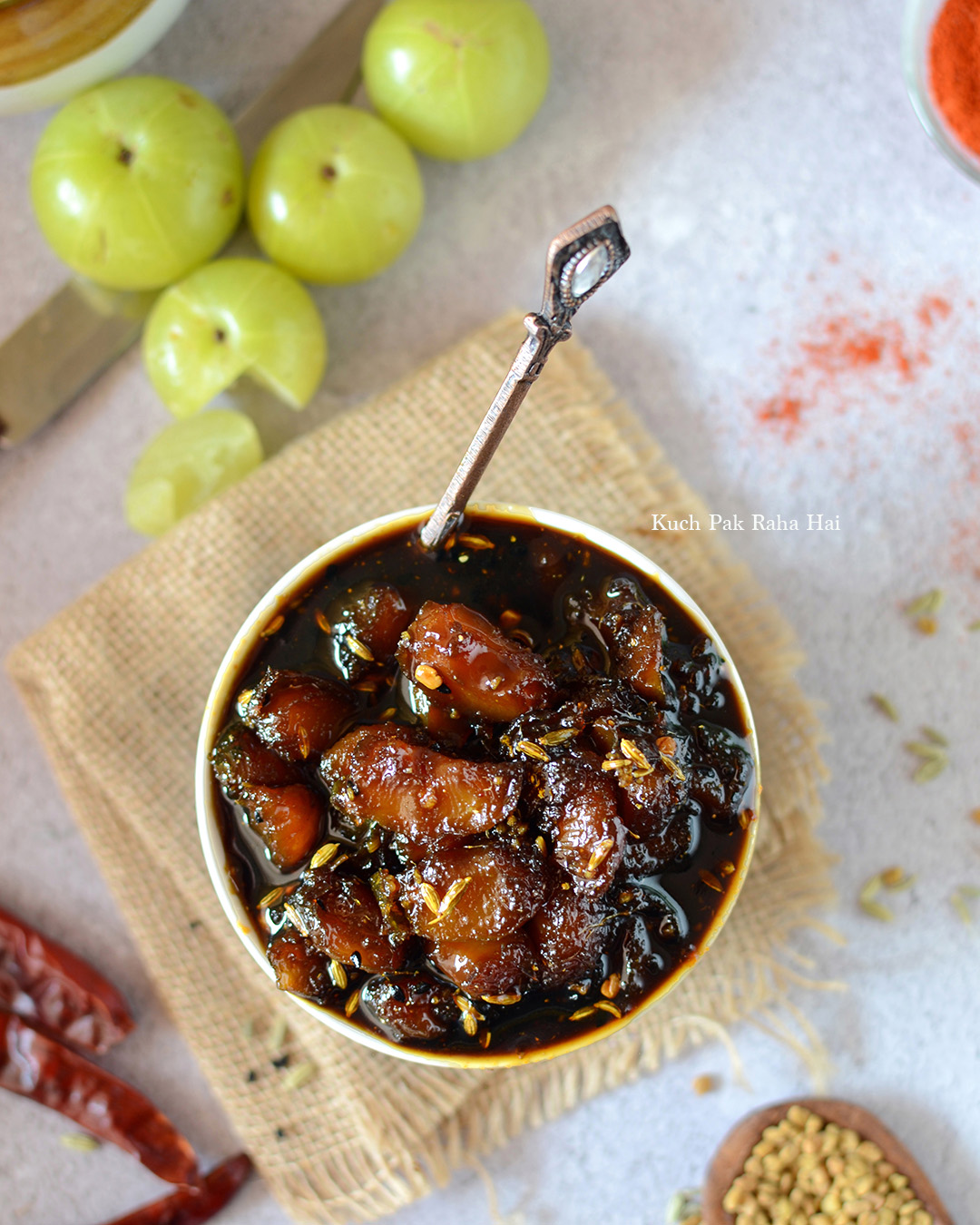 Watch Video:
List of Ingredients:
Amla (Indian Gooseberry)-10 to 12 pieces (~250 grams)
Water-3/4 cup
Jaggery-3/4 cup
Mustard Oil-2 tbsp
Methi (Fenugreek seeds)-1/4 tsp
Saunf (Fennel seeds)-1 tsp
Kalonji (Nigella seeds)-1/4 tsp
Heeng (Asafoetida)-1/8 tsp
Grated Ginger- 1 tsp
Kali Mirch (Black Pepper Powder)-1/4 tsp
Saunf powder (Fennel powder)-1 tsp
Haldi (Turmeric Powder)-1/4 tsp
Red Chilli Powder-1/2 tsp
Kala Namak (Black Salt)-1/2 tsp
Salt- 1/2 tsp (to taste)
Recipe Notes: 
1. Instead of mustard oil, you can use cooking oil or ghee (clarified butter) for making this chutney.
2. For Jain version of amla launji, you can skip kalonji (black onion seeds).
3. If you don't have jaggery, you can use brown sugar or white sugar.
4. Don't use iron kadhai for making this launji as the iron content reacts with amla giving the chutney a blackish tint.
5. Choose amla pieces which are clean and do not have big large black spots.
6. You can increase the quantity of jaggery as per your taste.
Steps To Prepare:
Step 1:
Wash & clean amla properly to get rid of impurities.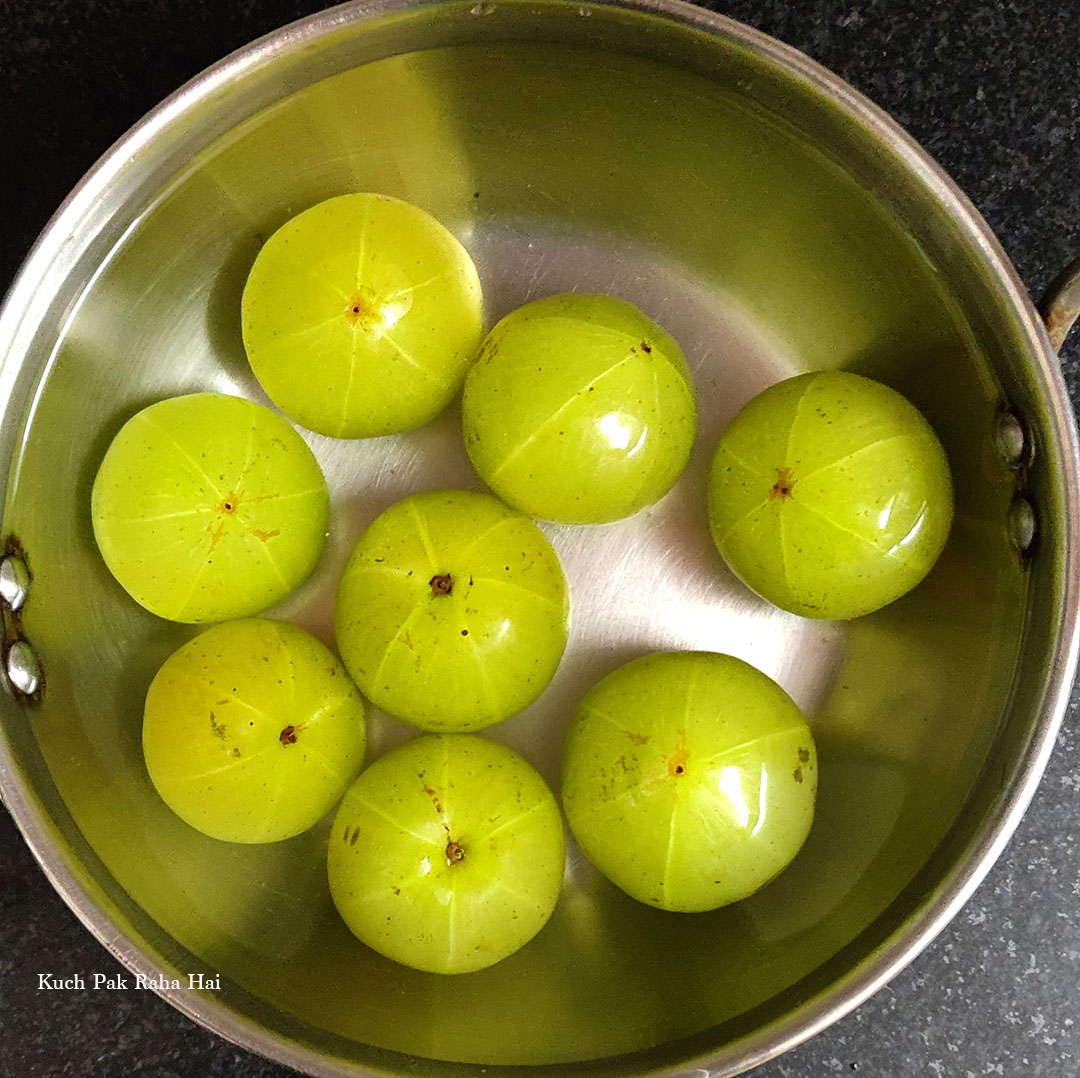 Add water and amla in a pressure cooker. Cook for 2 whistles and simmer for 3 minutes. Switch off the flame and wait for pressure to release.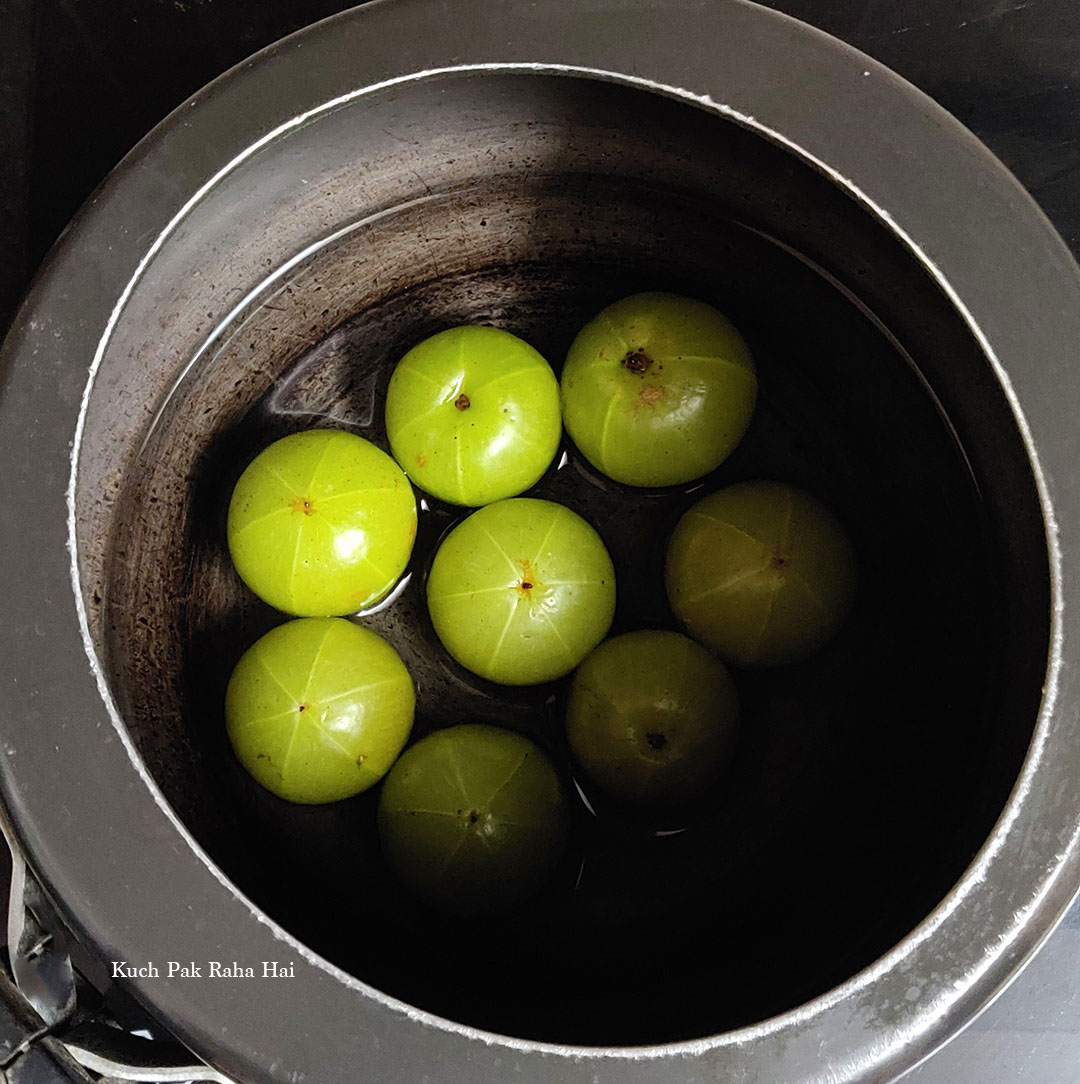 Once the pressure is released from cooker, open the lid and check the amla using a knife. It should have softened & you should be able to insert a knife inside it without any resistance. Let these amla cool down.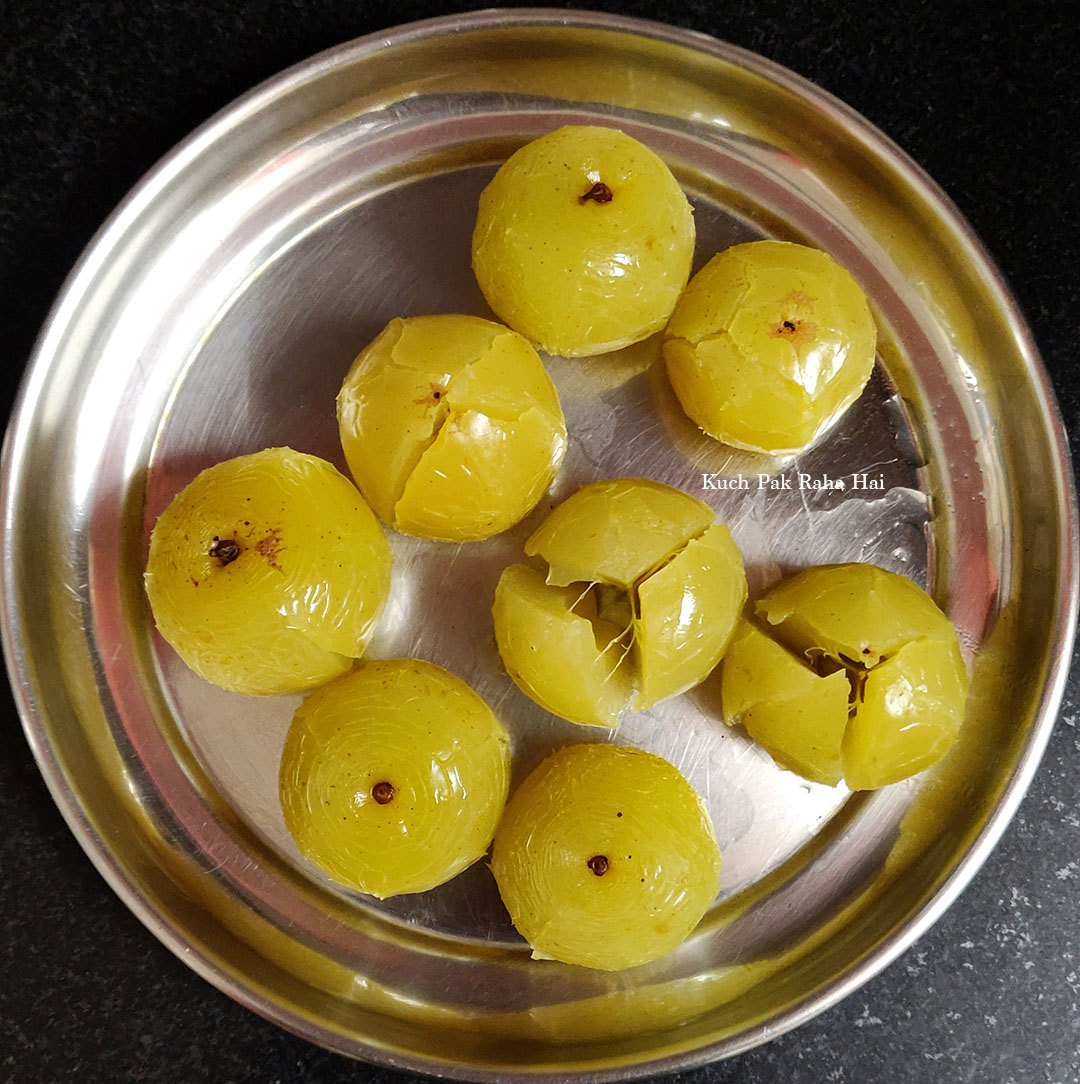 Step 2:
Separate the amla fragments using your fingers or knife. As the amla is boiled, these fragments will smoothly get separated from seeds. Keep these aside.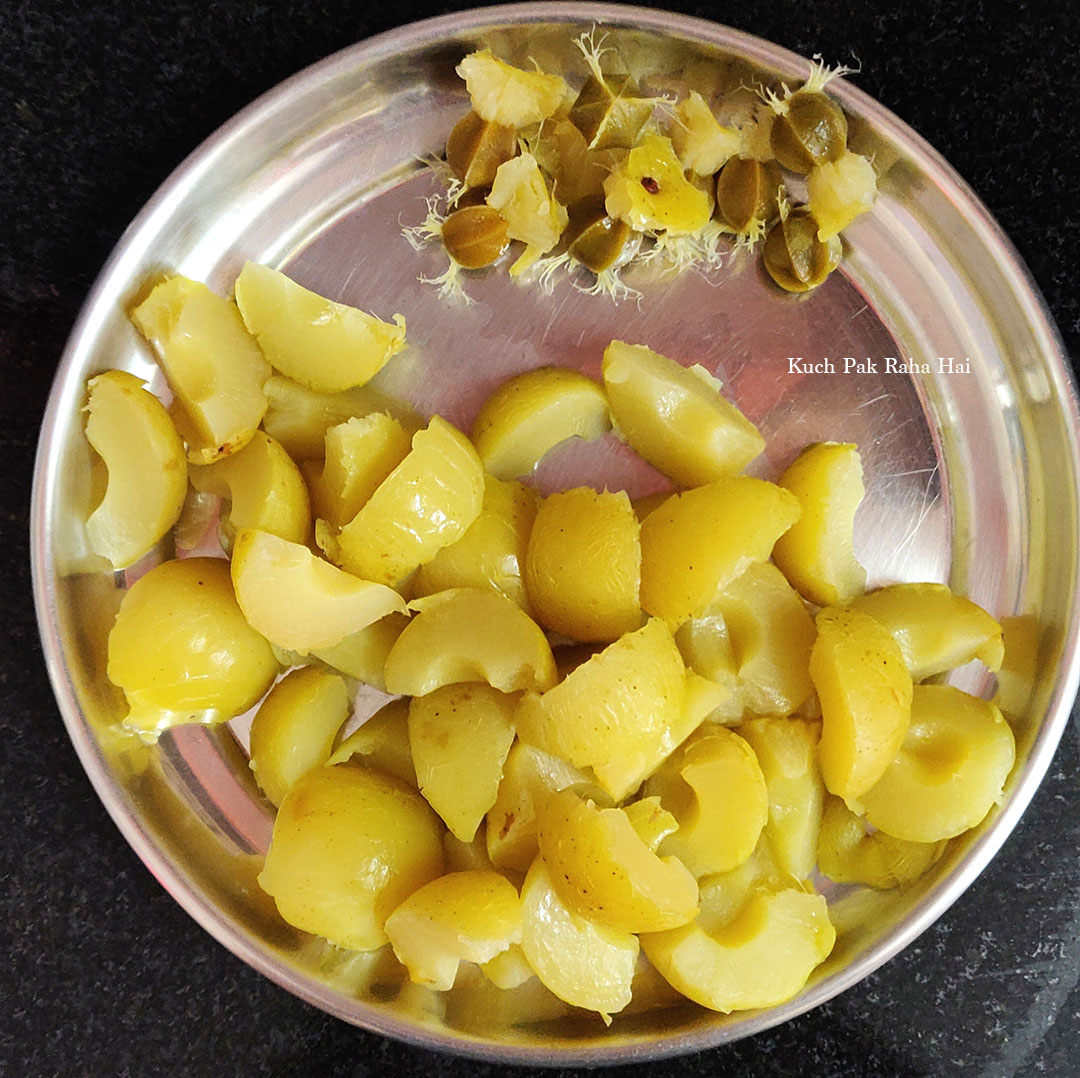 Step 3:
Heat mustard oil in a heavy bottomed pan. Add methi (fenugreek) seeds, saunf (fennel) seeds, kalonji (nigella) seeds, grated ginger and heeng (asafoetida) to it. Stir fry on medium-low flame till the spices start releasing their aroma.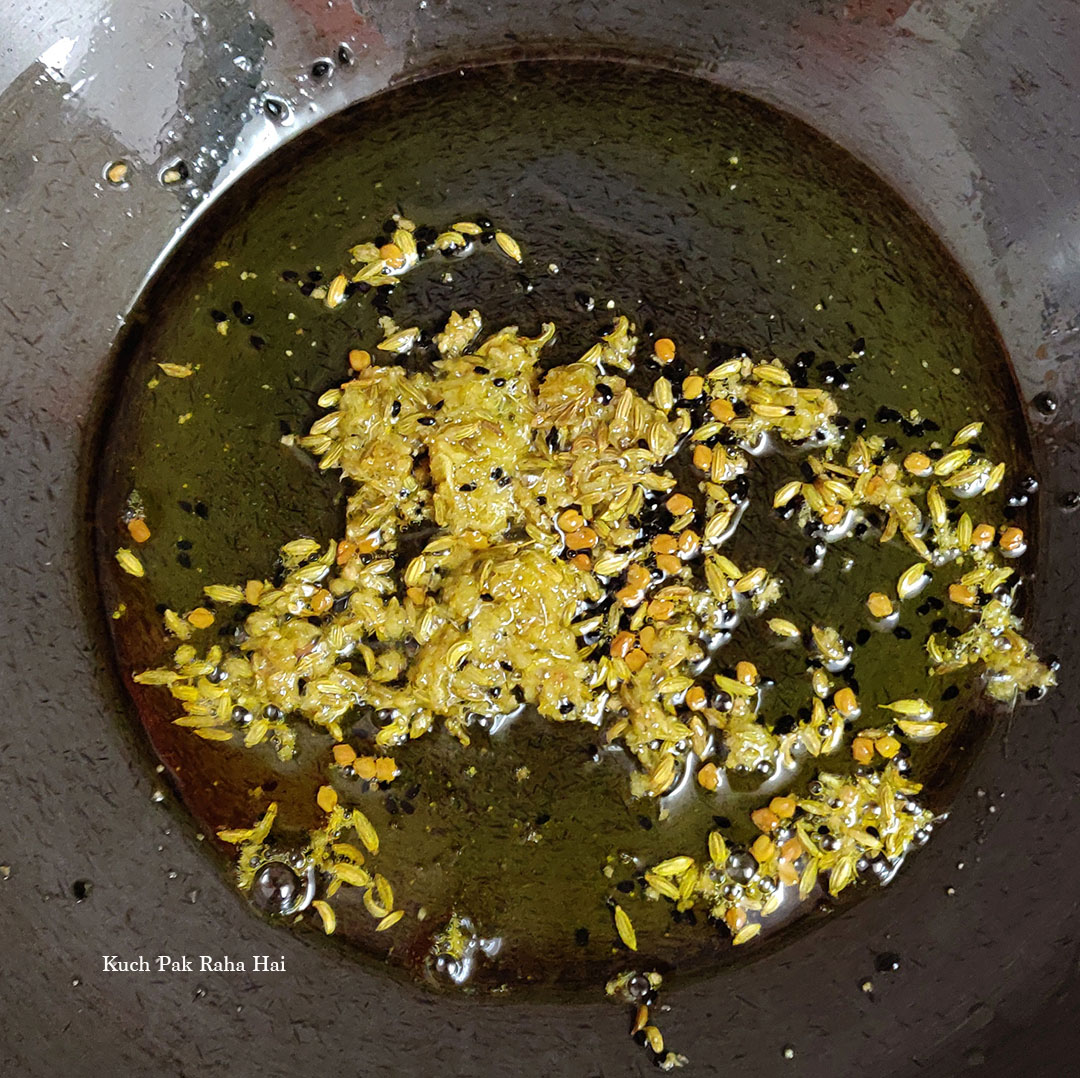 Step 4: 
Add amla pieces to the above spice mix and stir for 1-2 minutes. Add jaggery to it and mix properly.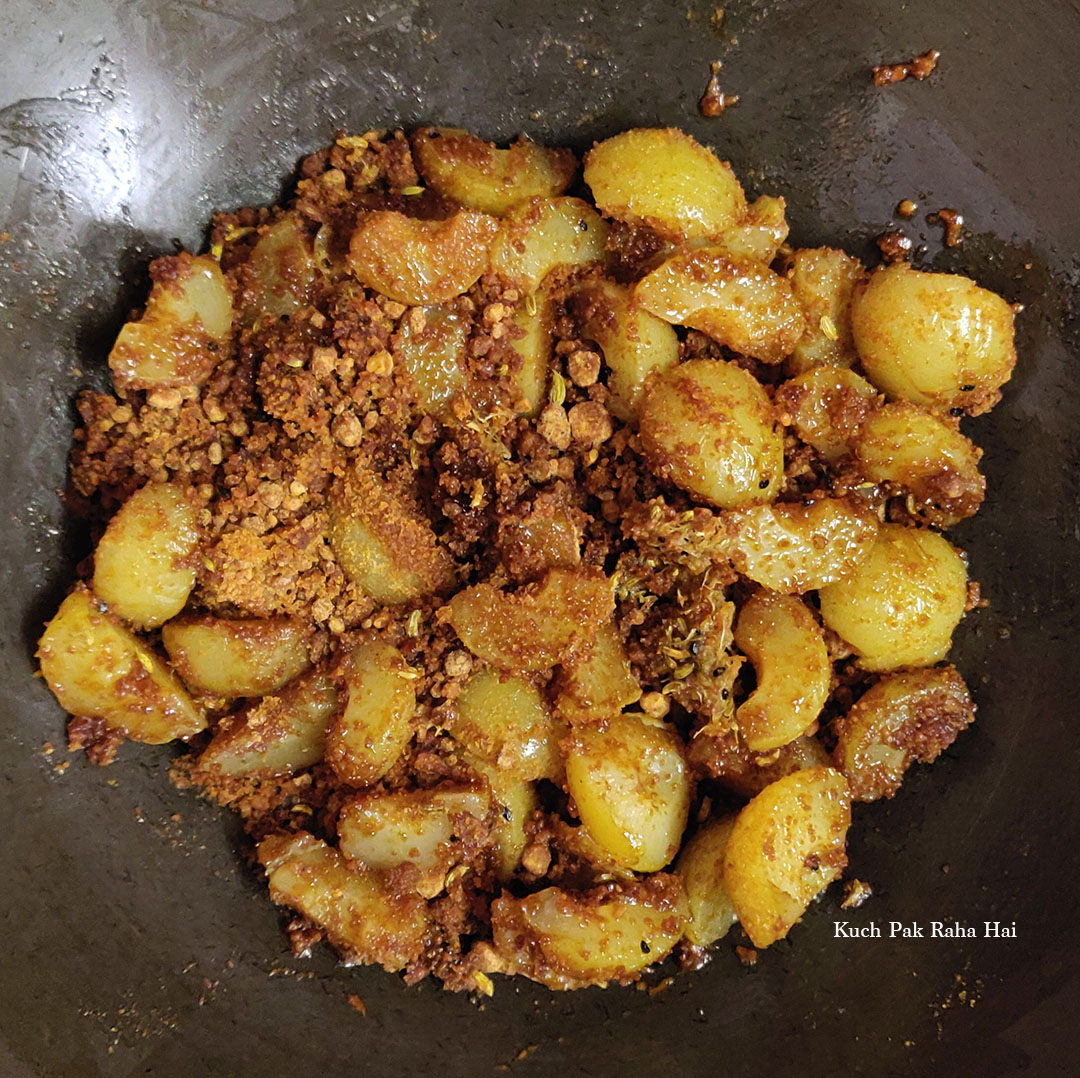 Add all the remaining spices too to the above mix.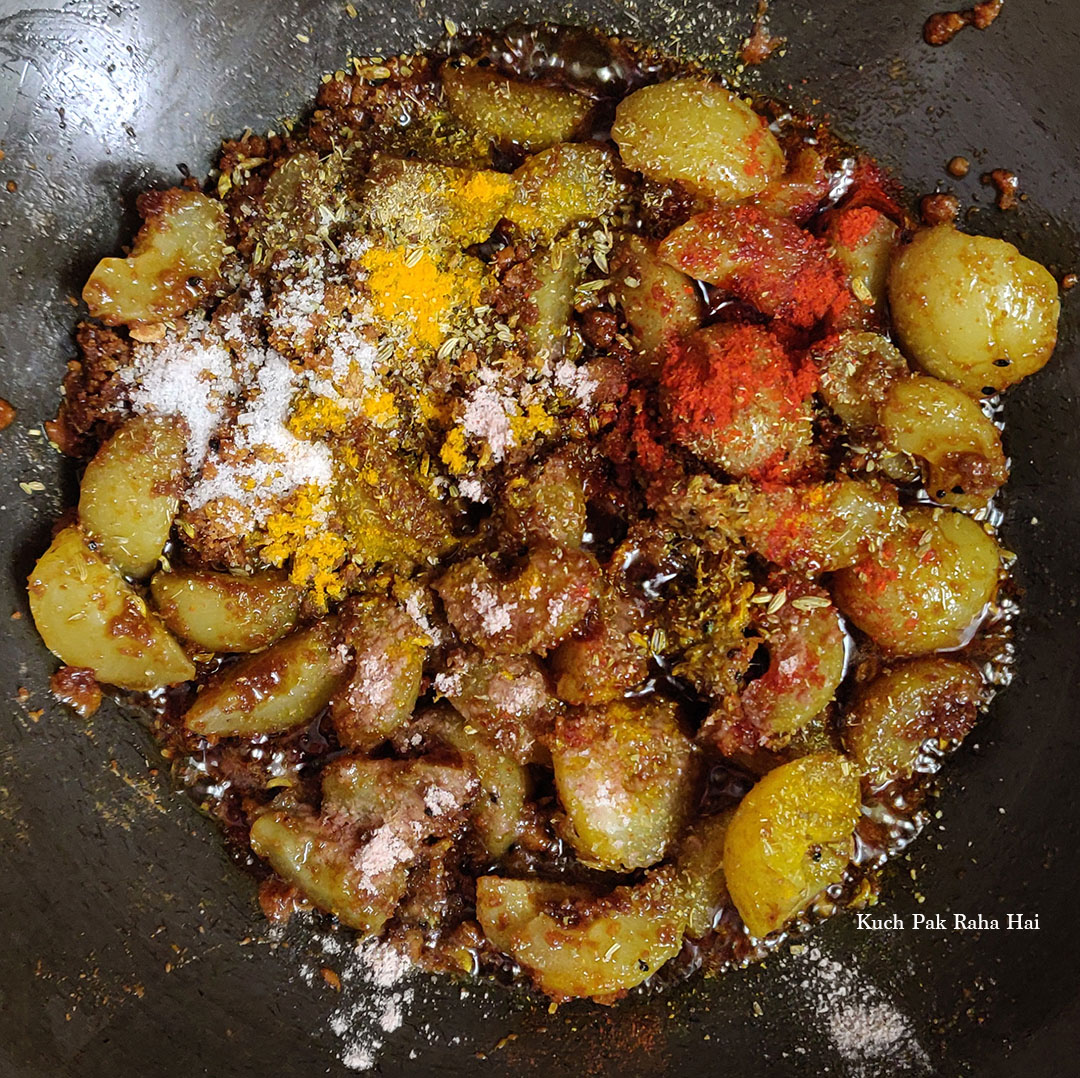 Step 5:
Let it cook on low flame for 7-8 minutes. We will not cook it much as it thickens up more after cooling.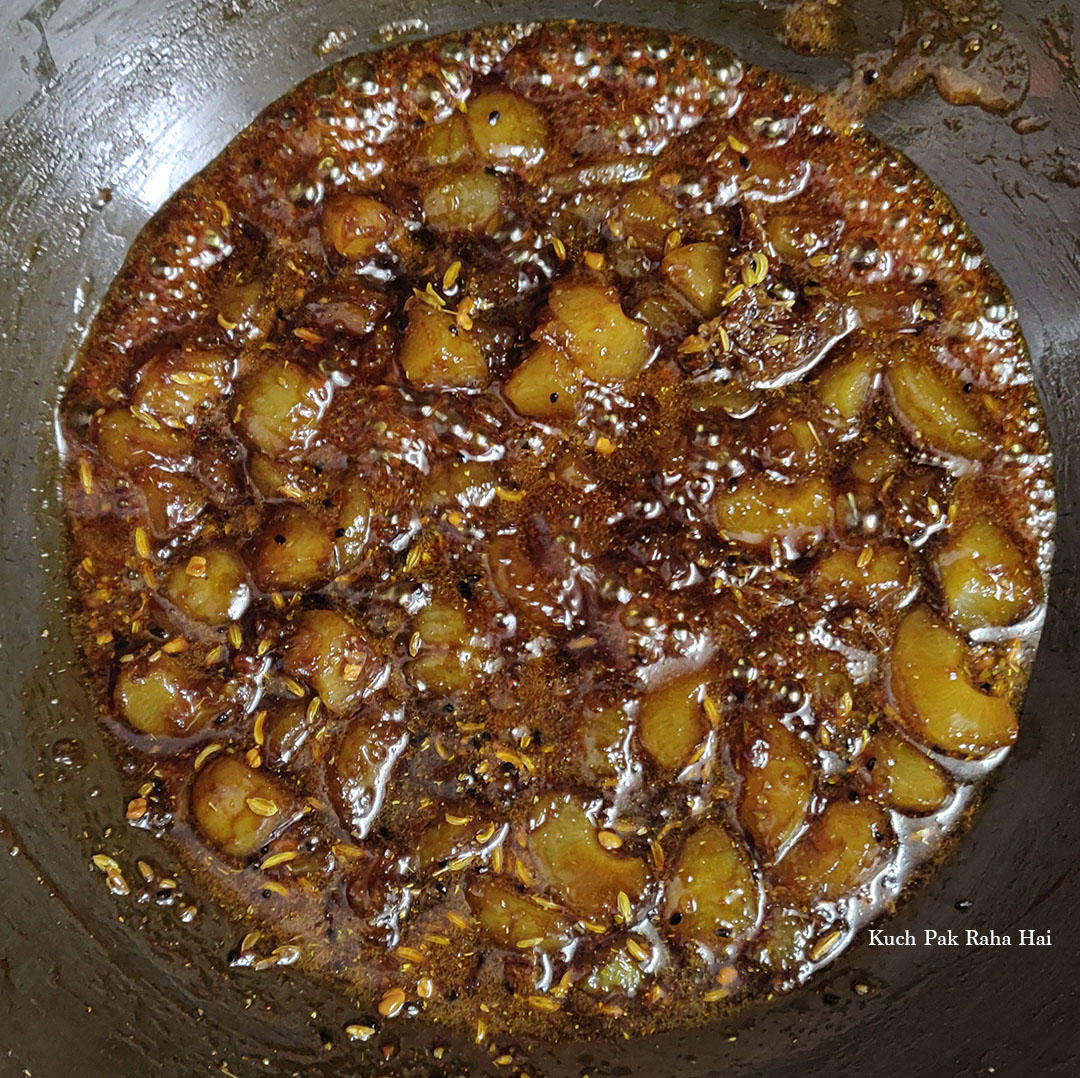 Serve this delicious Amla launji or chutney with Roti or Parathas.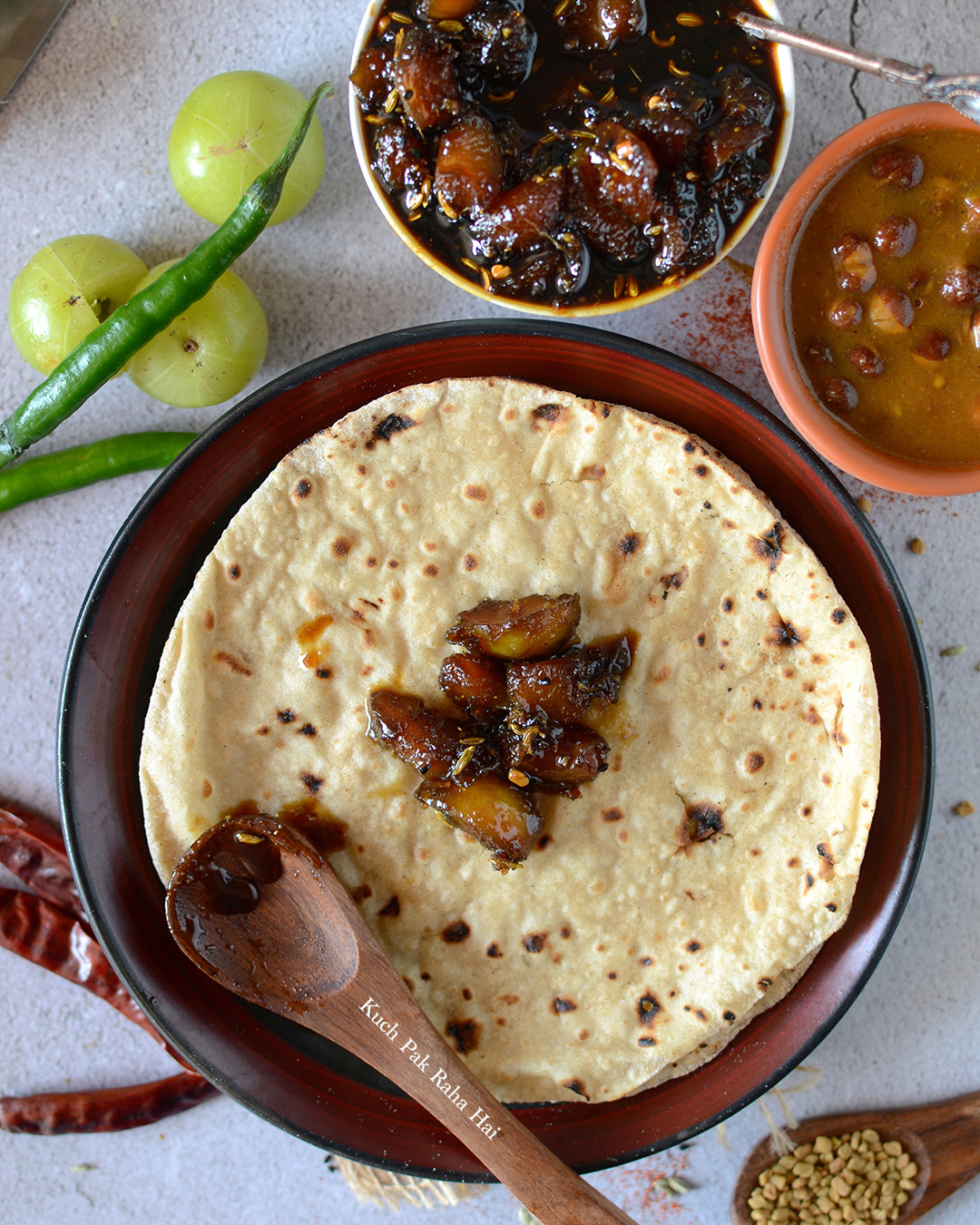 How to store Amla Launji?
Store Amla Launji in a glass or steel container inside refrigerator for upto 2 weeks. Do not store it in plastic jar. Always use a clean dry spoon to take out the chutney.
If you try this recipe and share pics on Facebook or Instagram then do tag us or use the hashtag #kuchpakrahahai.
Bon Appetit!!
Pin this post for later: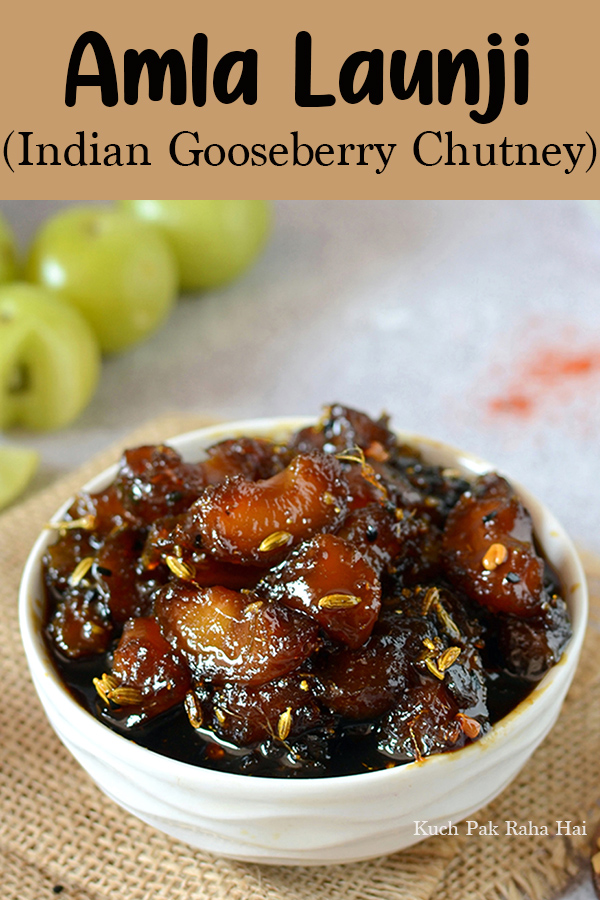 Let's stay connected
Facebook|Instagram|Pinterest|Youtube
Other Indian chutney recipes you might like: