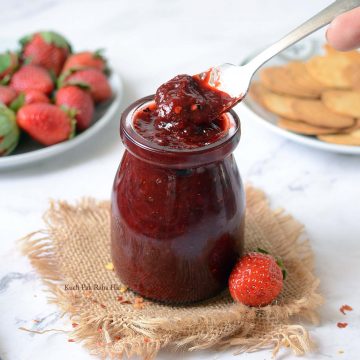 Flavour packed, sweet & sour spicy strawberry chutney recipe. It's a simple dainty chutney which you can easily make at home & relish it with your everyday meals.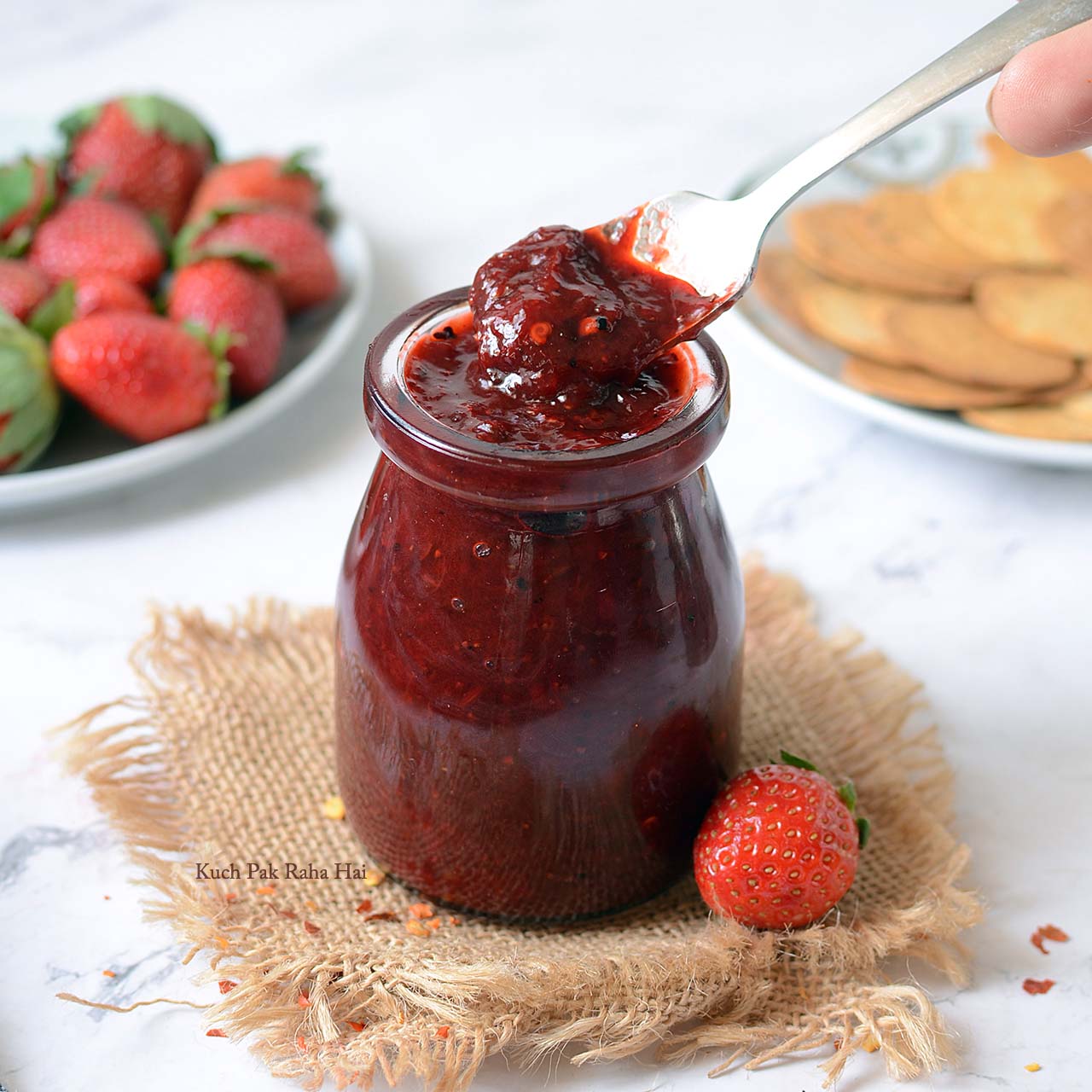 The homemade strawberry chutney recipe shared here is:
Vegan

Gluten free

Contains No Refined Sugar

Easy & Quick to make
After buying a lot of fresh seasonal strawberries from the market, I started to wonder what different recipes can be made using them apart from regular smoothies, desserts or jam. In an attempt try something new, I tried making chutney using them and it turned out so good that I couldn't stop myself from sharing its recipe with you all.
This strawberry chutney tastes sweet & sour in taste with slight heat from from red chilli flakes and black pepper. Little bit of fennel seeds (saunf) gives a soothing aroma & adds depth to the sweetness of strawberries.
Serving Ideas:
Though traditionally we serve tamarind sauce or imli chutney with various Indian snacks like samosa or onion pakora (fritters) but if you are looking for a different chutney recipe to surprise your family or friends then do try this chilli strawberry chutney. I especially love it with some mini cumin(jeera) khakras.
Apart from having it with everyday meals dal-chapati, you can also use it as:
Spread on parathas, bread, toasts or sandwiches
Dipping sauce with grilled snacks, crackers or chips.

Add it your salad dressings

Can make it a part of fruit charcuterie board.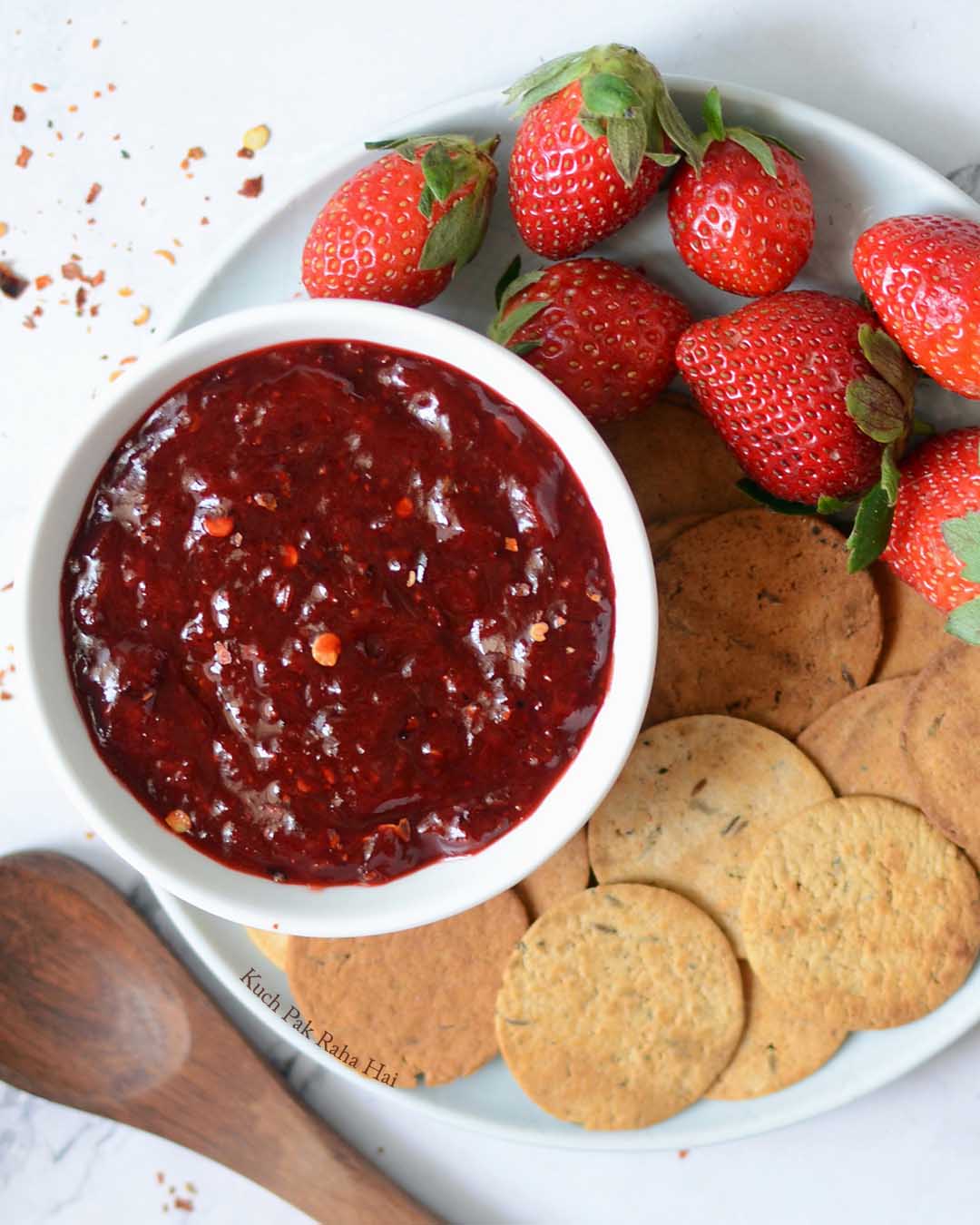 Ingredients for strawberry chutney:
Strawberries: You can use fresh or frozen strawberries to make this chutney. Just wash them well, hull (remove the top part) and chop them into smaller pieces.
Sweetener: To keep this chutney on healthier side I have used brown sugar in the recipe. You can even use jaggery or normal white sugar too.
Lemon Juice: Little bit of acidity and sourness from lemon juice balances the sweetness in chutney.
Black Pepper: Also known as kali mirch in hindi, it adds heat to the chutney while adding earthy flavour to it.
Fennel Seeds: Green fennel seeds or saunf have light sweet flavour and add warm aroma to  the chutney. They are great for digestion and reduce bloating, constipation etc.
Red Chilli Flakes: Apart from black pepper, I have also used some chilli flakes in the recipe. You can use red chilli powder or can even skip adding it if you want to make less spicy chutney.
Oil: Red chilli flakes are first sautéed in oil to bring out the flavours. Oil also adds a glaze or shine to the chutney. You can use olive oil or any oil of your choice like canola, sunflower etc.
How to make strawberry chutney?
We first begin by mixing chopped strawberries with sugar, salt and then resting it for 20 to 30 minutes. This process brings out the juices in strawberries and also soften them up a bit. In a pan we will heat some oil & add red chilli flakes to it. Sauté for 30-40 seconds and add the softened strawberries. We will then add rest of the ingredients & cook on low flame.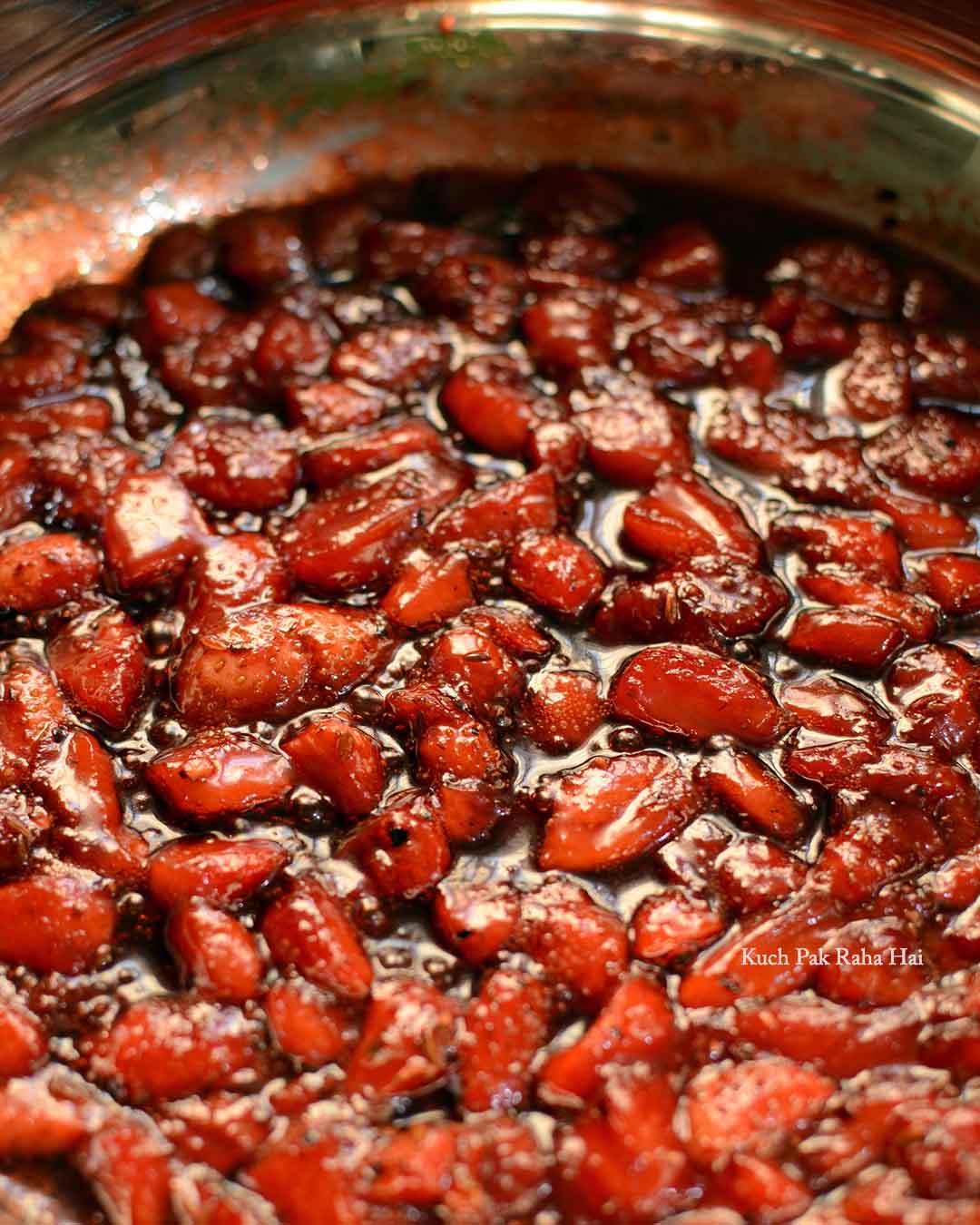 More strawberry recipes you might like:
Hope you would like this yummy easy strawberry chutney recipe!!
Ingredients:
Chopped Strawberries – 250 grams
Brown Sugar / Jaggery- 1/3 cup
Olive Oil- 2 tsp
Fennel Seeds (Saunf) – 1/2 tsp
Chilli Flakes – 3/4 tsp
Black Pepper (Kali Mirch)- 1/4 tsp
Salt- 1/2 tsp (to taste)
Lemon juice- 1 tsp
Notes:
1. Adjust salt & spiciness as per your taste.
2. Instead of brown sugar you can use regular or cane sugar.
Directions:
Step 1:
Wash the strawberries well under running water to get rid of dust particles.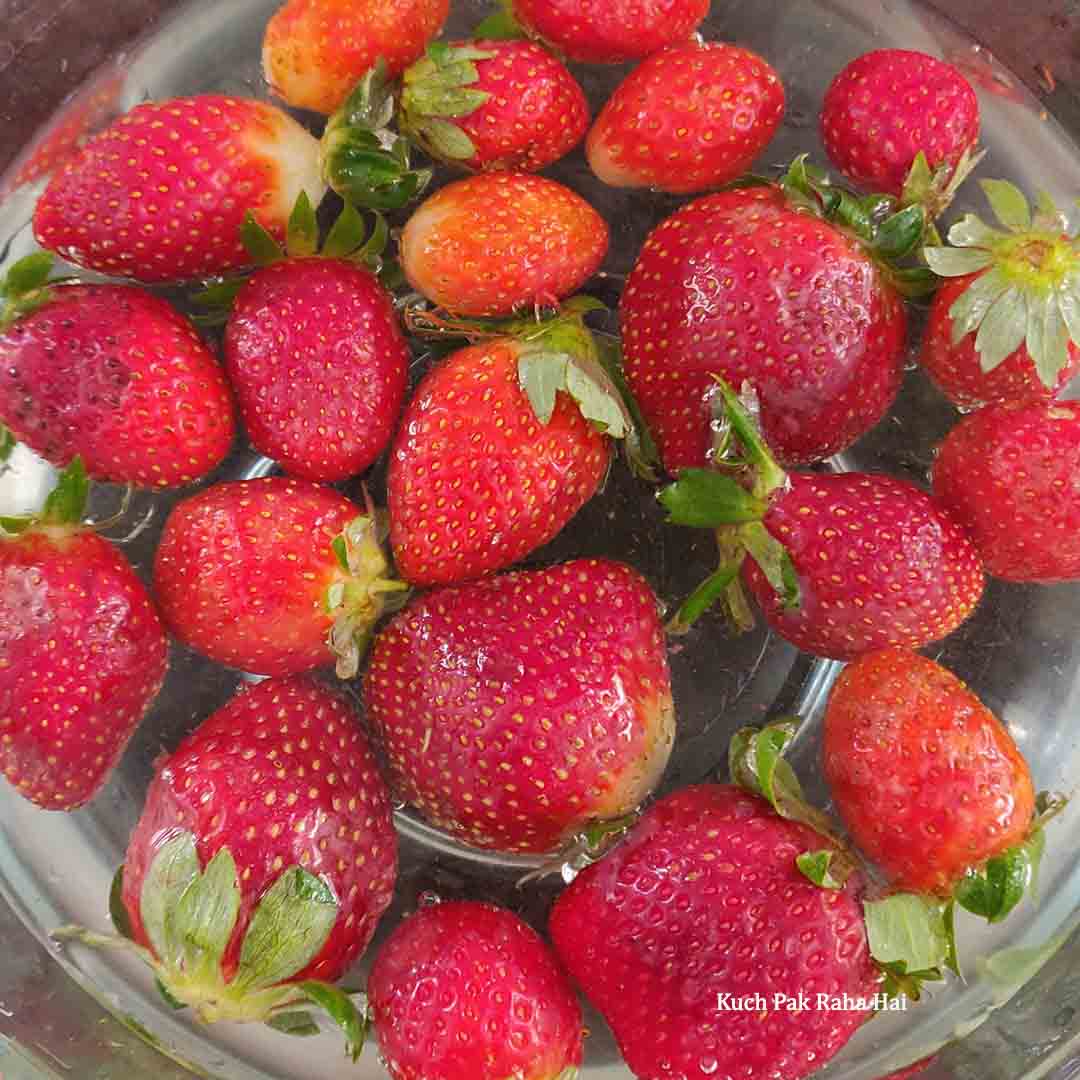 Step 2:
Remove their top part and chop in small pieces. In a mixing bowl, add these chopped strawberries, salt and brown sugar. Toss it gently and keep aside for 30 minutes.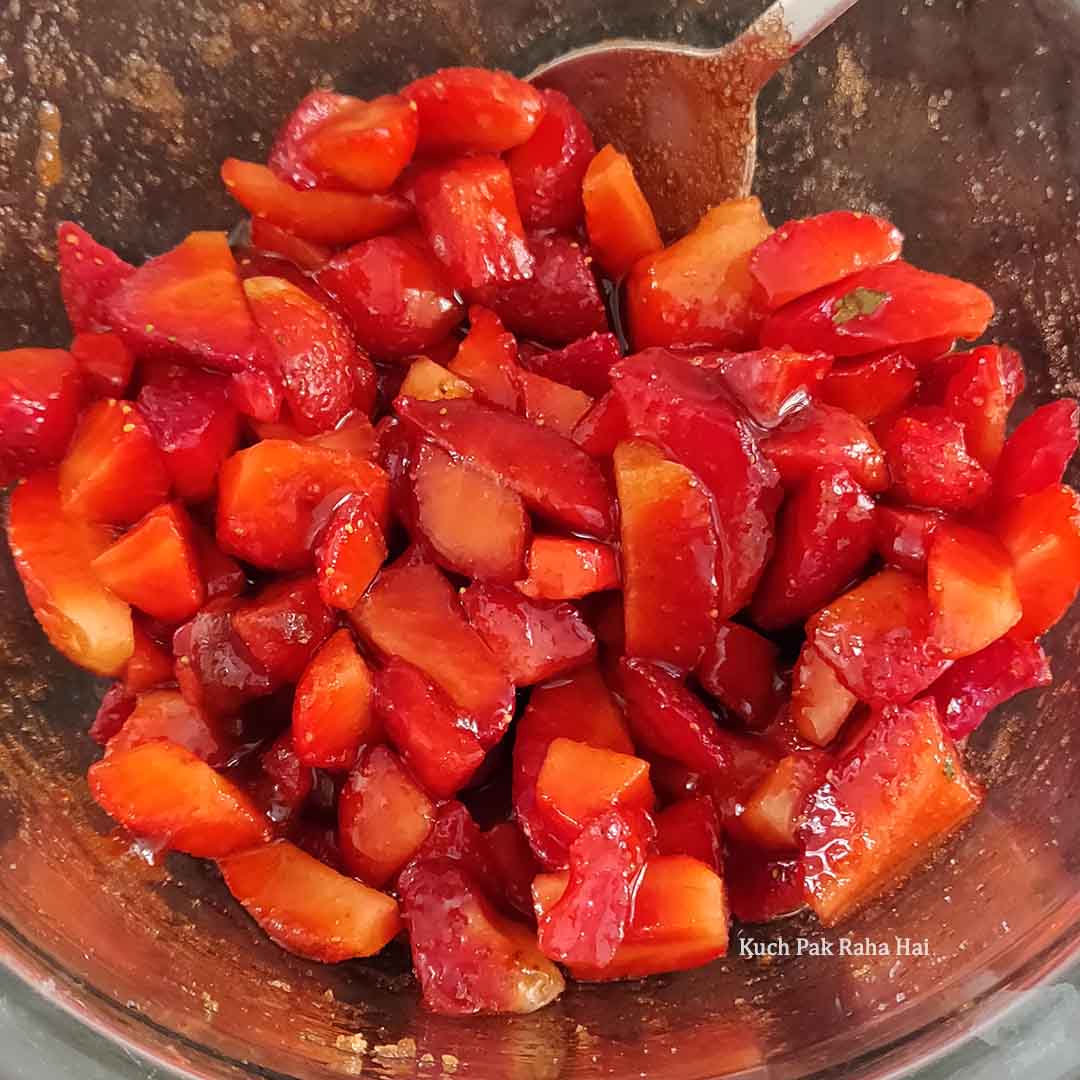 After some time strawberries will release its juices as you can see below.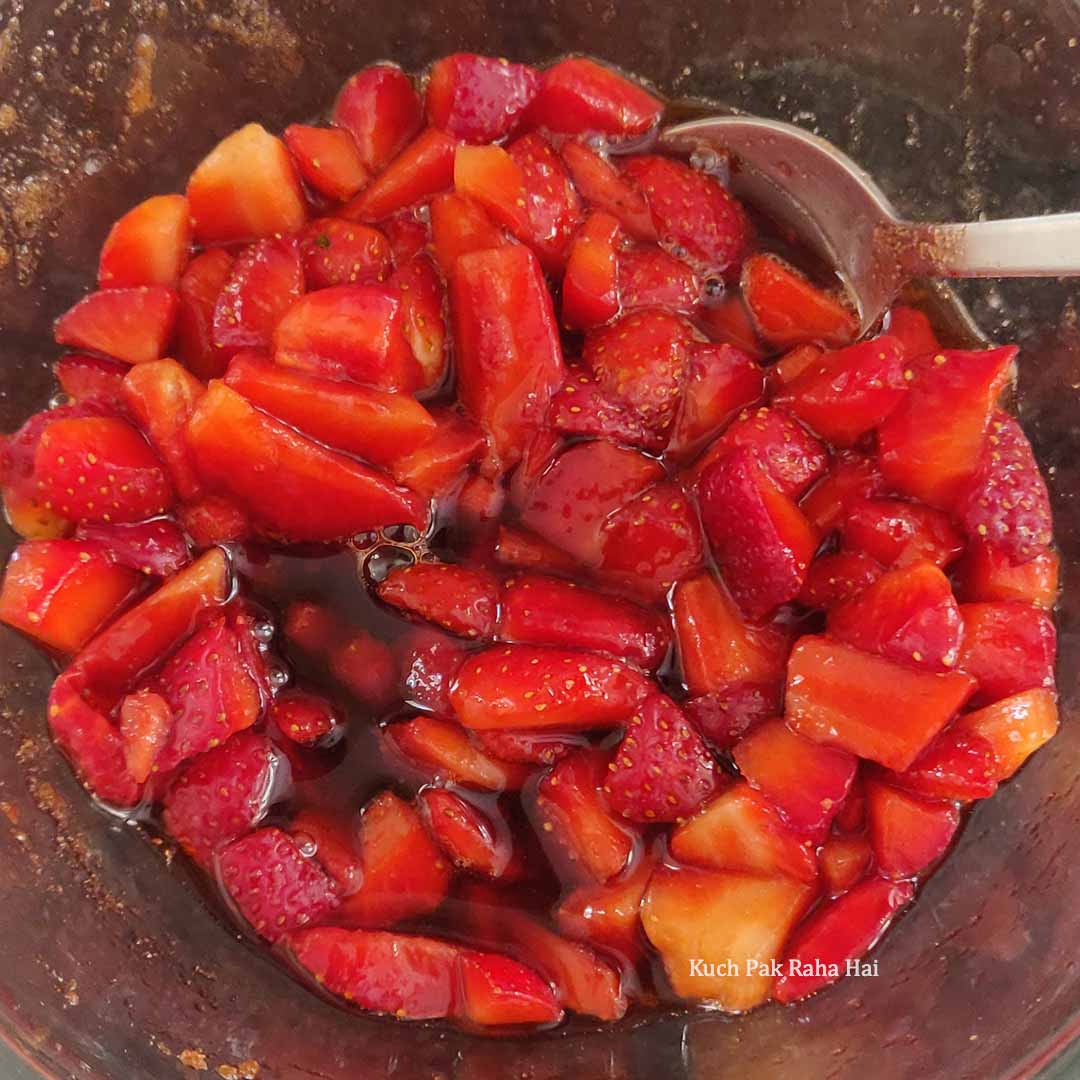 Step 3:
In a non-stick pan, heat olive oil. Add fennel seeds (saunf) and red chilli flakes to it.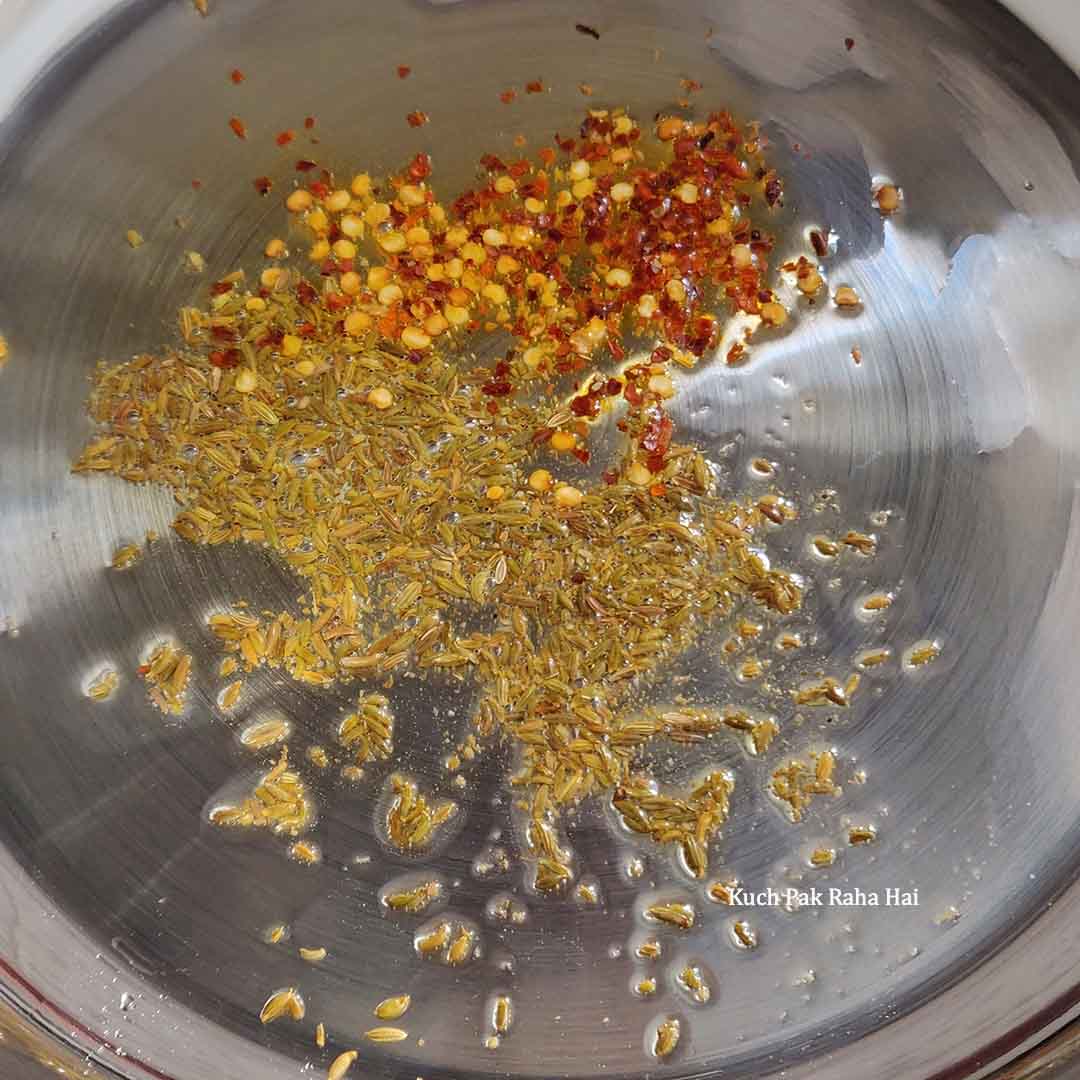 Step 4:
Once the spices begin to release their aroma, add chopped strawberries and black pepper. Mix well and cook the mixture on low flame for 15-20 minutes. Keep stirring in between.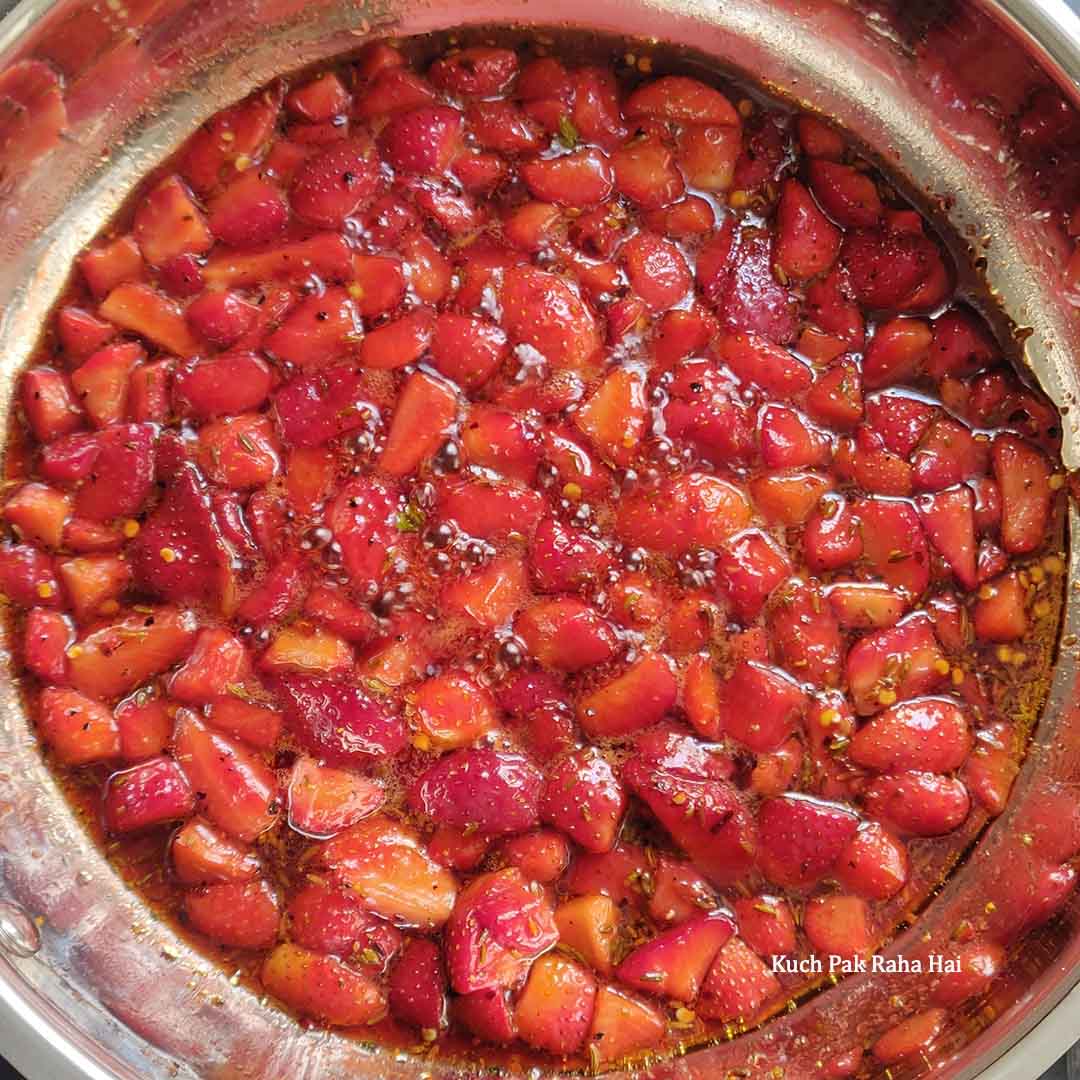 Step 5:
After 5 to 10 minutes, strawberries will begin to soften up. Mash them gradually using a fork or back of spatula while mixing.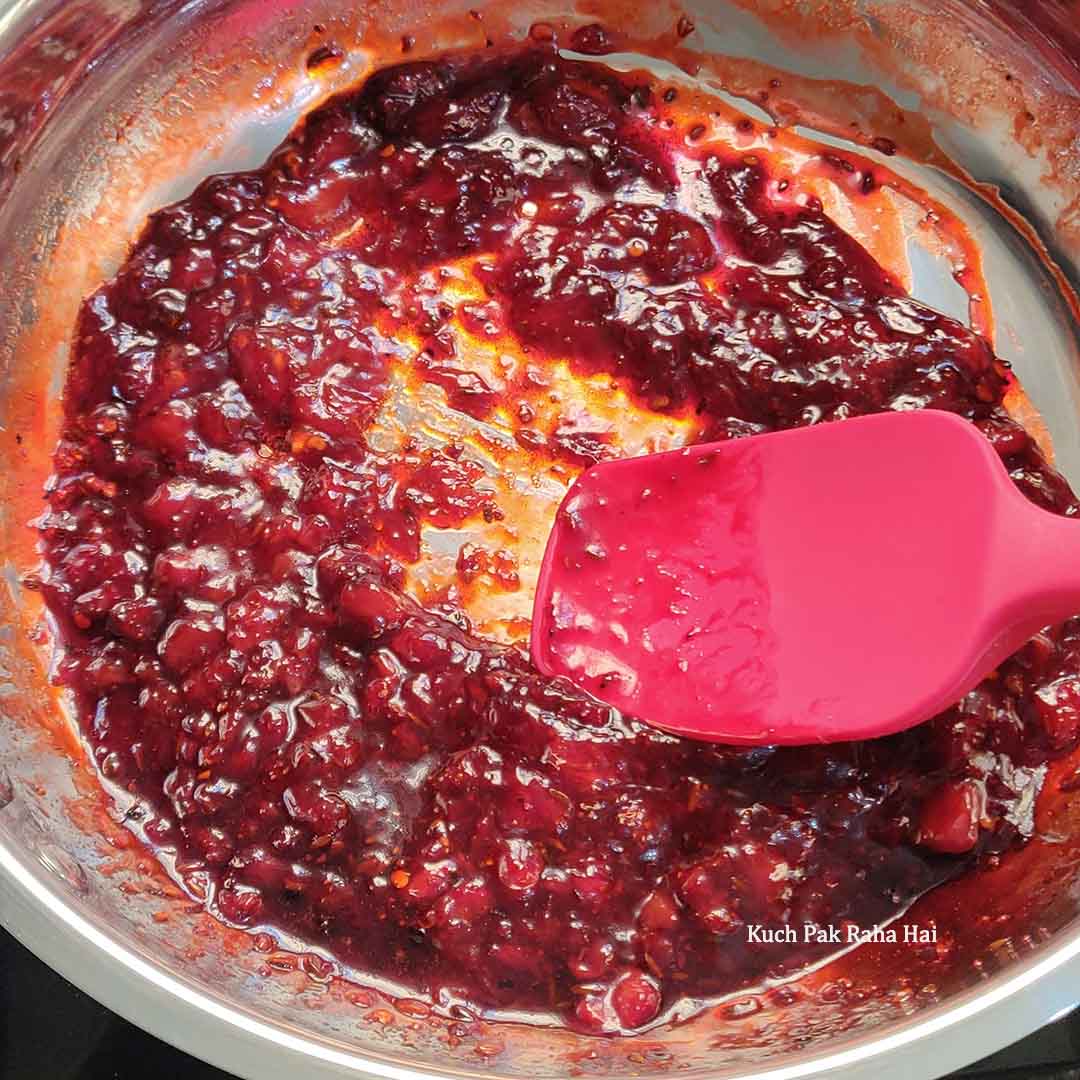 Cook the chutney till liquid stops separating it. Add lemon juice and mix well. Taste once and adjust salt or lemon juice as per your liking.
Let it cool down completely and store in air tight bottles in the refrigerator. Enjoy this sweet sour strawberry chutney with your meals or snacks.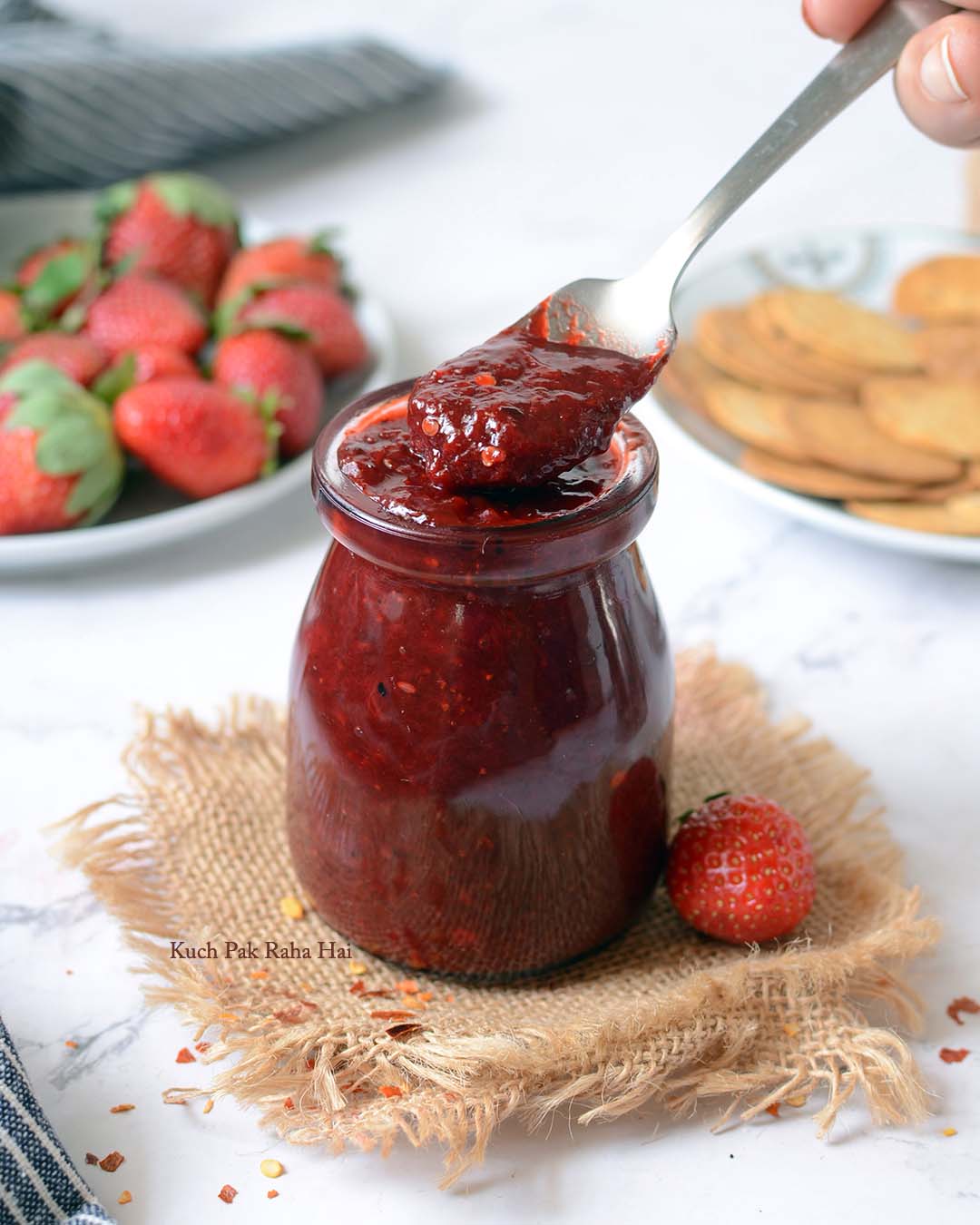 How to store strawberry chutney?
Store it in an airtight jar in fridge at all time. Always use a clean spoon to scoop out the chutney so that it does not go bad soon.
What is the shelf life of strawberry chutney?
It can easily be stored in fridge for 7 to 10 days easily.
More chutney recipes:
Pin for later: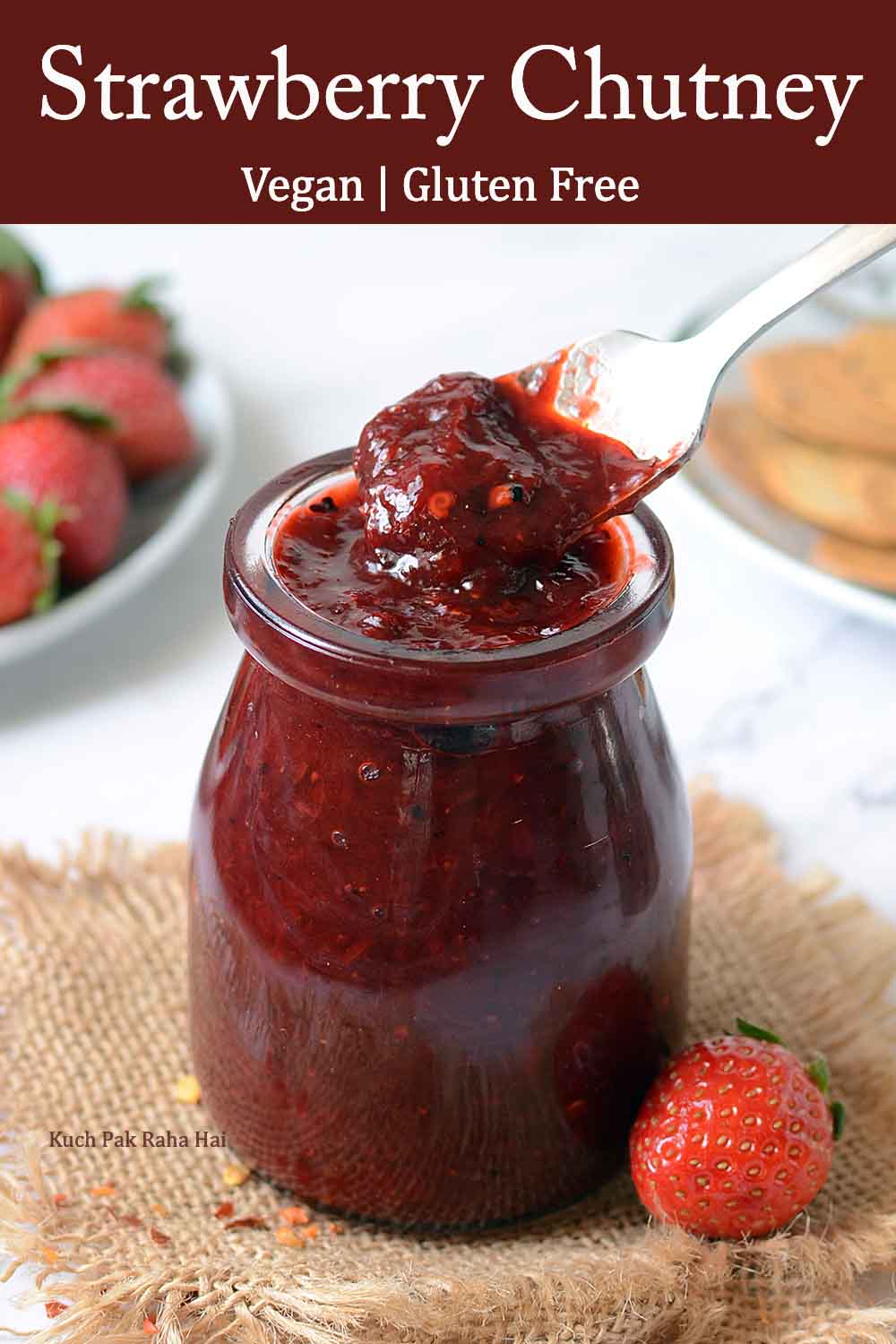 If you try this strawberry chutney recipe & share pics on social media, then don't forget to tag on Facebook or Instagram or use #kuchpakrahahai.
Let's stay connected
Facebook | Instagram| Pinterest | Youtube