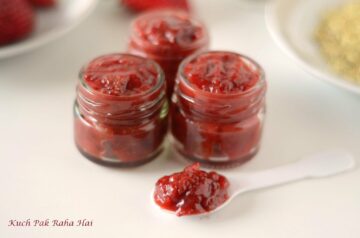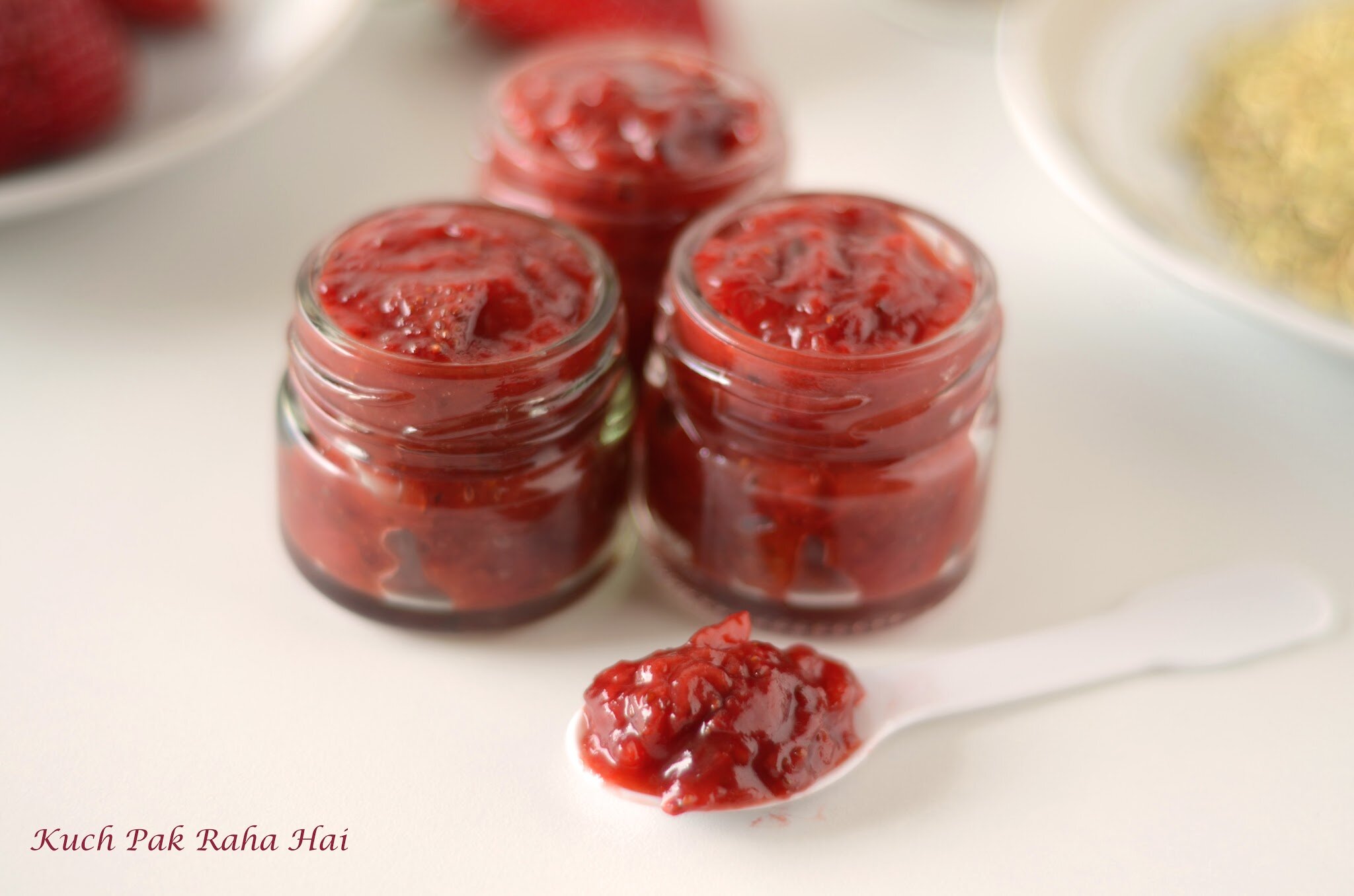 Strawberry Chutney is a delicious and sweet-sour chutney recipe made using fresh seasonal strawberries & herbs. If you are looking forward to try a different recipe using strawberries apart from regular jam, then this chutney recipe is a 'must-try' for you.
This Strawberry Chutney recipe is:
Vegan

Gluten free

Contains No Refined Sugar

Easy & Quick to make
After buying a fresh lot of seasonal strawberries from the market, I started to wonder what different recipes can be made using them apart from regular sugary strawberry jam. In an attempt to make something "Out-Of-Box", I tried making chutney using them and it turned out so good that I decided to make a separate post for it.
This strawberry chutney is sweet and sour in taste with a hint of pepperiness from chilli-flakes and black pepper. Little bit of saunf or fennel seeds gives a soothing aroma & blends really well with sweetness of strawberries. For some sweetness I have used brown sugar but you can use jaggery too.
This strawberry chutney is a delicious condiment to add flavour to your everyday meals. You can use it is wraps or sandwiches too. As it is not overtly sweet, you can even serve it with crackers or chips.
List Of Ingredients:
Chopped Strawberries – 10 to 12
Brown Sugar / Jaggery- 1/2 cup
Salt- a pinch
Black Pepper (Kali Mirch)- 1/2 tsp
Fennel Seeds (Saunf) – 1 tsp
Chilli Flakes – 1/4 tsp
Lime juice- 1 tsp
Olive Oil- 2 tsp
Steps To Prepare:
Step1:
In a mixing bowl, add chopped strawberries, salt and brown sugar. Toss it gently and keep it aside for 20 minutes.
After some time strawberries will release its juices as you can see below :
Step2:
In a non-stick pan, heat olive oil. Add fennel seeds and red chilli flakes to it.
Once the spices begin to swell up, add chopped strawberries and black pepper. Mix well. Cook the mixture on low flame for 15-20 minutes till it gains paste like consistency.
Step3:
Once the chutney is of desired consistency, switch off the flame. Add lime juice to it. Mix well.
Let the chutney cool down completely. Store it in air tight bottles in the refrigerator.
Enjoy this sweet sour chutney with your everyday meals or snacks.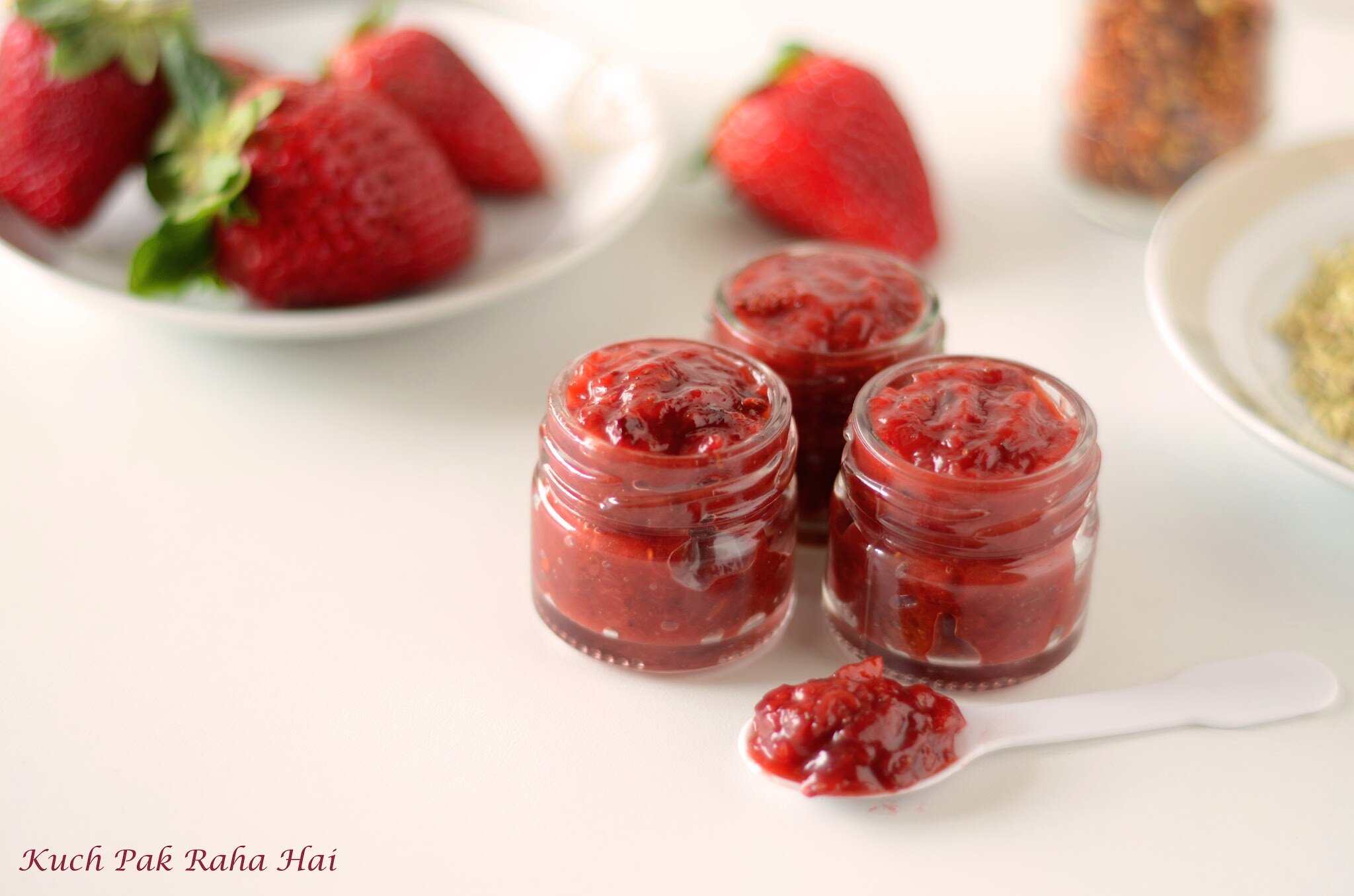 Bon Appetit!!
Let's stay connected
Facebook| Instagram| Pinterest| Youtube
More strawberry recipes you might like: