A very good evening to the lovely readers there!!! I was on a long vacation and hence the reason for delay in publishing this post. In an attempt to make something "Out-Of-Box" using strawberries, I tried making chutney out of them and I am so happy that it came out to be super tasty and pleasantly different . So any of you who are planning to surprise your guests in your next at-house party or kitty party, definitely give it a try. This chutney is sweet and sour in taste with some hints of chilli-flakes, black pepper and lovely aroma of fennel or 'saunf '. It goes really well with North Indian cuisines . I had this chutney in combination with "Namak Ajwain ke Parathe" and it was tasting heavenly. You can also replace jam with this chutney in you kids tiffin and I am sure they will love it 🙂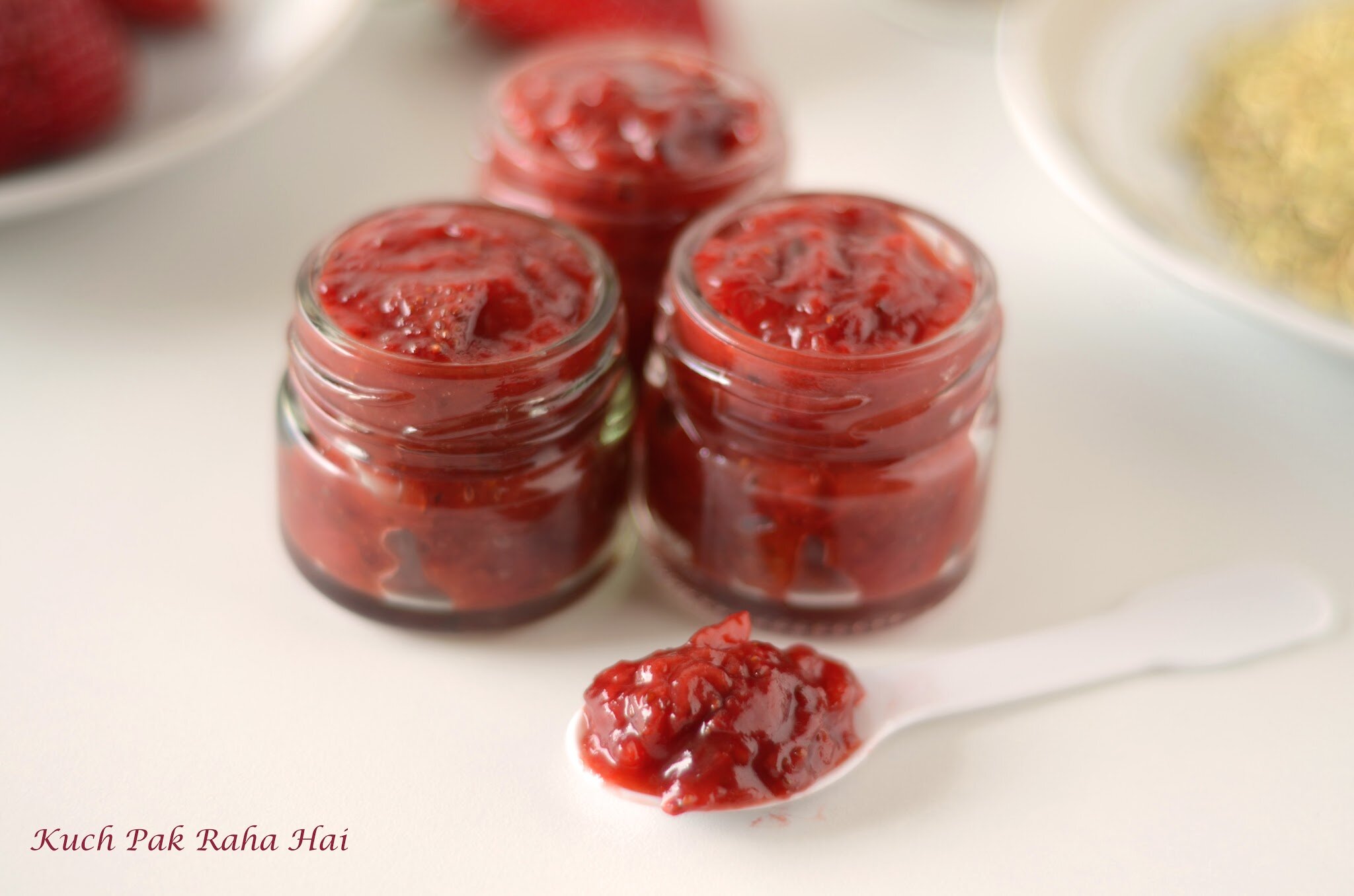 List Of Ingredients:
Chopped Strawberries – 10 to 12
Brown Sugar – 1 cup
Salt- a pinch
Black Pepper- 1/2 tsp
Fennel Seeds (Saunf) – 1 tsp
Chilli Flakes – 1/4 tsp
Lime juice- 1 tsp
Olive Oil- 2 tsp
Steps To Prepare:
Step1:
In a mixing bowl, add chopped strawberries, salt and brown sugar. Toss it gently and keep it aside for 20 minutes.
After some time strawberries will release its juices as you can see below :
Step2:
In a non-stick pan, heat oil. Add fennel seeds and red chilli flakes to it.
Once the spices begin to swell up, add chopped strawberries and black pepper. Mix well. Cook the mixture on low flame for 15-20 minutes till it gains paste like consistency.
I
II
III
Step3:
Once the mixture is of desired consistency, switch off the flame. Add lime juice to it. Mix well.
Store it in air tight bottles in the refrigerator. Enjoy!!