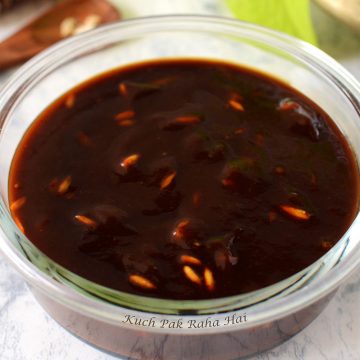 Sweet & sour chutney recipe made with tamarind (Imli), jaggery or brown sugar & few spices. It can be served with various Indian snacks like samosa, pani puri, chaat etc.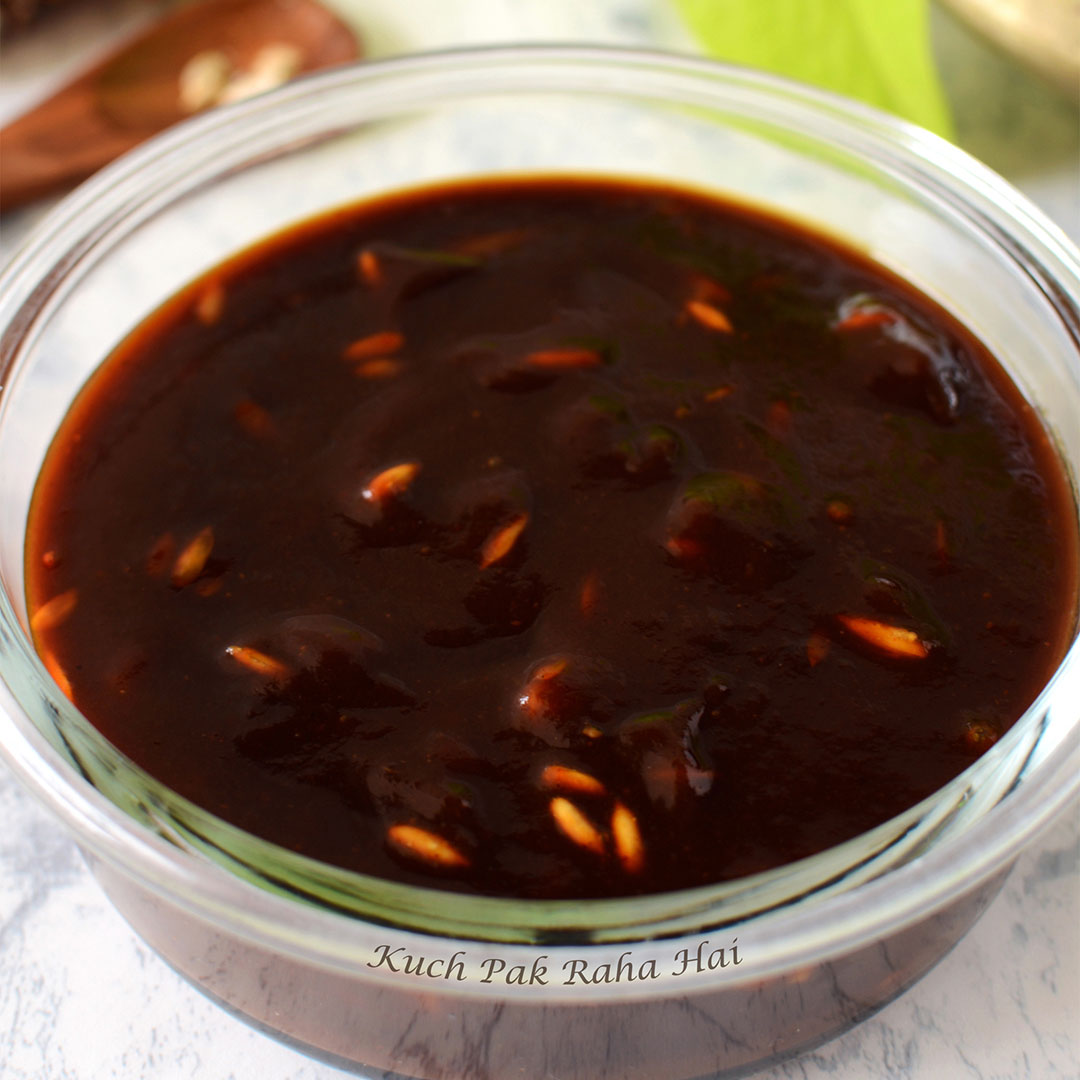 This tangy tamarind sauce or imli chutney instantly adds zing to any preparation. In Indian households it is commonly known as 'Khatti Meethi Imli ki Chatni'. It is drizzled over various snacks like dahi vada, samosa, sev puri, dahi puri or used as a dipping sauce for samosa, pakora or onion bhaji.
Gluten Free
Vegan
Easy to Make
Can be Prepared in advanced
The two main ingredients of this chutney recipe are 'imli', known as tamarind in english and 'gur' known as jaggery. 
As tamarind is sour in taste, it is required to add some sweetener in this chuney recipe to balance its sourness. I personally like to use jaggery(gud) but if you don't have it, you can even use brown sugar or regular white sugar. Many people also use dates (khajoor) as sweetener in it but I have made this imli chutney without dates.
Though one can easily buy tamarind chutney online these days but I like to use homemade version as you can always balance the sweet sour flavour as per your taste or adjust the spiciness as per your liking.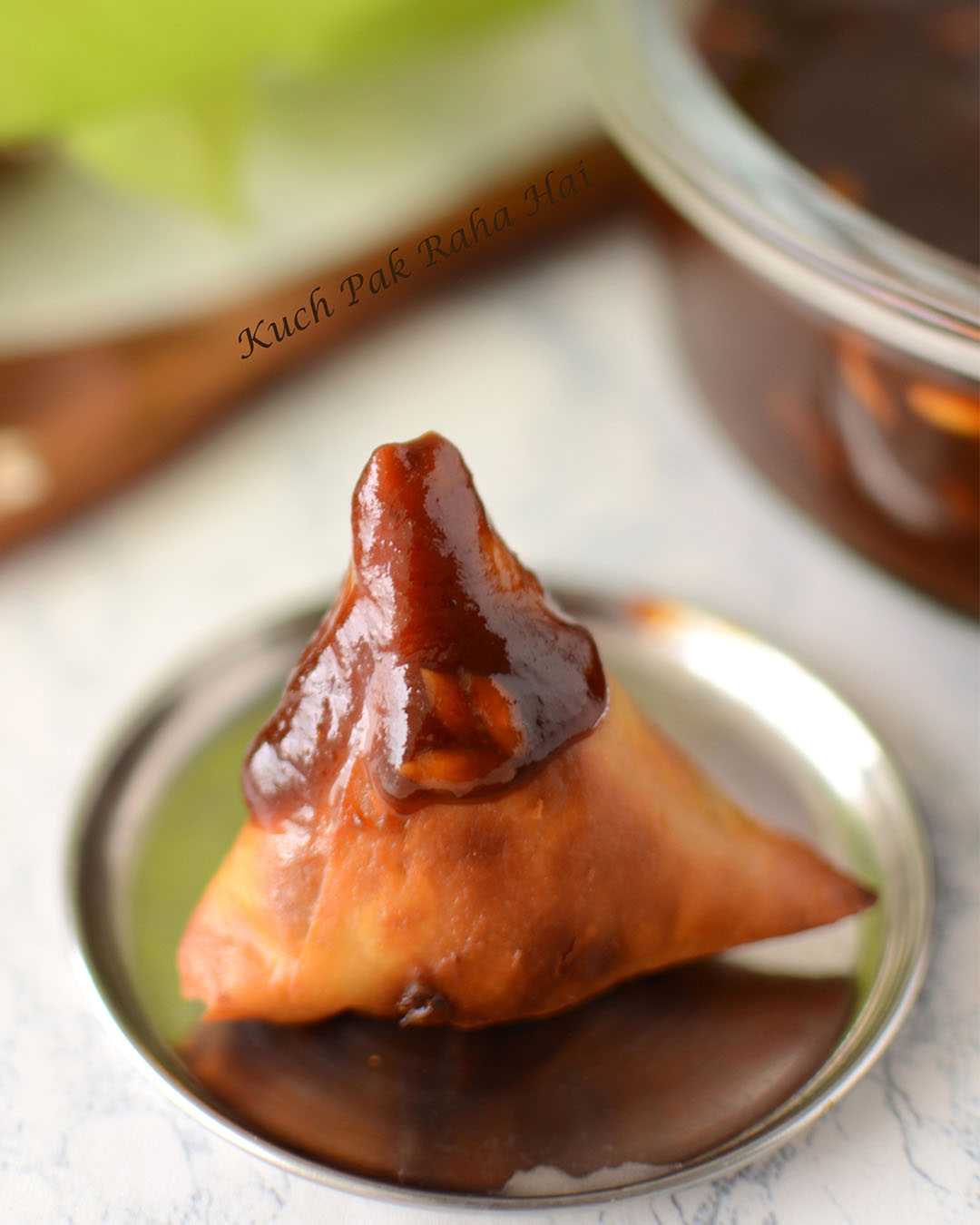 Some of the spices used in this imli chutney recipe are red chilli powder, roasted cumin powder, garam masala and ginger powder. You can always adjust the spices as per your taste or skip one-two if you don't have one but I would suggest to follow the exact recipe for authentic taste and texture. 
I have used dried tamarind(imli) in this preparation and extracted paste from it by soaking in hot water. It is easily available in Indian grocery stores. However if you don't find it you can even use store bought tamarind paste for it.
How to store Imli Ki Chutney?
This tamarind chutney can be prepared well in advance before festivals or parties and stored in an airtight jar in refrigerator for upto a month. Please store it in either glassware or steel container as it may react with plastic. 
When stored for longer time, the chutney tends to thicken up. In that case, take out the quantity which you are intending to comsume and add 1-2 tsp warm water to it. Mix well and your chutney will be ready to use👌.
If you are looking forward to try more recipes with imli, then do check out Imli Panna (Tamarind Mint Cooler) recipe too. I am sure you will love it.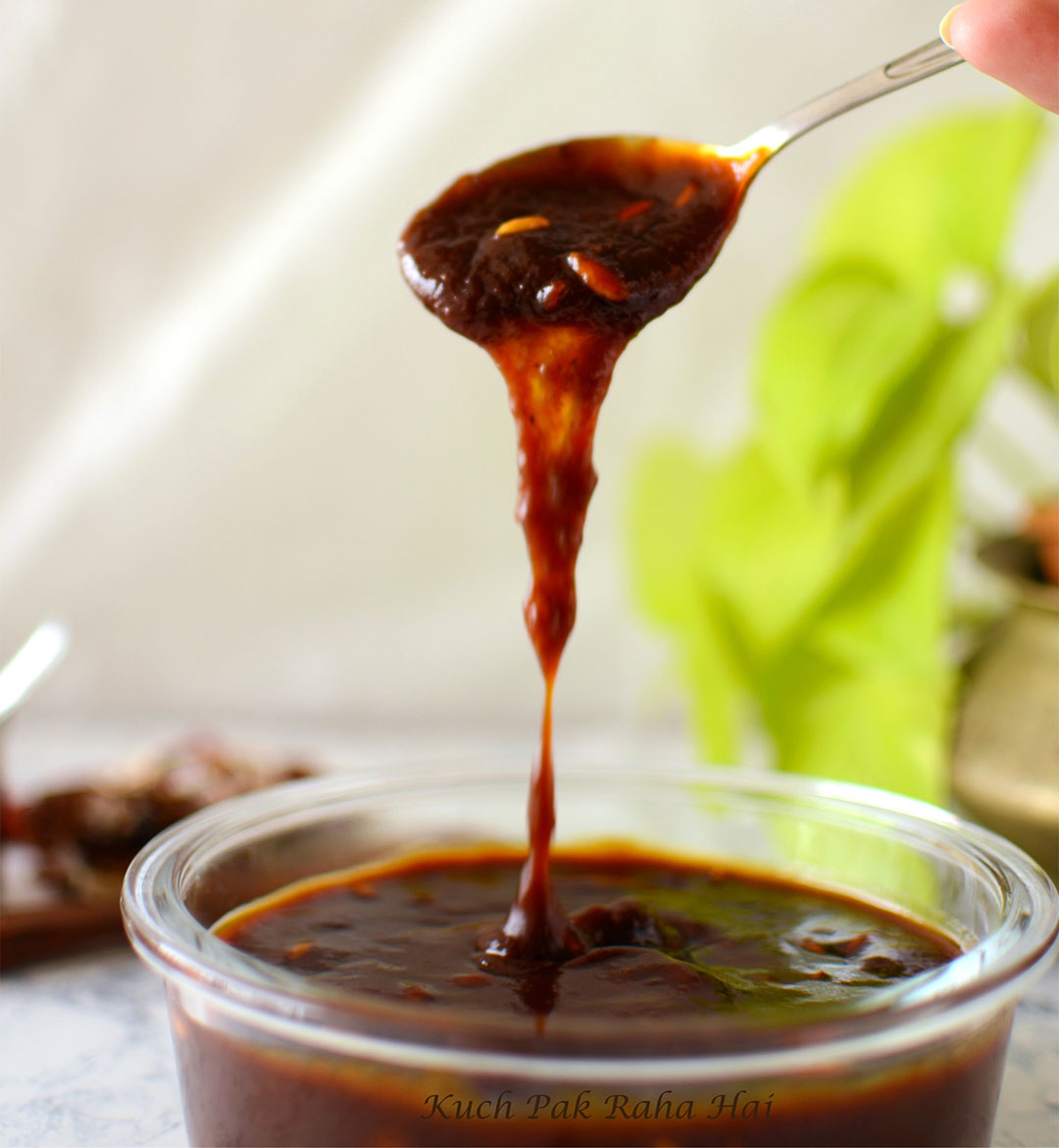 More Chutney recipes:
Hope you would like this yummy sweet tamarind chutney recipe!!
Ingredients:
Dried Imli (Tamarind)- 1 & 1/2 cups (~150 grams)
Water – 4 cups
Gur (Jaggery)/Sugar – 2 cups
Red Chilli Powder – 3/4 tsp
Roasted Jeera (Cumin) powder – 1 tsp
Ginger Powder – 1 tsp
Garam Masala – 1/2 tsp
Black Salt – 1/2 tsp
Plain Salt – 1/2 tsp (or to taste)
Cardamom Powder -1/4 tsp
Kishmish (Raisins) – 2 tbsp
Muskmelon Seeds – 3 tsp
Steps To Prepare:
Step 1:
Soak Tamarind in 3 cups of hot water for 1-2 hours. We are doing this in order to extract tamarind concentrate. You can use readymade tamarind paste too. In that case skip this & next step, directly start from step 3.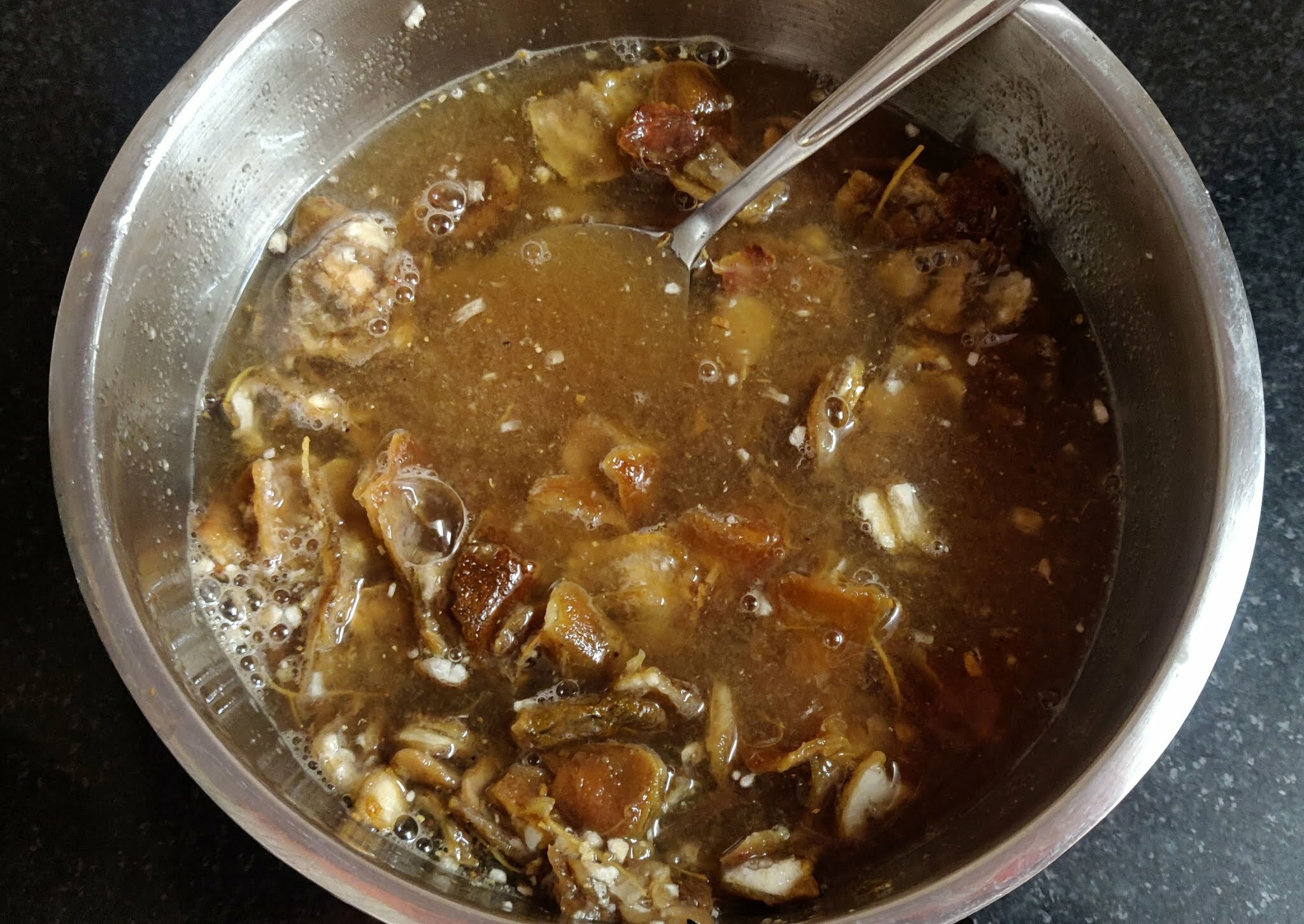 Step 2:
Transfer soaked tamarind on a sieve placed over a container. Using back of spoon or spatula, strain all the pulp from the mixture.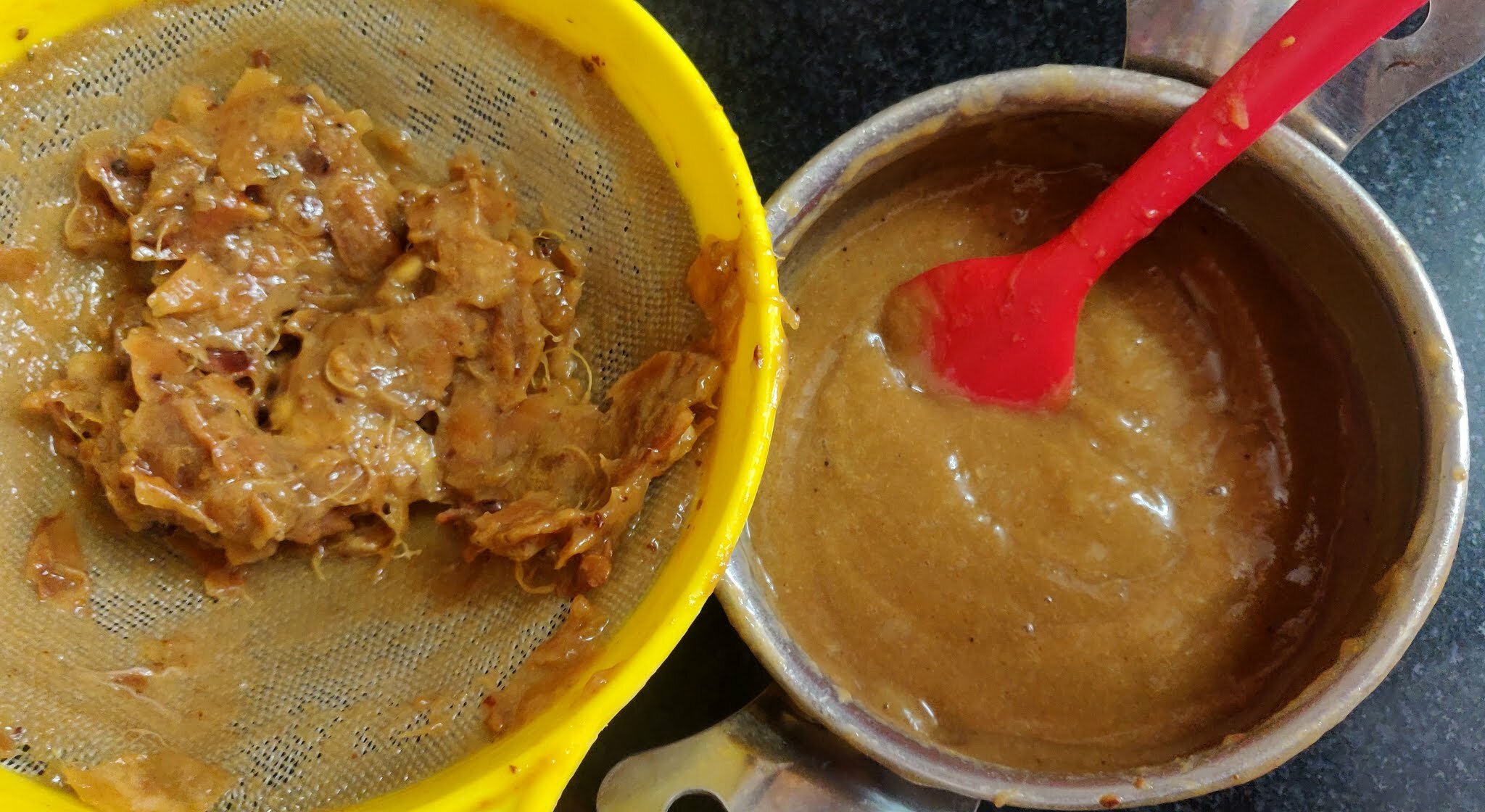 Step 3:
Take a non stick pan and transfer tamarind pulp into it. Add 1 cup of water to it. Mix well and add jaggery powder now (You can use brown sugar or regular sugar too). Let the chutney cook on low flame while stirring intermittently.
(The quantity of sugar can be varied as per your own preferences. If you want the chutney to be on sourer side you can reduce it.)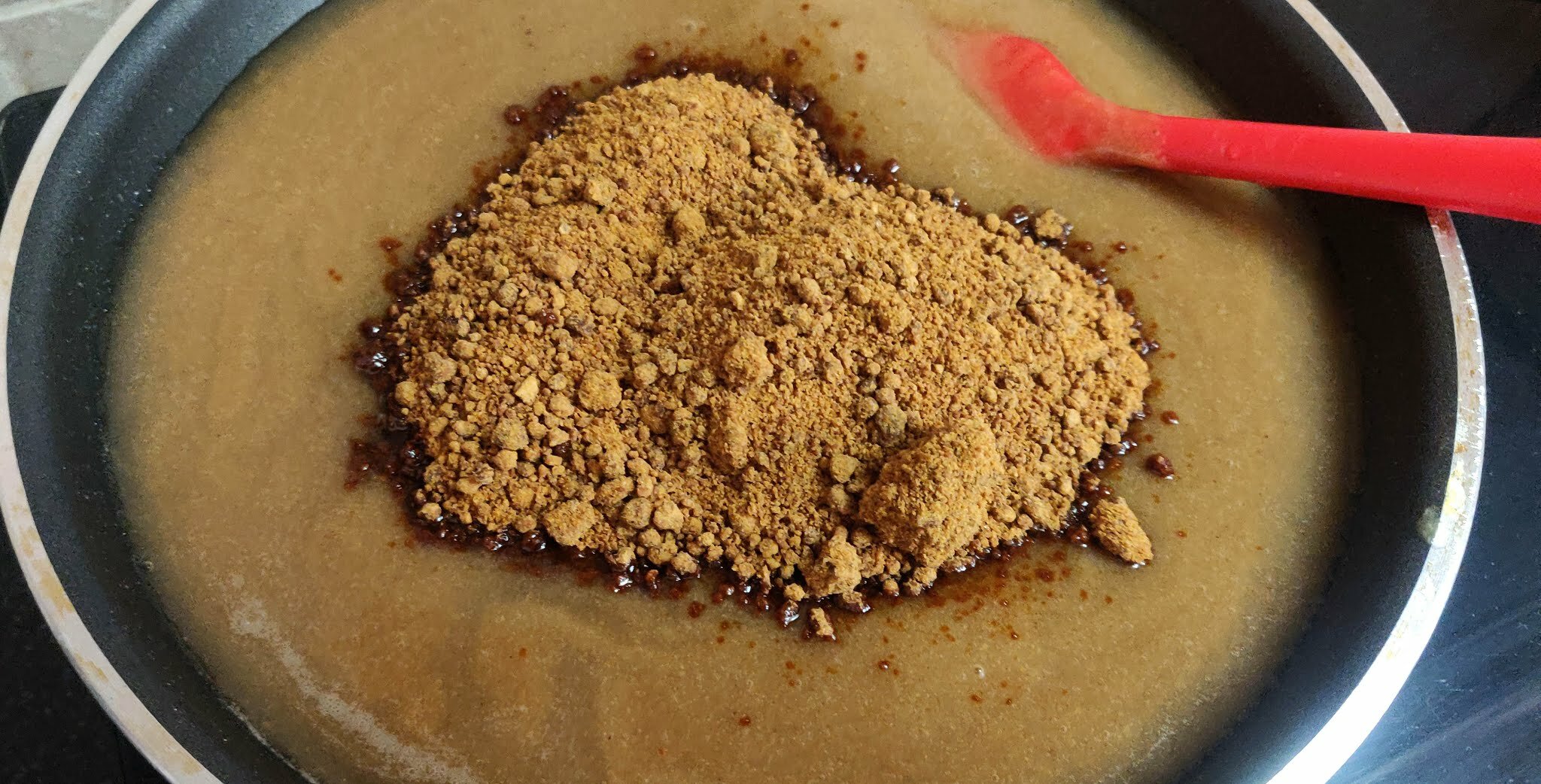 Step 4:
Add garam masala, roasted jeera (cumin), red chilli powder, black salt, plain salt and ginger powder to it. Mix well.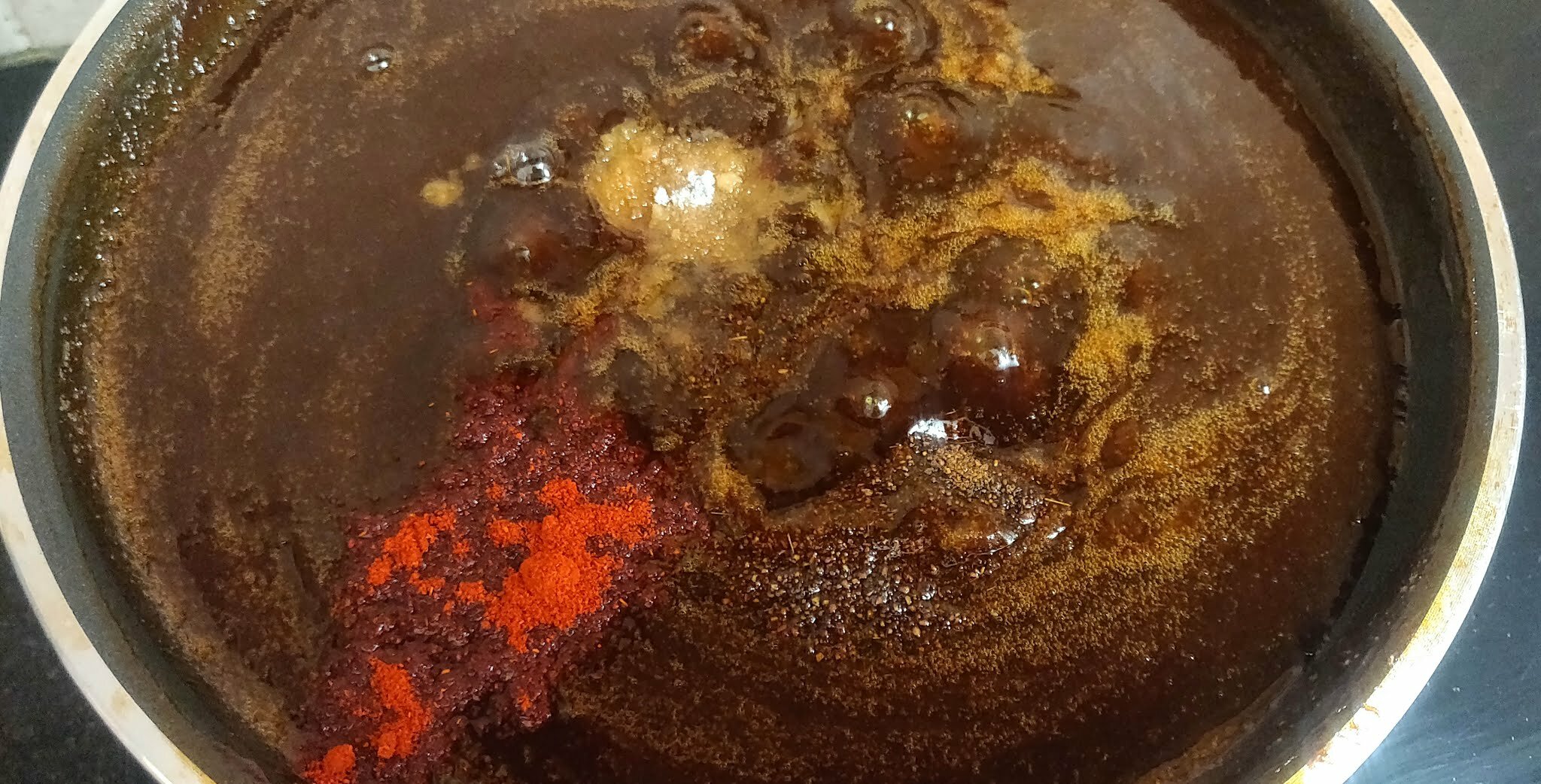 Step 5:
After 2-3 minutes add raisins to it. Give a good stir and keep cooking the chutney on low flame.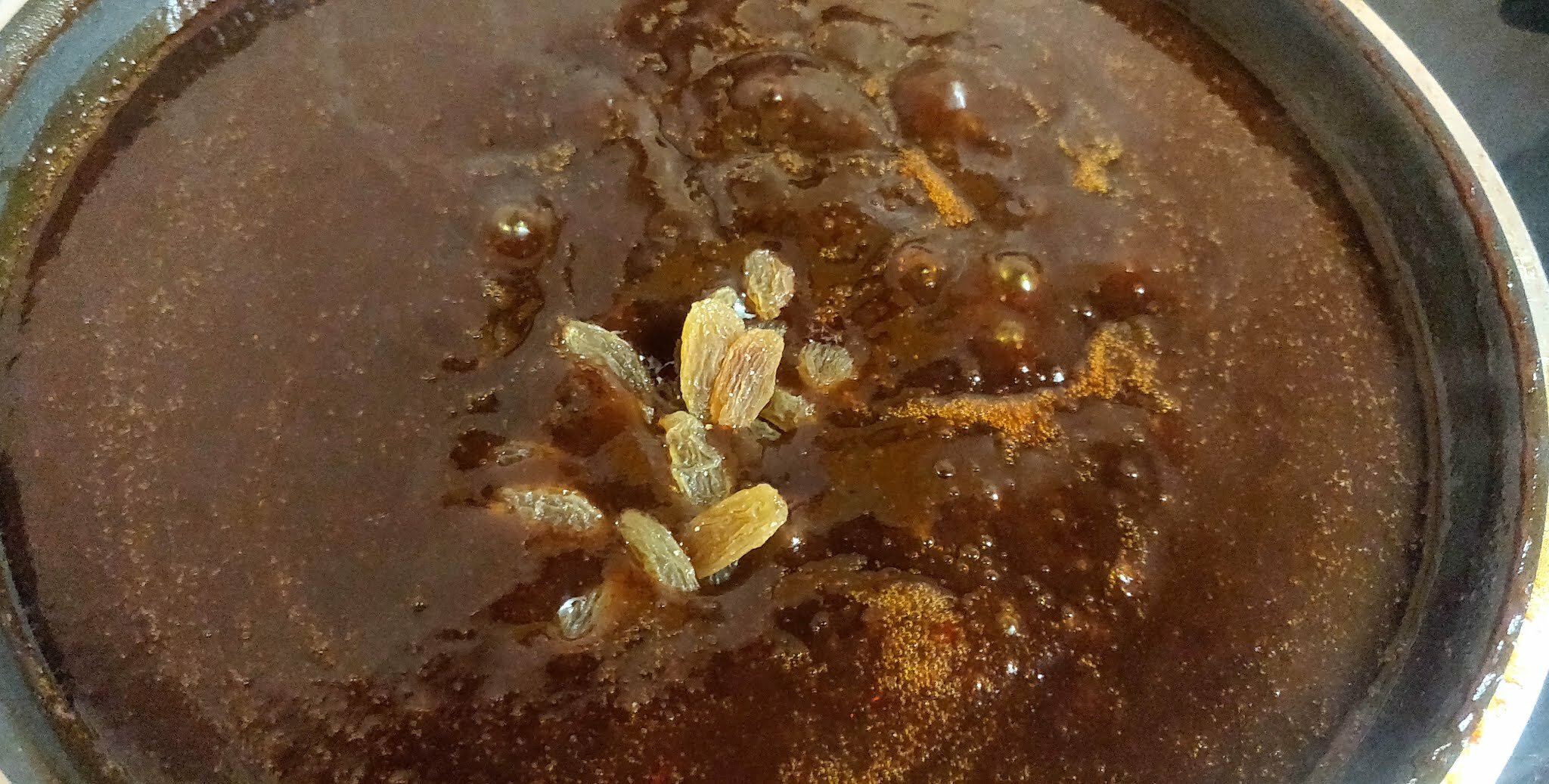 Step 6:
In the mean time, let us roast the muskmelon seeds. In a small pan roast the muskmelon seeds till they puff up and start crackling.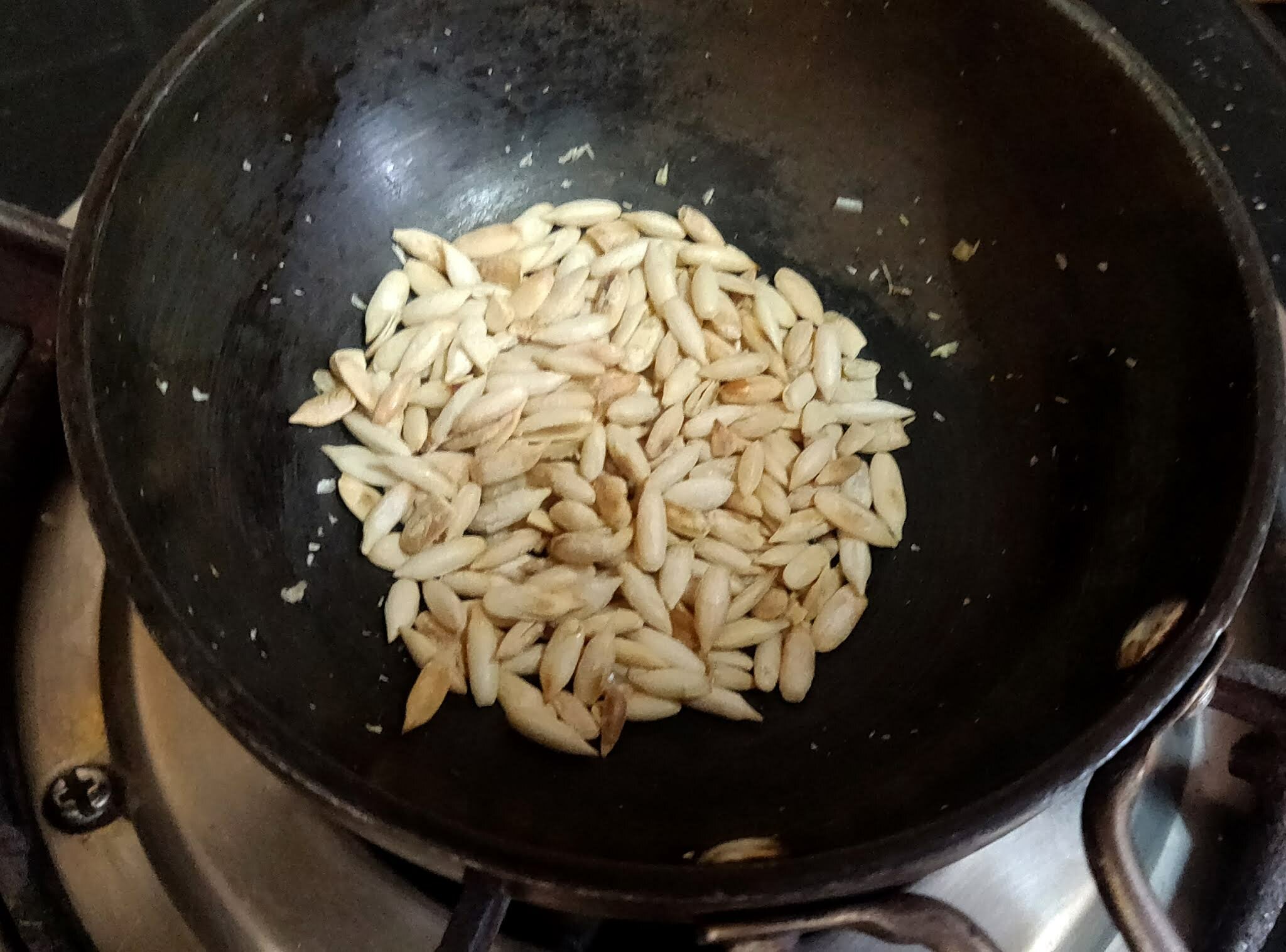 When the chutney further thicken up, add these roasted muskmelon seeds (or kharbuje ke beej) and cardamom powder. Mix well.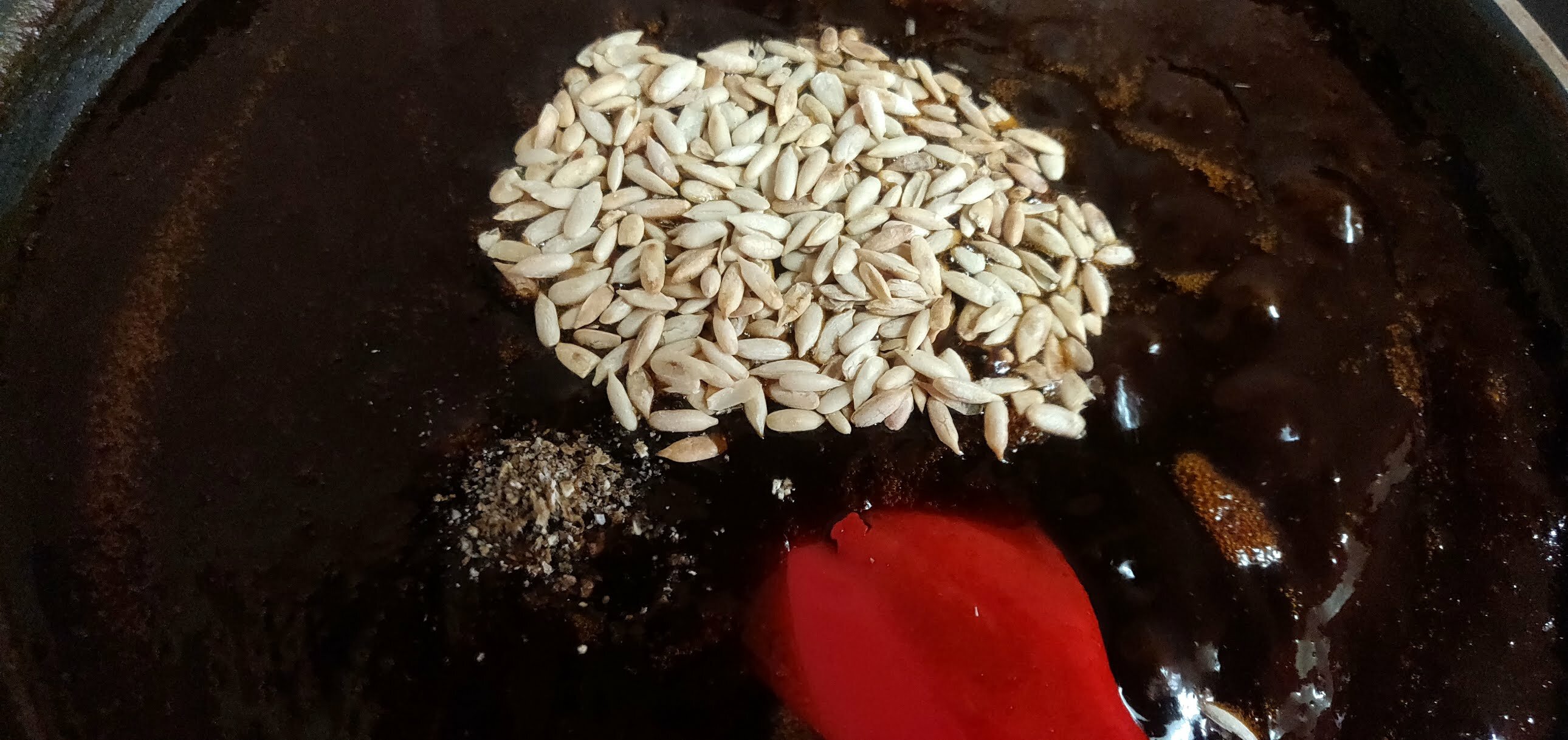 Step 7:
To determine whether our tamarind sauce is ready, we will do following test. Take few drop of chutney in a plate. When it cools down slightly, take some of it on your thumb and place a finger on it. It should form a string as shown in the pic below. At this point you know chutney is ready.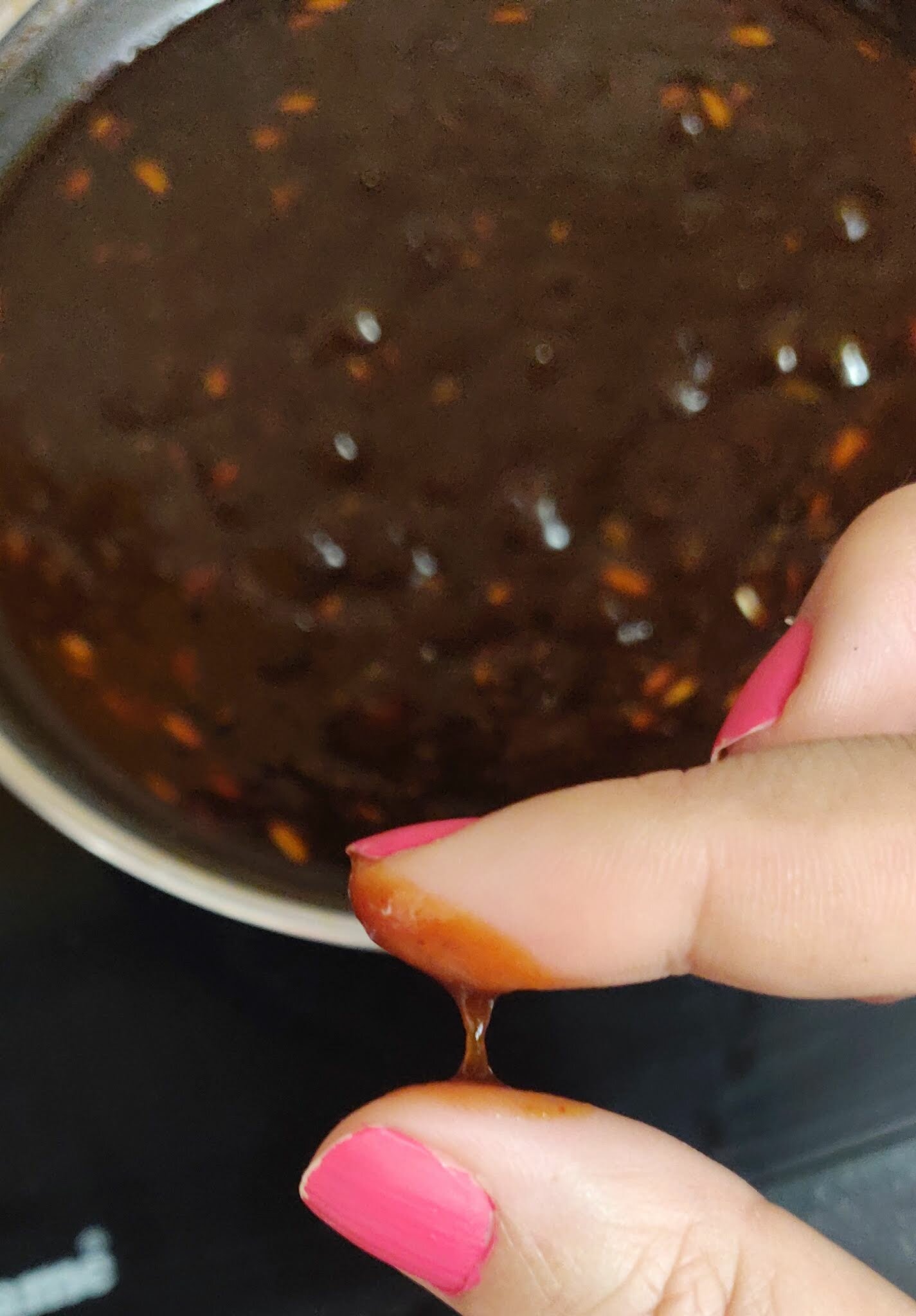 Let it cool down completely and then fill it in a glass jar or bottle. Enjoy this yummy tamarind sauce with samosa or any snacks!!
If you try this imli ki chutney recipe & share pics on social media, then don't forget to tag us on Facebook or Instagram or use the hashtag #kuchpakrahahai.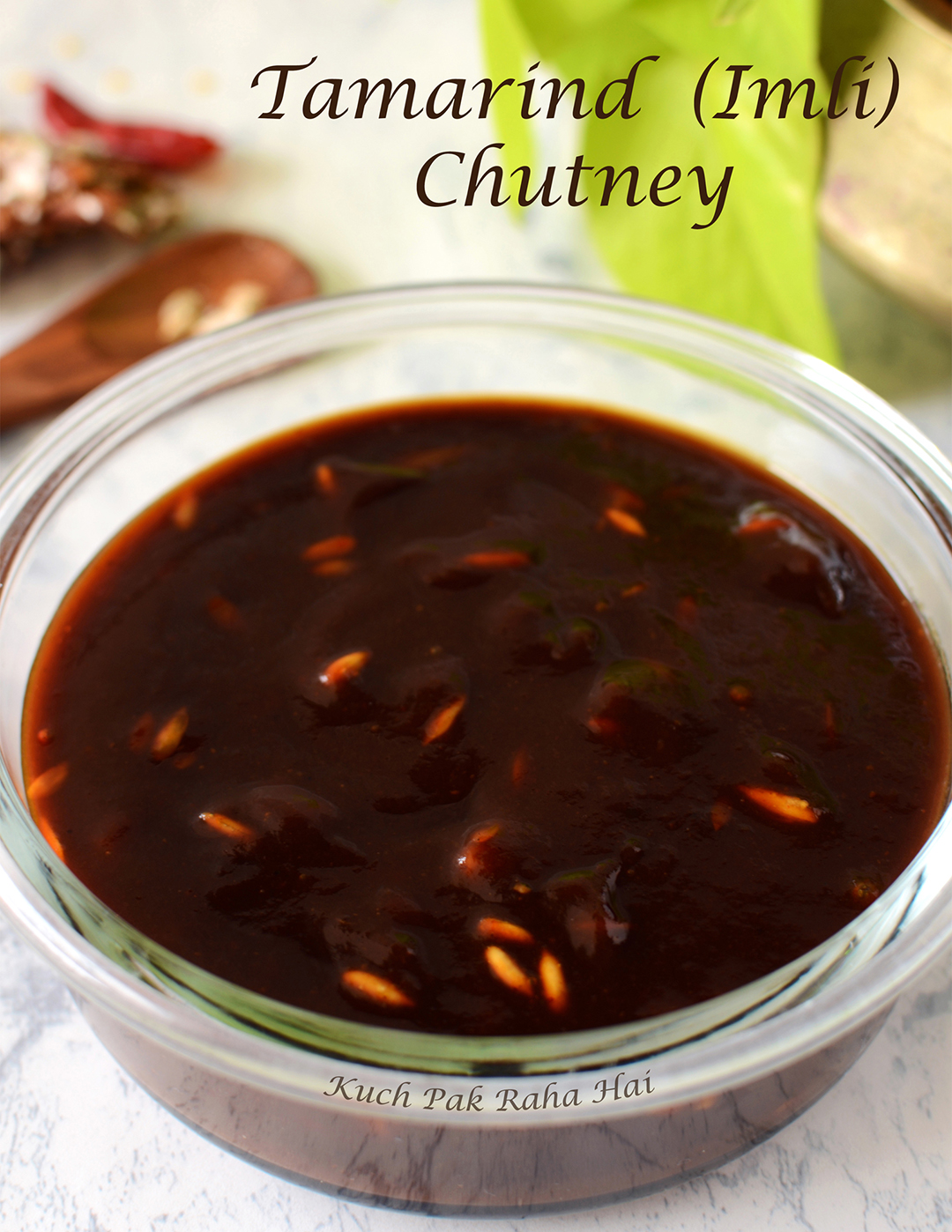 Let's stay connected
Facebook | Instagram | Pinterest| Youtube