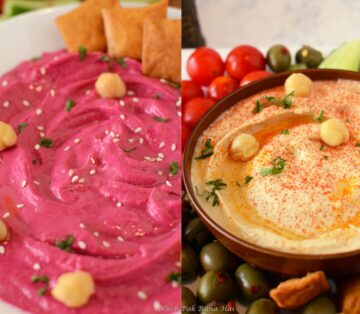 Hummus is a popular Lebanese dip or spread made using boiled chickpeas blended with lemon juice, garlic & tahini drizzled with olive oil.  This creamy dip is part of staple diet in most middle eastern home & is served with pita bread/chips, kebabs, falafel, shawarma or even salads (Tabbouleh).
To be honest, my first experience with hummus was not so good. I tasted it at a restaurant in Delhi &  it was too dry & almost chalky in smell/taste . Since then I had made the opinion that hummus is a dry dip & whenever everyone said that they loved hummus I thought maybe it's my own taste preference that I am not liking its taste & texture. Recently on our trip to Istanbul✈, we ordered few snacks & as expected they brought hummus with it too. With due resistance, I dunked corner of my pita chip in it & tasted once again but this time I was taken aback as the hummus tasted so creamy & soft, almost melt in the mouth. After this on our entire trip, I had hummus repeatedly & liked it every time !!
Travel not only unwinds & relaxes your soul but also inspires you in so many ways. Most of my food inspirations come from the dishes which I eat during travelling. I find immense joy in trying to replicate those recipes as I not only learn something new but kind of re-live a part of time I enjoyed the most. After coming back home, I read about how authentic hummus is made & kept trying the recipe till I got the taste that I got from hummus tasting in Istanbul😍.
In my opinion, Classic chickpeas hummus is one of the easiest & healthiest spreads to make. It turns out so lite & creamy that you even won't mind having it over toasts or as a dip for snacks. It is a perfect combination of proteins from chickpeas & healthy fats from extra virgin olive oil. I have made this classic hummus recipe from scratch that includes Tahini too.
Also, a variation using beetroot has been shared which will further enhance the nutritional value of hummus. You can use boiled, steamed or roasted beetroot in this recipe. I am sharing the method for roasting the beetroot. Roasting brings out the sugar in beetroot while removing its slightly pungent taste. I generally roast beetroot as I find it more fuss free.
All the steps with images has been shown in detail but still if you have any doubts feel free to drop in comments.
To make perfect creamy hummus sharing few key points:
1. Let the chickpeas cool down completely before you start making hummus out of it. It would be better if you could keep it in fridge for 1-2 hours. You can even used canned chickpeas instead.
2. For silkier texture, peel the boiled chickpeas before blending it to make hummus. Yes the step sounds painstaking but it has a noticeable effect on texture. However its an optional step.
3. Don't add too much garlic as we don't want its flavour to be overpowering the senses. Also, as we are using fresh garlic cloves, it reduces the shelf life of hummus.
4. Excess of anything is bad. Same applies while using the ingredients in hummus. Too much of Tahini or cumin powder can make hummus bitter. So keep the quantities in check.
5. Don't add too much of salt & lemon in one go. Add some of it while blending, taste the final result & then adjust it according to your taste.
6. One of the important trick is to use the water in which chickpeas where boiled. Chill that water & then use it while making hummus. For many of you who are unaware, this water is basically "Aquafaba" & is used to bring light fluffy texture in baked goods.
7. For making beetroot hummus, you can used boiled, steamed or roasted beetroots. I have used roasted beetroot & have explained the process of roasting in detail. Use it for hummus once it has cooled down completely.
8. There are two types of sesame seeds – Hulled & Unhulled. Hulled seeds are those from which outer covering has been removed. We have used hulled sesame seeds in making tahini & then same tahini is used for making hummus.
9. Use Extra Virgin Olive oil for best taste.
Hope you would like both – Classic Hummus & Beetroot Hummus recipes. If you try these recipes, do tag us on Facebook or Instagram. You can also Subscribe to our channel on Youtube for more such yummy recipes.
You might also be interested in:
Tahini
Tahini is one of the key components of Hummus. It is a kind of spread or paste made using sesame seeds & is used in many middle eastern recipes. For making Tahini hulled sesame seeds are used. Hulled seeds are those seeds whose outer covering has been removed. You can buy Tahini jar from store or can make it at home very easily. Some people add sesame seeds directly while blending chickpeas but I would suggest to make Tahini using sesame seeds first and then use that paste in making hummus for authentic taste & creamy texture.
List of Ingredients for Tahini :
Sesame Seeds (Hulled) – 1 cup
Olive Oil-3 to 4 tbsp
Salt-1/4 tsp
Steps To Prepare:
Step1:
Roast the sesame seeds for 5-7 minutes till they turn slightly golden in colour. We don't want to roast them too much as otherwise tahini will turn bitter. The seeds should just release their aroma.
Step2:
Let the sesame seeds cool down completely.
Step3:
Classic Hummus
Ingredients for Classic Hummus :
Boiled Chickpeas – 1 cup
Garlic cloves- 2
Tahini Paste-2 to 3 tbsp
Lemon Juice- 2 tbsp
Olive Oil-1 tbsp
Salt-1/2 tsp ( or to taste)
Cumin Powder-1/4 tsp
Water (in which chickpeas where boiled)- 4 tbsp
For Garnishing:
Paprika Powder (Red Chilli)-1/4 tsp
Olive oil- for drizzling on top
Few boiled chickpeas
Steps To Prepare:
In between blending do scrape off the chickpeas from the sides of the jar.
Beetroot Hummus
Ingredients for Beetroot Hummus:
Medium Beetroot-1 (roughly 50-60 grams)
Boiled Chickpeas – 1 cup
Garlic cloves- 1
Tahini Paste-2 tbsp
Lemon Juice- 2 tbsp
Olive Oil-1 tbsp
Salt-1/2 tsp ( or to taste)
Cumin Powder-1/4 tsp
Water (in which chickpeas where boiled)-3 tbsp
For garnishing:
Sesame seeds-1/4 tsp
Few Boiled chickpeas
Olive Oil- For drizzling
Steps To Prepare:
Step1:
Soak the chickpeas overnight or for at least 5 to 6 hours. Discard the water in which they were soaked. Transfer these soaked chickpeas in pressure cooker & add fresh water to it such that its level is little above the chickpeas. Pressure cook them for 2 to 3 whistles and them keep them on low flame for 20-30 minutes in order to boil them. Let the chickpeas (& the water in which they were boiled) cool down completely & preferably keep them in fridge for 1-2 hours. If you are using tinned chickpeas then skip this step.
Step2:
Wash the beetroot well while scrubbing off all the dirt & impurities over it. Chop off the top & the bottom part of beetroot as shown in image. Place them in a foil paper, drizzle some olive oil & salt over them. Dont worry about peeling them as it will be easily done once they are roasted.
 Wrap them in remaining foil paper completely & transfer this in a preheated oven. Bake them at 200 degree Celsius for 30-40 minutes.
The time varies slightly depending on the size of beetroot. Mine got cooked in 40 minutes. To identify whether beetroots are ready or not, check with a knife. It should smoothly pierce into & out of it. You can easily peel off the outer layer now. Let these beetroots cool down completely. I have used only 1 beetroot in this recipe.
Step3:
In a blending jar, add this chopped roasted beetroot, tahini paste, lemon juice & garlic clove. Blend them well.
In the same jar, add boiled chickpeas, olive oil, salt & cumin powder too. We will gradually add 'Aquafaba' ( the water in which chickpeas were boiled) while blending the chickpeas. Aquafaba has the tendency to become light & fluffy when whipped. This will help in making the hummus light & fluffy.
Step5:
In between blending, do scrape off the chickpeas from the sides & bottom of blender. Repeat this 2 or 3 times till you get smooth creamy consistency.
Enjoy these delicious flavourful hummus recipes with pita chips, pita bread or with falafel !!