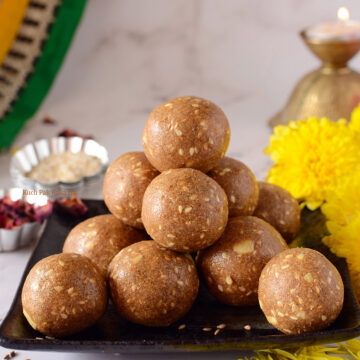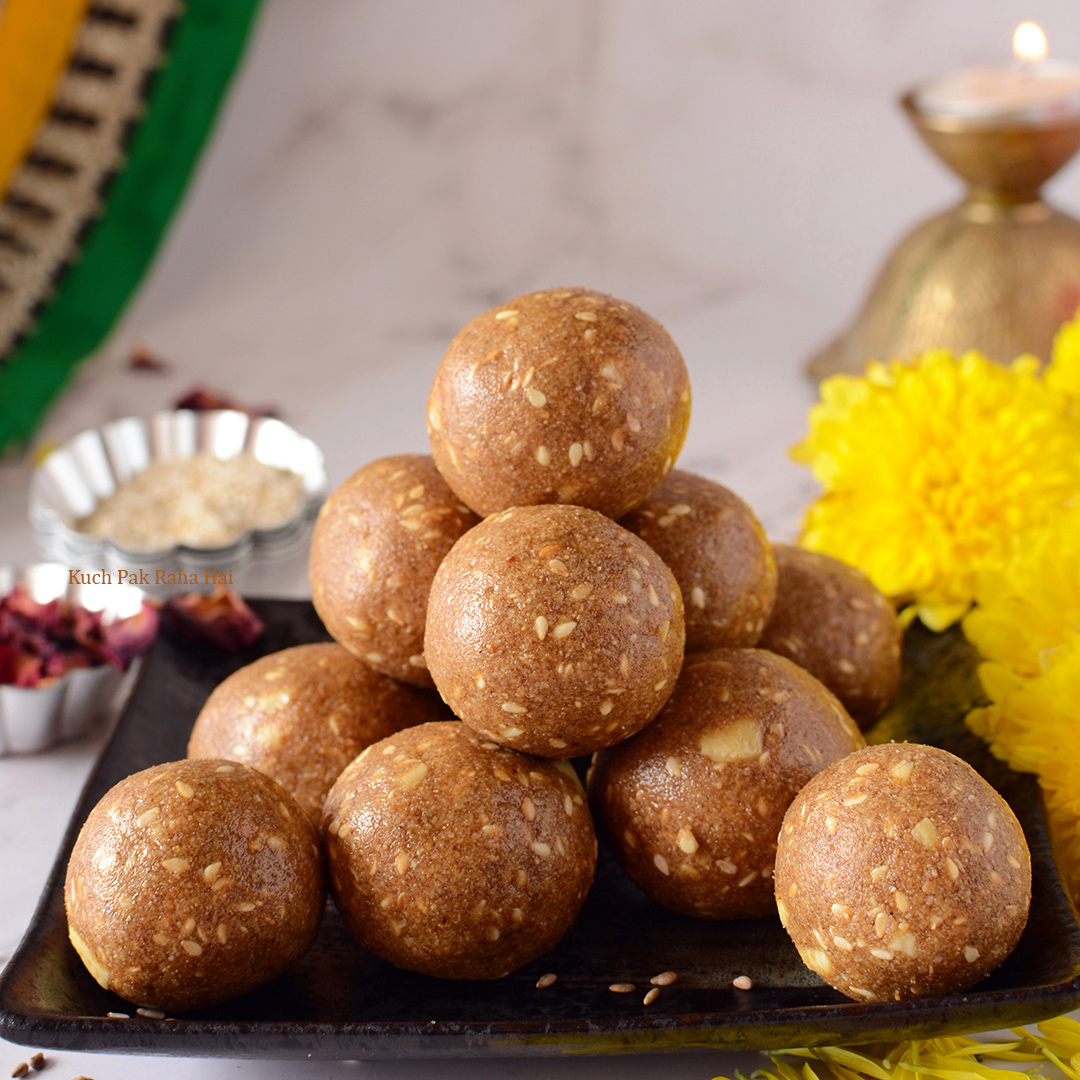 Til Ladoo is a delicious Indian sweet made with sesame seeds (til) and jaggery (gud). The ladoos are especially made on festivals like 'Makar Sankranti' or 'Lohri' but they taste so good that you would not mind making them otherwise too.
If you ask me for a healthy Indian sweet then I would definitely recommend 'Til Ke laddu' recipe as it is made without khoya or mawa, maida (APF) and contains no refined sugar.
Til Ladoos are also known as 'Sesame Balls' in english and 'Ellu Urundai' in tamil language. 'Ellu' means sesame and 'Urundai' means balls'  They are completely gluten free and can easily be made vegan too. These Til Gud laddus taste heavenly and turn out absolutely soft, literally melting  in your mouth.
In India, every seasons has its own festivals and each festival comes up with its own delicacies. January season is the peak winter season in Northern India and also when we celebrate 'Sakat', 'Makar Sankranti' and 'Lohri'. As til, gud, peanuts are considered very good for consuming in winters, most of the seasonal preparations makes generous use of these ingredients.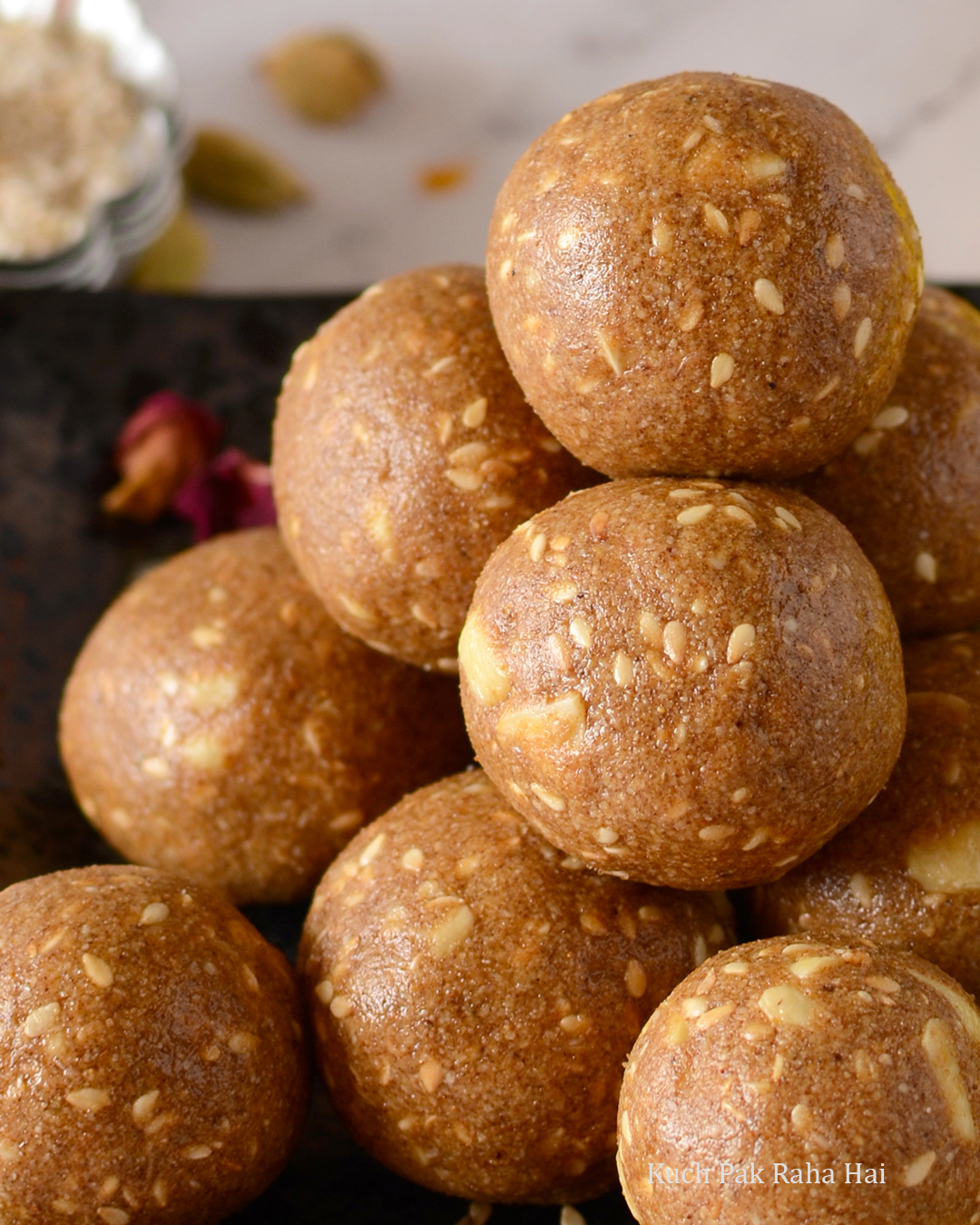 If you think in deep about it, peanuts, sesame are rich source of healthy fats or oils. In winters when our bodies are dry and food craving are at the peak, sweets like Til Laddu, Peanut Chikki, Til ki Chikki and Gajjak etc instantly satiate these cravings, provide essential fats to the body and help in keeping it warm.
Mytholgically 'Makar Sankranti' is a festival dedicated to Lord Surya (Sun). It is believed that this day marks the end of winter season and from now onwards days will start getting longer. There is also a famous Hindi proverb 'Til Chatke, Jada Satke' which hints at the same phenomenon.
As a child I have been part of a big joint family where every festival and season was celebrated with great zeal. During the cold month of  January and specially on 'Sakat', I remember my mother and aunts making 'Tilkut' by crushing roasted sesame seeds (til) along with shakkar (also known as khaand, a form of natural brown sugar). It was crushed in a iron 'Mamjista' (a kind of mortar and pestle) which was quite heavy for us to handle. With the arrival of modern kitchen gadgets, this work is now done in a grinding jar.
Tilkut can be made into ladoos by adding some ghee and giving some extra pulses in the grinder itself. The cardamom(elaichi) imparts a rich flavour & aroma to these ladoos and roasted cashews are added to it for some crunch.
I have also shared a quick video tutorial for these Til ladoos on Youtube 'Kuch Pak Raha Hai' channel. If you want to get the idea about the consistency of ladoo mixture or how to bind ladoos then do check it out.
Youtube Video :
Hope you would like this easy delicious soft Til Ladoo recipe!!
List of Ingredients: (Makes 10-12 ladoos)
Til (Sesame seeds)-1 + 1/4 cup
Gud (Jaggery)- 3/4 cup
Chopped Cashews- 8 to 10
Elaichi Powder (Cardamom)- 1/2 tsp
Ghee (Clarified Butter)- 1/2 tbsp
Notes:
1. Adding cashews is optional. They are added as they add nice crunch to the ladoos and their flavour goes well with sesame.
2. Instead of cashews you can add some almonds or peanuts too.
3. To make this recipe vegan, you can use vegan substitute for ghee or butter.
4. The recipe is extremely simple. The only thing to remember is not to grind the sesame seeds immediately after roasting as they will be hot and can release their fat quickly on grinding. Start grinding process when seeds are just slightly warm. Always do the grinding in pulses.
5. Use good quality sesame seeds as the entire binding & taste of laddus depend on them.
6. If you like sweetness on lighter side, you can reduce the amount of jaggery powder slightly.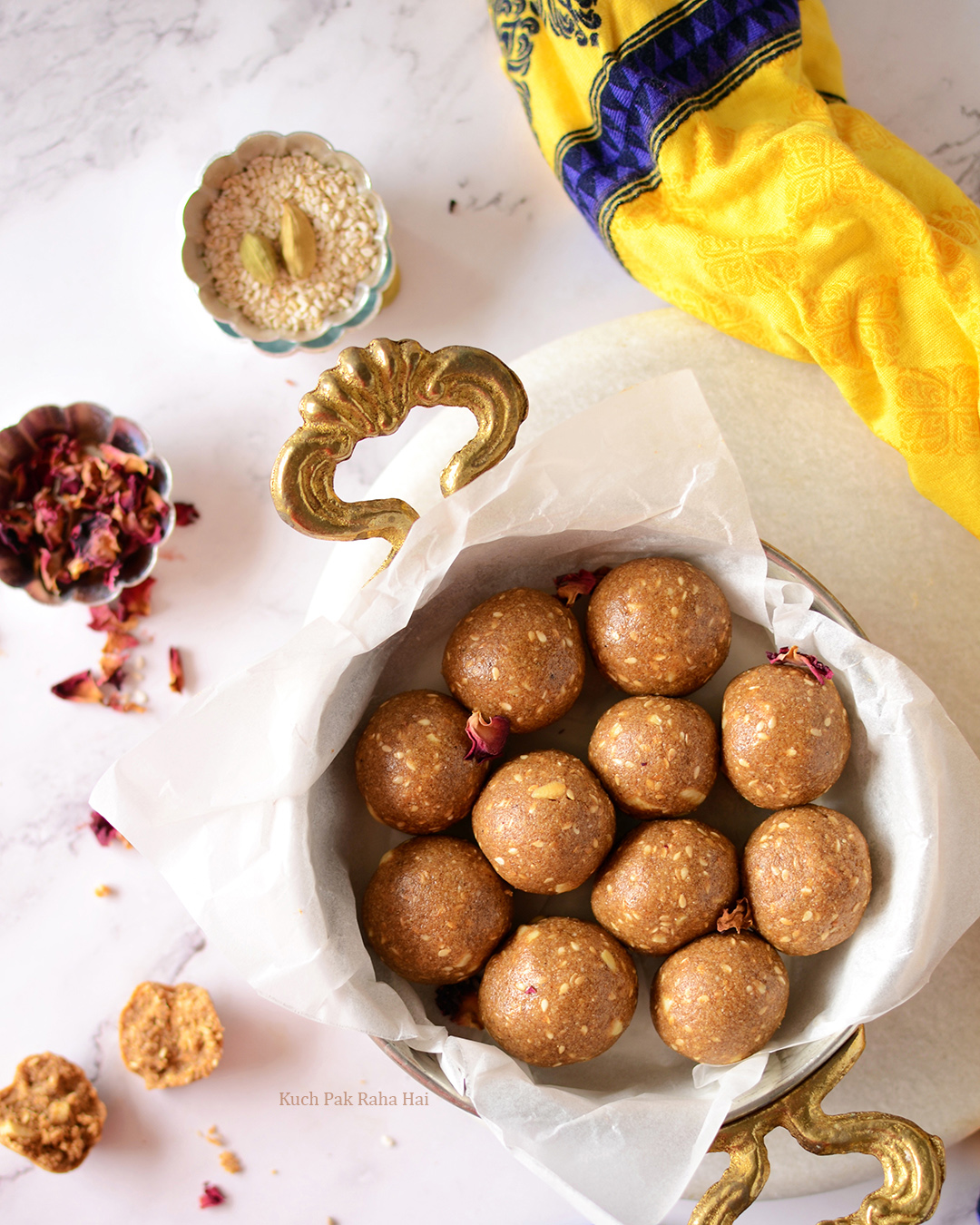 Steps To Prepare:
Step 1:
Roast chopped cashews in a heavy bottomed pan on medium low flame till they slightly change colour and start releasing aroma. Keep these side.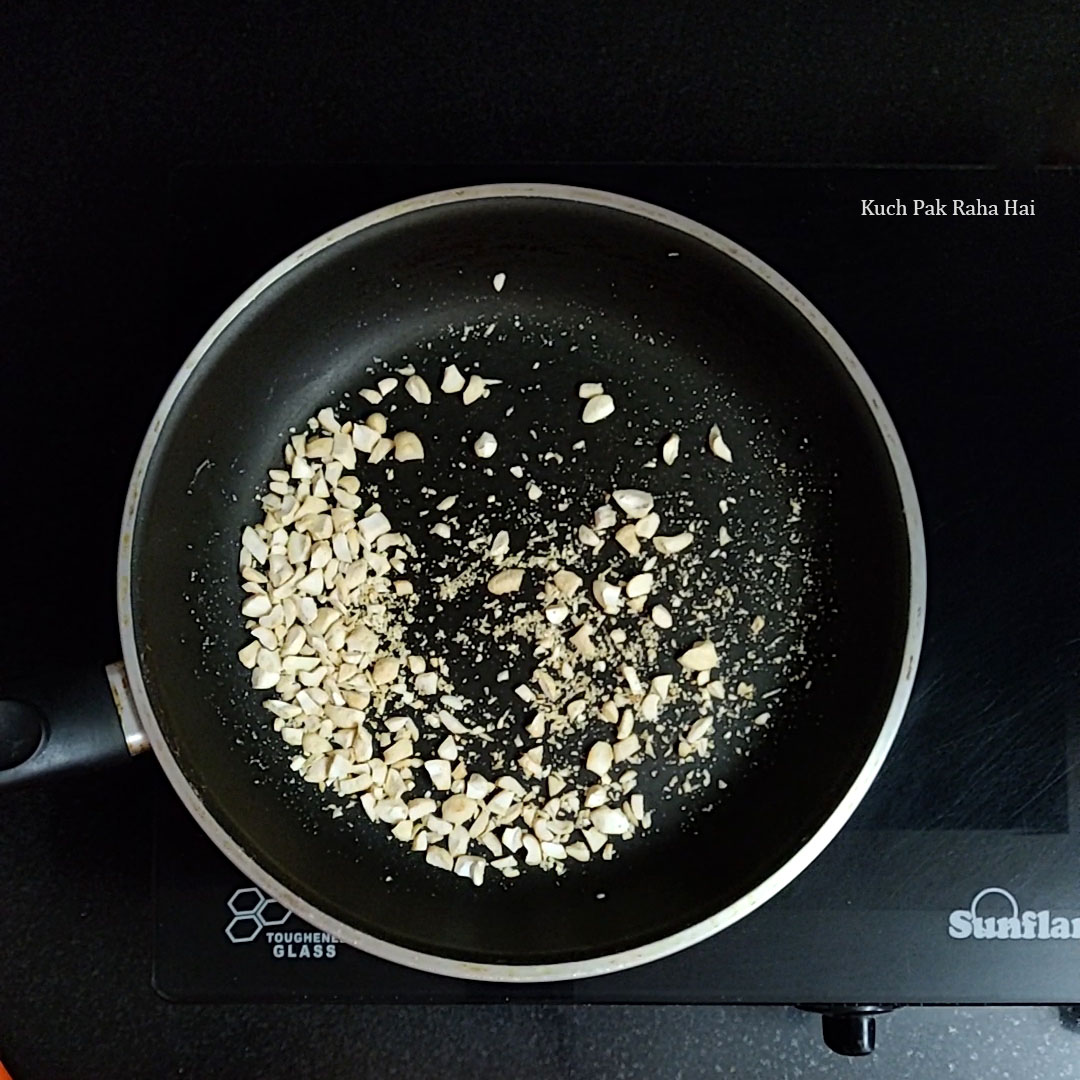 Step 2:
In the same pan, add sesame seeds and start roasting them on low flame. Keep stirring or flipping the seeds in between.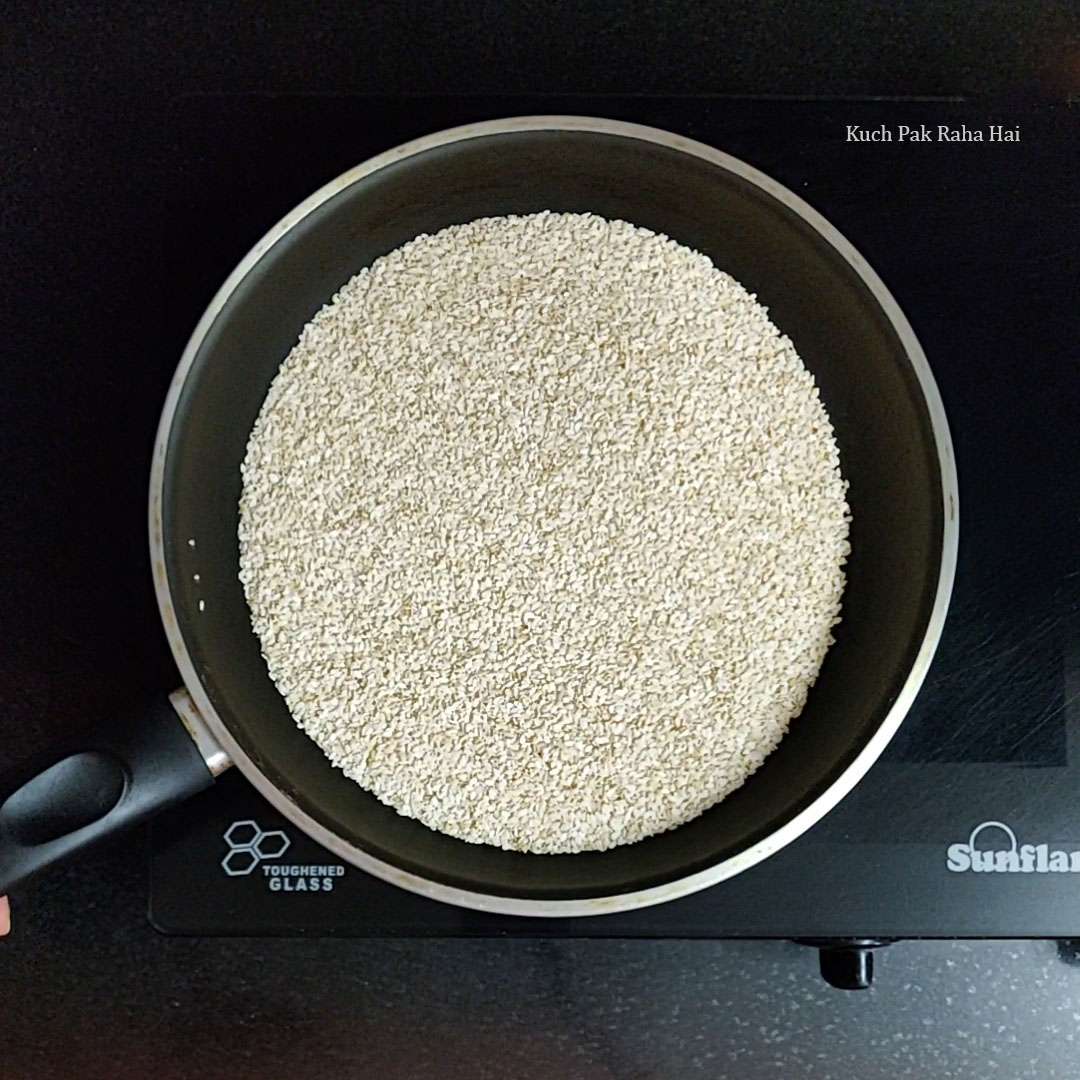 Keep roasting till all seeds puff up and slightly change colour. Transfer them to a bowl.
Step 3:
Let these sesame seeds or til cool down for 10-12 minutes. Keep 3-4 tbsp seeds apart.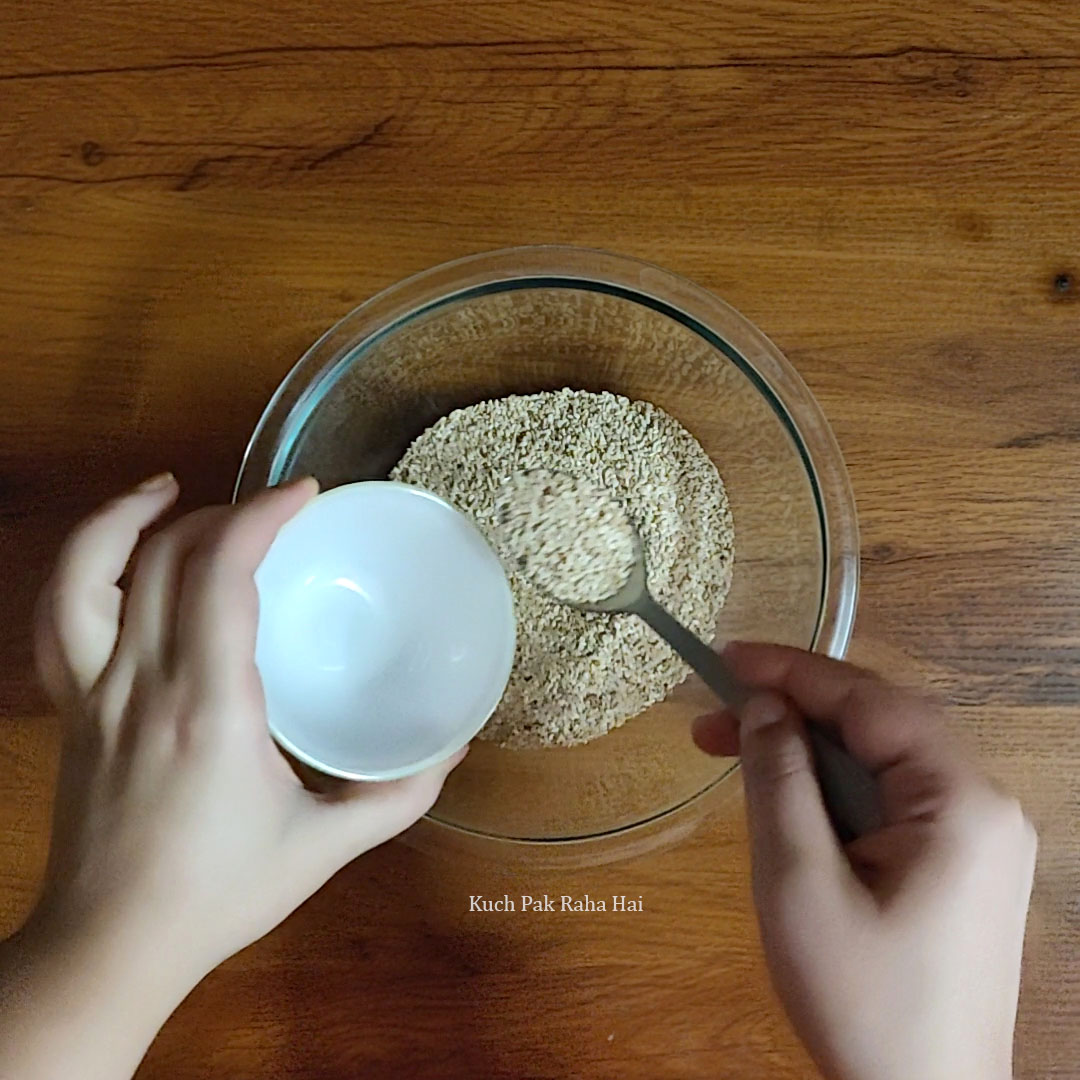 Step 4:
When the seeds are little bit warm, add them to a grinder jar. This is an important step. Don't start grinding hot sesame seeds as they will release the fat and turn into paste. Pulse it 2-3 times.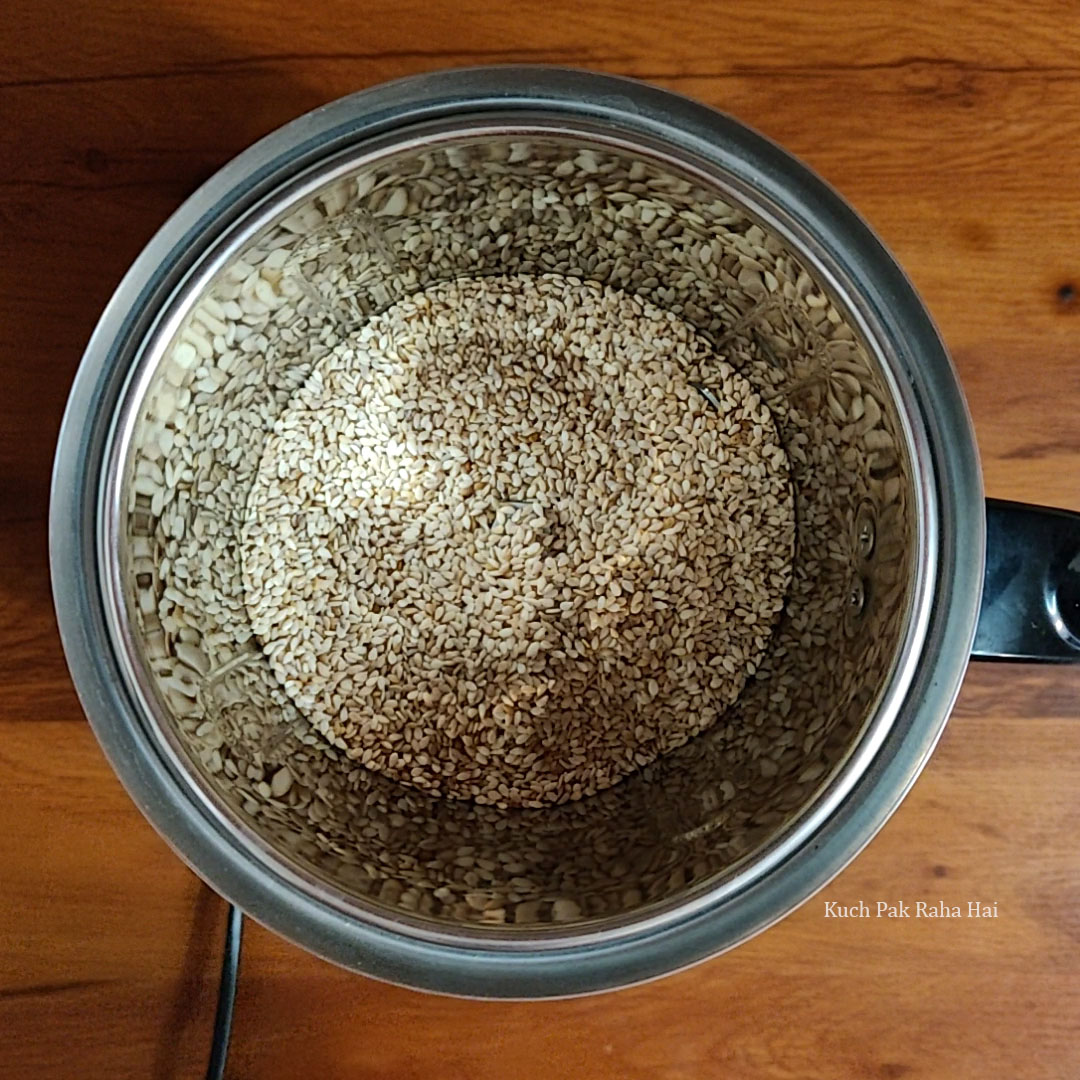 Step 5:
In the same grinder jar, add jaggery powder (gud), cardamom powder (elaichi) and desi ghee. Grind it in pulses till all ingredients are combined properly.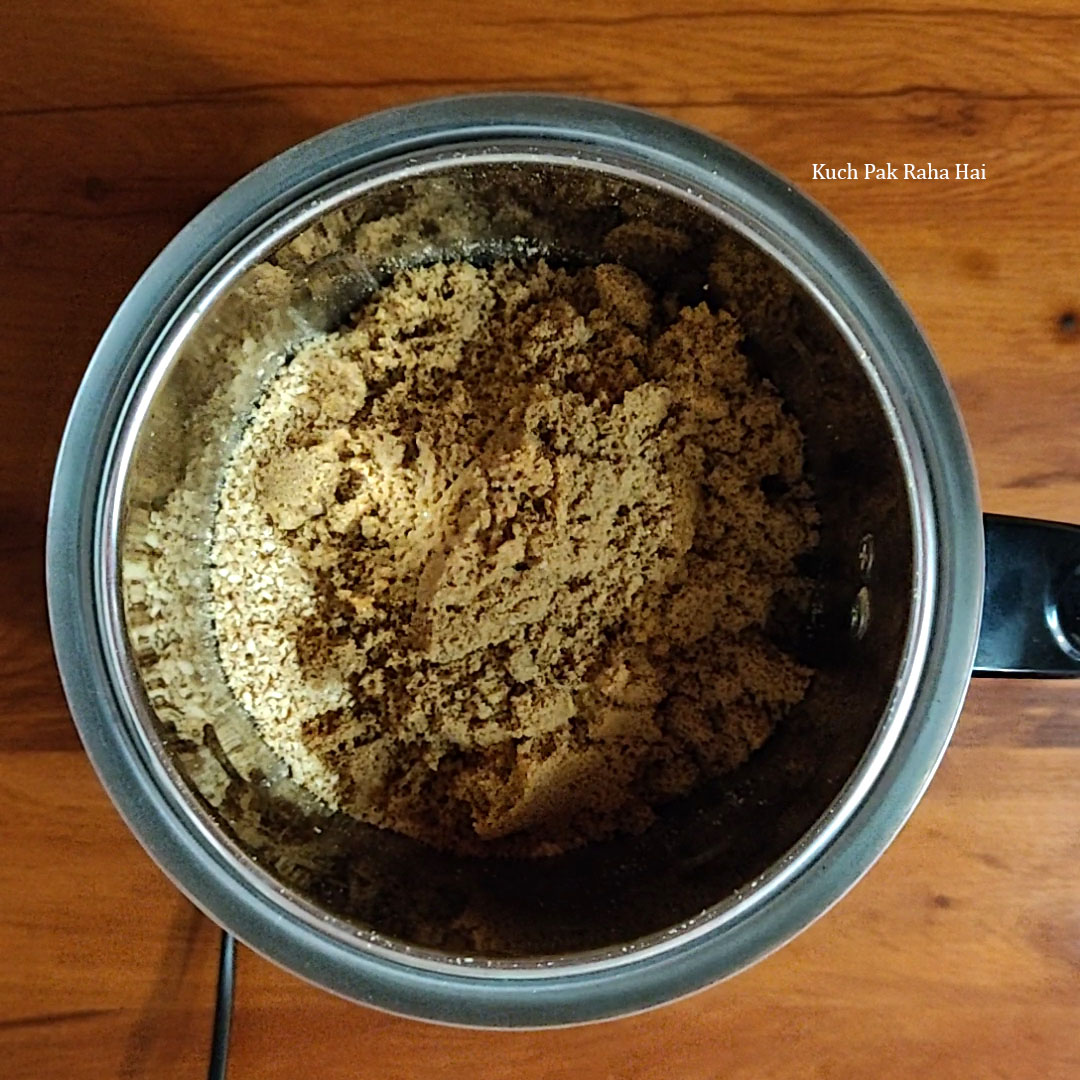 Step 6:
Transfer this til ladoo mixture in a bowl and add roasted chopped cashews and 1/4 cup sesame seeds which we kept aside before. Mix these well with hands till you start noticing slight fat on your palms.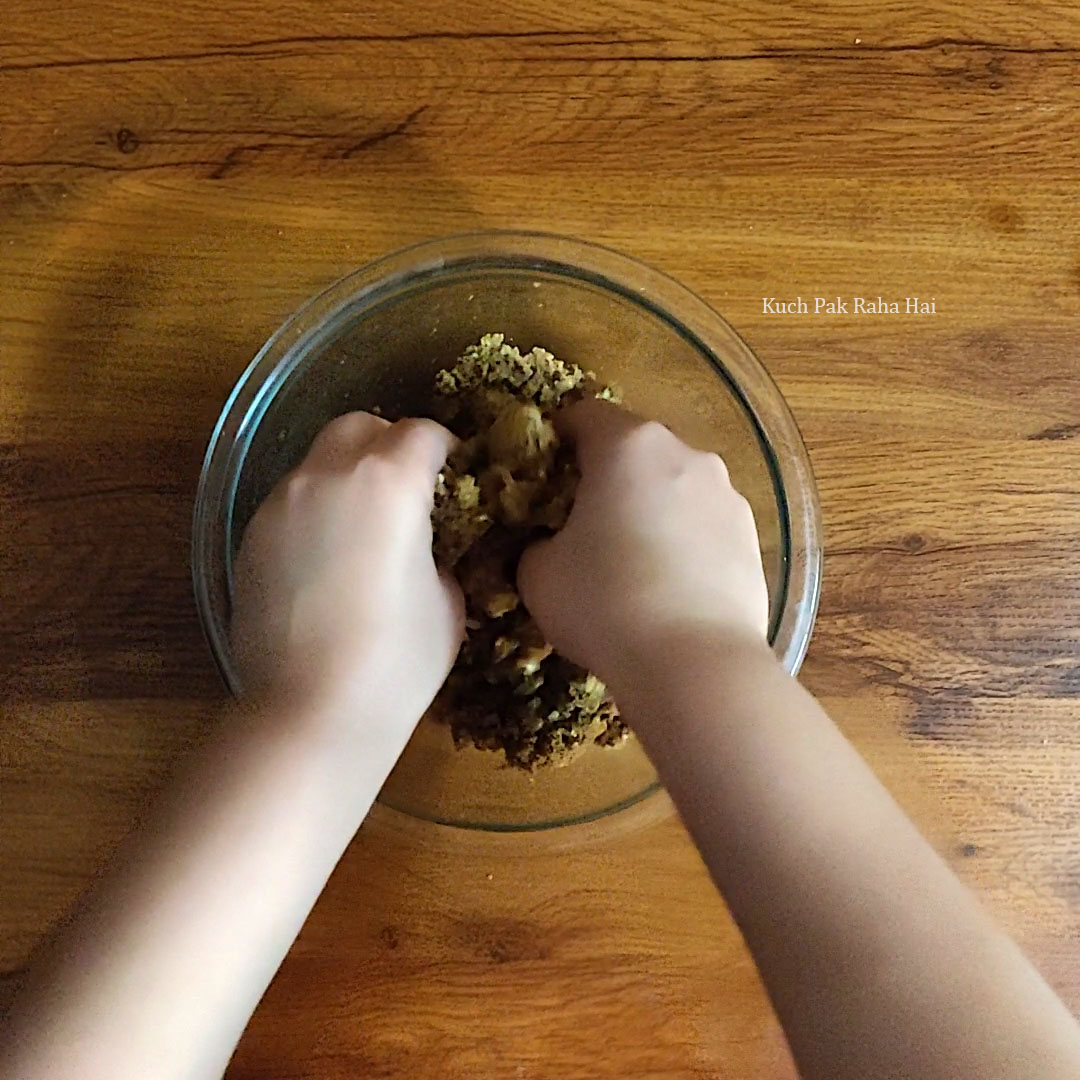 Step 7:
Take 2-3 tbsp of mixture and start binding it by closing your fist. Roll them into balls. Repeat the process for the remaining mixture.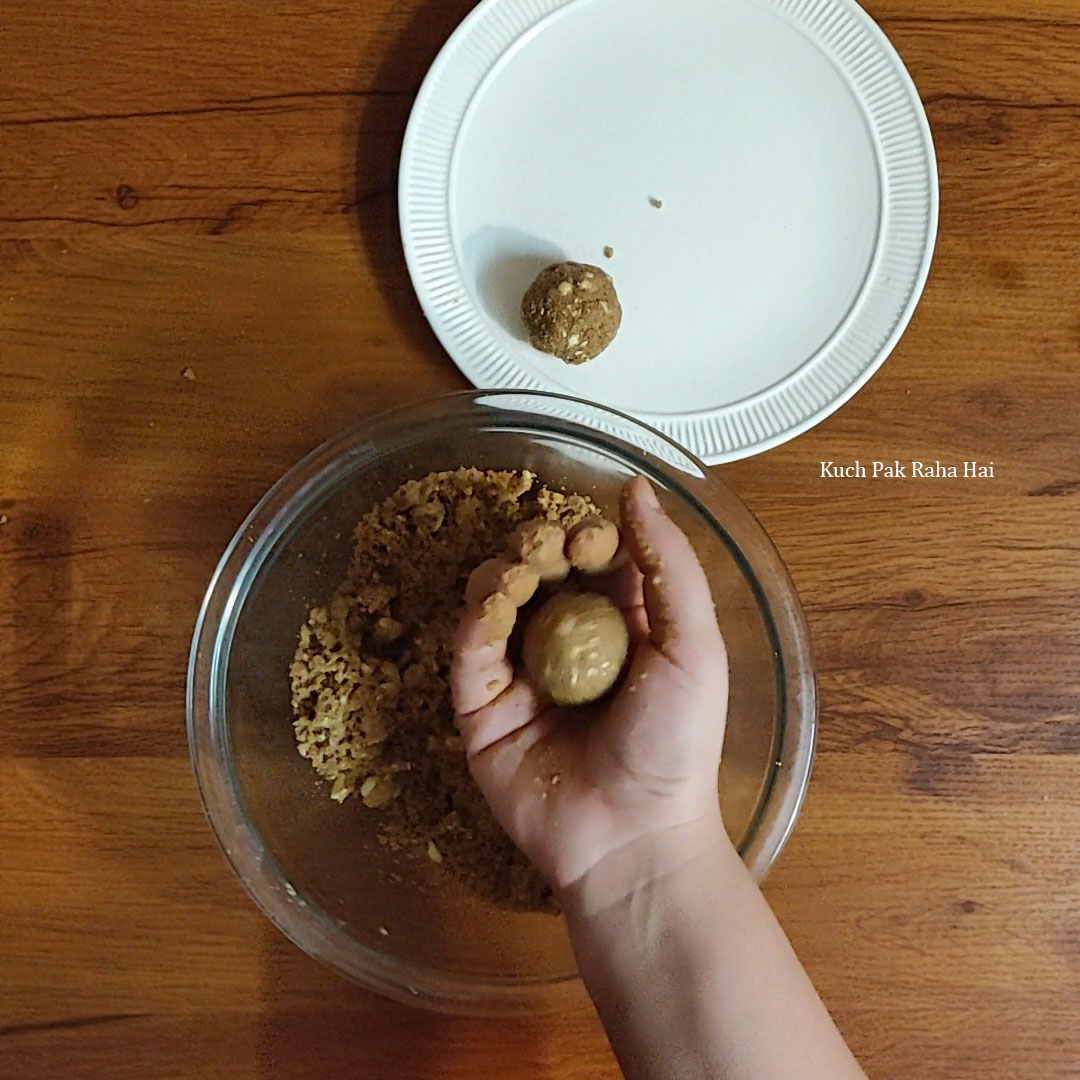 Enjoy these delicious soft Til Gud ladoos. Bon Appetit!!
How to store Til Ladoo?
They stay fine at room temperature upto 3-4 days. For longer shelf life you can store them in airtight box in refrigerator.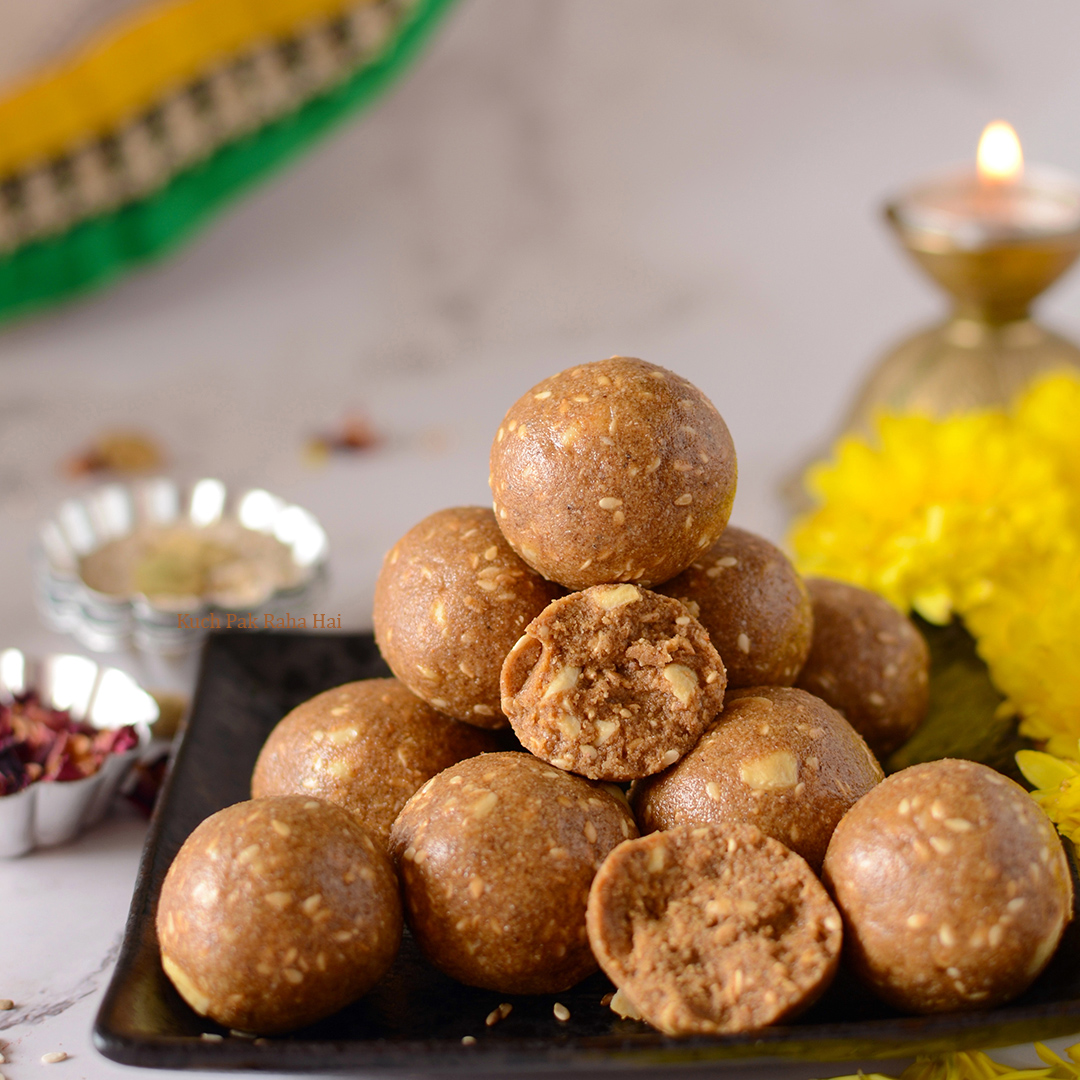 Other Indian sweets recipes you might like :
Pin it for later: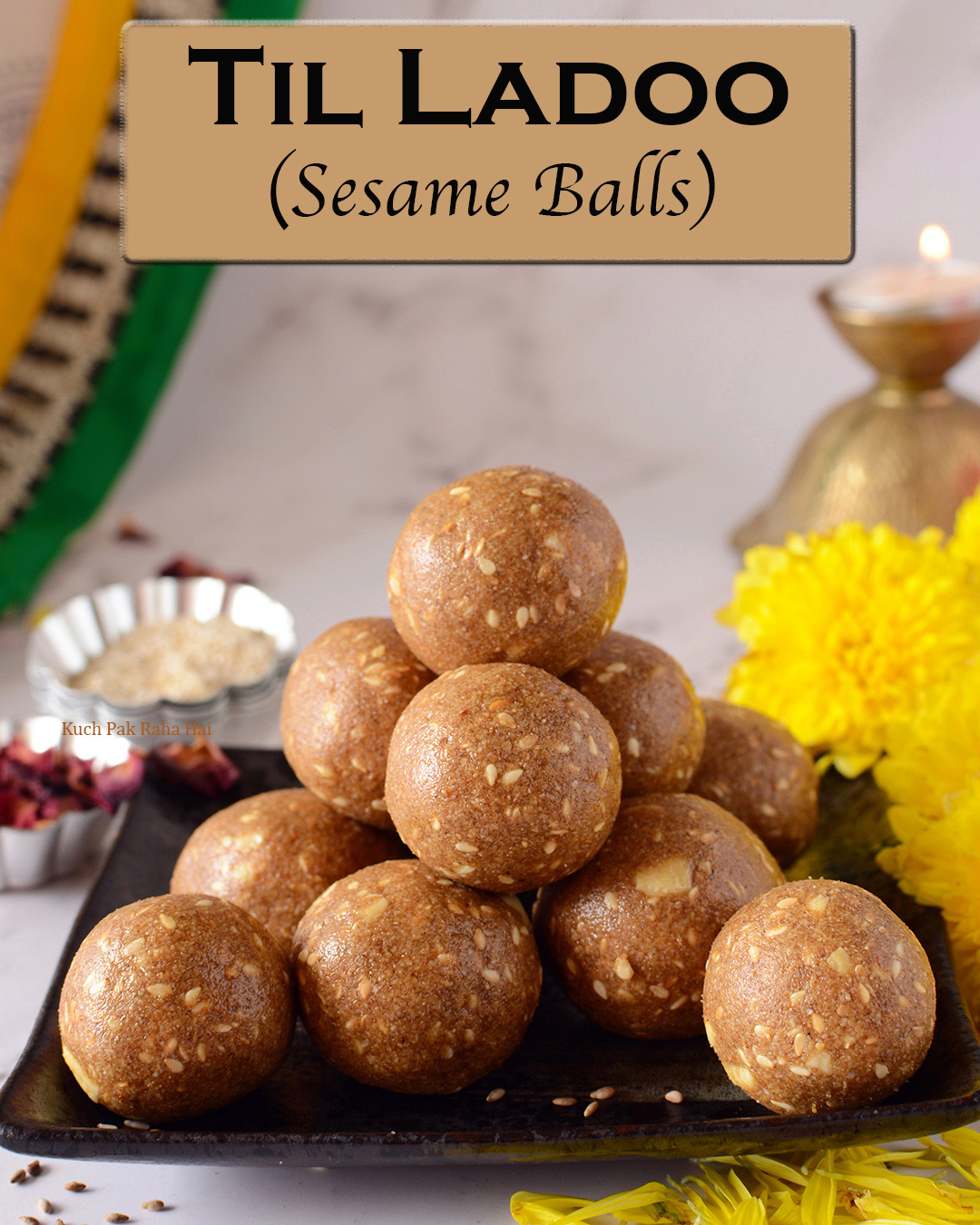 If you try this Til Ladoo recipe and share pics on social media, the do tag #KuchPakRahaHai on Facebook or Instagram.