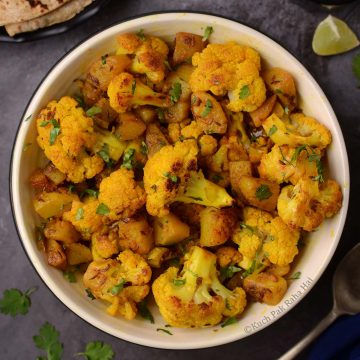 Aloo Gobhi is a delicious popular North Indian vegetarian recipe made with potatoes (aloo), cauliflower (gobhi), ginger, green chillies & few spices. It can be eaten with chapati, paratha or served as side dish with dal rice.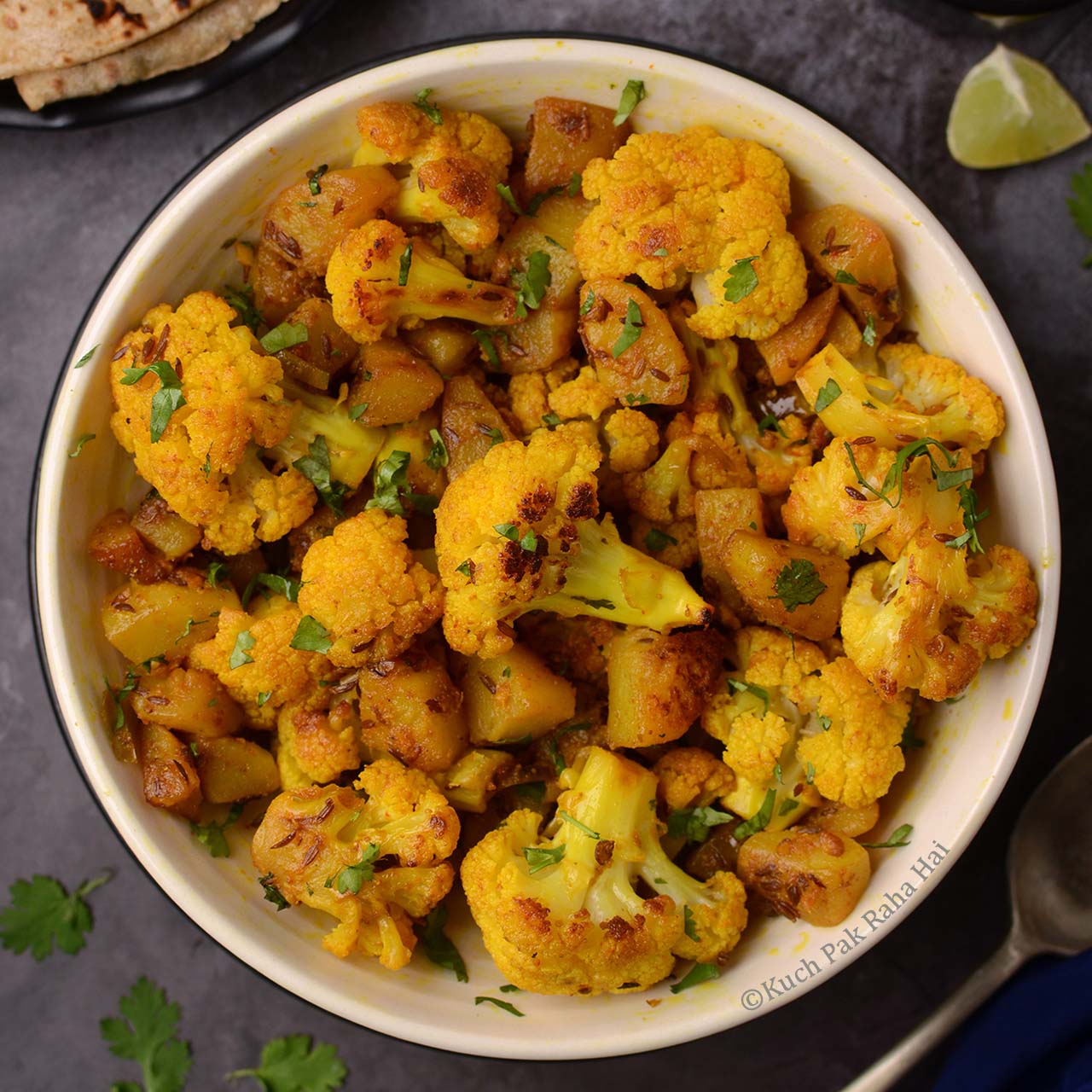 The aloo gobi recipe shared here is:
Vegan (Dairy free)
Gluten Free
No onion No garlic (Satvik)
Healthy & easy side dish
Any Indian menu is incomplete without Aalu Gobhi ki subji. It is a delicious blend of slightly crispy cauliflower (gobhi), soft potatoes (aloo), aromatic spices & fresh coriander. The recipe is simple yet adds so much flavour to everyday dal, roti or rice.
Each household has its own unique recipe for aloo gobhi. As I was born & brought up in a Jain family, onion & garlic were never used at my home while making it. In college days, one of my punjabi friend brought this dish in her tiffin and it was quite different as tomatoes, onion & garlic were generously used in its preparation. Some people also like to add matar (peas) to it.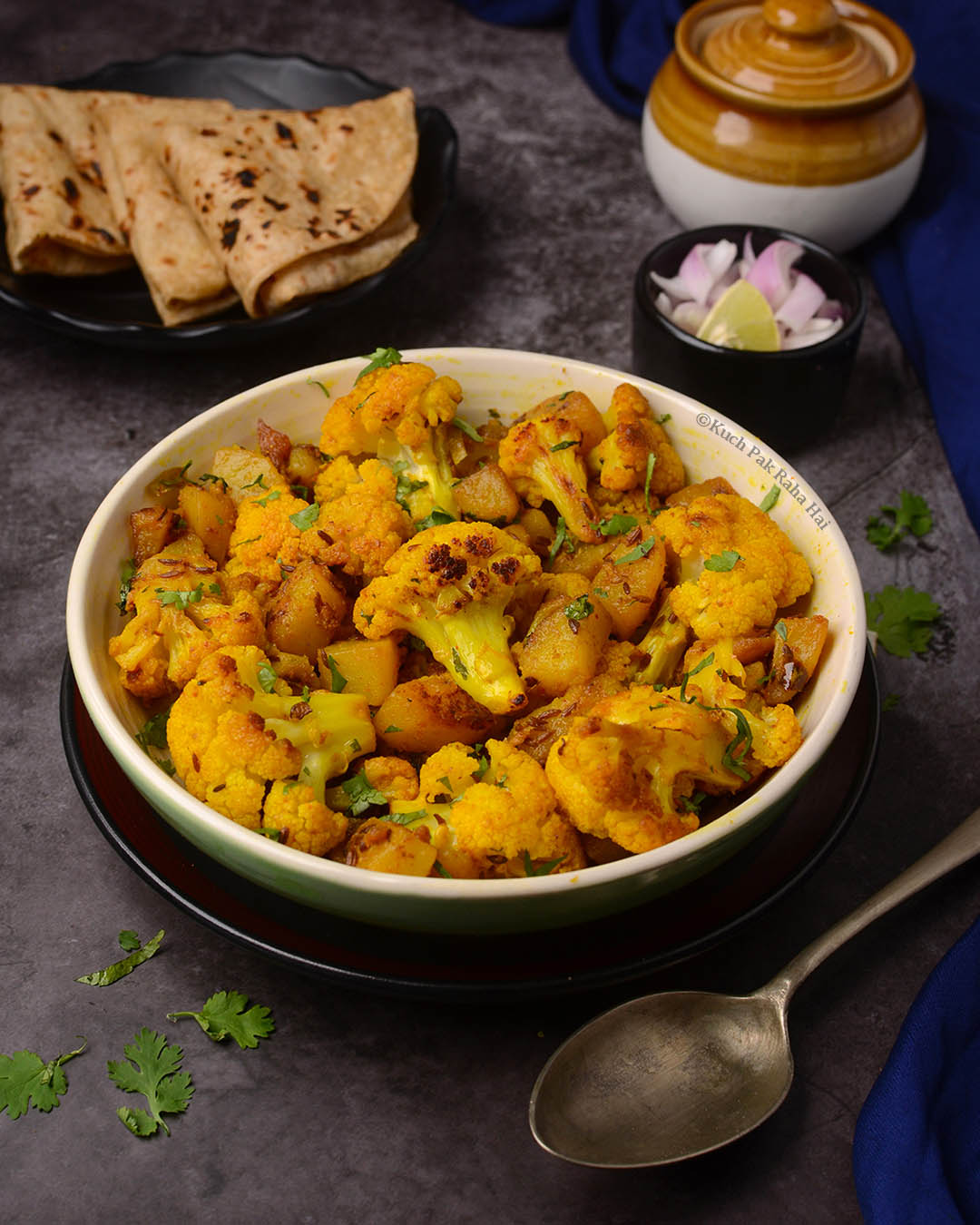 Traditionally aloo gobi is cooked in mustard oil which gives it a nice rustic aroma & slightly golden colour. If you don't want to use mustard oil, you can use ghee (clarified butter) or any cooking oil of your choice.
Aloo gobhi can be prepared in instant pot, pressure cooker or in a pan. Here I have shown simple way of preparing it in pan / kadai on a stovetop.
You can enjoy this aloo gobhi with chapati, paratha, naan or as side dish with:
Hope you will like this simple aloo gobhi (potatoes cauliflower) recipe. Do checkout the variations shared at the end of post.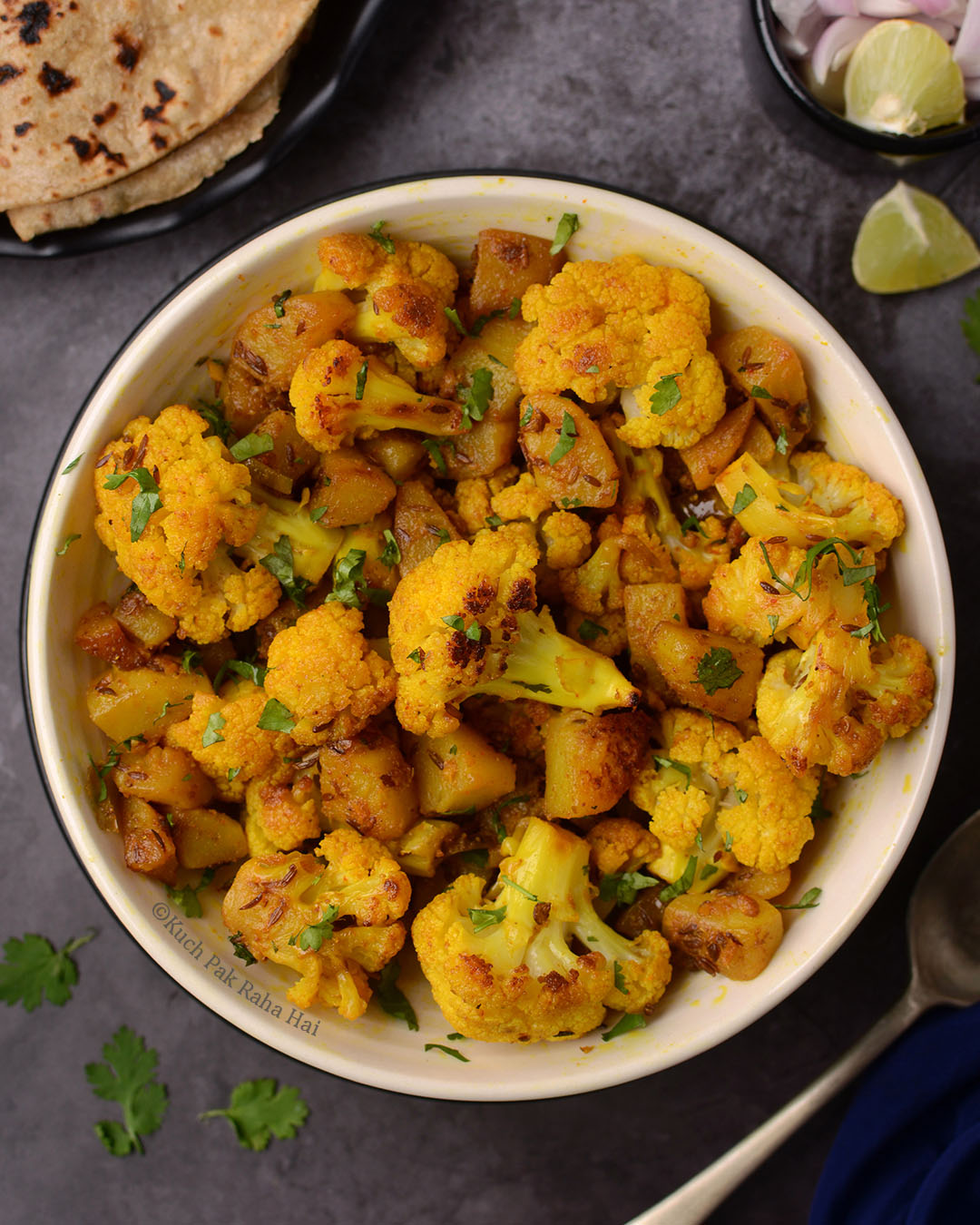 Ingredients:
Ghee / Oil- 2 tbsp
Cauliflower-1 whole
Potatoes- 2 to 3 (medium)
Ginger (finely chopped)-2 tsp
Green Chillies (chopped)-2 to 3
Asafoetida (

hing

) – 1/4 tsp
Cumin seeds (jeera)- 1 tsp
Water- 2 to 3 tbsp
Turmeric (haldi)- 1/2 tsp
Red Chilli Powder- 1/4 tsp
Coriander Powder-1 tsp
Salt- 1 tsp (or to taste)
Garam Masala-1/2 tsp
Amchoor / Lemon Juice- 3/4 tsp
Chopped Coriander/ Cilantro- 2 tbsp
Optional:
Chopped garlic cloves- 4 to 5
Chopped Onion (medium)-1
Notes:
1. Amchoor is dry mango powder & is used to add sourness in dishes. It can easily be replaced with some lemon juice.
2. If you want to keep this recipe vegan, use oil for cooking. You can use olive oil, avocado oil or mustard oil.
3. Adjust the spices as per your taste.
Directions:
Step 1:
Cut the cauliflower florets. Wash & keep them aside. Peel & cut the potatoes into medium size pieces. Wash them well to get rid of extra starch.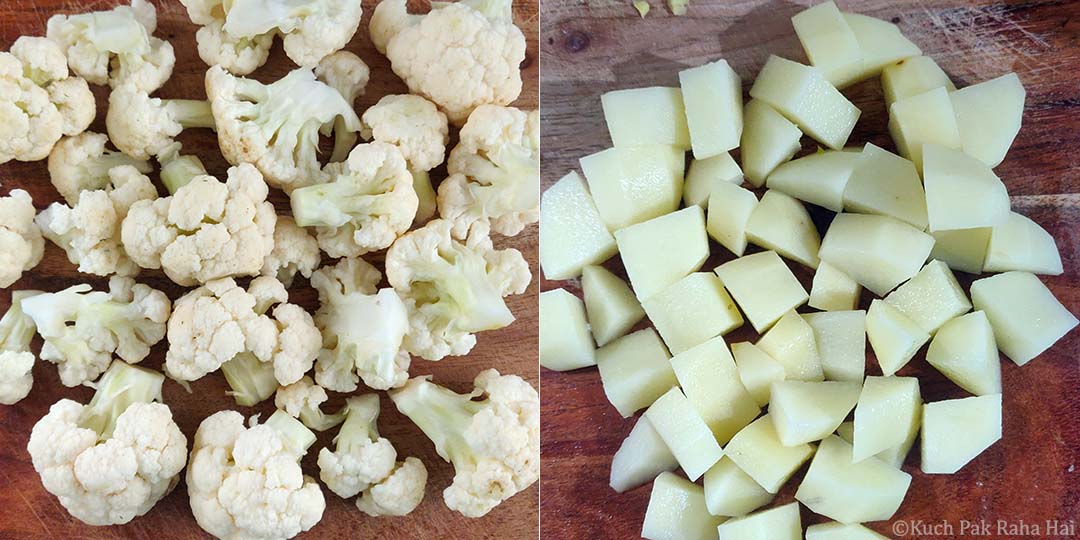 Step 2:
Heat oil in a pan. Once the oil is heated, add asafoetida (heeng), cumin seeds (jeera), green chillies & ginger. Sauté the spices for 30-40 seconds. (If you are adding onion & garlic add them in this step. Sauté till onions turns translucent).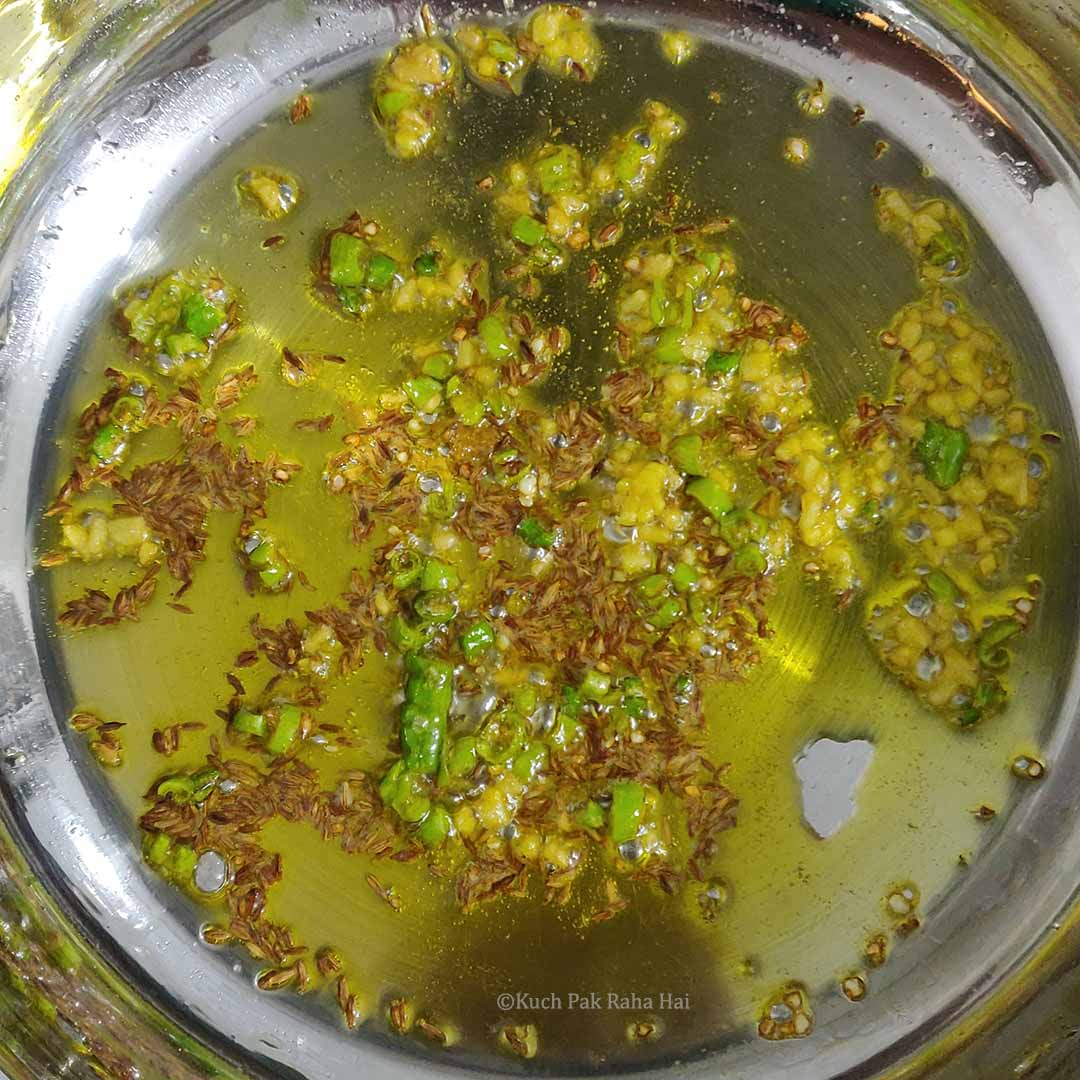 Step 3:
Add cauliflower florets and potatoes. Mix gently.
Let them sauté on medium-low flame for 4-5 minutes till you start noticing light golden brown spots on them.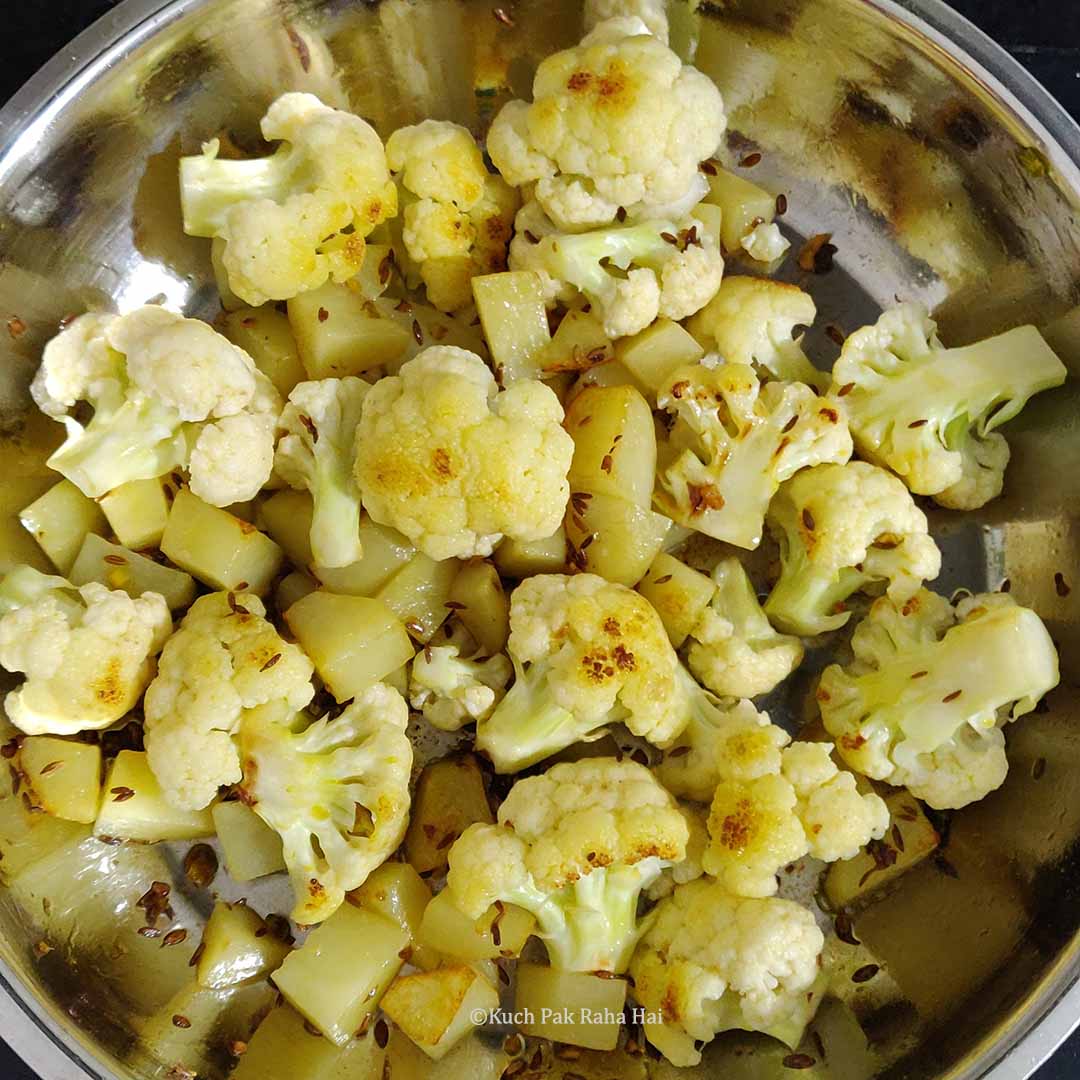 Step 4:
Add salt, turmeric, red chilli powder & coriander powder. Mix well & add water. Cover with a lid and let them cook on low flame for 8-10 minutes.
Step 5:
After 8-10 minutes, check one of the cauliflower florets and potato piecs with a knife or spoon. If it gets cut easily, the vegetables are cooked else cover again with the lid and cook for another 2-3 minutes. Add garam masala & mango powder (or lemon juice). Mix gently. Garnish with freshly chopped coriander or cilantro leaves.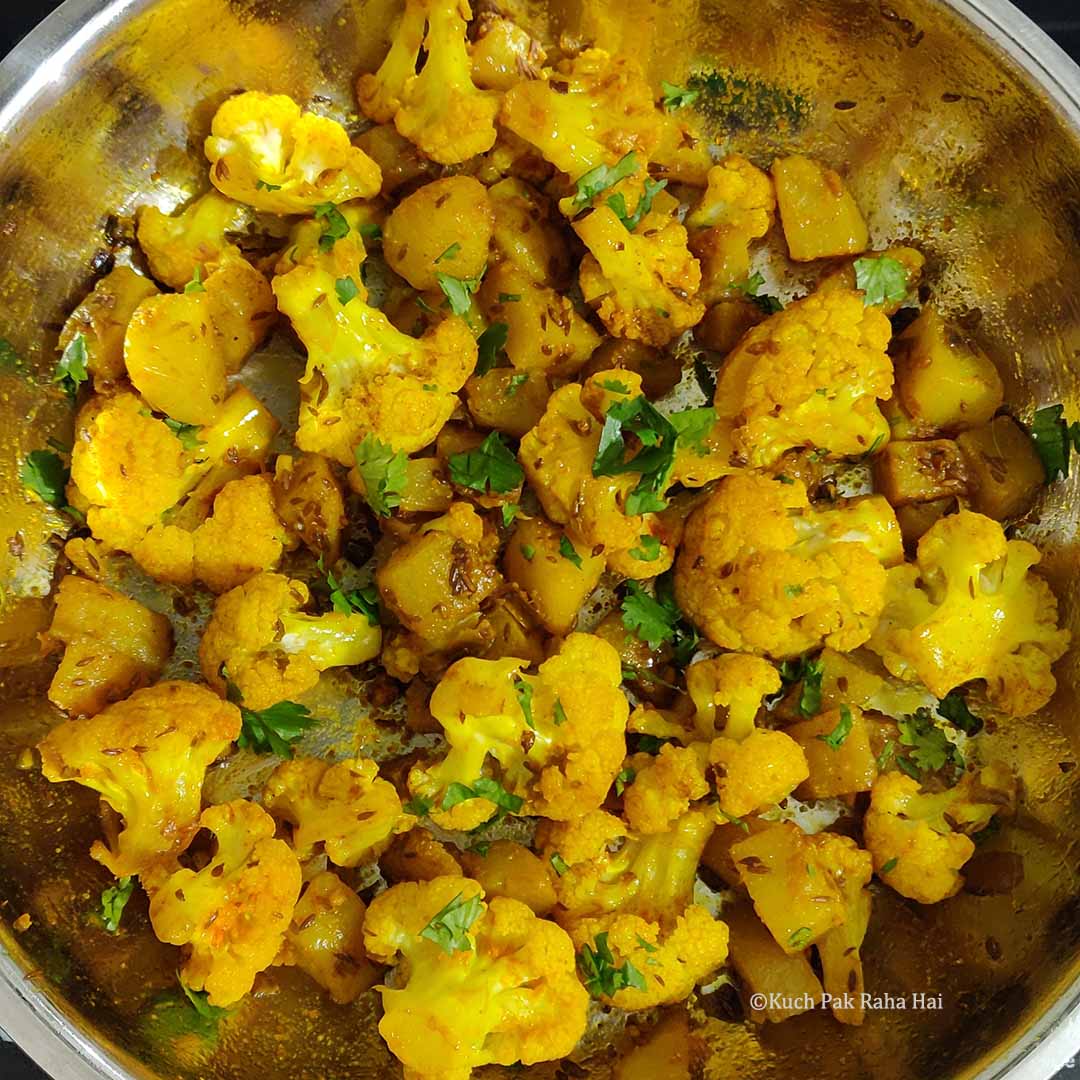 Delicious Aloo Gobhi is ready. Serve it hot with chapatis & dal.
How to store & reheat aloo gobhi?
You can store it in fridge easily for upto 2 days. To reheat it in a pan, add aloo gobi with 2-3 tbsp of water. Cover with lid & heat on low flame for 1-2 minutes. You can also reheat in microwave for 30-40 seconds.
Tips:
1. Keep the cauliflower florets medium sized as small sized florets can disintegrate quickly on cooking.
2. Once aloo gobhi is ready, don't mix too much as potatoes are already soft and they can turn mushy with too much mixing.
3. I like slight crunch in cauliflower florets. If you like them softer, increase the cooking time (with lid) by 2-3 minutes.
4. Using a heavy bottomed pan like cast iron pan ensures more even cooking.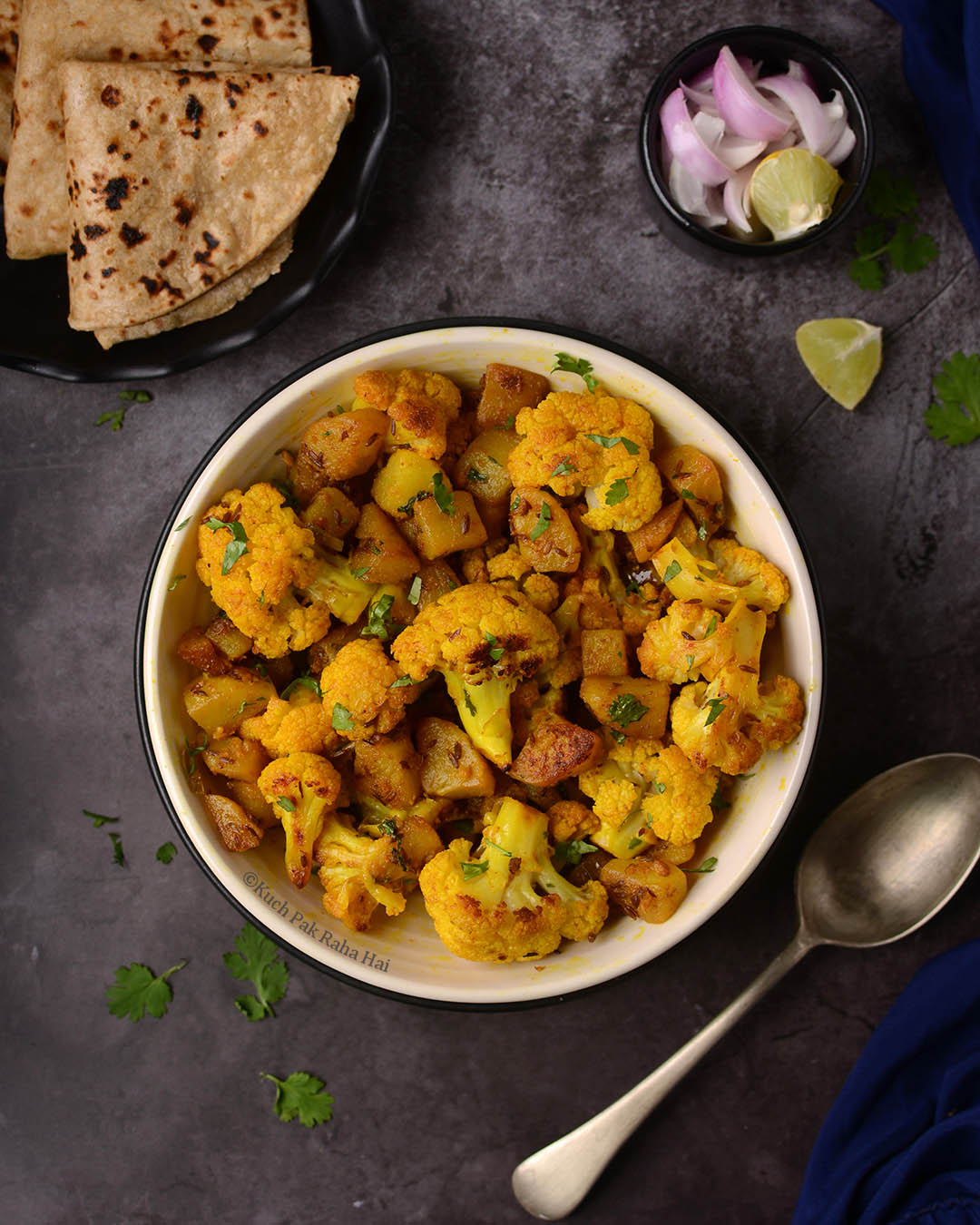 Aloo Gobi Variations:
1. Aloo Gobhi Curry: This version of aloo gobhi has little bit of gravy as along with onion & garlic, some chopped tomatoes, tomato puree & yogurt or cream is also used in preparation.
2. Aloo Gobhi Adraki: In this recipe, adrak (known as ginger in english) is the prominent flavour. It is used both in grated & julienne form.
3. Aloo Gobhi Matar: Matar (known as peas in english) goes very well in combination with aloo & gobhi. You can use frozen or fresh matar for it. Add them in step 4 (directions above) before covering with lid.
More recipes with potatoes:
Pin for later: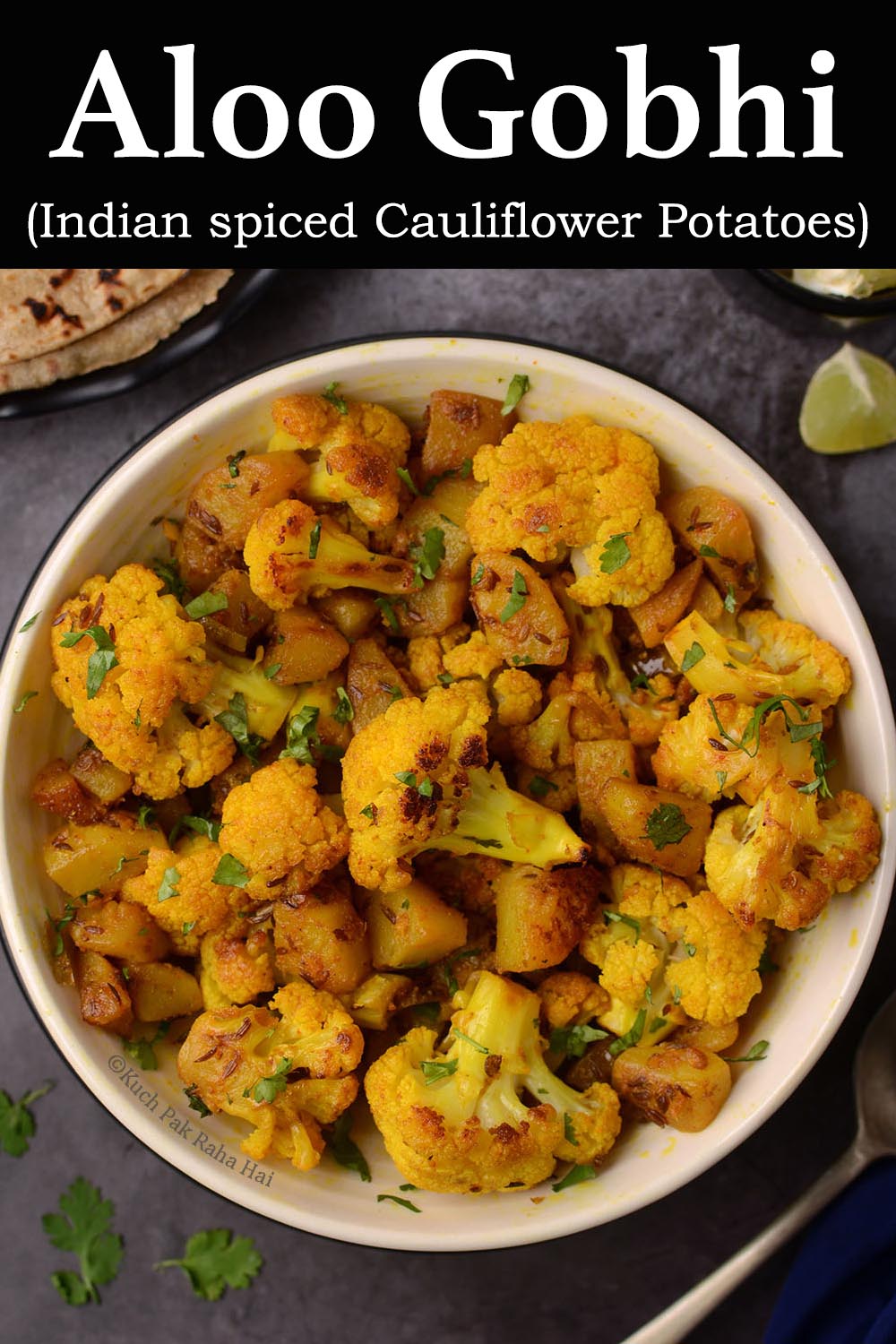 If you try this recipe & share pics on social media, then don't forget to tag on Facebook, Instagram or use #kuchpakrahahai.
Let's stay connected
Facebook | Instagram | Pinterest| Youtube