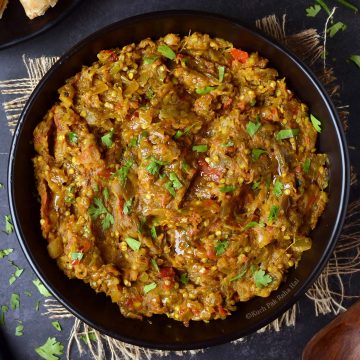 Baingan Bharta or Roasted Eggplant Mash is a popular North Indian recipe where fire roasted eggplants are mashed & cooked with onion, tomatoes and spices etc. It can be enjoyed with chapatis, parathas or served with dal or curries.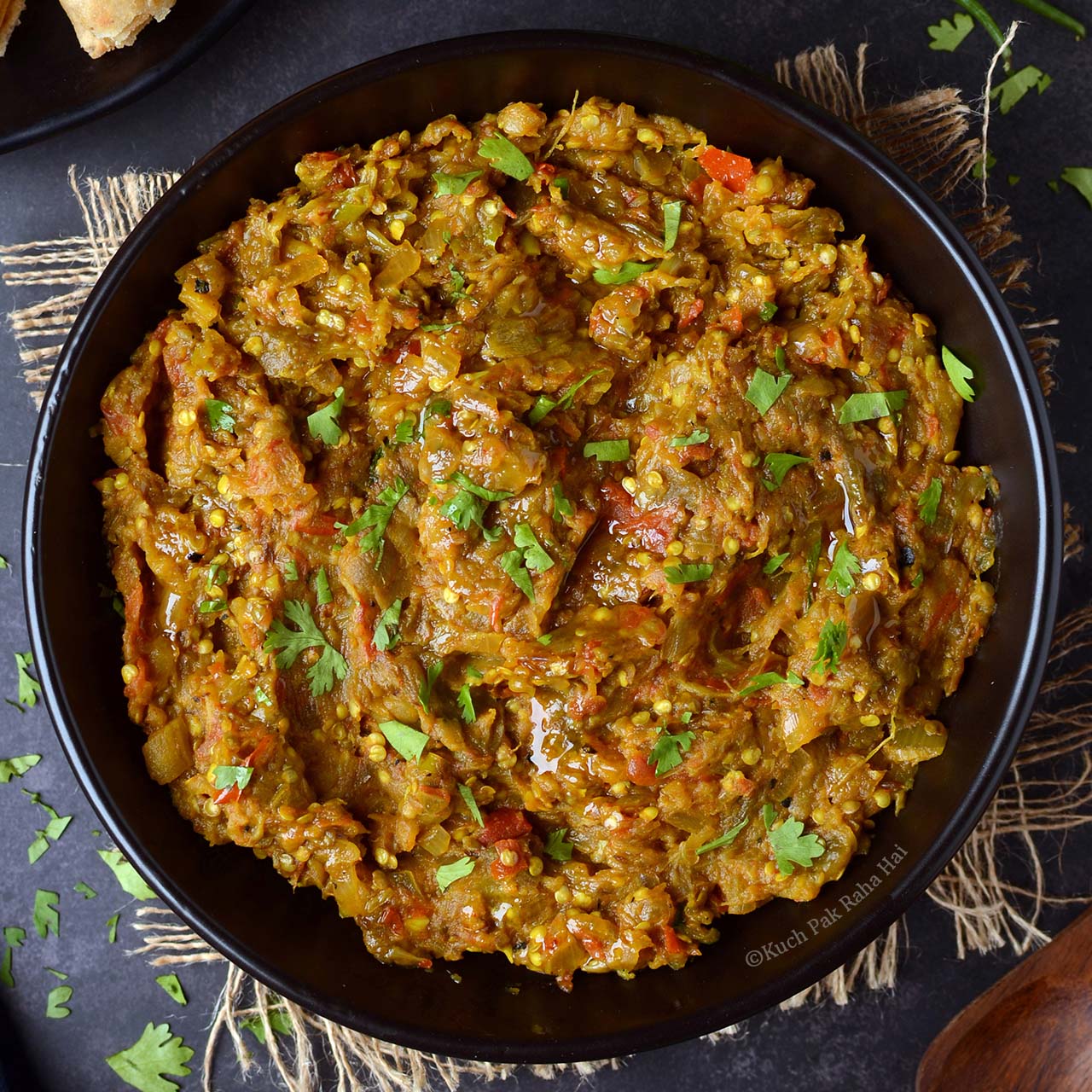 Baingan is known as eggplant, brinjal or aubergine in english. It has number of health benefits as it is packed with fibre, vitamins, minerals like vitamin K, A, C, potassium, magnesium & calcium etc. The baingan bharta or eggplant mash recipe shared here is:
Vegan (dairy free)
Vegetarian
Gluten free
Easy to make
People often get confused between this Indian style eggplant mash & middle eastern dip called 'Baba Ghanoush'. In both the recipes, eggplant is first roasted, peeled & its pulp is used in preparation. To make baigan ka bharta, we cook it further with ginger, garlic, onion, tomatoes & aromatic Indian spices to make a rustic tongue tantalising dish.
How to roast baingan or eggplants?
Roasting baingan is foremost & important step to make bharta. It should always be brushed with oil first & then slow roasted till its outer skin becomes dark or ashy in colour (almost burnt).
Traditionally to make bharta, the eggplant was first chargrilled (roasted over charcoals) which gave it a smokey aroma & taste. Now a days, this step is done directly on flame on kitchen stovetops. It can be roasted in oven or air fryer too (will update the post soon with details).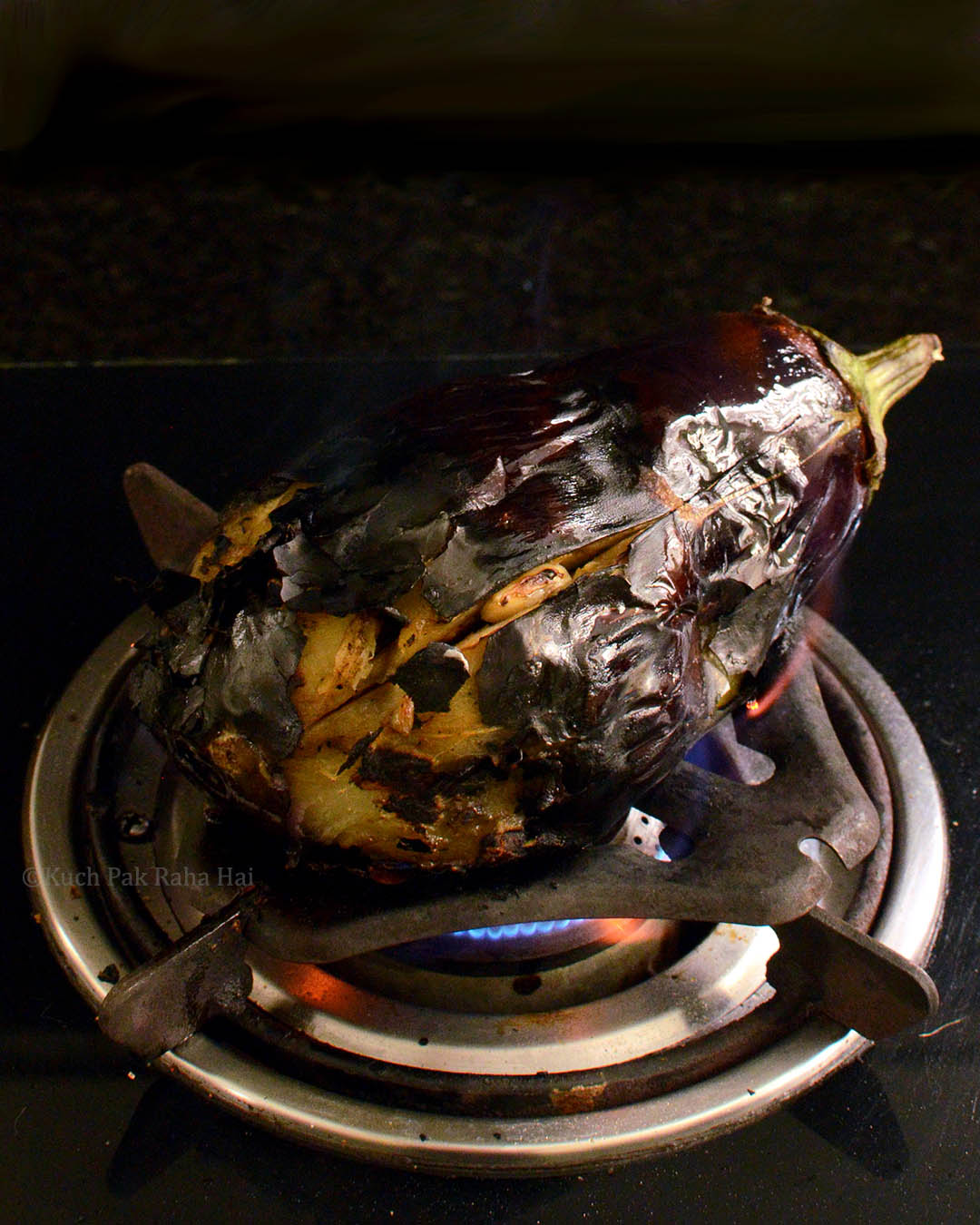 If you are looking to try a baingan recipe in air fryer, then definitely check out this easy quick Air Fryer Baingan Katri (Eggplant Discs) recipe.
Which type of eggplant should be used for bharta?
Eggplants come in variety of shapes & sizes (long, round, elongated, oval etc). Its colour varies from white, green, dark purple with white meaty insides. We will be using a medium sized, oval dark purple eggplant to make bharta.
One important step that is always followed at my home is to make slits in eggplant or baingan before starting to roast it. This is done to check whether its pulp is fine (not rotten) & there is no infestation inside. Many people directly begin the roasting the process but I personally always like to check it before starting the cooking process.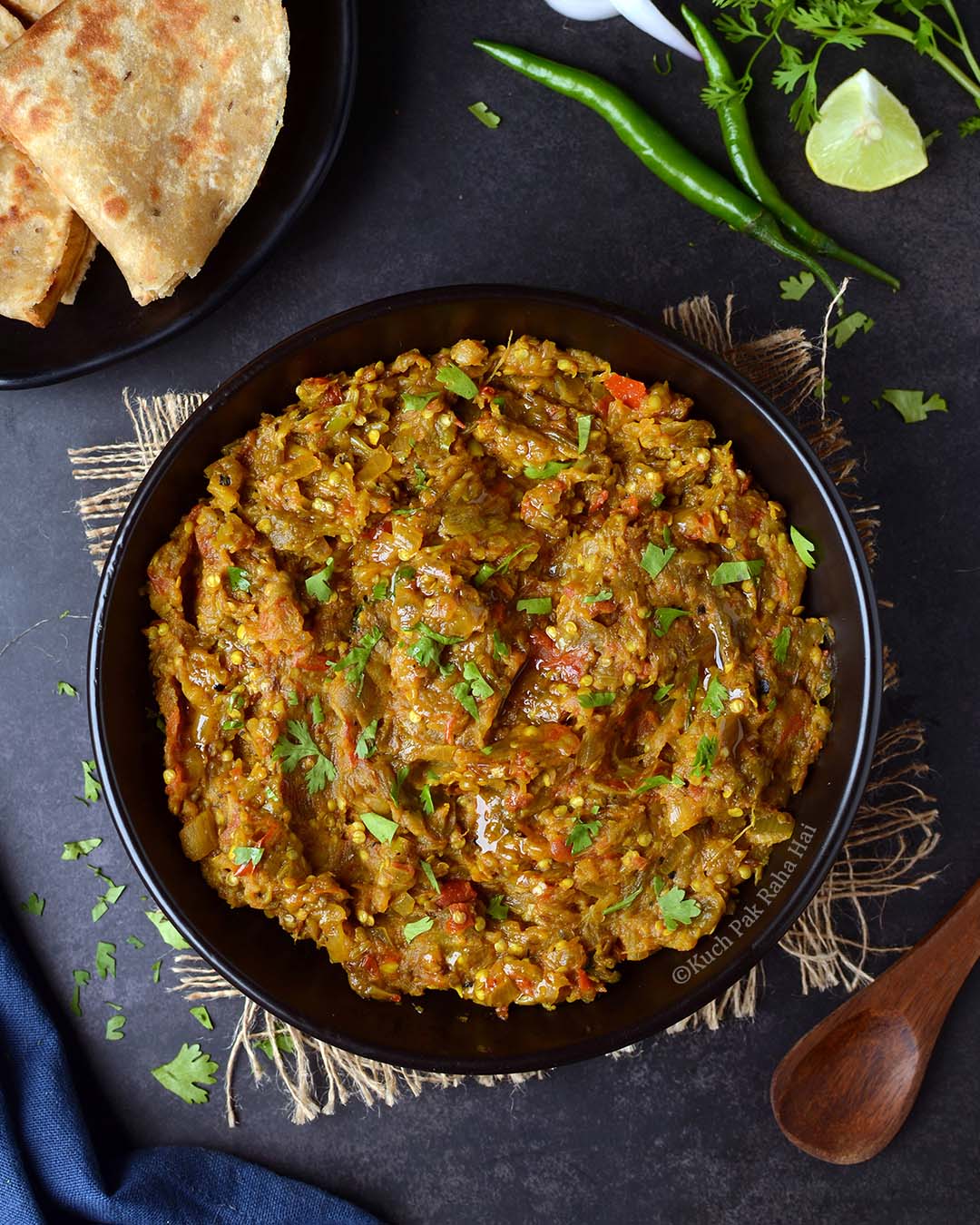 Traditionally bharta is always made in mustard (sarso) oil. The rustic aroma of mustard compliments the bharta flavours very well. However some people may find its aroma too strong. In that case you can use other cooking oil like sesame / olive / peanut oil.
You can always adjust the spices in this recipe as per your taste. Hope you would like this yummy easy baingan bharta recipe.
More Indian vegetarian recipes to try :
Ingredients:
Eggplant (medium) – 2
Oil- 2 tbsp + 1 tsp
Cumin seeds (jeera)-1/2 tsp
Ginger paste- 1 tsp
Garlic cloves-5 to 6
Chopped Green Chillies-2
Onions (finely chopped)- 2
Tomatoes (finely chopped)-2
Salt- 1/2 tsp (to taste)
Red chilli powder – 1/2 tsp
Turmeric (haldi)- 1/2 tsp
Coriander Powder (

dhaniya

)- 1 tsp
Garam Masala- 1/4 tsp
Oil / Ghee- 2 to 3 tsp (optional)
Lemon Juice- 2 tsp
Chopped Coriander – For Garnishing
Substitutions:
1. This recipe tastes best when cooked in mustard oil. You can also cook it in sesame oil, olive oil or any oil of your choice.
2. If you like less spicy food or making this for kids, you can reduce the quantity of green chilli / red chillie quantities or skip them entirely.
3. If the tomatoes are sour enough, you can skip adding lemon juice. Instead of lemon juice, you cam also add amchoor (dry mango powder).
Directions:
Step 1:
Wash the eggplants & wipe it with a kitchen towel. Make 3-4 long slits in it (not slitting till the bottom). Insert peeled garlic cloves in these slits. Rub 1 to 2 tsp oil over them.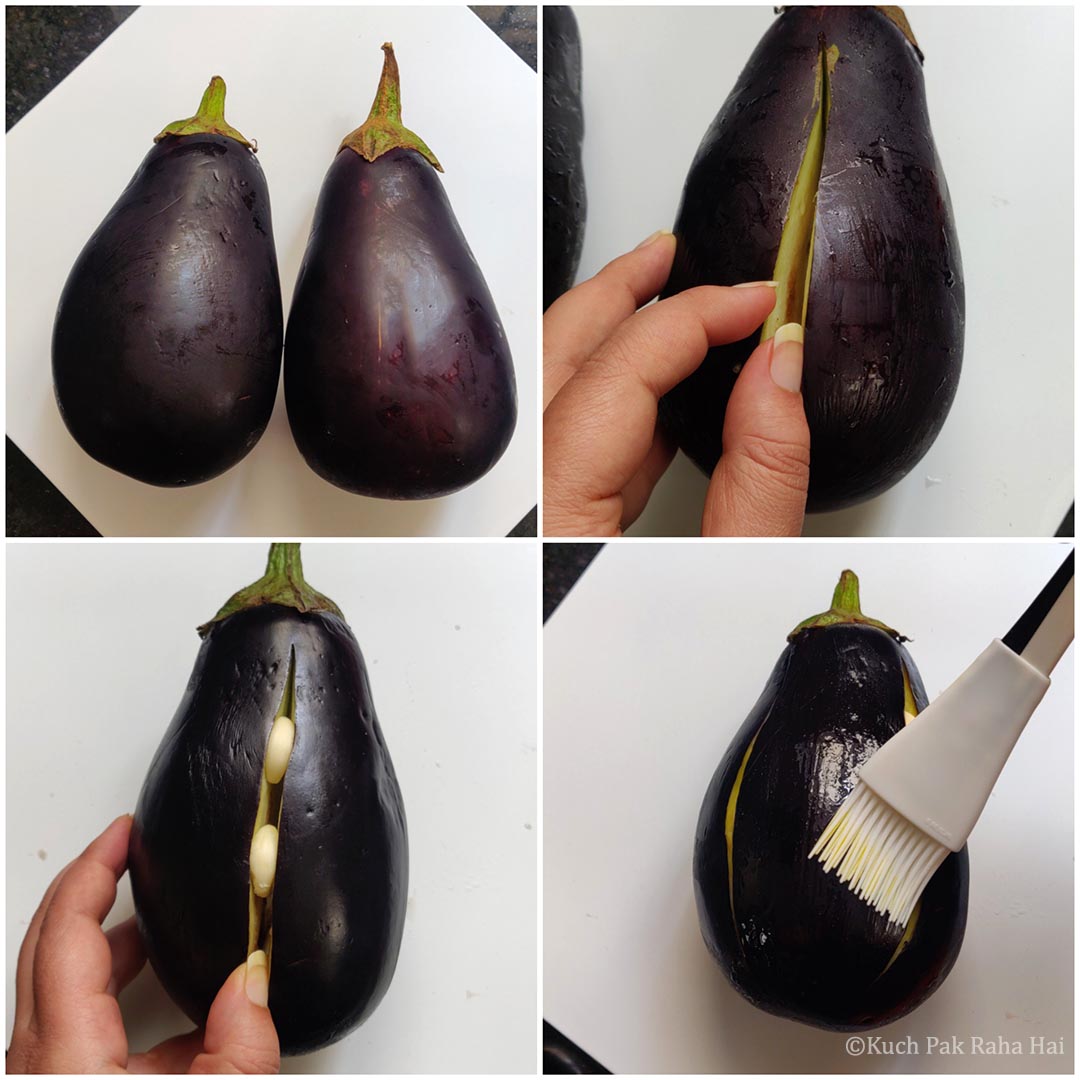 Step 2:
Switch on the flame and start roasting the eggplant on medium-low flame. Keep rotating it every 2-3 minutes using tongs till its peel starts burning off.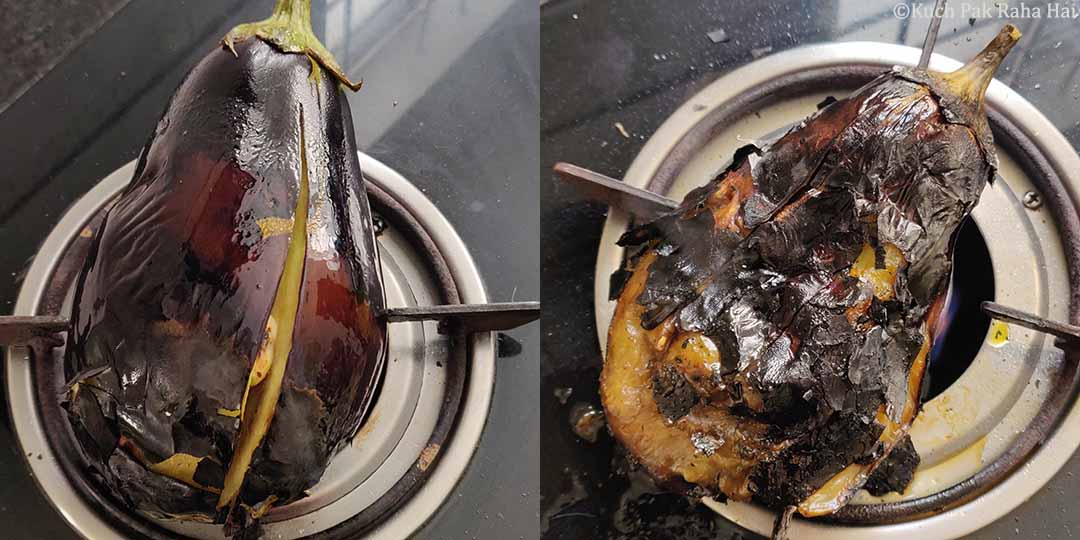 Step 3:
Once done, transfer this roasted egg plant in a container & put on the lid. This makes the peeling process easier. Let it stay covered for 10-15 minutes.
To peel the eggplant, dip your fingers in water & start peeling the eggplant (Dipping the finger in between helps to get rid of peel that sticks to the fingers). Discard the stems, roughly chop the peeled eggplant & finely chop the roasted garlic cloves too. Keep them aside.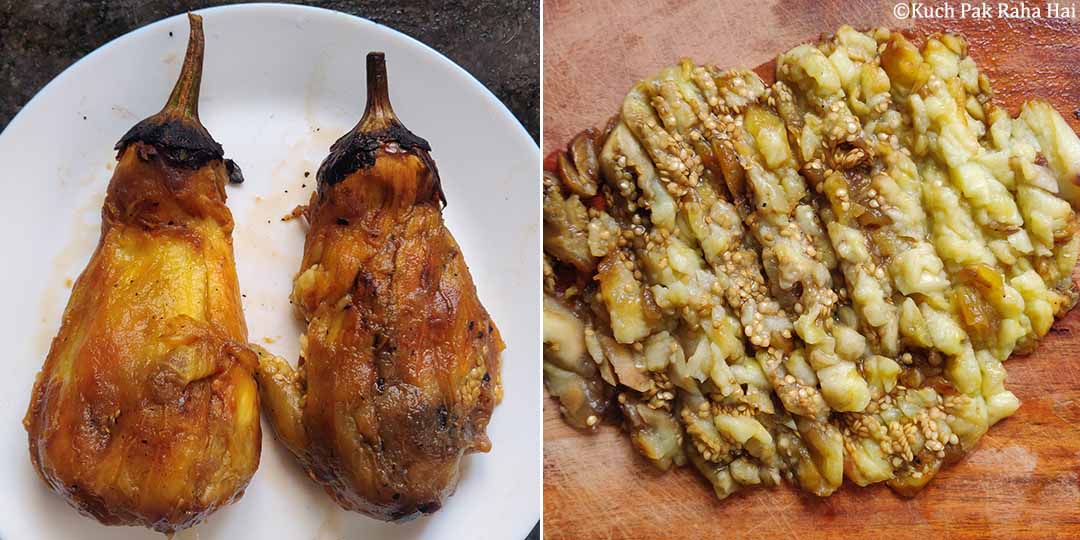 Step 4:
Take a heavy bottomed pan or kadhai and heat oil in it. Add cumin seeds (jeera), ginger, garlic paste and green chillies. Stir well for 30-40 seconds. Add finely chopped onions and sauté till they become translucent.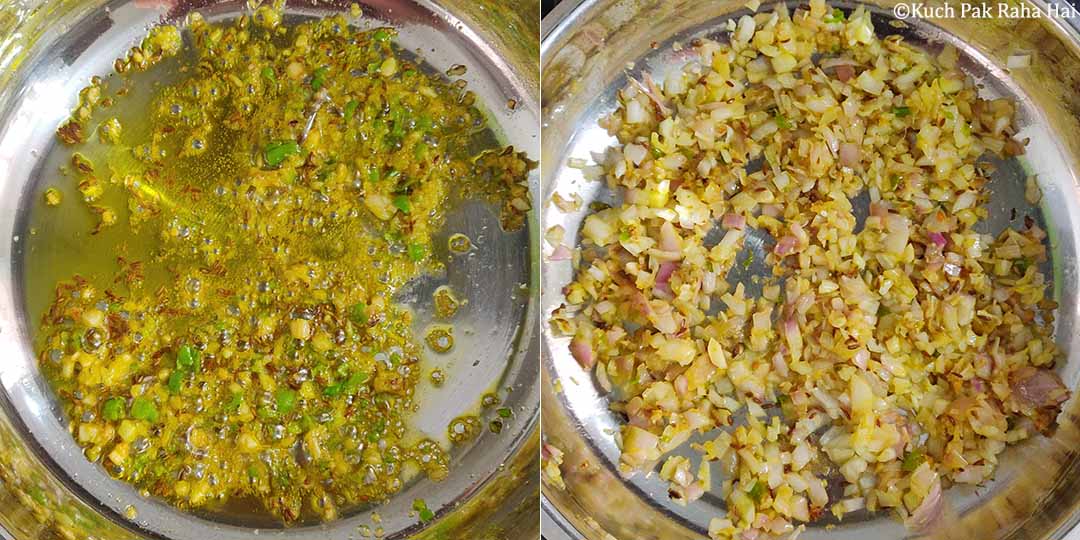 Step 5:
Add red chilli powder, turmeric powder & coriander powder. Let them sauté for 30-40 seconds. Add finely chopped tomatoes & salt. Cook them for another 2-3 minutes to minutes till they begin to soften up.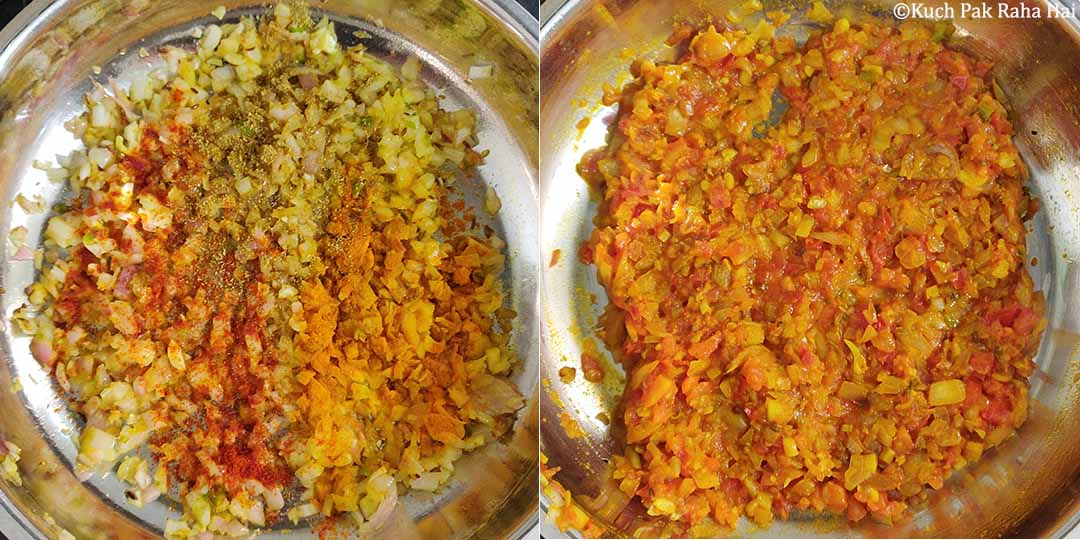 Step 6:
Add chopped baingan to it & mash it with a fork or masher. Let it cook on low flame for 8-10 minutes while mixing in between till the bharta becomes becomes thick & slightly glossy on top.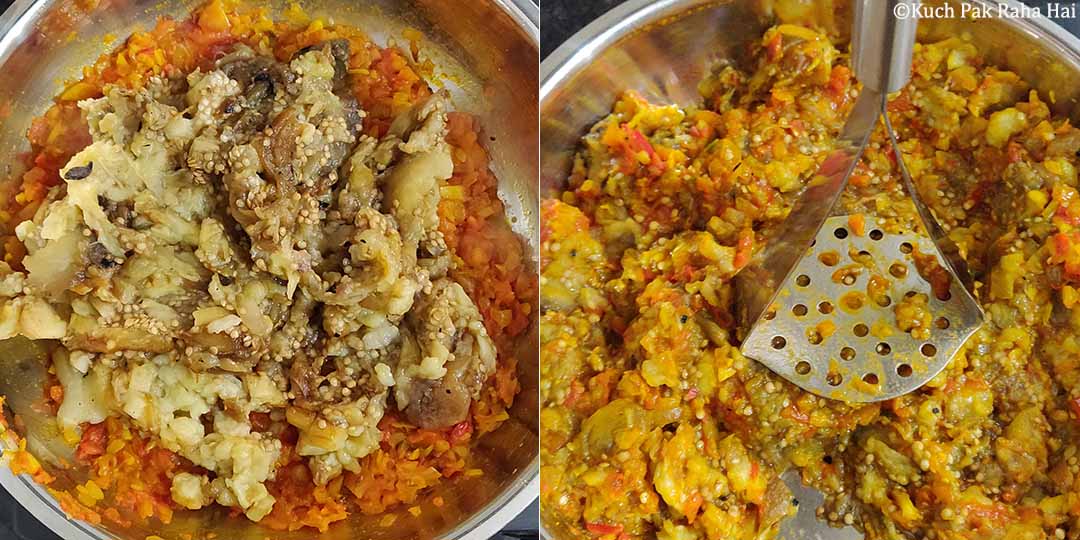 Step 7:
Sprinkle garam masala over it. If required, add some more ghee or oil to it. Add lemon juice (or amchoor) & mix well. Garnish with some chopped coriander (cilantro).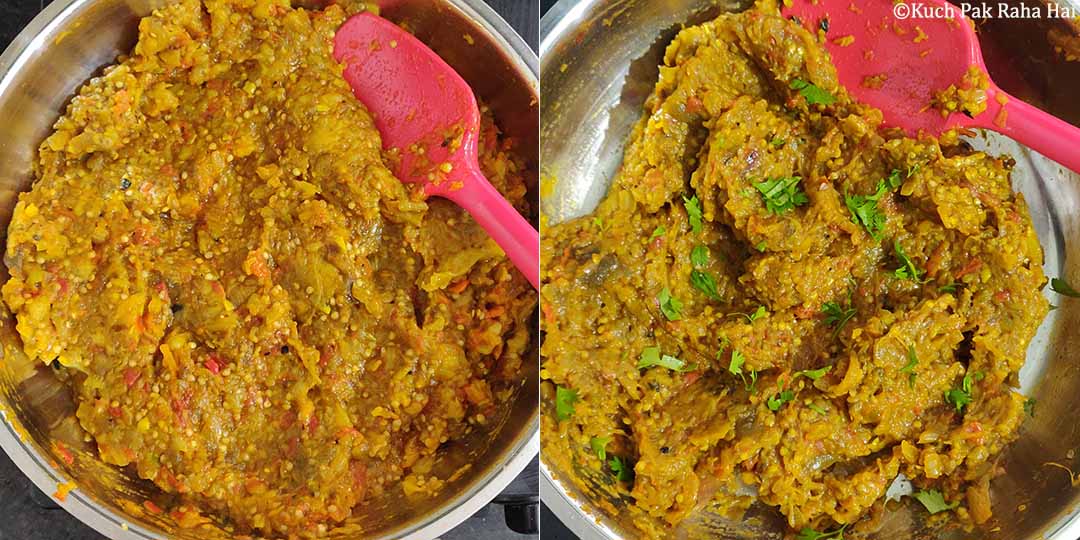 Serve hot baingan ka bharta with chapatis or paratha like spinach paratha or dal paratha.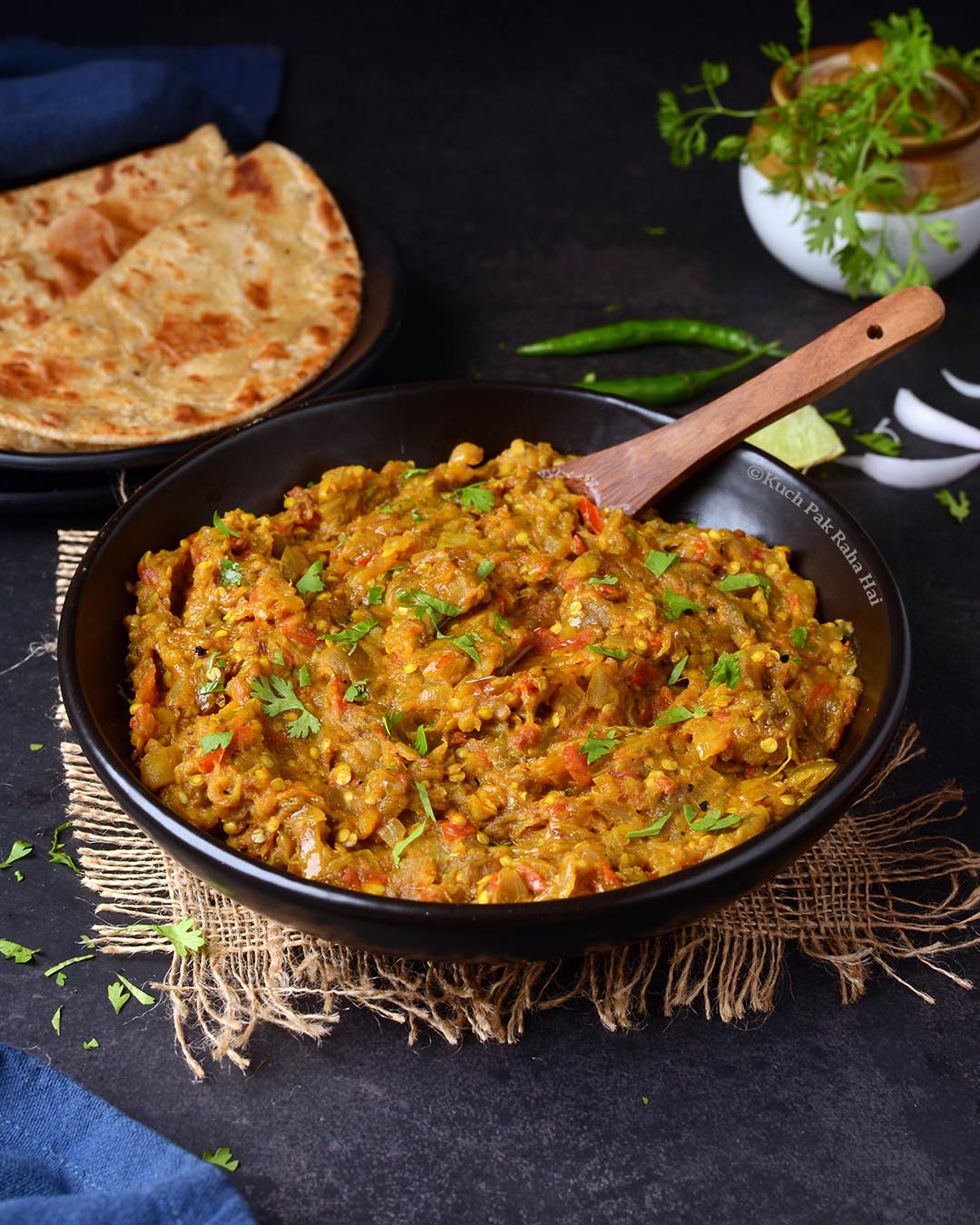 Tips:
1. If after roasting & chopping you notice too many seeds in eggplant pulp, discard some of them to get a smoother bharta or mash.
2. You can easily store baigan bharta in fridge for 2-3 days. To reheat, just microwave for 40-60 seconds.
3. To make advance meal prep, you can roast, peel, chop the eggplant and store it in an airtight container in fridge. Whenever you are ready to make bharta, just prepare the masala & add the roasted eggplant to it. This saves lot of time especially when you are cooking dinner on busy days.
Pin for later: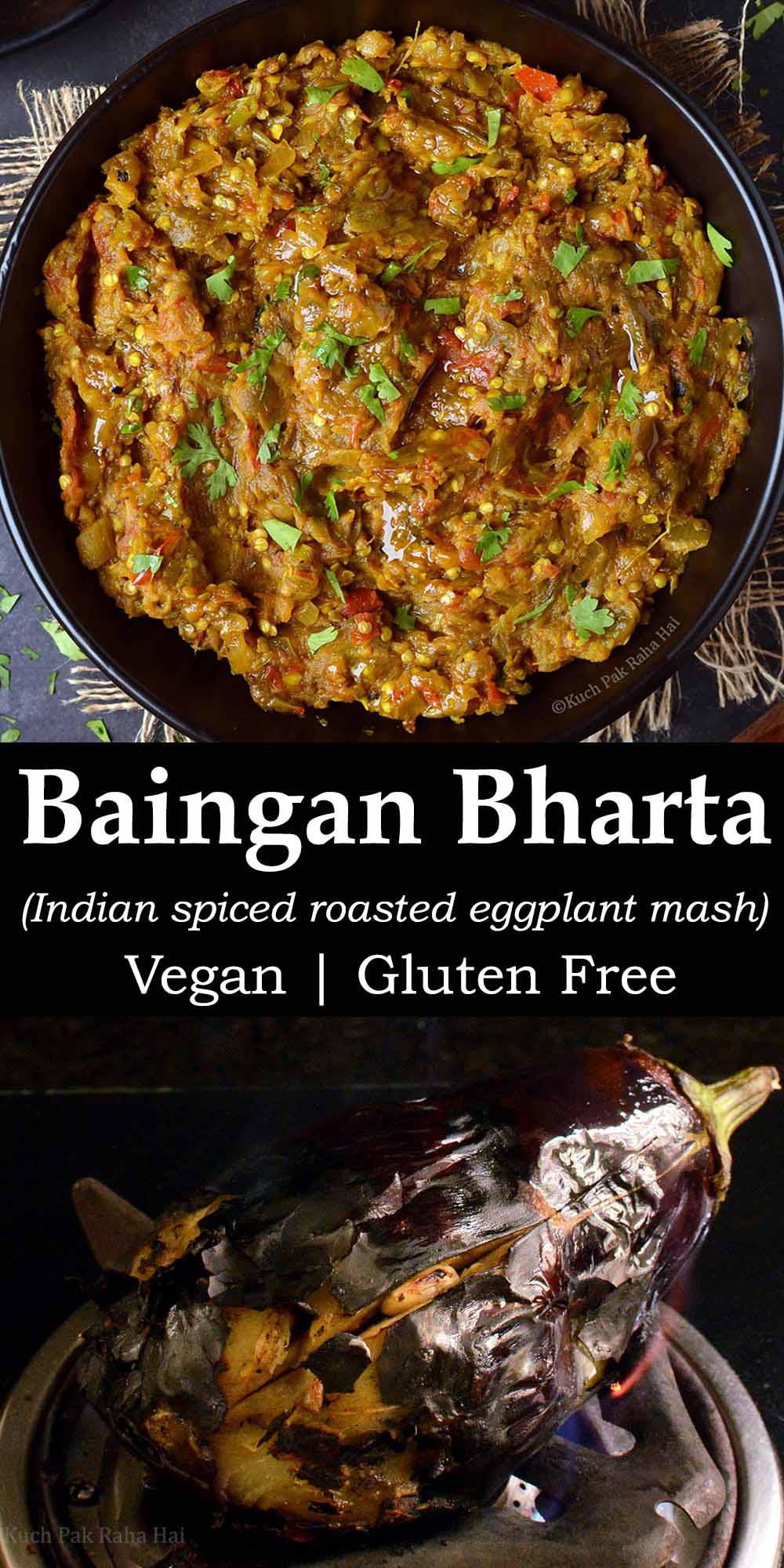 If you try this baingan bharta recipe & share pics on social media, then don't forget to tag us on Facebook or Instagram or use the hashtag #kuchpakrahahai.