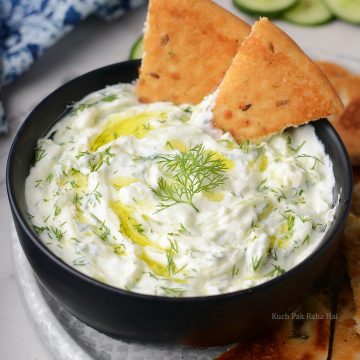 Tzatziki is a delicious creamy dip recipe made with yogurt, cucumbers, garlic, dill, lemon juice, olive oil and salt. It can be served with pita chips, crackers, falafel or used as sauce in sandwiches, wraps or salad dressing.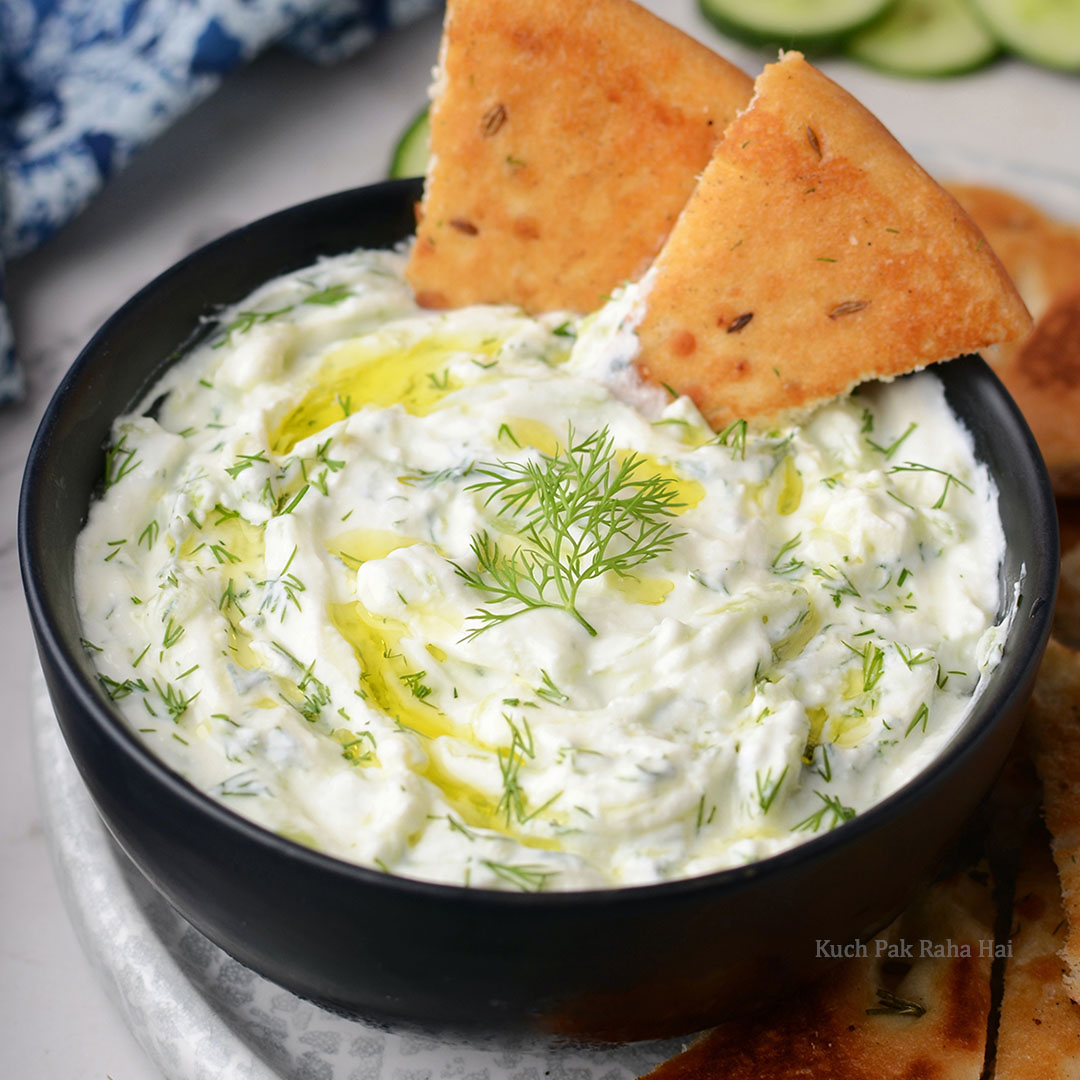 Tzatziki is a popular traditional Greek dip or sauce made with yoghurt and cucumbers.The generous use of fresh herbs like dill or mint makes it absolutely light, refreshing and perfect to serve with appetisers, chips or snacks especially in summer season.
Though the dip is from Greek origin, it is also served with many Mediterranean and Middle eastern dishes. These days you can readily buy tzatziki online or from stores however nothing can beat freshly homemade tzatziki sauce. It is so easy to make and does not take much time too.
Ingredients for Tzatziki-
1. Yoghurt– Traditionally Tzatziki is made with strained goat or sheep's yogurt. As it is not easily available everywhere, you can use greek yoghurt (or strained yoghurt) to make tzatziki. I would recommend using full fat version but if you want to cut down calories you can use low fat variety too.
2. Cucumbers- I have used English Cucumbers to make this dip. They are peeled, grated and then all excess water is squeezed from them gently. This makes sure the dip does not turn watery or thin after sometime. If you are using organic cucumbers you can skip the peeling step (just wash them well).
3. Dill- Fresh herbs makes the dip refreshing and bright. Ideally dill is used in tzatziki recipe, however you can use other herbs also like mint, parsley etc. Incase you are not able to find fresh dill you can used dried dill leaves too.
4. Lemon Juice- Lemon juice balances the taste of the dip by giving it needed sourness. If you don't have lemon juice you can even use vinegar.
5. Olive Oil- Use premium quality extra virgin olive oil in tzatziki to make the dip rich and smooth.
6. Garlic Cloves- The sauce is flavoured using fresh garlic cloves. You can even use some garlic powder (however fresh always tastes better). Don't go over the board with garlic as we want the tzatziki sauce to be bright & fresh.
7. Salt- It is one of the basic ingredients in almost all recipes and in the end makes a whole lot of difference. Add and adjust its quantity as per your taste.
Many people often raise the question of how to pronounce Tzatziki. As per my knowledge, it is pronounced as 'zat-zee-key'.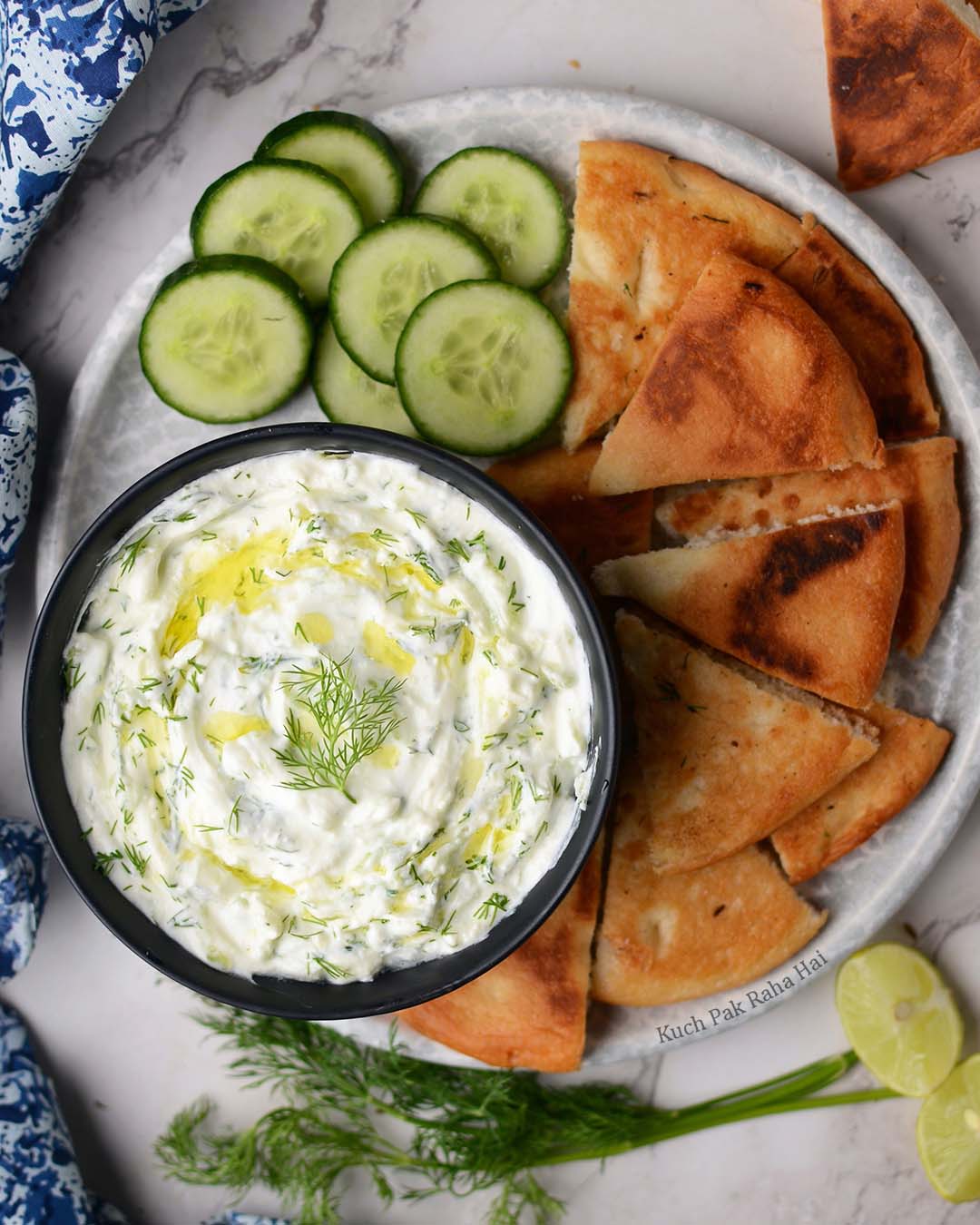 Is Tzatziki healthy?
A 100 grams serving of unsweetened greek yoghurt contains approximately 10 grams of protein, 2.5 grams fat and nutrients like calcium, vitamin A, vitamin B12, potassium, selenium, zinc etc. Dill which is another ingredient in tzatziki is also a good source of vitamin A, vitamin C, folate, iron and manganese etc. So in all if you are looking for high protein low fat healthy dip or sauce recipe then Tzatziki is definitely a good option for you (much better than store bought dips or mayonnaise).
What is Tzatziki eaten with?
Tzatziki is generally served with gyros or grilled meat but you can also serve it with :
Pita bread, baked pita chips, pita wraps
Falafel

or

kebabs

Grilled

or 

Roasted vegetables

Make it a part of mezze platter or
Use it as healthy spread to slather in wraps, sandwiches or as creamy salad dressing.
Are Tahini & Tzatziki same?
Many people often get confused between tahini and tzatziki however they are totally different. Tahini is made from sesame seeds, olive oil and salt whereas tzatziki is made using greek yoghurt (or strained yoghurt).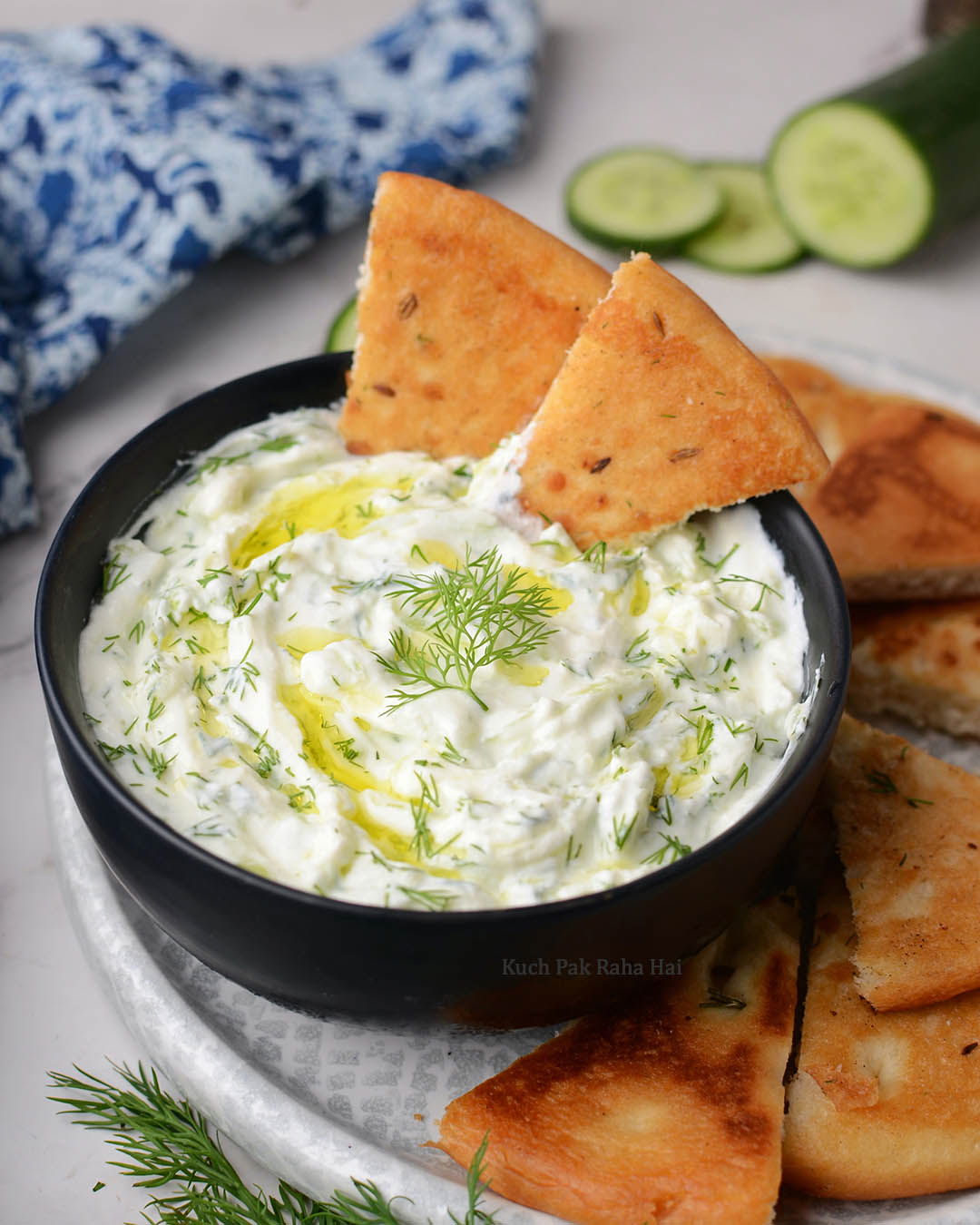 More easy homemade dip recipes:
Ingredients:
Greek Yoghurt -1 cup
Grated Cucumber-3/4 cup
Chopped fresh dill*-1/4 cup
Garlic Cloves (small)-2
Lemon Juice-2 tsp
Olive Oil-1 tbsp
Salt-1/2 tsp (to taste)
Substitutions:
1. Instead of lemon juice you can use vinegar to add sourness.
2. *You can replace dill with fresh mint leaves or can add 2 tsp chopped mint otherwise too for additional flavour.
3. If you wish you can also add some crushed black pepper or za'atar to the tzatziki sauce.
Directions:
Step 1:
Peel the cucumber and grate it using the large holes in grater (peeling cucumbers is optional).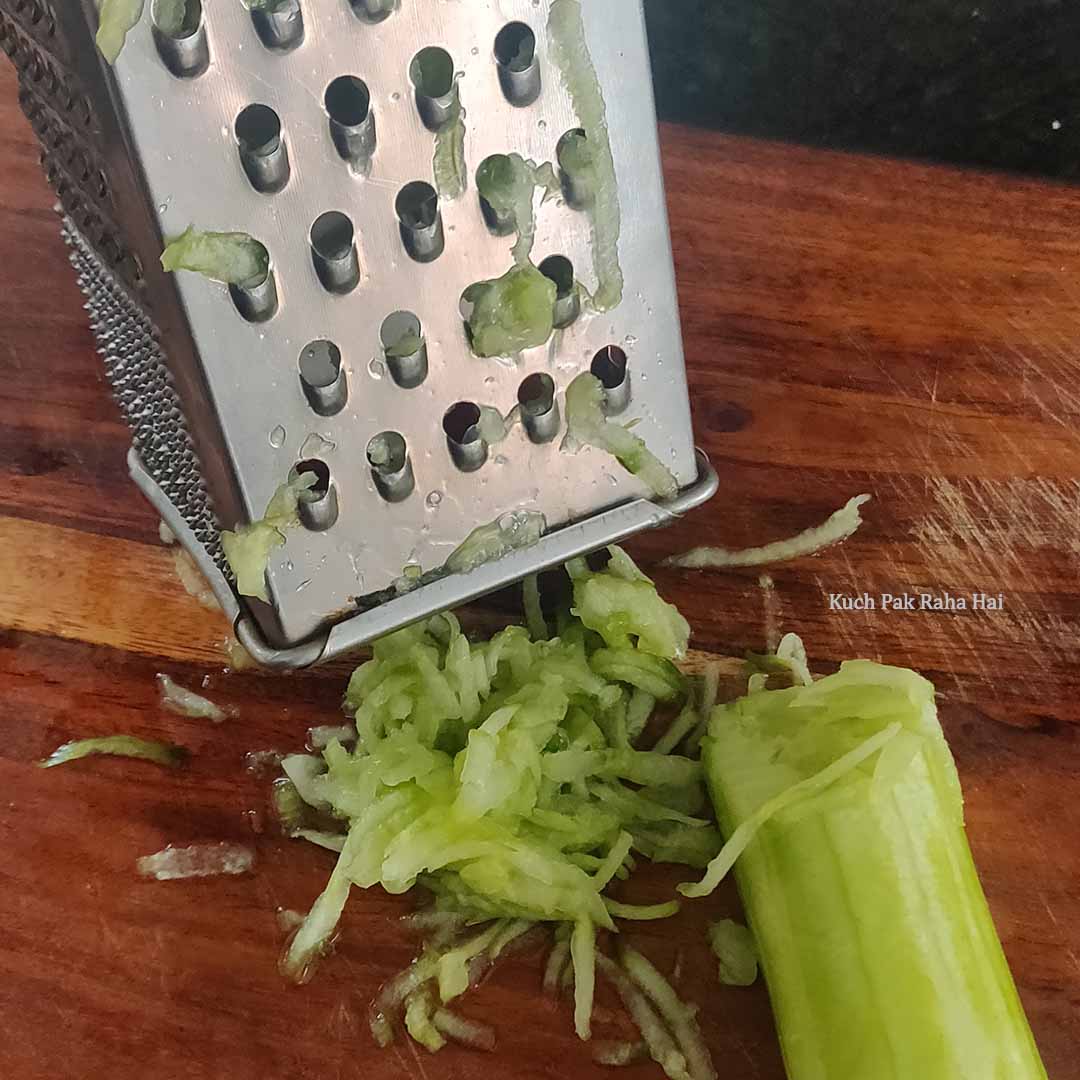 Step 2:
Transfer the grated cucumbers on a sieve and press it gently to get rid of excess water. You can even perform this step by wrapping the grated cucumbers in a cheesecloth and then twisting it.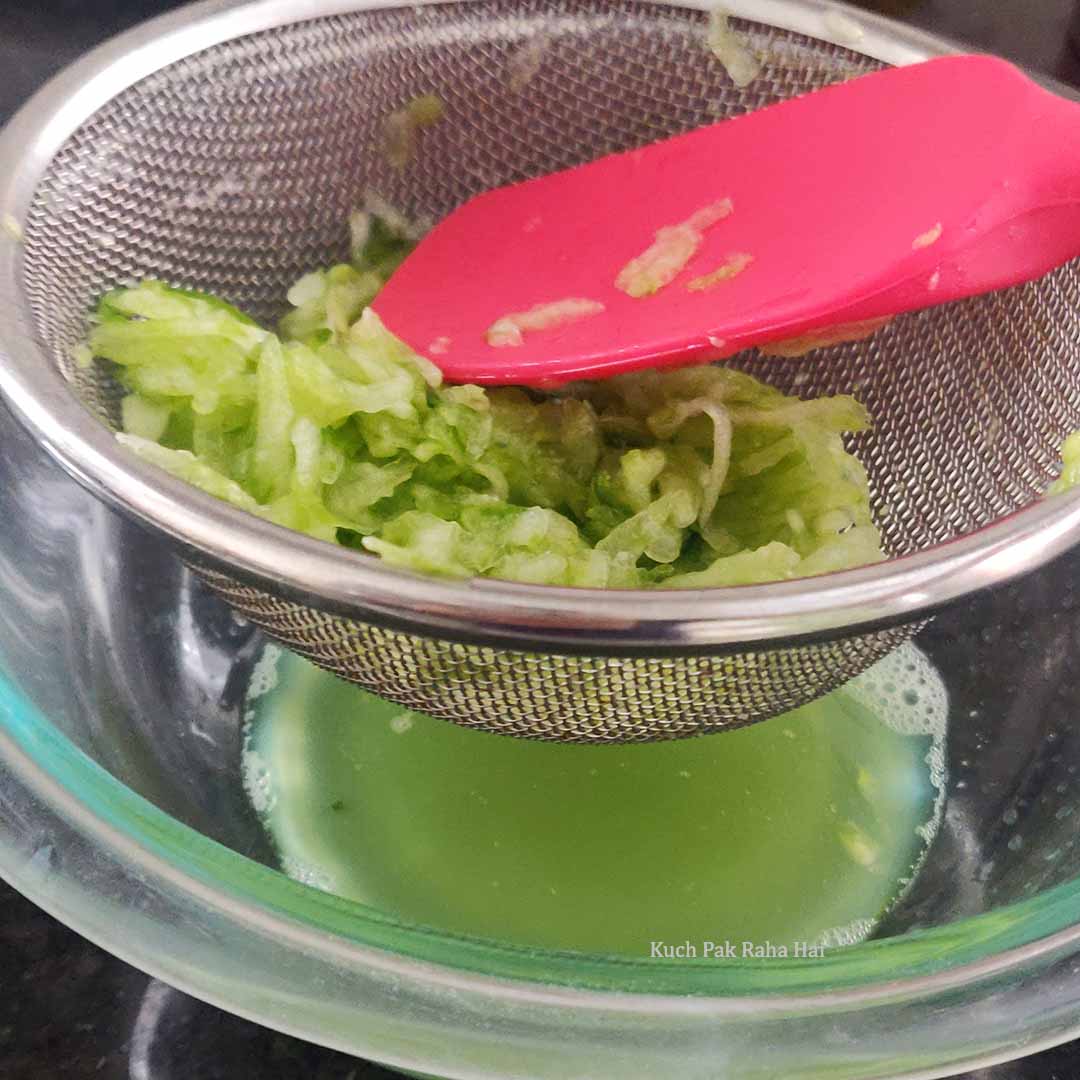 Step 3:
Add greek yoghurt, strained cucumbers, finely minced garlic cloves, chopped dill, salt, lemon juice and olive oil in a bowl. Mix well. Taste and adjust the amount of lemon juice and salt as per your taste.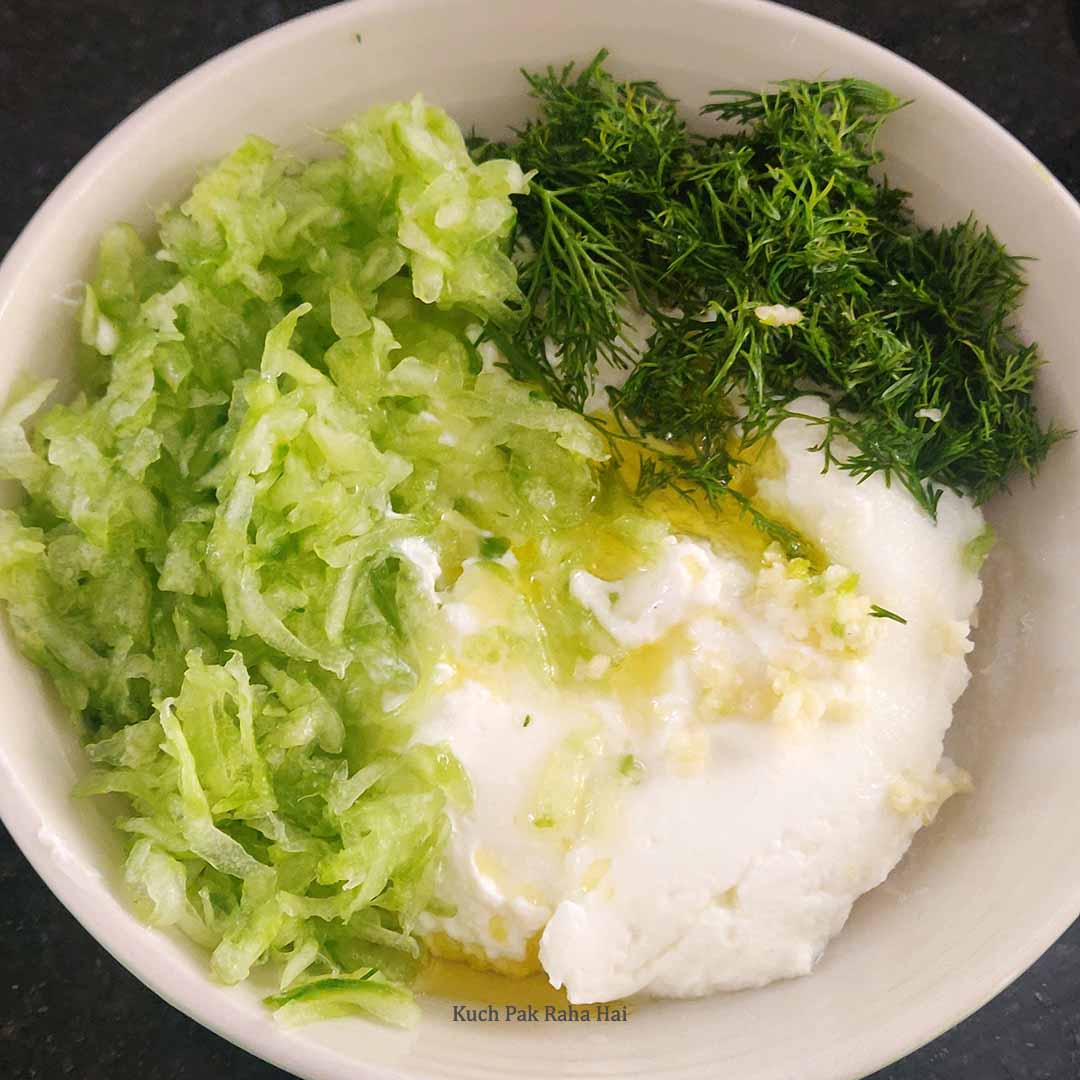 Step 4:
Transfer the dip in a bowl. Chill it in fridge for at least 15-20 minutes or until you are ready to serve. Resting the dip helps in setting and blending of flavours. Cover the bowl with a plastic wrap or lid before keeping in fridge if keeping for longer time.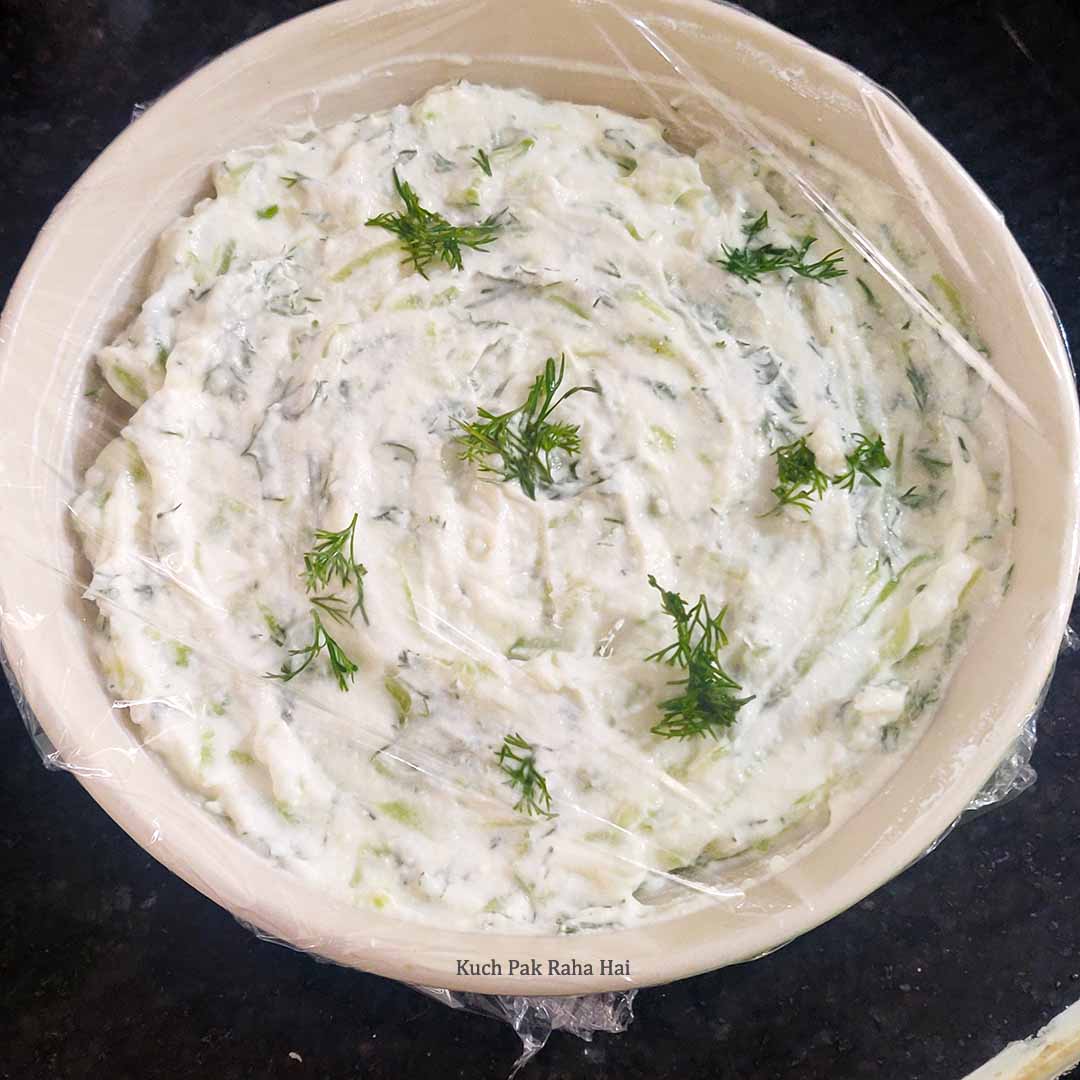 Drizzle some more olive oil on top or sprinkle some more chopped dill leaves before serving. Enjoy it with crackers, chips, pita bread or any snacks of your choice.
How long can I store Tzatziki?
It can be easily stored in fridge for 2 to 3 days. I don't keep it any longer than that as the fresh cucumber and herbs used in it can go bad quickly.
Pin for later: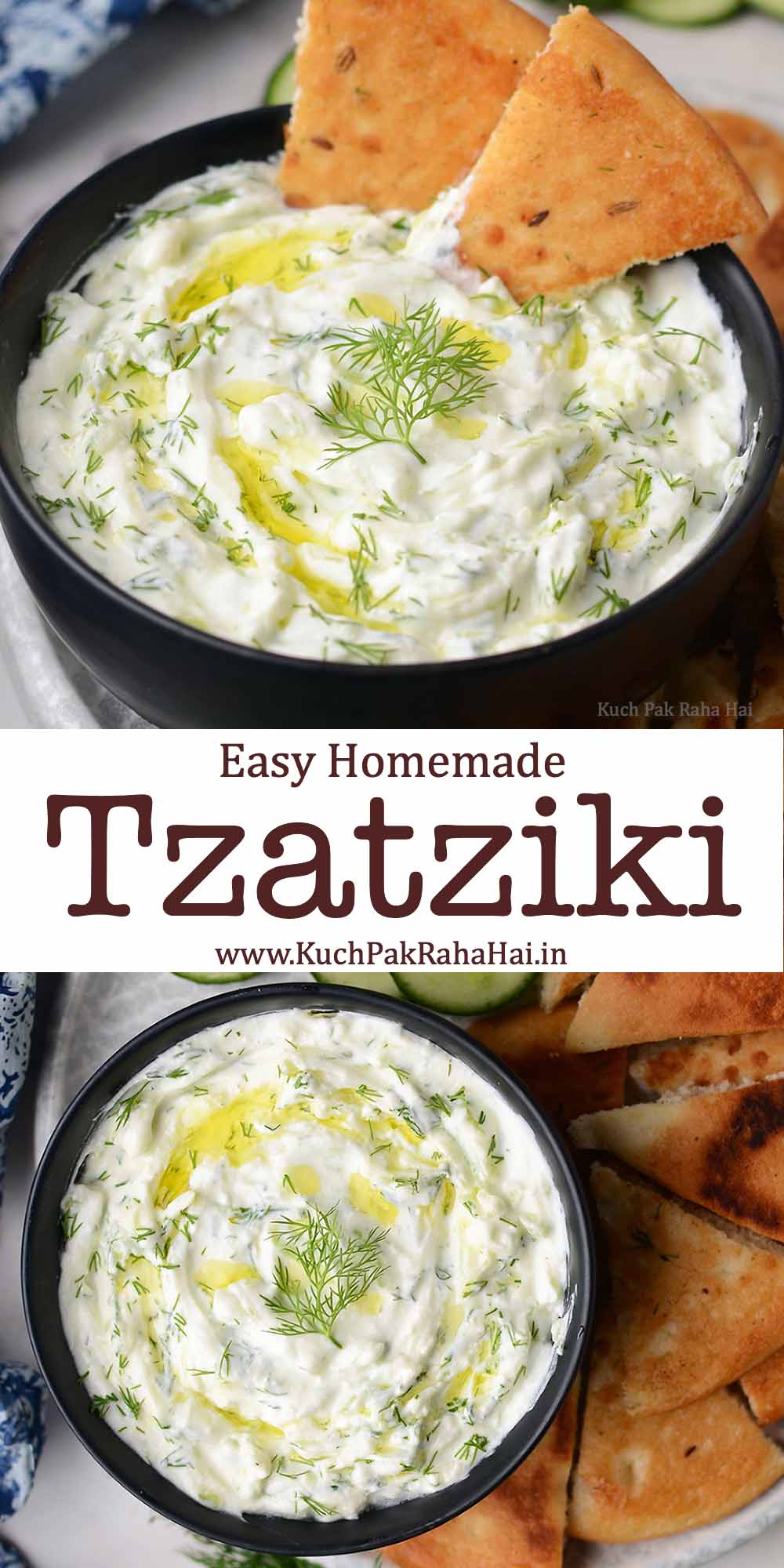 If you try this recipe & share pics on social media, then don't forget to tag us on Facebook or Instagram or use #kuchpakrahahai.
Let's stay connected
Facebook| Instagram |Pinterest| Youtube