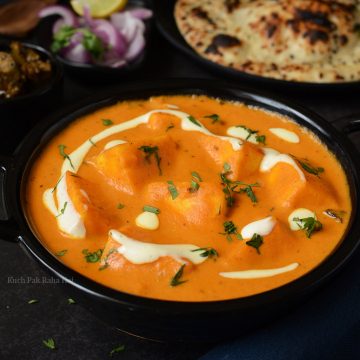 Shahi Paneer is a flavoursome popular North Indian dish in which paneer cubes are dunked in a luscious creamy tomato based gravy. The word 'Shahi' literally translates to 'royal' in english which is totally justified by the exquisite use of cream and cashews in its preparation.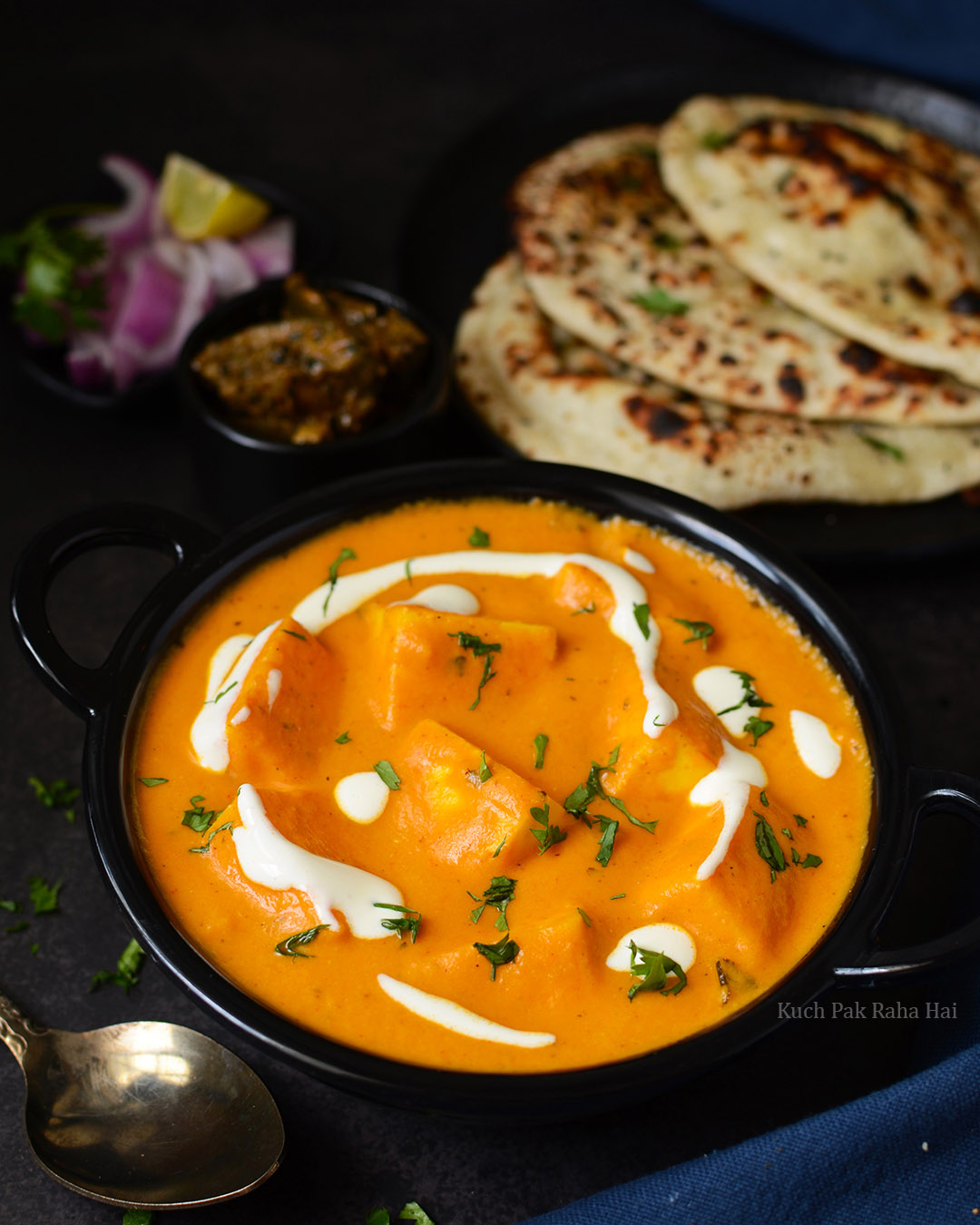 With this simple step by step recipe, you can easily prepare restaurant style Shahi Paneer at home. Traditionally shahi paneer dish belongs to Mughlai cuisine and is served with breads like butter naan, garlic naan or tandoori roti. Its gravy is rich velvety in texture, with subtle sweetness and beautiful amalgamation of various Indian spices.
The Indian shahi paneer recipe shared here is:
Vegetarian
Gluten free
Can be made vegan
Tastes absolutely divine!!
When it comes to paneer dishes there are endless varieties like kadhai paneer, paneer butter masala, panner tikka masala, paneer do pyaza and the list goes on. Though almost all gravies use onion & tomatoes, what differentiates their flavour is the proportion of these ingredients and use of different spices.
Shahi Paneer Ingredients:
Paneer, also known as Indian Cottage Cheese, is an essential part of this recipe. Use freshest possible paneer as it will be softer and melt in the mouth. You can use store bought or home made paneer in this Shahi Paneer recipe.
I have added paneer in shahi paneer gravy as it is without frying or sautéing. If you wish you can sauté or fry it. I have shared the method for making paneer at home using milk and vinegar in one of the old posts. Sharing links for them below :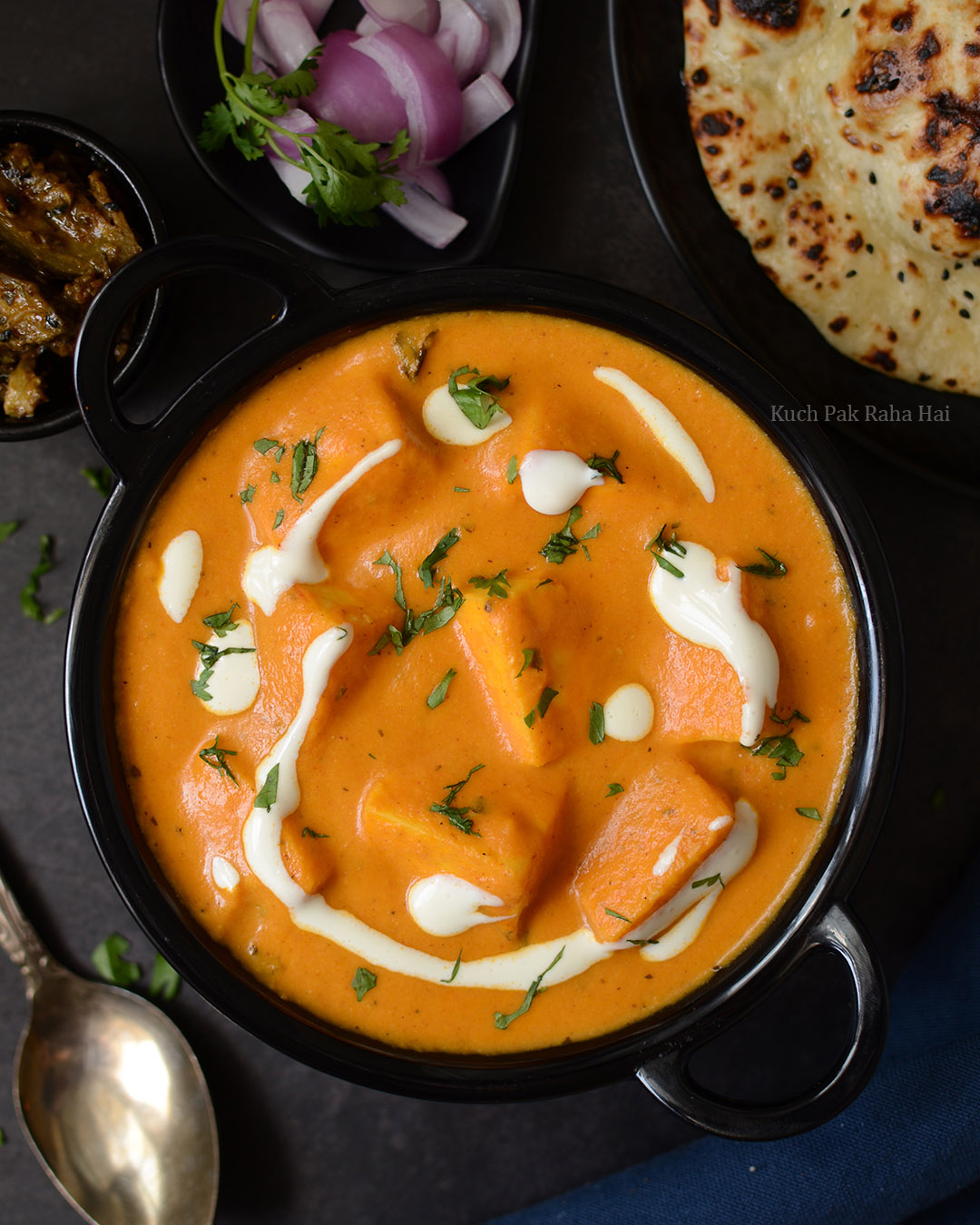 The different Indian spices used in making shahi paneer gravy are : turmeric, red chilli, bay leaf, green cardamom, black cardamom, clove and cinnamon. To someone who is cooking for the first time it may seem too much of effort or spices but trust me the end result is totally worth it and you will be pleasantly surprised how these spices merge so beautifully with each other conferring divine aroma and sweetness to the dish.
Heavy Cream & cashews together give the gravy silky velvety texture and make it luscious smooth. If you are looking forward to make a low calorie version, then you can use less amount of oil or ghee (clarified butter) while cooking. Also you can use low fat cream in gravy.
How to keep paneer soft in shahi paneer ?
If you are using market bought paneer, then dip it in warm water for 10 minutes. This step helps in making the paneer soft & supple.
Also, don't cook the paneer in gravy for a long time as it tends to get chewy / rubbery if overcooked. If you are planning to serve this dish after few hours, then add the paneer 5 minutes before when you are ready to serve (at the time of reheating).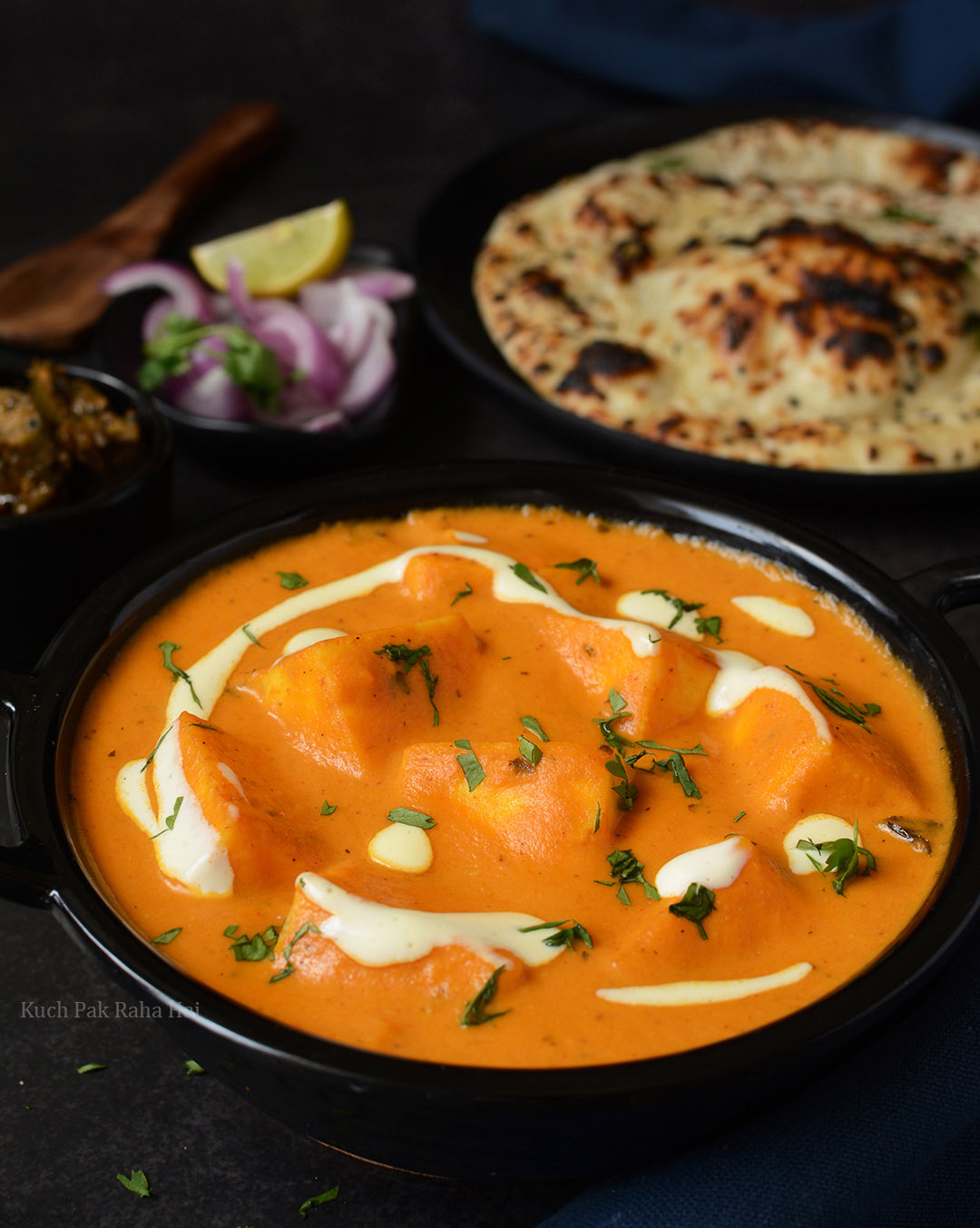 How can I make vegan shahi paneer?
To make this shahi paneer vegan, replace cream with cashew cream and paneer with tofu. To make cashew cream, soak 1/2 cup cashews in hot water for 10-15 minutes. Discard the water in which they were soaked. Blend these soaked cashews with 1/2 to 3/4 cup water to make smooth cashew cream. Instead of paneer use, extra firm tofu.
More Indian vegetarian recipes :
Ingredients : (Serves 3-4)
Paneer Cubes (Indian Cottage Cheese)- 200 grams
Ghee / Cooking Oil- 1 tbsp
Chopped Medium Onions- 2
Chopped Tomatoes- 4 to 5
Chopped Ginger- 1/2 tbsp
Garlic Cloves- 2 to 3
Green Chilli-1
Chopped Cashews-1/4 cup
Red Chilli Powder – 1/2 tsp
Turmeric Powder (Haldi)-1/4 tsp
Cinnamon powder (Dalchini)- 1/4 tsp
Clove (Laung)- 1
Bayleaf (

Tej Patta

)- 1
Green Cardamom (Chhoti Elaichi)- 1
Black Cardamom (Badi Elaichi)-1
Sugar- 2 tsp
Salt- 1 tsp (to taste)
Water- 1 cup
Heavy Cream – 3 tbsp
Dried Kasuri Methi- 2 tsp
For garnishing :
Heavy Cream-1 to 2 tsp
Chopped coriander (or parsley)- 2 tsp
(For substitutions and tips, check out the end of post).
Directions:
Step 1:
Take a heavy bottomed or non stick pan. Heat 1/2 tbsp ghee or oil in it. Add chopped ginger, garlic cloves and green chillies to it. Sauté for 30-40 seconds. Add roughly chopped onions and cashews to the above pan. Saute the onions till they turn pink in colour. We don't want to brown them but just soften a bit.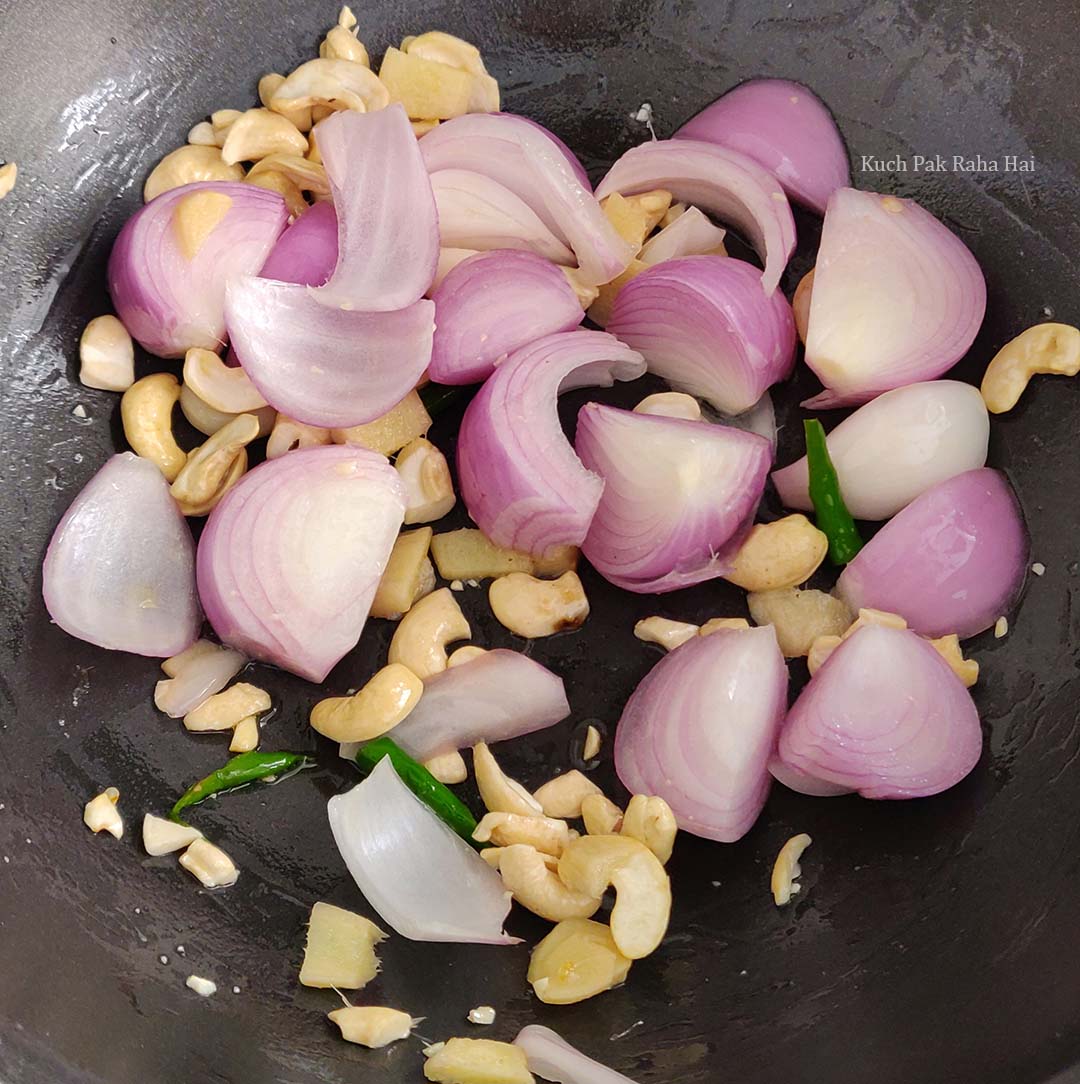 Step 2:
Add all the spices – cinnamon, bay leaf, cardamom, black cardamom, clove to the onions. Let them roast for 1-2 minutes on medium-low flame.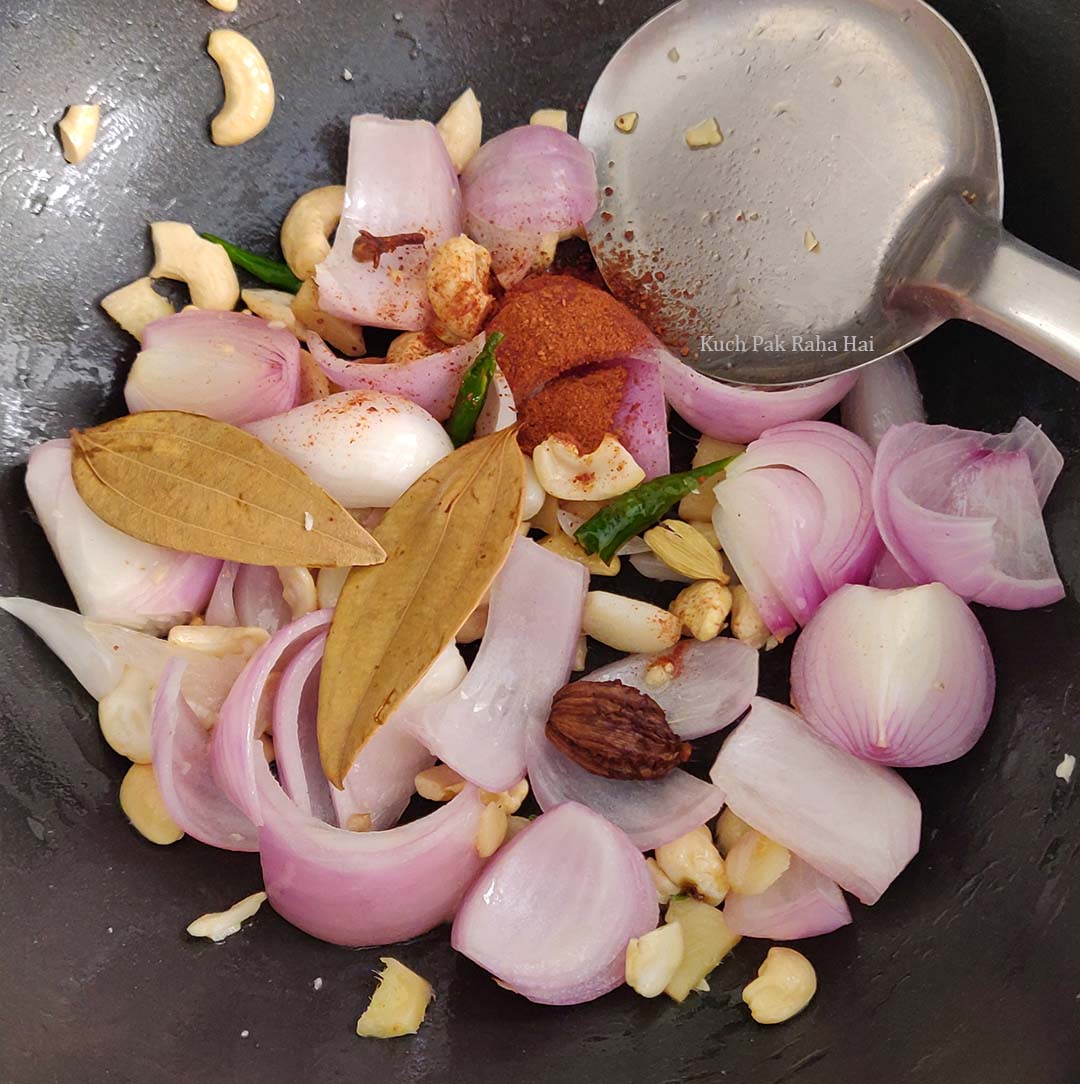 Step 3:
Add in the roughly chopped tomatoes, sugar, salt, red chilli powder & turmeric powder. Mix well all the ingredients and cook tomatoes for 2-3 minutes.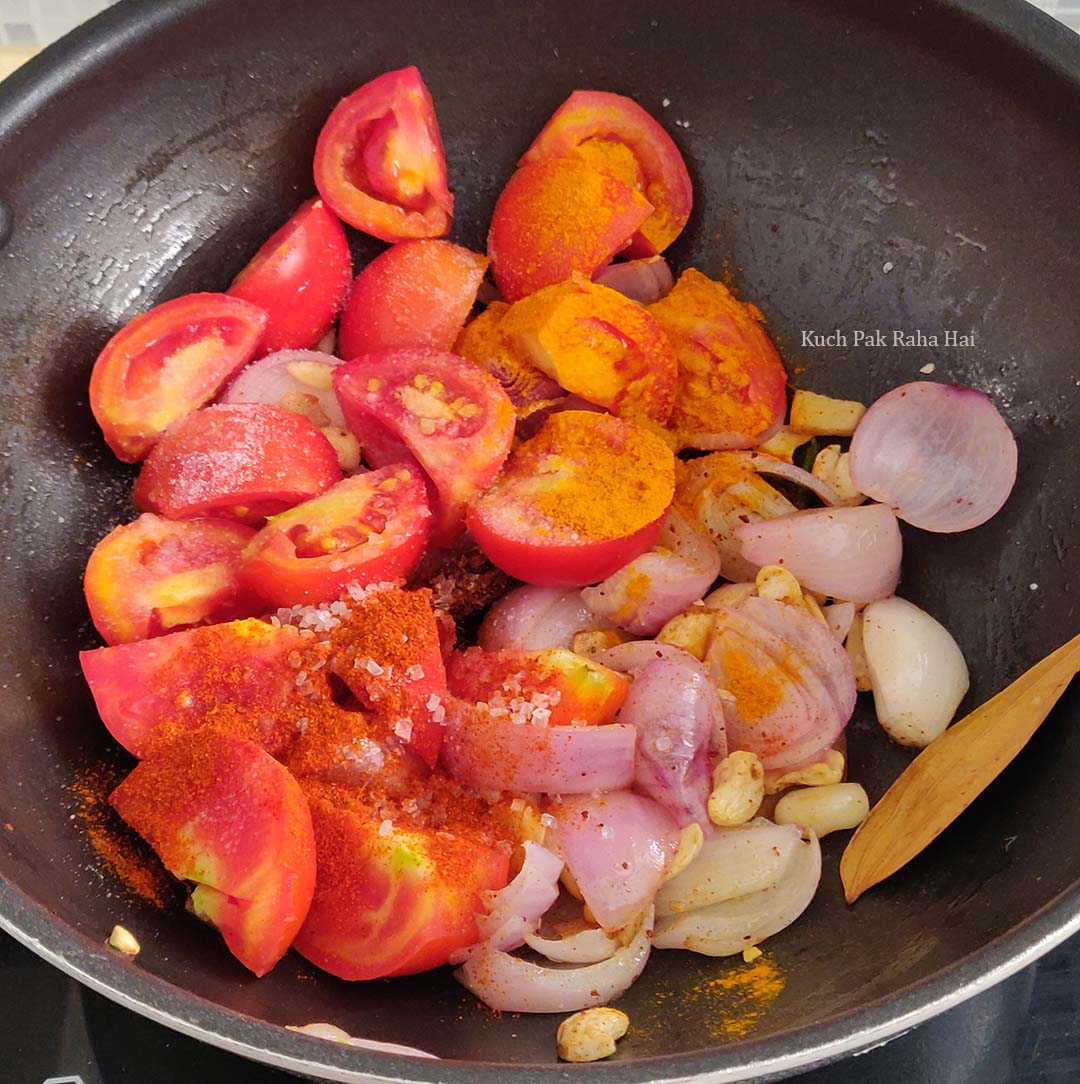 Add 3/4 cup water to the above pan , cover with a lid and let all the ingredients simmer for 12-15 minutes. Switch off the flame.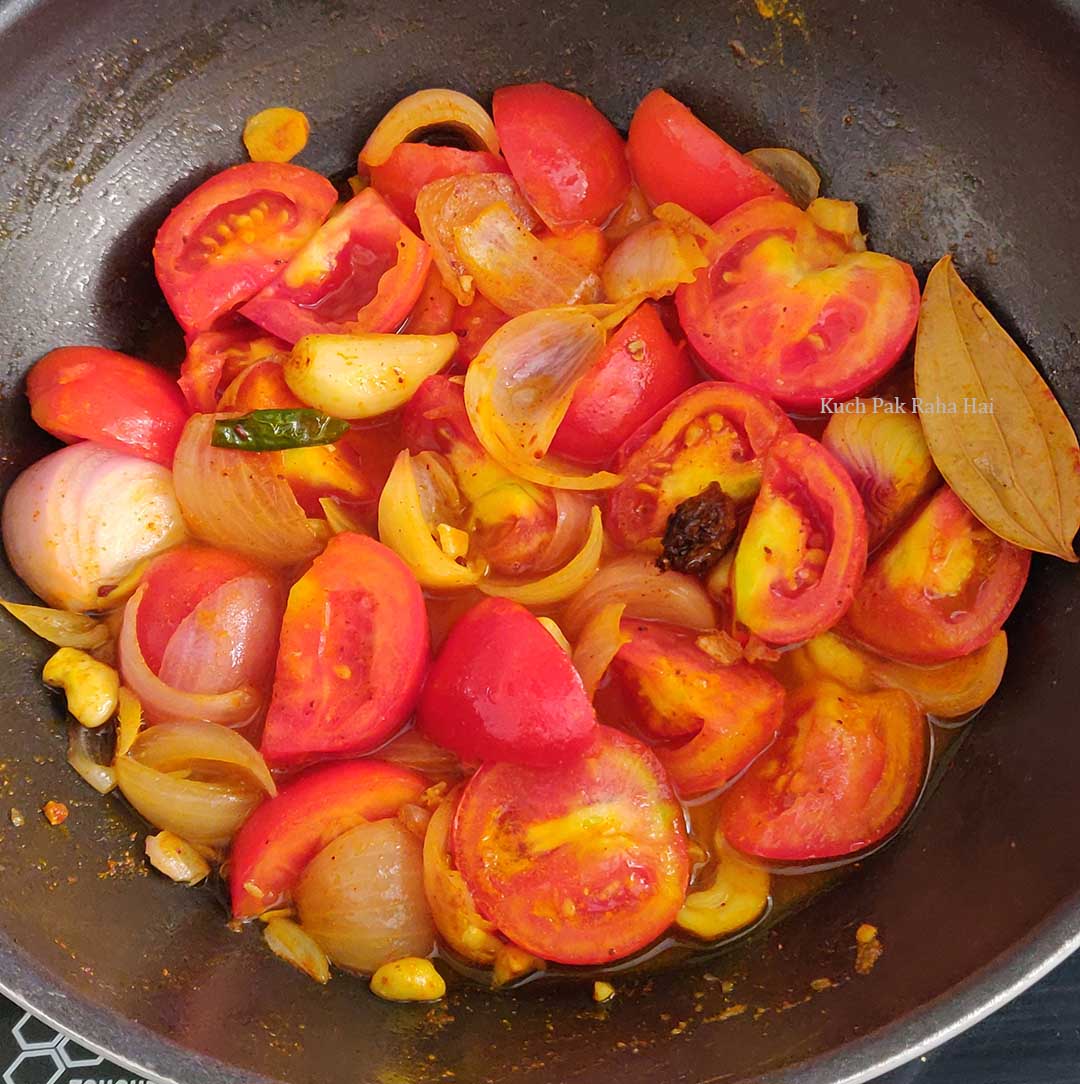 Step 4:
Once the above mixture cool downs a bit, blend it into smooth puree in a blender. Pass it through a sieve as it makes sure there are no pieces left in the gravy. If required you can add some water while sieving.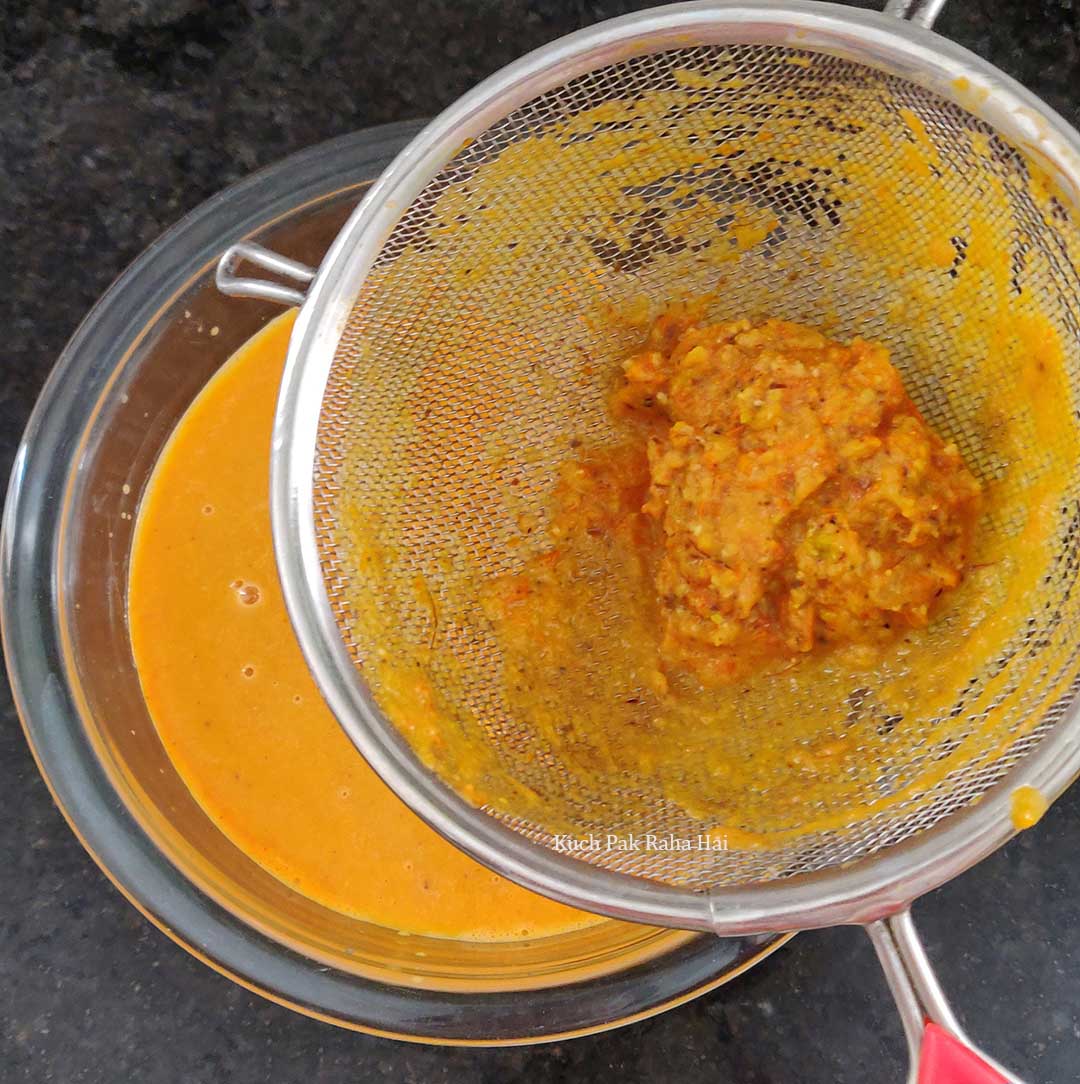 Step 5:
Heat 1/2 tbsp oil or ghee in a pan & transfer the above gravy mix into it. Mix well and let the gravy simmer for 12-15 minutes till all the excess water gets evaporated from it. Keep stirring it in between so that the gravy does not stick to the sides and get burnt.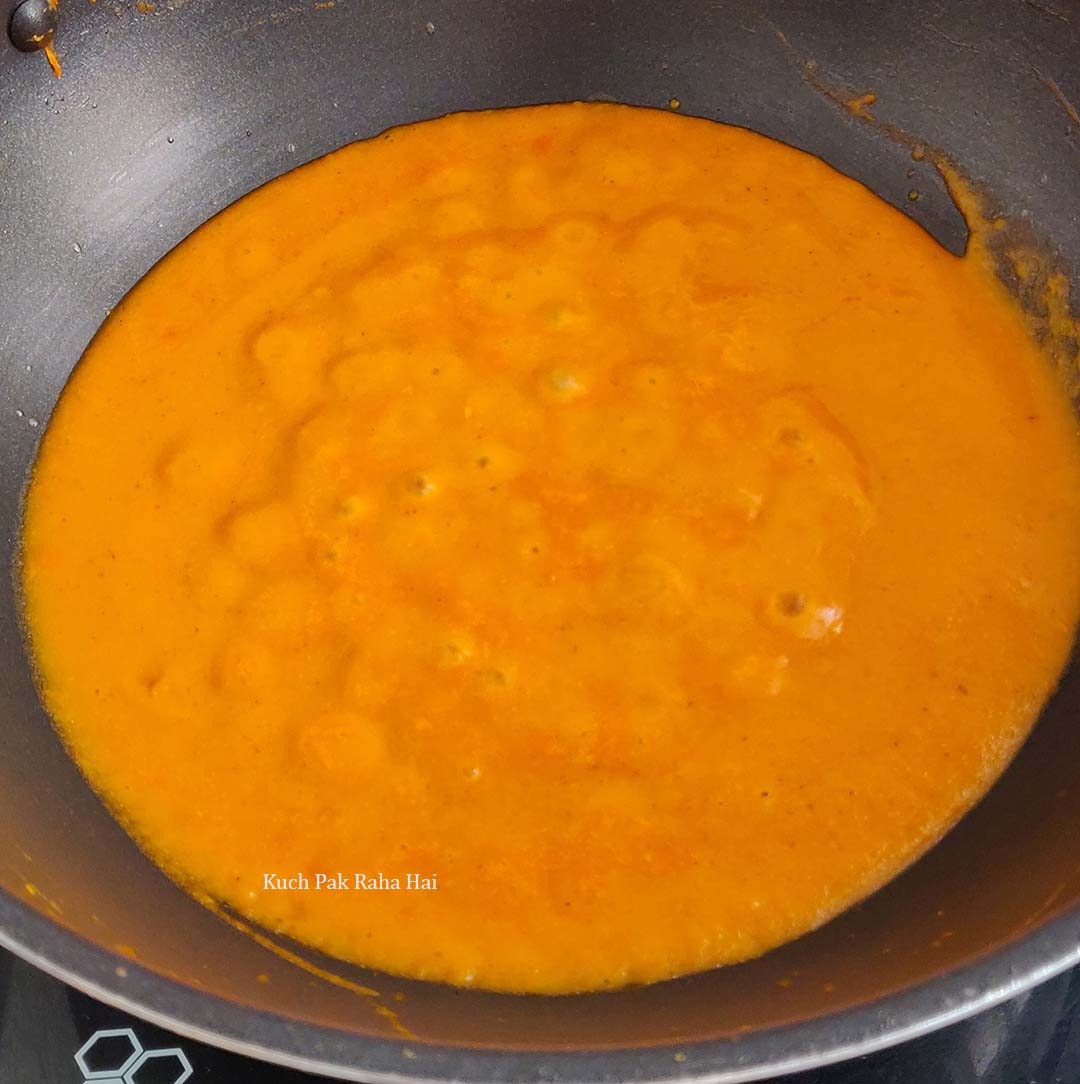 Step 6:
After some time you will notice gravy has thickened and little bit of fat will float on top. Add 2-3 tbsp of water and mix well. Once it comes to boil, add cream and kasuri methi to it while mixing continuously.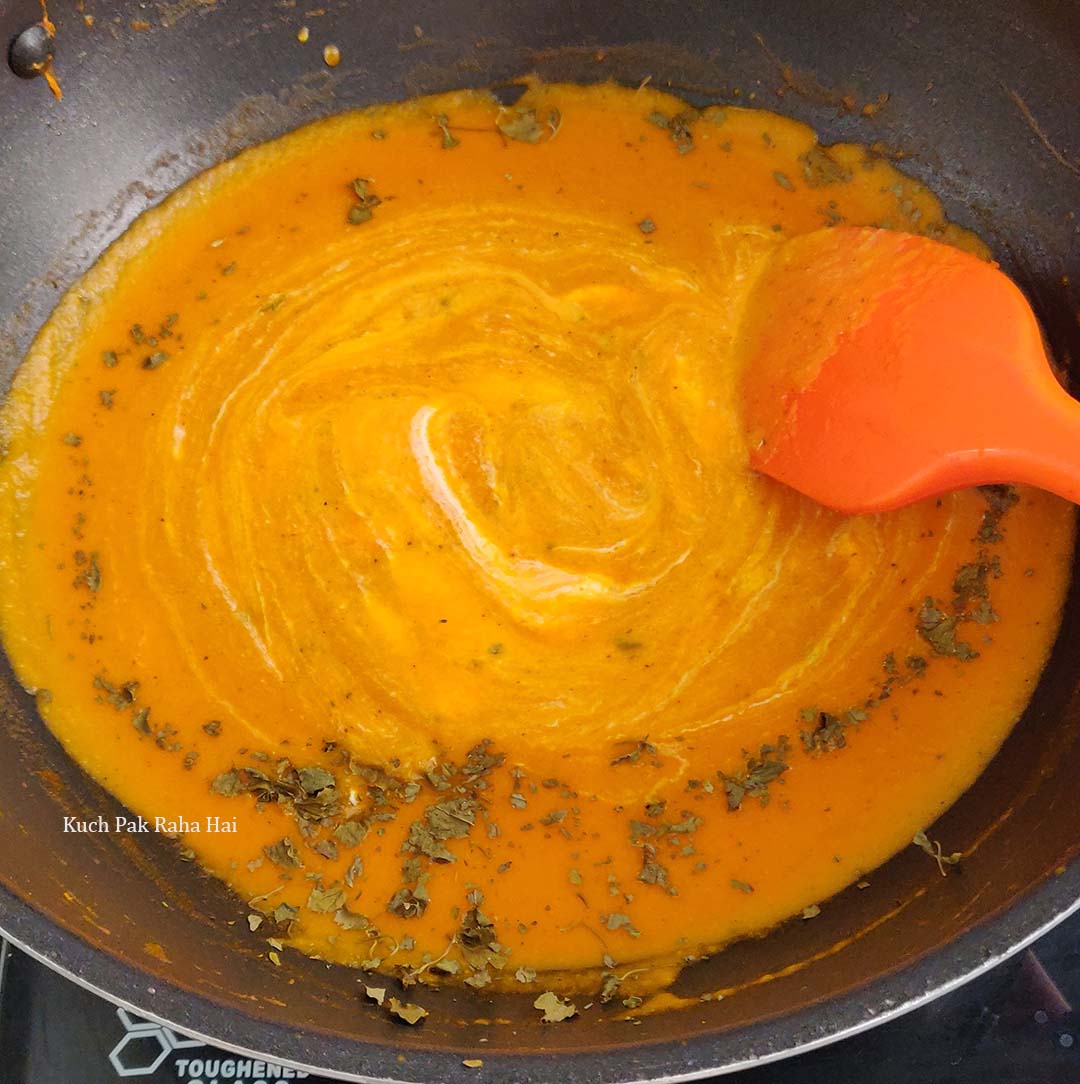 Add paneer cubes to this gravy and mix gently so that pieces don't break in the gravy. Cover & simmer for 5 more minutes.
Garnish this yummy shahi paneer with some more cream or kasuri methi/ freshly chopped coriander at the time of serving !! Serve it hot with naan or rice.
Pin for later: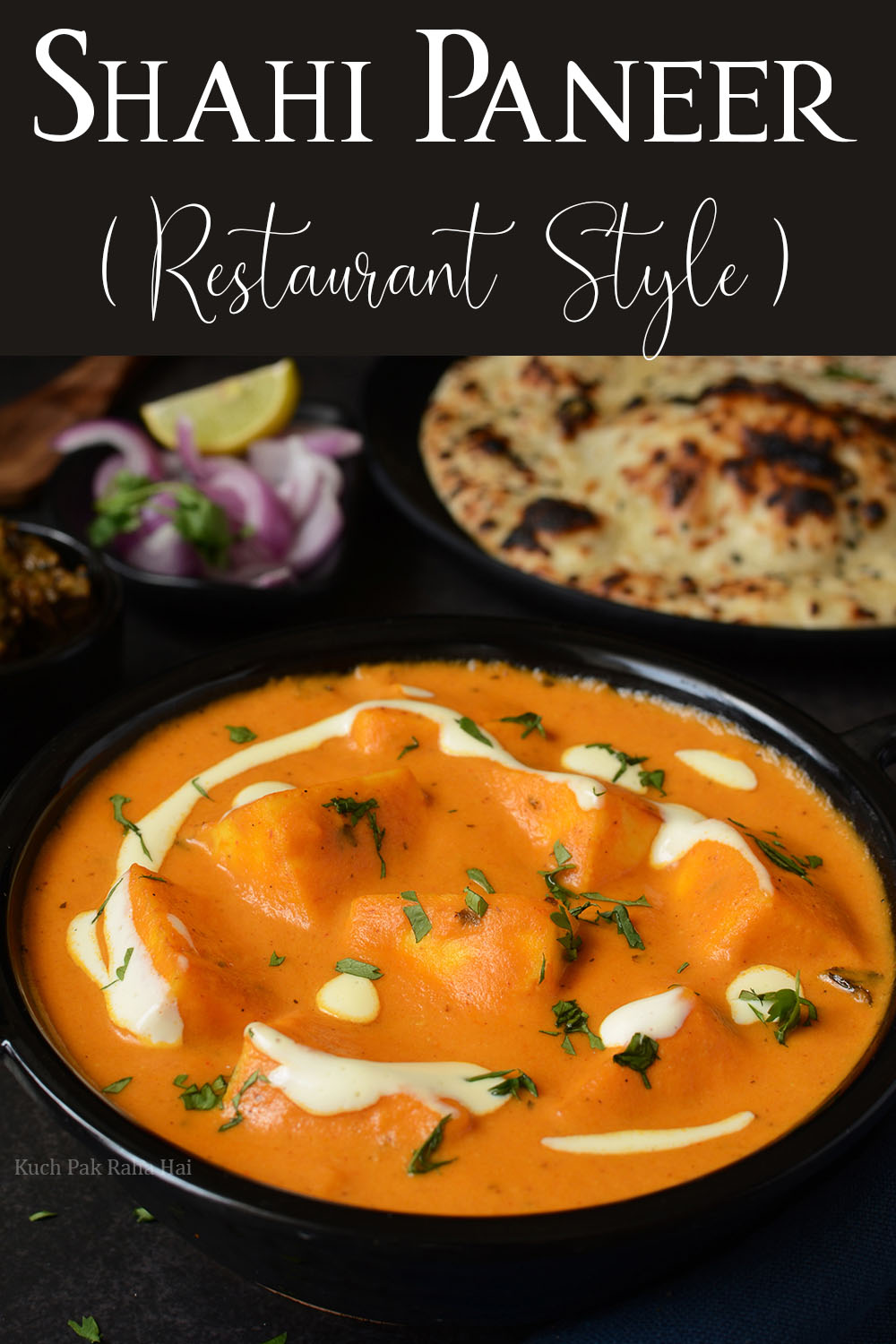 Tips / Tricks :
1. If you don't have fresh tomatoes you can use tomato puree in this recipe.
2. Some people avoid the use of red chilli powder. You can replace it with whole black pepper kernels / powder . Add it in step 3 with rest of the spices while roasting.
3. To get more vibrant colour in gravy without increasing the spiciness, use 'Kashmiri Red Chilli Powder' as it is less spicy but gives more colour to the dishes.
4. Sugar is added to to balance the sourness of tomatoes. If the tomatoes are ripe and sweet you can skip adding sugar to the gravy.
5. For richer texture use full fat cream and if you are trying to lower the calories in this recipe use low fat cream.
Can I freeze Shahi Paneer?
If you are planning to freeze the shahi paneer gravy, don't add cream and paneer to it. Whenever you want to serve the dish just thaw it at room temperature and heat in microwave or in a pan on stovetop. Add heavy cream and paneer later (as shown in step 6 above).
If you try this easy shahi paneer recipe & share pics on social media, then don't forget to tag on Facebook, Instagram or use #kuchpakrahahai.
Let's stay connected
Facebook | Instagram | Pinterest| Youtube