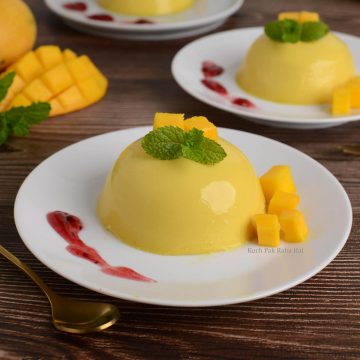 Delicious rich smooth mango panna cotta bursting with mango flavour, topped with juicy mangoes & fresh mint leaves..doesn't it sound tempting? Panna Cotta is a classic Italian dessert which means 'cooked cream' in english. The mango panna cotta recipe shared is easy to make & completely vegetarian, made without gelatin or eggs.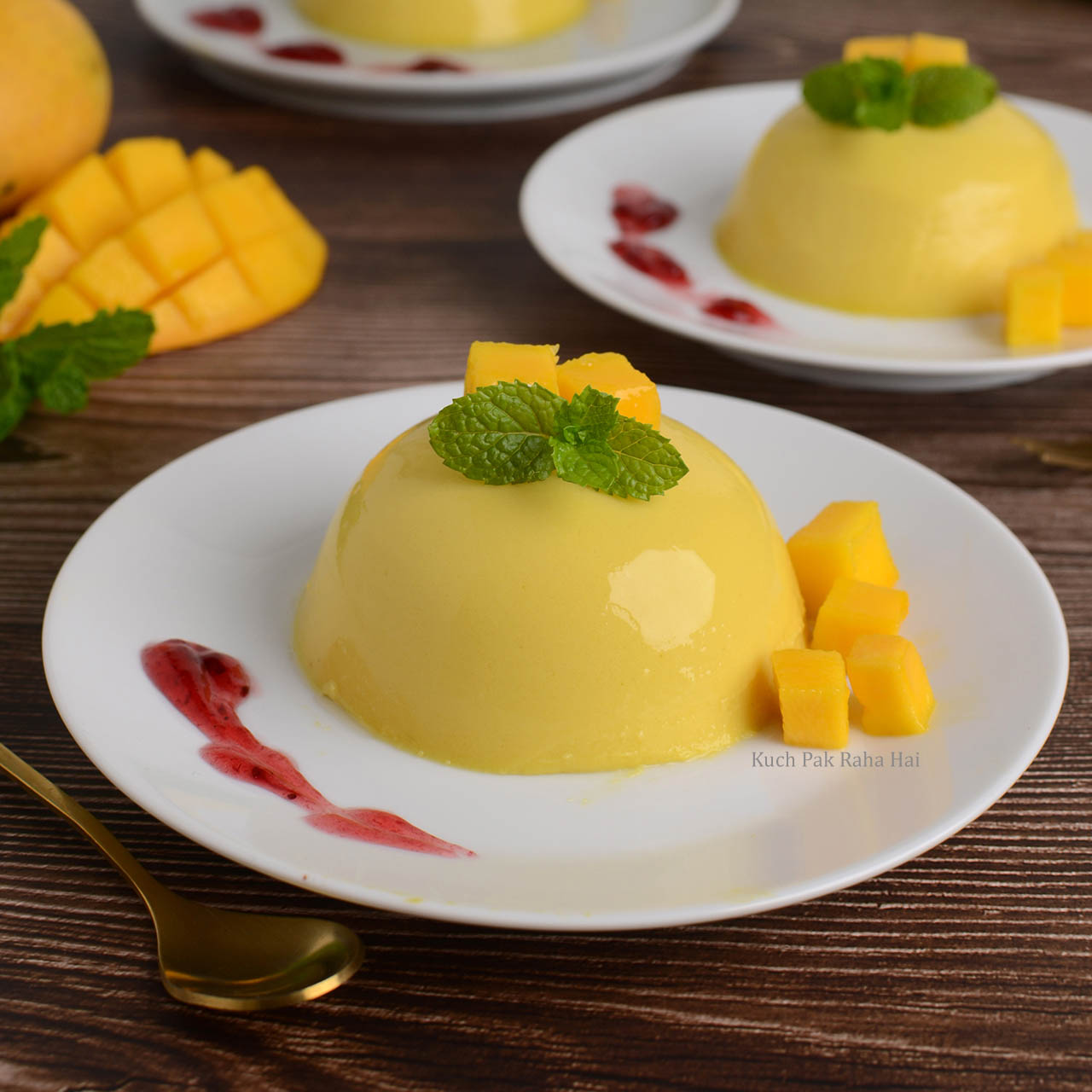 Though this dessert looks and sounds fancy but it is one the quickest no bake dessert that you can make at home. You don't need any fancy kitchen gadget or equipment to make it. With just 5 ingredients, a stovetop & pan, you will be able to make lip smacking mango pannacotta.
It is also great to serve in parties, dinner or potluck as it can be made in advance & stored in fridge till the time of serving. The combination of juicy sweet mangoes in creamy jiggly panna cotta, topped with juicy mango pieces and mint leaves makes this chilled dessert perfect especially for summer season.
The mango pannacotta recipe shared here is completely vegetarian as it set with agar agar. It has:
No eggs
No gelatin
Gluten Free
Easy & Quick to make
Can be made vegan
Summers in India is synonyms to mangoes. Last year, this season I shared egg free no bake mango cheesecake recipe for which I got such lovely positive feedbacks from so many readers. This time also the market is flooded with seasonal mangoes  and I couldn't wait to share this simple yet iresistible mango pannacotta recipe with you all.
Gelatin vs Agar Agar: In authentic panna cotta recipe, gelatin is used as a setting agent. However it considered to be non vegetarian as it is derived from animal parts. Agar agar is great substitute for gelatine as it sets the desserts in similar fashion & is totally vegan as it is derived from sea weed extract.
It sets more quickly and is also used in lesser quantity than gelatin. You can buy it easily on amazon, bigbasket or any of the asian grocery stores.
Mango Panna Cotta Ingredients:
Dairy: Both cream & milk are used in this mango panna cotta recipe. You can use only heavy cream too. To make the recipe vegan, dairy milk / cream can be substituted with coconut milk or cream.
Mango puree: With the fresh juicy mangoes in season, I have made mango puree from scratch at home. However if they are available near you, you can use canned mango pulp too.
Sugar: You can use granulated sugar, powdered sugar or castor sugar in pannacotta. The amount can be adjusted depending on the sweetness of mangoes and as per one's taste.
Flavouring: A few drops of vanilla extract compliments the flavour of mangoes very well. If you want to experiment, instead of vanilla you can add little bit cardamom powder or few saffron threads.
Agar Agar: Agar Agar is available in many forms like powder, flakes or strands. I have used agar agar powder in the recipe. In general 1 tsp of agar powder = 1 tbsp of agar flakes. It should always be dissolved in room temperature liquid before heating.
For garnishing: Top up the pannacotta with fresh mango cubes or a twig of mint for adding a touch of freshness. You can even add some passion fruit pulp, mango or strawberry sauce.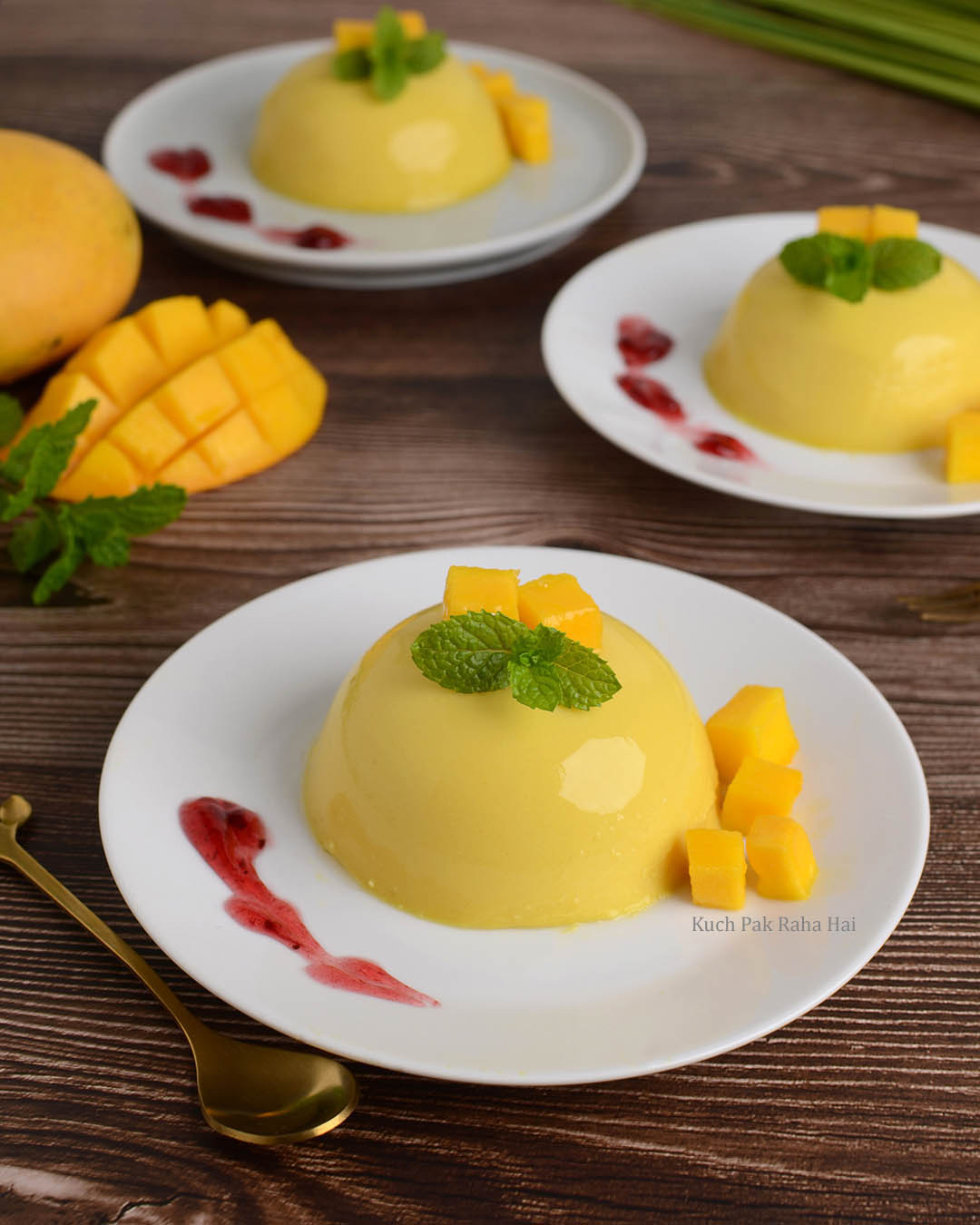 Which types of mangoes should we use for making panna cotta?
It is best to use alphonso mangoes in this recipe. In case you have to use any other variety, make sure to choose the one which is less fibrous. Always sieve the mango puree to get rid of fibres and get silky smooth puree.
Can we make mango panna cotta in advance?
Yes you can make it in advance, cover and store it in fridge covered for upto 2 to 3 days. Covering the panna cotta top with cling film prevents the top from drying & absorbing other odours from fridge.
How long does panna cotta takes to set?
It takes upto 4 to 6 hours for panna cotta to set completely but it would be best to leave it overnight to get perfect jiggly panna cotta.
Mango Panna Cotta Serving Ideas:
You can set this mango panna cotta directly in serving glasses, dessert jars, bowls or silicon mould, ramekin dish to de-mould later. It can be served with fresh mango cubes, mint leaves, sliced strawberries, passion fruit pulp, berry compote, coulis or sauce.
More mango recipes:

Ingredients: (Makes 5-6 servings)
Heavy Cream- 1 cup
Full Fat Milk- 3/4 cup
Mango Puree- 1 cup
Granulated Sugar*-1/3 cup + 2 tbsp
Agar Agar Powder-2 tsp
Vanilla Extract- 1/4 tsp
Fresh Mango Cubes- for garnishing
Mint Leaves- for garnishing
Notes:
Measuring Cups Used: 1 cup =250 ml, 1/2 cup = 125 ml, 1/3 cup= 80 ml, 1/4 cup= 60 ml
Sugar can be adjusted as per taste. If the mangoes are less sweet, you can add upto 1/2 cup sugar.
Cream & milk used should be at room temperature.
For lighter version of this dessert, you can use skimmed milk or low fat cream.
Directions:
Step 1:
Peel and chop the mangoes. Transfer the mango cubes in a blender jar and blend to make smooth mango puree (add 1 tsp water if required). Sieve the puree once to get rid of any fibres or pieces. Measure & keep 1 cup mango puree separate.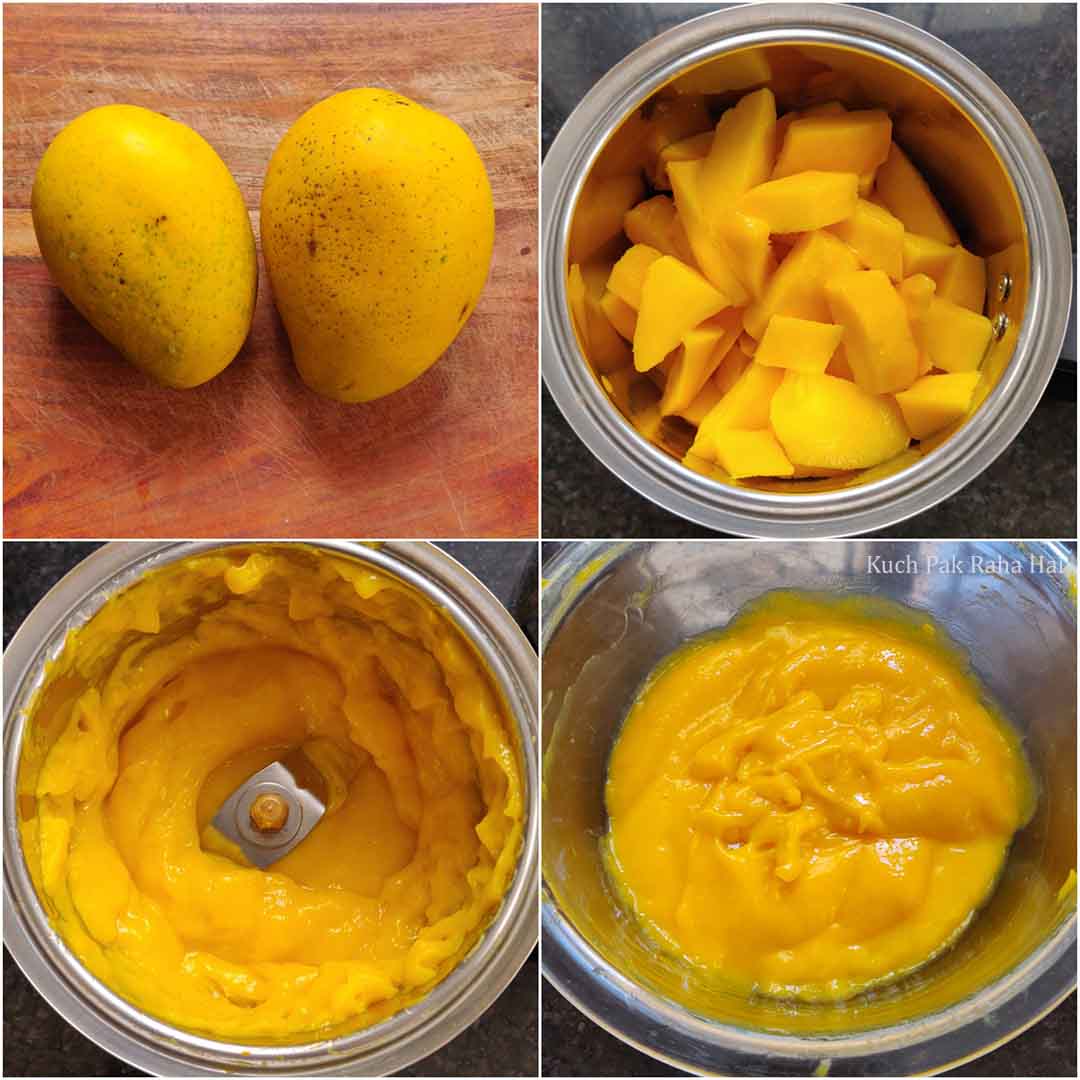 Step 2:
In a pan, transfer milk, heavy cream & agar agar. Don't switch on the flame yet. Whisk well for 3 to 4 minutes till agar is dissolved completely .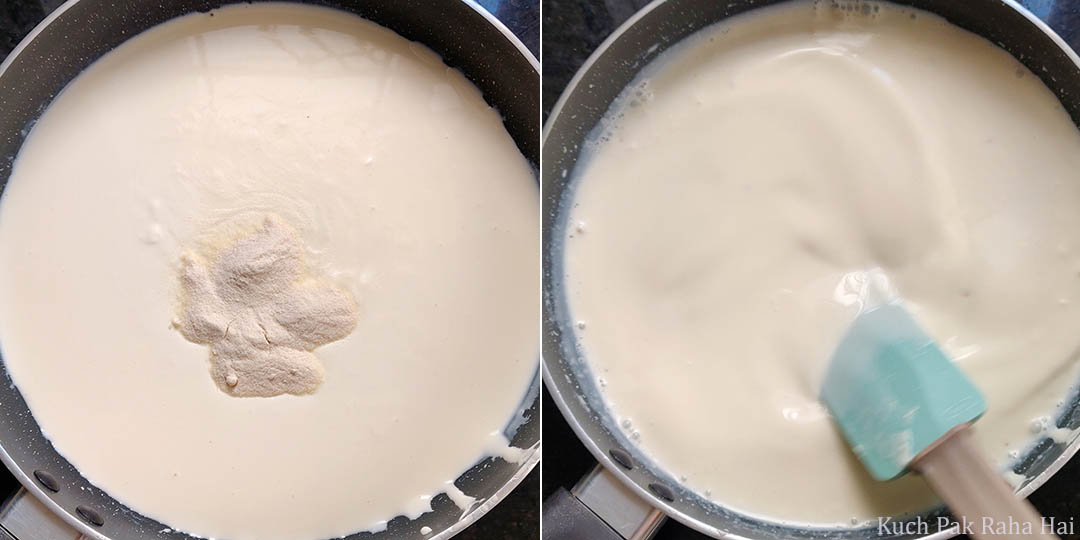 Step 3:
Switch on the flame now and begin heating the mixture on medium-low flame. Once the mixture begins to heat, add sugar & vanilla extract (or cardamom / saffron) to it & stir well.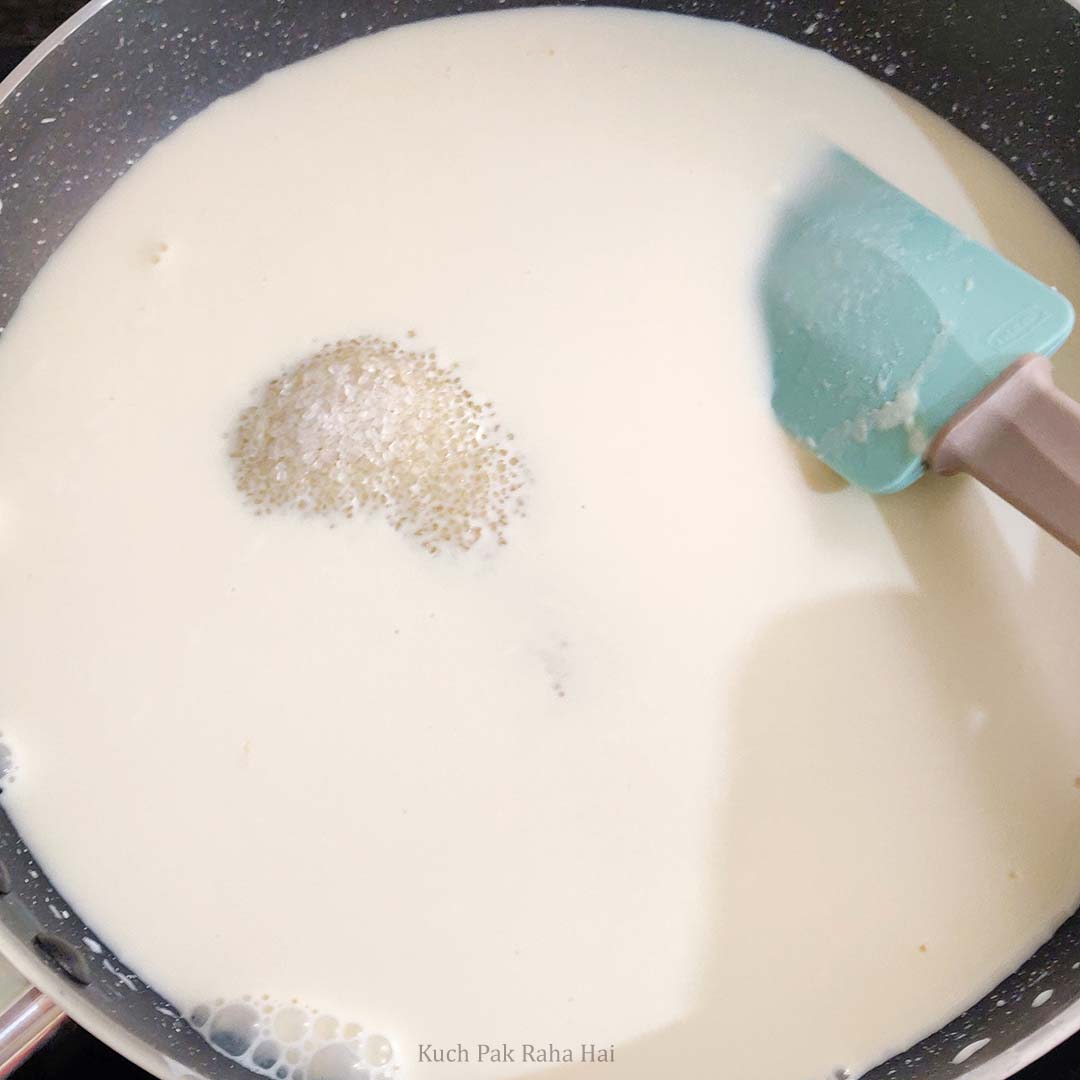 Step 4:
When you start noticing small bubbles, turn the flame low and add mango puree to it while mixing continuously. Bring the mixture to simmer (do not boil it vigorously). Switch off the flame when mixture begins to thicken up.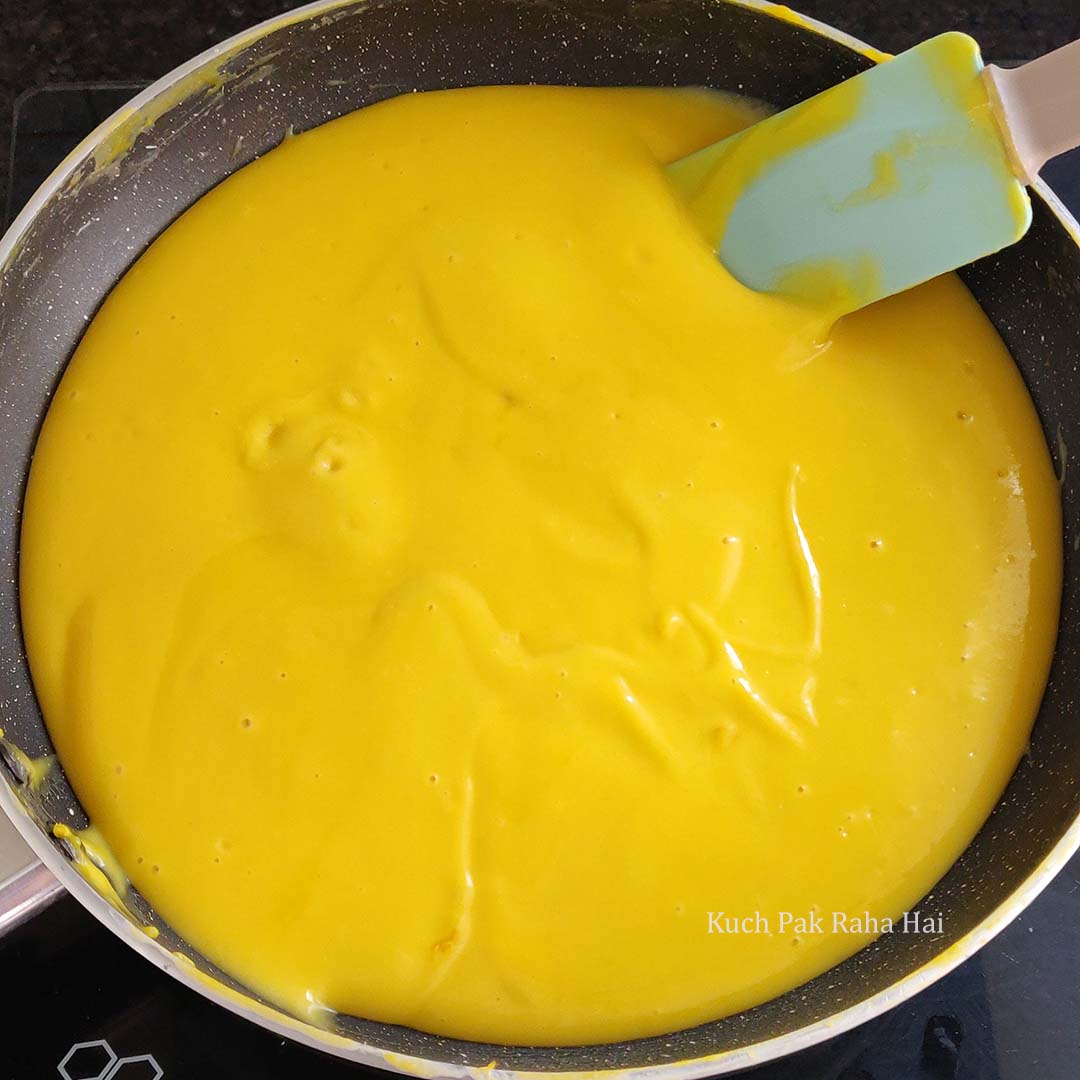 Step 5:
Transfer this panna cotta mixture in glasses or mould & let it cool down at room temperature. Cover with cling film & let it set in fridge for 4 to 5 hours (or overnight).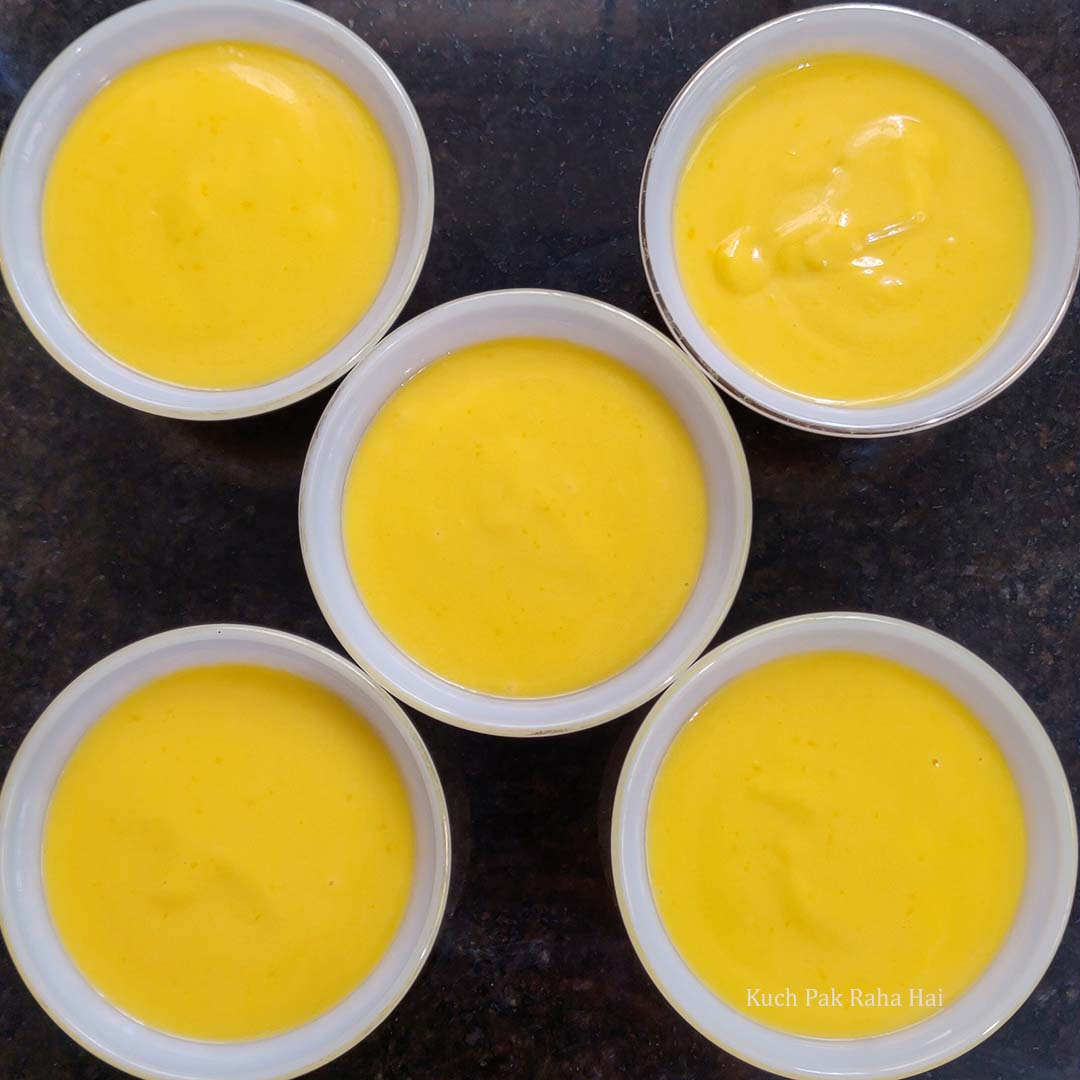 Step 6:
If you want to de mould, dip the bowls in warm water for 10-15 seconds or simply run a clean knife between panna cotta & bowl. Invert the bowl over a plate.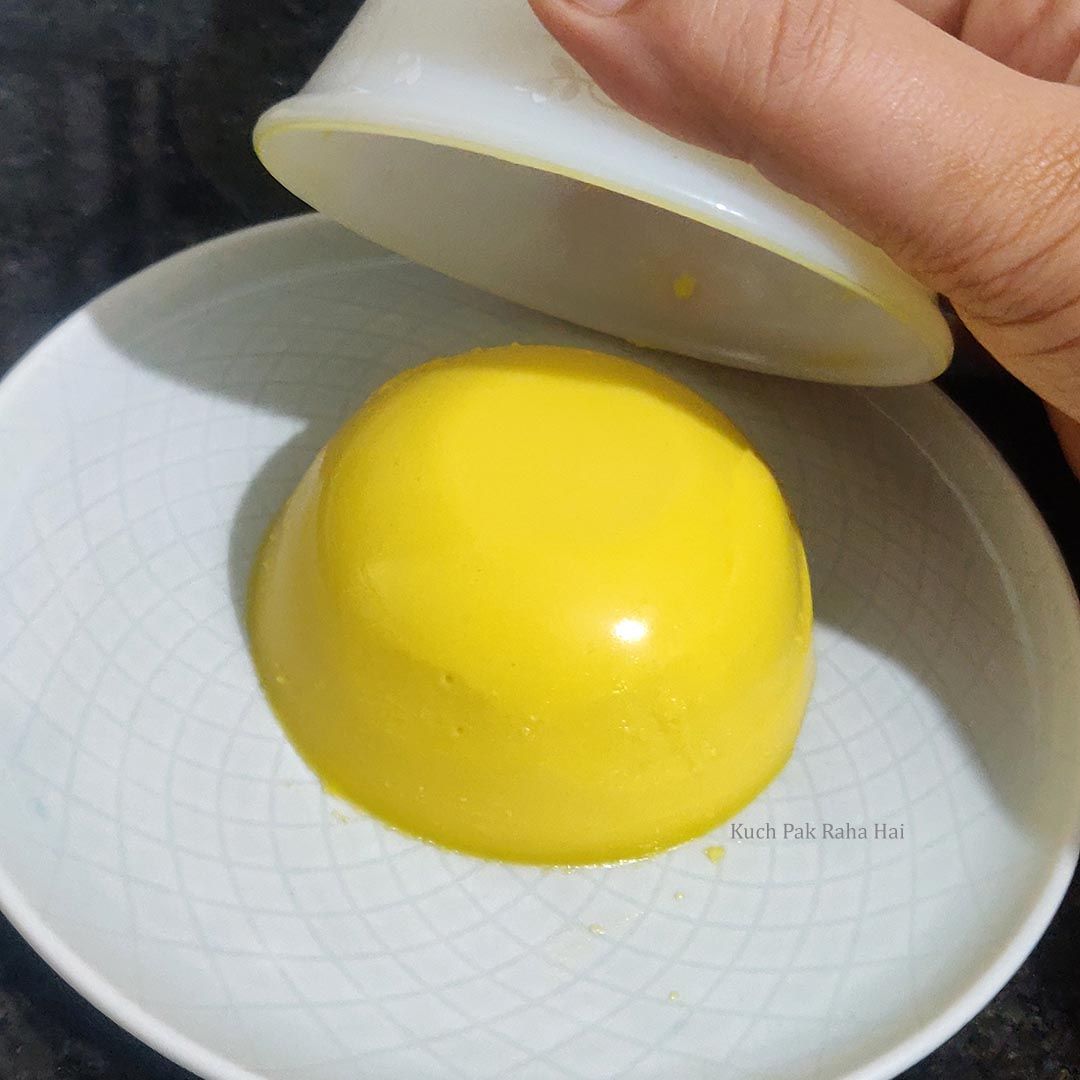 Garnish with more mango pieces, mint leaves or any berry compote / sauce of your choice. Serve chilled.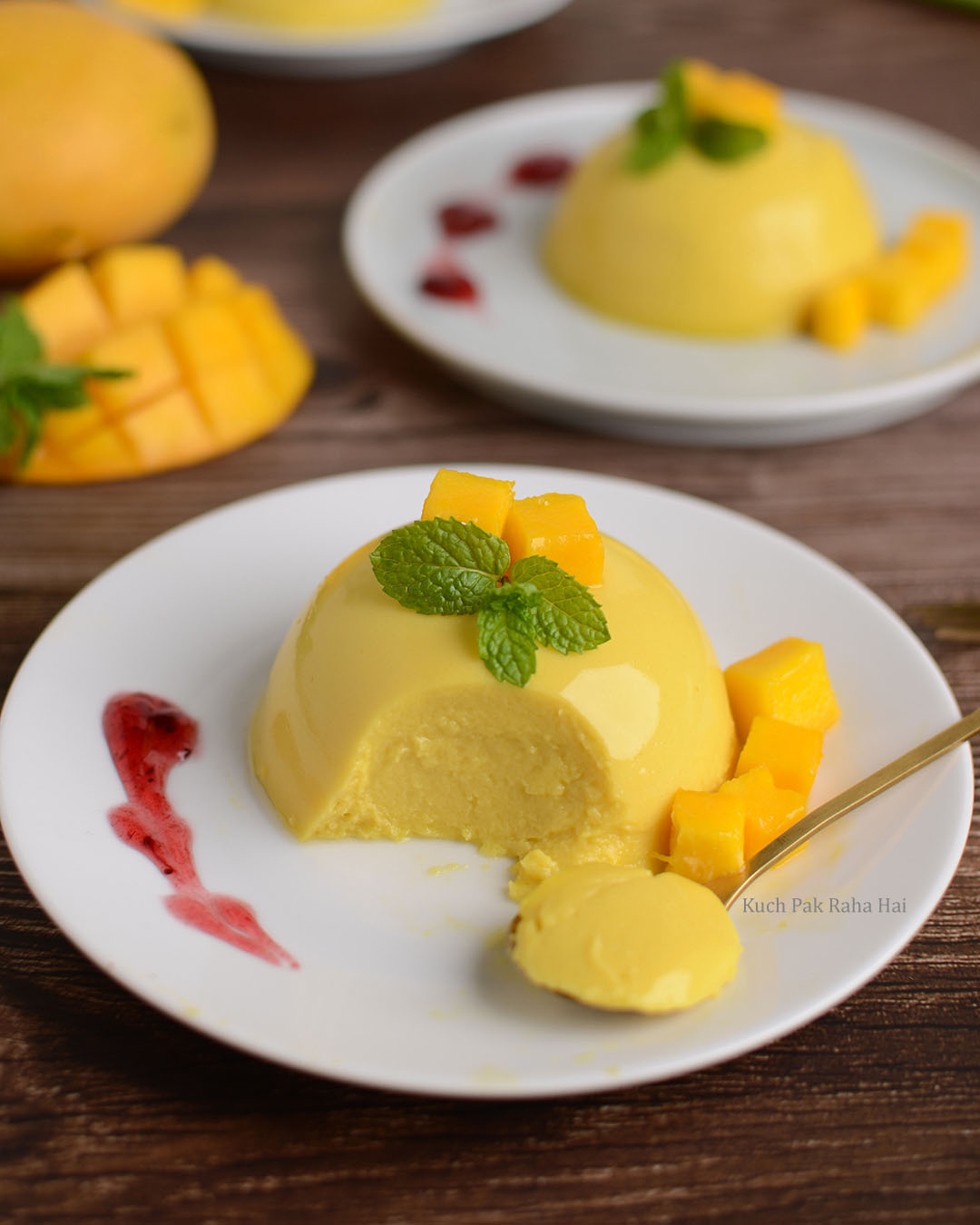 What to do if panna cotta is not set?
Sometimes when agar agar is not dissolved completely, the panna cotta does not set properly. In that case, transfer the mixture again in a pan, add around 1/4 tsp of agar agar more & heat on low flame while mixing continuously (do not boil). Pour it back in the moulds or glasses and leave it to set (explained in steps above).
Tips to make perfect mango panna cotta:
1. Never boil the cream for panna cotta. It should only be brought to simmer.
2. It is always advised to add fruit puree after lowering or switching off the flame as sometimes dairy can curdle on high flame.
3. Covering the panna cotta with cling film makes sure it does not absorb other odours in fridge.
4. You can prepare this pannacotta in advance & store it covered in fridge for 2-3 days easily.
5. You can make vegan mango panna cotta by replacing heavy cream with coconut milk / cream and milk with non dairy substitutes like oat, soy or almond milk.
6. For a bright yellow colour in panna cotta, add some saffron milk or 2-3 drops of edible yellow colour.
Pin for later: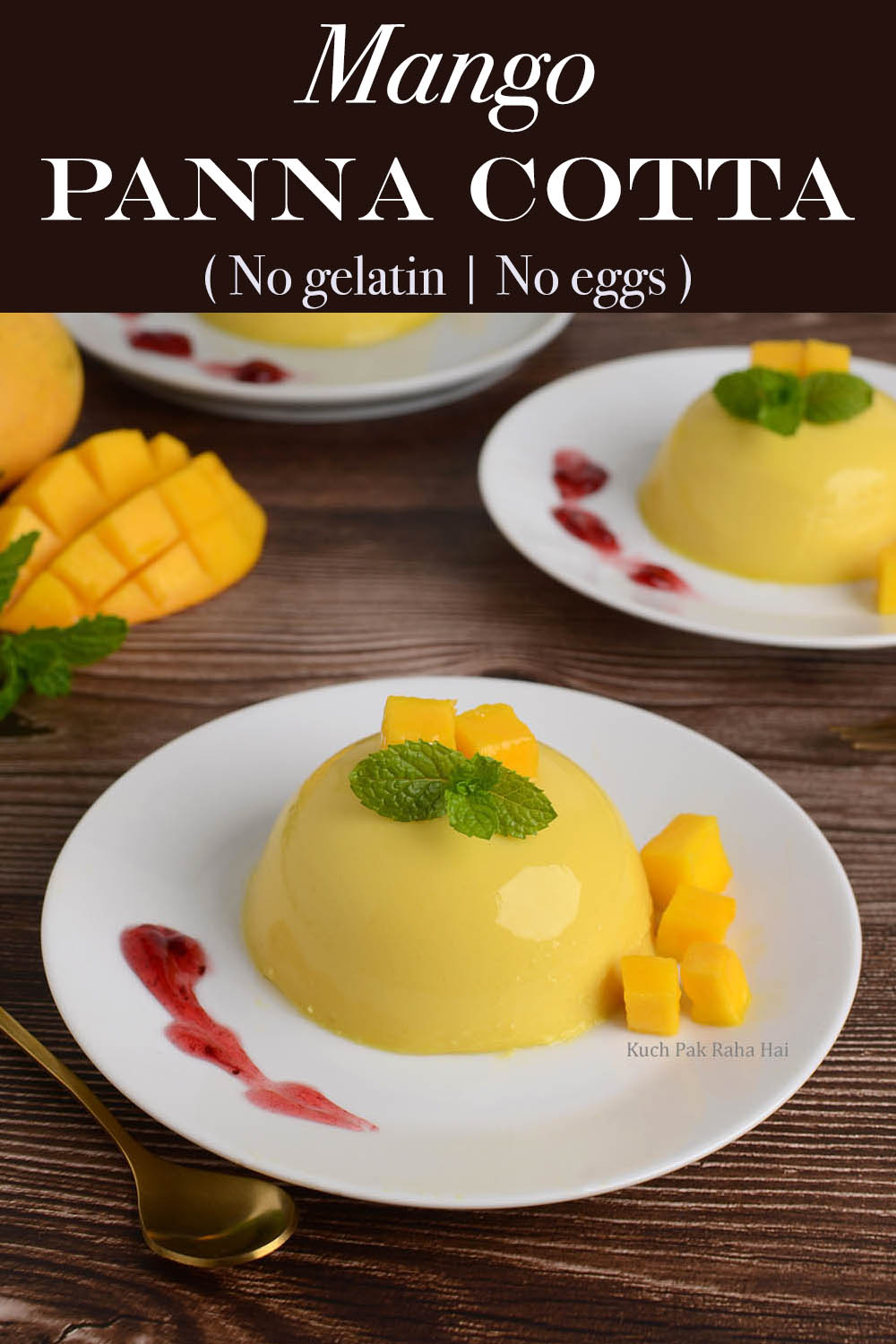 More yummy easy no bake dessert recipes:
(Disclaimer: The above posts contains amazon affiliate products links. For more details, refer to privacy policy page.)
If you try this mango panna cotta recipe & share pics on social media, then don't forget to tag on Facebook or Instagram or use #kuchpakrahahai.
Let's stay connected
Facebook | Instagram | Pinterest| Youtube