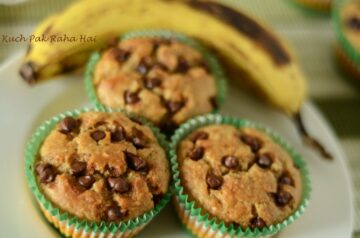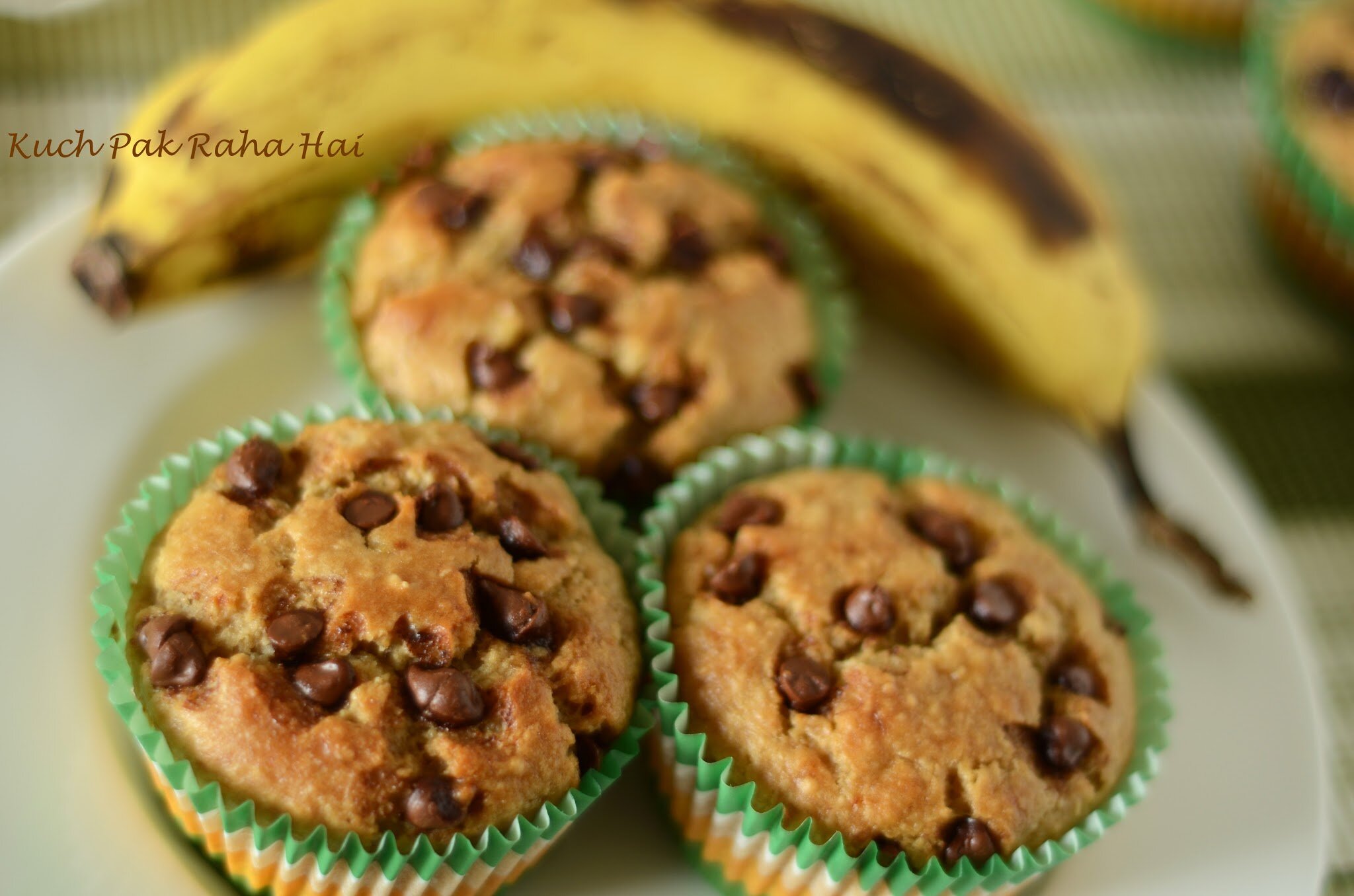 Eggless Banana Oats muffins are delicious and yet healthy combination of bananas and oats. These muffin are so soft and melt in mouth that you won't be able to stop at just one. The goodness of these muffins does not end at bananas and oats as it also contains whole wheat flour (or aata).
I was looking for a nice yummy recipe of eggless banana oats muffins from a long time. This recipe does not contain maida and butter. Just two tablespoons of cooking oil for the entire batch of six muffins!! Use any oil like sunflower oil or olive oil which is odourless and you can enjoy muffins without being guilty of stashing loads of calories.
It is really a delicious oats recipe which will make one eat oats without even realising it. As these muffins are quite fulfilling, they can be given as snacks or in dessert in kids' tiffin. Also, you can grab one of these muffins along with your morning cup of coffee or tea when you are getting late and don't have time for a proper breakfast.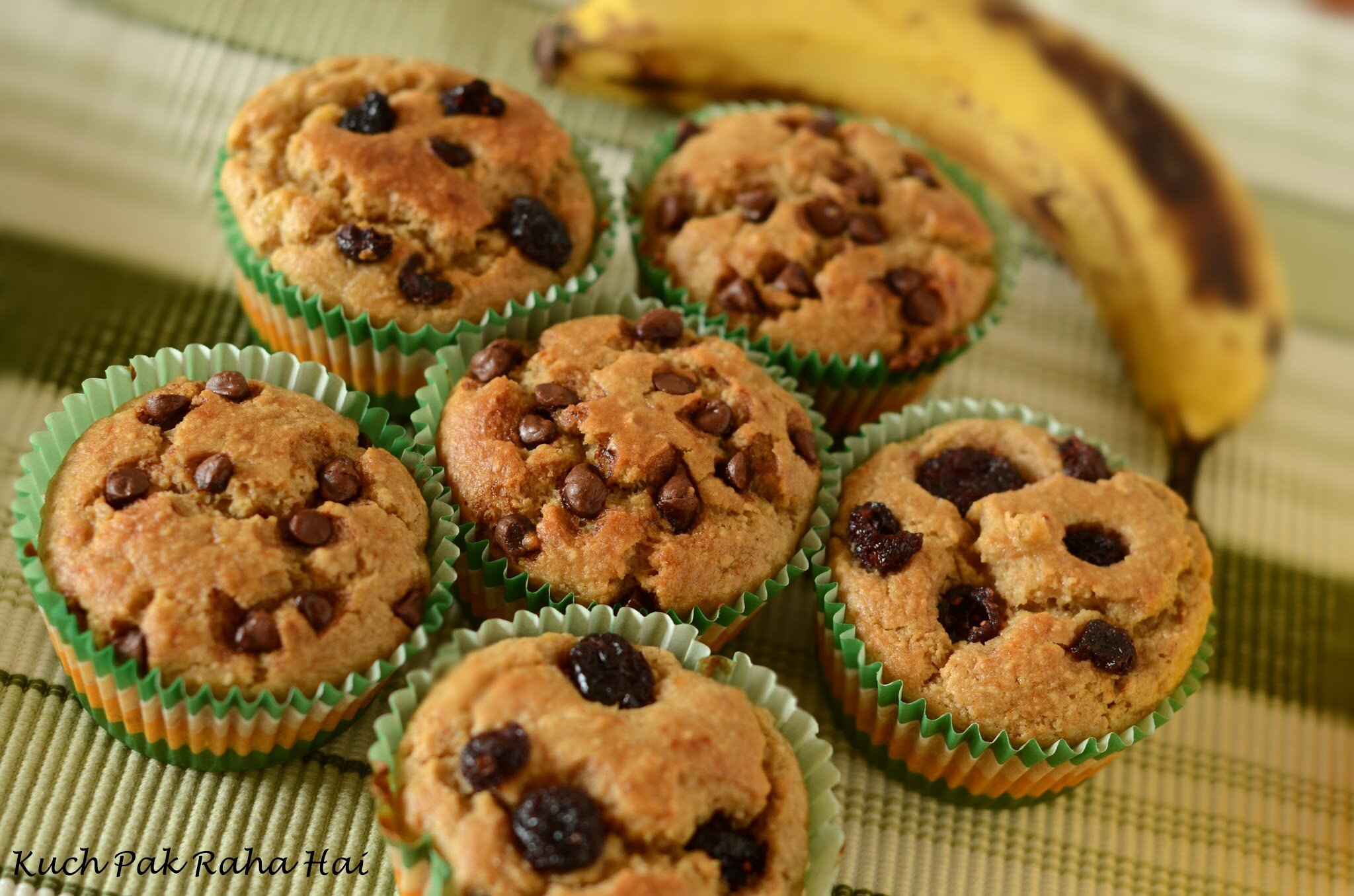 These muffins get all their softness and moisture from banana and curd. For the sweetness, I have used some brown sugar which is again a healthier alternative to refined sugar we generally consume at home.
The muffin get its natural sweetness from the ripe bananas. I would advice, if you are trying this recipe, then please use only ripe bananas as I have added a nominal amount of sugar and these muffins get most of their sweetness from bananas.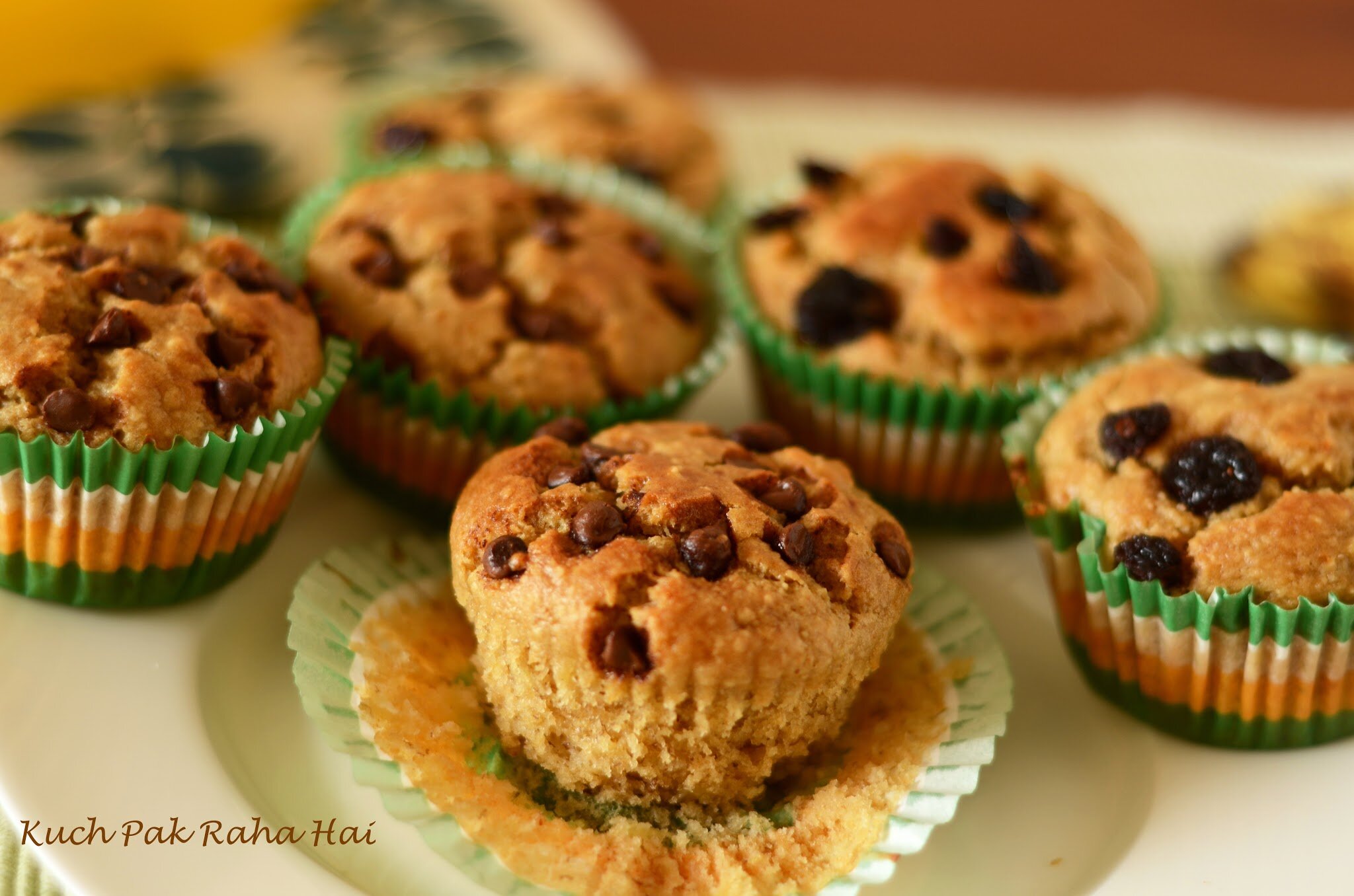 You can garnish these muffins with any fruit or nuts of your choice. Some of the suggested options which you can use are strawberries, blueberries, dried cranberries, almonds, raisins or chocolate chips etc.I have used here dried cranberries and chocolate chips.
Look at the beautiful top and the soft fluffy insides of these muffins. Trust me, they are more delicious than they look. It is a must try banana recipe and I am sure you would love it!!
More eggless muffins recipes: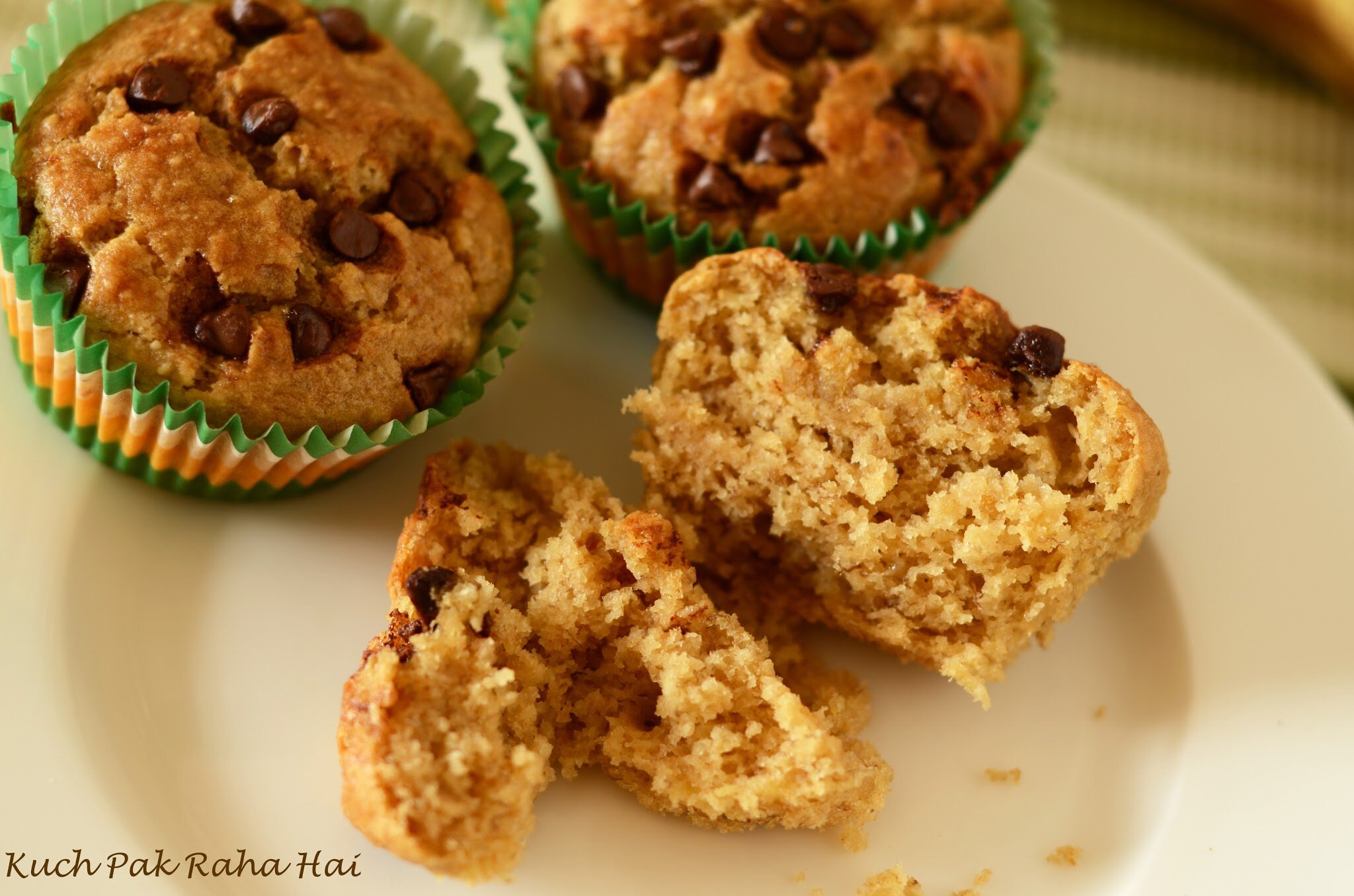 I have shared a youtube video for this same recipe just in case you want the see how the whisking or folding of batter is done.
Watch Video:
List of Ingredients: (Makes 6 muffins)
Oats – ½ cup
Whole Wheat flour – ¼ cup + 1 tbsp
Baking Powder – ¾ tsp
Baking soda – ½ tsp
Salt – A pinch
Ripe Banana – 1 (large)
Yoghurt (Thick Curd)- ¼ cup
Brown Sugar – ¼ cup
Milk – ¼ cup
Oil – 2 tbsp
Vanilla Essence – 1 tsp
For garnishing:
Chocolate Chips – 2 tbsp
Dried cranberries – 2 tbsp
Steps To Prepare:
Step 1:
Take oats in a grinding jar and grind them coarsely. Don't grind them too fine. (I have used Quaker Oats here. You can use any brand of your choice.)

Step 2:
Sieve together whole wheat flour, baking soda, baking powder and salt in a bowl. Add coarsely ground oats to it. Keep it aside. These are the dry ingredients.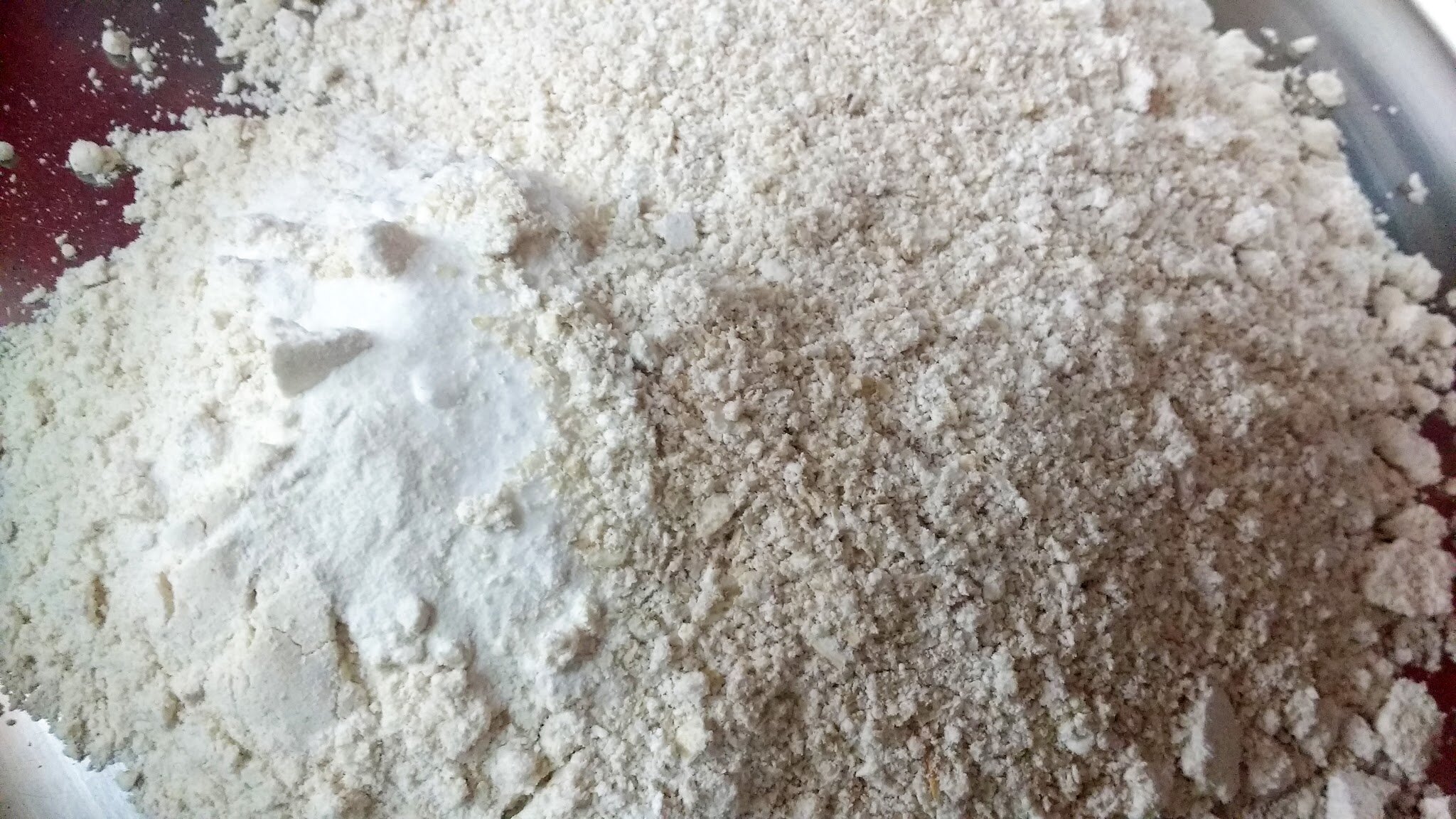 Step 3:
Peel the banana and mash it with the help of a fork.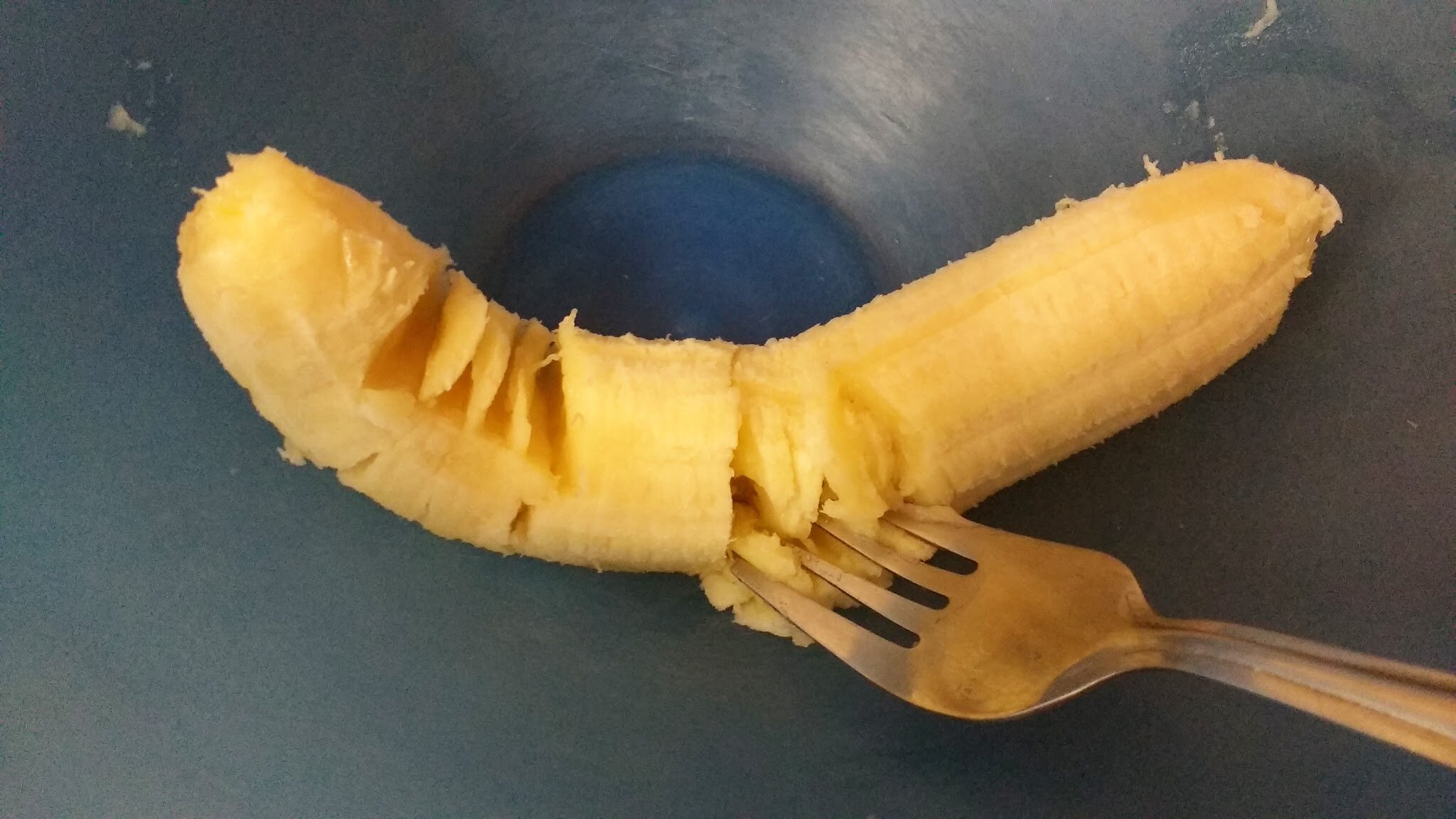 Add yoghurt and brown sugar to it. Mix well till sugar is completely dissolved.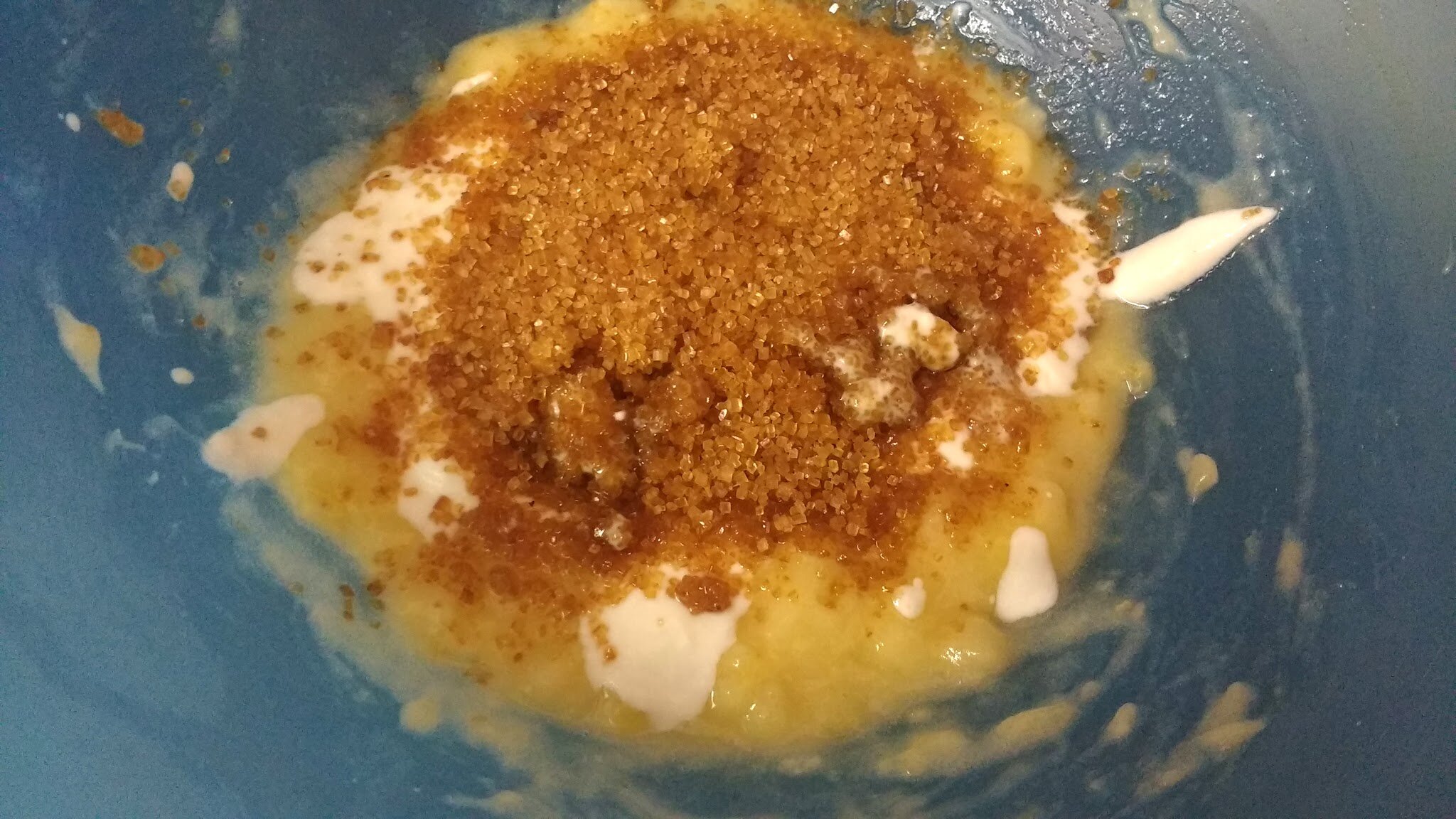 Step 4:
Preheat the oven to 180 degrees Celsius. Preheating oven is an essential step in baking. Please do not miss it.
While the oven is heating, add milk, vanilla essence and oil to the above mixture. Mix well.

Step 5:
Gently fold the dry ingredients in this liquid mixture. Be gentle.

Step 6:
Place the liners inside the muffin tray. If you don't have liners you can also apply some oil or butter in the hollows of muffin tray. Pour the batter in muffin liners using spoon such that there are filled ¾th. Garnish the muffins with chocolate chips and dried cranberries.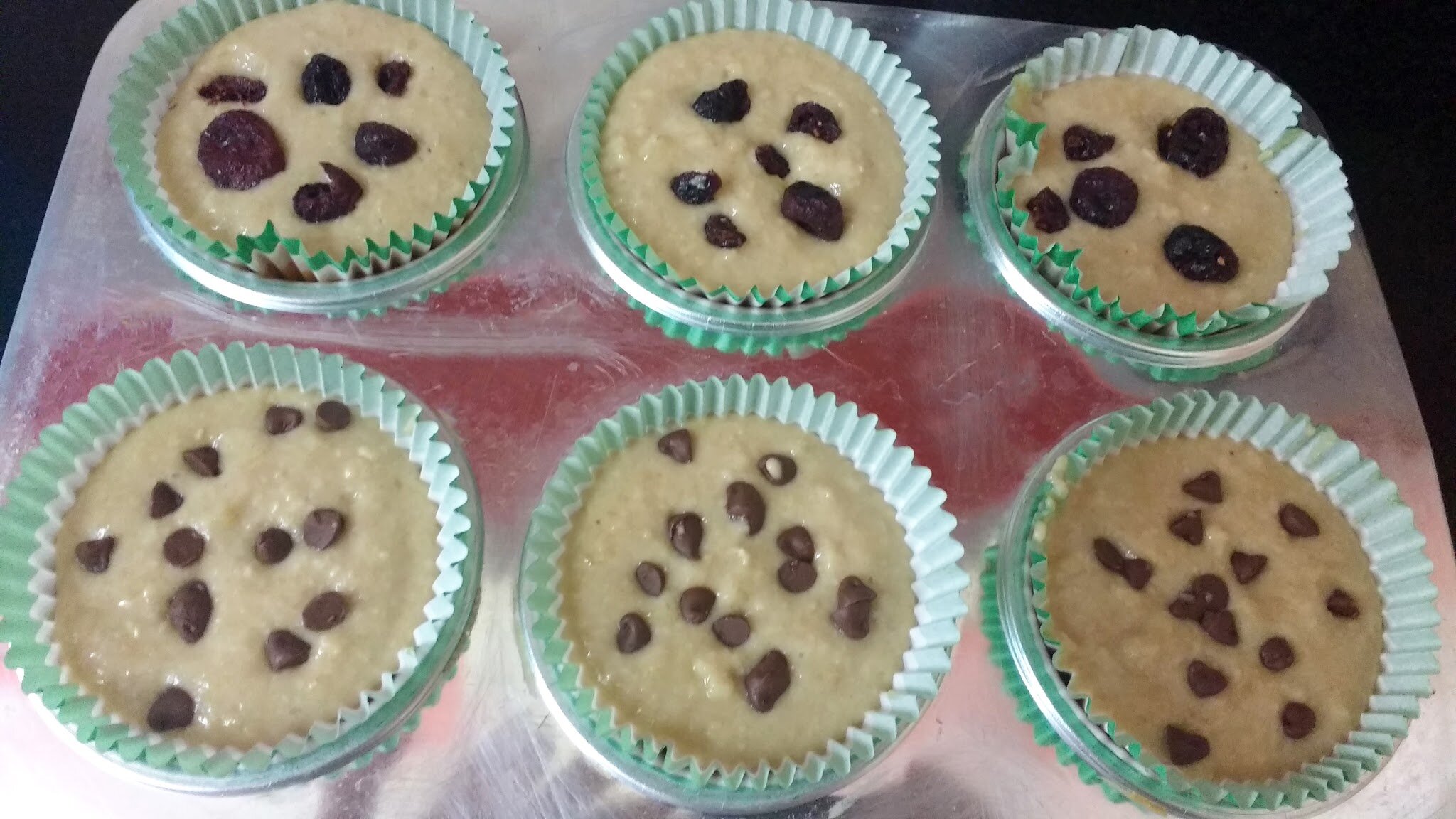 Step 7:
If the oven has preheated by now, place the cupcake tin inside the oven and bake muffins at 180 degrees Celsius for 15 minutes. After 15 minutes, do the tooth pick test.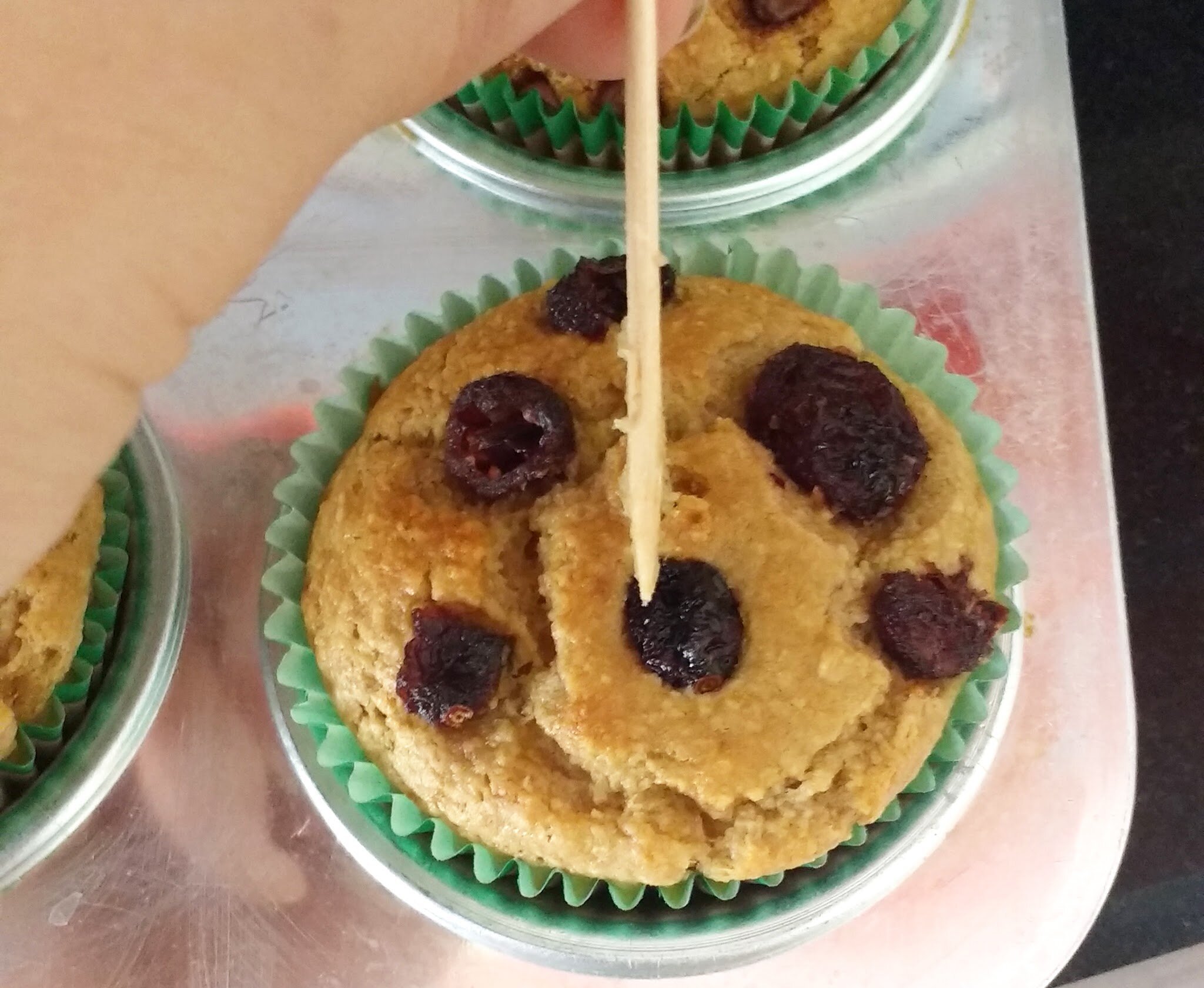 Prick the centre of any muffin by a toothpick and check. If the toothpick comes out clean the muffins are ready. If there is some liquid at the tip, bake for another 2 minutes.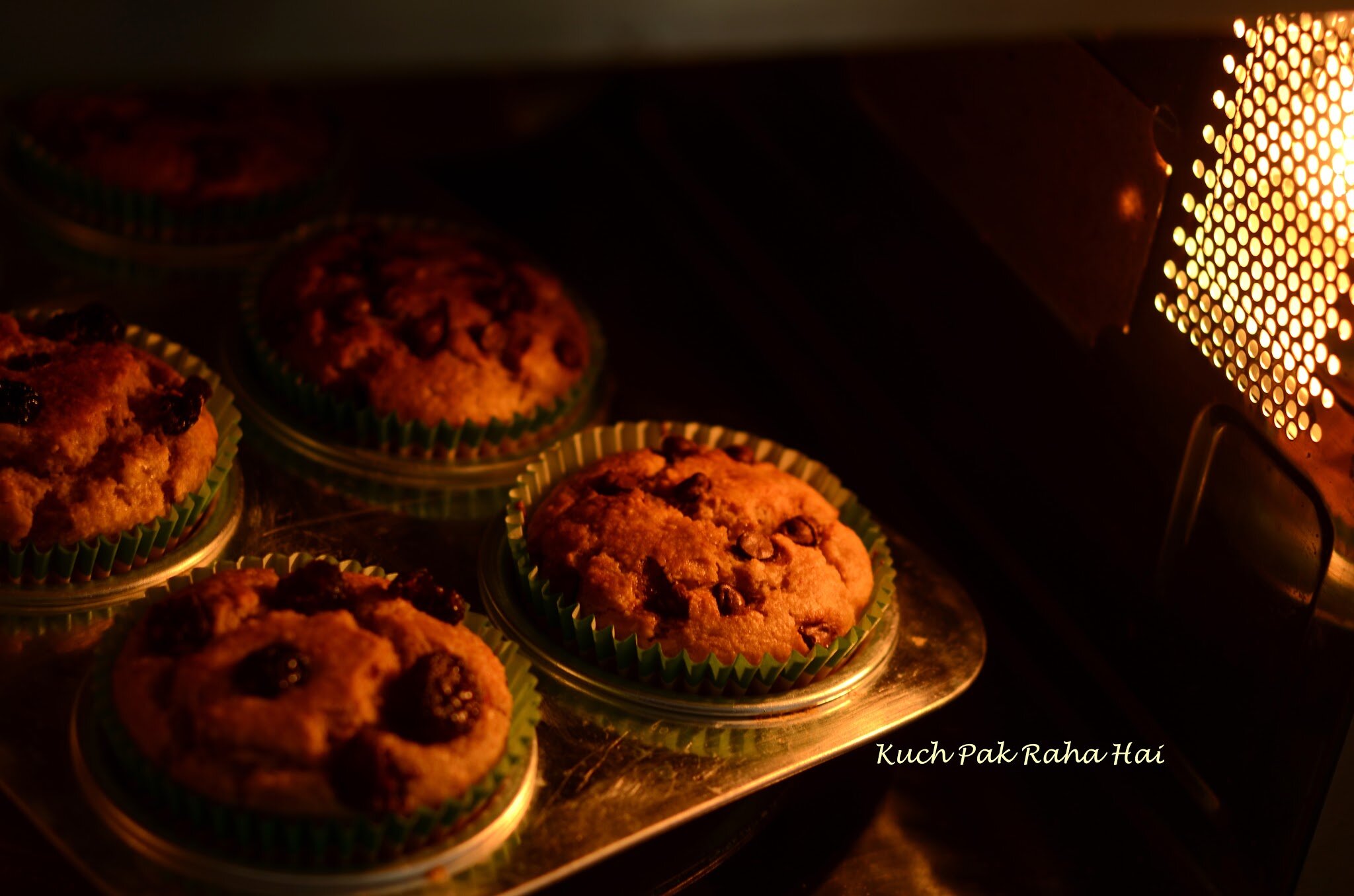 Enjoy these warm melt in the mouth healthy Banana Oats Muffins with a cup of tea of coffee.
Bon Appetit!!
If you want to have them later, just let them cool down completely on a wire rack and store in an airtight container in fridge. As these muffins are made with fresh bananas store them in fridge at all times.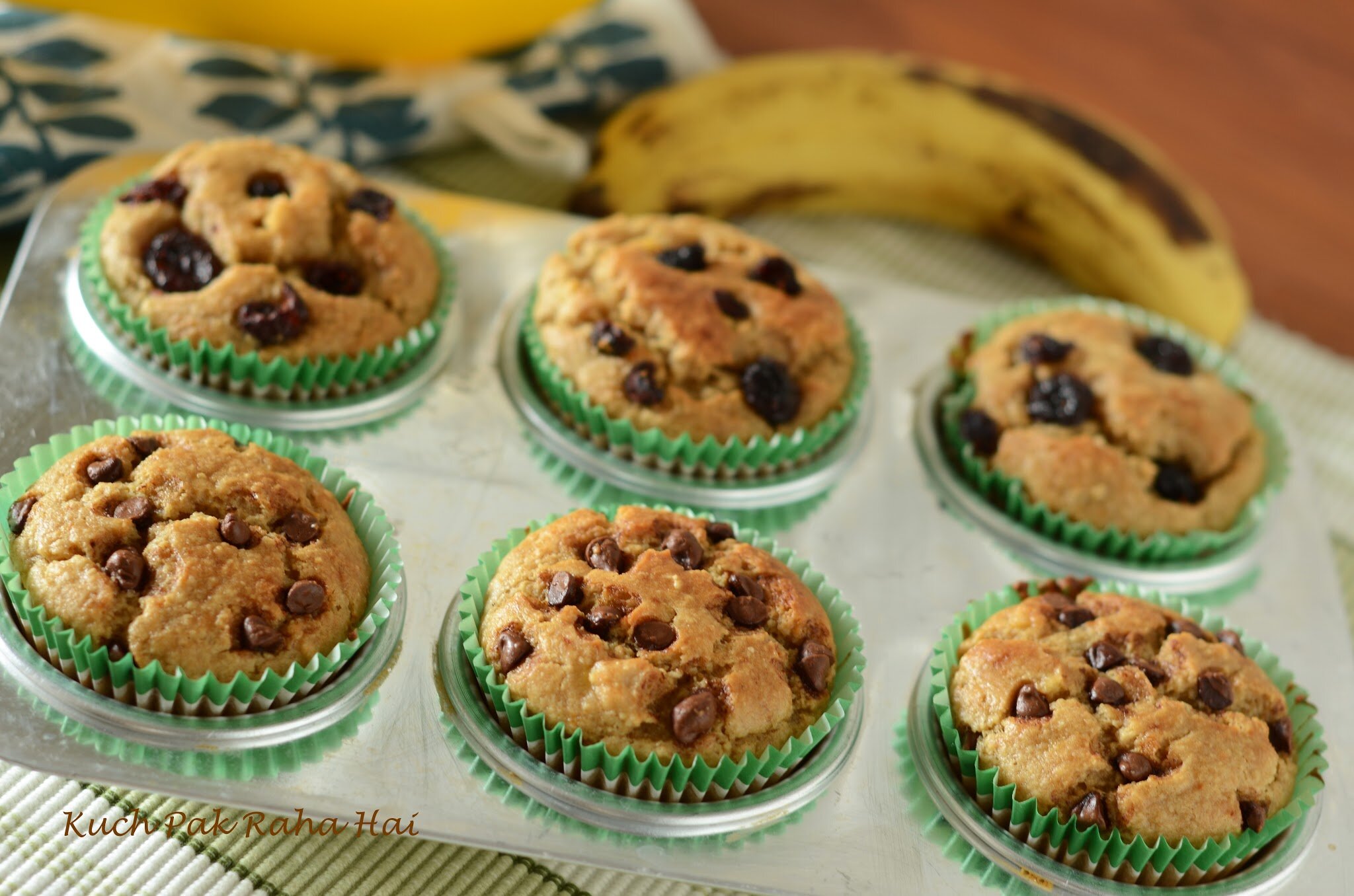 Pin it for later :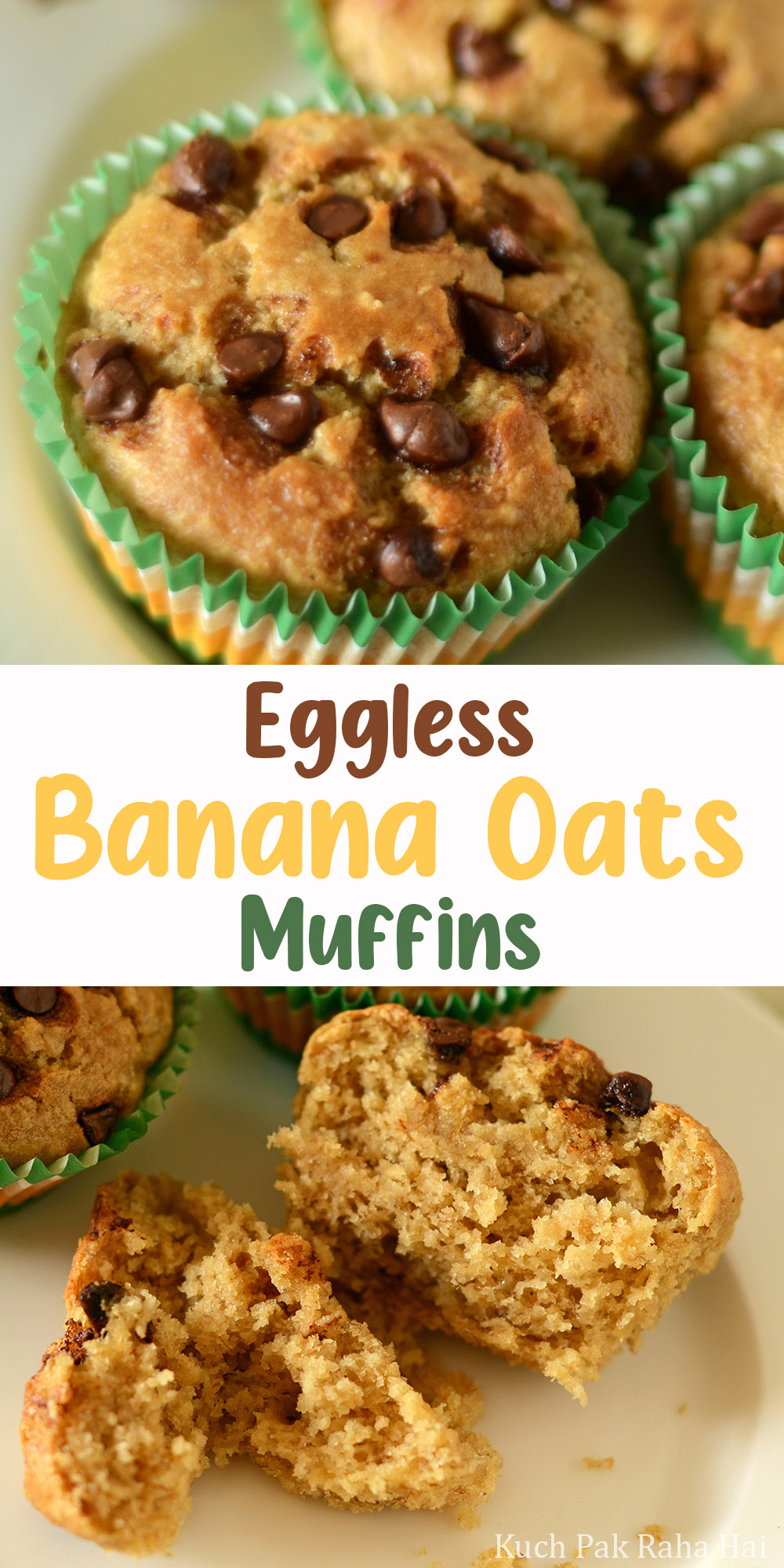 If you are new to baking and searching for supplies like mixing bowl or muffin tray, then you can check them out on Amazon.
(P.S: The links shared above are amazon affiliate links. Please refer to the privacy policy page for more details.)
If you try this recipe & share pics on social media, then don't forget to tag us on Facebook or Instagram or use the hashtag #kuchpakrahahai.
Let's stay connected
Facebook| Instagram| Pinterest| Youtube