TGIF!! Thank God it is Friday. The only weekday I think most of the people wake up happily in the morning. I have noticed that on other week days if you are stuck in the traffic jam during evening you feel so irritated and frustrated. And when it is Friday, you don't even notice it and enjoy every song playing on your phone or car's FM and even those cheesy bhojpuri songs playing in the Auto. I discussed with so many friends and colleagues of mine and everyone echoed the same words. Life is so short, I wish every day can be lived as a "Friday",where you are looking forward to the coming mornings filled with enthusiasm and freedom that you are the master of your own time and destiny. Actually, Should the entire life not be lived like this?
So to mark the beginning of the weekend, I am making "Red Sauce Pasta" which is both mine and my hubby's favourite. I will not take credits from my sister Shubhi for giving such a wonderful recipe for pasta :). Thanks Shubhi for this no fail pasta recipe. Once I made this pasta for few of my friends and they were surprised to know that I have made the sauce at home. They thought it to be some ready-to-eat pasta. I got so happy at that time!!! 🙂 🙂
List Of Ingredients:(Serves 2)
Pasta – 1 cup
Olive Oil- 4 tbsp
Chopped Onion- 1/4 cup
Chopped Capsicum-1/4 cup
Sliced Olives-1 tbsp
Small Tomatoes-4
Tomato Puree – 2 tbsp
 Tomato Ketchup- 1 tbsp
Vinegar- 1 tbsp (optional)
Salt-2 tsp (or as per taste)
Red Chilli Flakes – 2 tsp
Black Pepper -1 tsp
Dried Oregano leaves – 1tsp
Steps To Prepare:

Step1:
The first step in making pasta is boiling it. Take 2 glasses of water in a pan. Add 1 tsp salt and 2 tsp oil to it. Let the water come to boil. Once the water starts boiling, add pasta to it. Give a slight stir and cover it with a lid.
It takes around 10 minutes of boiling. In between open the lid and give a stir so that pasta does not stick to the base. After 10 minutes open the lid and check the pasta with a knife or fork if the pasta has softened. You can also taste it to verify the same. If required let it boil for some more time.
Also, you get to know that pasta has boiled when it floats and comes at the top as shown below.Keep this boiled pasta aside. Do not throw the water in which the pasta has boiled.
(Please do not get confused by looking at the cooker here. I have not used whistle during boiling. You can boil it in any vessel and cover it with a plate or lid).
Step2:
In this step, add around 2 tsp oil in frying pan and sauté the chopped onions and capsicums.Keep them aside.
Step3:
Now we are going to prepare the sauce for the pasta. Paste the tomatoes in a blender. Add oil in the pan and add tomato paste to it. Add tomato puree to it. This gives a nice colour to the sauce. Let it cook for 3-4 minutes. Add tomato ketchup, salt, red chilli flakes, black pepper and dried oregano leaves. If you have dominoes seasoning sachet, you can also use them. Stir this sauce and let it cook till it is nice and thick.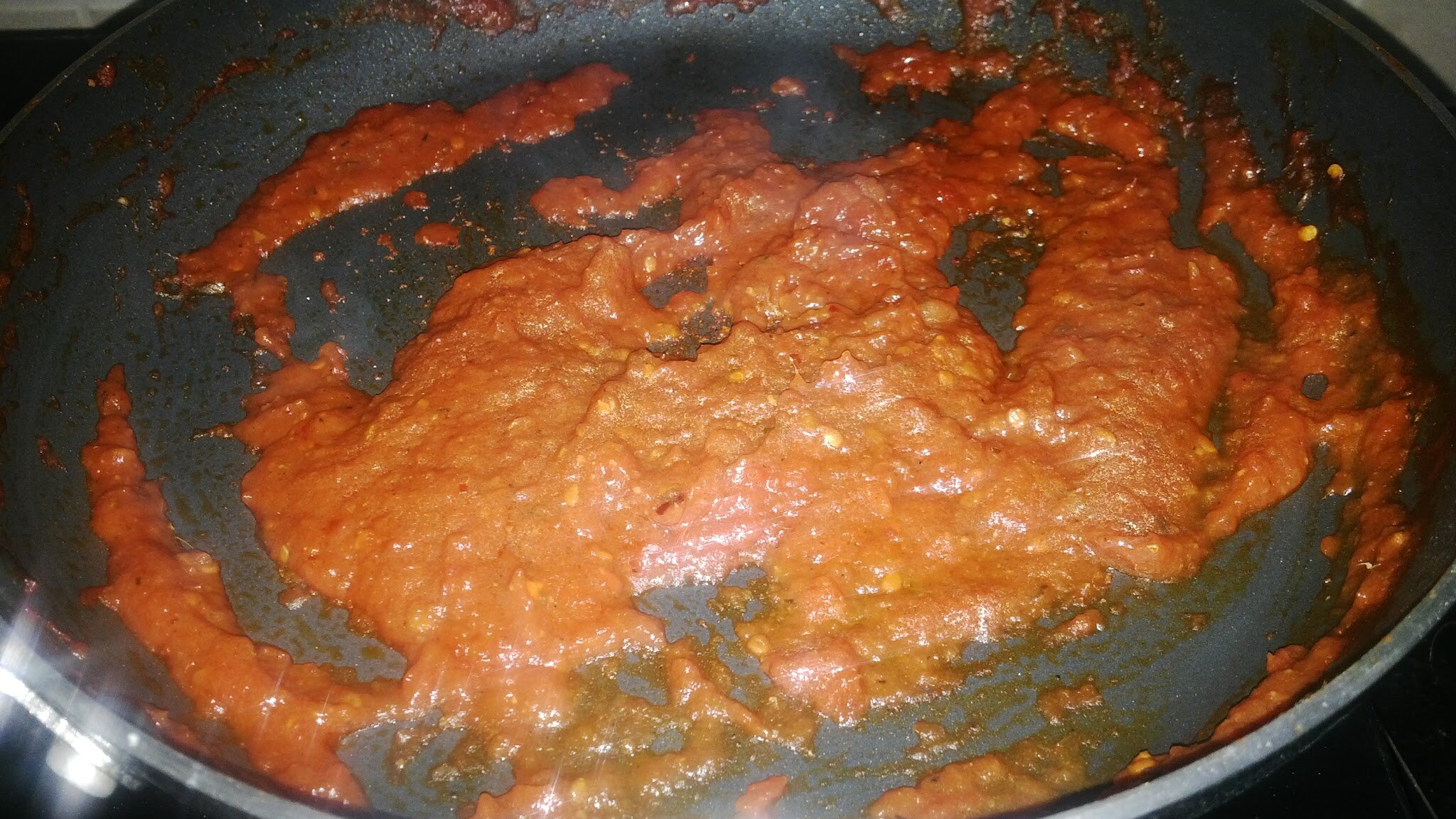 Step4:
Once the sauce is ready, add 2-3 tablespoons of water in which pasta is boiled to it. People generally throw away the water in which pasta has been boiled but I have observed pasta tastes better when the same water is used. Add the boiled pasta to the sauce and mix. If the sauce is thick you can add more water accordingly. Add the sautéed vegetables and olives to it. Be very gentle in stirring as the pasta is delicate.
Yummy pasta is ready!! 🙂