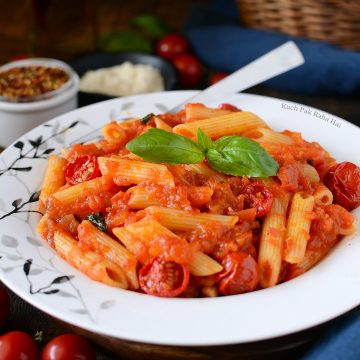 Penne Arrabiata is a delicious tantalising pasta made with tomatoes, basil, olive oil, garlic and red chilli flakes. It is a yummy flavour packed pasta recipe that you can easily & quickly make at home for lunch or dinner.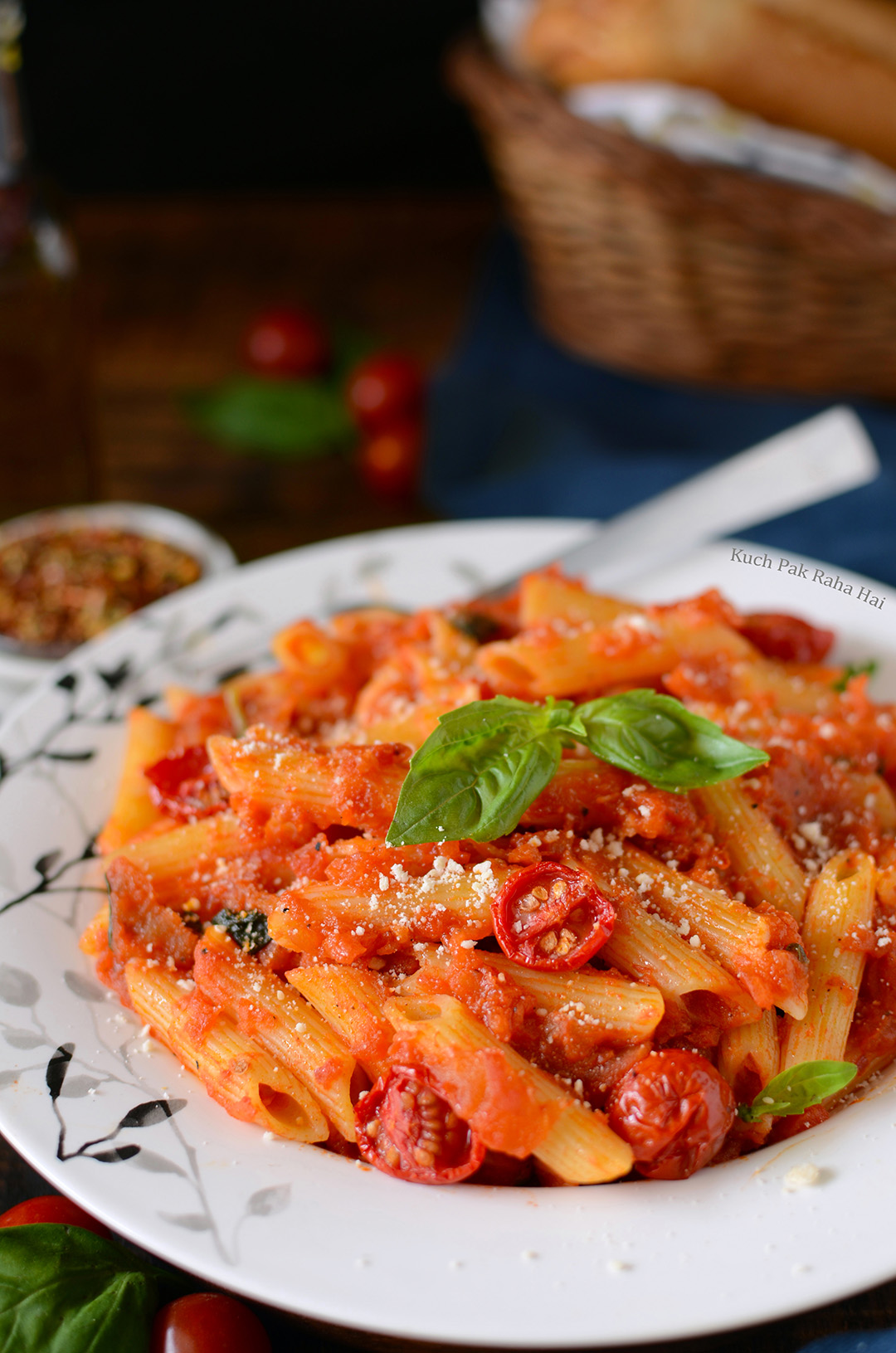 I have used penne pasta but you can use any variety of pasta like spaghetti, fusilli or farfalle etc. Many people also call pasta arrabbiata as red sauce pasta because of its colour. The red sauce for the pasta has been made from scratch using fresh tomatoes.
It is a simple vegetarian pasta recipe which you can quickly make for dinner or on special occasions like valentine's day. I am mentioning valentines day because I have seen people asking recommendations for 'All red' valentine special menu.
What is Arrabita?
The word 'Arrabbiata' is an Italian word which literally translates to 'angry' in english. As the mood in the name suggests, the sauce in arrabiata pasta is fierce and spicy. For this spiciness, fresh red chillies or dried red chilli flakes are used in making this sauce.
This spicy arrabiata pasta tastes best with parmesan cheese. As the only dairy product in this recipe is parmesan cheese, this pasta recipe can easily be adapted to vegan version by using vegan substitute for parmesan cheese or you can add some nutritional yeast.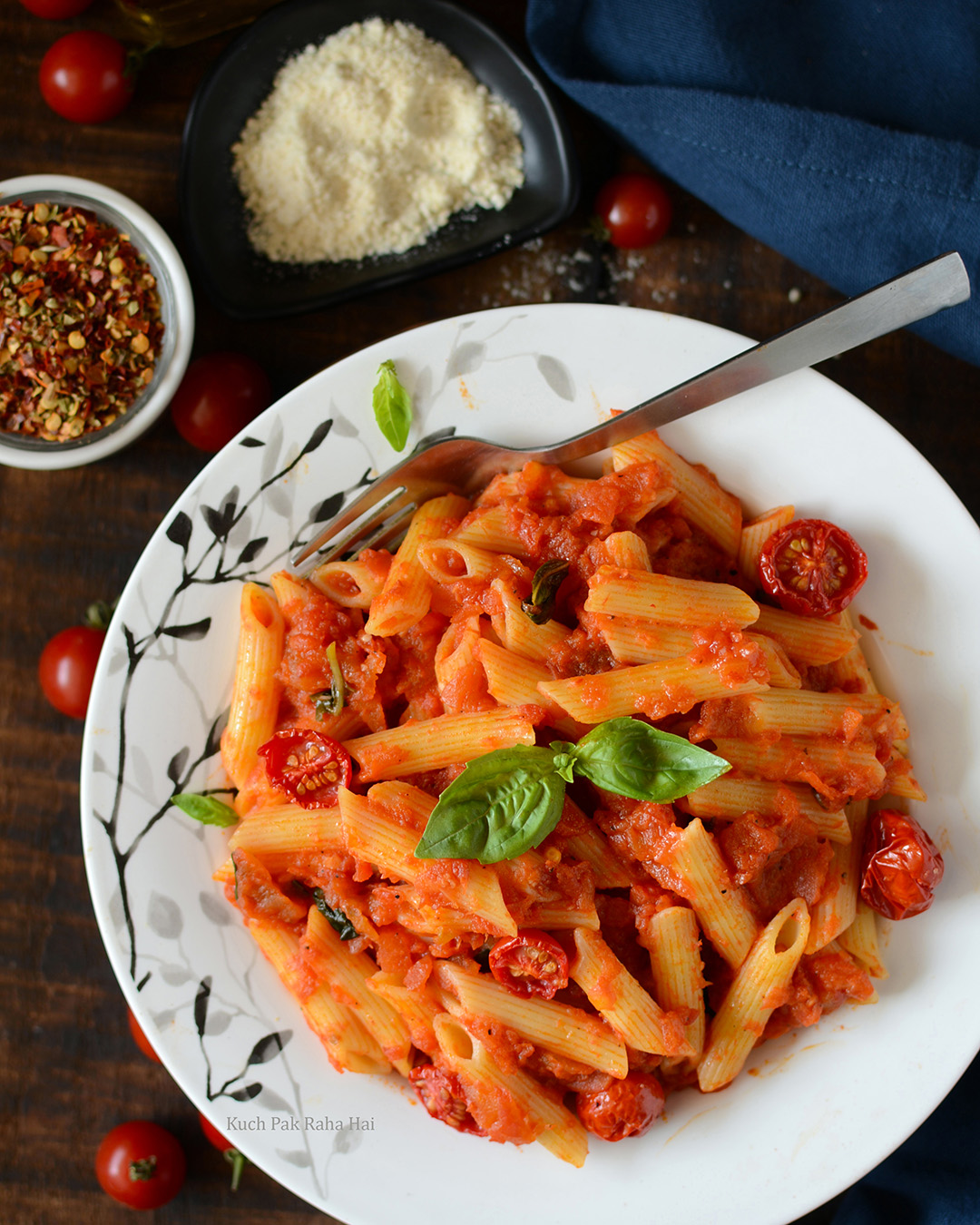 My pasta recipe is totally inspired by the flavoursome Arrabiata pasta I had in Rome. Before this, whenever I had  pasta in Indian restaurants they were spicy, garlicky & tangy ; with pasta literally submerged in red sauce. Few restaurants also gave you the option of baked pasta where they baked the pasta with mozzarella cheese on top.
I was quite excited to try authentic Italian Arrabiata Pasta in Rome. The pasta looked light and fresh with a sprig of basil on top, served with a small bowl of parmesan cheese and bread on the side. To be honest, for a split second I was apprehensive as it looked quite different from what we get India but then you cannot doubt the 'place of origin' of pasta.
I was pleasantly surprised at how the pasta tasted absolutely surreal with sweet spicy notes accompanied by divine aroma of fresh Italian basil & a subtle hint of garlic. After coming back from there, my version of arrabiata pasta totally changed & hence I updated the recipe to get that similar taste.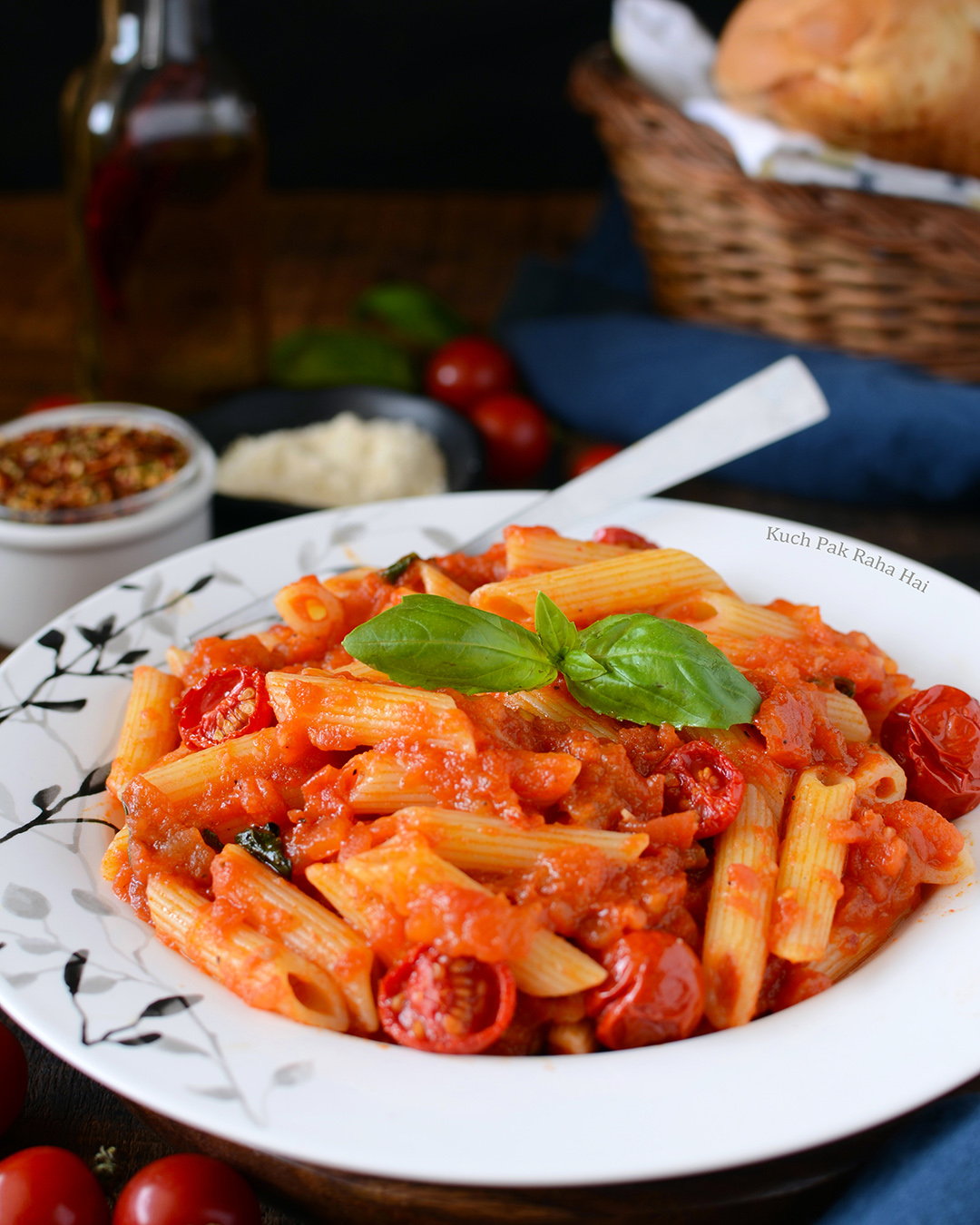 Nothing can beat the taste & sweetness of authetic Italian Roma tomatoes but as we don't get them everywhere, I would advice to use the best quality of fresh tomatoes available near you. You can use canned tomatoes too for this recipe. I have added some roasted cherry tomatoes in this pasta for more bursting flavours but it is totally optional.
More recipes you might like:
All the ingredients & steps are explained in detail below. Also please refer to the recipe notes in the end of post for any further doubts.
Ingredients: (Serves 2)
Pasta – 1 & 1/3 cups (~120 grams)
Water-For boiling
Olive Oil-2 tbsp
Garlic Cloves- 2
Red Chilli Flakes- 3/4 tsp
Fresh Tomatoes-8 to 10
Tomato Puree- 3 tbsp
Sugar-1/2 tsp (optional)
Salt-1 tsp (or to taste)
Black Pepper-1/2 tsp
Basil Leaves-8 to 10
Parmesan Cheese-1/2 cup
Cherry Tomatoes-10 to 12 (optional)
Substitutions / Additions:
For vegan pasta, skip parmesan cheese or use vegan substitute for parmesan cheese (made using cashews & nutritional yeast).
As I am using fresh tomatoes & they were not very sweet, so I have added sugar in sauce. However it is optional.
Instead of fresh tomatoes, you can use canned tomatoes. In that case, cooking time will also reduce to half.
If you have fresh red chillies, you can use them instead of dried red chilli flakes.
You can also add sautéed veggies of your choice likes mushrooms, broccoli & olives etc
Directions:
Step 1:
In this step we will blanch & peel the tomatoes. If you are using canned tomatoes, skip this step. Heat water in a vessel. By the time the water is boiling, wash tomatoes thoroughly and make cross cut marks on the base of tomatoes.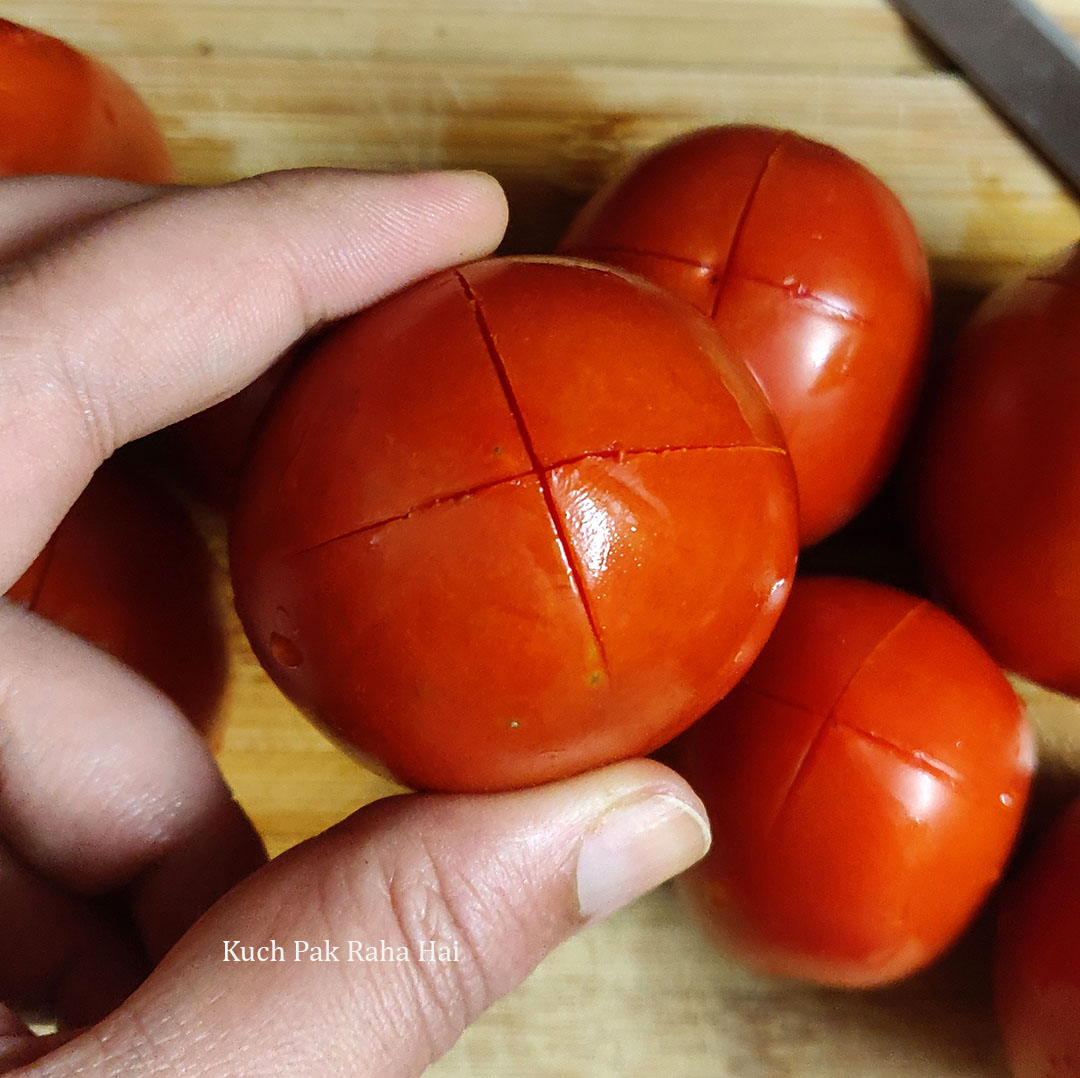 Once the water comes to boil, add these tomatoes to the boiling water for 30-40 seconds. Take these tomatoes out of water & dip them in chilled water once.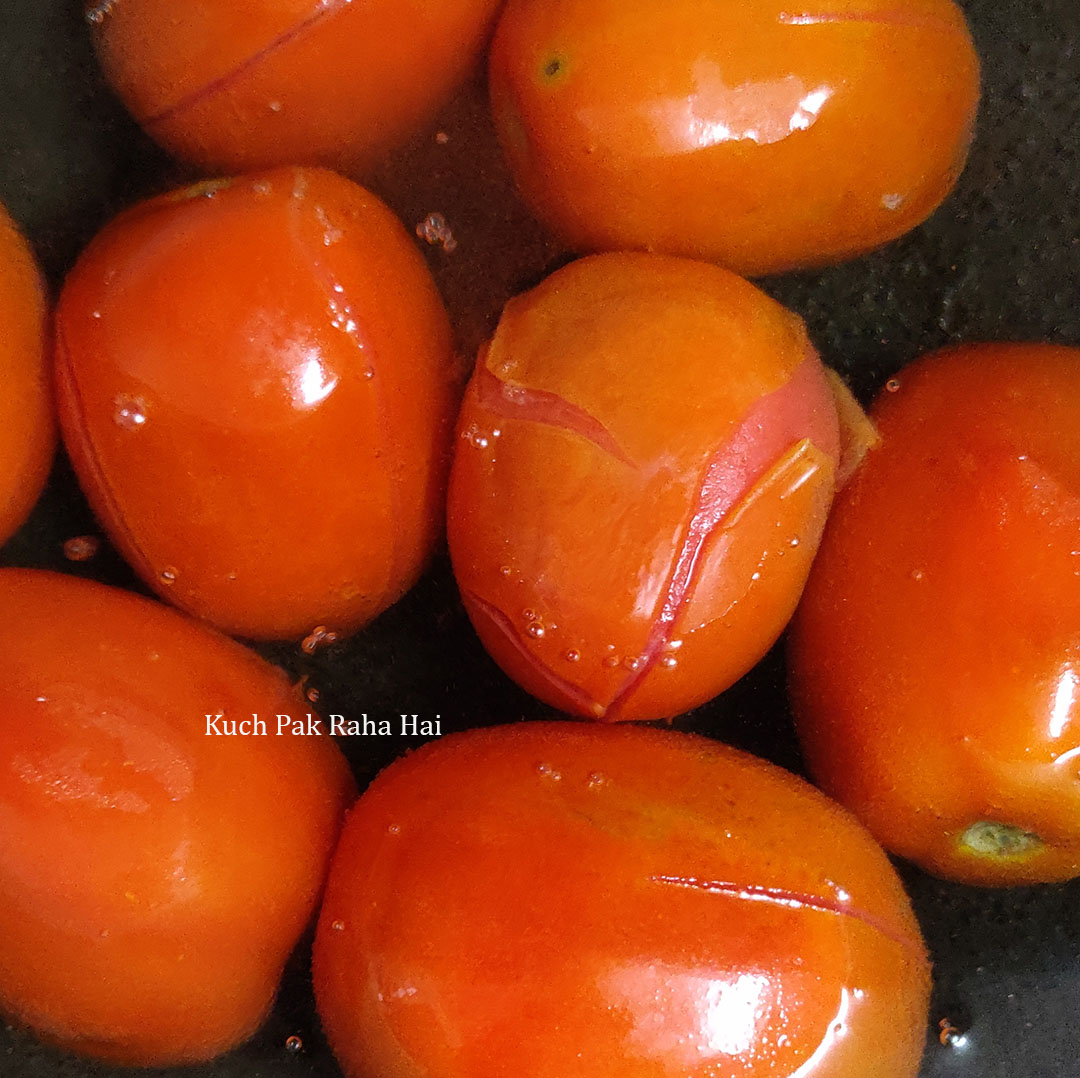 Step 2:
Start peeling the tomatoes once they cool down a bit. The cut marks help in removing the peels easily.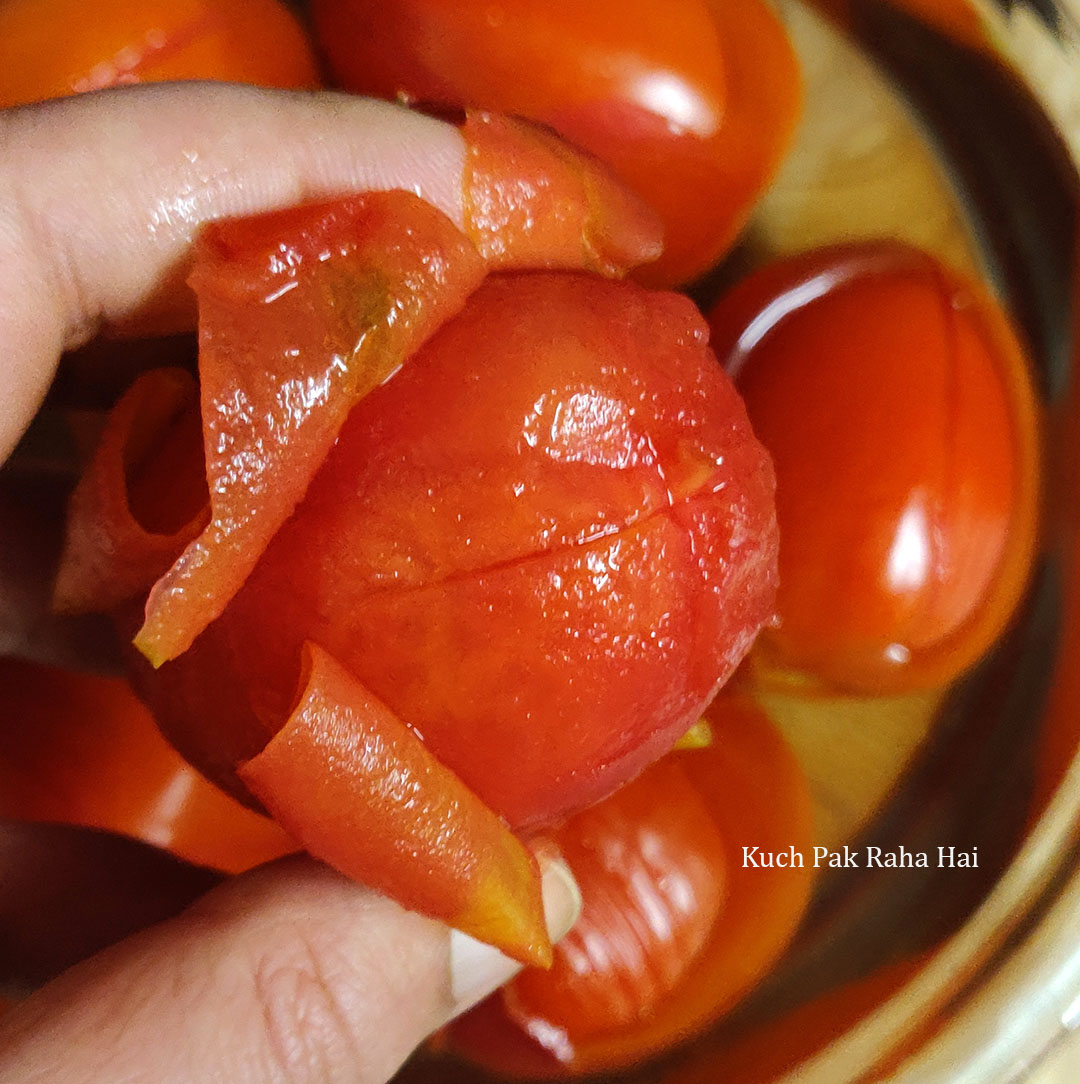 Step 3:
Remove the top part of the tomatoes. Cut them in half & if there are too many seeds, remove them. It is completely alright if some of them are left behind. We are doing this as we don't want to have too many tomato seeds floating in our pasta sauce. Roughly chop the tomatoes & keep them aside.
Step 4:
Heat olive oil in a pan. Chop garlic cloves finely or you can use garlic press. Add chopped garlic and red chilli flakes to olive oil. Sauté it for 30-40 seconds till garlic becomes slightly golden.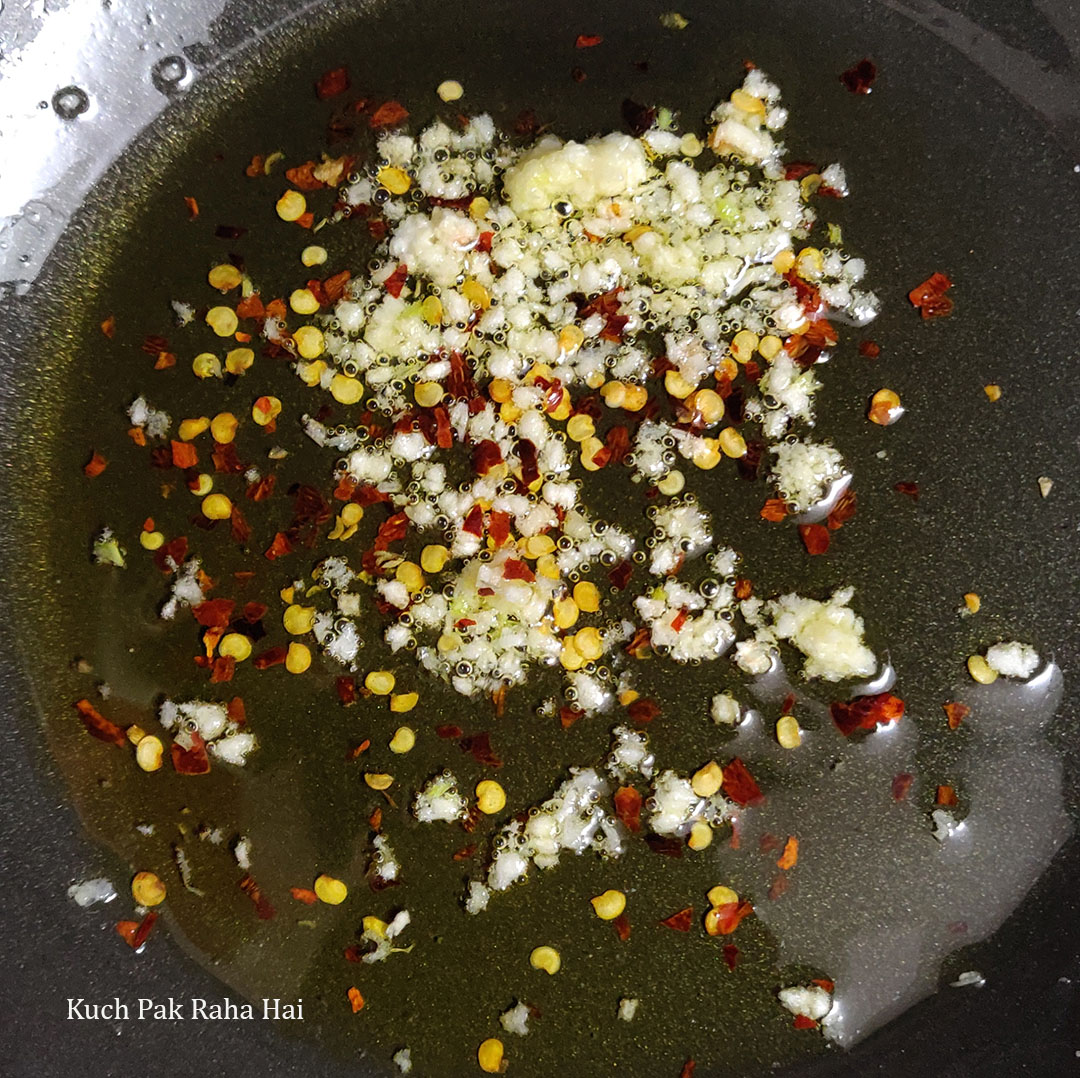 Step 5:
Add chopped tomatoes to this pan along with tomato puree, salt, sugar & black pepper. Mix well all the ingredients, cover the pan with a lid & let this sauce simmer for 25-30 minutes. (If you are using canned tomatoes it takes just 20-25 minutes of cooking time)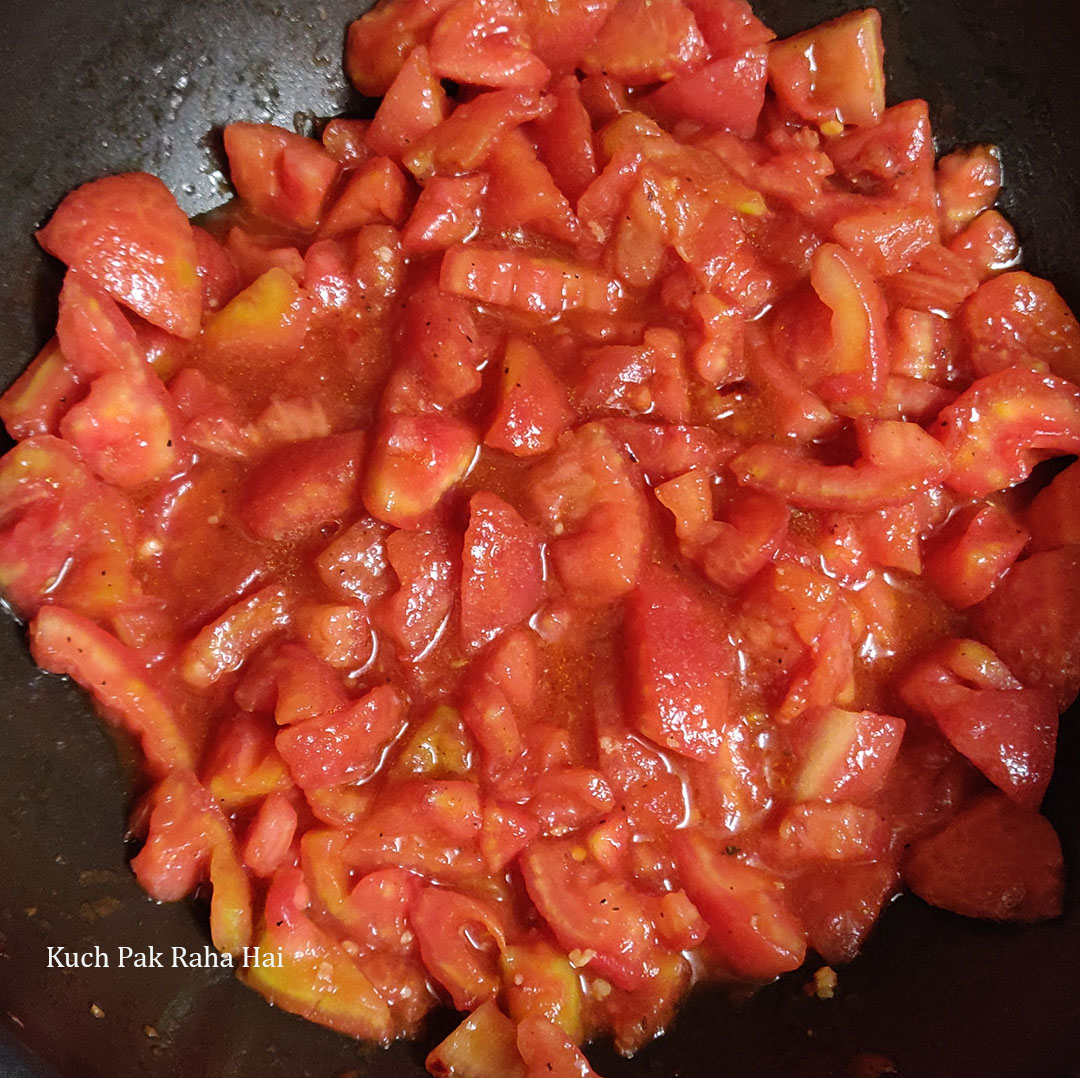 Intermittently press them with back of a spoon or masher to crush the tomatoes. When the sauce begins to thicken up, we will start boiling the pasta. We will keep the timings such that the by the time our sauce is ready, the pasta is also boiled.
Step 6: (Boiling Pasta)
Take 1.5 litres of water in a big vessel. Add 1/2 tsp salt to it. Bring it to boil. Add penne pasta to it. Every brand specifies the cooking time precisely behind the packet. The brand which I am using specifies 10-12 minutes of cooking time. As I don't like my pasta too mushy, I will be cooking it till it is al-dente (have a slight bite to it).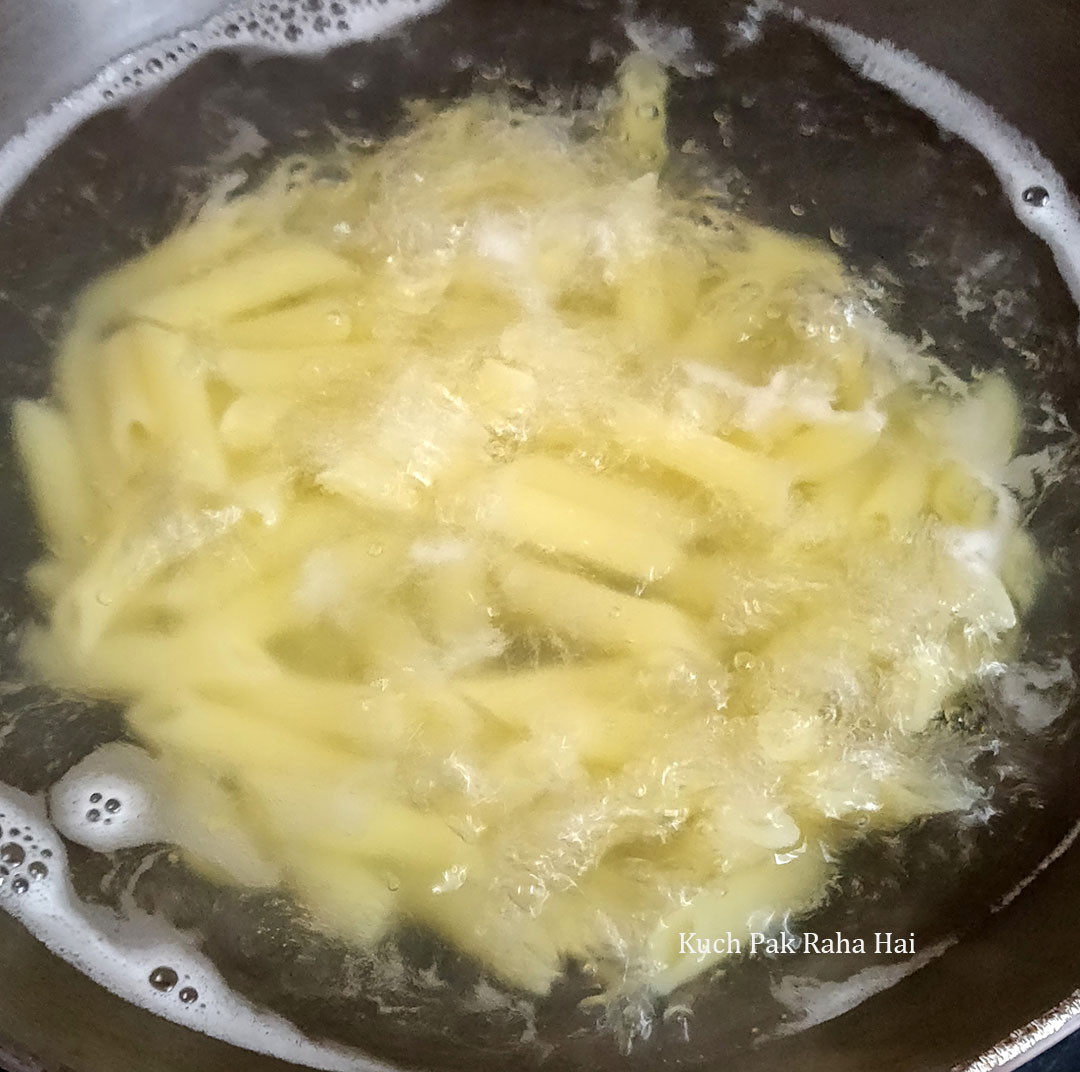 Step 6:
The arrabiata sauce would be ready by now. Tear down some of the basil leaves and add it to sauce and let it cook for 2 more minutes. (I like pasta sauce chunky, if you want smoother sauce blend it once).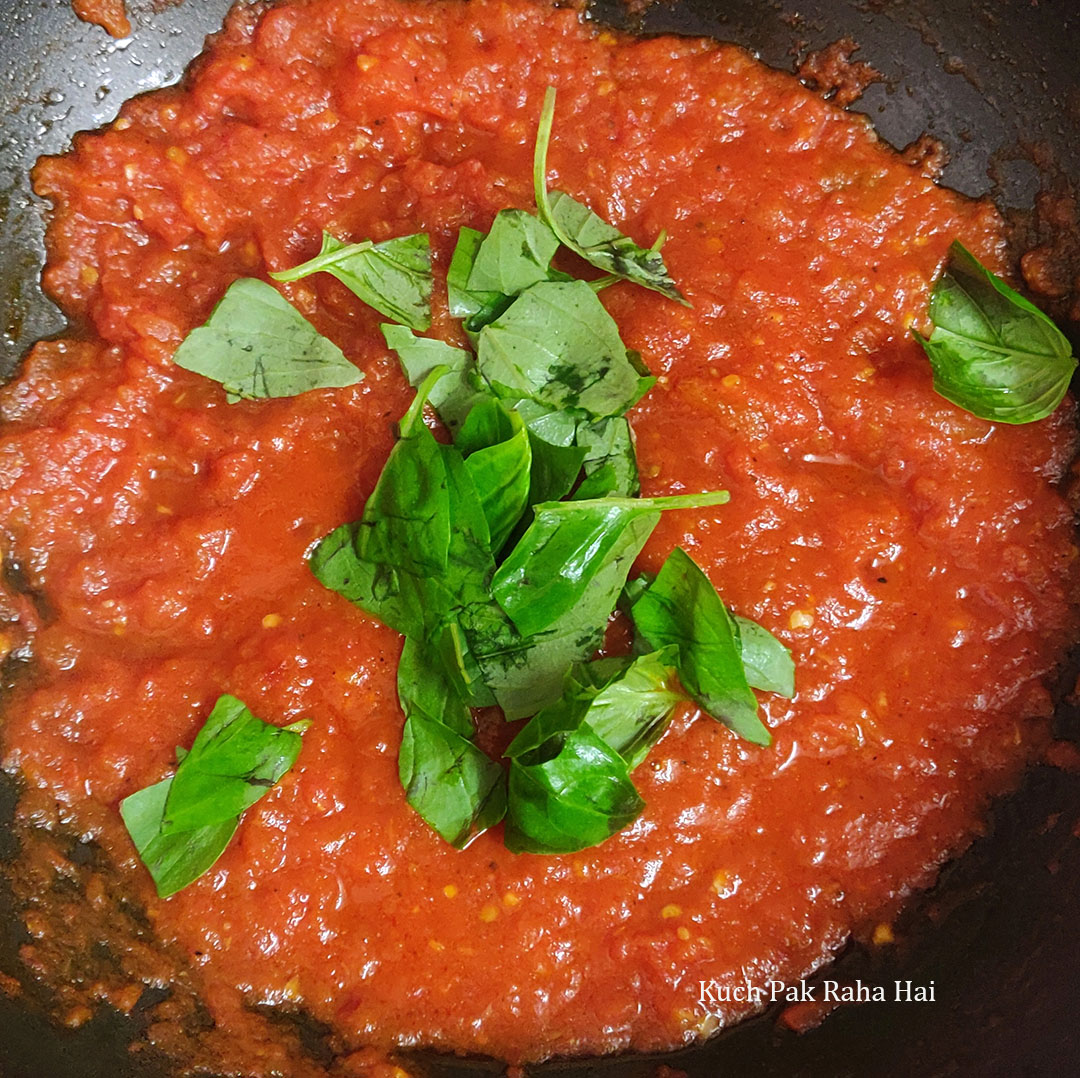 Once the pasta is boiled, pick it up using a sieve and transfer it to the sauce. Add 1-2 tbsp of water too in which the pasta was boiled. The starch in the water helps the sauce stick to the pasta. Toss the pasta in the sauce gently and let it cook in sauce for 1 more minute. Switch off the flame & top it up with some grated parmesan cheese & fresh basil leaves.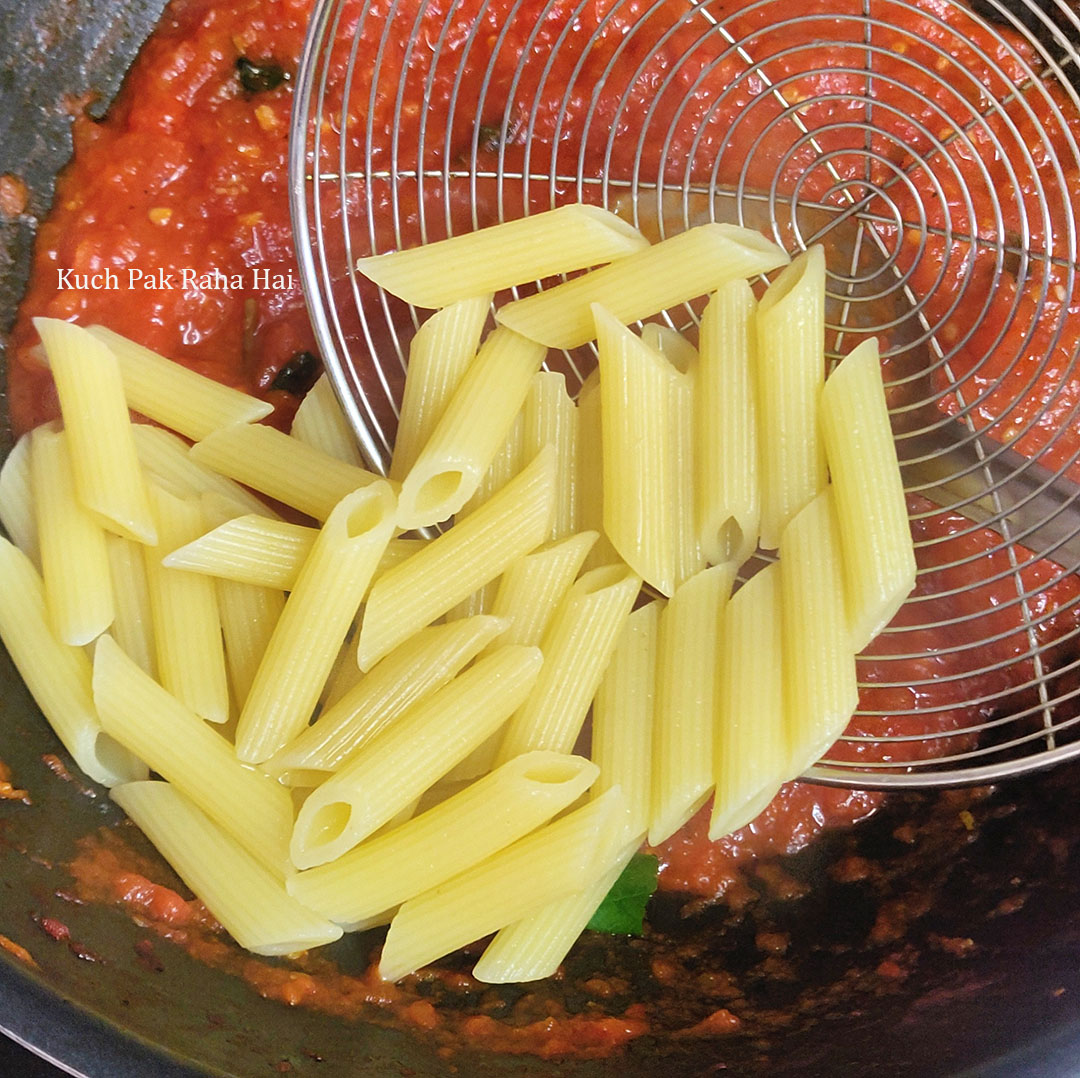 (I have also added some oven roasted cherry tomatoes in this pasta, however they are completely optional. See the recipe notes in end)
Delicious heavenly tasting Penne Arrabiata pasta is ready. Buon Appetito !!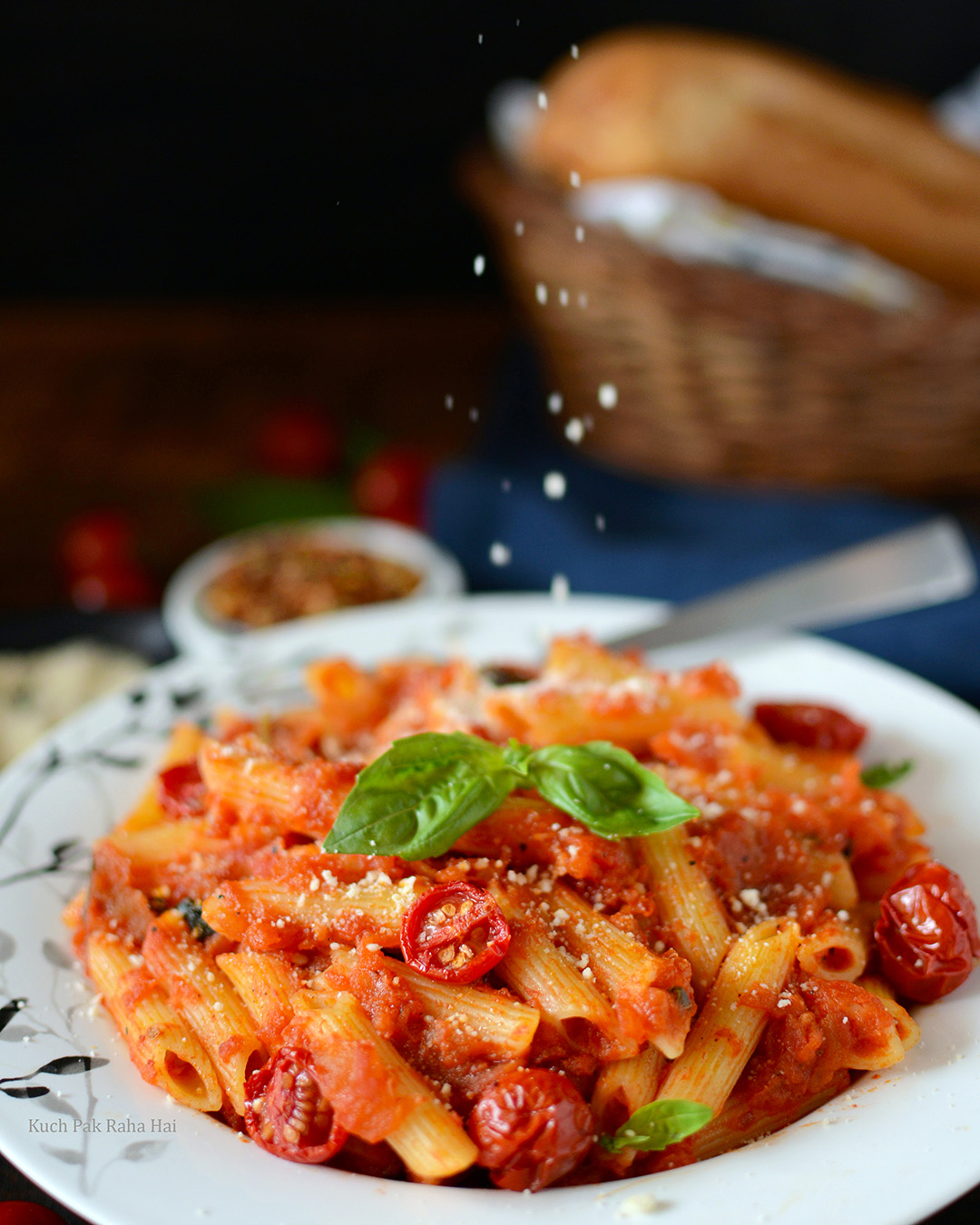 Notes:
How to oven roast cherry tomatoes in oven?
Wash the cherry tomatoes and then slit them in halves. Drizzle some olive oil, salt & black pepper on them. Bake them at 150 degree Celsius for 25 min. This way they don't get too mushy & at the same time become soft and juicy too.
Can I make Arrabiata or Red Sauce Pasta ahead of time?
If you want to make this pasta ahead of time, there are two options.
Option I: In the first option, we will prepare sauce in advance. Boil the pasta just before serving & add it to the sauce.
Option II: The second method is to boil the pasta, wash it under cold water and then drizzle with some olive oil so that they don't stick to one another. Prepare the sauce in advance. Just before serving, heat the sauce and mix it with boiled pasta.
(If you mix the boiled pasta & sauce way ahead of time, the pasta tends to absorb all the sauce and eventually pasta dries up.)
How to know when the pasta is boiled?
Ideally the pasta should be boiled 'Al-Dente' which means cooked only till there is a bite left to it. The pasta should not be over boiled as it will turn too soft & mushy. However everyone has their own preferences. Please refer the back of the pasta packet & follow the exact timings mentioned there as every brand has their own set of instructions.
If you try this easy penne al'arrabiata recipe & share pics on social media, then don't forget to tag us on Facebook, Instagram or use  #kuchpakrahahai.
Pin for later: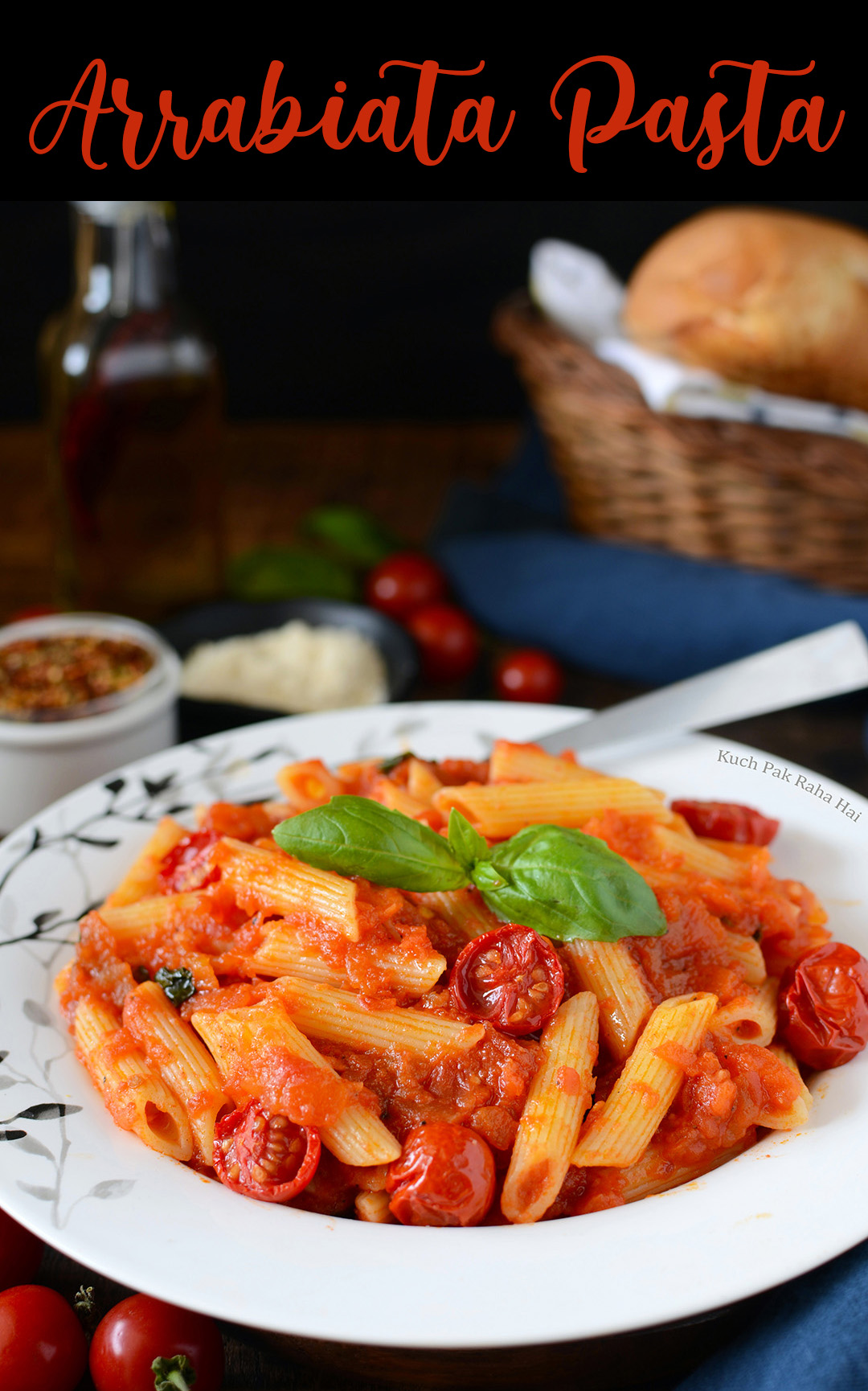 Let's stay connected
Facebook | Instagram | Pinterest | Youtube