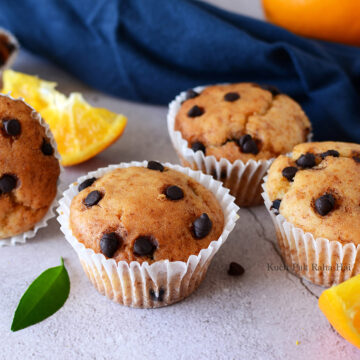 Eggless Orange Chocolate chip muffins are delicious fruit muffins made using orange juice and melt-in-mouth chocolate chips. The oranges are tangy and fresh in flavour whereas chocolate fills your palate with warm creamy sweetness. Together they make a perfect combination for any dessert.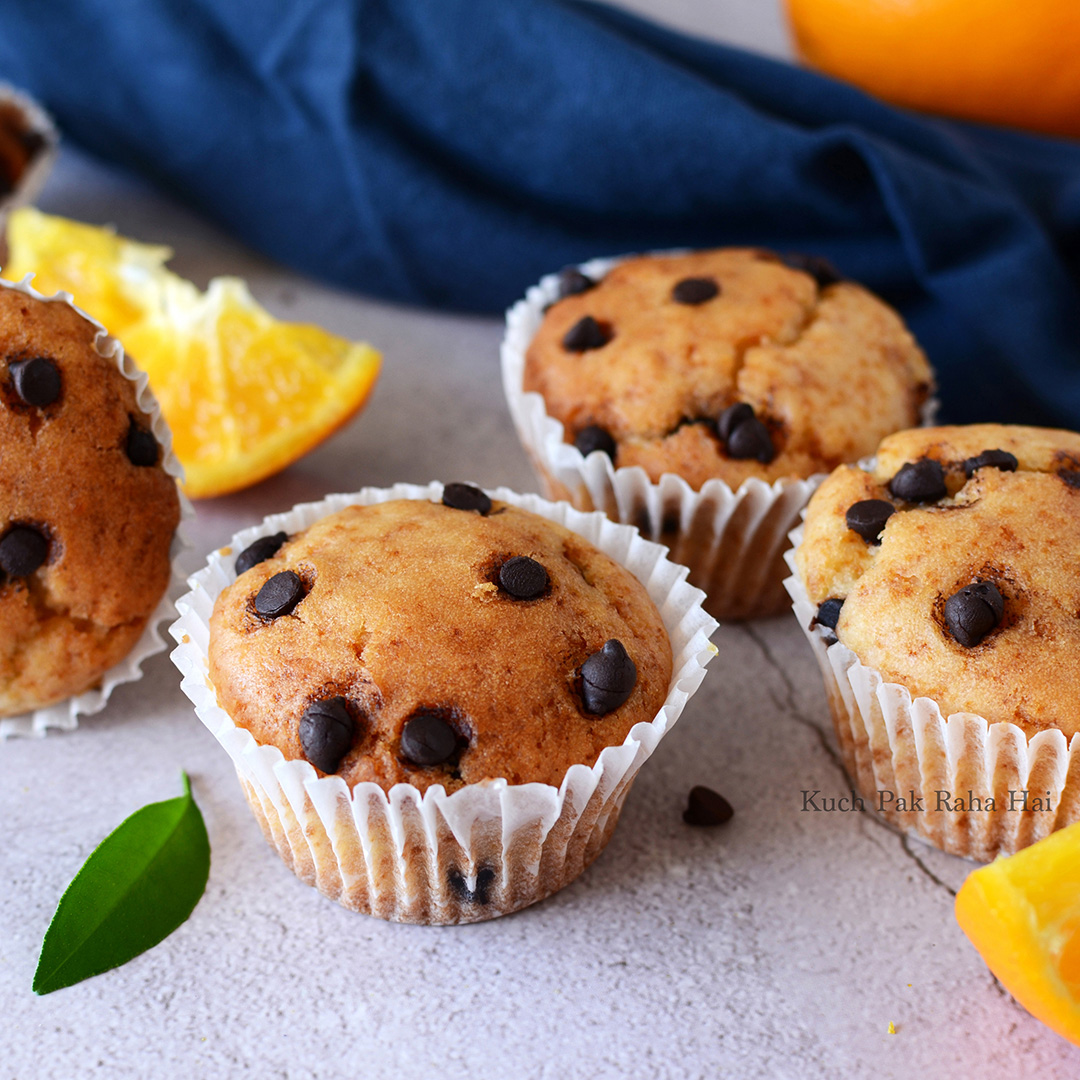 This eggless orange muffins recipe is simple and does not need many special ingredients. Kids would especially love it because of its zesty citrusy flavour. I have used fresh orange juice in this recipe but you can use tetra pack juice also.
If you are not a big fan of chocolate, you can even use cranberries in this muffin recipe as they pair quite well with oranges.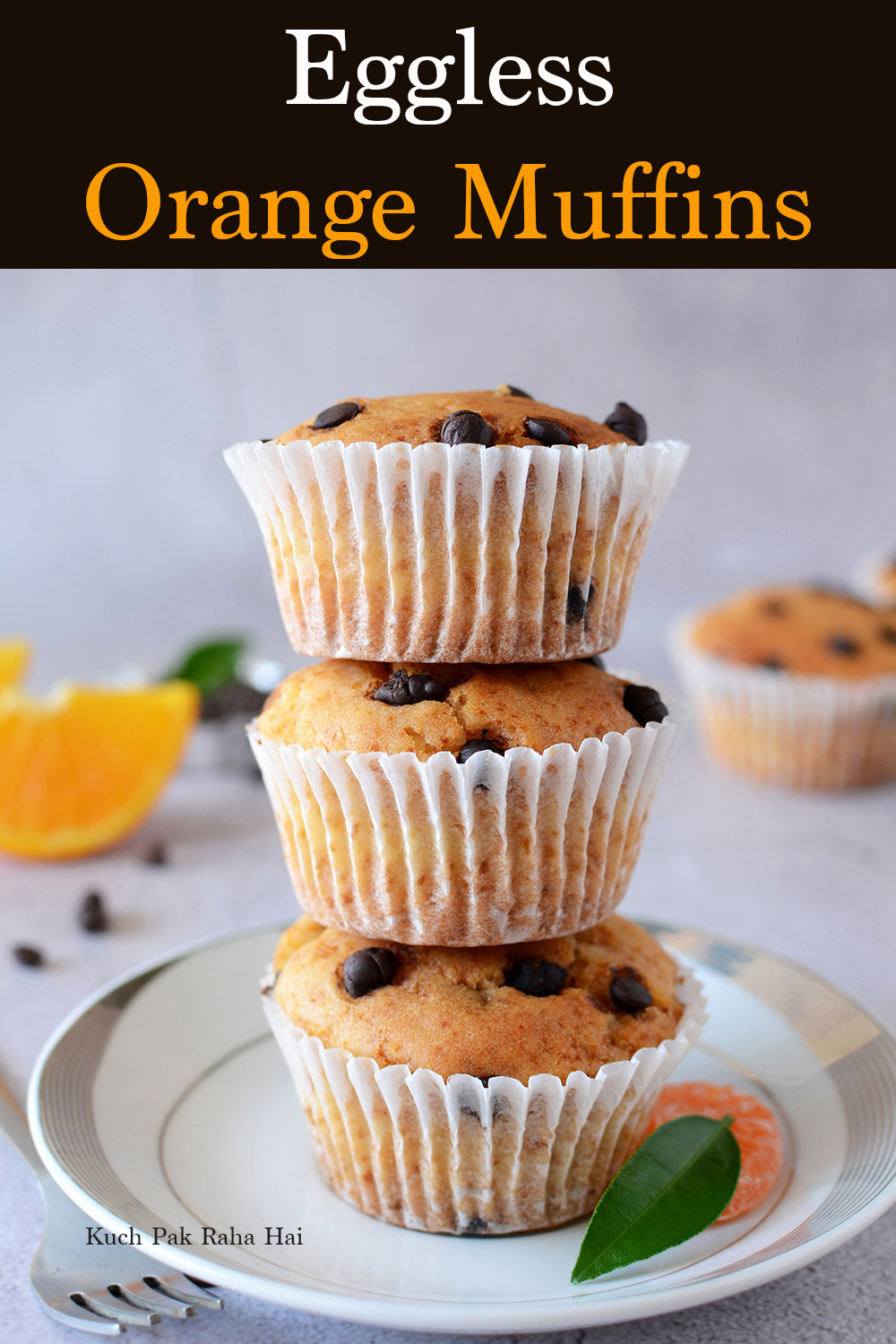 People generally ask what is the replacement of eggs in eggless baking recipes and one of the first things that come to my mind is Yogurt ('Thick curd'). It adds fluffiness & airiness to the baked good without leaving any taste of its own.
Please make sure the yoghurt which you are using should not be sour. Also, when you are whisking the liquid ingredients take at least 10-15 minutes as it increases the aeration & makes the muffins or cakes lighter.
I have used powdered white sugar in these orange muffins. You can use brown sugar or coconut sugar too. Also, sunflower oil is used in this recipe. You can use olive oil or any other oil which is odourless & tasteless.
I have also shared a video for this same recipe on Youtube. You can refer to it incase of any doubt at any step. If you like this recipe, please do subscribe 'Kuch Pak Raha Hai' channel too 🙂
Youtube Video:
More eggless muffins recipes:
Hope you would like this delicious Eggless Orange Muffins recipe.
List Of Ingredients: (Makes 6-7 muffins)
Maida (All Purpose Flour) – 1 cup
Baking powder – 1 tsp
Baking Soda – 1/4 tsp
Orange Juice – 1/3 cup
Powdered Sugar – 1/3 cup
Yogurt (Thick Curd) – 1/4 cup
Oil – 1/4 cup
Orange Zest – 2 tsp
Chocolate Chips – 2 tbsp
Notes:
I have not used any artificial essence or food colour in this eggless orange muffins recipe. If you want more intense colour or aroma feel free to add it.
You can use fresh orange juice or packaged orange juice.
Sometimes fresh orange juice is less sweet or sour. In that case increase the quantity of sugar as per your taste.
For making orange zest, grate the outer skin of orange lightly (shown in video also). This orange zest adds up more citrusy flavour. Don't add too much of it as it can sometimes leave a bitter after taste.
I have used chocolate chips in these muffins but you replace them with cranberries.
The yoghurt or curd you are using should not be sour.
Measuring Cup Used: 1 cup=250 ml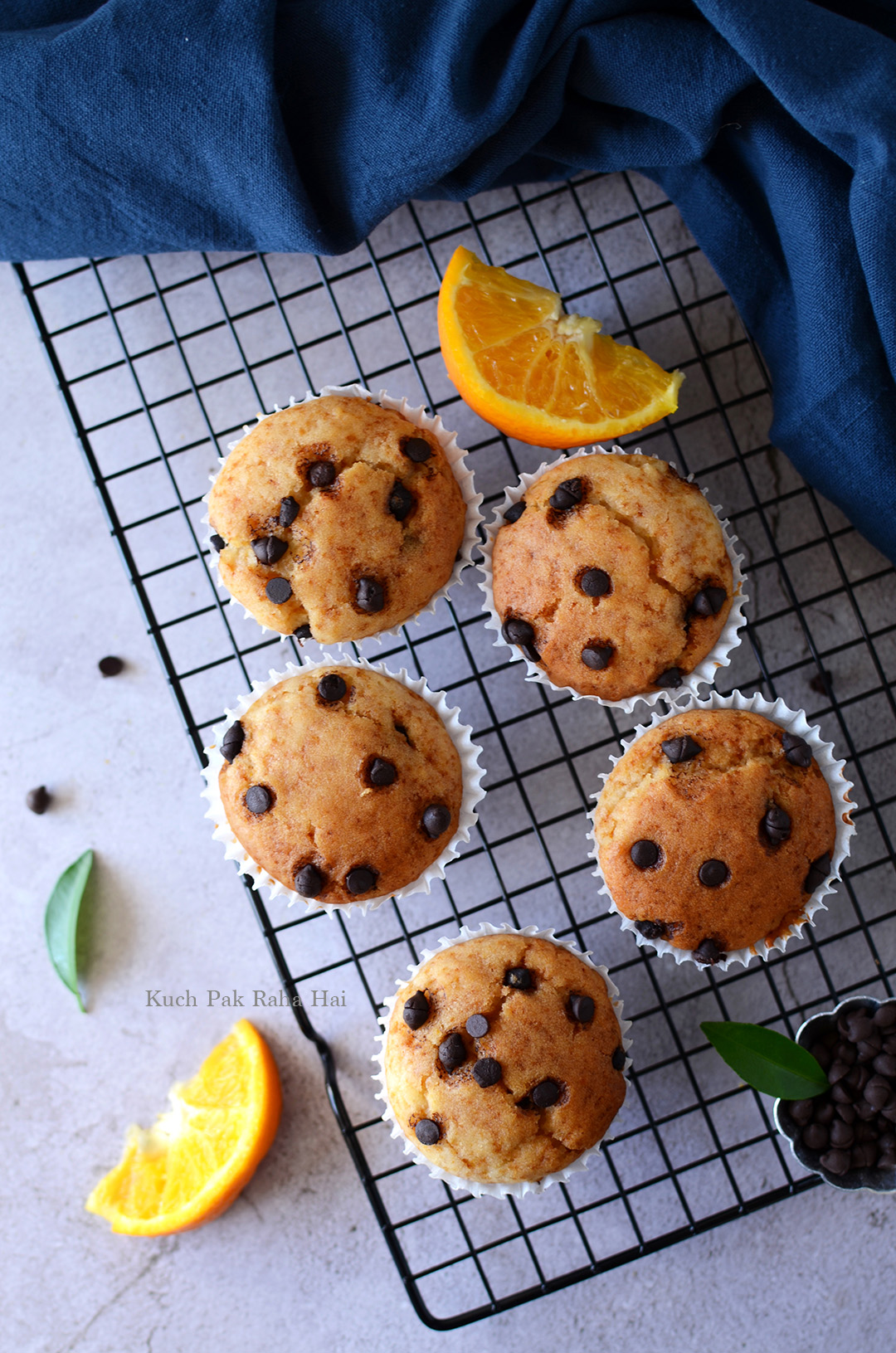 Steps To Prepare:
Step 1:
Sieve together Maida, baking powder and baking soda. These are the dry ingredients of the recipe. Add 1 tbsp chocolate chips to it. Keep this aside.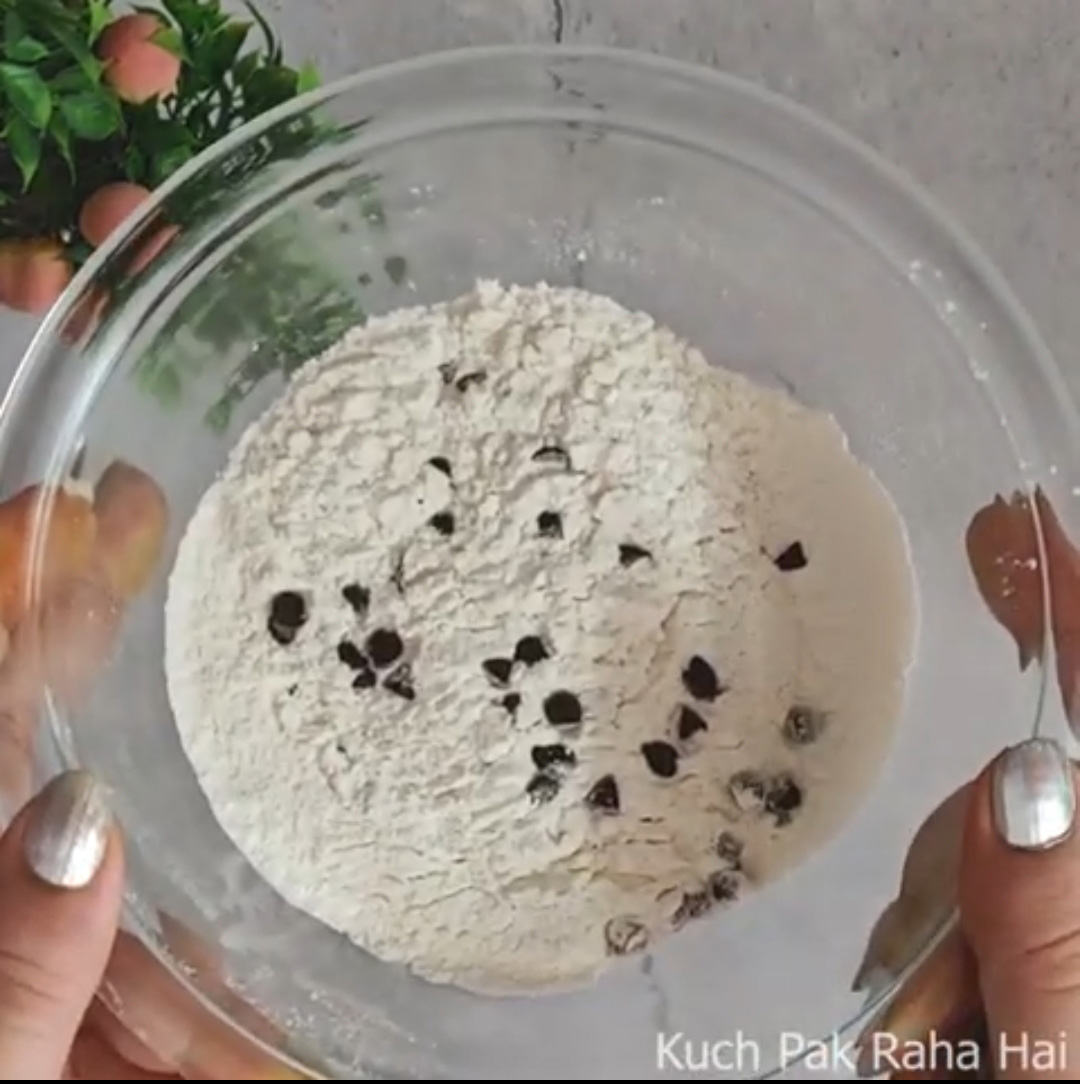 Step 2:
Take a mixing bowl. Add curd (yoghurt), sugar & orange juice to it. Whisk well till sugar is dissolved. Add oil & orange zest and whisk once again.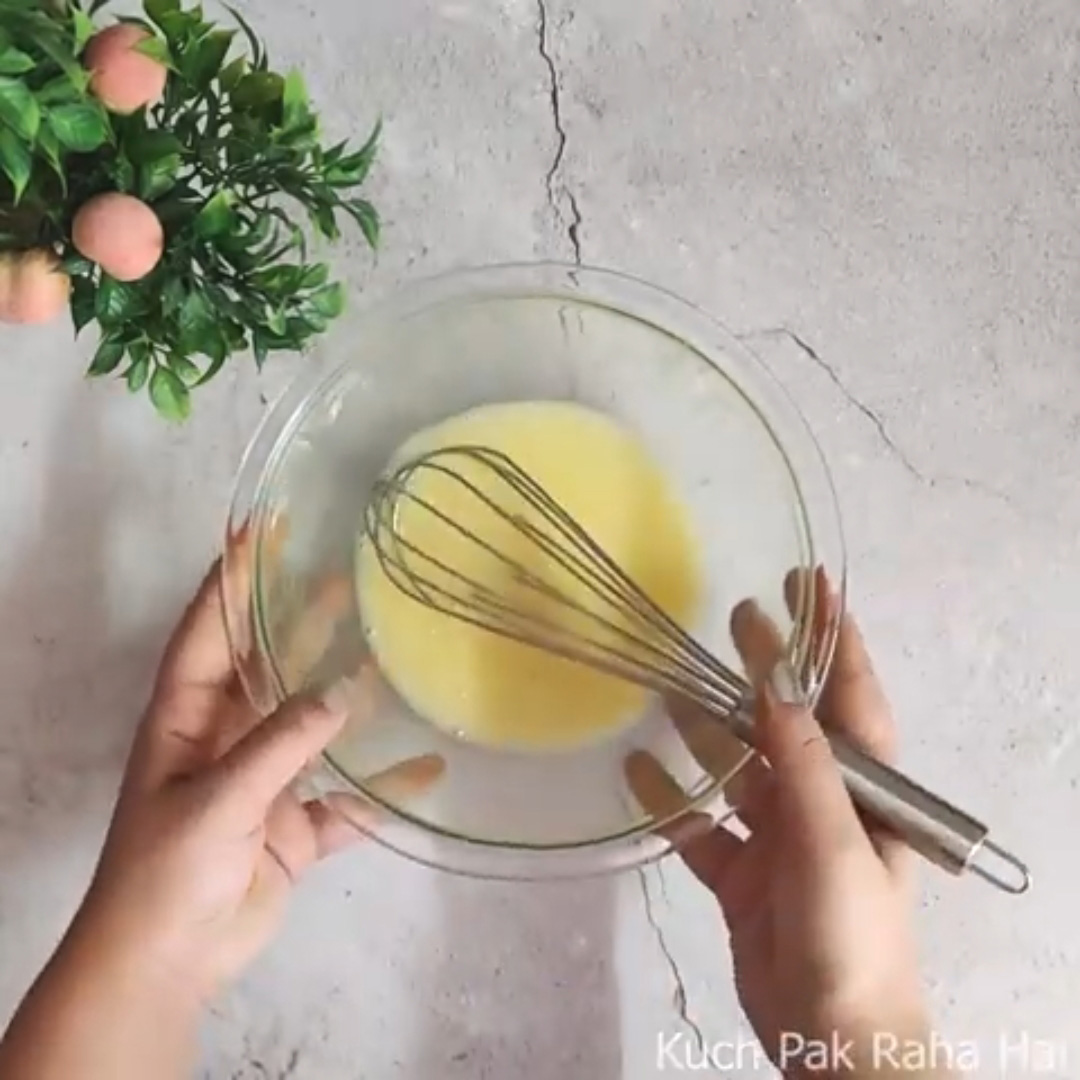 Step 3:
Set the oven for preheating at 170 degrees Celsius. In the mean time lets proceed to next step.
Step 4:
Prepare the muffin tray. Place the muffin liners inside the tray. You can even use silicon liners for it.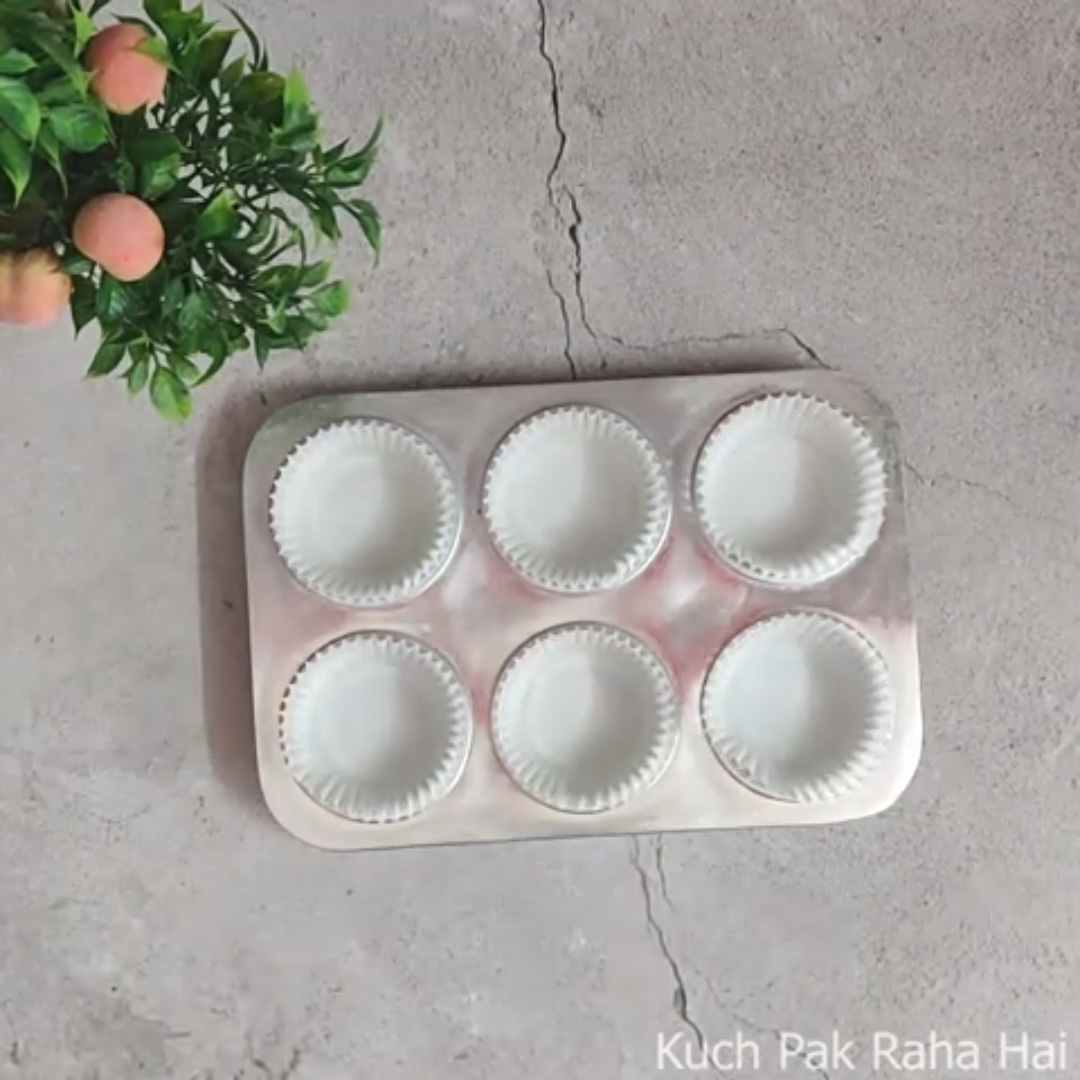 Muffin Liner: https://amzn.to/330Lyzd
Step 5:
Add the dry ingredients which we kept aside in step1 to this liquid mixture. Fold it gently to form a uniform batter.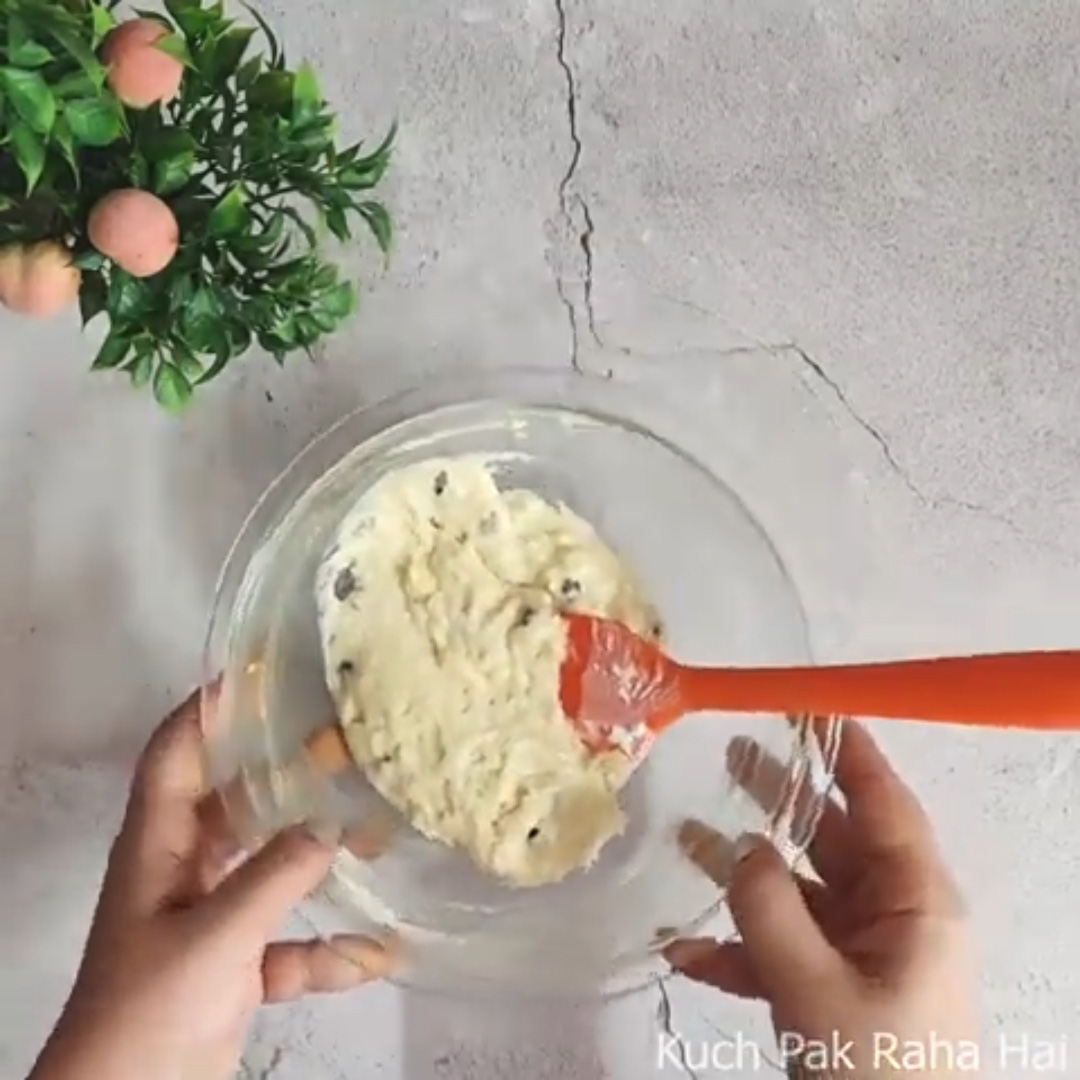 Silicon Spatula: https://amzn.to/35R89jF
Step 6:
Transfer the muffin batter into the liners using a spoon & spatula. Please make sure you fill the liners only 2/3rd. Leaving this much space is necessary for muffins to rise else they would overflow. Sprinkle some chocolate chips over the top.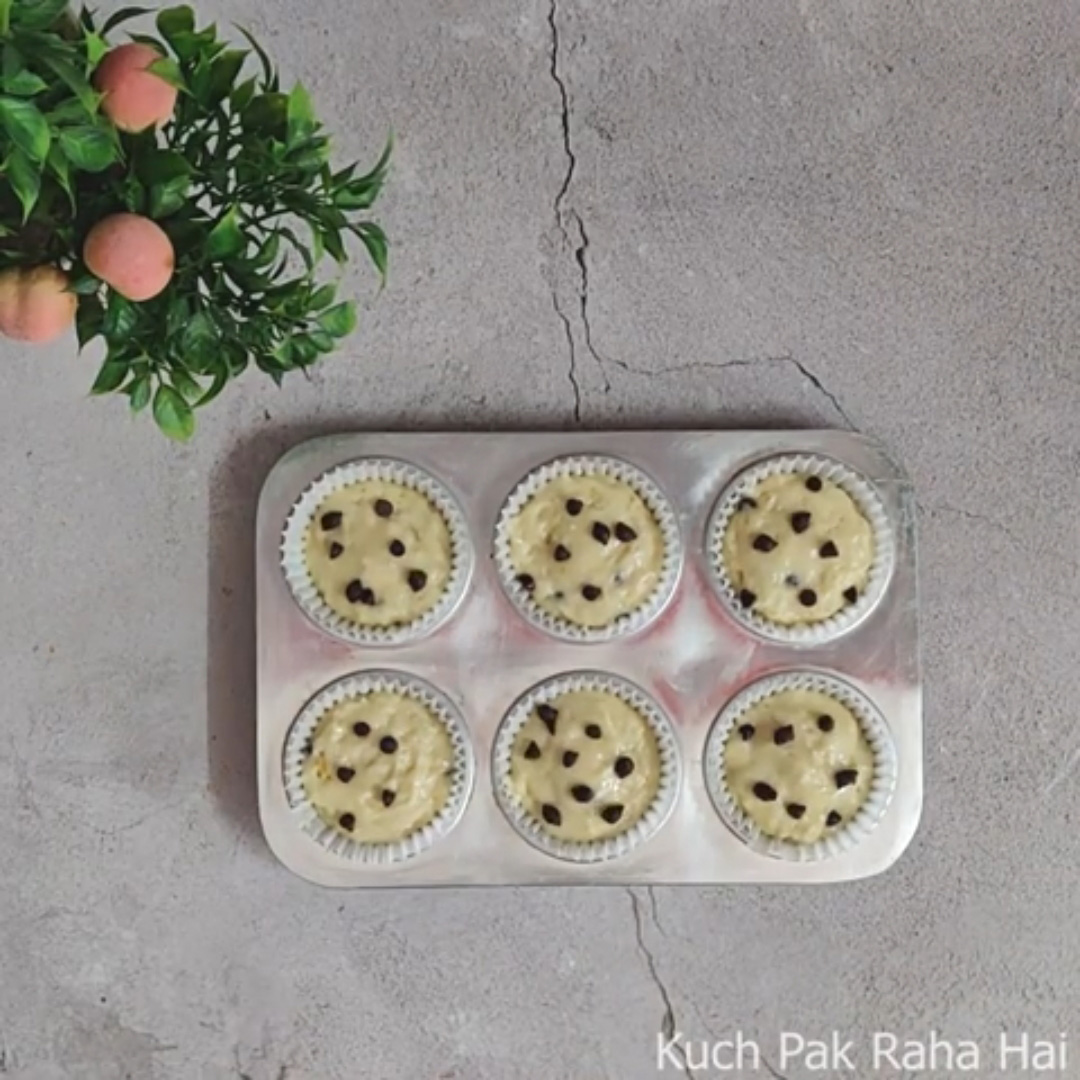 Muffin Tray: https://amzn.to/3lVEivR
Step 7:
If the oven has preheated by now, keep the baking tray inside it. Bake the muffins at 170 degrees for 25-30 minutes.
After 25 minutes, prick the centre of muffin with a toothpick. If the end of tooth pick comes out clean, the muffins are ready else bake them for 2-3 minutes more. Let these muffins cool down completely on wire rack.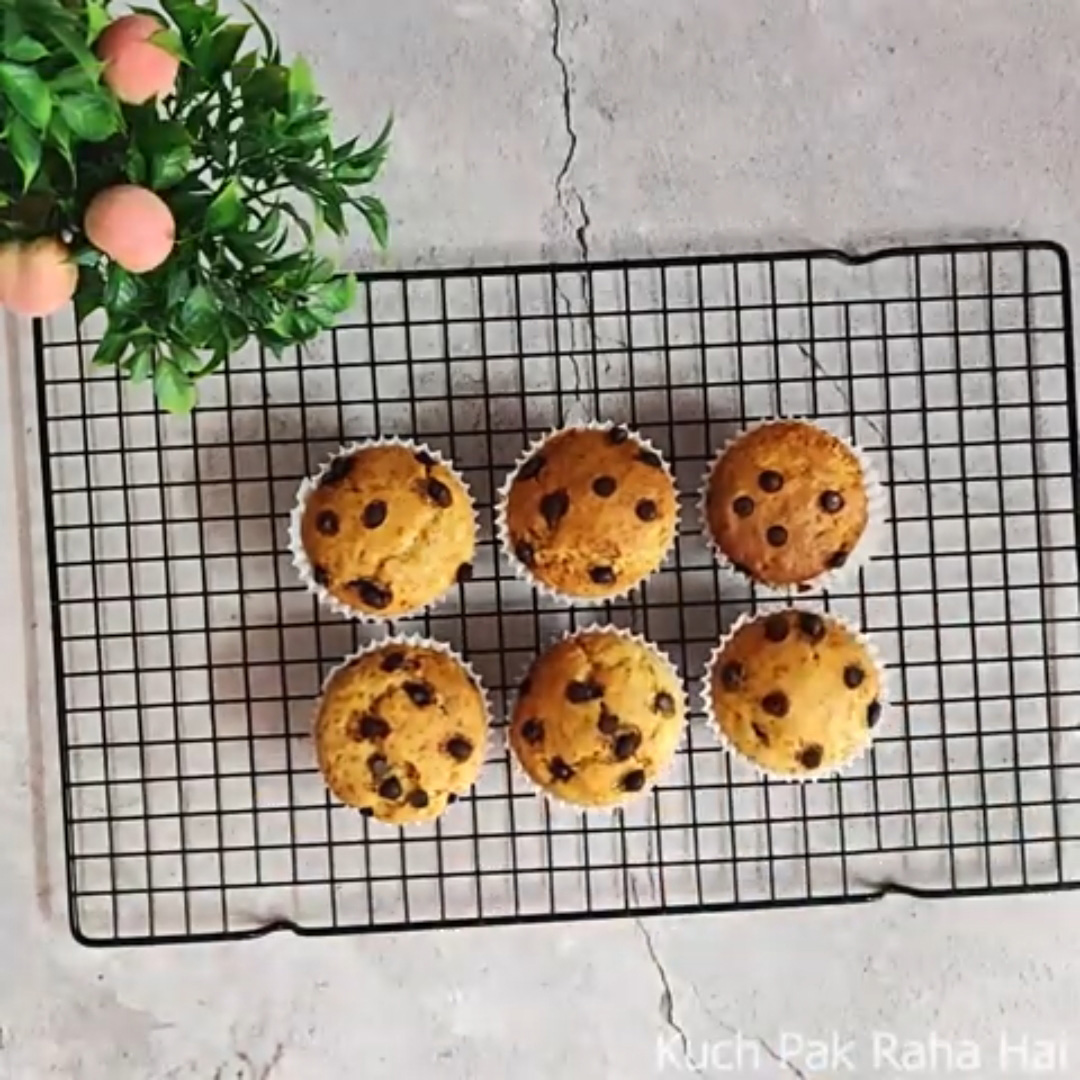 Enjoy these delicious sweet & tangy Eggless Orange Chocolate chip muffins. Bon Appetit!!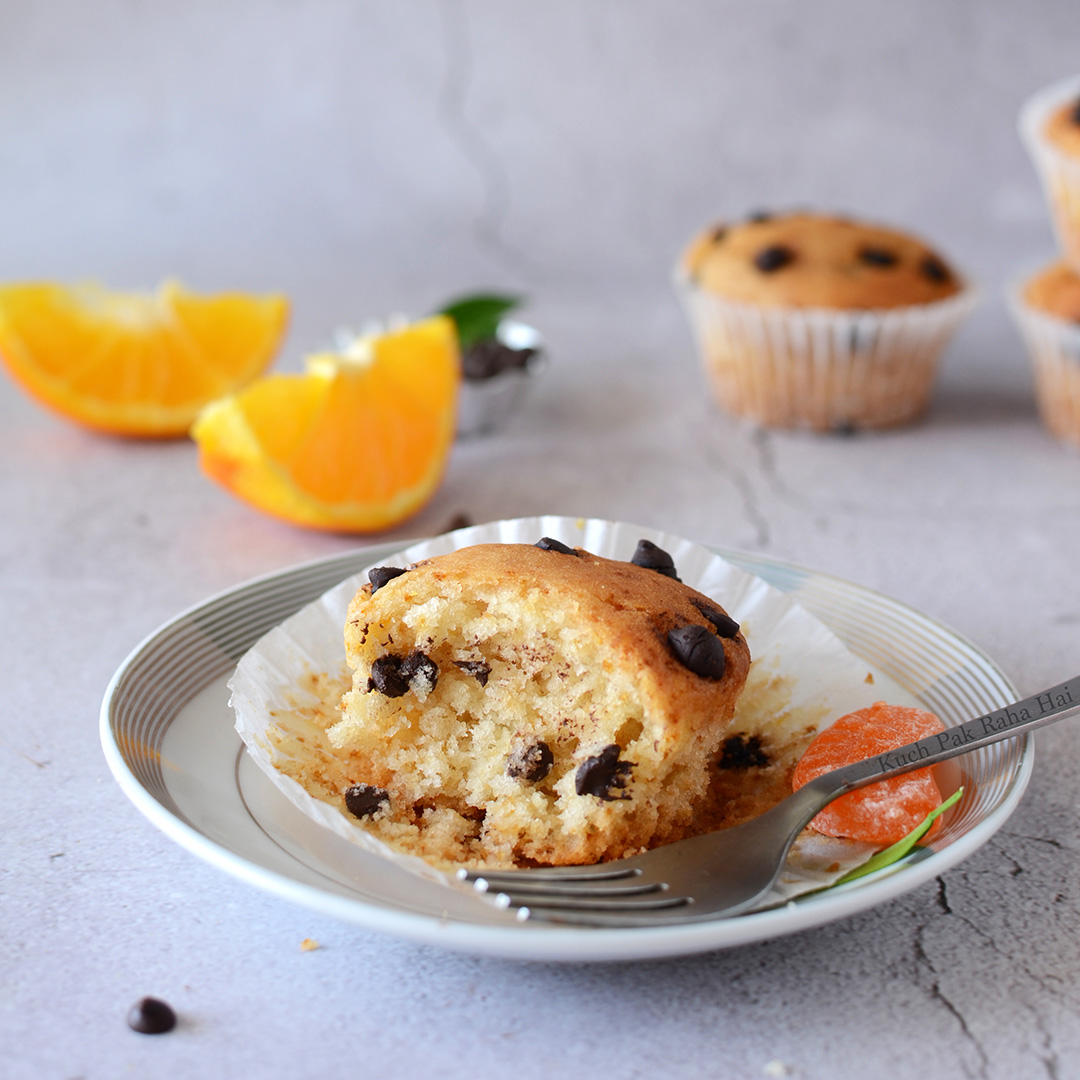 (P.S: The post above contains Amazon Affiliate Links. Please refer to privacy policy page for more details.)
If you try this recipe & share pics on Facebook or Instagram, then don't forget to tag us or use the hashtag #kuchpakrahahai.