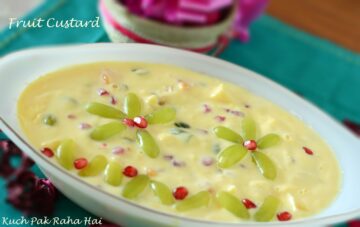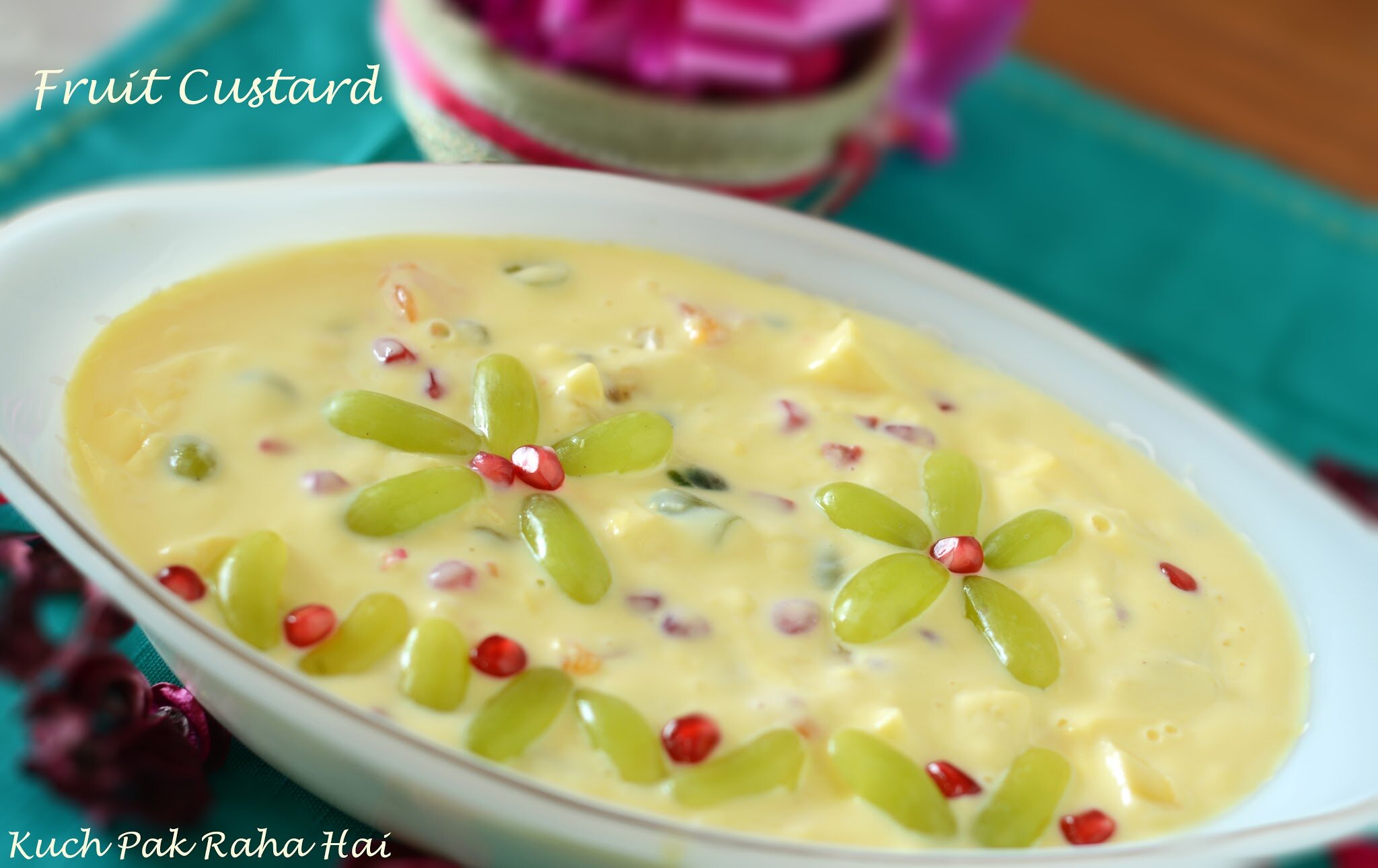 Fruit Custard is an easy to make delicious dessert where fruits are served with creamy chilled thick custard. This dessert is perfect for summers and is extremely easy & quick to make. Every bite of Fruit custard tastes absolutely delectable as the sweet-tangy flavours of fruits goes well with creamy thick vanilla custard.
Fruit Custard in one dessert which is liked by people of all ages whether kids or old people. It can be served as it is or with a slice of vanilla cake or fruit cake. You can even use it in trifle pudding or custard tart.
This fruit custard recipe is quite simple and also does not take much time to prepare. You can prepare this in advance (4-5 hours before serving) and keep it chilled. I have used all seasonal fruits in this custard recipe here. You can use any fruits of your choice or the ones that are available in your local market as the fruits produce changes from season to season.
I have used Brown & Polson custard powder. The instructions along with the proportions are clearly mentioned at the back of the carton as you can see below. I am sharing the brand name and images as many times after sharing the recipes I get inquiry from people regarding the brand of ingredients used.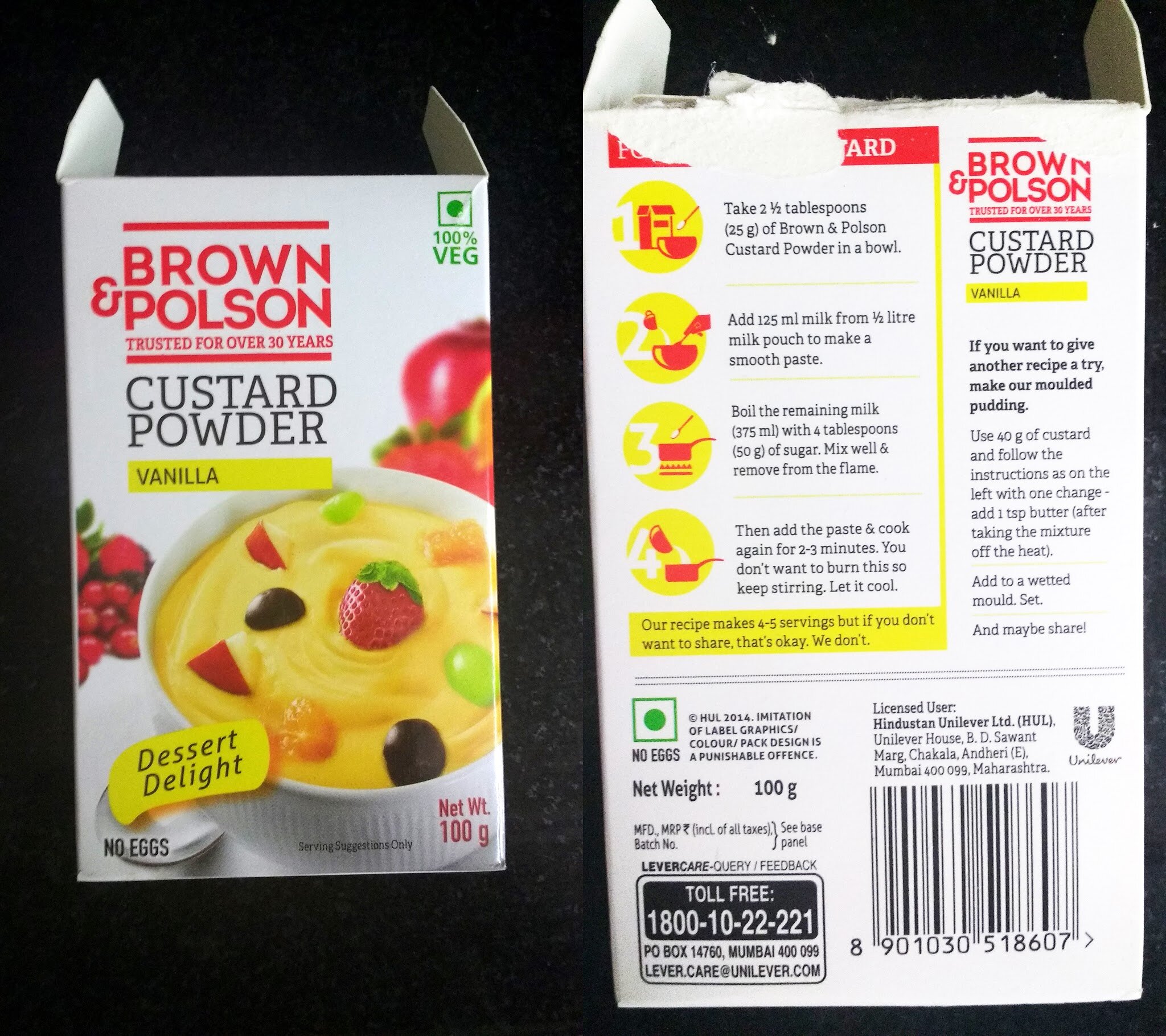 You can use any brand of custard powder of your choice. However I would advice you to read the instructions at the back of the carton carefully as sometimes different brands suggest different ratios of milk to custard powder.
Hope you would like this delicious Fruit custard recipe!!
List of Ingredients: (Makes up to 10 servings)
Milk-1 litres (1000 ml)
Sugar- 10 tbsp
Custard Powder-6 tbsp
Medium sized Apples-2
Banana-1
Orange-1
Pomegranate-1/2 cup
Grapes-1 cup
Chopped Cashews-1/4 cup
Tutti Fruity Bits- 1/4 cup
Steps To Prepare:
Step 1:
Separate 250ml from the entire milk.
Step 2:
Keep the remaining 750ml milk on low flame for boiling. By the time it is boiling, lets proceed to step 2.
Step 3:
Take the 250 ml milk which was kept separate in step1. Dissolve 6 tbsp of custard powder in it.
(The packet says 2+1/2 tbsp for 1/2 litre which means 5 tbsp for 1 litre but I am writing 6 tbsp here as I tried with 5 tbsp and it was taking too long for thickening).
Step 4:
Add sugar to the 750 ml which was kept for boiling. Keep stirring till sugar dissolves.
You can increase the flame to medium (but please keep stirring). Once the milk boils, switch off the flame.
Step 5:
Add the custard powder milk to the boiled milk while continuous stirring. Stirring is essential part as you don't want the custard powder to settle down and get burnt. Switch on the flame once again and let it boil while continuous stirring for 2-3 minutes. Switch off the flame once the milk thickens.
Step 6:
Transfer the custard into a serving bowl and keep it in the refrigerator later to chill.
Step 7:
Once the custard is chilled, chop all the fruits into small bite sized pieces (except pomegranate) and add them to the chilled custard along with chopped cashews and tutti fruity bits. Transfer this bowl in refrigerator till you are ready to serve.
Enjoy this cool and fresh dessert on any summer day!!!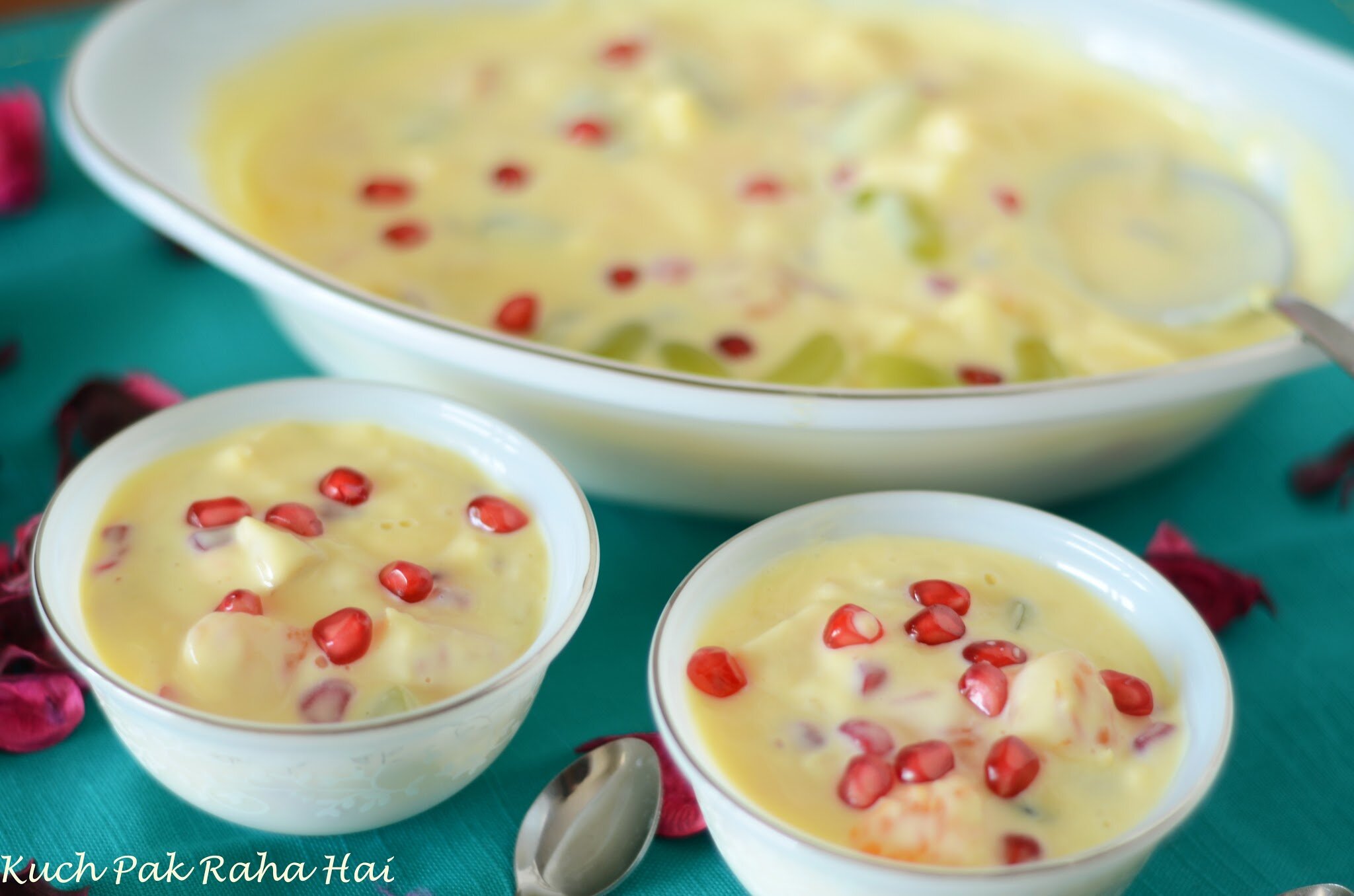 Bon Appetit!!
Let's stay connected
Facebook | Instagram | Pinterest | Youtube
Other recipes you might like: