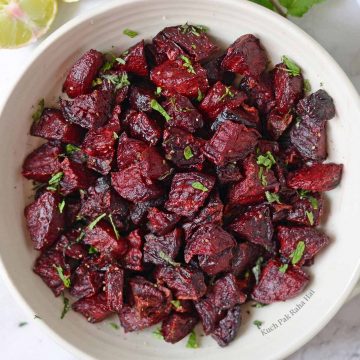 Delicious, easy & quick to make air fryer beet recipe with tender insides and slightly caramelised crispy edges. You can enjoy it as it is, make it part of salads or serve as side dish with everyday meals.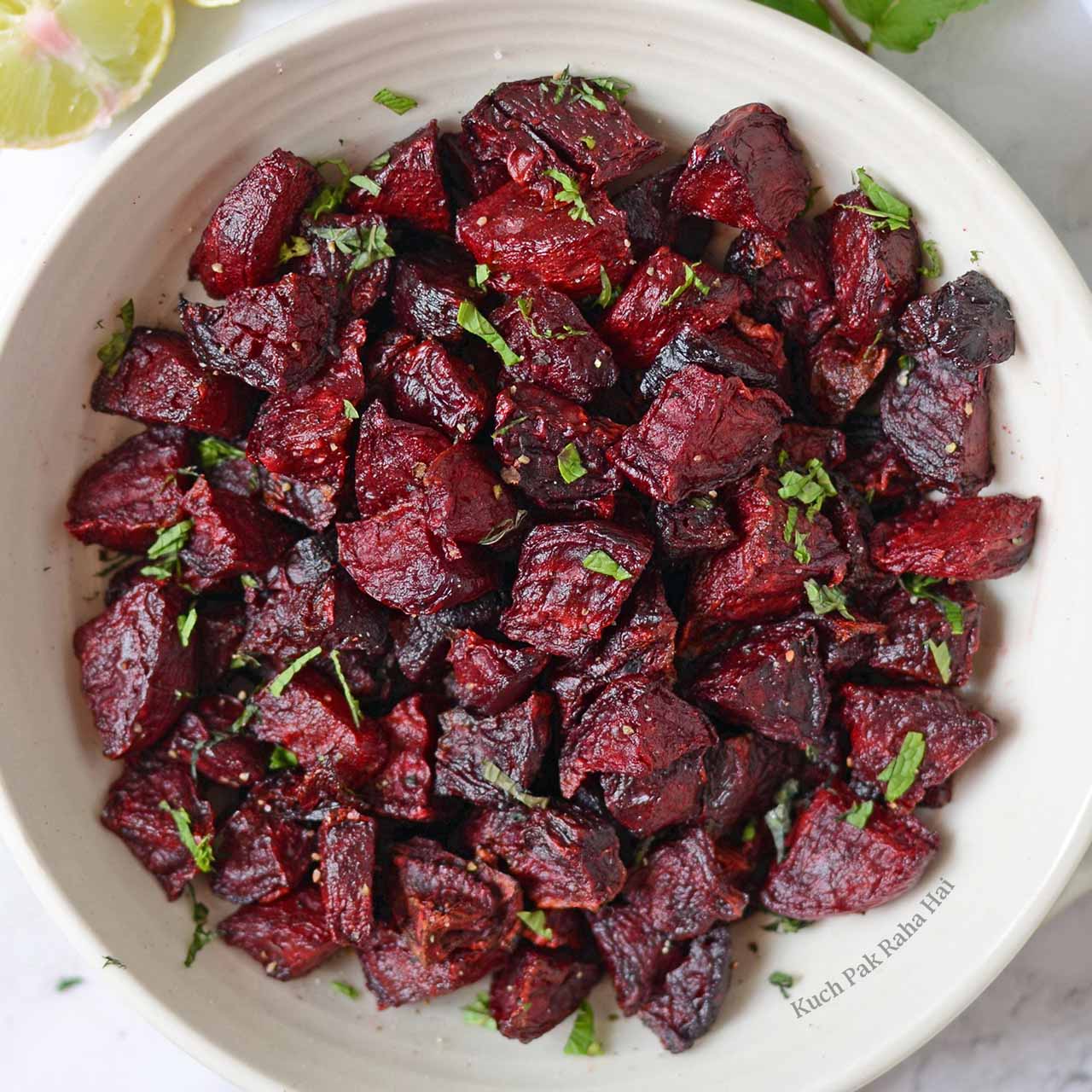 The air fryer beets recipe shared here is :
Vegan
Healthy
Gluten Free
Gets Ready in just 20 minutes!!
When it comes to roasting vegetables, I prefer air fryer to oven as it renders more even roasting in lesser time. Whether it is roasted broccoli, mushrooms, smashed potatoes or eggplants, it has become my favourite kitchen gadget especially for making side dishes.
Beets, also known as Beetroots, have number of health benefits as they are packed with essential nutrients like vitamin B9, vitamin C, potassium, iron and fibre etc. You can include it in everyday diet in form of soup, juice, smoothies, chips, pickle, salads or side dish.
You can boil or roast the beetroots to soften them up. I like the way how roasting process brings out the inherent sweetness of earthy beetroots, thus making them more palatable. They can be roasted in both oven or air fryer.
Ingredients for air fryer beets:
You need just handful of ingredients to make roasted beets in air fryer:
Red Beets or Beetroots
Olive Oil
Salt
Black Pepper
You can use olive oil or any other cooking oil of your choice. Instead of table salt, you can use kosher or pink salt.
Optional Ingredients – As beets become slightly sweet after roasting, you can sprinkle some lemon juice, balsamic vinegar or garnish with fresh herbs like cilantro, coriander or mint to make perfect summer salad. Apart from black pepper, you can also season them with onion powder or garlic powder.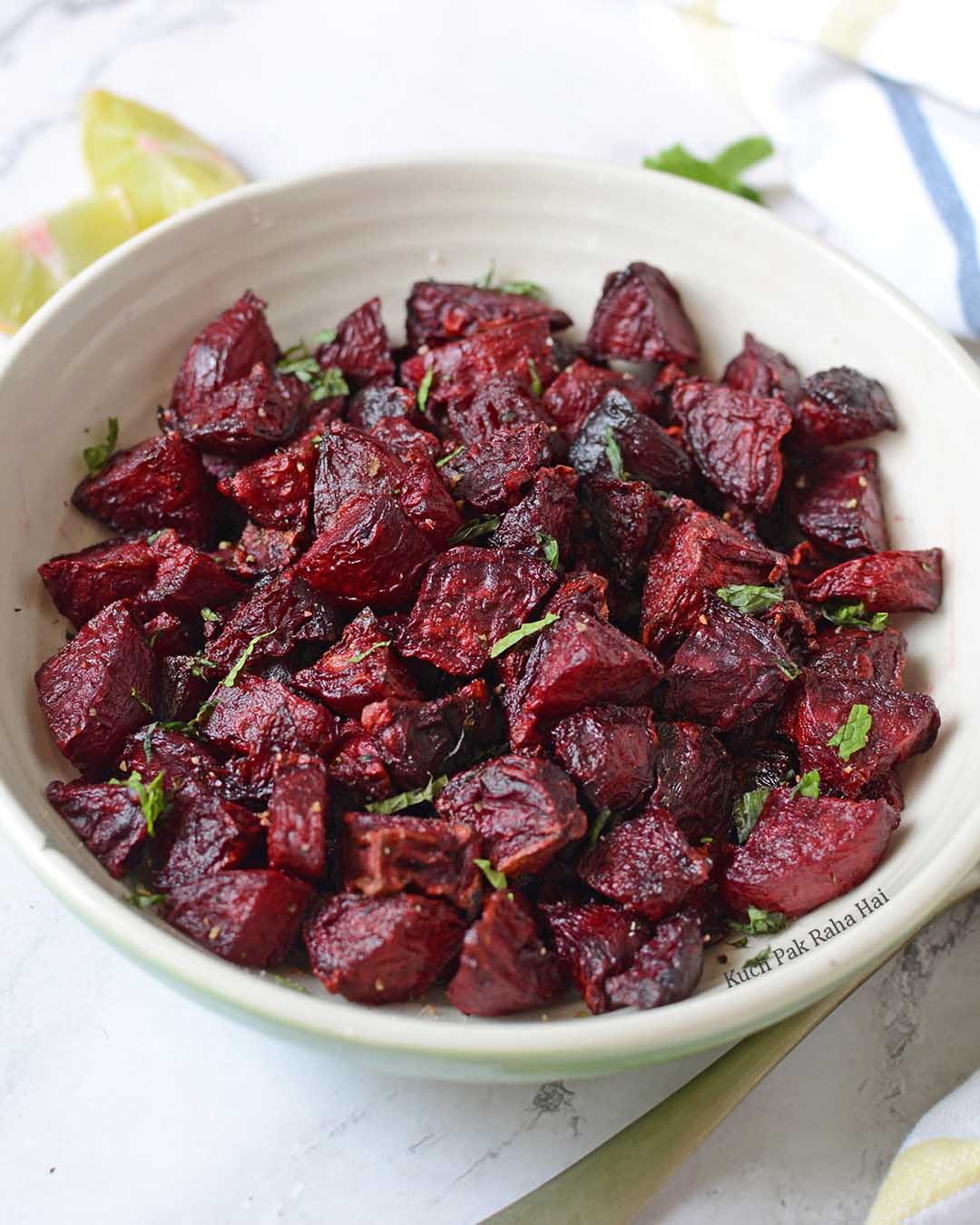 How to cook beets in air fryer?
The recipe to make beets in air fryer is very easy. We begin by first peeling the beets and then chopping them into bite sized pieces. Try to keep the pieces of same size for even cooking. Toss them in extra virgin olive oil, salt & ground black pepper. Air fry them for 15 minutes till the pieces become tender.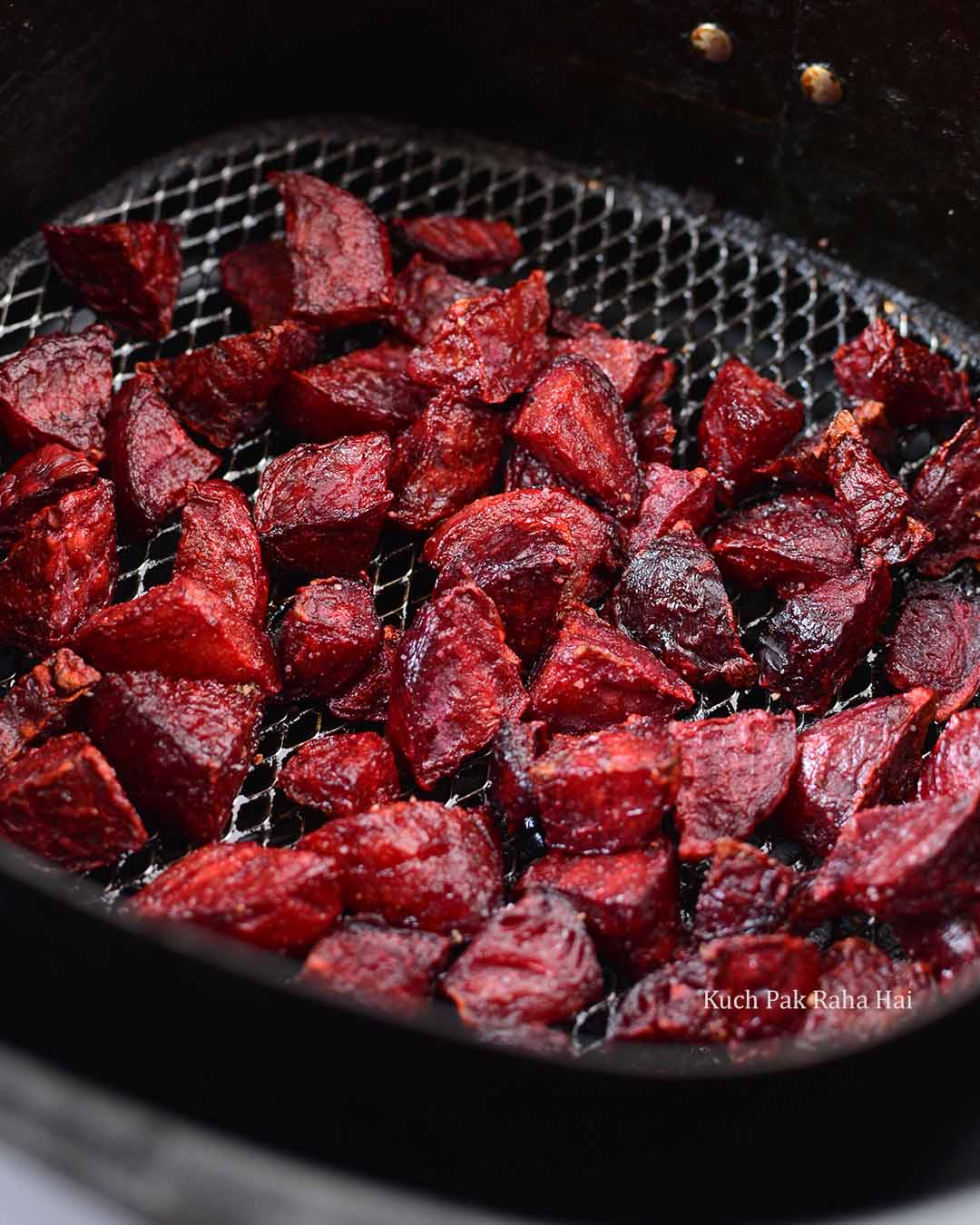 Serving Ideas:
You can have enjoy these airfryer roasted beetroots as it or use them in other recipes like:
1. In Salads like roasted beet feta salad ,beet goat cheese salad etc.
2. In soups like tomato soup , beet soup or carrot soup.
3. In sauces & dips like beetroot hummus.
4. As side dish with dal, rice or casserole dishes like vegetarian shepherd's pie, broccoli casserole etc.
5. In stir fry recipes like beetroot coconut stir fry (or thoran).
Hope you would like this easy air fryer beet recipe!!

Ingredients:
Beets / Beetroot-3
Olive Oil- 1 tbsp
Salt- 1/2 tsp
Black Pepper (ground)-1/4 tsp
Optional-
Chopped Cilantro or Coriander- 2 tsp
Lemon Juice- 2 tsp
Directions:
Step 1:
Wash the beetroots well, chop off the top & bottom parts, Peel and chop them into bite sized pieces.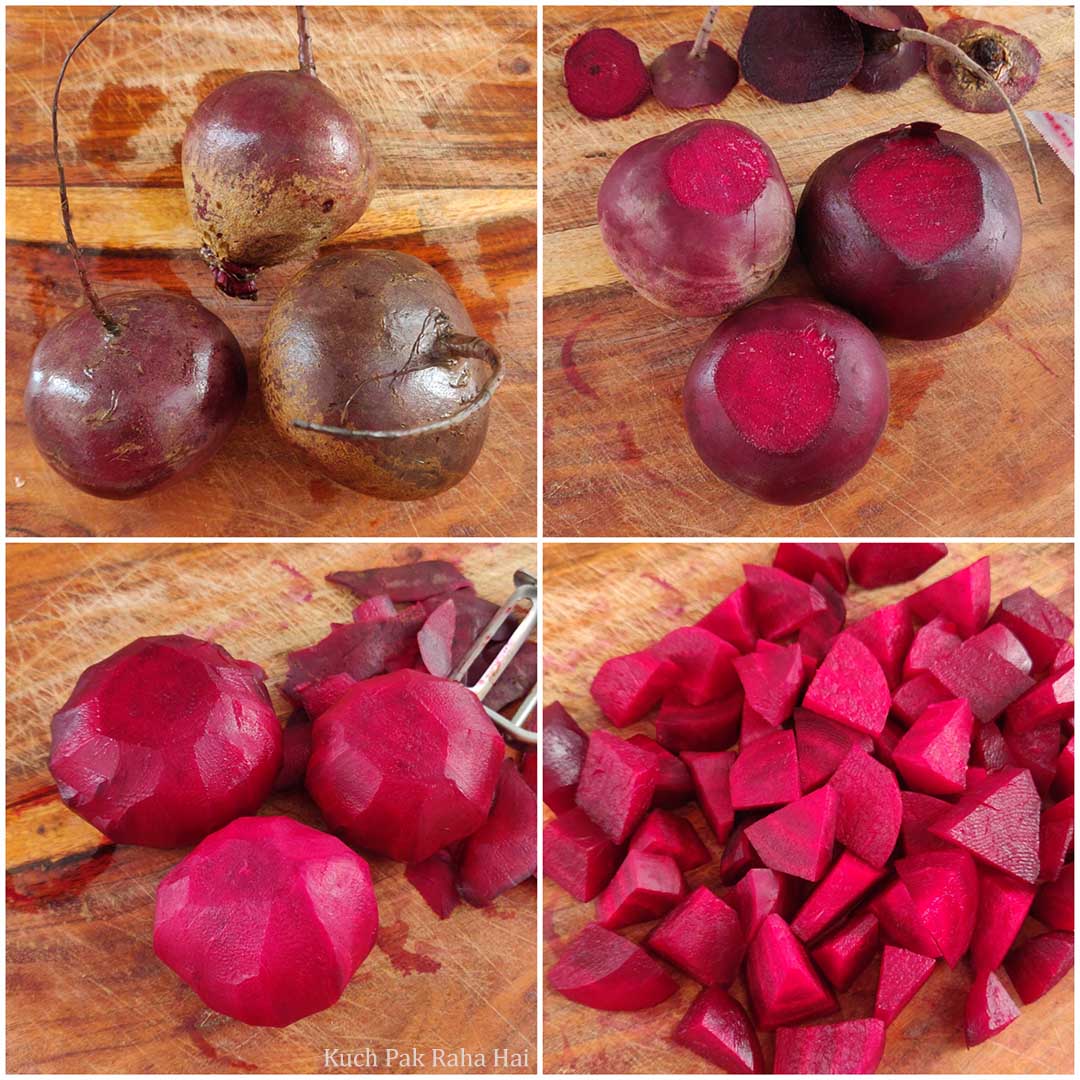 Step 2:
Set the air fryer for preheating at 180°C (356°F) for 3 to 5 minutes. While the air fryer is preheating, let's move to next step.
Step 3:
In a mixing bowl, transfer chopped beets & add olive oil, salt and black pepper over them. Toss gently.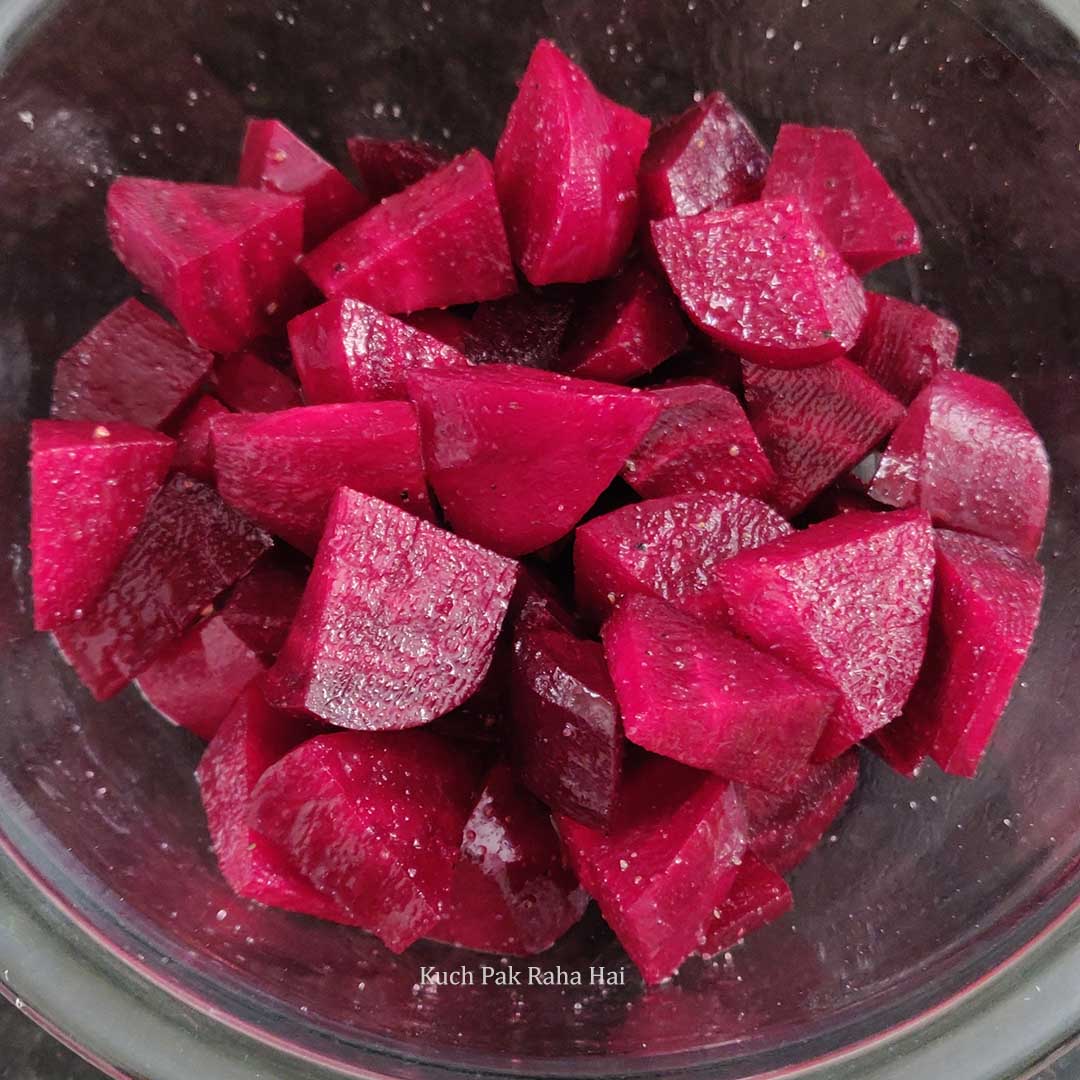 Step 4:
In a preheated air fryer, spread these beetroot pieces in a single layer.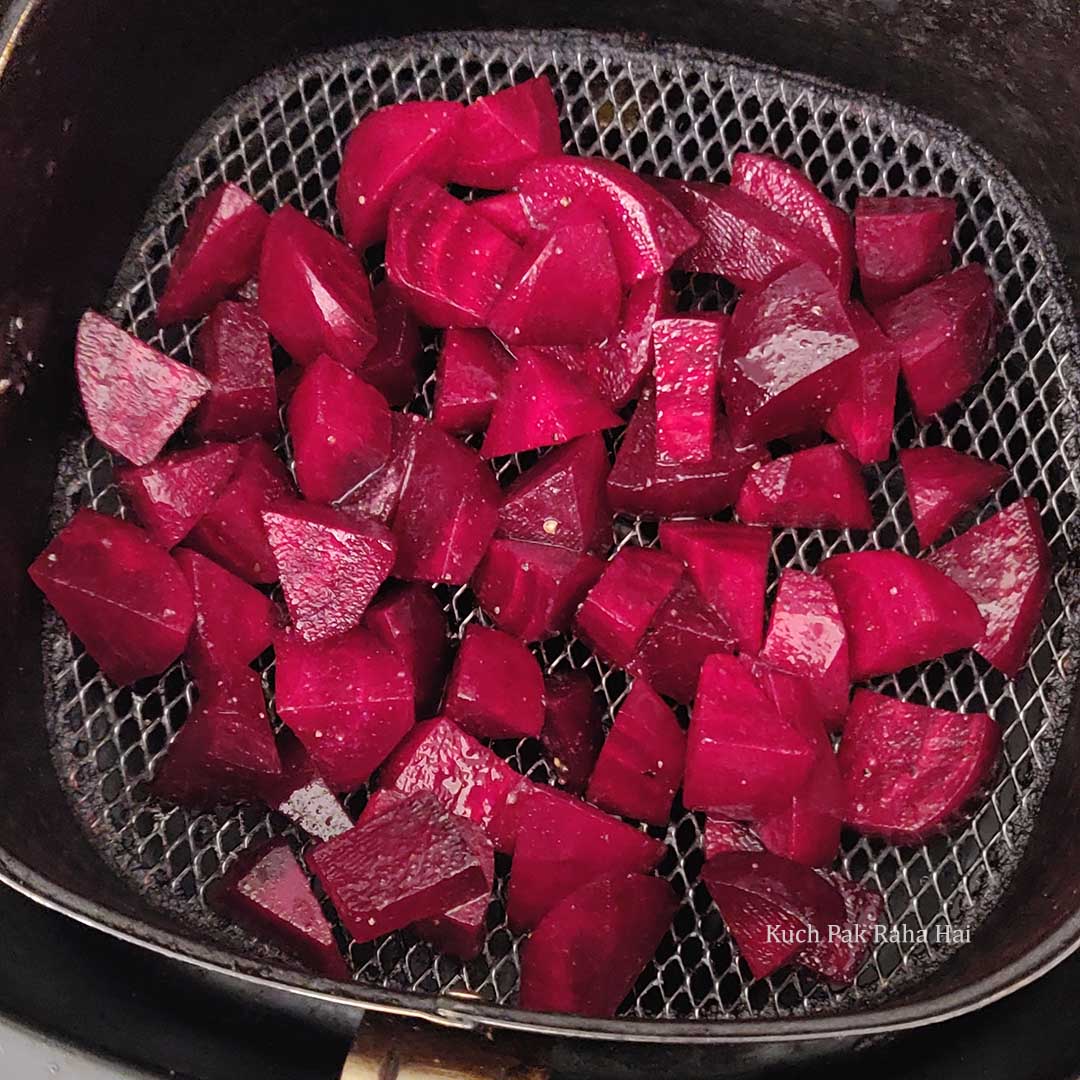 Air fry them at 180°C (356°F) for 13 to 15 minutes while shaking the basket after 7 minutes. Check the beetroot pieces by piercing them with a fork or knife. If they are tender, that means they are done and if you find slight resistance then air fry for 2 to 3 minutes more.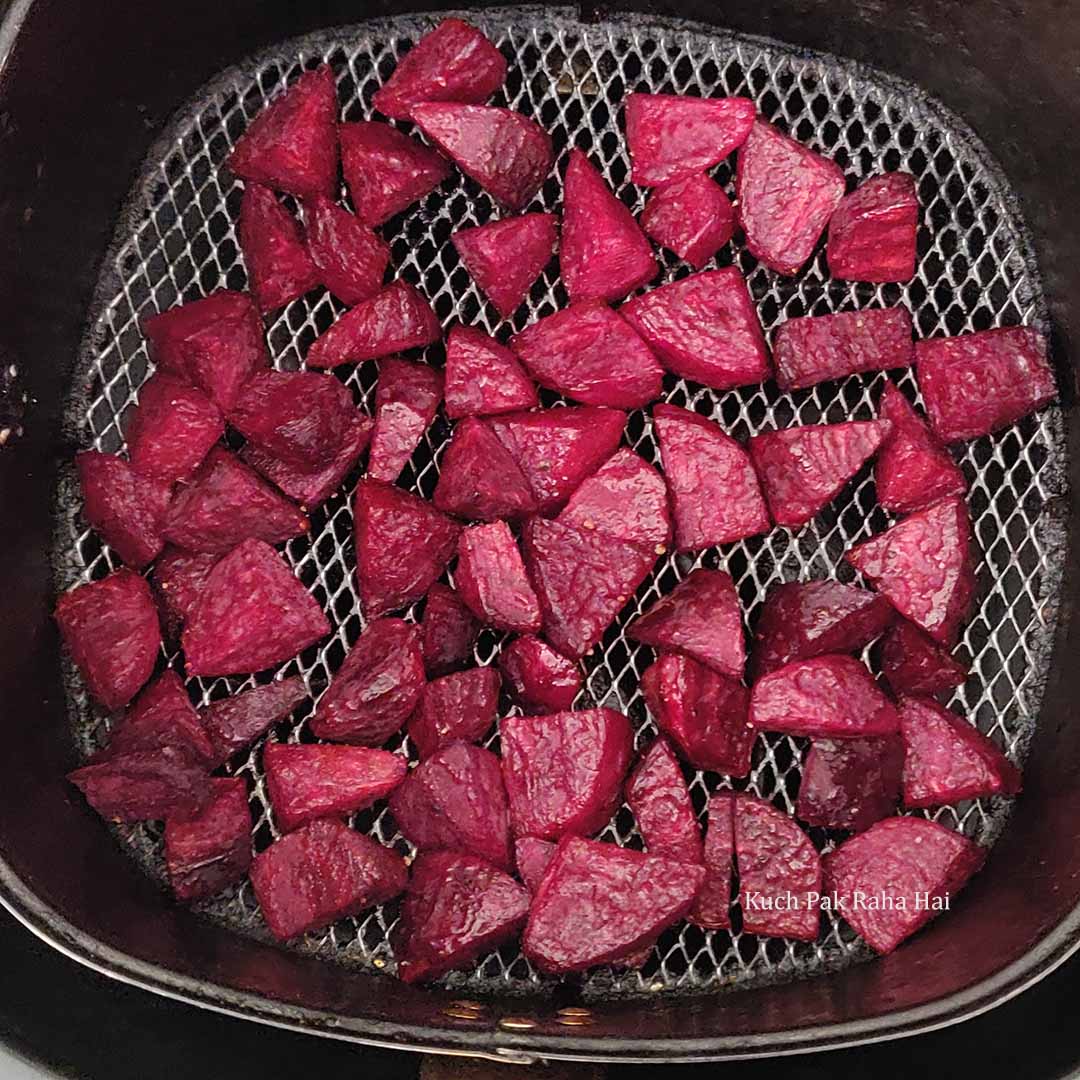 You can enjoy them as it is or garnish with some freshly chopped herbs and sprinkle some lemon juice for more flavour.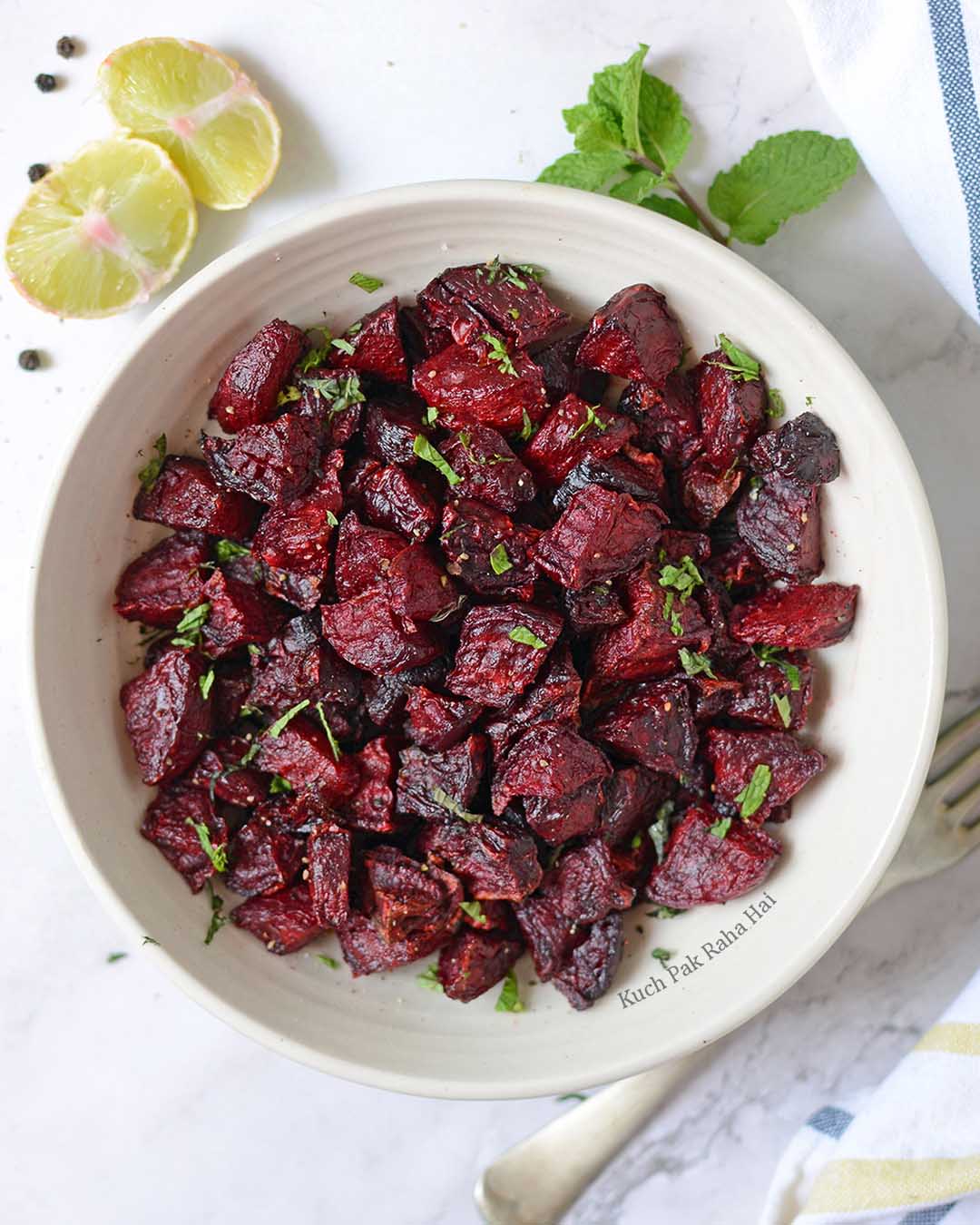 Can I roast beetroots in oven?
Yes, you can roast whole beets in oven also by wrapping them with aluminium foil and baking at 180°C (356°F) for 35-40 minutes. For more detail instructions refer to roasted beet salad recipe.
Looking forward to try more recipes in air fryer? Then do check out the recipes below:
Pin for later: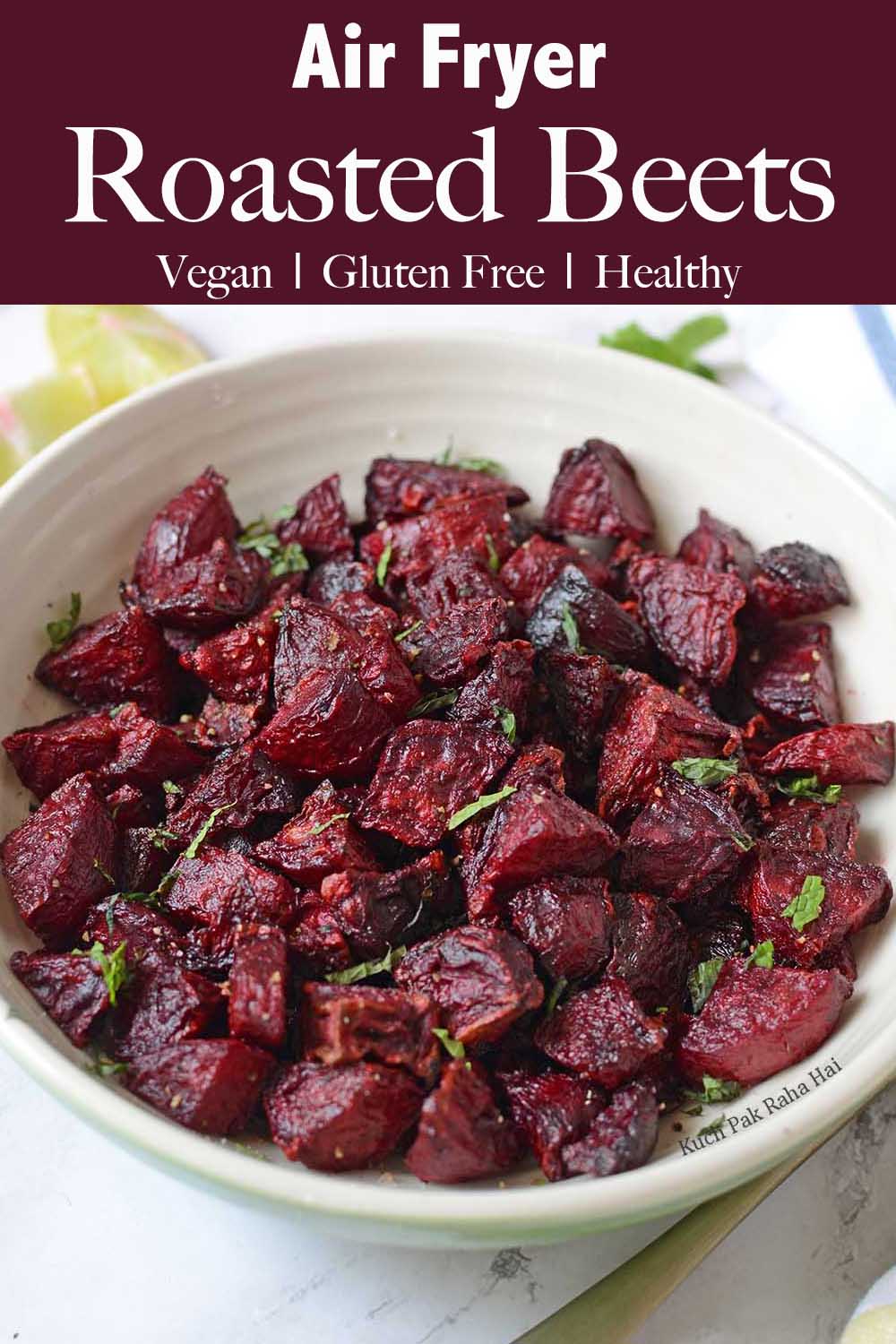 If you try this air fryer beet recipe & share pics on social media, then don't forget to tag on Facebook or Instagram or use #kuchpakrahahai.
Let's stay connected
Facebook | Instagram | Pinterest| Youtube