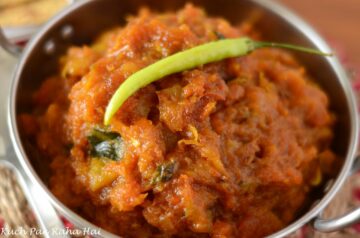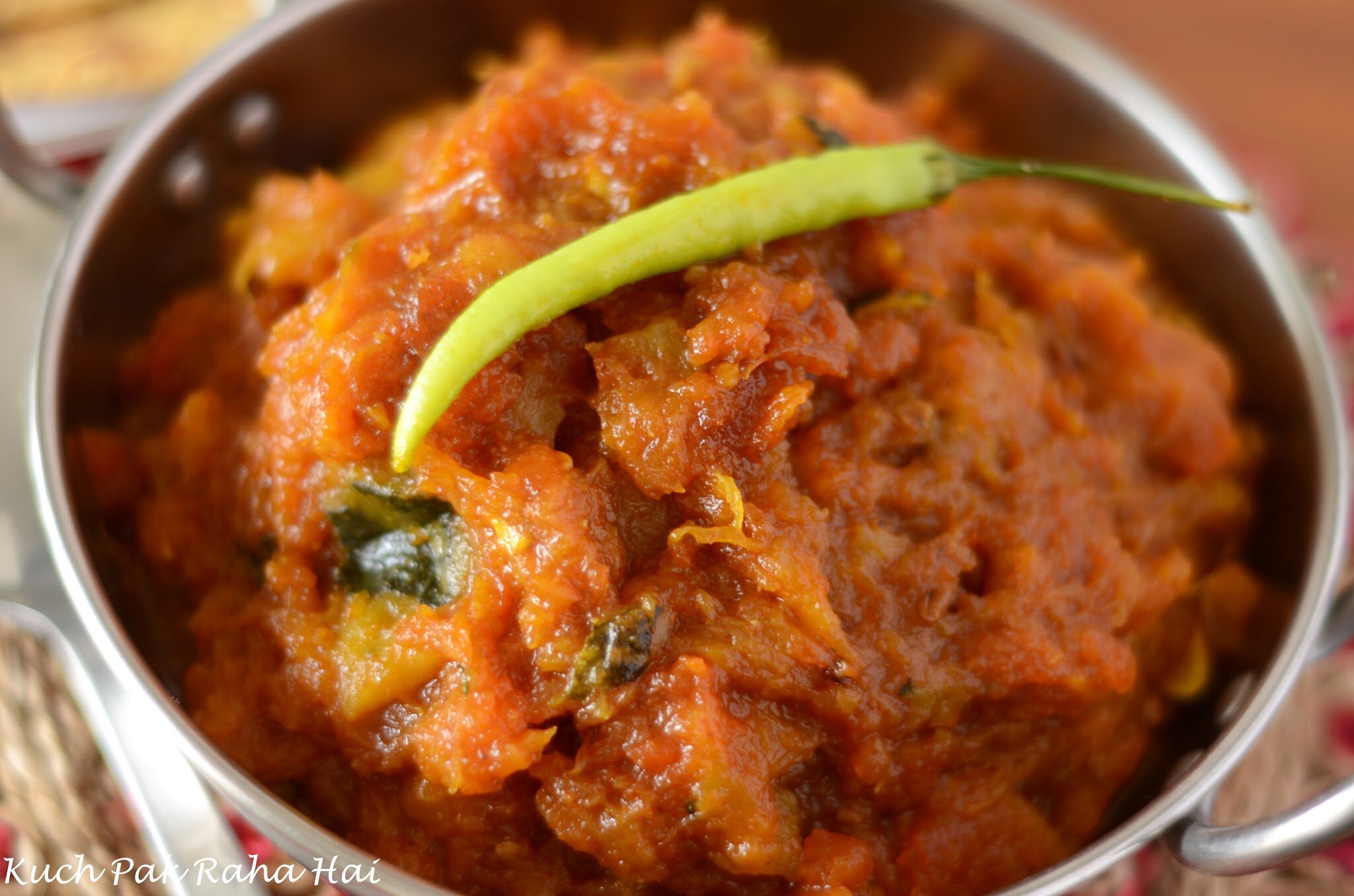 Khatta Meetha Kaddu is a delicious sweet and sour pumpkin recipe. This is one of the easiest recipes you can make using pumpkin or kaddu. There are generally two types of pumpkin available in market- one with orange peel and another one with green peel. You can use any of the variety in this recipe however I have used Hara kaddu here as it is easier to peel and it cooks faster also.
Although Khatta Meetha kaddu is made in almost all North Indian states, it is most popular in Uttar Pradesh state. Some people make it one more variant where it is more on spicier side instead of sweet & sour. This kaddu ki sabji tastes best with deep fried pooris, kachori, bedami poori or dal ka paratha.
The highlight of this pumpkin recipe is the sweet (Meetha) and sour (khatta) taste for which sugar and Amchoor powder (Dried mango powder) are added to it. Apart from it, ghee and fenugreek seeds are essential parts of it which gives a distinct aroma to this vegetable. Many people eat it during fasting also. If you do eat pumpkin in your fasts, then you can make this pumpkin recipe by adjusting the spices as per you taste.
Hope you would like this Khatta Meetha kaddu recipe!!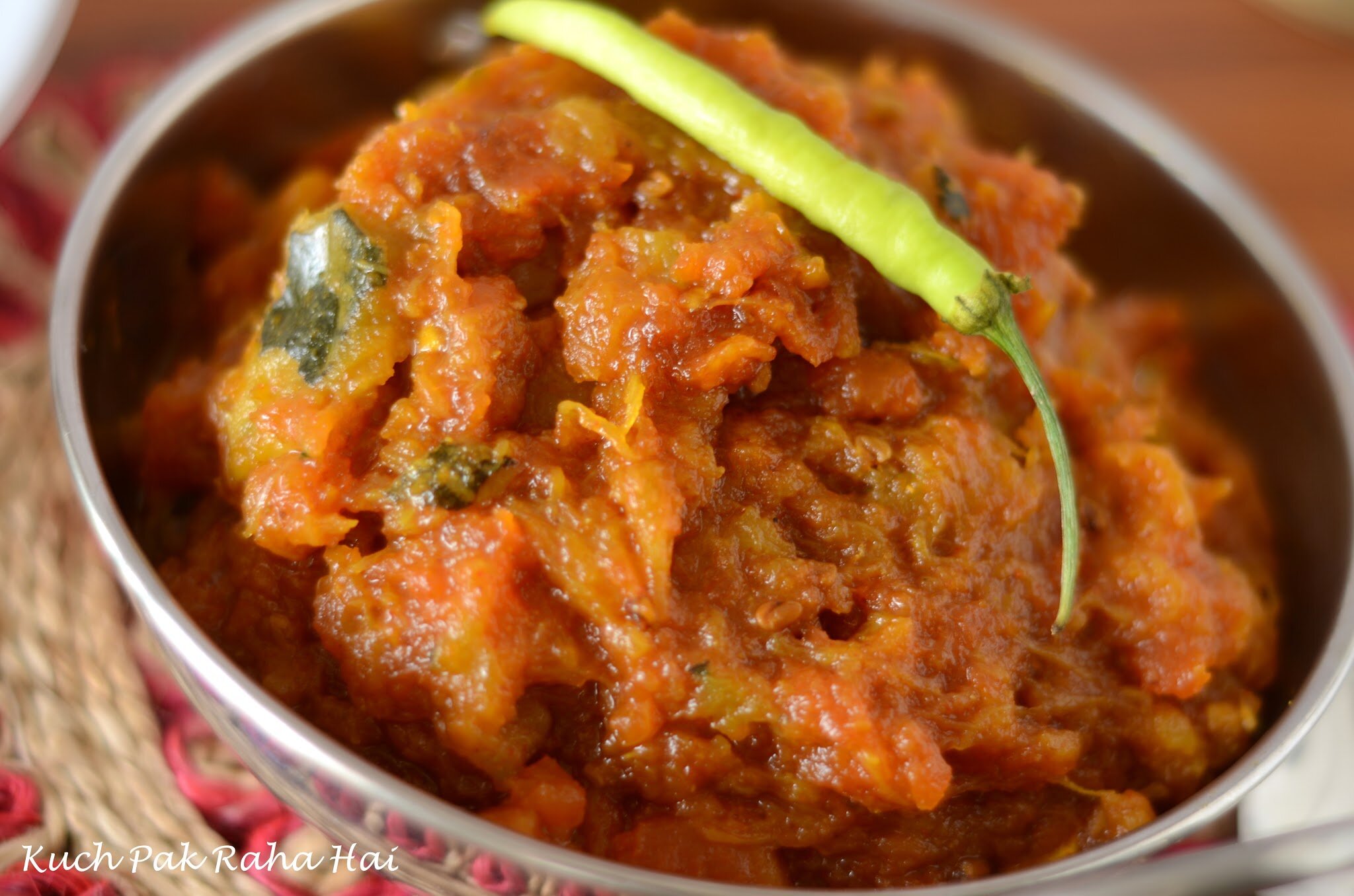 Preparation Time: 10 minutes
Cooking Time: 20 minutes
List of Ingredients: (Serves 3 to 4)
Hara Kaddu/Pumpkin- 650 grams
Ghee/Clarified Butter-2 tbsp (For vegan version, use oil)
Methi seeds/Fenugreek seeds- 1 tbsp
Heeng/Asafoetida- A pinch
Red chilli powder-3/4 tsp
Coriander powder-1 & 1/2 tsp
Turmeric powder-1/2 tsp
Salt- To taste
Sugar- 6 tsp
Amchoor powder / Mango powder-3 tsp
Water-2 tbsp (If using yellow pumpkin, take 1/4 cup)
Steps To prepare:
Step1:
Cut the pumpkin into slices. Peel, de-seed and chop it into squares as shown below. I have intentionally left some peel on it as intermittent green colour in the ready dish looks really vibrant and tempting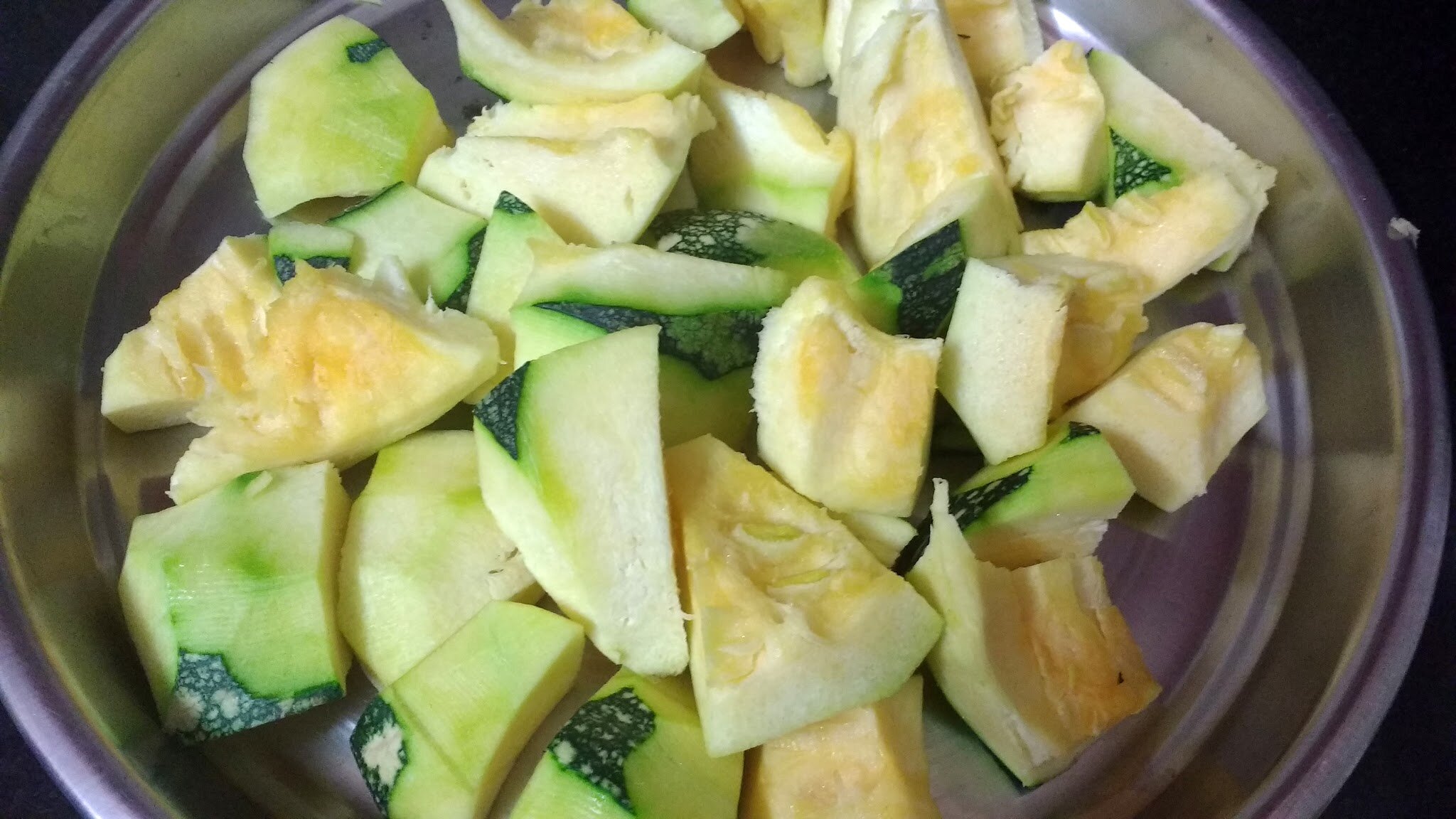 Step2:
Heat ghee in a pressure cooker. Add Methi seeds, Asfoetida, red chilli powder, coriander powder and turmeric powder. Stir for few seconds till the spices begin to release the aroma.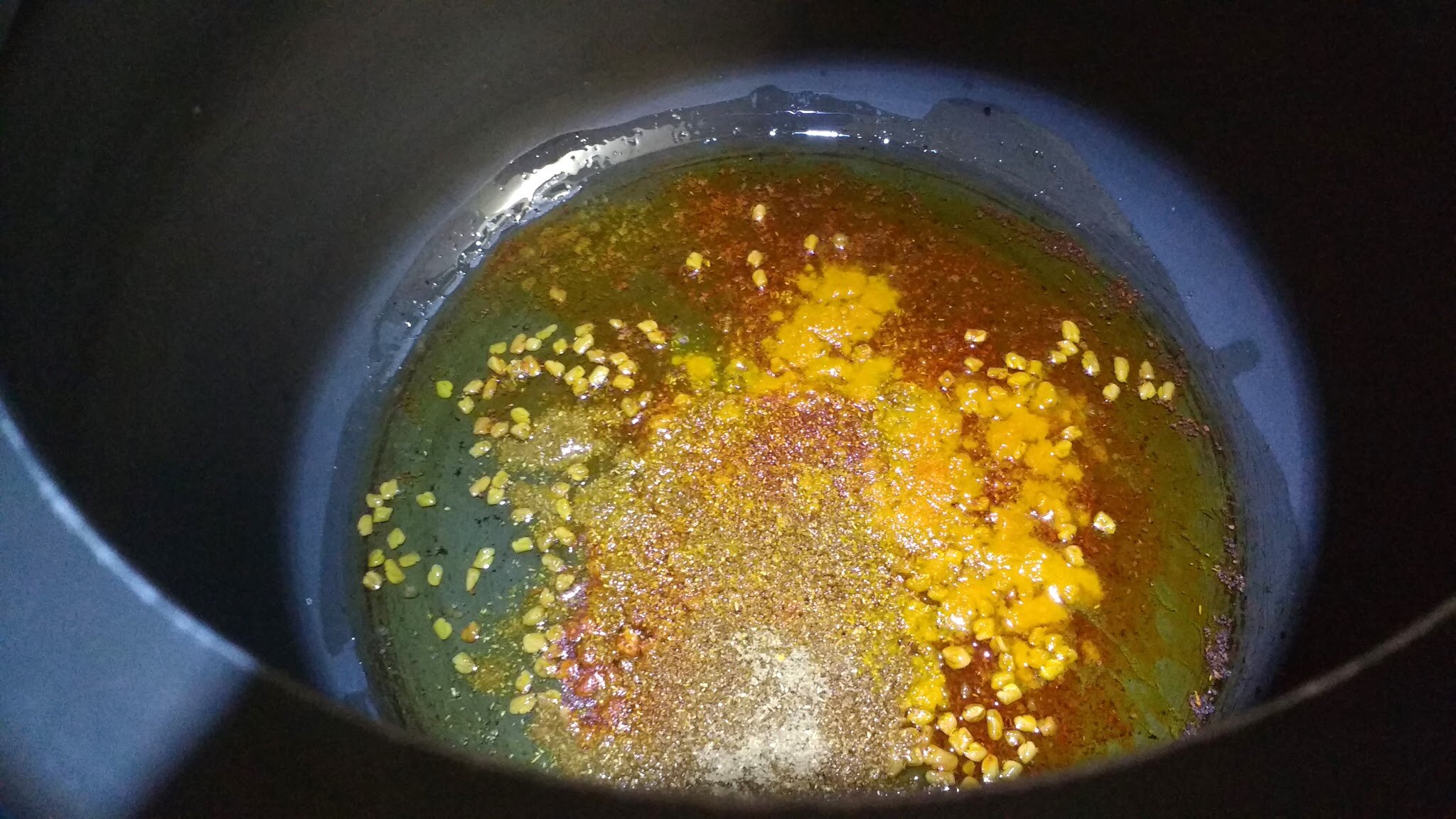 Step3:
Add pumpkin pieces into the spices. Add salt and water. Mix well. Cook it for two whistle. Switch off the gas.
(If using orange pumpkin, take 1/4 cup water at this step. Cook for 2-3 whistles and sim for 10 minutes. You may have to adjust the cooking time depending on the pumpkin variety you have. At the end we just want soft mushy consistency of pumpkin)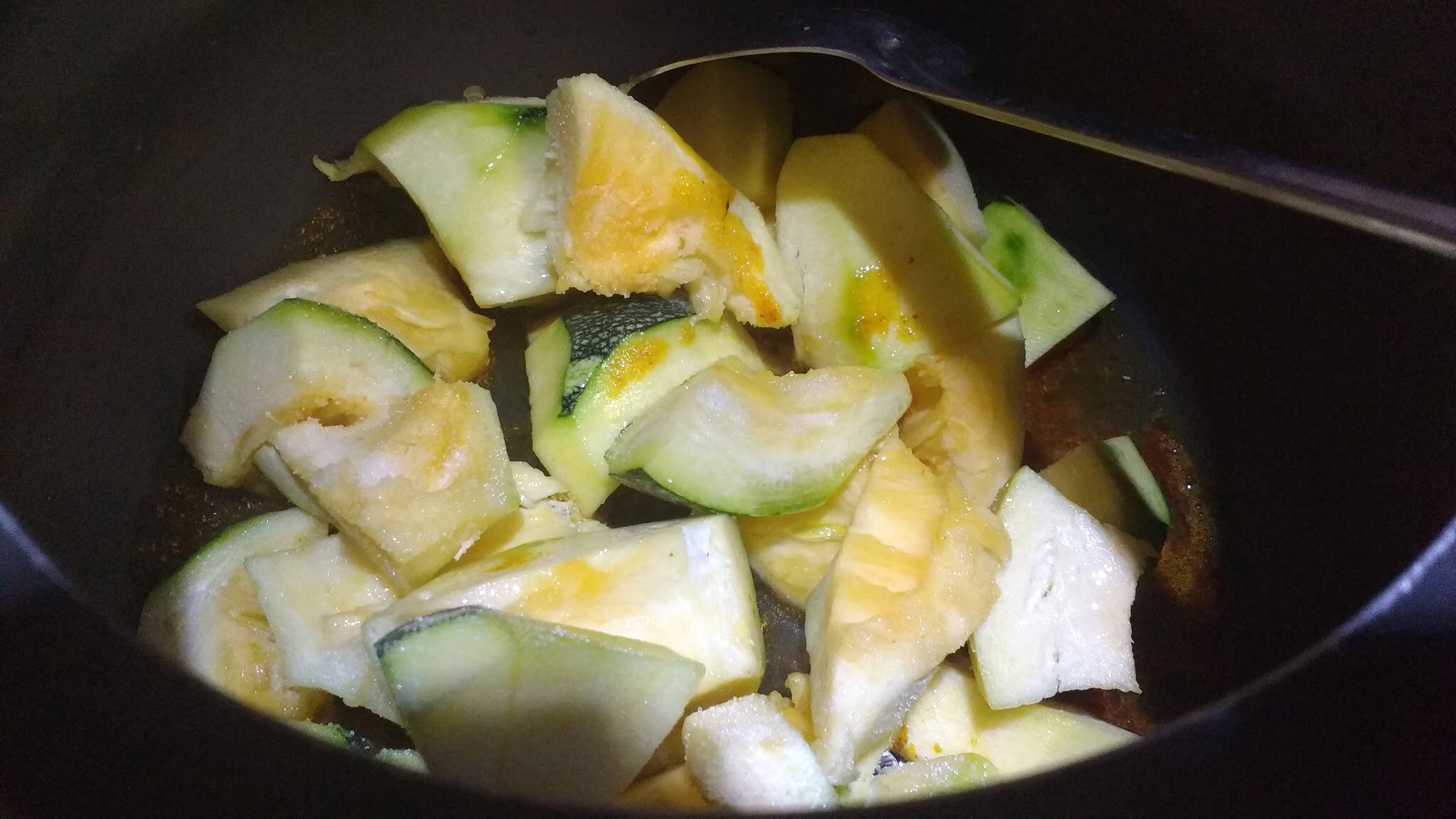 Step4:
Once the pressure is released from the pressure cooker, open the lid. Add sugar and amchoor powder. Switch on the gas. Mix well.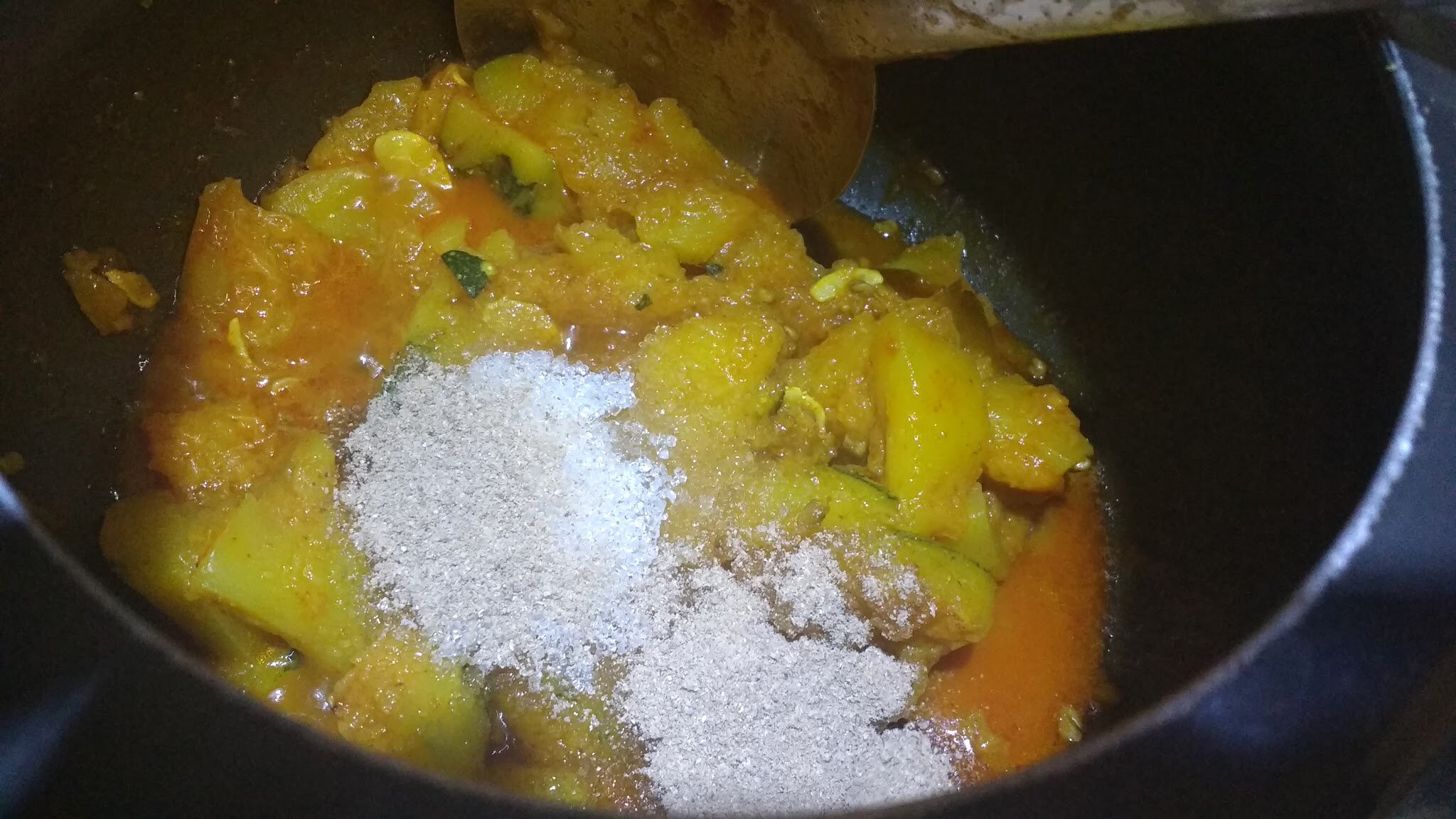 You will notice that pumpkin has started releasing water because of addition of sugar. Cook it on low flame till the excess moisture is evaporated and sabzi reaches a thick consistency.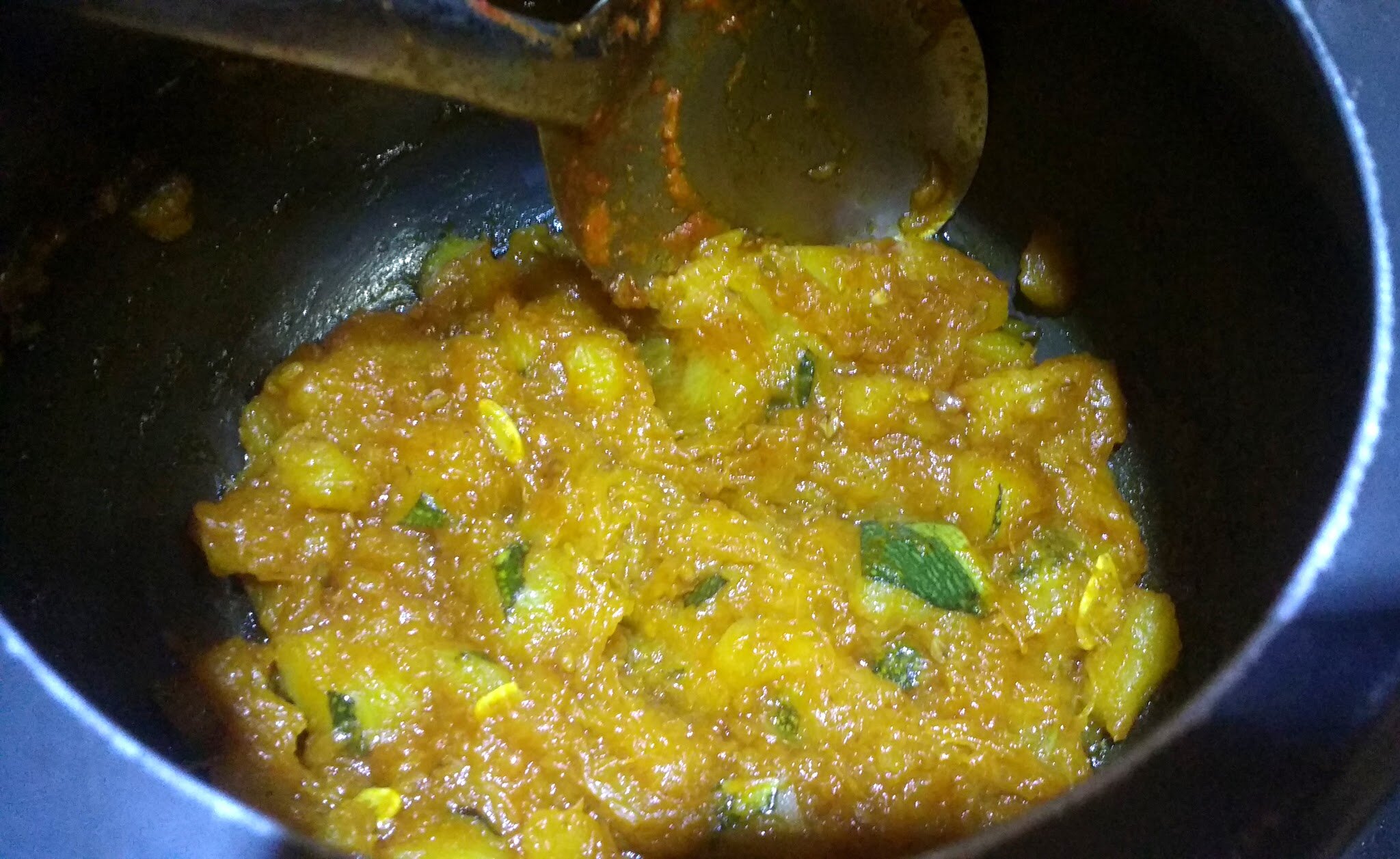 Enjoy this Khatta Meetha Kaddu with chapati, poori or Urad Dal paratha!! For Urad Dal Paratha, click here.