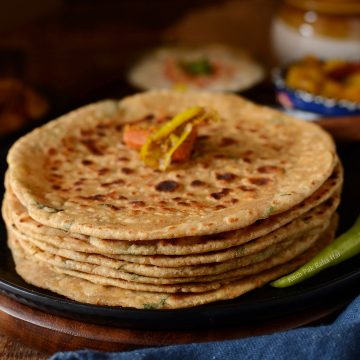 Urad Dal Paratha is a delectable Indian bread made by blending soaked Urad Dal (split de-husked black gram lentil) with whole wheat flour. The dough is seasoned with various spices like turmeric, red chilli powder, coriander powder and asafoetida. The Urad Dal paratha is cooked on tawa (flat pan) using ghee or cooking oil.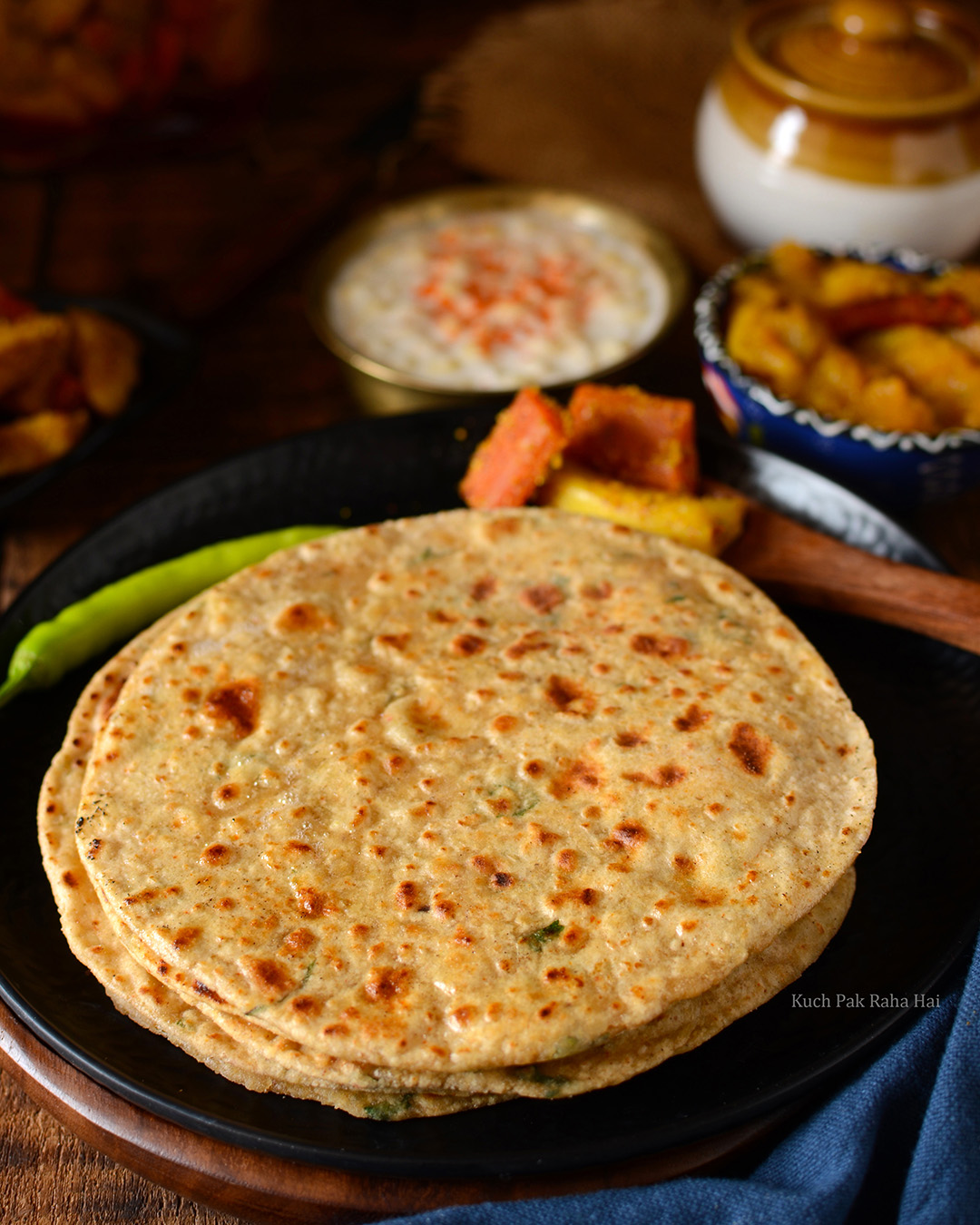 Dal or Lentils are excellent source of protein in vegetarian or vegan diet. I try to include lentils in almost every meal and these Urad Dal parathas are a delicious & healthy way to do so. Urad Dal Parathas are also known as Bedmi Paratha in some regions of India. They can be enjoyed with some pickle, any curry or stir fried vegetables.
Urad Dal Parathas are not only filling but also very nutritious as along with whole wheat flour you are getting nutrients from lentil also. This paratha is very good option for giving in kids lunch box as this way you can make your kids eat Dal or lentils who are otherwise fussy eaters. Also, as there is always a chance of dal spilling out, this dal paratha recipe will solve that problem also. Please make sure you adjust the spices in the recipe per your kids palate.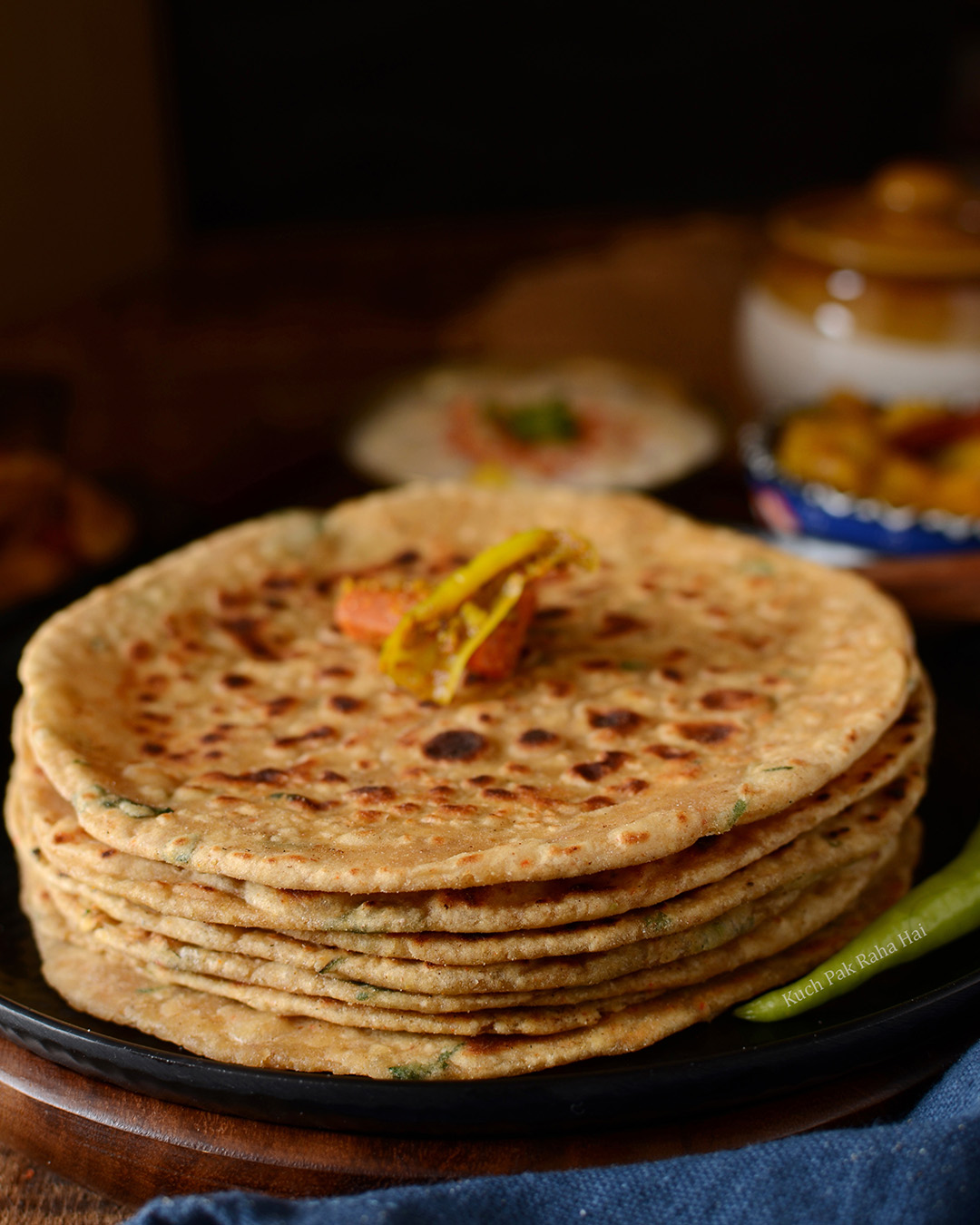 How to make dal paratha?
The Urad dal in this recipe is soaked for 3-4 hours and then blended to form even paste. Soaking is an important step as it softens the dal and it becomes easy to grind. This paste is mixed with whole wheat flour, spices and kneaded into a soft dough with the help of water.
Can I use leftover dal to make parathas?
Yes, if you have some left over dal from previous meal you can even use it instead of soaked dal. Just don't add spices again. This way it will utilise your leftover dal and at the same time enhance the taste of your rotis/parathas.
My personal favourite with these Urad Dal Paratha is Khatta Meetha Kaddu (Sweet n Sour pumpkin), pickle & boondi Raita. You can enjoy it with plain curd or stir fried veggies too.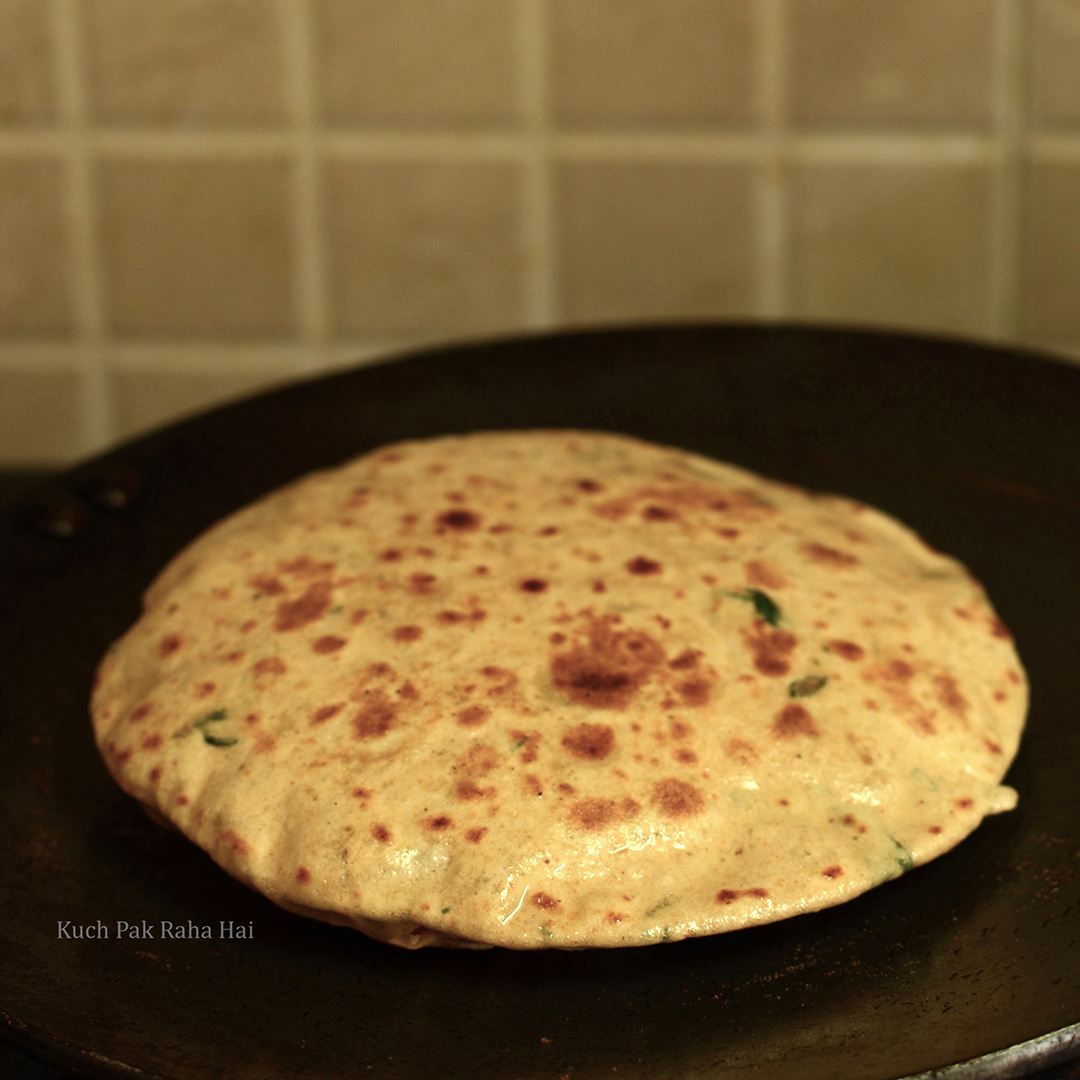 How to get puffed up parathas?
Recipes are not only about ingredients but technique as well. Puffing the parathas just like regular roti/chapati is possible & requires little bit of practice. To get puffed up parathas, make sure you are kneading a soft dough using enough water. Also knead for good 8-10 minutes so that there is enough gluten formation in the dough.
While cooking them follow these steps. First of all, after rolling the parathas make sure the side which was up while rolling remains upside only when you are transferring it on tawa (pan) to cook. Dry Roast it till you start noticing small rising spots.
Flip it & dry roast the other side a little longer. Drizzle oil or ghee on the paratha and spread over it using spatula or a turner. Flip it and drizzle some more oil/ghee. Gently press the parathas & you will notice they will start puffing up. Repeat till the parathas is golden brown from both sides.
More paratha recipes:
List of Ingredients: (Makes 8 parathas)
Urad Dal (Split dehusked black lentil) – 1/2 cup
Whole wheat flour (Aata) – 1 & 1/2 cups
Heeng (Asafoetida) – A pinch
Jeera powder (Cumin)-1/2 tsp
Saunf powder (Fennel)-1/2 tsp
Red Chilli powder – 1/2 tsp
Dhaniya powder (Coriander)- 1 tsp
Amchoor powder (Dry Mango)- 1/2 tsp
Garam Masala- 1/4 tsp
Salt – 1 tsp (or to taste)
Green Chilly-1
Chopped Coriander- 2 tbsp
Water – ½ cup (For kneading)
Ghee / Oil – For cooking
Note:
For vegan version, use cooking oil for making these parathas.
Feel free to adjust the spices as per your taste.
Steps To Prepare:
Step 1:
Soak Urad Dal for at least 3-4 hours.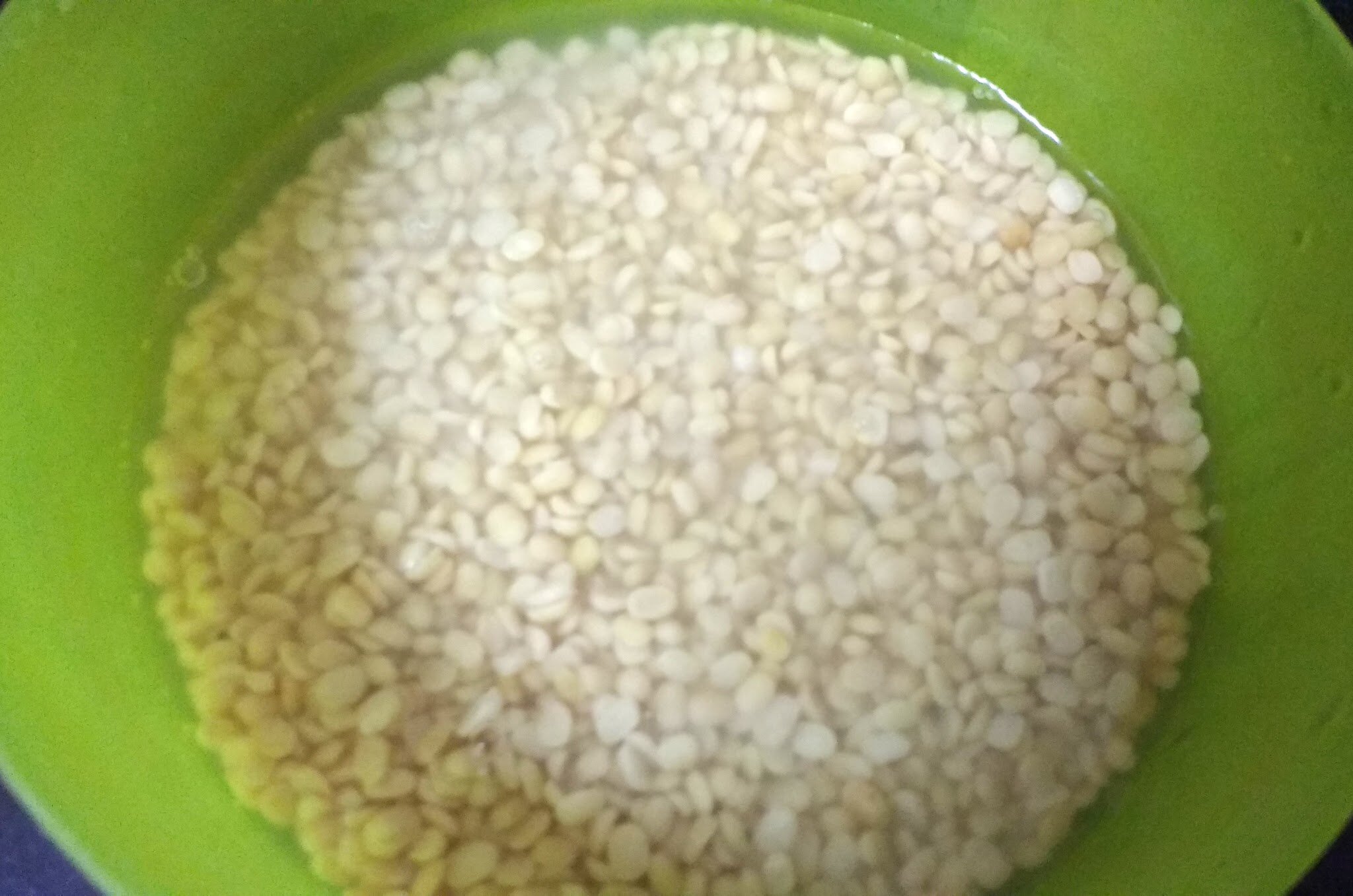 Step 2:
Transfer soaked Urad Dal into a blender or a food processor. Add 2-3 tbsp water to it & grind to form smooth paste.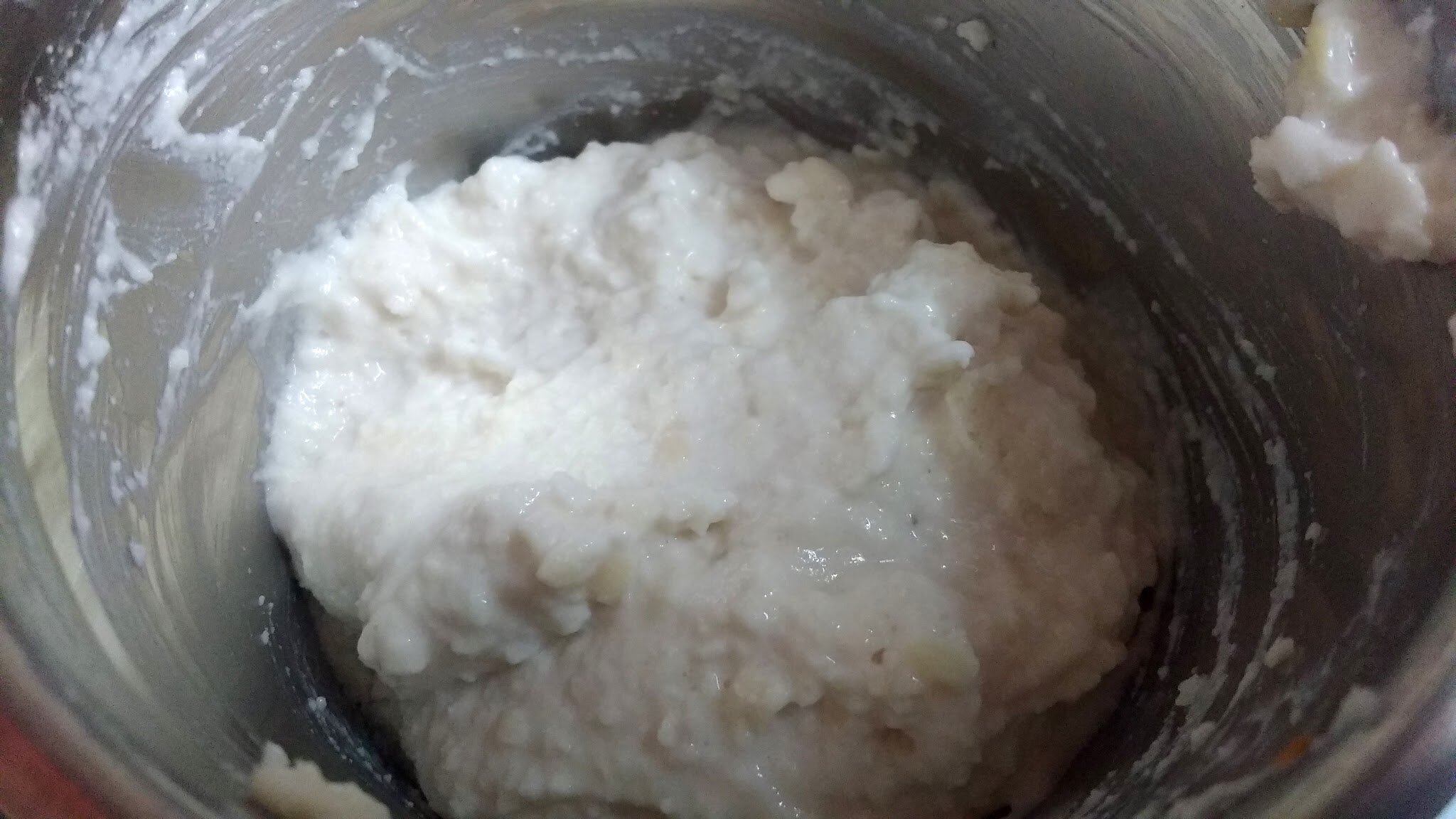 Step 3:
Add Urad dal paste, cooking oil, salt & all the spices to flour. Mix well.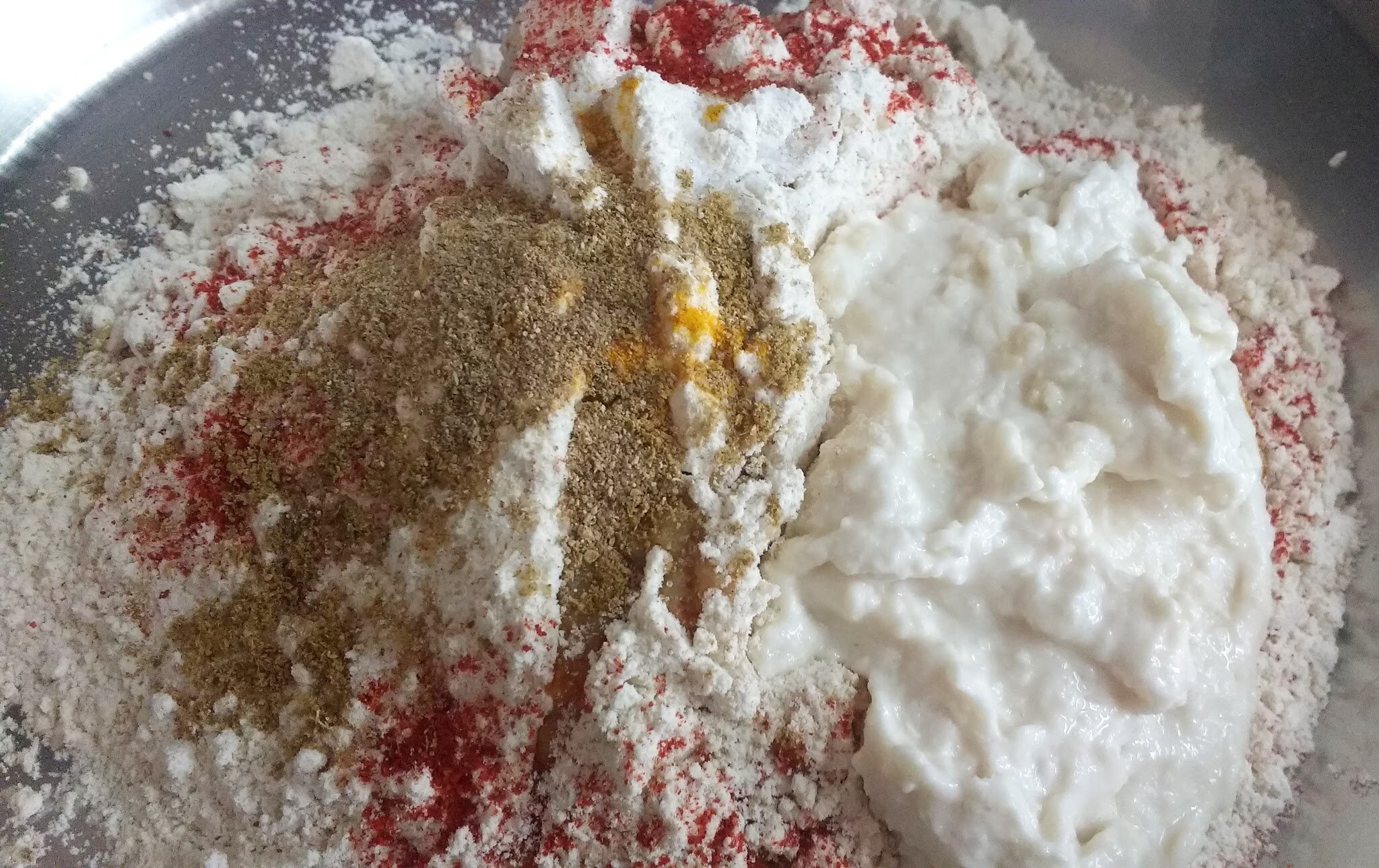 Once all the ingredients are mixed, start adding water and knead it into soft dough.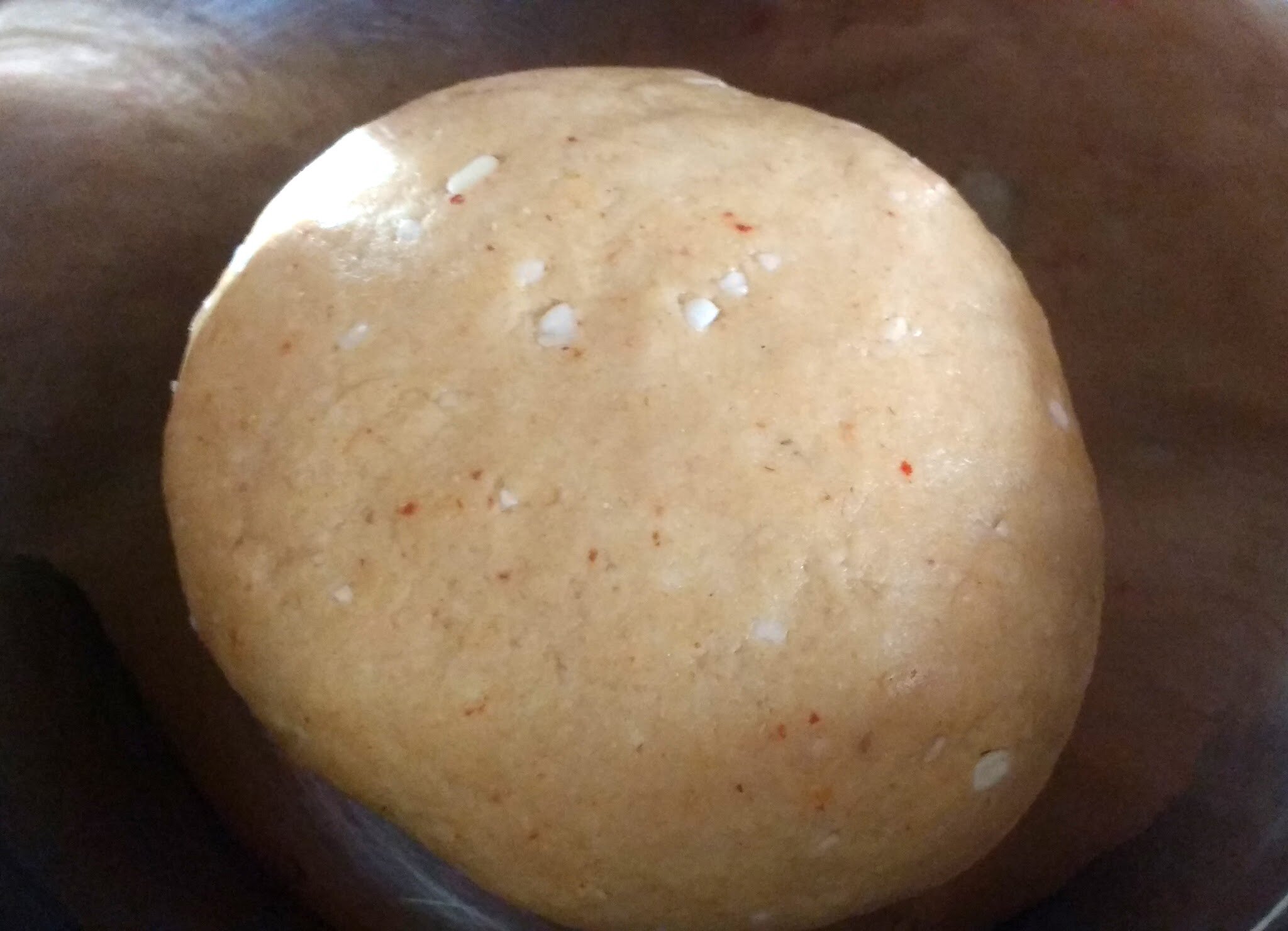 Step 4:
Take medium sized ball, roll it into dry flour. Flatten it using hand or rolling pin into 2″ inches diameter circle. Apply some ghee or oil in the centre and bring all its edges together as shown below:

Step 5:
Again roll it into dry flour and flatten it into 5″ diameter circle with the help of rolling pin.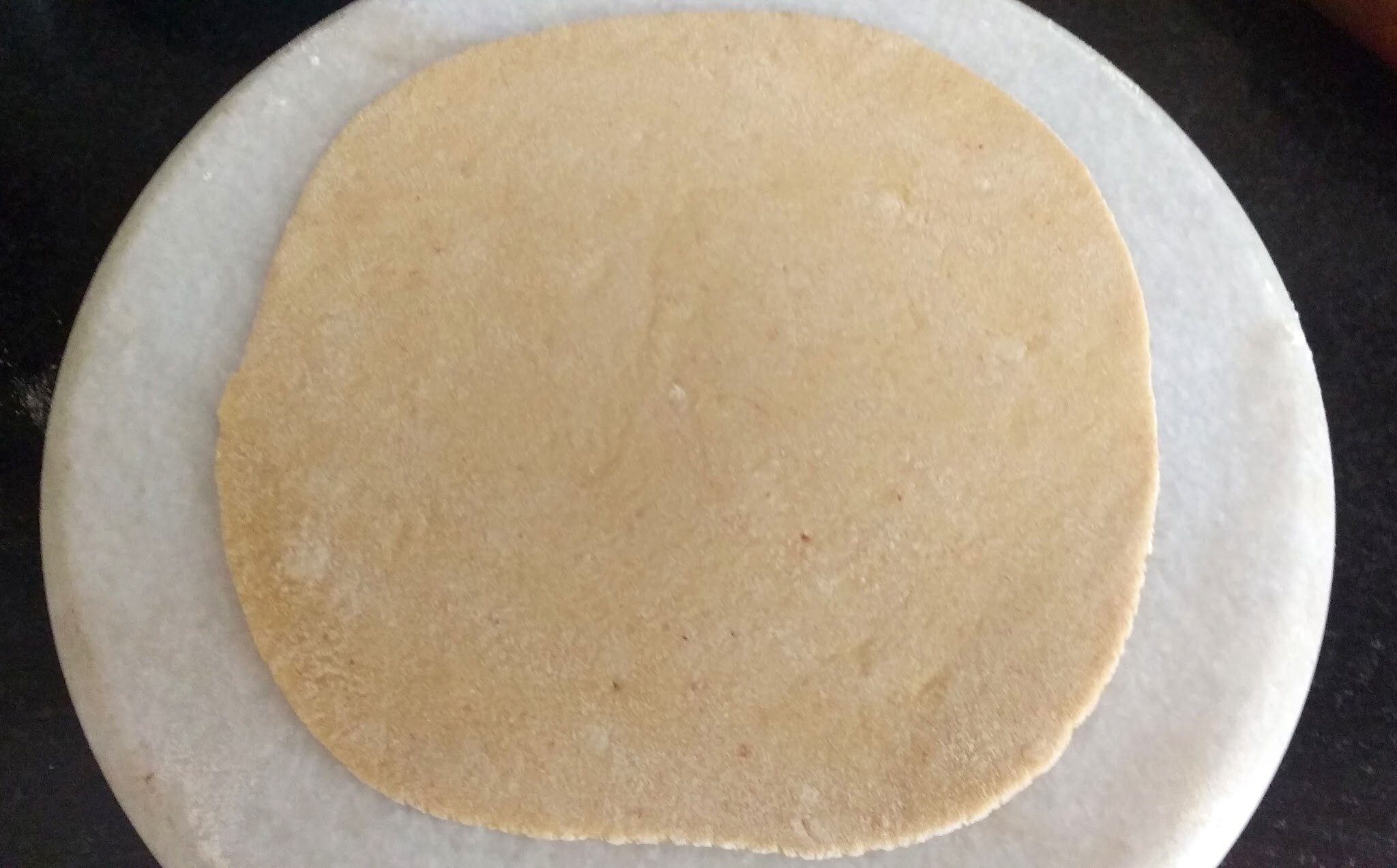 Step 6:
Heat any heavy bottomed tawa or pan. Transfer the paratha on tawa such that the side which was up while rolling is upwards on tawa also. Dry roast the paratha from both sides till you get nice golden spots.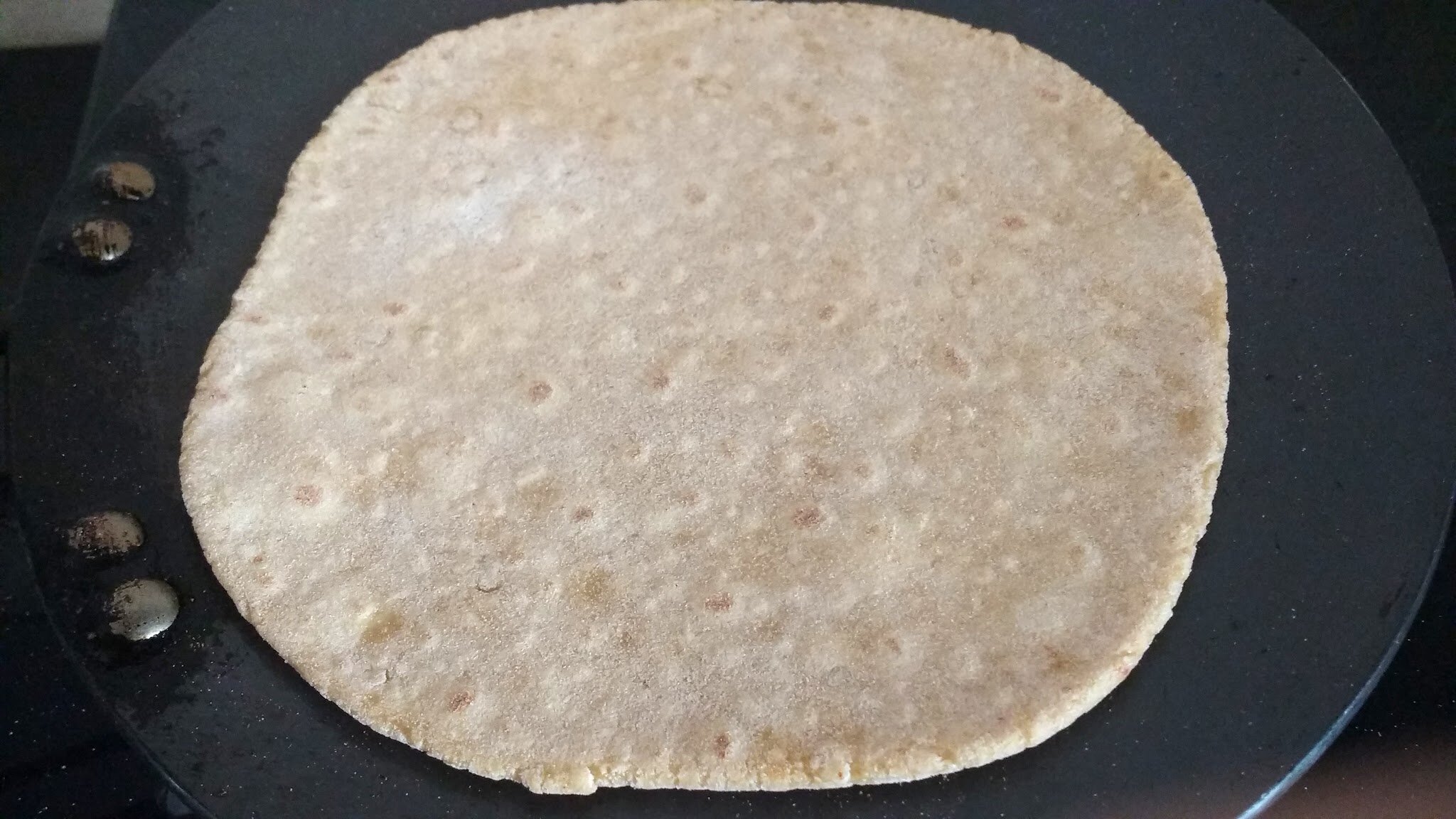 Step 7:
Spread some oil or ghee on one side of paratha. Flip it. Press it gently on its sides using spatula. Spread some oil and repeat the process for other side as well.

Enjoy hot delicious Urad Dal Paratha with pickle of your choice or  Khatta Meetha Kaddu(Pumpkin)!!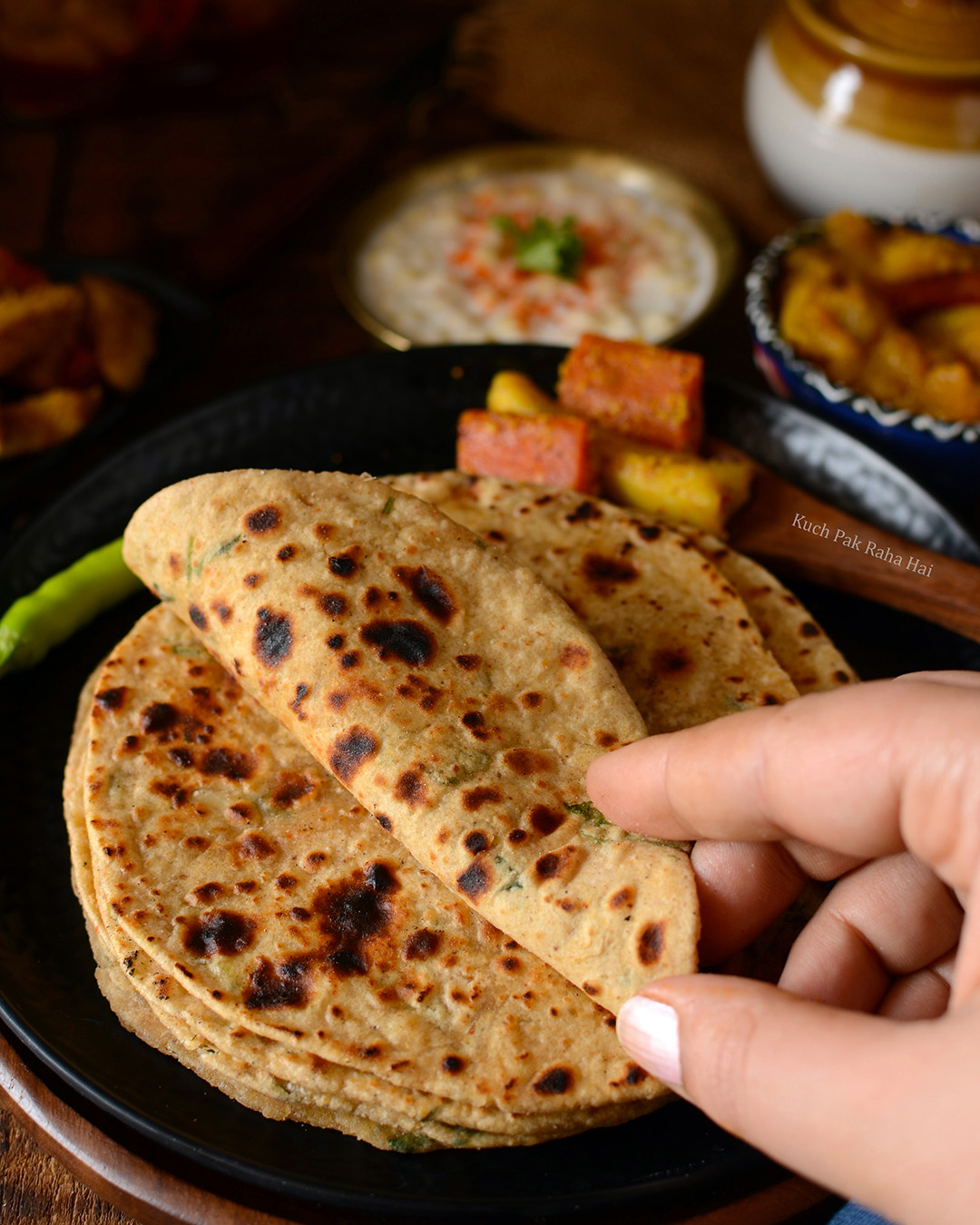 How to store these parathas so that they remain soft for longer?
In a casserole or any heat proof container, spread a kitchen cloth or tissue such that it has extra ends on sides. Once the parathas are cooked, transfer them in it. In the end when you are done making all the parathas wrap the parathas with the kitchen cloth and close the casserole.
Happy Cooking!! 🙂
If you try this recipe then don't forget to tag us on Facebook or Instagram or use the hashtag #kuchpakrahahai.
Pin it here: https://pin.it/3qCkLvj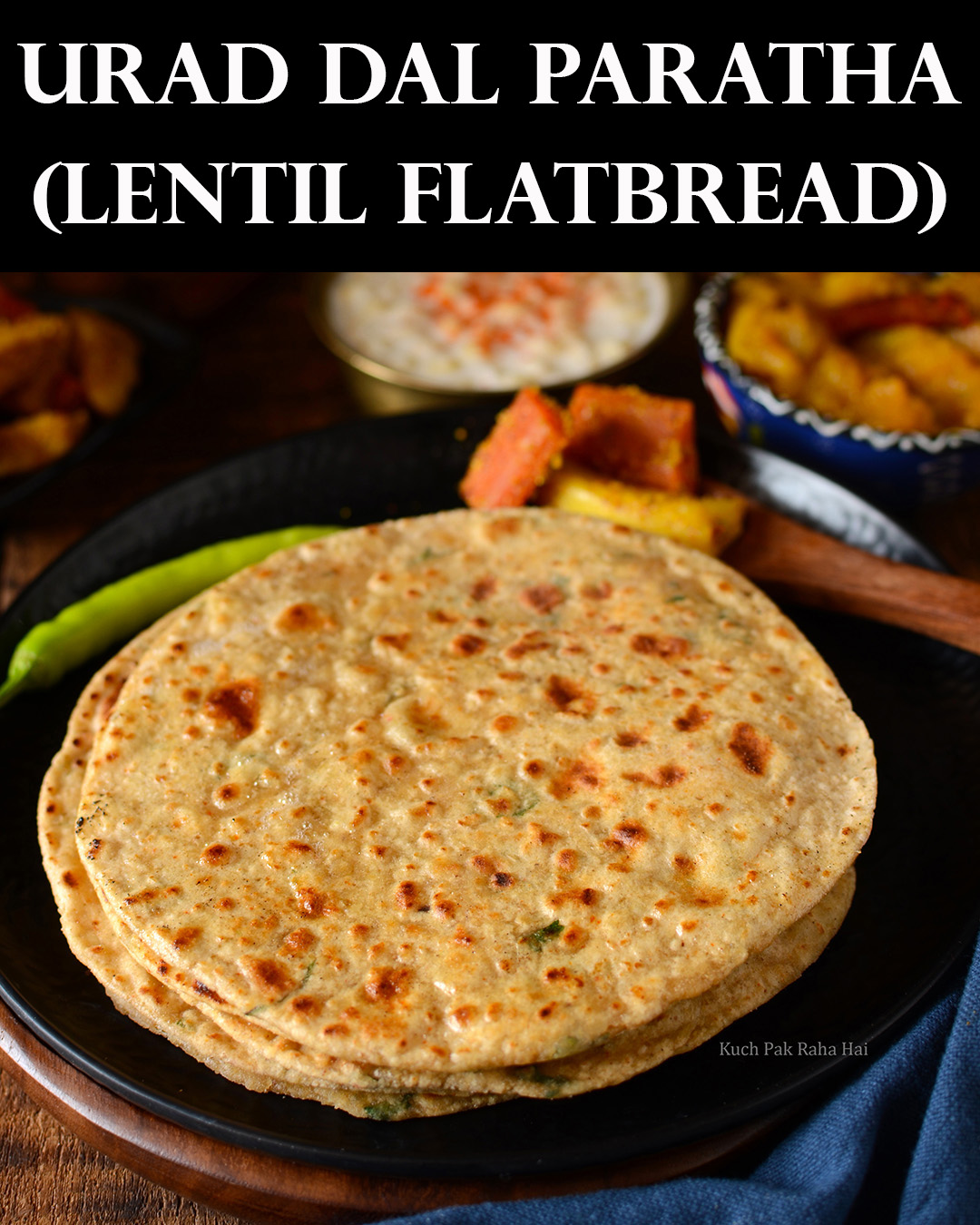 More Dal (Lentil) recipes you might like:
Let's stay connected