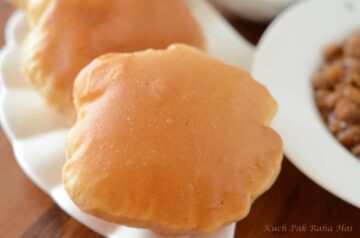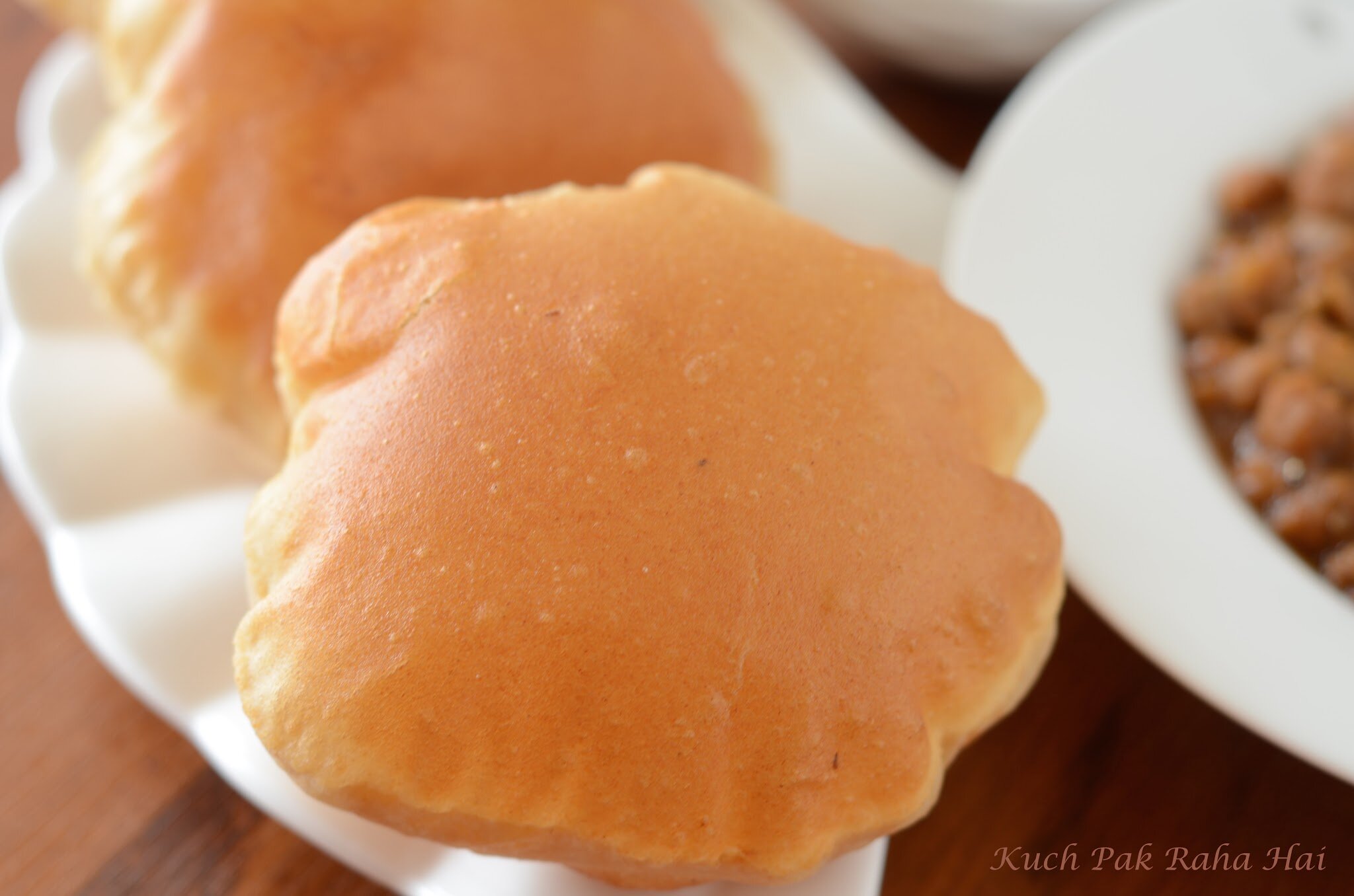 Poori is a deep fried puffed up Indian bread made using whole wheat flour. It is quite a popular recipe in North Indian and is if often paired with Potatoes in tomato gravy, Khatta meetha Kaddu or Masala Chhole. These delicious pooris can be eaten in breakfast, lunch or even as a snack.
There are many varities of poori like Plain poori, Ajwain poori, Bedmi poori and Masala poori. In this post we will be sharing Ajwain poori recipe where the dough is seasoned with salt & Ajwain seeds (carom). It is a great option for giving in kids tiffin to. As a kid I remember relishing these pooris with mildly spiced Jeera Aloo and mango pickle during our lunch break. It is a vegan recipe which makes it suitable for people who are lactose intolerant.
Making poori is a little tricky as you need to have correct balance of dough along with proper frying technique. The dough should not be too hard or too soft. The frying temperature of oil also matters as too oil will cause immediate darkening of pooris and not so hot oil will not let them fluff up. I am sure if you follow the exact proportions you will get the perfect dough. Also by my personal experience the frying should be done on medium temperature. Before you start frying just drop a small ball of dough and if it comes up your oil is ready else let it heat some more..
As someone has rightly said "Practice makes a man perfect". With a little practice and patience I am sure you will be able to make perfect fluffy pooris. Hope you will like this recipe. Please feel free to drop in your suggestions or comments below 🙂
List Of Ingredients:
Wheat Flour-3 cups
Semolina- 2 tbsp
Salt-1 tsp (or to taste)
Ajwain (Carom seeds)- 1 tsp
Cooking Oil – 2 tbsp
Cooking Oil-For Frying
Water-For Preparing the Dough
Steps To Prepare:

Step1:
Take wheat flour, semolina, salt, Ajwain(carom seeds), oil in a mixing bowl.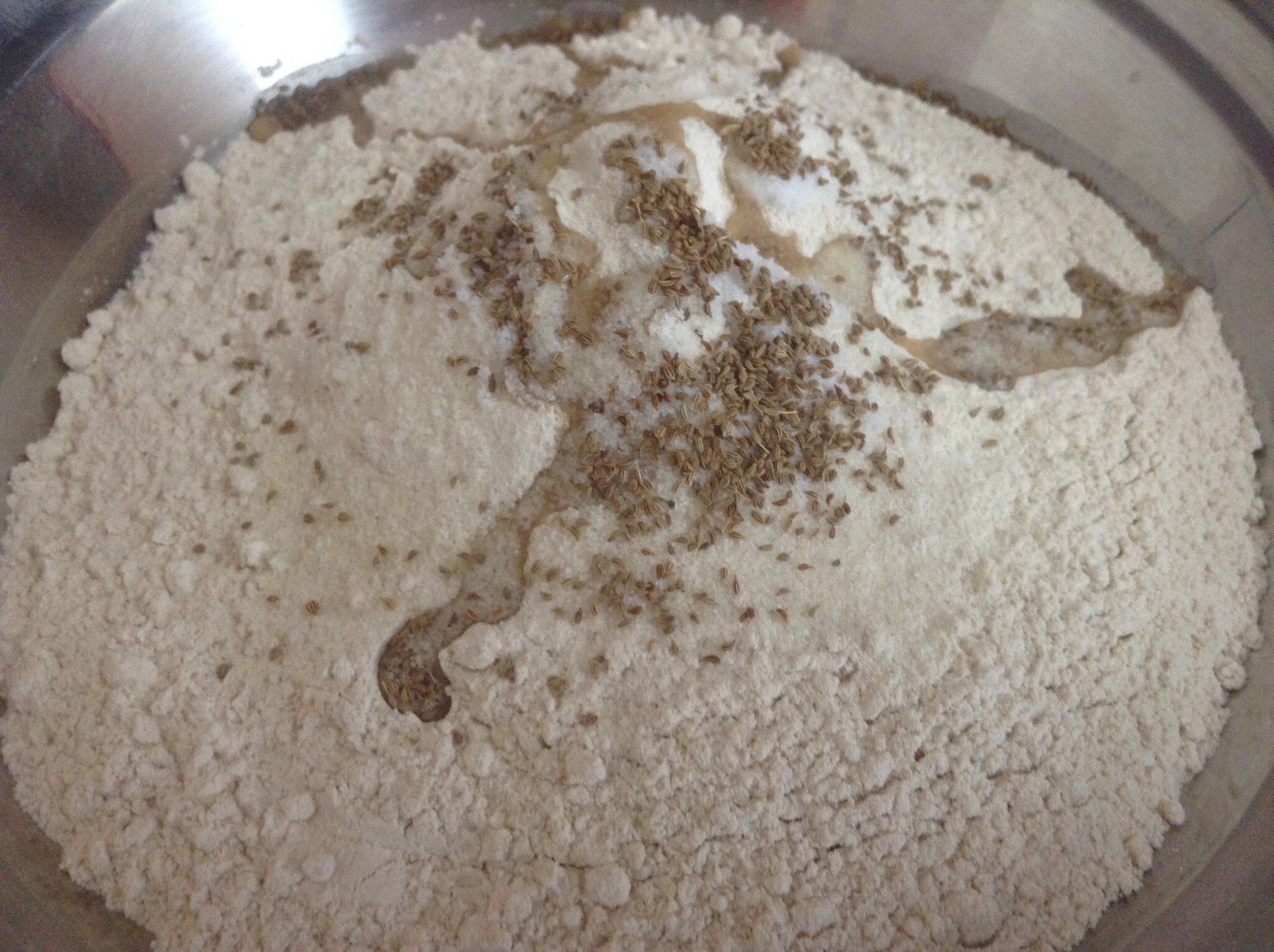 Mix well. Start kneading the dough by gradually adding water to it. The dough should not be very soft or very tight. At the end take some oil in your hands and rub it on the dough. (Before moving to the next step, in the mean time keep the frying utensil in which pooris are to be fried on medium flame so that oil is heated by the time we come to the frying step)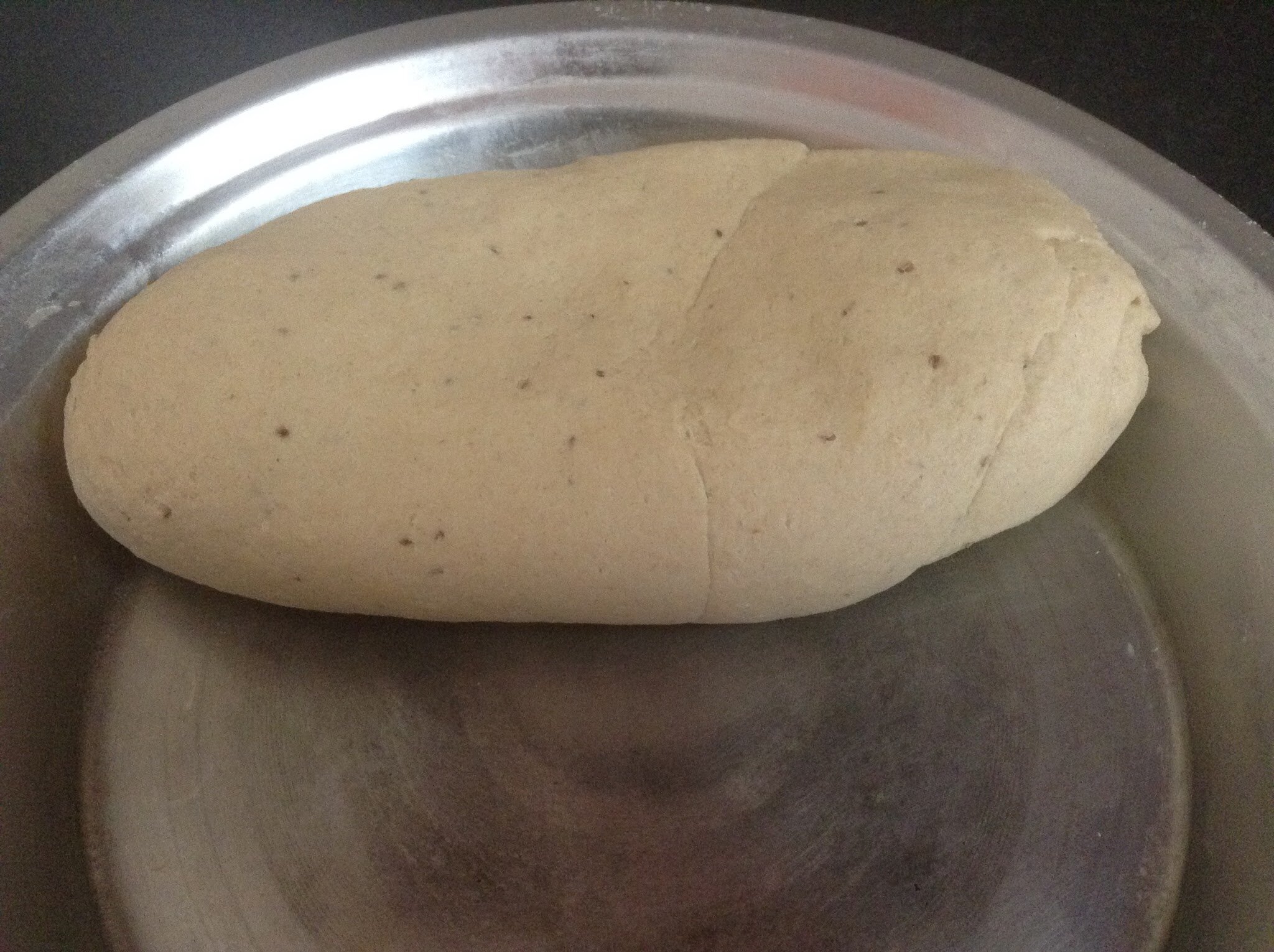 Step2:
Rub some oil in your hands and make small flat balls out of it.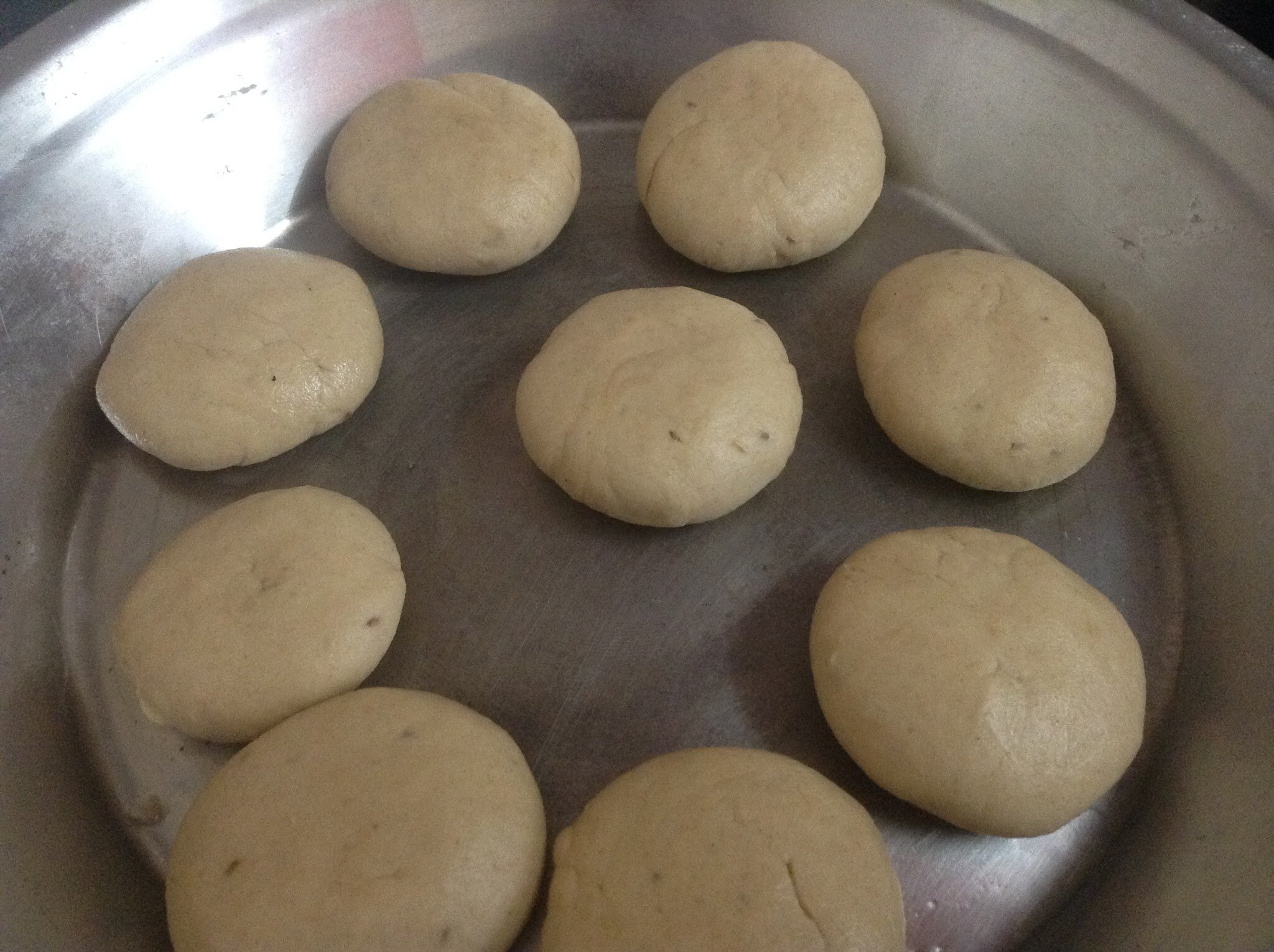 Step3:
Apply some oil on the rolling board.Take one ball at a time and start rolling them on the rolling board. Be gentle with the strokes.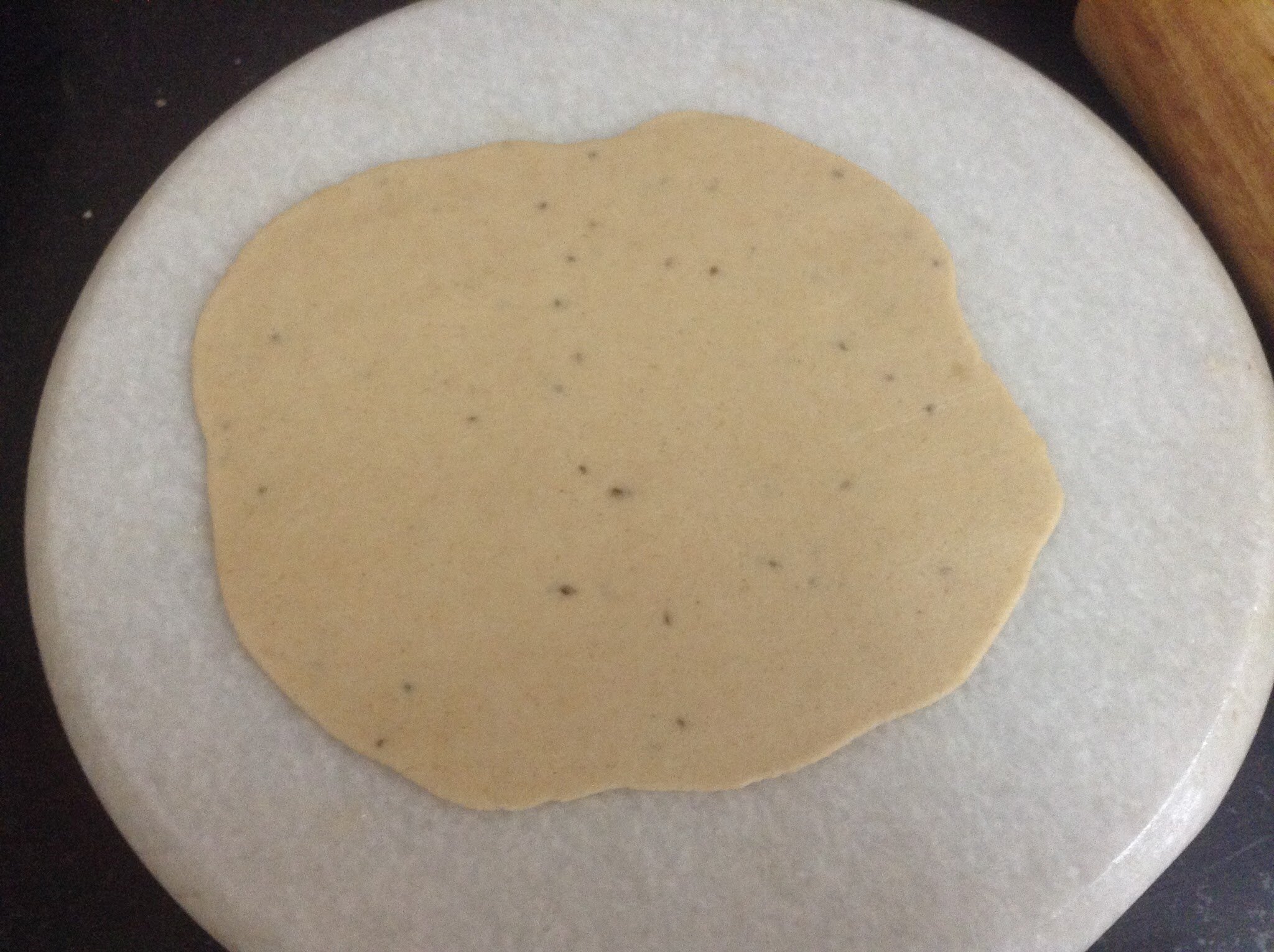 Step4:
In the frying pan, the oil must have heated by now. The poori which you have rolled as seen in the picture above, lift it up gently and leave it in the frying pan. Slightly press it downwards with the sieving spatula. It will start rising. Turn it in other direction. Take the poori out when it has turned golden brown from both sides. Repeat the step with other flat balls.
Hot-Crunchy-Tasty Pooris are ready!!!
I have made
Chana Masala
and Boondi Ka Raita also, so I am going to eat these pooris with them 🙂