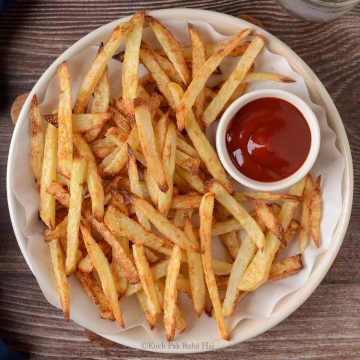 Crispy, crunchy homemade air fryer french fries make for a perfect snack or appetiser any time. They are super easy to make, require just 3 ingredients & made using so little oil than regular fries.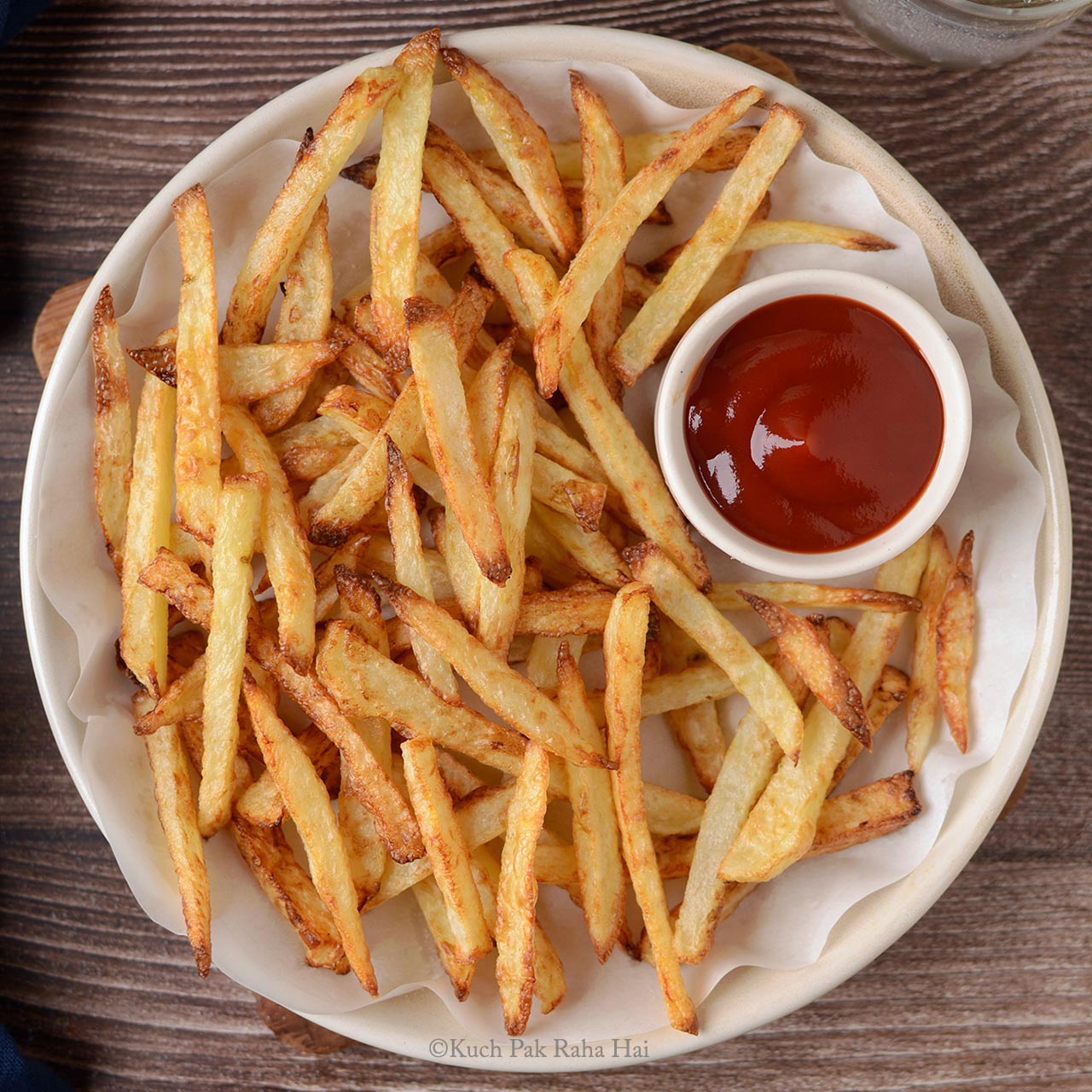 These crisp air fried french fries pair best with ketchup but can also be enjoyed with mayonnaise, honey mustard or served as sides with burger & grilled sandwiches. The air fryer fries recipe shared here is:
Vegetarian / Vegan
Low Oil
Easy & quick to make
Requires just 3 ingredients
(You can make these fries from scratch with fresh potatoes or air fry store bought frozen ones. Both topics are covered in the post)
Air fryer French Fries Ingredients:
Potatoes: One of the most obvious ingredient, yet I have to mention it here as the type of potatoes you are using can totally effect the texture of french fries. Russet Potatoes or Idaho Potatoes are best for making french fries as they have less moisture (giving crunchy fries). Yukon gold potatoes can also be used.
Oil: Yes we are using air fryer but that does not mean we have to skip oil altogether. Oil imparts colour & taste to the fries as otherwise the potatoes can taste dry or dehydrated instead of crunchy. Use any good quality oil like olive oil, avocado oil or canola oil etc.
Seasoning: I personally like classic salted french fries but they can also be seasoned with spices like peri peri, cayenne pepper, black pepper, garlic powder, onion powder or rosemary etc.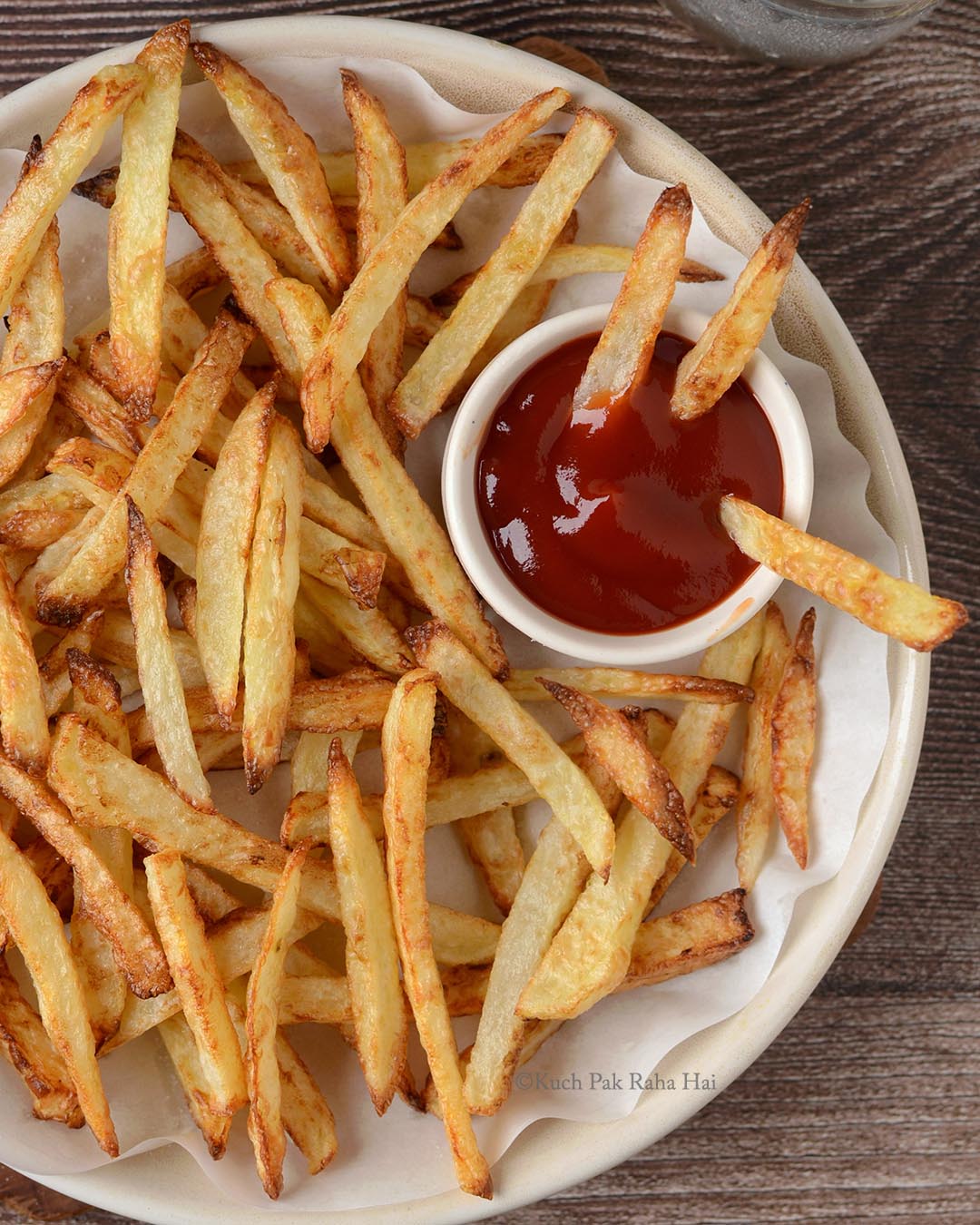 Are air fryer french fries healthy?
In comparison to regular fries these air fried french fries are healthier as they are not deep fried plus you can control the amount of salt going in them. The fries we get in most fast food chains are often fried in unhealthy fats whereas you can use good quality fat while making fries at home.
How to make french fries in air fryer?
The process of making french fries in air fryer requires few simple steps- chopping potatoes, soaking in cold water, drying on kitchen towel, tossing in olive oil & finally air frying.
Soaking the french fries before air frying for 15-20 minutes may seem like an extra effort but it is worth the time as this step makes sure that all extra starch is removed from potatoes. Also, drying the fries completely is important as otherwise steam can get created in air fryer leading to soggy french fries.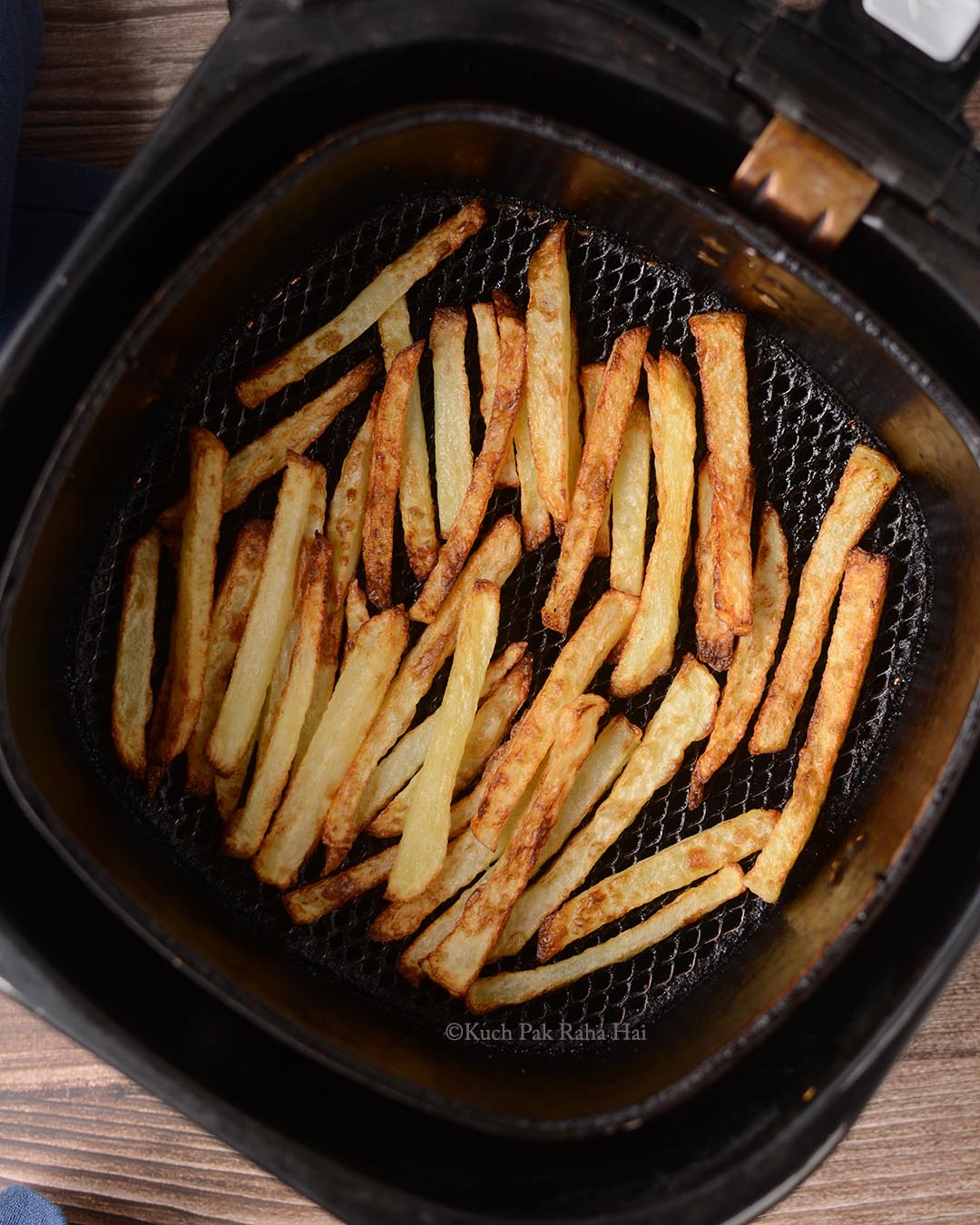 Frozen French Fries in air fryer:
These days different brands like Mccain, ITC, Amul etc have launched variety of frozen french fries in market (like chilli garlic, masala, curly or shoestring). If you don't want to make fries from scratch or short on time, these frozen fries are also a good option.
Preheat the air fryer & transfer the frozen french fries in air fryer basket (I never thaw them before air frying). Air fry them at 180°C for 10-13 minutes till they are crispy. Shake the basket after half time and spray some oil.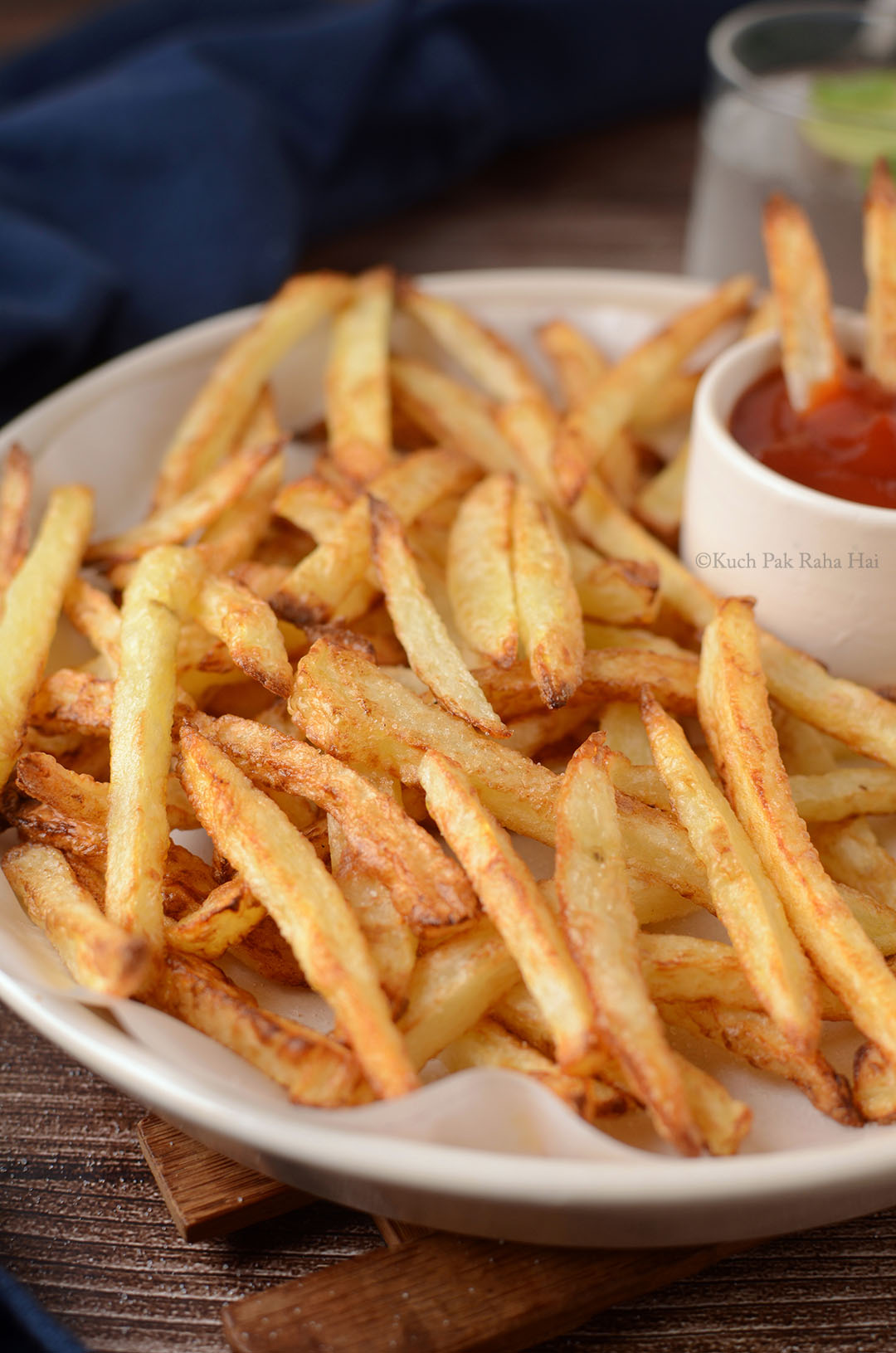 More air fryer snack recipes:
Ingredients:
Russet Potatoes (large)- 2
Olive Oil- 1 tbsp
Salt – 1/2 tsp
Cold Water – 3 to 4 cups
Directions:
Step 1:
Peel the potatoes. First slice them vertically and then cut each slice into 1/4″ inch thick fries. (You can leave the peel on also, just make sure to scrub the potatoes well).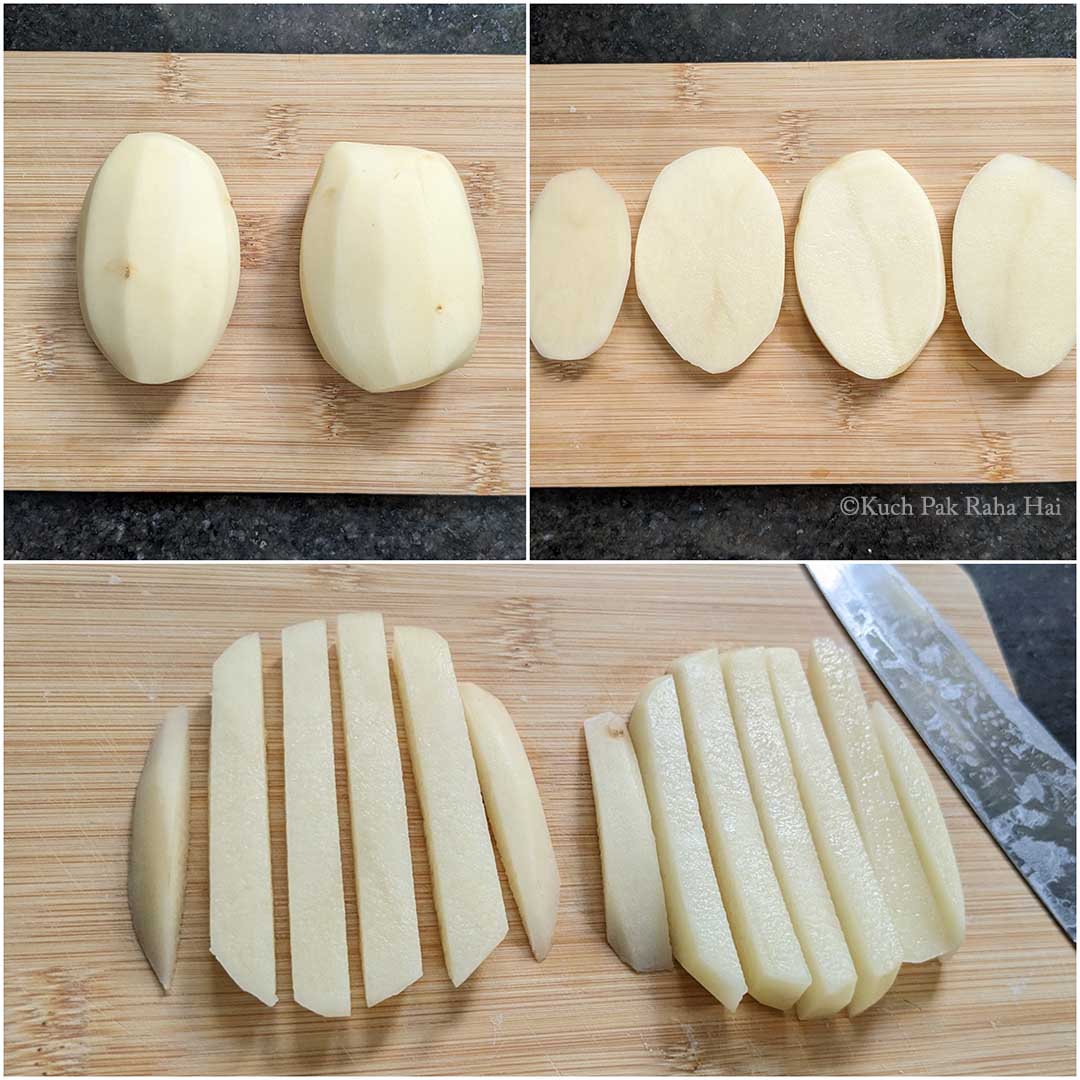 Step 2:
Soak french fries in cold water for at least 20-30 minutes to get rid of extra starch.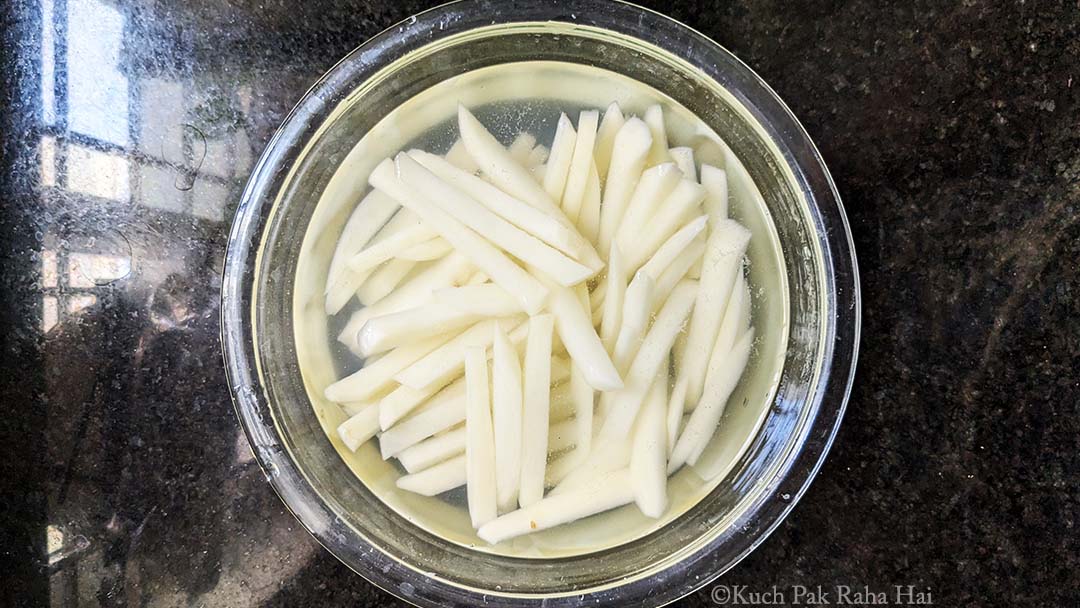 Step 3:
Drain all the water from fries & spread them on a kitchen cloth. Pat dry completely by dabbing with kitchen cloth or tissue. While the potatoes are drying up, set the air fryer for preheating at 180°C (356°F) temperature for 5 min.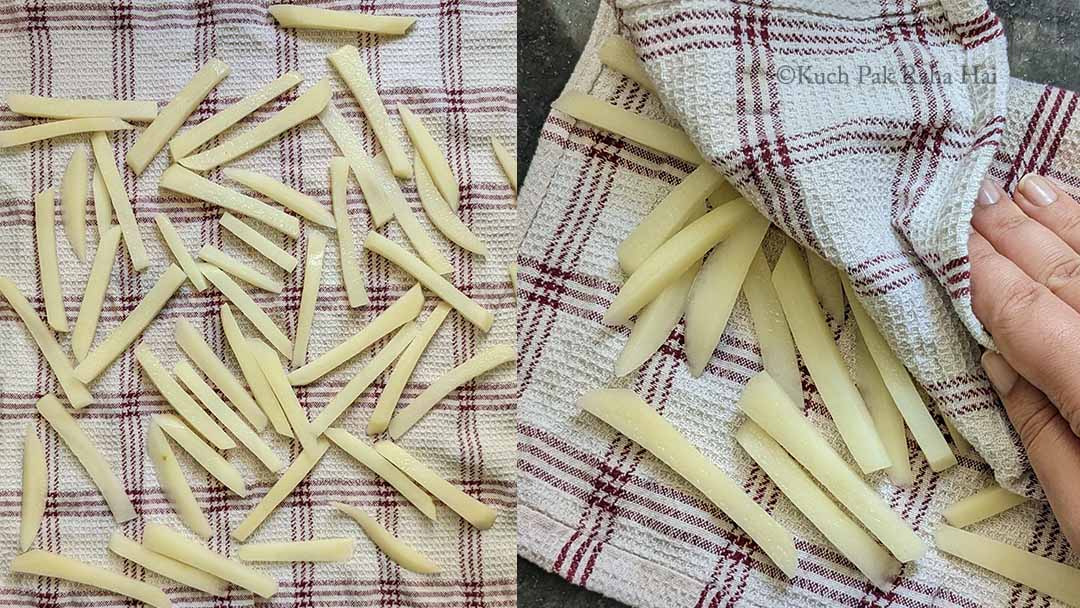 Step 4:
Add these potato fries in a big bowl along with oil (also add garlic powder if using). Toss well so that all fries are coated.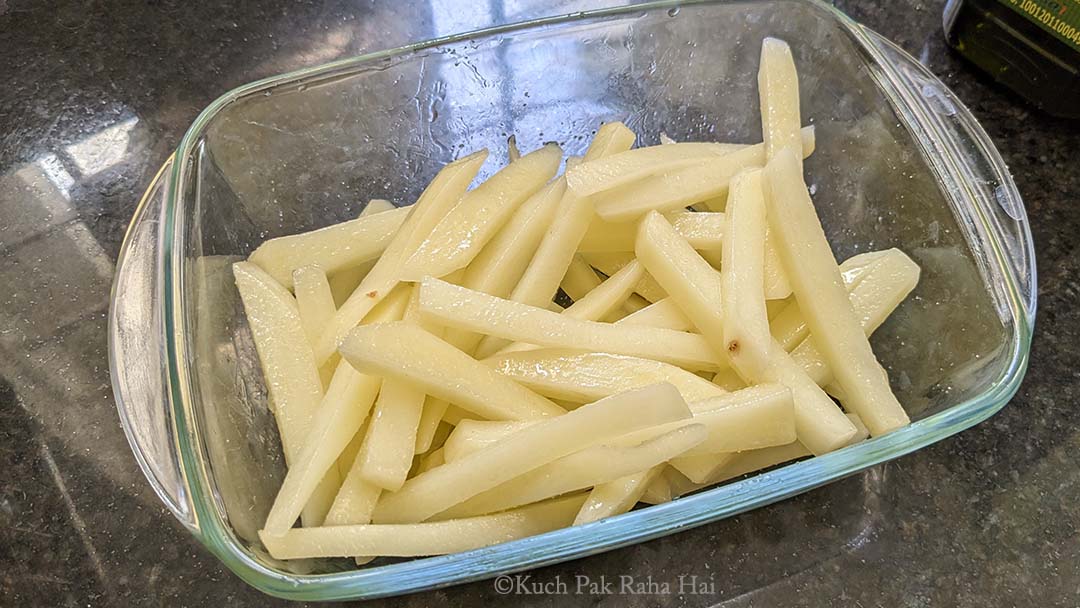 Step 5:
Transfer them in air fryer basket while spreading the fries in single layer. Airfry them at 180°C (356°F) for 13-15 minutes till they are golden & crispy. After 10 minutes sprinkle salt on the fries and shake the basket. You may have to adjust cooking time little bit depending on air fryer model.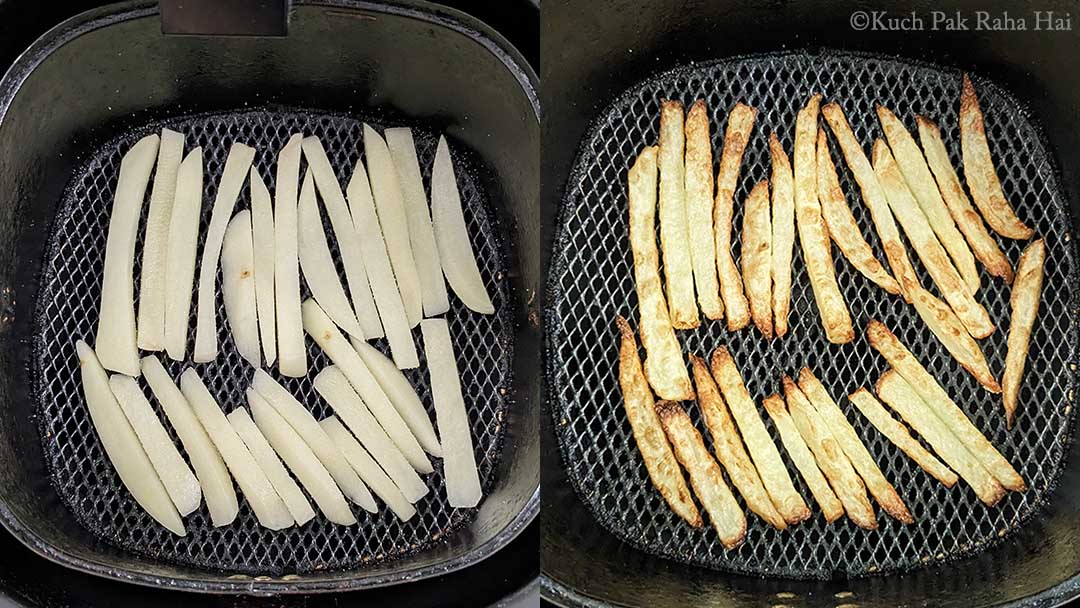 Sprinkle little bit of salt more (if required) and serve them hot with ketchup or any dip.
Can I make these air fried french fries in advance?
These fries may not remain crunchy on cooling completely. If you are planning to make them for party or games night, then air fry these fries in advance for just 10 minutes & let them cool. Just before serving, reheat them by air frying again for 3-4 minutes until they are crunchy & serve immediately.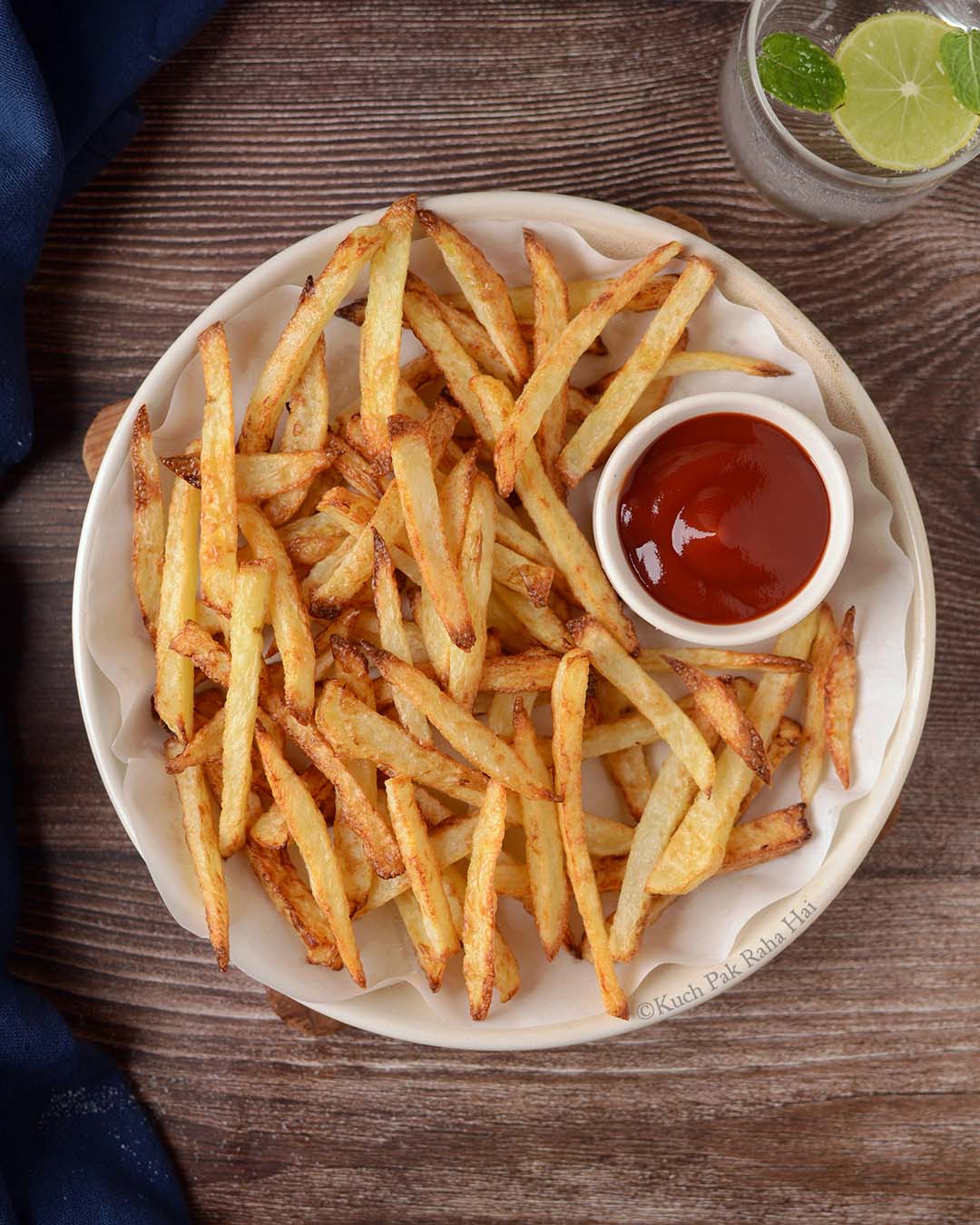 Tips:
1. Don't overcrowd the air fryer basket with too many french fries at one once. Spread them in single layer and cook in batches if making large quantities.
2. Here I have peeled the potatoes but for crispier texture you can leave the peels on. Juts scrub the potatoes well to get rid of any dirt first.
3. While chopping the potato fries, try to cut keeping their size similar as much as possible so that all are done at the same time.
Pin for later: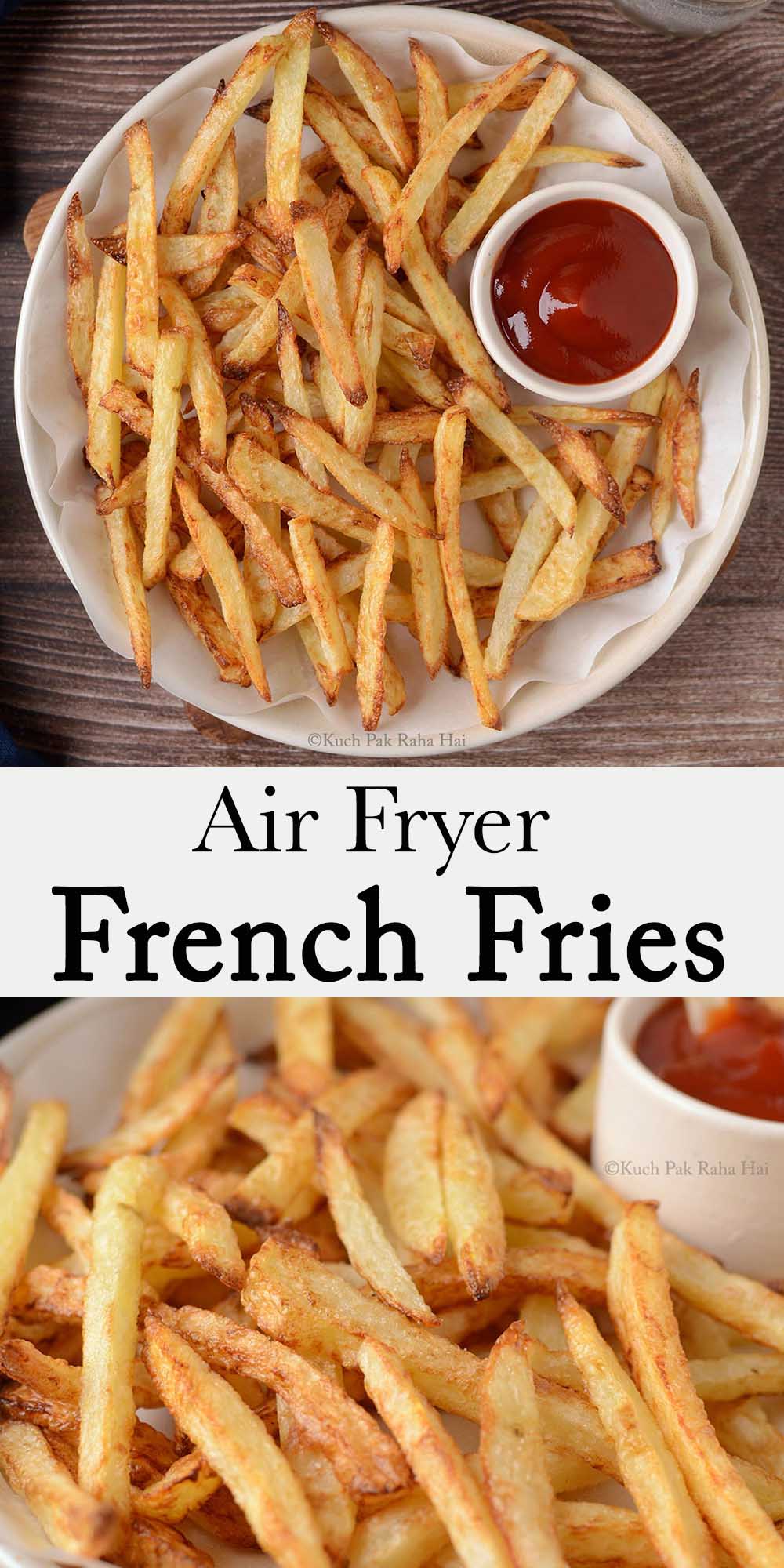 If you try this easy homemade french fries recipe in air fryer & share pics on social media, then don't forget to tag on Facebook, Instagram or use #kuchpakrahahai.
Let's stay connected
Facebook | Instagram | Pinterest| Youtube