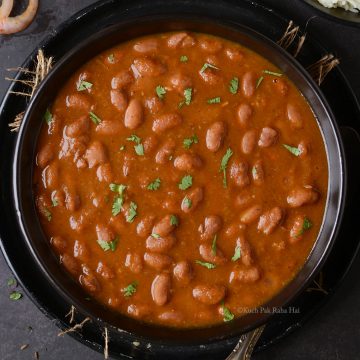 Rajma Masala is a delicious flavoursome North Indian curry made by cooking kidney beans with a lip smacking gravy of tomatoes, onion, ginger & spices. The rajma recipe shared here is one pot, vegan, vegetarian and is a great option for lunch or dinner.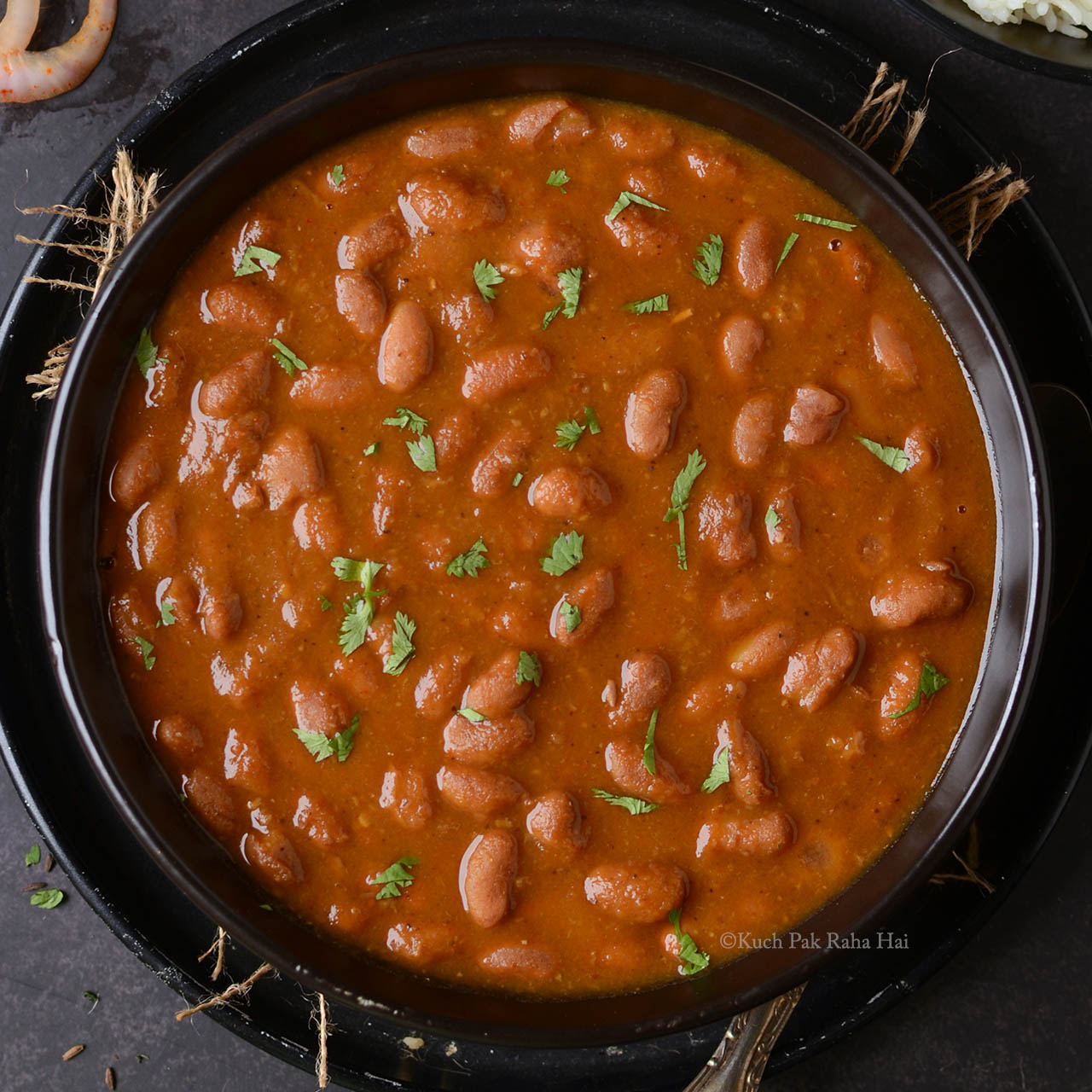 Rajma can be enjoyed with breads like naan, roti, chapati, steamed plain rice or cumin rice (jeera chawal). I personally like the combination of rajma chawal (rice) the best as it makes for a filling, wholesome & yummy meal any day. If you are looking to make some side dish to accompany rajma, then do try aloo gobi or jeera aloo recipe.
Rajma is known by different names like rajmah, razma or kidney beans (in english). They are known to be rich source of fibre, protein, vitamin & minerals like iron, folate, potassium, manganese etc. A 100 grams serving of boiled rajma or kidney beans has roughly 127 calories, 8.7 grams protein & less than 1 gram fat.
The rajma recipe shared here is :
Dairy free / Nut free
One pot recipe
Gluten free
Nutritious & high in protein
Rajma Ingredients:
Rajma (Kidney Beans): There are different varieties of rajma that can be used in making this curry. You can choose anyone as per the availability, however you might have to adjust the cooking time little bit as each variant takes slightly different time to cook.
Lal Rajma- Lal rajma or red kidney beans is known for its bright glossy red colour. It takes slightly longer to cook & also needs to be soaked longer.
Chitra Rajma – Chitra rajma is light coloured kidney beans variety with reddish speckles or dots on it. It cooks faster & its texture is more creamier than red kidney beans after cooking. I have used chitra rajma to make rajma masala.
Jammu Rajma- Jammu rajma looks similar to red kidney beans but it is smaller in size.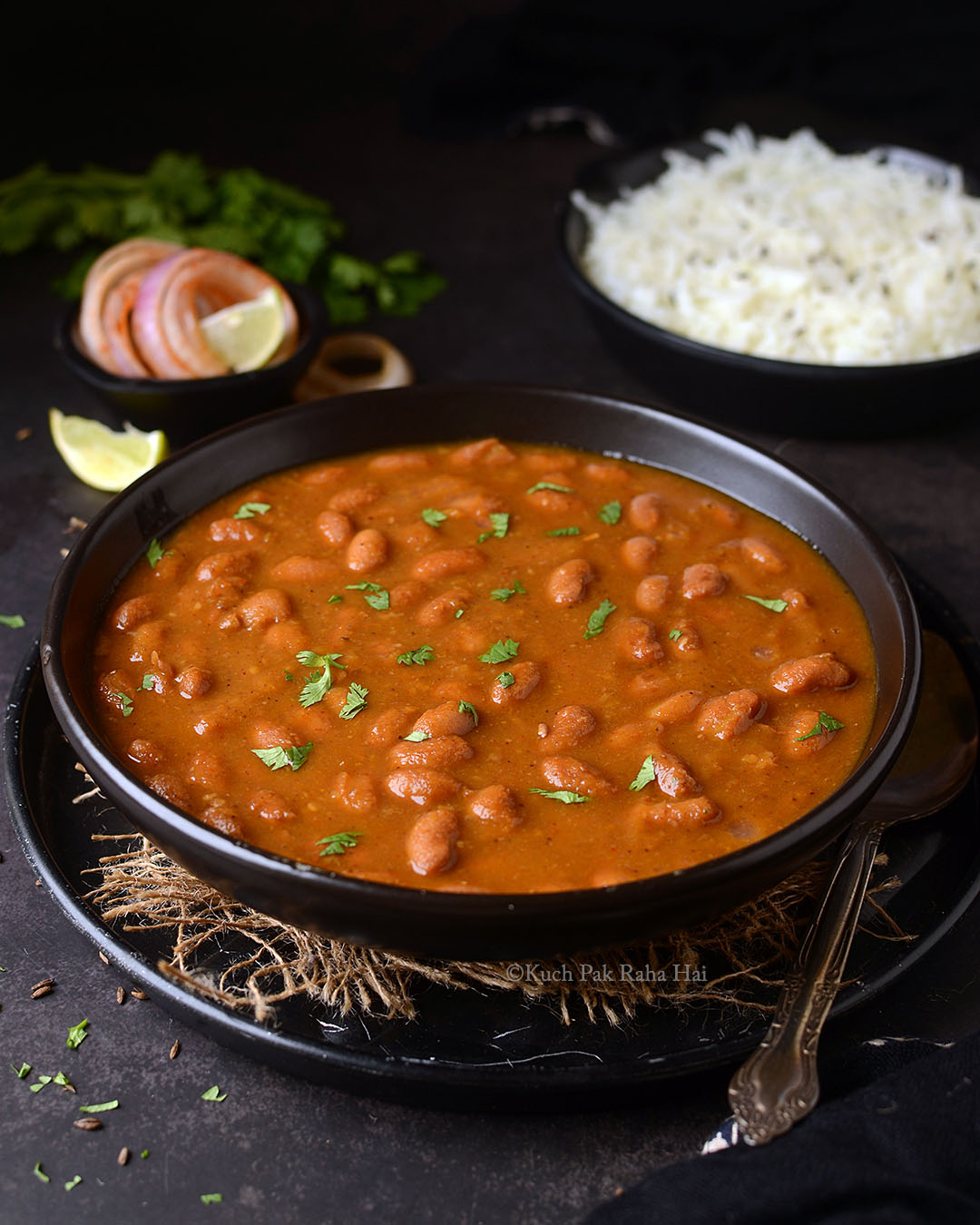 Spices: Indian curry recipes are incomplete without the wide array of aromatic spices like coriander powder, garam masala, red chilli powder etc. If these spices are not readily available near you, you can use premix Rajma Masala Powder which is a blend of spices formulated especially to make rajma curry. You can buy it online or in any Indian grocery store.
Vegetables: Onion, tomato, ginger, garlic, green chillies along with Indian spices are used in making the bhuna masala (spice mixture). They add flavour to the gravy & make it thicker.
Oil / Ghee: Rajma is traditionally cooked in ghee (clarified butter) in most Indian homes. However if you want to keep the recipe dairy free or vegan, use any cooking oil like olive, canola or avocado oil etc.
Each household has its own rajma recipe with slight variations. As I am from a Jain family, I have always seen my mom making rajma without onion & garlic. She uses jammu rajma (small red kidney beans) which gives the curry maroon-ish colour.
At my husband's place (who is a punjabi), rajma masala is made with chitra rajma (light coloured kidney bean) along with onion, garlic in gravy. In this post, I have shared Punjabi style rajma recipe which I have learnt after marriage.
How to make rajma masala?
There are three ways to make rajma masala recipe:
Method I: In first method, soaked rajma beans is boiled in a pressure cooker (or instant pot) and masala mixture is cooked in a separate pan. Once the rajma is boiled, it is added to the cooked masala and simmered.
Method II: The second method is more of a one pot method (which we are going to follow in this post). We will first roast masala mixture in pressure cooker, add soaked rajma to it and pressure cook till rajma is soft and tender.
Method III: If you want to make rajma recipe with canned kidney beans (or pinto beans), then simply drain & rinse them once. Prepare the masala and simmer rajma for 15-20 minutes in it to absorb all flavours. Using canned kidney beans is faster method to make rajma as it cuts down the soaking & cooking time.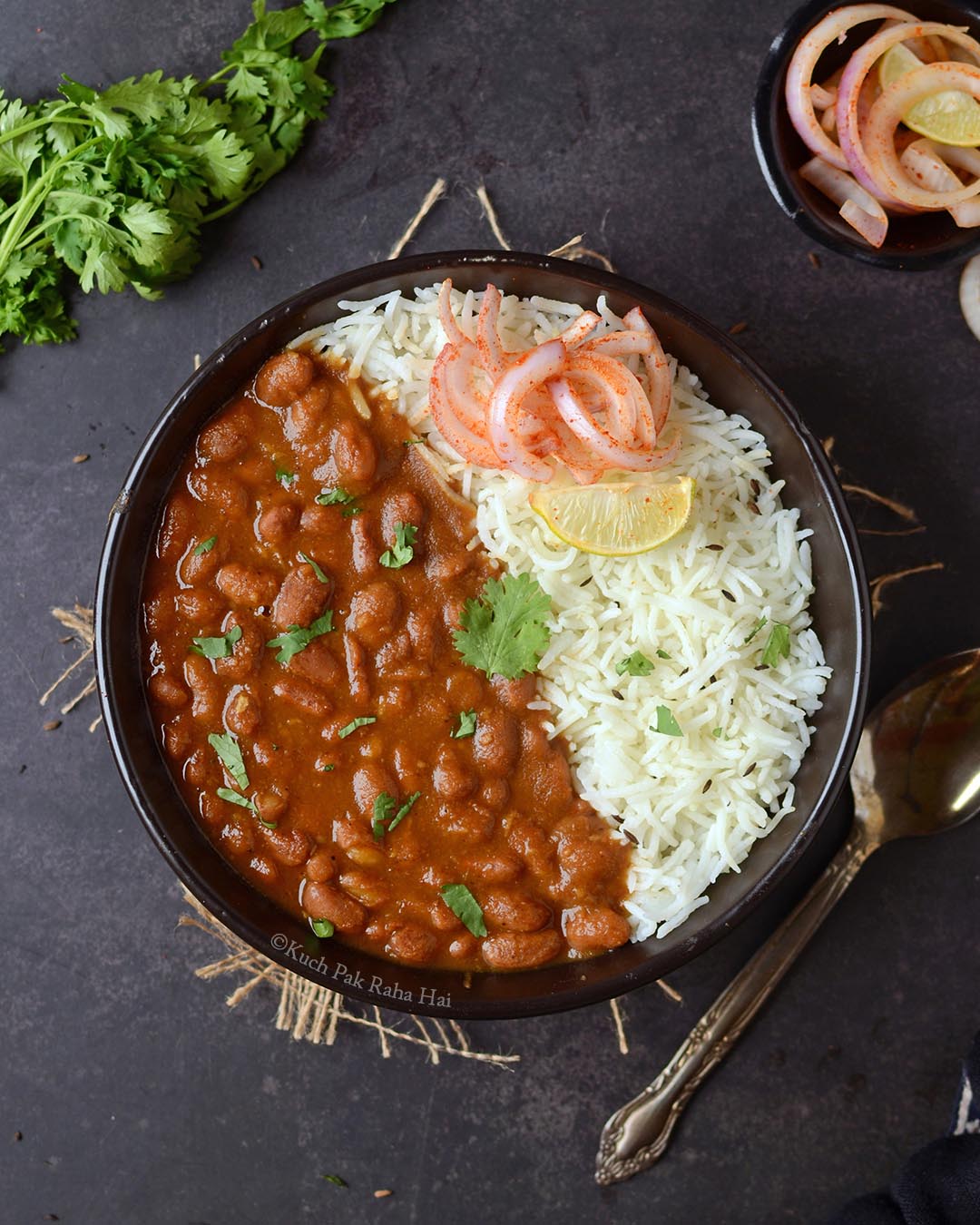 How long to soak rajma before cooking?
Ideally rajma should be soaked for at least 6 to 8 hrs. Red kidney beans need to be soaked a little longer (8 to 10 hours) as they take more time to cook. You can even soak rajma a night before to make for lunch.
Soaking helps in getting rid of phytic acid which otherwise can hinder digestion causing bloating or flatulence. Always discard the water in which rajma was soaked and use fresh water for cooking.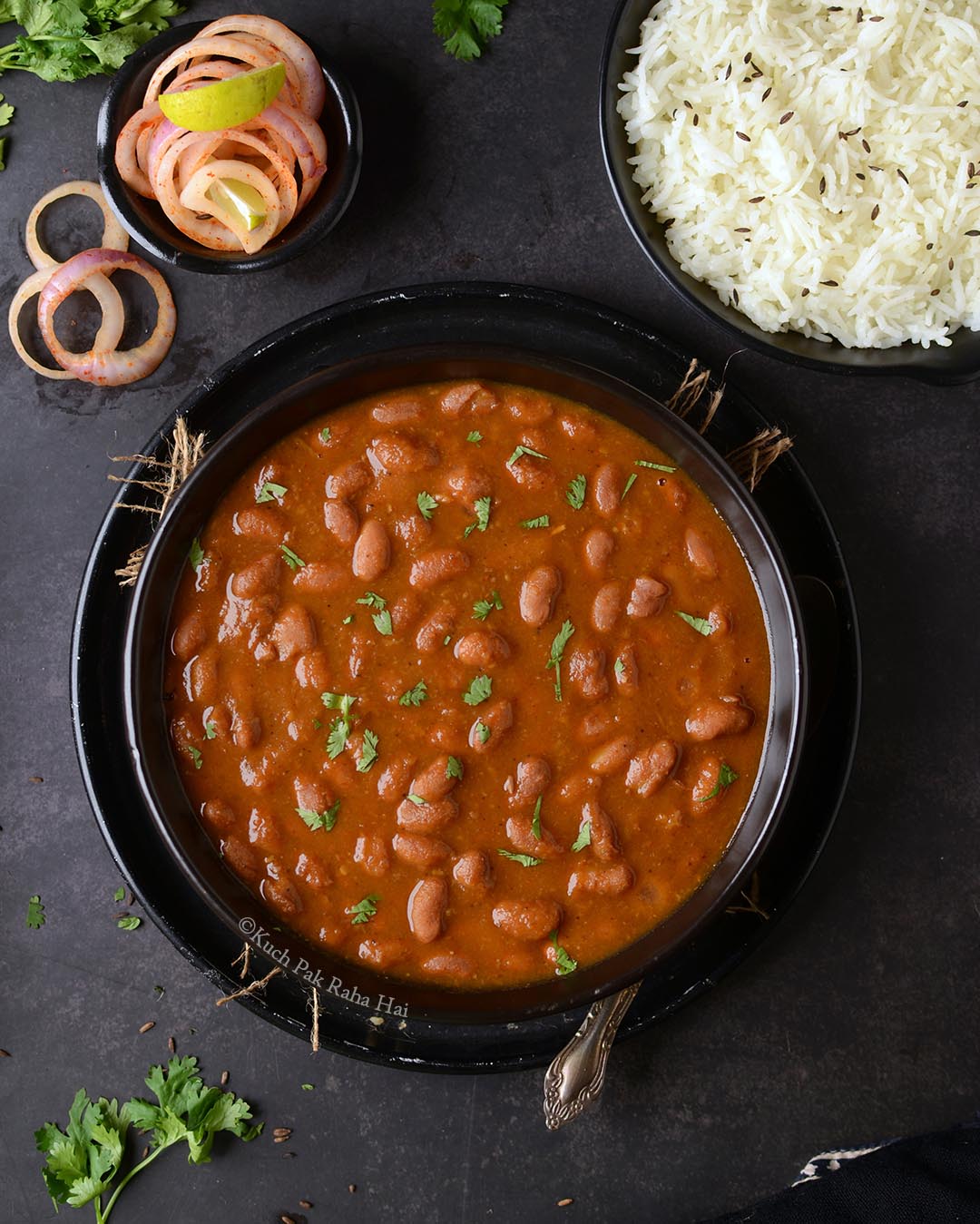 Hope you would like this easy rajma or kidney beans curry recipe. More Indian main course vegetarian recipes:
Ingredients: (Serves 5 to 6)
Rajma (Dry Kidney Beans)- 1 + 1/2 cup
Water – 4 cups
Ghee / Oil- 3 tbsp
Ginger Paste- 2 tsp
Garlic (finely chopped)- 1 + 1/2 tsp
Cumin Powder-1 tsp
Asafoetida (Heeng)- 1/4 tsp (

optional

)
Onion (medium)- 3
Tomatoes (medium)- 5
Green Chillies- 2
Salt- 2 tsp (to taste)
Coriander Powder- 2 tsp
Red Chilli Powder- 3/4 tsp (to taste)
Turmeric Powder- 1/4 tsp
Garam Masala- 1/2 tsp
Amchoor / Lemon Juice- 1 tsp
Chopped Cilantro / Coriander- 2 tbsp (for garnishing)
Notes:
If you want to make jain rajma (no onion no garlic), then skip the onion garlic from the above recipe. Proceed with the rest of the recipe as it is.
This recipe is sufficient for 5 to 6 servings.
If you don't have fresh ginger or garlic, then you can use ginger garlic paste.
Directions:
Step 1:
Rinse the rajma or dry kidney beans 1-2 times to get rid of dirt or dust. Soak them in 4 cups of water for 6-8 hours (or better overnight). You can notice, how after soaking the beans soak water and almost double up in volume. Drain the water & keep them aside.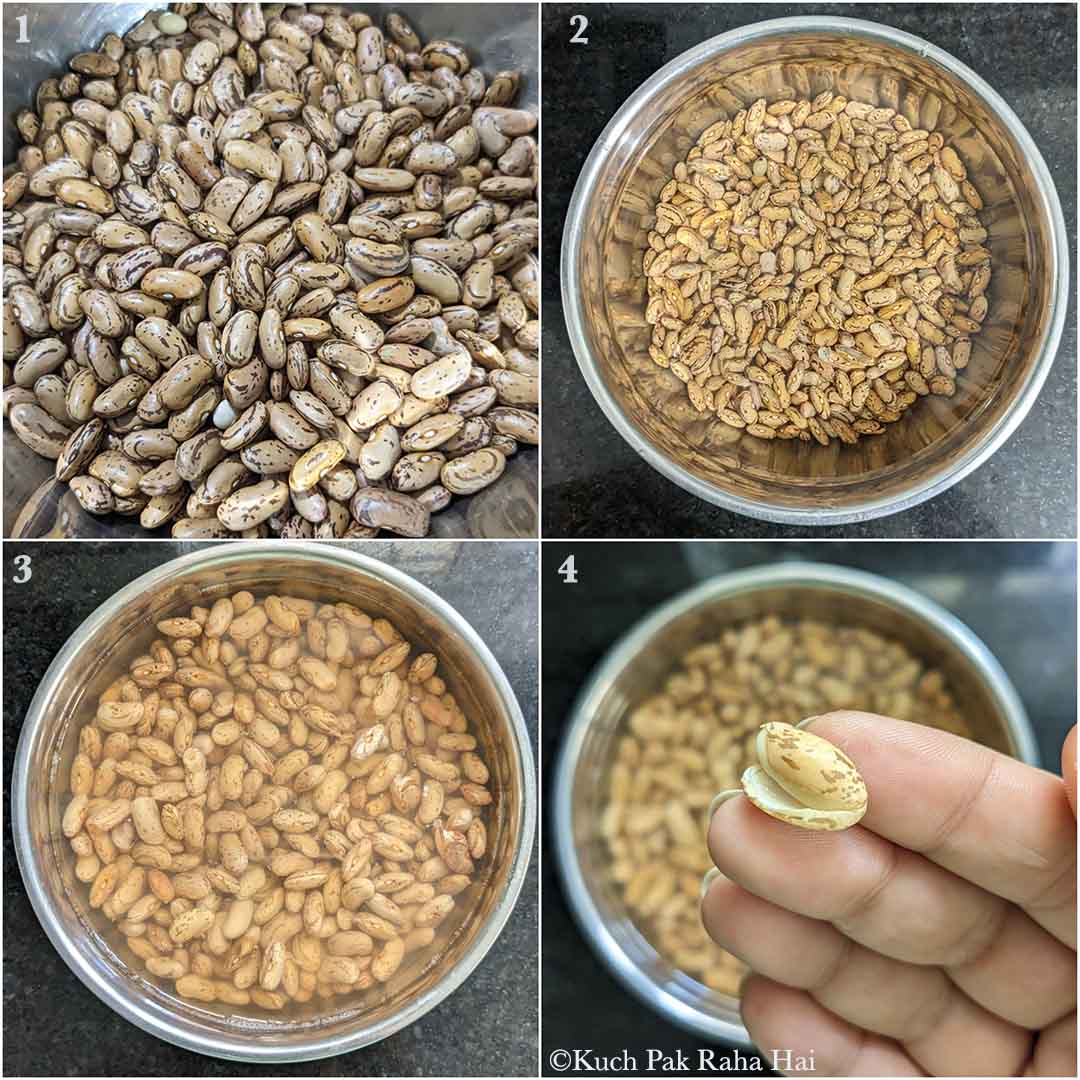 Step 2:
Blend onion, green chillies to make smooth puree and keep aside. Heat ghee or oil in cooker. Add cumin powder (or cumin seeds), ginger paste, minced garlic & asafoetida (if using). Mix well & sauté fo 30-40 seconds.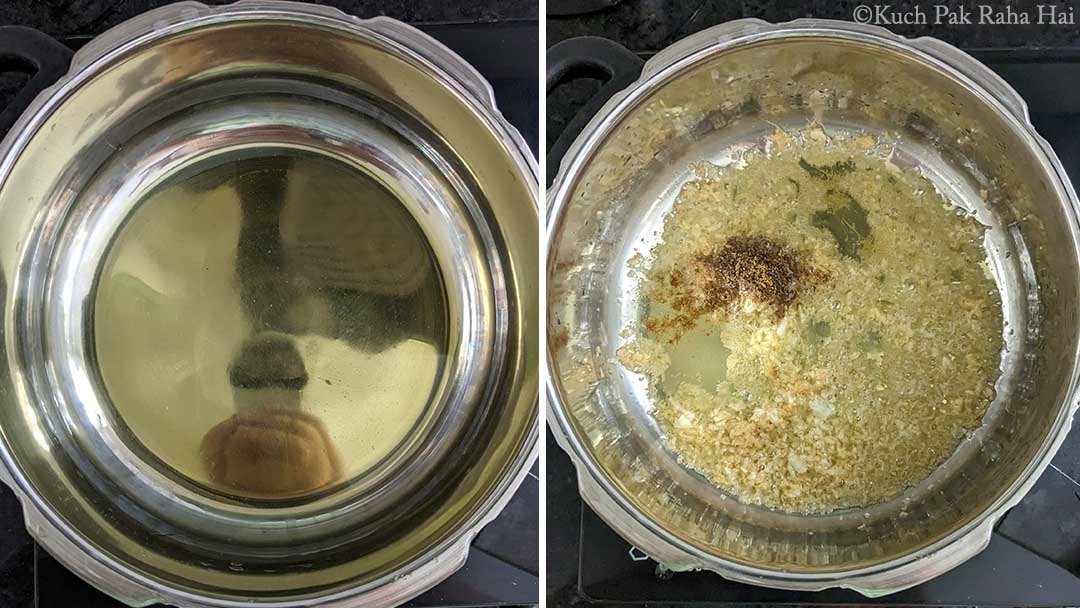 Step 3:
Add onion puree to sautéed ginger garlic and cook on medium low flame till all the moisture is evaporated & you can no longer smell raw onions. By the time onion is cooking, blend tomatoes to make smooth puree.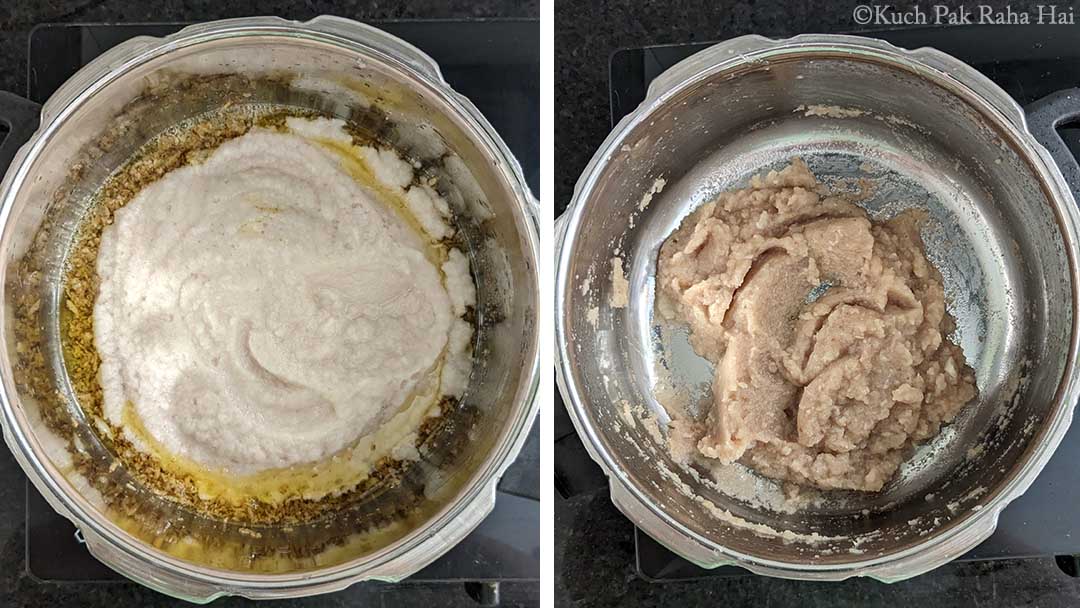 Step 4:
Add tomato puree along with salt and spices- coriander powder, red chilli powder & turmeric powder. Mix well and let the masala cook on medium low flame till it thickens up and starts releasing the fat.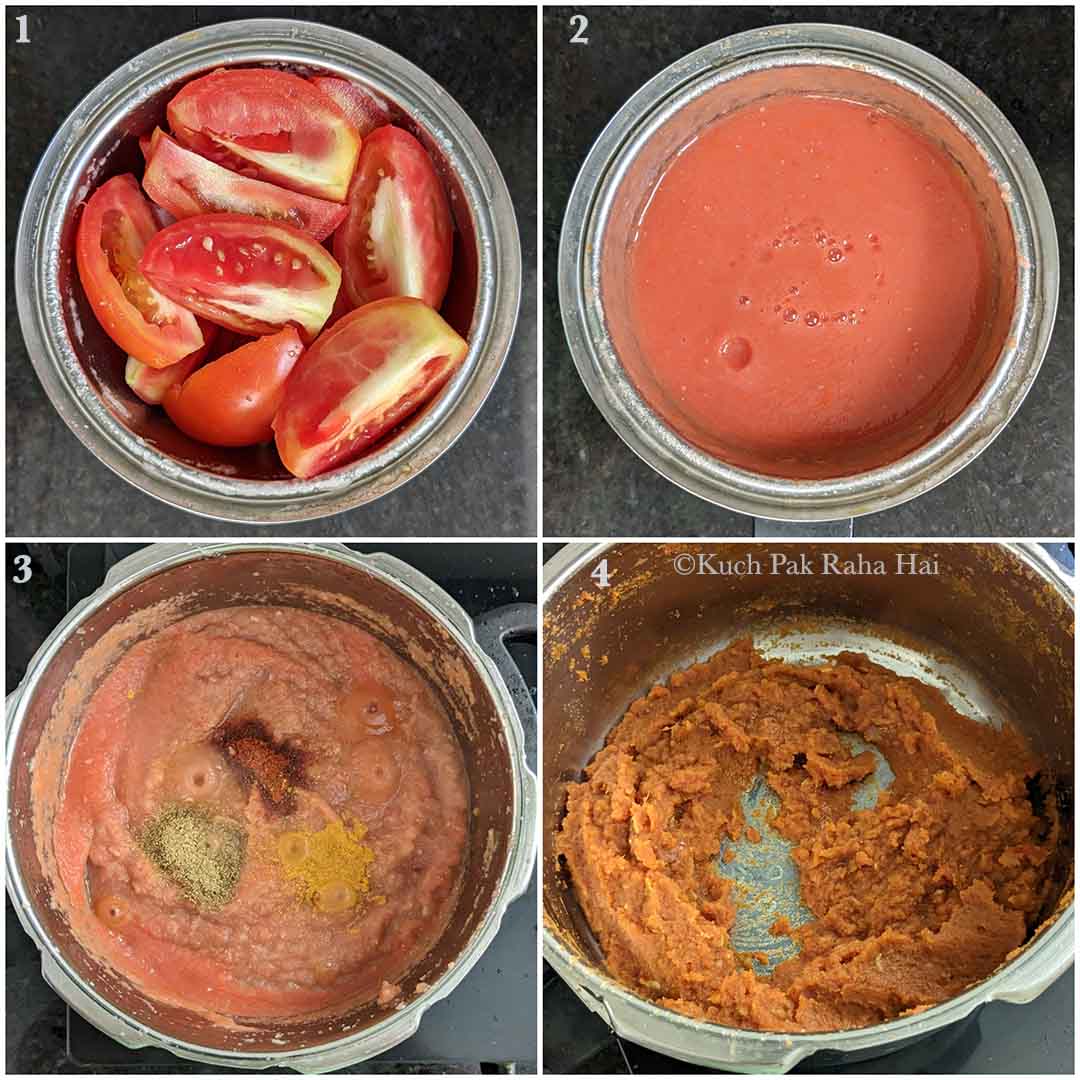 Step 5:
Add soaked rajma to the above cooked masala mixture & add 4 cups of water. Mix gently and close the lid. Pressure cook for 3 to 4 whistles and then simmer for 30 minutes.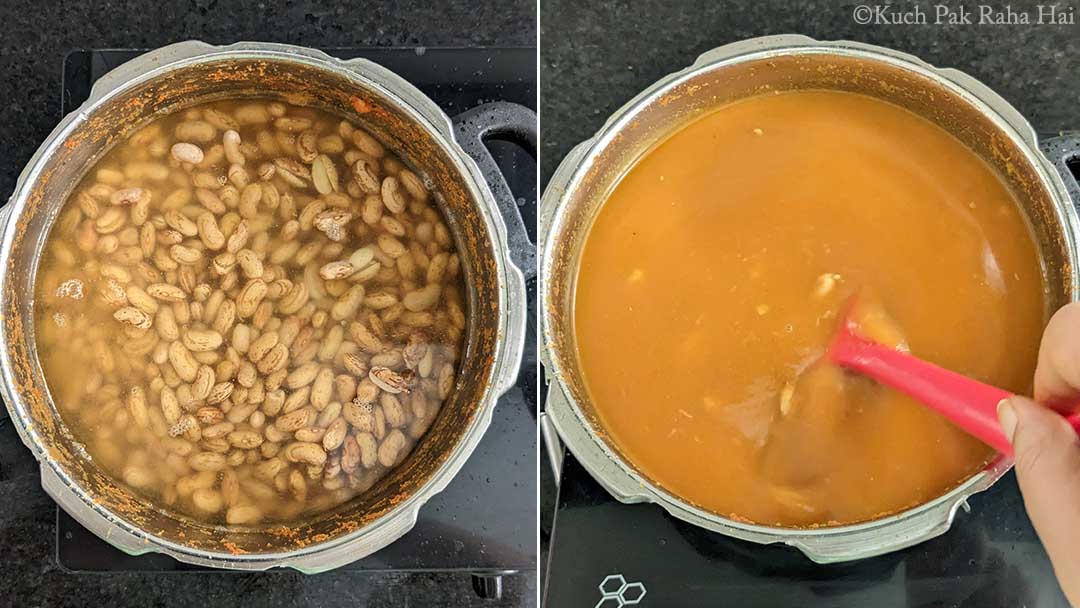 Step 6:
Switch off the flame and let the pressure release naturally from cooker. After opening the lid, add some garam masala and amchoor (or lemon juice). Mix gently and taste once to adjust salt, lemon juice or spices as per your taste (If the gravy seems thick you can add 1/4 to 1/2 water more). Simmer for 2 more minutes.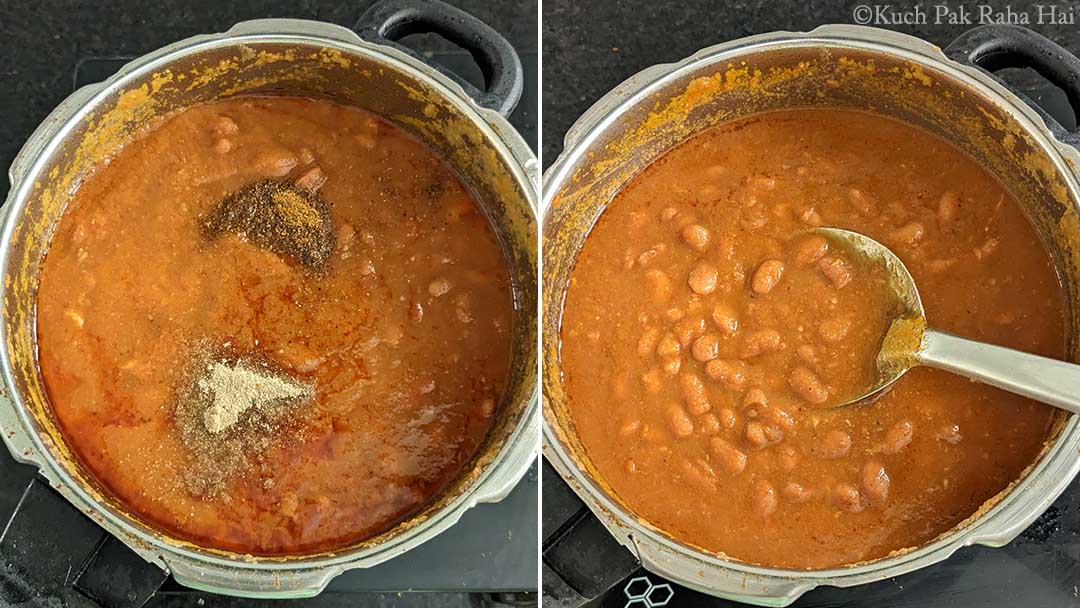 Garnish with freshly chopped cilantro or coriander. Enjoy delicious rajma curry with some steamed rice or roti.
FAQ:
Can I freeze Rajma masala curry?
Yes once the rajma cools completely, transfer it in a freezer safe bag or container. You can freeze it for upto a month (I have not tried freezing it longer than this). You can reheat it in microwave or in a pan on stove stop. Add some water while reheating.
Why kidney beans are not getting soft?
Sometime when rajma beans are too old, they take longer to cook or don't soften completely even after prolonged cooking. Please always check the packaging date while buying kidney beans and avoid buying packets that are too old.
Pin for later: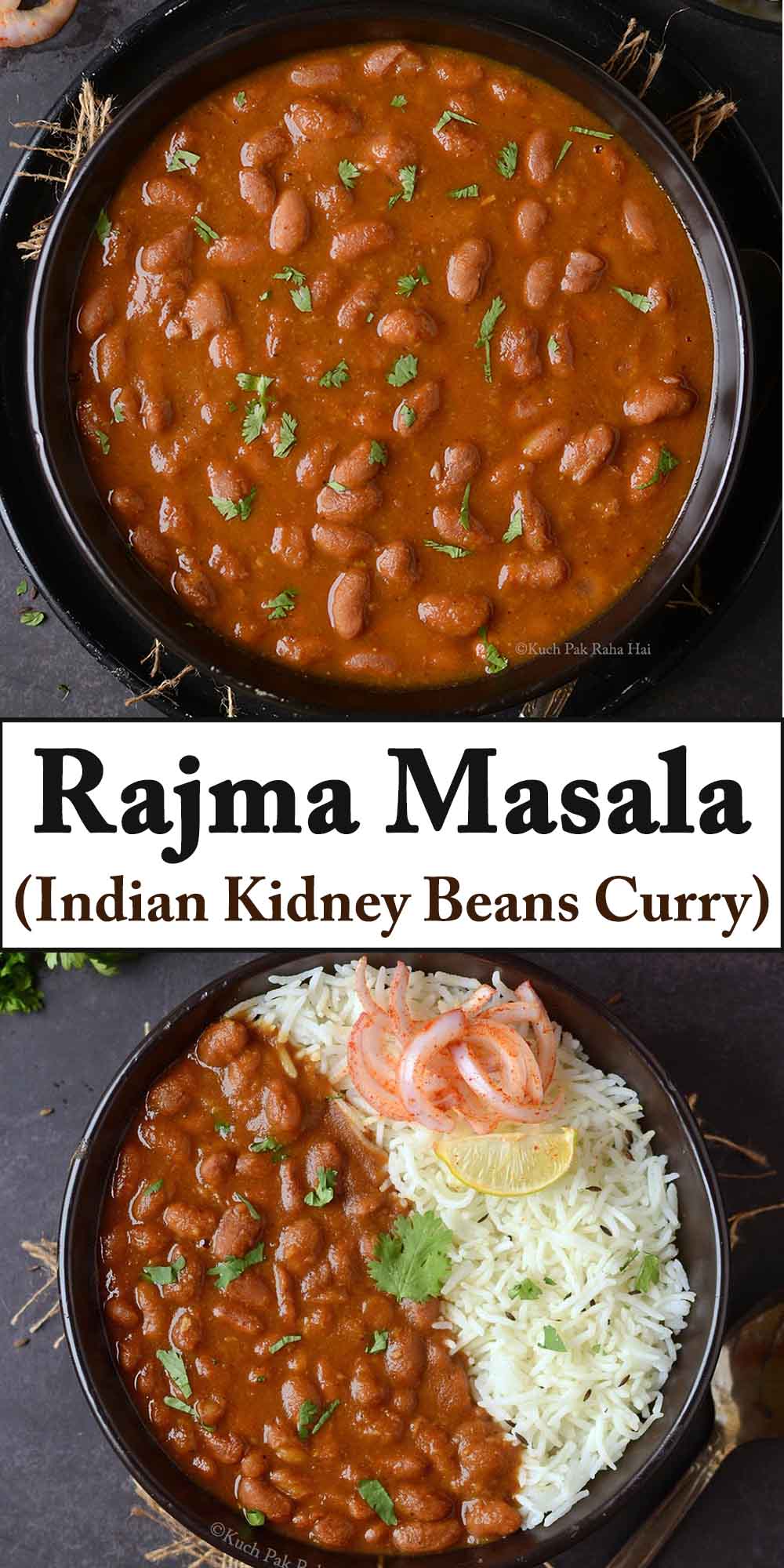 If you try this easy rajma masala recipe & share pics on social media, then don't forget to tag on Facebook, Instagram or use #kuchpakrahahai.
Let's stay connected
Facebook | Instagram | Pinterest| Youtube
(Disclaimer: The post above contains amazon affiliate links. Buying from here will not cost you anything extra but we might earn a small commission from it.)