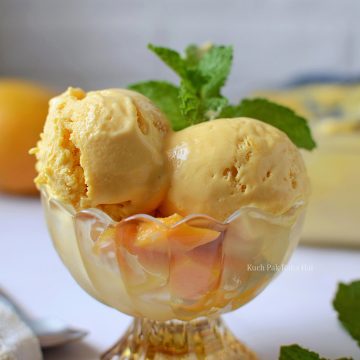 This is a delicious & creamy mango ice cream recipe using fresh mango pulp/puree. It is a no churn, easy ice cream recipe that can be made at home with just 3 ingredients. If you don't have fresh mangoes, you can also use canned mango pulp for making it.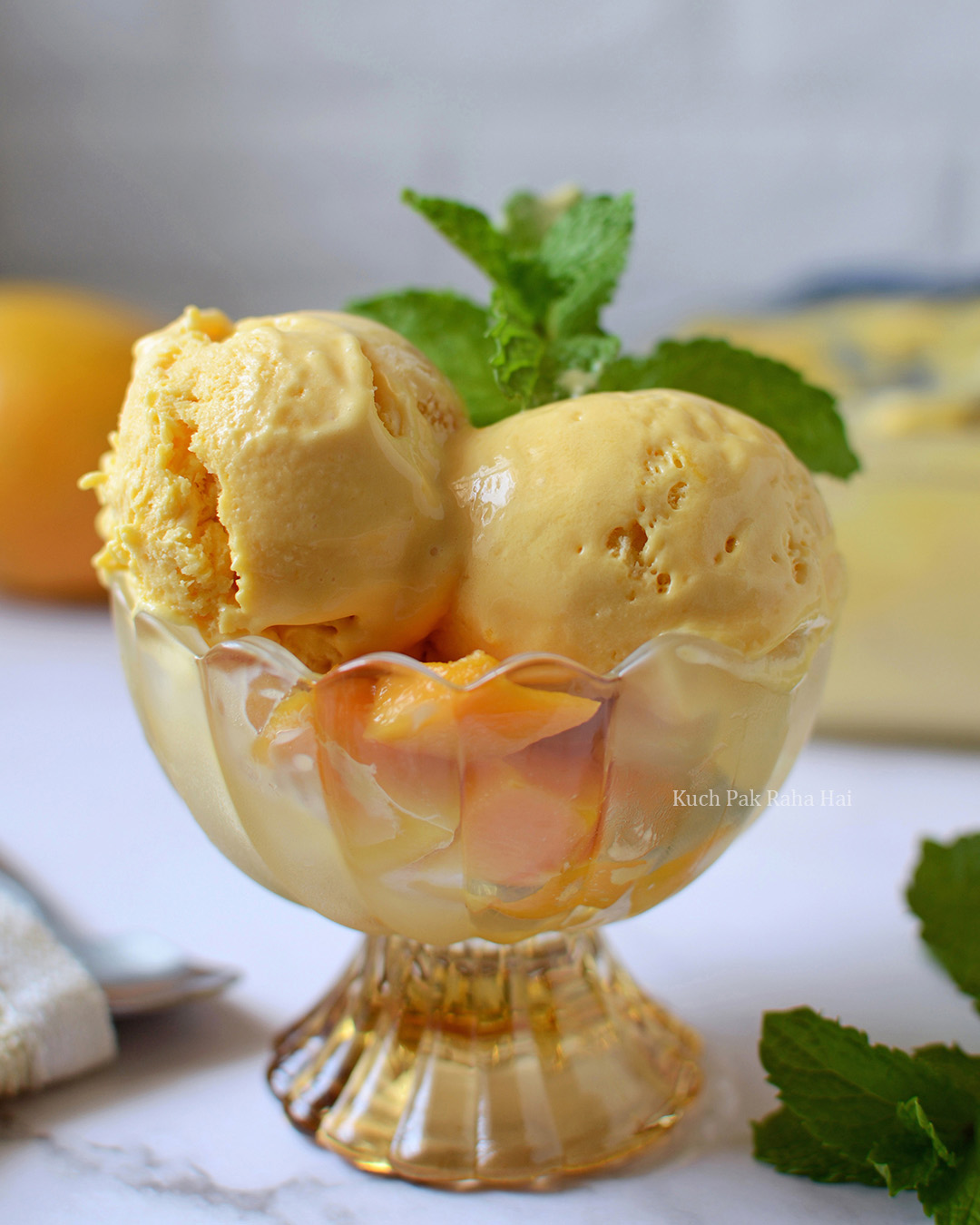 Whenever I say mango ice cream, it reminds me of my grandmother or "amma" who used to prepare it in hot sweltering summers when we were kids. The word instantly brings the picture of my amma placing huge steel containers full of homemade mango ice-cream in freezer. What I love about food is, it has a bizarre magic quality of transcending you to a moment which you had lived years before. Taste, aroma or sometimes a small visual cue is enough to remind you of a memory which you might have forgotten long back.
I have never liked mango ice creams sold in the market as most of them have artificial flavours and strong presence of mango essence completely putting off the taste buds. The best part about homemade mango ice cream is that it uses fresh mango pulp. No preservatives or artificial colours are added. The mango ice cream recipe shared here is an easy non churn ice cream which you can easily make anytime at home and that too without an ice cream maker.
The three basic ingredients used in this recipe are – fresh mango pulp, whipping cream and condensed milk. Add powdered sugar if you are using unsweetened cream. I have added some chunks of chopped mangoes also in the ice cream mixture for a burst of mango flavour in every bite. For best flavour I would recommend using Alphonso Mangoes for making this ice cream.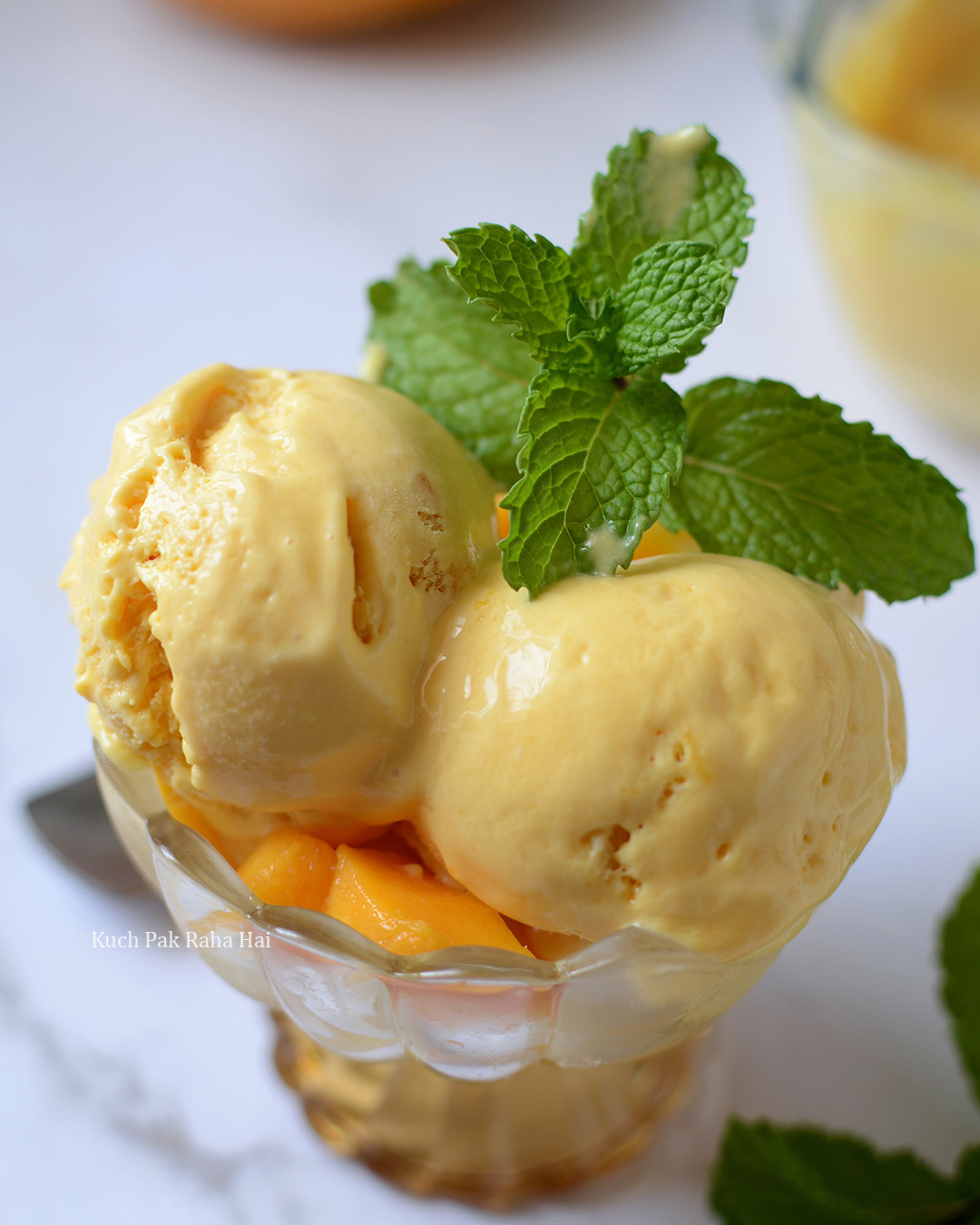 Many people often complain about ice crystals in their homemade ice creams but if you follow the proportions and method as per this recipe you will not get any ice crystals. I definitely avoid adding food colours or artificial essence in homemade ice creams, however if you wish you can add some yellow food colour or mango essence.
What type of cream should be used for making this mango ice cream?
Whipping cream gives the ice cream a rich and creamy texture. I always use heavy whipping cream for making ice creams at home. These days you get two variety of whipping creams in market- dairy & non-dairy. Any of the two can be used in making this ice cream. Non-Dairy creams (like Tropolite or Rich) are already sweet so you don't need to add more sugar in the recipe.
Can I use Amul Fresh Cream in this ice cream recipe?
Amul is a known dairy brand in India. Amul 'Fresh cream' comes in a blue coloured box & is a low fat cream variety because of which you don't get that smooth texture in ice cream. However Amul has also launched its whipping Cream which comes in a red coloured box (shown in video also) and has 30% fat content which makes it more suitable for whipping & ice cream making. (Please note it is not a promotional / paid post. I am just sharing my experience about this cream brand.)
I have also shared a youtube video for this same recipe on my youtube channel. If you like this mango ice cream recipe then don't forget to subscribe to 'Kuch Pak Raha Hai' channel 🙂
Watch here :
Things to do before you start making ice cream at home :
1. Chill the bowl in fridge for an hour or so in which you are planning to whip the cream along with the whisking blades. This ensures the cream does not quickly come to room temperature while whipping.
2. Chill the whipping cream overnight in fridge. If you are using frozen whipping cream then thaw the amount which you will be using for ice cream in fridge only.
3. I have used electric whisker for whisking the cream. However you can use manual whisker too (Though it might take a bit longer to whisk the cream).
List Of Ingredients:
Mango Pulp-1 cup (Roughly 2 medium sized mangoes)
Heavy Whipping Cream-1 cup
Sweetened Condensed Milk – 1/2 cup
Powdered Sugar- 1/2 cup
Finely Chopped Mangoes- 1/2 cup
Notes:
1. Skip adding powdered sugar if you are using sweetened whipping cream.
2. I have used fresh mango pulp here. You can use canned mango pulp too. For best taste use Alphonso mangoes.
3. Here I have used dairy whipping cream. You can also add non-dairy whipping cream like Tropolite for making this mango ice cream.
4. For more intense colour or aroma you can add yellow food colour or mango essence.
5. You can increase the quantity of sugar as per your taste in this ice cream.
Steps to Prepare:
Step 1 :
Take chilled whipping cream in a bowl. Whisk till the cream becomes light, fluffy & you start noticing soft peaks. The cream would almost become double in volume.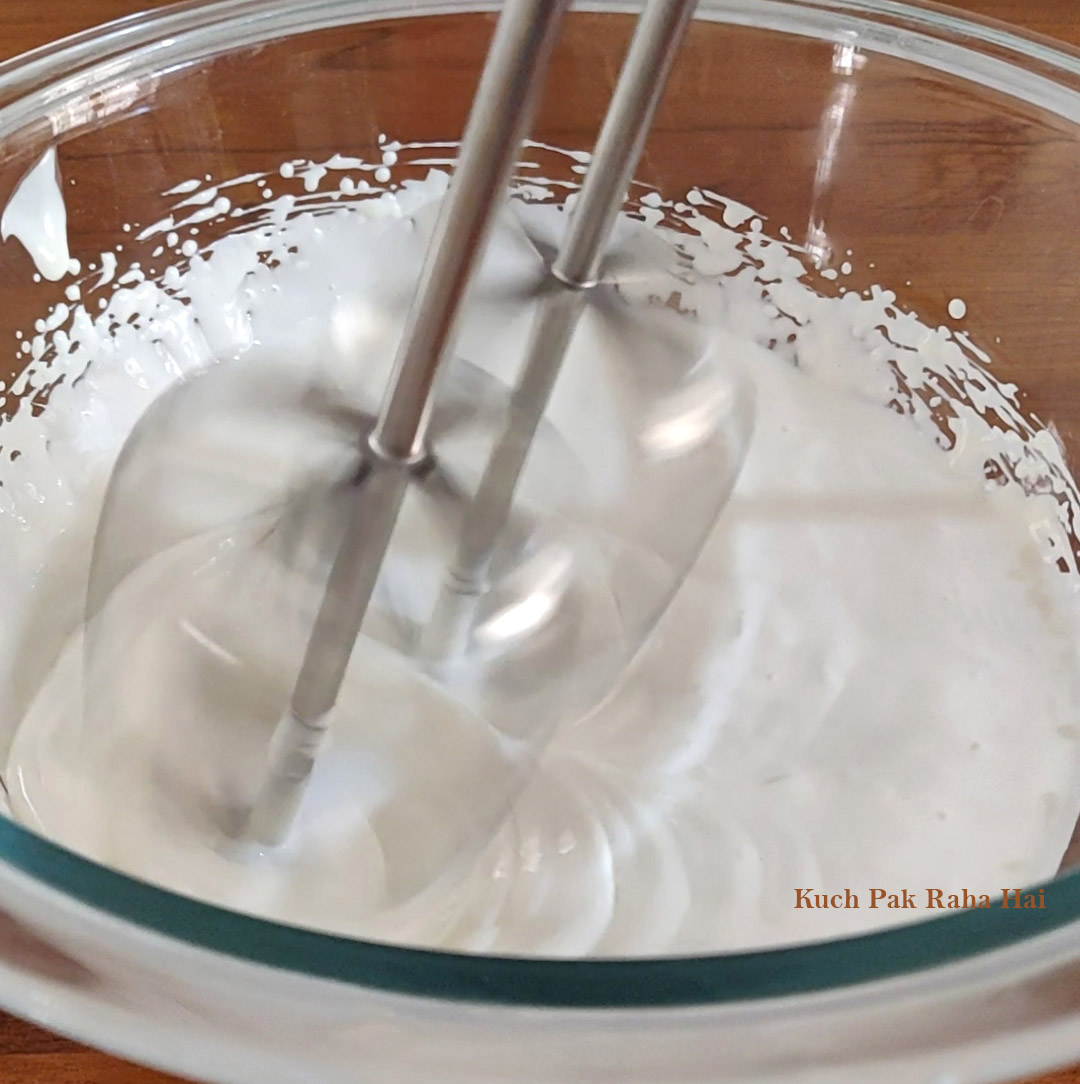 Remember to stop & scrape the sides of the bowl while whipping cream. This ensures that the batch is evenly whipped. Also, keep checking for soft peaks as sometimes over whipping can cause the cream to split. Transfer this whipped cream in refrigerator and let us move to the next step.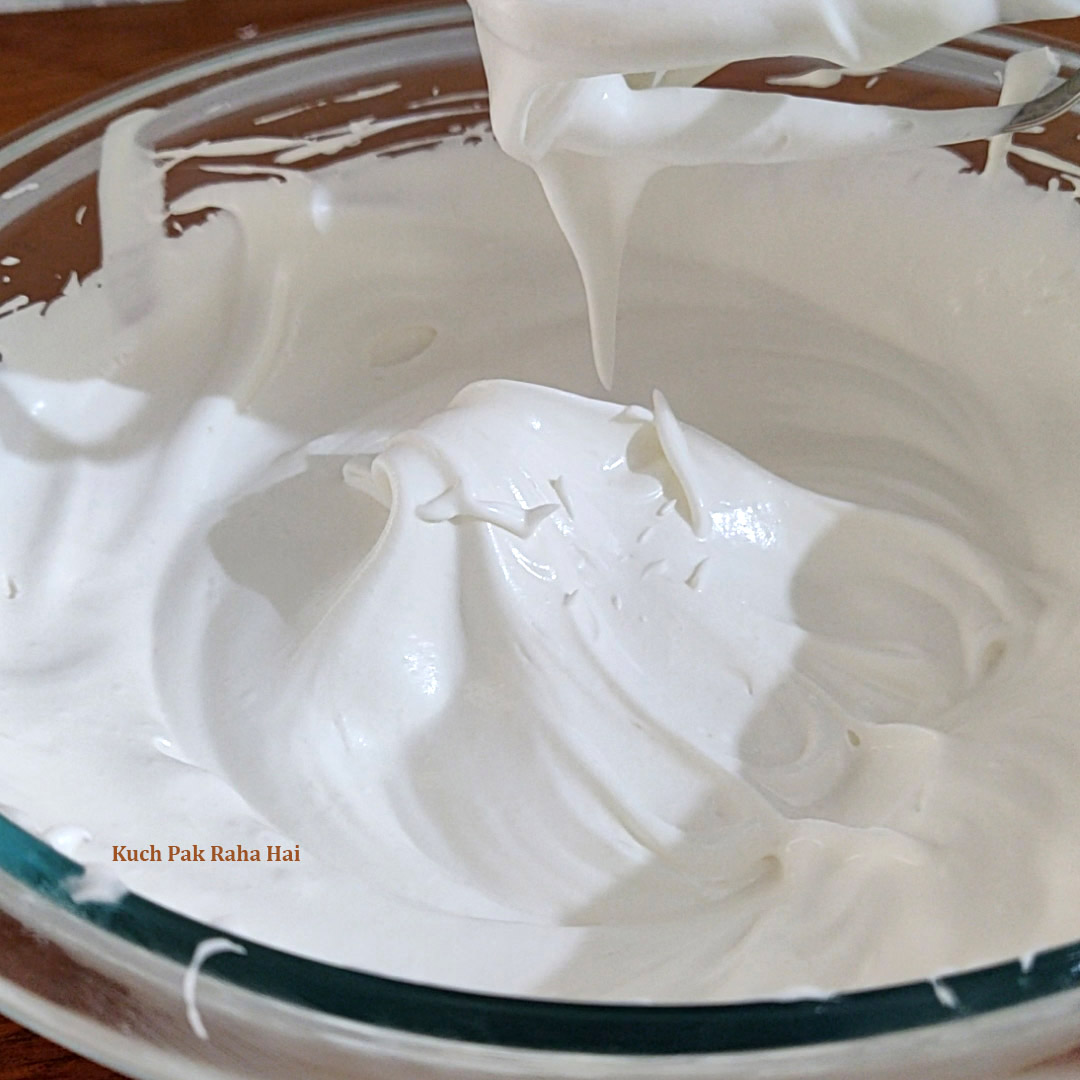 Step 2:
Chop the mangoes, add them to a blender jar and blend them well to get a smooth mango puree. You can even use canned mango pulp at this step.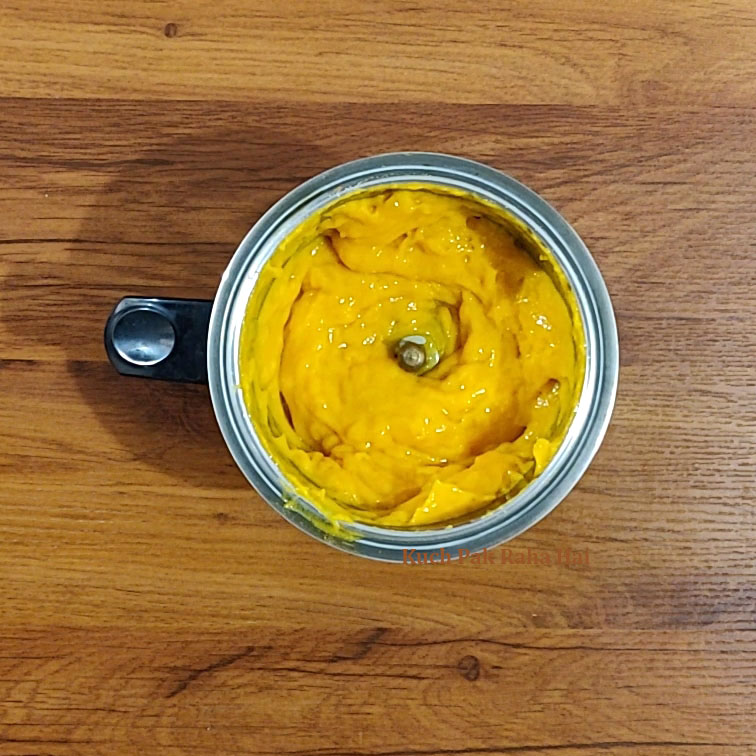 Step 3:
To the above mango puree, add condensed milk & powdered sugar. If have used sweetend whipping cream skip adding powdered sugar. Whisk the ingredients well so that mixture become light & airy.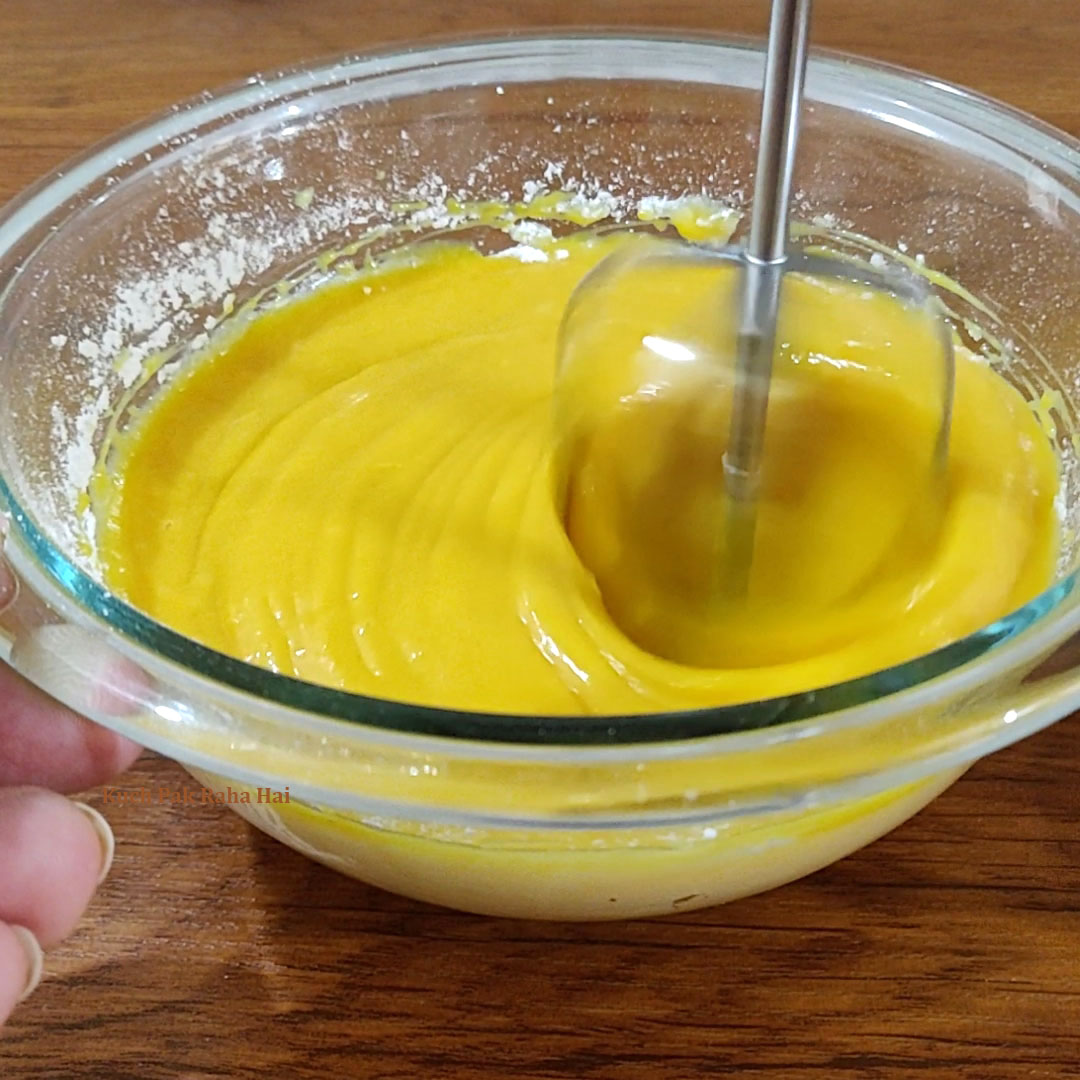 Step 4 :
Start adding the above mango mixture to the whipped cream gradually. Fold the mixture gently as we don't want to loose the whipped cream aeration. Add freshly chopped mango pieces too while folding.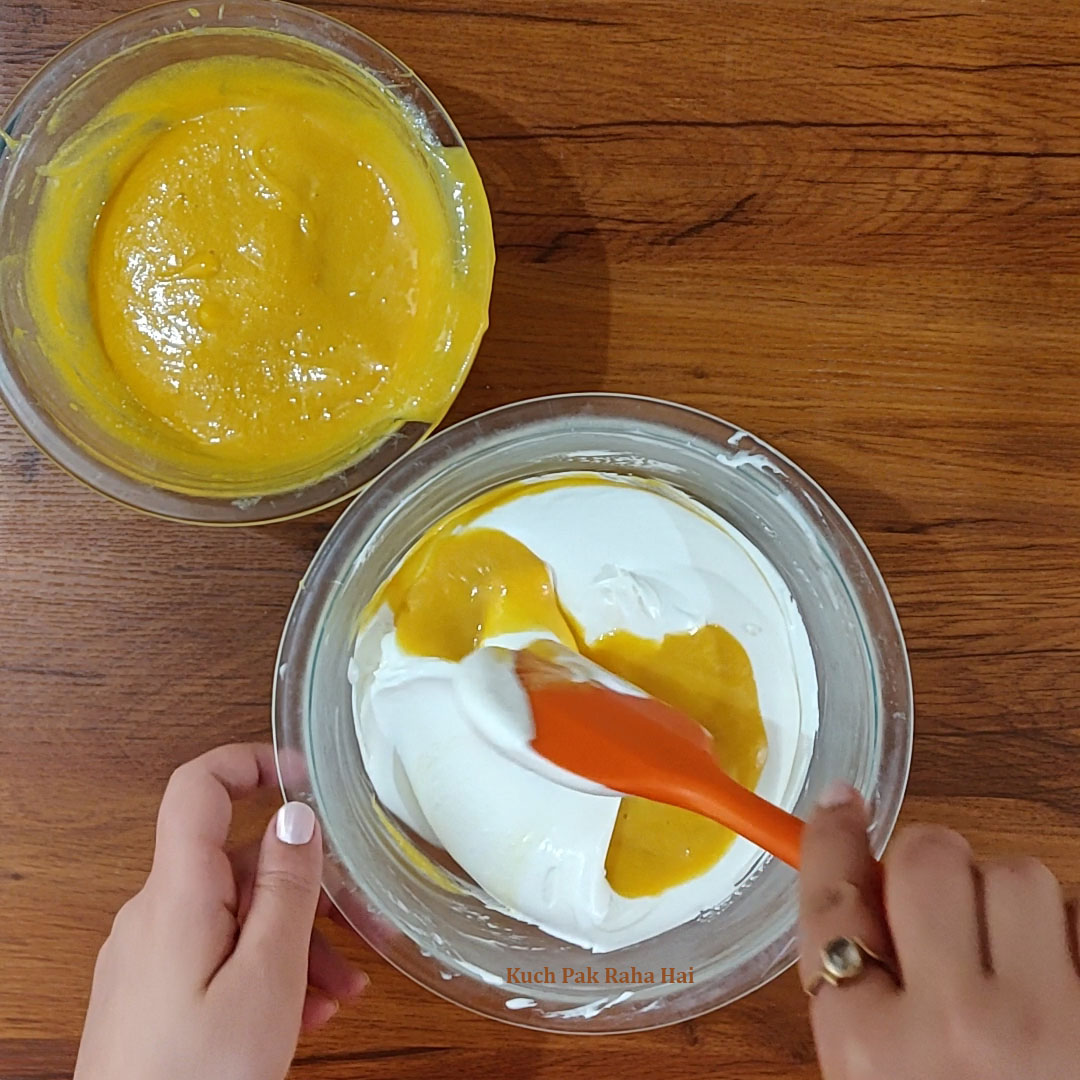 Step 5 :
Transfer the above ice cream mixture in an airtight freezer safe container. If the container is not airtight or you are using an open ice cream container, seal the top with a cling film such that the cling film is touching the top surface of ice cream. Freeze the ice cream for 5-6 hours or overnight.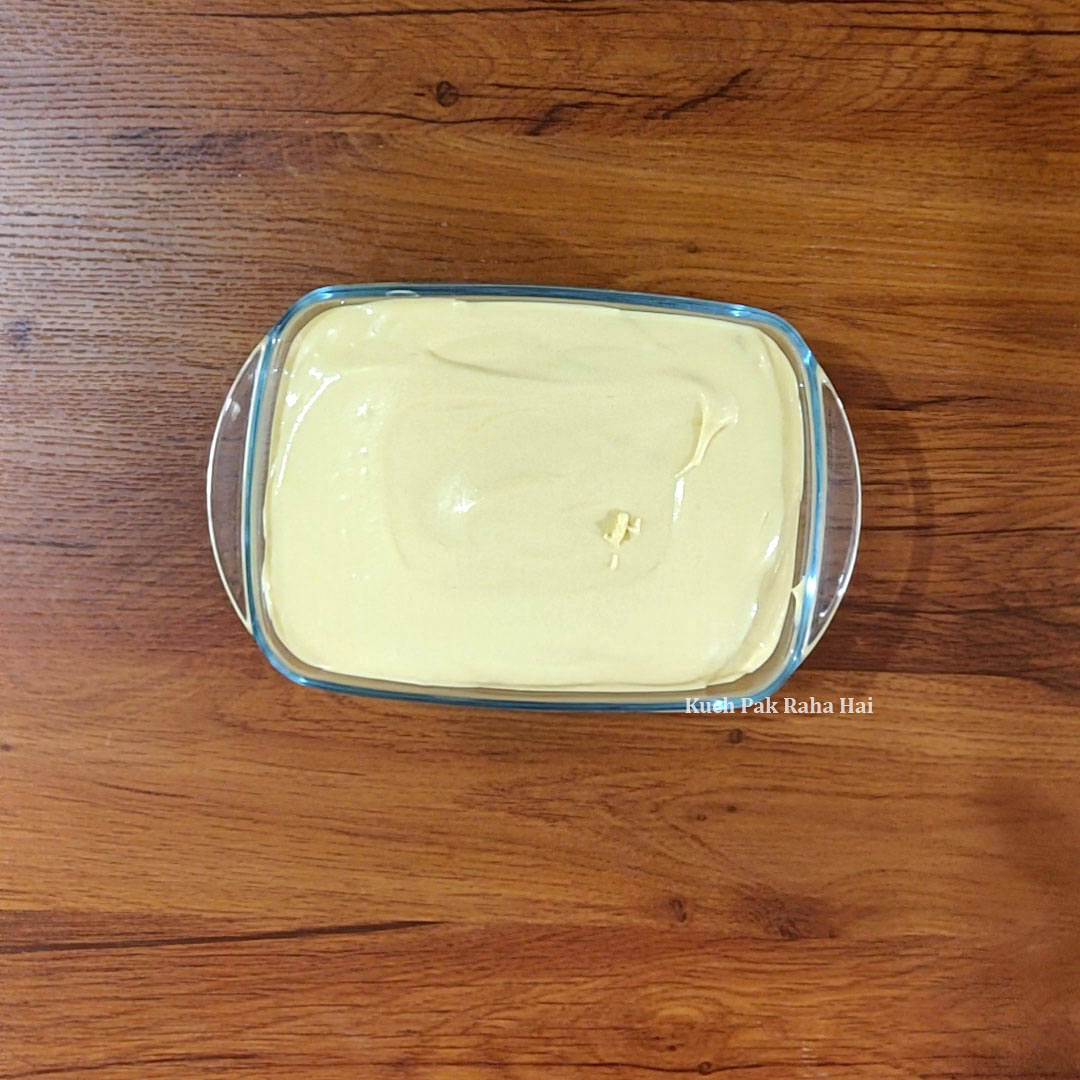 After 5-6 hours once the ice cream is set, scoop and enjoy this yummy mango ice cream. Bon Appetit!!
Pin it :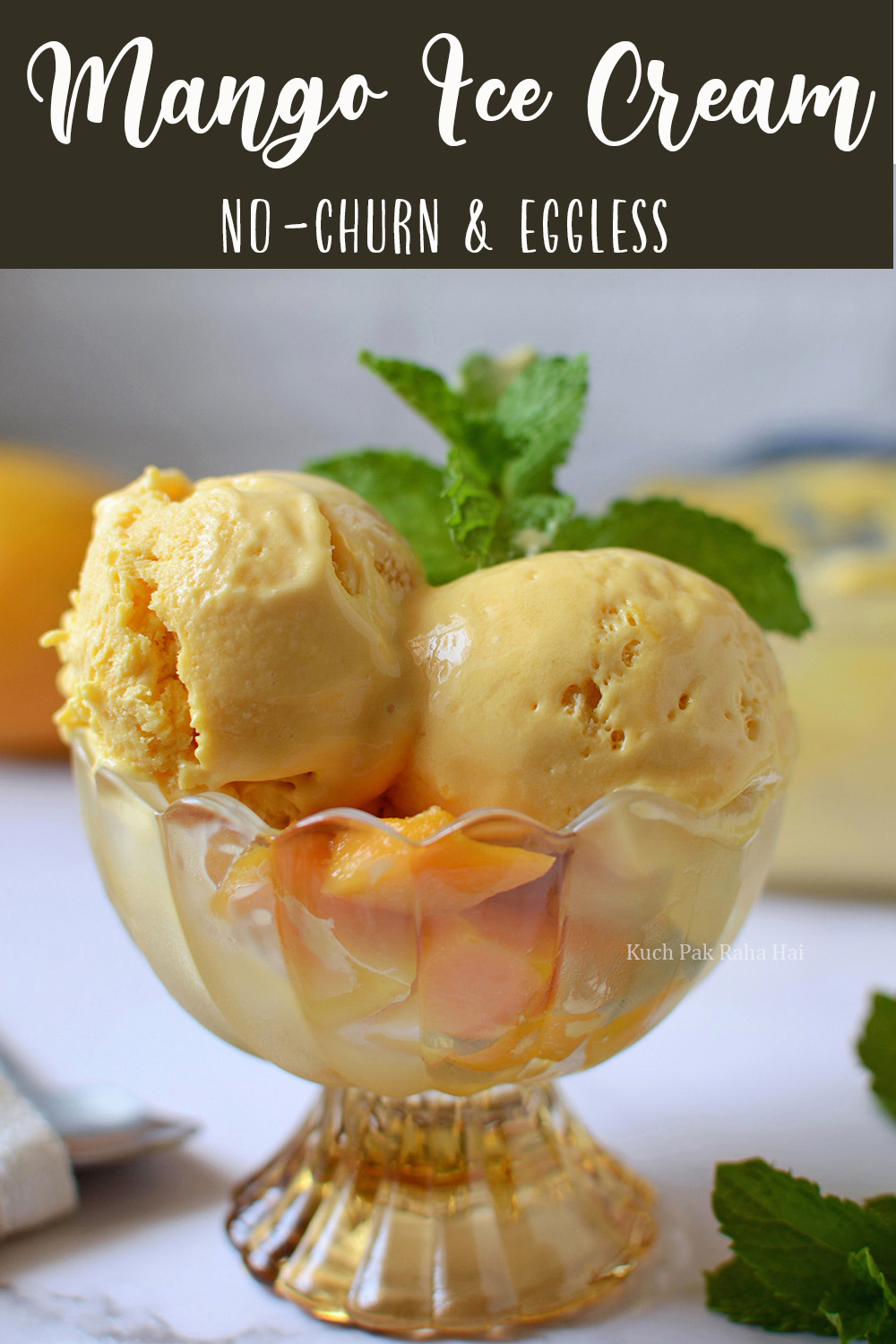 If you try this recipe & share pics on social media, then don't forget to tag us on Facebook or Instagram or use the hashtag #kuchpakrahahai.
Let's stay connected
Facebook| Instagram| Pinterest| Youtube
More Ice creams or Kulfi recipes you might like :