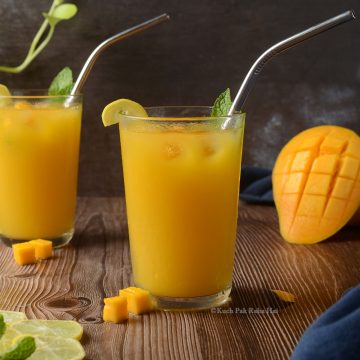 Refreshing chilled mango lemonade is a perfect summer drink to quench your thirst. With its tropical citrus flavour, it instantly energises and rejuvenates your senses.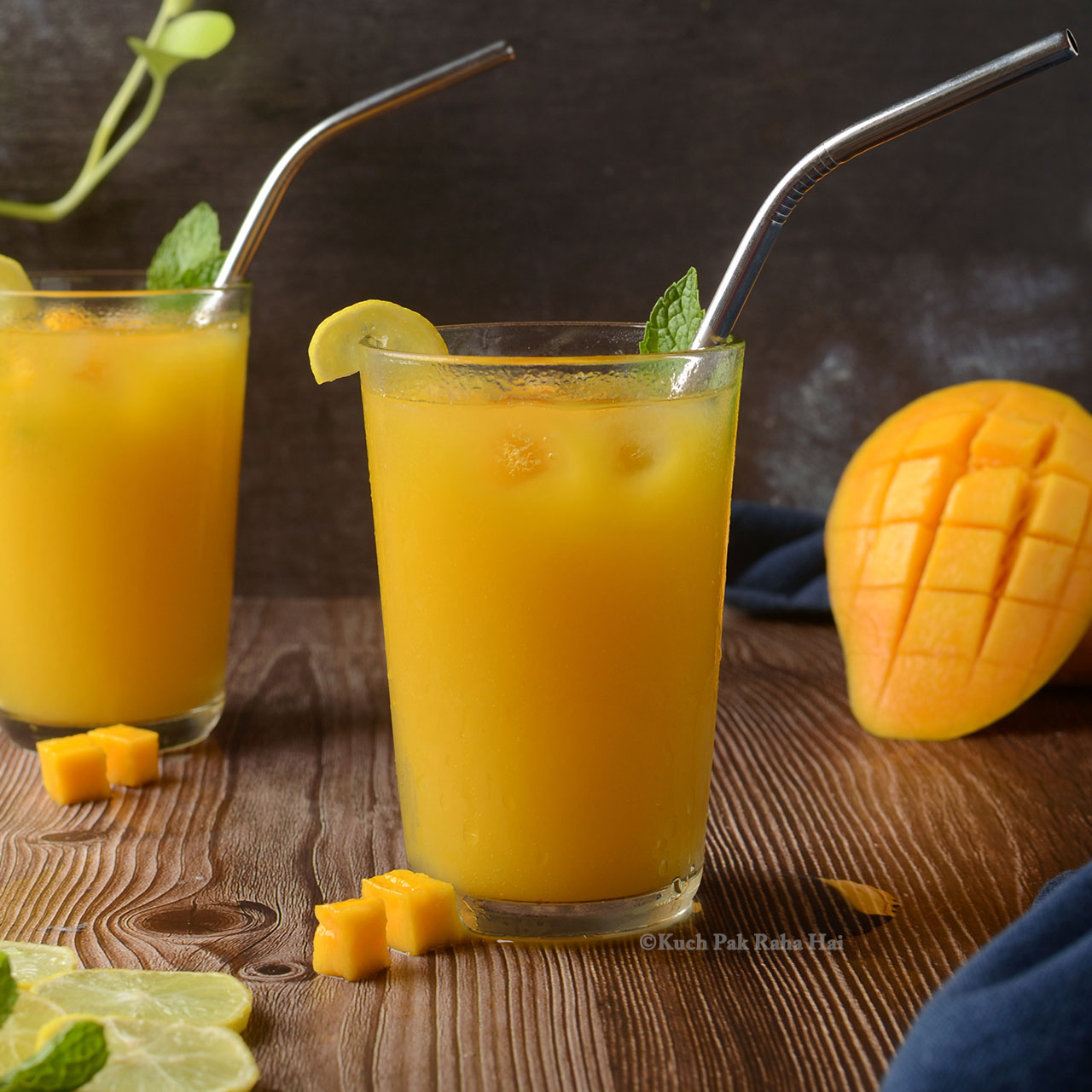 This homemade mango lemonade is made with fresh mango pulp, sugar / honey, lemon juice and mint leaves. It is easy, quick to make and instantly elevates the simple lemonade to the next level. The sweetness from juicy mangoes with tangy lemony notes makes for a perfect fun summer cooler.
Mango is one of the most popular fruit in India and is often referred to as 'King of fruits'. This tropical fruit tastes absolutely lip smacking and is also a rich source of vitamin C, vitamin A, folate, potassium and fibre etc.
Mango Lemonade Ingredients:
Mango Pulp: Always use ripe mangoes to make lemonade as they are naturally sweeter. I have made pulp from fresh mangoes. However if they are not available, you can use canned mango pulp too.
Lemon Juice: Use freshly squeezed lemon juice to make this lemonade. For more tangy taste, you can add little bit of lime juice too.
Sweetener: You can use sugar, honey or agave as sweetener in this recipe. I personally like to stick to honey as to avoid refined sugar. The amount of sugar or honey can vary depending on your preference and sweetness of mangoes. If the mangoes are less ripe then you may have to add more of it.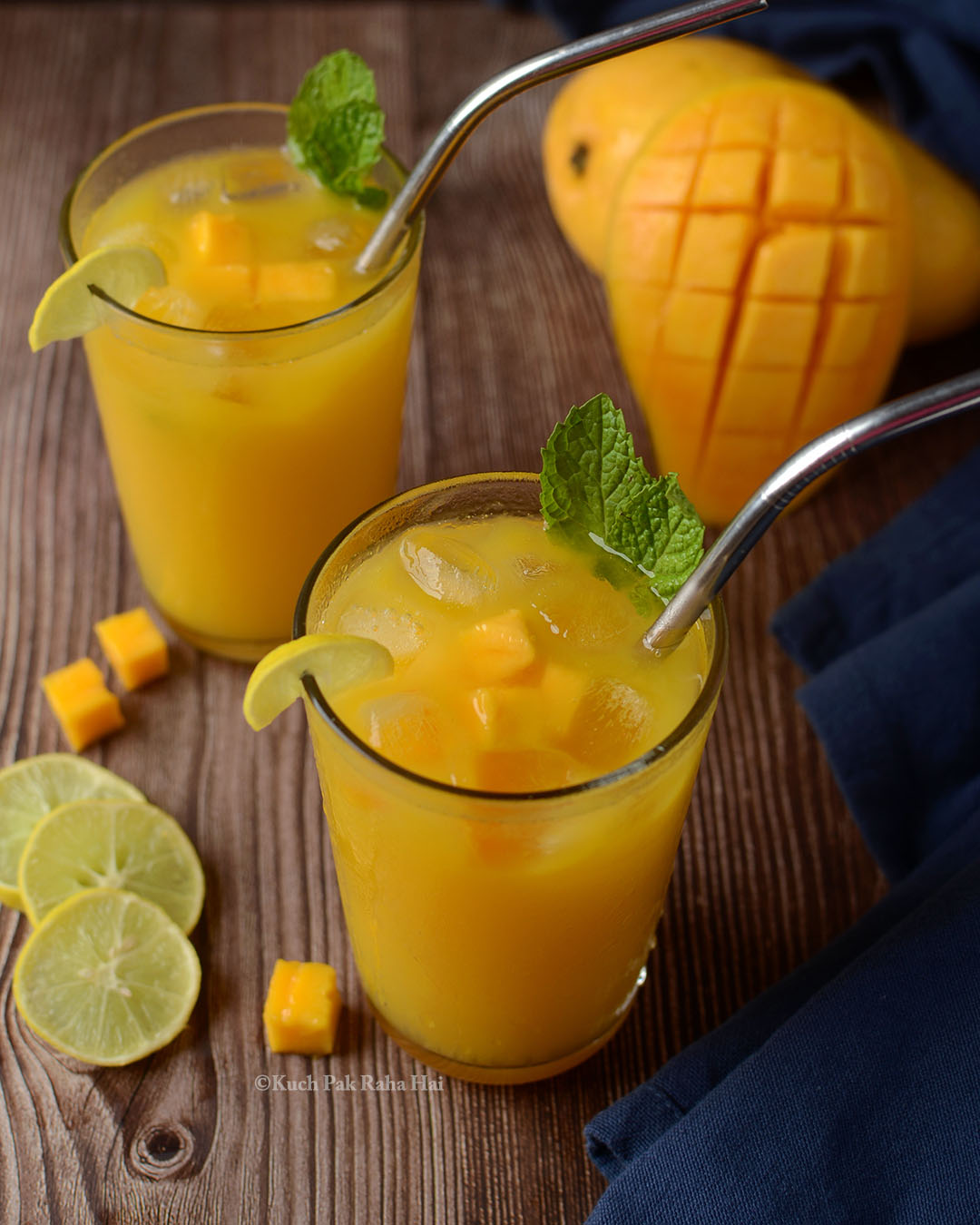 Mint Leaves: Adding some mint leaves to mango lemonade before serving add freshness to the drink. You can skip it if not available.
Water: You can make this drink with water, sparkling water or club soda as per your choice.
Mango Lemonade Variations:
Pineapple Mango Lemonade: Add in few chunks of fresh or tinned pineapple along with mangoes while blending. Pineapple pairs well with tropical mango flavour.
If you are making this drink for adults, then simply add a splash or two of vodka for mango lemonade cocktail. I recently got to know about charged lemonades in which some amount of caffeine is also added to fruit flavoured lemonades (though I have to try it yet).
To make mango lemonade healthier, you can add some soaked chia seeds to it before serving or make it with a mix of water & coconut water.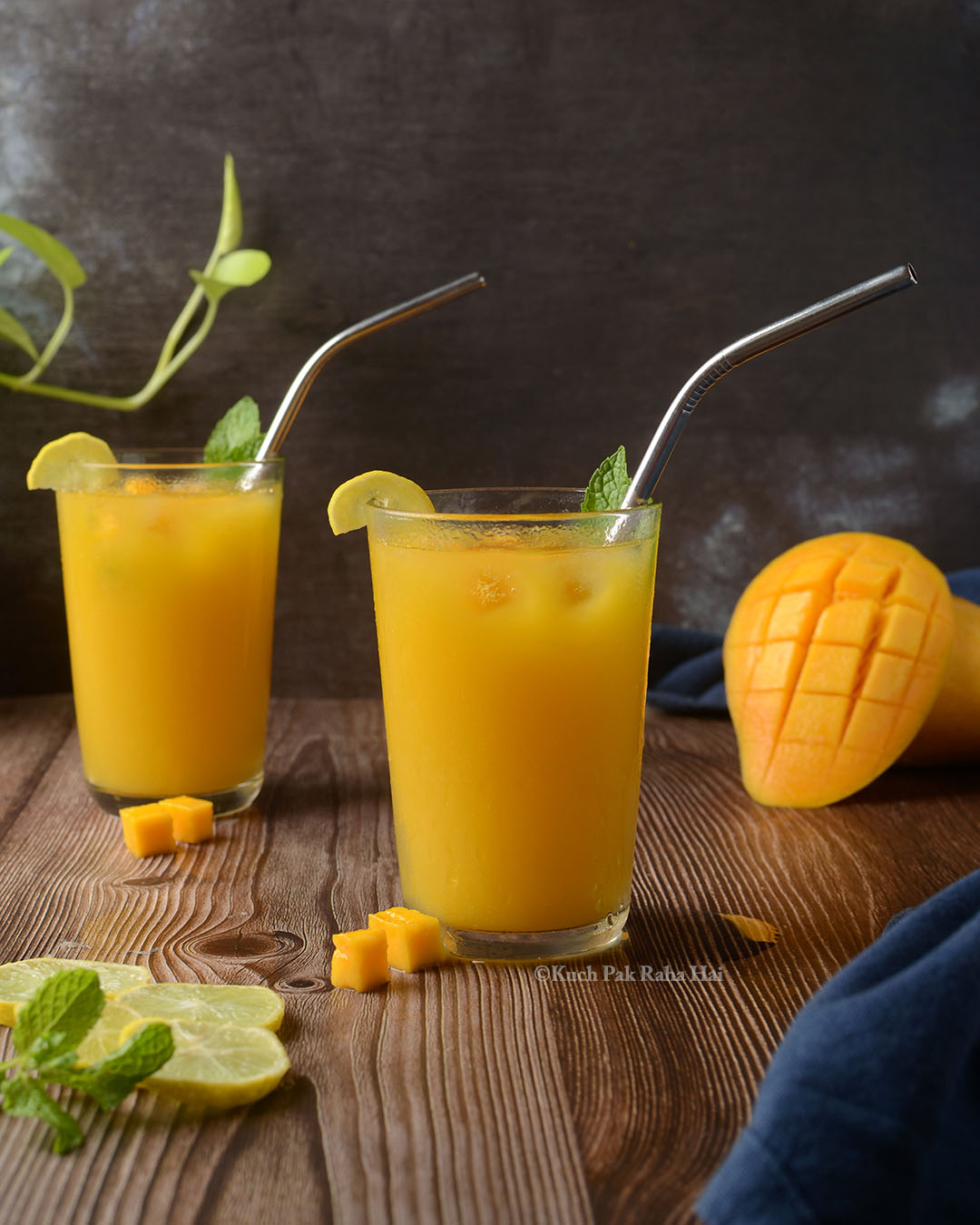 More summer cooler recipes:
Ingredients: (Serves 3-4)
Chopped Mangoes- 1.5 cups (260 gms)
Lemon Juice- 1/4 cup
Sugar / Honey- 3 tbsp (to taste)
Water / Sparkling Water-3 cups  (chilled)
Mint Leaves- For garnishing
Ice Cubes- For serving
Notes:
Measuring Cup Used: 1 cup = 250 ml
Add sugar or honey as per your taste or depending on sweetness of mangoes.
How to make Mango Lemonade
Directions:
Step 1:
Peel the mangoes and slice pulp from it. Cut it into cubes.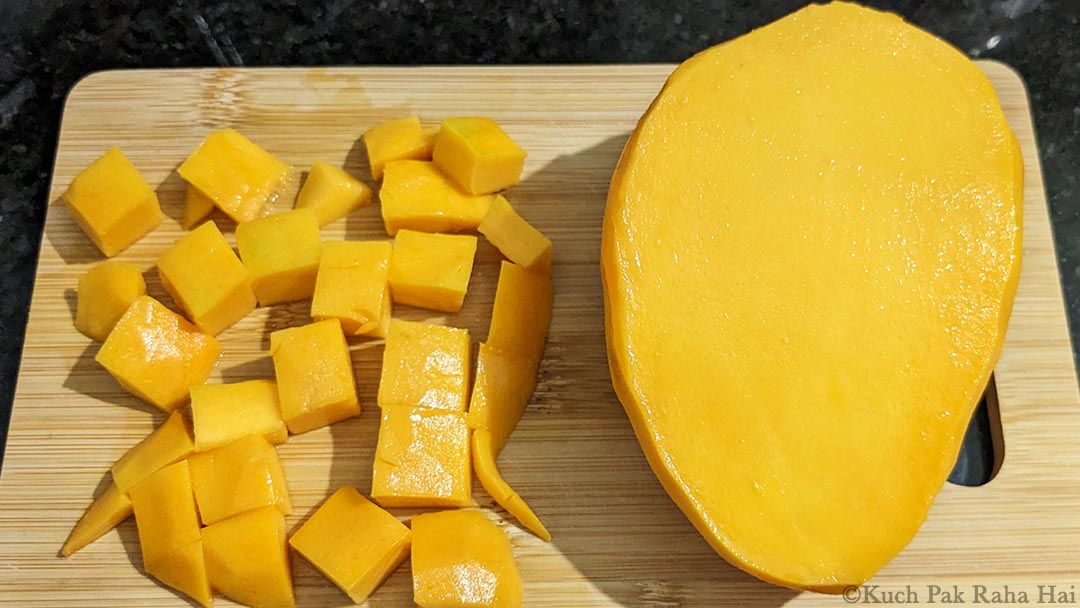 Step 2:
Transfer chopped mangoes, lemon juice, 1/2 cup water & sugar (or honey) in a blender jar. Blend to make smooth puree.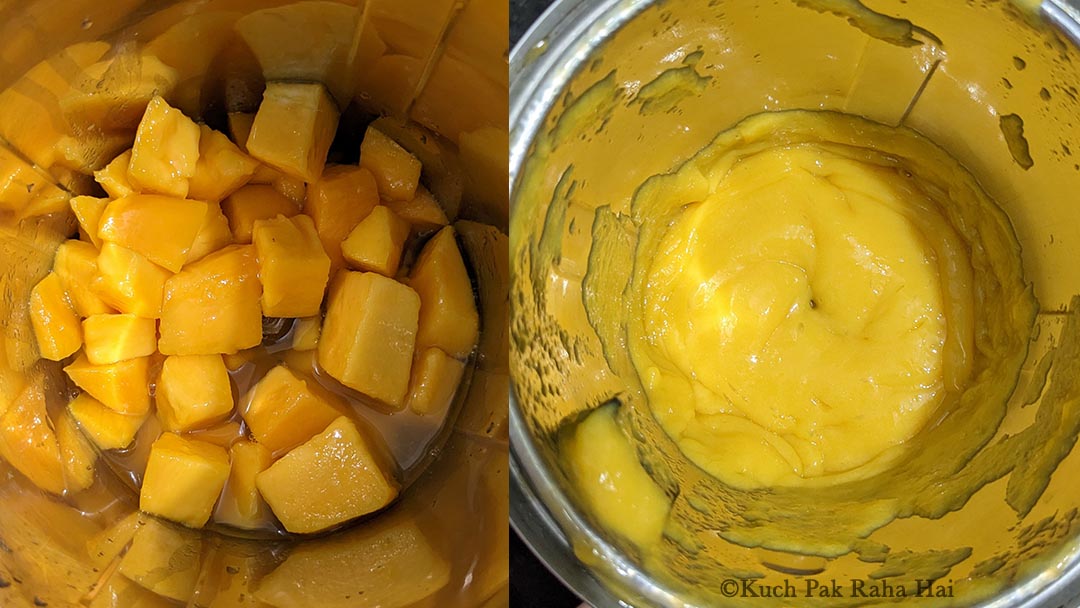 Step 3:
Strain this mixture once to separate fiber or small mango pieces.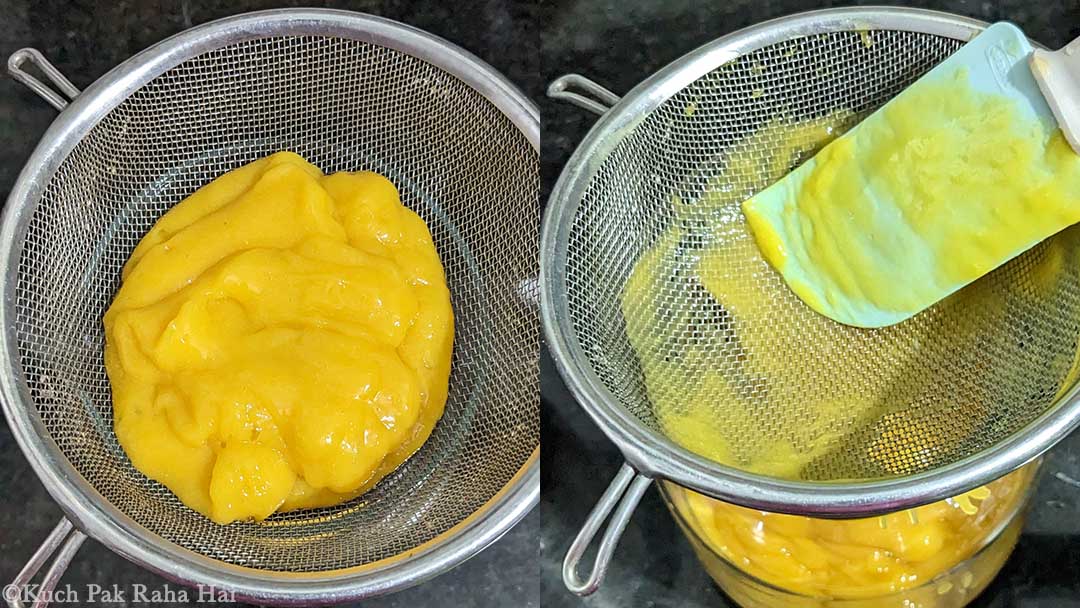 Step 4:
Add remaining water or sparkling water to it. Mix well with a stirrer. Taste once to adjust sweetness as per your taste.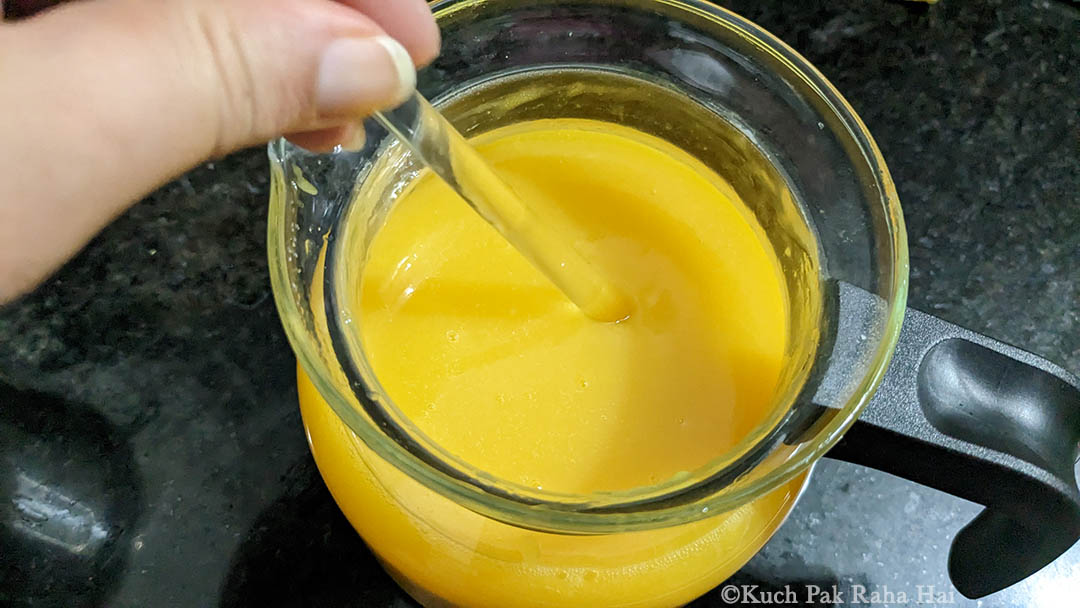 Step 5:
You can chill it in fridge for 1-2 hrs or serve it straightaway with ice cubes. Garnish with mint leaves or lemon wedges before serving.
Tip:
You can transfer the concentrated mango pulp (prepared in step2) in ice cube tray and freeze. These frozen mango cubes can later be added to water or lemonade for a quick refreshing drink.
Pin for later: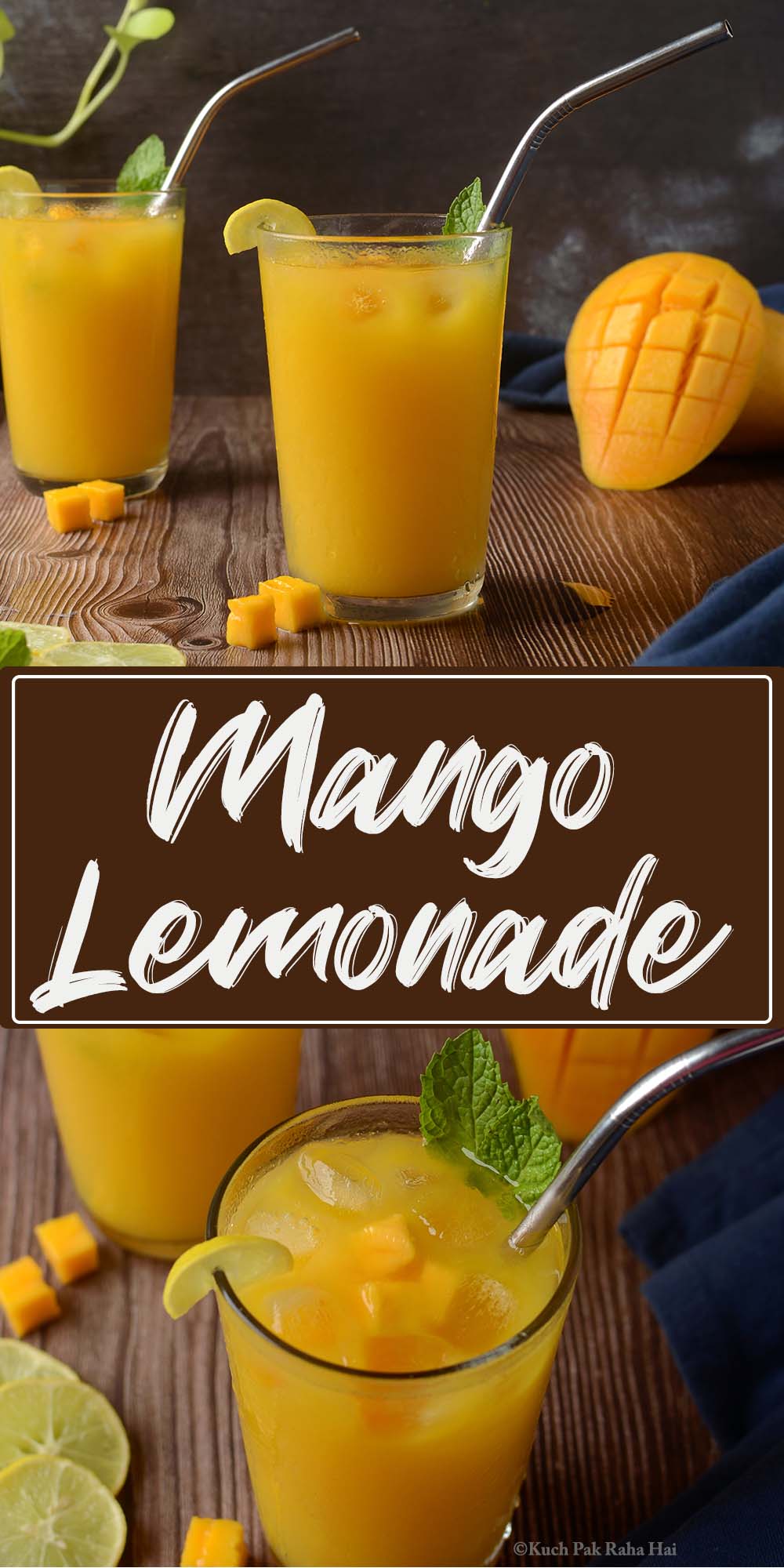 If you love mangoes then also checkout more delicious mango recipes:
If you try this easy mango lemonade refresher recipe & share pics on social media, then don't forget to tag on Facebook, Instagram or use #kuchpakrahahai.
Let's stay connected
Facebook | Instagram | Pinterest| Youtube