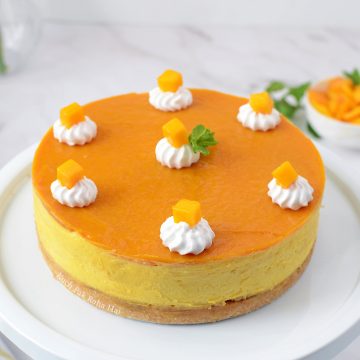 Mango Cheesecake is a delicious decadent dessert recipe made using mangoes, cream cheese, sugar and heavy cream. This is a no bake cheesecake recipe set with agar agar & is made without gelatine or eggs.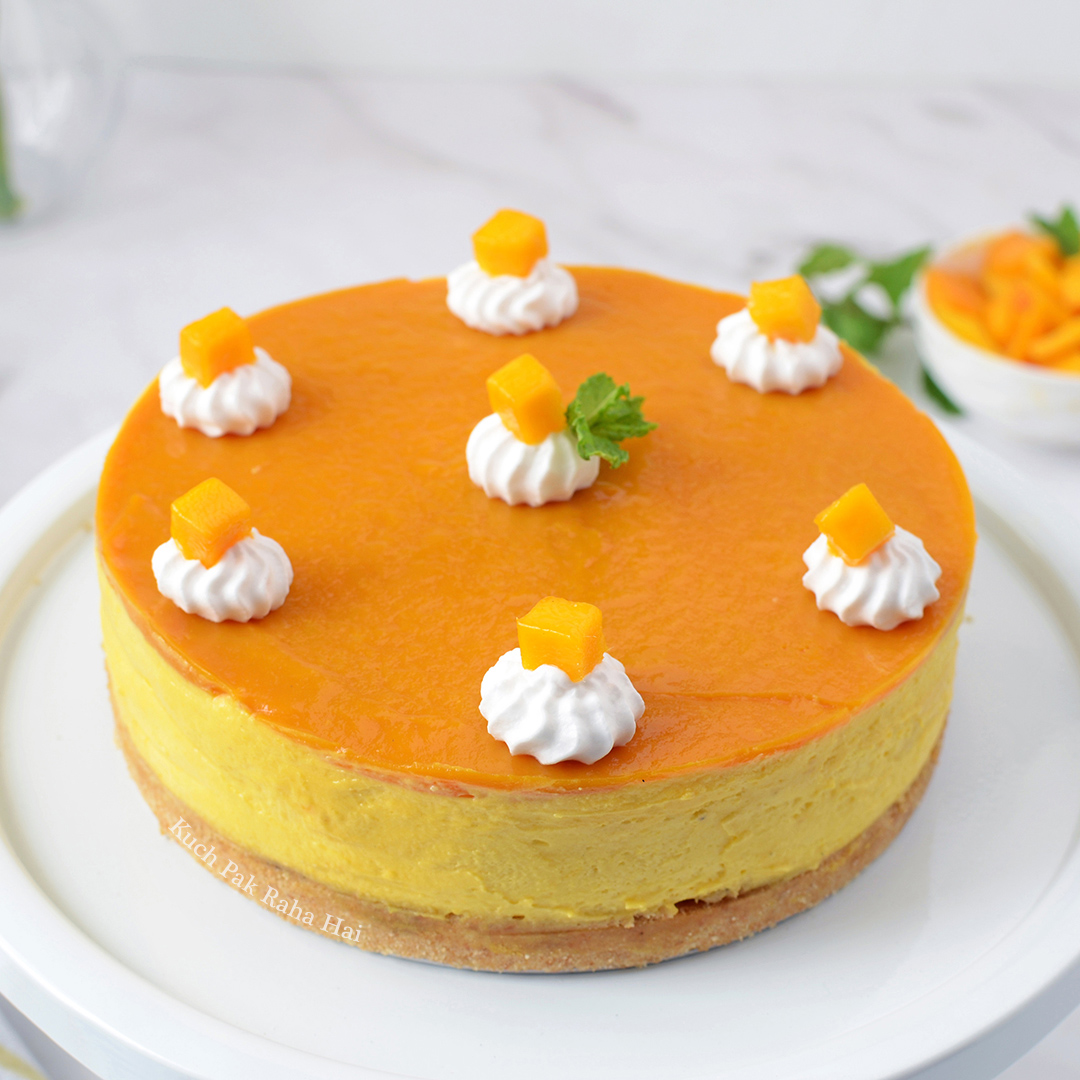 The best part about summers is mangoes and this eggless mango cheesecake is a must try before the season ends. I have always received so many compliments from my family & friends on this cheesecake and it was on my 'To-be-Posted' list for such a long time.
This mango cheesecake recipe is:
No Bake
Eggless
Made with Agar Agar
Easy to make
Every bite of this delectable mango cheese cake consists of crunchy buttery biscuit crust with rich smooth mango cream cheese filling, zesty mango jelly and fresh mango pieces. It has all the deliciousness of a cheesecake minus the complication and efforts of baking it.
Mango Cheesecake without Gelatin
Gelatin is derived from animals and therefore not used in making vegan or vegetarian cheesecakes. This mango cheesecake recipe is set with agar agar powder which is a vegetarian substitute for gelatin. You can use any brand of your choice. The one which I have used here, its link has been shared at the end of post.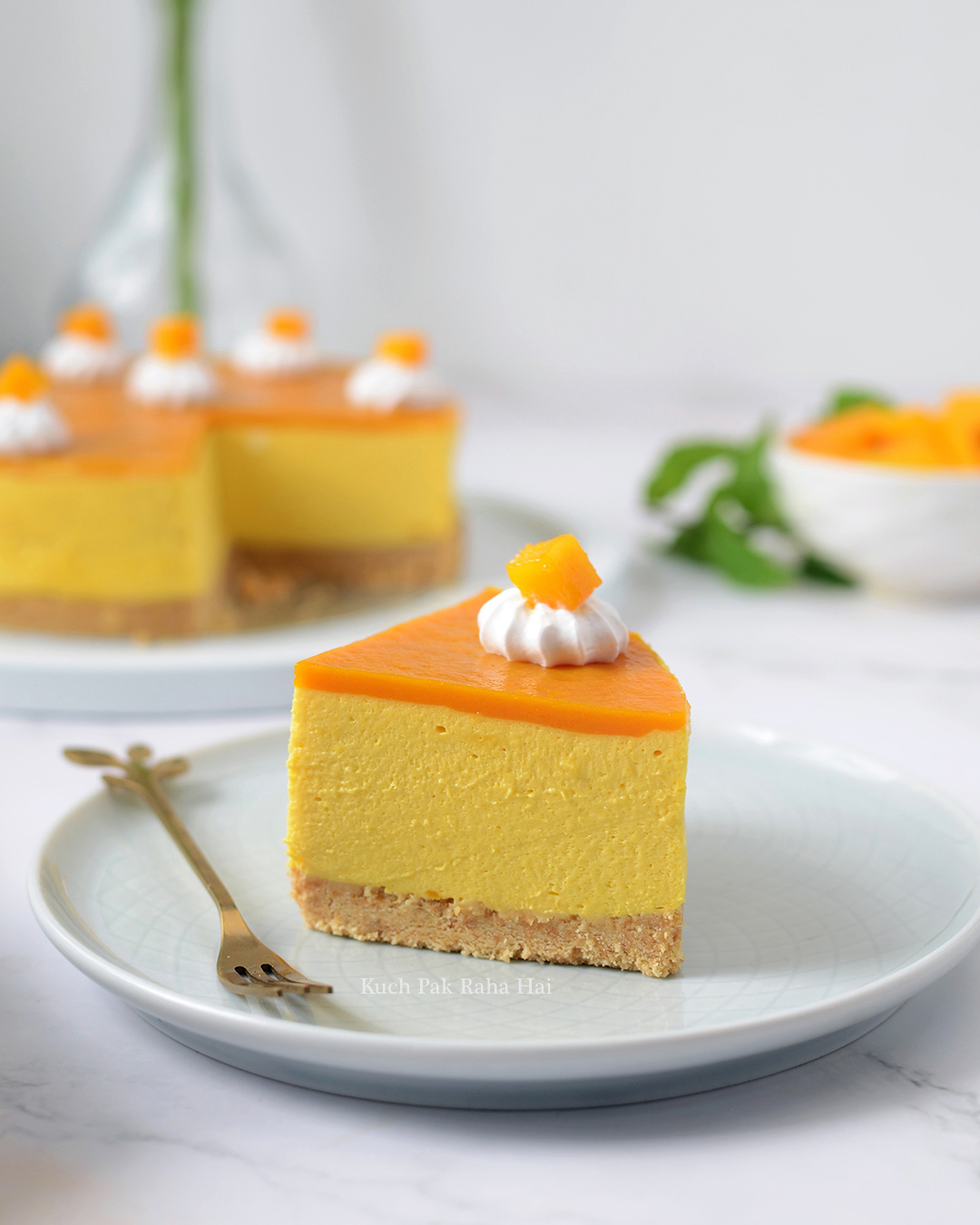 Three Layers in No Bake Mango Cheesecake-
Biscuit Base-
The bottom most layer of this cheesecake is made using biscuit and melted butter. I like to use a mix of salted & unsalted butter as little bit of saltiness goes well with the cheesecake flavour. You can use any biscuits like Marie, Digestive or multigrain biscuits for this layer.
Cream Cheese Filling-
This is the main layer of the cheesecake and is made using cream cheese, mango, heavy cream and sugar. As this is a vegetarian recipe, agar agar has been used to set this layer. If you wish you can also use gelatine instead of agar agar.
There are many brands of cream cheese in market these days like D'lecta and Philadelphia . You can use any brand but make sure to use the cream cheese which is meant for making cheesecakes. Don't use 'cream cheese spread' as they are meant for spreading on toasts & in sandwiches.

Mango Jelly-
This is the topmost layer of the cheesecake. The mango jelly adds to the beauty of this cheesecake while adds a punch of mango flavour in every bite. You can skip it if you want.
Which type of tin should be used for making cheesecakes?
To make this mango cheesecake, you can either use a spring form pan or loose base cake tin mould. Both the tins make it easy to de-mould the cheesecake. You can even set this mango cheesecake in small portions in dessert bowls or jars which makes them easy to serve in large gatherings.
Tip: To make the de-moulding process smoother, just wrap a warm towel around the tin for 2 minutes and then try to de-mould it.

I have also shared a youtube video for this recipe. If you like it do subscribe to my channel too 🙂
Youtube Video:
More Mango Recipes you might like :
Ingredients:
Marie Biscuits- 100 grams (18-20)
Melted butter- 4 to 5 tbsp
Mango Puree-1/2 cup + 2 tbsp
Cream Cheese-1/2 cup + 2 tbsp (150 grams)
Whipping Cream (sweetened)-1/2 cup
Powdered Sugar-1/4 cup
Water-2 tbsp
Agar Agar- (1+3/4) tsp
Lemon Juice-1 tsp
For Mango Jelly :
Mango Puree-1/2 cup
Powdered Sugar-1 tbsp (to taste)
Water-3 tbsp
Agar Agar-1/2 tsp
For Garnishing:
Fresh Mango Pieces- 8-10
Whipped cream (optional)-1/4 cup
Notes :
1. I have used fresh mangoes for making this cheesecake. You can use also canned mango pulp.
2. I have used non-dairy sweetened whipping cream. If you are using unsweetened cream add 1/4 to 1/3 cup of powdered sugar as per your taste to the cream while whipping.
3. For the biscuit base, you can use salted butter or a mix of salted and unsalted butter. If you are using only unsalted butter then add 1/8 tsp salt to it.
4. If the mangoes you are using are less sweet, add 2 to 3 tbsp powdered sugar in its puree as per you taste.
5. For best taste, use Alphonso mangoes for making this cheese cake. You can use other varieties too, just make sure to choose the pulpier variety which is less fibrous.
6. I have used 6″ inches removable base cake tin for setting this mango cheese cake. Amazon link is shared for it at the end of post.
7. 1 cup used here is equivalent to 240 ml.
Directions:
Step 1 :
Grind the biscuits  coarsely in a grinder jar. Transfer them in a mixing bowl and add melted butter to it. Mix well.
Step 2 :
Take a spring form tin or a tin with removable base. Slightly grease its bottom with some oil. Transfer these biscuit+butter mixture on it. Level it with a back of spoon and then press it firmly using back of a flat glass or bowl. Transfer it in refrigerator for 30-40 minutes to set completely. By the time the base is setting, let us move to next step.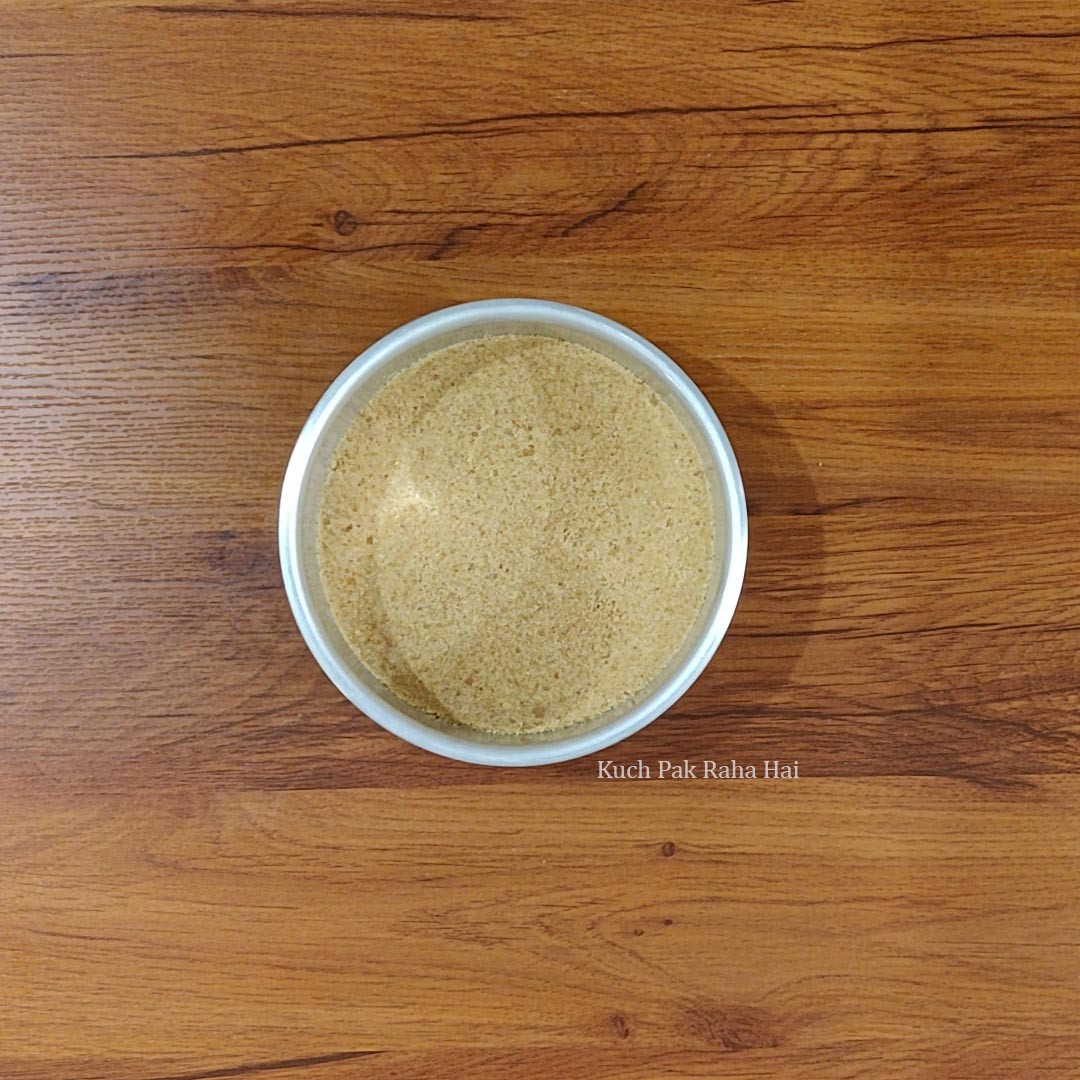 Step 3 :
In a mixing bowl take chilled heavy cream. Whip it till the cream becomes soft, fluffy and you notice soft peaks forming. If you are using unsweetened whipping cream, also add powdered sugar at this step (check the notes above). Keep this whipped cream in fridge and move to next step.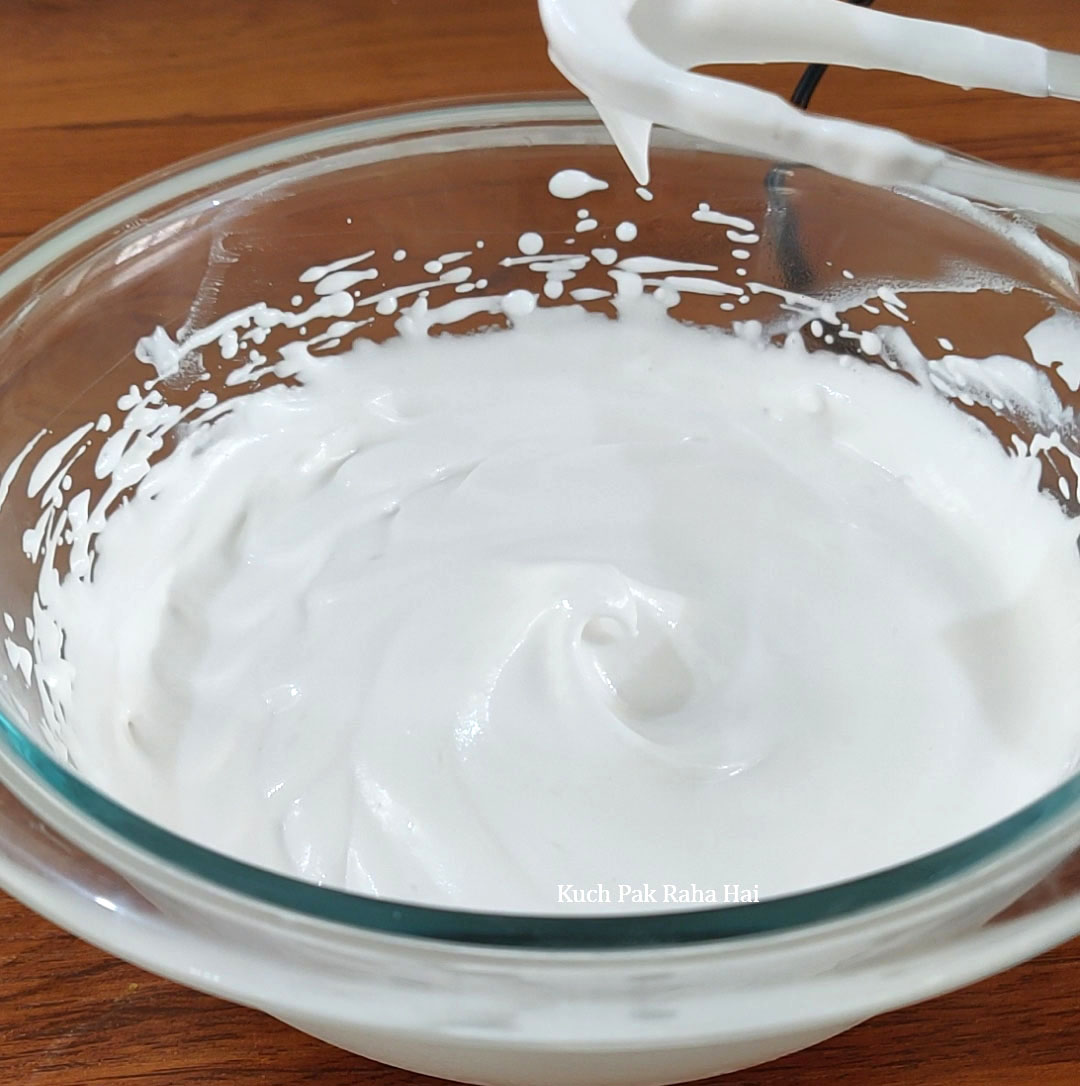 Step 4 :
Take cream cheese in a mixing bowl. It should be at room temperature. Start whisking it and gradually add powdered sugar to it while whisking. Once it is fluffy, keep it aside.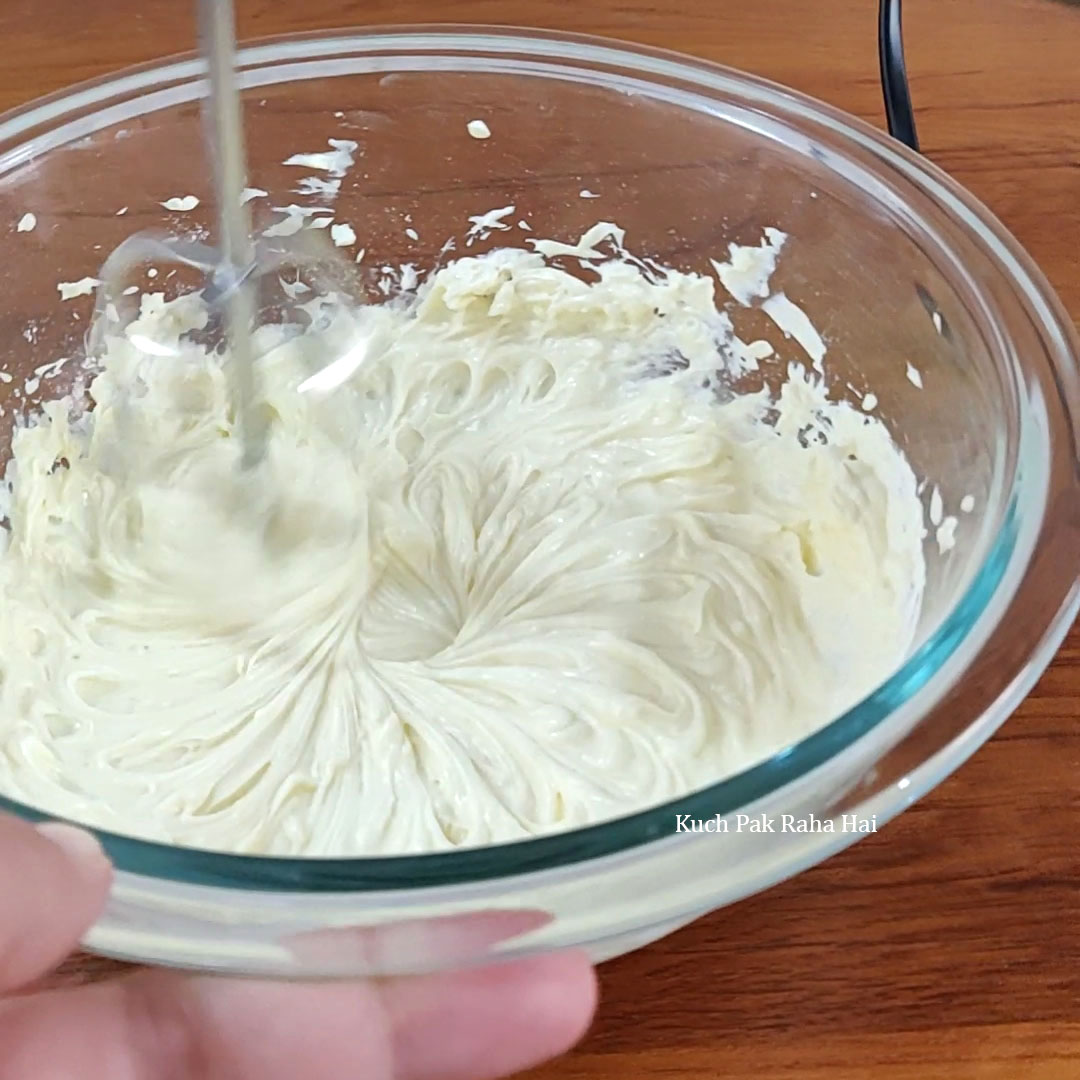 Step 5 :
In a pan, add water, mango puree and agar agar. Mix well for 2-3 minutes. If the mangoes are sour or less sweet, add some powdered sugar also as per your taste. Transfer this pan on medium-low flame and keep whisking it till the mixture starts boiling. Remove it from flame and add lemon juice to it and whisk for 1 minute more.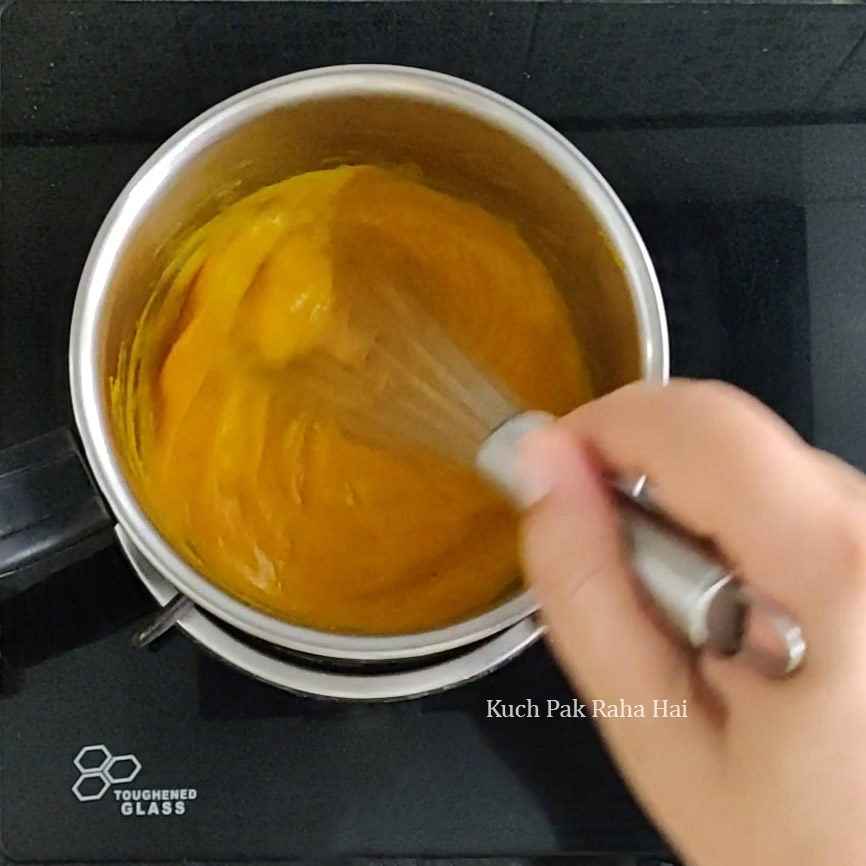 Let this mixture cool down for 1-2 minutes and then add it into cream cheese while continuously whisking. To this mango & cream cheese mixture add whipped cream and fold well using a spatula.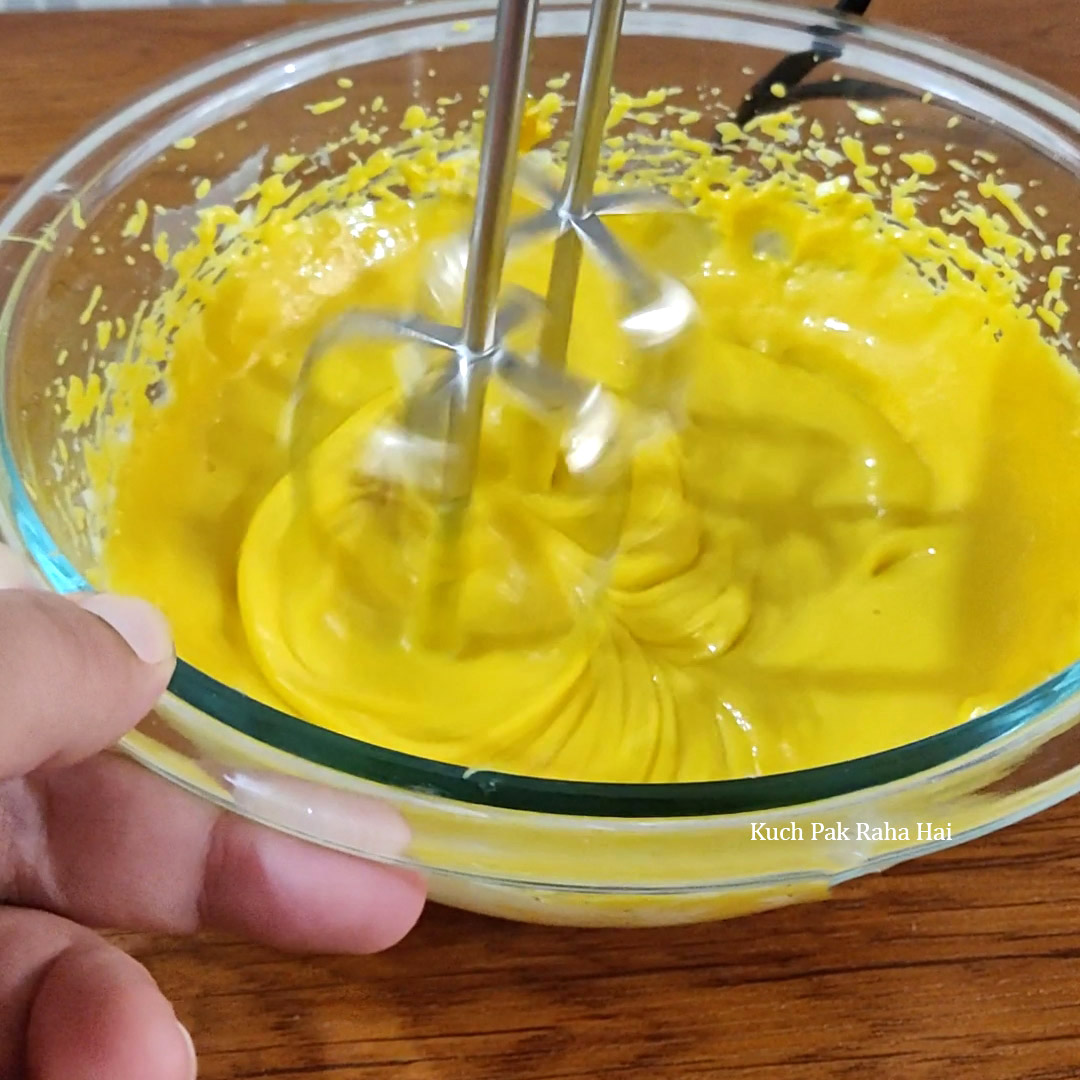 Step 6 :
Add the above mixture to the prepared biscuit crust. Level it with back of spoon or spatula. Transfer it in freezer for 1/2 hour to set.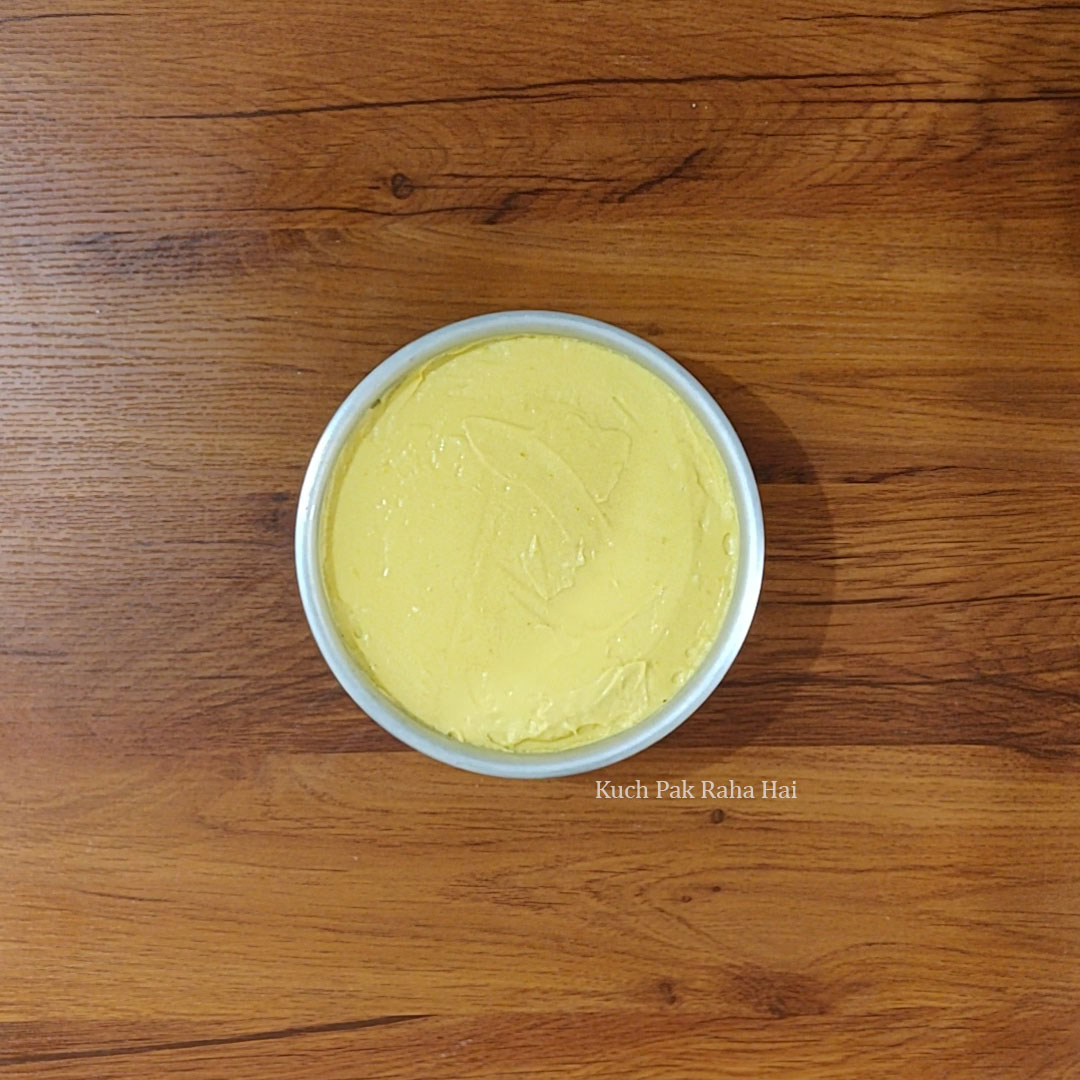 Step 7 :
To prepare mango jelly, add all ingredients of mango jelly in a pan and mix it well. Transfer the pan on medium-low flame and keep whisking till you see the mixture boiling.
Once it is done, check the top of mango cheesecake. It should not be wet. Add hot mango jelly mixture on top of set cheesecake and give the tin a swirl so that jelly is evenly distributed. Transfer the cheesecake in fridge overnight (6 to 8 hours) to set completely.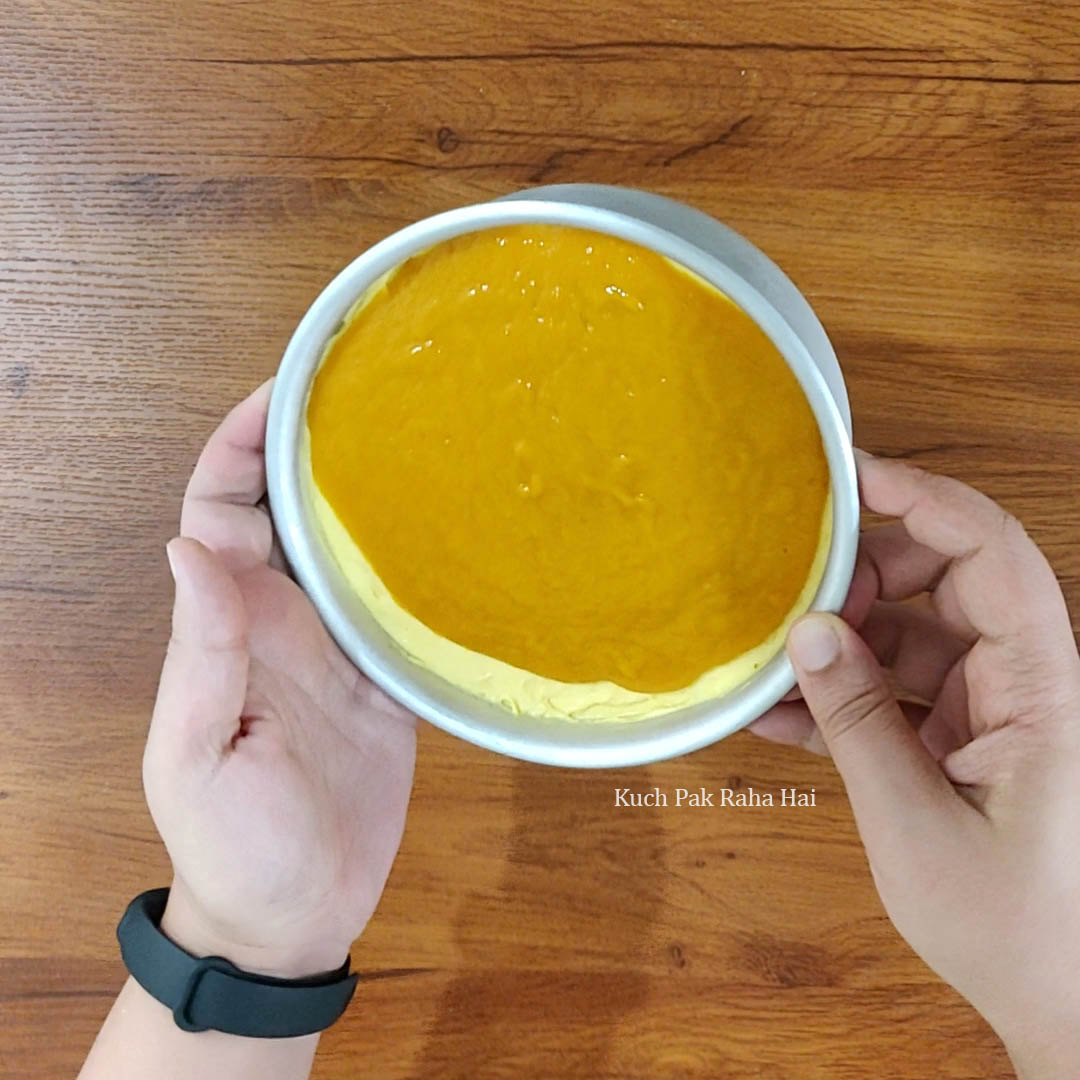 Step 8 :
De-mould the cheesecake and decorate with some whipped cream, fresh mango pieces or mint leaves as per your liking.
Slice and enjoy this sinfully decadent delicious no bake mango cheesecake. Bon Appetit!!
Pin for later: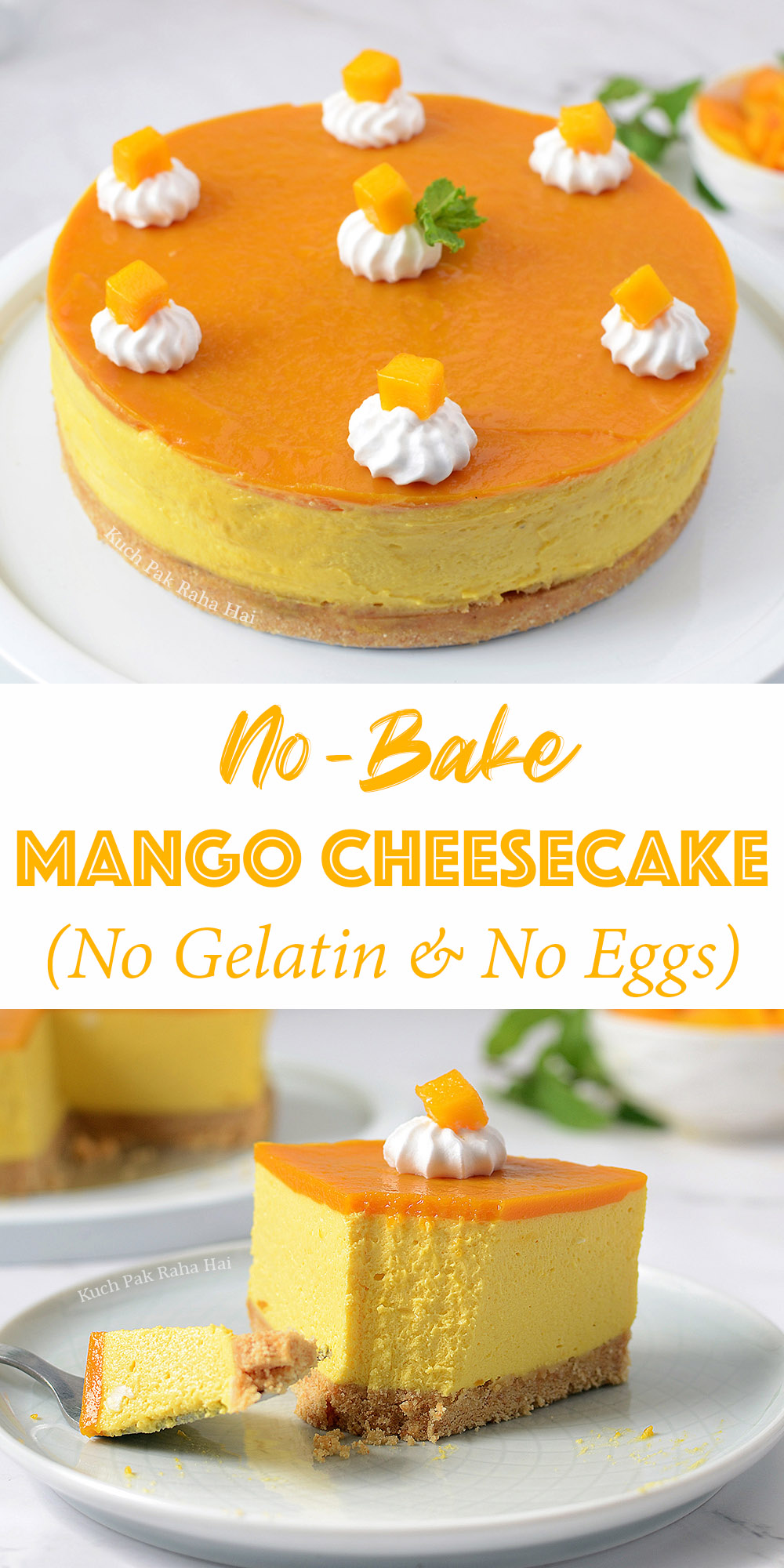 How to store this mango cheesecake?
Once the cheesecake is de-moulded, store it in fridge at all times. It stays fine for 2-3 days. You can make this cheesecake ahead of time before any party and set in small glasses for easy serving.
Kitchen Products Used:
(The above shared links are amazon affiliate links. Please refer to privacy policy page for more details. You can also shop from our Amazon storefront.)
If you try this recipe & share pics on social media, then don't forget to tag us on Facebook or Instagram or use the hashtag #kuchpakrahahai.