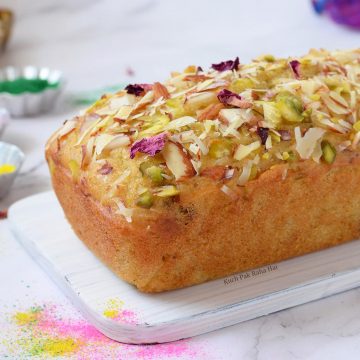 Thandai Cake is a delicious Indian fusion dessert recipe where traditional fragrant thandai flavours are infused in a soft spongy eggless cake. It is perfect cake to celebrate any occasion or festivals like Holi, Diwali or Raksha bandhan.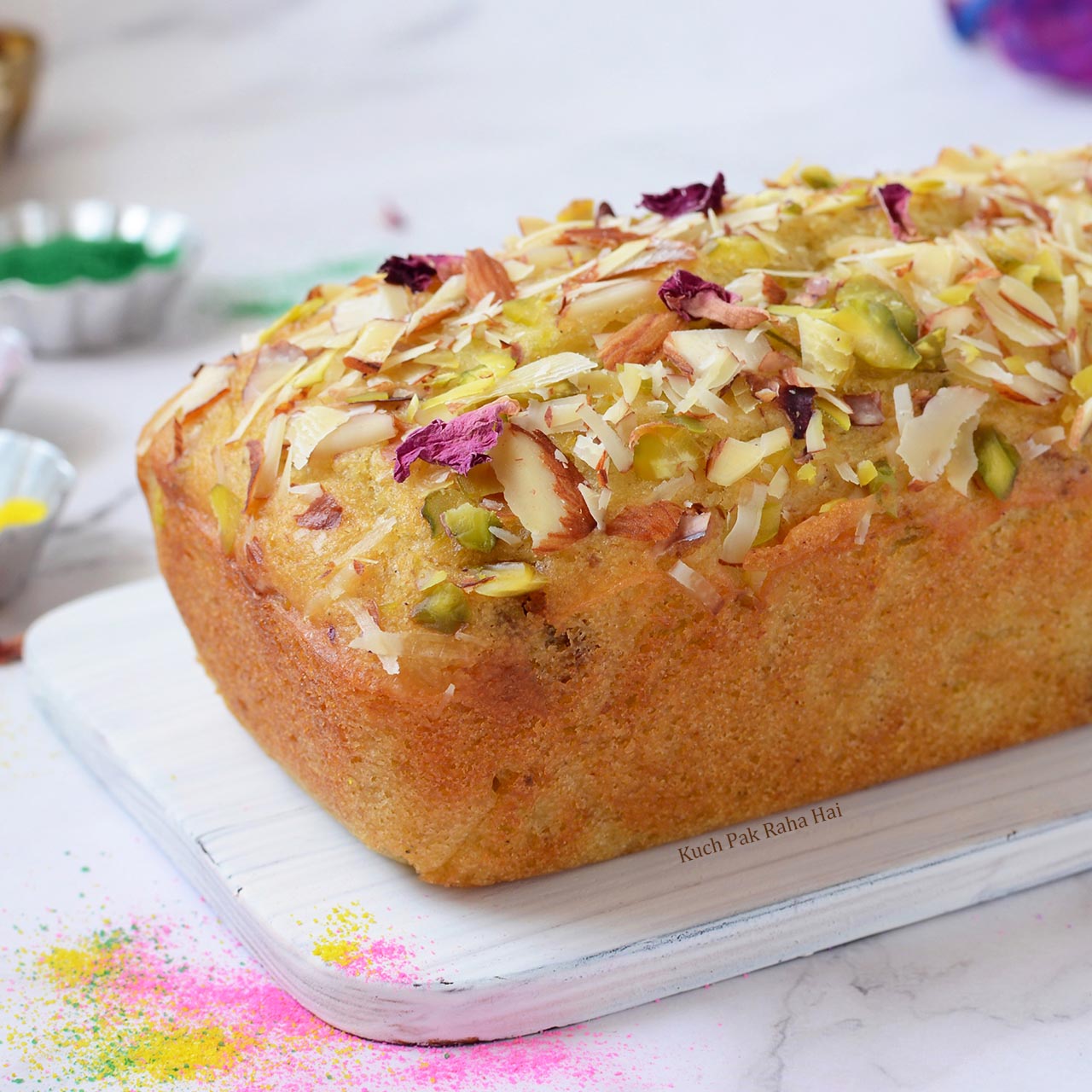 Holi, also known as the festival of colours, symbolises the end of winter & season onset of spring. It is celebrated with great zeal and enthusiasm. On this day various sweets & snacks like gujhiya, malpua, namakpare, papdi chaat, drinks like thandai, kanji & jal jeera etc are made and relished in Indian homes.
What is Thandai?
Thandai is a popular Indian drink made by blending milk with almonds, cashews, pistachios, poppy seeds, rose petals (or gulkand), saffron, cardamom, fennel seeds and black pepper etc. Thandai blend can be made in either powder or syrup form which is then mixed with milk.
Thandai Cake
Last year I shared homemade thandai powder recipe, so this year I decided to infuse its flavour in an eggless tea cake to make a holi special drool-worthy fun fusion dessert. This thandai cake turns out absolutely soft, fluffy and bursting with cool thandai flavour.
Every bite of this cake is absolute bliss with beautiful amalgamation of scents from various spices like saffron, cardamom, fennel and poppy seeds etc. It is easy to make and if you are planning a menu for holi party then this cake is definitely a show stopper.
If you also love to try Indian fusion desserts then definitely checkout eggless mini gulab jamun cheesecakes recipe.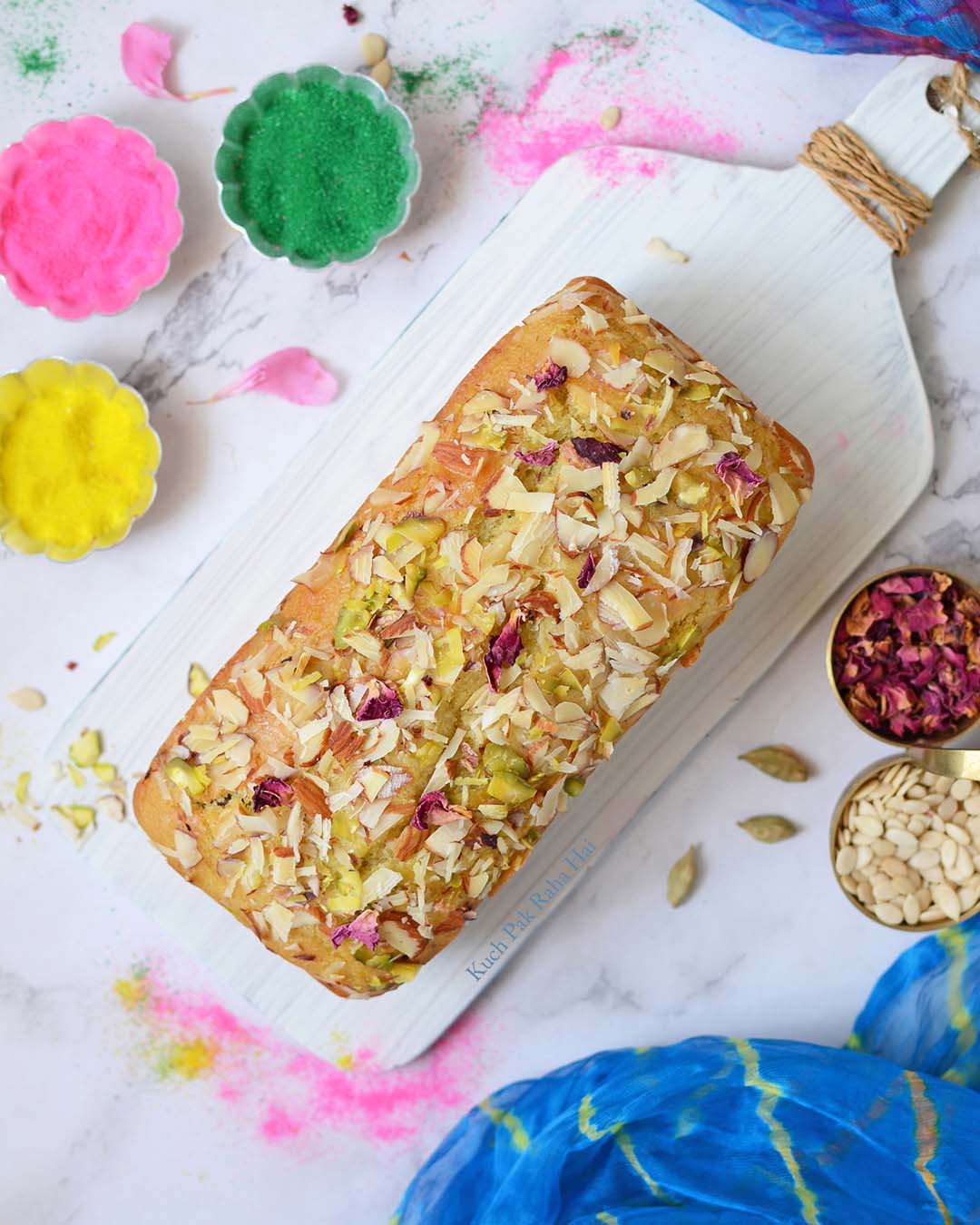 Ingredients for Thandai Cake:
Thandai Powder: You can use homemade or store bought thandai powder for this recipe. To make it from scratch at home, check out the thandai powder recipe here.
Milk: Thandai powder ingredients release its flavour and aroma on getting soaked in warm milk, so to use it in this recipe also, the thandai powder i soaked in warm milk first for 20 to 30 minutes. We will use this milk in making cake after it has reached room temperature. You can use full fat, skimmed or almond milk for it.
Flour: All purpose flour or maida has been used in making this thandai cake. If you want you can use half APF and half whole wheat flour, however with whole wheat flour the cake might turn out slightly dense.
Sugar: I have used granulated sugar here. You can even use brown sugar or jaggery powder and can adjust the quantity of sugar as per your taste.
Yogurt: You can use store bought or homemade yogurt (curd) in this thandai cake. If you are using homemade curd, use only its thick part.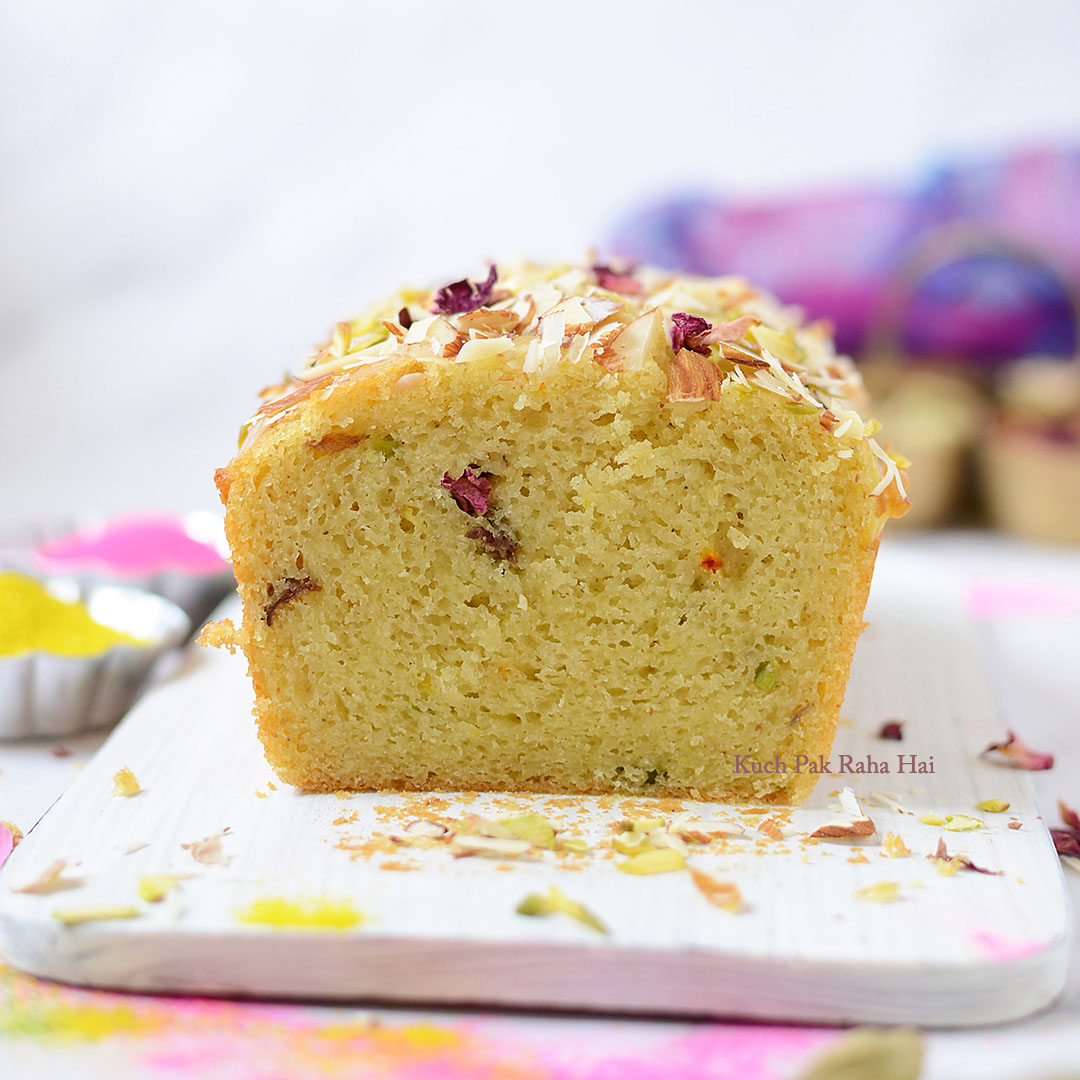 Oil: It is best to use neutral oil like sunflower oil, canola oil in cake recipes as they dont not have any odour or taste of their own.
Saffron: Saffron, also known as kesar in hindi, is known for its golden orange hues and divine fragrance. It is added in this thandai cake to enhance the colour and aroma. If you don't have saffron you can use few drops of yellow food colour or saffron essence.
Dried Rose Petals: Some dried rose petals are added in the batter to add colour and aroma. You can skip it or instead add few drops of rosewater.
Almonds & Pistachios: Indian sweets are incomplete without the addition of almonds or pistachios. In this thandai cake also some chopped pistachios are added in batter and sliced almonds and pistachios are added on top of the cake for crunch.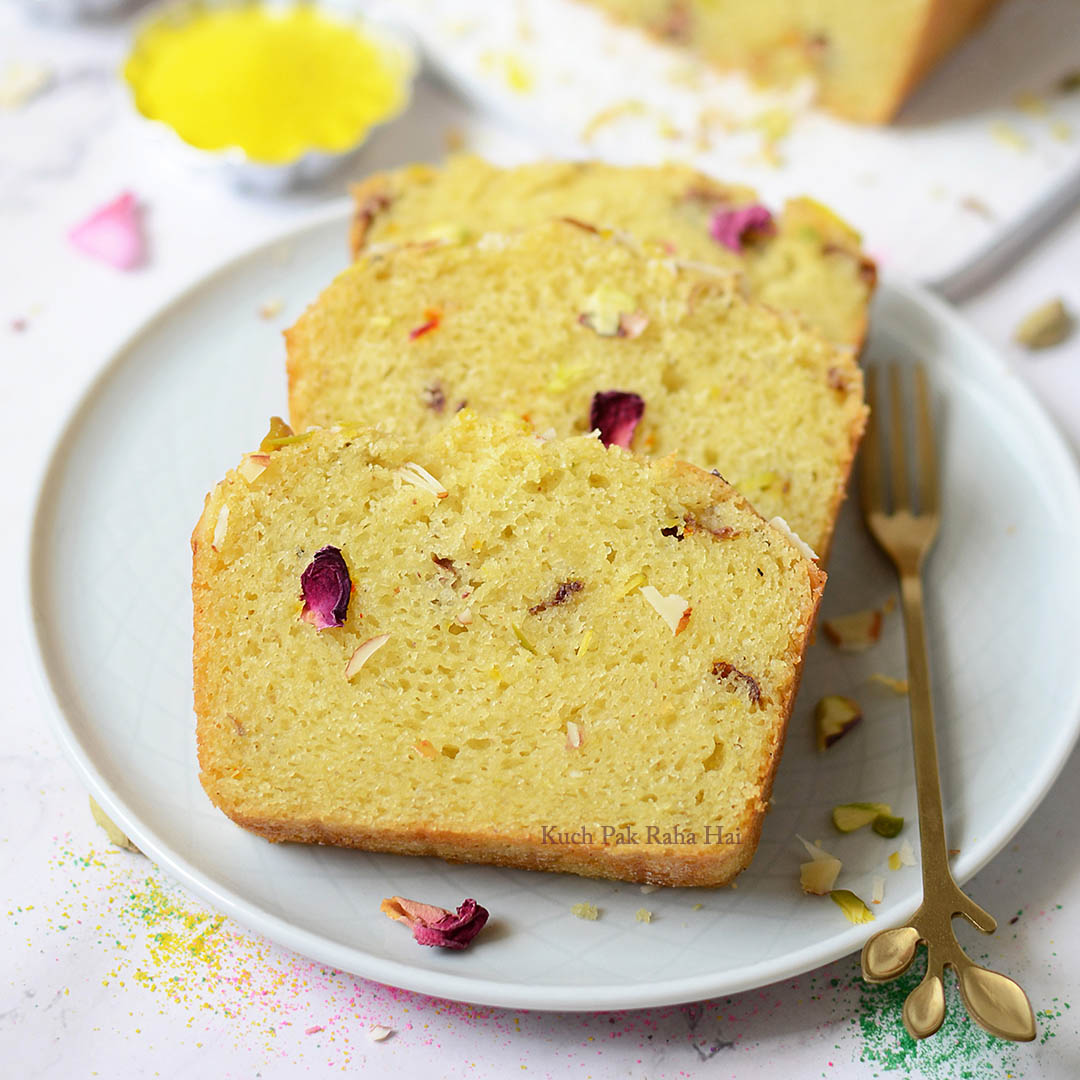 Thandai Cake Serving Ideas:
You can slice & serve this cake as it is or top it up with rosewater sugar glaze, whipped cream or pair with ice cream flavours like pistachio, saffron or honey.
More Holi special recipes:
I have also shared youtube video for this eggless thandai cake recipe. In case of doubt at any step, please refer to it or drop you queries in comments below 🙂
Youtube Video:
Hope you would like this easy eggless thandai cake recipe.

Ingredients :
All Purpose Flour (Maida)-1 cup
Granulated Sugar-1/3 cup + 2 tbsp
Warm Milk-1/4 cup + 2 tbsp
Thandai Powder-3 tbsp
Saffron- 7 to 10 strands
Yoghurt (Thick curd)- 1/2 cup
Oil-1/4 cup
Baking Powder-1 tsp
Baking Soda-1/4 tsp
Chopped Pistachios- 3 to 4
Dried Rose Petals- 1 tbsp
Sliced Almonds- 4 to 5
Sliced Pistachios- 4 to 5
Notes :
Measuring Cup Used: 1 cup = 250 ml
I have used small loaf tin size: (23×11.7×5.5)cm. Link shared at the end of post.
If you like more sweet cake then you can take upto 1/2 cup of sugar.
Make sure the yogurt or curd that you are using is not sour.
Rest all the substitutions and ingredients details are explained in the post above.
Directions:
Step 1 :
Take warm milk in a bowl. Add thandai powder, saffron strands and mix well. Keep it aside & let it cool down at room temperature. By the time, thandai milk is cooling down let us move to the next step.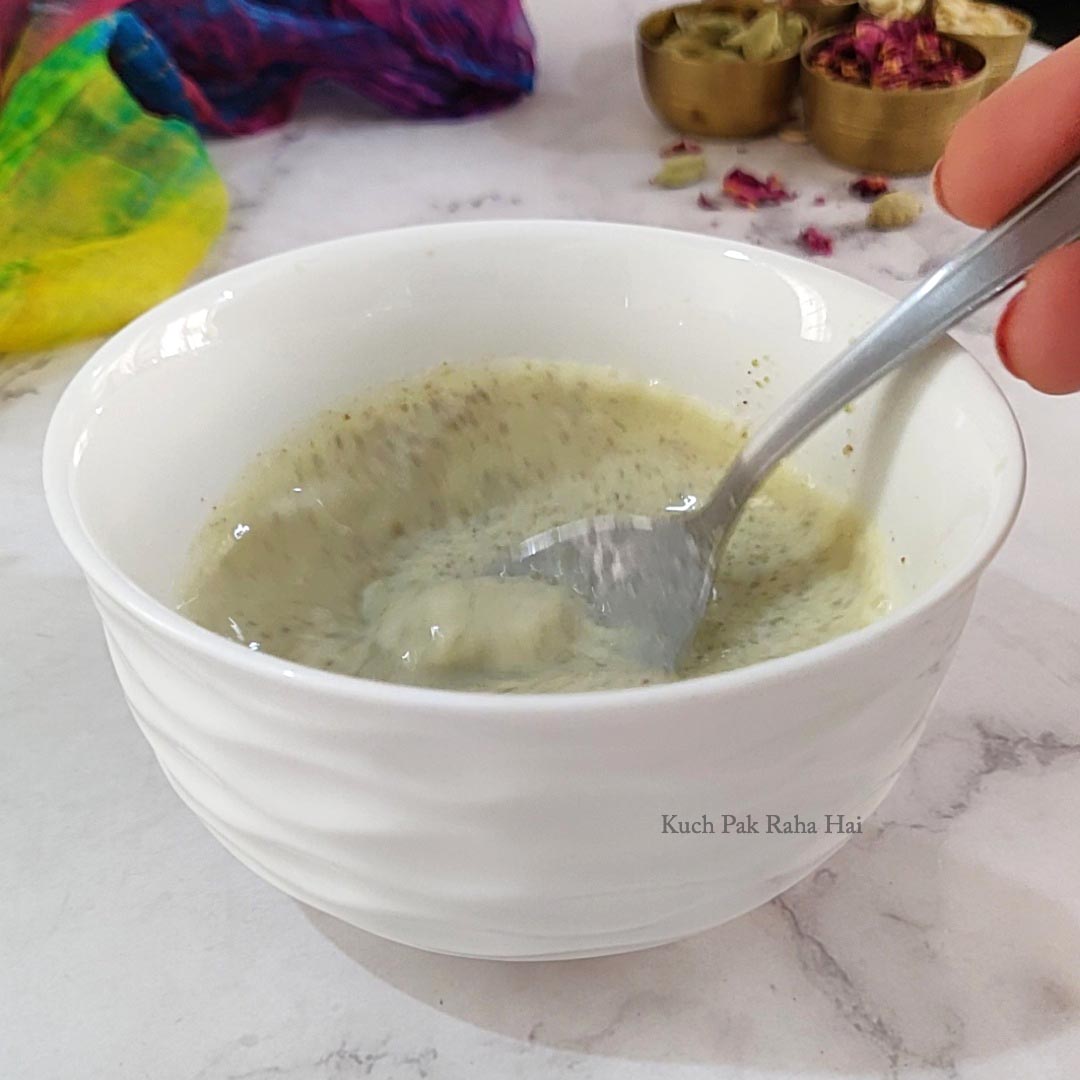 Step 2 :
Sieve together maida (flour), baking powder and baking soda in a bowl. These are the dry ingredients. Keep them aside.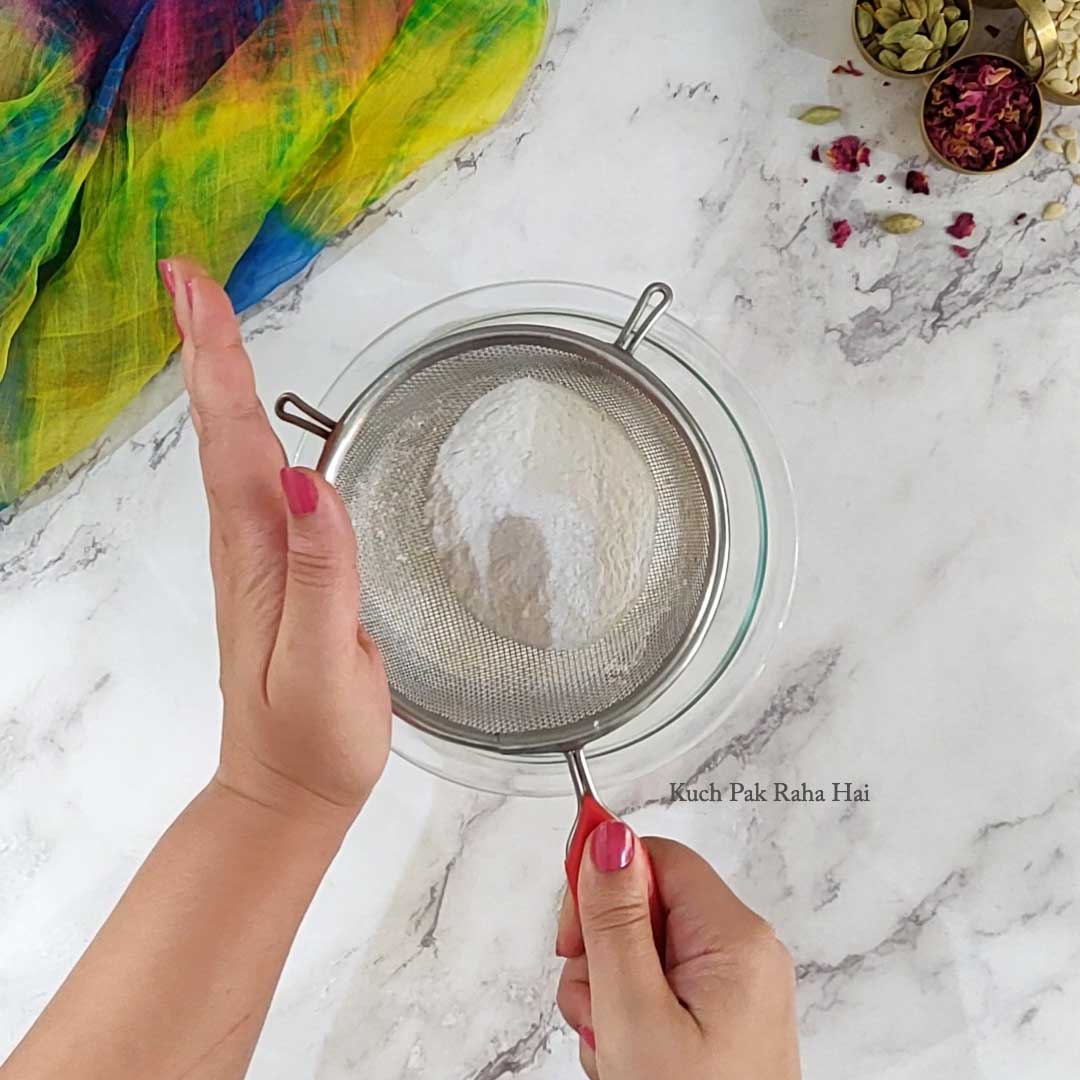 Step 3 :
In a bowl, take yoghurt & add sugar to it. Whisk well till sugar is dissolved completely. Add thandai milk and oil. Whisk once for 5-7 minutes so that all wet ingredients are mixed properly.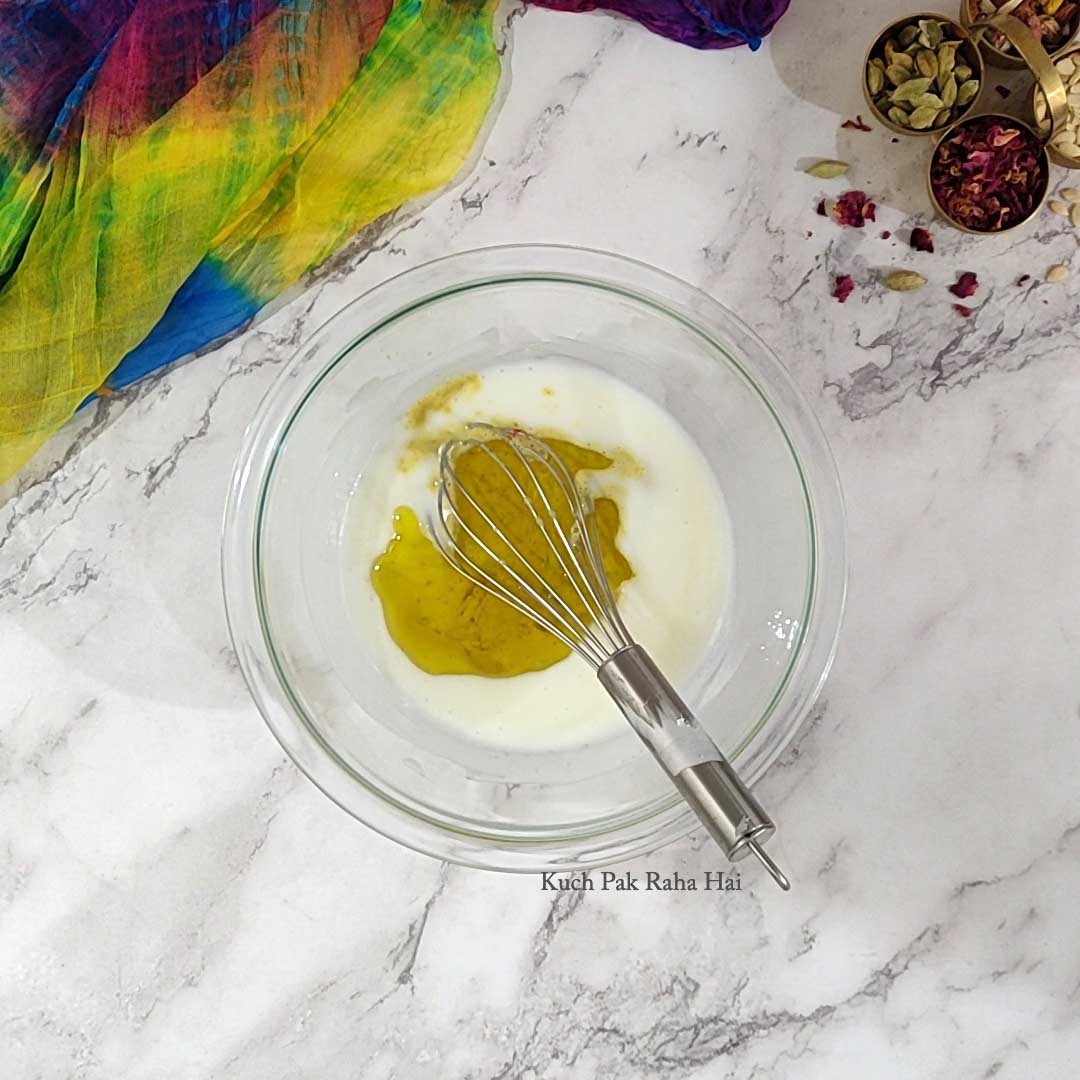 Step 4 :
Set the oven for preheating at 180 degree celsius. By the time oven is preheating, prepare the cake or loaf tin by lining with a parchment paper & brushing oil on it. Keep it aside.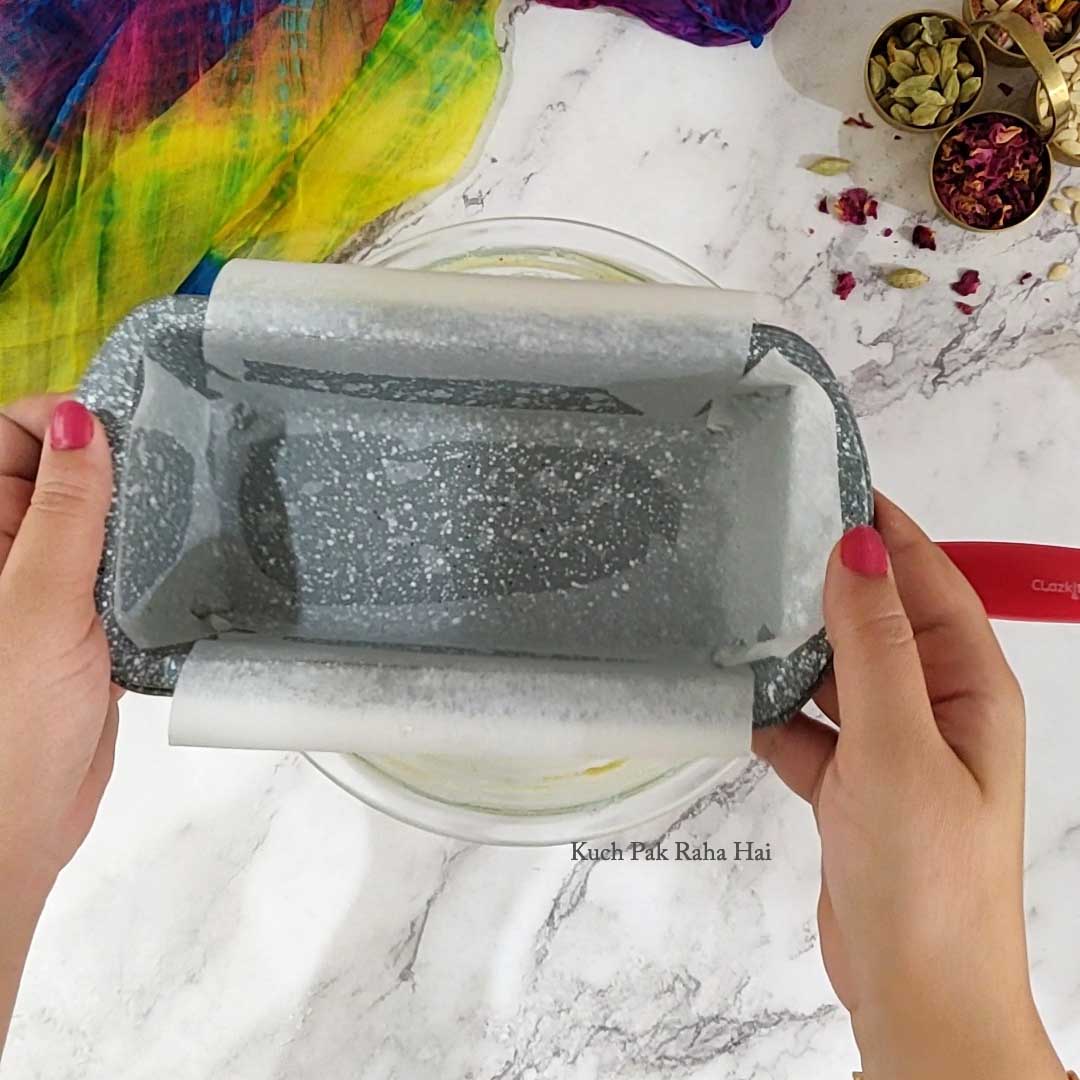 Step 5:
We will finally be preparing batter in this step. Add the dry ingredients it the wet ingredients bowl in 2 parts. Fold the batter gently using cut & fold method. Add chopped pistachios, dried rose petals and fold gently.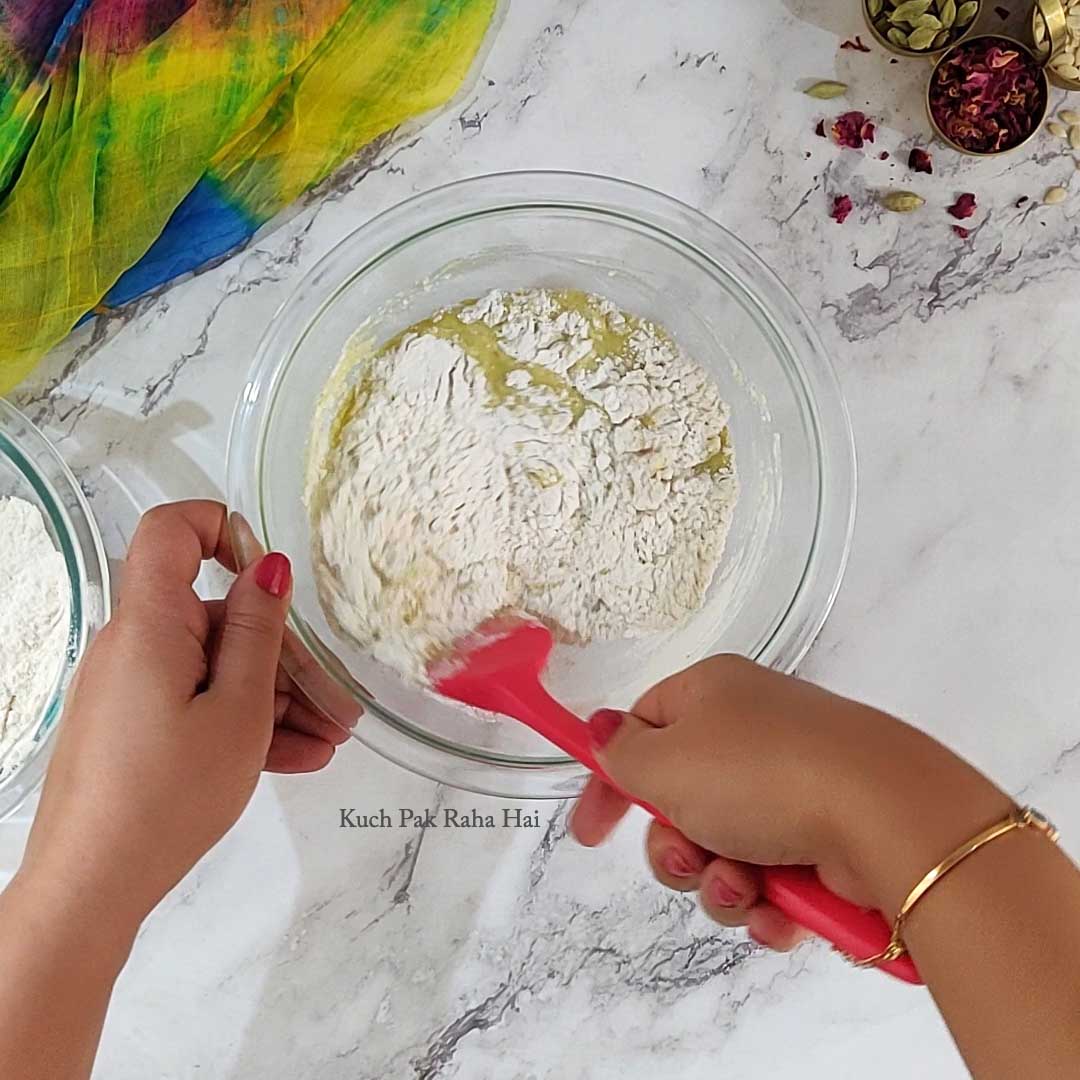 Step 6:
Once the batter is ready, pour it into lined cake tin. Level it with back of a spoon or silicon spatula. Tap 2-3 times to get rid of air bubbles. Garnish with more sliced almonds and pistachios.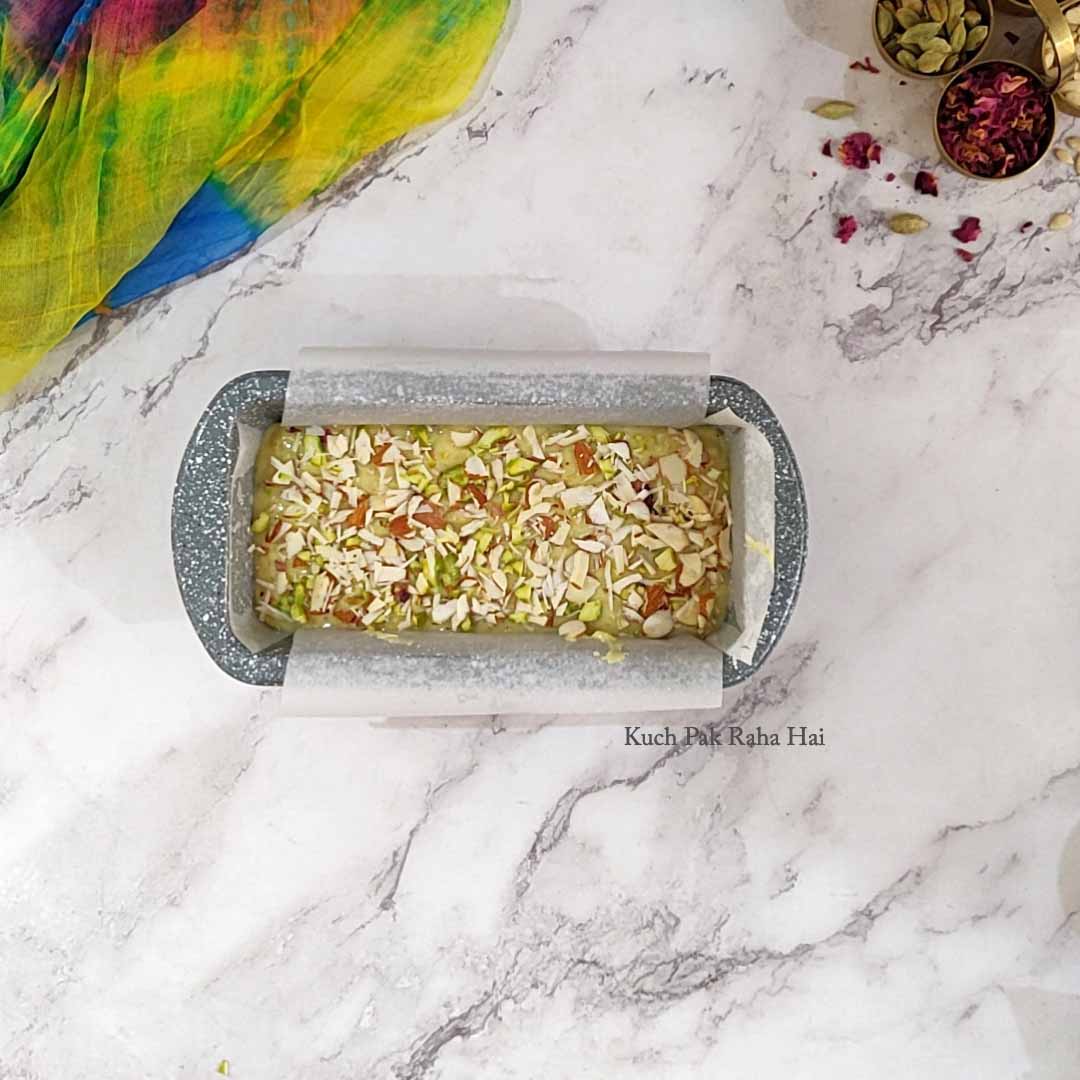 Step 7:
Bake at 180 degree Celsius for 30 minutes. Check the centre of a cake after 30 minutes using a skewer or knife. If it comes out clean, the cake is ready else bake for 2 more minutes.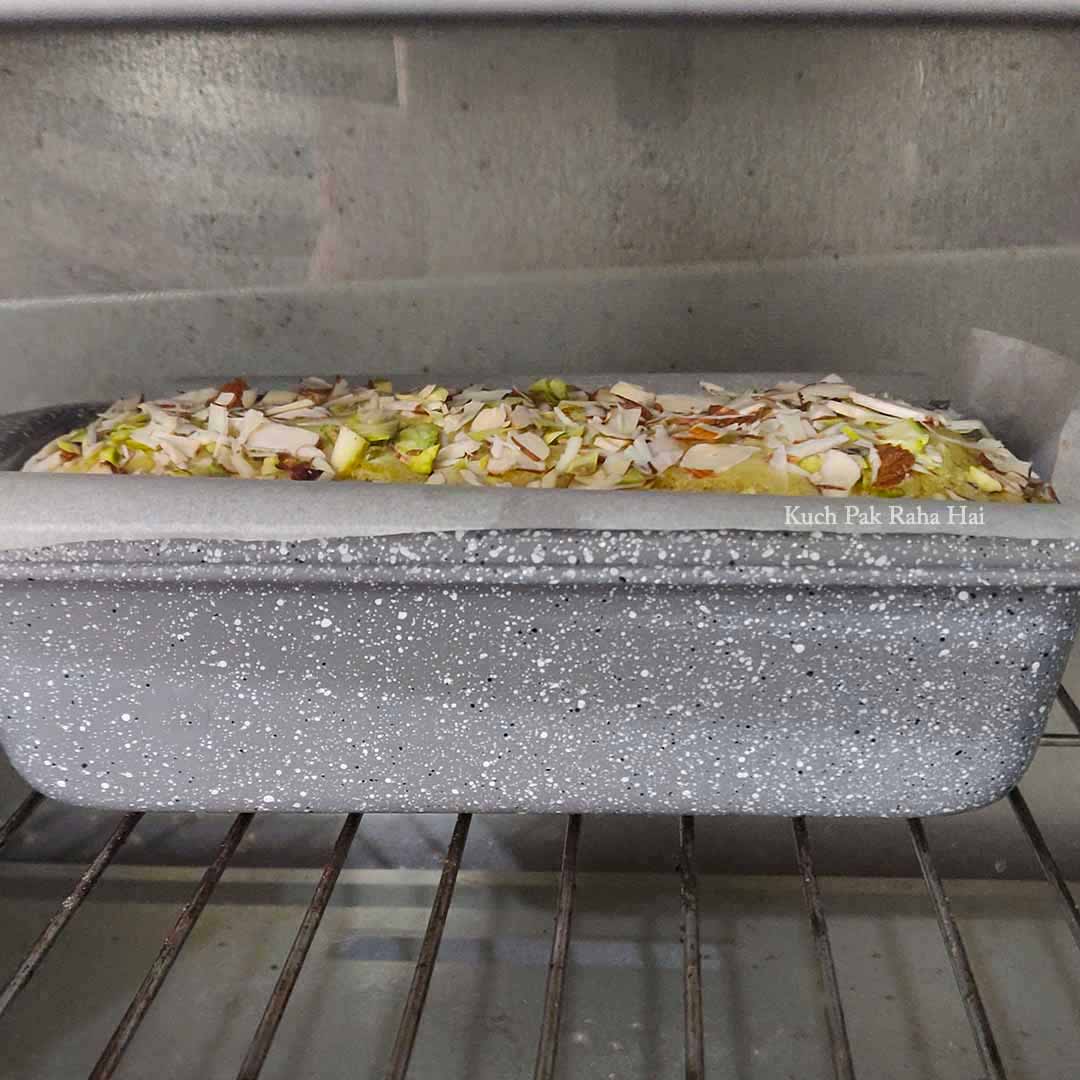 Step 8:
Transfer it on wire rack to cool down completely. Decorate with ome more chopped pistachios and dried rose petals.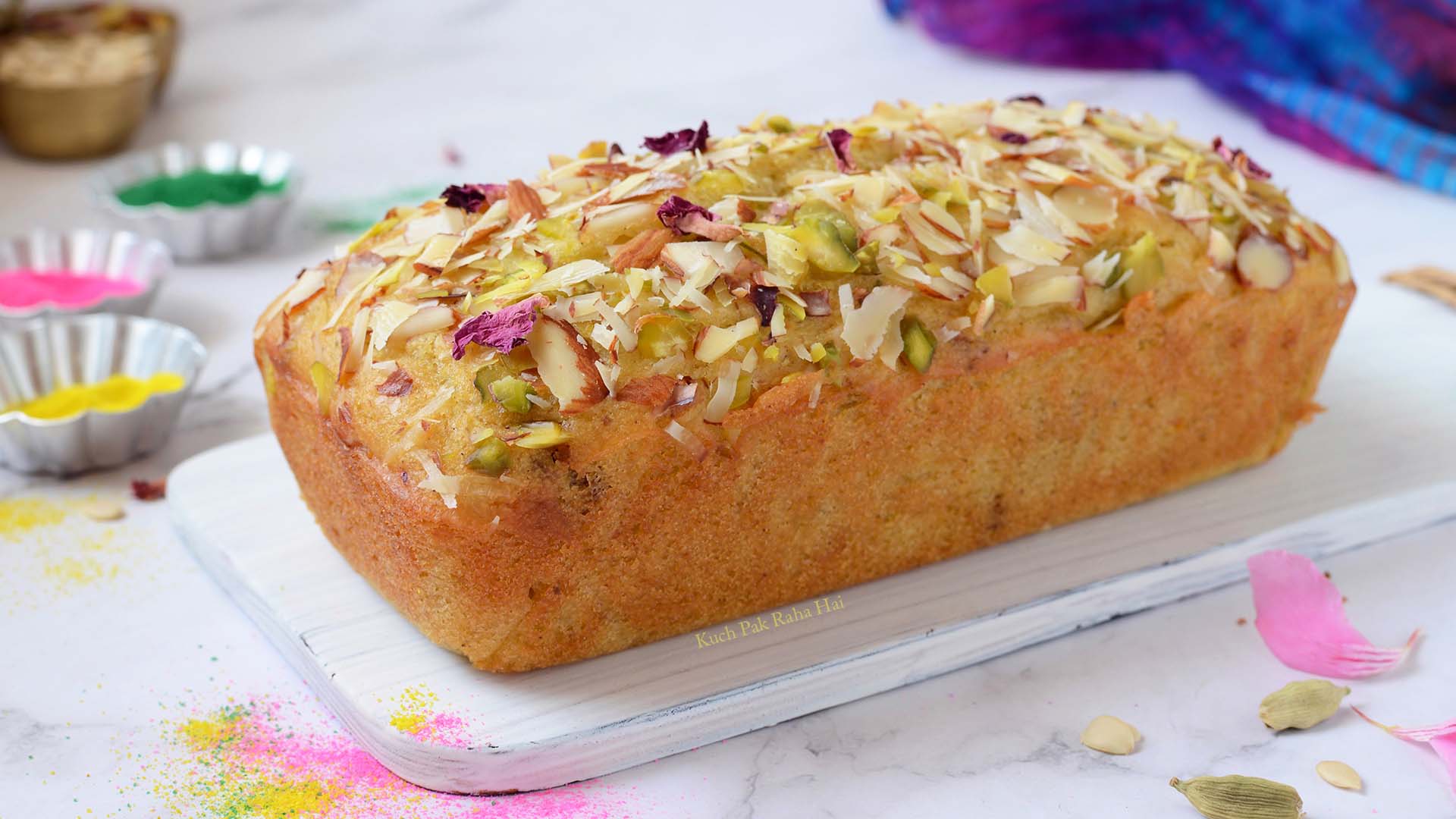 Enjoy this soft, delicious and absolutely heavenly Eggless Thandai Cake. Happy Cooking !!
Tips :
1. Bring the Thandai milk at room temperature before using in recipe.
2. Instead of loaf cake you can even baked this cake in 6″ round tin or 6 to 7 muffins.
3. You can make this thandai cake in advance & store it in an airtight box in refrigerator for 2 to 3 days. Serve it as it is or warm after heating in microwave for 15-20 seconds.
Pin for later :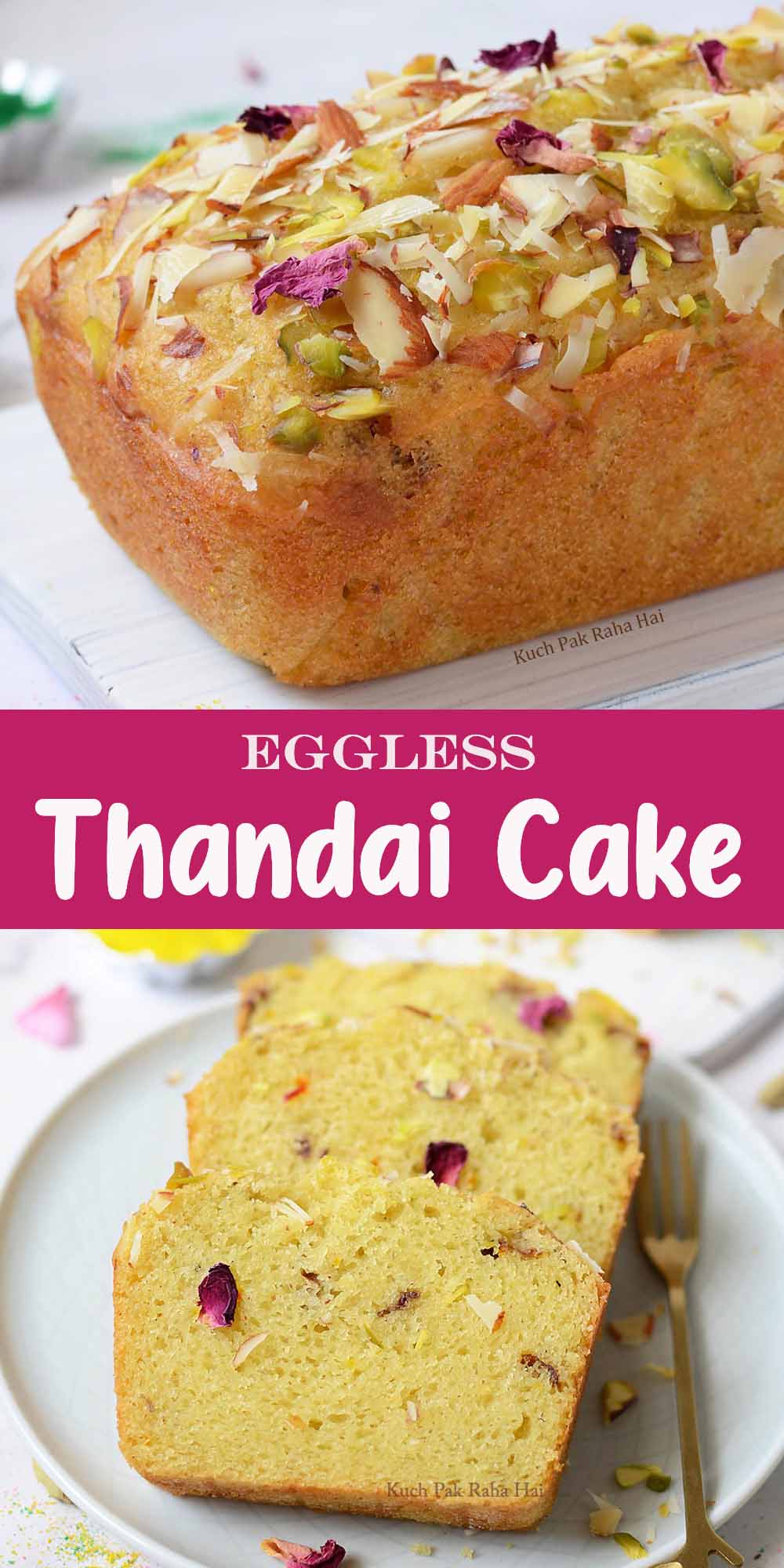 Kitchen Products Used:
More eggless cakes recipes you might like:
If you try this easy thandai cake recipe then don't forget to tag us on Instagram or Facebook or use the hashtag #kuchpakrahahai.
Let's stay connected
Facebook| Instagram| Pinterest | Youtube