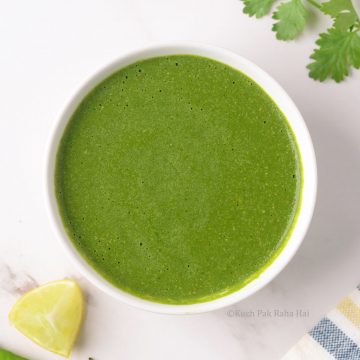 Green chutney is a tasty tangy Indian chutney recipe served with chaat or various snacks like samosa, fritters (pakoda), tikki or kebabs. It tastes absolutely refreshing, instantly adds zing to the dishes with its flavour & aroma.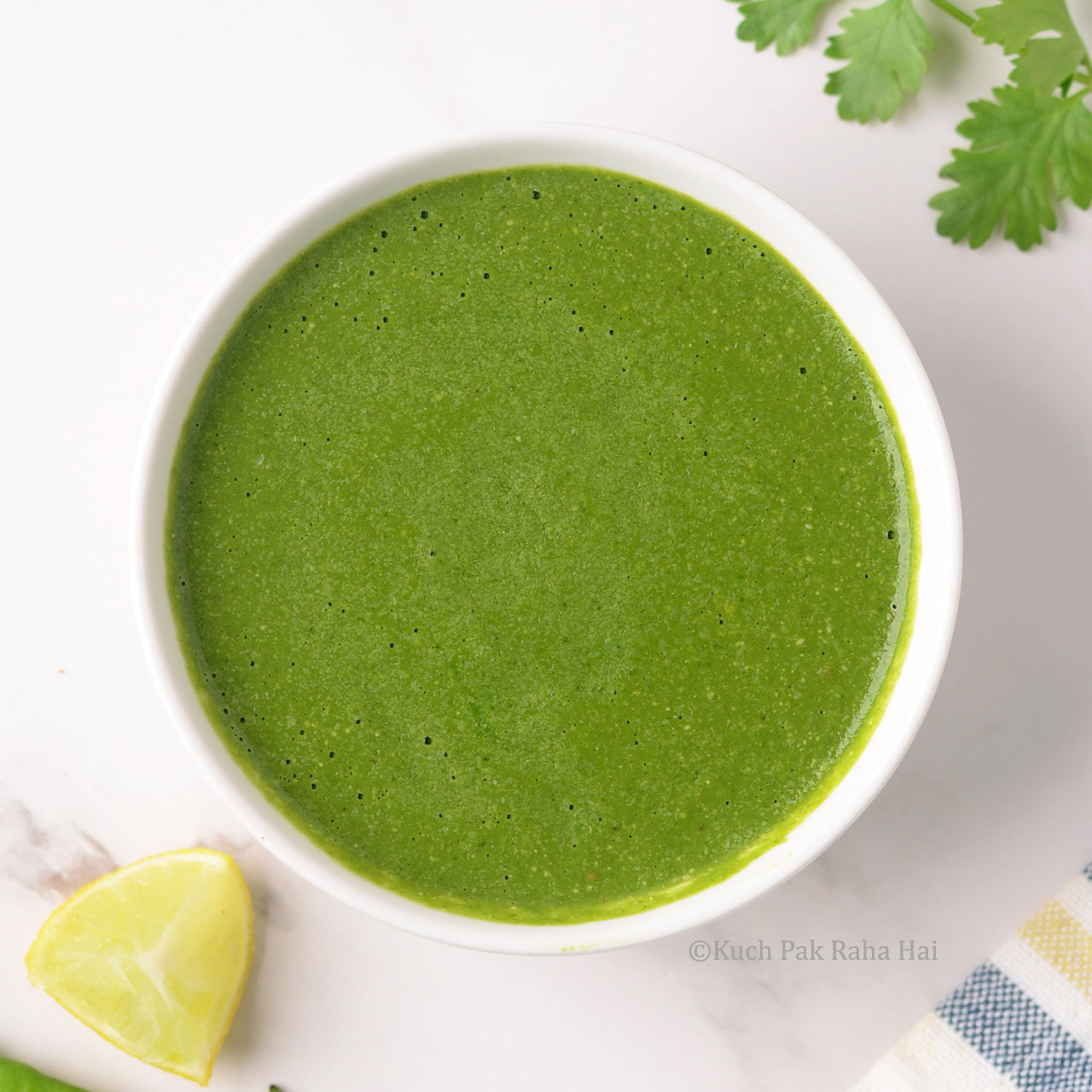 Green chutney is also commonly known as coriander chutney, cilantro chutney, hari chutney or dhaniya pudina chutney. At my home, it is especially relished with Indian snacks like potato or onion pakora / bhajiya (fritters), dhokla, kachori or chaat. The tangy spicy fresh taste of this chutney instantly enhances the taste of crunchy fritters. The green chutney recipe shared here is:
Vegan
Oil Free
Vegetarian
Gluten free
What is Indian green chutney made of?
This green chutney is made by blending fresh herbs like coriander / cilantro, mint, green chillies, ginger, garlic, lemon juice and salt. It can be be served as condiment with regular meals like dal, rice & roti, as a spread in sandwiches, burgers, wraps, rolls etc or as dressings in salads .
Its recipe is quite flexible as the ratios of herbs and spices can be adjusted as per your taste.
Ingredients for green chutney:
Cilantro / Coriander : Coriander & cilantro have almost similar flavour profiles & both can be used interchangeably in the recipe. It is the main ingredient of the recipe. Use it leaves and tender stems to make the chutney for maximum flavour.
Mint: Mint, known as 'pudina' in hindi, adds a nice aroma & cooling flavour to the chutney. In winter season when it is not readily available in markets, you can make green chutney without mint too.
Green Chillies: Green chillies add spiciness to the chutney and add be added less or more as per your choice. Instead of Indian green chillies, you can use jalapeños or Thai green chillies too.
Garlic: I sometimes add garlic to add more flavour to chutney. However if you don't like the pungency of garlic then you can reduce its quantity or skip it.
Cumin seeds: Cumin seeds ( known as jeera in hindi) adds earthiness to the chutney. Instead of whole cumin seeds you can use cumin powder too.
Lemon Juice: A splash of fresh lime or lemon juice adds sourness and acidity to the chutney.
Cashews: I like to add some cashews in this chutney to make it thick. You will not taste it at all in chutney. If you want to make chutney nut free, then skip adding it.
Salt: Add salt as per your taste. Instead of table salt, you can use sea salt or himalayan pink salt .
Sugar: Little bit of sugar enhances the taste of chutney. Adding sweetener is optional.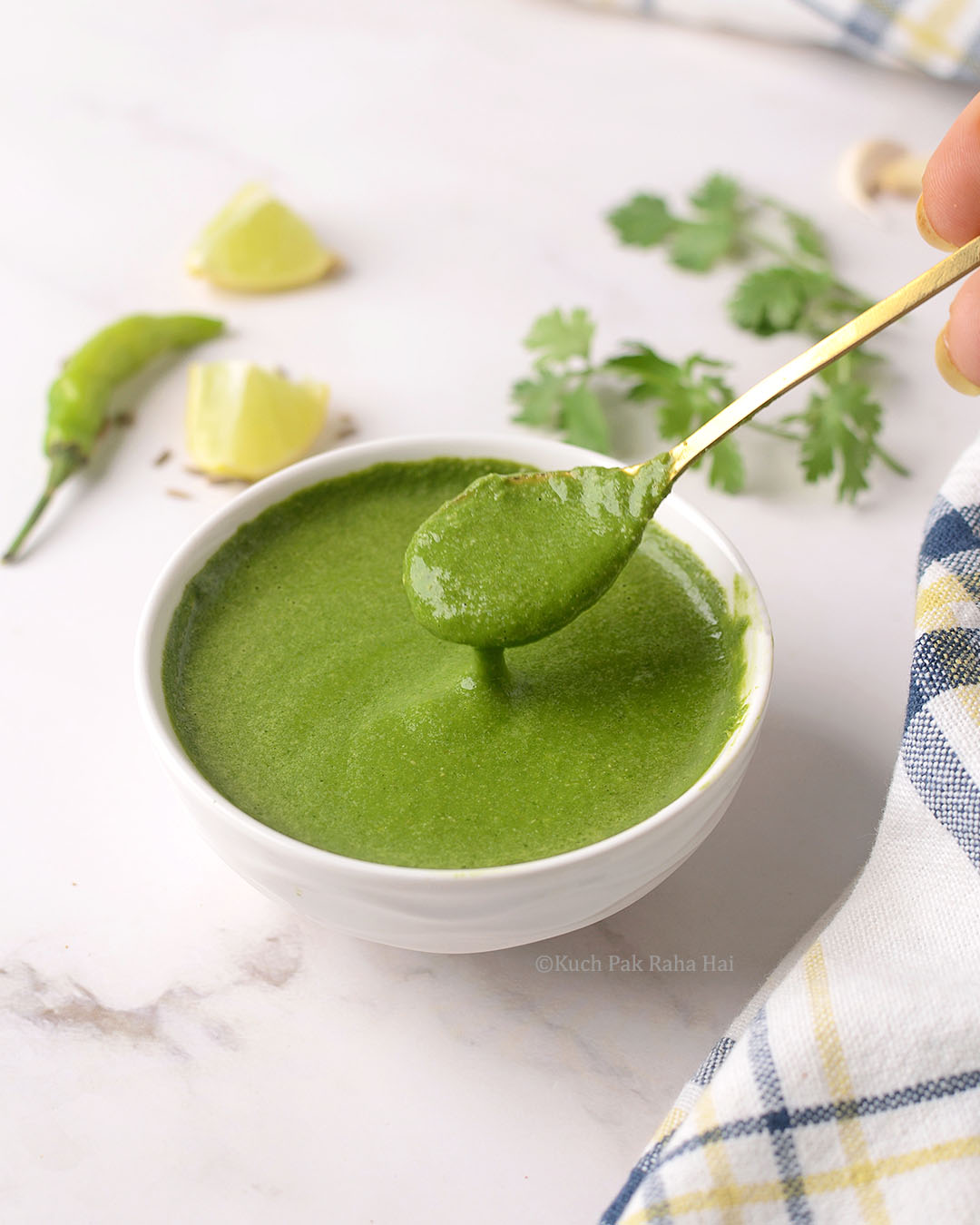 Green Chutney Variations:
1. Raw Mango: Lemon juice imparts sourness to the chutney. It can easily replaced by a piece of peeled raw mango (green mango) in this chutney to impart sourness.
2. Peanuts / Roasted Chana Dal: For making chutney thicker, you can also add few peanuts (without peel) or  roasted chana dal instead of cashews while grinding.
3. Onion: You can also add one small onion or 3-4 shallots while blending the chutney.
3. Coconut: Little bit of desiccated coconut or grated fresh coconut tastes great in this chutney. Add some tempering over this chutney & it can be enjoyed with idli or dosas.
4. Yogurt (curd): Adding 1-2 tbsp of yogurt or curd lightens the colour of chutney & makes it creamy. You can enjoy it with different tikka recipes like paneer tikka or gobhi tikka etc.
5. Mayonnaise: Want to add freshness & flavour to plain mayo? Add 2-3 tsp of this prepared chutney to it and mix well. Enjoy this green chutney mayo dip with snacks or spread in sandwiches.
How do you thicken green chutney?
You can thicken green chutney by using roasted chana gram (chana dal), nuts like peanuts, cashews, sesame seeds (til) for thickening.
How long does green chutney last?
Green chutney should never be stored in plastic or metal cotainer as acidic content in it starts to react with the surface of the cotainer and becomes bitter or changes in colour. It should be stored in a glass or ceramic container in fridge. This way it stays good for upto 2-3 days.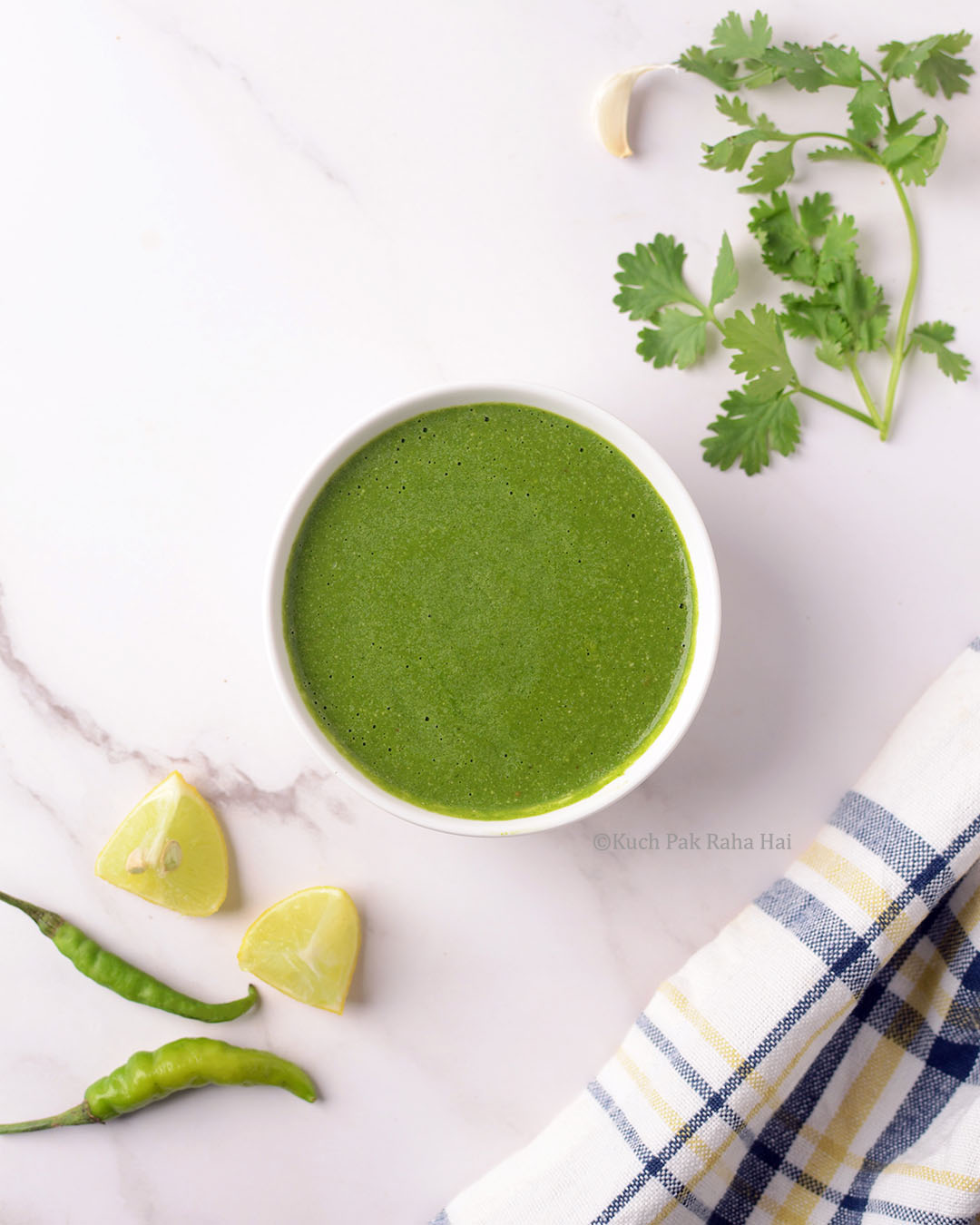 More Indian chutney / dip recipes:
Ingredients:
Coriander / Cilantro- 2 cups
Mint -1/2 cup
Ginger-1″ piece
Green Chillies – 2
Garlic Cloves – 2 small
Lemon Juice- 3 tsp
Cumin seeds (jeera)- 1/4 tsp
Salt- 1/2 tsp (or to taste)
Cashews- 4 to 5 (optional)
Sugar- 1/2 tsp (optional)
Water- 2 to 3 tbsp (as required)
(Note : You can reduce the quantity of garlic or skip it entirely. Rest all substitutions & variations are discussed above.)
Directions:
Step 1:  Prepping cilantro or coriander
Separate the cilantro (coriander) leaves with tender stems & discard the thicker stems as they can make the chutney bitter. If you are adding mint, then pluck the mint leaves too (discard the stems).  Wash them thoroughly under running water to get rid of dirt.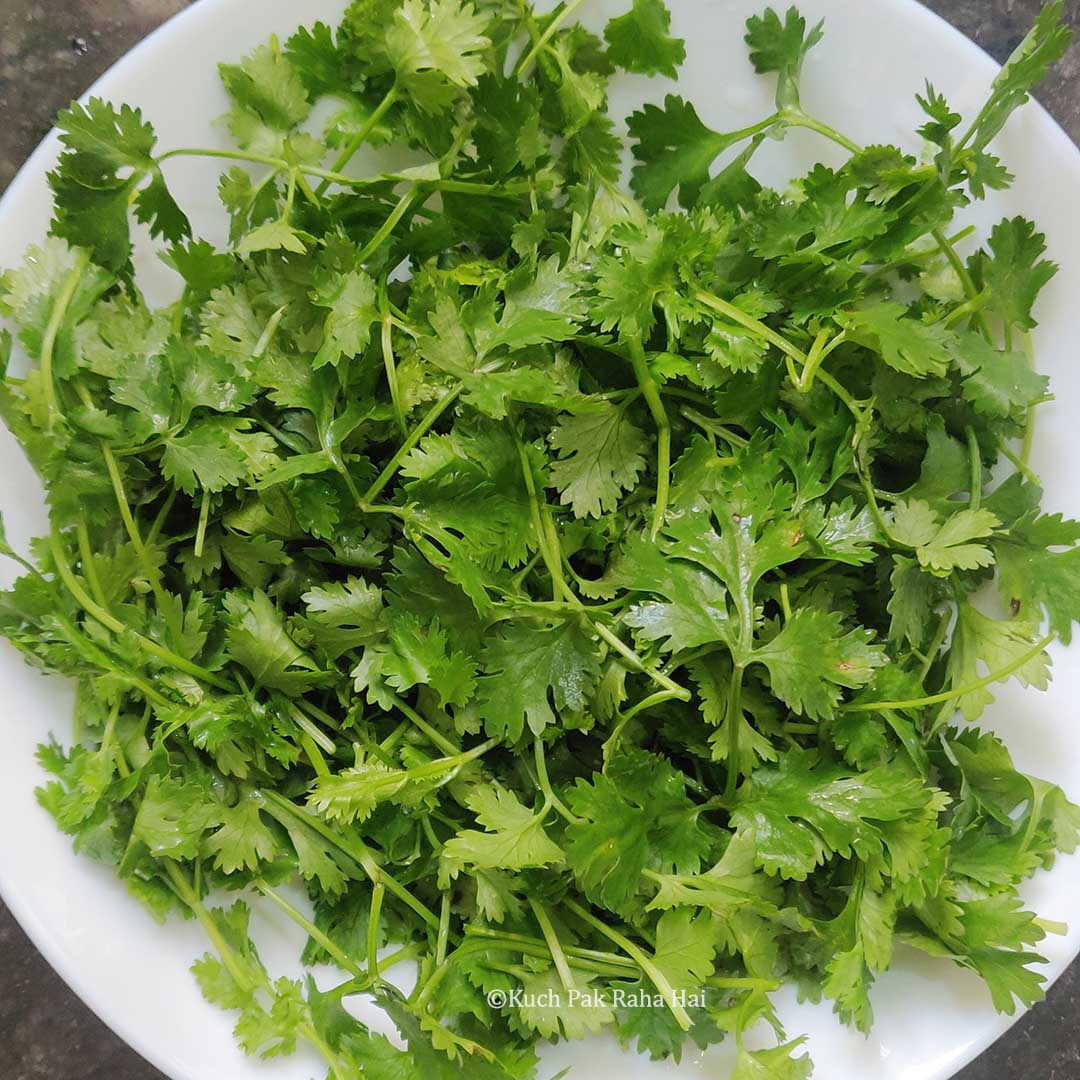 Step 2:
Add all the all mentioned ingredients in a blending jar and blend well. Add water little by little as required.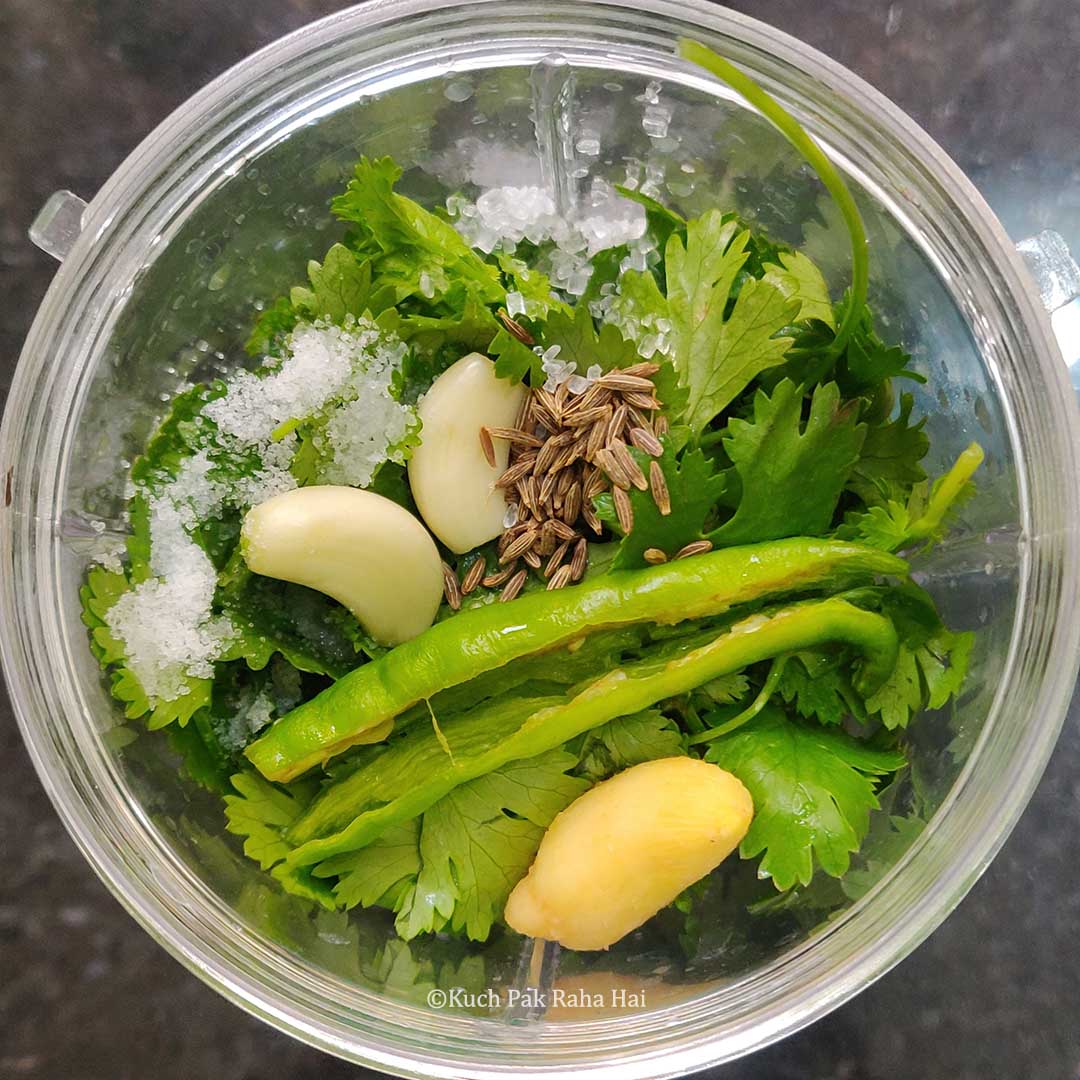 Step 3:
Taste and adjust the salt or lemon juice as per your taste.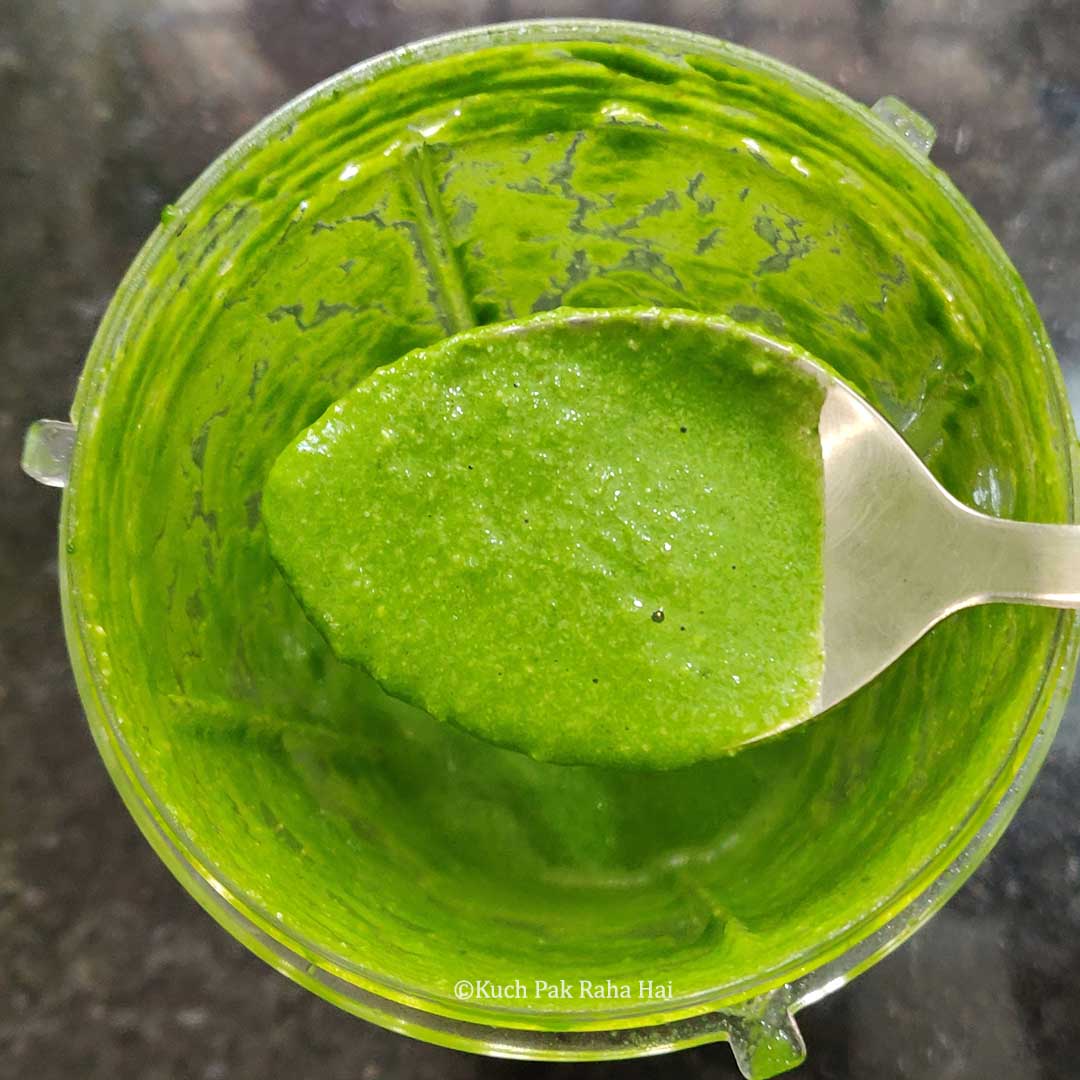 Serve this green chutney with samosa, pakora or any snacks of your choice.
FAQs:
Why is my green chutney tasting bitter?
There are multiple reasons which makes the chutney bitter:
Adding too much mint leaves & grinding for long time makes the chutney bitter.
Overheating of blending jar can wilt the herbs and make the chutney dark in colour & bitter. Grind the chutney in pulses on low speed. Add some ice cubes or use cold water while grinding.
Incorrect storage can make the chutney taste bitter as the lemon juice in it reacts with metal / plastic.
How to retain bright green colour of chutney?
Adding some lemon juice helps in retaining green colour. Transfer the chutney in an airtight jar & store in fridge immediately to prevent oxidation. Mint also tends to darken the colour of chutney. To lighten its colour, you can use cashews or add 1-2 tsp of yogurt.
Can I freeze green chutney?
Yes, you can easily freeze green chutney. To divide it into portions, you can freeze in small bowls or ice cubes tray. Once frozen transfer these cubes in a resealable bag and store in freezer. Whenever you want to consume the chutney, take out 3-4 chutney cubes (or as many you want), thaw and use them.
Pin for later: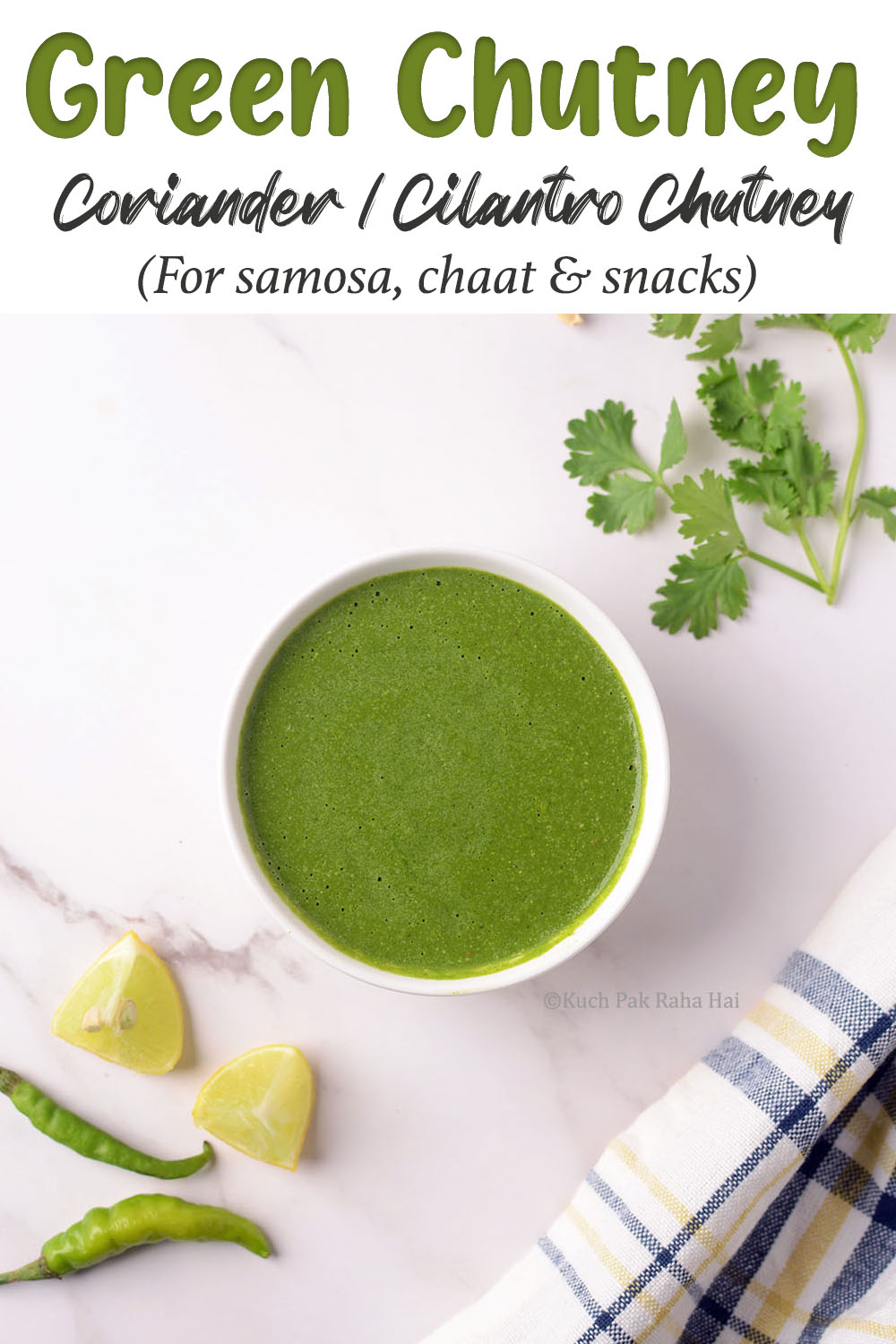 You can enjoy this green chutney with snacks like:
If you try this green chutney recipe & share pics on social media, then don't forget to tag on Facebook, Instagram or use #kuchpakrahahai.
Let's stay connected
Facebook | Instagram | Pinterest| Youtube