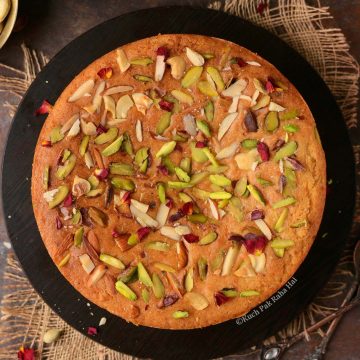 Mawa cake is a delicious aromatic Indian tea time cake made with flour, butter, sugar, mawa (milk solids), milk, cardamom & dry fruits like almonds, cashews etc. The recipe shared is eggless, easy to make and perfect for any occasion or festival.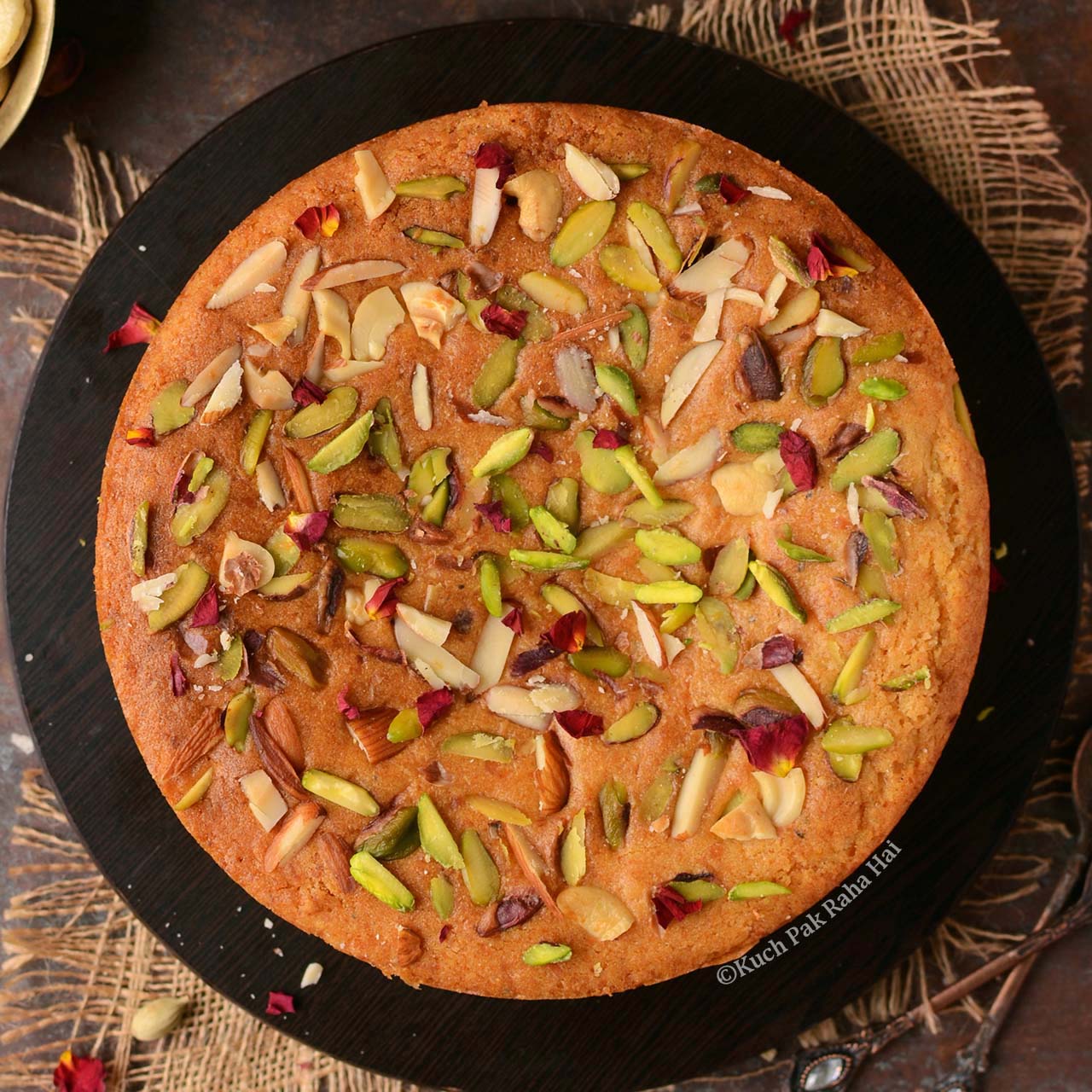 This eggless mawa cake recipe is :
Eggless
No oil & no yogurt
Simple to make
Perfect for celebrations & festivals
Mawa, also known as khoya or khoa, is basically milk solids made by evaporating milk. The milk is simmered in a heavy pan till all its moisture is evaporated. Mawa is used in many Indian sweets recipes & in this cake recipe, it is going to be the one of the main ingredients.
Mawa Cake Origin:
The origin of mawa cake is said to be from Irani bakeries in Mumbai where this beautiful amalgamation of mawa & cake was done for the first time (name of the exact Irani bakery or cafe till date is uncertain). It was quite popular among the parsi community and hence also known as parsi mawa cake.
This buttery, cardamom infused mawa cake is perfect for special occasions, celebrations or festivals like Holi, Diwali or Raksha Bandhan. If you are looking out options for high tea, edible gifting or giveaways, then it should certainly be in your list.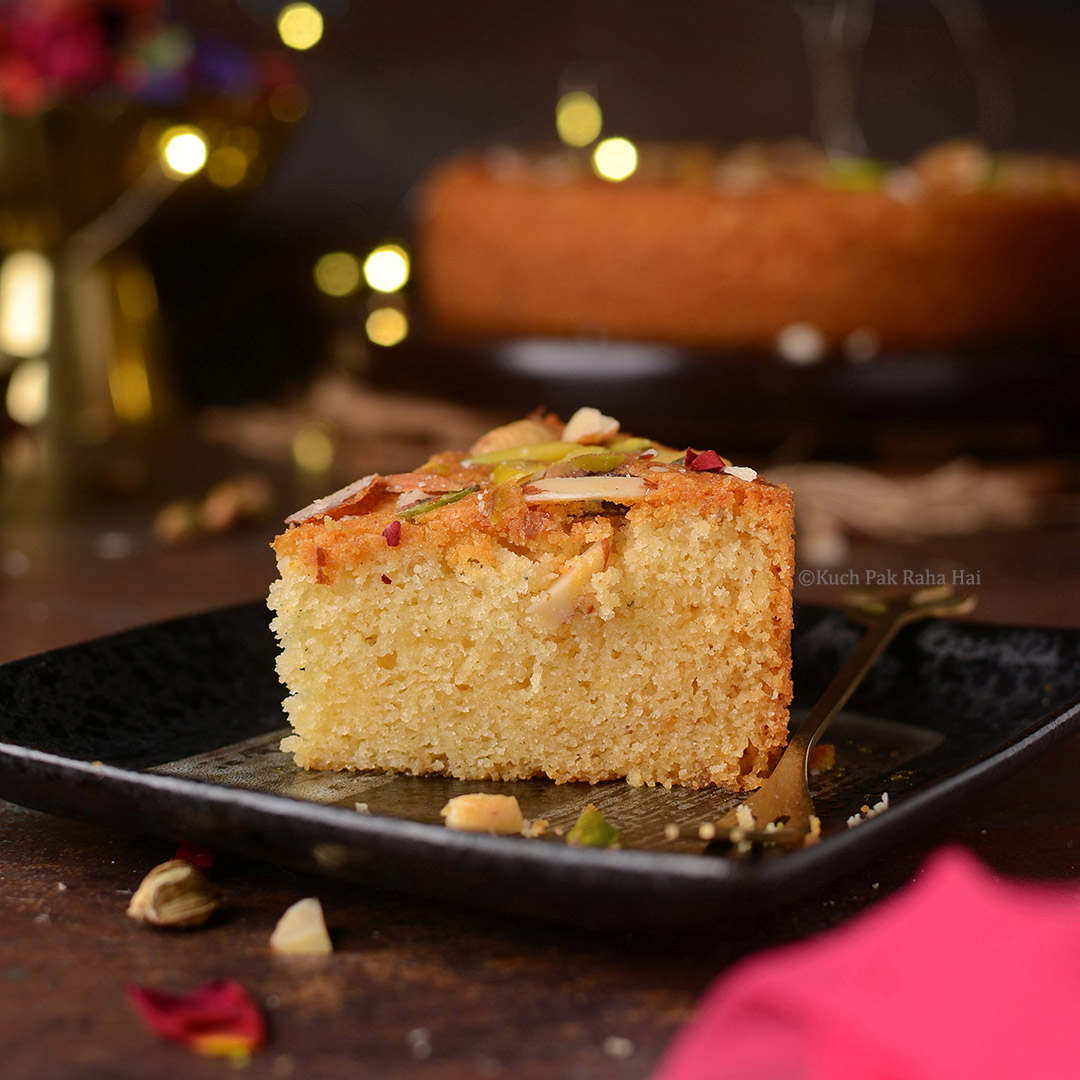 How does a mawa cake taste?
I recently tasted mawa cake when my brother got it from Theobroma bakery this Rakshabandhan. It was different from regular sponge cake but perfectly hit the sweet spot & tasted like a beautiful fusion of Indian burfi & cake.
The cake was slightly dense like burfi but at the same time it was soft like a cake. The slightly caramelised mawa with cardamom, instantly reminds the senses of traditional Indian sweets and the melt in the mouth texture satisfies your cake hankering.
If you are fond of fusion desserts, then this Irani mawa cake is a must try this Diwali.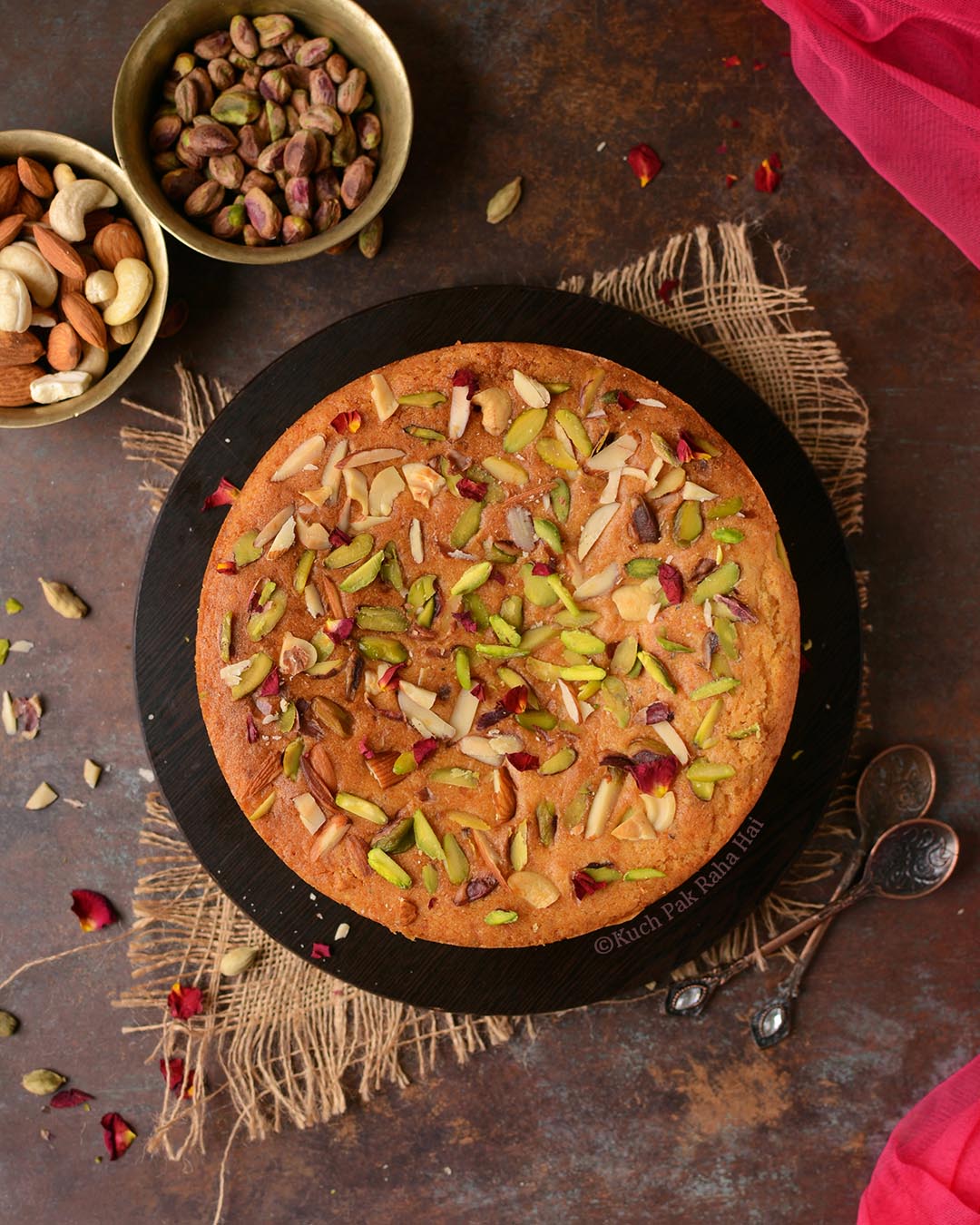 Ingredients for making Mawa cake:
Flour: All purpose flour (or maida) has been used in this recipe. You can use whole wheat flour but the cake might turn out a bit dense as whole wheat absorbs more liquid.
Mawa: You can use homemade or store bought mawa for making this cake. If you are using pre-packaged mawa, please check for the expiry date and old mawa can has an off putting smell & it gets dry with time. I have used unsweetened khoya to make this cake.
Condensed Milk: Condensed milk in this recipe gives a lovely flavour, colour to the mawa cake & also works as an egg replacer. Please use sweetened condensed milk for this recipe.
Castor Sugar: We will use a small amount of castor sugar in this cake recipe as condensed milk is already sweet. If you don't have castor sugar, you can use powdered sugar.
Cardamom Powder: Cardamom powder or elaichi, is a quintessential ingredient as it gives a soothing divine aroma to mawa cake . It is a MUST add, please don't skip it.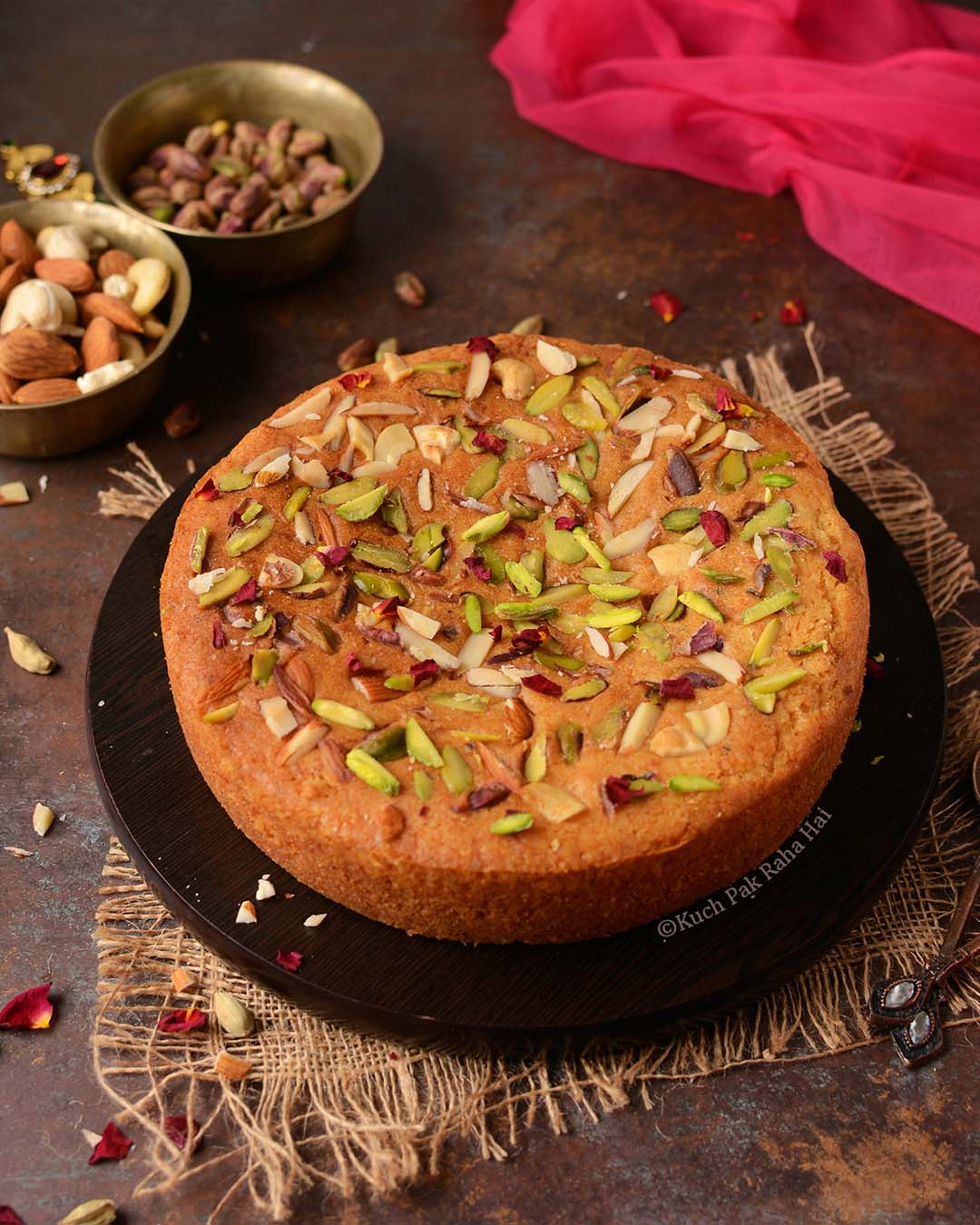 Milk: You can use whole (full fat) milk or skimmed milk. Bring the milk to room temperature before using in the recipe
Butter: Butter gives the richness, flavour & softness to the cake. I have used unsalted butter & added a pinch of salt to the cake batter (enhances the sweetness). If you are using salted butter, skip adding salt.
Nuts: Some slivered almonds, chopped cashews, pistachios adds crunchiness to the cake and makes it look elegant.
Optional Ingredients: Festivities are all about abundance & indulgence. To further enhance the aroma & flavour, you can add some nutmeg, few drops of rose water & saffron stands.
Hope you will like this easy eggless parsi mawa cake recipe. More Diwali special recipes:
Youtube Video:
Ingredients:
All Purpose Flour (Maida)-1 cup (120 grams)
Grated Mawa (unsweetened)-1/2 cup (60 grams)
Condensed Milk (sweetened)- 200 grams
Unsalted Butter- 1/4 cup (60 grams)
Castor Sugar-3 tbsp (33 grams)
Cardamom Powder-1/2 tsp
Baking Powder-1 tsp
Baking Soda-1/2 tsp
Milk-1/3 cup+3 tsp (add as required)
Salt- A pinch
Chopped Nuts – 1/3 cup
Notes:
Butter & milk should be at room temperature.
If you are using store bought or frozen khoya, make sure to bring it at room temperature before adding in the batter.
Measuring Cup Used: 1 cup = 250ml, 1/2 cup=120 ml, 1/3 cup=80 ml, 1/4 cup= 60 ml
I have used 7″inches round aluminium cake tin for making this mawa cake.
(Substitutions & other details are explained mentioned in the post above).
Directions:
Step 1:
Sieve together all the dry ingredients- flour, baking powder, baking soda & salt. Keep these aside.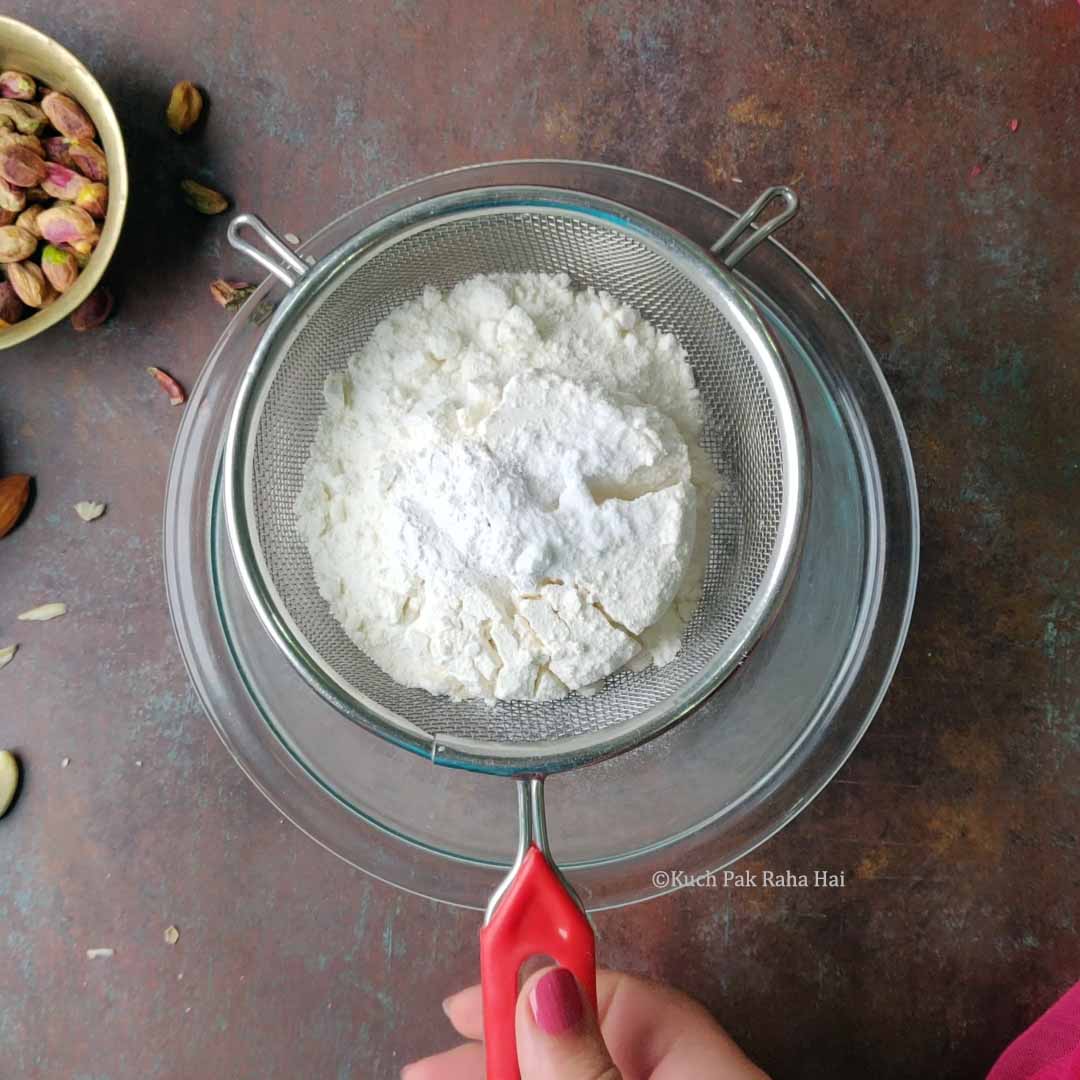 Step 2:
Prepare the cake tin by brushing oil on it. Line with parchment paper and then again brush oil on it. Keep this lined tin aside.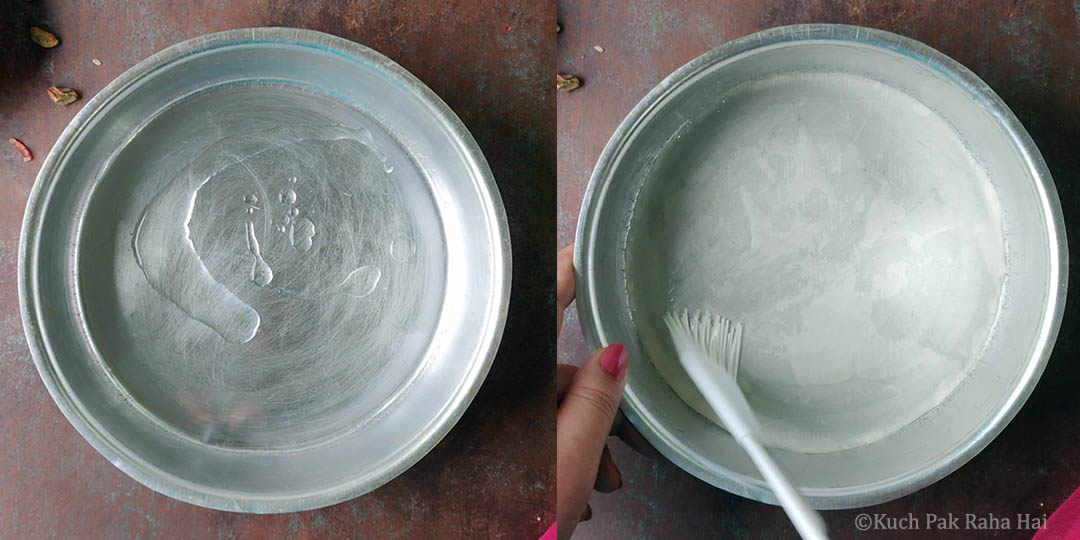 Step 3:
In a mixing bowl, add butter & castor sugar. Whisk together till the mixture become fluffy & light in colour.
Step 4:
Add condensed milk, cardamom powder to it and whisk once again. The mixture should become light in texture.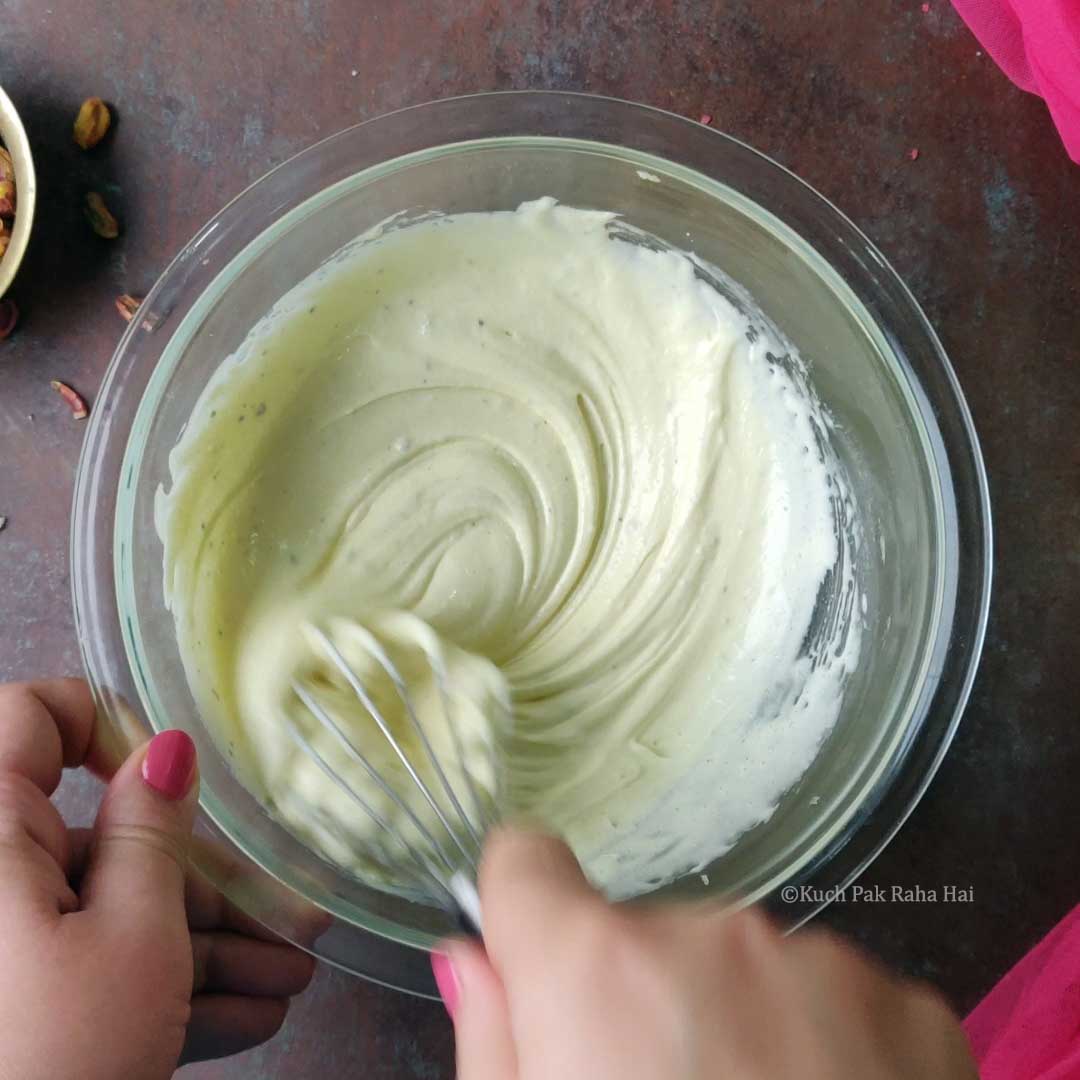 Step 5:
Add grated mawa and just mix enough with a spatula so that all ingredients are mixed evenly. Don't whisk too much.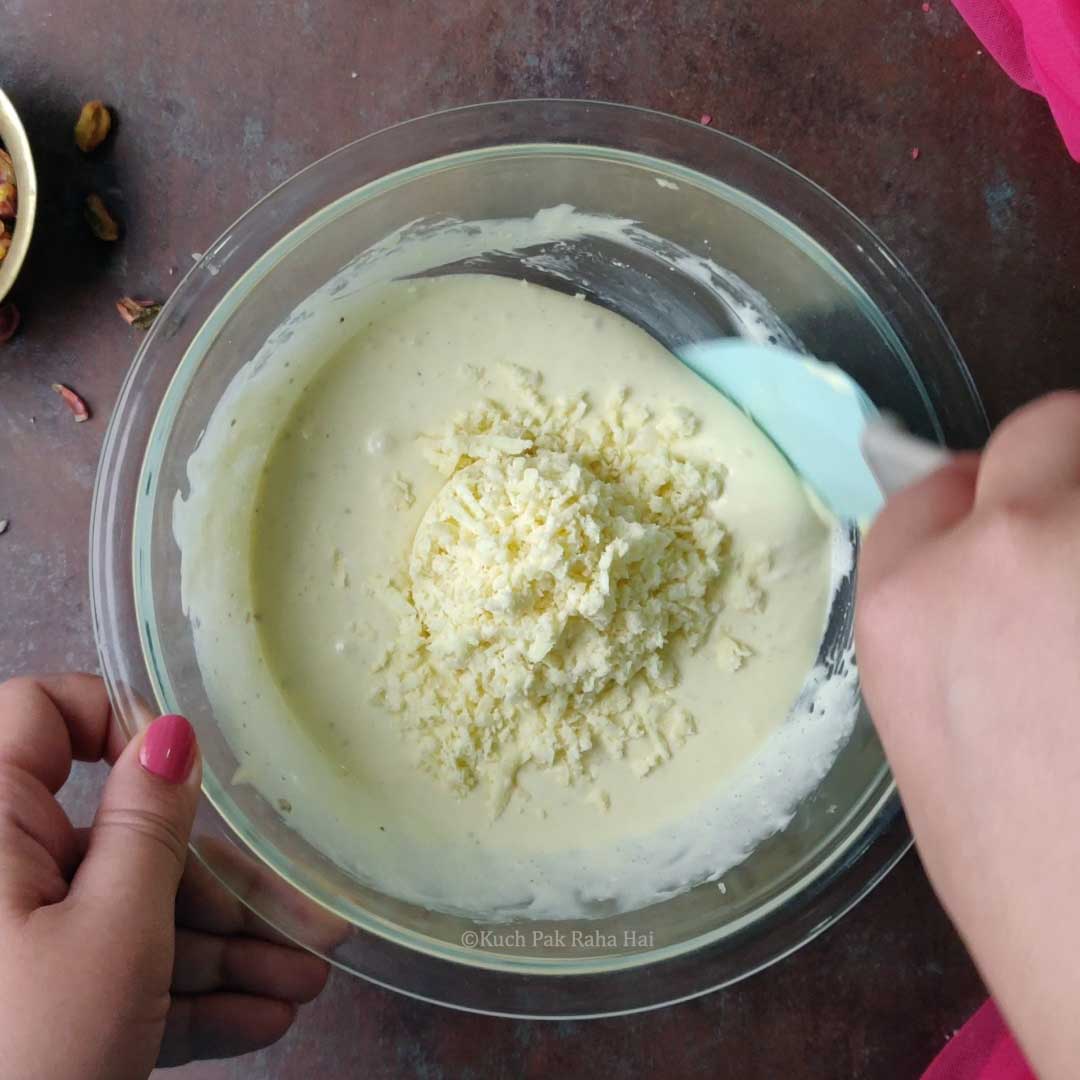 Step 6:
Set the oven for preheating at 170ºC. While the oven is preheating, prepare the batter.
Step 7:
Add dry ingredients in 2-3 parts while gradually adding milk. Fold the batter gently. The quantity of milk can vary slightly depending on the quality of flour. (Refer to the video)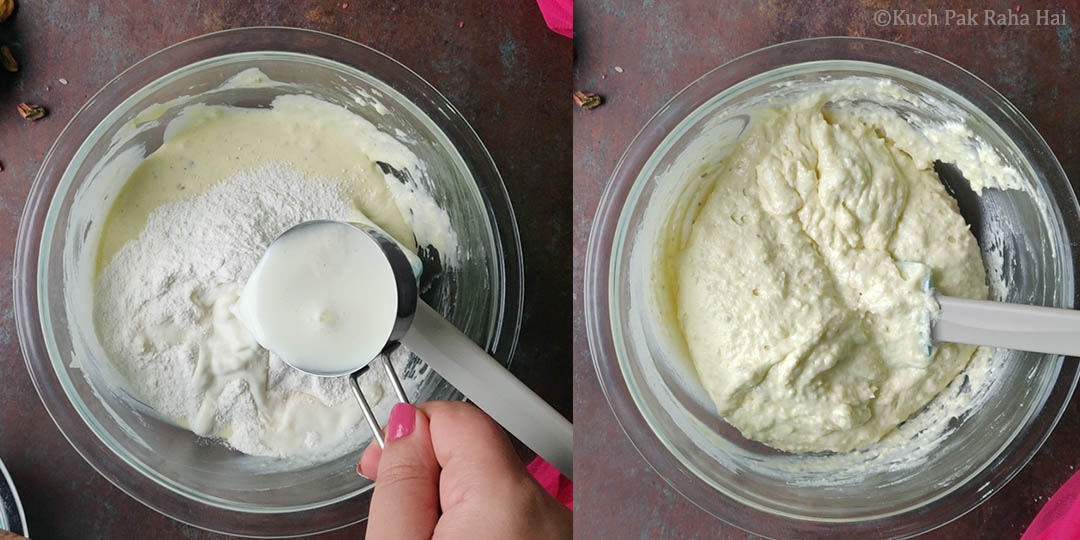 Transfer this batter in a lined cake tin. Top up with lots of chopped nuts.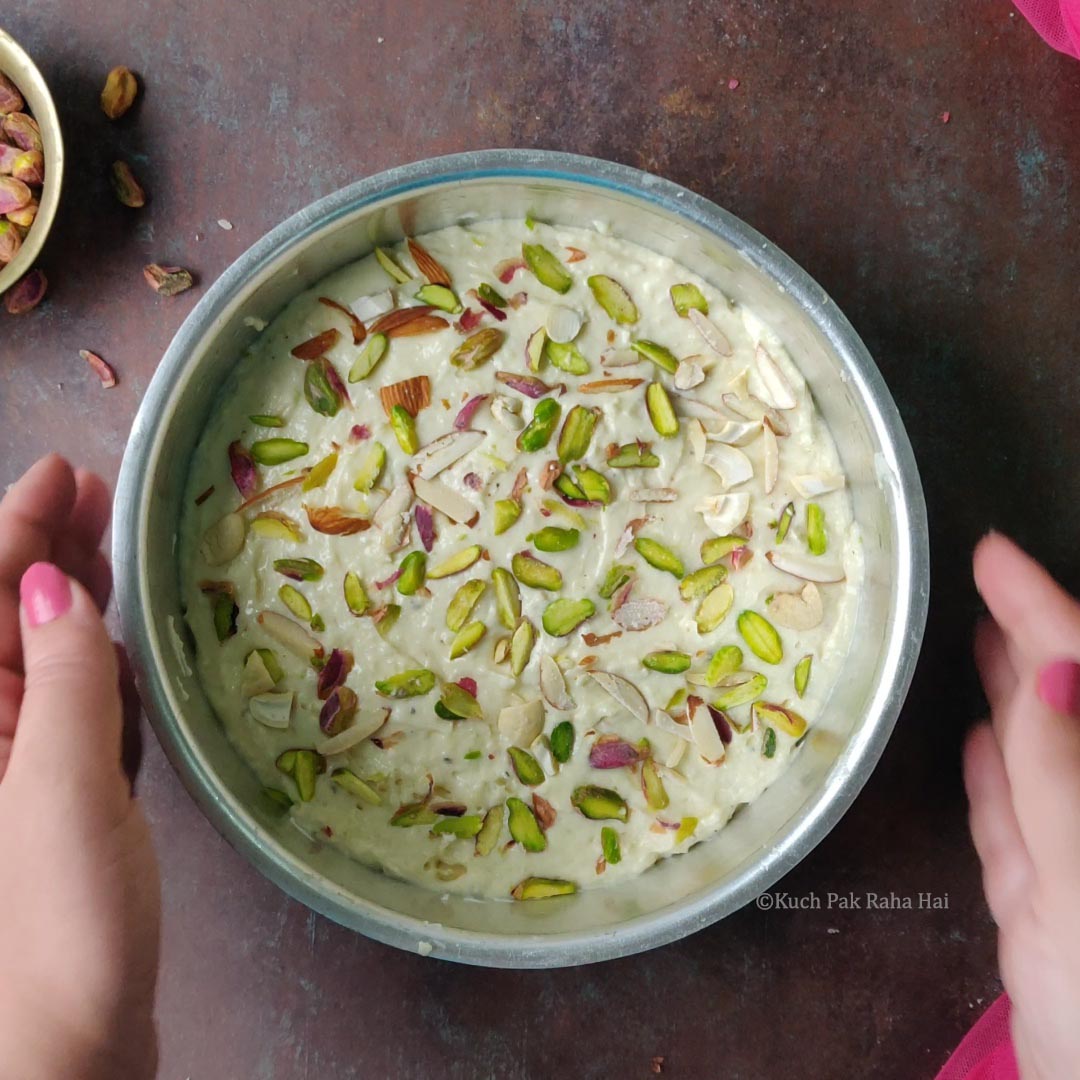 Step 8:
Bake the cake in a preheated oven at 170°C for 30-35 minutes. Check the centre of cake with a skewer. If it comes out clean, the cake is ready else bake for 2-3 minutes more.
Let the cake cool down in tin for 5-7 minutes. Then invert it over a wire rack and let it cool down completely.
Slice and enjoy this yummy eggless mawa cake.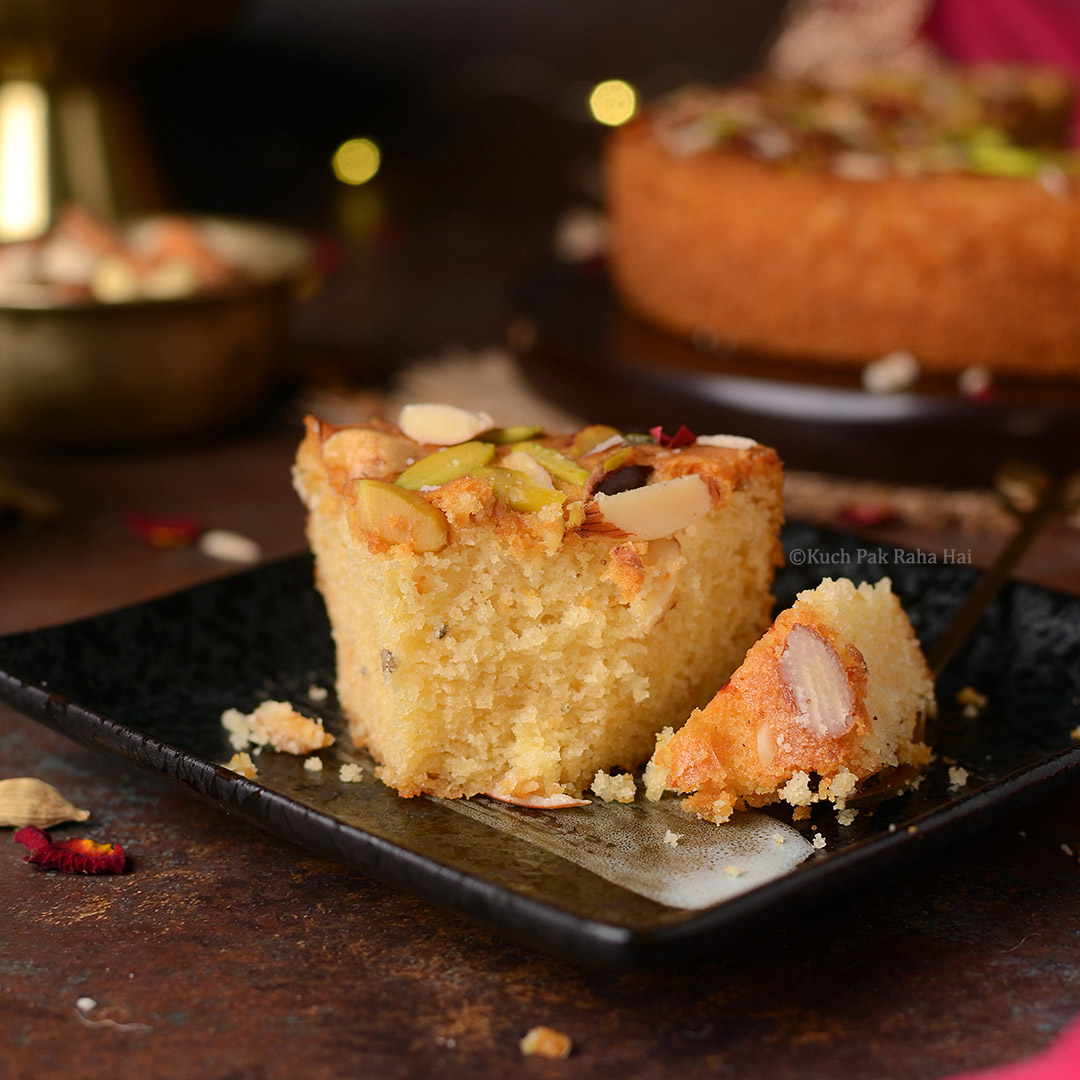 How to store mawa cake?
Always store it in an airtight container in fridge to prevent from drying. This way it can be stored easily for 3-4 days. I have even tried freezing it for a month and it stayed just fine. Cut them into slices and wrap them with a cling film before freezing. Thaw them on kitchen counter or microwave before serving.
Tips:
1. As this mawa cake is made with butter, on storing in fridge the cake may harden a little (as butter solidifies). Microwave it for 30-50 seconds before serving to soften it up.
2. Lining the cake tin with a parchment paper helps in easy de-moulding of cake.
3. If your mawa cake has started to become brown from the top, cover it with aluminium foil in last 10 minutes.
4. You can also bake mawa cupcakes with this recipe by baking at 170°C for 15-17 minutes.
Pin for later: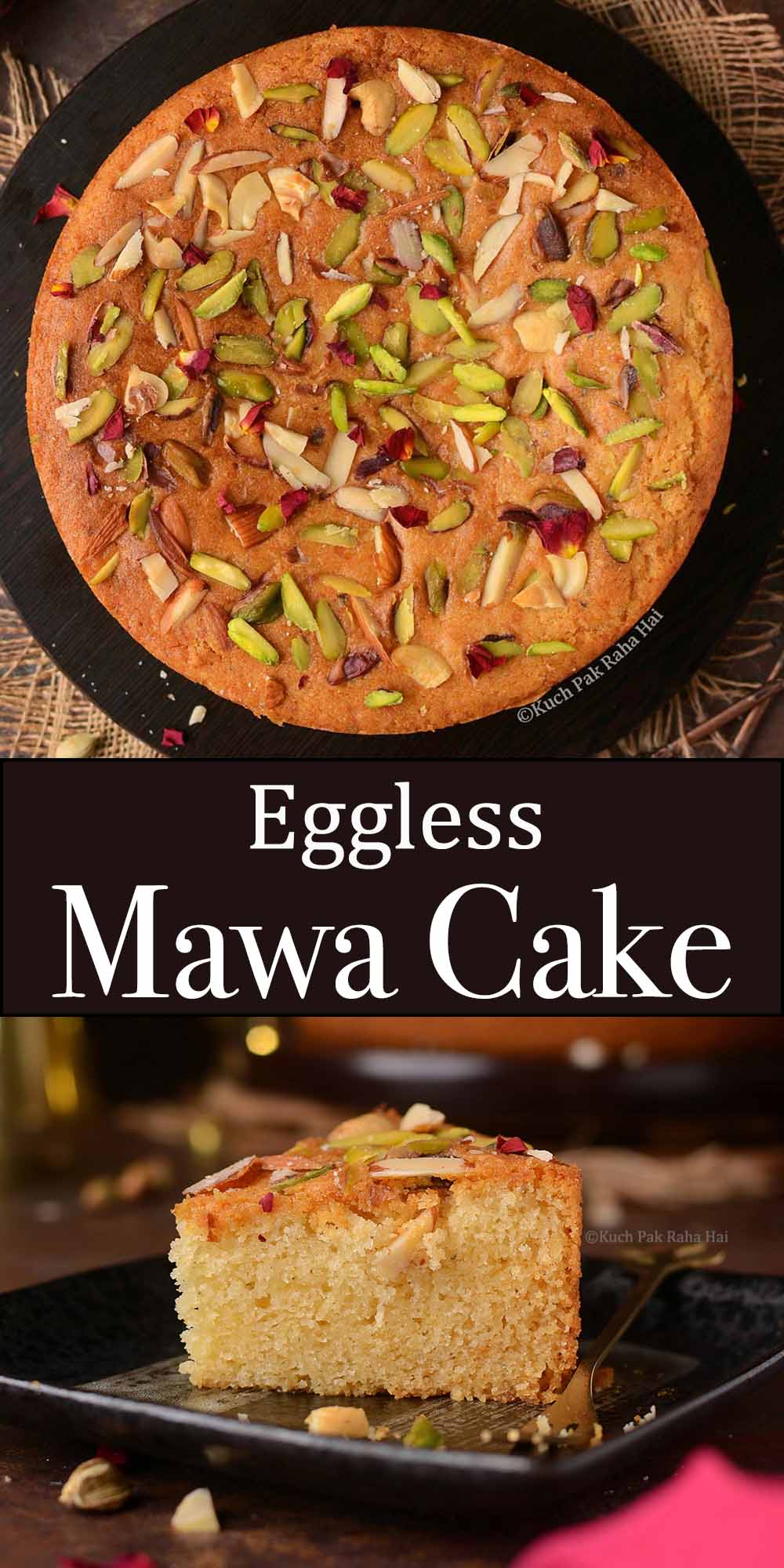 If you try this mawa cake recipe & share pics on social media, then don't forget to tag on Facebook, Instagram or use #kuchpakrahahai.
Let's stay connected
Facebook | Instagram | Pinterest| Youtube