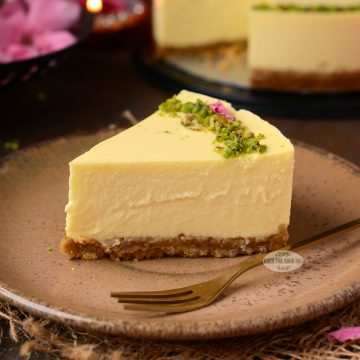 Saffron flavoured creamy baked yogurt accompanied by a nutty crunchy pistachio crust is an easy to make, delectable Indian fusion dessert recipe. It is vegetarian, egg free and perfect showstopper for festivals like Diwali, Holi or special occasions.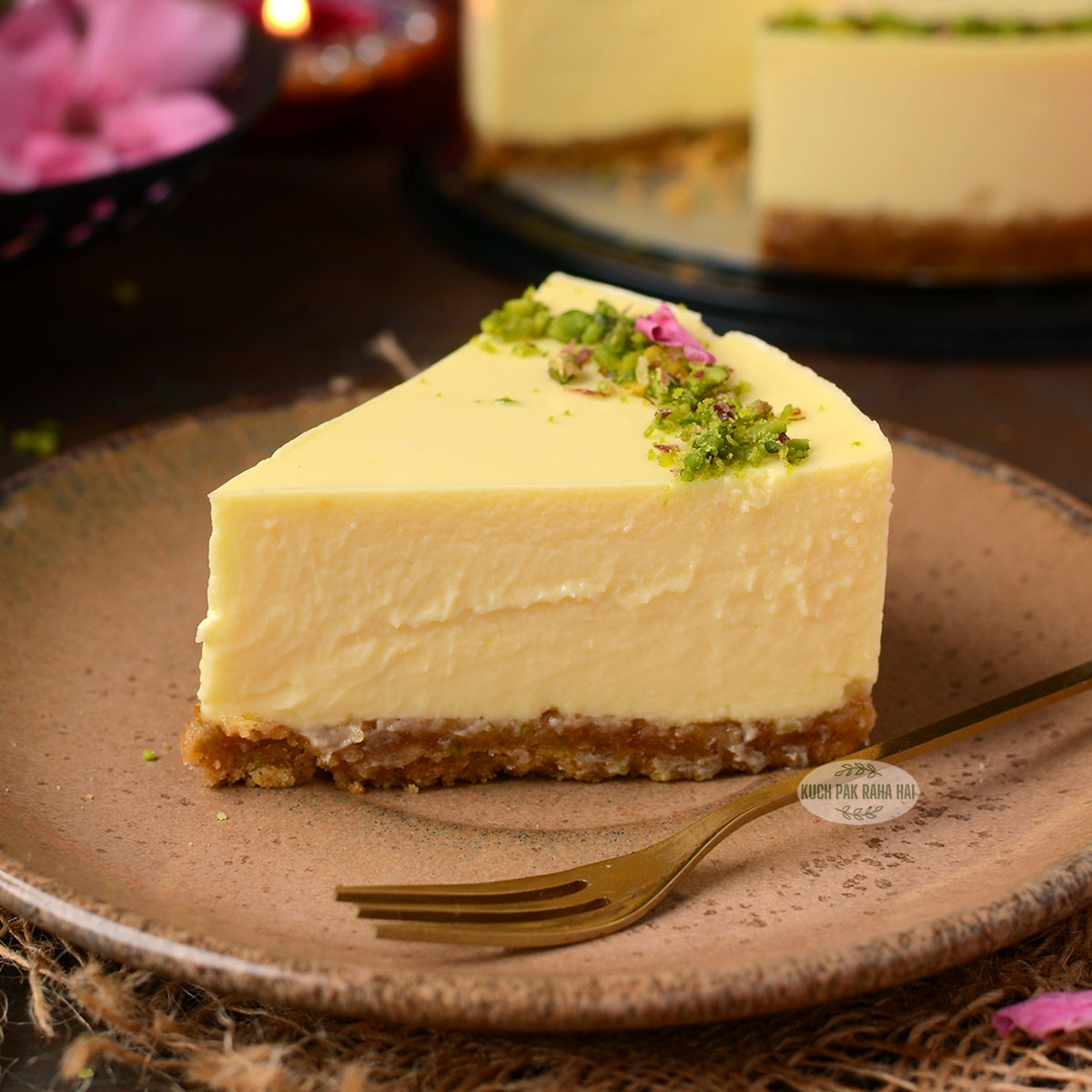 The baked yogurt recipe here is inspired from bengali dessert 'bhapa doi' where the word 'bhapa' means steamed & doi means 'curd'. Instead of steaming, I have baked it in oven and tried to give it my own twist by creating a fusion of baked yoghurt with crunchy cardamom scented pistachio crust.
Its texture came out exactly like cheesecake and tasted like its lighter version but made without cream cheese or heavy cream. The best part about it is you can make it in advance and store in fridge till the time of serving.
Baked Yogurt Ingredients-
Baked yogurt is made mainly with just 2 ingredients- plain yogurt (curd) and condensed milk and you can flavour it using any aromatics of your choice.
Yogurt / Curd– We will strain the yogurt first to get rid of excess liquid and then use the remaining creamy part known as 'hung curd' or 'strained yogurt'. I would recommend using full fat one for creamy rich texture.
Please taste the yogurt once before using as it should not be sour. Instead of plain yogurt, you can use greek yogurt also. As it is already quite thick in texture, there is no need to strain it.
Condensed Milk- Use sweetened condensed milk to make baked yoghurt. I have not added any extra sugar in this recipe as yoghurt gets sufficient sweetness from it.
Saffron- Saffron or kesar adds a wonderful aroma & colour to the yogurt. As it is not easily available everywhere, you can use few drops of yellow colour or saffron essence. Another good alternative is cardamom powder.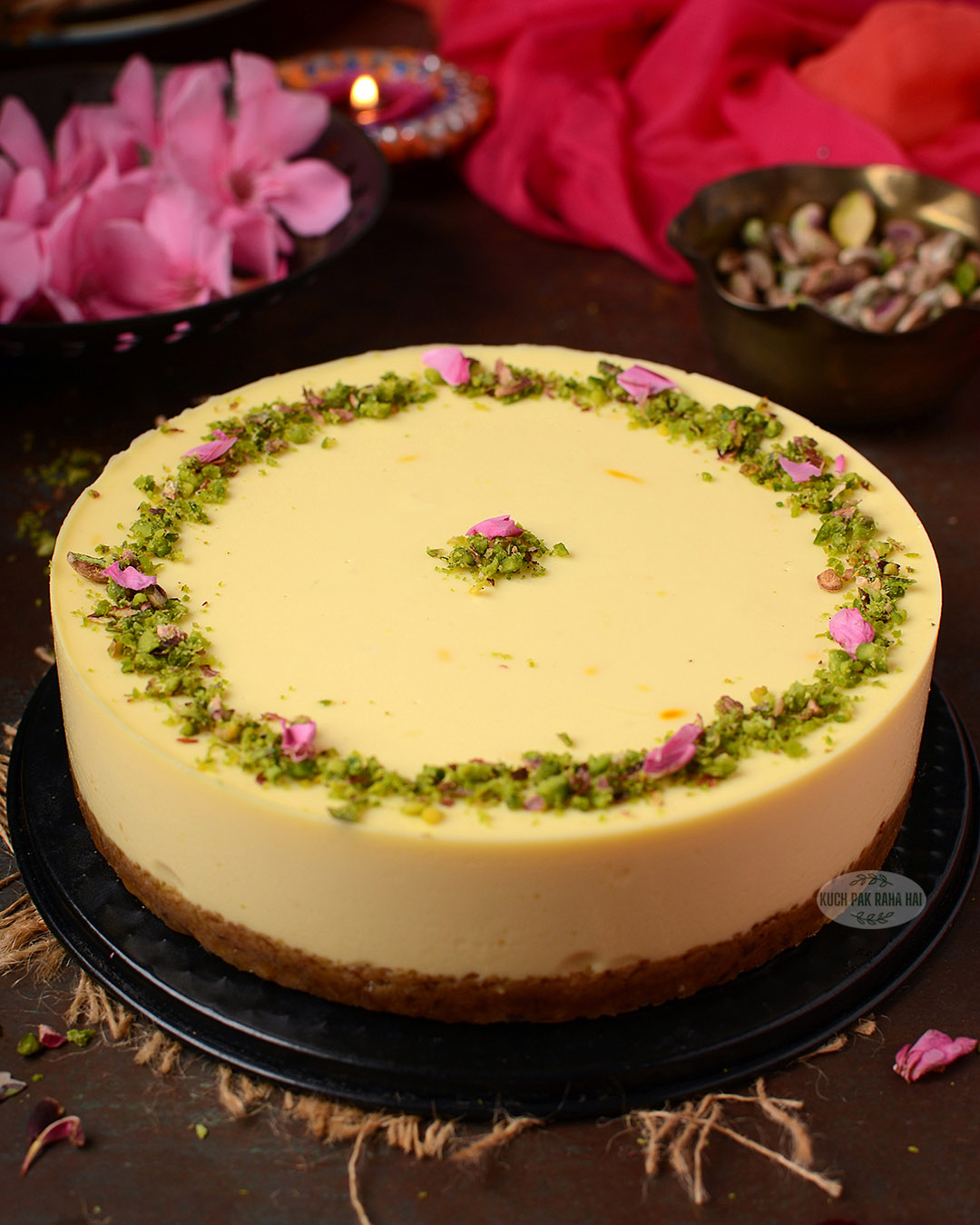 Pistachio Crust Ingredients-
Biscuits- Use marie or digestive biscuits, graham crackers or pistachio cookies to make crumb base.
Pistachios- I have used shelled roasted pistachios here. Always taste the nuts for bitterness before using, as sometimes they get rancid if stored for too long.
Butter- Melted Butter acts as a binding agent for crumb mixture and adds richness to the crust. If you like little bit of salt in desserts use salted butter.
Cardamom- Cardamom goes really well with saffron and pistachios. For maximum aroma, I would suggest using freshly crushed cardamom powder.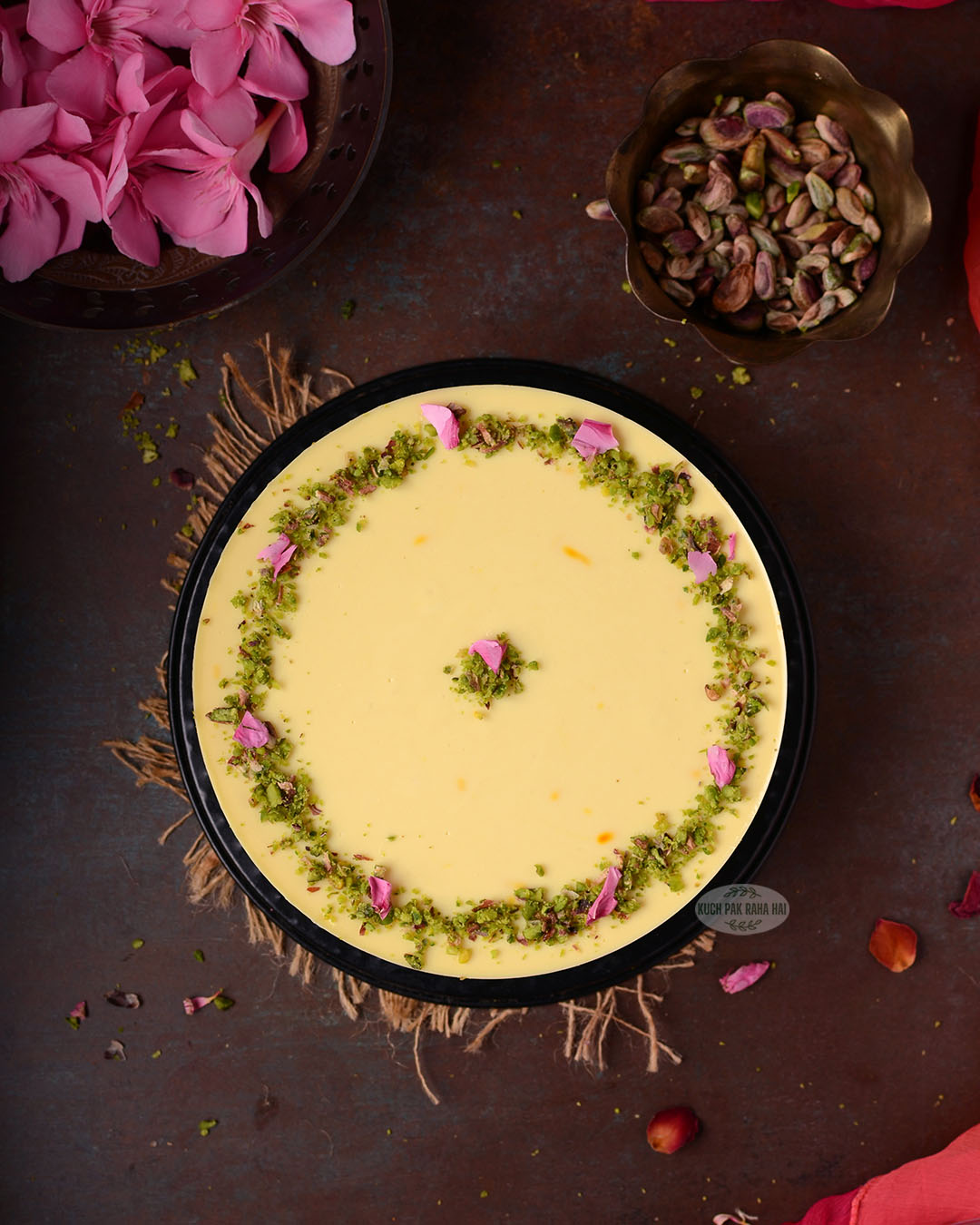 How to make baked yogurt in oven?
We will use 'bain marie' method of cooking, also known as double boiler method or water bath. In this method we place our baking tin inside another vessel or tray filled with hot water. This generates steam in the oven while baking and gives the yogurt creamy velvety texture.
Baked Yogurt Dessert Variations-
1. Instead of saffron or cardamom, you can use vanilla extract as aromatic in baked yogurt. It can be topped up with some berry compote or fresh fruits.
2. You can also use thandai powder for flavouring the yogurt.
2. For navratri fasting or to make gluten free dessert, you can ditch the pistachio crust & bake yogurt directly in ramekin moulds or any oven safe dish.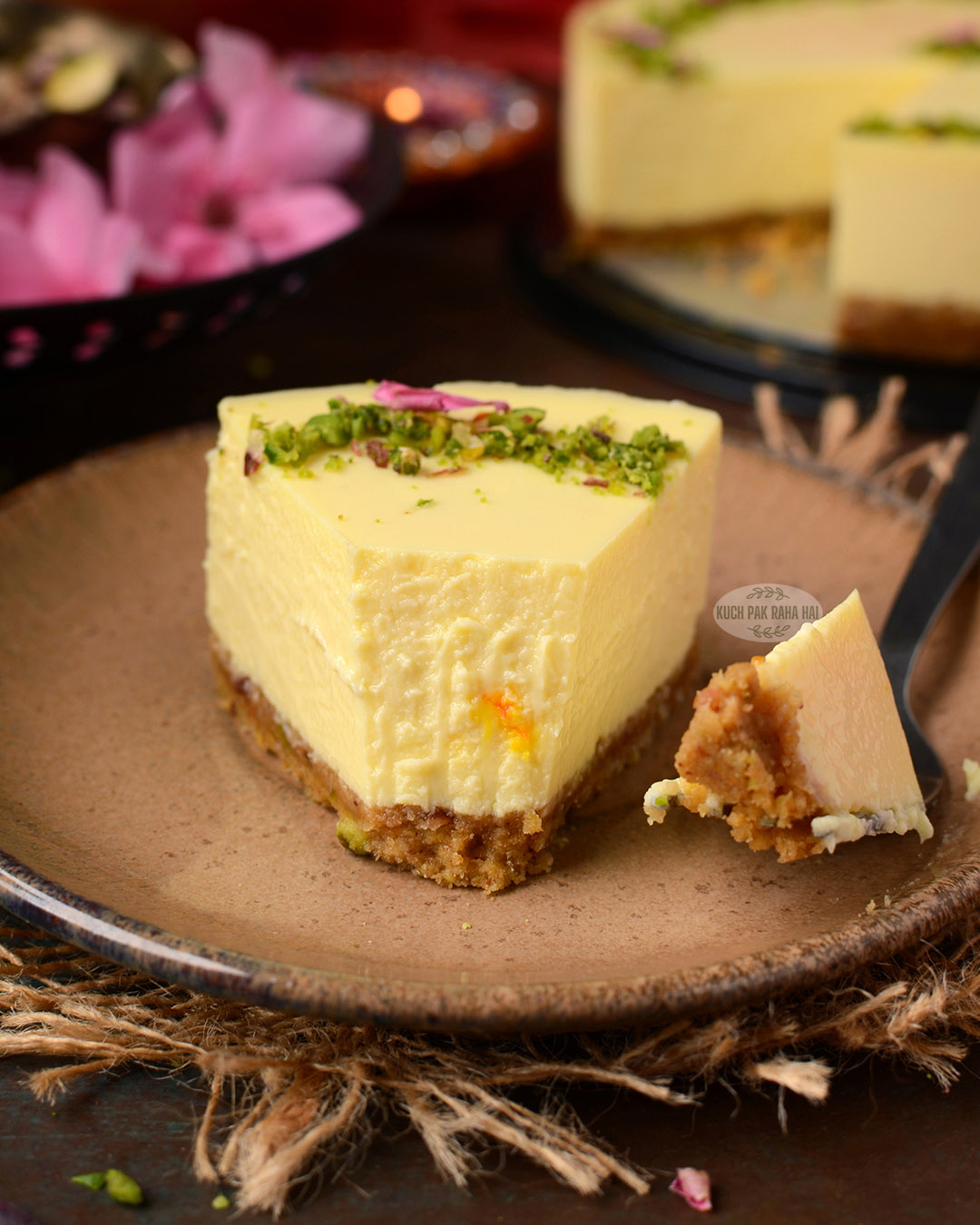 More Indian fusion food recipes:
Ingredients:
For Filling-

Plain Yogurt- 2 cups (500 gms)
Sweetened Condensed Milk-1 cup (310 gms)
Warm Milk-1 tbsp
Saffron strands-10 to 12

For Crust-

Marie / Digestive Biscuits- 5 to 6 (60 gms)
Pistachios (shelled & roasted)- 1/4 cup (40 gms)
Melted Butter-3 tbsp
Cardamom Powder-1/4 tsp

For Garnishing-

Crushed Pistachios
Dried Rose Petals
(If you don't want to use saffron in filling add 1/2 tsp cardamom powder or vanilla extract.)
Directions:
Step 1:
Keep a sieve over a big bowl and then a muslin cloth over sieve. Transfer yogurt on it and wrap the cloth gently. You can also put some weight on top to speed up the process. Place this setup inside fridge for 3-4 hrs (or overnight). This way all the excess water from yogurt will drip away and you will get thick hung curd.
After straining, I weighed the yogurt & it was reduced to 1+1/3 cups (~300 gms). Please measure or weigh your strained yogurt as the yield can vary depending on the quality of yogurt used. Keep it aside.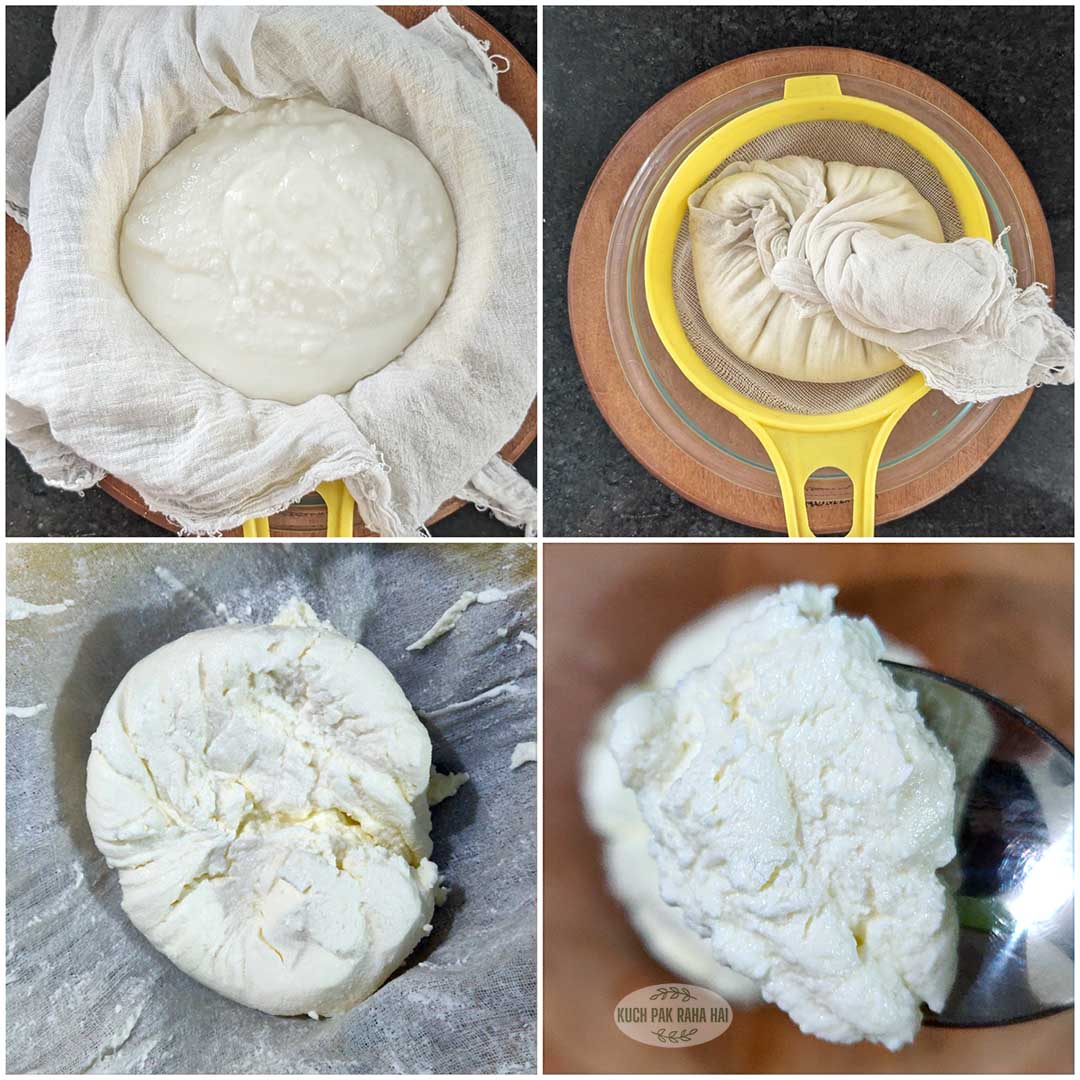 Step 2:
Coarsely grind pistachios in pulses a grinding jar & transfer them to a bowl. Similarly grind marie or digestive biscuits in a grinding jar and transfer the crumbs to same bowl. Add melted butter, cardamom powder and mix well.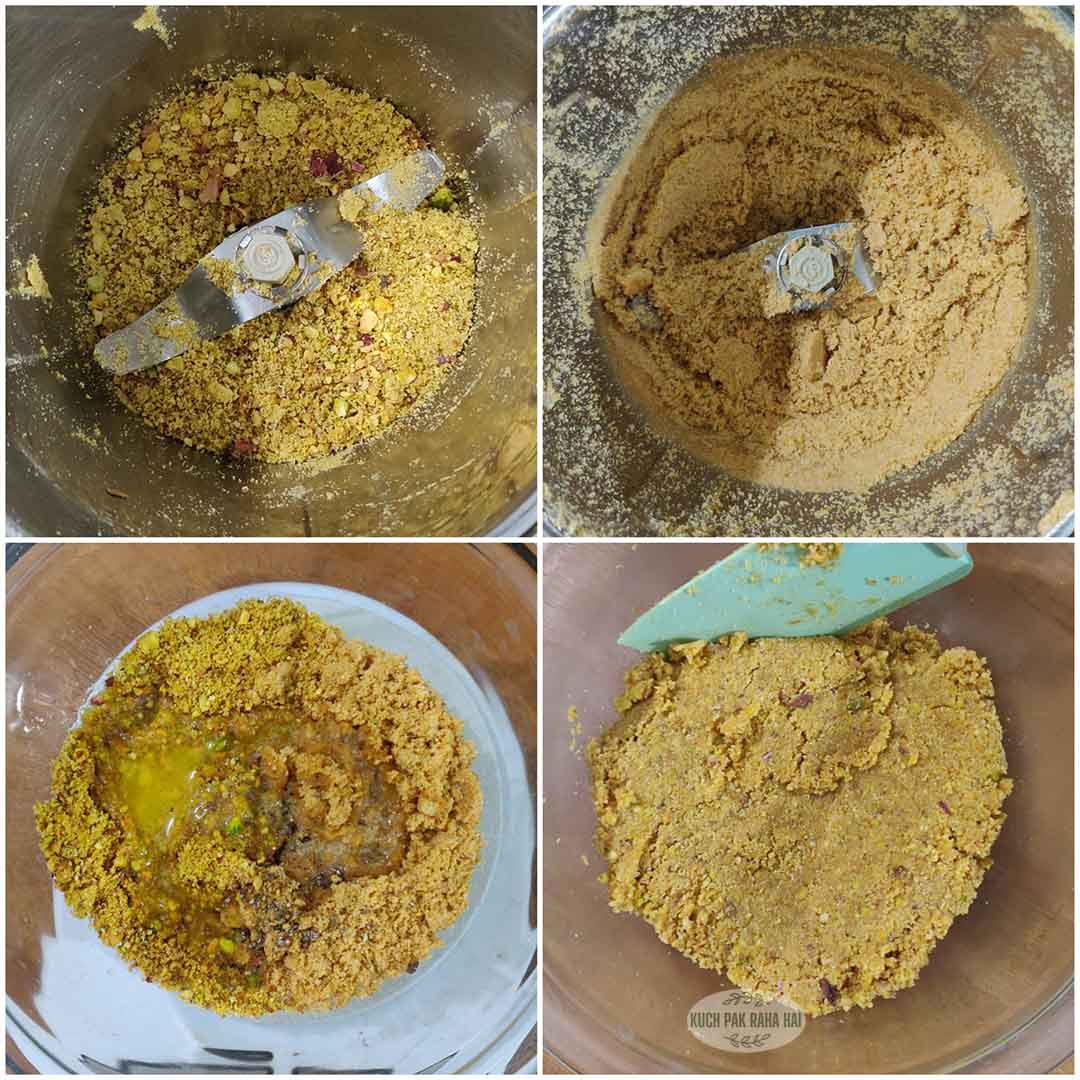 Step 3:
Take a 6″ inches removable base tin and grease its sides with 1/2 tsp using silicon brush (makes the de-moulding process easier later). Transfer the crumb mixture to the tin. Using back of a spoon, spread it and press it to set completely. Keep the tin in fridge (for at least 20-30 min) while we prepare the yogurt filling.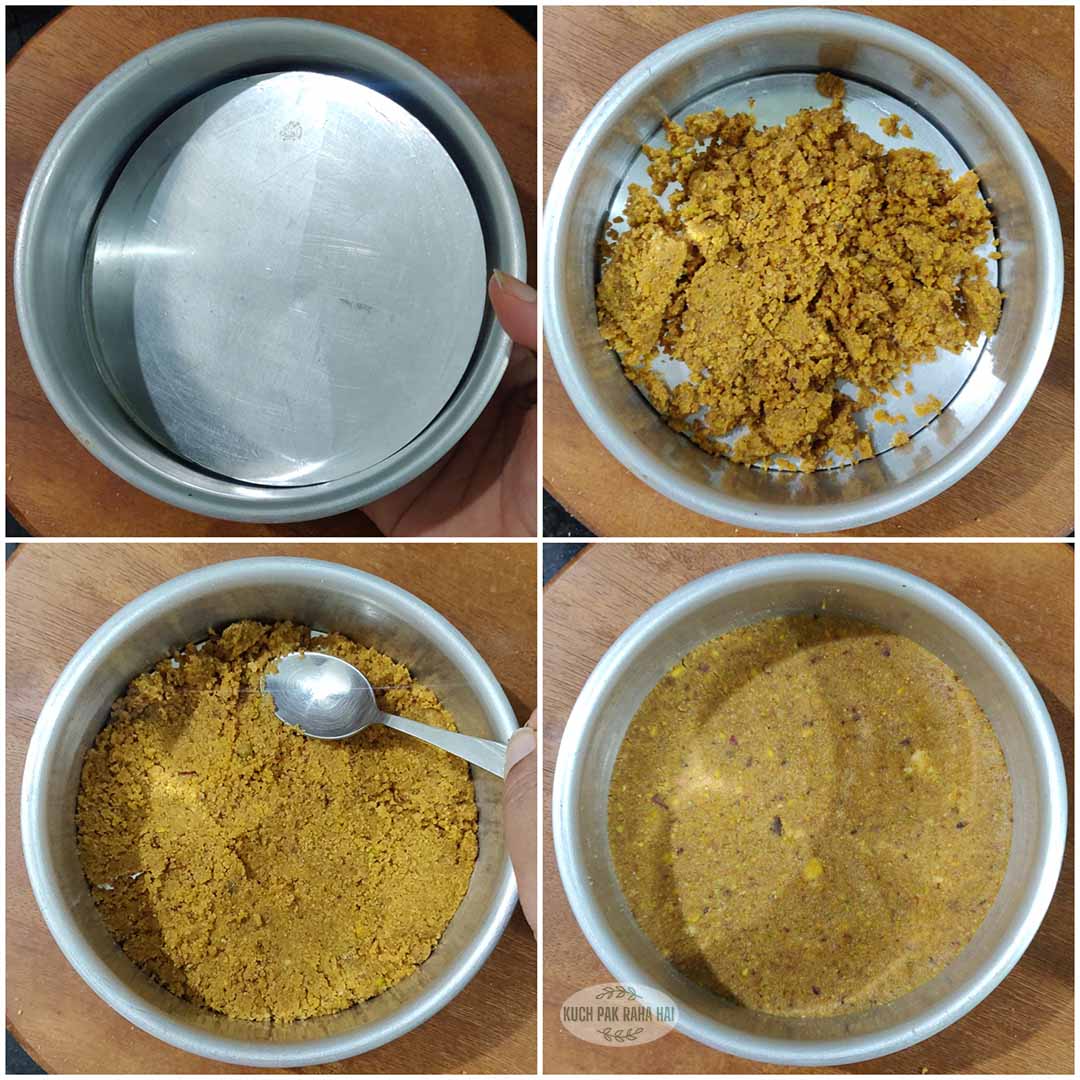 Step 4:
Add saffron stands to warm milk and mix well while crushing the strands with back of spoon. This way it will release the flavour and colour. Keep it aside.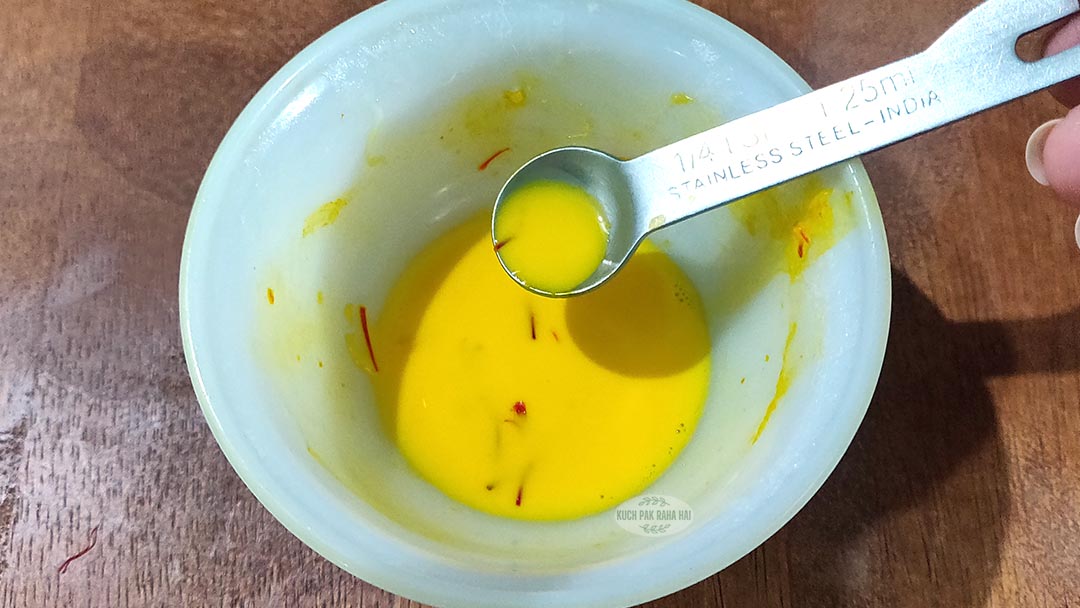 Step 5:
Unwrap the muslin cloth and transfer hung curd in a mixing bowl. Add condensed milk and saffron milk to it. Whisk well to make smooth even mixture. (In the meantime, set the oven for preheating at 180°C (350°F).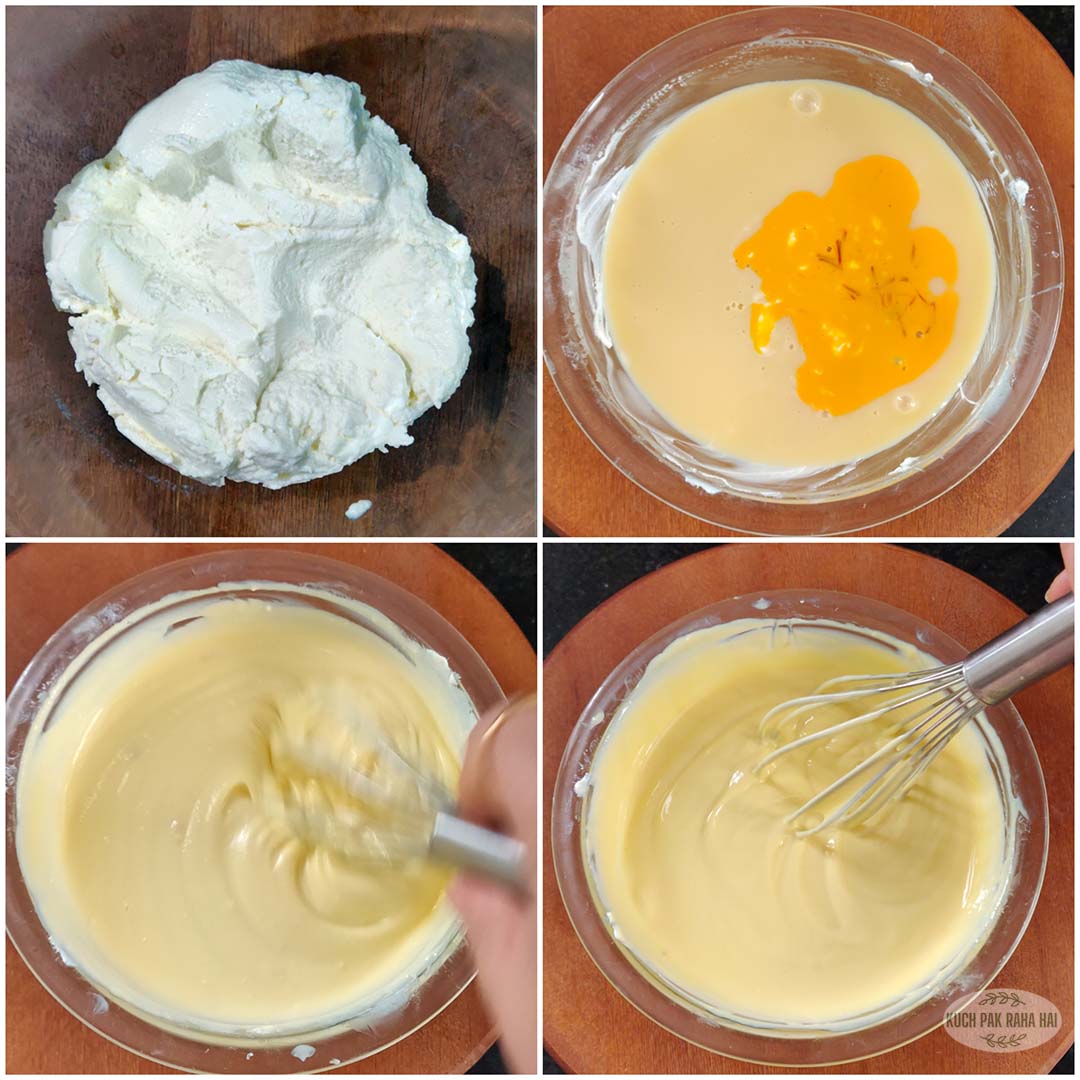 Step 6:
Transfer the prepared yogurt filling on pistachio-biscuit crumb layer. Shake gently to level the filling.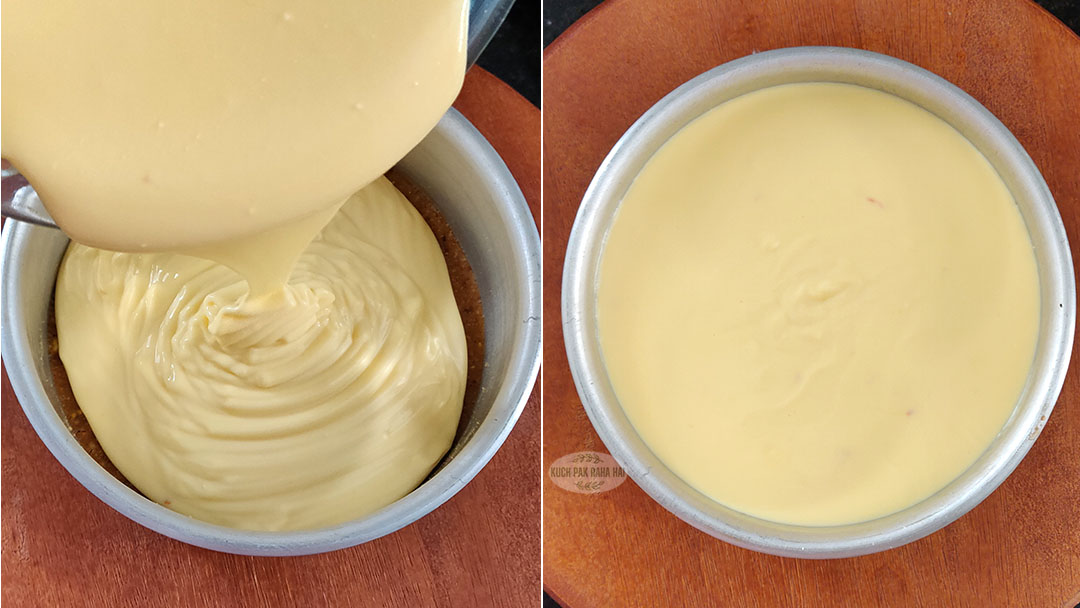 Step 7:
Wrap the bottom of the tin with a aluminium foil (prevents water from entering the pan from below) and also cover its top with another piece of foil. Transfer the tin to a baking tray or another larger baking tin and fill it with hot water (this is called 'water bath' or bain marie'.)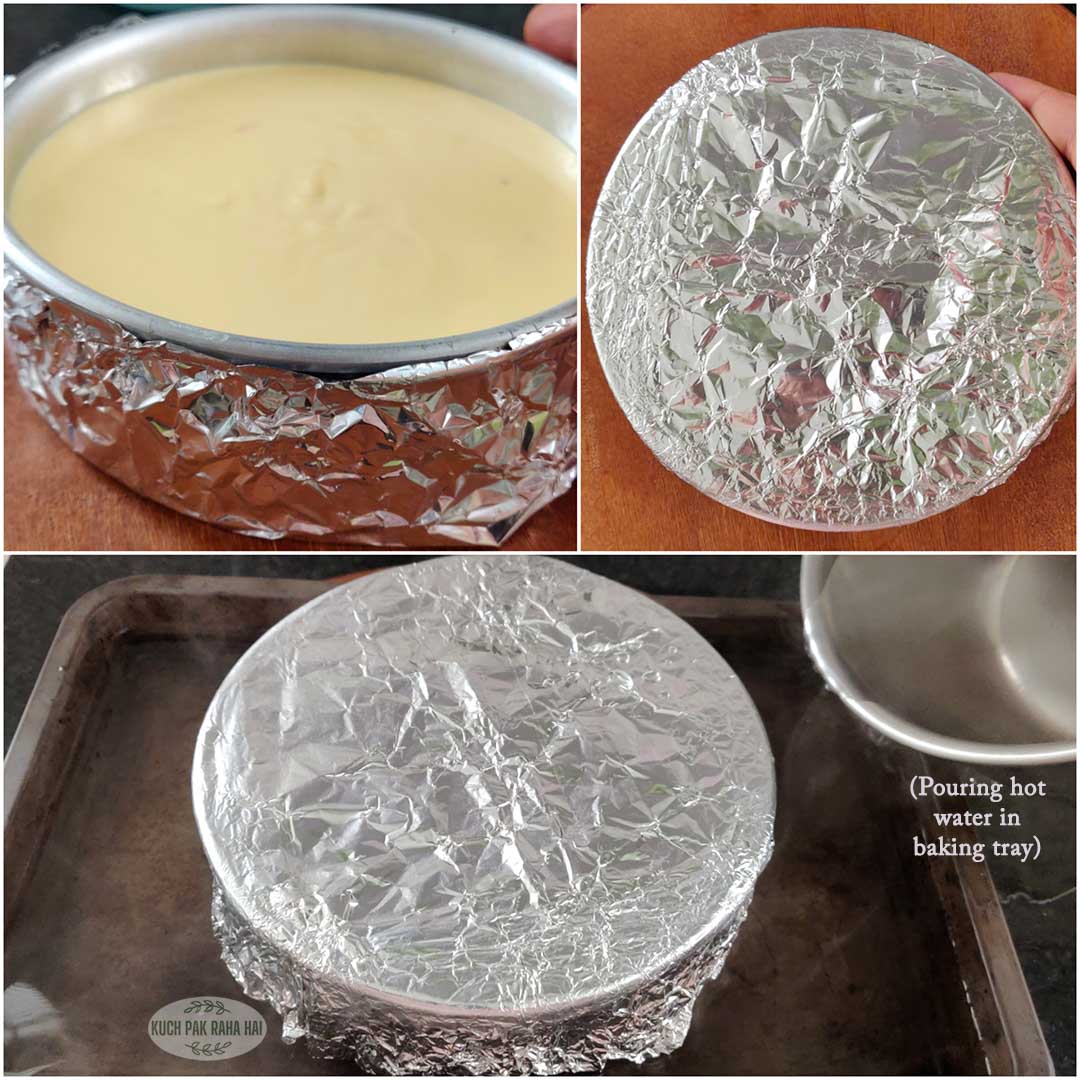 (Tip: It is easier & convenient to fill the tray with hot water after keeping the tin in oven.)
Step 8:
Bake the yogurt at 180°C (350°F) for 40-45 minutes in preheated oven. After 40 minutes, remove the top cover. The edges should look cooked and check the centre by gently touching with finger or spoon. If you get wet mixture, bake it uncovered for 5 more minutes. Once done, switch off the oven and let it cool in oven itself without covering for 15 minutes.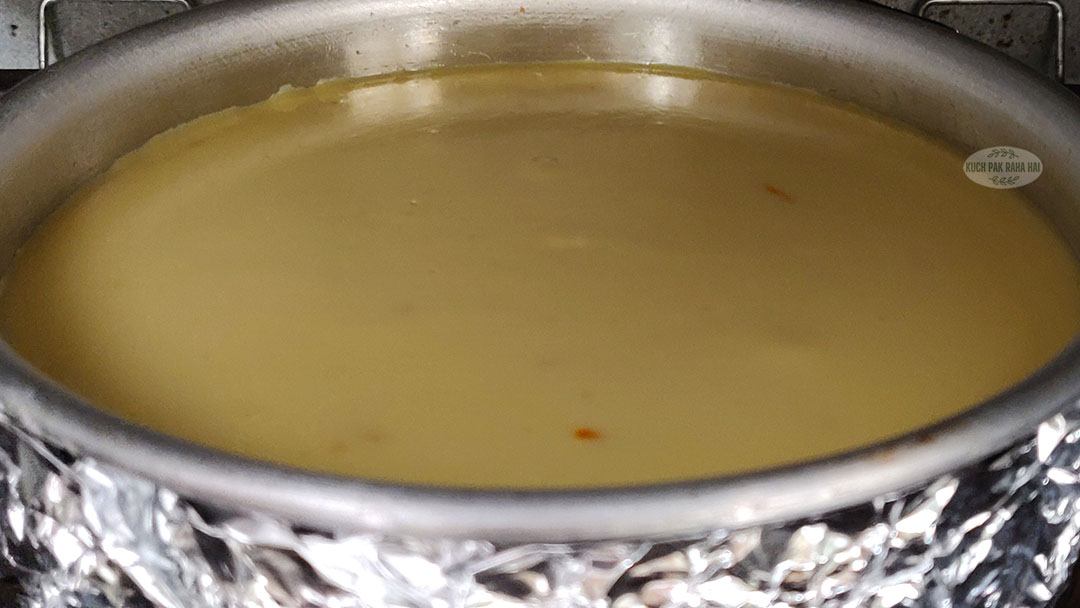 Step 9:
Bring the yogurt to room temperature first and then chill it in fridge for 5 to 6 hrs (or better overnight) before de-moulding and slicing. It tastes best when serve chilled. Garnish with chopped pistachios or rose petals before serving.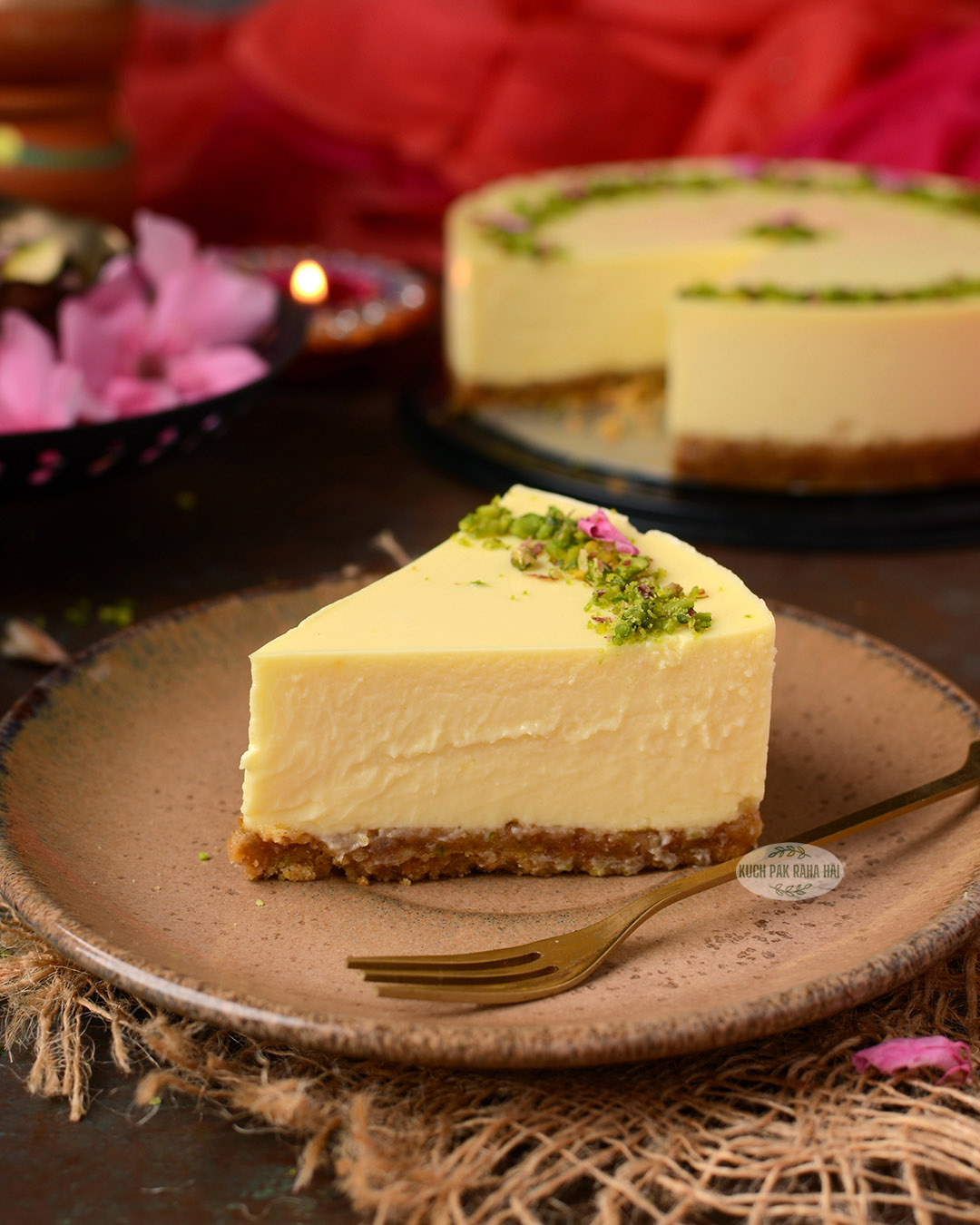 FAQ:
Does it melt at room temperature?
After de-moulding I spent around 1.5 to 2 hrs in styling and photography of this baked yogurt dessert and it did not melt or lose its shape. However I would recommend keeping it in fridge as much as possible for clean cut slices and also it tastes better when chilled.
How long can we store it ?
After de-moulding and slicing if you have any leftover then, you can store it in fridge easily for 2-3 days. Please store it in air tight container or cover it with a cloche in fridge to prevent from drying and absorbing other odour.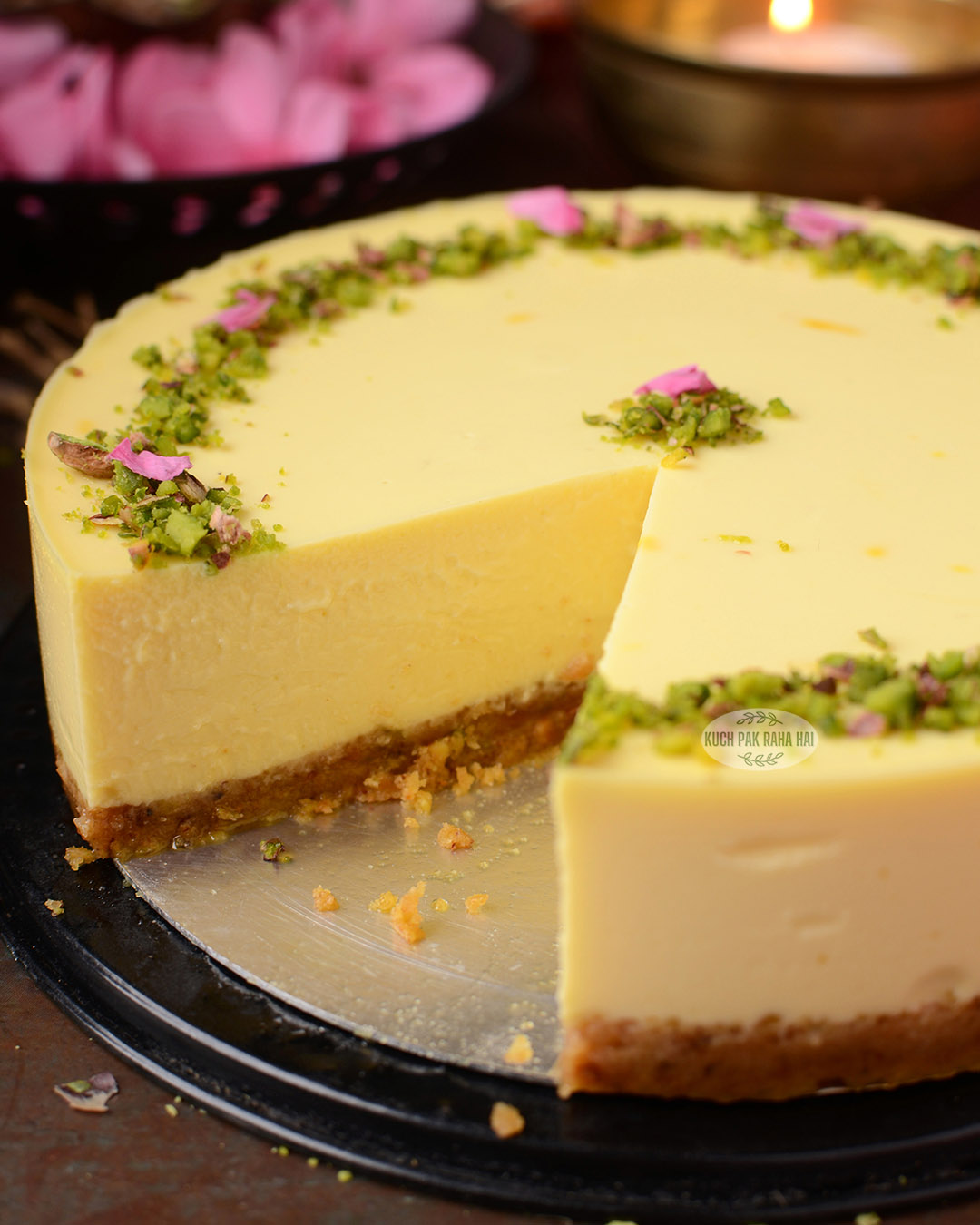 Recipe Tips:
1. When grinding pistachios, don't grind them continuously as they can release their fat on heating. Always grind in pulses.
2. If you are using greek yogurt, skip straining step and use 1+1/3 cups of greek yogurt.
3. You can cover the base with double layer of aluminium foil for additional protection.
4. Greasing the tin with little bit of oil helps in easy de-moulding. Don't use ghee as it solidifies on cooling.
5. You can make crust nut free by skipping pistachios and using only biscuits for the base. Instead of pistachios, you can also use almonds or cashews.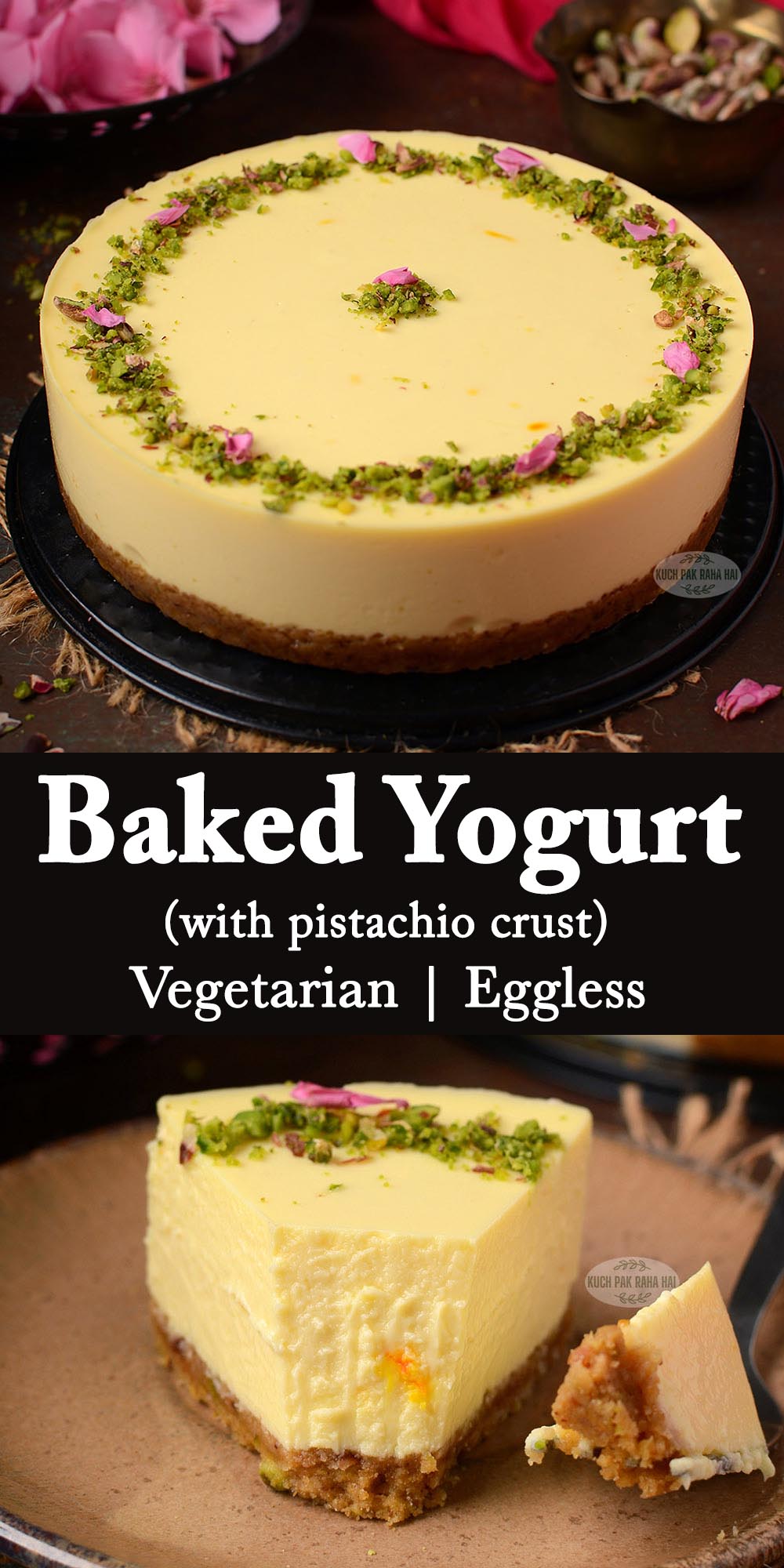 If you try this baked yogurt cheesecake recipe & share pics on social media, then don't forget to tag on Facebook, Instagram or use #kuchpakrahahai.
Let's stay connected
Facebook | Instagram | Pinterest| Youtube