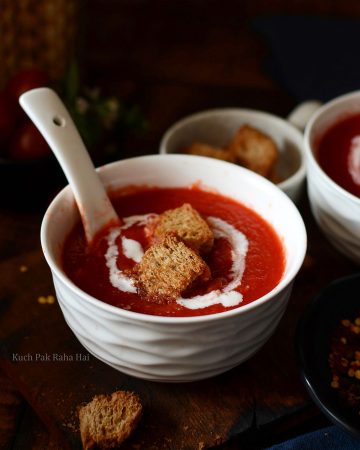 Tomato soup is one of the most popular & delicious soup recipes made with fresh tomatoes, ginger and black pepper. To make it more healthy, some beetroot and carrots are also added to it.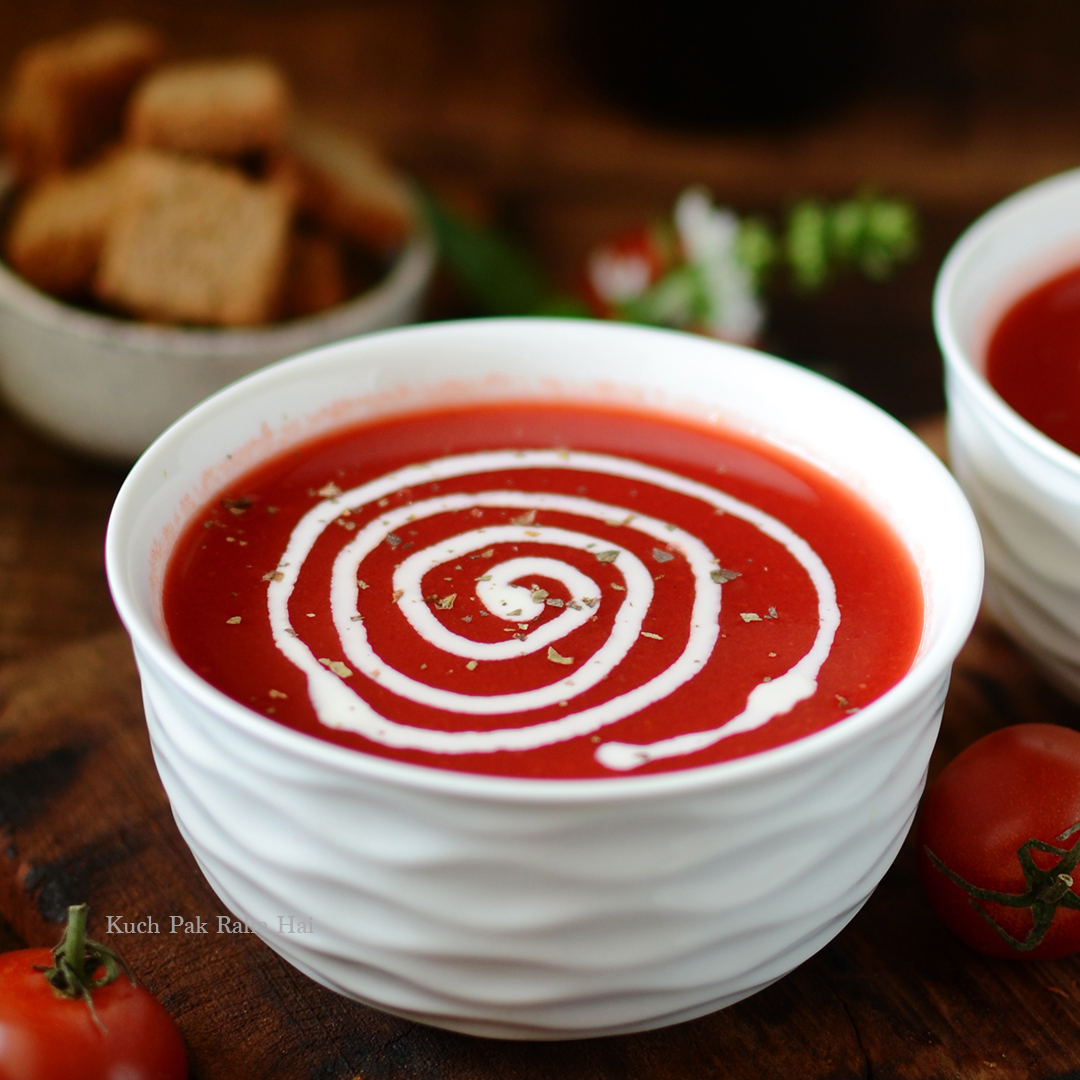 It is an easy, quick & healthy tomato soup recipe which is vegan, gluten free. Generally people add cornflour for thickening the soup but this tomato soup is made without cornflour. Instead some beetroots & carrots are used for thickening which also enhance the taste, colour & nutrition value of the soup.
It is raining cats and dogs in Hyderabad since 2-3 days. In this lovely weather, the monsoon winds instantly make me crave for either a hot cup of coffee or a steaming bowl of soup. I decided to whip up a bowl of tomato soup which so wonderfully combines the tangy tomatoes with the warmth of ginger & black pepper; instantly soothing the mind and body.
As kids we would 'officially' know the winter has arrived when we would see our mom making this soup in kitchen. Tomato soup is the first soup I ever had and also the one which I recall having most number of times. Honestly, If I have to choose amongst the most comforting soup from all varieties my vote would always go in favour of tomato soup.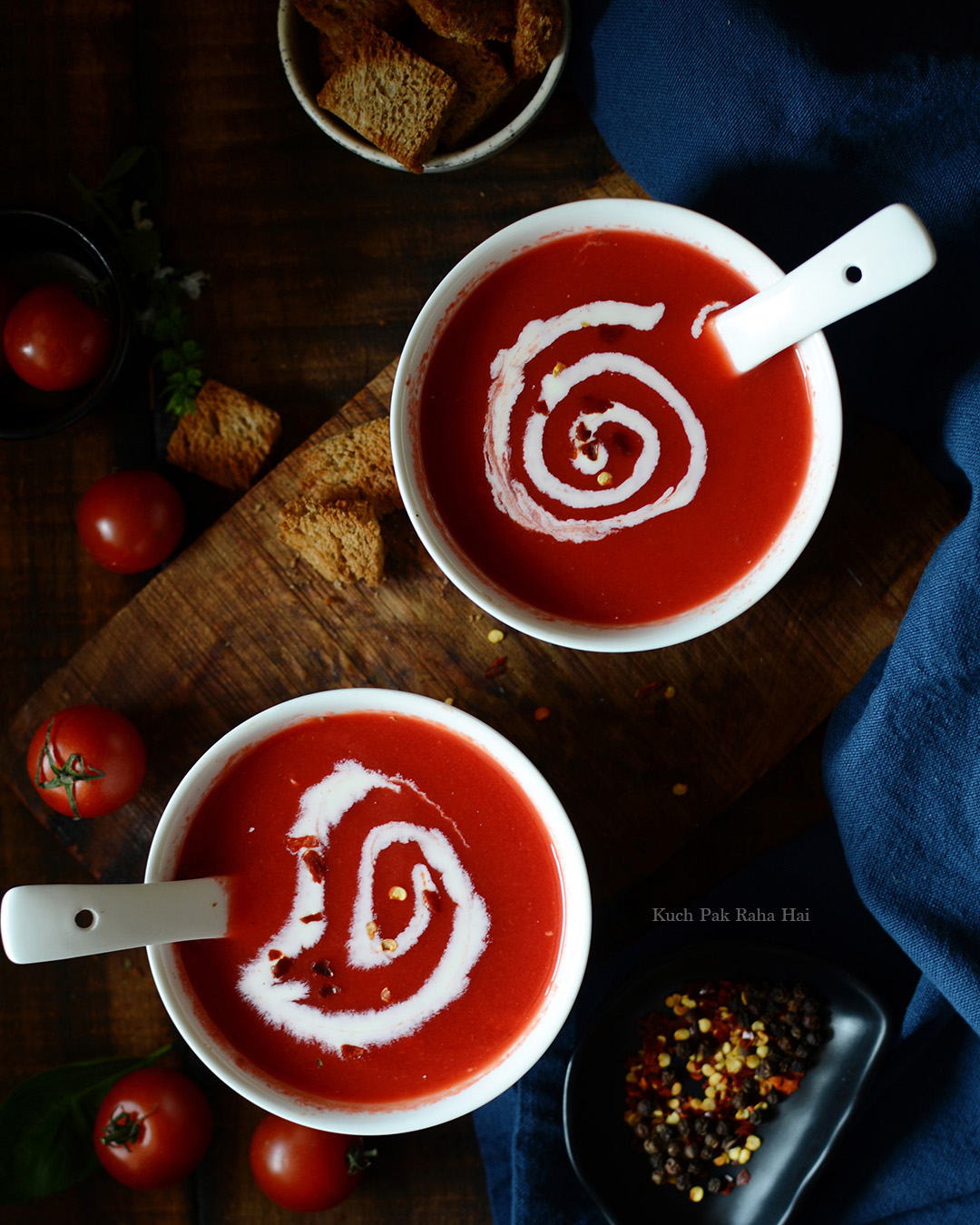 Other Soup Recipes you might like:
The tomato soup is usually accompanied by some fried bread croutons. Instead of deep frying I air fry these bread croutons which makes them lighter & also a far better option than deep fried ones in terms of fat content. If you are not a fan of bread croutons, toast a slice of bread with butter to go with the soup. Personally I feel the addition of bread makes the soup more filling and enjoyable.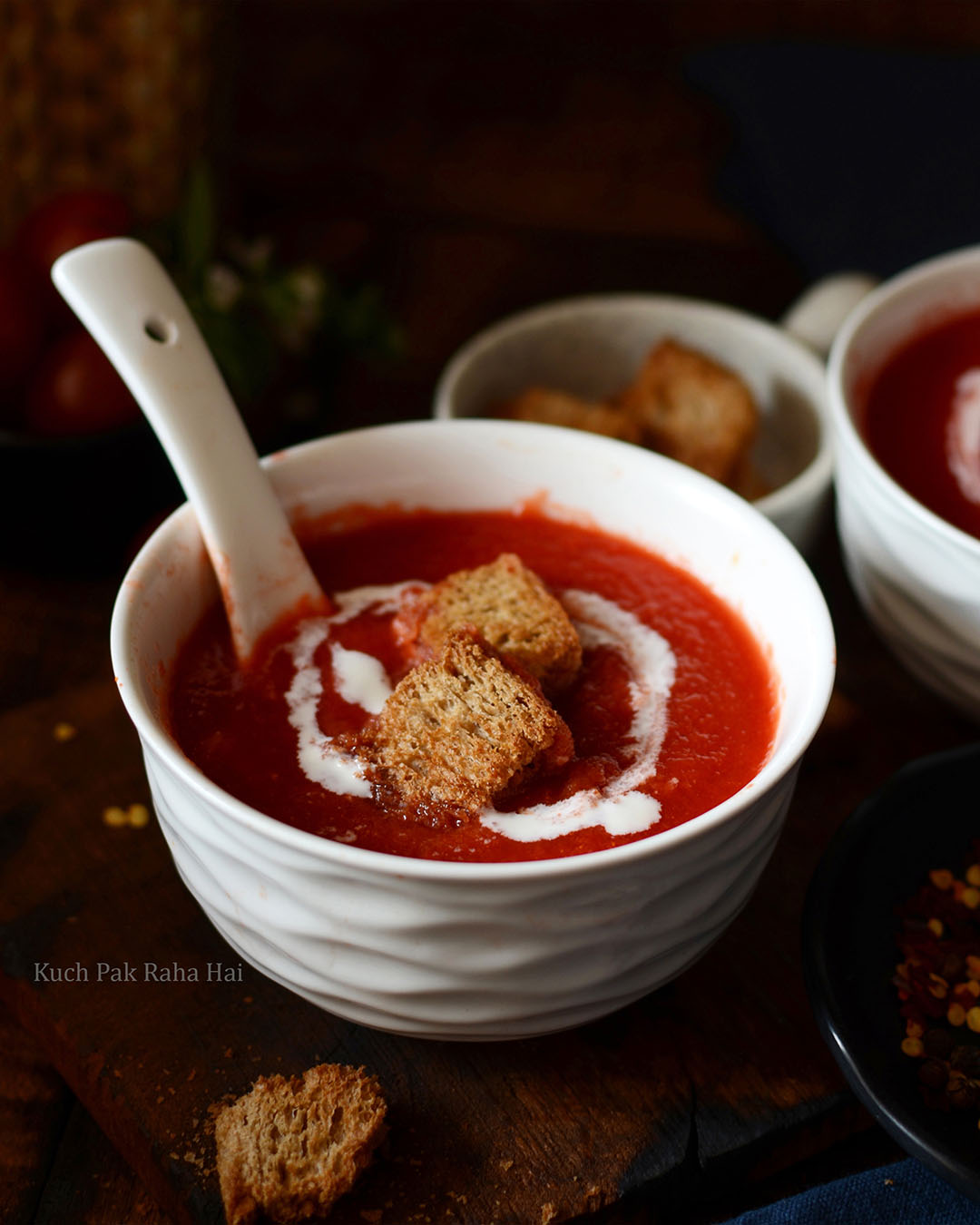 Suggested Accompaniment to serve with this soup:
Bread Croutons in Air Fryer
Ingredients: (Serves 3 to 4)
Tomatoes- 10 to 12
Beetroot (Beet) – 1 small
Carrots – 2
Grated Ginger- 1 tbsp
Water-2 cups
Salt- 2 tsp (or to taste)
Crushed Black Pepper-3/4 tsp
Sugar- 1 tsp (optional)
Cream-For garnishing (use coconut cream for vegan version)
Notes:
1.To balance the sweet-sour profile of soup, you can also add vinegar. The tomatoes I have used here were a bit sour so I added sugar & skipped vinegar to balance the sourness. Add 1 tsp of vinegar if required.
2. For vegan version, use coconut milk as garnishing. However you can also skip it.
3. The pulp from beetroot & carrots makes the soup sufficiently thick. If you still need a thicker consistency, mix 1 tbsp of cornflour in 1/2 cup water and add it to the soup. Bring the soup to boil once after this.
4. You can add dried herbs like rosemary, oregano or thyme for additional flavour & aroma.
Directions:
Step 1:
Wash the tomatoes thoroughly. Chop off the upper part of the tomatoes and then cut them into halves.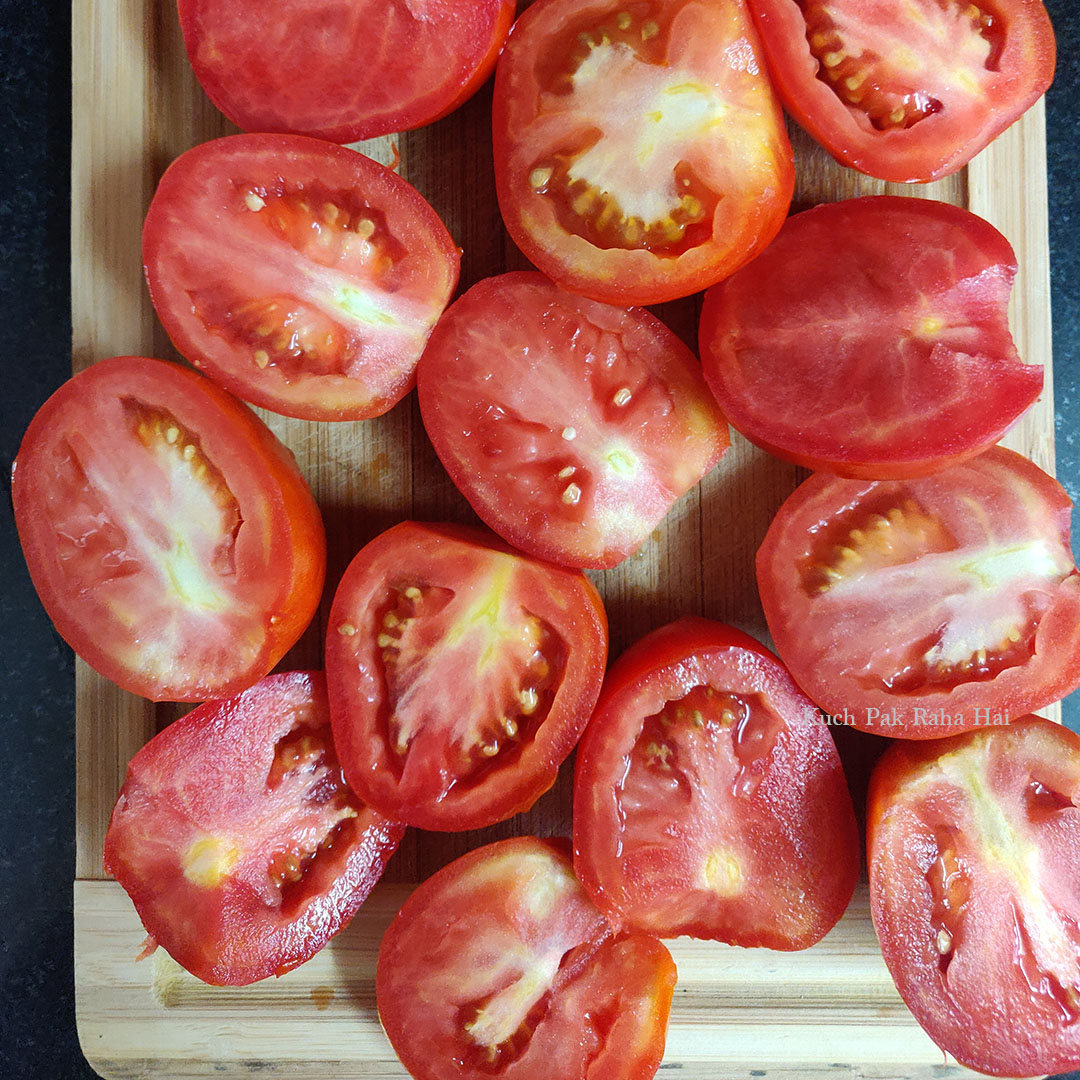 Step 2:
Transfer these tomatoes into a pressure cooker along with grated ginger & roughly chopped beetroot and carrots. Add 1 cup water to it. Let the cooker whistle twice and then simmer for 5 minutes. Switch off the flame.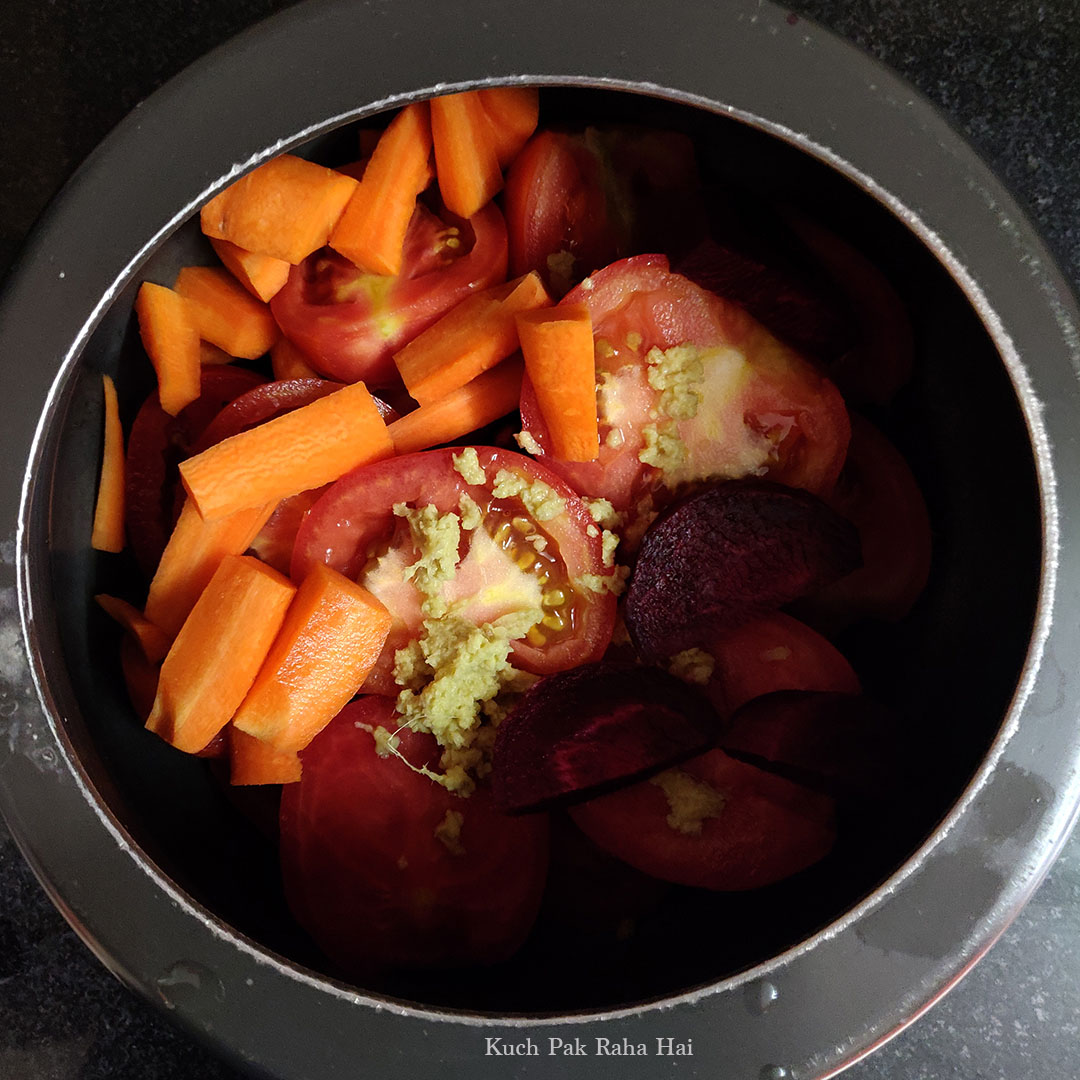 Step 3:
Once all the pressure from the cooker is released, open the lid carefully. The veggies would have softened. You can use a hand blender to puree these veggies or if you are blending them in a wet grinder then let the veggies cool first.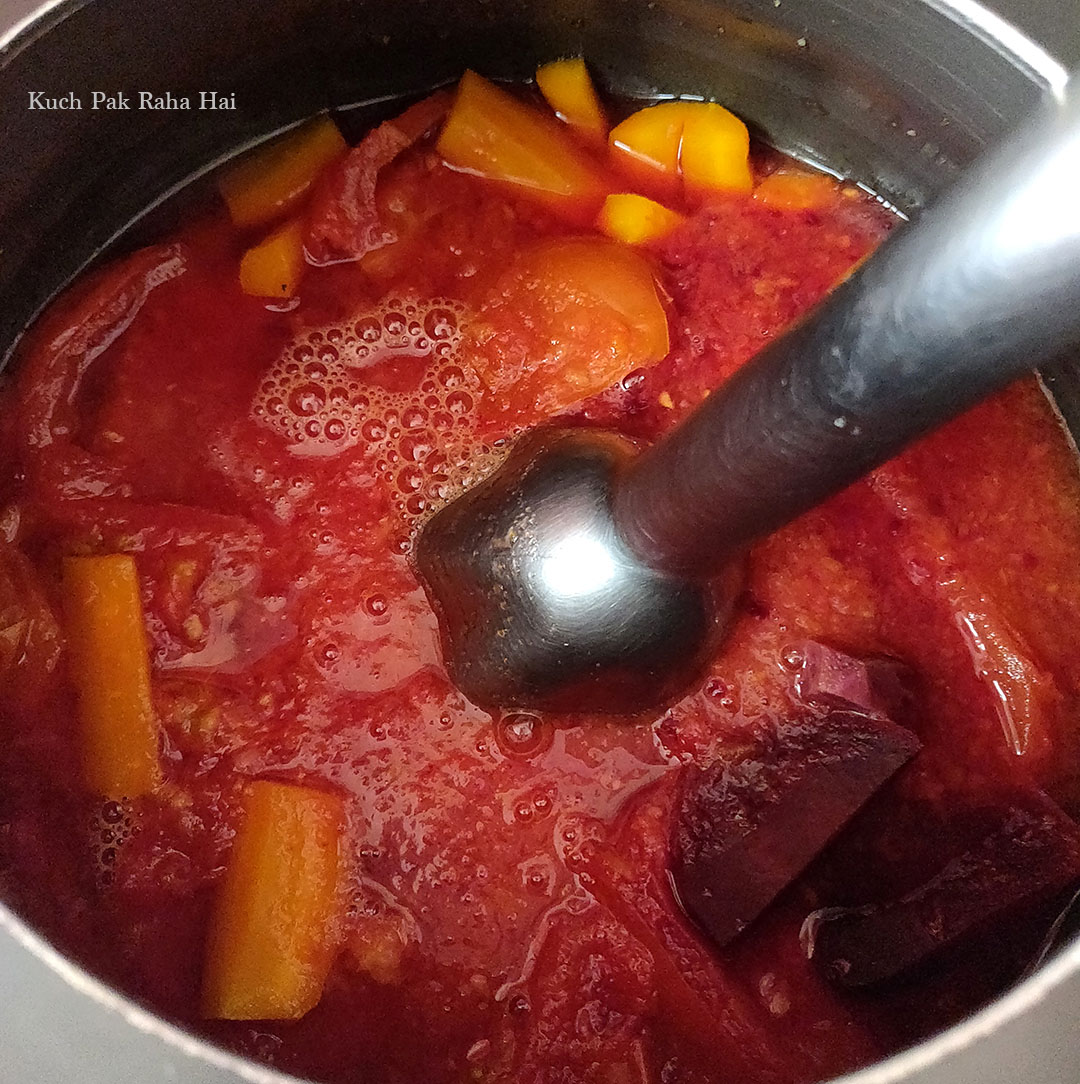 Step 4:
Sieve the blended tomatoes using a strainer. Use a spoon or spatula to swirl and press these puree down the strainer.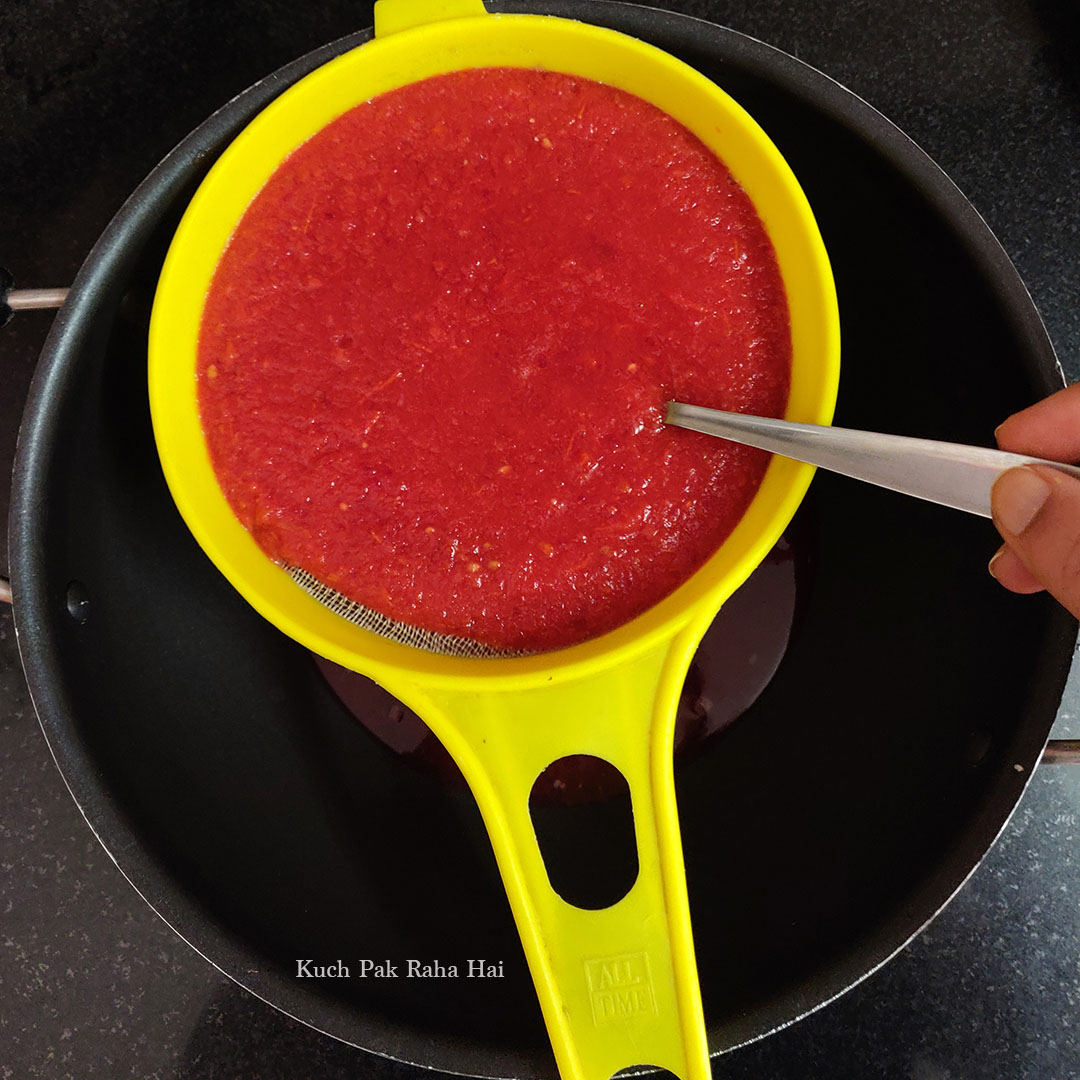 As you can see below the only residue left behind are tomato peels & seeds. There is no loss of pulp in this method and you get creamy thick soup.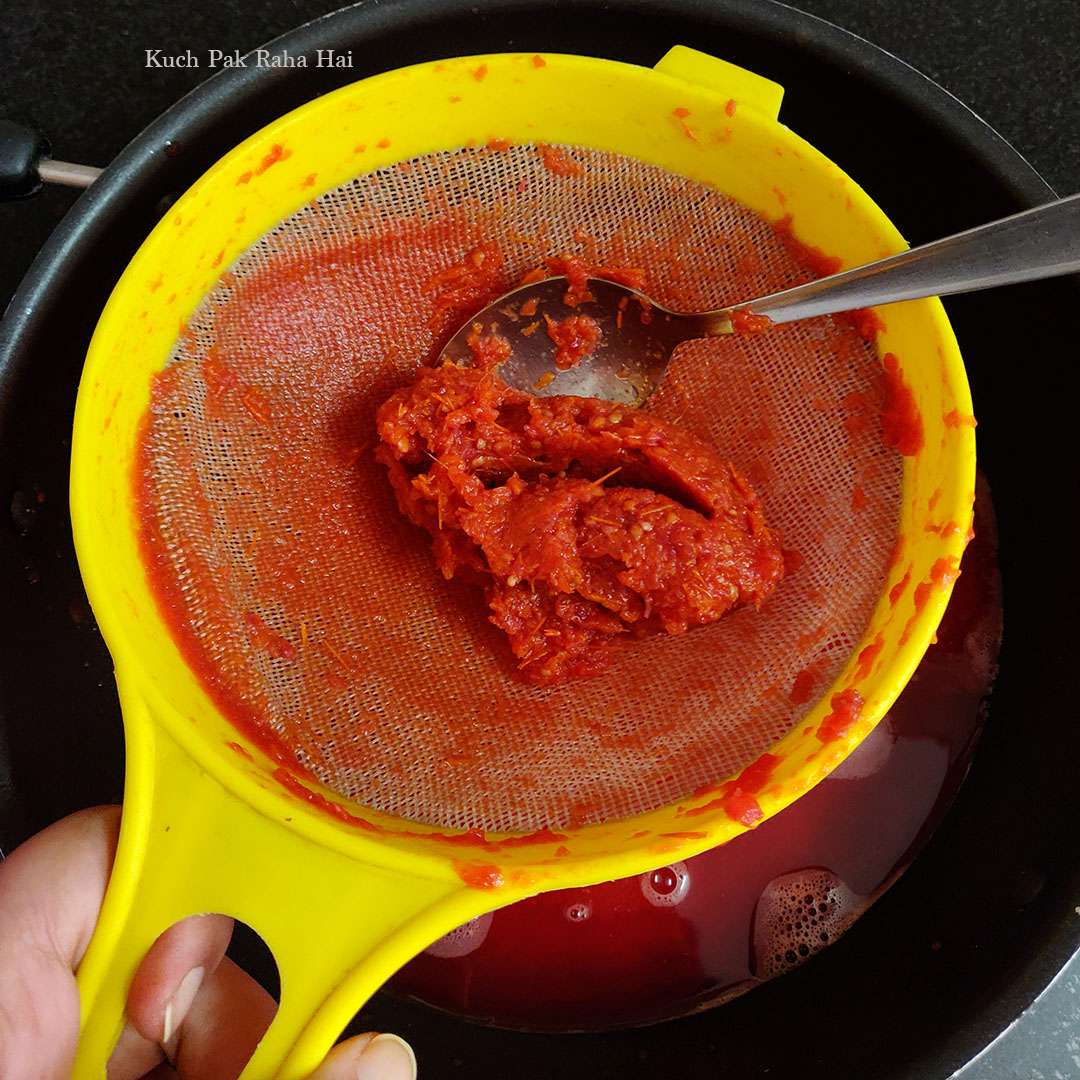 Step 5:
To this strained soup, add salt, sugar, crushed black pepper and a cup of water. Stir well. If you want to add vinegar & cornflour slurry, add them at this step.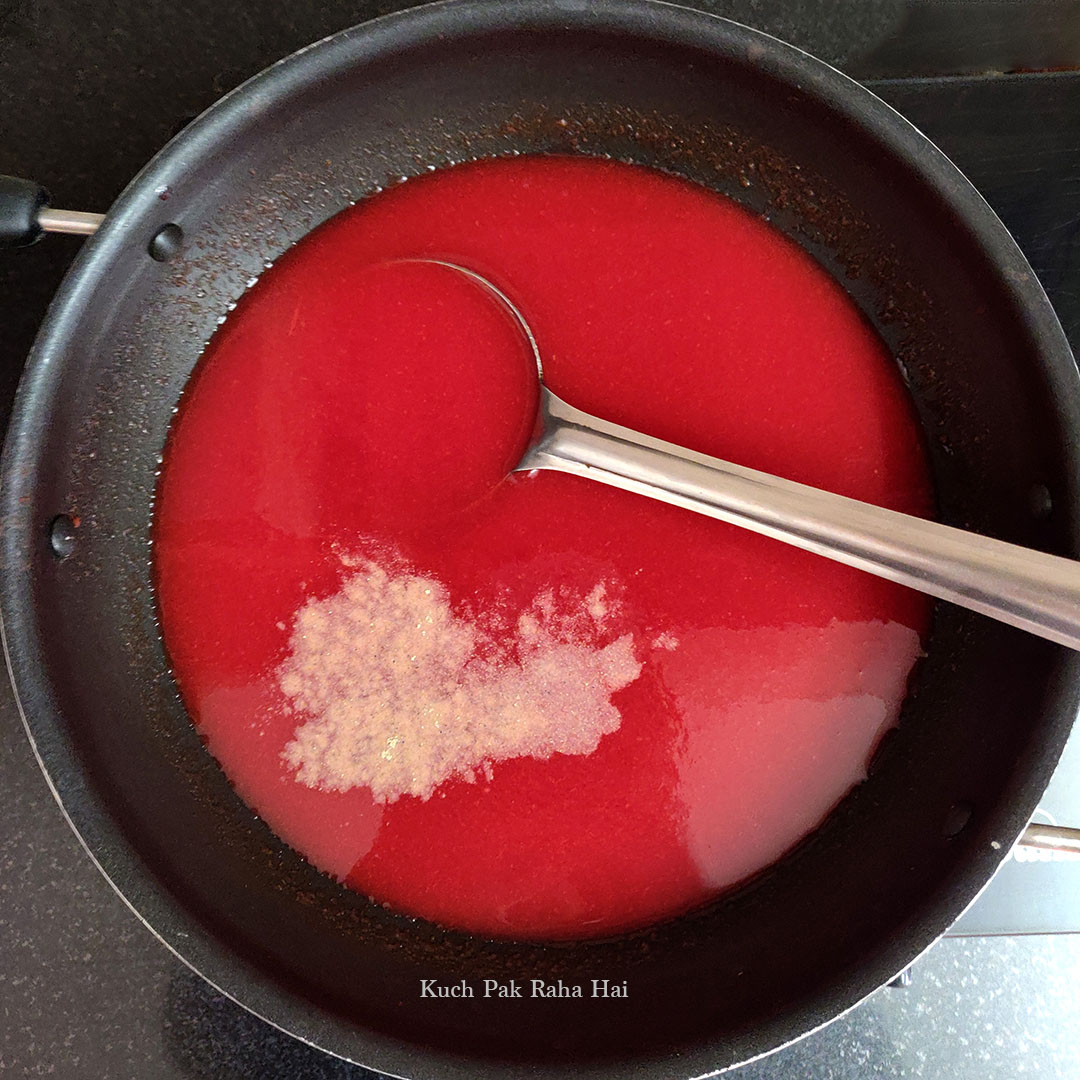 Bring it to boil & then simmer for 10 minutes.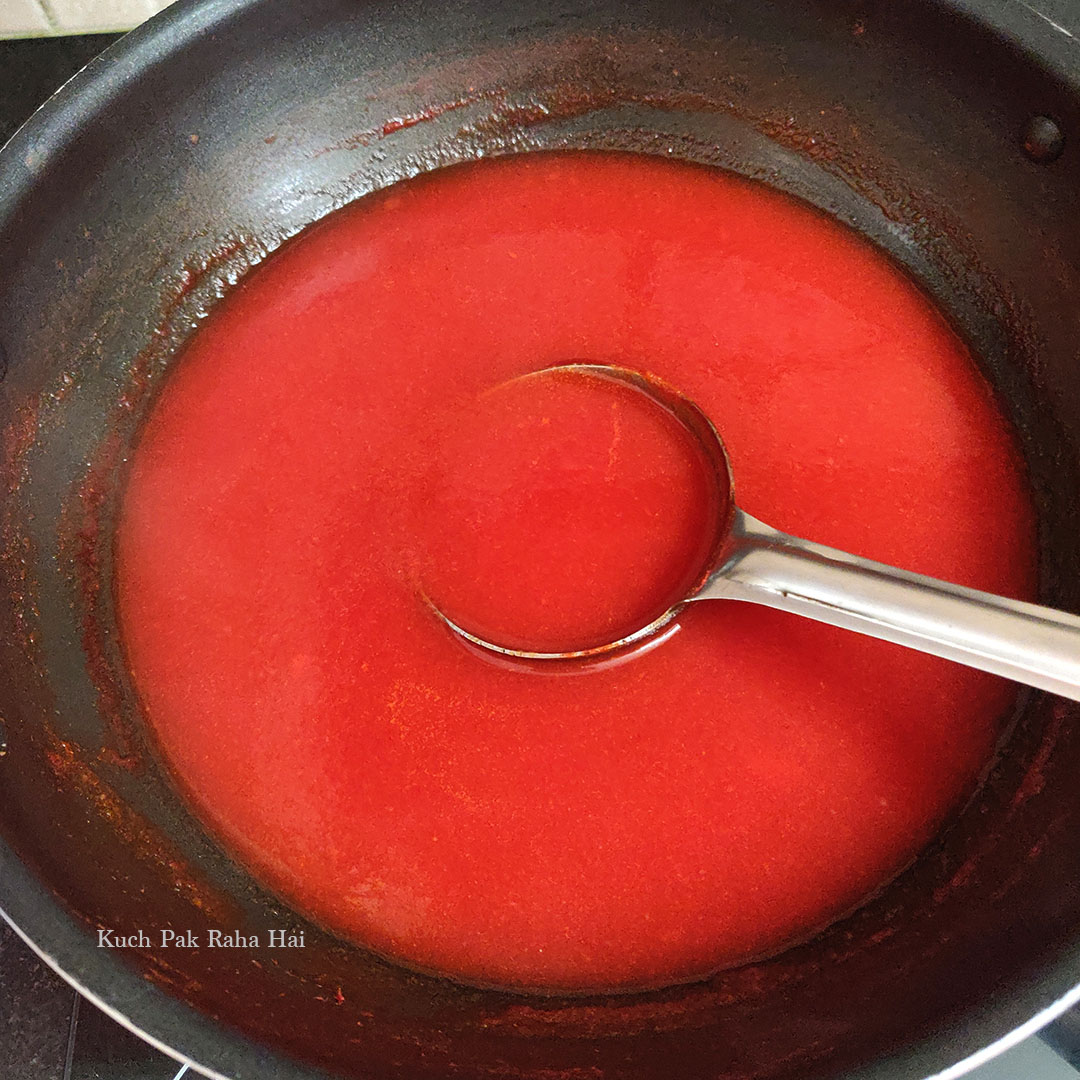 Delicious and healthy tomato soup is ready !! Top up with a swirl of cream or butter. Serve with crispy bread croutons.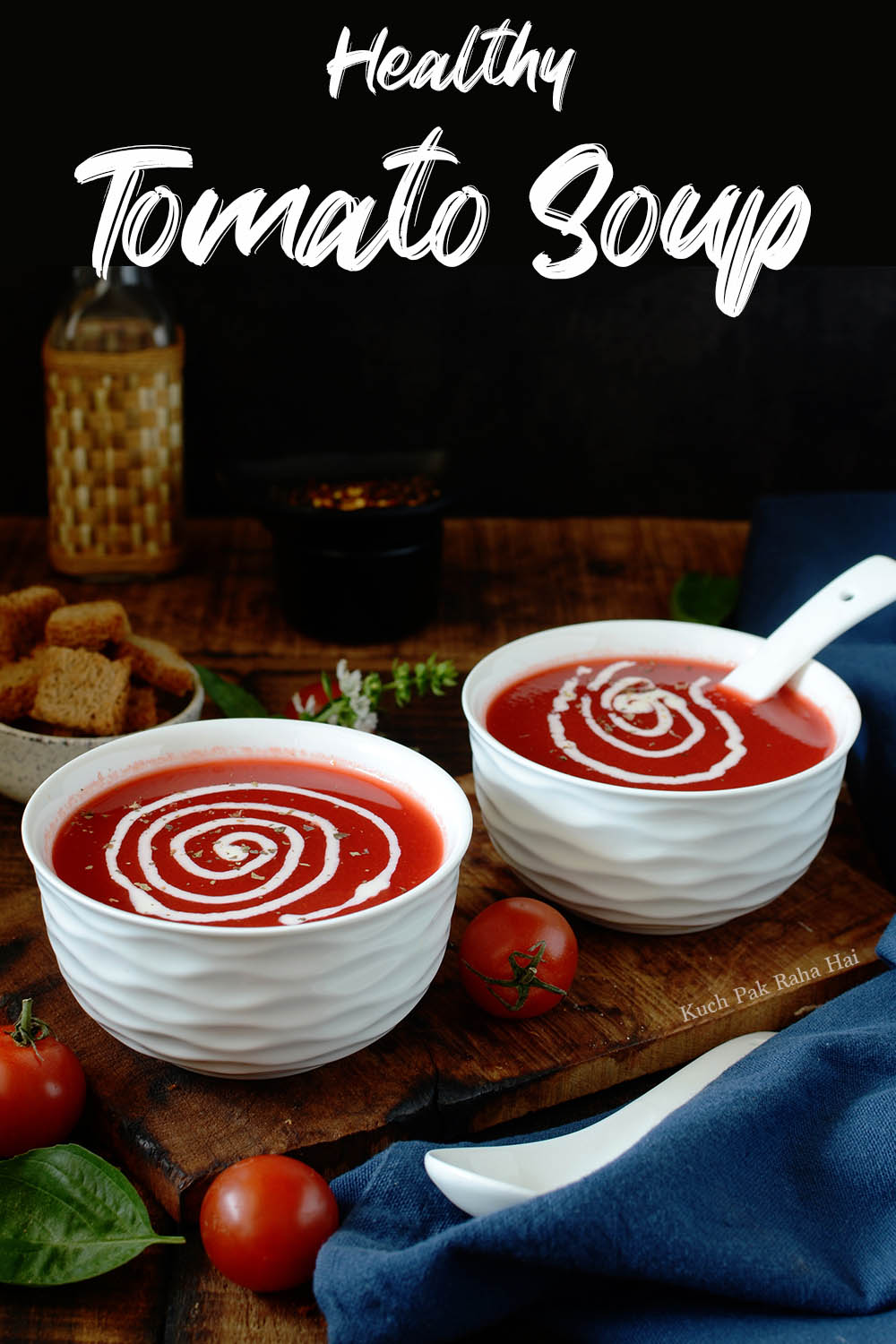 If you try this recipe & share pics on social media channels then don't forget to tag us on Facebook or Instagram or use the hashtag #kuchpakrahahai.
Bon Appetit!!
Let's stay connected
Facebook | Instagram | Pinterest| Youtube