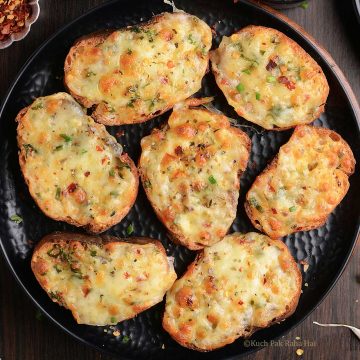 Delicious buttery cheesy garlic bread made in air fryer in just 3 to 4 minutes. It is so easy, quick to make & a great option for snack or appetiser.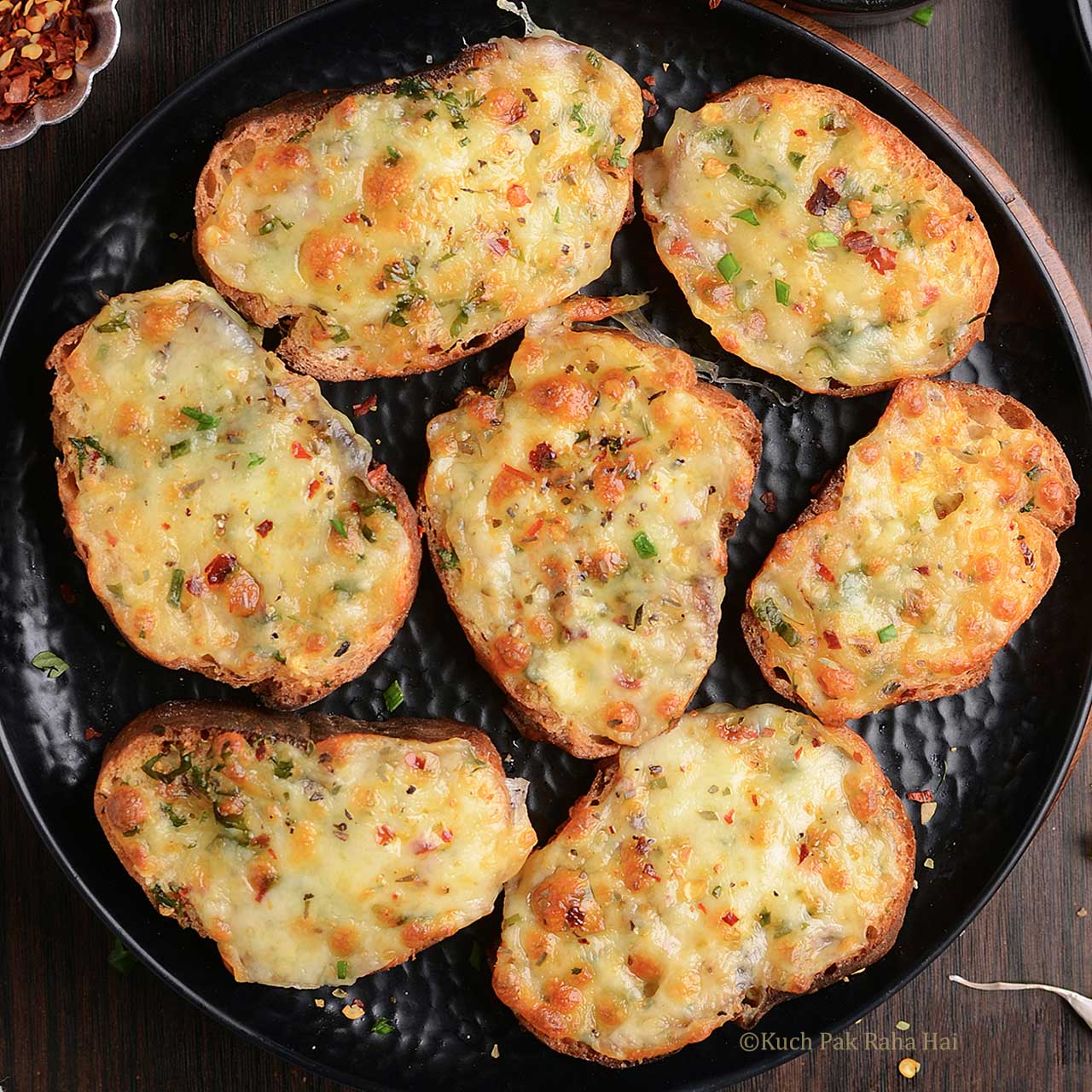 This homemade garlic bread is perfect to accompany soups, pasta or can be served on its own as snack or appetiser. All you need is handful of ingredients, air fryer & voila!! sinfully irresistible garlic bread will be ready in less than 5 minutes.
You can make this garlic bread in air fryer or oven (both the methods are explained in post). In comparison to oven, air fryer takes almost half the time in making this crispy cheesy garlic bread. Moreover you can do many variations by using various toppings, sauces or pesto (explained at the end of post).
Ingredients for air fryer garlic bread:
Bread: You can use baguette, french bread loaf or this no knead air fryer bread loaf to make cheesy garlic bread. Here I have sliced the loaf into 1/2′ inch thick discs as they are easier to serve but you can also cut the entire loaf lengthwise into half to get longer pieces.
Butter: Use softened butter in this recipe. If you are using unsalted butter, add some salt.
Garlic: Fresh garlic cloves taste best in this recipe. Mince them or dice them finely. You can intensify its flavour by also adding some garlic powder.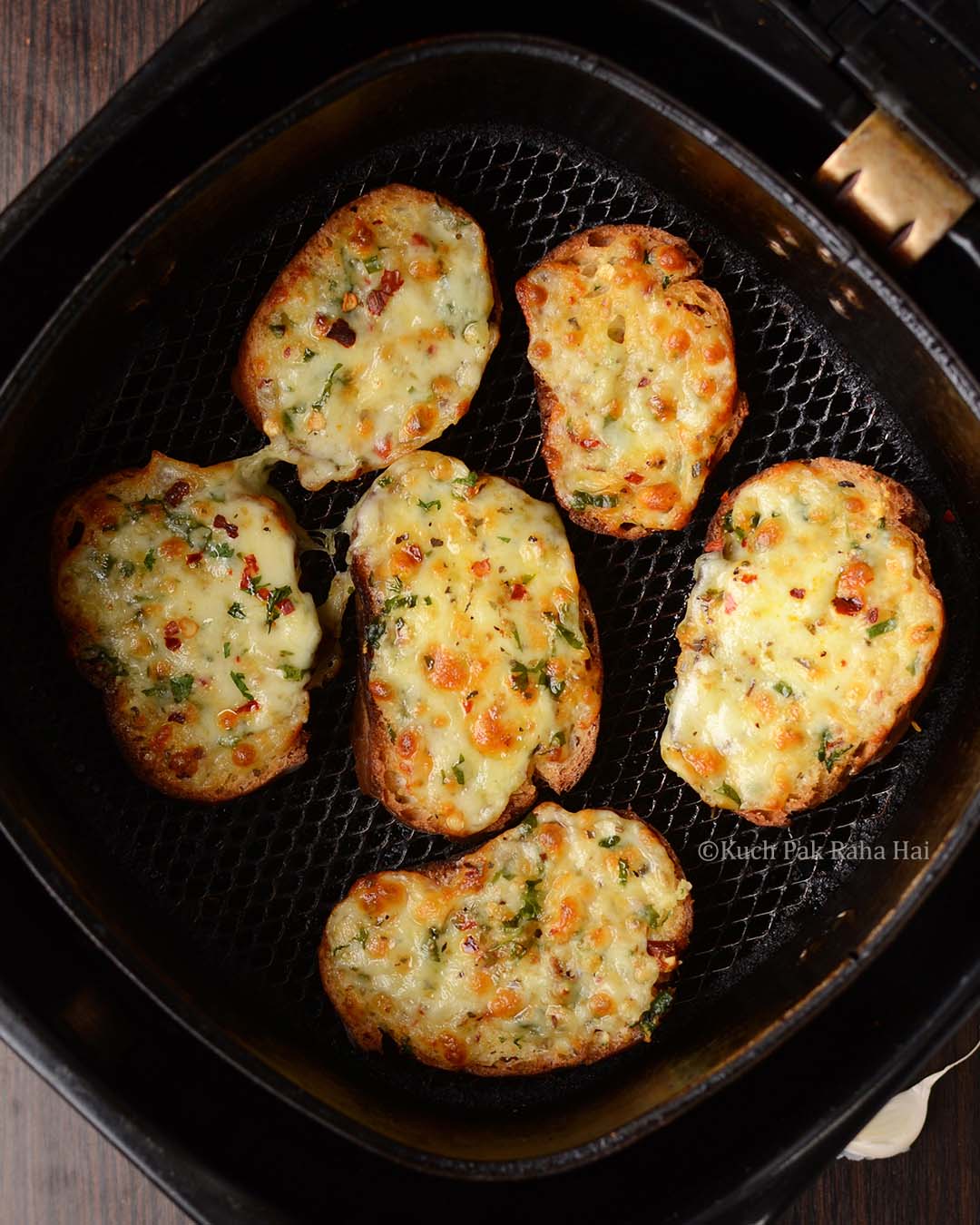 Seasoning: I have used Italian seasoning (mixed dried herbs), chilli flakes & fresh parsley in the recipe. You can adjust the seasoning as per you taste. If you don't have fresh parsley you can also use chives or replace chilli flakes with some crushed black pepper.
Cheese: I like my garlic bread loaded with cheese but as some people prefer their garlic bread without cheese, so you can even skip it. I have used shredded mozzarella cheese but you can also use cheese blend or grated parmesan.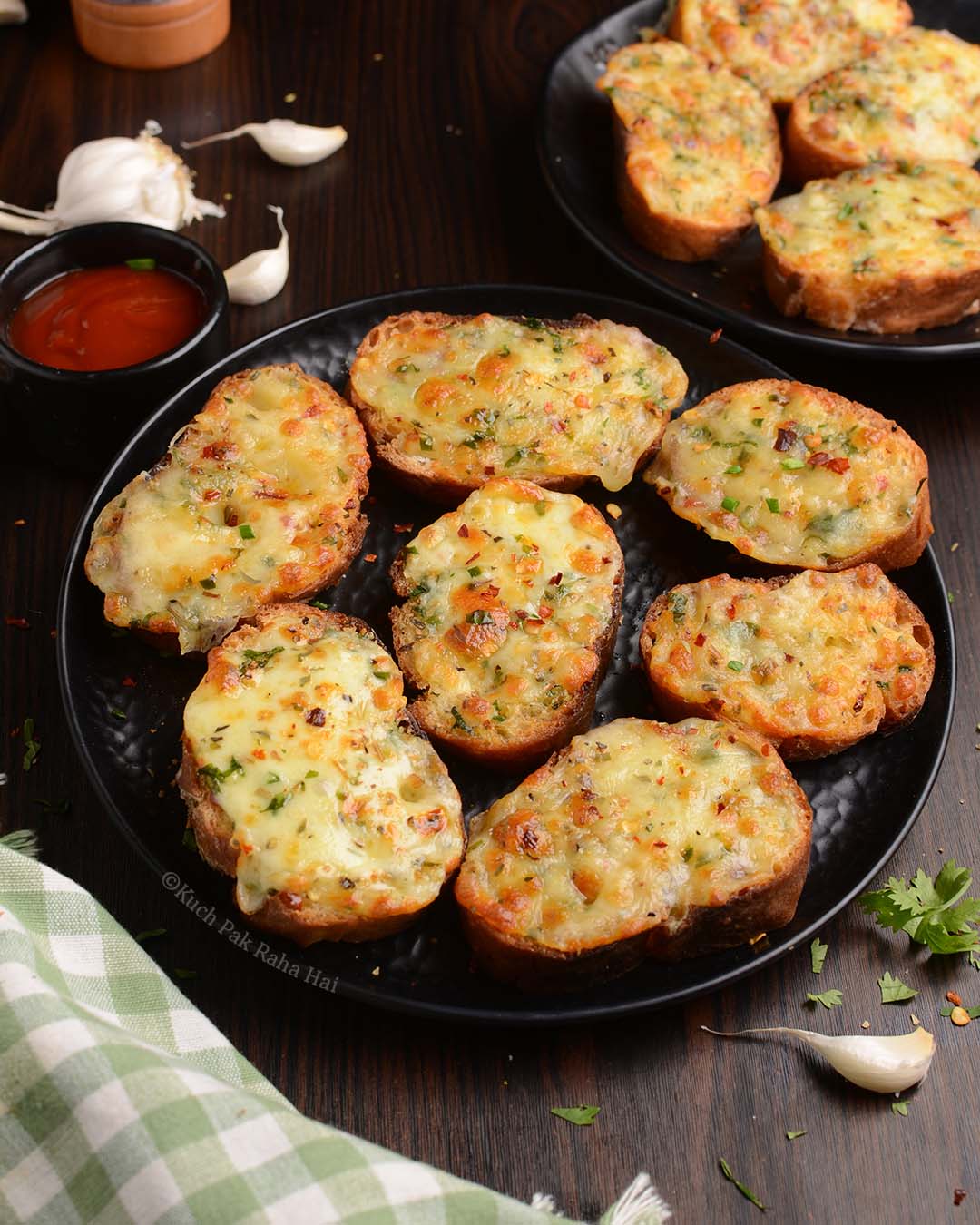 Hope you would like this easy & yummy air fryer garlic bread recipe. More vegetarian or vegan air fryer recipes:
Ingredients:
Baguette / French Loaf – 1
Softened Butter- 4 tbsp
Minced garlic cloves – 6 to 7
Shredded Mozzarella Cheese – 1 cup
Italian Seasoning / Mixed herbs- 1/2 tsp
Red Chilli Flakes- 1/4 tsp (optional)
Chopped parsley or cilantro- 1 tbsp
Notes:
1. The Italian seasoning I have used is a mix of dried herbs like oregano, rosemary, basil etc. You can use only oregano too.
2. You can use grated parmesan or cheese blend instead of mozzarella. If you wish you can also skip adding cheese
3.  If you are using unsalted butter add 1/4 tsp salt to the softened butter.
Directions:
Step 1:
Cut the baguette or french loaf into 1/2″ inch thick round slices. Keep these slices aside.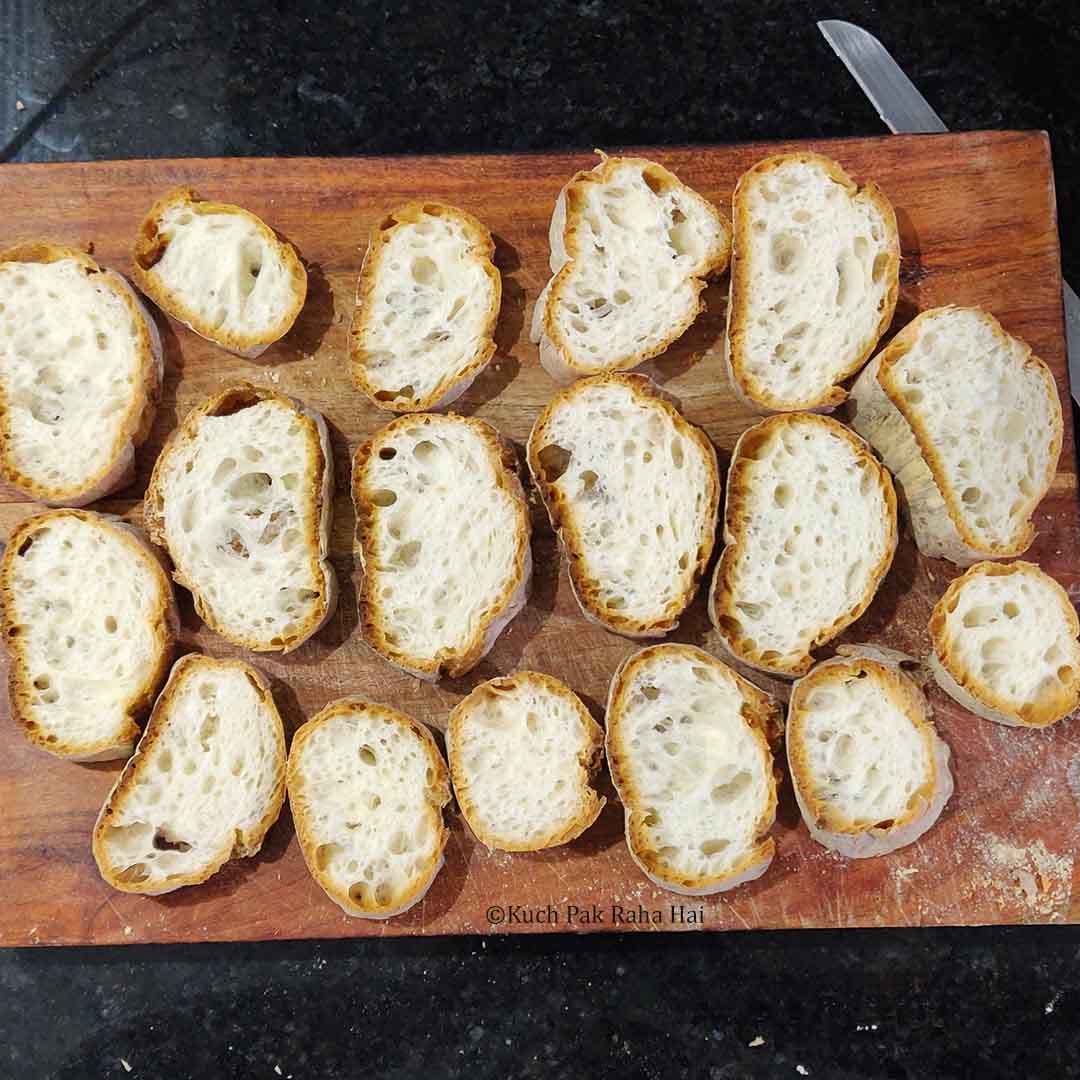 Step 2:
Mix together softened butter, minced garlic cloves, Italian seasoning, red chilli flakes and chopped parsley. If you are using unsalted butter, add some salt also. Keep it aside.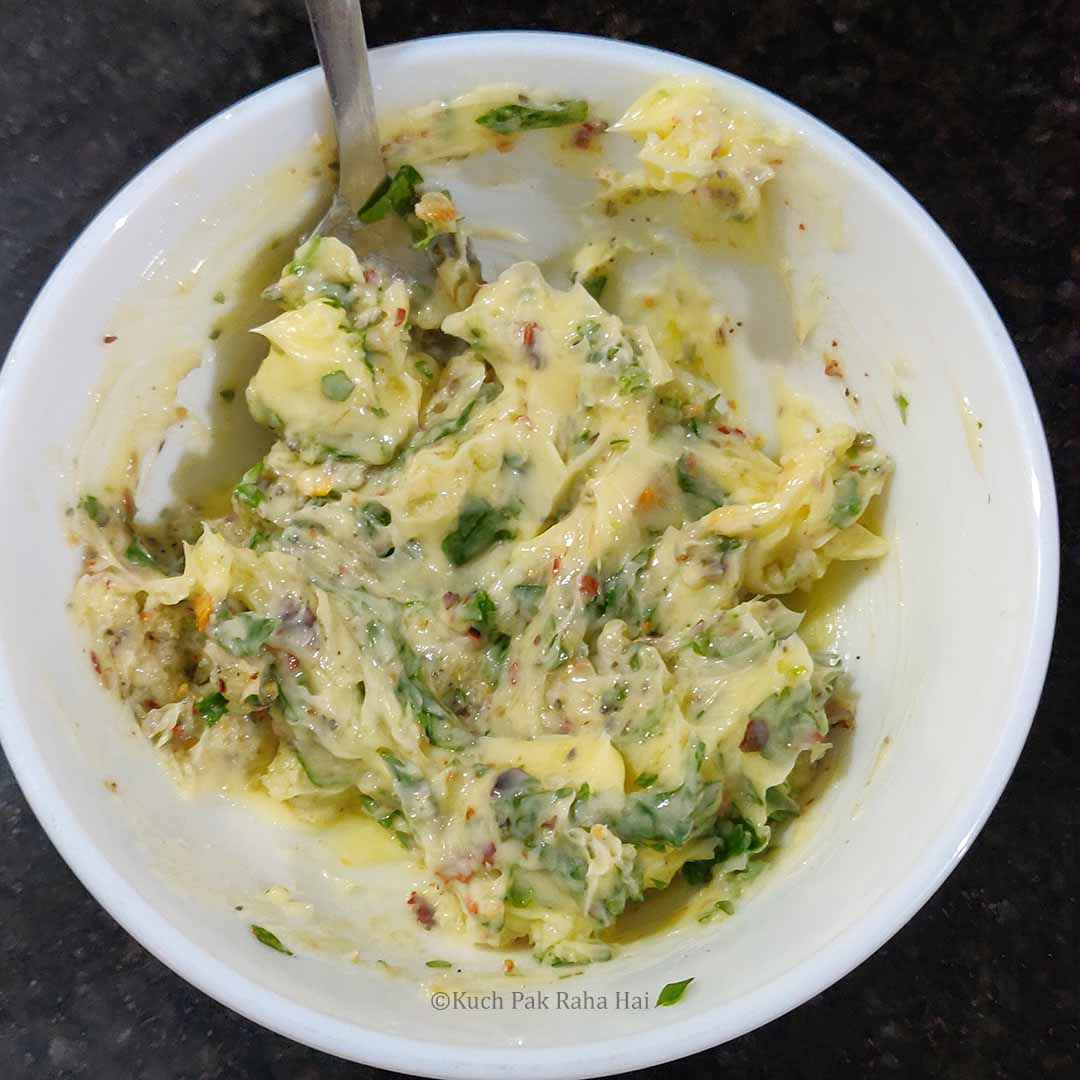 Step 3:
Set the airfryer for preheating at 180°C (356°F). By the time air fryer is preheating, spread the herbed butter mixture on each of the baguette slice.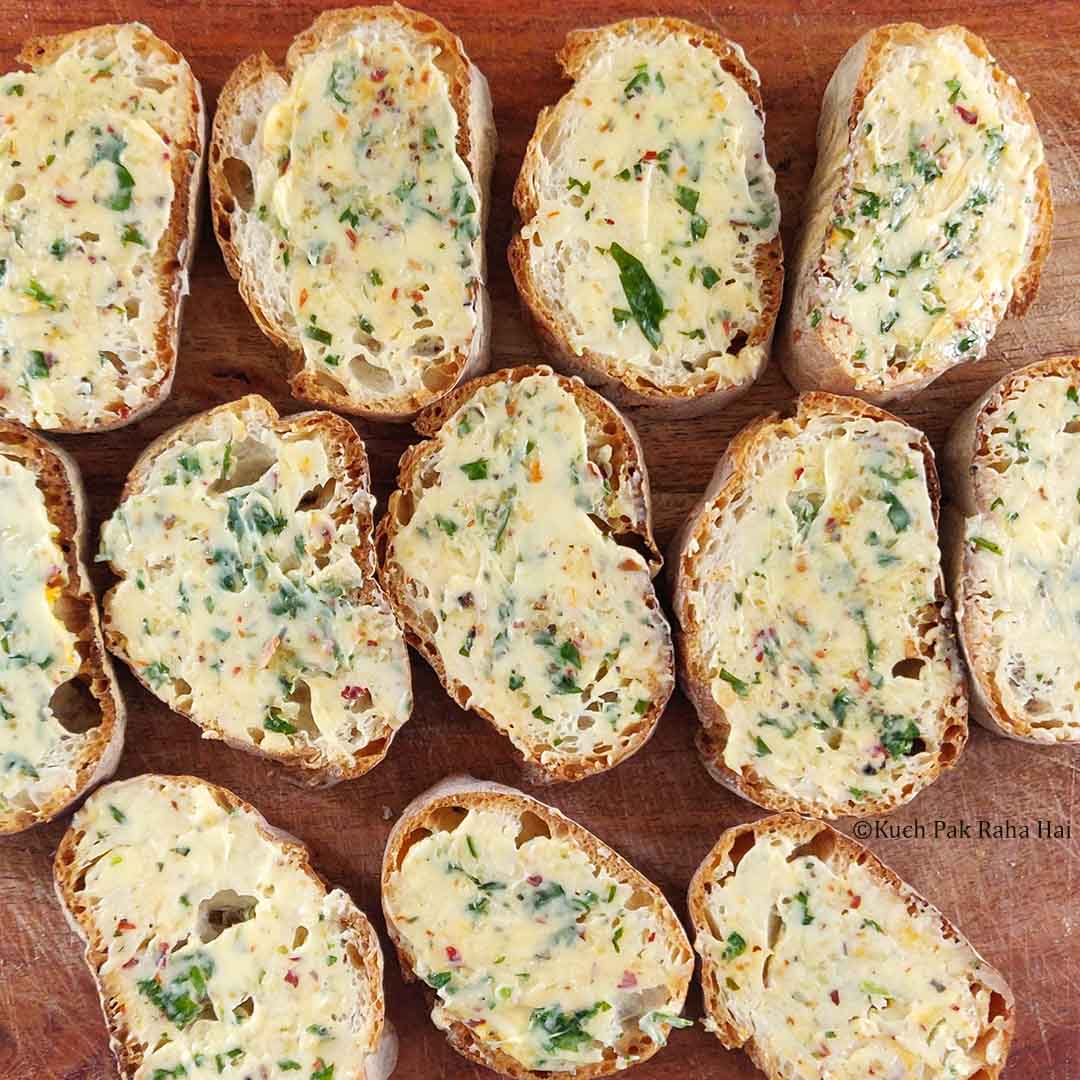 Step 4:
Add a generous amount of shredded mozzarella on the top of each slice. Sprinkle some more italian seasoning, chilli flakes or chopped parsley.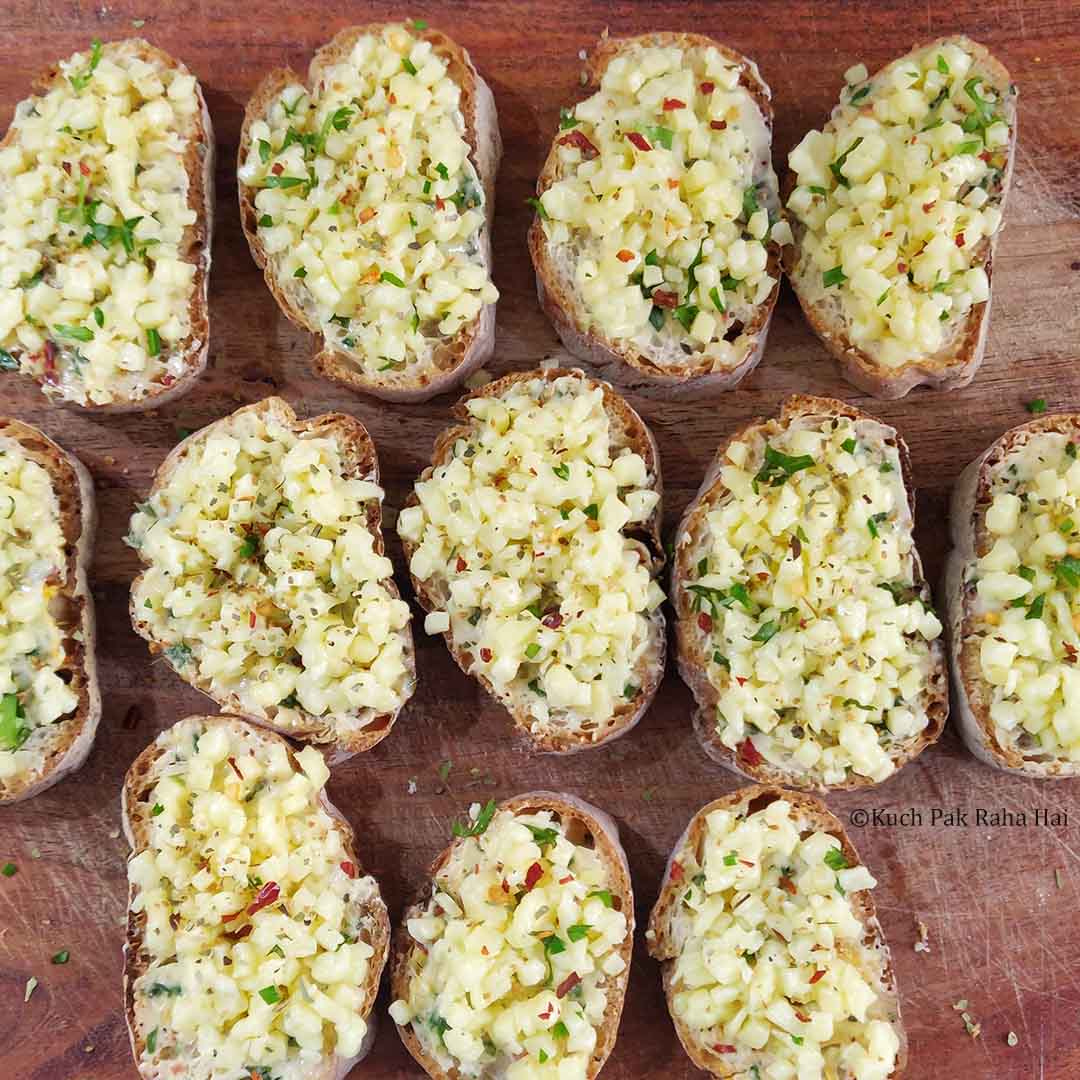 Step 5: (How long to cook garlic bread in air fryer)
Air fry garlic bread at 180°C (356°F) for 3 to 4 minutes in a preheated air fryer till it is crispy & golden brown. You can add a minute or two if you like more crispy bread.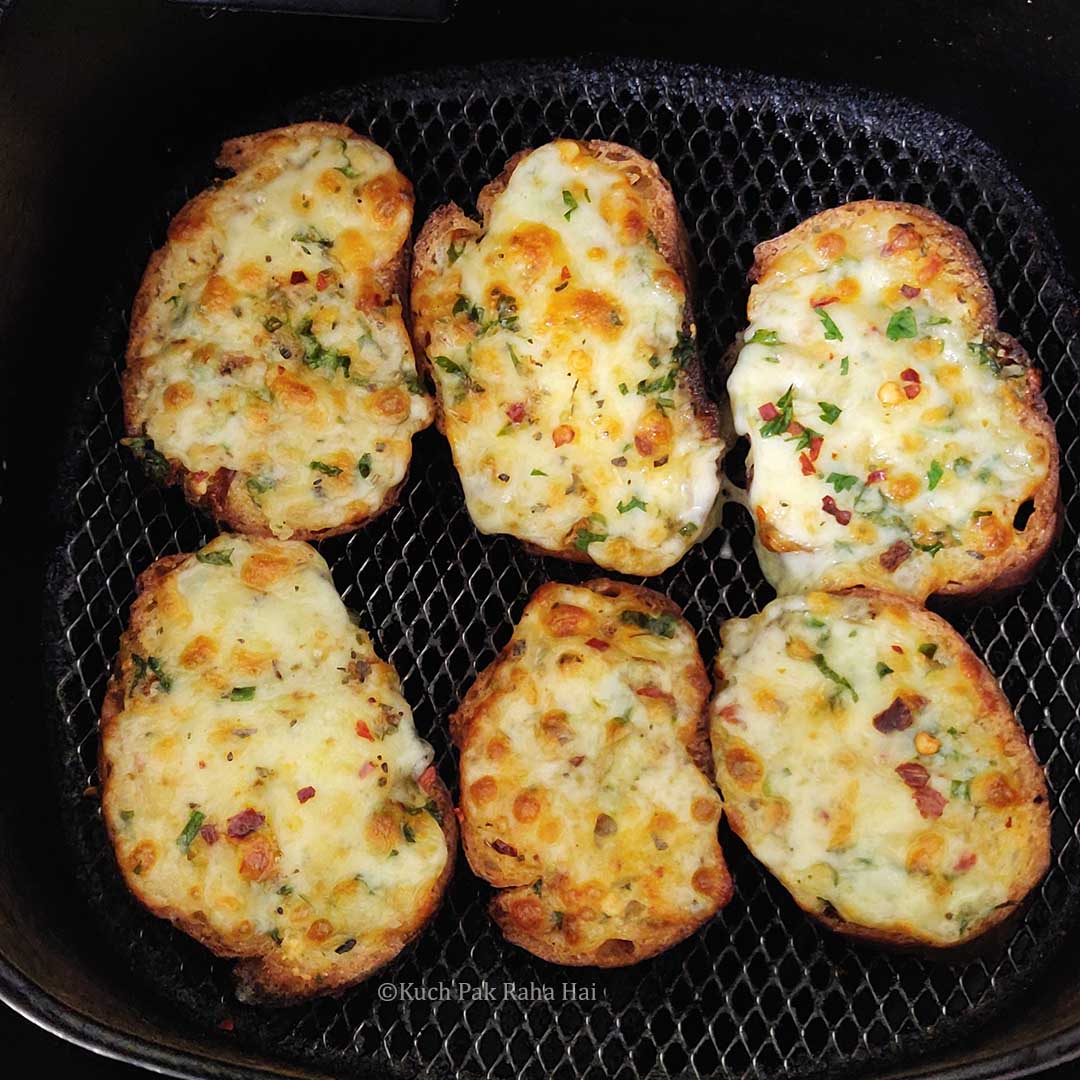 Enjoy this garlic bread warm as snack, appetiser or serve it with pasta or soups!!
How long to cook garlic bread in oven?
You can also bake this garlic in a preheated microwave oven at 200°C for 8 to 10 minutes or if you want to make garlic bread from scratch check out this easy cheese stuffed garlic bread sticks recipe made in oven.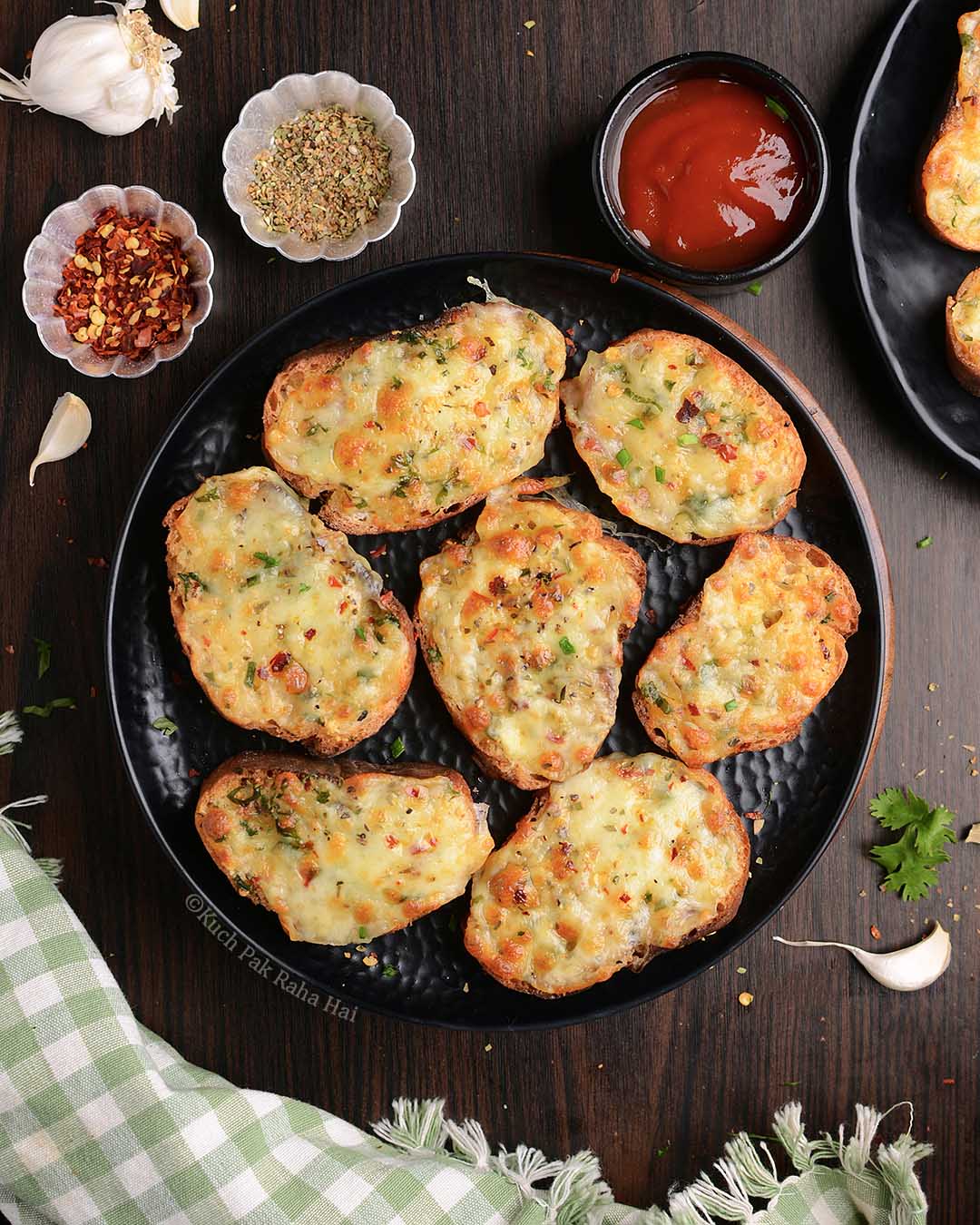 Garlic Bread Variations:
1. You can also smear some basil or sun dried tomato pesto or pizza sauce before the cheese layer.
2. Top up the cheese layer with some olives, chopped jalapeño or bell peppers before air frying to add your own twist.
Serving Ideas:
You can serve air fryer garlic cheesy bread with:
Pin for later: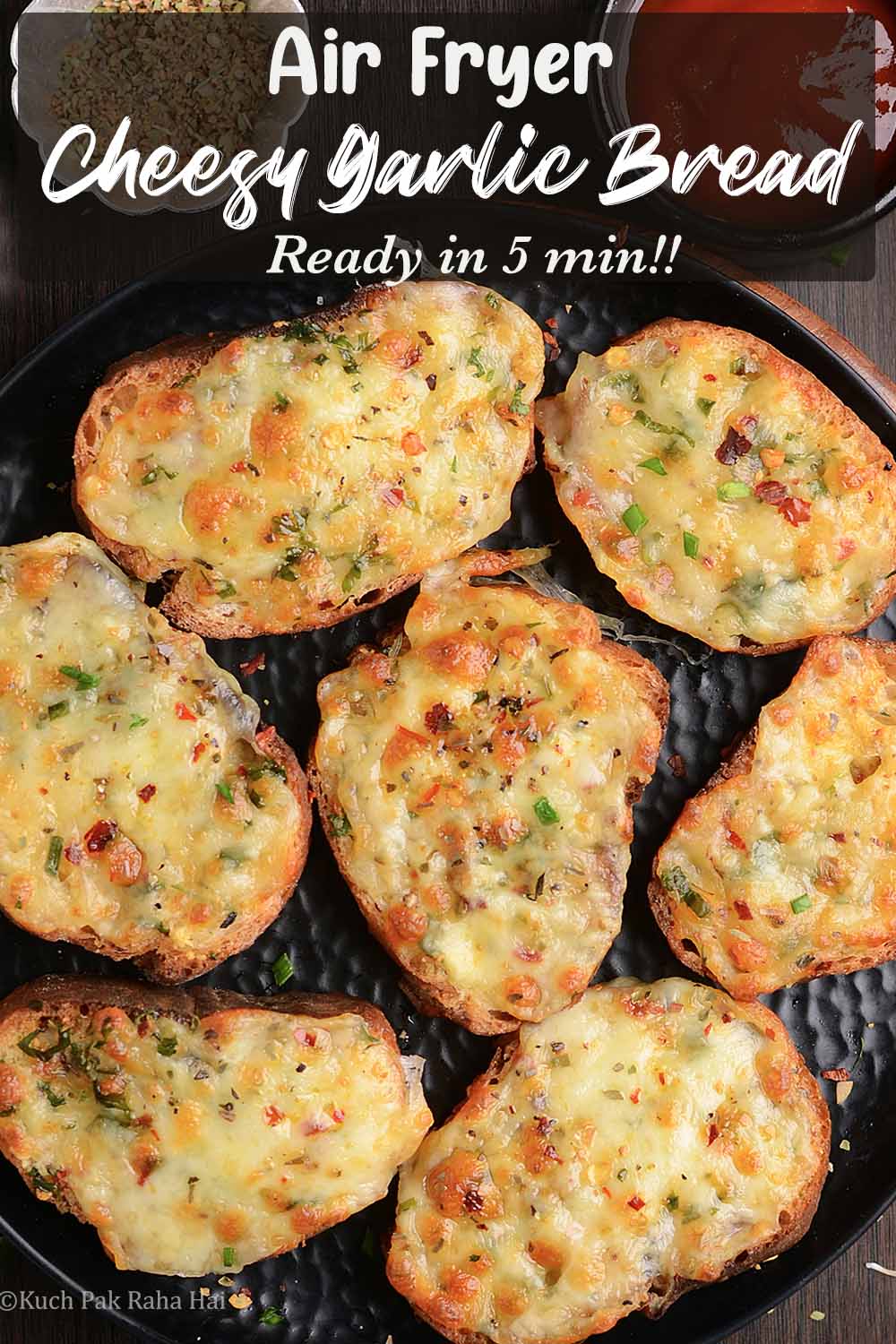 If you try this cheese garlic bread recipe in air fryer & share pics on social media, then don't forget to tag on Facebook, Instagram or use #kuchpakrahahai.
Let's stay connected
Facebook | Instagram | Pinterest| Youtube