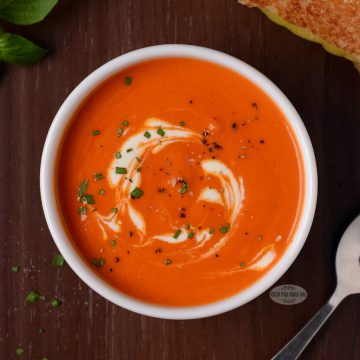 Roasted tomato garlic soup is a comforting flavoursome soup made with roasted tomatoes, onion, aromatic garlic and basil. The recipe shared here is vegan, gluten free, easy to make and perfect for winter season.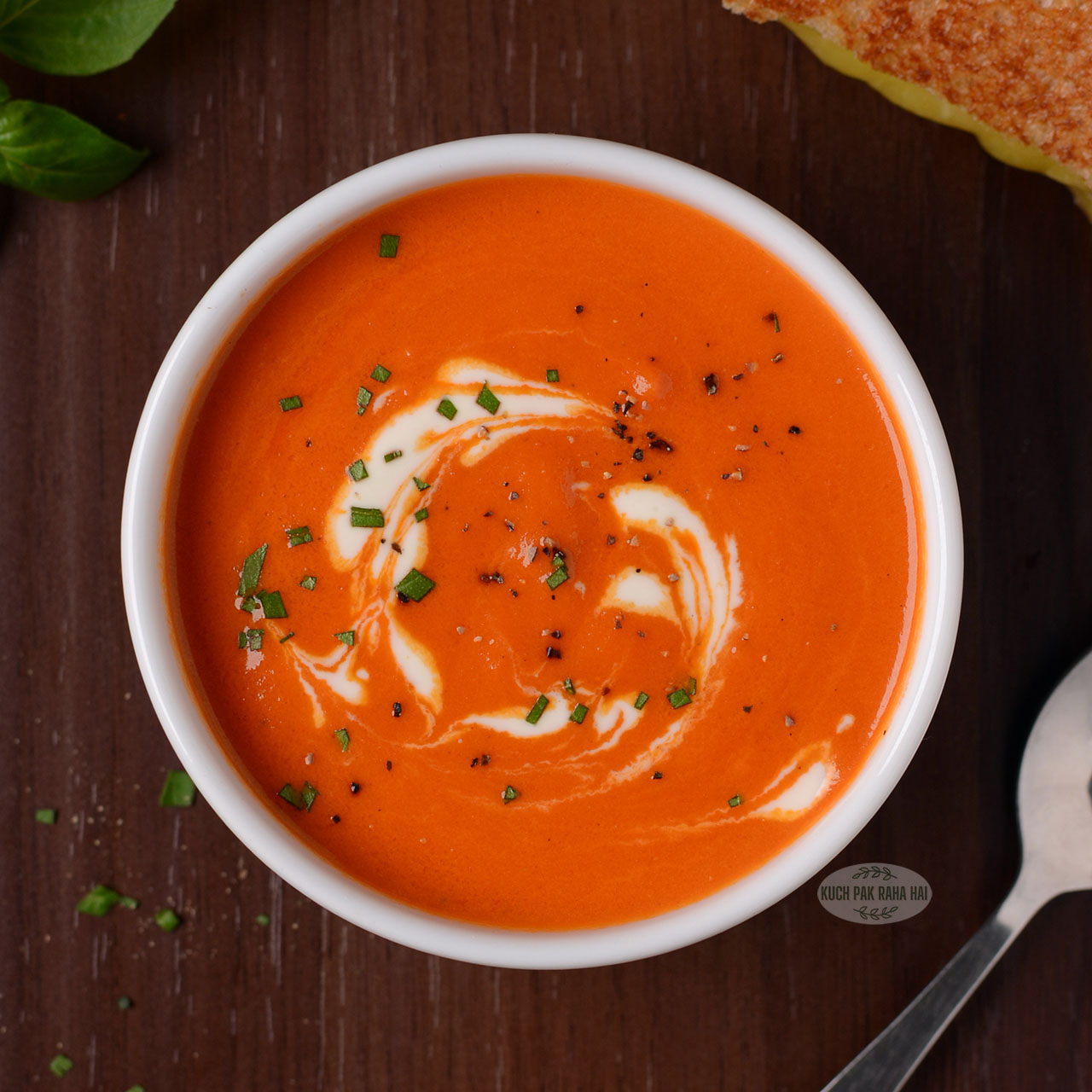 If someone asks me 'tell me it's winter without telling it's winter', then a hot steaming bowl of roasted tomato and garlic soup with grilled cheese sandwich is ideal way for me to describe it. No canned soup can compete with the flavour and nourishment of fresh homemade soup.
Earlier the tomato soup recipe I had shared was made by pressure cooking the tomatoes (the way I had learnt from my mom). When I tried roasted tomato soup first time, I was surprised how the roasting process changes the flavour of tomatoes by bringing out their sweetness & subtly changing the taste of soup.
This is a sheet pan roasted tomato soup recipe which means we will toss all the ingredients in olive oil, spread them on a baking tray and roast till tomatoes are soft & squishy. The roasted tomatoes, garlic and onion will then be blended and seasoned for making soup.
Roasted Tomato Soup Ingredients:
Tomato: Choose firm ripe red tomatoes for making this soup.
Garlic: The roasted garlic imparts a warm aroma & flavour to the tomato soup. I sometimes roast whole garlic bulb in the oven. You can use 4-5 (or more) cloves in the soup and rest can be used for making garlic bread or garlic flavoured butter for toasts.
Though fresh garlic tastes best in this soup but if you don't have it, you can use garlic powder too.
Onion: Using onion in this recipe is optional but I prefer to use it as roasting bring outs the sweet caramelised flavour of onions. It helps in balancing the acidity of tomatoes.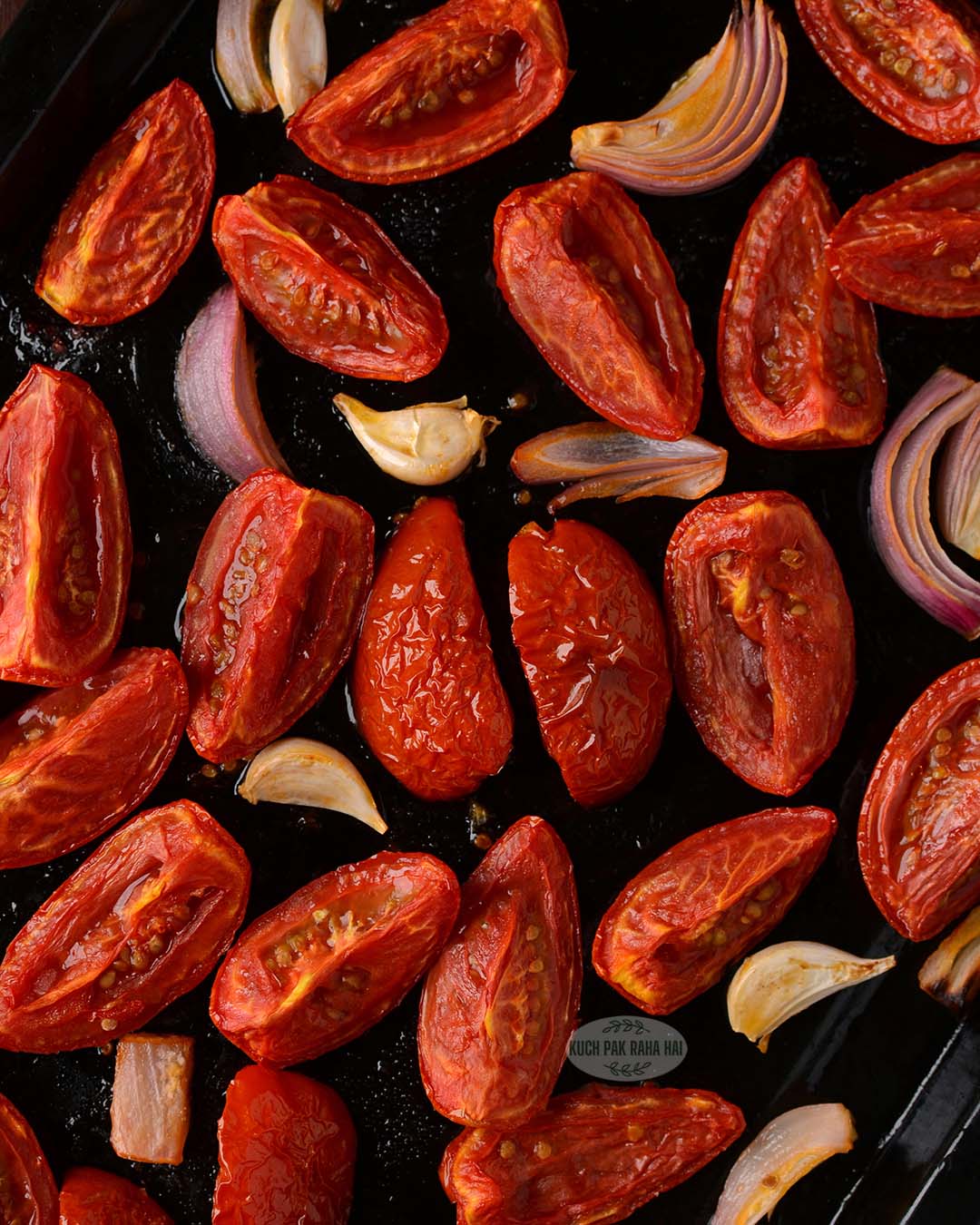 Olive Oil: The tomatoes, onion and garlic will be tossed in olive oil before baking. Use good quality oil for maximum taste.
Seasoning: The soup is seasoned with simple salt and black pepper. Sugar should be added to the soup only after tasting. It is sometimes required to balance the sourness of tomatoes.
Cream: You can add heavy cream, whipping cream or low fat cream to make the soup creamy. To make vegan (dairy free) roasted tomato soup, use coconut milk.
It is a low carb keto friendly tomato soup. However if you want to cut down fat from it, then skip adding cream as the soup still tastes good.
Basil: Some fresh basil leaves enhance the taste of tomato soup. If you don't have fresh basil then you can use dried crushed basil too.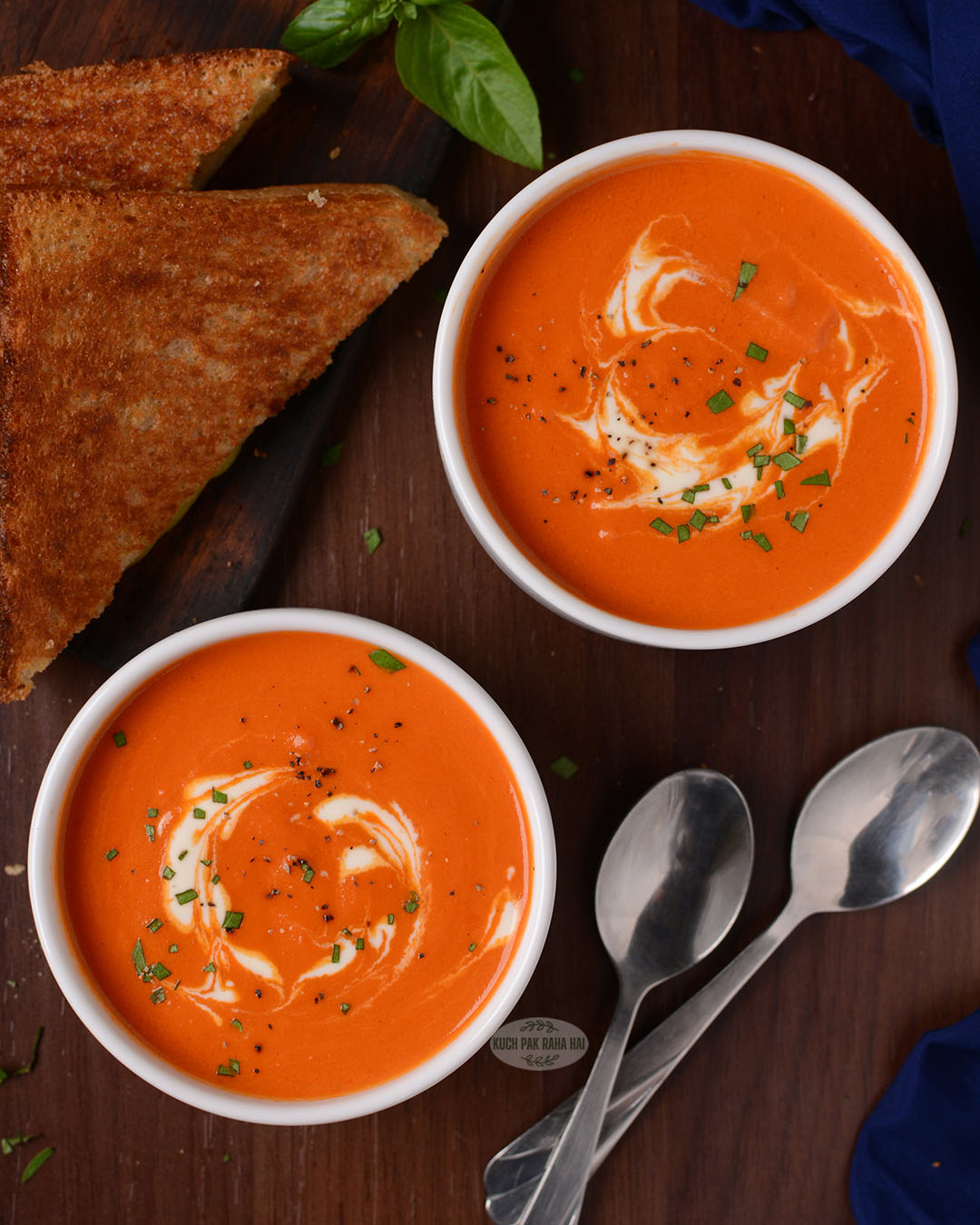 Variations:
Spicy Tomato Soup: If you like spicy food, then add some chilli flakes to add heat to this tomato soup.
Roasted Red Pepper Tomato Soup: You can add 1 to 2 deseeded and halved red peppers in the baking tray with tomatoes. Rest of the recipe will remain same.
No Onion No Garlic Tomato Soup: You can make plain roasted tomato soup by this same recipe and skip adding onion garlic.
What to eat with tomato soup?
You can serve some baked or air fried bread croutons with this soup.
Cheesy garlic bread also tastes yum with tomato soup.
For a complete lunch or dinner, you can accompany roasted tomato soup with grilled cheese or baked dishes like Broccoli Gratin.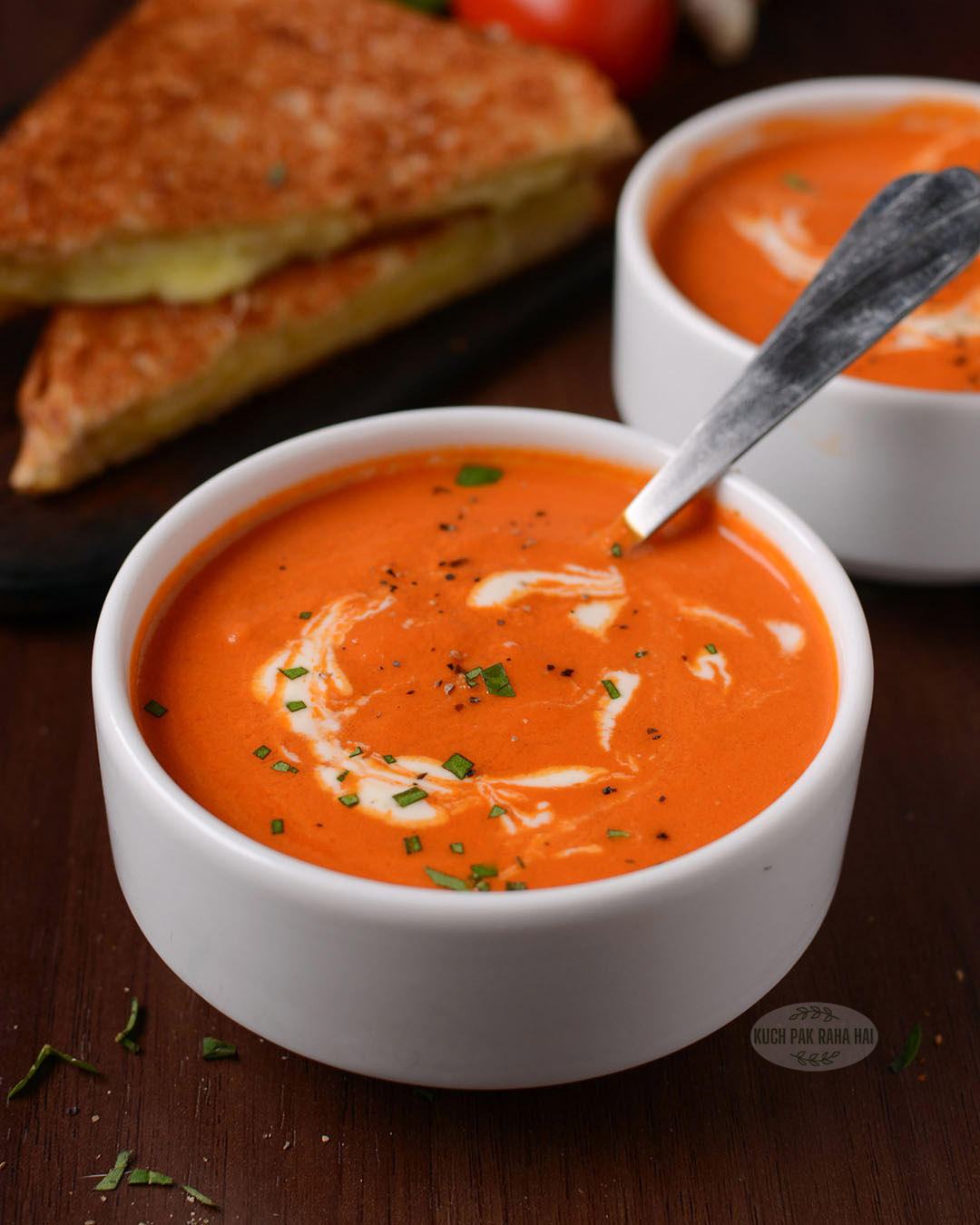 More delicious vegetarian soups recipes:
Ingredients:
Tomatoes (medium)- 7 to 8 (600 gms or 1.5 lb)
Garlic Cloves- 4 to 5
Onion (medium)- 1
Olive Oil- 2 tbsp
Crushed Black Pepper-1/2 tsp
Salt- 1/2 tsp (to taste)
Sugar- 1/2 tsp (optional)
Water / Vegetable Stock-2/3 cup
Cream / Coconut Milk-3 to 4 tbsp
Basil leaves- 4 to 5
(The above recipe yields 3-4 servings)
Directions:
Step 1:
Set the oven for preheating at 200°C (400°F). By the time oven is preheating, prep the veggies. Wash and halve the tomatoes. Chop the onion ends, peel and roughly chop.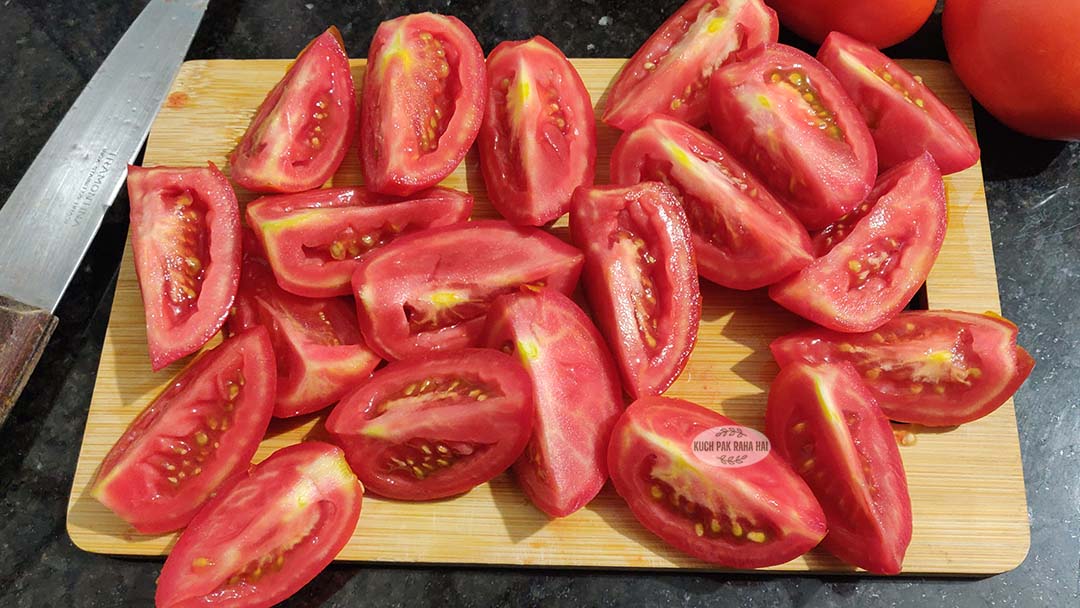 Step 2:
Transfer the veggies on baking tray. Sprinkle salt, olive oil and mix well with hands or spatula.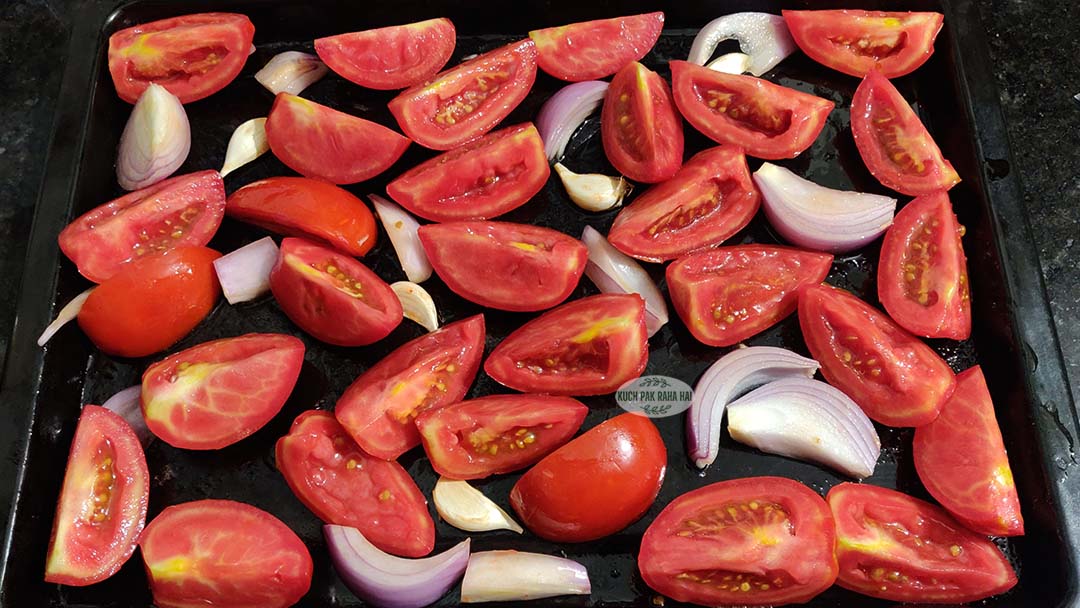 Step 3:
Roast the tomatoes, garlic & onion at 200°C (400°F) for 25-30 minutes till tomatoes start to shrivel & become soft .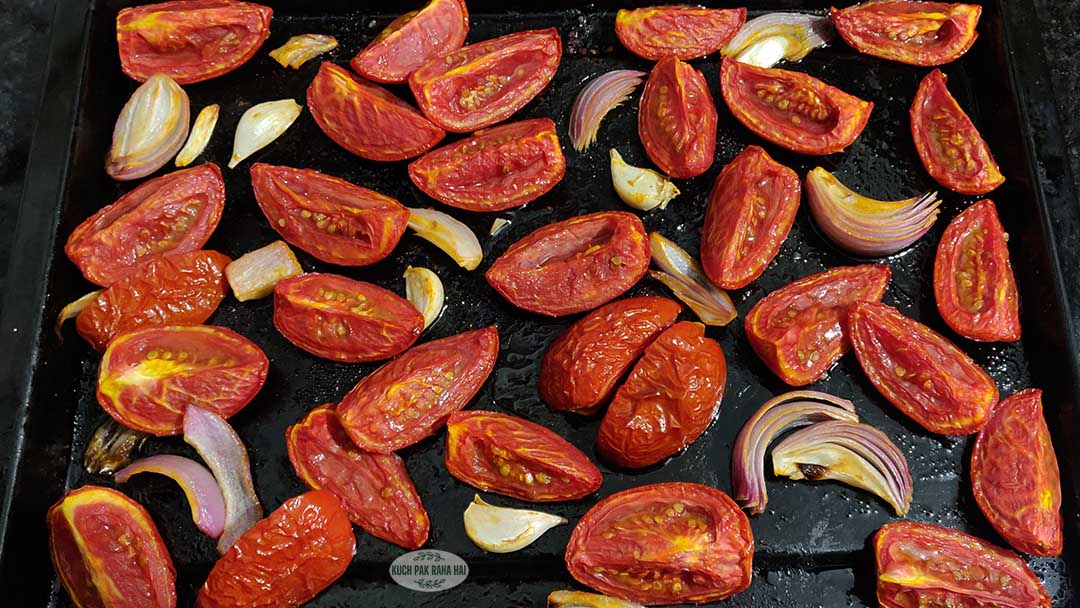 Step 4:
Let the roasted veggies cool down a bit. Squeeze garlic pulp by pressing or peeling the cloves. Transfer roasted tomatoes, onion & garlic (along with juices released on tray), 1/2 cup water (or vegetable stock), basil leaves and black pepper in a blender jar. If you don't have fresh basil leaves, add 1/2 to 1 tsp dried basil. Blend well.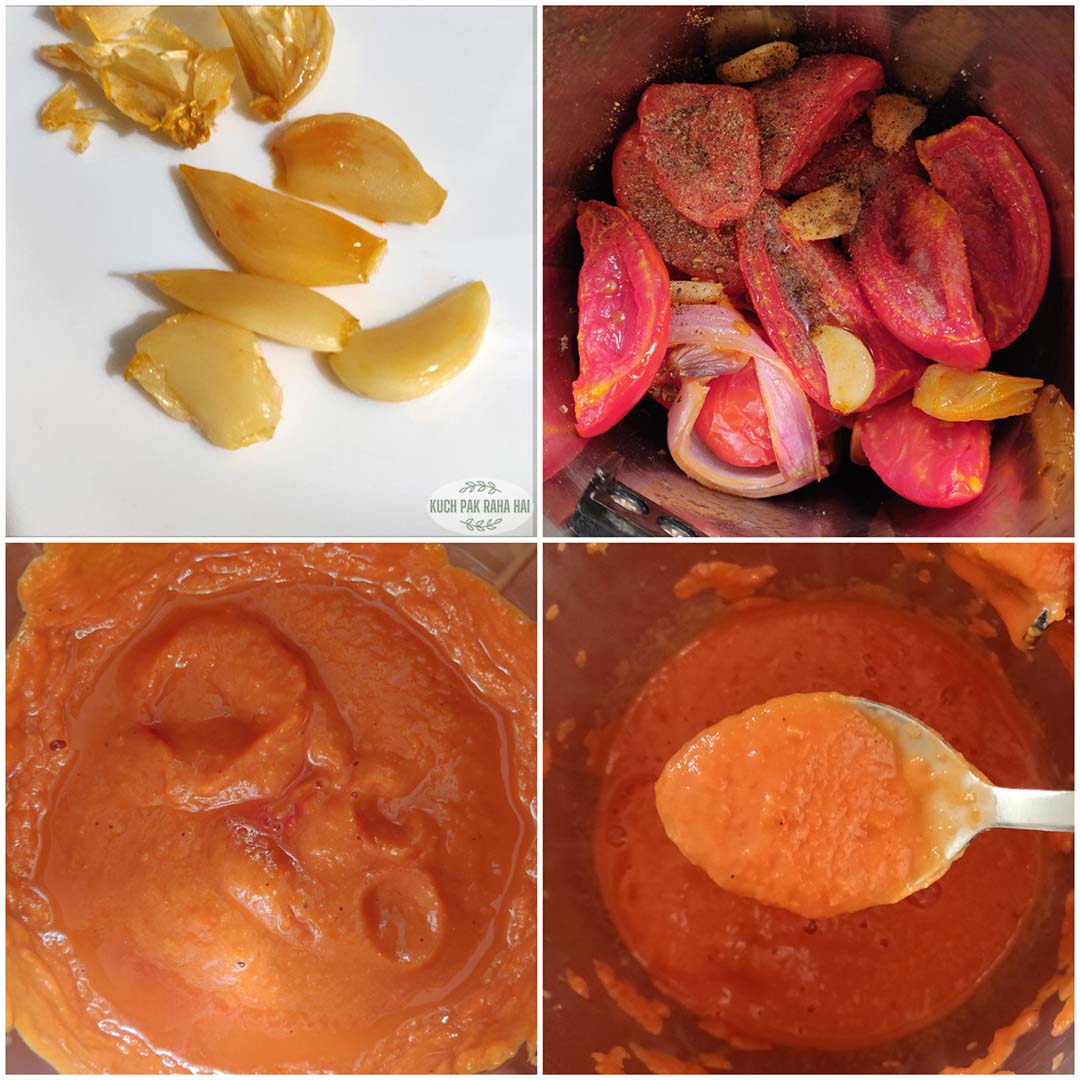 (You can also use vitamix or immersion blender for blending the soup.)
Step 5:
Transfer the blended soup to a pan & simmer for 4-5 minutes. Add 2-3 tbsp cream or coconut milk (use remaining for garnishing). You can add more water if you want thinner consistency soup. Taste and adjust salt, black pepper as per your taste or add little bit of sugar if required.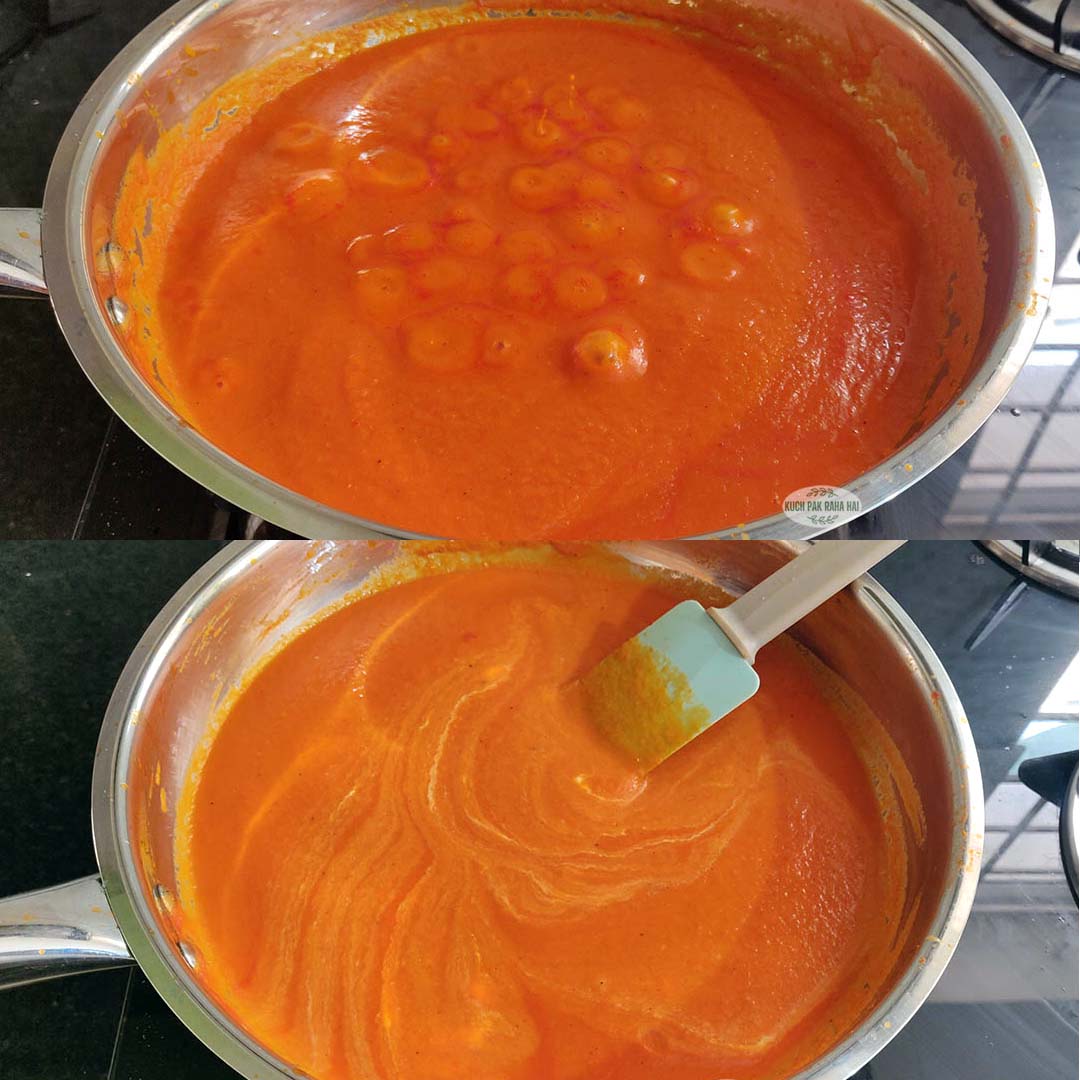 You can increase or decrease the quantity of cream used or skip it altogether.  Garnish with some chopped basil leaves & cream before serving.
Additional Tips:
1. If you want smoother consistency soup, remove the peel from tomatoes once they are out of oven after roasting or you can pass the blended soup through a sieve once to remove seeds.
2. You can add some chilli flakes to the tomato soup for making it spicy. Add it while the soup is simmering.
3. Some crumbled feta or grated parmesan can be also used for garnishing the tomato soup.
3. This roasted soup can easily be stored in fridge in an airtight container for 2-3 days. Reheat in a pan on stovetop or microwave it.
Pin for later: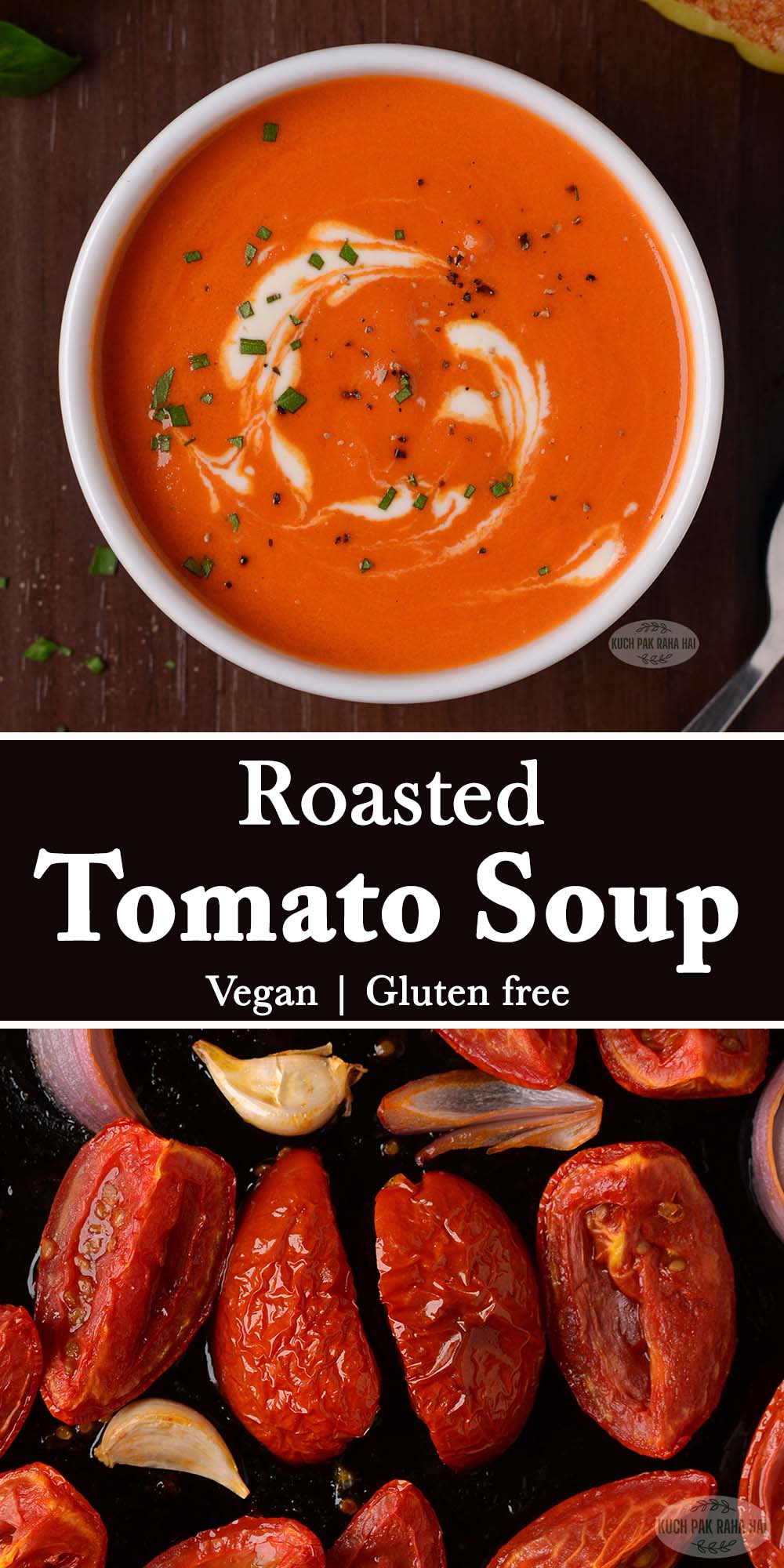 If you try this creamy roasted tomato and garlic soup recipe & share pics on social media, then don't forget to tag on Facebook, Instagram or use #kuchpakrahahai.
Let's stay connected
Facebook | Instagram | Pinterest| Youtube