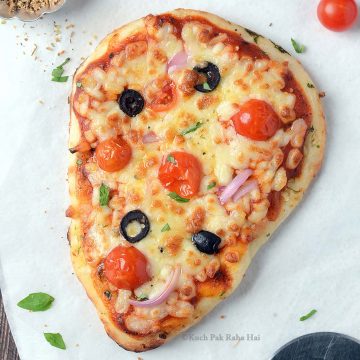 Naan Pizza is a delicious scrumptious fusion of crispy golden naan crust, melting cheese & lip smacking tomato sauce. It is so easy, quick to make & great for dinner or appetizer. Both air fryer & oven methods are included in post.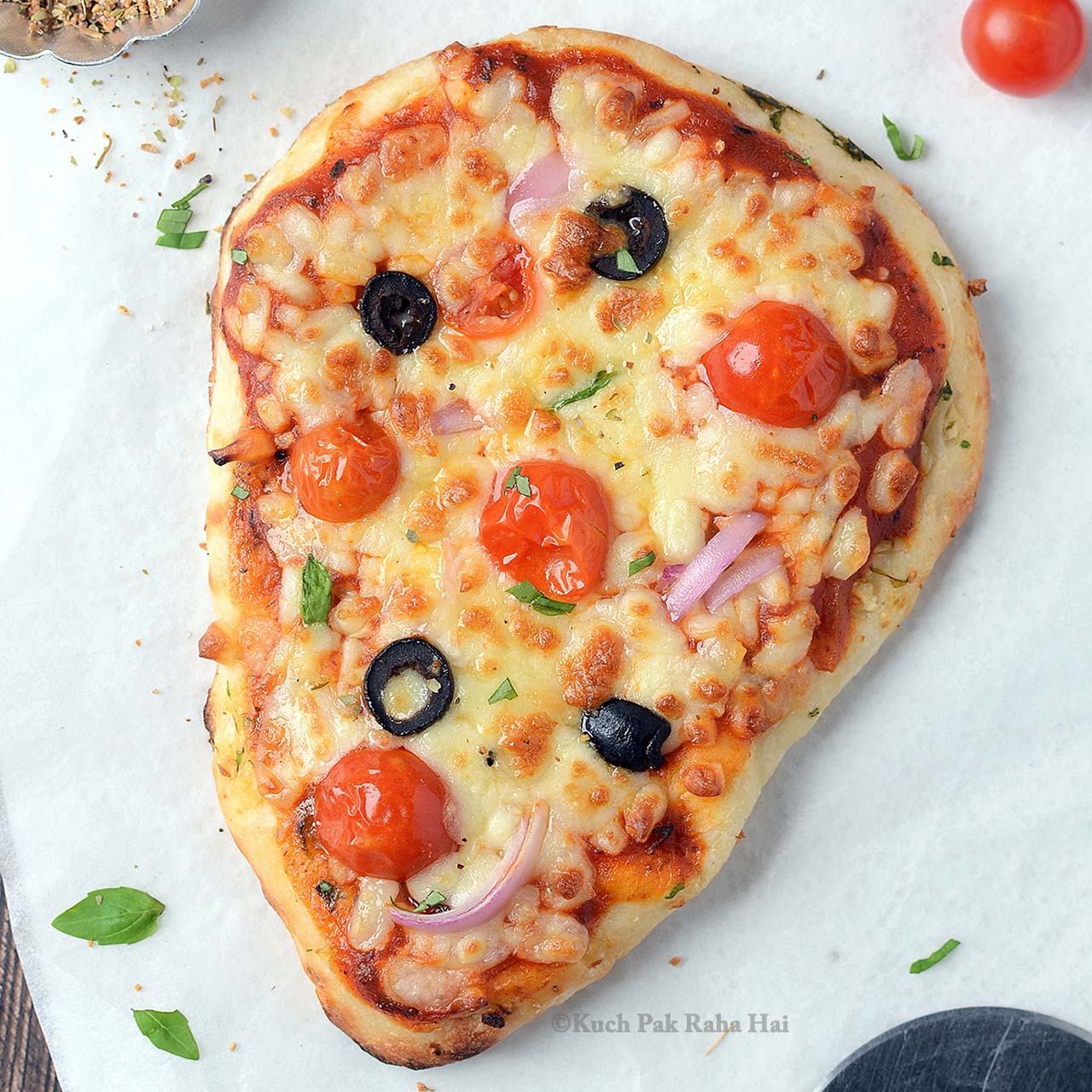 Making pizza with naan bread saves time and effort as you don't have to make pizza dough from scratch. It can also be customised as per individual's taste preference. My husband loves Margherita but I like toppings on my pizza, so each of us make our own personal naan pizza on dinner nights.
The naan bread pizza recipe shared here is:
Vegetarian
Kids Friendly
Gets ready in less than 15 minutes
Can be made in both air fryer or oven
It is also a fun snack idea for games day or house parties. For a complete meal, you can accompany naan flatbread pizza with salad or soup like quinoa salad, chickpea salad, tomato soup or cream of mushroom soup.

Naan Pizza Ingredients:
Naan: Naan is an Indian thick chewy flatbread mostly enjoyed with curries or gravies. You can use homemade, store bought, frozen or even leftover naan to make these pizzas.
I love making my naan pizza with garlic naan. Even mini naan can be used to make these pizza or if you want to keep it healthy-ish then use whole wheat naan.
Pizza Sauce: Use good quality store bought or homemade pizza sauce to make these yummy naan pizzas. For a change, even some fresh pesto can also be used to make pesto naan pizza.
Cheese: You can use sliced or shredded mozzarella in this naan bread pizza recipe. For additional flavour, feel free to add some freshly grated parmesan or goat cheese.
Olive Oil: Use olive oil or extra virgin olive oil for brushing over naan especially near the edges. It makes them crispy & gives golden brown colour.
Toppings: You can make naan pizza without vegetables or add different toppings to it as per your taste like red onion, coloured bell peppers, caramelized onions, mushrooms, olives, jalapeño, sweet corn or tandoori marinated paneer pieces.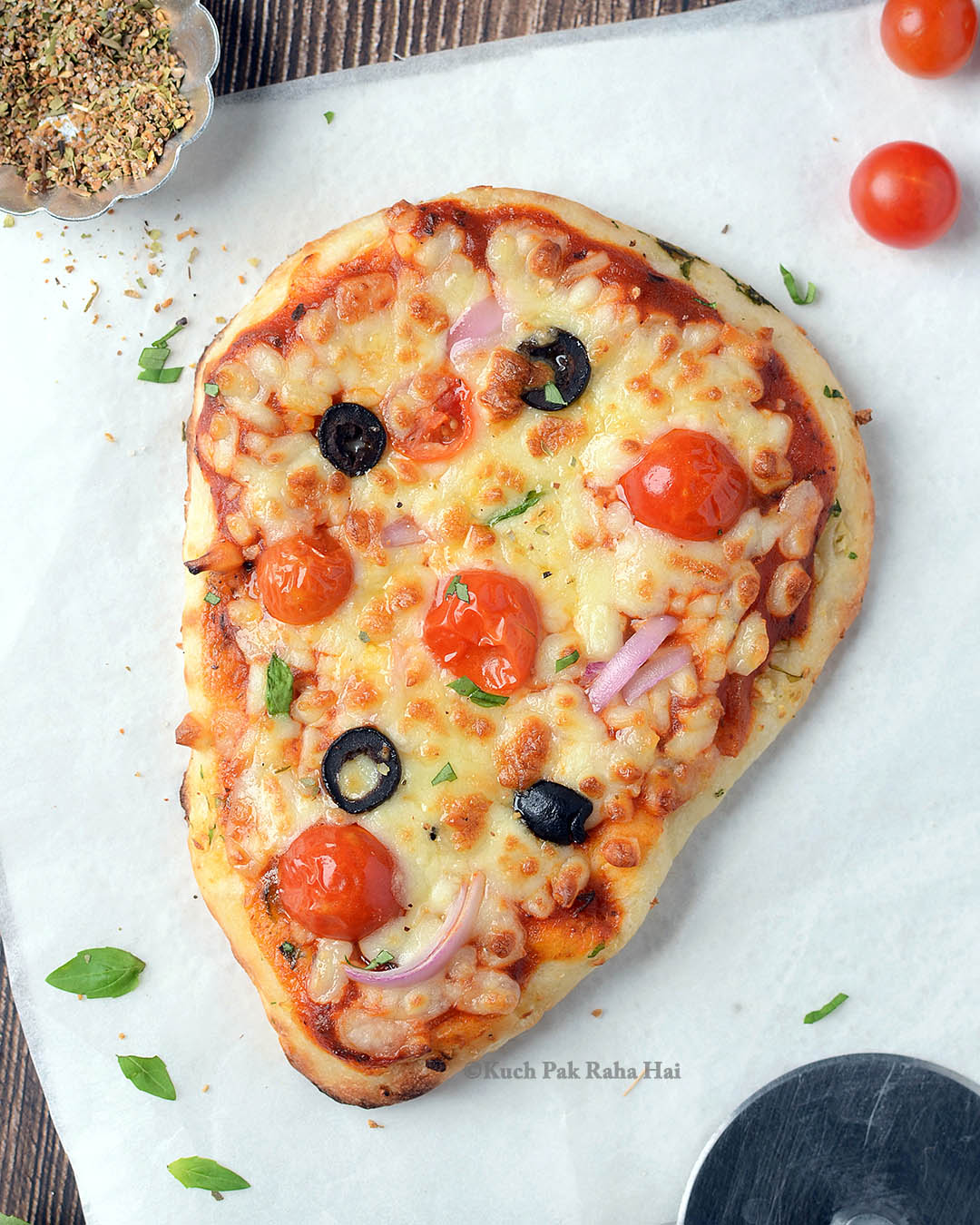 If you would like to try sweet dessert naan pizza, then use plain naan (you don't want to taste garlic in dessert..right?). Instead of tomato sauce use nutella or biscoff and top it up with sliced strawberries, banana.
Tips to make naan pizza in air fryer:
1. Before starting, check whether the naan is fitting inside the air fryer basket or not. The first time I attempted to make it in air fryer, I assembled the naan pizza as always & later realised it was too big to fit in the air fryer basket.
2. My air fryer basket could fit only one piece at a time. If you have bigger capacity air fryer, you can make 2-3 naan flatbread pizzas in one go, just take care to not overlap them while placing in air fryer.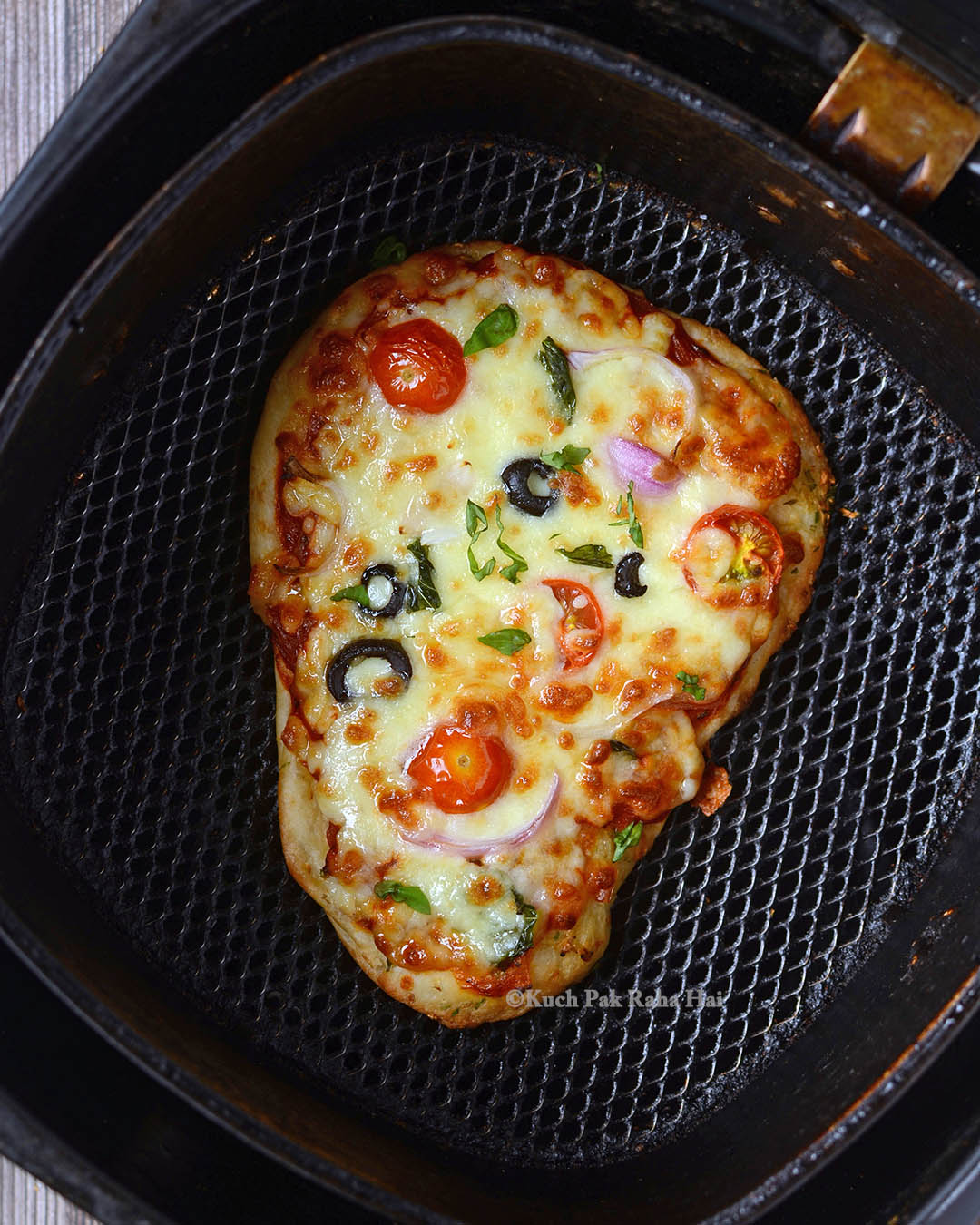 Hope you would like this naan pizza recipe. More vegetarian or vegan air fryer recipes that you can try:
Ingredients:
Naan / Garlic Naan- 2
Olive Oil – 1 to 2 tsp
Pizza Sauce- 1/4 cup
Mozzarella (shredded)- 3/4 cup
Cherry Tomatoes (halved)- 5 to 6
Red Onion (sliced)- 1/4 cup
Olives (sliced)- 3 to 4
Fresh Basil leaves (chopped)- 4 to 5
Dried Oregano / Chilli Flakes – To taste
Directions:
Step 1:
Set the air fryer for preheating at 180°C (360°F) for 3-4 minutes. While the air fryer is preheating, begin to assemble naan pizzas. Brush olive oil over naan (especially on the edges).
Step 2:
Spread pizza sauce evenly over oiled naan bread leaving the edges.
Step 3:
Sprinkle shredded cheese over it, followed by veggies of your choice and them some more cheese while pressing it gently over toppings.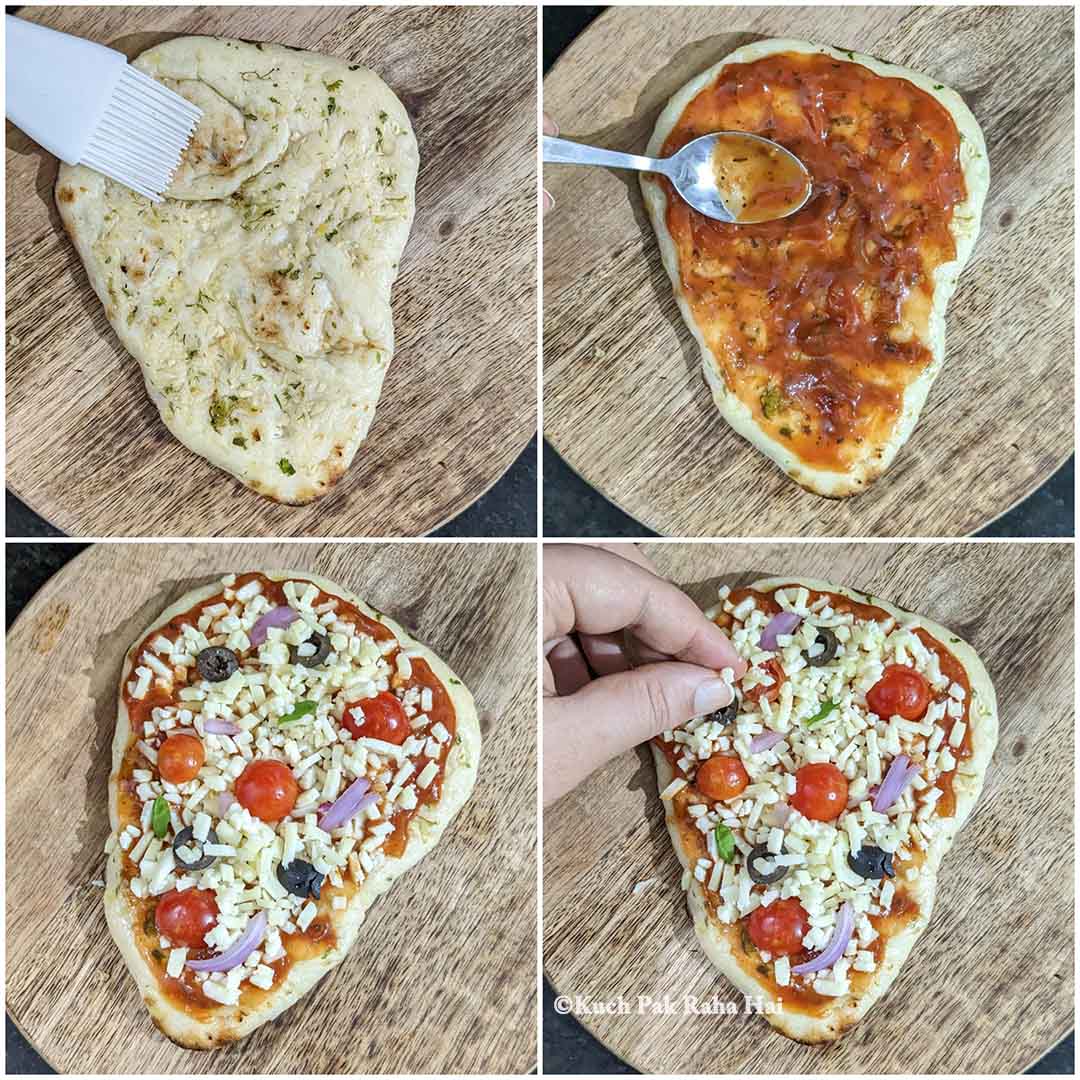 Step 4:
Once the airfryer is preheated, brush some olive oil in its basket & place this naan pizza in it. Air fry at 180°C (360°F) for 4 to 5 minutes until the crust is golden brown and cheese has melted.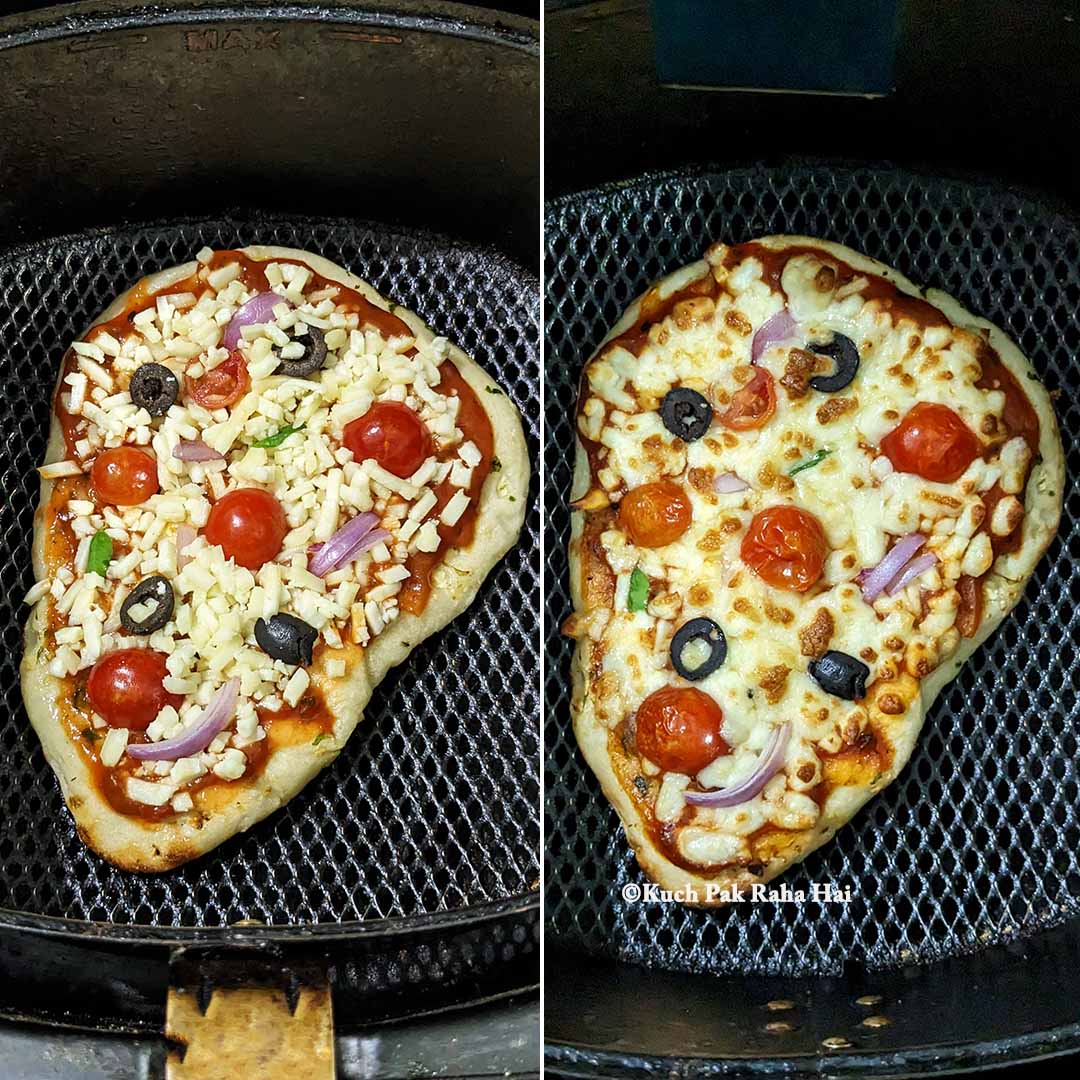 Step 5:
Garnish with fresh basil leaves, or sprinkle some dried oregano or chilli flakes as per your liking. Serve it hot.
(Note: Here I have first assembled the pizza & then transferred it in air fryer basket. You can also assemble the pizza in air fryer basket itself.)
Additional Tip: If you like more crispy pizza crust, then after applying olive oil on naan warm it in air fryer (or oven) for 2 minutes. Take it out, assemble pizza on it and then air fry (or bake) again.
Naan Pizza in Oven
Step 1: Preheat the oven at 200°C (390°F) for 10 minutes. Leave the tray inside on which you will be baking naan pizza.
Step 2: Once preheated, carefully bring the baking tray out. Brush olive oil on the tray & place naan breads over it. Assemble the pizzas as explained above in post. Bake in preheated oven at 200°C (390°F) for 8-10 minutes till their crust is crispy golden and cheese has melted completely.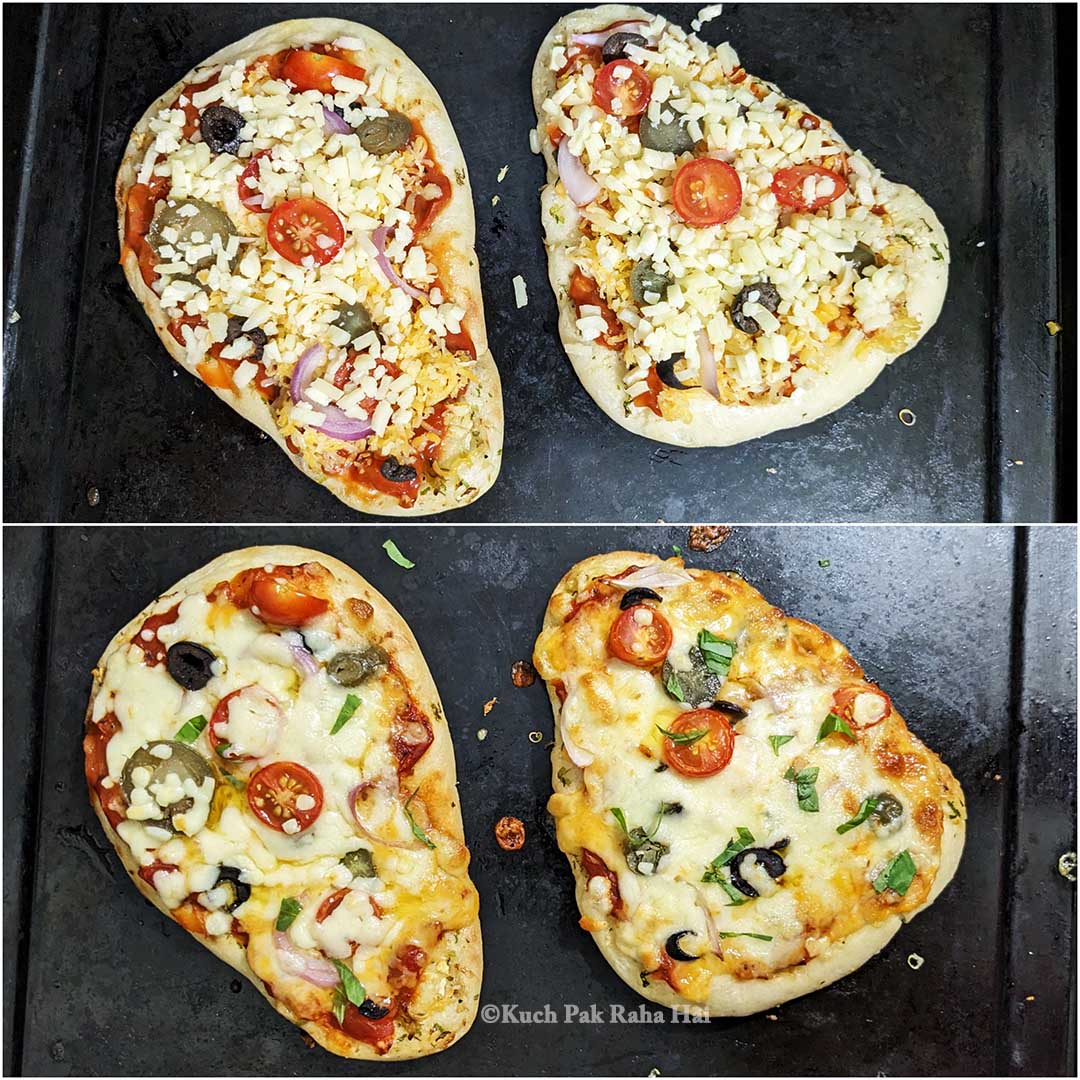 How to store & reheat naan pizza?
You can store the leftover for 1-2 days in an airtight container in fridge. To reheat, air fry or microwave for 2-3 minutes.
Pin for later: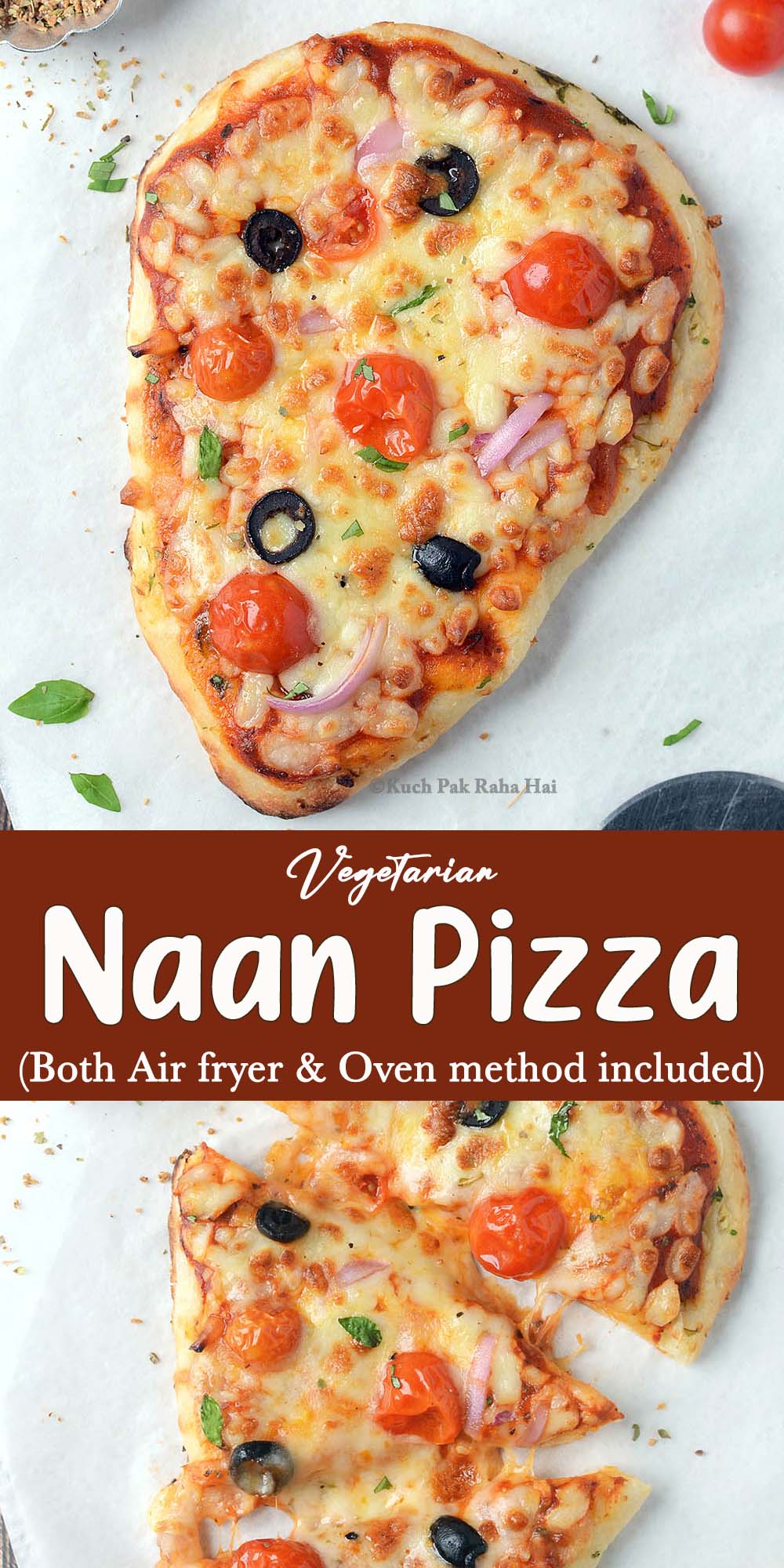 If you try this vegetarian naan pizza recipe in air fryer or oven & share pics on social media, then don't forget to tag on Facebook, Instagram or use #kuchpakrahahai.
Let's stay connected
Facebook | Instagram | Pinterest| Youtube