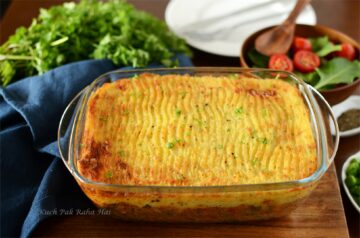 Vegetarian Shepherd's Pie is a delicious baked meatless version of traditional shepherd pie and is made using soya chunks cooked in a flavoursome sauce & vegetables; topped up with mashed potatoes and baked till the top is completely golden brown in colour. Shepherd's Pie, also known as "Cottage Pie", is a dish that has originated from Britain. Traditionally it is made using ground meat and was given the name "Shepherd's Pie" because of the use of lamb meat in recipe.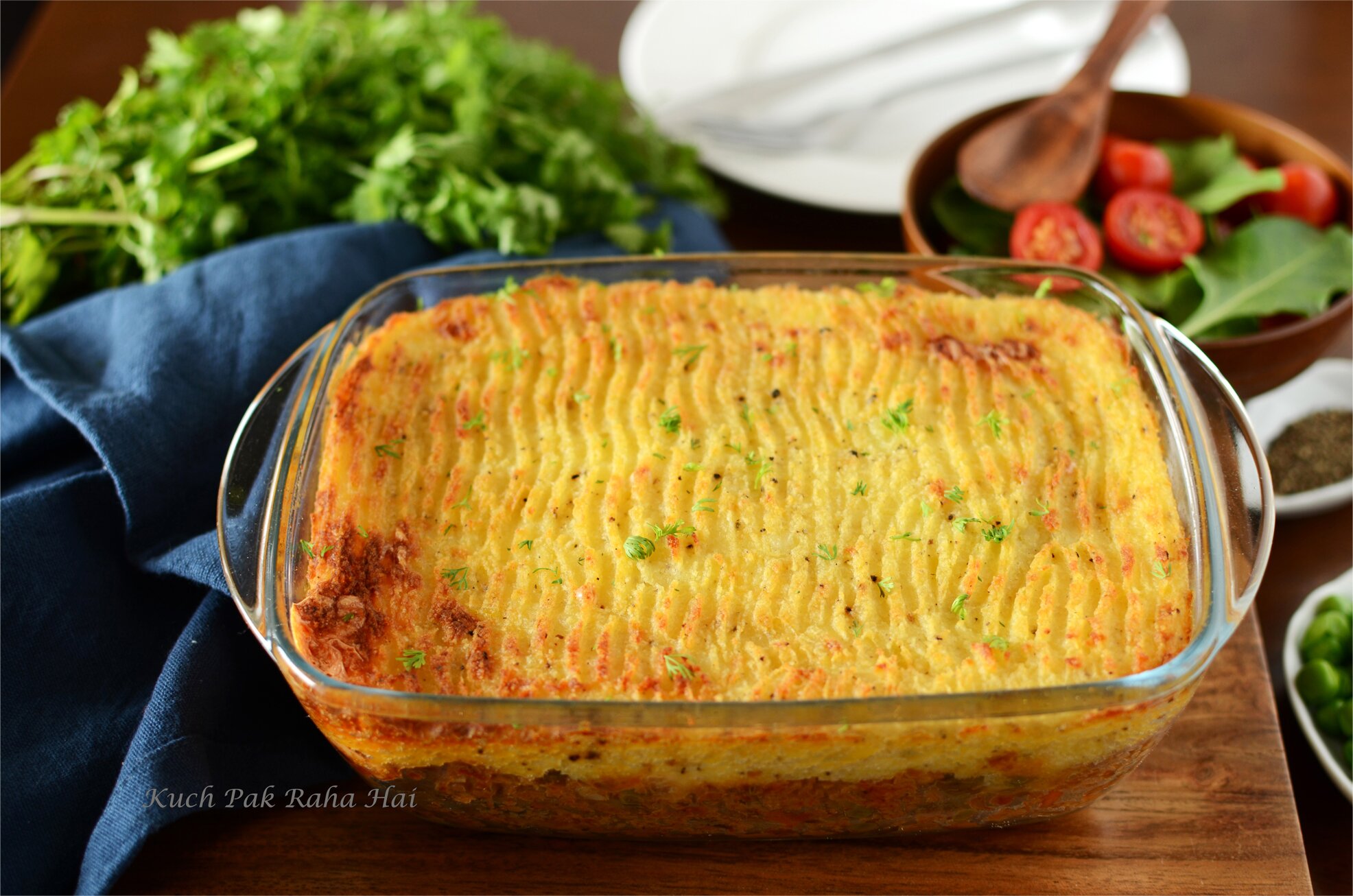 My mom frequently bakes this dish at home & we always called it "Baked Soya Pie" as instead of meat the bottom layer consists of Soya Granules (Chunks) or minced soya. It was recently I read about Shepherd's Pie & realised how unknowingly we were eating its vegetarian version for so long 😆. It is a completely gluten free and one of the best tasting baked vegetarian recipe too.
This Vegetarian Shepherd's pie is quite simple to make with easily available ingredients in kitchen pantry. It has soya granules, lots of vegetables, cheese and creamy potato mash on top. I generally cook it at home when not in the mood to cook regular Dal-Roti-Subzi. We have a bowl of soup first, followed by this baked pie served with bread toasted in herbed butter & some salad on sides.
In each bite of this meatless shepherd's pie, you can taste flavourful soya chunks mixed with veggies, some cheese and melt-in-the-mouth potato mash. As we all know soya granules are rich source of protein & in combination with so many vegetables, this dish is full of fibre & essential vitamins. In fact these days, soya in all forms – soya chunks, granules, soya milk, tofu all are being considered as an important source of protein for vegan & plant based diet.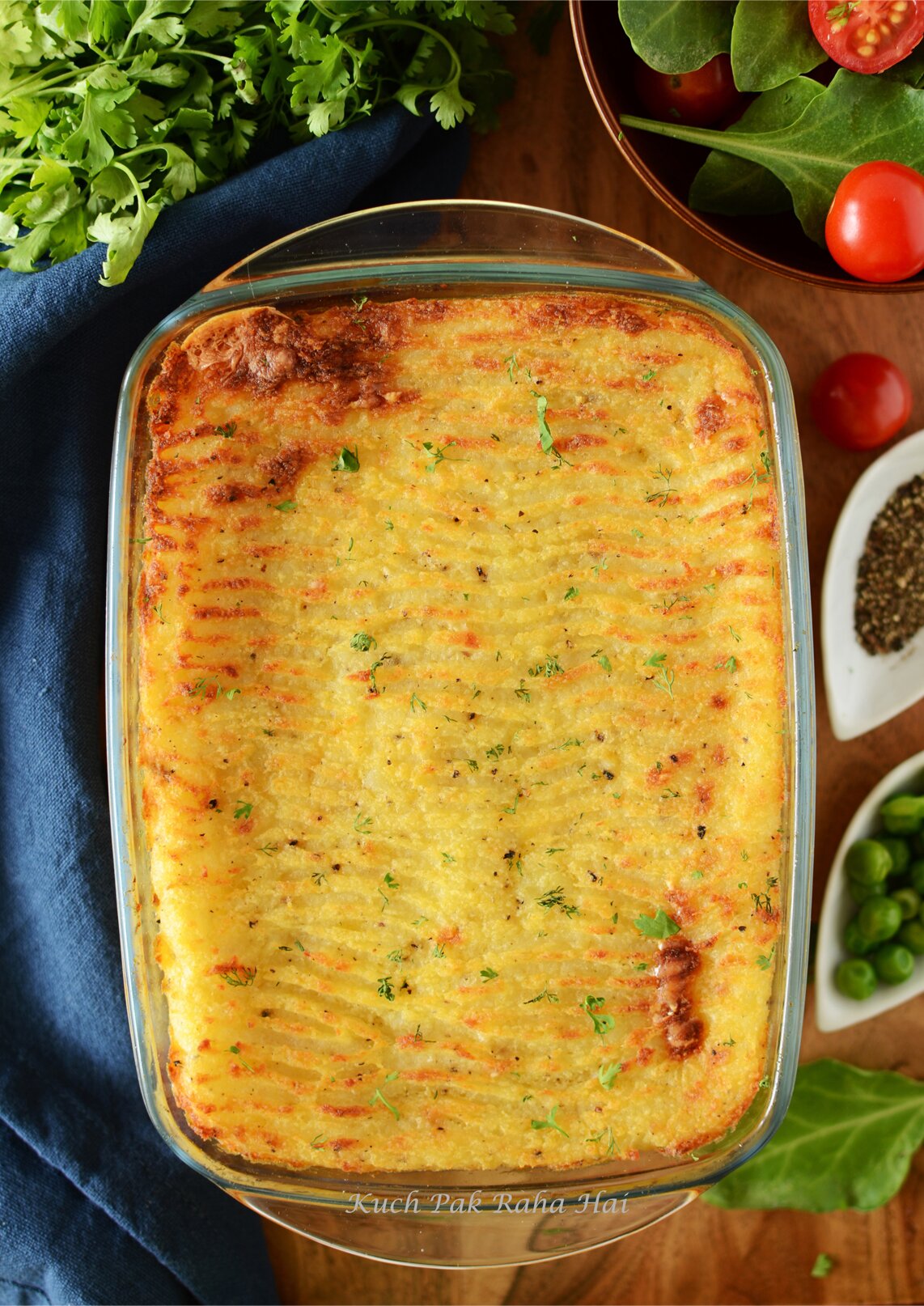 Almost everyone in our family is fond of cooking or eating good food. I consider myself lucky as this gave me a chance to know & try so many dishes. When only few people knew about baked dishes or just a handful of restaurants included continental items on their menu, me & my brother grew up watching our mother trying out different baked dishes, cakes & cookies.
As kids we would watch her cooking & even try to be part of it in our own small way whether by just mixing the cake batter or spooning jam on thumbprint cookies. I have been a big fan of baked dishes because of the two reasons. Firstly, love the way they slowly fill the house with their heavenly aroma and secondly, I enjoy gawking at the oven (dont' judge me!!🙈), seeing dishes turning to beautiful golden brown . Somehow baking always gives me cosy relaxing vibes!!
The vegetables I have used here are garlic, ginger, onion, tomato, capsicum, carrots, peas and beans. You can add some mushrooms or sweet corn too. Also, feel free to skip the cheese for low fat version of the dish. The seasoning can be adjusted as per your own taste. Also, please take care while adding salt as each layer will have salt of its own. Together they should not taste too salty.
While we are talking so much about flavours & seasoning, let us not forget about our mashed potatoes as they are also an essential part of the dish. This layer gives the creamy touch to our tangy spiced up cooked soya. To get smooth potato mash, boil the potatoes & mash them. After mashing them, the milk you will be adding should we warm and butter should be melted. Please don't add cold milk/butter to the mash as this will ruin the texture. Some people even add cream but milk & butter has always worked for me. Some salt & crushed black pepper needs to be added here also. If you are using salted butter then skip the salt.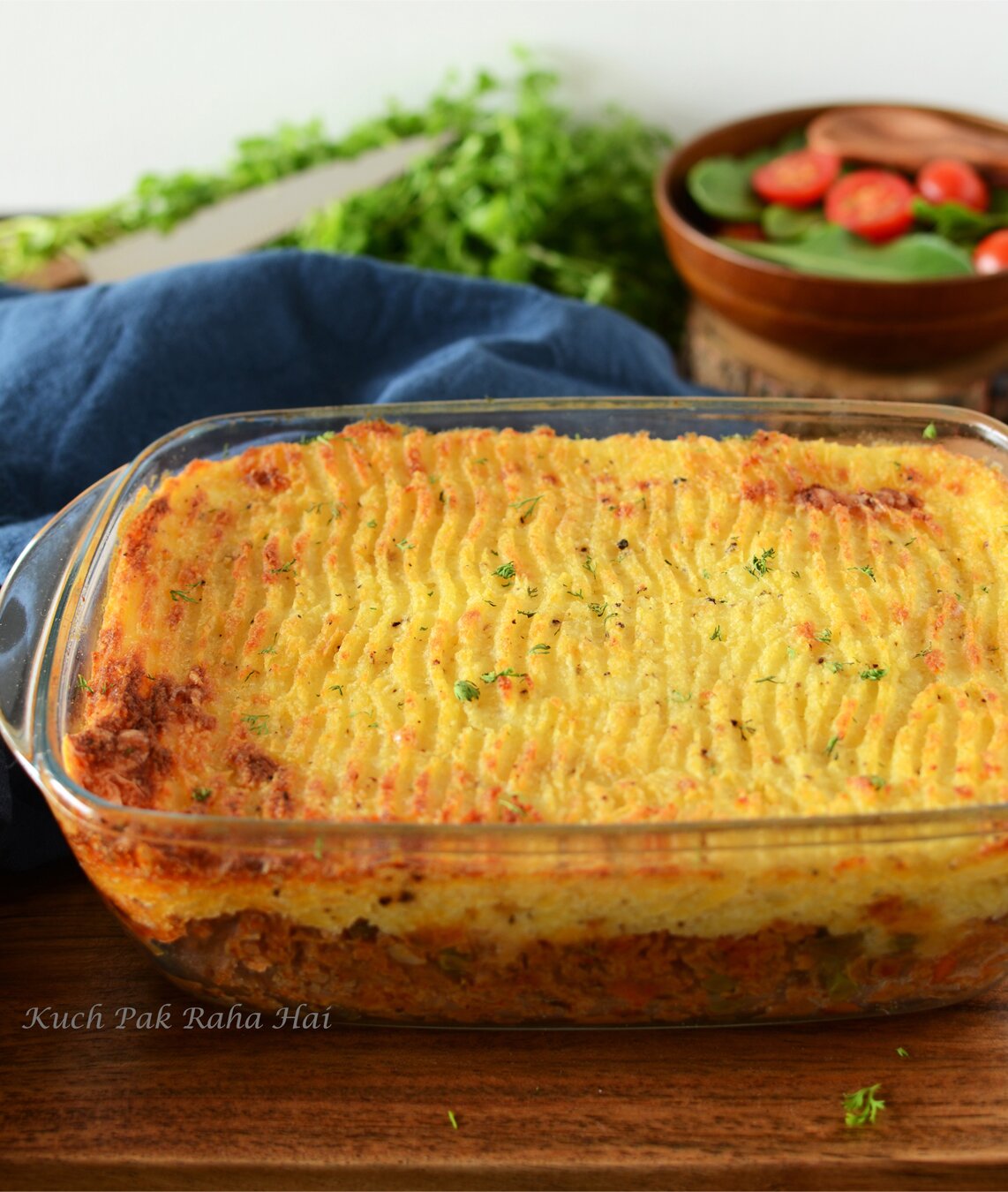 One of the best things about this dish is you can make its preparation in advance. At the time of dinner, all you have to do is preheat the oven & keep the dish for baking as it is. I made this dish recently for our movie night where we had planned to watch new Amazon Prime series "Breathe" & Thank God I made all the preparations before hand as the series keep you hooked to your seat all the time. If you are fond of thrillers & suspense drama, then I would totally recommend it!!
List Of Ingredients:
Layer I:
Soya Granules-1 cup
Cooking Oil-2 tbsp
Garlic Cloves – 7 to 8
Ginger Paste-1 tsp
Chopped Onion-1/2 cup
Chopped Tomato-1/4 cup
Chopped Capsicum-1/4 cup
Chopped Carrot-1/4 cup
Peas-1/4 cup
Chopped Beans- 1/4 cup
Tomato Puree-1/4 cup
Red Chilli Flakes-1 tsp
Crushed Black Pepper-1 tsp
Dried Oregano -1 tsp
Dried Rosemary- 1/4 tsp
Salt-1 tsp (or to taste)
Lemon Juice- 2 tsp
Layer-II:
Mozarella Cheese-1/2 cup (Optional)
Layer-III:
Medium sized Boiled Potatoes-4
Melted Butter-1/4 cup
Warm Milk-1/4 cup + 2 tbsp
Black Pepper-1 tsp
Salt-1 tsp (or to taste; skip if using salted butter)
For garnishing:
Chopped Coriander – 2 tbsp
Steps To Prepare:
Step 1:
Soak soya granules in hot water for at least 30 minutes. By the time these granules are soaked let us proceed to next step.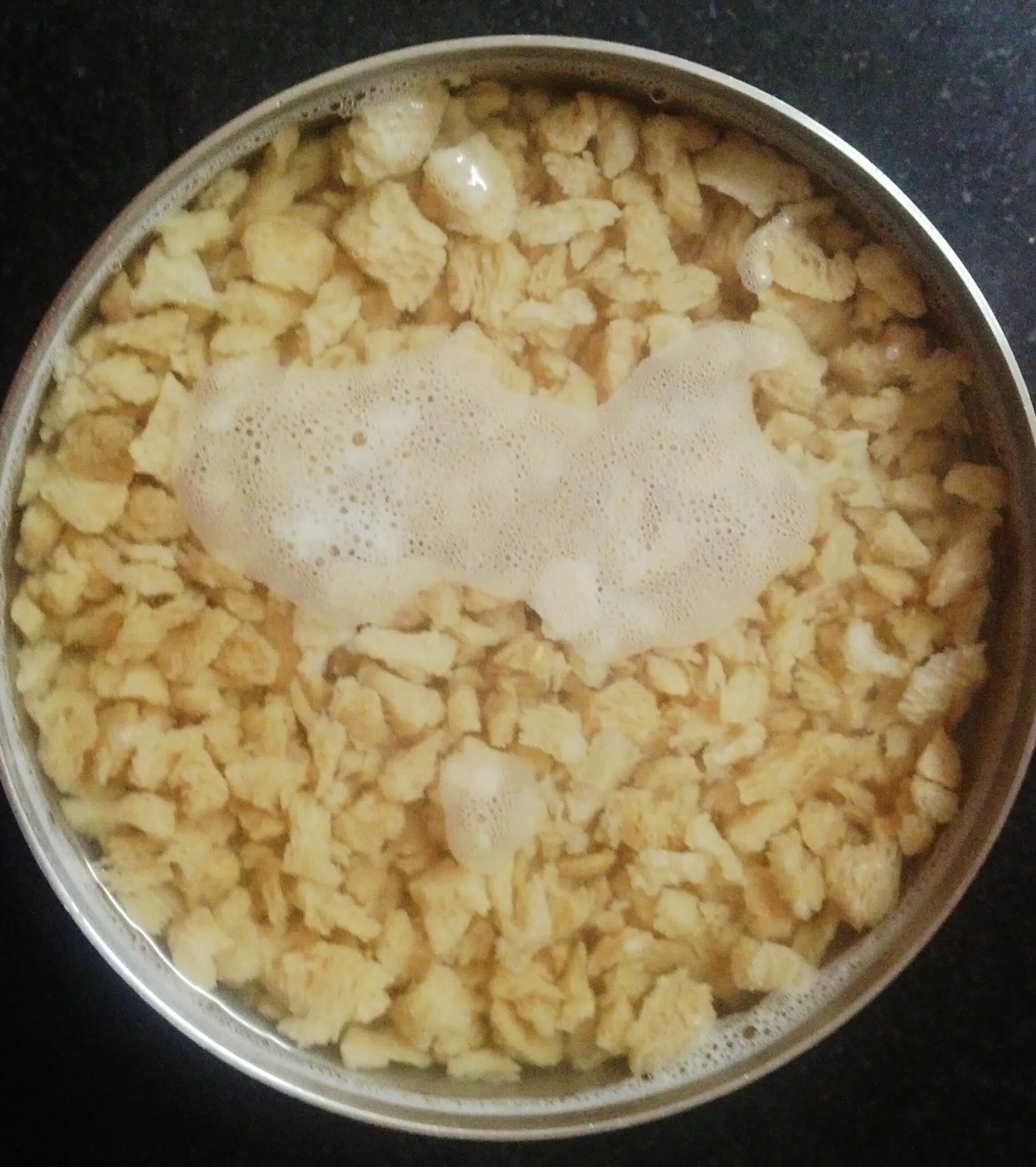 Step 2:
Heat oil in a pan. Add chopped garlic & ginger paste to it. Stir for few seconds. Add chopped onions  and let them cook till they turn translucent. Add chopped capsicum, carrots, peas & beans and sauté them. After 2-3 minutes, add chopped tomatoes and tomato puree. Mix well.
Add all the seasoning too and let this mixture cook for 2-3 minutes more. Squeeze all the water from soya granules & add it to the pan. Let the mixture cook for 3-4 minutes more. Please add the salt keeping in mind that there will be some salt in cheese and potato layer too. In the end add lemon juice. Please taste the filling once to adjust the salt or spices as per your taste.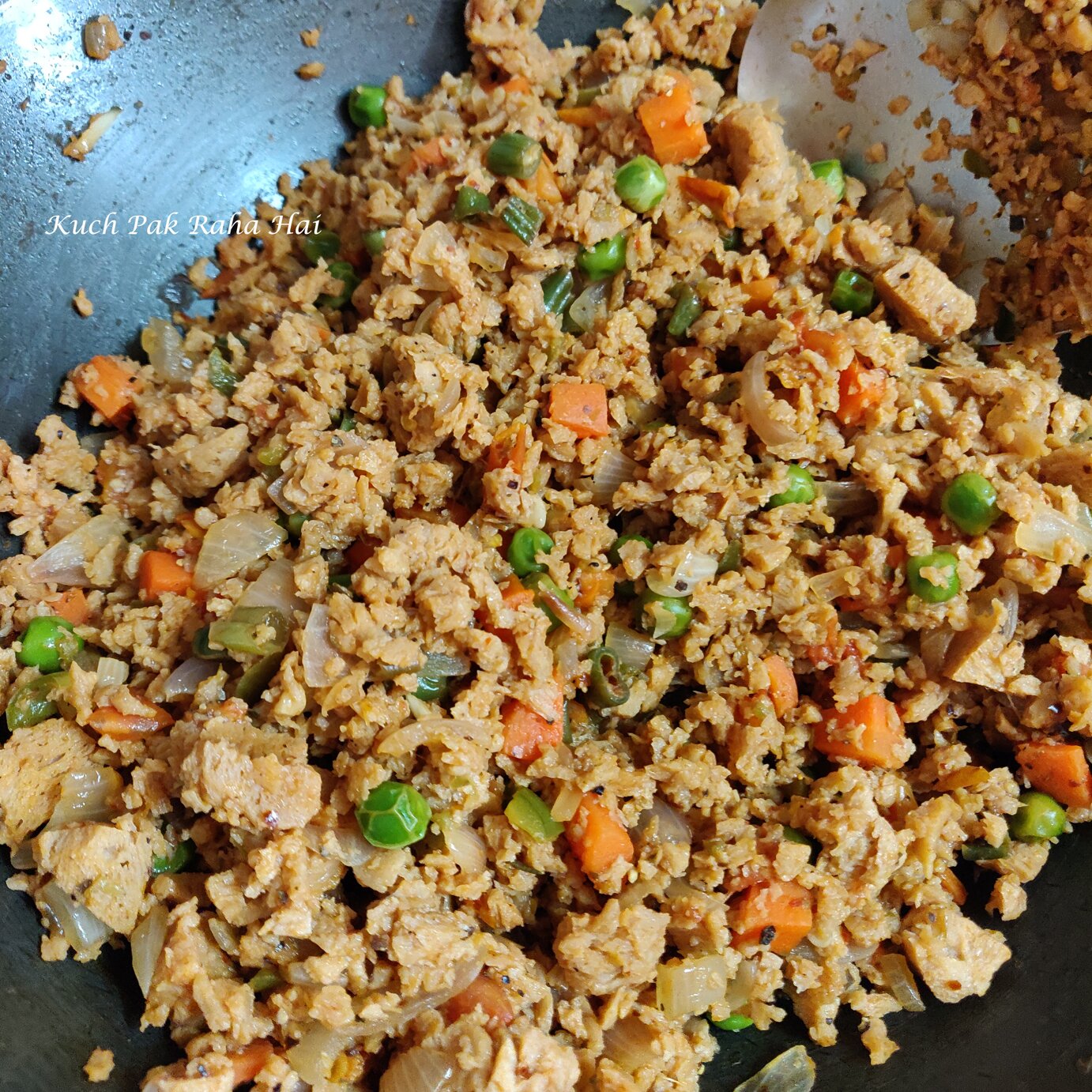 Step 3:
Mash the boiled potatoe. Add melted butter, warm milk, black pepper and salt to it. Mix well so that mash becomes smooth & fluffy. If you are using salted butter then skip the salt.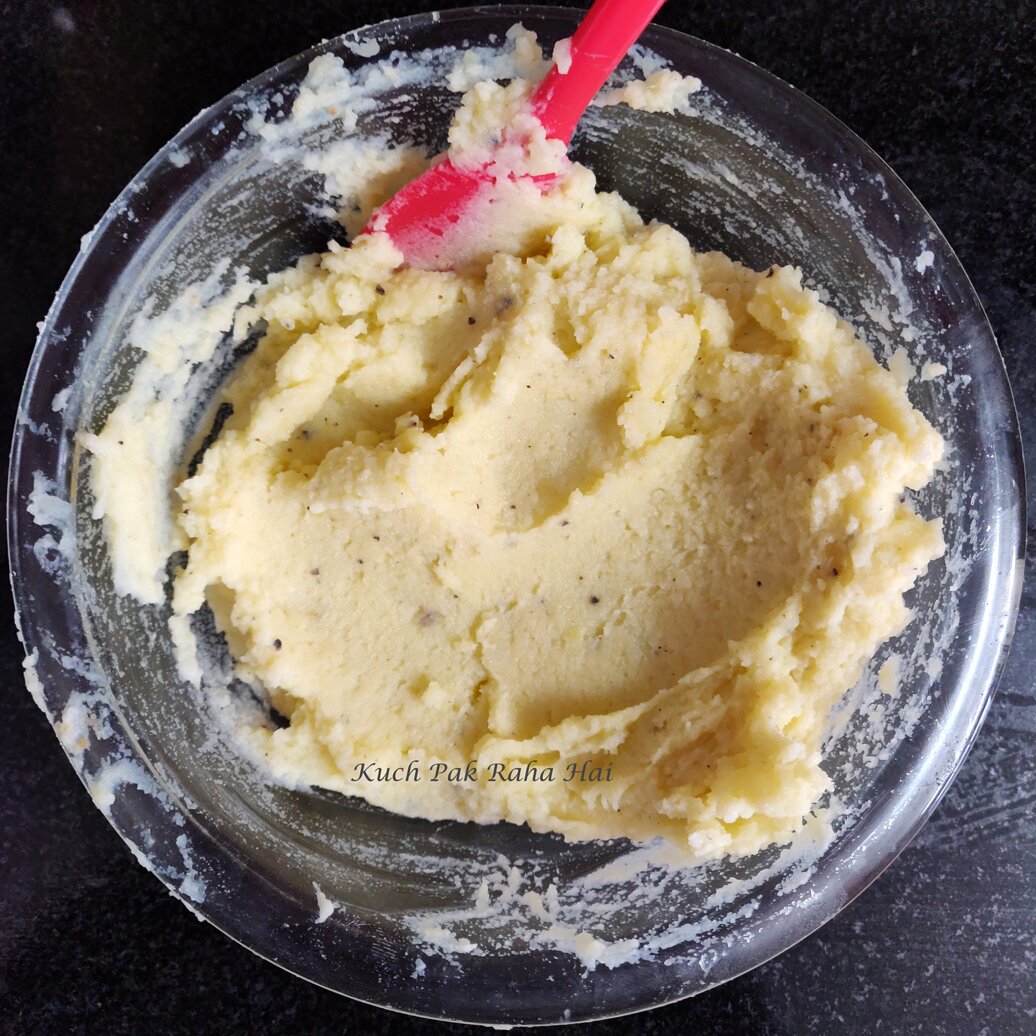 Step 4:
Take an oven safe bowl. Place the soya granules mix in the bowl and level it with a spatula.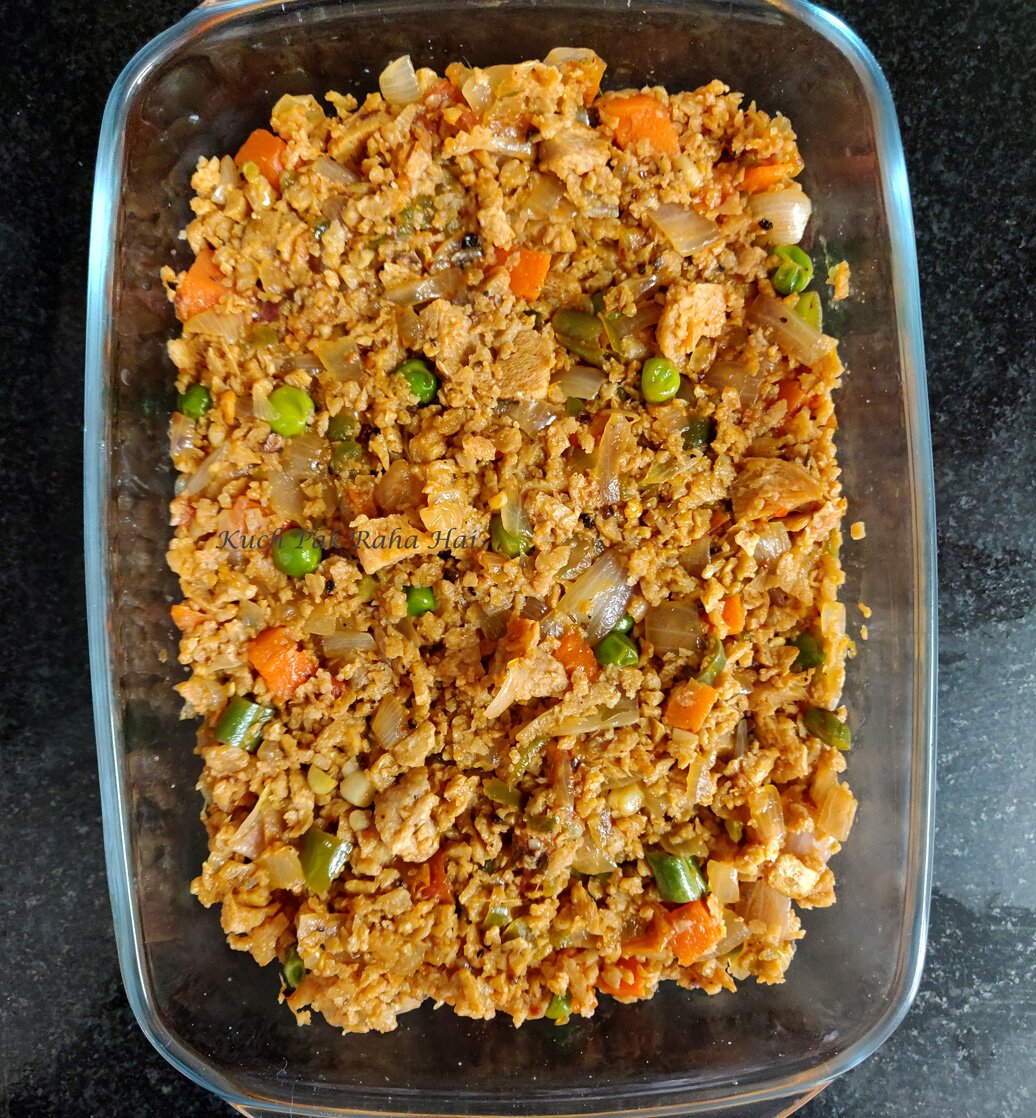 Baking Dish: https://amzn.to/394h1Ce
Add grated cheese over it. I have used Mozarella cheese here.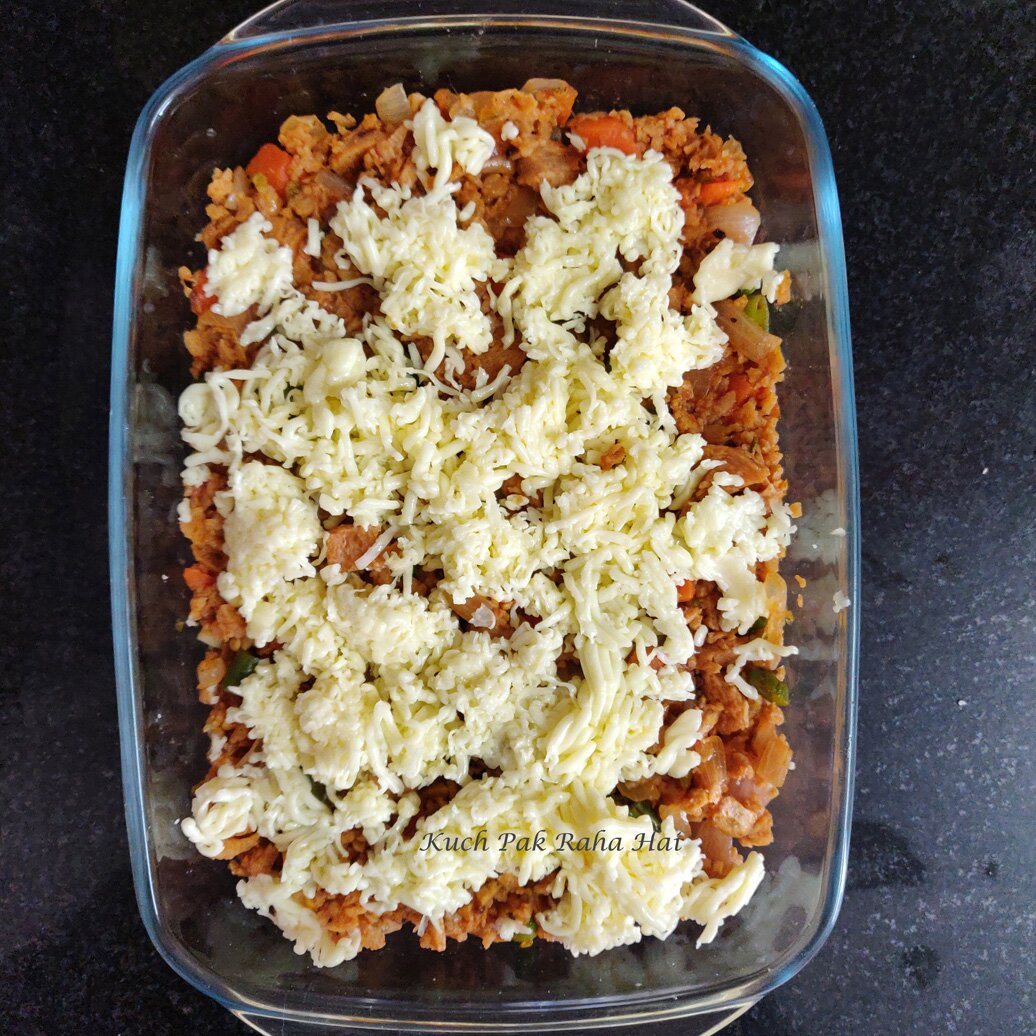 On the top of it, add potato mash to it. With the back of a spoon or spatula, flatten it & then make grooves on the top using a fork.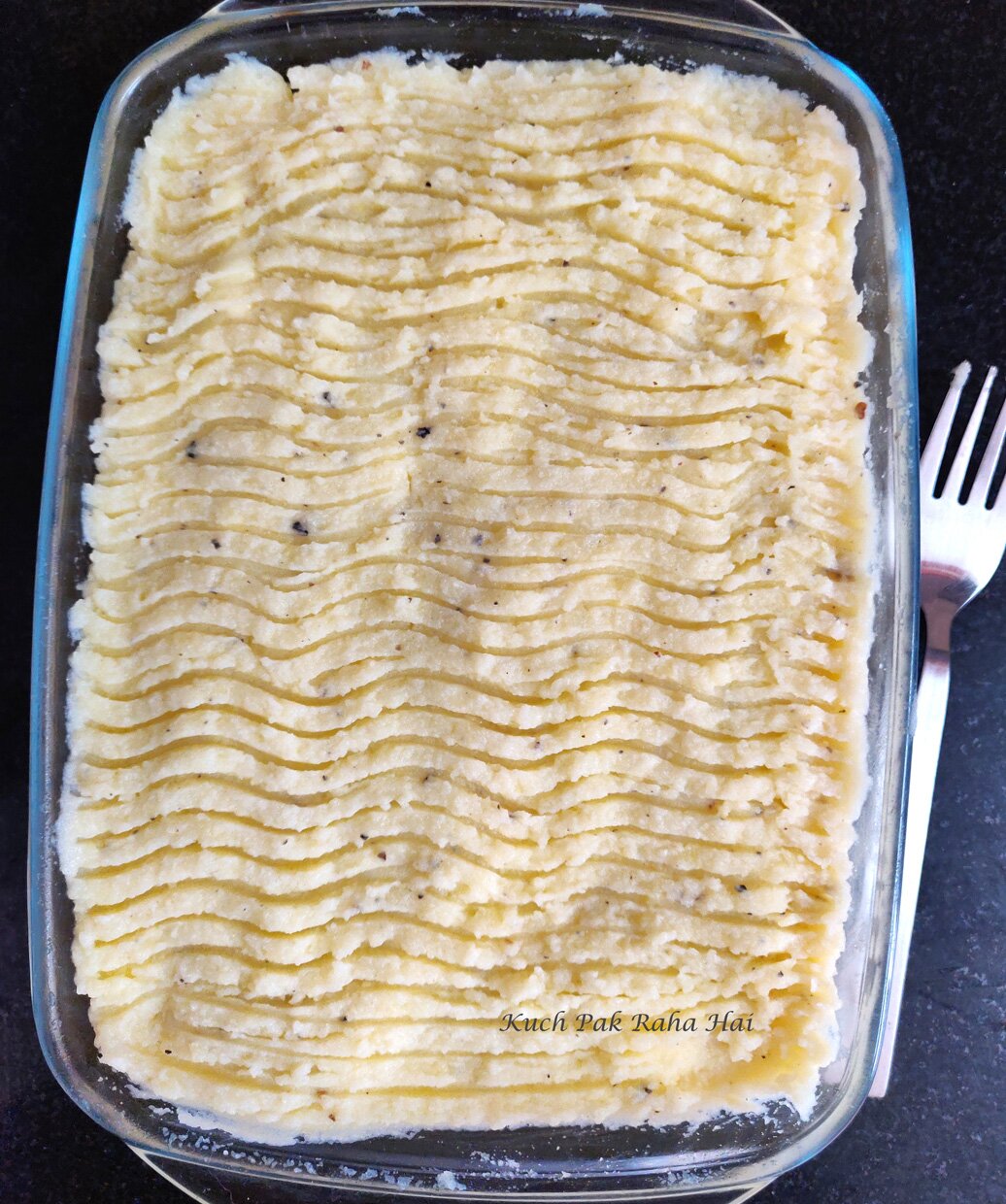 Step 5:
Preheat the oven at 180 degree celsius. Once the oven is preheated, place the bowl in it and let it bake for 25-30 minutes till the top becomes golden brown. The time may vary from oven to oven so keep an eye around 25 minutes. If the top layer is not turning brown then turn the oven to 200 degree celsius for last 5-10 minutes.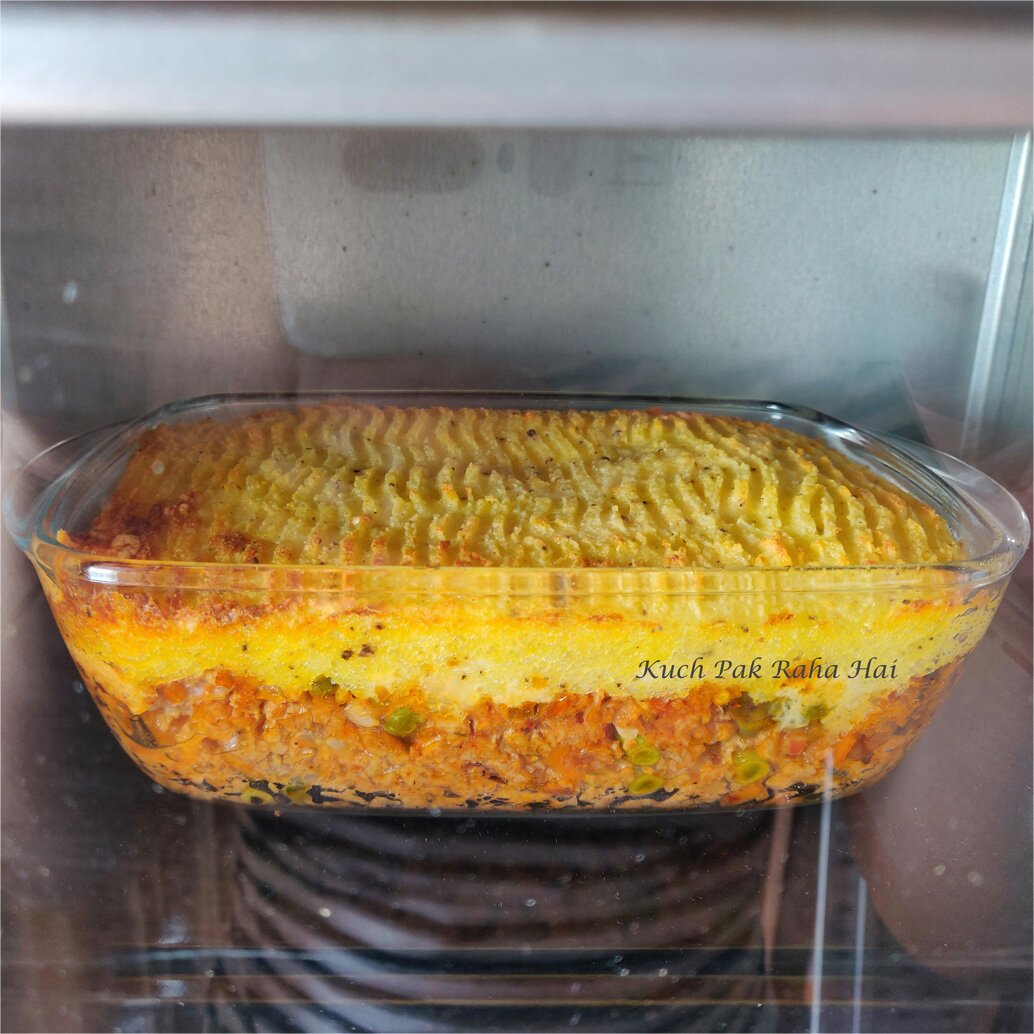 Delicious meatless Shepherd's Pie is ready. Garnish some freshly chopped coriander on it. Serve it with bread & salad on sides.
Bon appétit!!
Pin it : https://pin.it/lfCje32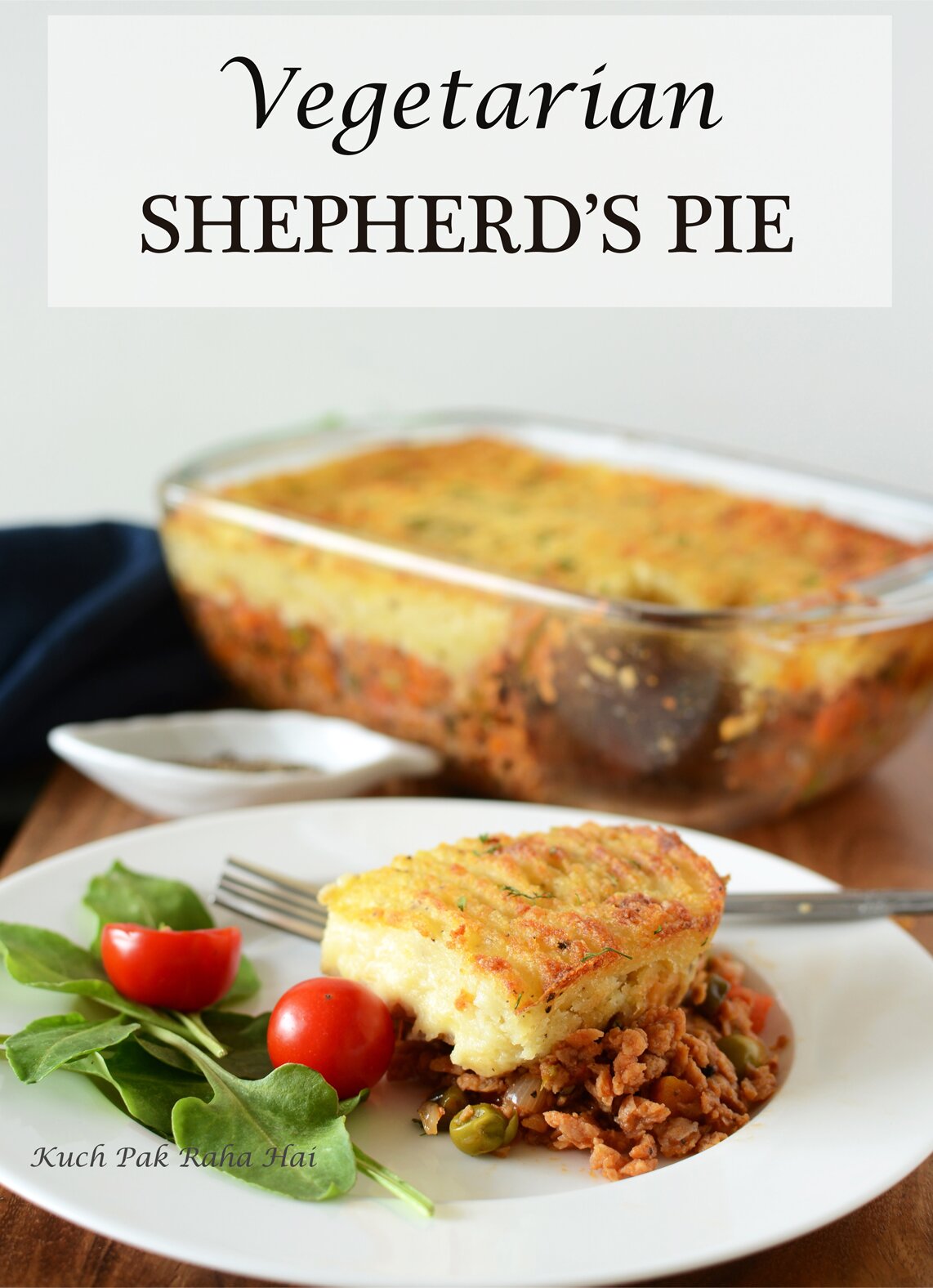 More Recipes your might like:
If you try this recipe & share pics on social media, then don't forget to tag us on Facebook or Instagram or use the hashtag #kuchpakrahahai.
Let's stay connected
Facebook| Instagram| Pinterest| Youtube