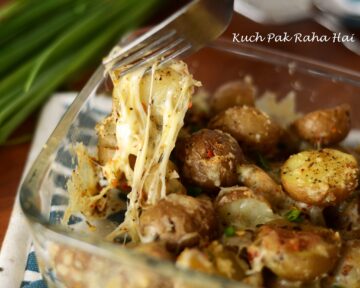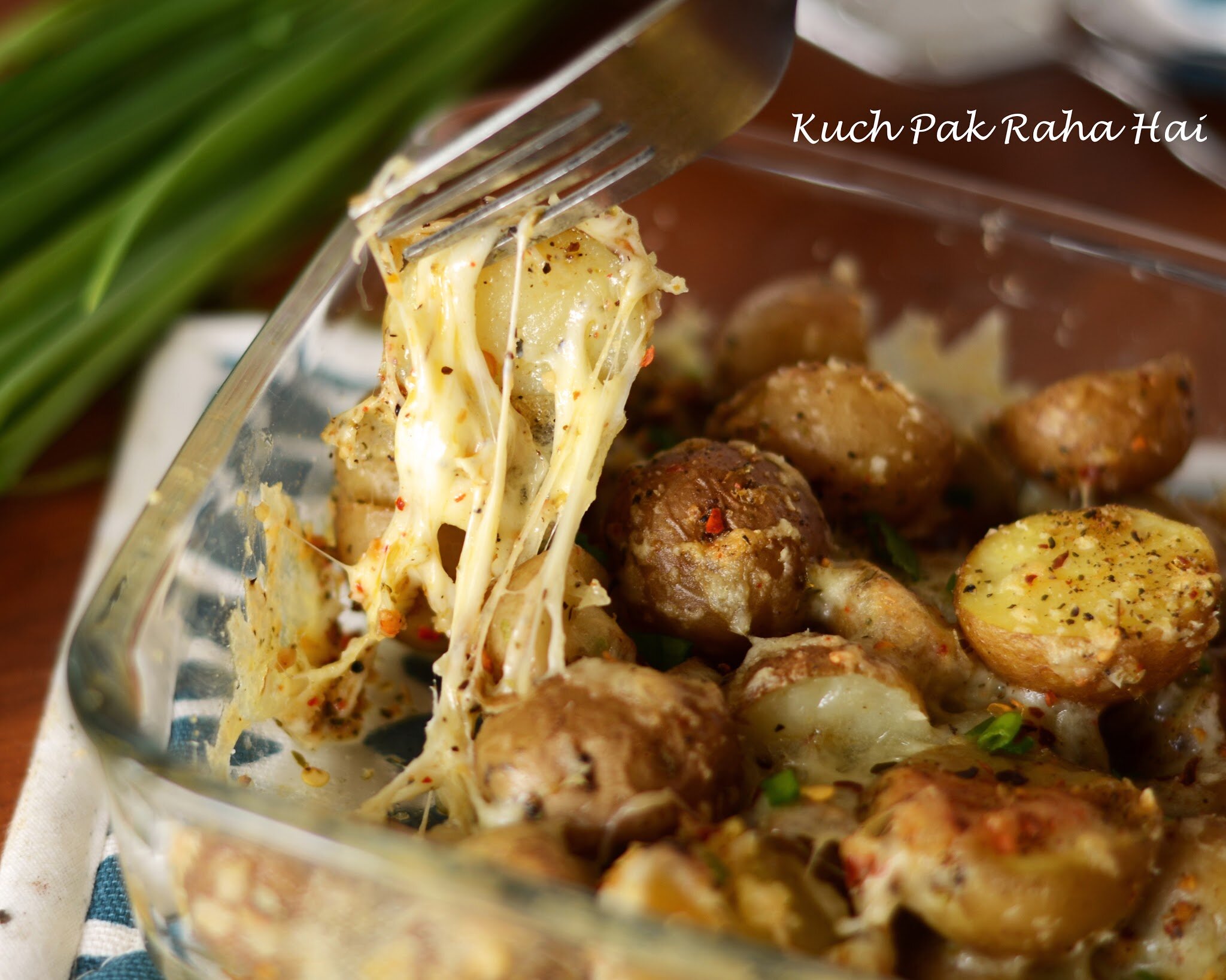 Baked Cheesy Baby Potatoes recipe is a delicious heavenly combination of Potatoes and Cheese seasoned with various spices and baked to the prefect golden brown colour which would leave you drooling. It is quite easy and quick to make vegetarian starter recipe.
You can serve them as a snack. The preparation for the recipe can be made well in advance and when the guests arrive you just have to pop the baking tray inside your oven. It is also a wonderful option which can be made in winters to accompany your favourite soup.
It is a no fuss snack which you can made in kitty/tea time/birthday parties. It is a kids friendly recipe as they just love the combination of potatoes with cheese. Just remember to adjust the spices in this dish as per kids.
Hope you would like this Baked cheesy baby potatoes recipe!! 🙂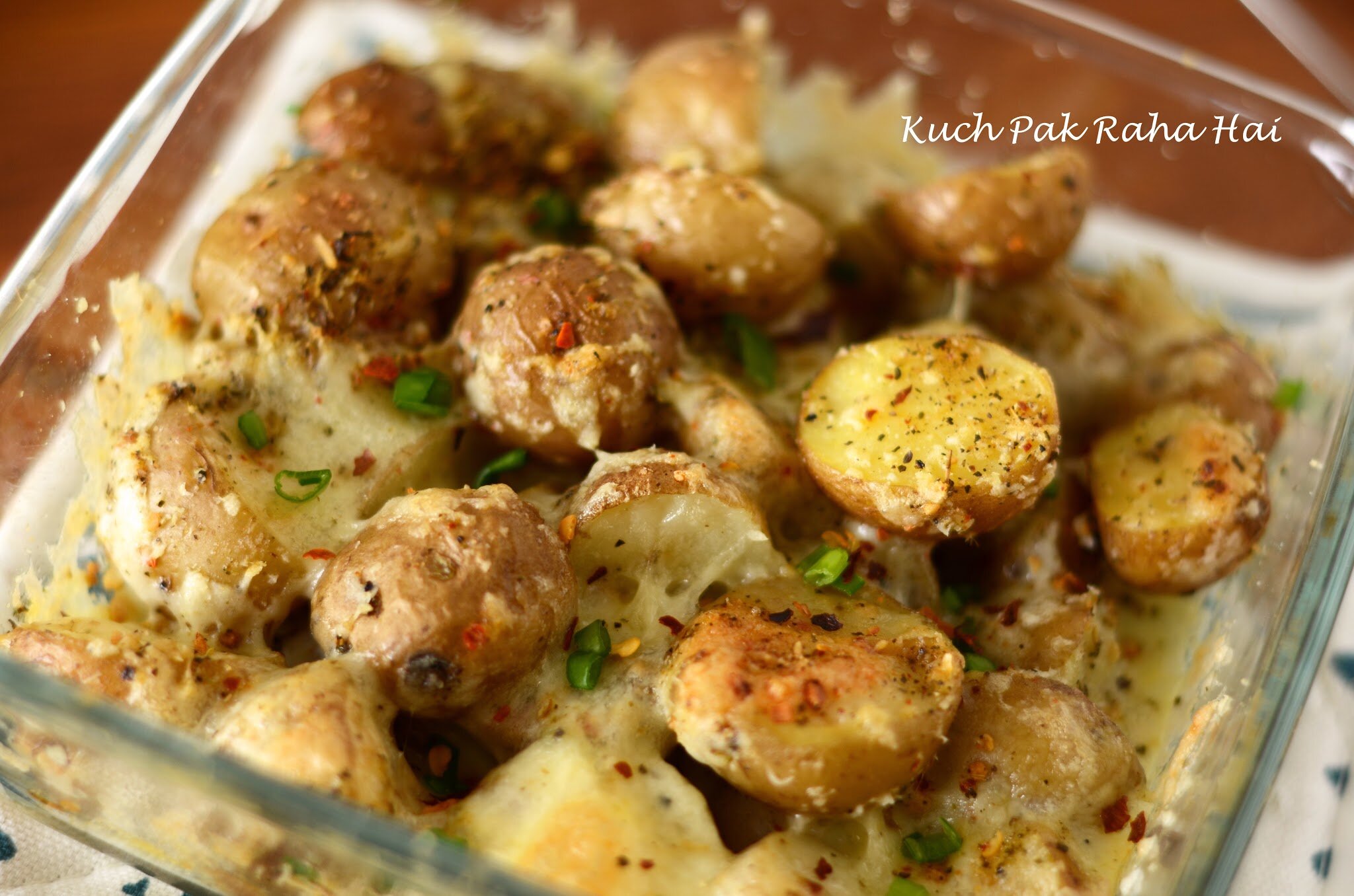 List Of Ingredients: (Serves 2-3)
Baby Potatoes-300 grams (roughly)
Butter/Olive Oil-2 tbsp
Crushed Garlic cloves-3 to 4
Red Chilly Flakes- 1/2 tsp
Dried n Crushed Oregano-3/4 tsp
Black Pepper-1/2 tsp
Salt-1 tsp (or to taste)
Grated Mozzarella-1 & 1/2 cups
Steps To Prepare:
Step1:
Wash the baby potatoes thoroughly and rub them with kitchen towel. As we are going to make them without peeling them off it is necessary to clean it from outside squeaky clean.
Step2:
Boil the baby potatoes or cook them for two whistles in pressure cooker.
Step3:
Cut each of the baby potatoes from the middle in two pieces.
Step4:
In a microwave safe bowl, add the butter and crushed garlic cloves. Heat the butter in microwave for 30-40 seconds so that it is melted and becomes garlicky in flavour. If you are using olive oil, then no need to heat it.
Step5:
Add the melted garlic butter to half cut potatoes along with all the seasoning-red chilly flakes, oregano and black pepper and salt. Mix gently.
Step6:
In a baking dish, add half of the seasoned potatoes and sprinkle some mozzarella sparingly.
Then add another layer of baby potatoes over it and add all the mozzarella over it. You can also use cheese slices.
(I have used Borosil brand square baking dish for baking these baby potatoes. I have been using this product for a while and really like it. You can check out its price and other specification here.)
Step7:
Preheat the oven to 200 degrees. Bake these potatoes ate 200 degrees for 12-15 min till you get desired golden brown on top.
Enjoy heavenly tasting and delicious looking Baked Cheesy Baby Potatoes with soup or serve them as starters!!