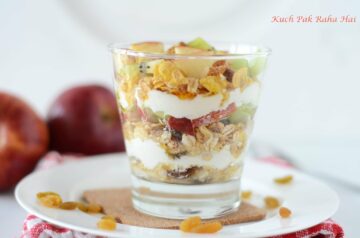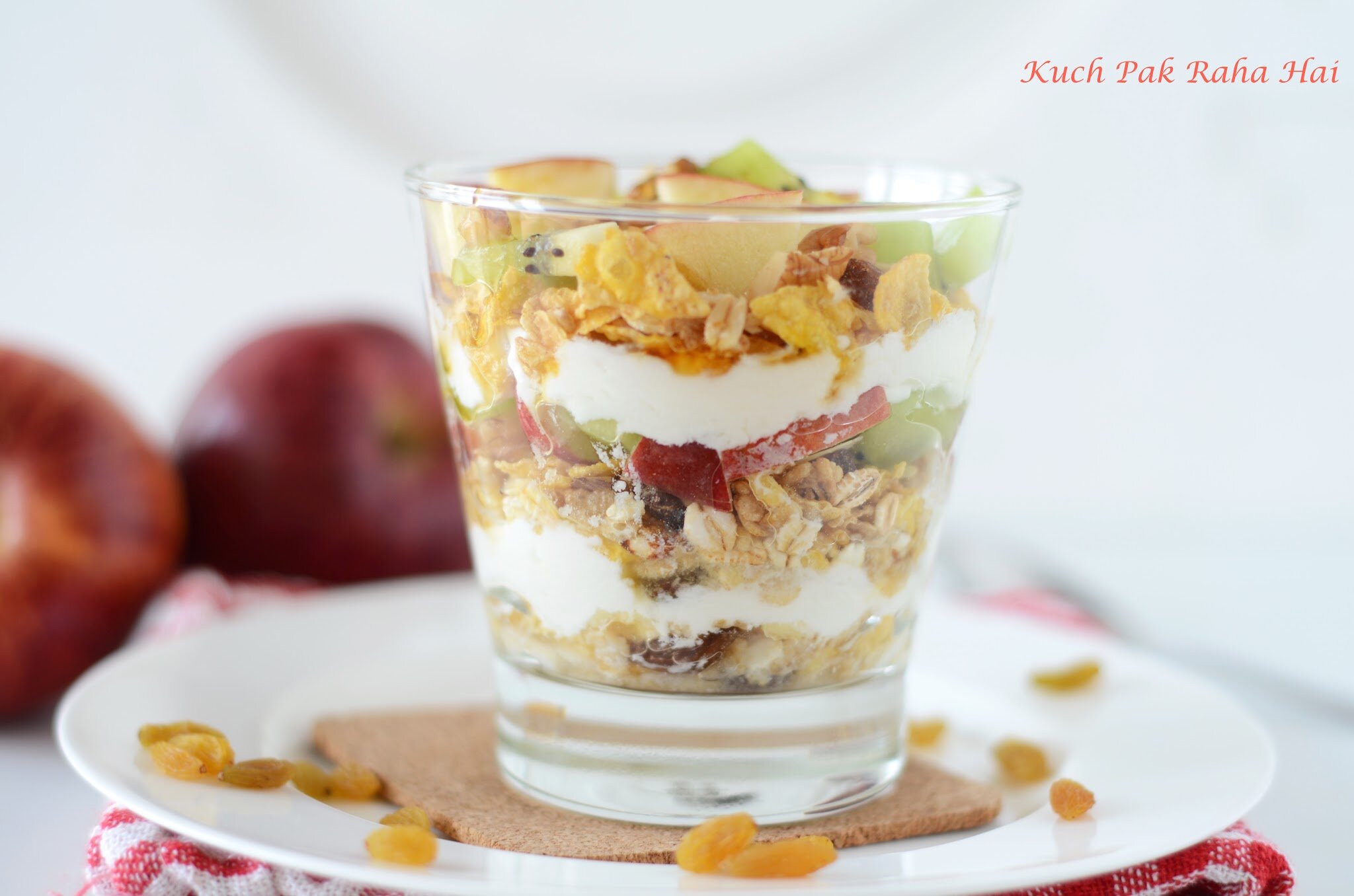 Good morning everyone!! Today I am going to share really quick and easy Yoghurt & Fruits Parfait recipe. I generally come across various food forums and groups where people are commonly looking for healthy breakfast recipe which can be prepared in minutes, also it has to be healthy and low fat. Not to forget to mention, I am also among those people who are too lazy for preparing 'elaborate' breakfasts and are always looking for some short-cut recipes. As I am a big time foodie also, oats/cornflakes were too bland and boring for me everyday and gorging on those spicy-buttery "Aloo and Gobhi Parathas" was neither a good option considering the growing waist size 😜 .
After a brief search on
Google baba
, I came across the option of
Yoghurt Parfait
which is basically layers of yoghurt, granola, fruits set in a glass. The word "Parfait" in itself means a rich cold dessert made with whipped cream, eggs and fruits. The Yoghurt Parfait gained popularity as it is low fat since we are replacing whipped cream or ice cream layers with Greek yoghurt or ordinary yoghurt. Moreover, its nutrition value is increased by the addition of granola and fruits.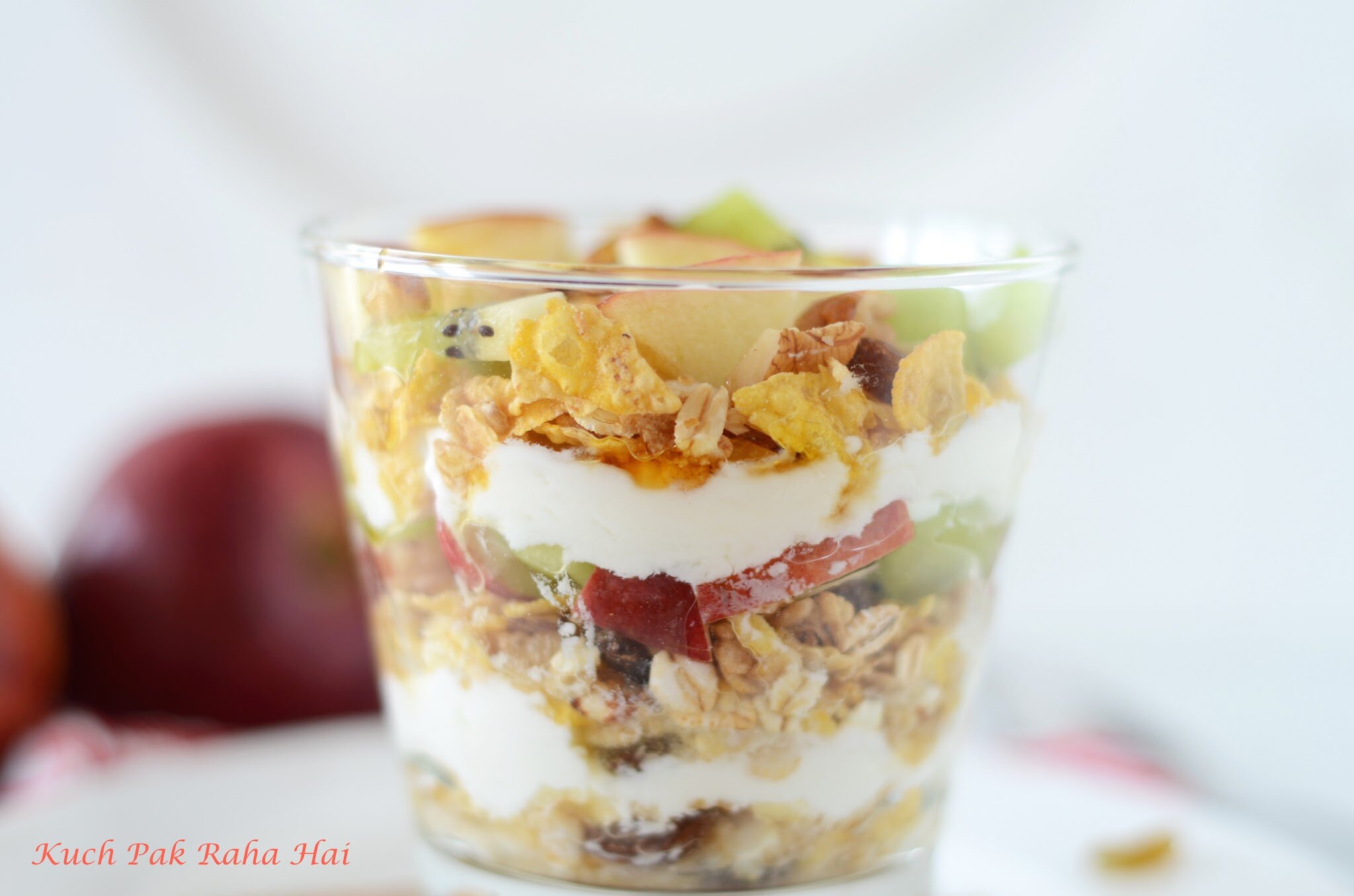 I have slightly tweaked the recipe and prepared my recipe of "Yoghurt Parfait" by using the curd (we normally set at home), muesli, seasonal fruits, nuts and honey. Initially I was not very sure about how it will turn out taste wise and will it really be filling but trust me, there could not be more fulfilling, healthy and guilt free breakfast than this. With "Yoghurt Parfait" you are including dairy product, fruits, nuts, fibre and honey; what more you can ask for!! Together the sweetness of fruits, crunch from nuts & muesli, creaminess of curd imparts a pleasant taste on your palate. You really feel fresh and full of energy after having a single serving of it.
It is not only healthy but looks pretty as well. It is a kids friendly recipe. I bet the kids would automatically get tempted to eat it after just one look. I have used apples, banana and kiwi for it and curd which I have set at home. You may use any seasonal fruit available at your place. These days we have so many flavoured yoghurts available in market like mango, strawberry, banana and blueberry etc; for bribing the fussy eaters you can use any flavour of their choice. 🍓 🍎 🍉
Hope you would like this Yoghurt Fruit Parfait recipe!!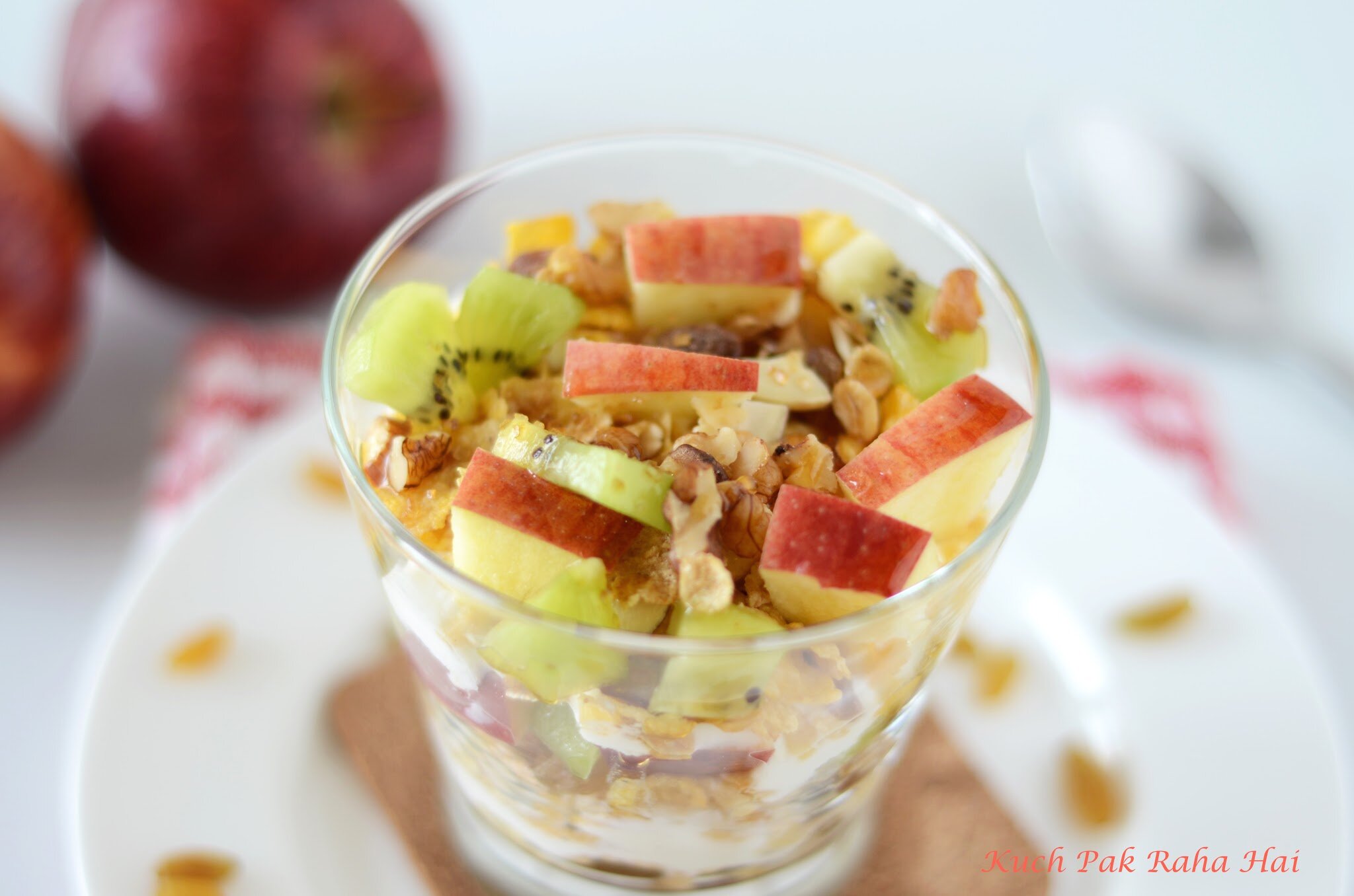 List Of Ingredients:
Muesli – 1/2 cup
Curd- 1/2 cup
Chopped Fruits – 1/4 cup
Chopped Nuts- 2 tbsp
Brown sugar- 1/2 tsp (optional)
Honey- 1/2 tsp
Steps to Prepare:
Step1:
Take a glass, add two tablespoons of muesli and some nuts. If you are using sugar, sprinkle some on this stage.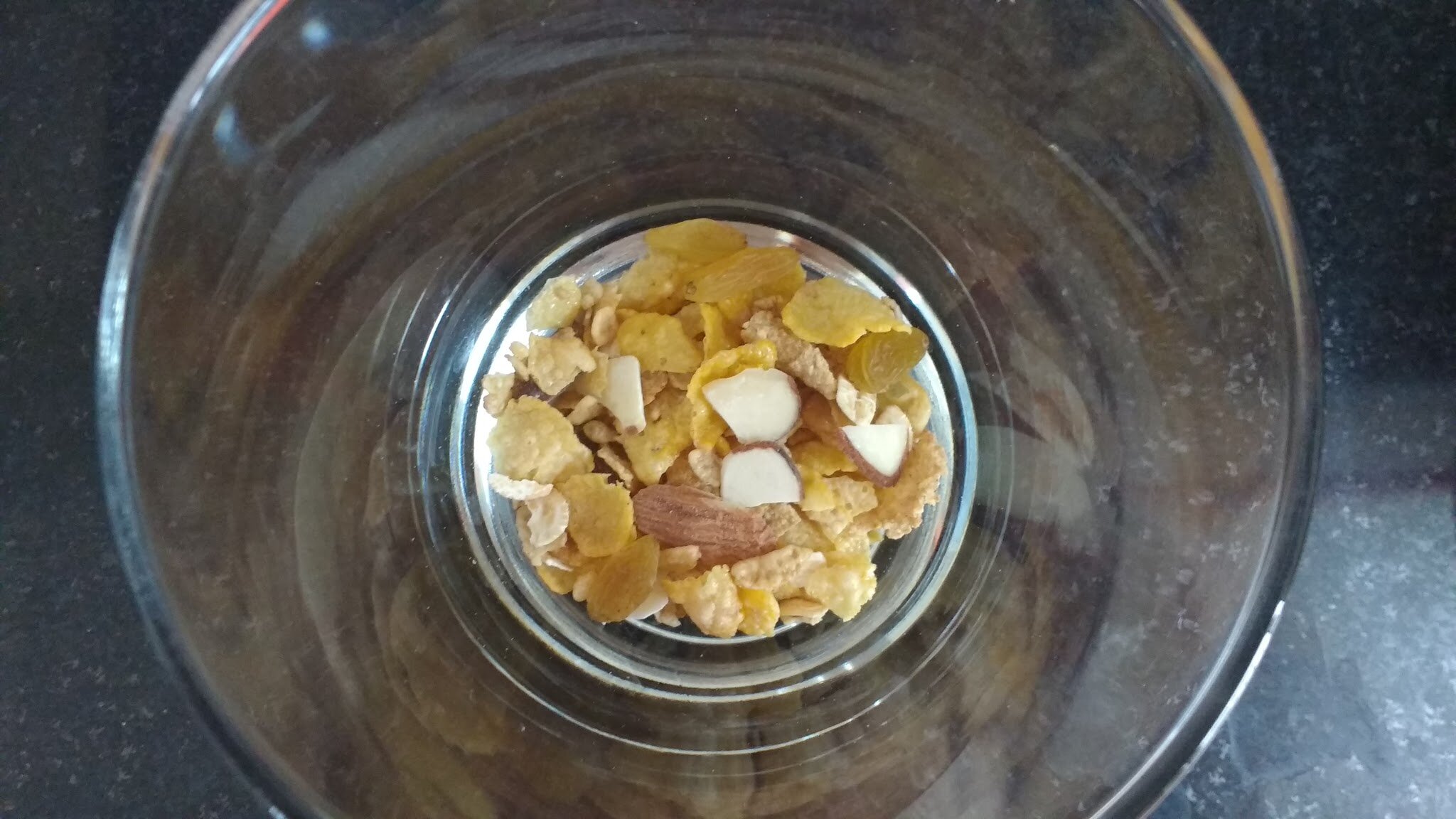 Step2:
Add some curd over it.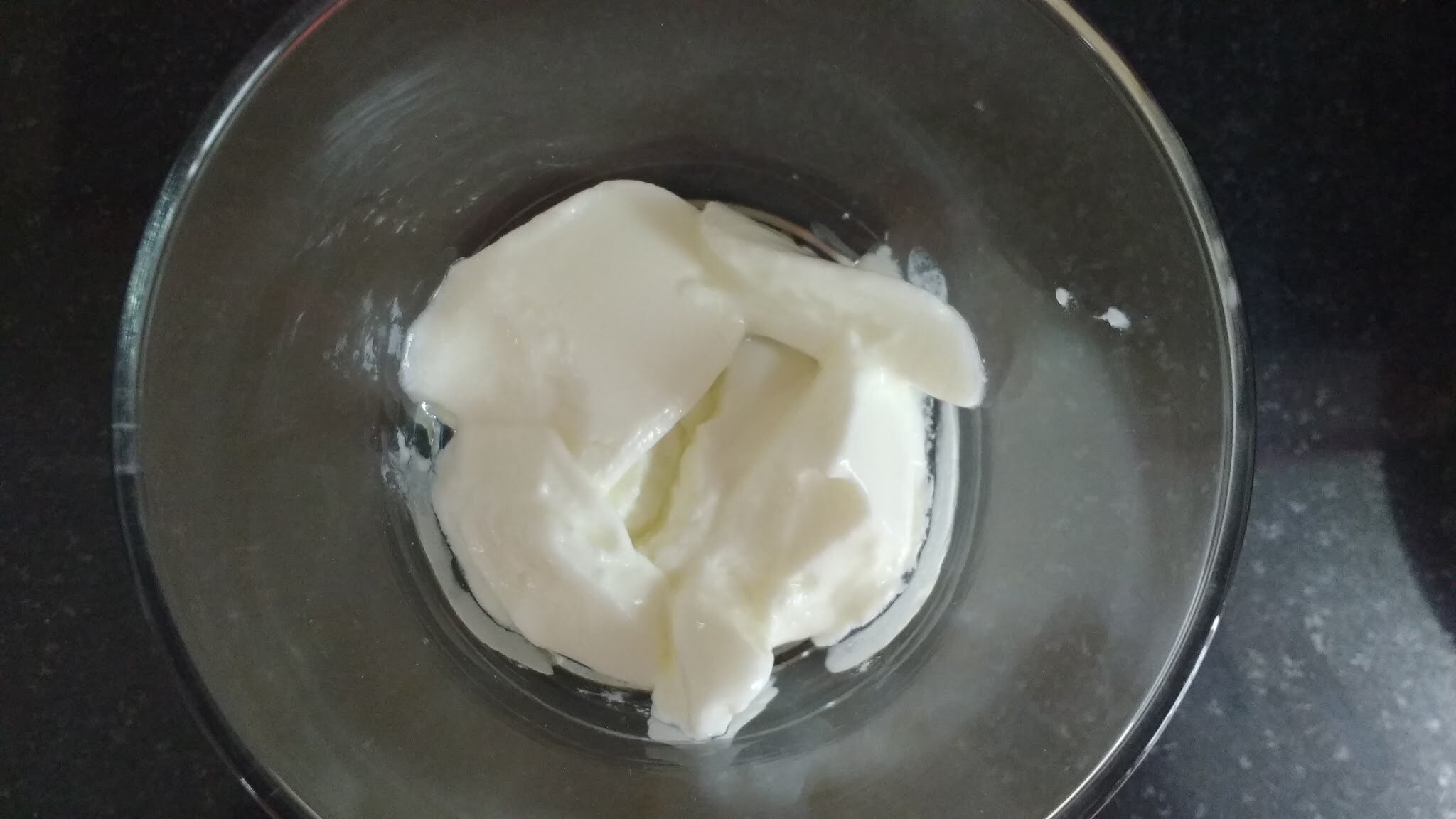 Step3:
Add some more muesli over the curd along with nuts.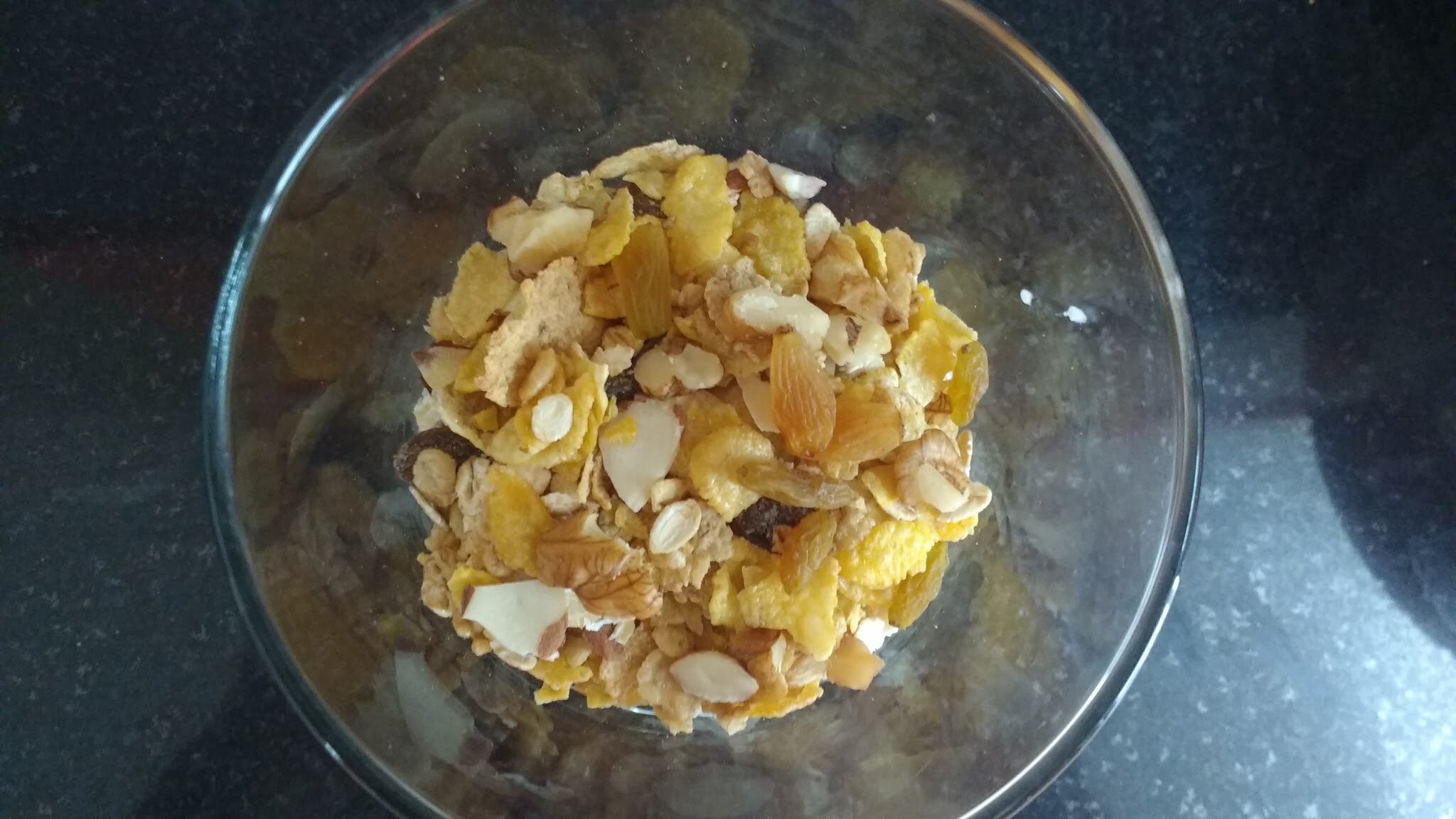 Step4:
Add some fruits over it.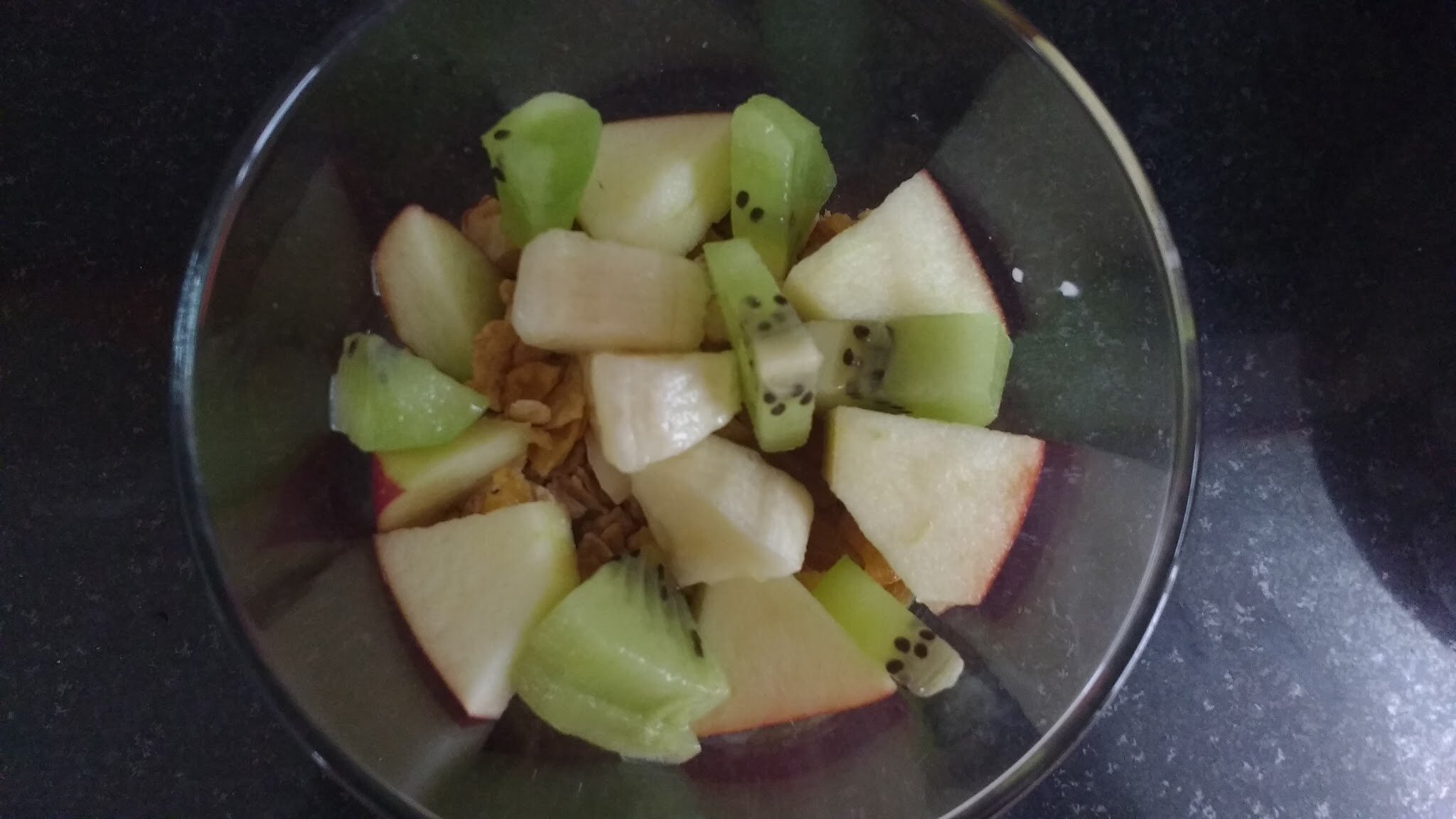 Step5:
Similarly add remaining curd, muesli, nuts and fruits over it. Top it with honey and remaining sugar.
Enjoy this delicious nutritious colourful delight Yoghurt Fruit Parfait!!