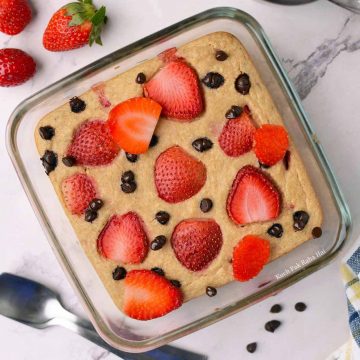 Strawberry Baked Oatmeal is a healthy, delicious breakfast oats recipe with goodness of rolled oats, strawberries, banana, peanut butter & milk (or almond milk). The recipe shared here is eggless, easy to make, healthy and tastes absolutely delicious.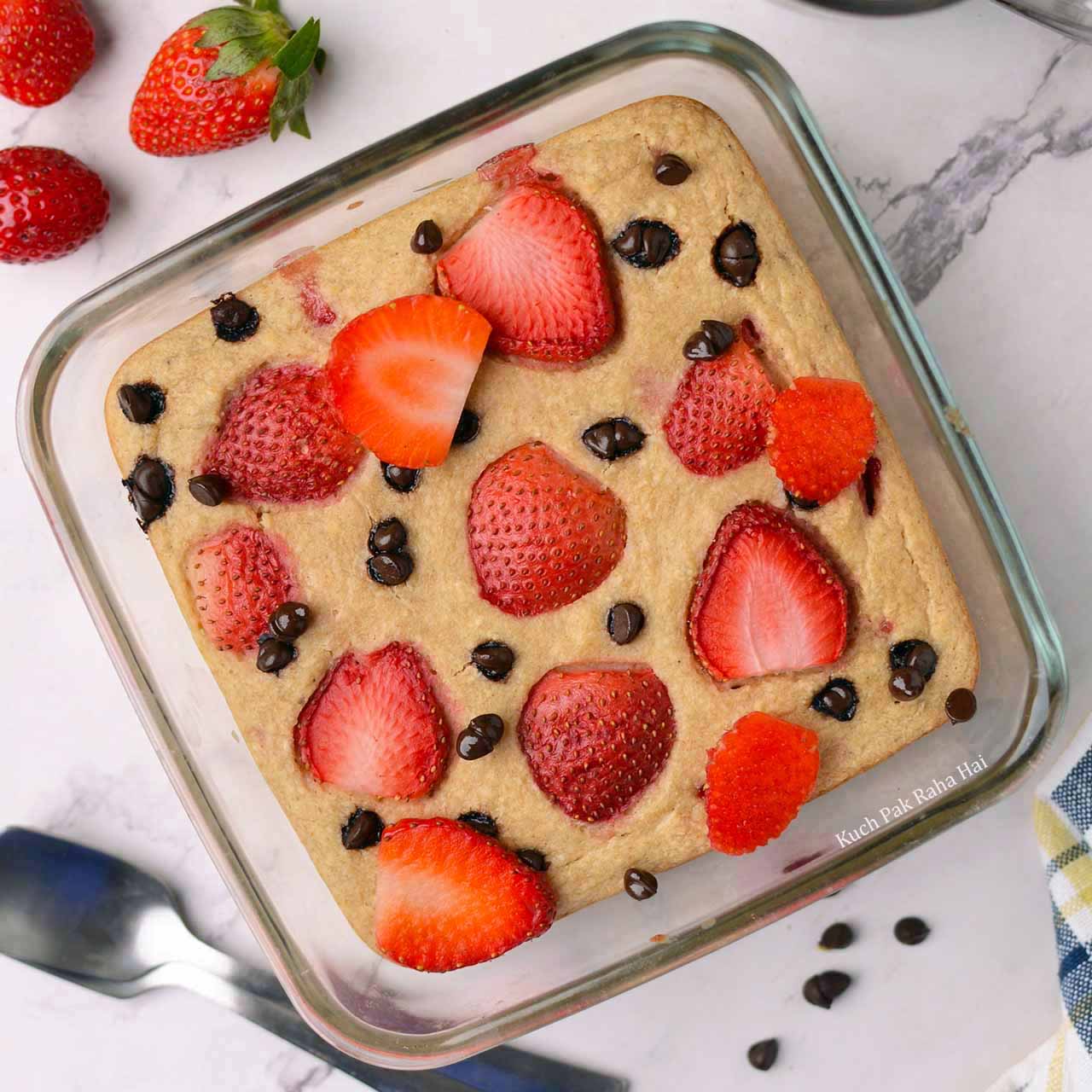 The blended oats or baked oats instantly gained the popularity after its video went viral on Tiktok and since then the internet is flooded with its so many variations. The strawberry baked oatmeal recipe I am sharing here is:
Vegan
Gluten Free
Made without eggs
Easy to make
Healthy And so yummy!!
It can be baked in oven or air fryer. Both methods are explained in post.
The recommended serving size of oats per individual is 1/2 cup (50 grams). The recipe I have shared here is made using exactly 1/2 cups oats. You can double the recipe or even bake it in individual portions in ramekin moulds.
This easy eggless baked oatmeal recipe is a yummy twist to regular oatmeal or overnight oats. I love the way how it tastes warm, moist and feels like you are eating cake in breakfast. All you need is a blender jar and handful of ingredients to whip up this recipe.
It is fresh strawberries season & I couldn't resist using them in my baked oats recipe along with some dark chocolate chips. Whether its strawberry banana smoothie, strawberry chocolate tart, jam or chutney, strawberries taste so good in everything. They have number of health benefits as they are packed with antioxidants, fibre and vitamins, flavonoids etc.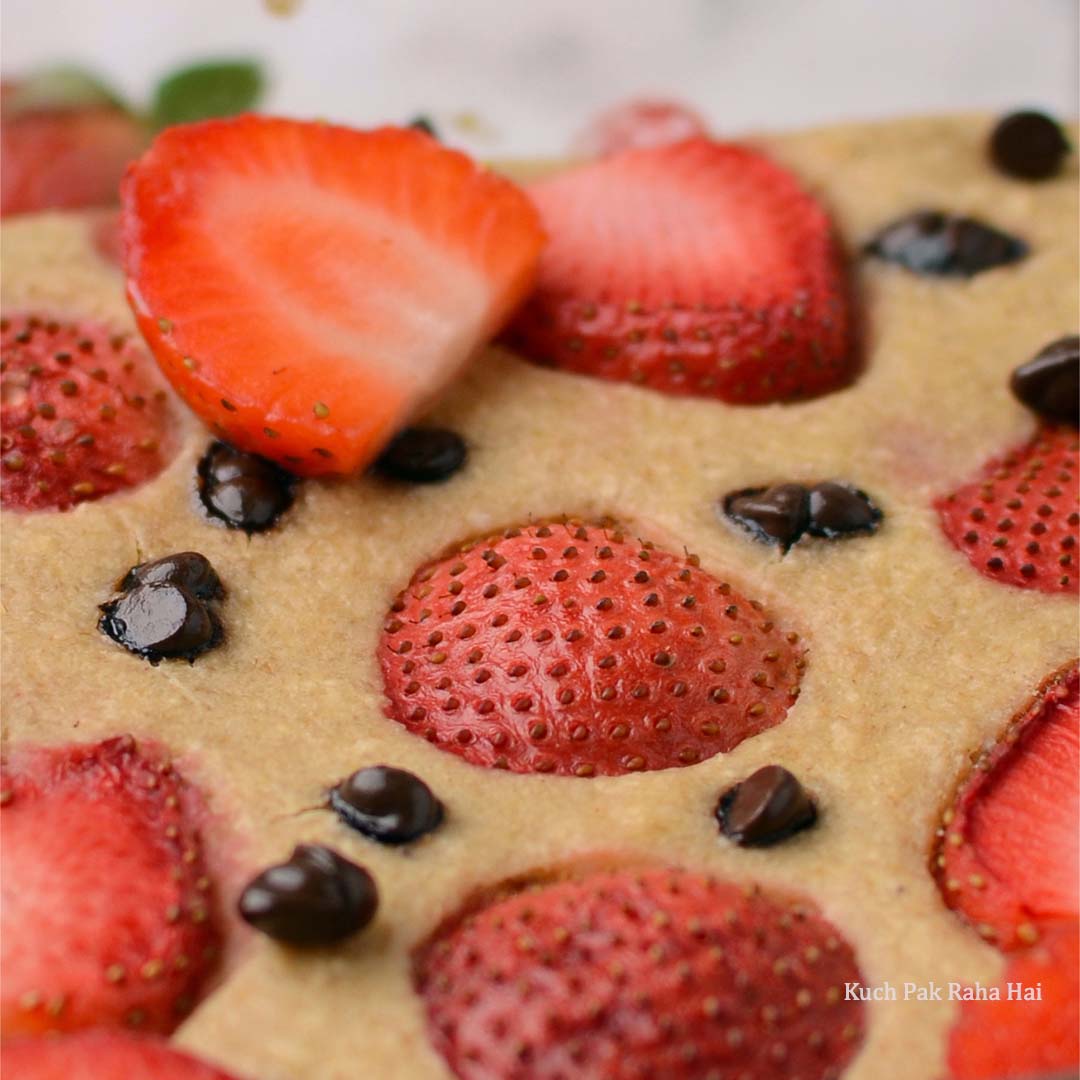 How to make Baked Oats?
The best part about this strawberry baked oatmeal is that you don't have to do tons of preparations or stand in front of stove to make these baked oats. Set the oven for preheating and by the time it is doing so prepare the blended oats batter.
Add all the ingredients in a blending jar and blend well to form smooth batter. Pour the batter in an oven safe dish and top up with  sliced strawberries, chocolate chip or any berries of your choice. Bake in a preheated oven for roughly 20-22 minutes.
(For the busy mornings, this recipe is such a saver as you can get so much of work done in those 20 minutes!!)
Baked Oats Ingredients:
You will require following ingredients to make these healthy baked oats:
Oats: Rolled Oats or Instant Oats works fine in this recipe. Do check out the packaging for gluten free tag if you want to make this recipe completely gluten free.
Milk: You can use regular milk or non dairy milk like coconut, oats or almond milk to make this baked oatmeal vegan.
Banana: Bananas are great to include in your everyday breakfast as they are full of fibre, antioxidants and vitamins. Use ripe bananas in this recipe as they are naturally sweet and this way you won't have to add more sweetener from your side.
Nut Butter: Nut butters like peanut butter, almond or cashew butter are full of good fats, proteins and thus ideal to include in breakfast. If you want to make nut free baked oats then you can even replace it with some olive oil. Little bit of fat makes these baked oats moist and soft, so definitely don't skip it.
Sweetener: Honey or maple syrup (for vegan version) are added for sweetening the oats. You can also use coconut sugar, brown sugar & stevia etc
Fruits / Berries: You can use fresh or frozen strawberries. I have used fresh seasonal strawberries in these baked oats. You can use frozen strawberries or other berries like blueberries, raspberries, blackberries etc.
Salt: Little bit of salt is added to balance the sweetness from banana & fruits.
Rising agent: We will be using baking powder instead of eggs to lighten up the texture of baked oats. If you still want to use egg, replace 1/2 banana with 1 egg.
Flavourings: As vanilla & strawberries make a great combination together, I have added some vanilla extract also. You can even add some cinnamon powder.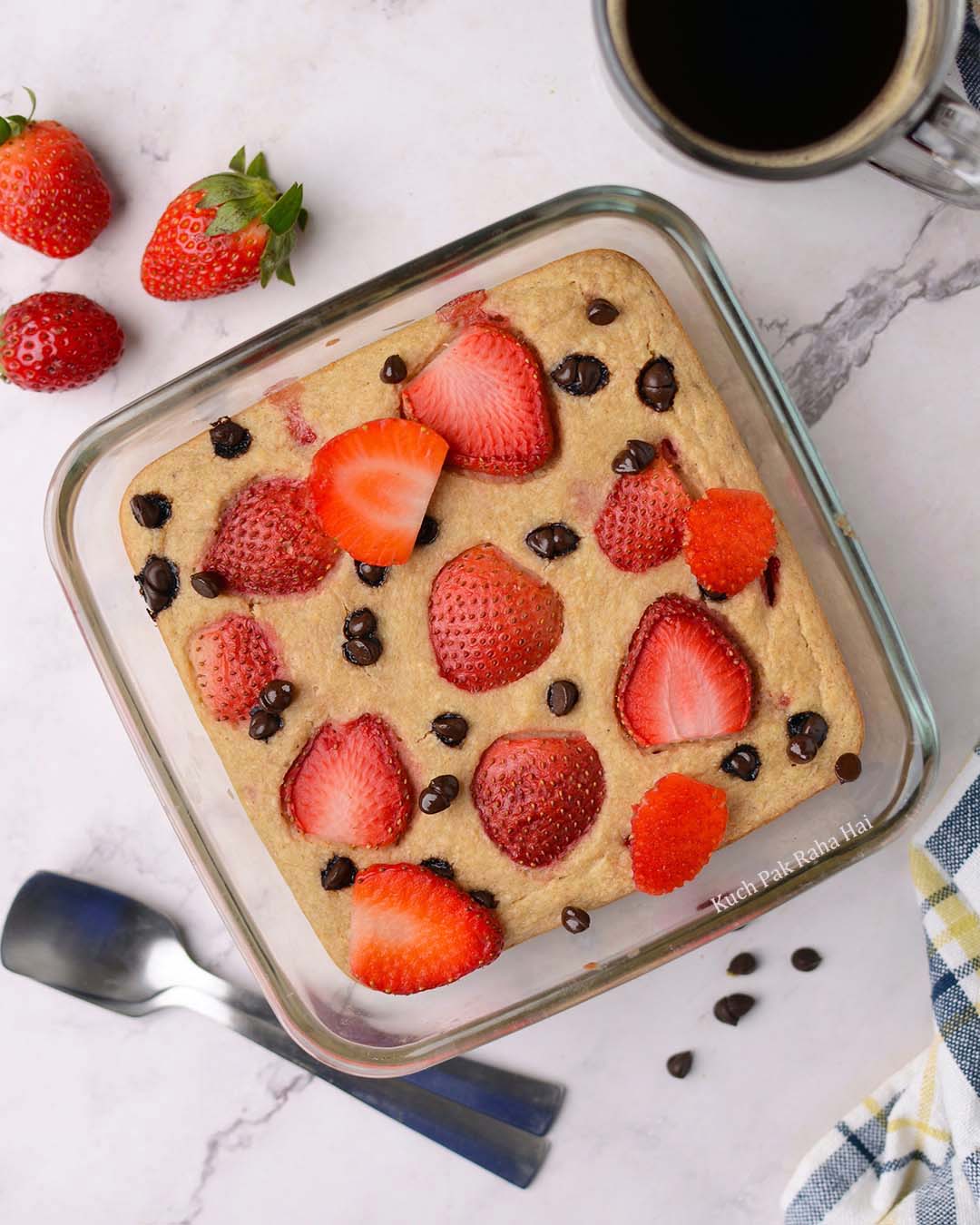 Baked Oats Variations:
Keeping the basic recipe same you can do endless variations to it by adding fruits and flavourings of your choice. Banana will always be the part of recipe and if you want to replace (strawberries & vanilla) then you can try following flavour combinations:
Apple & Cinnamon
Shredded Carrots, Nutmeg, Cinnamon & Vanilla
Blueberries & Lemon (use fresh or frozen blueberries, little bit of lemon juice and lemon zest)
Pineapple & Coconut (use coconut milk instead of regular milk & coconut flakes)
Lotus Biscoff Cookies & spread (Microwave the cookie spread for 10 seconds and drizzle it over the oats better before baking. Make swirls using knife or skewers. Arrange biscoff cookies on top)
Banana, Chocolate Chips & Nutella
Other ingredients that can be added: You can add chopped nuts like almonds, walnuts, pecans; dry fruits like golden raisins, dried cranberries or mixed seeds like chia seeds, flaxseeds as per your diet requirement.
Youtube Video:
More oats recipes you might like:
Hope you you would like this easy yummy strawberry baked oatmeal recipe!!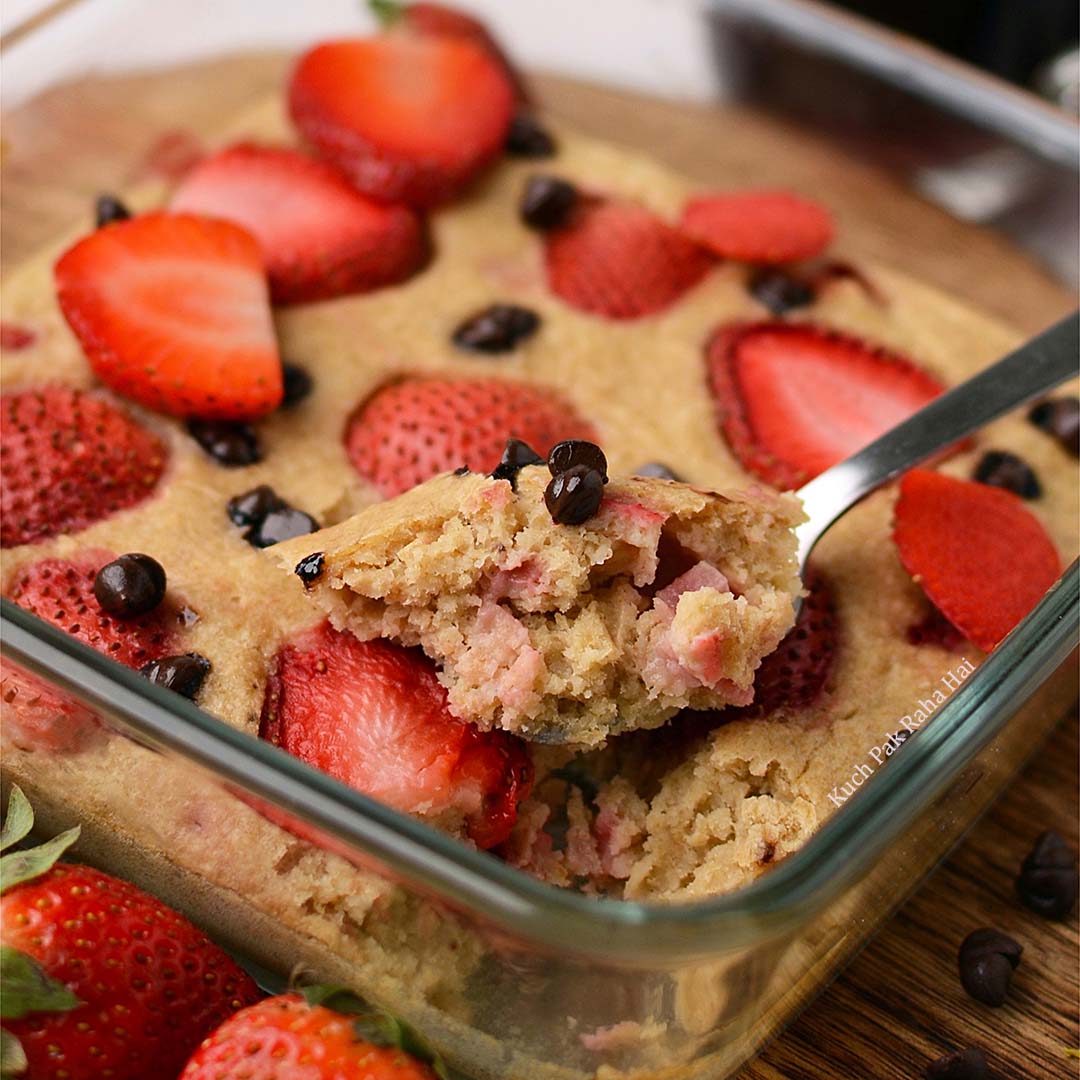 Ingredients:
Rolled Oats -1/2 cup
Banana-1
Milk / Almond Milk-1/4 cup + 1 tbsp
Peanut / Almond Butter-1 tbsp (unsweetened)
Honey / Maple Syrup- 2 to 3 tsp (to taste)
Salt- 1/8 tsp
Baking Powder- 1 tsp
Chopped Strawberries- 4 to 5
Vanilla Extract- 1/2 tsp
Dark Chocolate Chips-1 tsp (optional)
Notes:
1. If you are using sweetened peanut butter, adjust the quantity of honey or maple syrup as per your liking.
2. Instead of vanilla you can also us a pinch of cinnamon powder. (Rest All Substitutions are discussed in detail in the post above)
Directions:
Step 1:
Chop 2 strawberries in small pieces and slice the remaining ones. Keep them aside.
Step 2:
Set the oven for preheating at 180°Celsius.
Step 3:
In a blender jar, add all the ingredients except strawberries and chocolate chips. Blend well. (You can taste the mixture once & adjust the sweetness by adding more honey as per your taste.)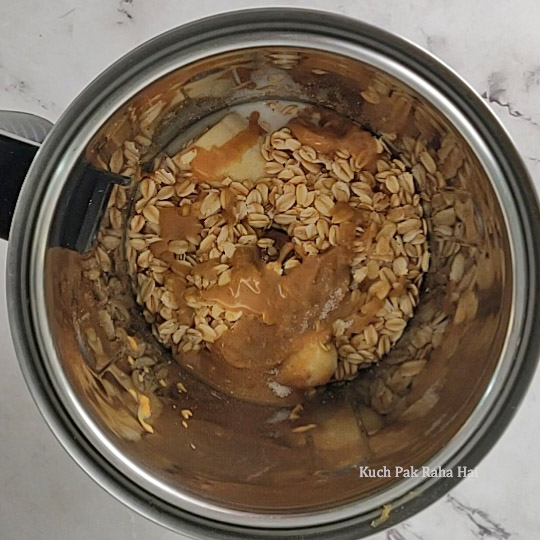 Add some of the chopped strawberries to the blended oats and mix gently. Transfer it in a small baking dish. Top up with remaining chopped strawberries and chocolate chips.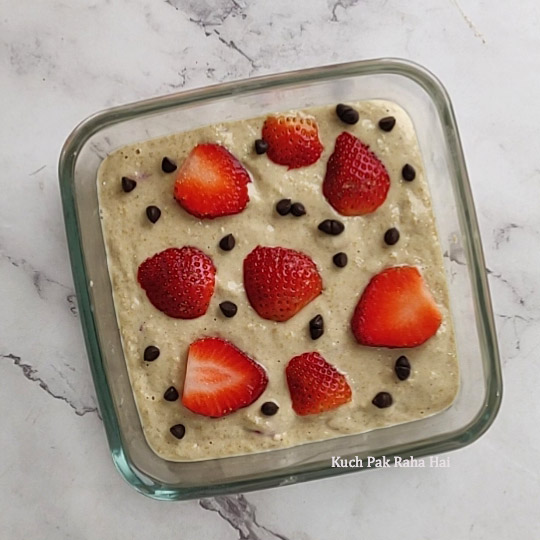 Step 4:
Bake in a preheated oven at 180° Celsius for 20-22 minutes. Enjoy these delicious warm baked oats with a cuppa tea or coffee!!
Air Fryer Baked Oatmeal
I tried this strawberry baked oatmeal in air fryer too and to my surprise it took lesser cooking time than oven. The recipe remains exactly the same. Just follow the below instructions to make it in air fryer.
1. Preheat the air fryer at 180°C (356°F).
2. Prepare the oatmeal mixture in blender as explained above and pour in a baking dish.
3. Air fry the oatmeal in preheated air fryer at 180°C (356°F) for 12 to 13 minutes. Air frying time can vary slightly as per the air fryer model so check the centre with a skewer or knife after 12 minutes. You should get moist crumbs on the tip (not the wet batter).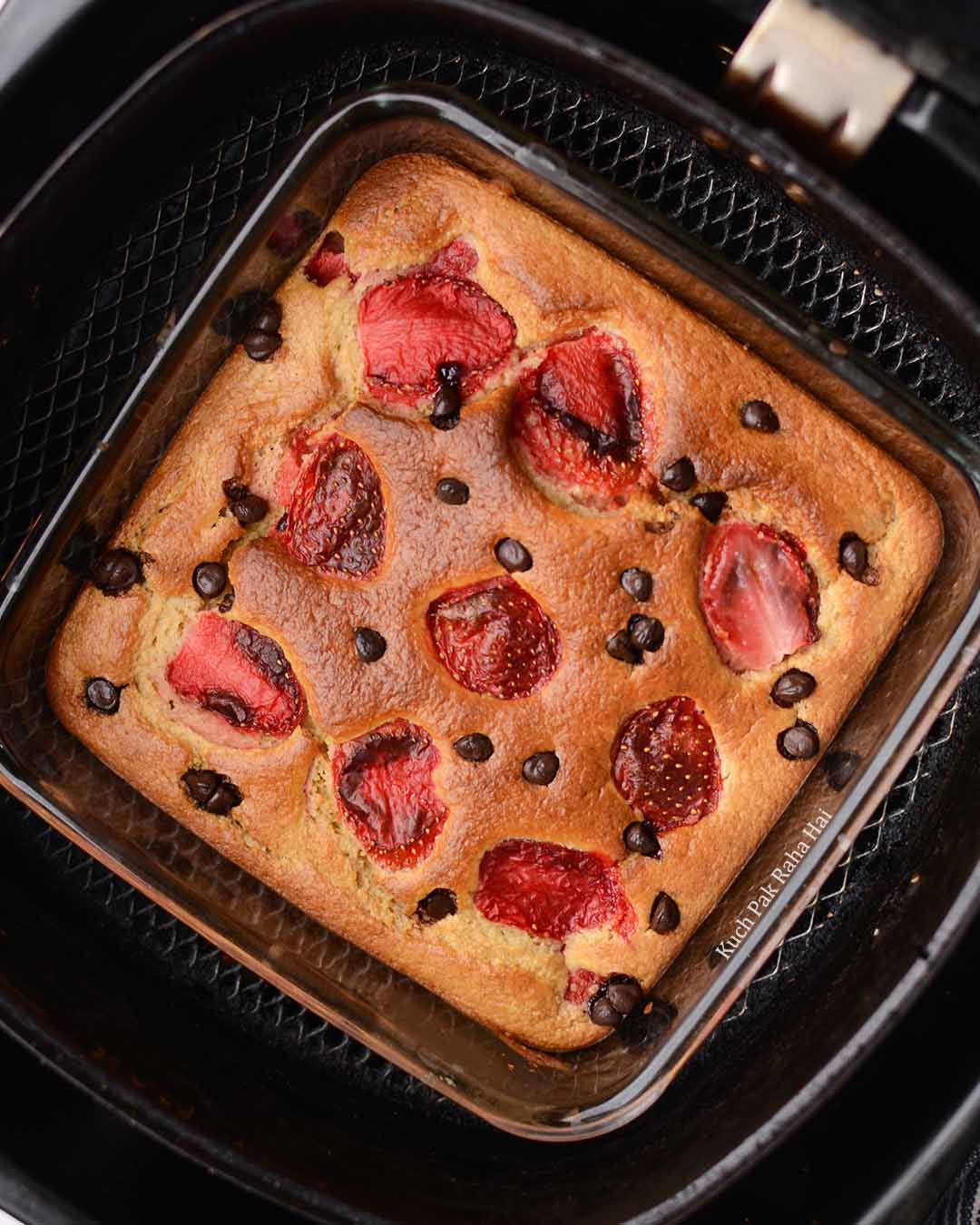 Baking Dish Used: I have used Borosil brand oven safe square glass baking dish 500 ml (5.25″ x 5.25″) inches in both oven & air fryers methods. You can use smaller baking dish or ramekin moulds too.
If you want to try more baking recipes in air fryer, then do checkout tried & tested egg free recipes below:
Pin for later: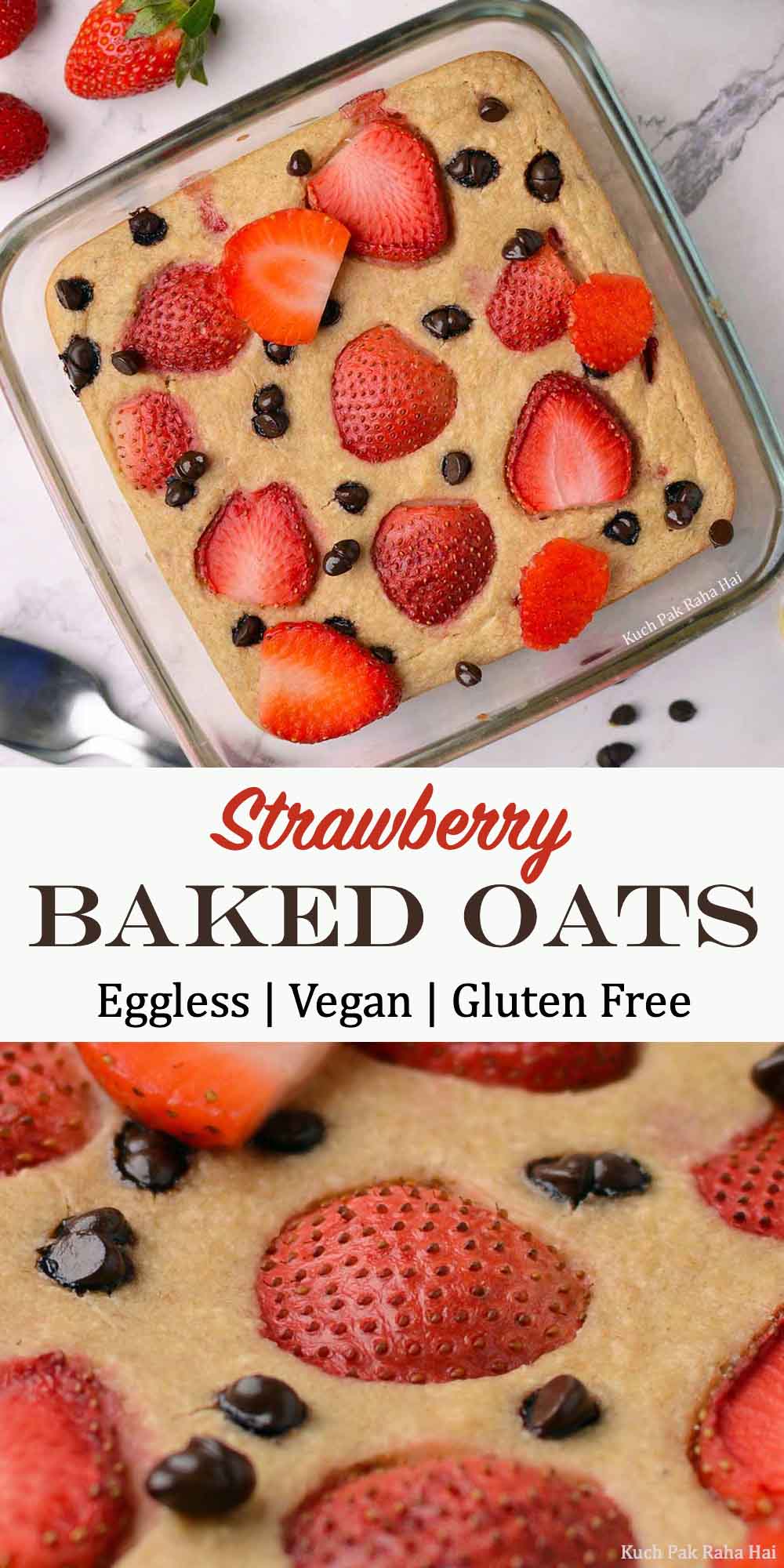 More healthy breakfast recipes:
If you try this recipe & share pics on social media, then don't forget to tag us on Facebook or Instagram or use #kuchpakrahahai.
Let's stay connected
Facebook | Instagram | Pinterest| Youtube