Crispy, juicy, buttery air fried corn ribs are great for snack, appetiser or side dish. This recipe is a fun twist to fresh corn on the cob and definitely a treat for corn lovers.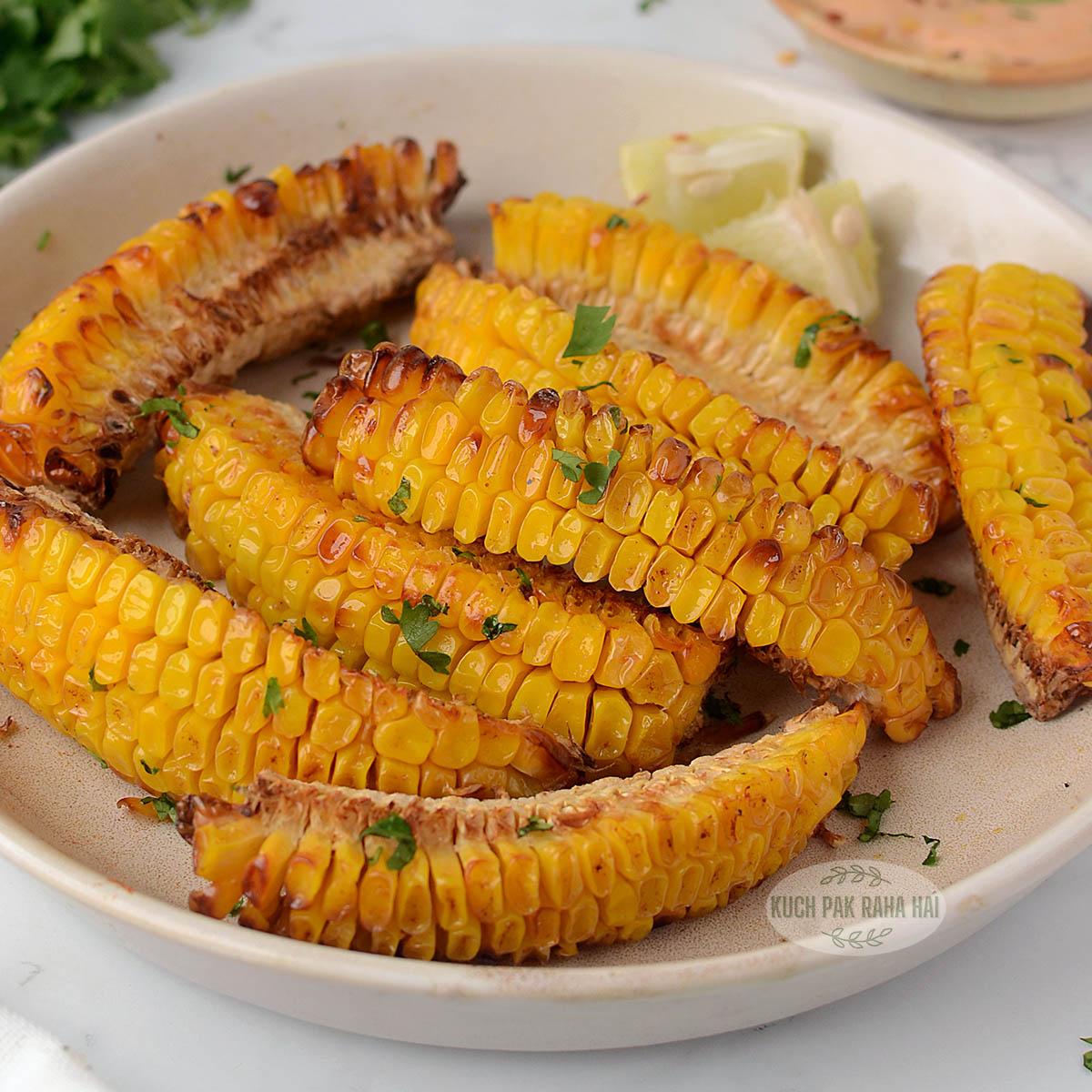 These corn ribs gained the popularity after getting viral on tiktok. In this recipe, we first cut the whole husked corn into strips, slather them with a some herbed butter and air fry to get crispy sweet corn ribs. This also makes the corns easier to serve, eat and a perfect option for house parties or bbq.
Air fryer corn ribs are quick, easy to make and requires just few basic ingredients from your kitchen pantry. You can enjoy them with chilli lime mayo, garlic mayo, chipotle mayo or any dip of your choice.
The air fryer corn ribs recipe shared here is:
Vegan
Vegetarian
Gluten free
Takes less than 15 min
Perfect for snack, side dish or appetiser
Air Fryer Corn Ribs Ingredients:
Corn the Cob: Use fresh corns for the maximum taste and juicy texture. Pick the ones which are smaller and less thick in size as they are easier to cut.
Butter: The buttery richness compliments the subtly sweet milky flavour of corns. If you want to keep the recipe vegan, use vegan / plant based butter or olive oil.
Seasoning: I have used paprika powder, garlic powder, salt for seasoning. You can season them with any spices of your choice like black pepper, cumin powder, red chilli powder and onion powder etc also goes well with corn ribs.
Herbs: Some fresh herbs like cilantro, coriander or chives can be used in herbed butter or for garnishing at the end.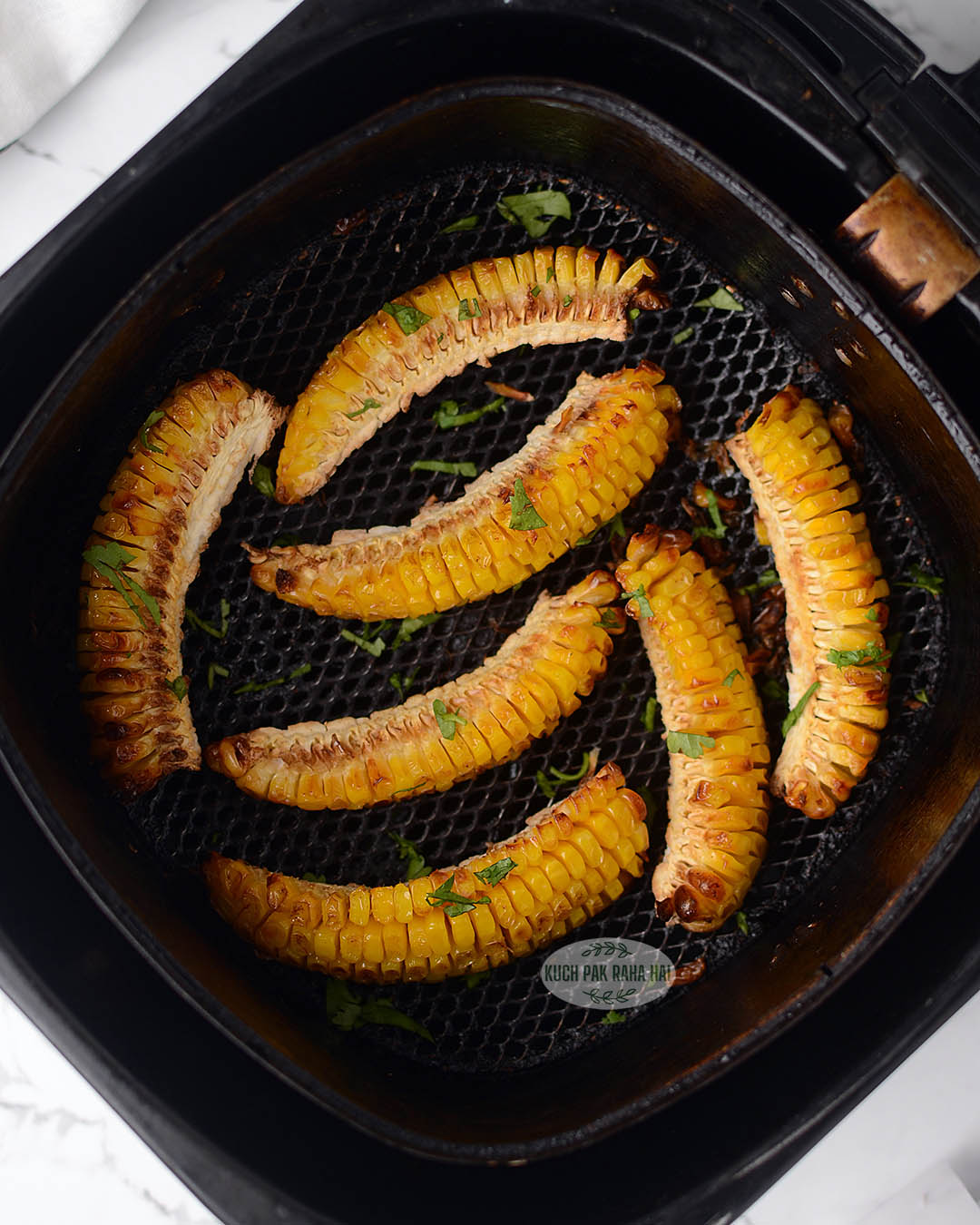 How to cut corn ribs?
The only tricky part of this recipe is cutting the whole corn into ribs (or strips). A stable chopping board and a sharp knife is definitely going to help you in the cutting process.
I saw lots of videos where people are slicing whole corn vertically but I find halving the corn first and then cutting it is easier (you will get the gist in the step images).
If you still find it difficult cutting the whole corn, then you can do either of the two things – microwave or boil the corn. Microwave the whole corn on cob (with husks) for 2 minutes, let it cool down, remove the husks and proceed with the recipe. Second way is to boil the husked (peeled) corn for 2-3 minutes, cool it down a bit and dab it dry on kitchen towel. This pre cooking step softens the core of the cob and makes the cutting easier.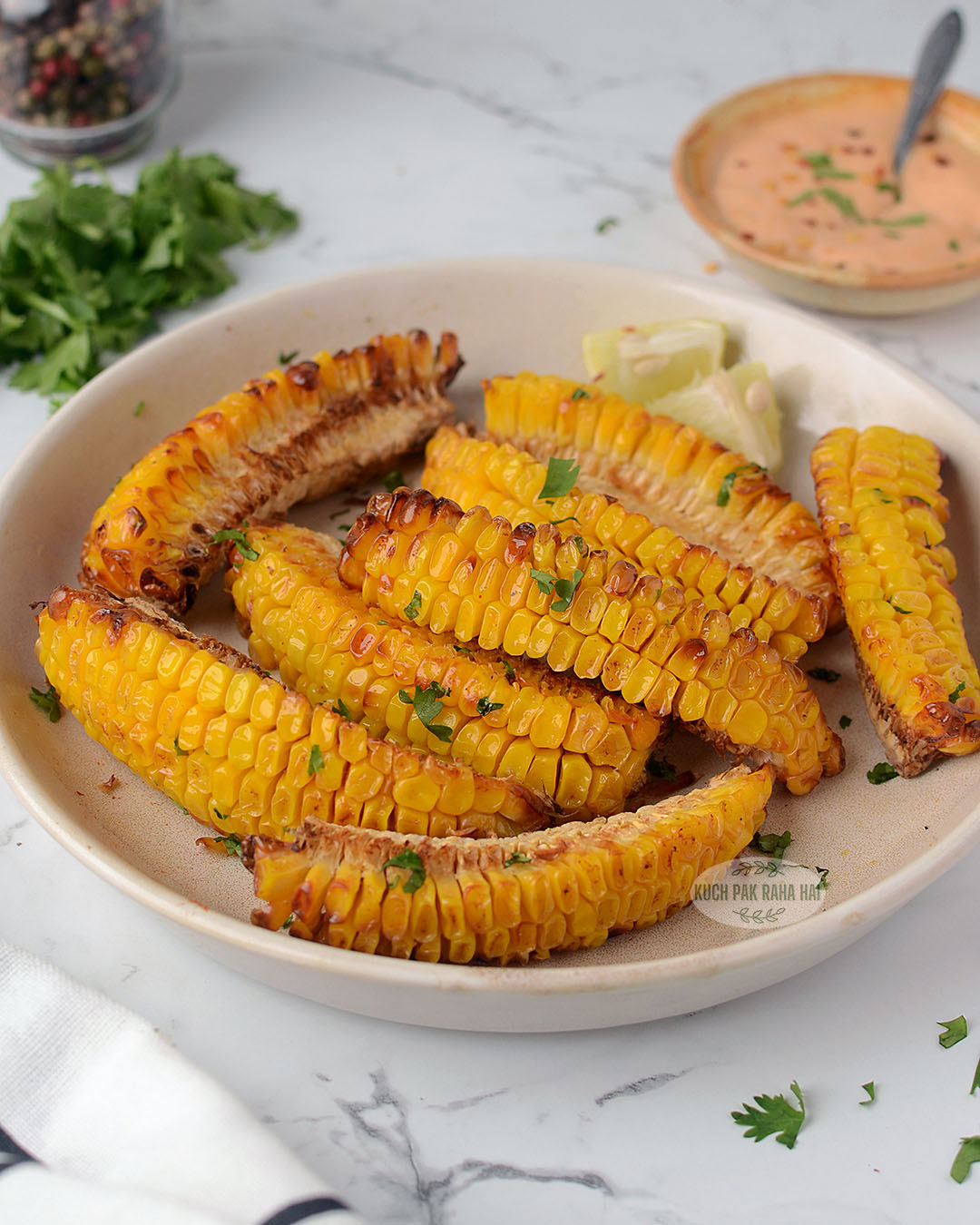 Corn Ribs Variations:
To make mexican elote style corn ribs, once the corns ribs are out of air fryer slather mayonnaise over them, sprinkle some paprika or chilli powder, lime juice and feta (or cotija) cheese over them.
You can give Indian twist to them by sprinkling red chilli powder, chaat masala & lemon juice on these air fried corn ribs to give a desi touch (just like roasted Indian bhutta).
A generous sprinkle of parmesan cheese is also a great option. If you like to keep the flavours simple, just use sea salt and fresh herbs in the recipe. They anyways taste so good!!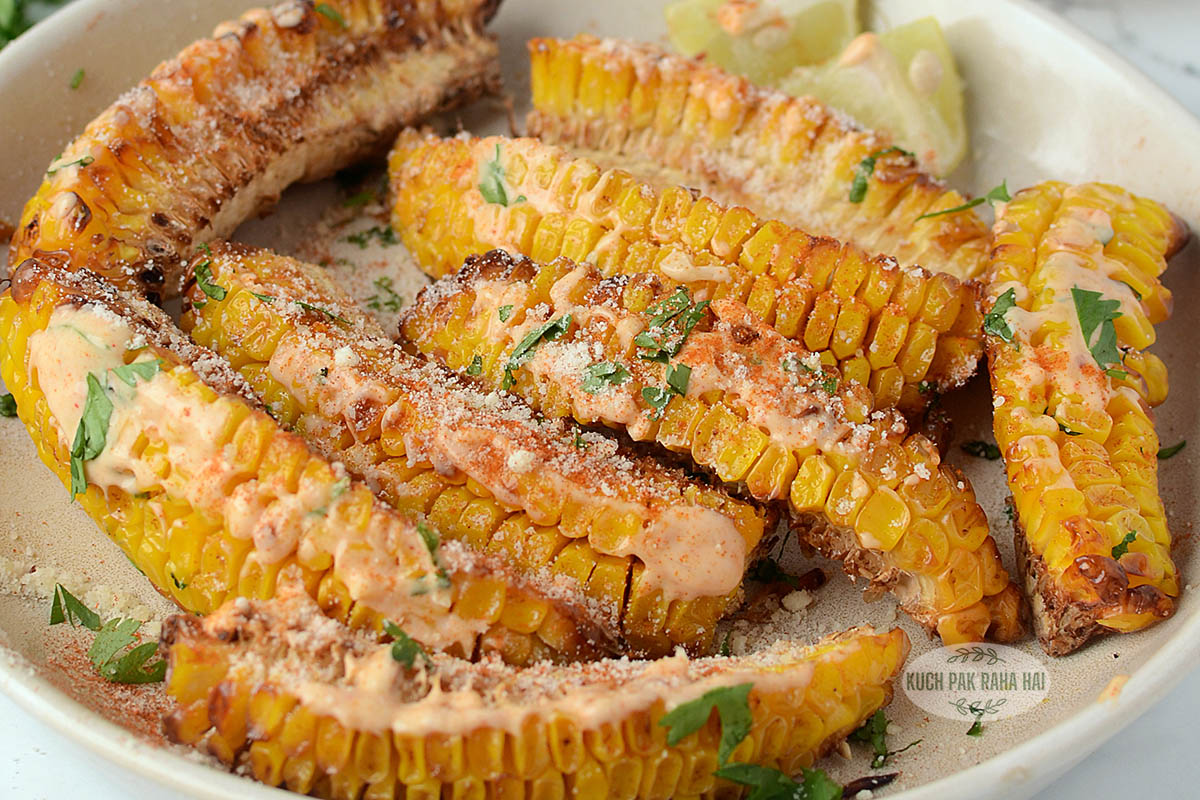 More corn recipes you might like:
Ingredients:
Corn on the cob (husked)- 2
Softened butter / Olive oil- 3 tbsp
Garlic Powder- 1/2 tsp
Smoked Paprika / Red Chilli powder -1/2 tsp
Salt- 1/2 tsp (to taste)
Chopped Cilantro / Coriander – for garnishing
Lemon Juice- 1 to 2 tbsp (optional)
Directions:
Step 1:
To cut the corn ribs, begin by cutting the corn in half using a sharp knife. Keep one of the halves vertically on chopping board. Place the knife in the middle of top part and cut it lengthwise to divide in 2 parts and then cut each of it further to get quarter parts. Repeat this for other halved corn piece also.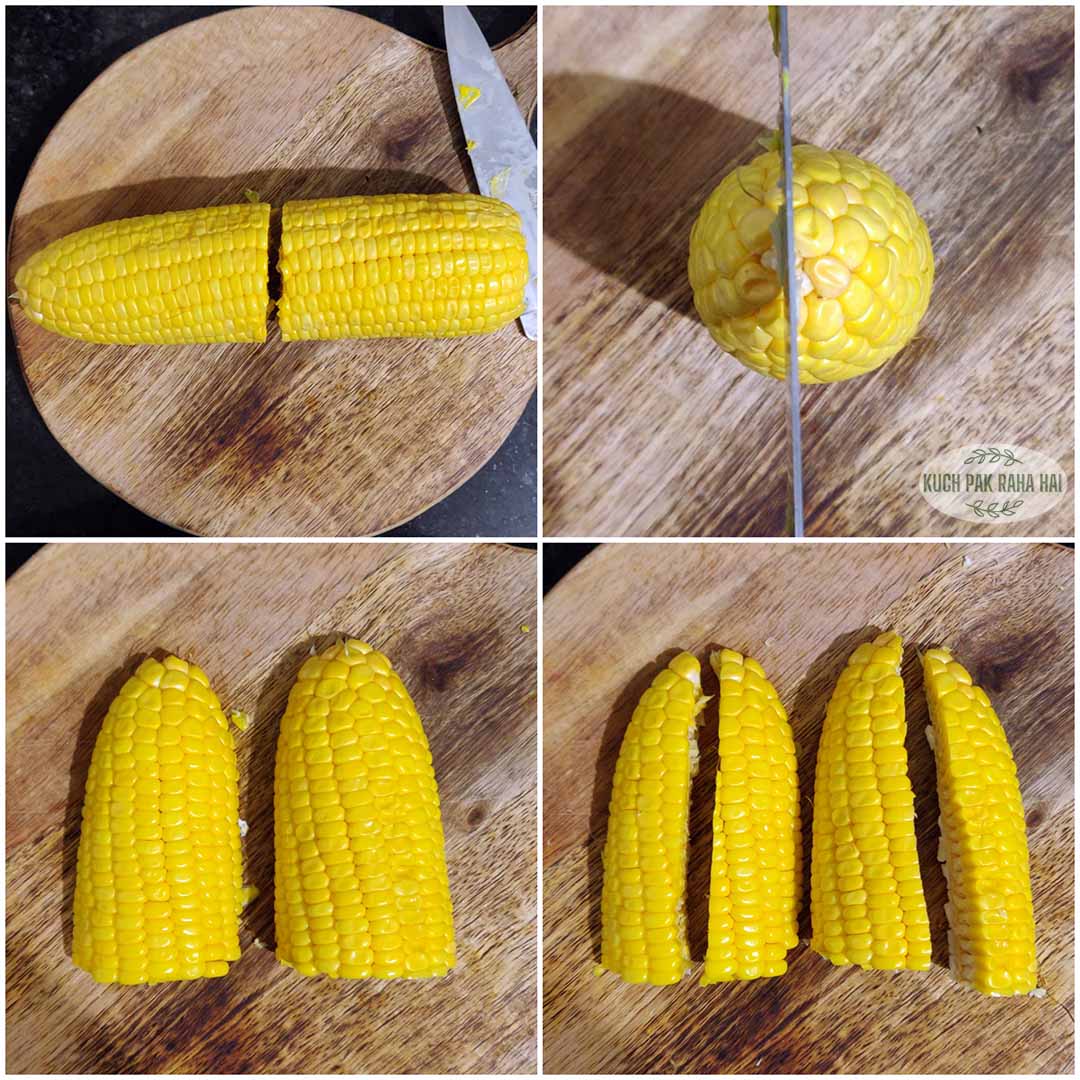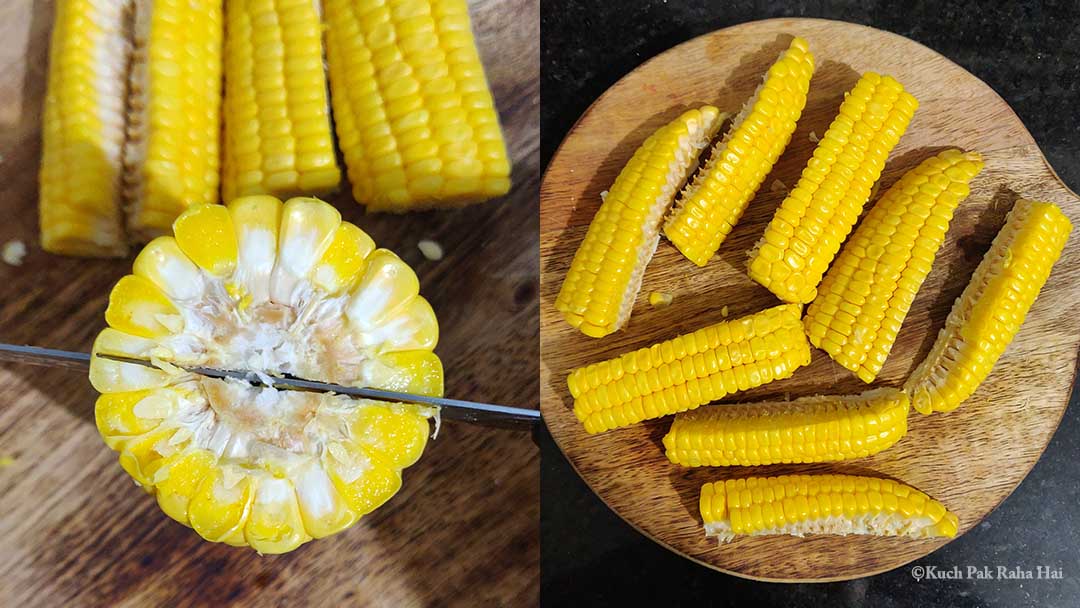 (Tip: If you are not able to cut the whole corn, then you can boil or microwave as explained in the post above. Let it cool down a bit and dab it dry before cutting.)
Step 2:
Mix softened butter (or olive oil), salt, paprika powder (or chilli powder) and garlic powder in a bowl.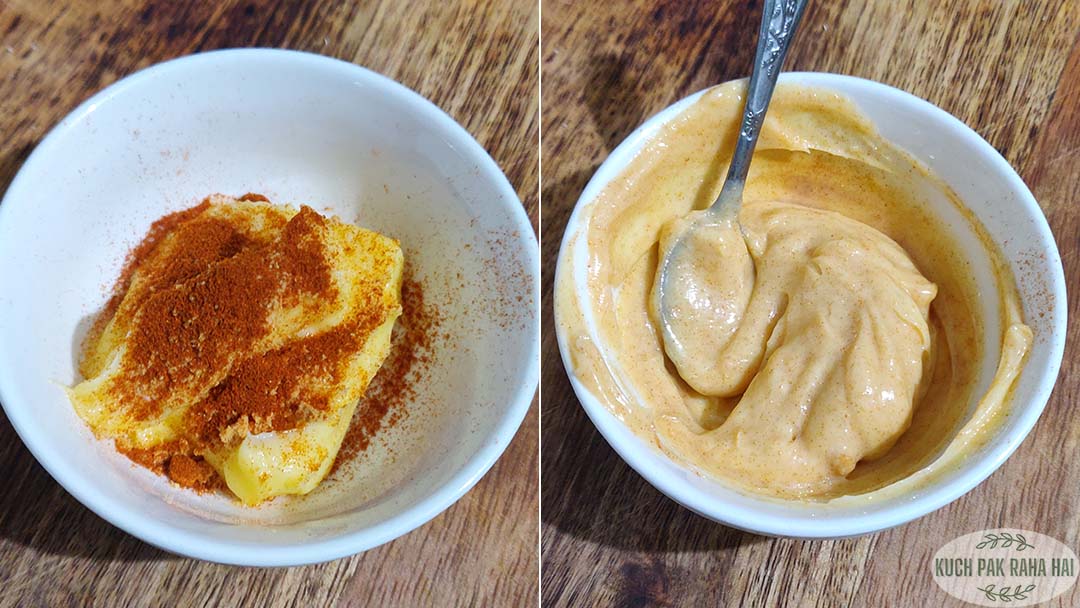 Step 3:
Using a silicon brush or spoon, coat all corn ribs with this herbed butter.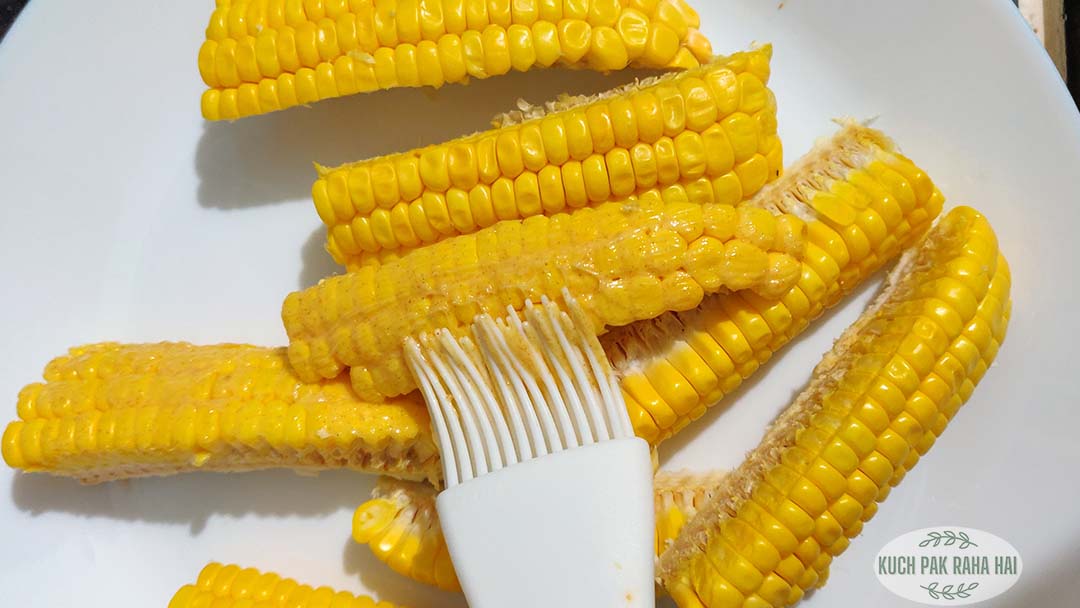 Step 4:
Preheat the air fryer at 200°C (390°F) temperature for 5 min. Transfer these buttered corn ribs in air fryer basket carefully without overlapping.
Step 5:
Air fry the corns at at 200°C (390°F) for 10-12 minutes till you start noticing char marks on them and they become crispy.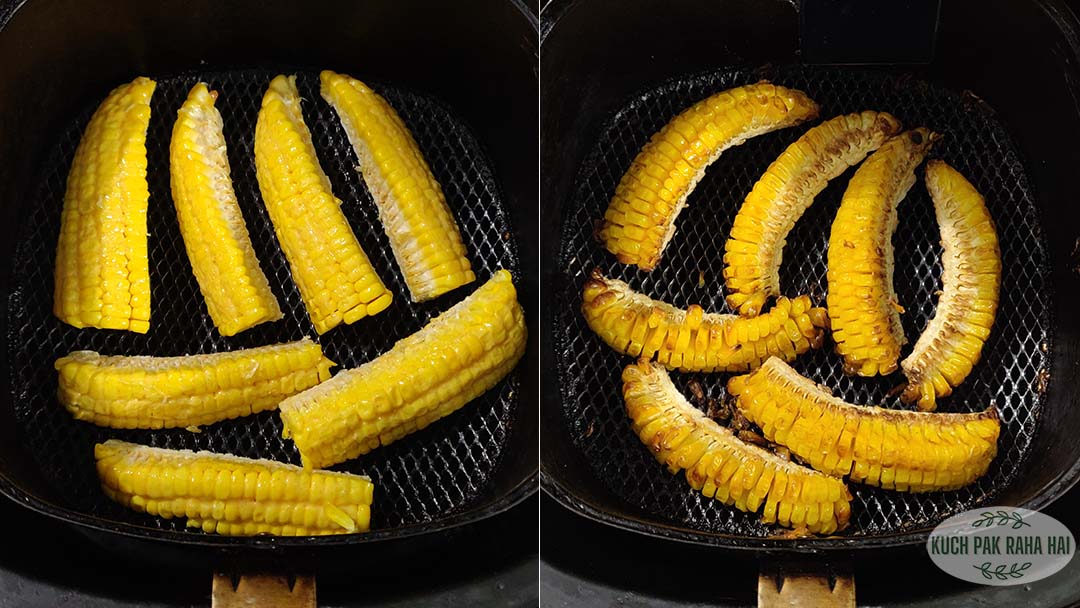 Sprinkle some lemon juice over the ribs or chopped cilantro over these yummy air fried corn ribs (If you like cheesy corn ribs, then you can skip lemon juice and use parmesan cheese.). Enjoy with garlic mayonnaise or any dip of your choice.
How to store & reheat the leftover corn ribs?
Keep any leftovers in fridge in an airtight container for 2-3 days. To reheat, air fry them again at 180°C (356°F) for 2-3 minutes.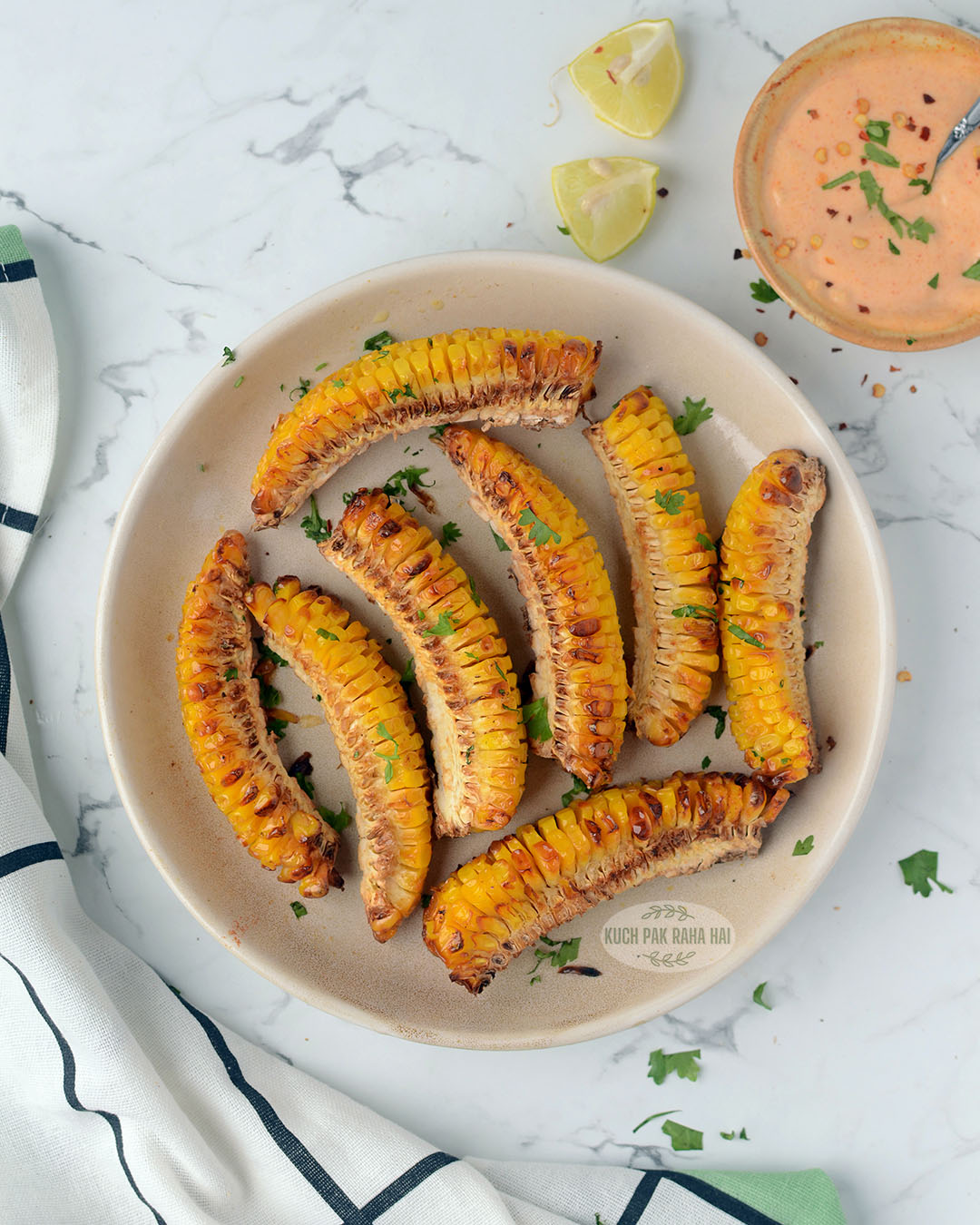 If you try this easy corn ribs recipe in air fryer & share pics on social media, then don't forget to tag on Facebook, Instagram or use #kuchpakrahahai.
Let's stay connected
Facebook | Instagram | Pinterest| Youtube
Pin for later: