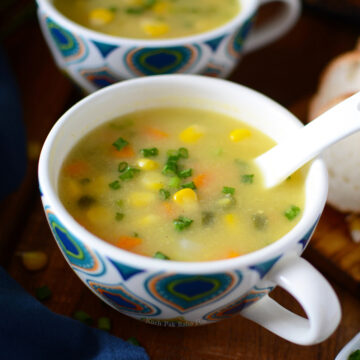 Sweet Corn soup is a delicious vegetarian soup recipe prepared using cream style corn and whole sweet corn kernels. This soup is slightly on sweeter side bursting with corn flavour. For additional flavours and texture, other vegetables like french beans, carrots and spring onions etc are added.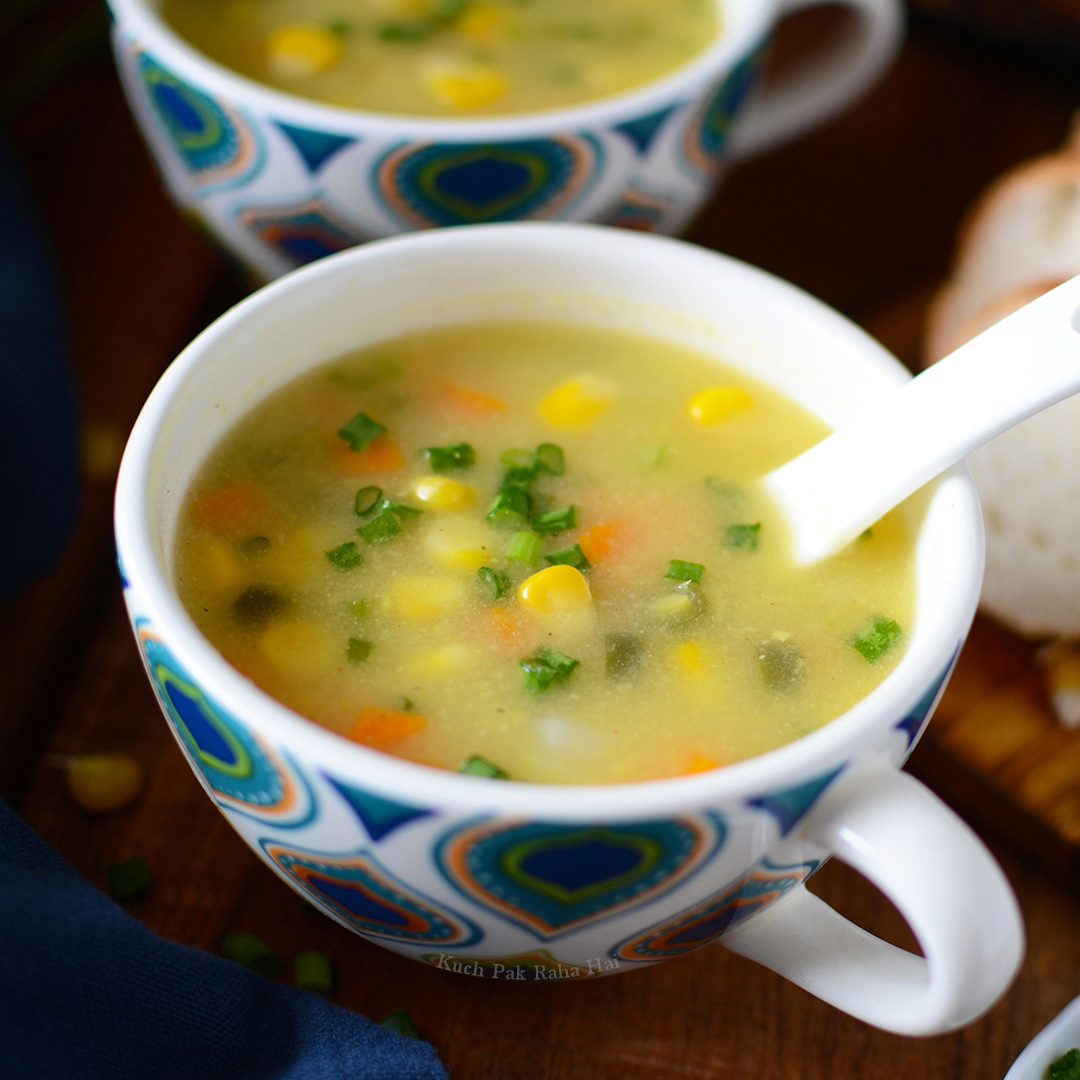 The winters are incomplete without hot steaming cup of soups. The sweet corn soup recipe shared here is quite easy & quick to make. You don't need any vegetable stock or whole lot of ingredients to prepare this soup. To be honest I have been a culprit of using canned corns for making this soup but once I started making soup this way there was no going back.
Apart from sweet corns, other vegetables that are added in this soup are french beans, carrots and spring onion. All these go very well with sweet corn without clashing with its flavours and add lovely contrast of colours to the soup. You can also add some peas and cauliflower too.
You can use fresh or frozen sweet corn kernels for making this soup. If you are using frozen corn then thaw & wash them first. We will be using roughly half the quantity to make corn cream & use rest of the kernels as it is for soft, juicy bursting corn flavour.
For thickening the soup, I have used cornflour slurry. However, if you want to keep it healthier feel free to skip it. As you will see I have used butter to sauté the vegetables in this soup but you can use olive oil also. I personally like using butter in this recipe as butter and corns go so well with each other, literally match made in heaven.Also I don't mind adding little bit of fat in my soups.
Youtube video:
Hope you would like this easy peasy flavoursome sweet corn soup recipe.
More sweet corn recipes: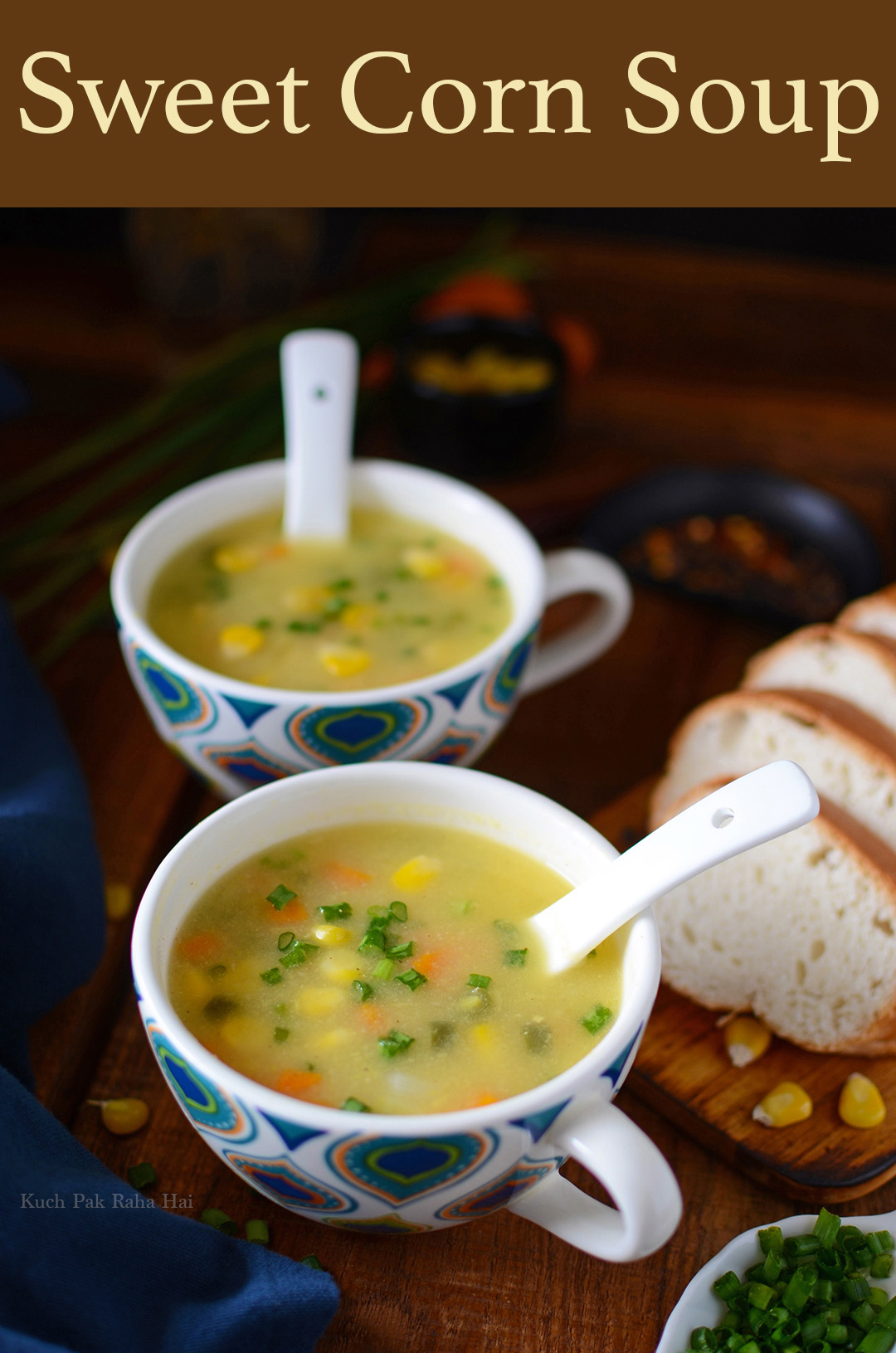 Other soups & salads recipes you might like:
Ingredients: (Makes 3-4 servings)
Water-1 litre + 1/2 cup
Sweet Corn Kernels-1 cup
Chopped Carrots-1/4 cup
Chopped French Beans-1/4 cup
Grated ginger-2 tsp
Chopped Spring Onion(white part)-2 tbsp
Salt- To taste
Crushed Black / White Pepper -3/4 tsp
Sugar- 1 tsp (optional)
Vinegar-1 tsp
Chopped Spring Onion greens-2 tbsp
Cornflour-1 &1/2 tbsp
Butter/Olive Oil-1 tbsp
Notes:
1. For vegan version use olive oil instead of butter.
2. I have used frozen sweet corn kernels. If you are also using frozen sweet corn, wash & thaw them first.
3. Cornflour slurry is added to just thicken the soup. You can skip cornflour for healthier version.
3. You can add other veggies also in this soup like cauliflower or peas.
4. For a brighter colour, just add a pinch of turmeric.
5. Vinegar & sugar are added to balance the sweet sour flavours of soup. You can skip sugar if you want.
7. You can use frozen or fresh sweet corn kernels in this soup recipe..
Directions:
Step 1:
Add 1/4 cup sweet corn kernels and some water to a blending jar. Blend well till you get smooth sweet corn cream. You can take upto 1/2 cup corn kernels for more intense flavour & colour. Keep it aside.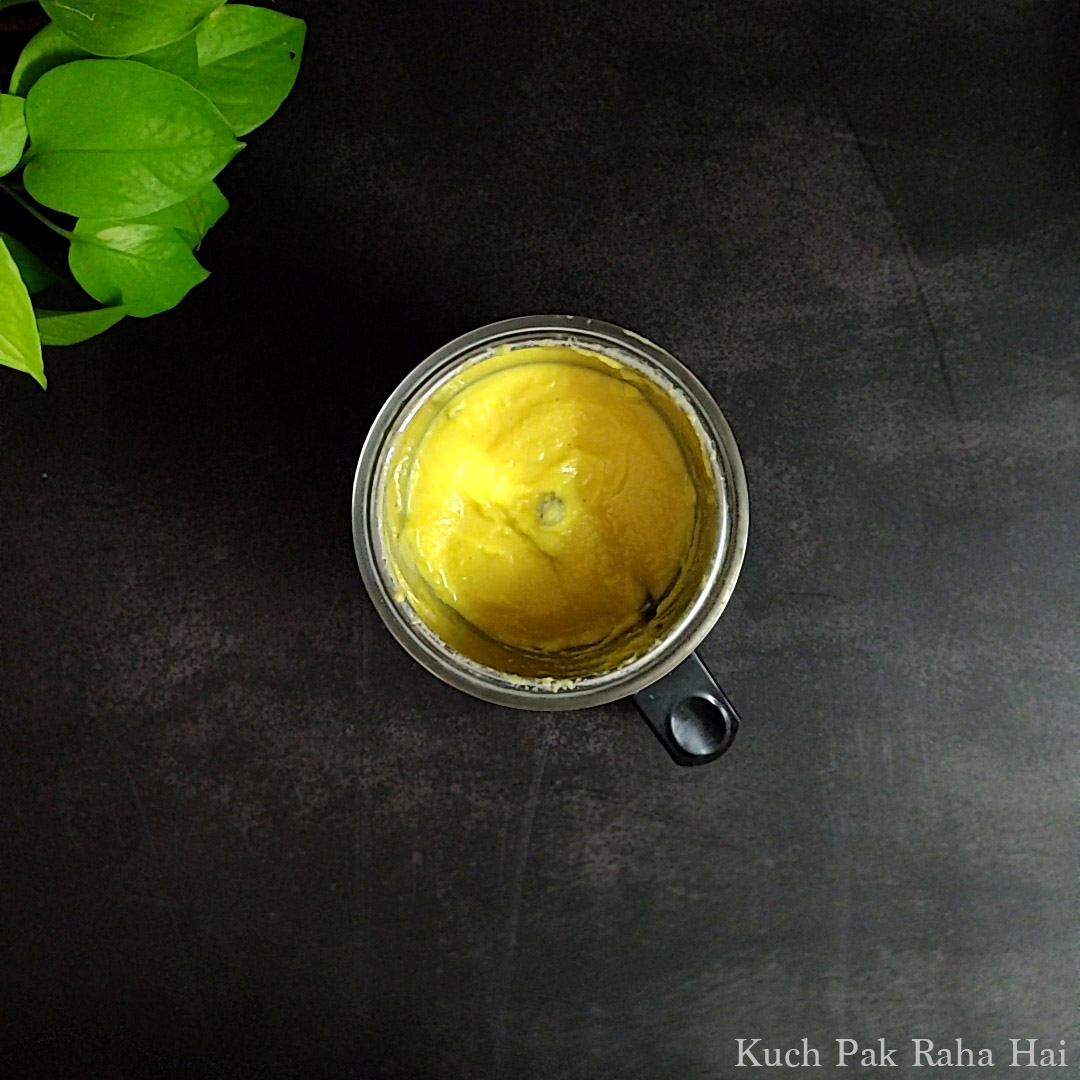 Step2:
Heat butter or olive oil in a pan or kadhai. Add chopped carrots, french beans, grated ginger & white spring onion. Sauté for 2 minutes.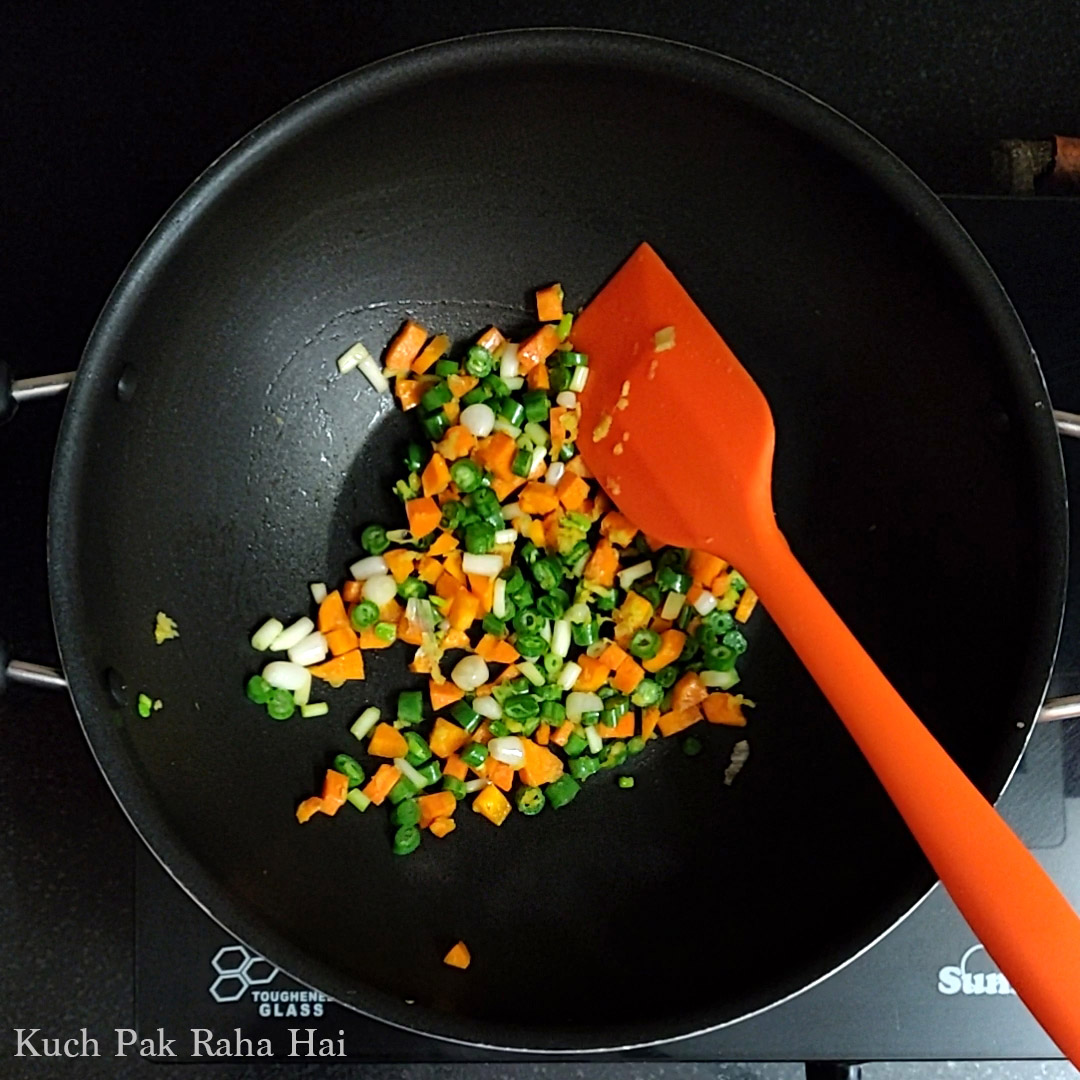 Step 3:
Add 1 litre of water to the above pan along with sweet corn cream and remaining sweet corn kernels. Mix well. Bring it to boil. Instead of water you can use vegetable stock also.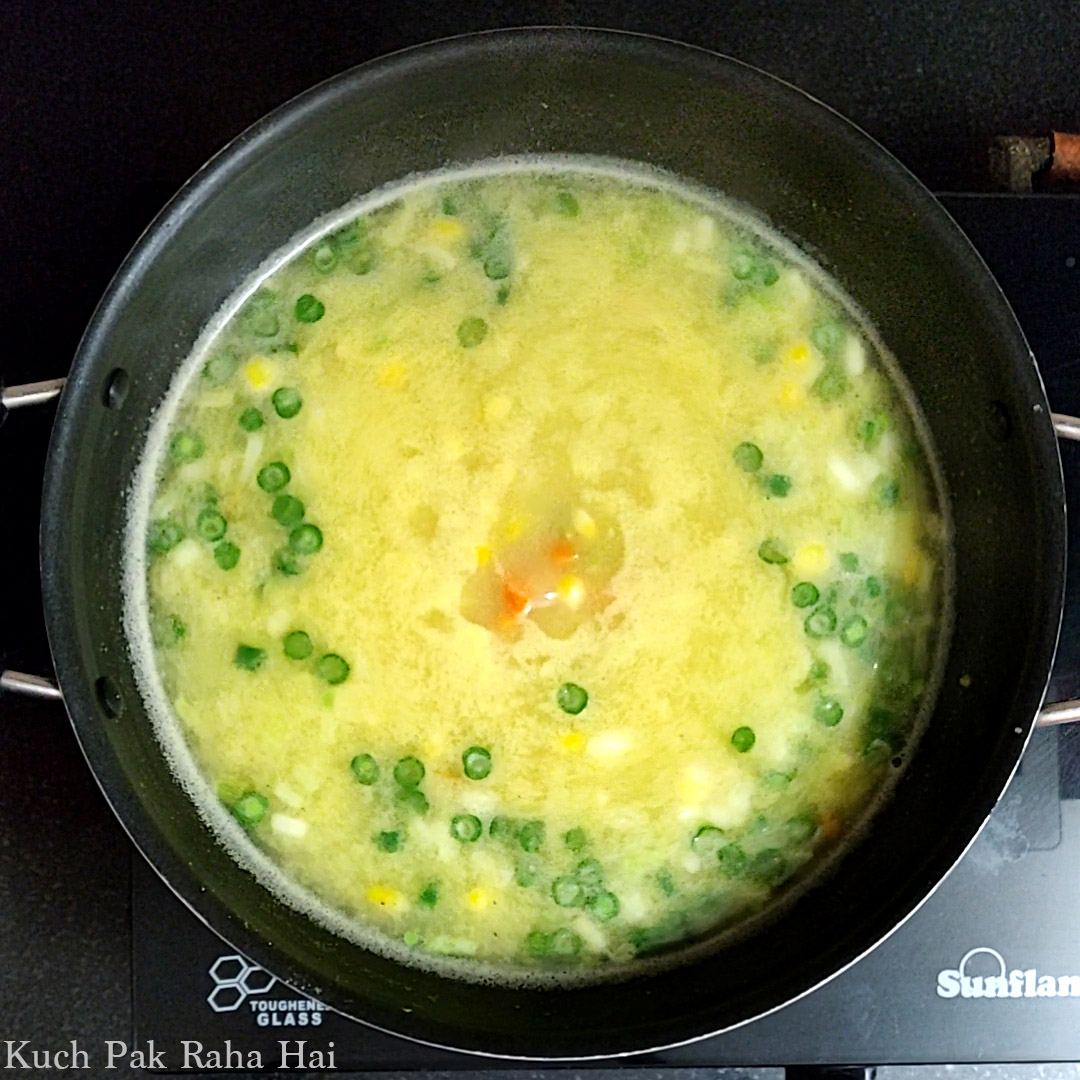 (You might notice some scum coming on top. Remove it with a spoon. This is an optional step & is done for clearer soup.)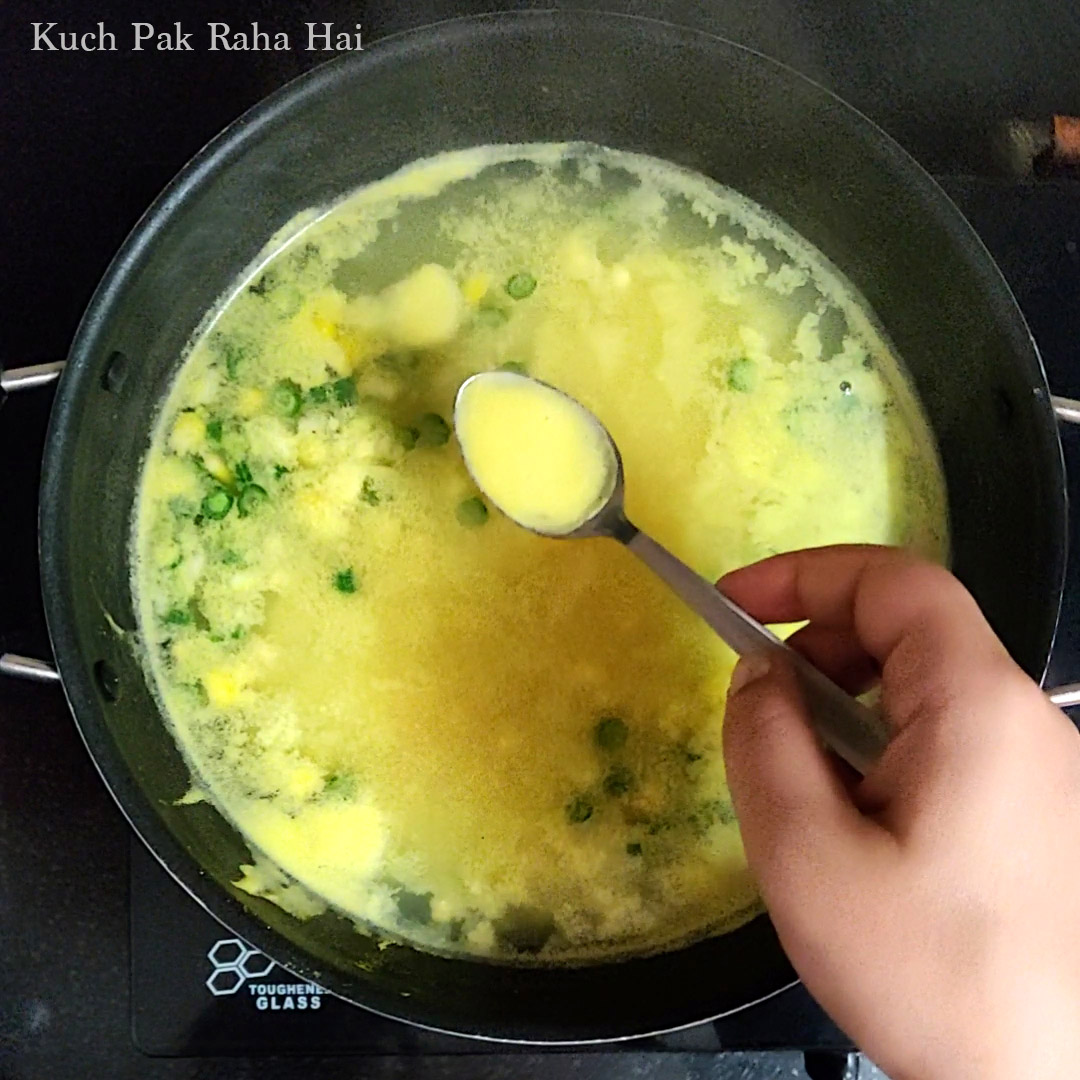 Step 4:
Add salt, sugar and black/white pepper powder. Stir once again & simmer for 7-8 minutes.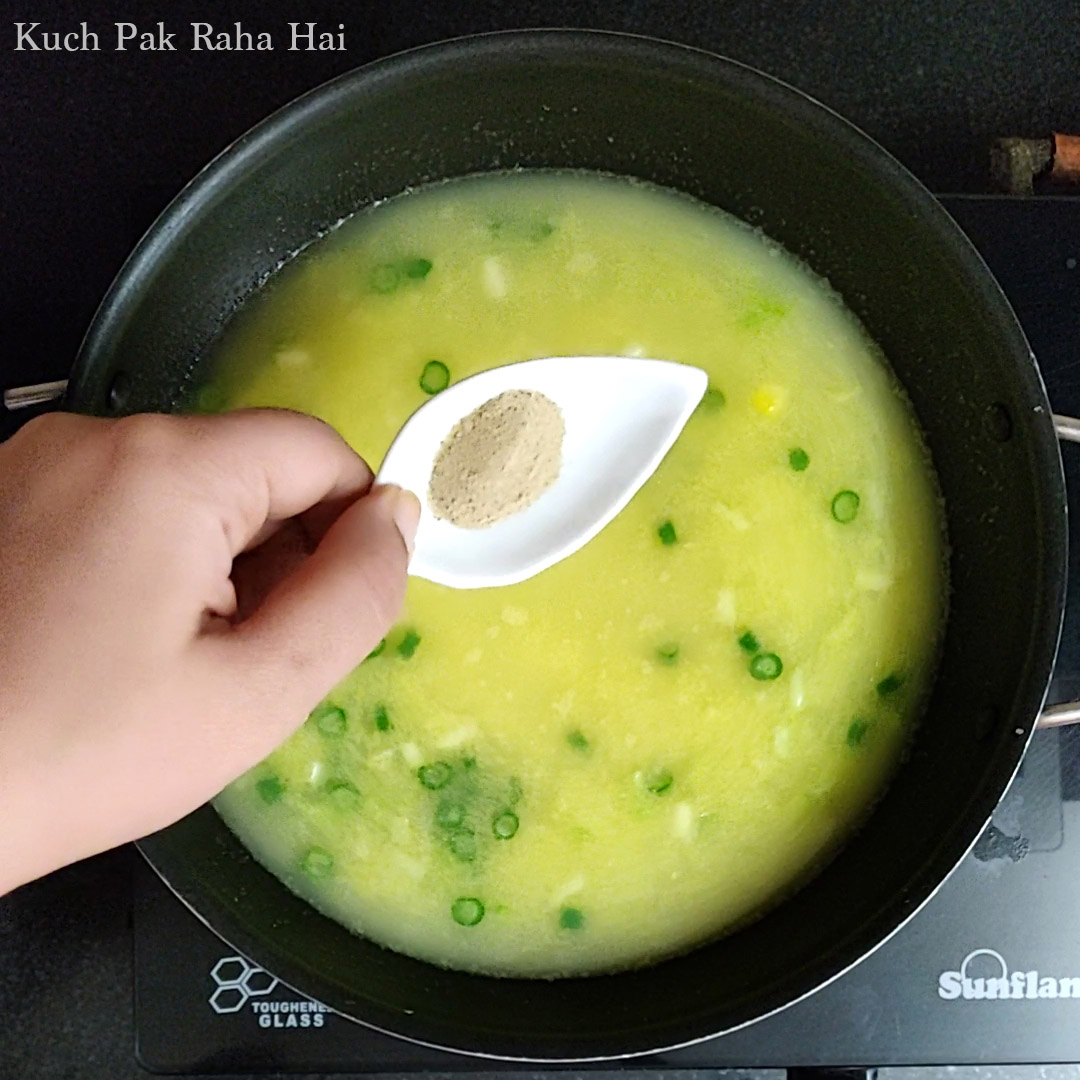 Step5:
Dissolve cornflour in 1/2 cup water and add it to the soup. Mix well so that it does not settle down. Let the soup cook on medium flame for 2-3 minutes and you will notice soup thickening up. Add vinegar and mix once again. Switch off the flame.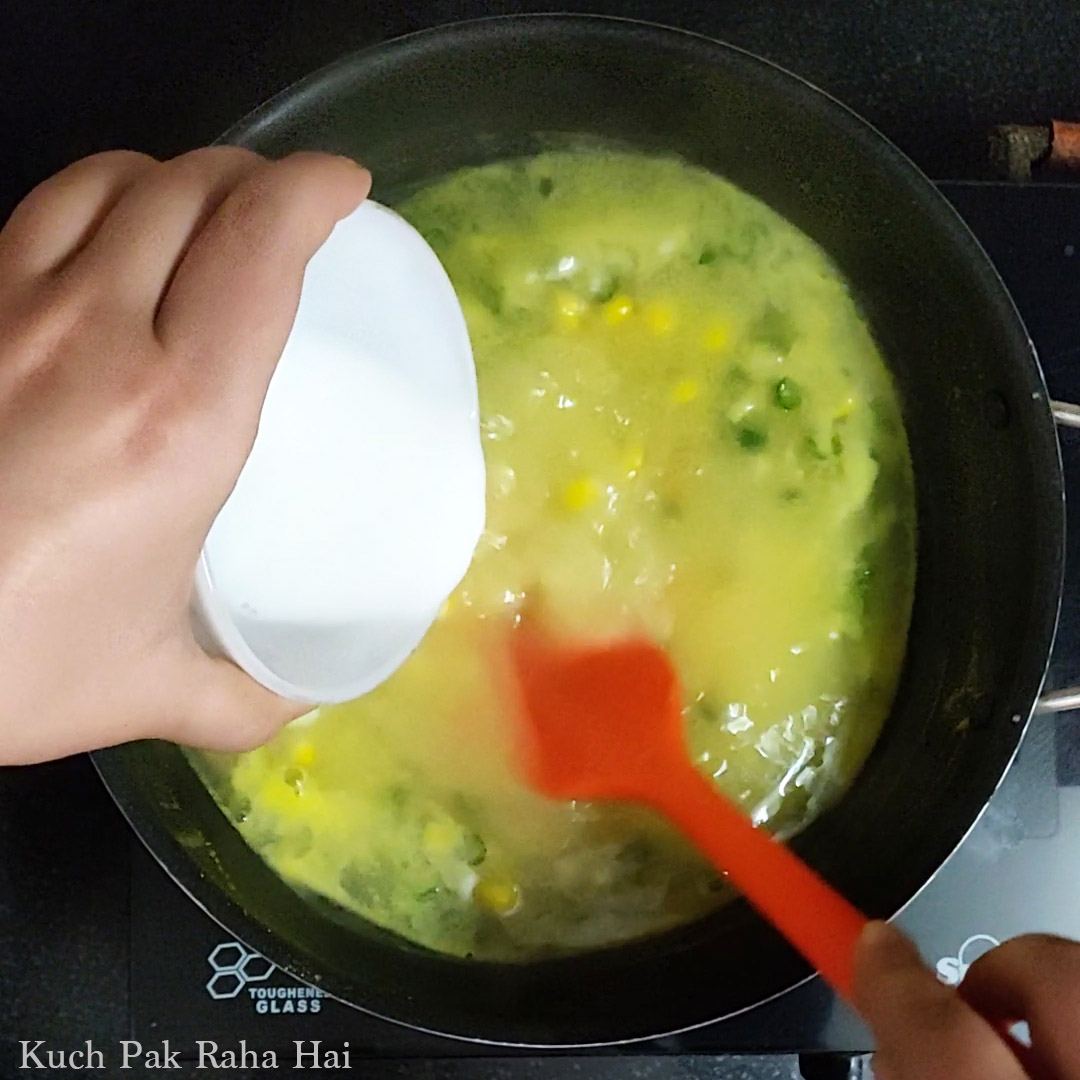 Delicious creamy sweet corn soup is ready. Garnish it with some freshlu chopped spring onion greens!!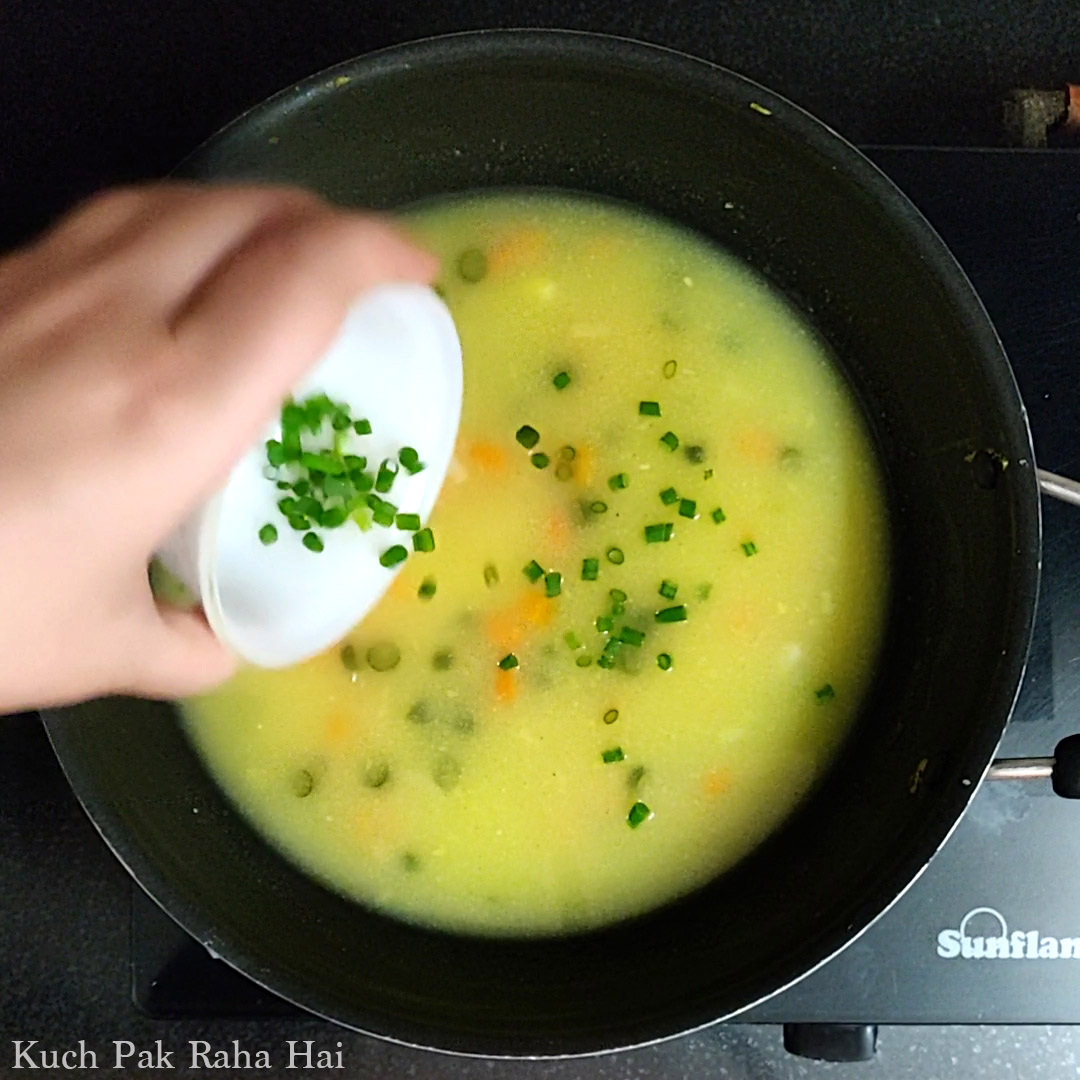 Enjoy hot steaming bowl of sweet corn vegetable soup. Bon Appetit!!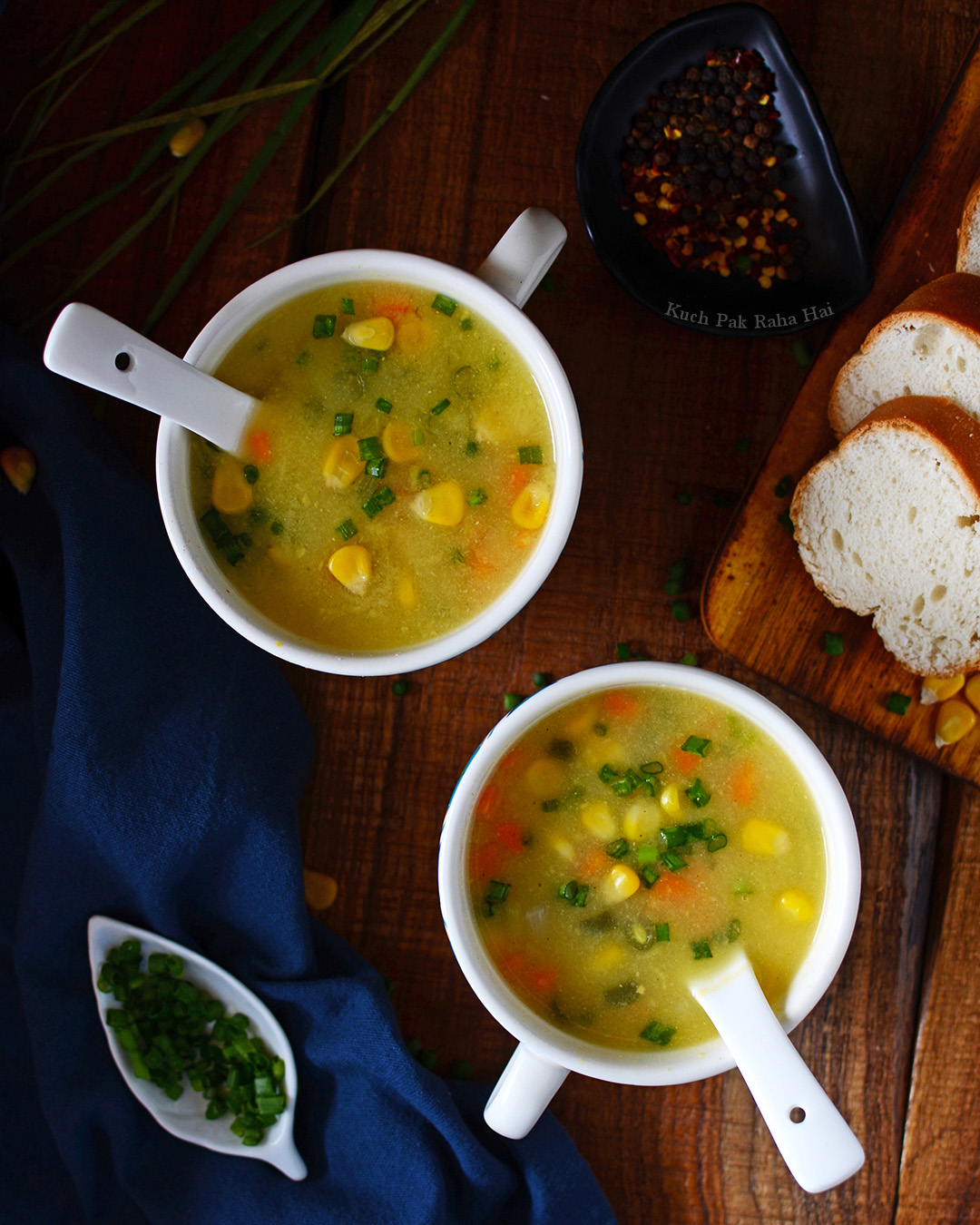 If you try this sweet corn soup recipe & share pics on social media, then don't forget to tag us on Facebook or Instagram or use #kuchpakrahahai.
Let's stay connected
Facebook| Instagram| Pinterest|Youtube