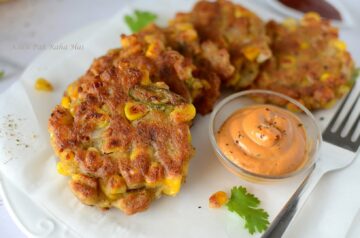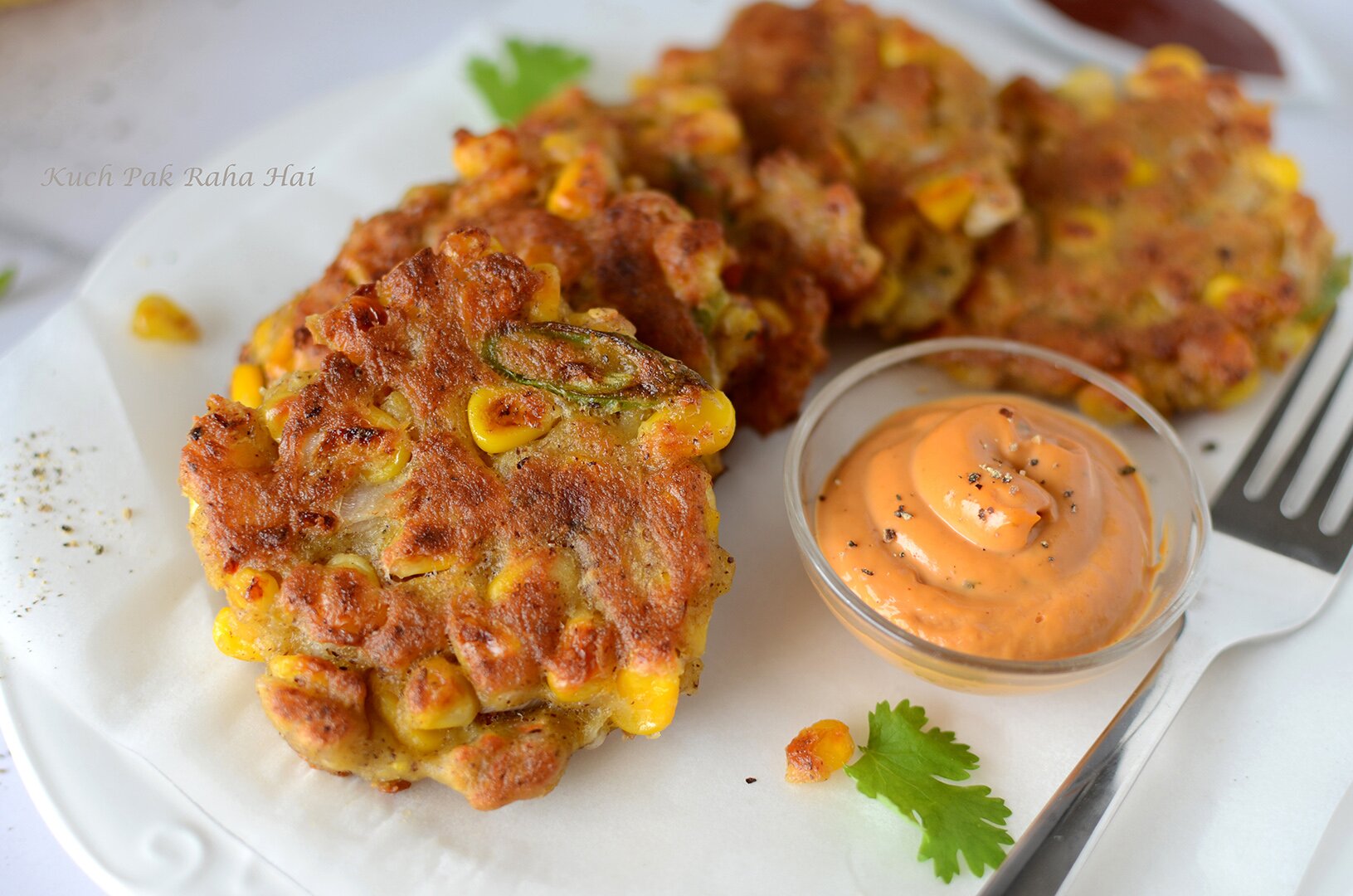 Crispy Corn Fritters is a delicious snack recipe made primarily using sweet corn kernels. These fritters are crunchy from outside, soft inside & mildly sweet. They can also be served as starters or appetisers. Generally eggs are used in making this recipe but in this post we will be making it without eggs.
Different countries have their own versions of corn fritters. In India, corn fritters or "Bhutte Ke Pakode" are made by pureeing fresh corns, mixed with boiled potatoes & deep fried. In United States, flour & eggs is used in making these corn fritters & they are eaten as fried cakes (with flat round shape). In Indonesia, these crispy corn fritters are known by the name "Bakwan Jagung" or "Perkedel Jagung" where Jagung means 'corn' in english.
It is a vegan corn fritter recipe. Instead of regular egg we will be using flax egg which is basically 1 tbsp flaxseed meal mixed in 3 tbsp of warm water. We will use sweet corn two ways in this recipe. We will use both sautéed corns & corn puree to get maximum corn flavour in our fritters. You can use both fresh corns kernels or frozen ones in this recipe. If you are using frozen corns, then make sure you thaw them & bring them to room temperature before using.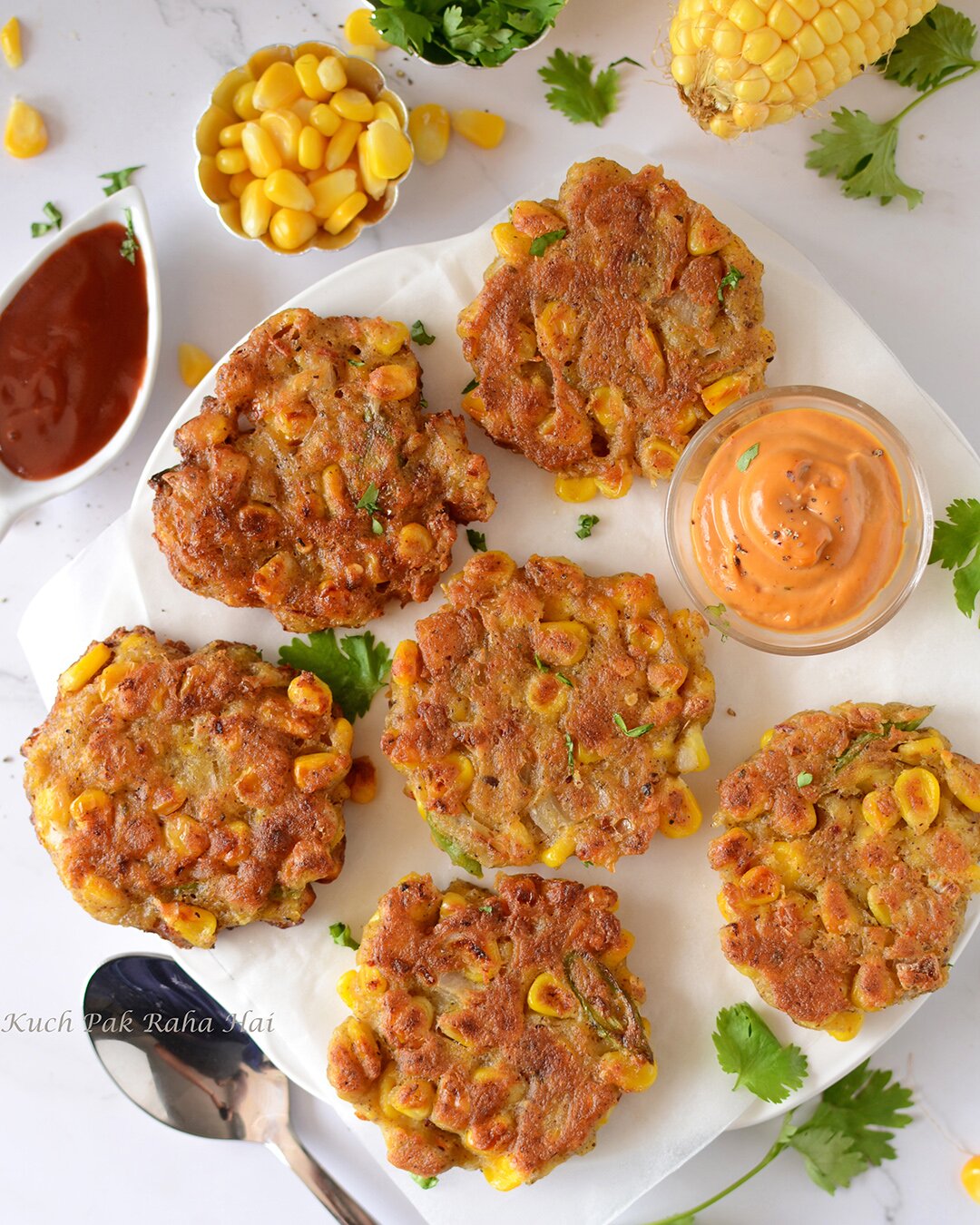 This is an easy & quick sweet corn fritter recipe which will not take much time in preparation. The spiciness can be adjusted as per your own taste preference. Apart from regular seasoning, onion, garlic, green chilli and some spring onion has been used which taste very good in these fritters. If you don't have spring onion you can even use some freshly chopped coriander.
Some milk has been used in making the batter. For vegan version, use soy milk. Little bit of baking powder has also been added to give these fritters a lighter texture. If you are a fan of cheese, you can add some grated cheese too to make cheesy corn fritters.
The only trick in making these corn fritters is to have the balance between the quantities of flour & corn. Too less flour means less binding and the corn fritters will break while turning. Too much flour will lead to doughy & dense fritters. I would advise following the recipe exactly & am sure you will get prefect fritters in first attempt.
When it comes to serving, I like these corn fritters most with Chipotle Mayonnaise. The slight sweet taste from sweet corns mixed with spiciness of chipotle is absolutely delightful. You can also serve it with ketchup or garlic mayo.
Youtube Video:
These vegetarian corn fritters are prefect way to enjoy fresh in-season corns. More sweet corn recipes:
Hope you would like this yummy crispy sweet corn fritters recipe!!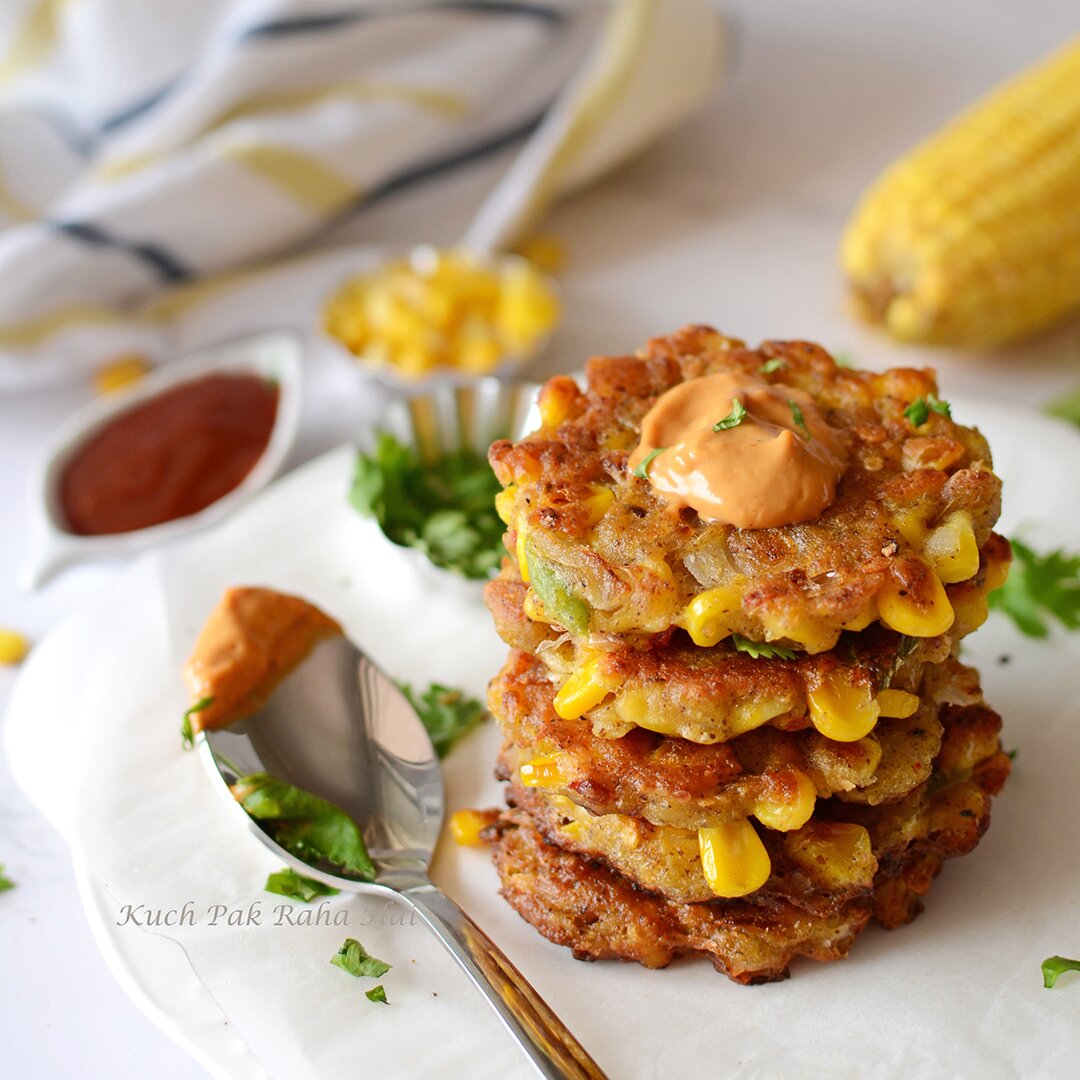 List of Ingredients: (Makes 8 pieces)
Sweet Corn kernels – 1 & 1/2 cup
Finely Chopped Onion – 1/4 cup
Crushed Garlic cloves – 3 to 4
Chopped spring onion greens – 1 tbsp
Chopped Green Chilli – 1
Flax egg – ( 1 tbsp Flax seed + 3 tbsp warm water)
All purpose flour – 1/4 cup + 2 tbsp
Cornflour – 2 tsp
Baking Powder – 1/2 tsp
Salt – 1/2 tsp (or to taste)
Chilli Flakes – 1/4 tsp
Crushed Black pepper – 1/4 tsp
Mixed herbs seasoning – 1/4 tsp
Milk – 2 to 3 tsp (For vegan version, use soy milk)
Cooking Oil – 1 tsp + 4 tbsp
Chopped Coriander – For garnishing
Steps To Prepare:
Step1:
In a small bowl, add 1 tbsp flax seed powder & 3 tbsp warm water. Mix well. This is our flax egg. Keep it aside.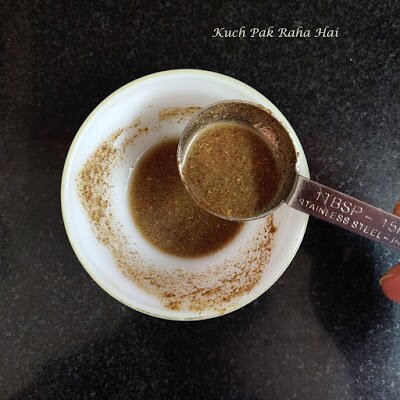 Step2:
If you are using frozen corn kernels then bring them to room temperature once. In a non stick pan, add 1 tsp oil & add 1 cup corn kernels. Stir fry on medium-high flame till you notice slight brown spots on them. Keep it aside.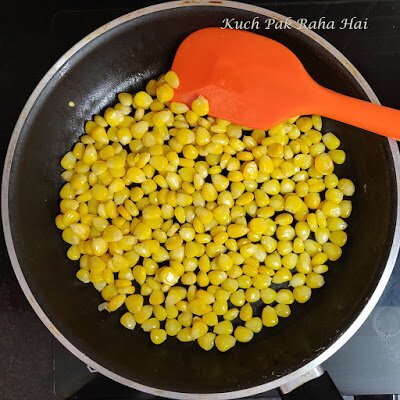 Step3:
Blend the remaining 1/2 cup corn kernels into puree.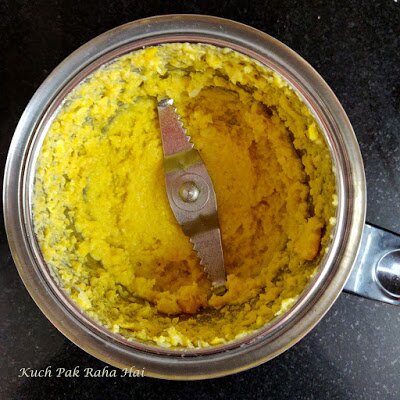 In a mixing bowl, add flour, cornflour, flax egg & corn puree into it. Add salt, baking powder & rest of the seasoning. You can adjust the amount of chilli flakes or black pepper as per your taste. Add milk gradually to the mixture & not in one go. Whisk well to form thick slurry. The mixture should not be flowy but thick.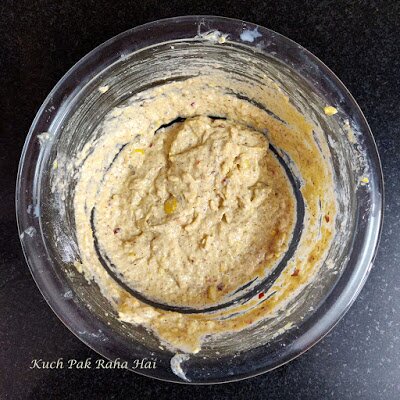 Step4:
Add sauteed sweet corn kernels & rest of the veggies in mixing bowl. Fold it gently using a spatula. If you are making this recipe for kids then skip green chilli. The mixture should look as shown below. There should not be any liquid separate from the mixture. In case you feel the mixture has more moisture add 1 or 2 tsp of more flour.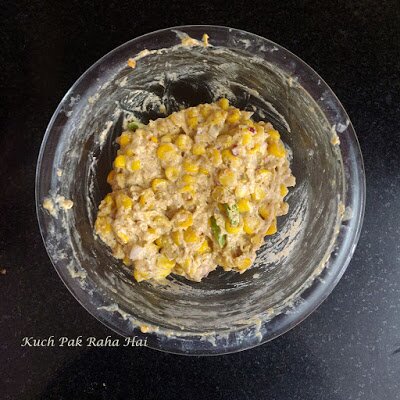 Step6:
Heat 4 tbsp oil in a non stick pan. Leave a big spoonful of mixture in the pan & flatten it with back of spoon to give it flat disc shape.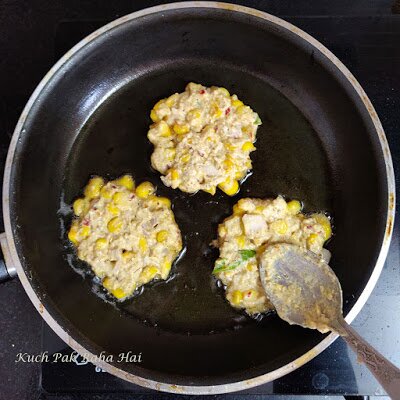 Cook on both sides till they are crispy golden brown on each side.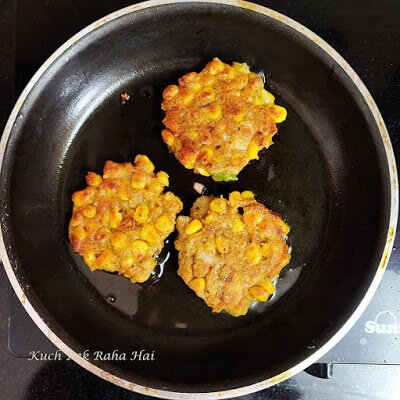 Garnish it with some freshly chopped coriander. Serve it with Chipotle Mayonnaise or ketchup.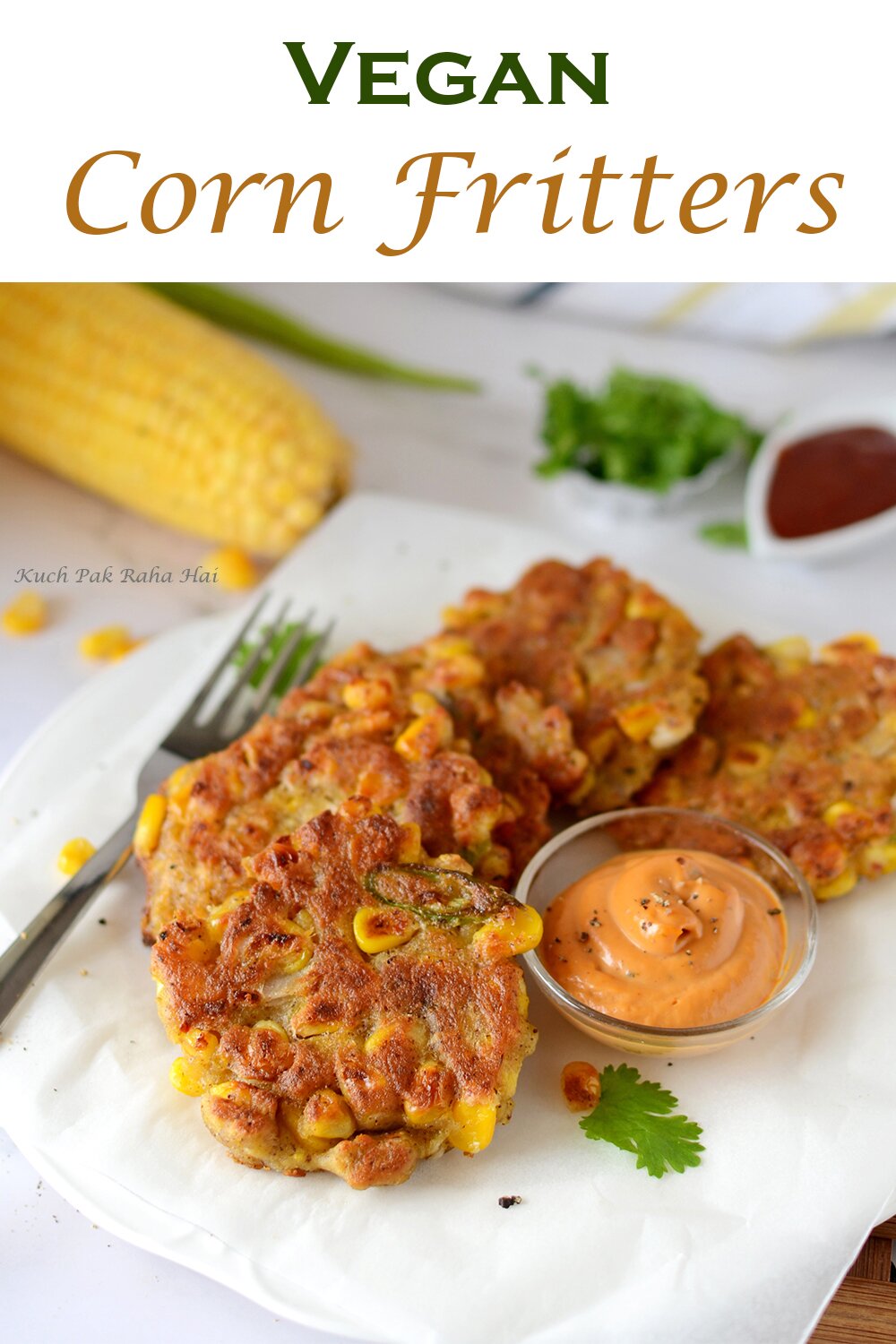 Corn Fritters in Air Fryer
Just sharing a tip here. You can try making these corn fritters in air fryer too. This is what I did 👇
I half cooked these corn fritters on pan once, just enough so that they retain their shape. At the time of serving, I preheated my air fyer at 180 degree celsius and then air fried these corn fritters for 5-8 minutes. The time varies as per the air fryer model, so adjust it accordingly. This saved my time & effort as well & hot crispy corn fritters were served to guests :).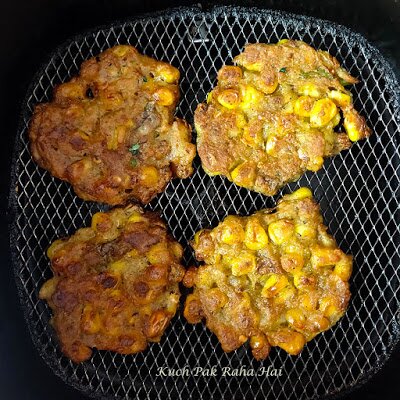 If you try this recipe then don't forget to tag us on Facebook or Instagram or use the hashtag #kuchpakrahahai. We regularly share food videos on Youtube channel too. If you like the recipes, then do subscribe to our channel too.