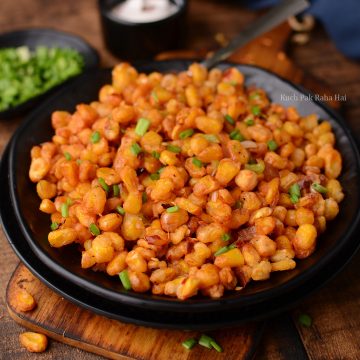 Crispy Corn or crispy fried corn is an easy to make, delicious vegetarian snack or appetiser recipe made with sweet corn. The sweet corn kernels are first deep fried or air fried which makes them crunchy and then they are tossed in spices.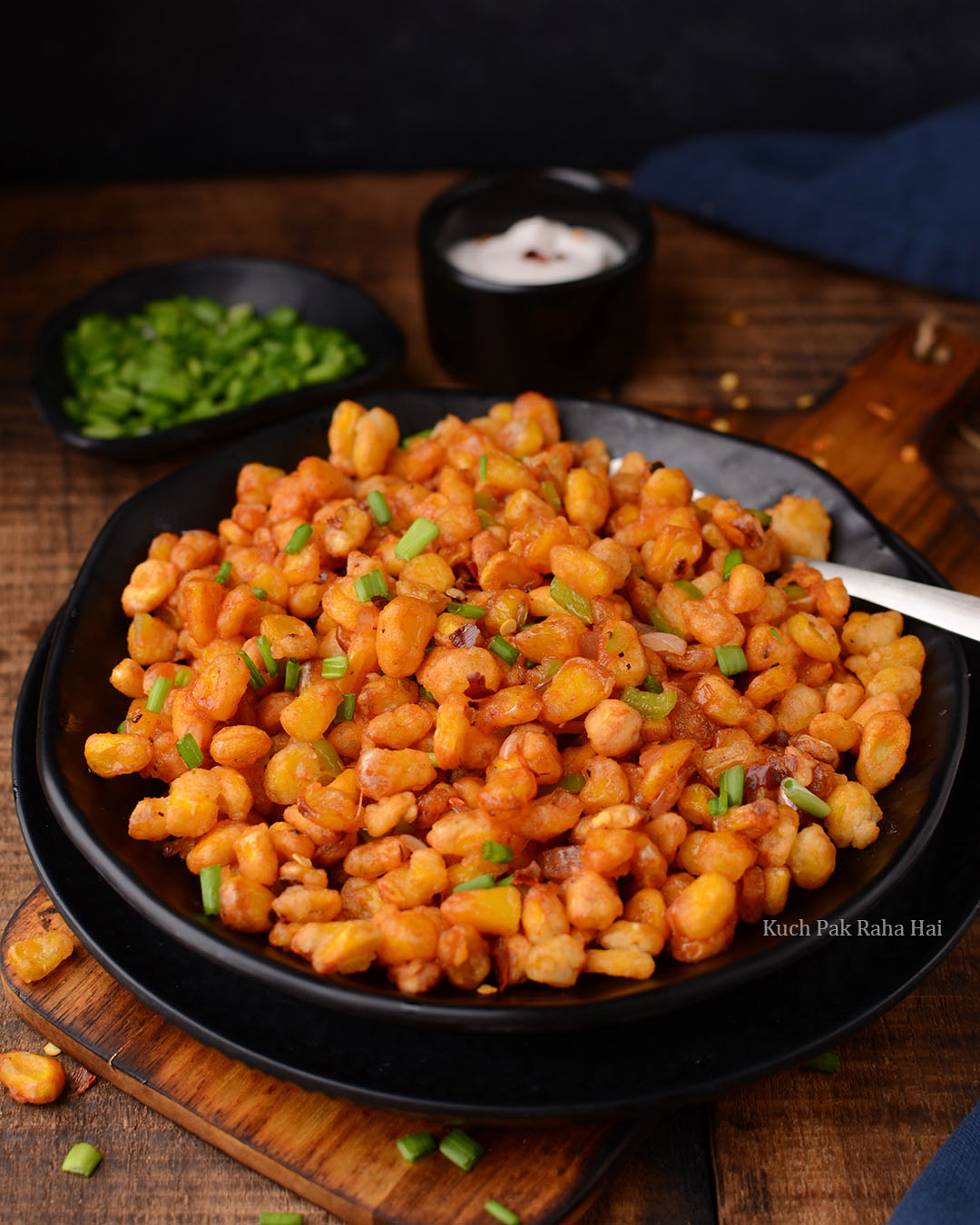 This crispy fried corn is also known as 'Barbeque nation style crispy corn' as it was first served in the Barbeque Nation restaurant and got popular from there. It is typically served with some mayonnaise or ketchup and is an absolute treat for the taste buds.
The crispy corn recipe shared here is:
Vegan
Vegetarian
Can be made on stovetop or air fryer
Great option for snack or appetiser.
(Both deep frying & air fryer methods are explained in the post.)
I tried this recipe 2-3 times at home and finally came up with this recipe which tastes pretty same as the one served in restaurants. If you follow the measurements and steps as shared in the recipe below I am sure you will nail it in the first attempt.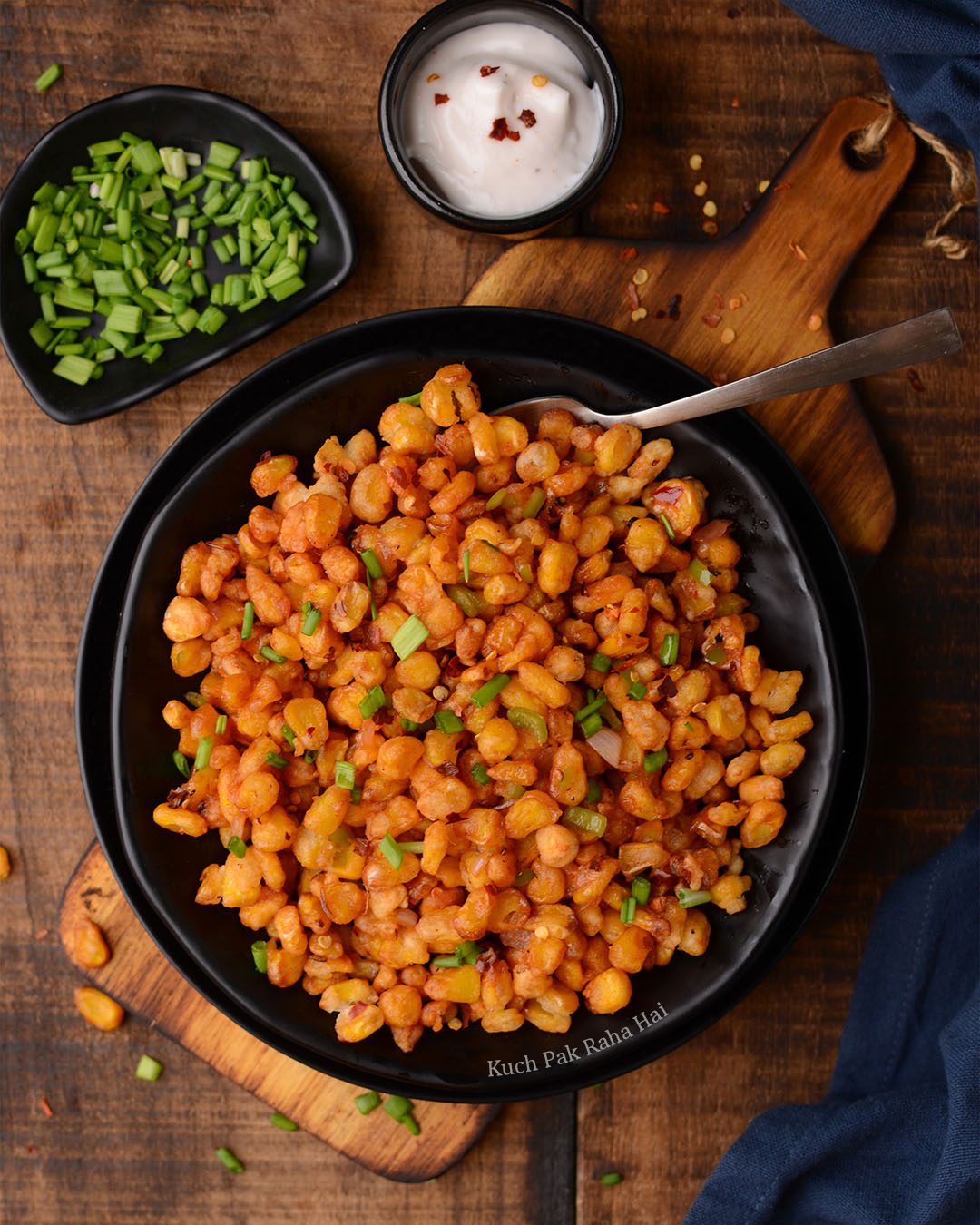 How to make crispy corn?
The main part of this recipe is to make sure the sweet corns are crunchy after frying. For this, they need to be coated evenly with a cornflour & all purpose flour (maida). Then the corns should be air fried or deep fried on medium-high flame.
If the corns are fried on low flame they become soggy instead of getting crispy. These crispy sweet corn kernels are then finally tossed in a mixture of finely chopped ginger, garlic, onion, soy sauce, ketchup etc.
More Sweet Corn Recipes :
Hope you would like this simple crispy corn recipe !! Don't forget to checkout the tips shared at the end of the post.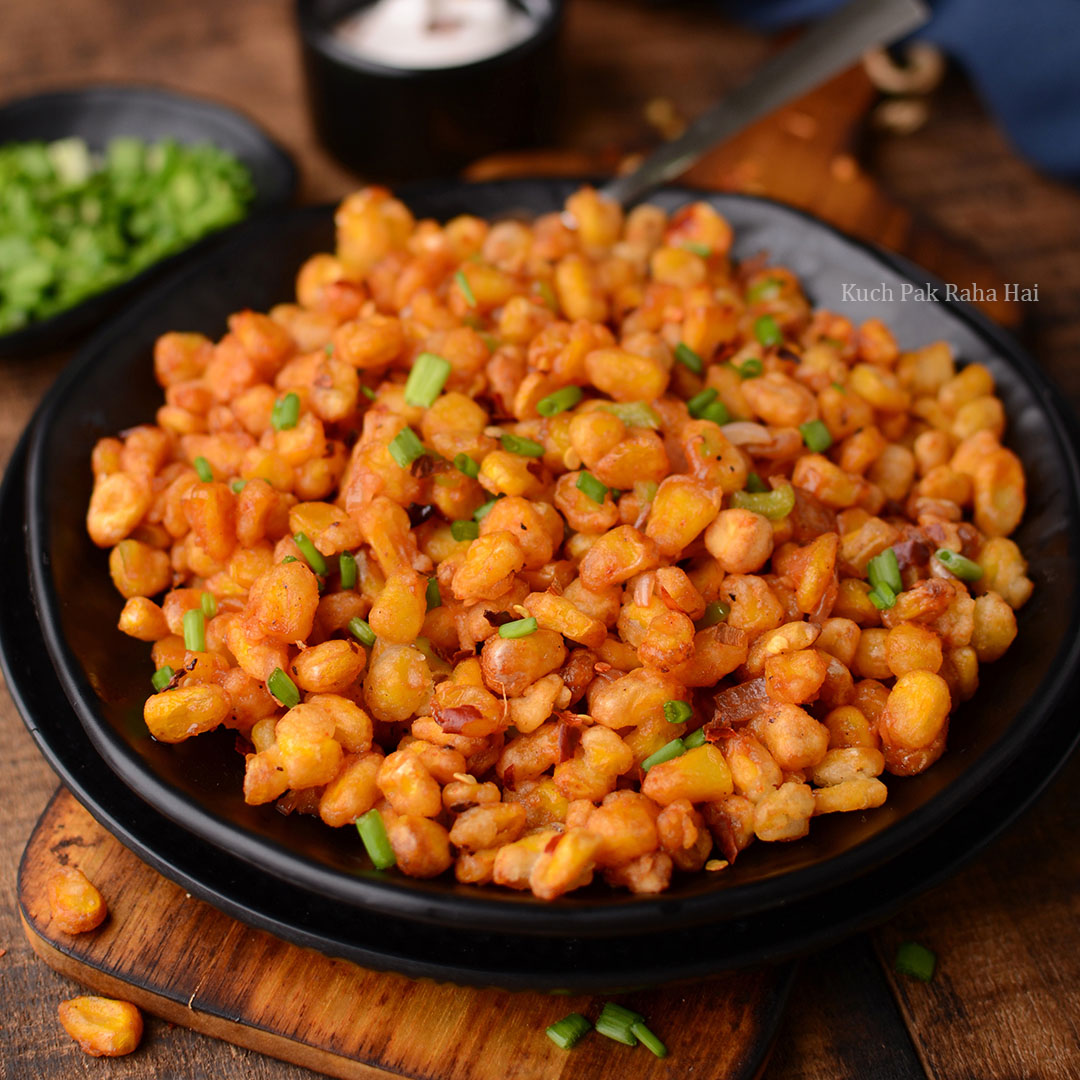 Ingredients:
Corn Kernels- 2 cups (frozen)
Water- 4 cups (for boiling)
Cornflour- 2 to 3 tbsp
All Purpose Flour (Maida)- 2 tbsp
Oil- For cooking
Spices / Sauces:
Oil-2 tsp
Ginger Paste- 1 tsp
Garlic- 4 to 5 cloves
Chopped Onion-3 tbsp
Chopped Capsicum-3 tbsp
Soy Sauce-1/2 tsp
Tomato Ketchup-2 tbsp
Chilli Sauce-2 tsp
Crushed Black Pepper-1/2 tsp
Red Chilli Flakes-1/2 tsp
Salt- 1/4 tsp (to taste)
Spring Onion Greens-For garnishing
Directions:
Step 1:
Wash & thaw the frozen corn kernels. Boil water in a pan, add some salt to it and then boil these sweet corn kernels in it for 5 to 6 minutes.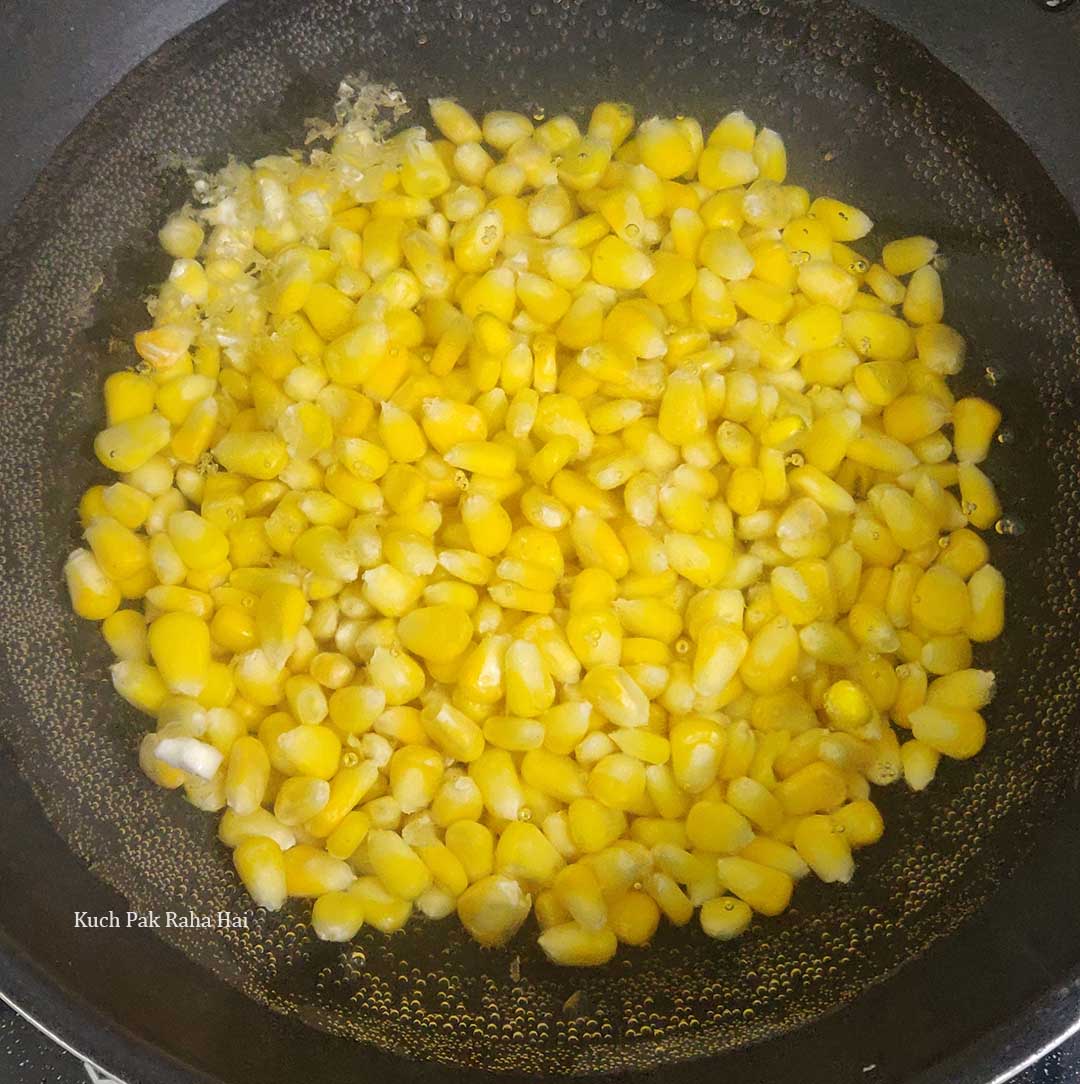 Step 2:
Drain off the water & transfer the sweet corns in a mixing bowl. Let them cool down for sometime. Add cornflour, all purpose flour (maida) and salt to it. Shake the bowl so that all corn kernels are coated with flour.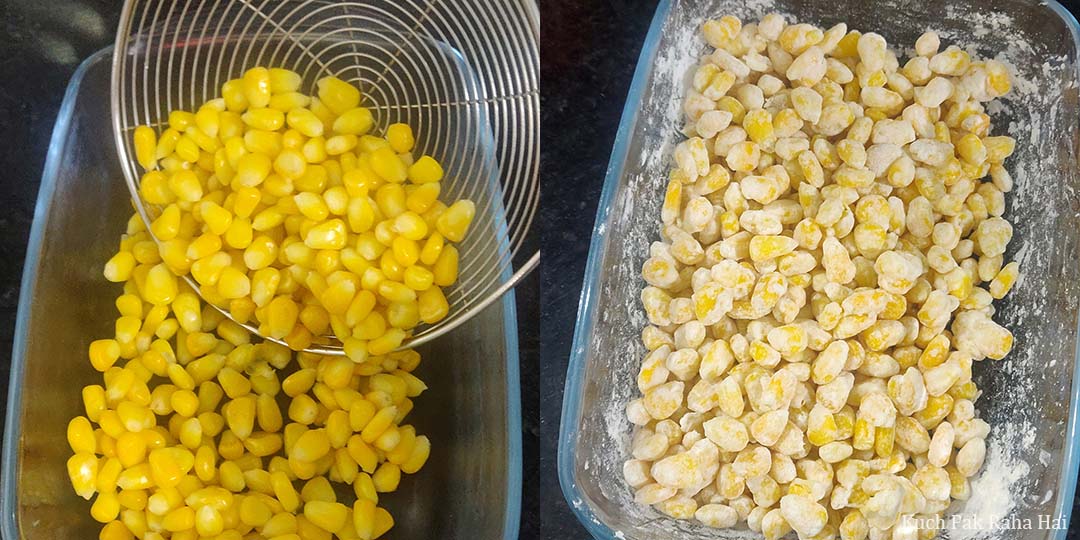 Tip: If the flour is not sticking to the corn kernels, drizzle 2-3 tsp water on them and add some more cornflour & all purpose flour. Shake the bowl once again. Repeat this process till all corns are coated evenly with flour.
Step 3:
Transfer these flour coated corn kernels on a colander in to get rid of excess flour (if any).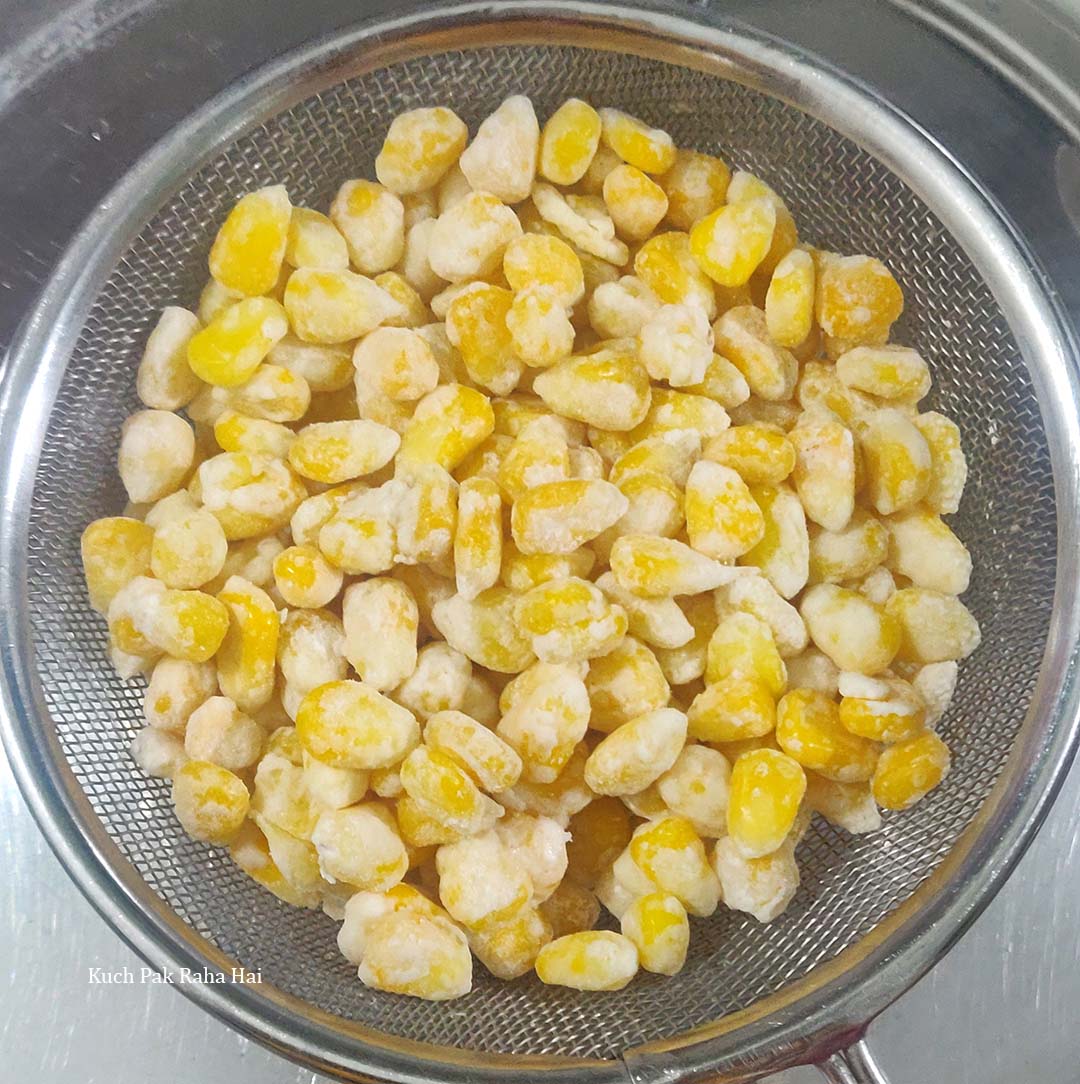 Step 4:
Heat oil in a pan and deep fry these kernels on medium-high flame till they become crispy. After 1 minute, turn them so that they are cooked from all sides. (If you want to air fry corns, check out the end of post.)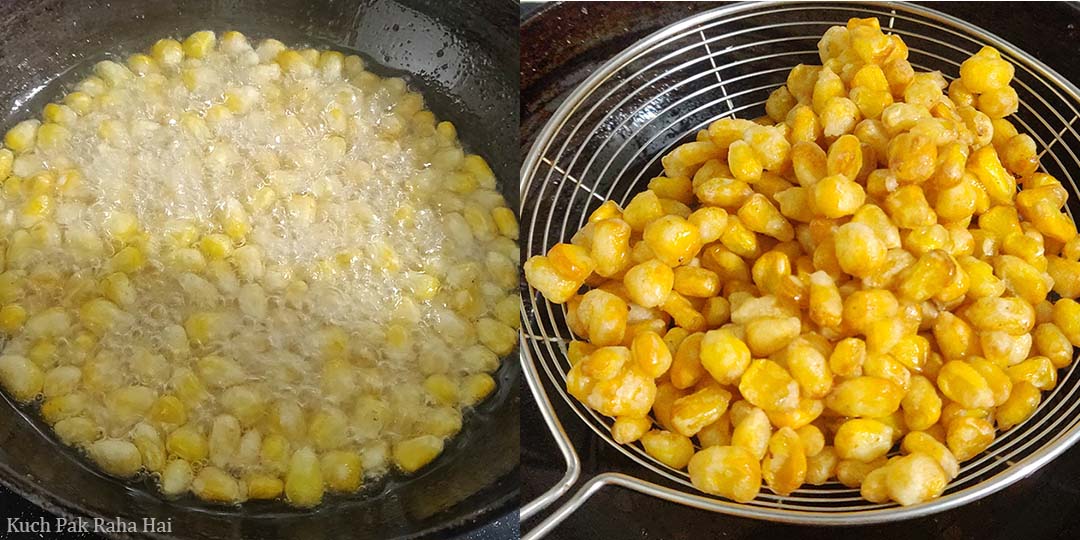 Step 5:
Transfer the fried corns on a colander and let them cool down in it only. If you transfer the corns immediately on a kitchen tissue they become soggy. Let them cool down a bit while we prepare the sauce in next step.
Step 6:
In a wok or a heavy bottomed pan, heat some oil. Add ginger, minced garlic, onion and capsicum to it. Toss them on high flame for 2-3 minutes. Switch off the flame, add all spices & sauces to it. Add the crispy fried corn to the pan and mix them with the sauce.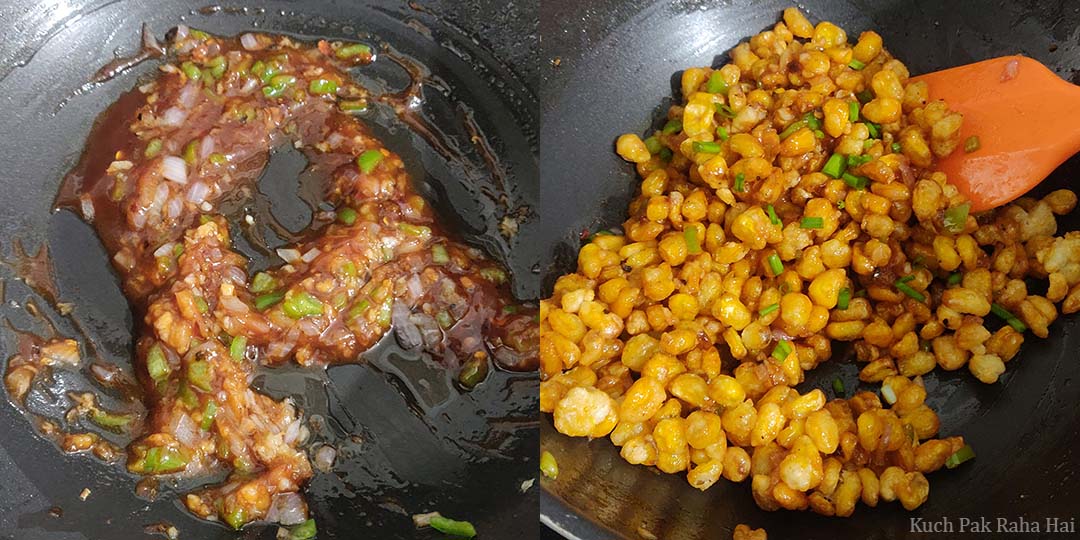 Garnish with some freshly chopped spring onion greens. Delicious crispy fried corns are ready. Serve them immediately with mayonnaise, chilli sauce or Sriracha sauce. Bon Appetit!!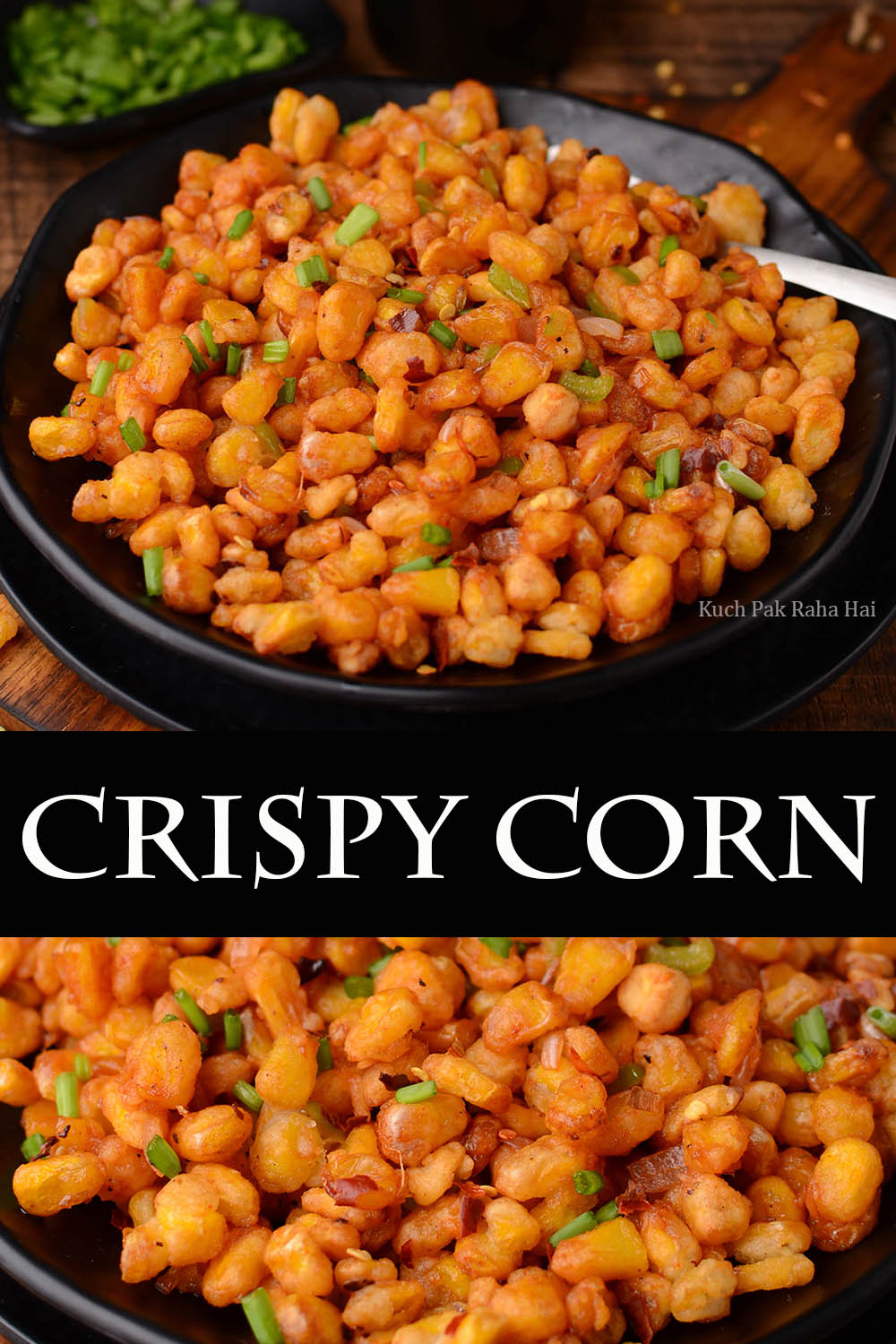 Crispy Corns in Air Fryer
1. For making crispy corns in air fryer, set the air fryer for preheating at 180°C (356°F).
2. After coating the corns with cornflour & apf (maida), spray or drizzle some oil on them. Don't use too much to oil here as we don't want the coating to slip off from corns.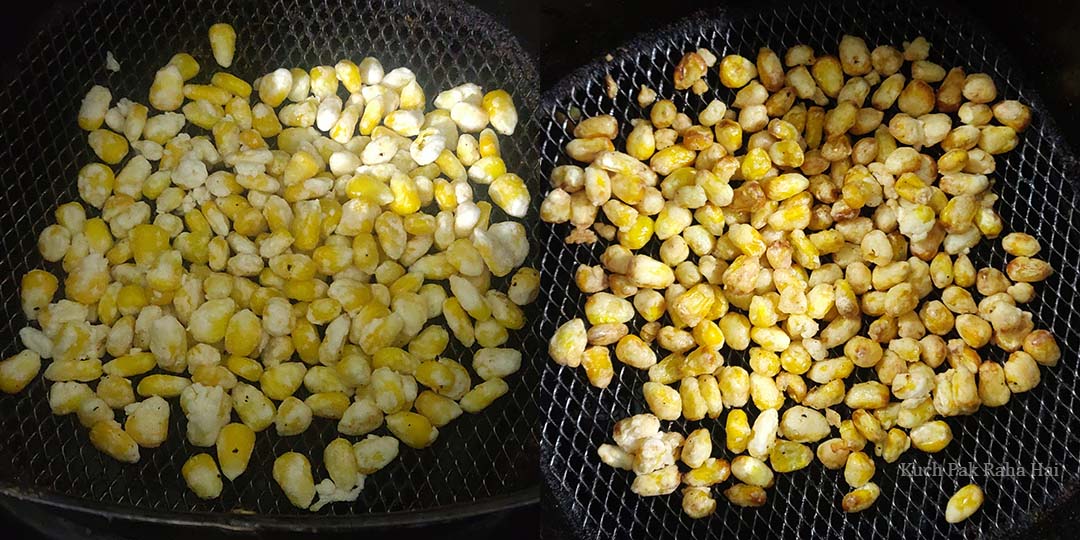 3. Air fry them at 180°C (356°F) for 12-15 minutes. Shake them once after 6-7 minutes and if required spray/drizzle some more oil on them.
4. Let the sweet corn kernels cool down in the basket only and continue with step 6 (as shown above).
Pin for later: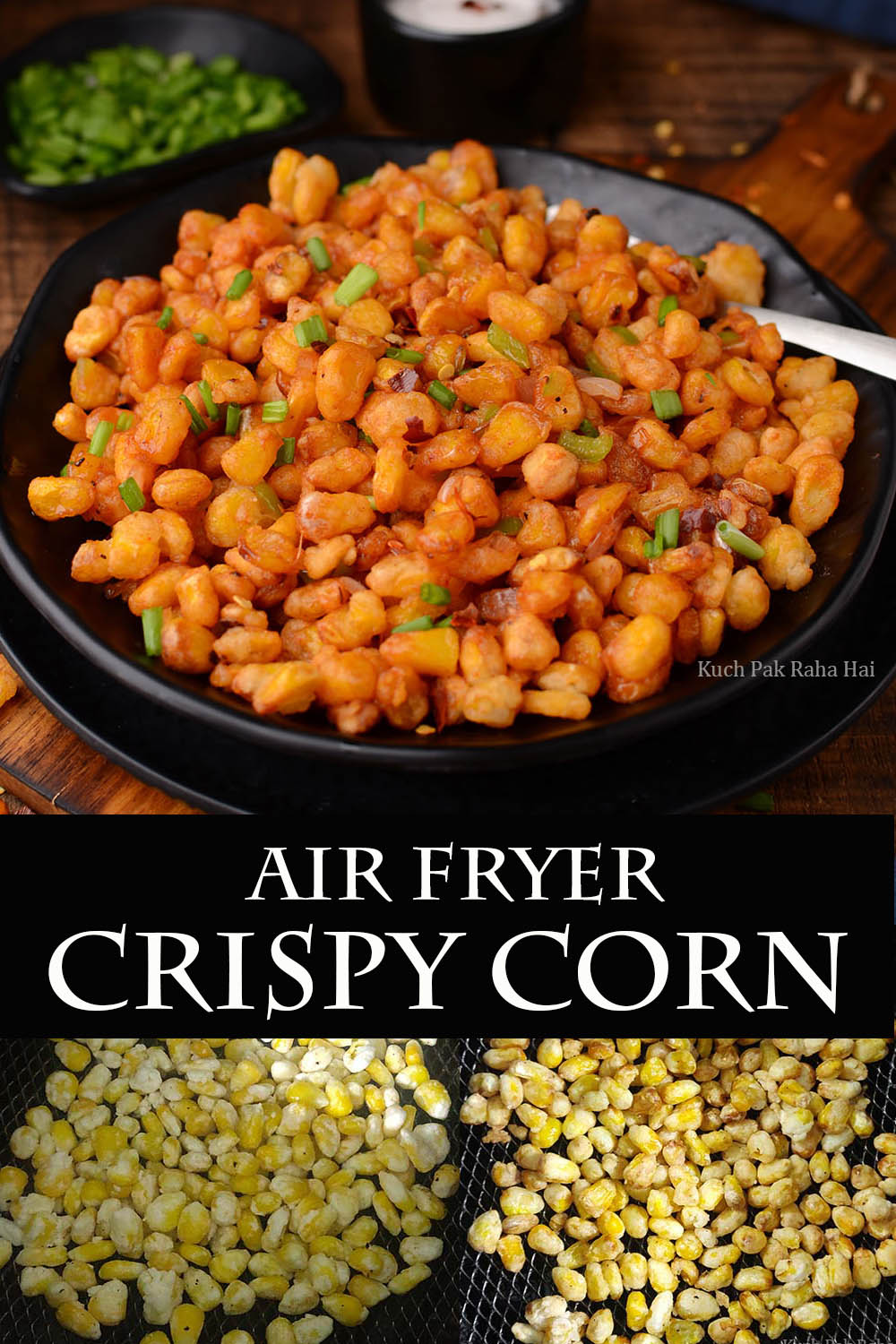 Tips to get perfect crispy corns:
1. Let the corns cool down before adding them in the sauce. Also the sauce should be warm when you are adding corns to it.
2. Add the corns to the sauce when you are ready to serve. Don't keep the corns waiting for too long after mixing them with sauces & spices.
3. Be careful while adding salt in sweet corn kernels as the ketchup, soy sauce and chilli sauce etc also have salt.
4. For a quicker crispy corn version, after frying the corns just add some red chilli flakes, crushed black pepper, salt & lemon juice. It also tastes good especially with some garlic mayonnaise.
More air fryer recipes (no eggs used):
If you try this crispy fried corn recipe & share pics on social media, then don't forget to tag on Facebook, Instagram or use #kuchpakrahahai.
Let's stay connected
Facebook| Instagram| Pinterest| Youtube