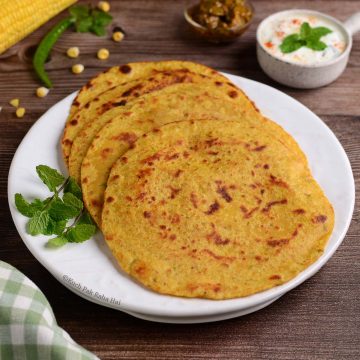 Corn paratha is a scrumptious delicious Indian paratha recipe made with sweet corn kernels, whole wheat flour, carom seeds (ajwain) & few other spices. You can enjoy them with pickle, yogurt or any curry of your choice.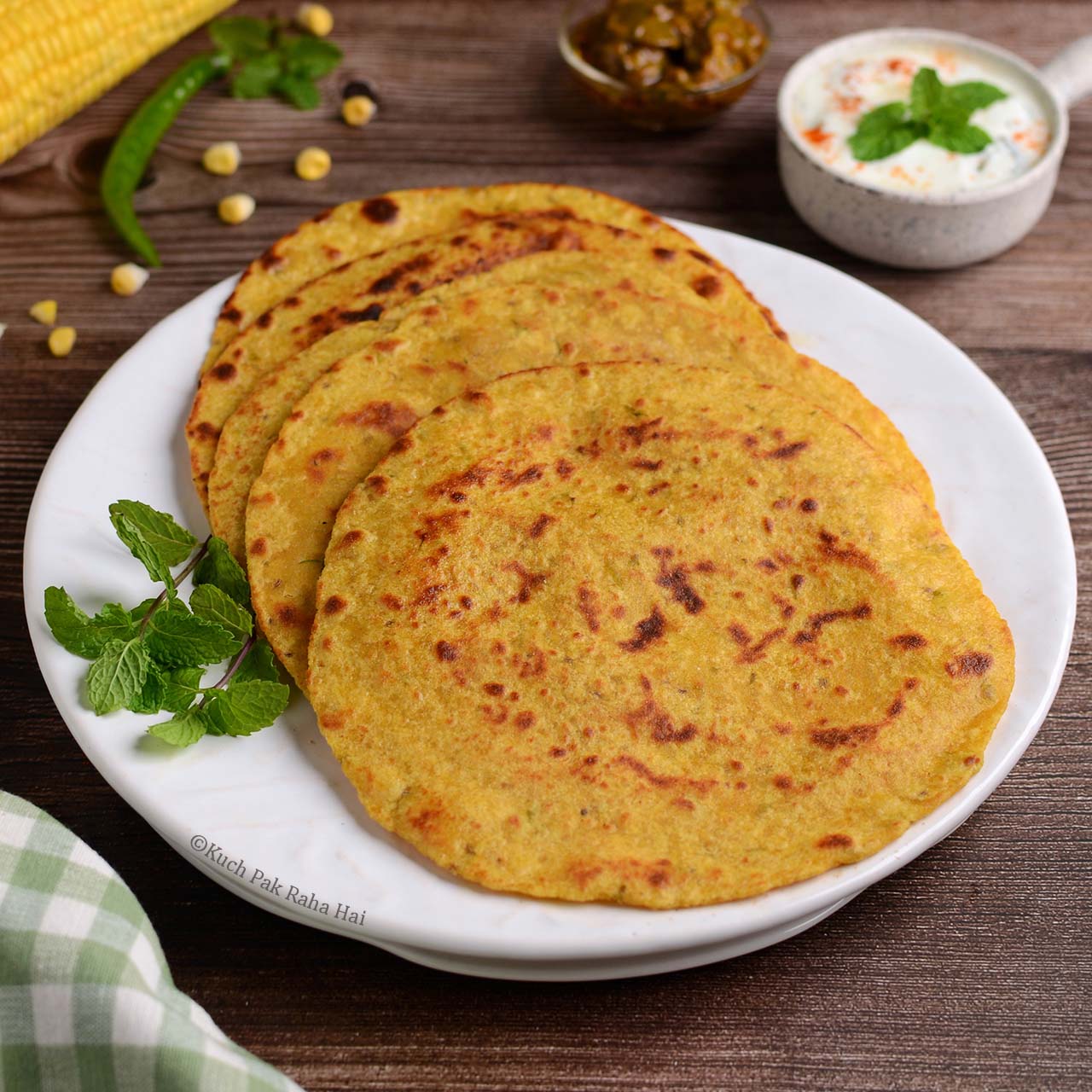 These parathas inherit the slight sweetness from corn kernels which is perfectly balanced by the use of spices, green chillies & fresh herbs. The sweet corn paratha recipe shared here is:
Vegan
Healthy
Kids Friendly
Easy & Quick to make
They can be served in breakfast with some chilli or mango pickle, mint raita (mint yogurt) or with potato, paneer curry for a wholesome meal. They can also be packed in kids' tiffin box with some jeera aloo (cumin potatoes).
Every time I meet my nani (grandmother), she always has some interesting recipes to share with me. Moong dal idli, rice flour cake, ragi roti etc are some of her recipes that I have shared on this blog in past. This time it was monsoon season & as we get abundance of corn in market, she shared with me how she utilises them in making parathas for day to day meals.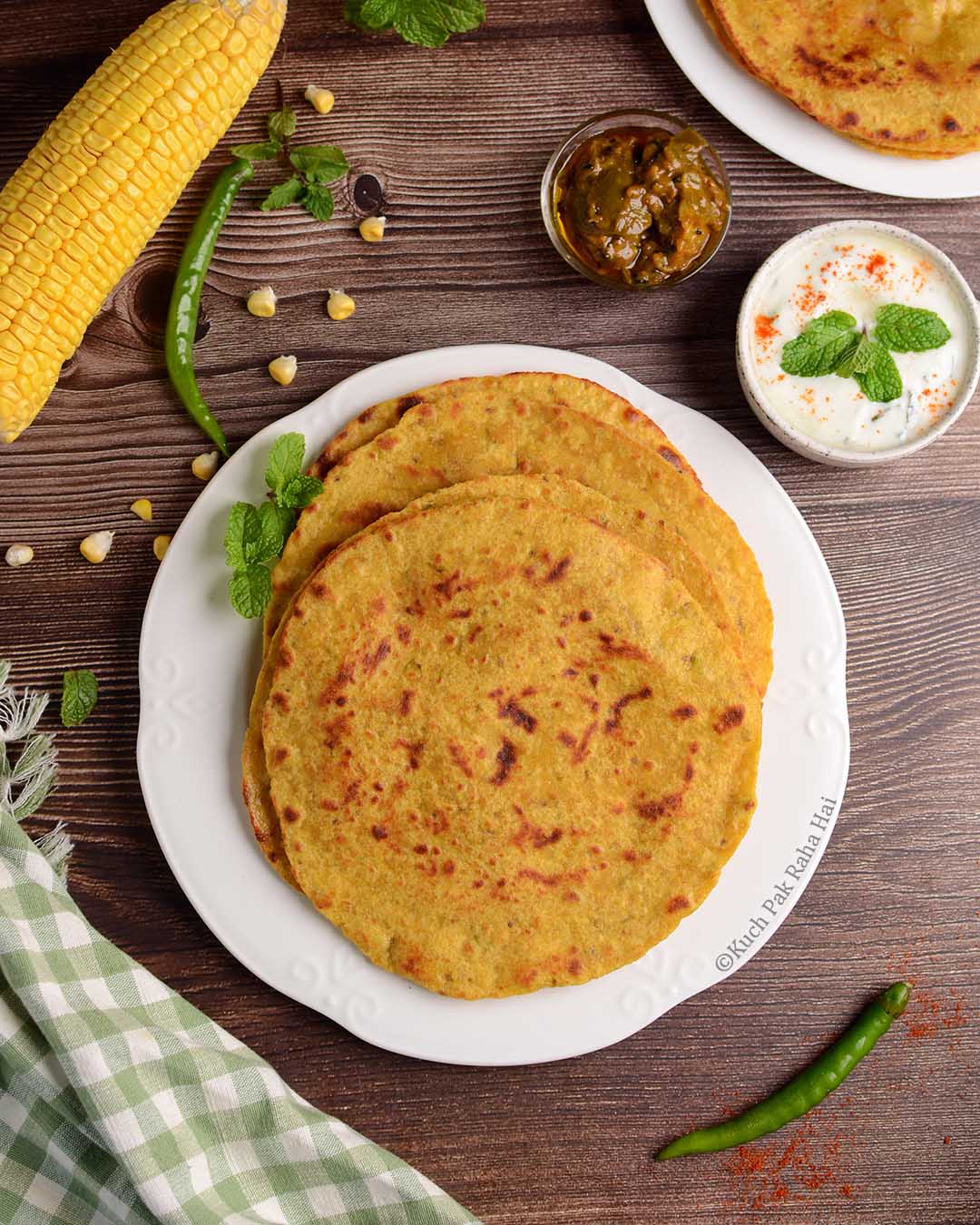 Ingredients for sweet corn paratha:
You need just few basic ingredients to make these paratha:
Corn Kernels- If you have access to fresh seasonal corn on the Cob, you can scrape corn kernels directly from them & use them in making parathas. I have tried this recipe with frozen sweet corns too & they also work fine.
Flour- I have used whole wheat flour for making these parathas.
Spices- The recipe uses few spices like carom seeds, also known as ajwain, which is great for digestion, little bit of turmeric to add a slight golden yellow tinge to the parathas and red chilli powder to add some heat.
Cilantro & Green Chillies- Some chopped herbs like cilantro, coriander or spring onion greens add freshness to the parathas. If you don't have green chillies, feel free to skip.
Ghee / Oil- Ghee, also known as clarified butter, is used in cooking these parathas. However if you wish to keep these parathas vegan (dairy free), then use any cooking oil like sunflower, olive or sesame oil.
Corn Paratha Variations:
You can stuff these parathas with some grated paneer to add protein to them. If your kids love cheese, then some grated processed cheese can also be used as stuffing.
If you are fond of Indian breads, then definitely check out more paratha recipes: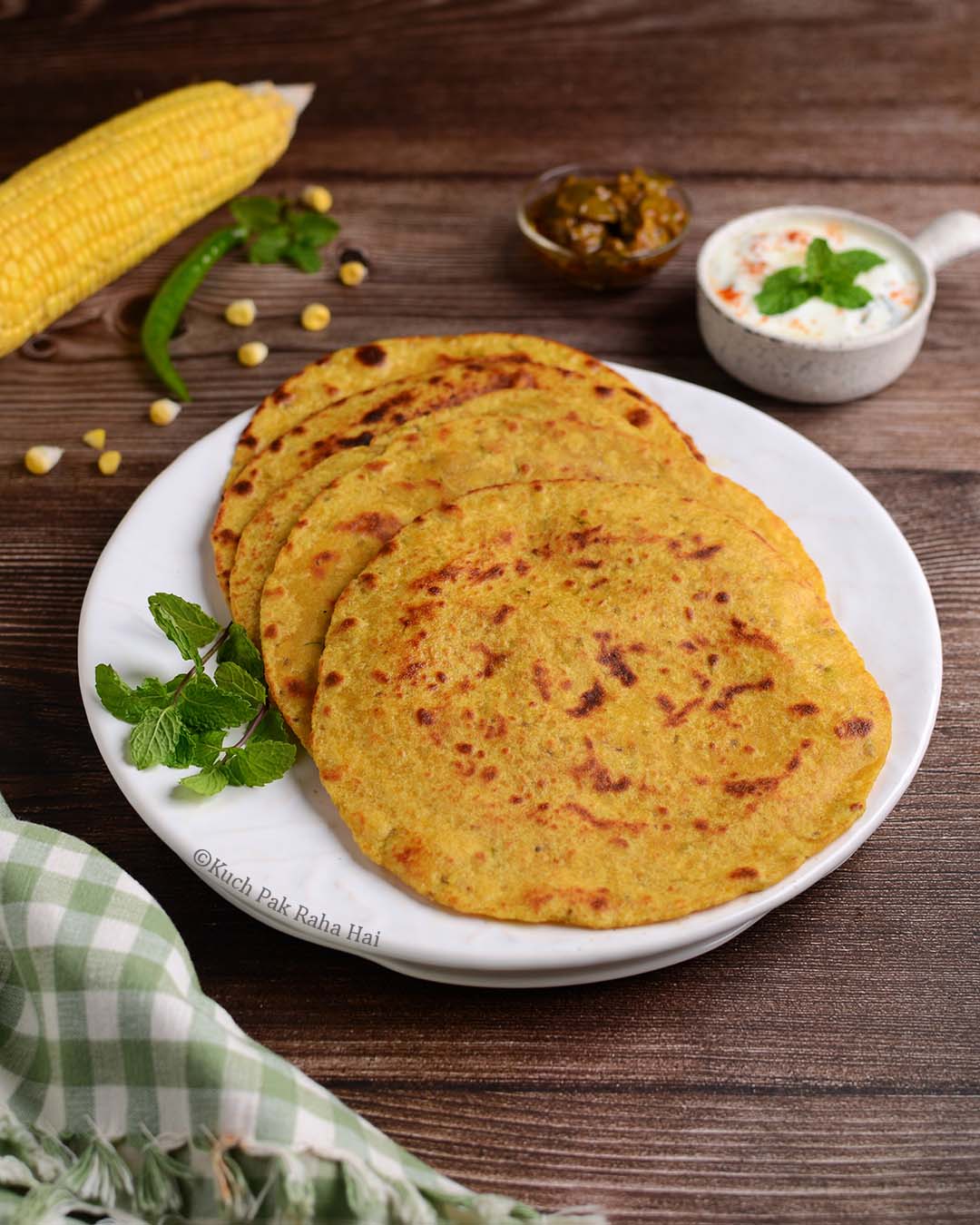 More corn recipes:
Hope you would like this simple yummy corn paratha recipe.

Ingredients:
Whole Wheat Flour-2 cups
Corn Kernels*- 1 cup (180 grams)
Carom seeds (Ajwain)-3/4 tsp
Turmeric (Haldi)-1/8 tsp
Red Chilli Powder-1/2 tsp
Salt-1 tsp
Green Chilli-1
Chopped Coriander / Cilantro-3 tbsp
Water- ~1/2 cup
Ghee / Oil- For cooking
Notes:
You can use fresh or frozen corn kernels. If you are using frozen ones, then wash & thaw them first.
Skip red chilli powder or green chillies if making for kids.
Directions:
Step 1:
Scrape the corn kernels from the corn cob using a knife. If you are using frozen sweet corn, just wash & thaw them.
Step 2:
Transfer the kernels in a blending jar & blend to form a smooth puree. Add 2 to 3 teaspoon water while blending if desired.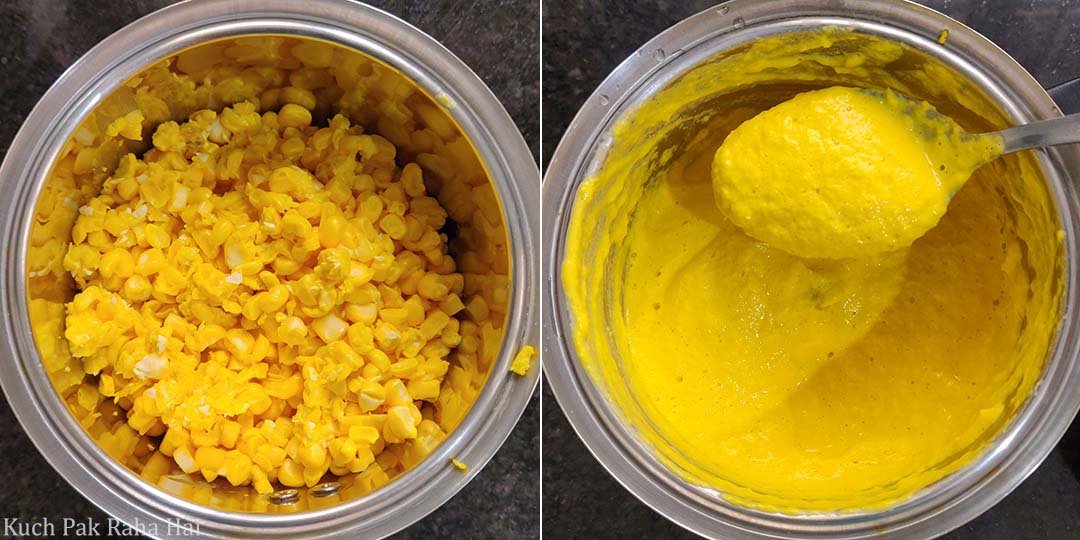 Step 3:
In a bowl, add all the ingredients excpet oil & water. Mix well using your hands. Add water gradually to knead a soft smooth dough. Apply some oil on top, cover & let it rest for 30-40 minutes.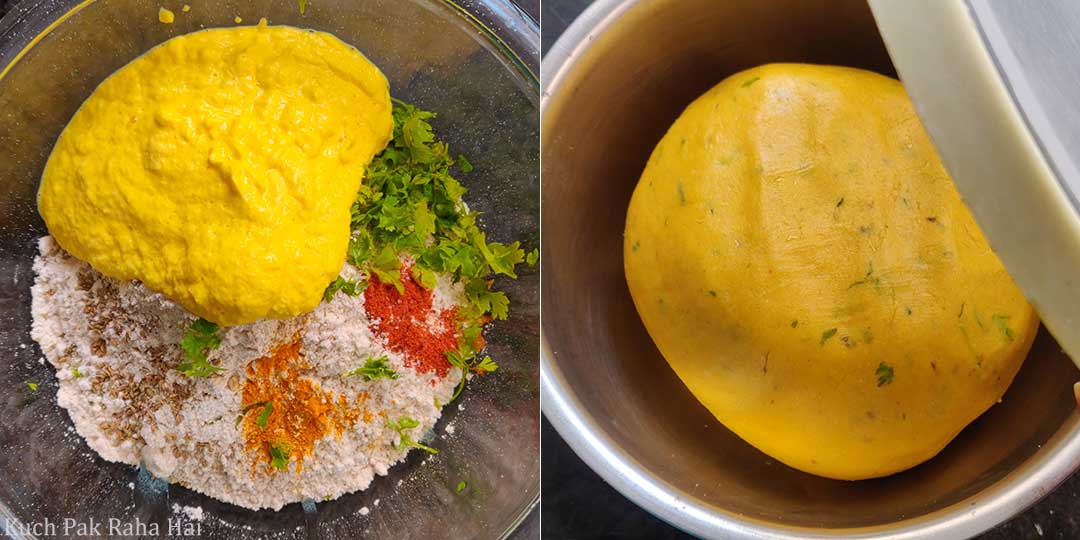 Step 4:
Once the dough has rested, divide the dough into lemon sized balls. Take one ball, press it between your palms. Apply some oil or ghee in the centre and bring all the ends together (like a dumpling). Flatten it again, dust some dry flour on it and roll it into 5-6″ circle.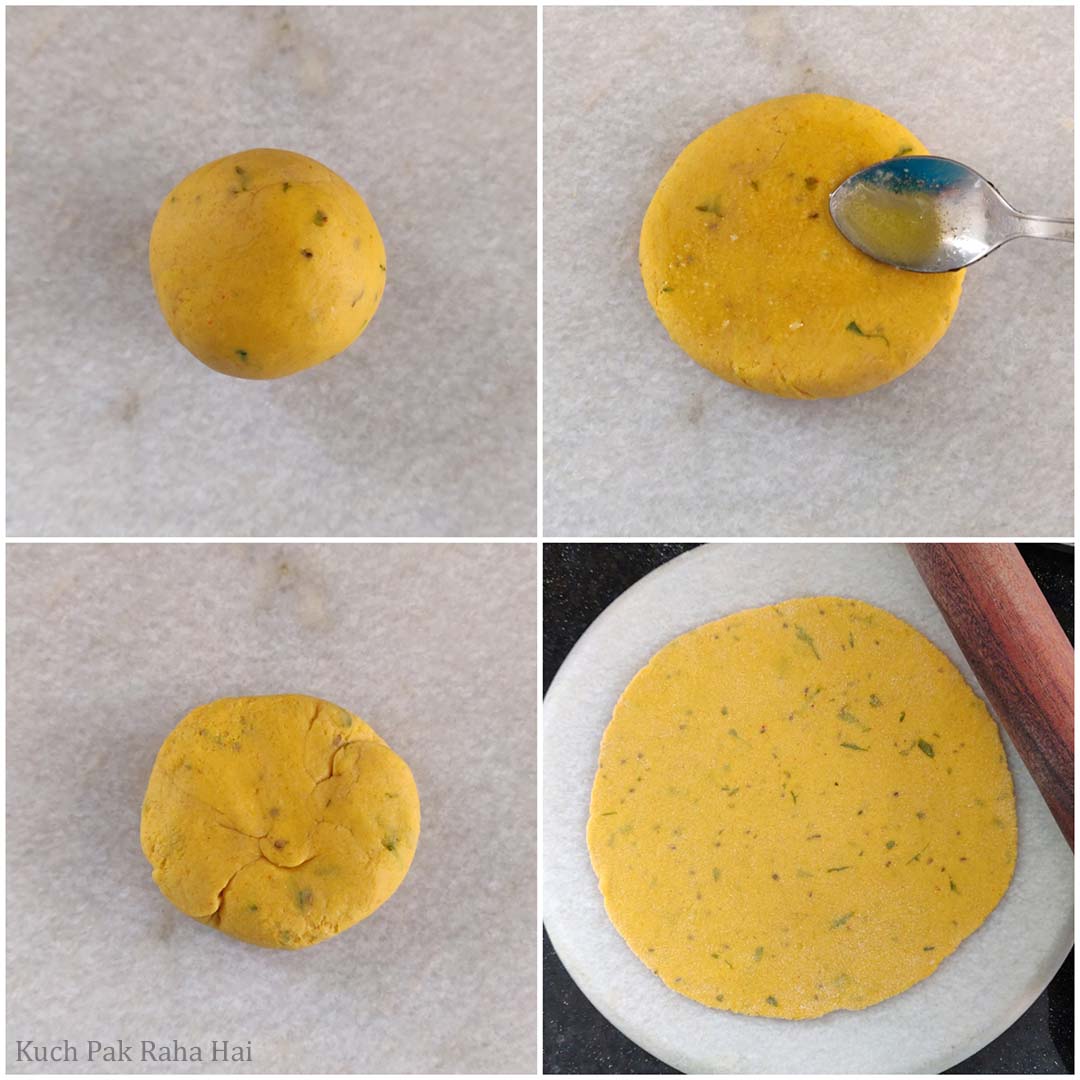 Step 5:
Heat tawa or pan. Let the rolled paratha dry roast on on medium high heat. Flip & cook other side too till you start getting light brown spots.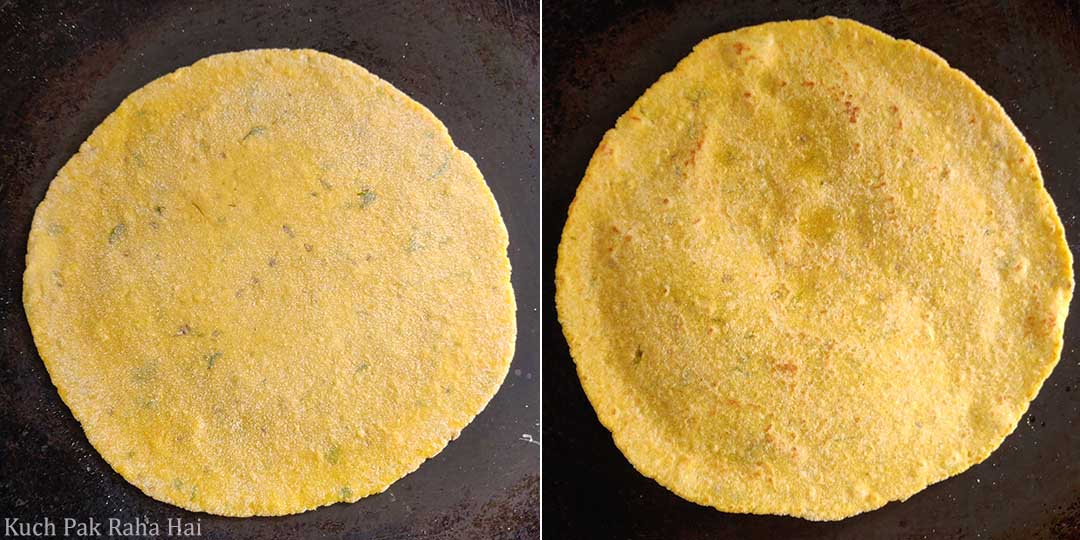 Step 6:
Apply ghee on one side, flip and gently press with a flat spatula. Similarly apply ghee on other side too and press gently. The parathas will begin to fluff up on its own once you press it gently with spatula.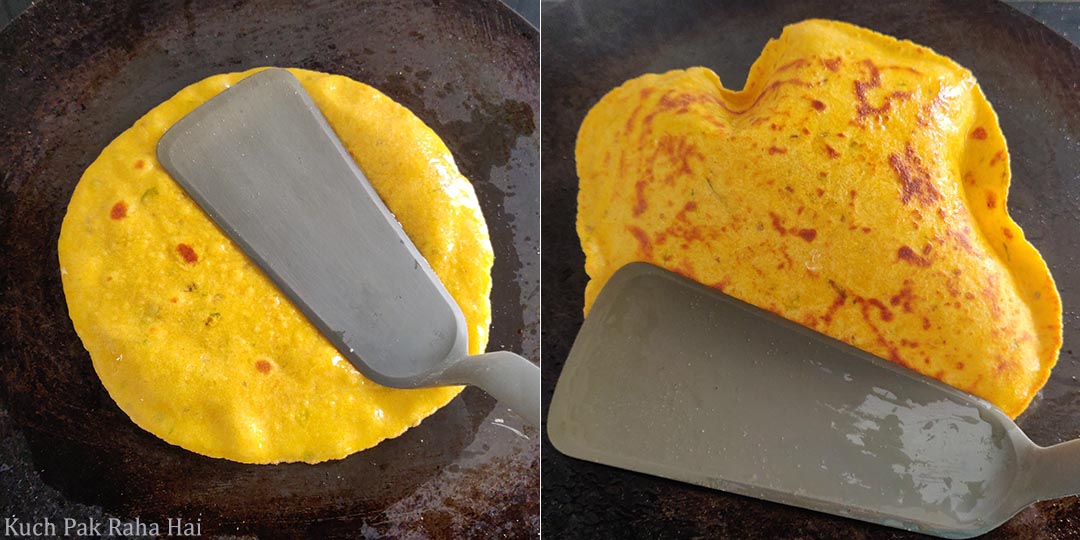 Serve these parathas hot with pickle, yogurt (curd) or any curry.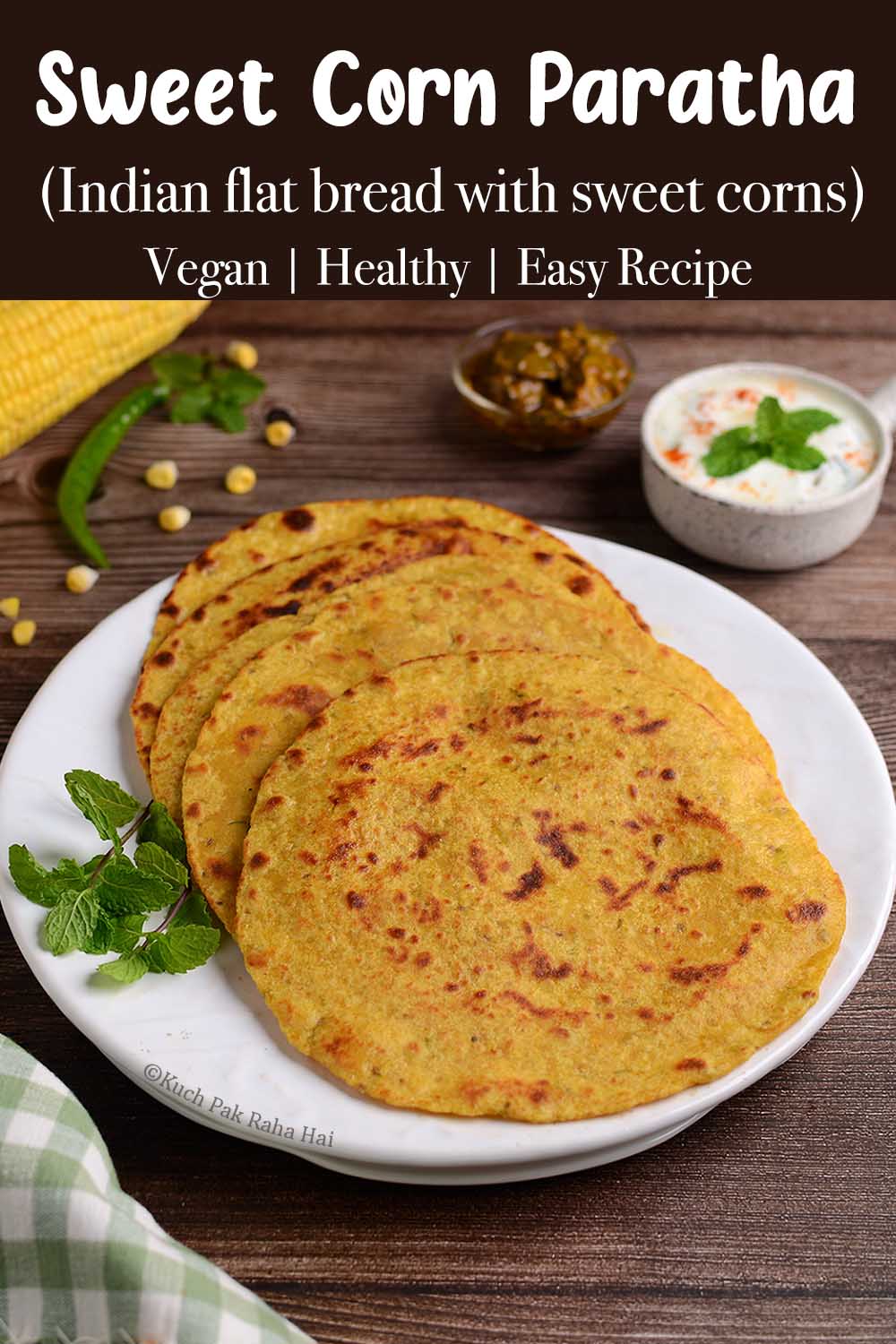 Tips to make perfect corn paratha:
1. Use corn which are tender and milky for making tastier parathas.
2. The quantity of water used in kneading may vary slightly depending on the quality of whole wheat flour, so add it gradually to make soft & smooth dough.
3. Resting the dough gives time for flavours to settle in.
4. If you have leftover dough, you can even use it to make rotis. I have tried it & you get perfectly puffed up rotis.
If you try this recipe & share pics on social media, then don't forget to tag on Facebook, Instagram or use #kuchpakrahahai.
Let's stay connected
Facebook | Instagram | Pinterest| Youtube