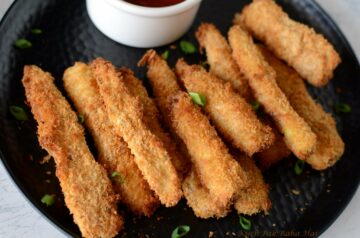 Crispy Baby Corn is a flavourful crispy snack recipe made with fresh baby corns. Instead of deep frying, these crispy baby corns are made in air fryer which makes them super crunchy using very little oil. It is an easy to make finger food recipe and great option to serve as snacks, appetisers or starters.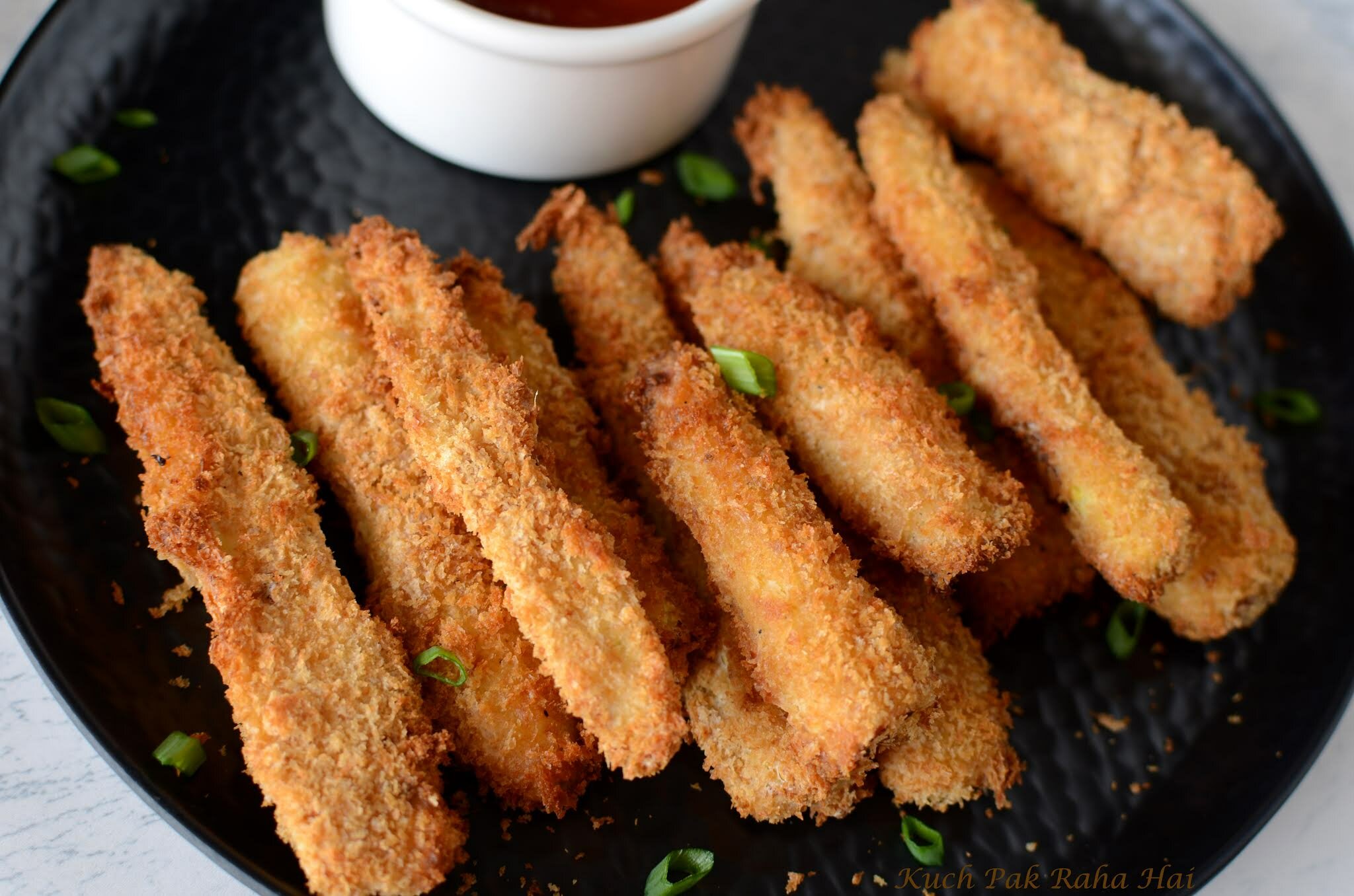 These air fried baby corns are :
Vegan or Vegetarian
Low Oil (Made in air fryer)
Quick & Easy to make
Great to serve as snacks or appetisers
The crispy baby corn recipe I have shared here can be made both ways: air fryer or deep frying method. I prefer making it in air fryer as it comes out lighter, less oily and equally crispy as you get after deep frying. If you are looking for baby corn recipes, then it is a must try.
I often see people asking on social media about air fryers, its utility and limitations etc. I would definitely recommend it to anyone as it is easy to use, saves you from the effort of frying and guilt of having deep fried foods.
These air fryer baby corns are a nice option for party appetisers, potluck or picnics as they can easily be served as finger food with dips like sweet chilli sauce or garlic mayo and can be prepared with ingredients readily available at home.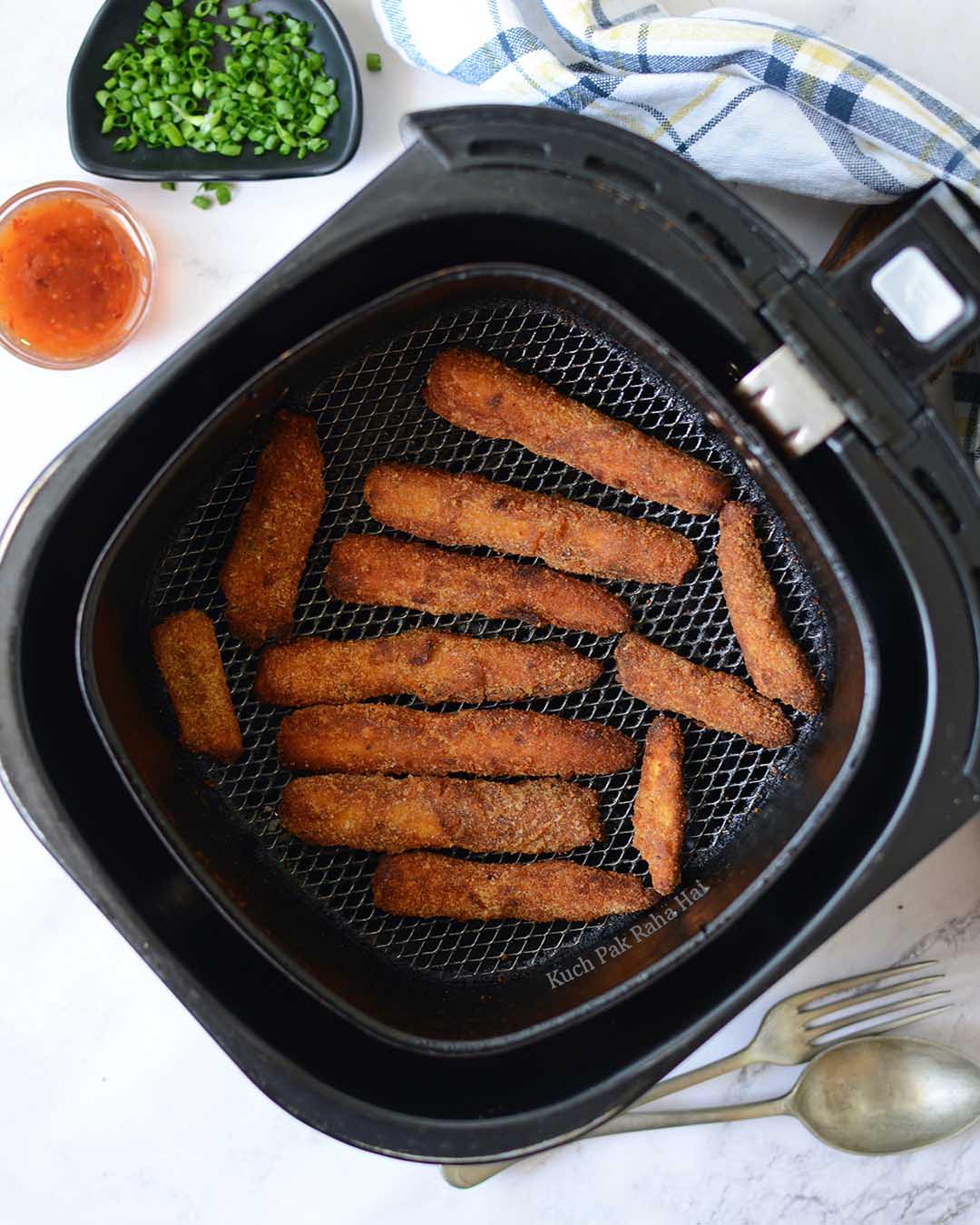 Ingredients to make crispy baby corn:
Baby Corns: One of the main things to take care while preparing this recipe is the quality of baby corns. They should be fresh and soft.
Slurry: The baby corns are dipped in a slurry made using all purpose flour (maida) and cornflour. This slurry makes sure that bread crumbs stick to the baby corns surface.
Bread Crumbs: The bread crumbs make the outer crust of baby corn crunchy. You can use panko bread crumbs or make them at home (method explained in steps).
Seasonings: For seasoning ginger, garlic, tomato ketchup and chilli sauce has been used to give the baby corns a nice tangy flavour. I like spicy food so I have also used black pepper, chilli flakes. You can always adjust the spices as per your own taste.
Oil: Little bit of oil is used in brushing the baby corns while air frying. You can use any cooking oil like sunflower oil, olive oil or sesaome oil etc.
Herbs: Some freshly chopped coriander leaves or spring onion greens are sprinkled on the top to add a touch of freshness.
Can I prepare these baby corn in advance?
You can make all the preparations in advance for crispy baby corns and deep fry or air fry them just before serving.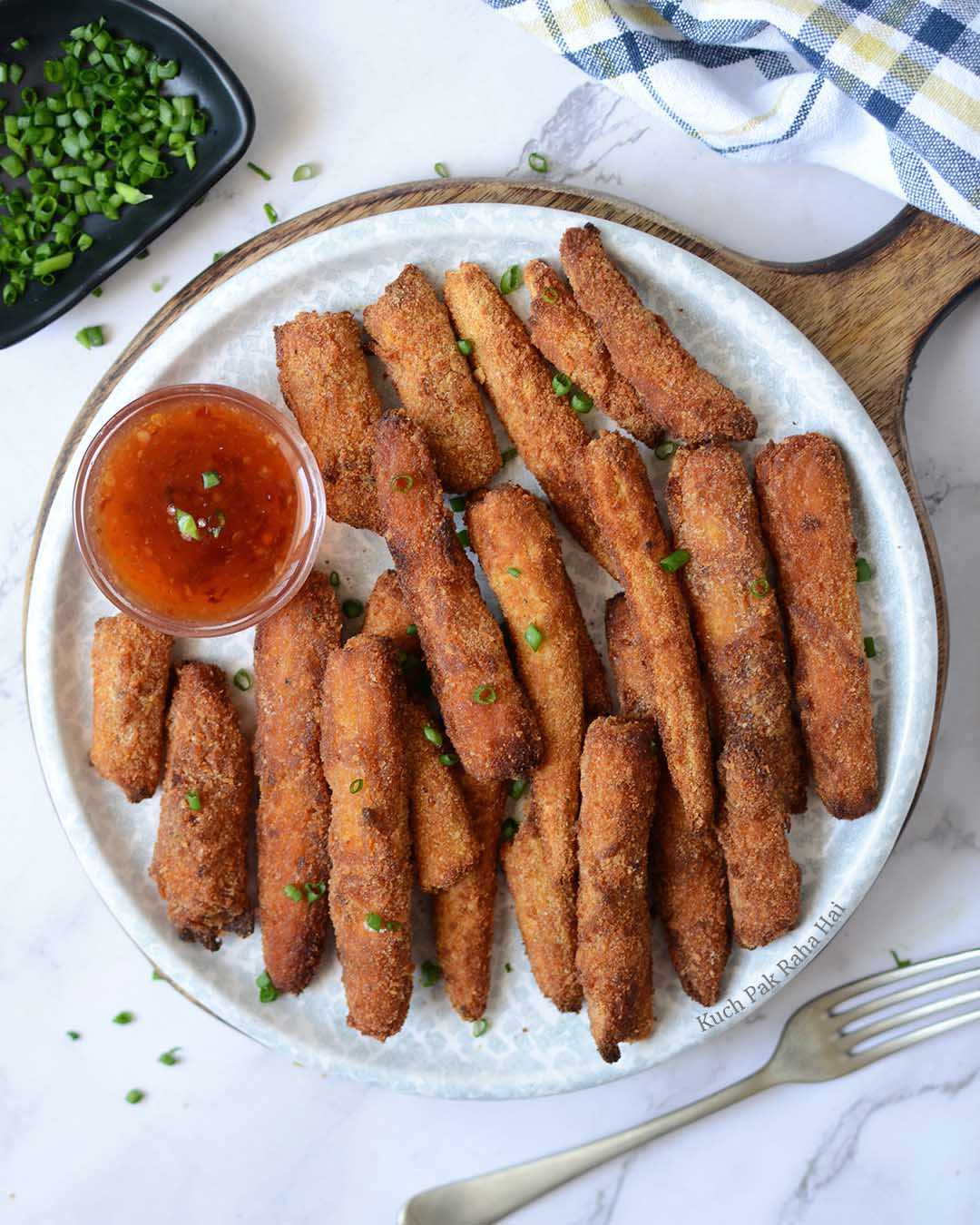 Can I deep fry these crispy baby corns?
If you are deep frying them, fry these on a low-medium heat till they get golden colour on all sides. Please make sure the oil is not too hot, as it will cause browning outside quickly leaving the insides raw. Apart from the air frying step (in instructions below), rest of the recipe will remain same.
Youtube Video:
For more air fryer recipes, you can check out the airfryer recipes section:
Hope you would like this quick and easy to make Crispy Baby Corns recipe!!
Ingredients:
Baby Corns – 10 to 12 (250 grams)
All Purpose Flour (Maida) – 1/4 cup
Cornstarch – 2 tbsp
Tomato Ketchup – 2 tbsp
Red Chilli Sauce – 1/2 tbsp
Soy Sauce- 1/2 tsp
Ginger Paste – 1 tsp
Chopped Garlic – 3 to 4 cloves
Black Pepper – 1/4 tsp
Chilli Flakes – 1/2 tsp
Water – 1/3 cup
Salt -1/2 tsp (to taste)
Panko Bread Crumbs – 3/4 cup
Olive Oil / Cooking Oil – 2 tbsp (For brushing)
Chopped Spring onion Greens – 2 tbsp
Directions:
Step 1:
Wash the baby corns well under running water. Boil them for 2-3 minutes (shown in video) & slit vertically in two parts. Keep these halved baby corns aside.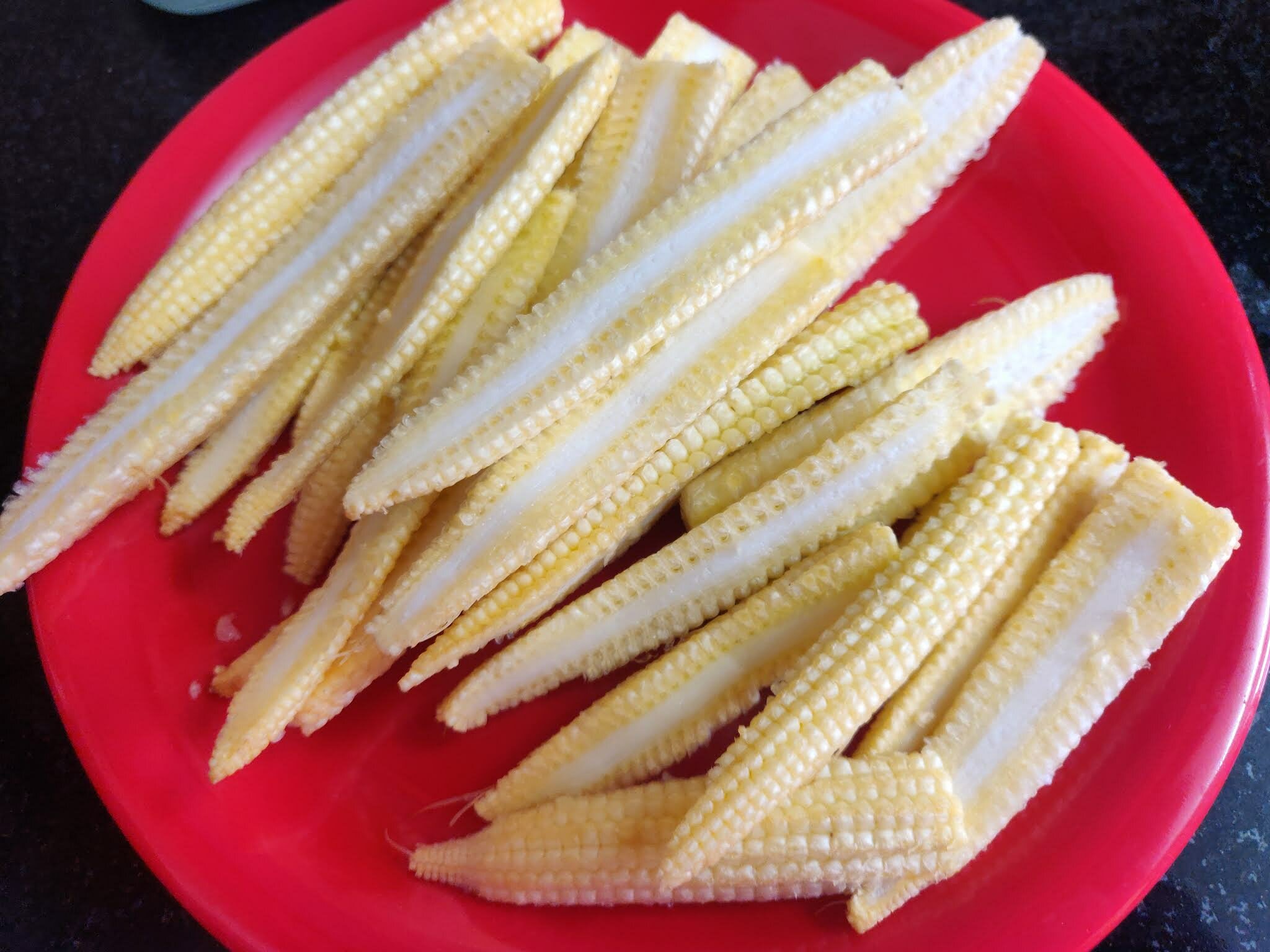 Step 2:
Mix all purpose flour, cornstarch, tomato ketchup, chilli sauce, ginger paste, chopped garlic, chilli flakes, black pepper and salt in a mixing bowl. (You can adjust the spices as per your own taste).
Add water to it while mixing continuously till you get a nice smooth batter. The quantity of water may vary slightly so do not add all the water in one go but gradually. Keep this batter aside.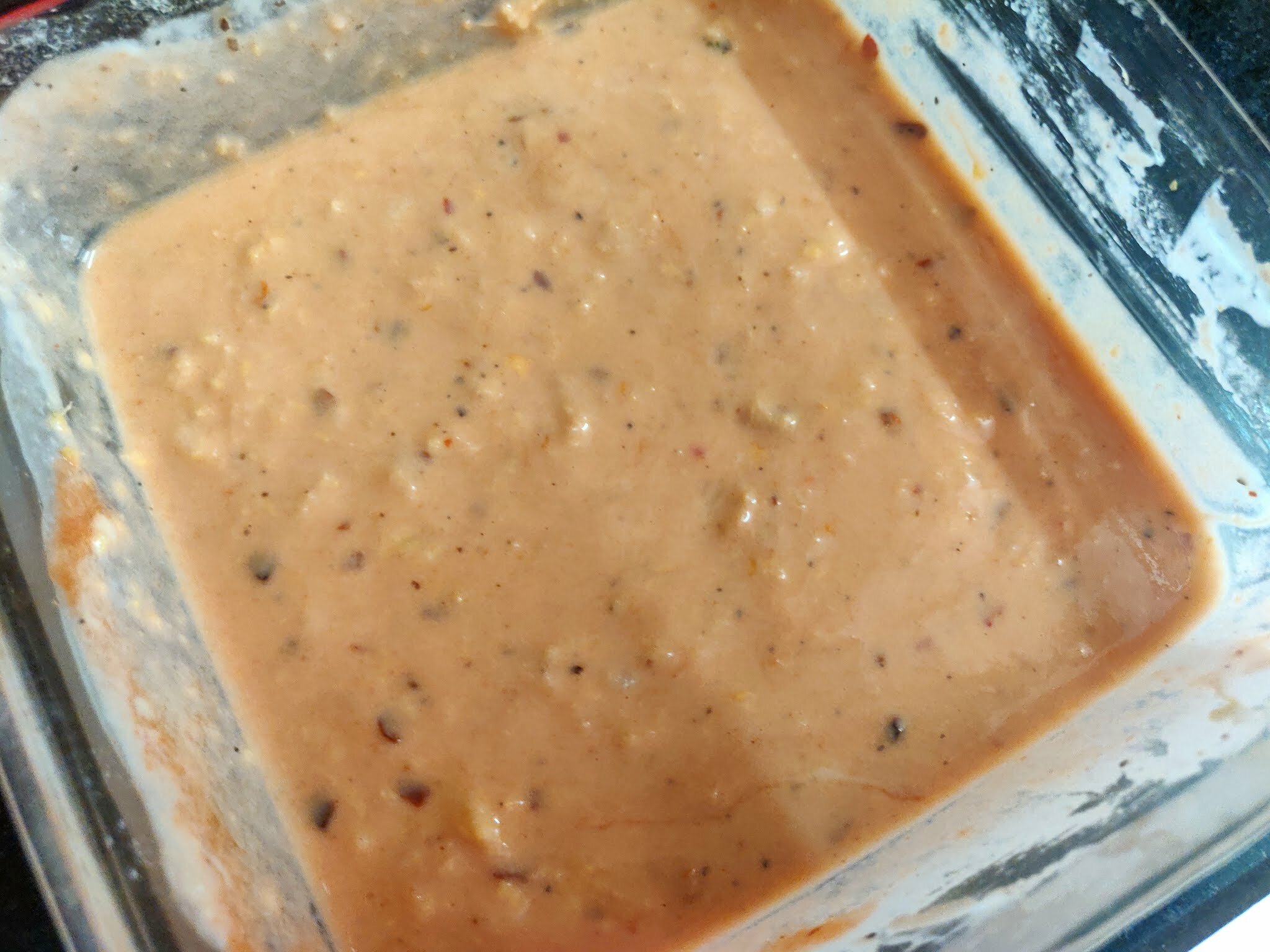 Step 3:
If you are using store bought panko bread crumbs, skip this step. You can easily make bread crumbs at home, just make sure the bread you are using is little dry. I have added 4 bread slices in a grinding jar and pulsed it 3-4 times to get these crumbs. Keep these crumbs aside.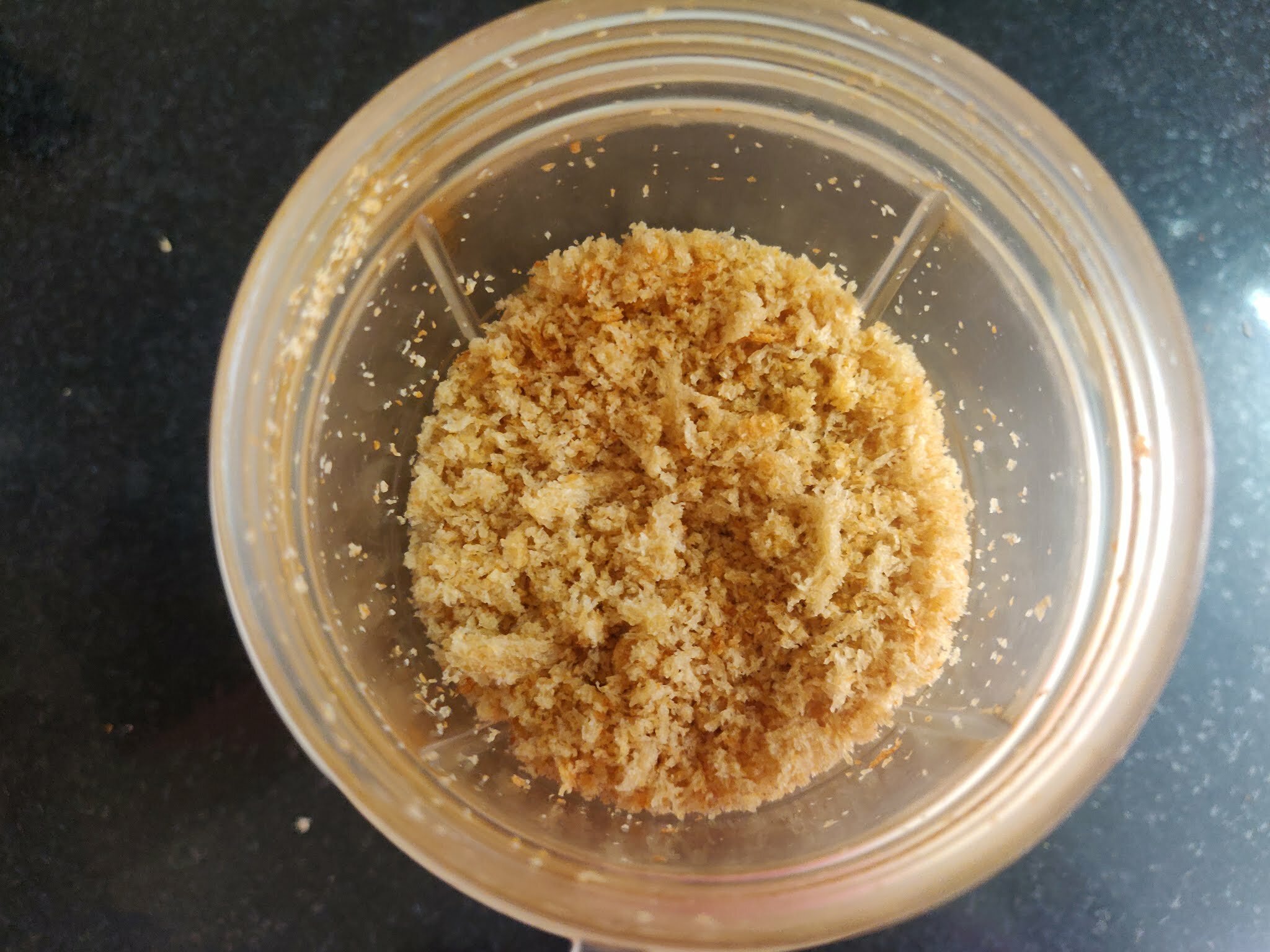 Step 4:
Set the air fryer for preheating at 180°C (356°F). Preheating is an important step when using air fryers and should not be skipped. By the time our air fryer is preheating let's move to next step.
Step 5:
We have three things ready by now- halved baby corns, batter and bread crumbs. Dip the baby corn in batter.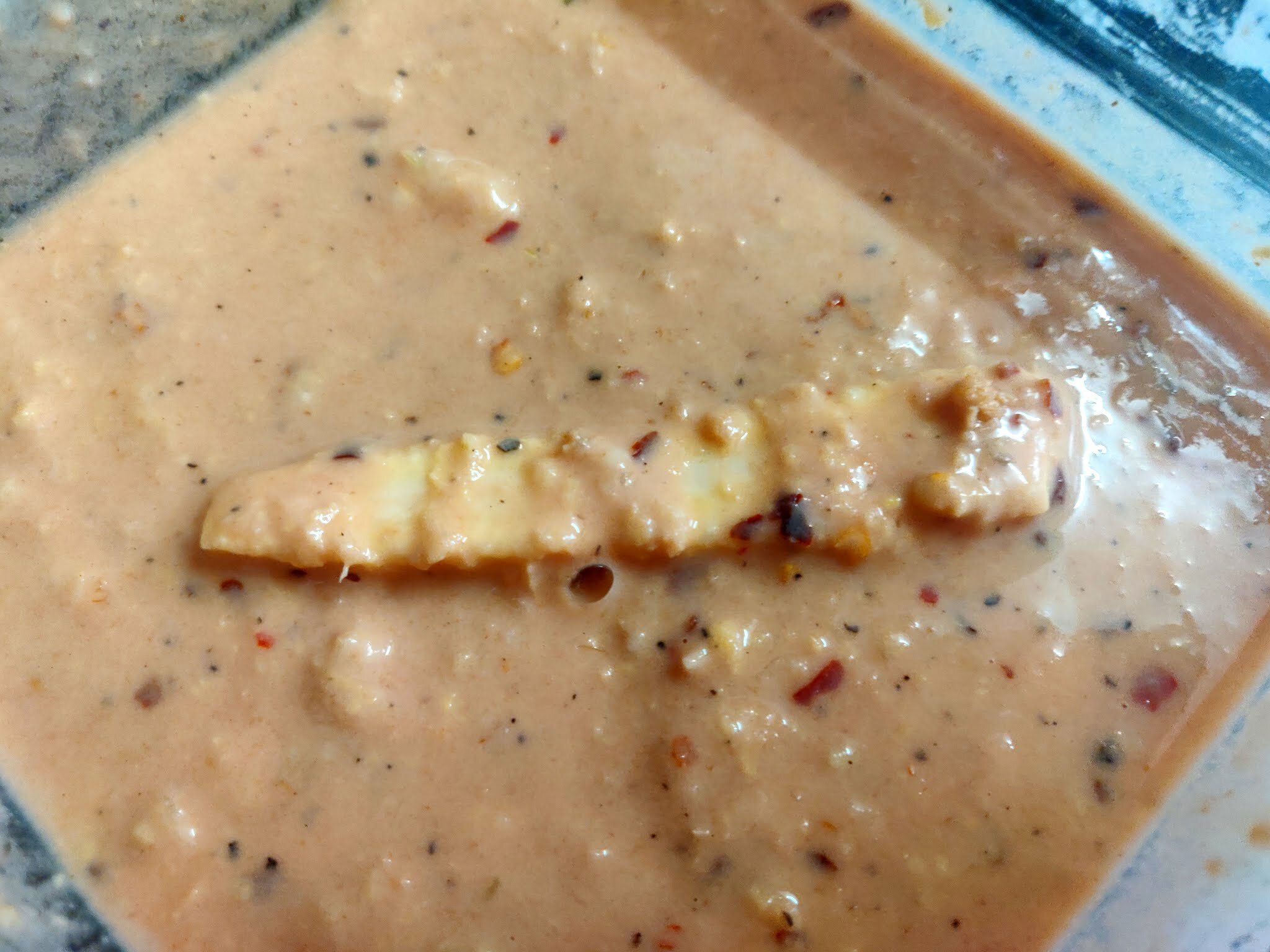 Roll it in plate of bread crumbs.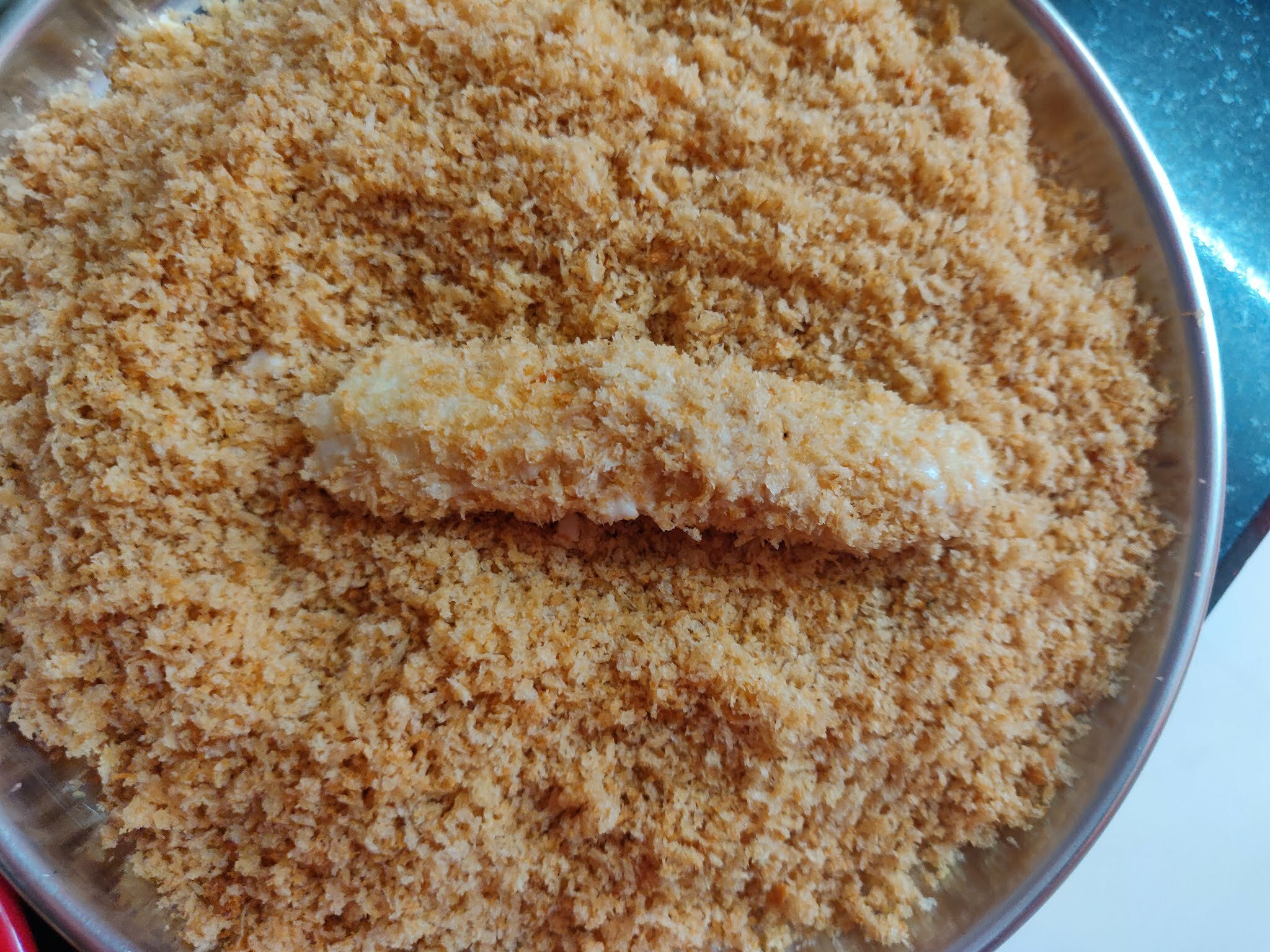 Keep this piece aside on a plate. Repeat the process for rest of the pieces.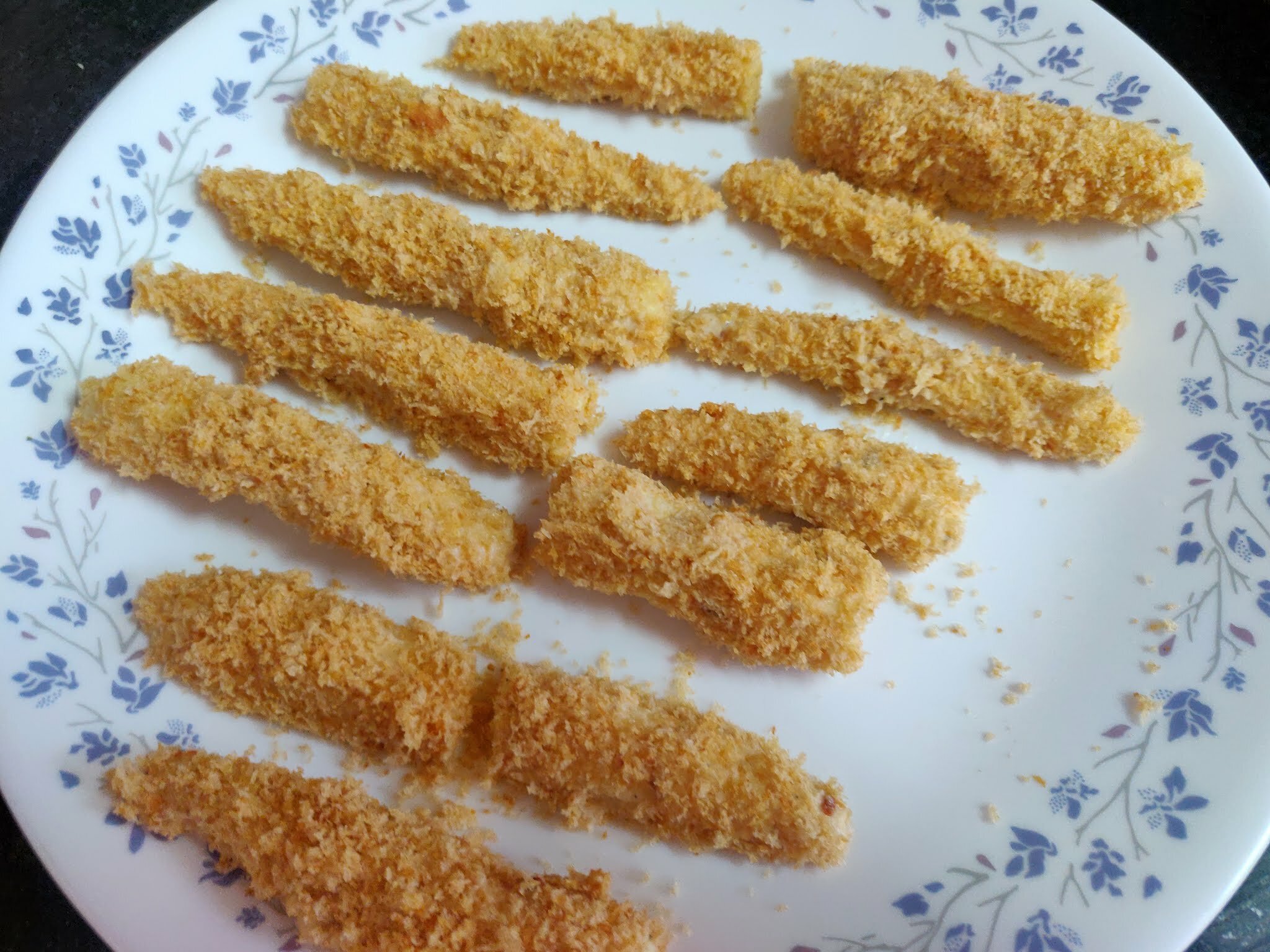 Step 6:
Once we have all the baby corns ready, transfer them in air fryer basket. Air fry them at 180°C (356°F) for 10-12 minutes.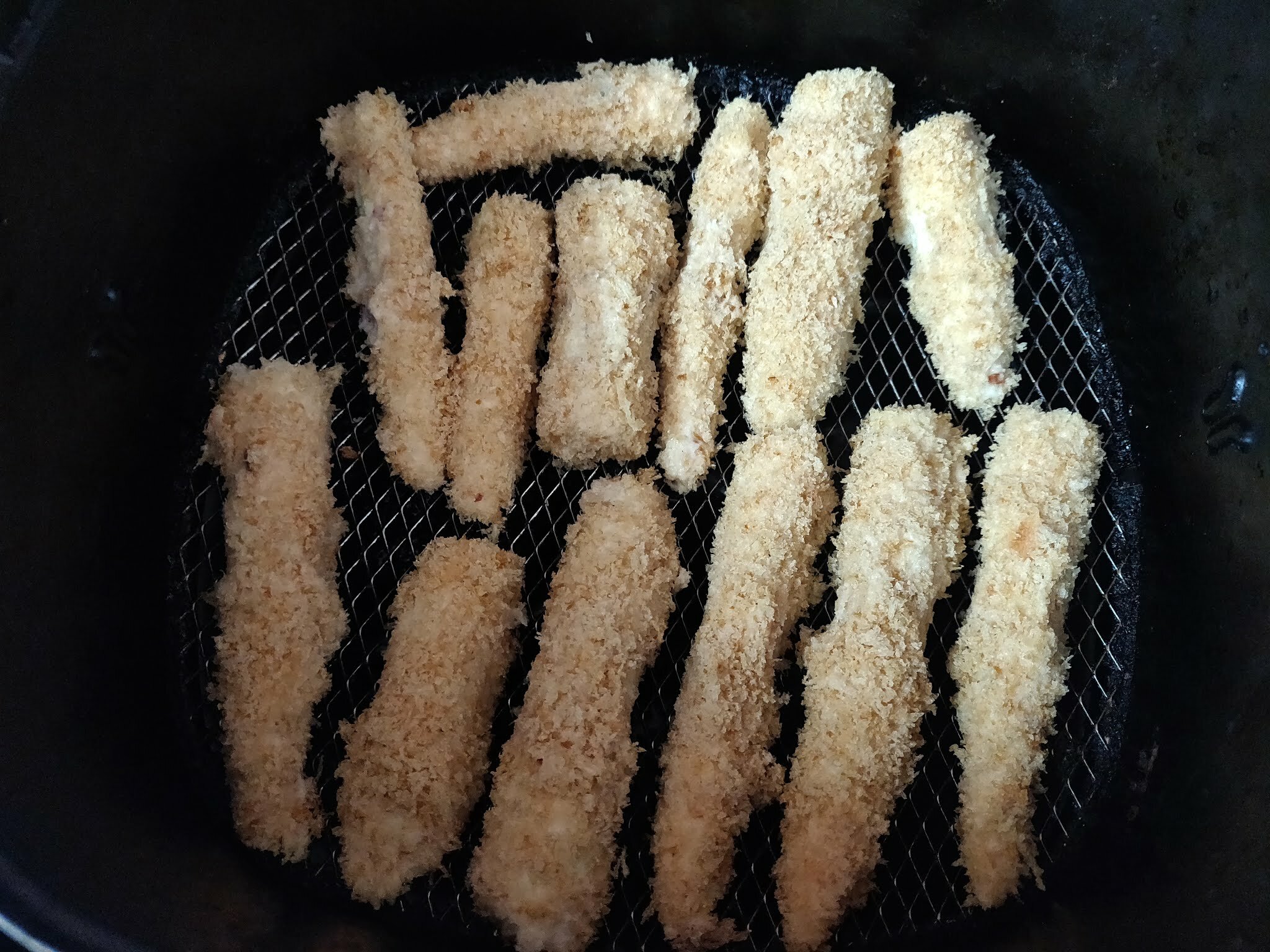 After 5 minutes, just turn them and dab or spray some oil on the baby corns (not brush as it can take off the coating). Dabbing oil on these baby corns gives a nice golden colour on the top.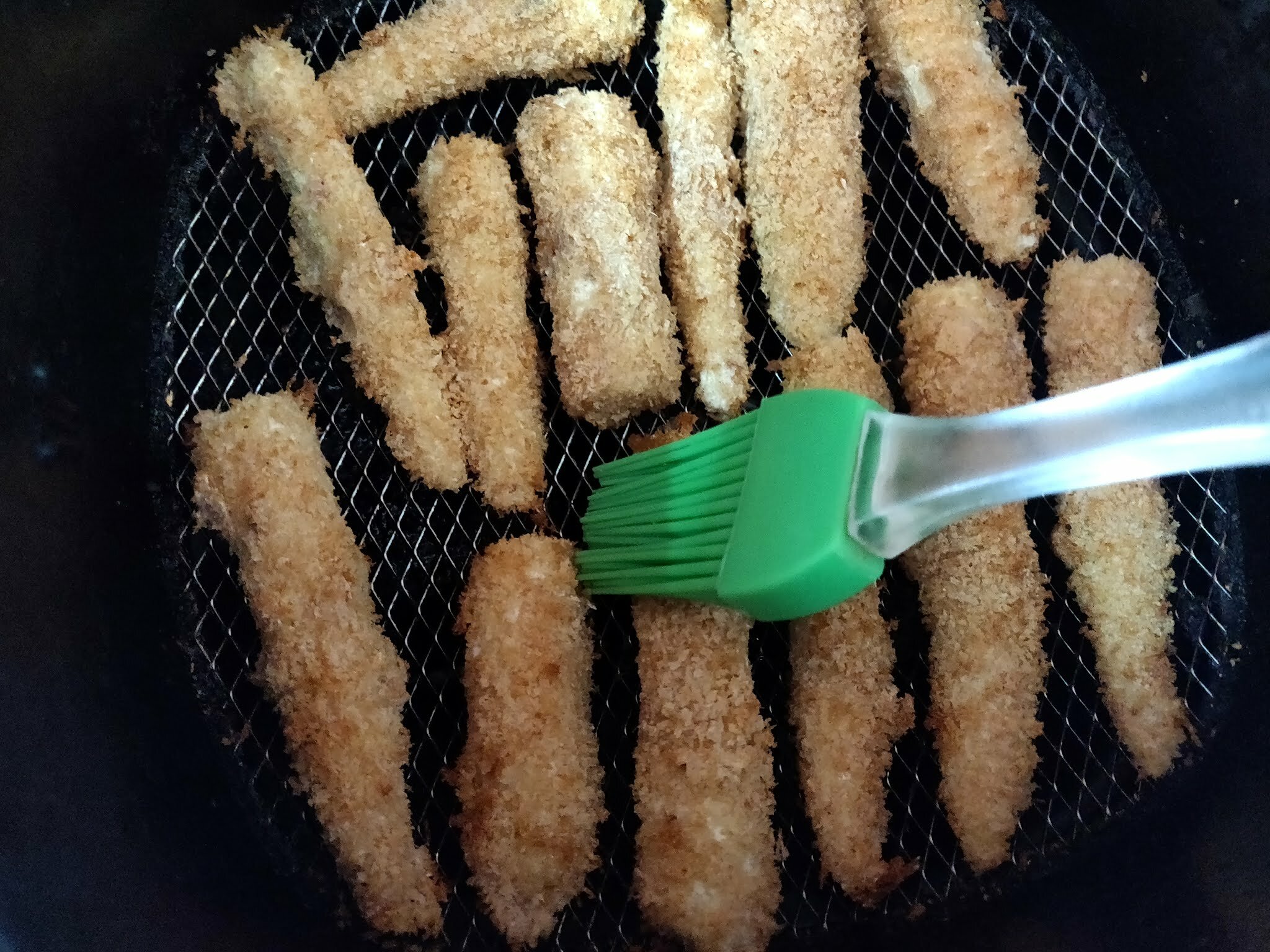 Air fry them till they become golden brown from all sides. Spray or dab more oil if required. Air frying time varies from model to model so keep an eye after 10 minutes.
Garnish these crispy baby corns with some chopped spring onion greens. Serve them hot with sweet chilli sauce, garlic mayo or ketchup. Bon Appetit !!
Pin for later: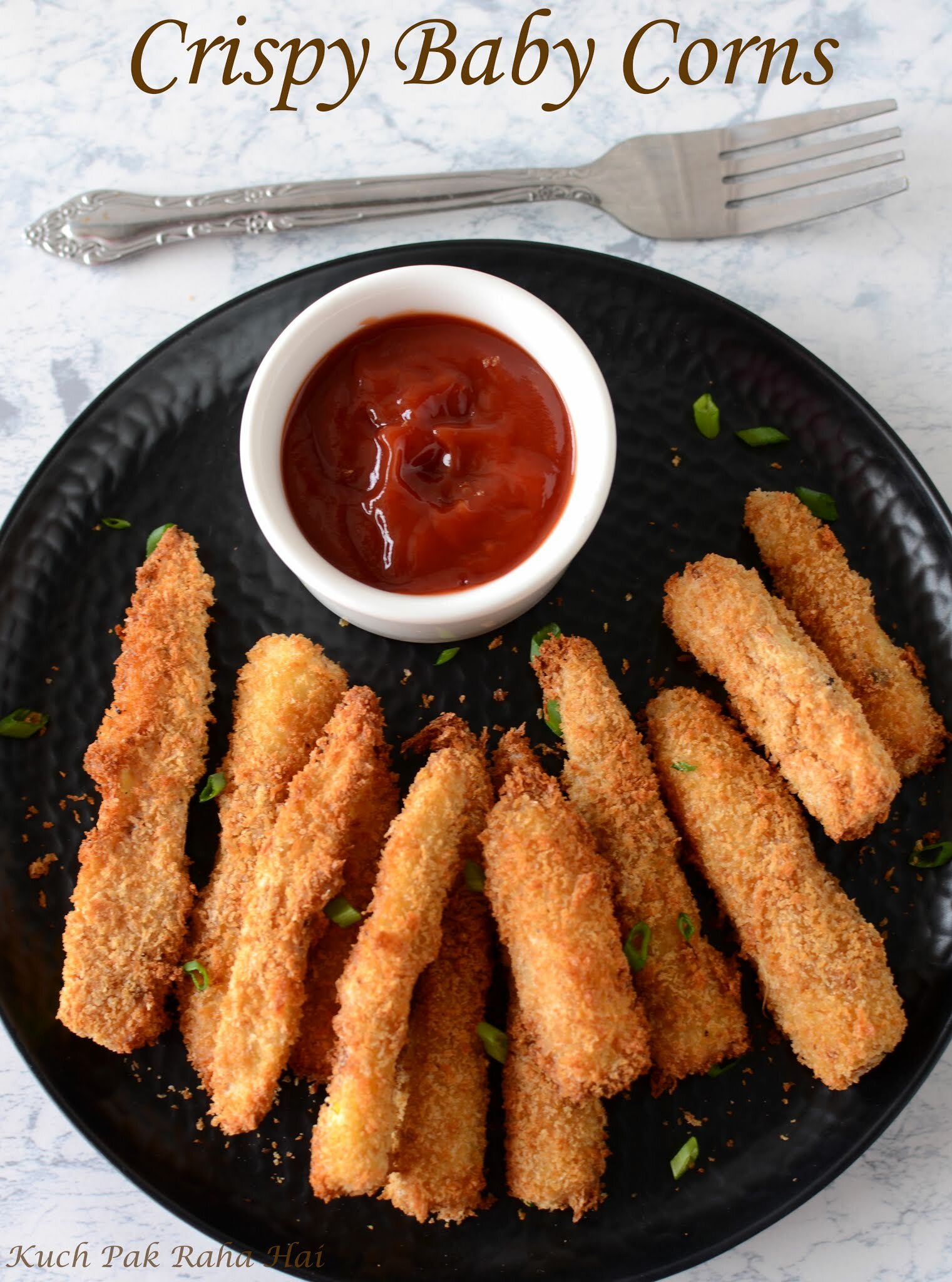 (Disclaimer: The post above contains amazon affiliate links. Buying from here will not cost you anything extra but we might earn a small commission from it.)
If you try this air fryer baby corn recipe & share pics on social media, then don't forget to tag us on Facebook or Instagram.