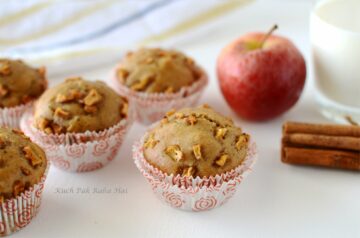 "An apple a day keeps doctor away.." When it comes to food, what can be better than something which is healthy and yummy at the same time. Today in this post I am going to share the recipe for "Eggless Apple Cinnamon muffins". The recipe is vegan & is made without eggs. It is totally healthy as no maida (APF) or butter has been used in it.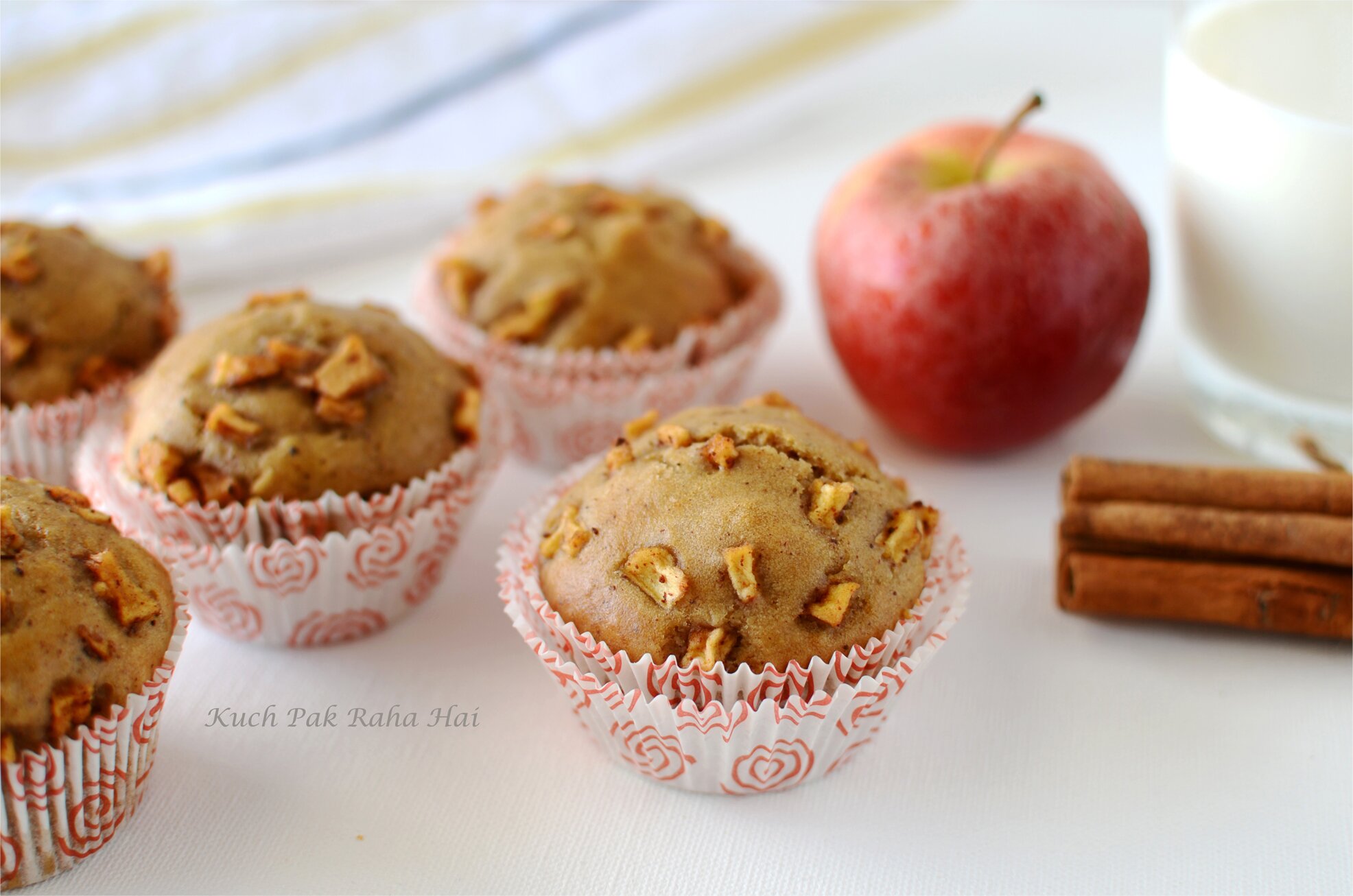 These delicious soft apple cinnamons muffins are made using whole wheat flour & fresh apple puree. It is a perfect breakfast muffin recipe or you can have it as healthy evening snack too. Also, these muffins can be given in kids lunch box as it is made of all fresh & healthy ingredients. What makes this muffin recipe versatile is that it can be made VEGAN. You can easily use almond milk to make these muffins vegan.
With gradually focus shifting to healthy baking I am also trying to involve more such recipes on this blog. Other recipes you might be interested in:
All the baking recipe shared on the blog are completely eggless. As more & more people are not opting for veganism & plant based diet, I try to given vegan substitutes as much as possible. You can checkout our Eggless Bakes section by clicking here.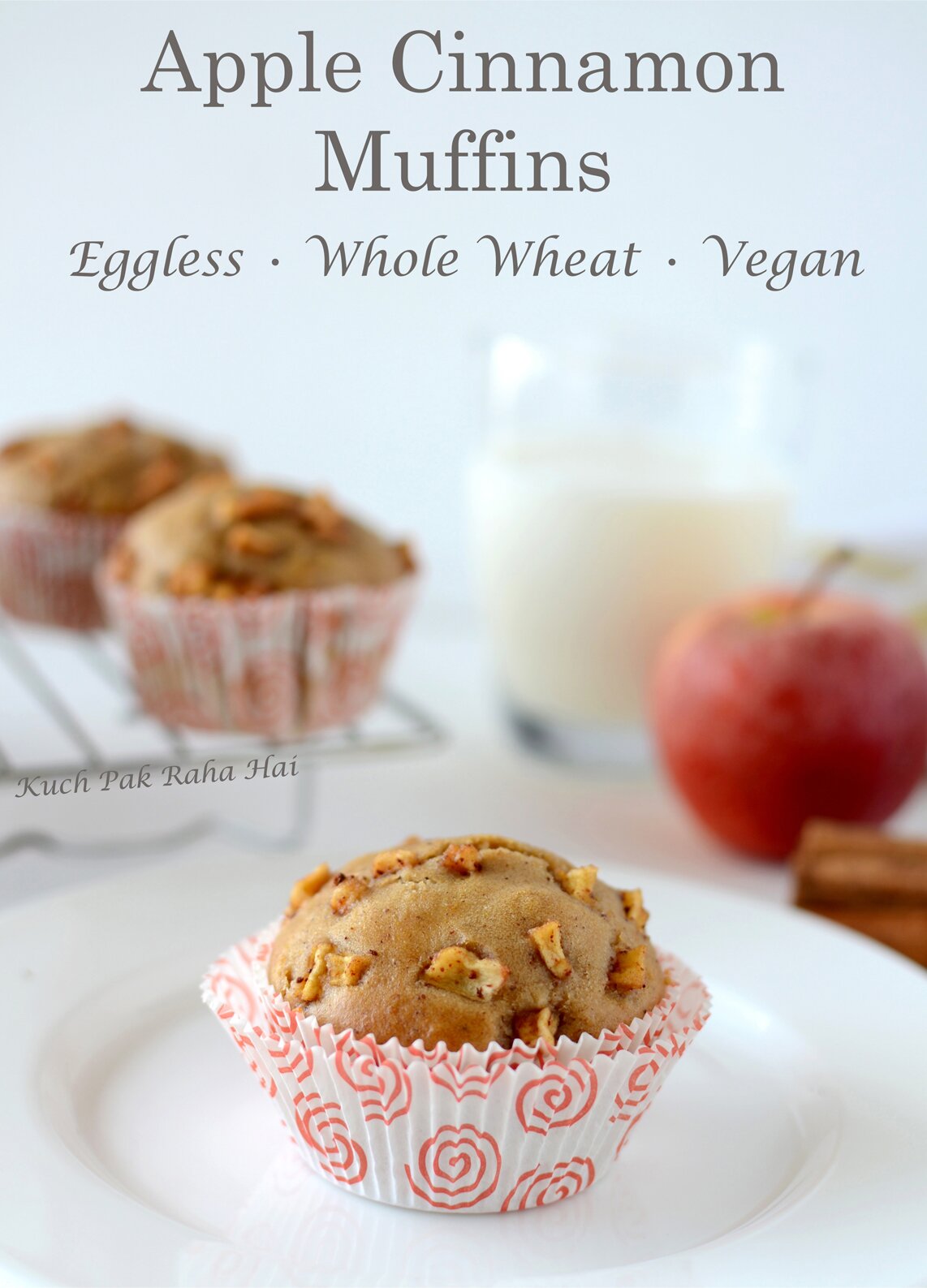 I have topped these muffins with some freshly chopped apples coated in cinnamon & brown sugar.  This way the apples get slightly caramelized & gives a nice taste with every bite of muffin. You can even use almonds, walnuts or chocolate chips. If you try this recipe please do tag us at "Kuch Pak Raha Hai" on Facebook or Instagram. I am sure you will definitely love this recipe!!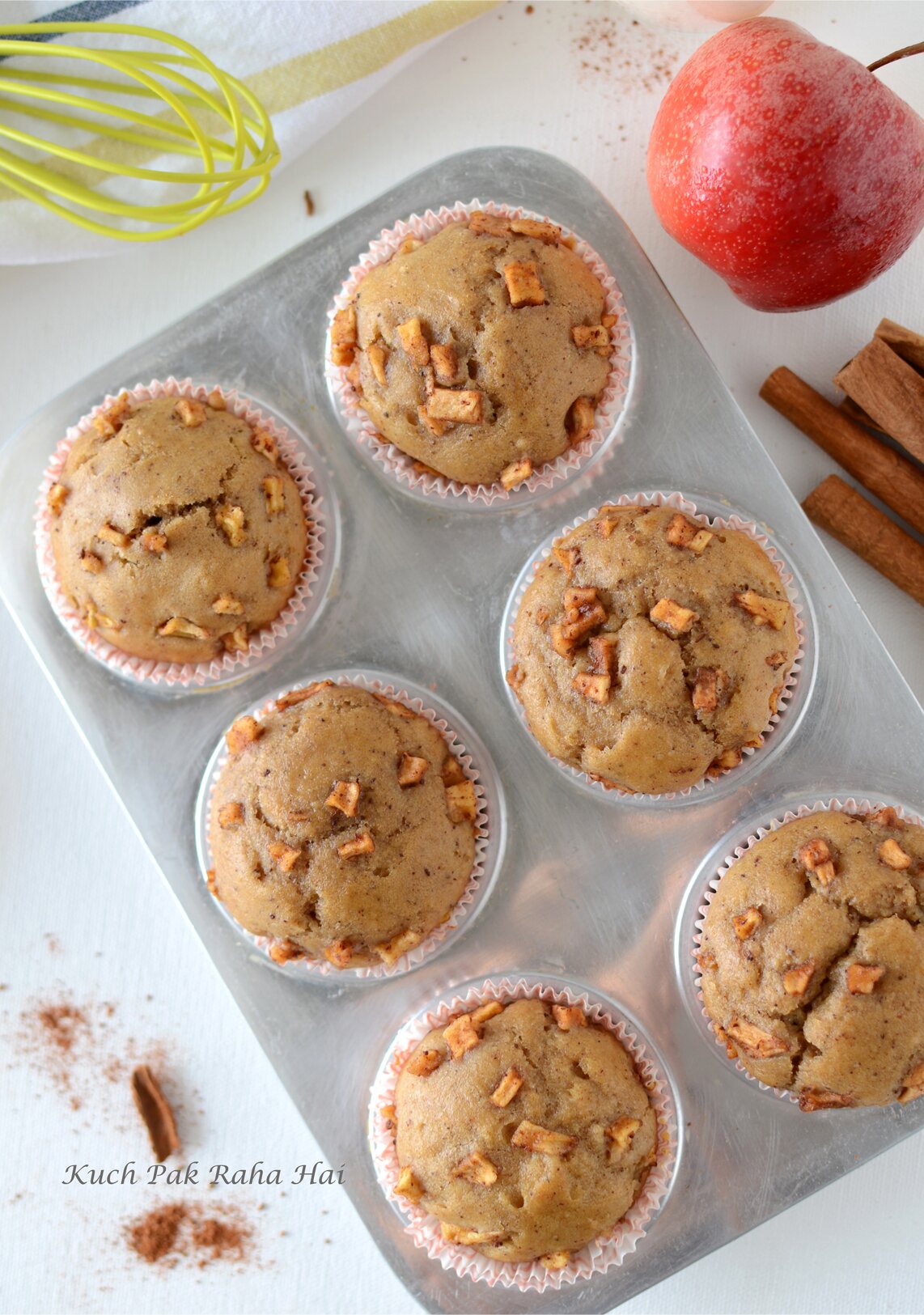 I have also shared the video for this same eggless apple cinnmon recipe on youtube as well. In case you are confused at any step, do check out the video as each & every step has been shown in detail.
Watch Video:
List Of Ingredients (Makes 6 muffins)
Whole Wheat Flour – 1 cup
Apple Puree* – ½ cup
Brown Sugar – ¼ cup
Milk/Almond Milk – 1/3 cup + 2 tbsp
Oil – 4 tbsp
Vinegar – 1 tsp
Baking Soda – ¼ tsp
Baking Powder – 1 tsp
Cinnamon Powder – 1 tsp
For Garnishing
Finely Chopped Apples – 4 tbsp
Cinnamon Powder – ¼ tsp
Brown Sugar – ¾ tsp
*I have used fresh apples to make puree. Just washed & peeled them. Blended them in wet grinding jar to make puree.
Notes:
Adjust the quantity of sugar as per your taste. If the apple are less sweet feel free to increase the quantity of sugar.
For Garnishing you can use almonds, walnuts or even chocolate chips.
I have used Sunflower oil in this recipe. You can use Olive Oil or any odourless & tasteless oil also.
As sweetener, brown sugar has been used. If you don't have it you can make these muffins with white sugar too.
Steps To Prepare:
Step 1:
Sieve together all the dry ingredients i.e whole wheat flour, baking powder, baking soda & cinnamon powder. Keep them aside.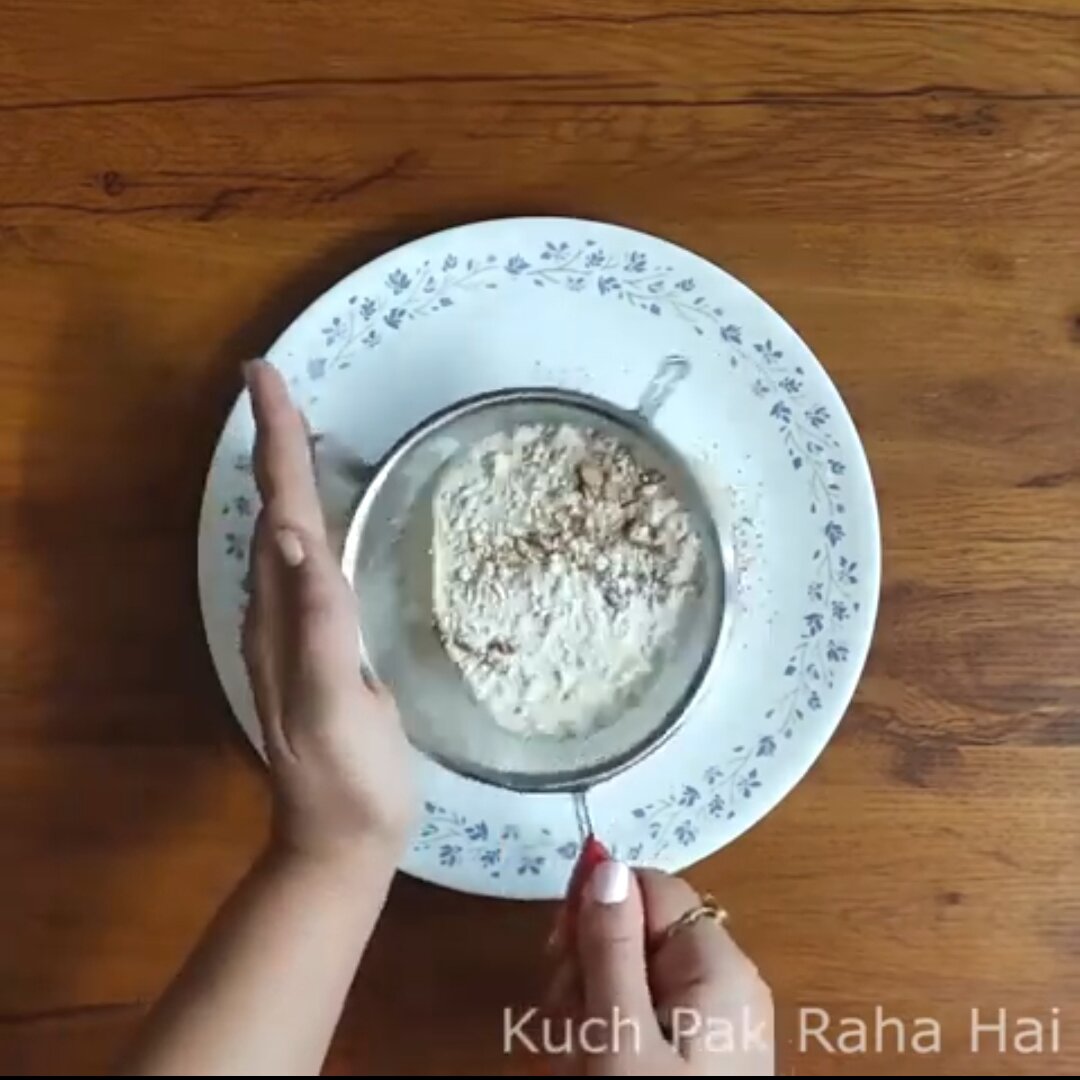 Step 2:
Mix milk and vinegar. Please make sure milk is at room temperature. Wait for 10-15 minutes till milk starts to curdle. Add apple puree & brown sugar. Whisk well so that sugar is completely dissolved. Add oil & stir well once again. Keep it aside.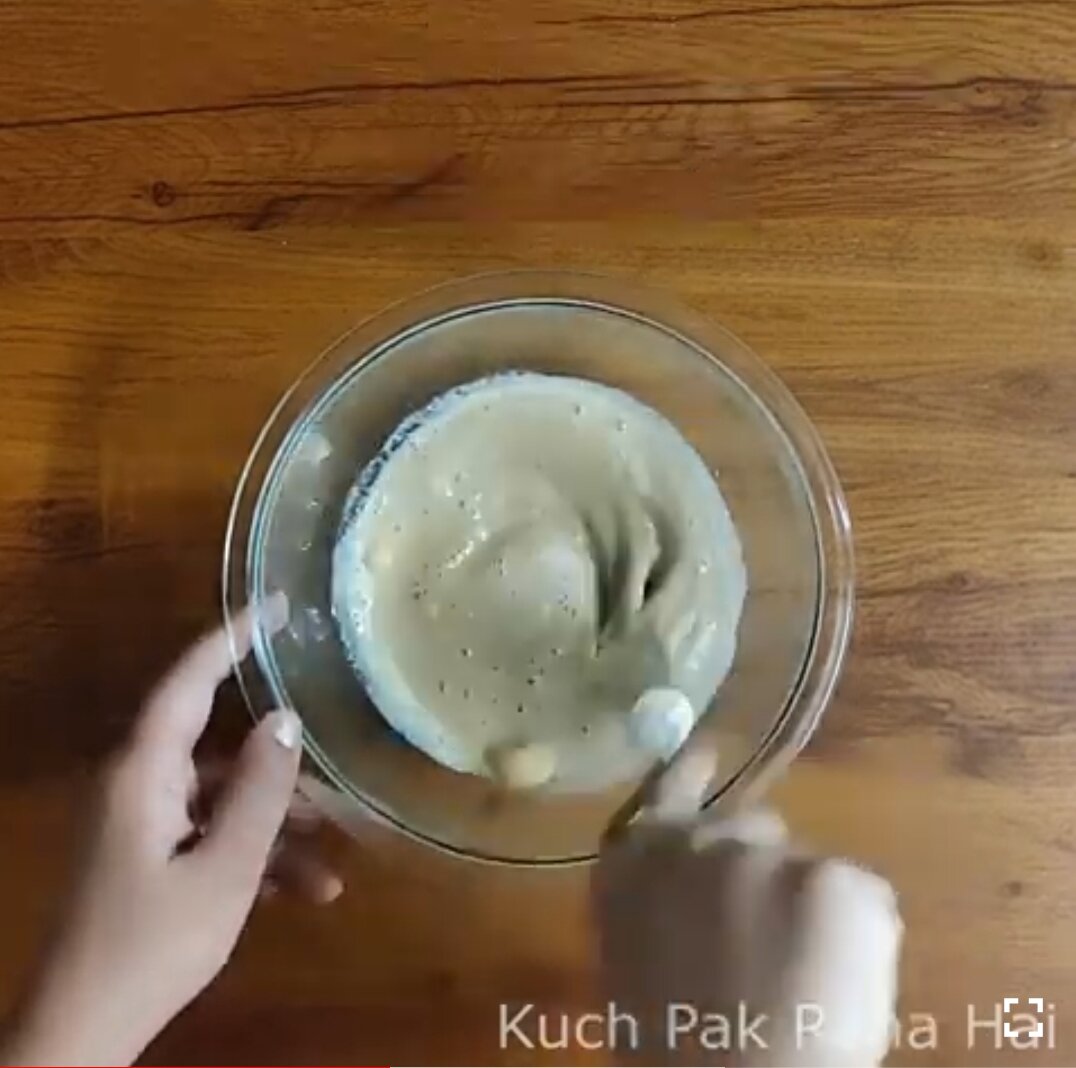 Step 3:
In a small bowl, add finely chopped apple, brown sugar & cinnamom. Mix gently. We will use them on top of our muffins. Keep them aside.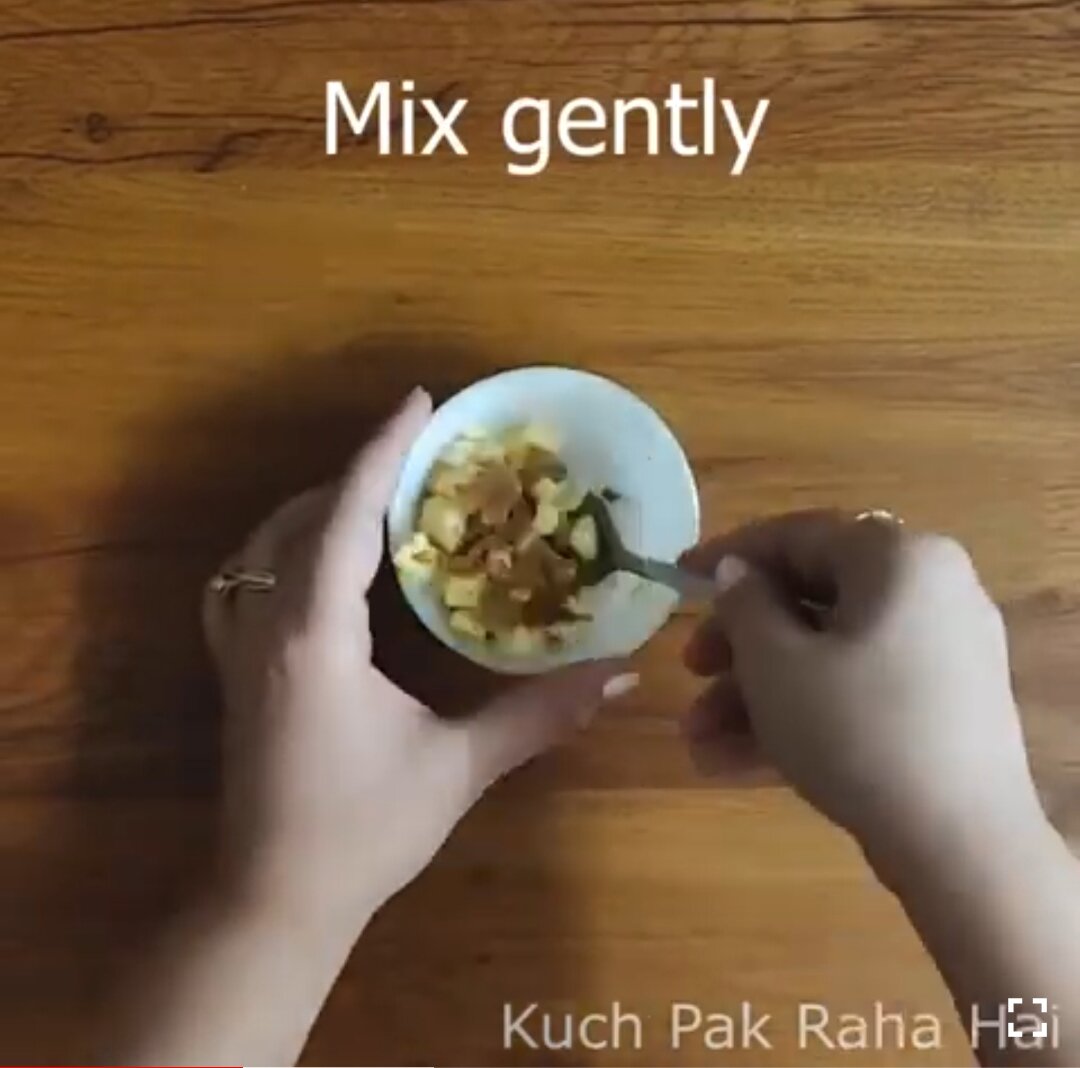 Step 4:
Fold the wet ingredients into the dry ingredients gradually with the help of spatula. Be gentle while doing this as we don't want any gluten to form. In case the batter seems thick, you can add 1-2 tbsp of more milk. The quantity of milk may vary slightly depending on the quality of wheat flour.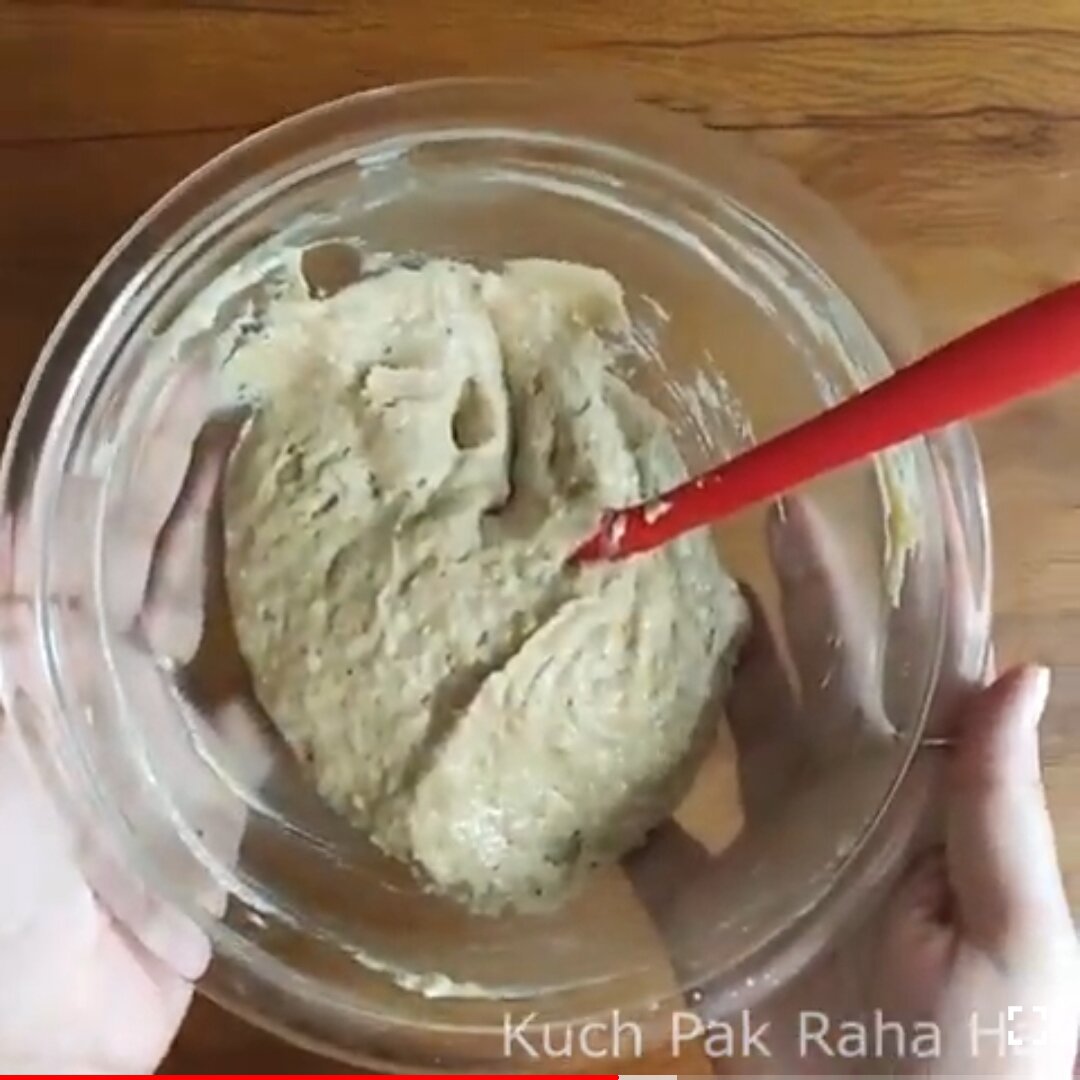 Step 5:
Set the oven for preheating at 170 degree Celsius. Place the muffin paper cups inside the muffin tra. Fill these cups to 3/4th level with the batter. Garnish them with chopped apples that we prepared before. In case you don't have the muffin cups, just grease the muffin tray using oil and then drop the batter in the hollows. Gently tap the tray one or twice to remove air bubbles.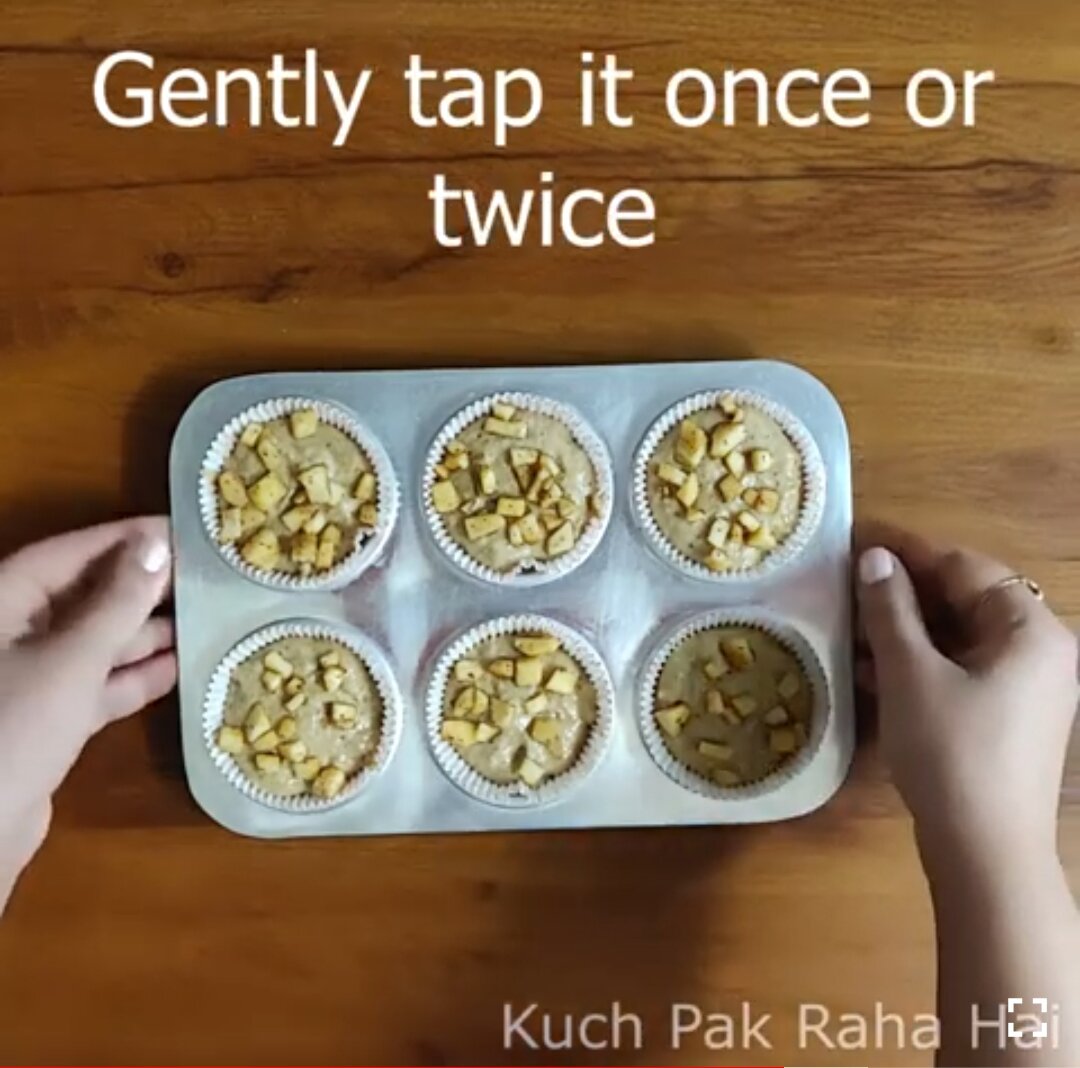 Step 6:
Place the muffin tray inside the preheated oven at 170 degree Celsius for 20 minutes. Take them out of the oven after 20 minutes and prick them with the toothpick. If toothpick comes out clean that means muffins are cooked otherwise place them back in the oven for another 2-3 minutes.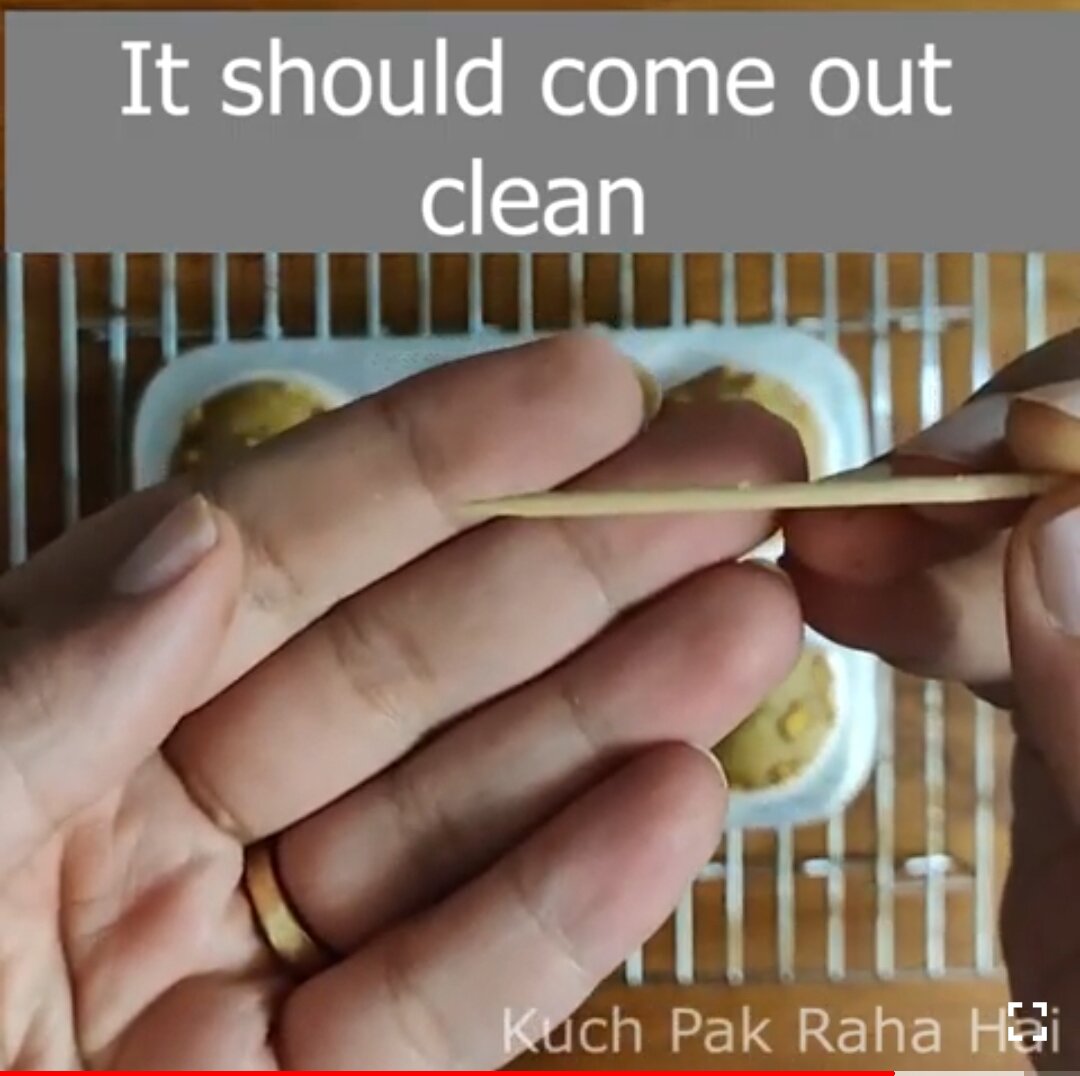 Place them on a wire rack to cool down completely.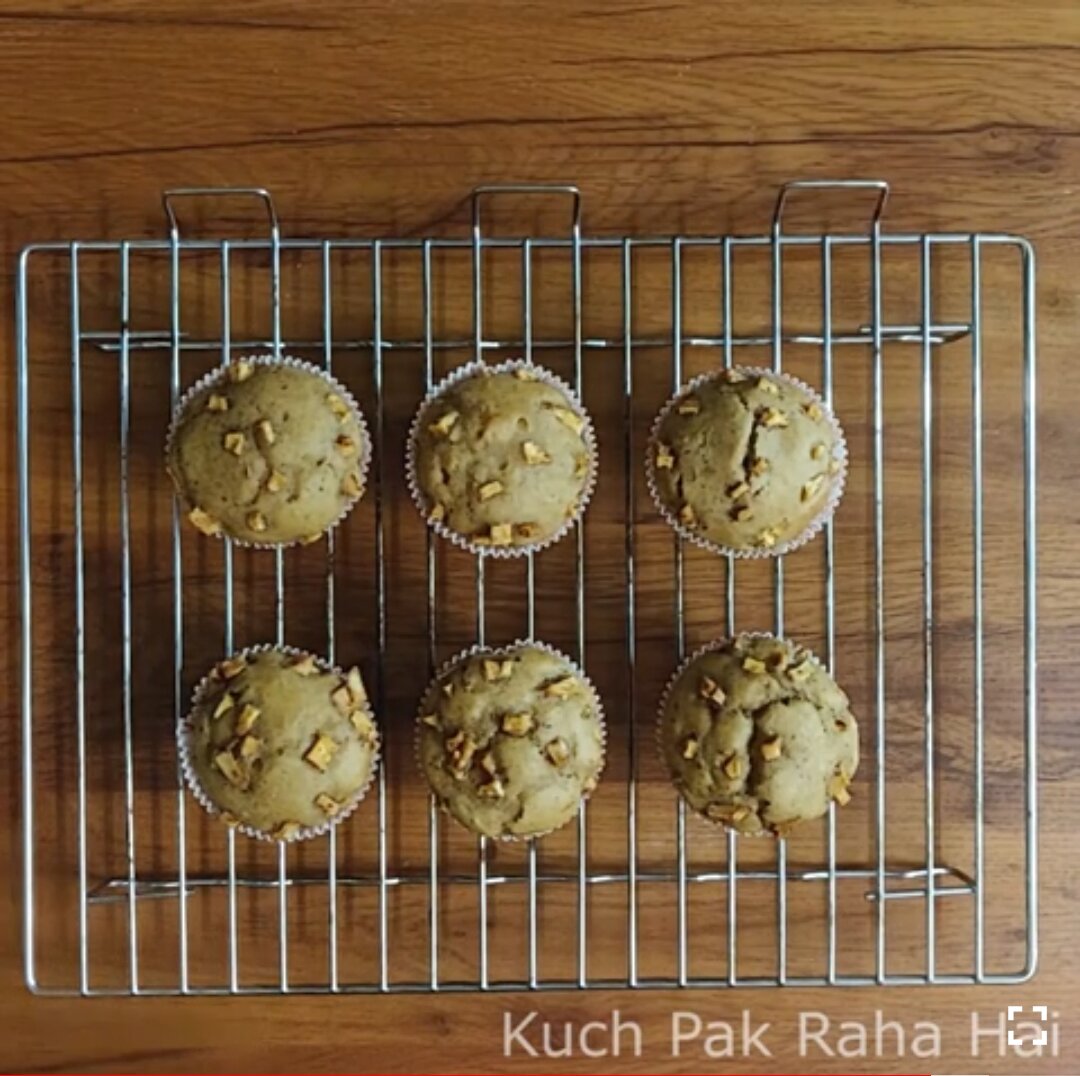 Delicious Apple Cinnamon muffins are ready. Enjoy with hot steaming cup of tea or coffee!! 🙂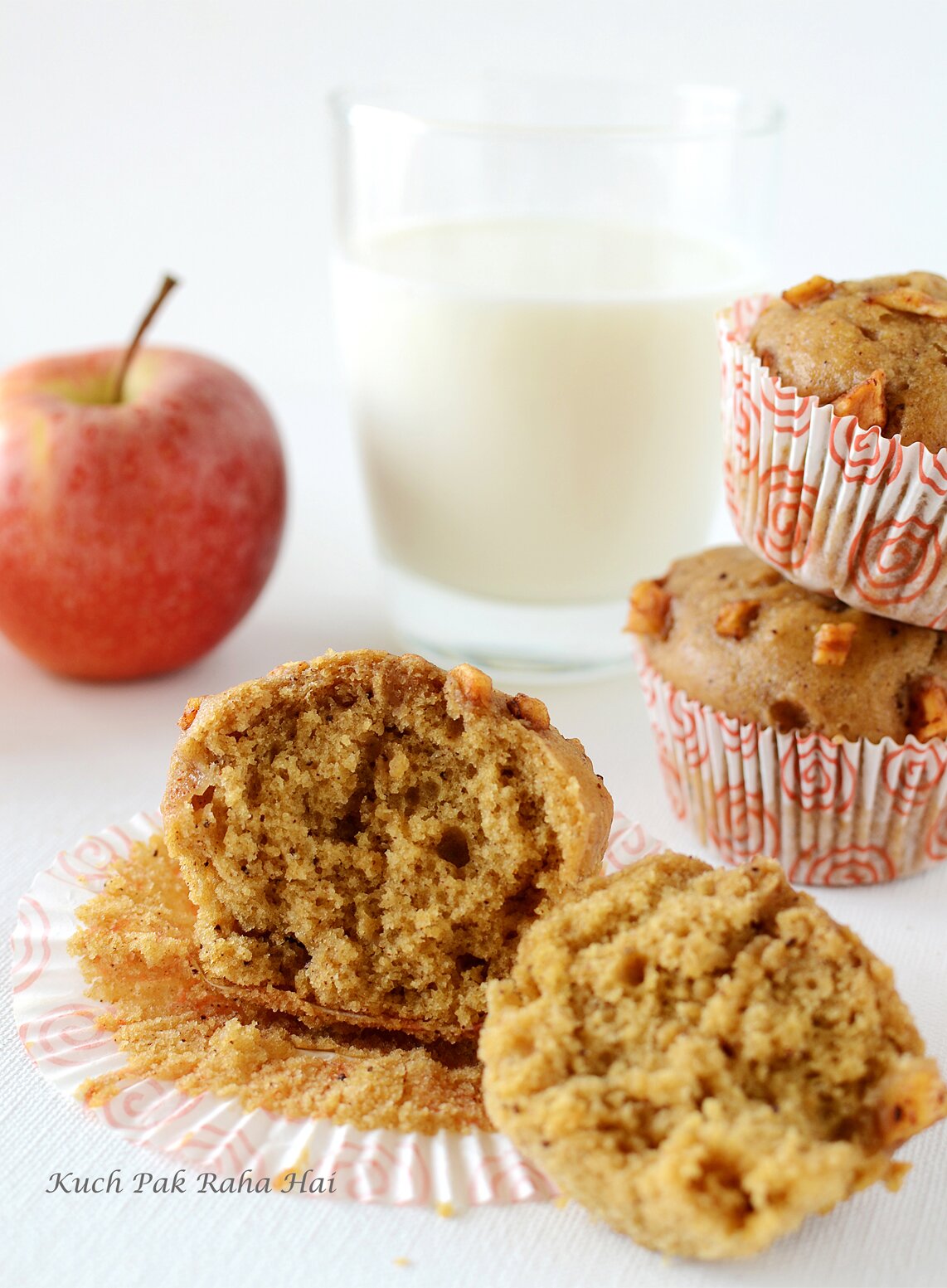 I would advice serving them warm. You can store them in airtight box in fridge. Whenever you want to have them just microwave them for 20 seconds. They taste absolutely fresh & heavenly!!
Your suggestions are always welcome and appreciable. Feel free to drop in your feedback in the comments section below.
Let's stay connected
Facebook| Instagram| Pinterest| Youtube
Eat, Drink and Be Merry!!!