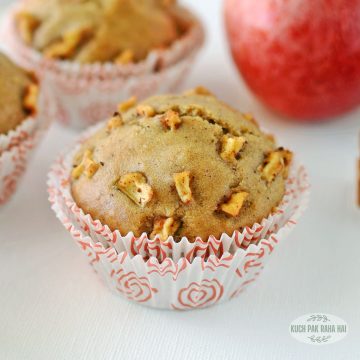 Soft fluffy vegan apple cinnamon muffins packed with goodness of whole wheat & apples are perfect for breakfast or snack. It is an easy, quick healthy muffin recipe & can be baked in air fryer or oven ( both included in this post).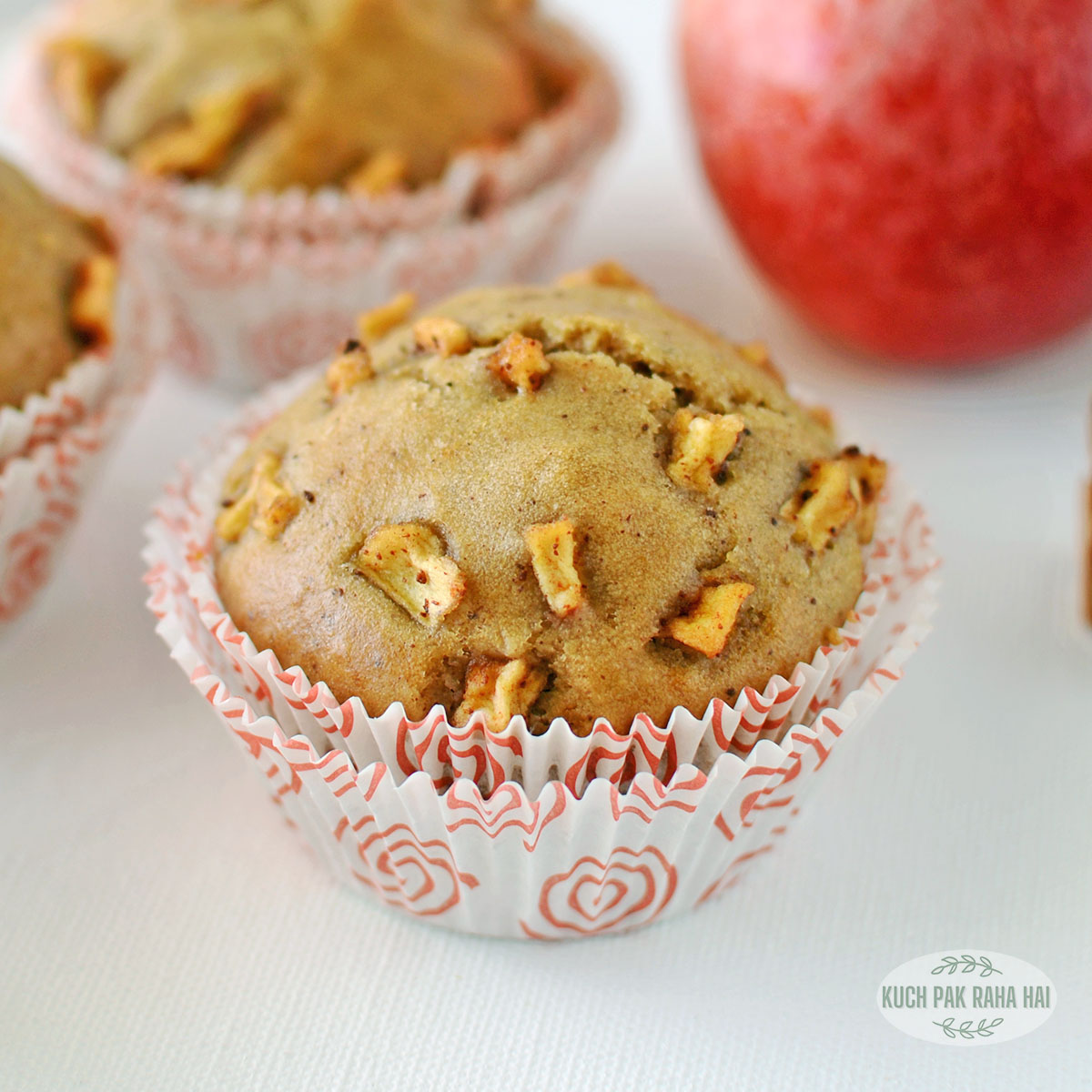 When it comes to baked goods, what could be better than something which is delicious & wholesome. If you look forward to do some baking with apples this fall season, then do try this healthy apple muffins recipe made with whole wheat, fresh apples & oil (no butter or all purpose flour used).
These muffins are also a great option to pack in kids lunch box as snack or can be enjoyed warm with tea or coffee. The apple cinnamon muffin recipe shared here is:
Vegan
Whole Wheat
Vegetarian (Eggless)
Can be made in both oven or air fryer.
Apple Muffins Ingredients:
Whole Wheat Flour: As I wanted to make these muffins healthy-ish, I have used whole wheat flour in the recipe. You can use all purpose flour too, however reduce the quantity of wet ingredients slightly as wwf absorbs more liquid.
Apple Puree: Instead of apple sauce, I have used fresh apple puree to make these muffins. They were peeled, chopped and then blended to make smooth puree.
Brown Sugar: Brown sugar goes well with the warm cinnamon flavour of the apple muffins. If you don't have it, you can use regular white sugar too.
Oil: I have used sunflower oil in this apple muffin recipe. You can use olive oil or any odourless, flavourless oil. It is always important to add some kind of fat in the muffins as it makes them soft & moist.
Cinnamon powder: Cinnamon & apples are a match made in heaven. This spice adds a perfect warm sweet smell to the muffins. You can even add some vanilla extract, nutmeg or pumpkin spice mix to make these muffins more aromatic.
(Milk + Vinegar): I have made homemade buttermilk by mixing vinegar & milk to use in this muffin recipe. It helps in rising of baked good and also makes them softer. To make these apple muffins vegan, replace dairy milk with soy milk. I have used white vinegar here but apple cider vinegar can also be used.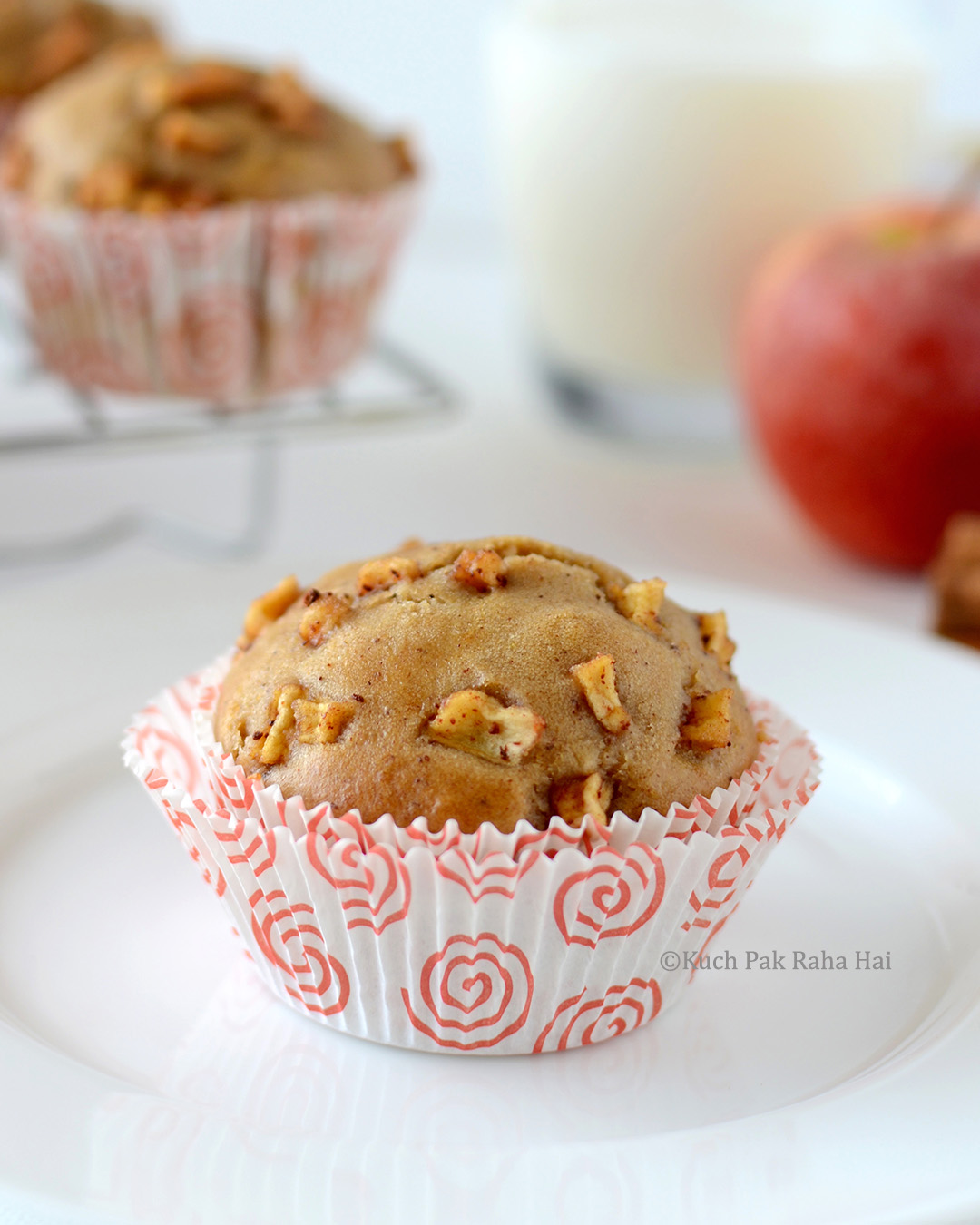 Topping Ideas for Apple muffins:
I have topped these muffins with some chopped apples mixed with cinnamon & brown sugar. This way the apples get slightly caramelised & you get a nice juicy tart taste with every bite of muffin.
You can also top them up with chopped almonds, walnuts, raisins, pecans or sprinkle some oats crumble or streusel (made of flour, butter, sugar) for crunchiness. I love to have these muffins warm with a drizzle of salted caramel sauce.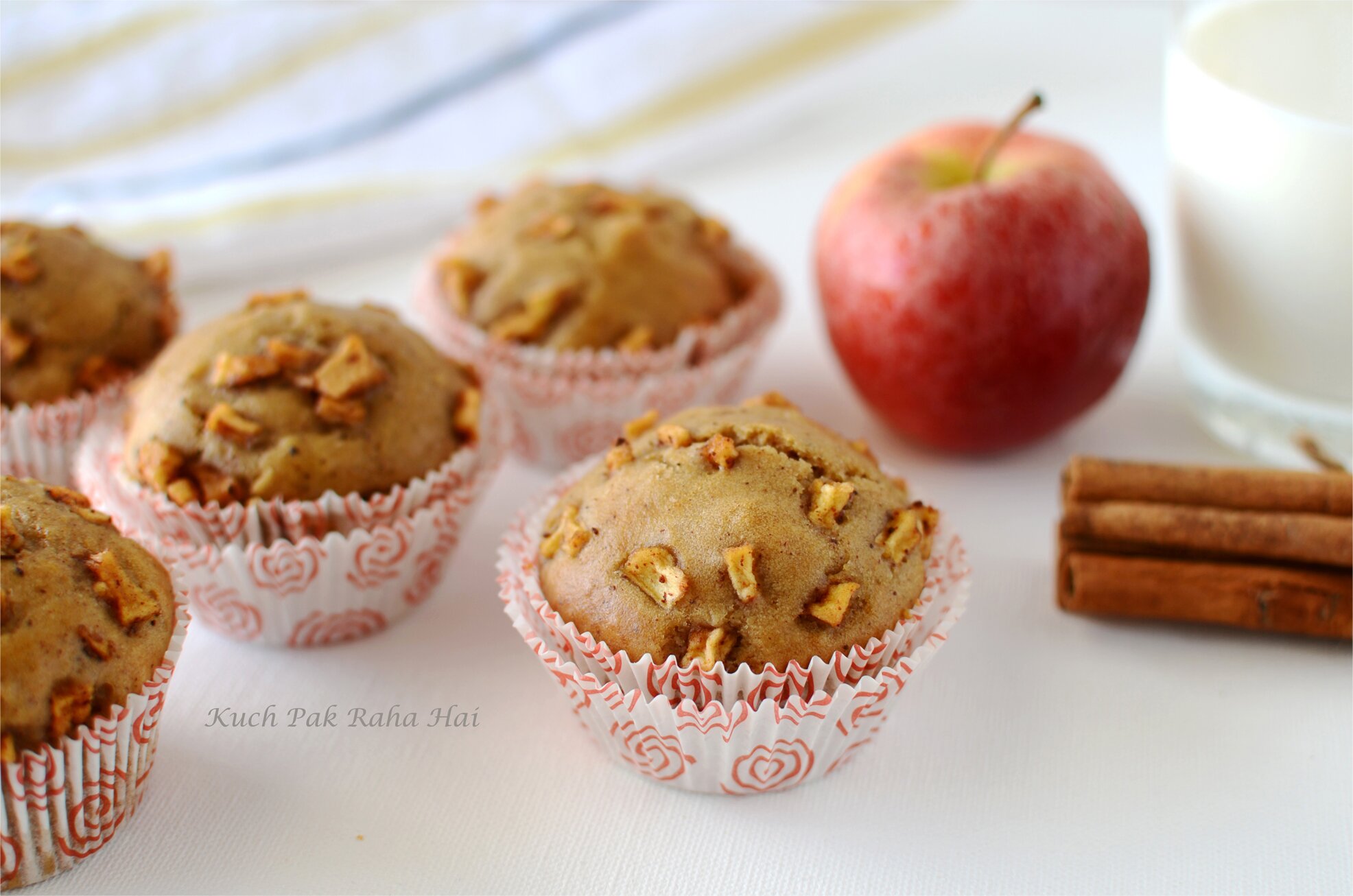 Tips:
Baked good made with whole wheat flour sometimes have a peculiar smell or slightly darker colour. It is therefore more important to use some kind of aromatic like cinnamon or pumpkin spice mix in good quantity to mask that smell.
Be gentle while folding the batter as over mixing can cause gluten formation resulting in dense, chewy muffins
How do you store apple cinnamon muffins?
As these muffins are made using fresh apples, I would not advice storing them longer than 3 days in fridge. Store them in an air tight container to prevent them from drying.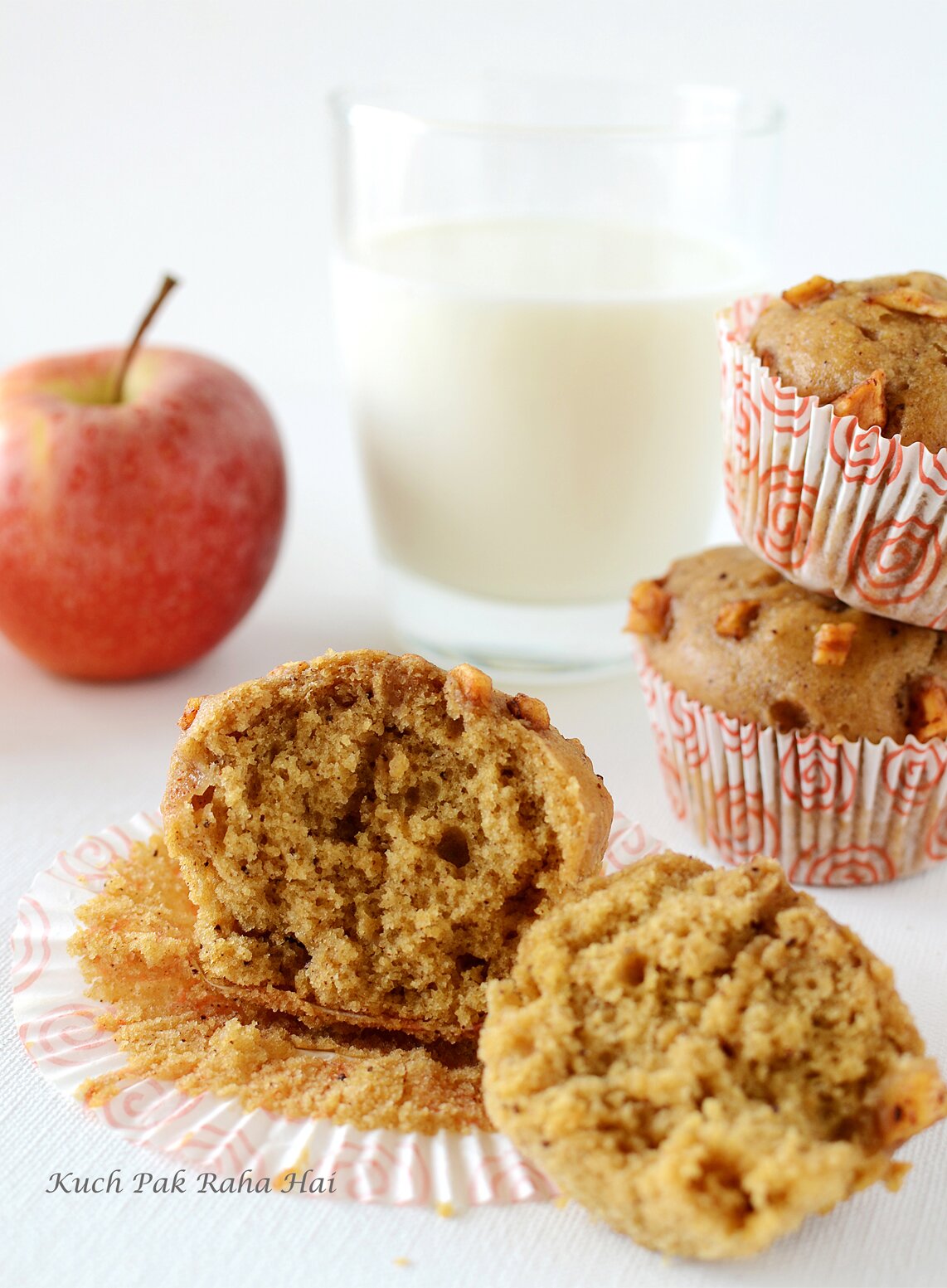 I have also shared a video for this recipe on youtube channel as well. In case you are confused at any step, do check out the video as each & every step has been shown in detail.
Youtube Video:
More eggless baking recipes you might like:
Ingredients: (Makes 6 muffins)
Whole Wheat Flour- 1 cup (

120 gms

)
Baking Soda – ¼ tsp
Baking Powder – 1 tsp
Cinnamon Powder – 1 tsp
Milk / Soy Milk – 1/3 cup + 2 tbsp
Vinegar / Apple Cider Vinegar – 1 tsp
Apple Puree*- 1/2 cup (

120 gms

)
Brown Sugar – 1/3 cup (

55 gms

)
Oil – 4 tbsp
Finely Chopped Apples – 4 tbsp (for garnishing)
Cinnamon Powder – ¼ tsp (for garnishing)
Brown Sugar -1 tsp (for garnishing)
Notes:
Adjust the quantity of sugar as per your taste. If you like more sweet muffins, you can take upto 1/2 cup sugar.
*Just wash, peel & slice the apples. Blend well to make smooth apple puree.
You can also add 1/2 tsp vanilla extract or a big pinch of nutmeg.
Measuring Cup used: 1 cup=250 ml
Directions:
Step 1:
Sieve together all the dry ingredients -whole wheat flour, baking powder, baking soda & cinnamon powder. Keep them aside.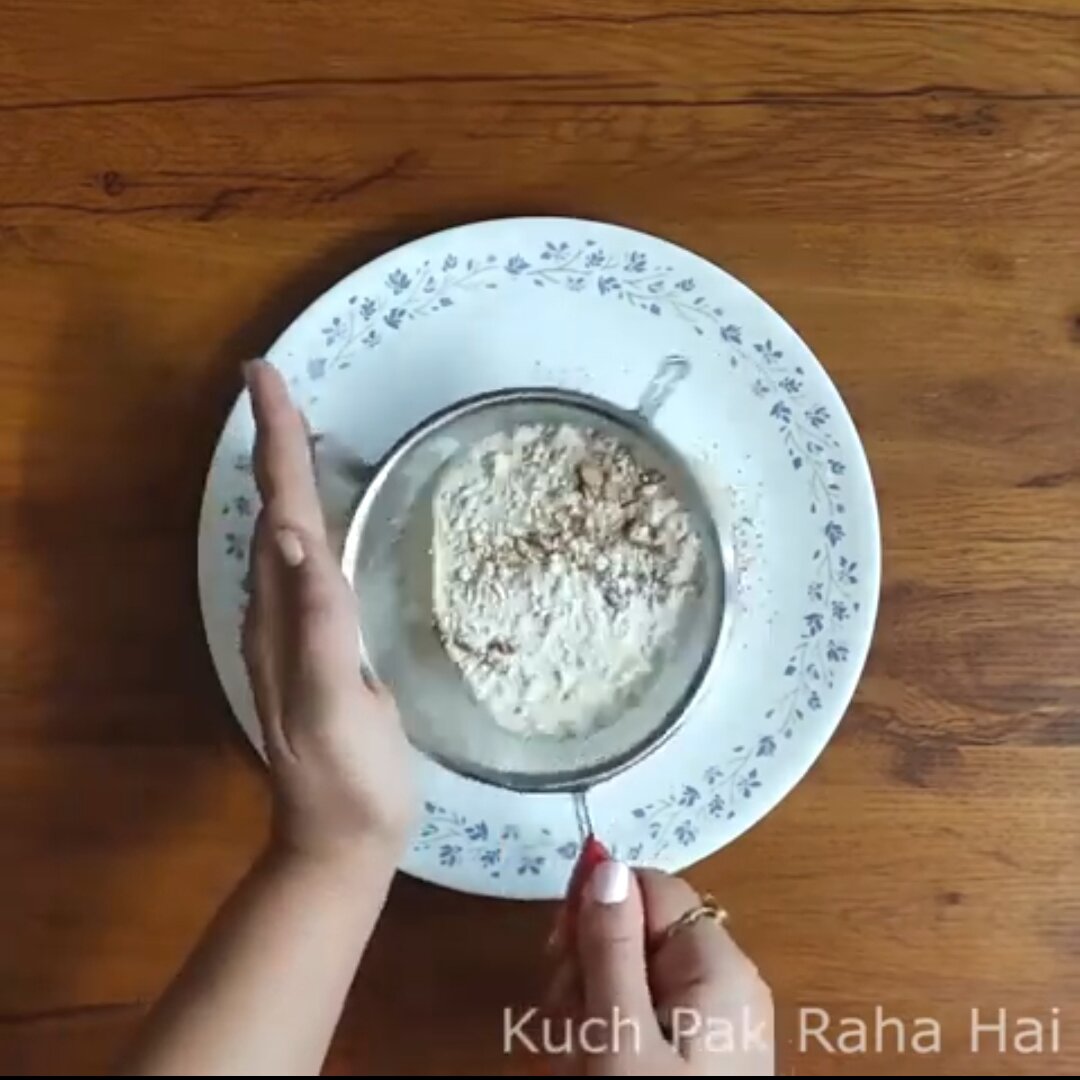 Step 2:
Mix milk and vinegar. Please make sure milk is at room temperature. Wait for 10-15 minutes till milk starts to curdle. Add apple puree & brown sugar. Whisk well so that sugar is completely dissolved. Add oil & stir well once again. Keep it aside.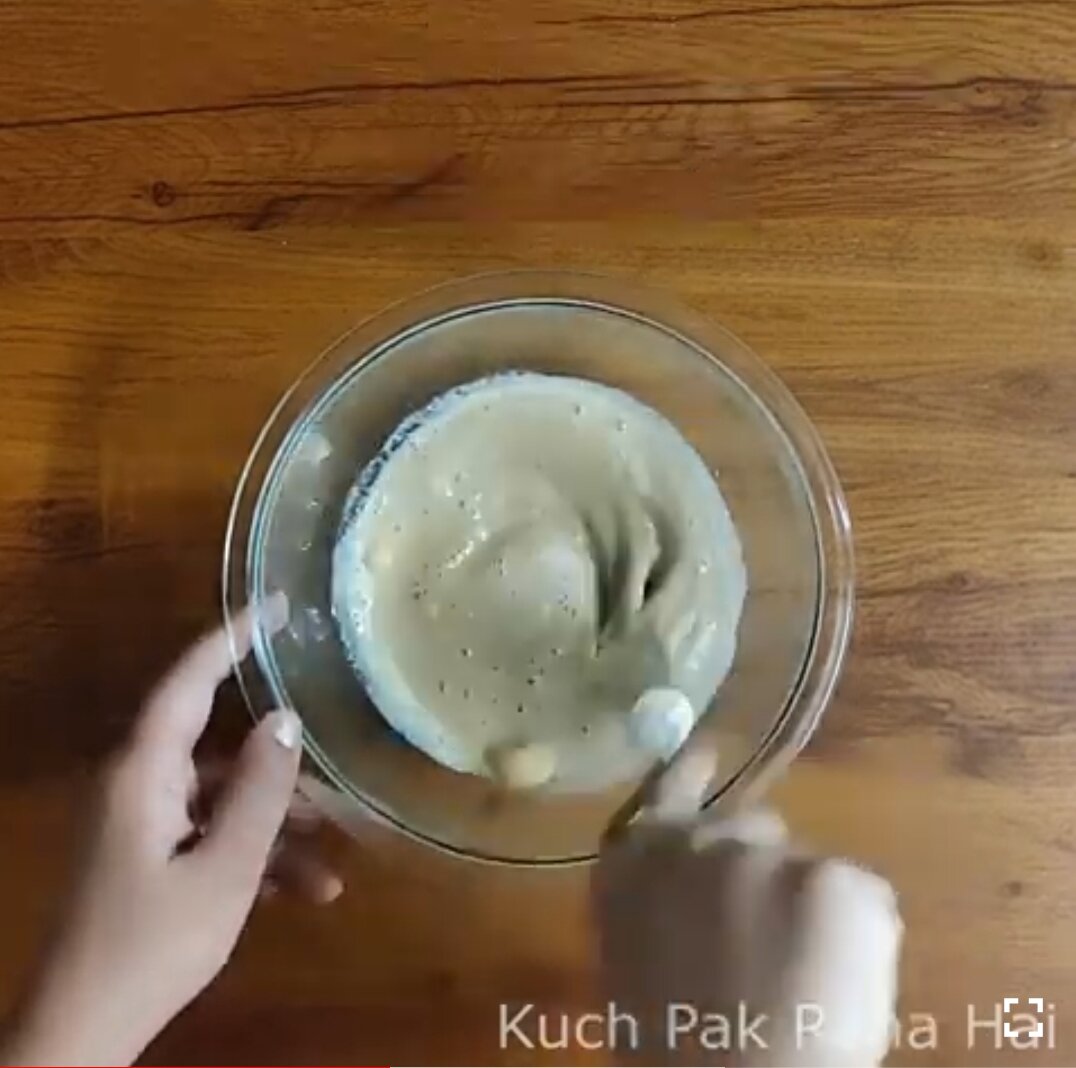 Step 3:
In a small bowl, add finely chopped apple, brown sugar & cinnamom. Mix gently. We will use them on top of our muffins. Keep them aside.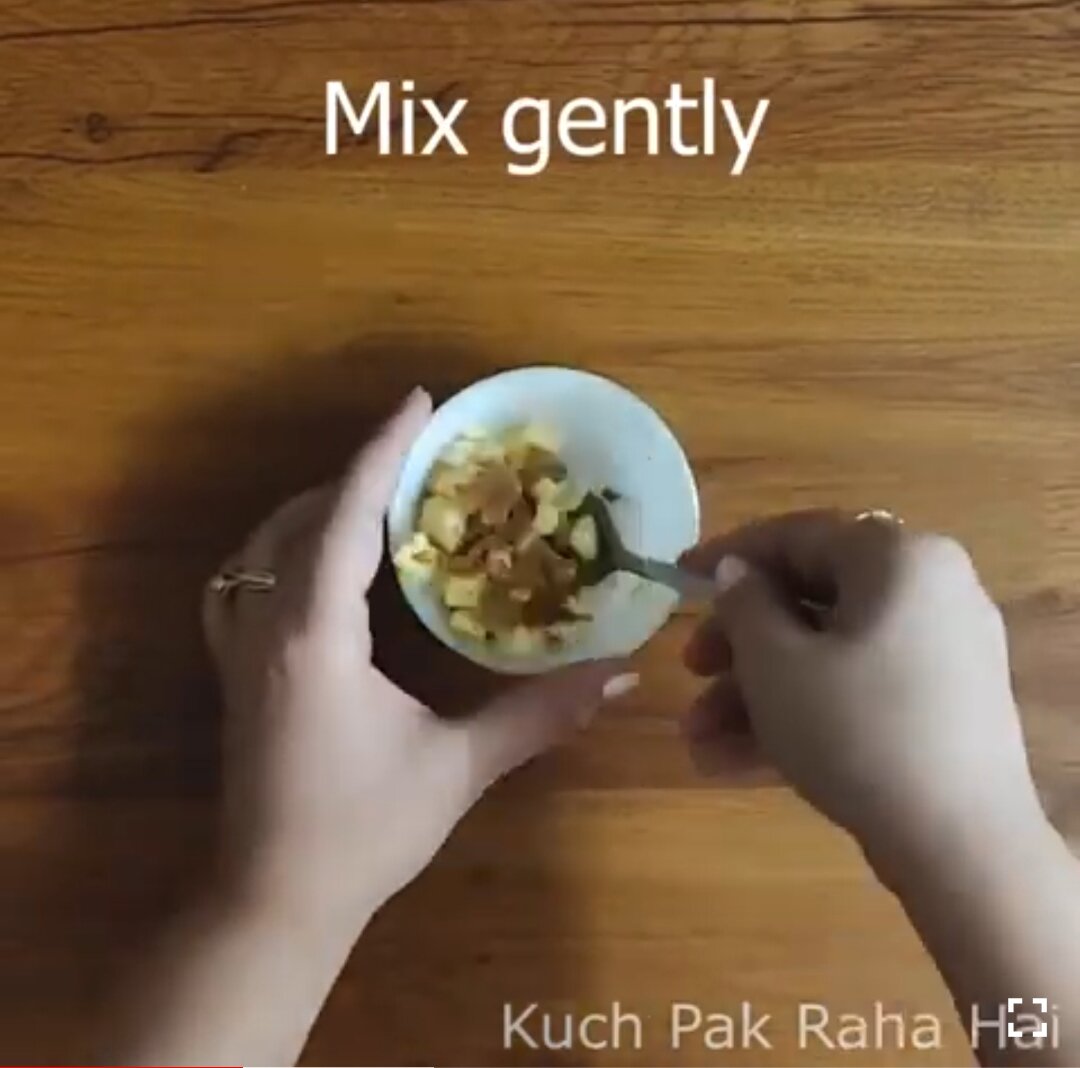 Step 4:
Fold the wet ingredients into the dry ingredients gradually with the help of spatula. In case the batter seems thick, you can add 1-2 tsp of more milk. The quantity of milk may vary slightly depending on the quality of wheat flour.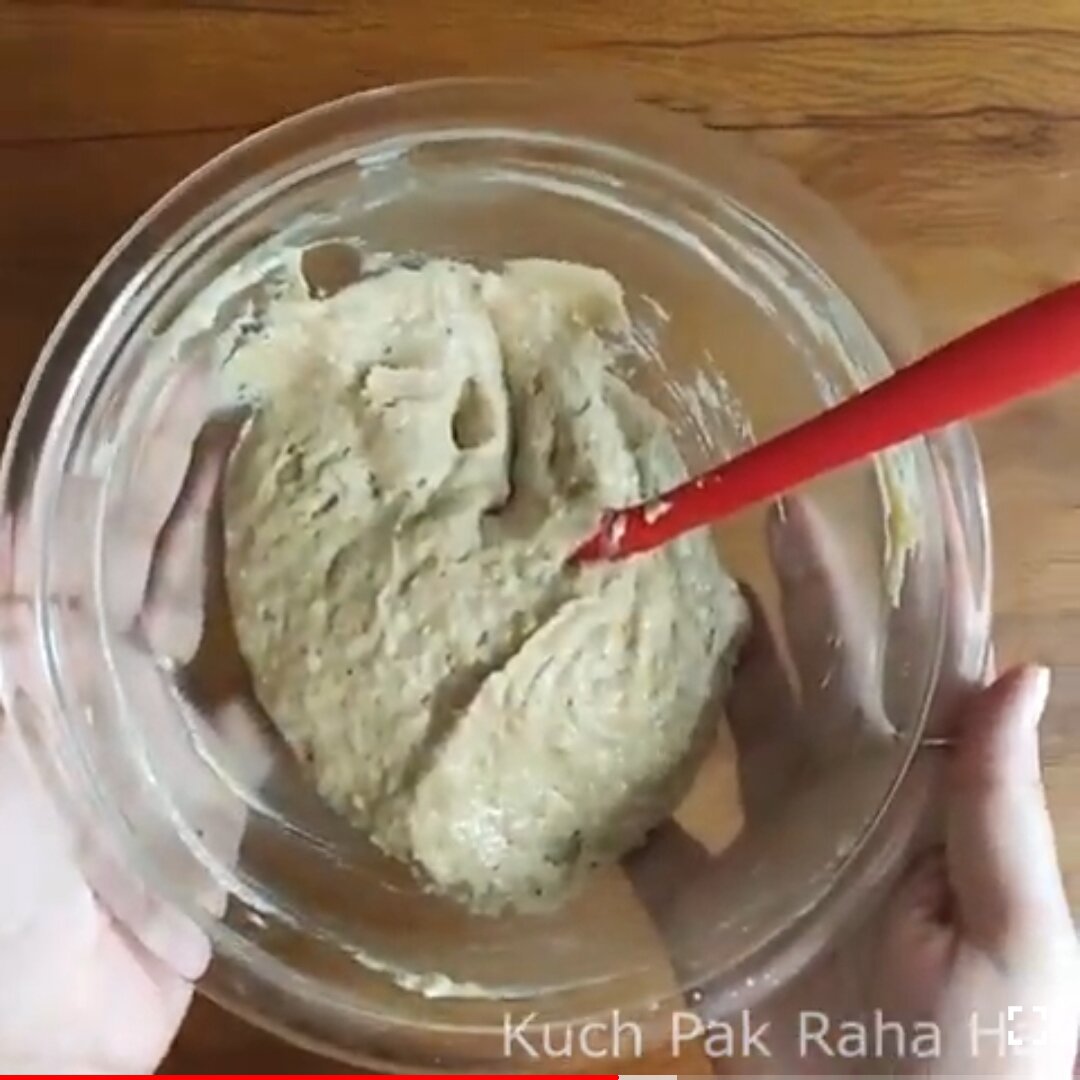 Step 5:
Set the oven for preheating at 170°C (340°F). Place the paper liners inside the muffin tray. Fill these liners to 3/4th level with the batter. Garnish them with chopped apples that we prepared before. Gently tap the tray one or twice to remove air bubbles.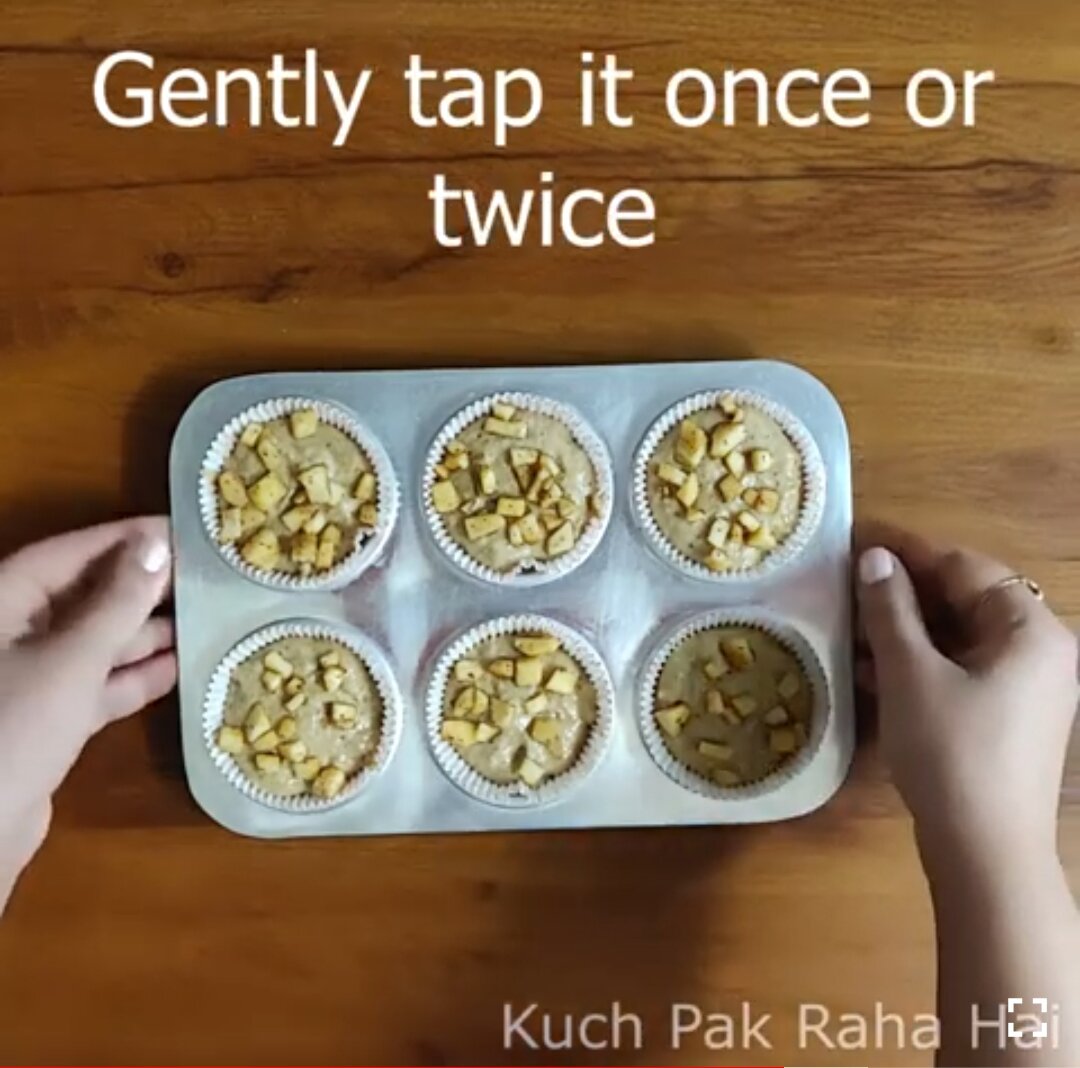 Step 6: (Oven Method)
Bake the muffins in a preheated oven at 170°C (340°F) for 20 minutes. Take them out of the oven after 20 minutes and test them with the skewer or knife. If it comes out clean that means muffins are done otherwise place them back in the oven for another 2-3 minutes.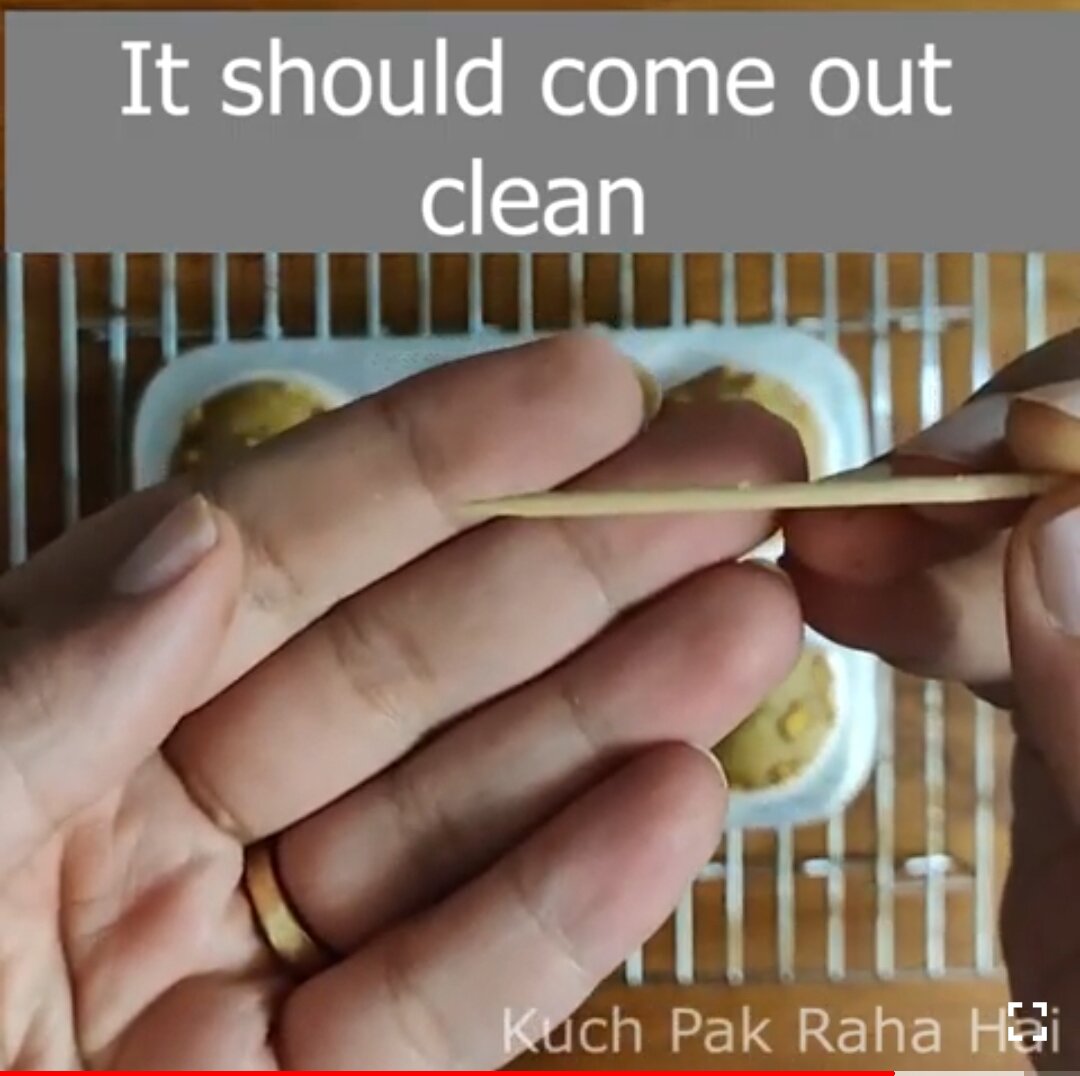 Place them on a wire rack to cool down completely. Yummy healthy apple cinnamon muffins are ready. Enjoy them warm with a cup of tea or coffee!!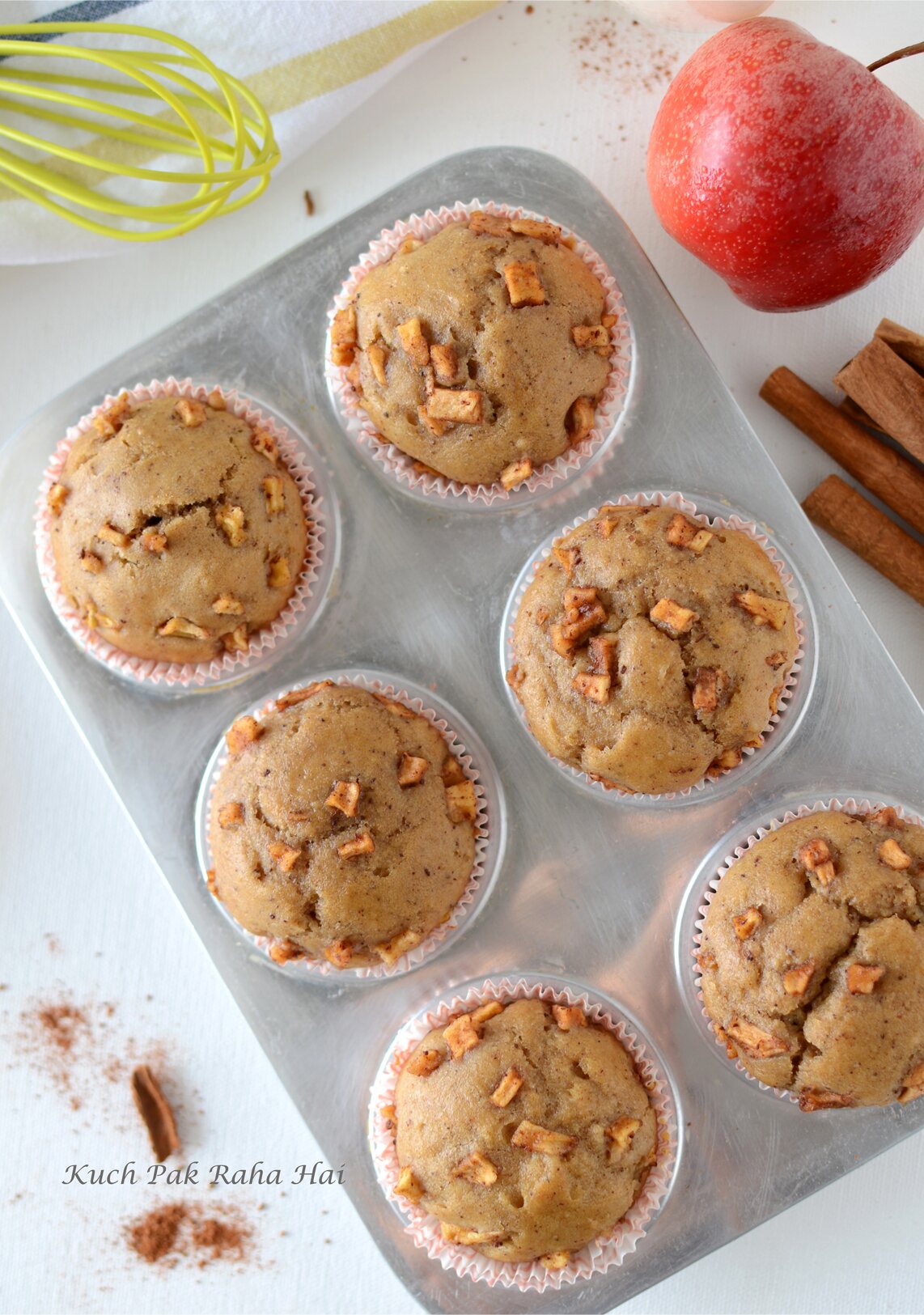 You can store these in airtight box in fridge. Whenever you want to have them just microwave them for 15-20 seconds. They taste absolutely fresh & divine. Happy Baking!!
Air Fryer Apple Muffins
These apple muffins can be baked in air fryer too. The recipe will remain the same as oven, only the baking steps will change.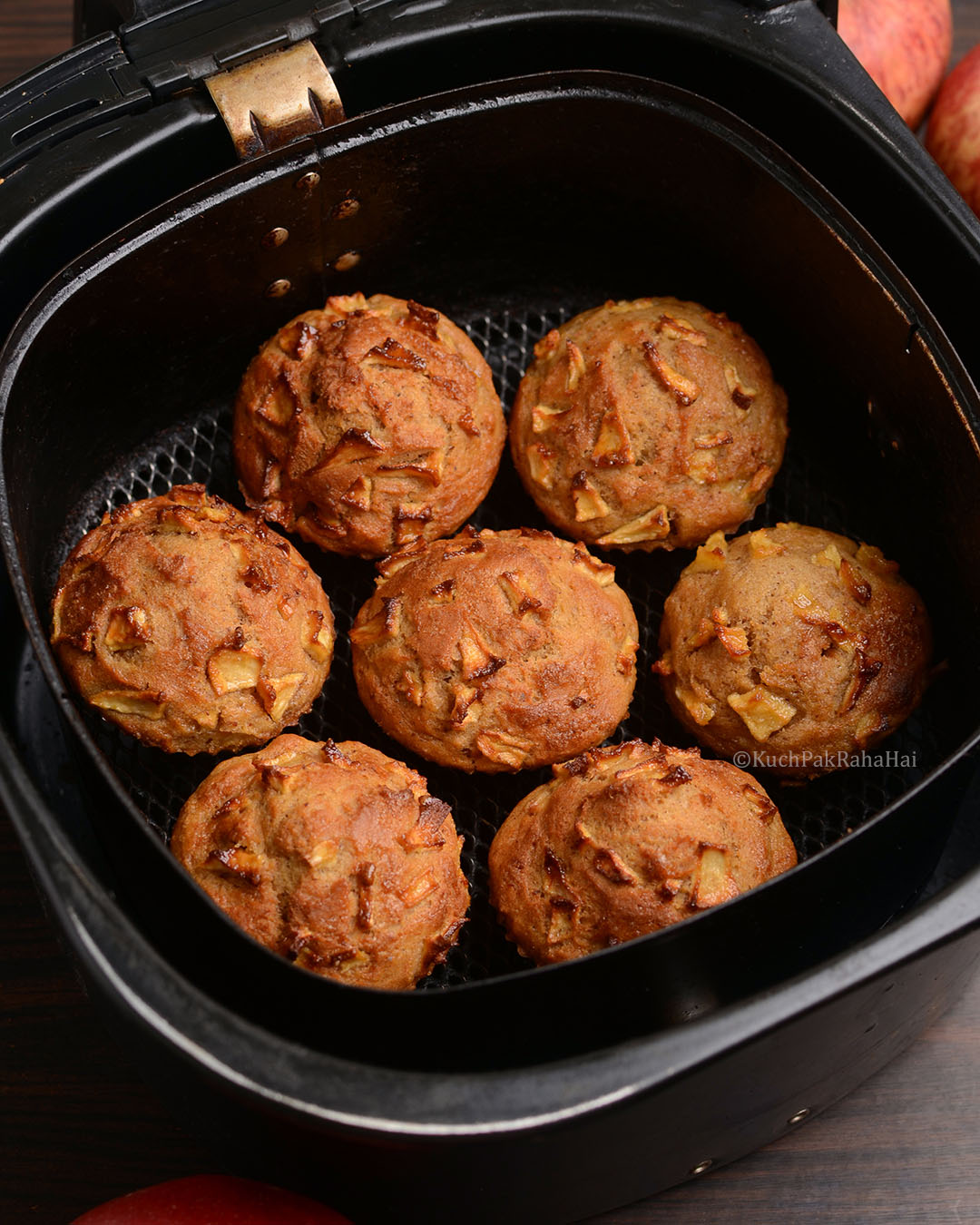 1. Preheat the air fryer at 180°C (356°F).
2. Once the air fryer is preheated, transfer the filled muffin moulds in air fryer. I have used silicon moulds here.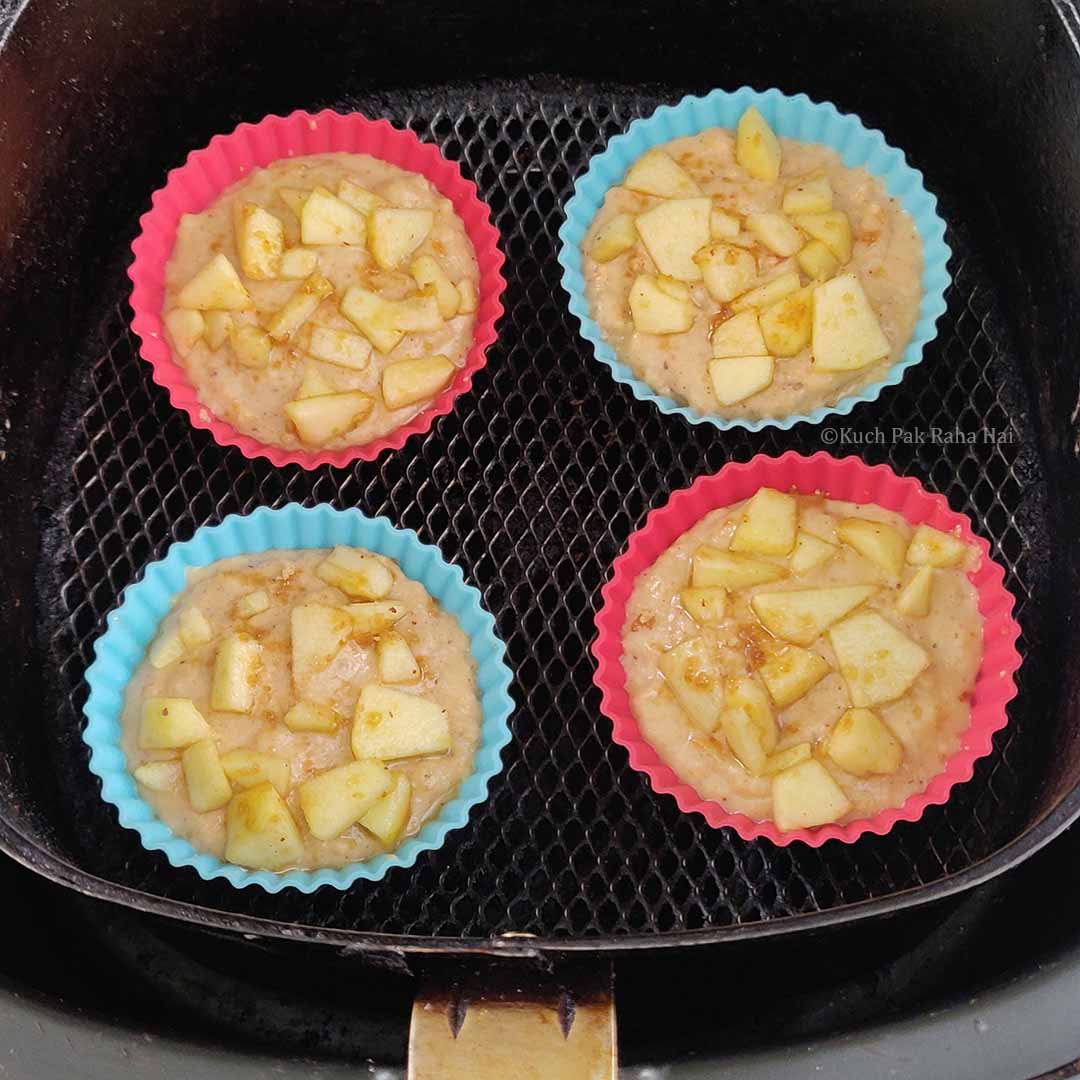 3. Air fry these apple cinnamon muffins at 180°C (356°F) for 13-15 min. Check the centre of a muffin after 13 minutes with a skewer or knife. If it comes out clean, the muffins are ready else bake for 1-2 minutes more.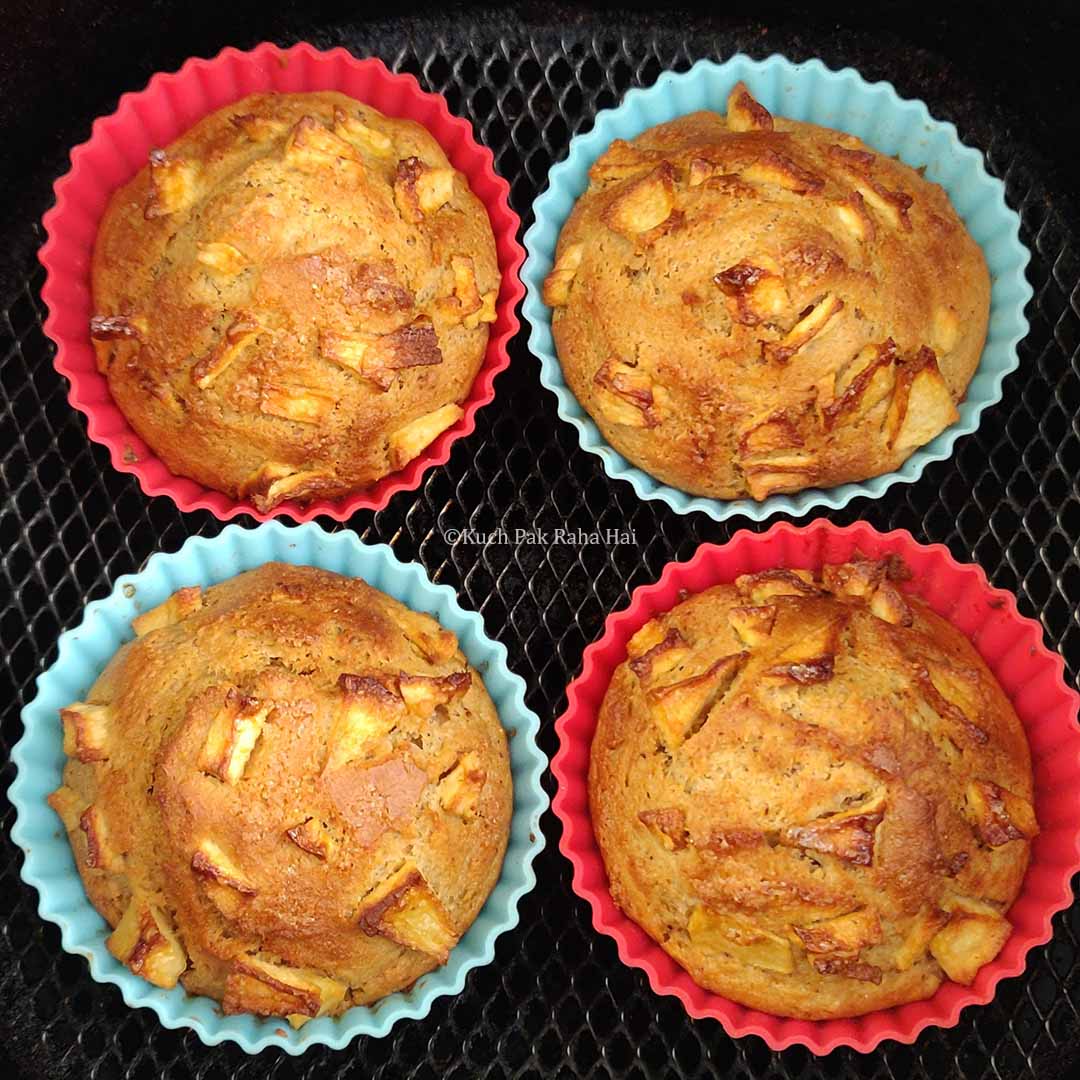 Note: The air fryer time can vary slightly depending on its model, so keep an eye after 13 minutes.
More air fryer baking recipes (egg-free):
Pin for later: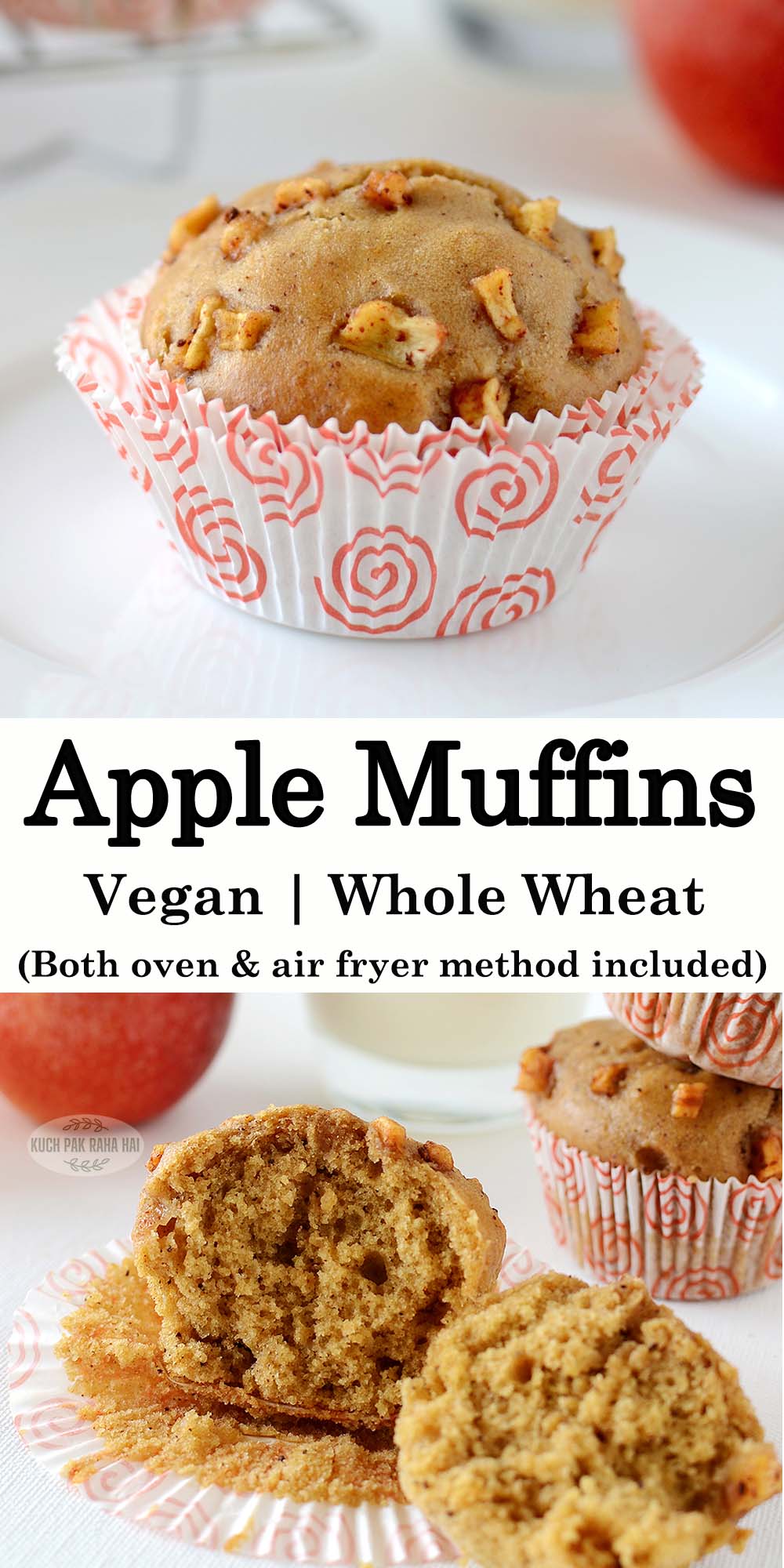 If you try this easy apple muffins recipe & share pics on social media, then don't forget to tag on Facebook, Instagram or use #kuchpakrahahai.
Let's stay connected
Facebook| Instagram| Pinterest| Youtube