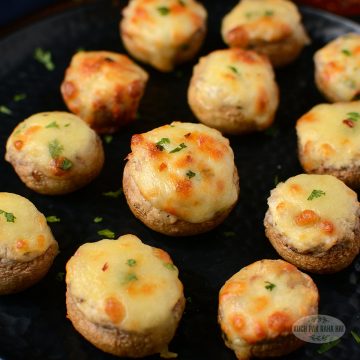 Air fryer Stuffed Mushrooms with luscious smooth cream cheese filling make for a tasty mouth watering appetiser or side dish any day. They are gluten free, low carb, keto friendly, vegetarian & so easy to make.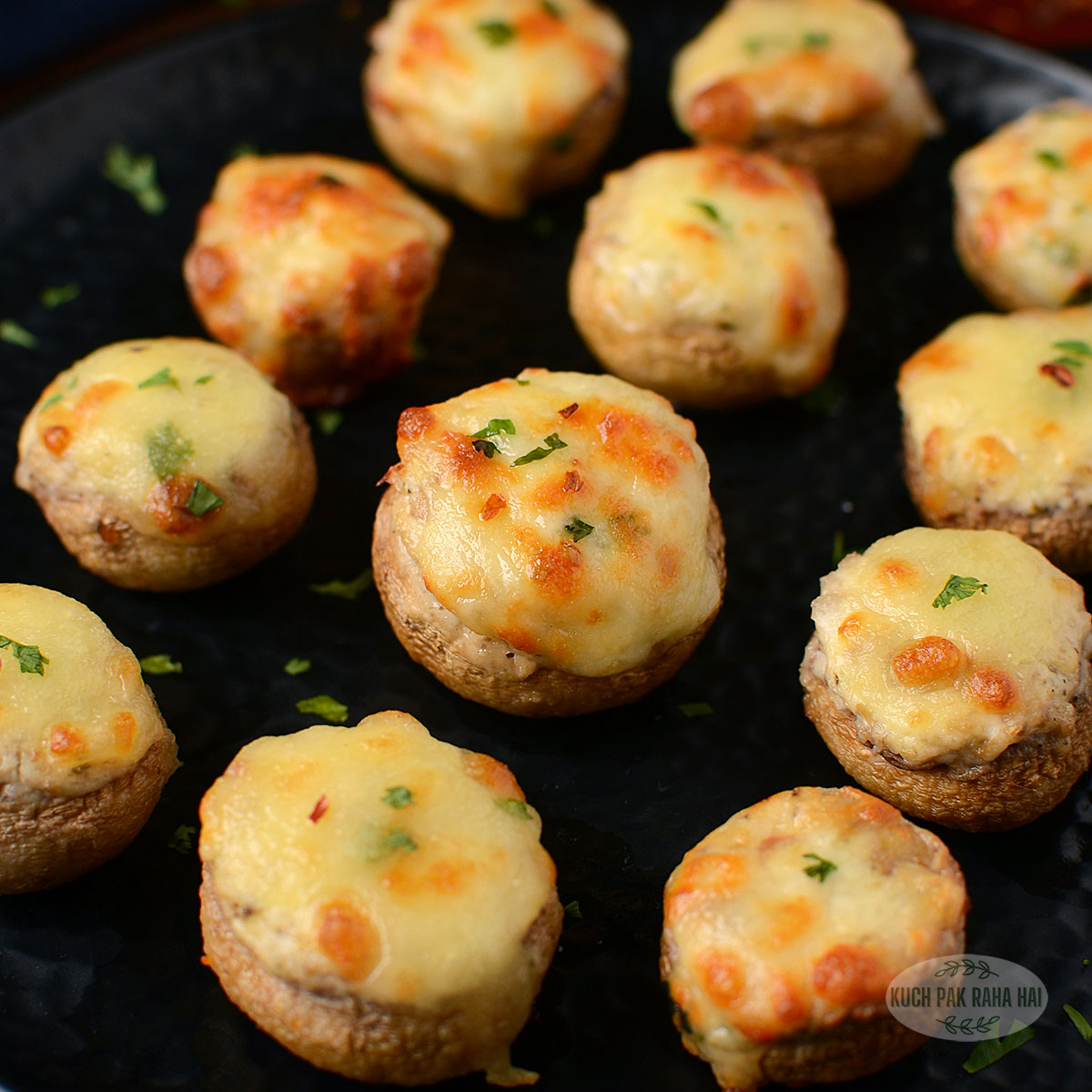 If you are looking for a delicious appetiser recipe with mushrooms, then these creamy air fried stuffed mushrooms are an absolute crowd pleaser. They are a great option for family dinners, parties, games day or holiday season like thanksgiving or Christmas.
With just few simple kitchen ingredients, you can make these mushrooms anytime in your air fryer. In this recipe, we will first make a yummy filling with onion, mushroom stems, cream cheese and fill it in cleaned & hollowed mushroom caps.
These stuffed mushroom caps topped up with mozzarella cheese will then be baked in air fryer or oven. I find air frying to be better option than oven as it takes less than half cooking time. The oven settings are shared at the end of this post.
Stuffed Mushroom Ingredients:
Mushrooms: I have used white mushrooms or button mushrooms as I wanted to make bite size appetiser. You can also use baby bella (cremini) mushrooms or make stuffed portobello mushrooms (which are larger in size) in similar way.
Cream Cheese: You can use dlecta, philadelphia or any other brand's cream cheese, just make sure not to use 'cream cheese spread'. Always soften the cream cheese by bringing to room temp as this way it can be easily mixed.
Onion & Garlic: I have used finely chopped onion or minced garlic clove to add flavour to the cream cheese filling. You can also use onion & garlic powder.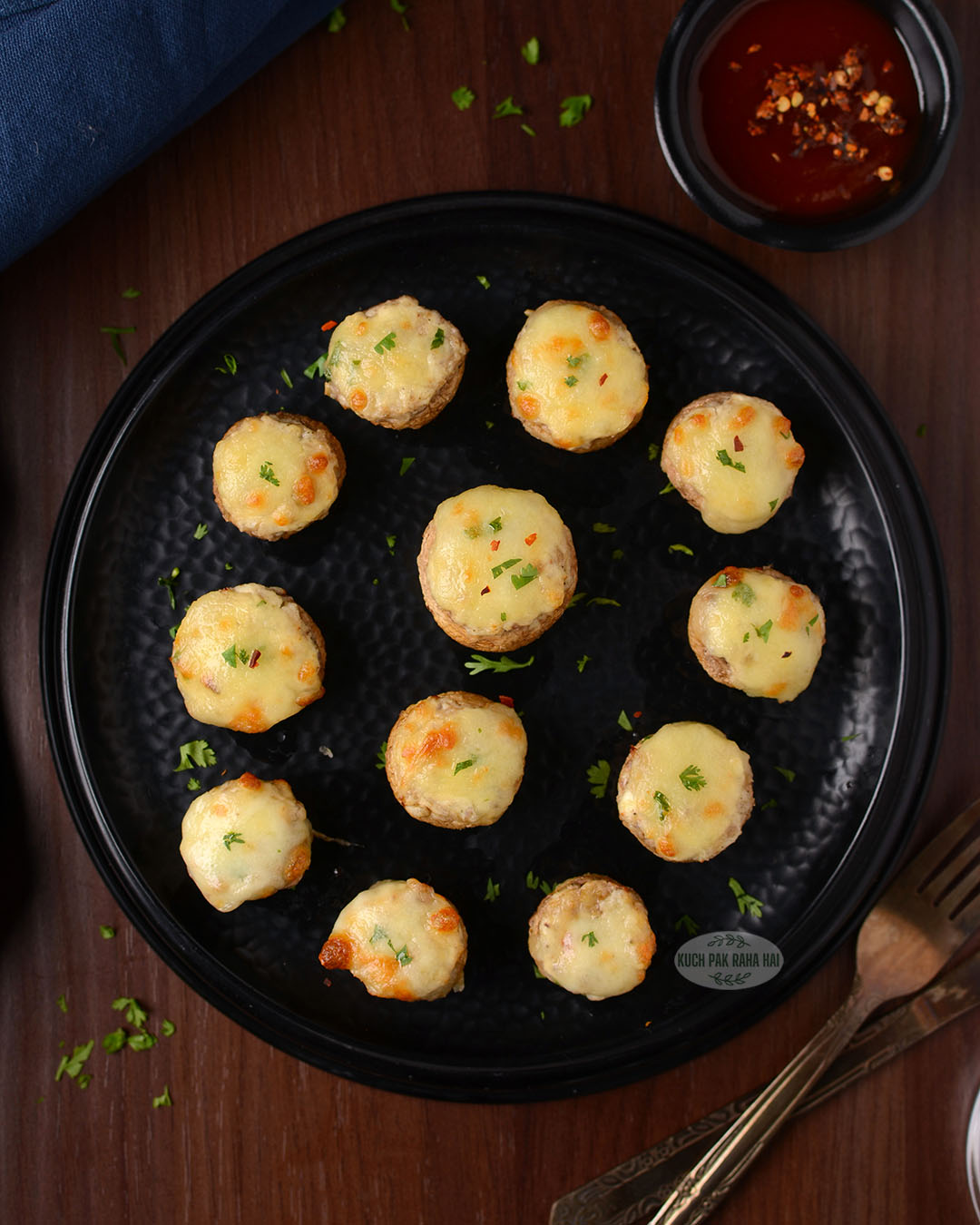 Seasoning: The mushroom stuffing is seasoned with simple salt & crushed black pepper. You can also add some dried herbs like oregano,thyme, italian seasoning or chilli flakes / sriracha sauce if you like spicy food.
Cheese: Gooey melting cheese on top of stuffed mushrooms makes them more delicious & irresistible. You can use mozzarella cheese, cheddar cheese or cheese blend. If you want to make stuffed mushrooms without cheese then you can skip adding it.
Bread Crumbs: This is an optional ingredient. I have made these stuffed mushrooms without bread crumbs, but if by chance the cream cheese filling becomes runny you can add one or two tablespoon bread crumbs to it. A sprinkle of bread crumbs on top before baking will add crunchy texture.
Variations:
You can make different variations of stuffed mushrooms by making little tweaks in its stuffing like-
Spinach and Feta Stuffed Mushrooms: You can add handful of chopped baby spinach or (spinach and feta) to the cream cheese filling to make spinach stuffed mushrooms. In fact spinach dip also makes for a great stuffing.
Jalapeño Stuffed Mushrooms: If you like spicy food then add some finely diced jalapenos to the stuffing. Instead of mozzarella use sharp cheddar or pepper jack cheese.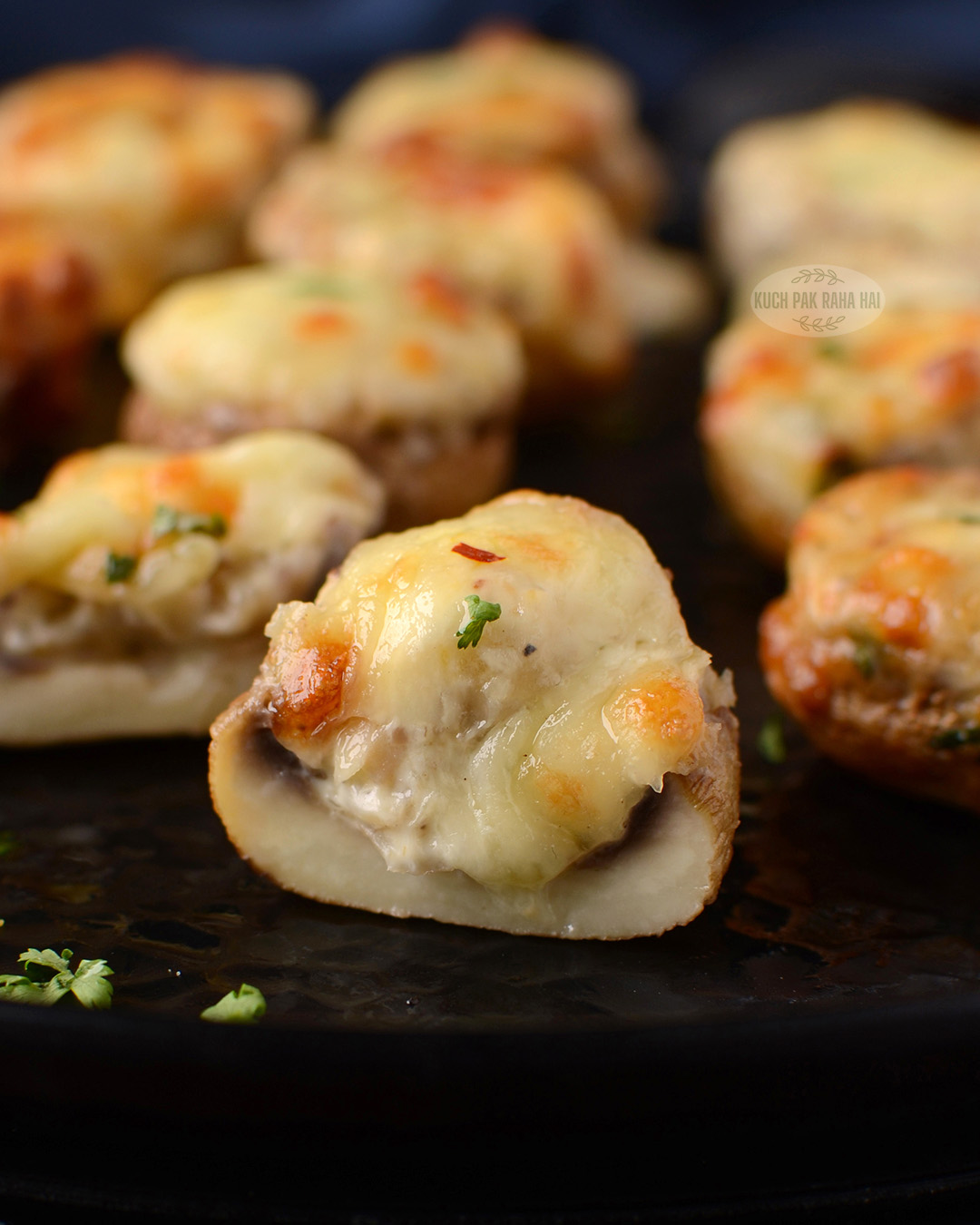 What to serve with stuffed mushrooms?
These air fried mushrooms can be served as appetiser with sriracha, ketchup, mayo or as side dish with pasta, soups or salads like white sauce pasta, penne arrabiata or beetroot feta salad.
The first foremost step is cleaning the mushrooms in this recipe. You can give them quick rinse under water while scrubbing to get rod of any soil or dirt particles or wipe them with a kitchen towel. Please don't soak them in water as mushrooms tend to soak water which changes their texture on cooking.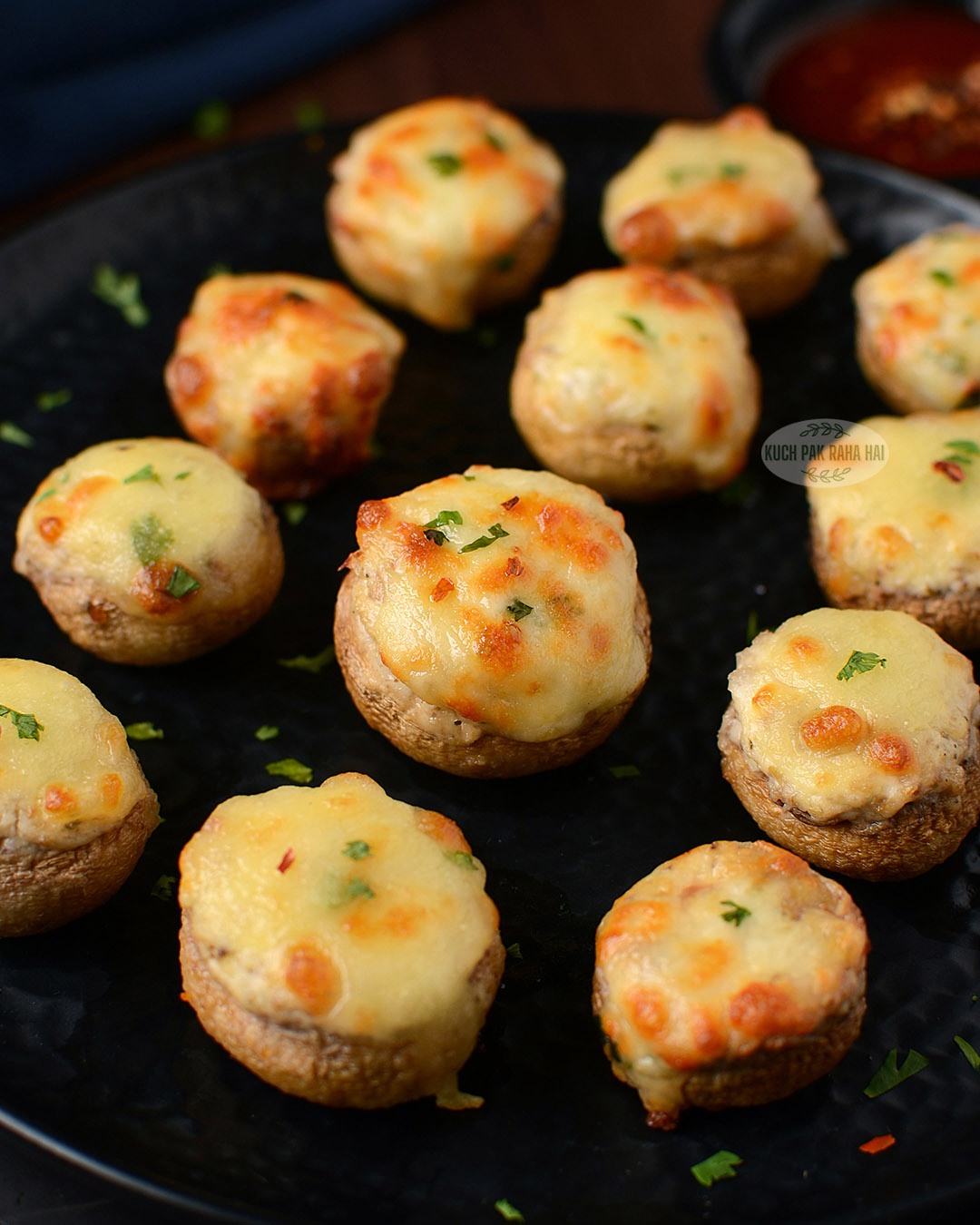 Hope you would like vegetrain gluten free stuffed mushrooms. More vegetarian (or vegan) mushroom recipes:
Ingredients:
White Mushrooms- 12 (8 oz)
Olive Oil / Butter-2 tsp
Onions- 1/4 cup (

finely chopped

)
Garlic Clove – 1 to 2 (

minced

)
Cream Cheese- 1/3 cup + 1 tbsp  (3 oz)
Salt-1/2 tsp
Crushed Black Pepper-1/4 tsp
Italian seasoning- 1/2 tsp (

optional

)
Shredded Cheese (Mozzarella / Cheddar)- 1/4 cup
Chopped Parsley / Cilantro- 2 tbsp (

For garnishing

)
Directions:
Step 1:
Wash & rinse the mushroom. Rub them dry with a kitchen towel to get rid of excess moisture. Remove the mushrooms stems. Chop the stems finely and keep them aside.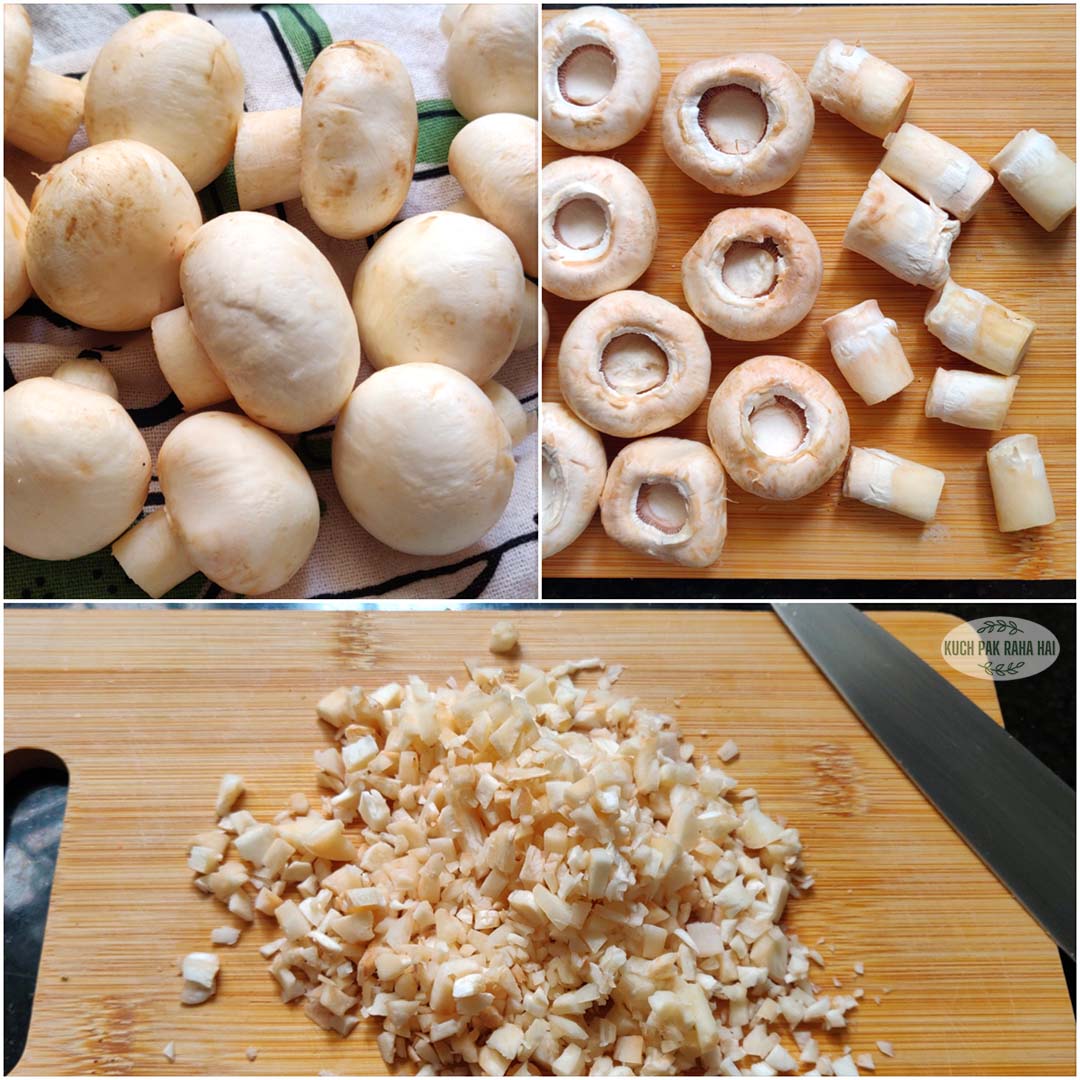 Step 2:
Make little hollows inside mushrooms using a spoon or tip of a knife. This will make more space for filling (We will use these small scrappings along with chopped stems later). Brush the mushroom caps tops with oil or melted butter.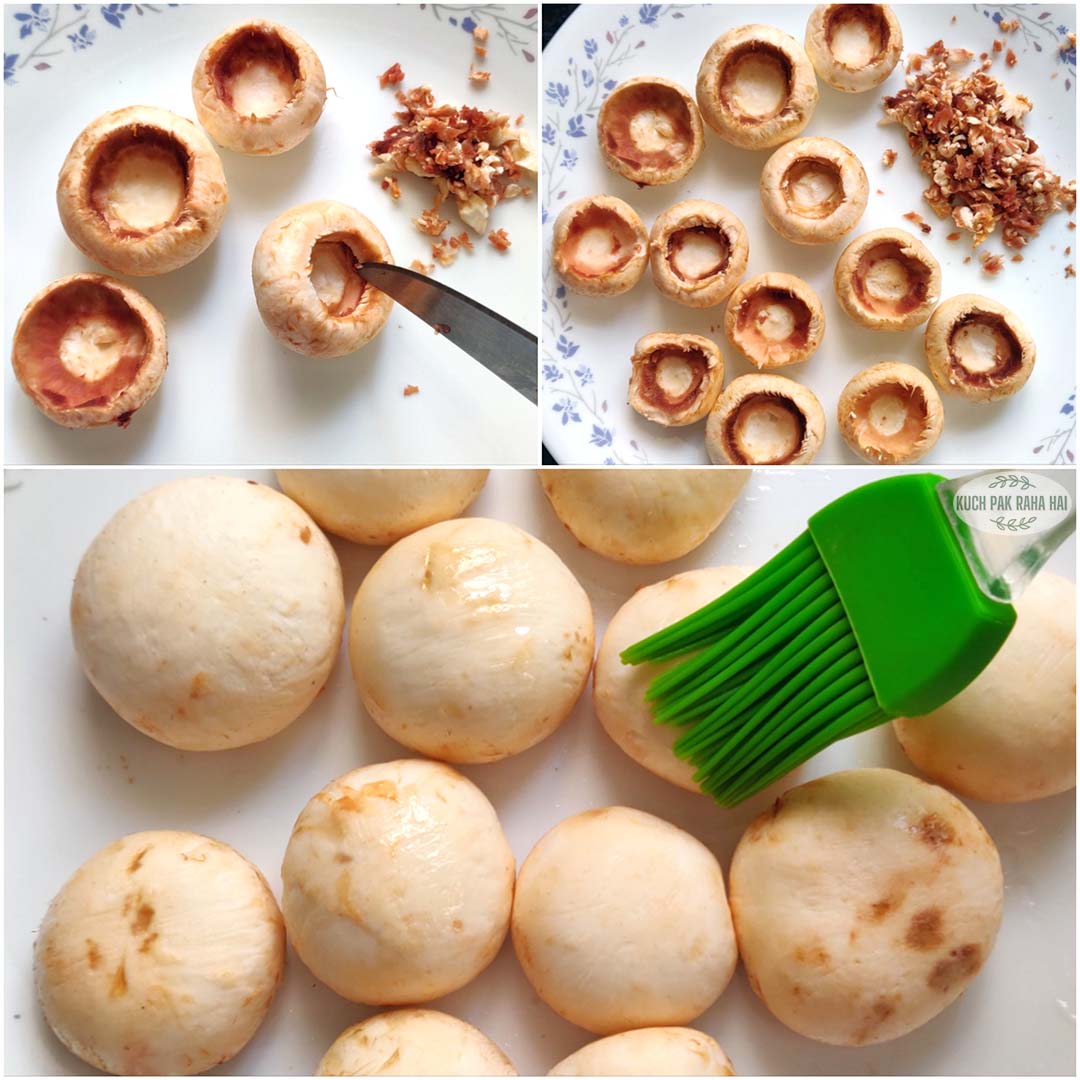 Step 3:
In a pan heat olive oil or butter. Add chopped onions to it & sauté for 30-40 seconds till they begin to soften up. Add minced garlic, chopped stems and 1/4 tsp salt (If you want to add chopped spinach, add in this step). Cook on medium flame till there is no moisture left in pan.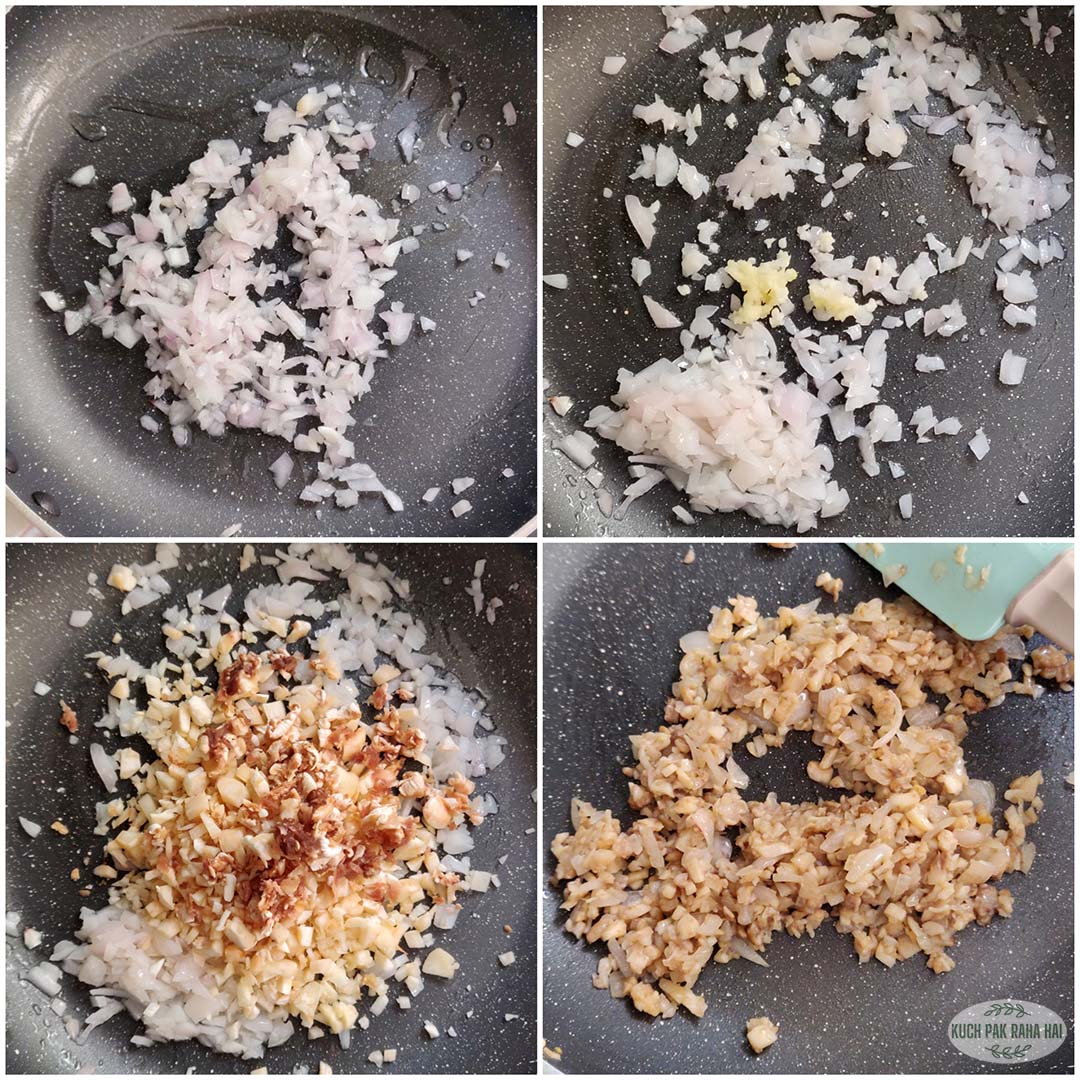 Step 4:
Transfer the sautéed onion & mushrooms mixture in a bowl and let it cool down a bit. Add cream cheese, black pepper & Italian seasoning to it. Mix well. Taste and adjust salt as per your taste.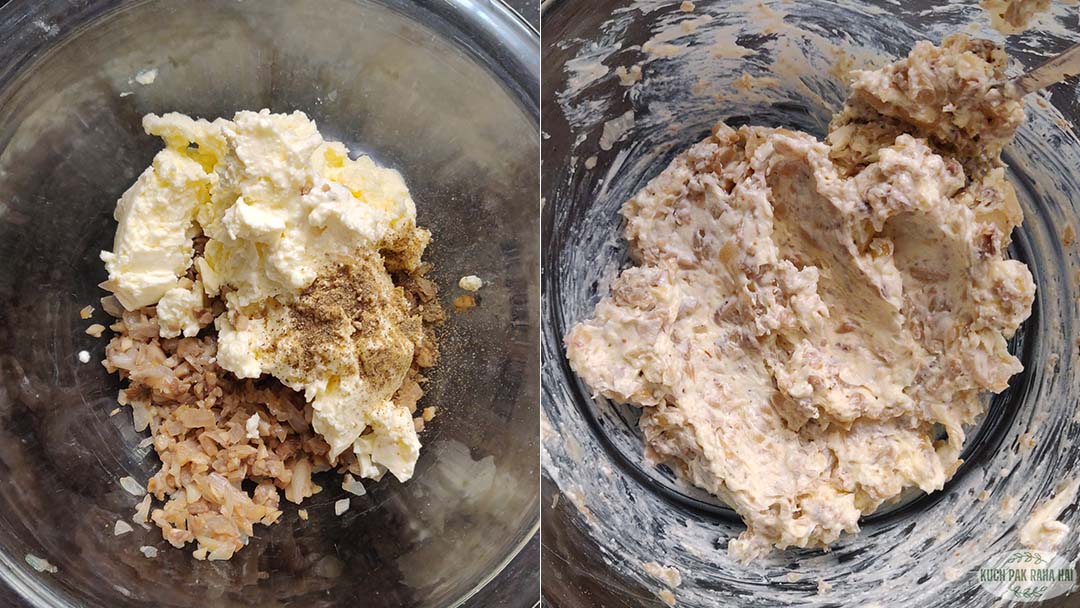 Step 5:
Add roughly 1 tbsp of mixture in each mushroom cap. Don't fill too much as we will be putting cheese on top later.
Step 6:
Brush some oil in air fryer basket. Transfer these stuffed mushrooms in air fryer basket in single layer. Air fry for 6 minutes at 200°C (390°F).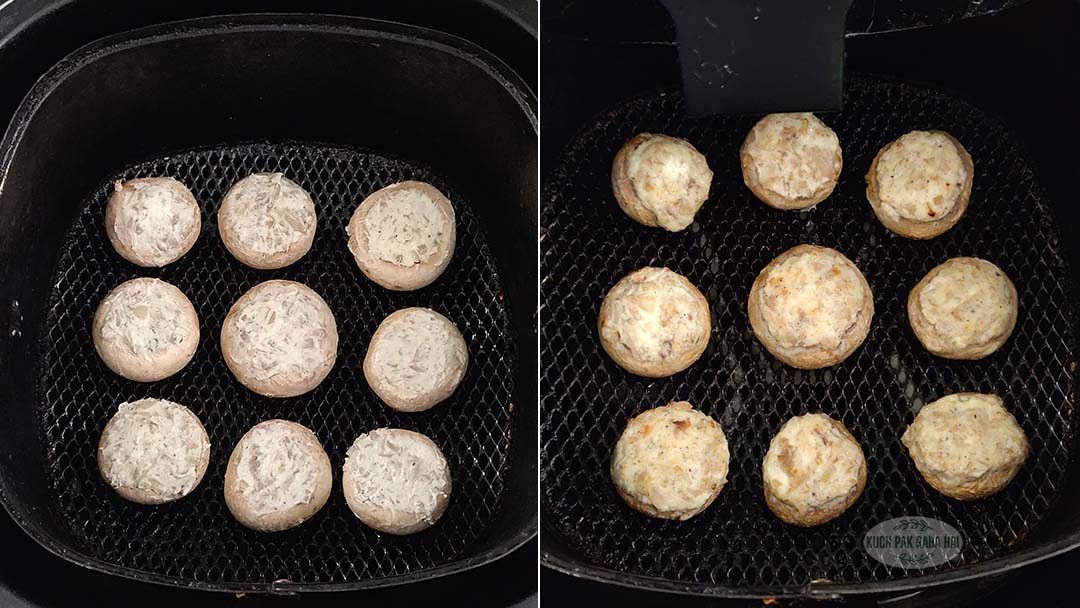 Sprinkle shredded cheese on each mushroom piece and air fry for 2-3 more minutes at 200°C (390°F) till cheese is melting & bubbly. Serve them hot.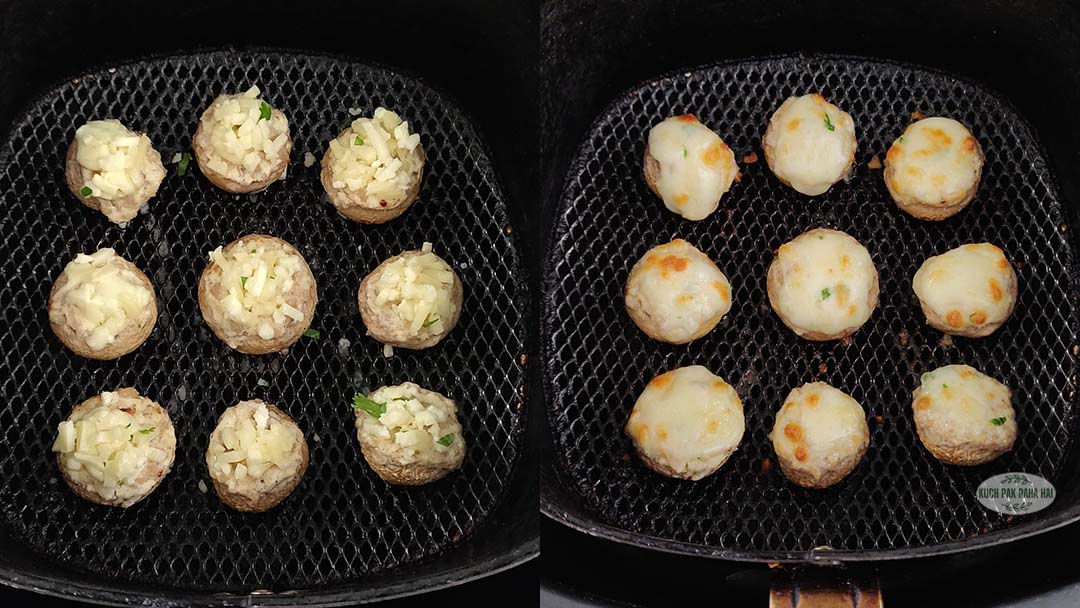 (The time can vary little bit depending on the size of mushrooms & also air fryer model, so please adjust the cooking time accordingly.)
How to reheat stuffed mushrooms?
To reheat stuffed mushrooms, you can either microwave them for 40-50 seconds or air fry for 2-3 minutes.
Stuffed Mushrooms In Oven:
To make these mushrooms in oven, preheat oven at 200°C (390°F) and bake them for 20 minutes at 200°C (390°F).
Tip: If you have some leftover mushroom stuffing, then you can use it as dip (trust me it tastes that delicious) or use it to stuff mini peppers or jalapeno & air fry to make another lip smacking snack.
More air fryer appetiser or snack recipes: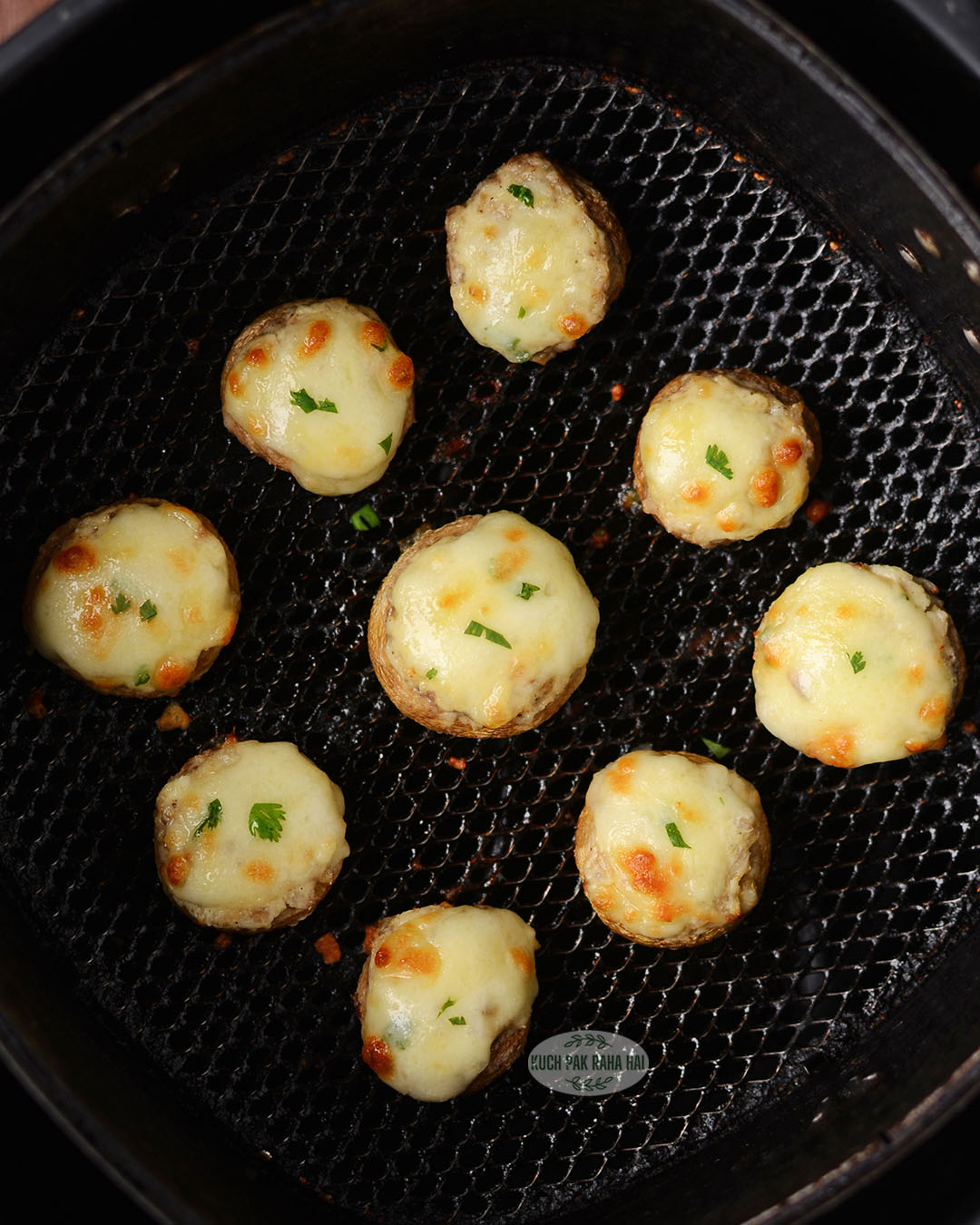 If you try this cream cheese stuffed mushrooms recipe in air fryer or oven & share pics on social media, then don't forget to tag on Facebook, Instagram or use #kuchpakrahahai.
Let's stay connected
Facebook | Instagram | Pinterest| Youtube
Pin for later: