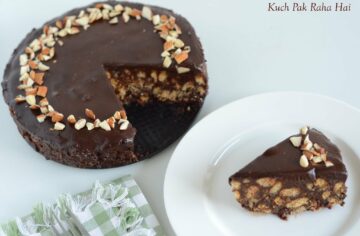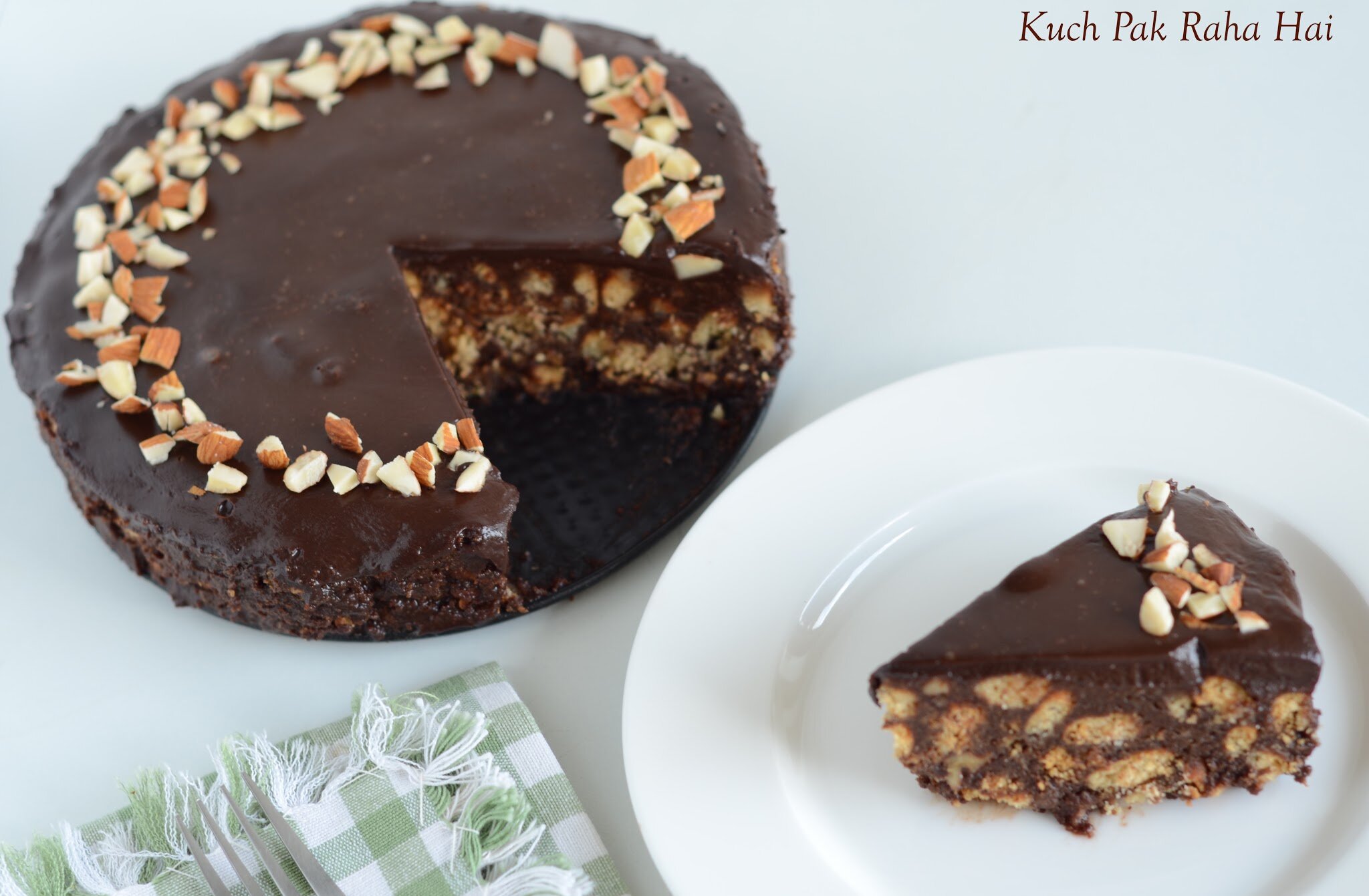 A very good evening to all the blog readers. Today I am going to share the recipe for "No Bake Chocolate Biscuit Cake". "No Bake" and "Cake" sounds little contradictory but trust me this recipe tastes no less than a chocolate cake. It is soft, creamy and choclatey just like other baked chocolate cakes. Moreover, it is simple and really quick to make 😀 .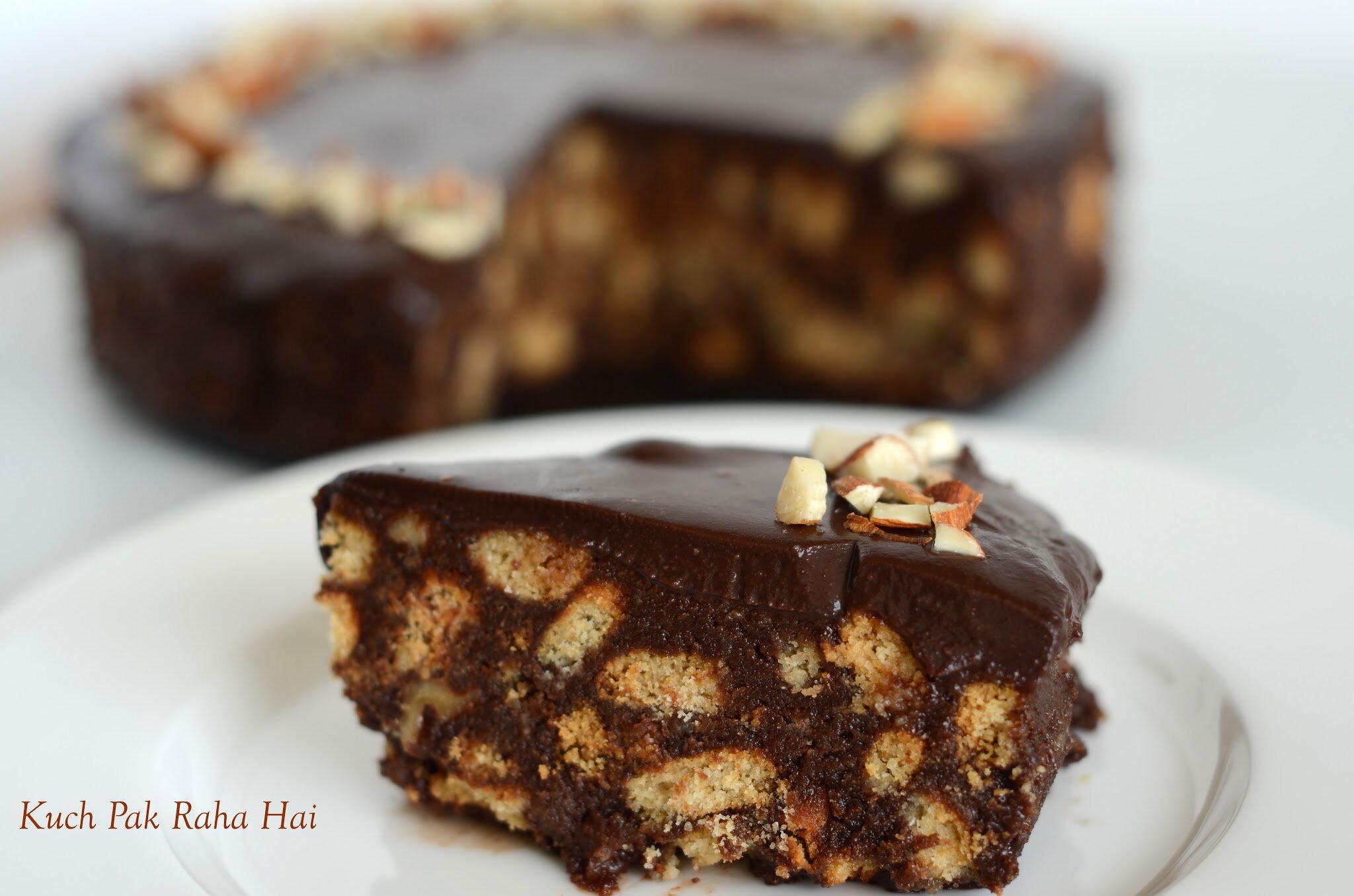 List of Ingredients:
Digestive Biscuits-3 packets (of 120 grams each)
Chopped Walnuts- 1/4 cup
For Chocolate Sauce-
Sugar- 1cup
Cocoa Powder-1/2 cup
Water-1 cup
Unsalted Butter-2/3 cup
Coffee-1/2 tsp
Vanilla Essence-1 tsp
For Chocolate Ganache-
Cream-1/2 cup
Chopped Chocolate-100 grams
For Garnishing
Steps To Prepare:
Step 1:
Take sugar in a mixing bowl. Add cocoa powder, coffee and water to it. Mix well till all the sugar is dissolved completely.
Keep this mixture on a low flame and add butter to it.
Bring it to boil on medium flame so the sauce thickens up. The cooking time at this step is approximately 4-5 minutes. Stir from time to time.
Add vanilla essence. Keep it aside and let it cool for 15 minutes.
By the time sauce is getting cooled, lets proceed to step 2.
Step 2:
Roast the chopped walnuts in a non stick pan for 4-5 minutes.
Break biscuits into small pieces in a bowl. Add chopped walnuts to it.
Step 3:
Add the chocolate sauce prepared in step1 to the biscuit and nuts. Mix gently.
Grease the base and inner edges of Spring Form tin using oil or butter. Pour the above mixture into it. Press it and level it with the help of a spatula. Keep this in a refrigerator for at least an hour. By the time the mixture is getting set in refrigerator, lets proceed to step 3.
Step 4:
Heat cream in a pan. When it is just about to boil, switch off the flame.
Add chopped chocolates to it and wait for 2 minutes. Then mix it gently till all the chocolate is completely dissolved completely in the cream. Let it cool down for 10-15 minutes.
Step 5:
Take the tin out of the refrigerator and pour the chocolate ganache on top of it. Keep it again in refrigerator for 4-5 hours till it sets completely.
Step 6:
Once the mixture is set completely, take the spring form pan out of the fridge and carefully lift the sides of the pan.
Garnish it with roasted chopped almonds.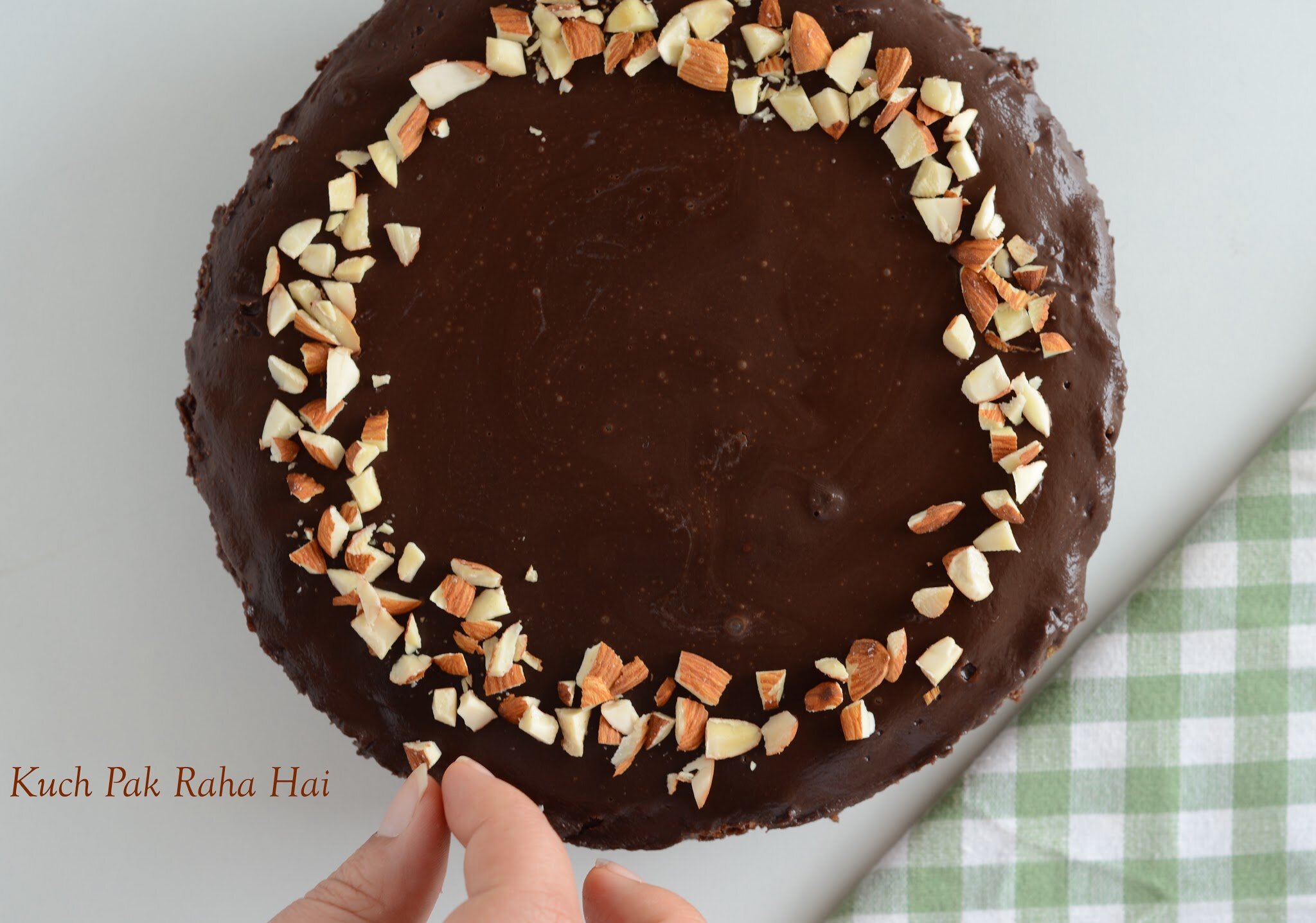 No Bake Chocolate Cake is ready to be served!!