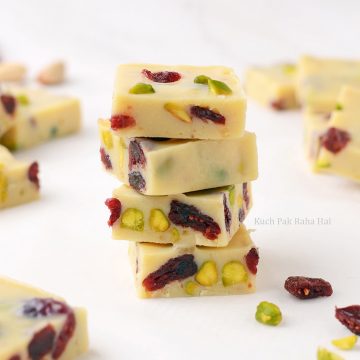 Easy & quick White Chocolate fudge recipe made with just 3 ingredients. To make it more decadent & colourful, some cranberries & crunchy pistachios are also added. These fudge bars are perfect treat to share with your friends & family especially during holidays or festive seasons.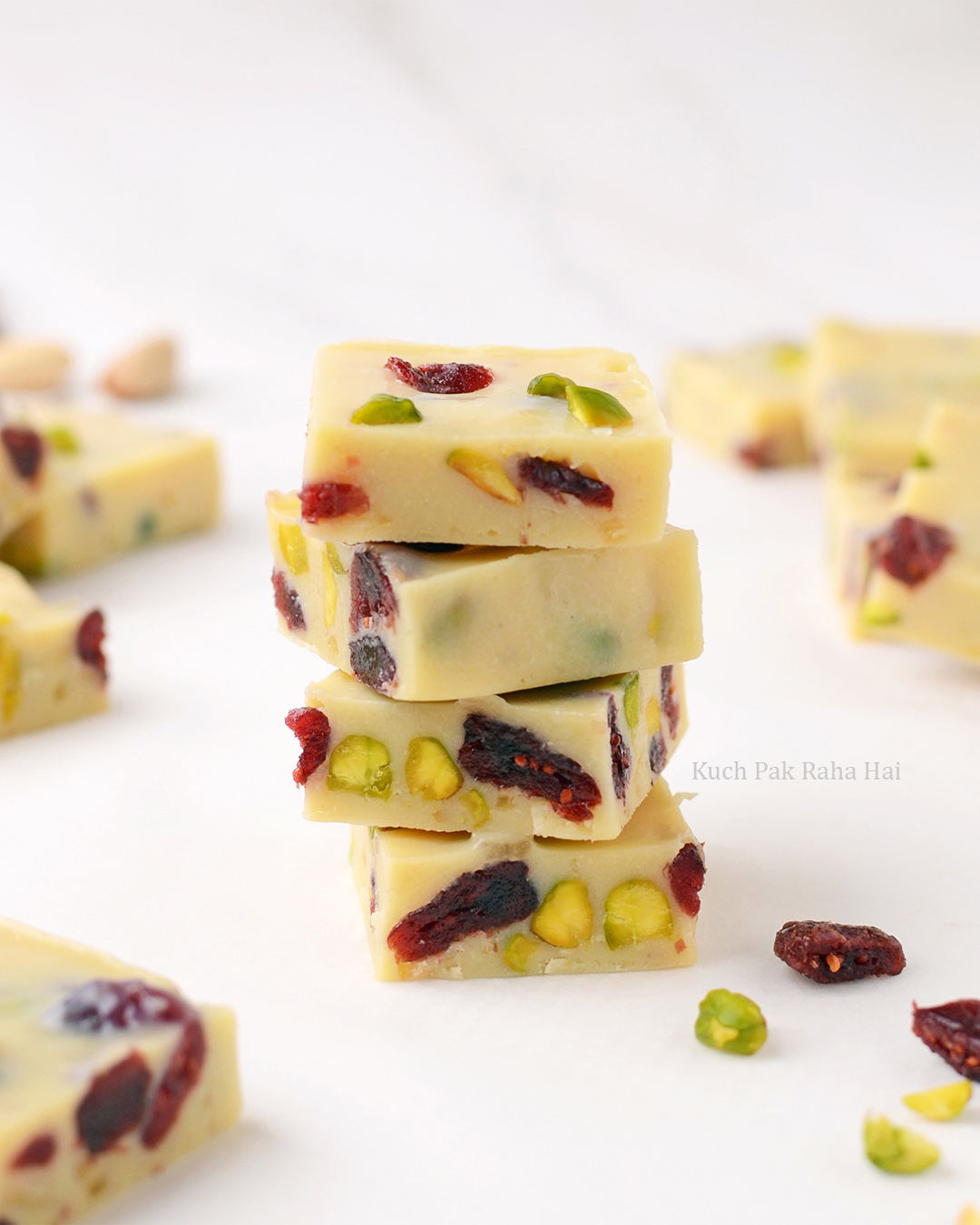 For those who don't have time for baking or make elaborate desserts, this no bake white chocolate fudge made with condensed milk is a big time saver. It takes such less effort, time & proves to be a crowd pleaser each time.
Though I make this chocolate fudge mostly around Christmas but this time I am making it on Raksha Bandhan festival for my brother who loves white chocolate. Many siblings have lots of 'fight' stories around chocolates but both us have very few as I am an ardent dark chocolate lover & he is always on team 'white chocolate'.
Ingredients Used in making this Chocolate Fudge-
Chocolate – To make this white chocolate fudge, I have used 'Amul White Limon Chocolate Bar' which has some lemon zest & citrusy flavour. It complements the sweetness of the fudge and adds a fresh touch to it. You can use plain white chocolate of any brand of your choice too.
Always make sure to read the labels and opt for a chocolate which has 'cocoa butter' in it. Also, instead of white chocolate you can make this fudge with milk or dark chocolate too.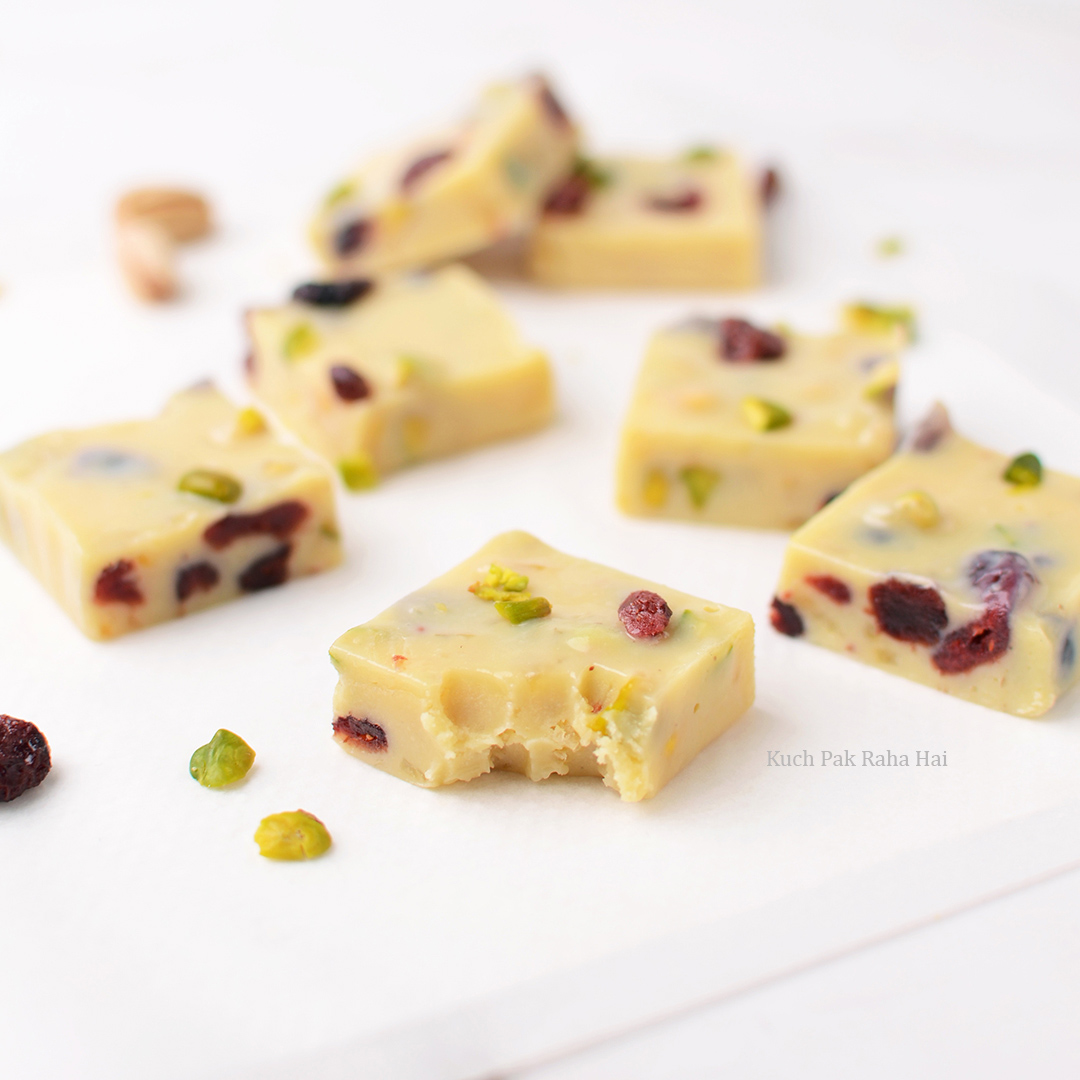 Condensed Milk- It is the other main ingredient of fudge. Make sure you are using sweetened condensed milk as we are not adding sugar separately in this fudge recipe.
Butter- You can use salted or unsalted butter in making fudge. I generally use salted butter as little bit of salt enhances the flavour of chocolate.
Dried Cranberries & Pistachio- The fudge tastes divine with creamy melt in the mouth texture combined with slight tartness from dried cranberries and the crunch from pistachios.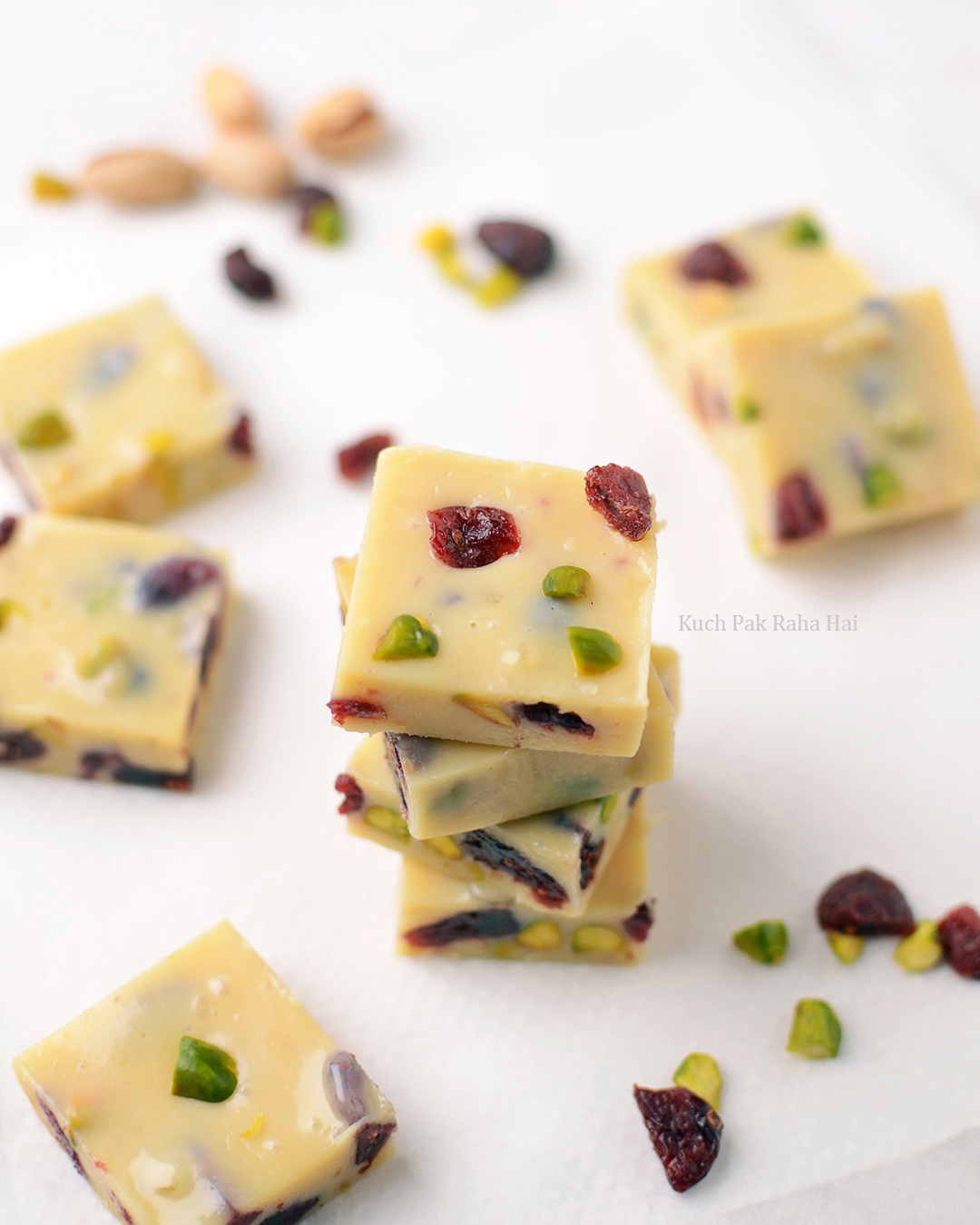 How to melt chocolate for making fudge?
I have melted chocolate using double boiler method but you can also melt it in microwave at 80% power in bursts of 30 seconds. Keep an eye on chocolate continuously if you are melting chocolate in microwave oven as it tends to burn quickly.
More No Bake Dessert Recipes:
Some of the fudge variations & tips are shared at the end of the post. The possibilities are endless and you can add so many different flavours to the fudge as per your choice. Do check them out and have fun while making this recipe !!
I have also shared a youtube video for this cranberry white chocolate fudge recipe. If you like it, don't forget to subscribe to the channel as we will keep coming with more such easy dessert recipes 🙂
Watch Video:
List of Ingredients: (Makes 16 pieces)
White Chocolate – 200 grams (

7 oz

)
Sweetened Condensed Milk – 200 grams (

7 oz

)
Butter – 1 tbsp
Dried Cranberries – 1/3 cup
Chopped Pistachios-1/4 cup
Vanilla Extract- 1/4 tsp (optional)
Melted Butter- For brushing on tin
Note :
1. I have used 6 x 6 inches square cake tin for setting this fudge. You can use smaller size cake tin if you want thicker pieces.
2. You can double or triple the recipe if making a large batch.
3. If you have nut allergy you can skip adding pistachios. Do check out the end of post for more tips.
Directions:
Step 1:
Take a square baking tin and cut the parchment paper such that its edges are slightly longer than the tin sides. Brush some melted butter on the bottom and sides of tin. Keep this lined tin aside.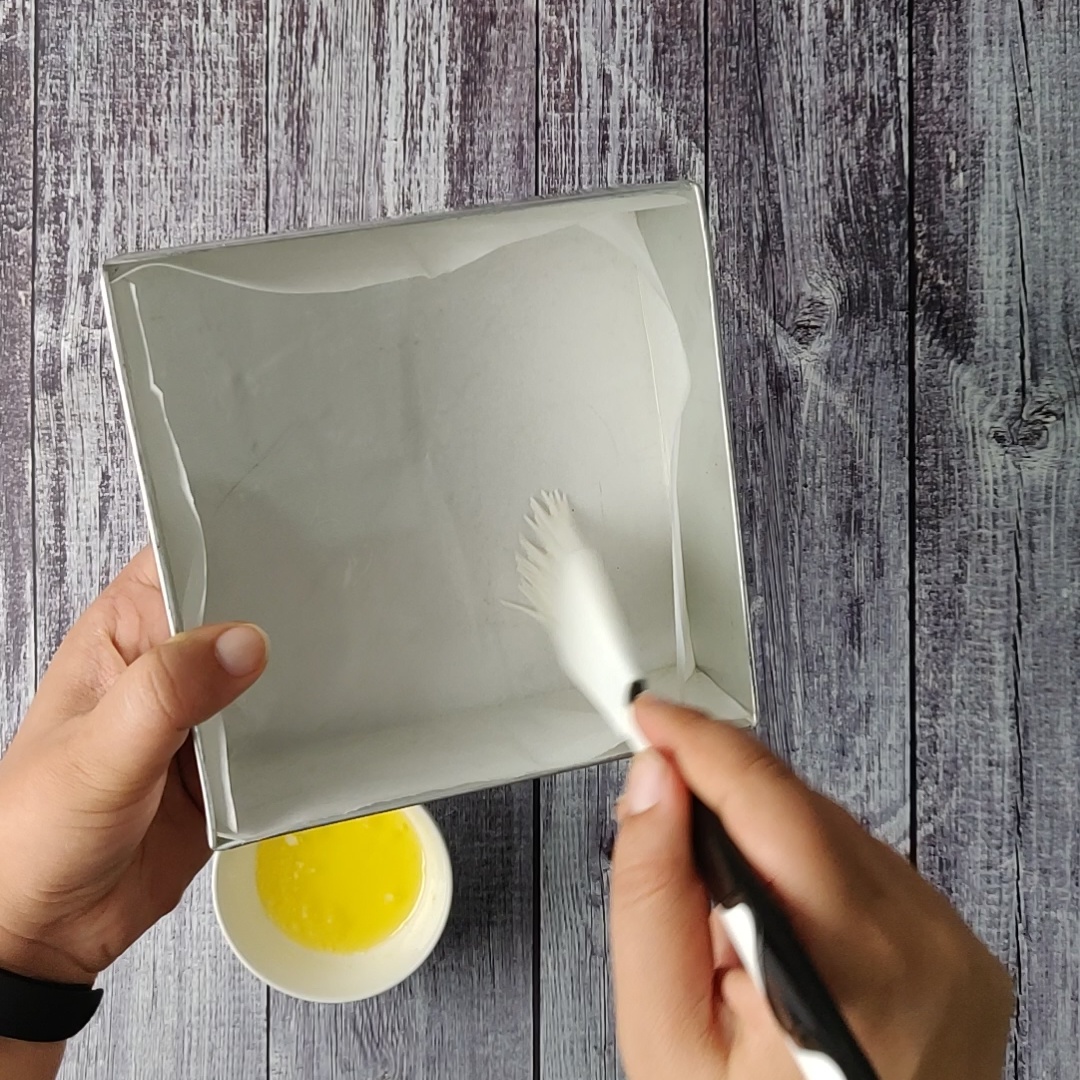 Step 2:
Chop the white chocolate into smaller pieces. Chopping the chocolate in smaller pieces makes it melt faster. If you are using chocolate chips, skip this step.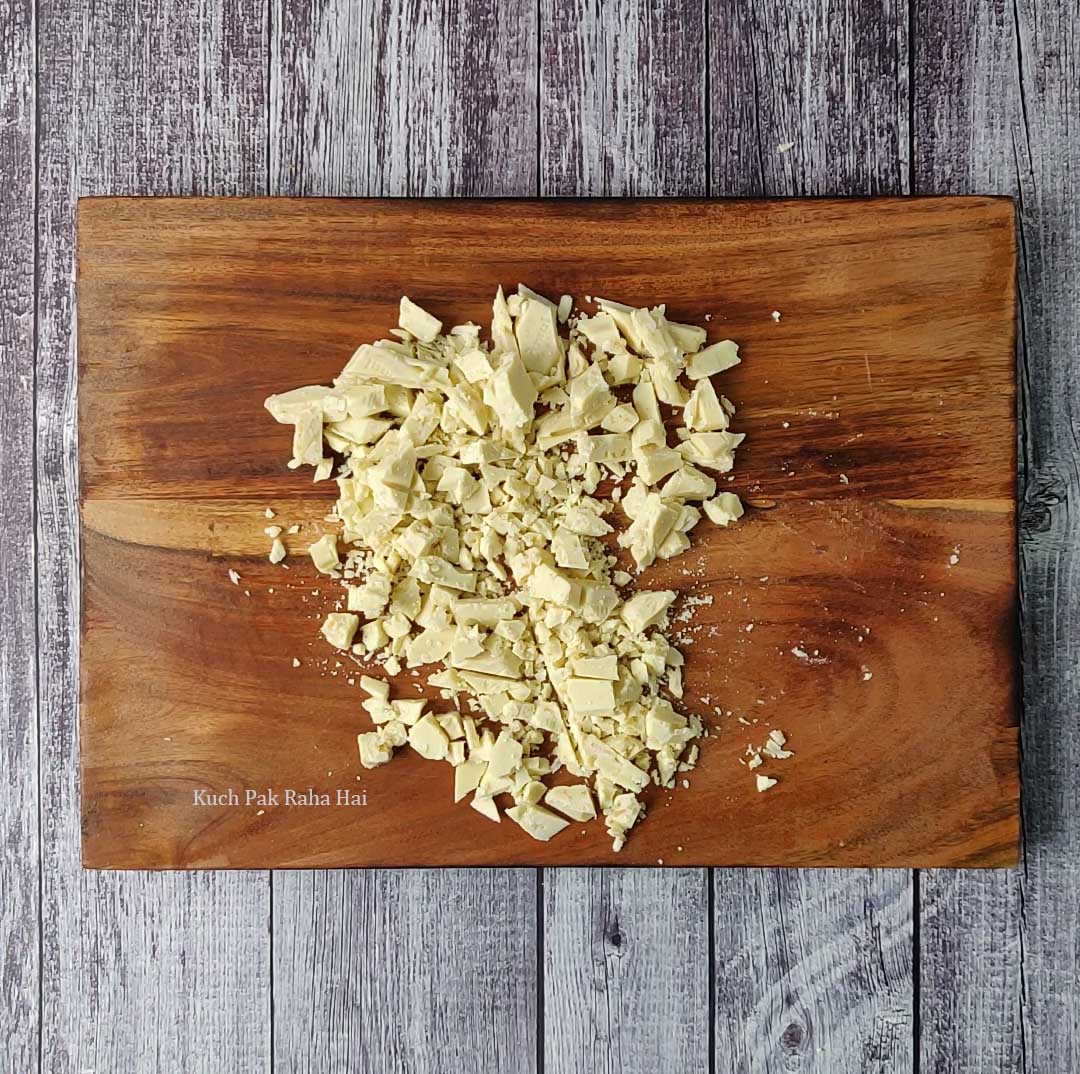 Step 3:
Heat water in a pan and place a heat proof bowl over it (Double Boiler Method). Transfer white chocolate in this bowl. When the chocolate starts melting, add butter & condensed milk to the bowl. Turn the stovetop to low flame.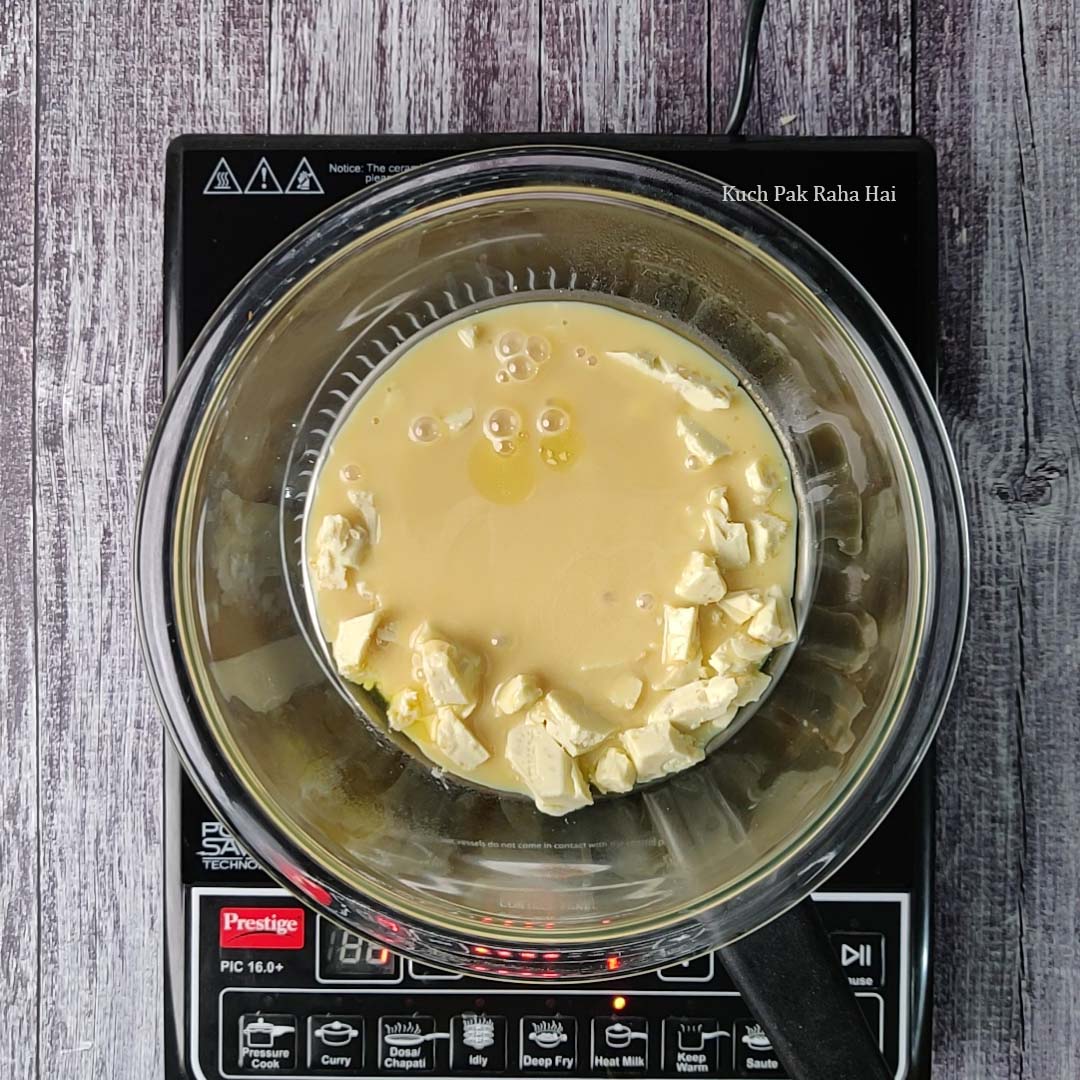 Step 4:
Let the mixture cook on low flame and in between keep mixing till it begins to thicken up. Add dried cranberries and chopped pistachios to it (saving some for the top).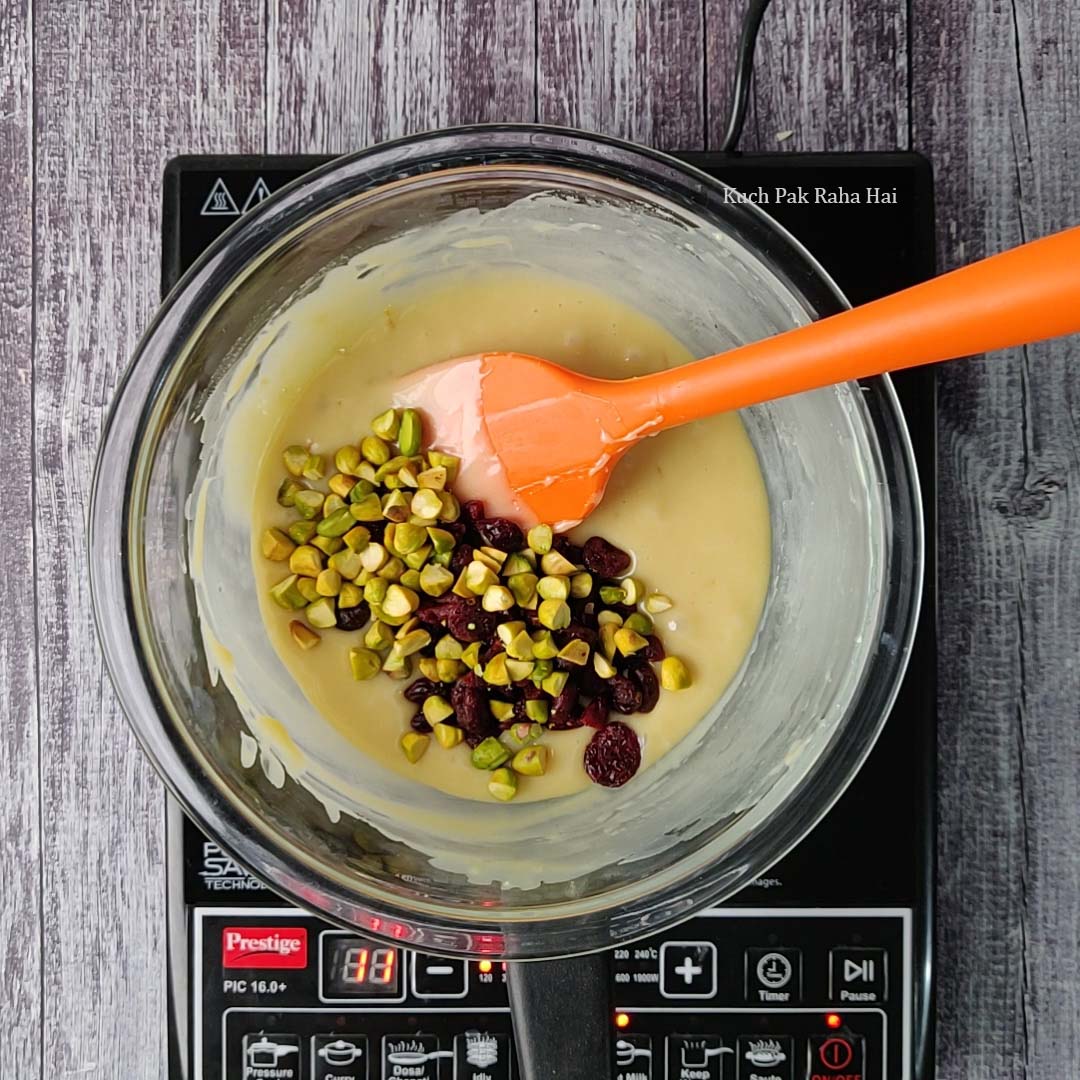 Step 5:
Transfer this fudge mixture in the lined baking tin. Level it with a spatula or spoon. Top up with some more cranberries and pistachios. Let it cool down on kitchen counter for 15-20 minutes and then transfer in fridge for 3-4 hours at least or overnight to set completely.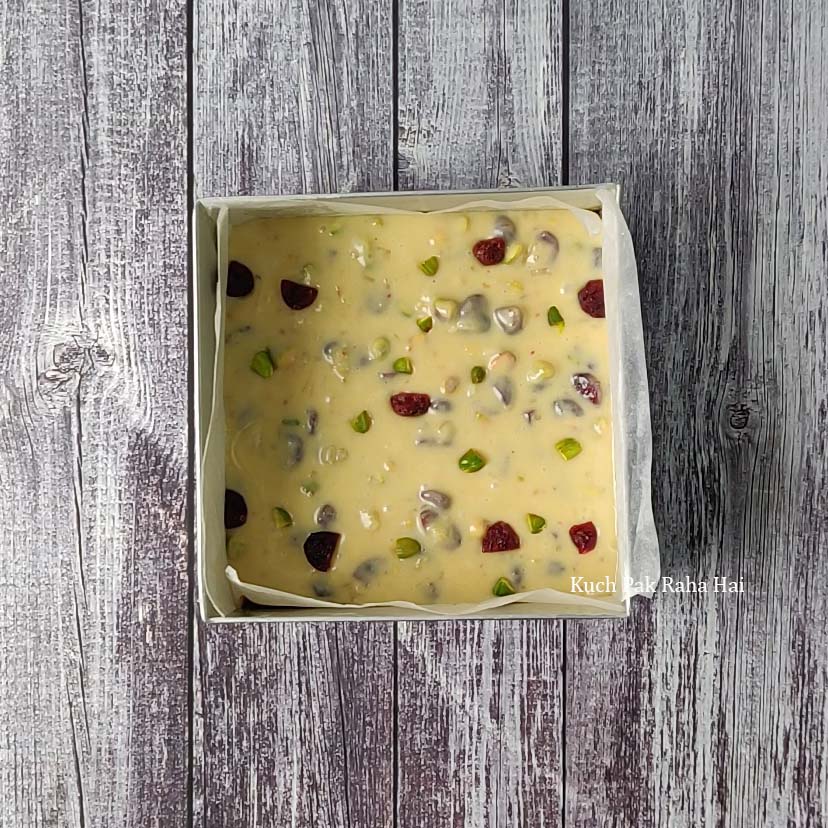 It would be better if you could leave it overnight in fridge as more the fudge is 'set', easier it will be to cut into pieces.
Step 6:
Once the fudge is set, lift it from the tin by pulling the sides of parchment paper. Cut it into squares with the help of a sharp knife. Store these fudge squares in an airtight container in fridge.
Enjoy this decadent white chocolate cranberry pistachio fudge !!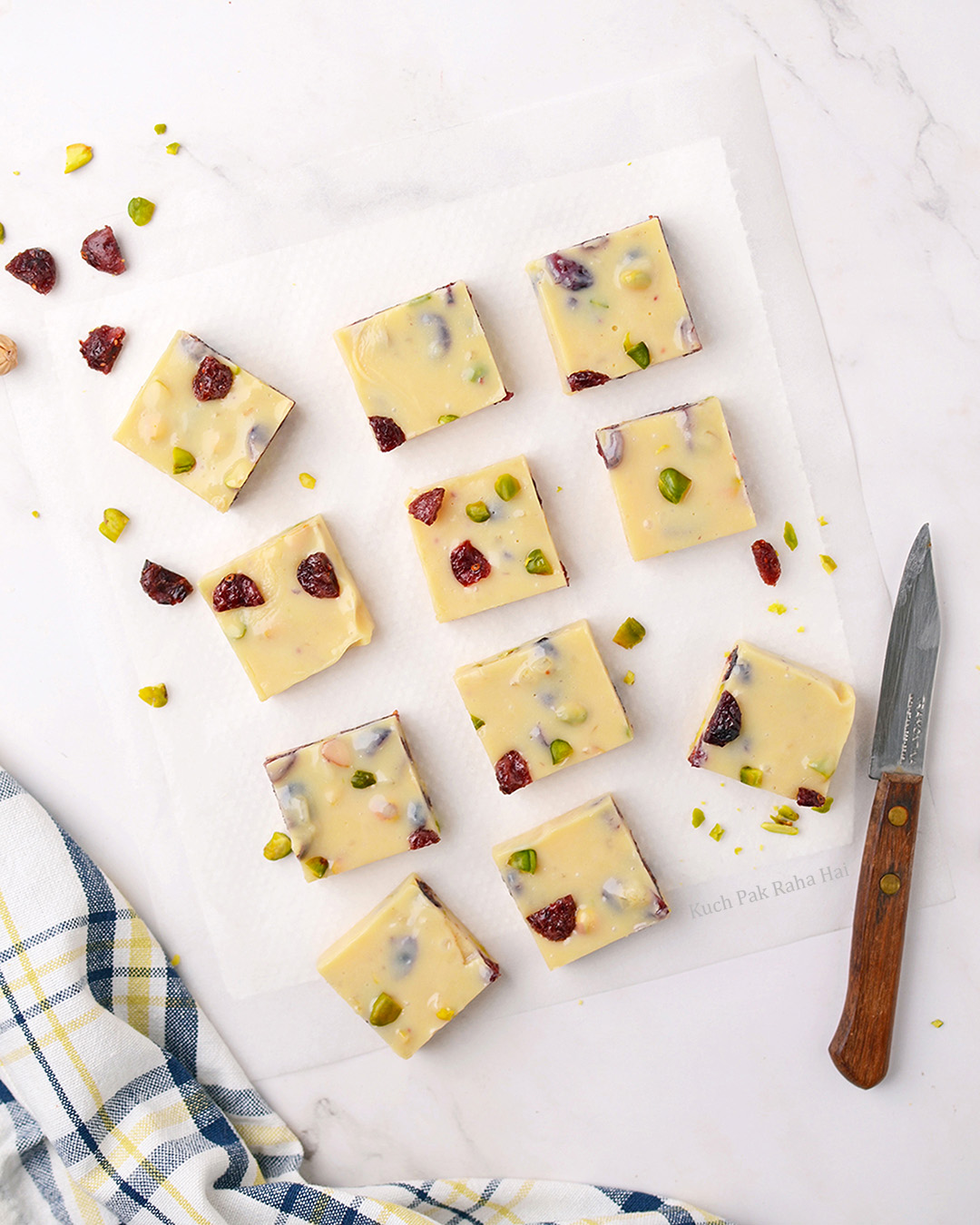 Expert Tips:
1. Use premium quality chocolate to make smooth, melt-in-the-mouth fudge. Prefer chocolate which has 'cocoa butter' mentioned on its ingredients list.
2. Line the tin properly using parchment paper and butter. This step ensures that the fudge do not stick to the sides of tin.
3. Give at least 3-4 hours to fudge to set completely. If possible, leave it in fridge overnight as this will the cutting part easier and you will get perfectly edges.
Pin it :
https://pin.it/24zGPom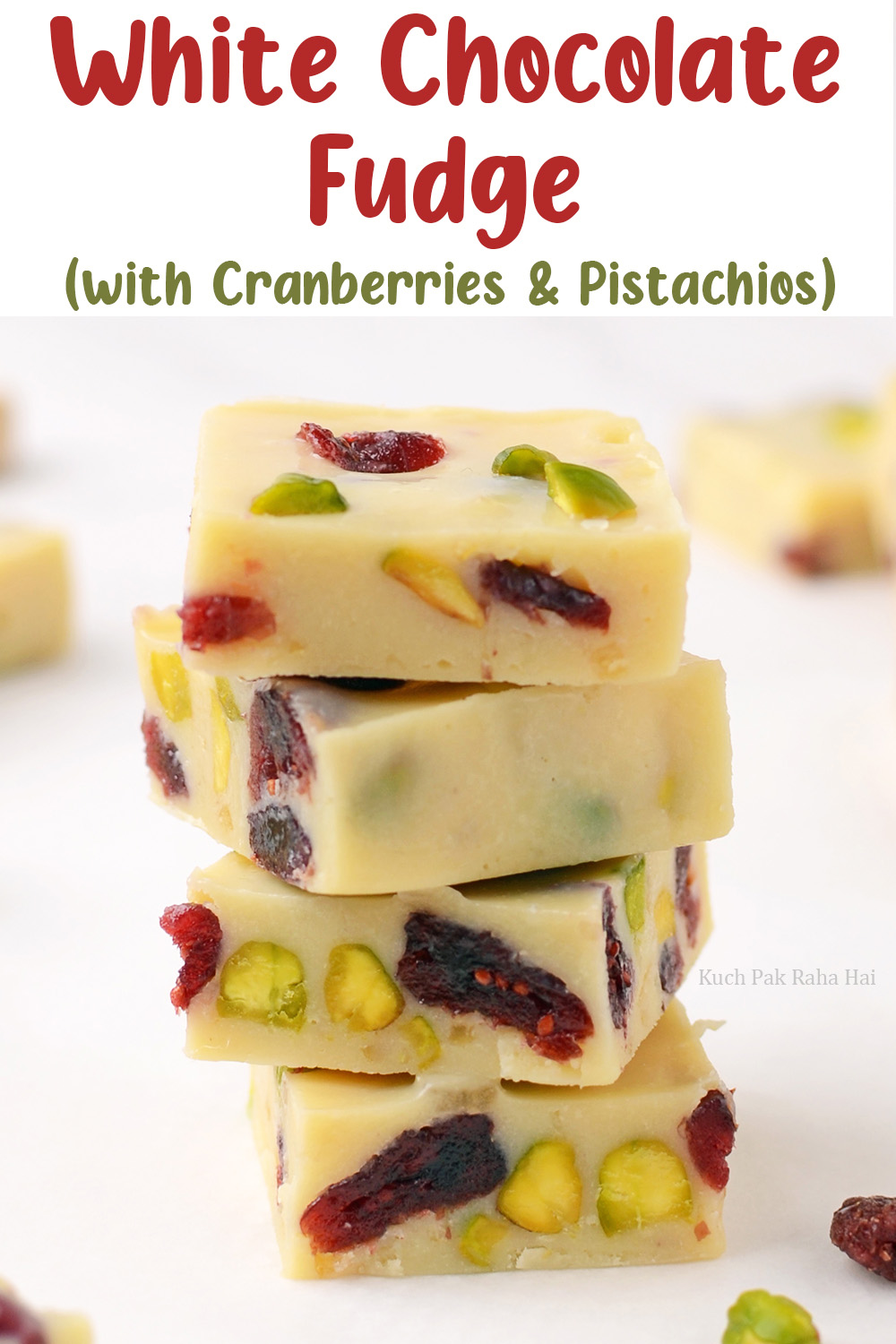 White Chocolate Fudge Variations:
1. Edible confetti & sprinklers: You can make the fudge quirky and fun by adding some confetti in the batter and over the top. Kids will surely love it especially for birthday parties.
2. Mixed Berries: You can add a mix of dried berries like strawberries, blueberries, blackberries or candies orange, lemon peels etc to this fudge recipe.
3. Crunchy Chocolate Fudge: Add some toasted hazelnuts, peanuts, walnuts, pecans or any nuts of your choice to make crunchy chocolate fudge.
4. Milk / Dark Chocolate Fudge: You can use milk or dark chocolate or mixture of both to make this fudge. Just make sure you are using the proportions as mentioned in the fudge ingredients list.
Kitchen Products Used:
(You can even shop from our Amazon storefront directly for these products. The links shared above are amazon affiliate links. Please refer to privacy policy page for more details.)
If you try this recipe & share pics on social media, then don't forget to tag us on Facebook or Instagram or use the hashtag #kuchpakrahahai.
Let's stay connected
Facebook| Instagram| Pinterest| Youtube