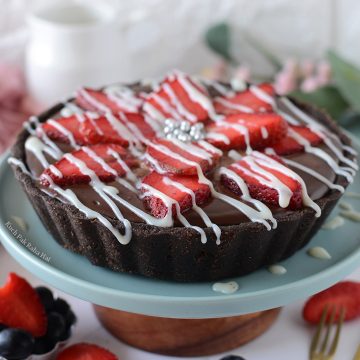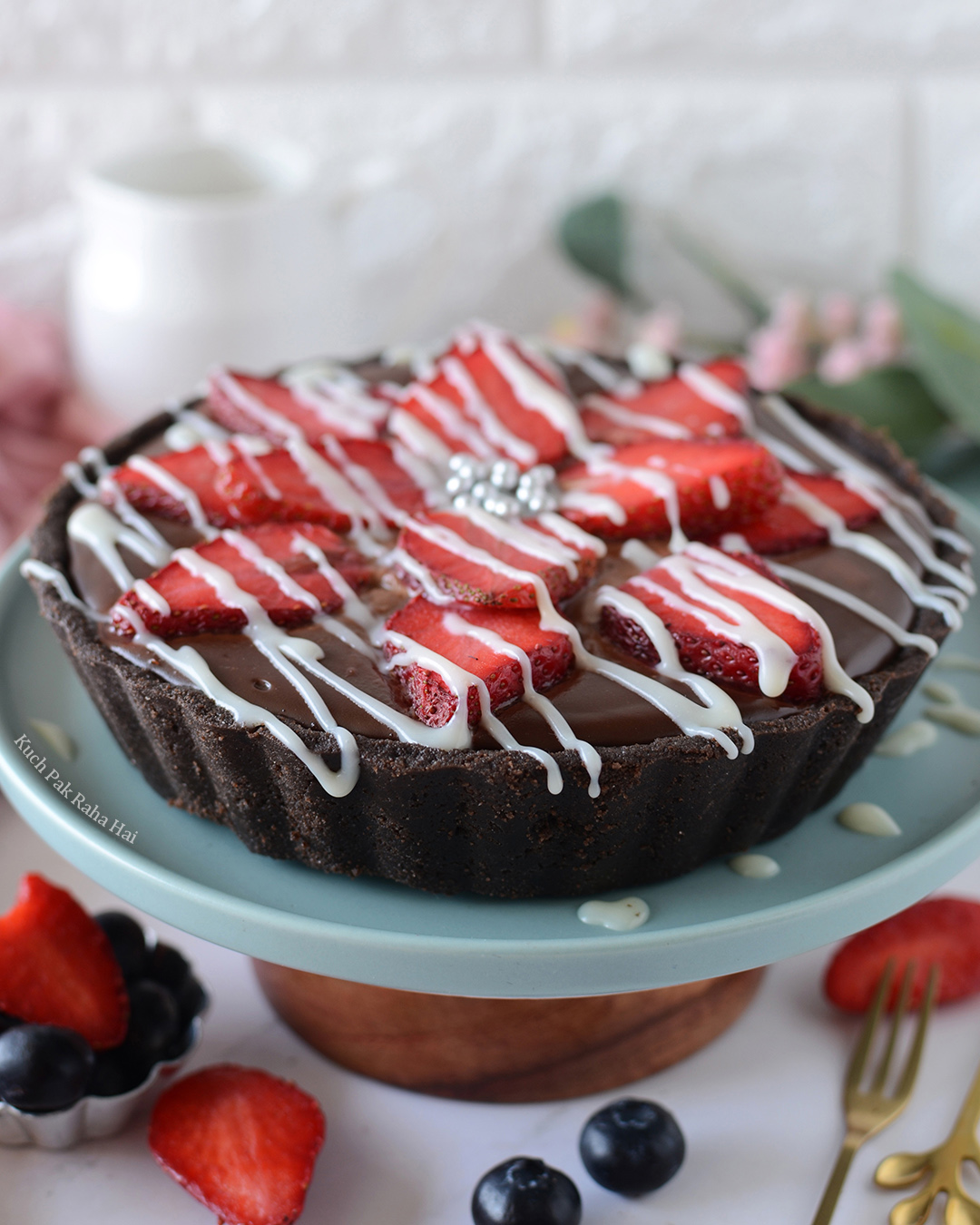 Strawberry Chocolate Tart is a decadent, sinfully delicious no-bake dessert recipe made using fresh strawberries, rich chocolate ganache and oreos. This dessert consists of the classic strawberry-chocolate combination and is perfect for special occasions like anniversary or valentine's day.
This Strawberry Oreo Tart recipe is totally egg free. If you are short of time and not in the mood for baking then this easy, quick chocolatey tart recipe is prefect for you. The recipe is made using just few common kitchen ingredients and can be made ahead of time.
I recently visited Mahabaleshwar (Maharashtra) and got lots of strawberries from there. Mahabaleshwar in India is famous for it strawberries, mulberries & carrots. For the first time in my life, I saw strawberry farms so closely and tasted freshly plucked strawberry. The city has such a bumper harvest of strawberries that they are sold along roadside in heaps.
While buying strawberries, I could see different shapes and sizes of them. On asking the vendor that which one will be juicier, he asked me to taste a small strawberry and then a bigger one almost the size of a lemon. The smaller one was much sweeter. He told me that there are 12 varieties of strawberries here. Each one has its own characteristics and taste.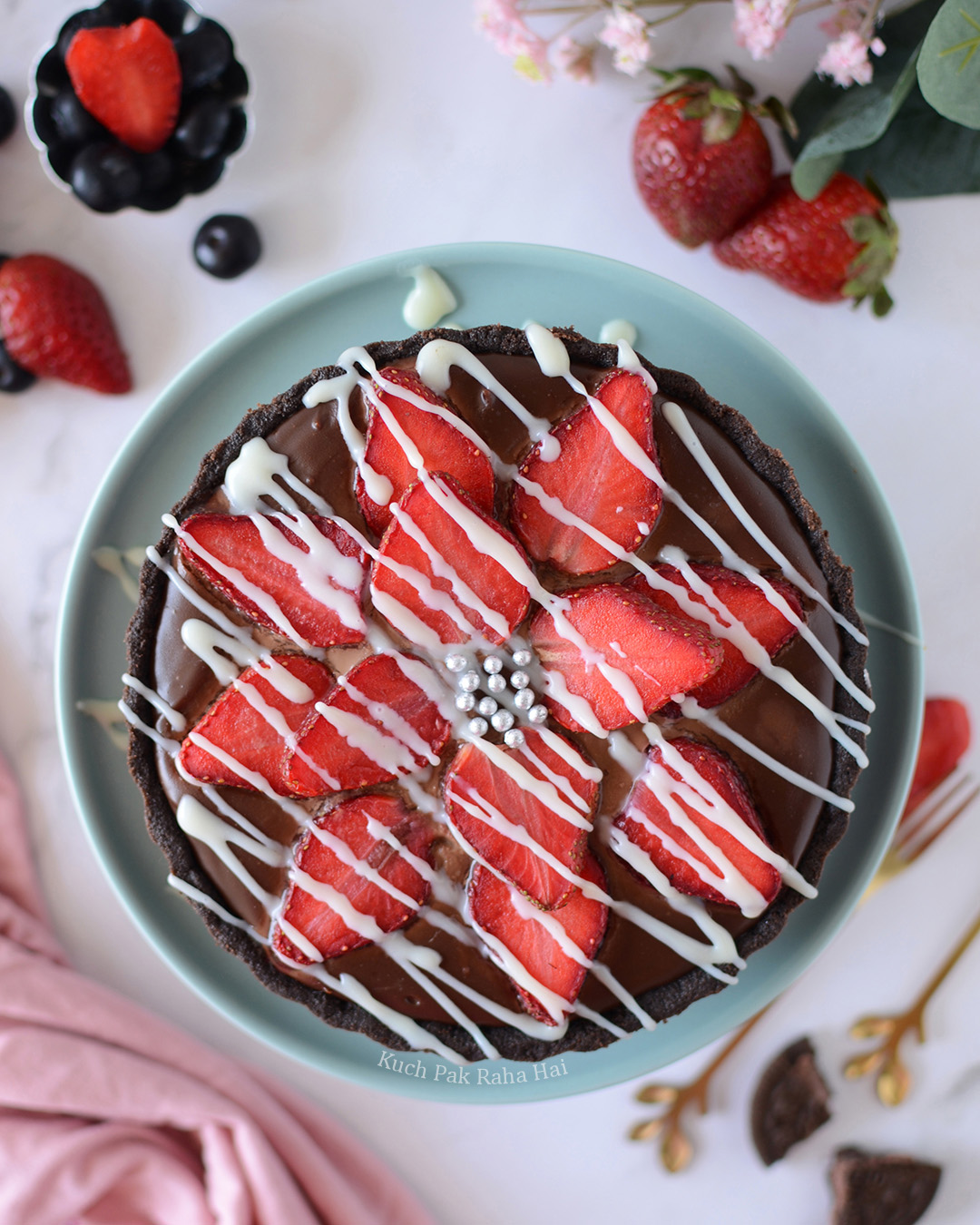 I had already decided while coming back from there that I would be making this heavenly tasting strawberry chocolate tart. I have used a mix of dark chocolate & milk chocolate in the tart filling but you can use either of them. For topping, I have drizzled some white chocolate ganache & sprinkled few silver balls. You can use chocolate chips and hazelnuts too.
The best part about this chocolate tart recipe is that it does not need any long preparation time or baking time. The tart base is no-bake and is made using oreo and butter. I have used chocolate oreo for it but you can use classic oreo or strawberry oreo also.
I have shared a youtube video for this same recipe. Subscribe to 'Kuch Pak Raha Hai' channel if you like the video 🙂
Watch here :
Hope you will like this Eggfree Chocolatey Strawberry & Oreo tart!! 🙂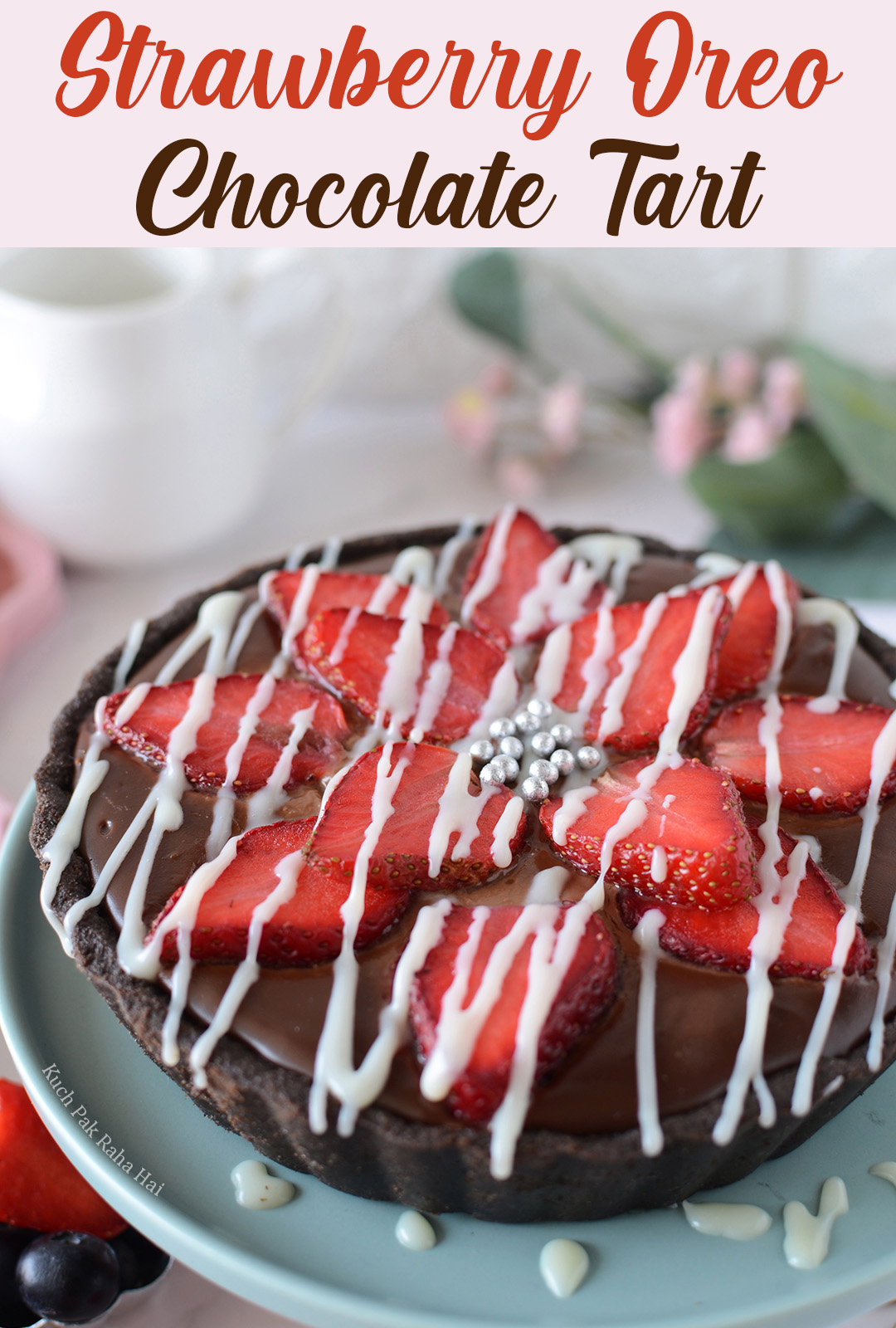 List Of Ingredients: (For 6-8 portions)
Oreo Biscuits- 15
Butter- 60 gram
Cream-150 ml
Dark Chocolate-50 grams
Milk Chocolate-100 grams
Strawberries- 6 to 7
For the topping (optional):
Cream-25 grams
White Chocolate-70 grams
Silver Balls Sprinkles-8 to 10
Tart Pan used to set the tart:
I have used 6″ inches aluminium tart pan with removable base to set this strawberry chocolate tart.
What can be used instead of tart pan for setting this chocolate tart?
You can use spring form tin for setting this tart or can simple line the insides of cake tin with cling film (use excess on sides so that you can lift it later on) and then set tart over it. Once it is set, lift the cling film from sides and remove it.

Steps To Prepare:
Step 1:
For preparing the crust, add Oreo biscuits to a grinding jar. Grind them to form fine crumbs.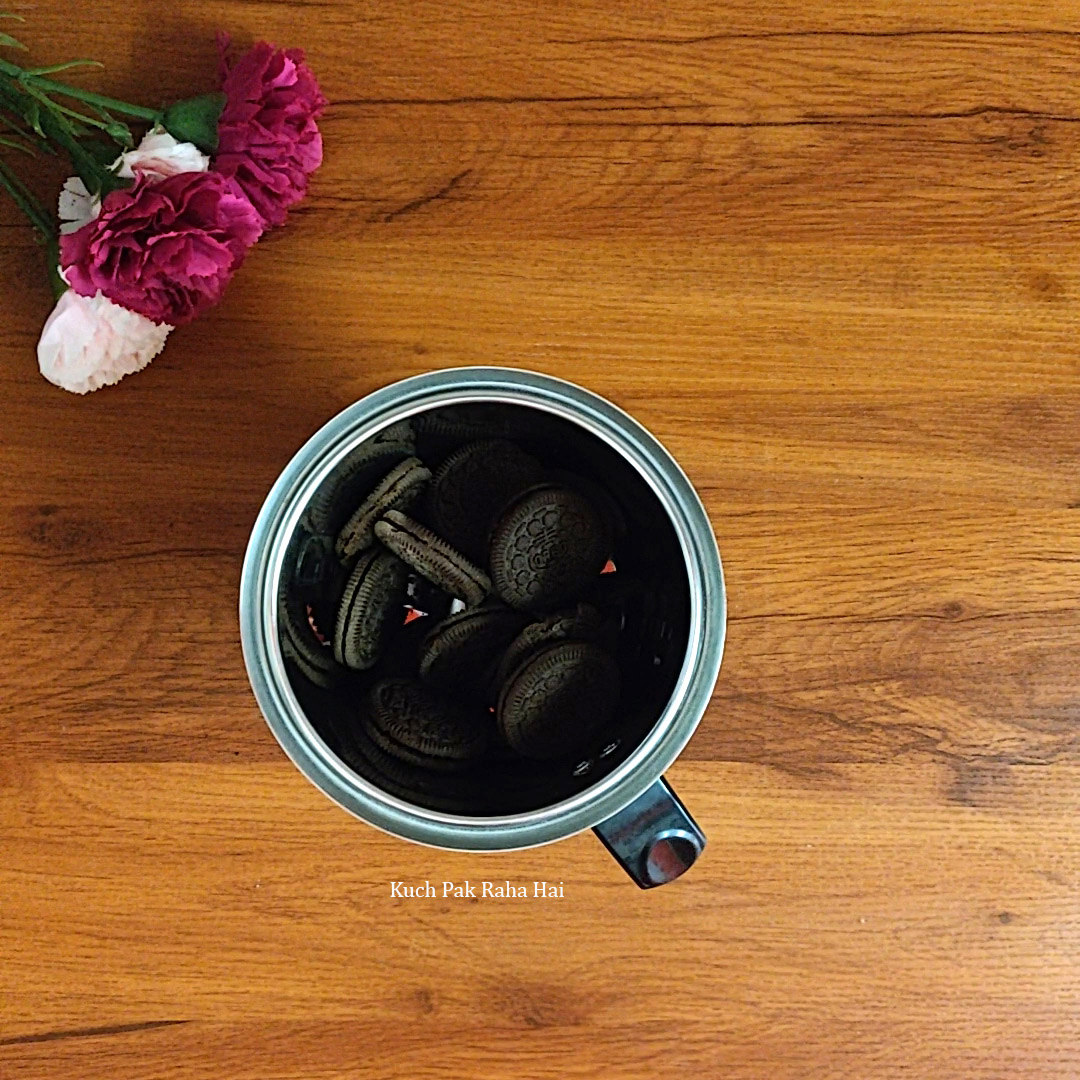 Step 2:
Add the melted butter to the crumbled Oreo biscuits and grind once again.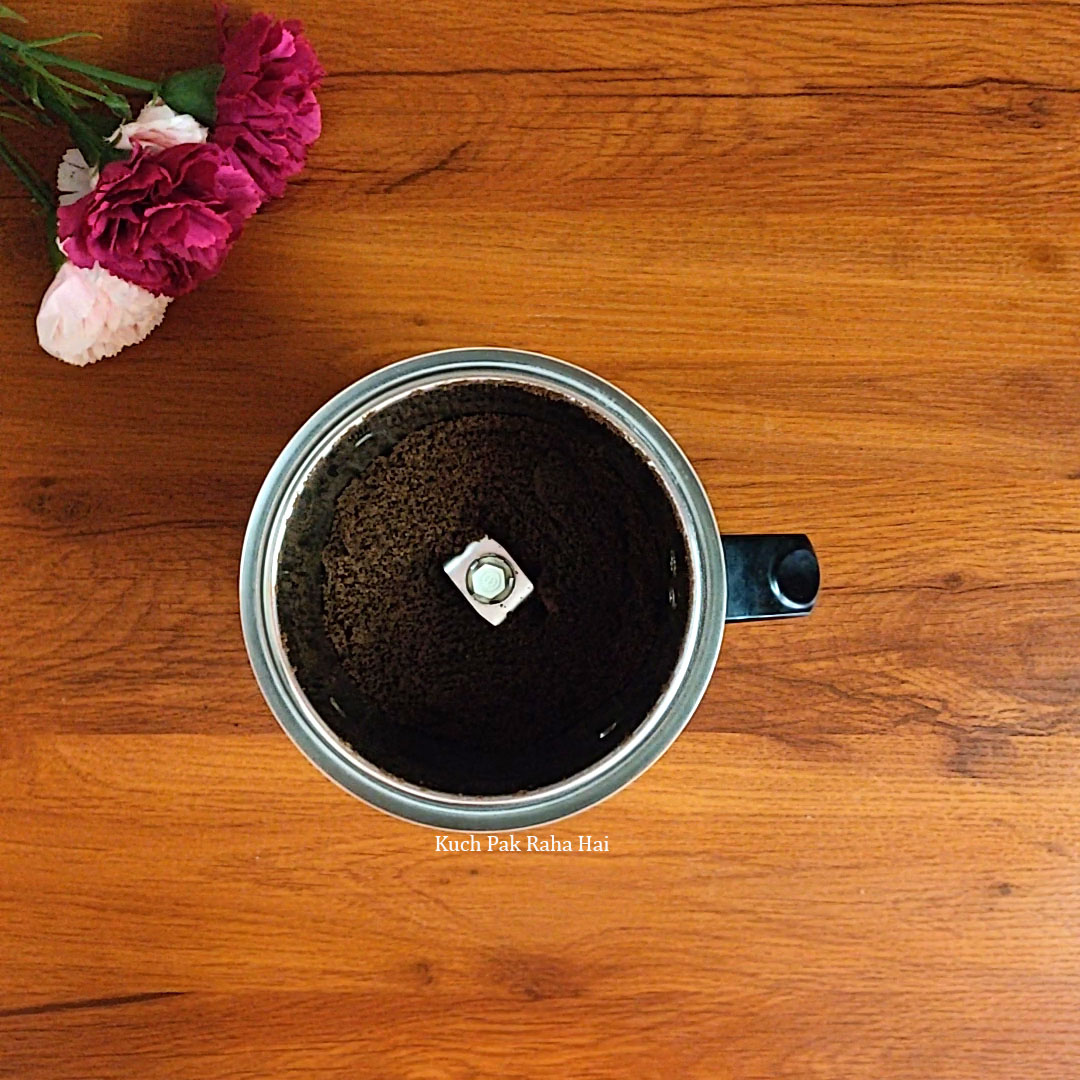 Step 3:
Using some more melted butter or olive oil, grease the insides of silicon mould. First spread these crumbled biscuits in tart & then press it on base and sides using fingers or back of spoon. Keep it inside the refrigerator for at least half an hour to set completely.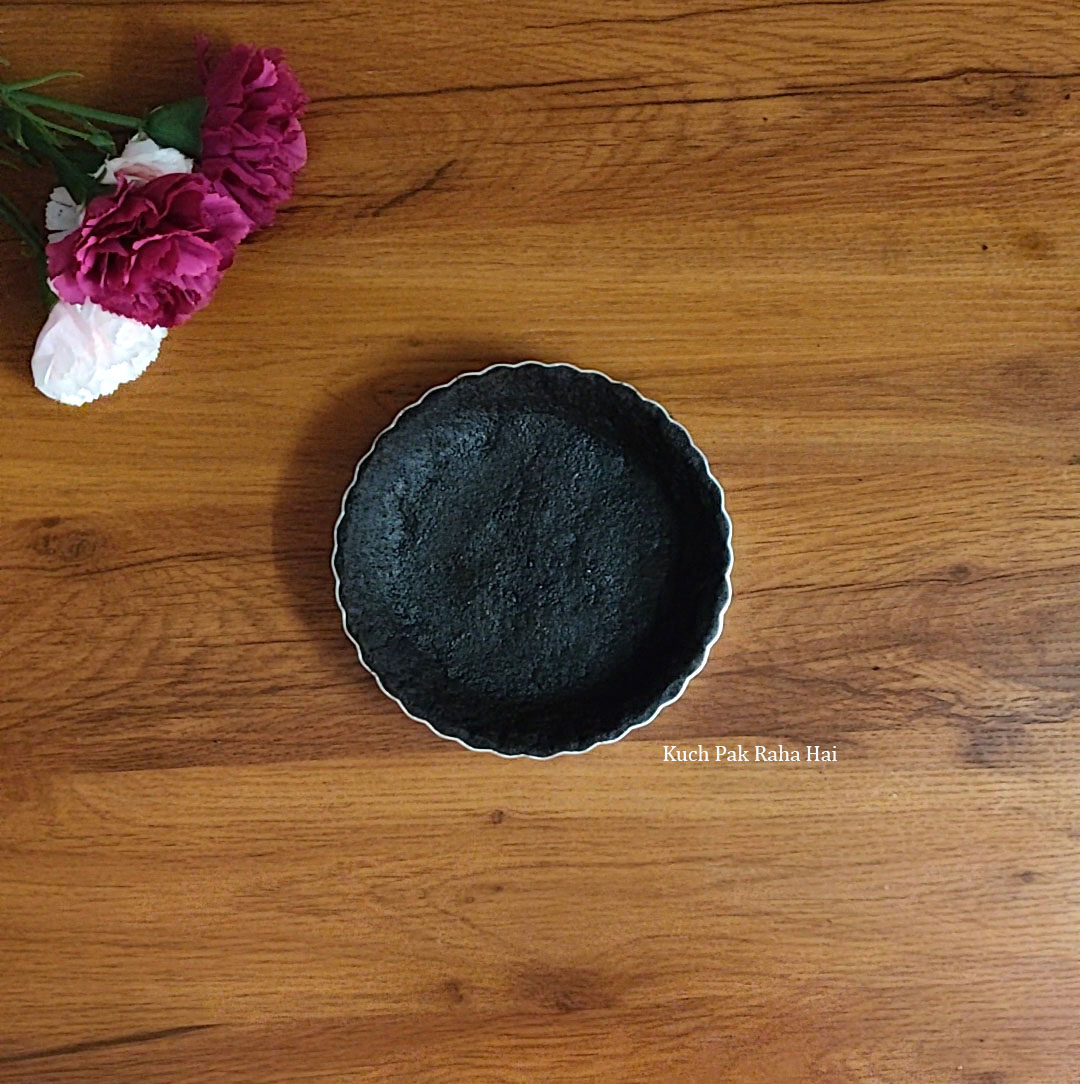 Step 4:
Chop milk chocolate & dark chocolate in small pieces. Chopping the chocolate is important as it increases the surface area and when the warm cream is poured on it, it melts quickly.
Take cream in a microwave safe boil. Microwave it for 45 seconds to 1 minutes. We need to just heat the cream and not boil it. You can heat cream in a non stick pan on stove also. Add this cream to the bowl of chopped chocolate. After 10 seconds, stir with a spatula or spoon till the chocolate is melted completely.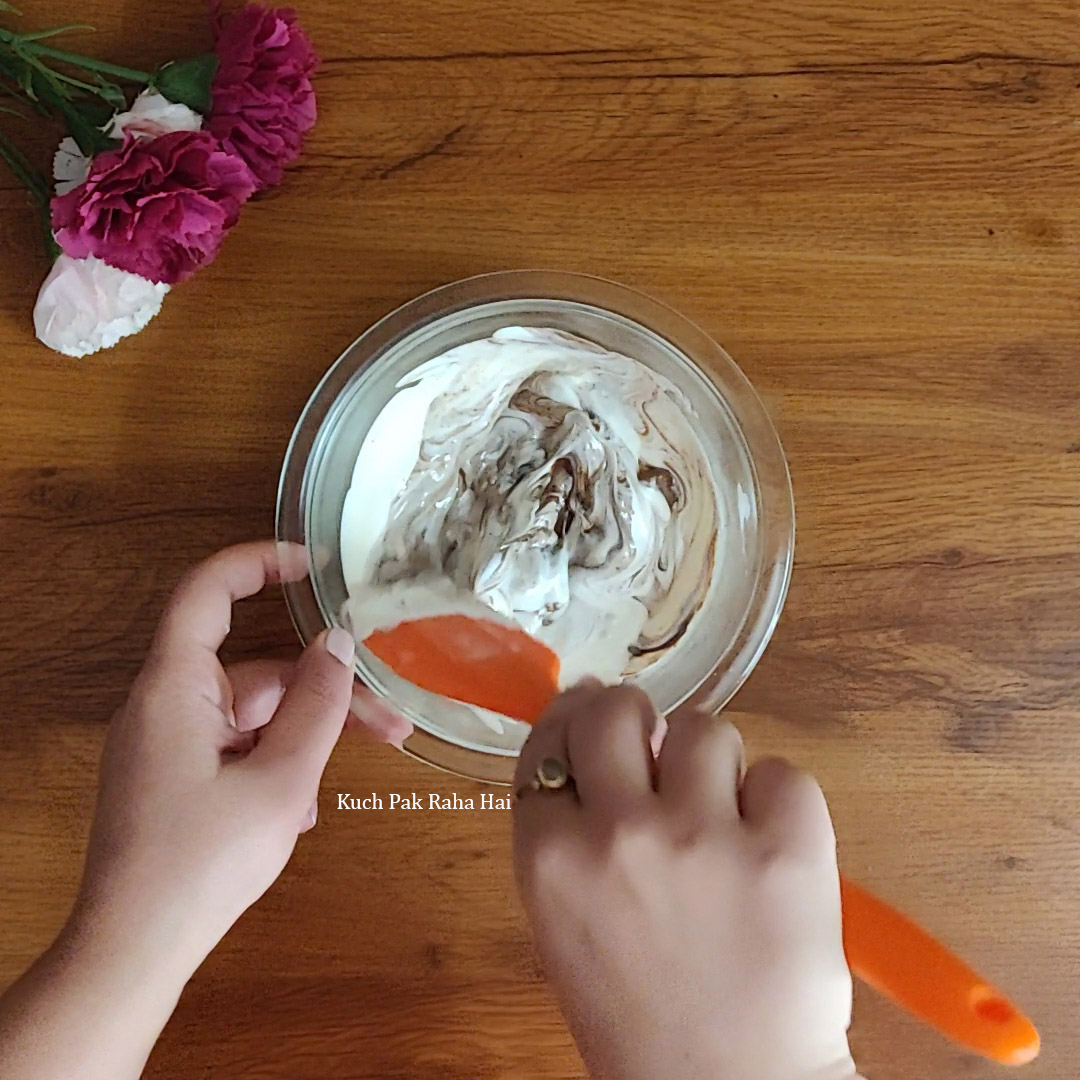 Step 5:
Transfer this chocolate ganache on the oreo tart. For a smoother finish, don't let the ganache cool down completely & pour it while it is still luke warm.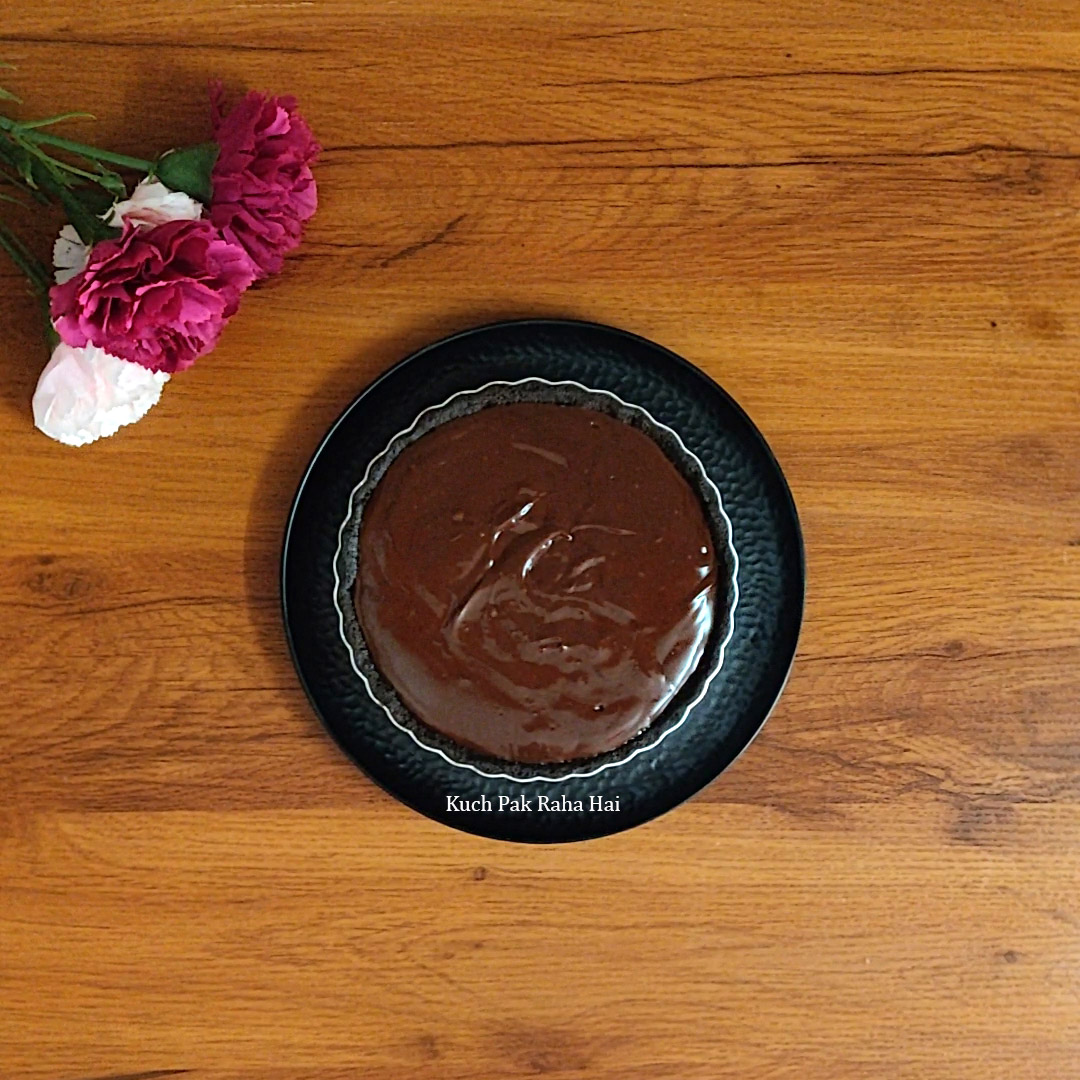 Step 6:
After 1 to 2 minutes, Slice the strawberries and place them on top of the tart. Press the slices gently with fingers so that they are slightly embedded in ganache.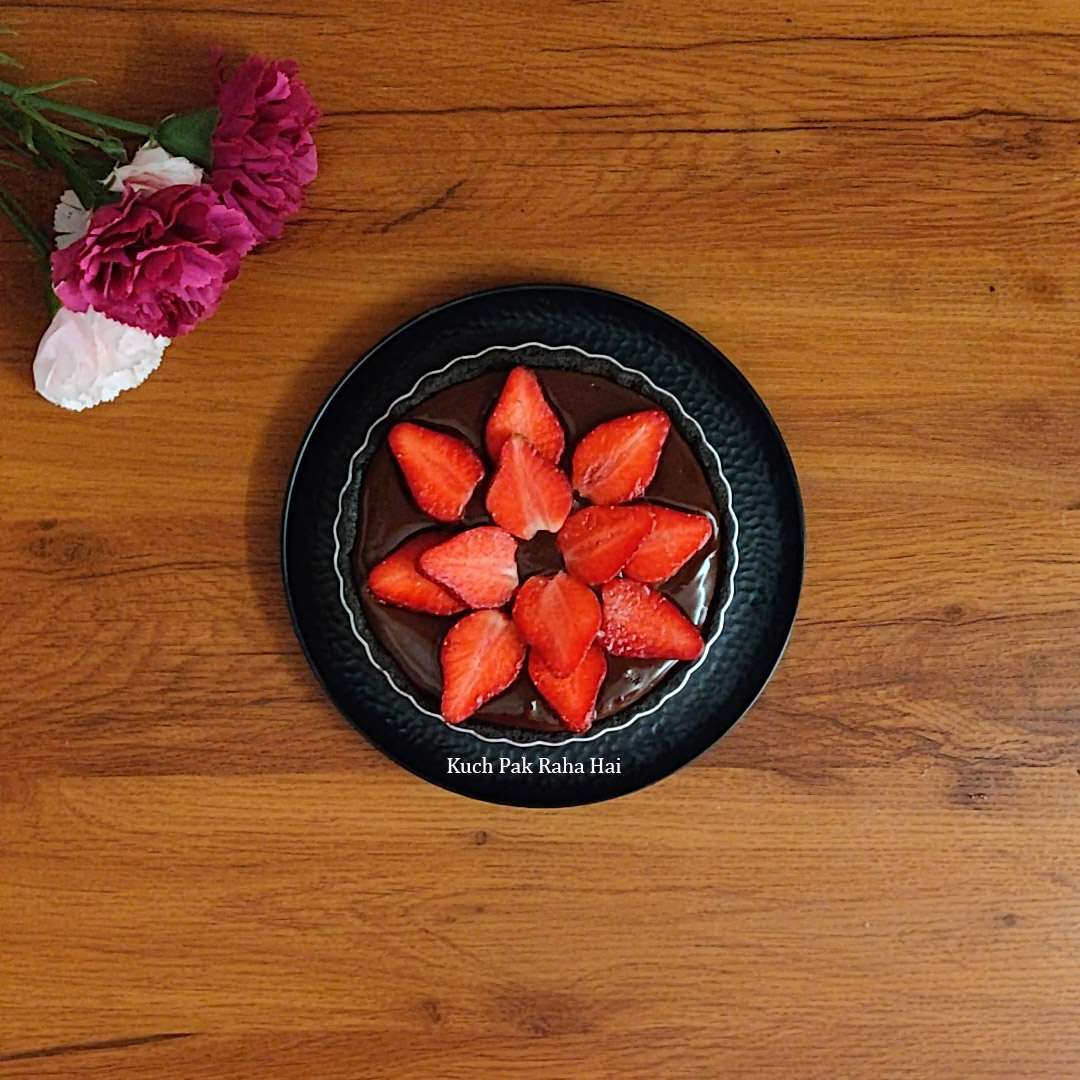 Step 7:
Refrigerate the dish for at least 4 hours before serving to set the tart completely. To de-mould the tart, invert a glass or cup on kitchen counter. Place the tart over it and slightly press the ring in downward action. Don't exert too much pressure if it not separating. Let the tart rest for 2-3 minutes on counter and then try again.
You can decorate the top with some icing sugar or white chocolate ganache which is optional. To make white chocolate ganache, heat cream in microwave bowl and pour it on chopped white chocolate. Mix well. Pour it over the tart using a spoon or piping bag.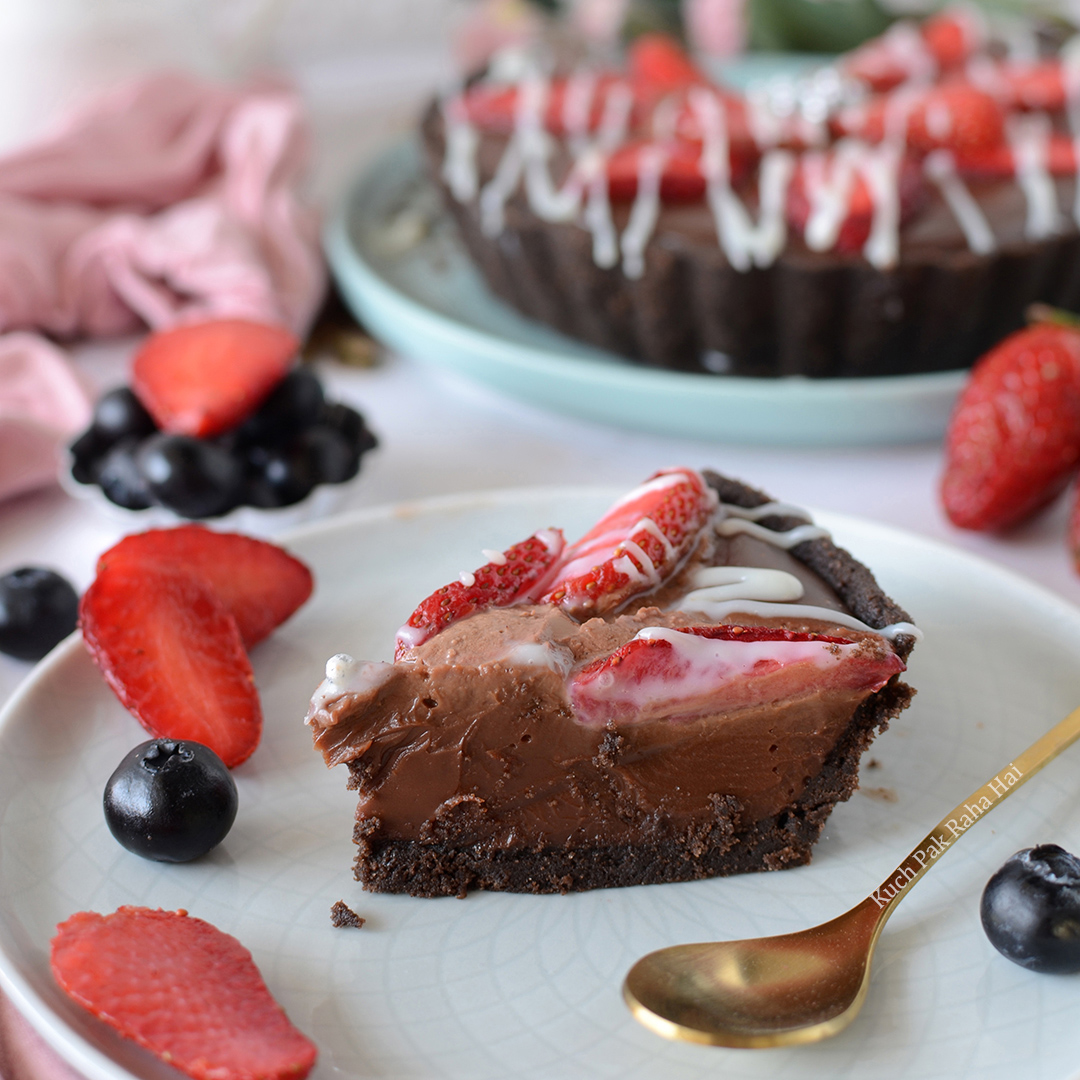 Recipe Notes / Substituions:
1. I have used Amul Fresh cream for making this tart. You can use any other brand of dairy cream of your choice.
2. For making base of the tart, chocolate oreo have been used. You can use classic oreo or strawberry oreo too.
3. For topping, you can use some chocolate chips, walnuts & chopped hazelnuts etc.
4. For the filling, mix of dark chocolate & milk chocolate has been used. You can use only dark chocolate too.
Bon Appetit!!
If you try this recipe, don't forget to tag us on Facebook or Instagram or use the hashtag #kuchpakrahahai.
Let's stay connected
Facebook | Instagram | Pinterest | Youtube
More such No-Bake Dessert recipes you might like: