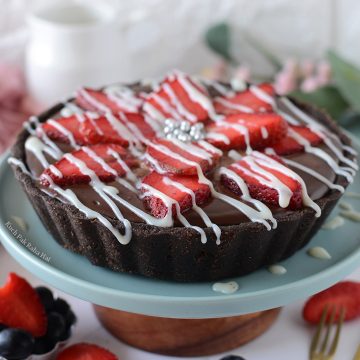 Decadent, sinfully delicious eggless no bake chocolate tart recipe made with oreo, fresh juicy strawberries and rich chocolate ganache. This dessert consists of the classic strawberry chocolate combination and is perfect for special occasions like anniversary or valentine's day.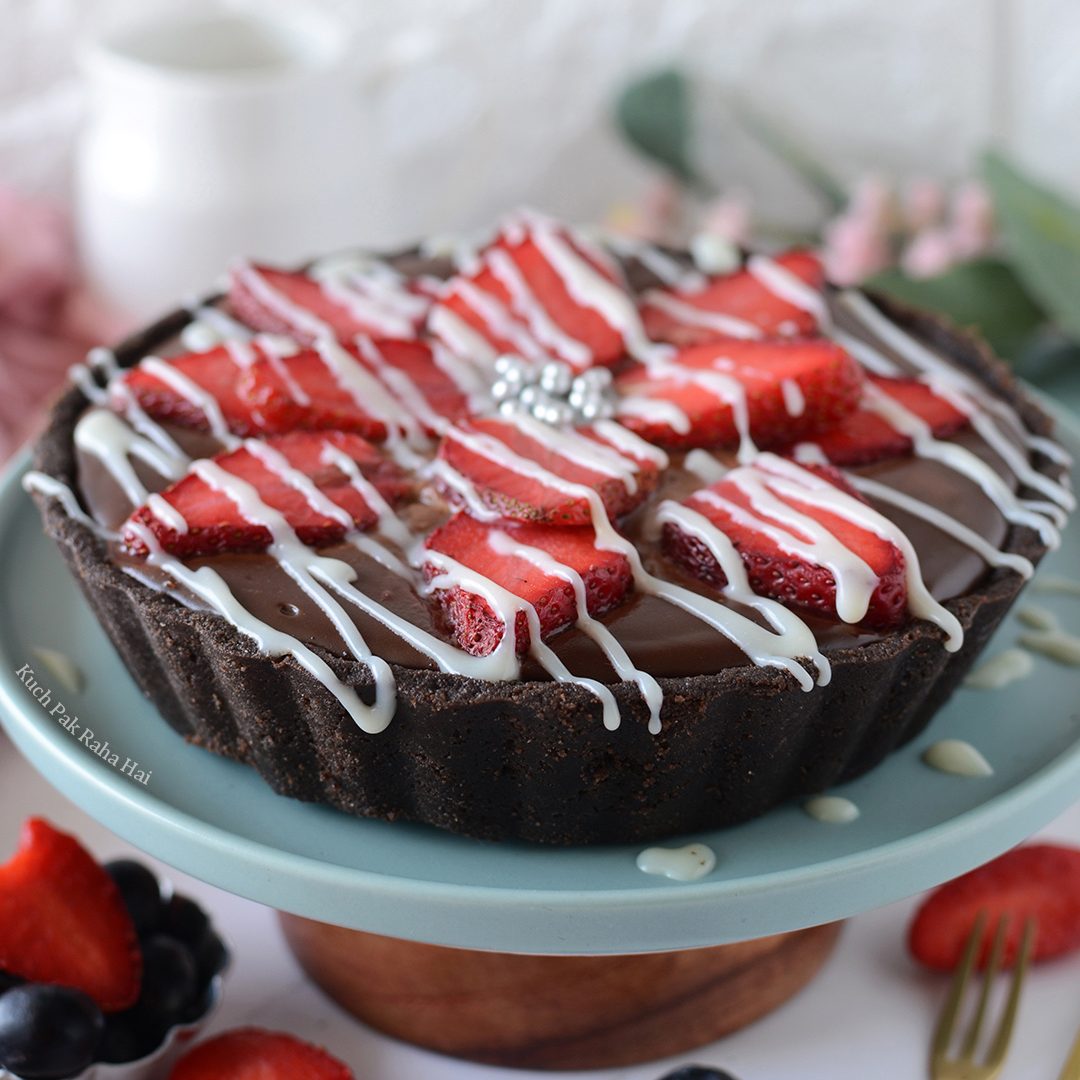 The Strawberry Chocolate Oreo Tart recipe shared here is :
Eggless
No Bake
Easy to make
Can be made ahead of time
If you are short of time or not in the mood for baking a cake then this easy chocolate tart recipe is perfect option for you. It is made using just few common ingredients and tastes absolutely divine.
I recently visited Mahabaleshwar (Maharashtra) and got lots of strawberries from there. Mahabaleshwar in India is famous for it strawberries, mulberries & carrots. For the first time in my life, I saw strawberry farms so closely and tasted freshly plucked strawberry. Strawberries are grown in so much of abundance there, that they were being sold along roadside in heaps.
While buying strawberries, I noticed their different shapes and sizes. One of the vendors told me that there are 12 varieties of strawberries here and each one has its own characteristics and taste.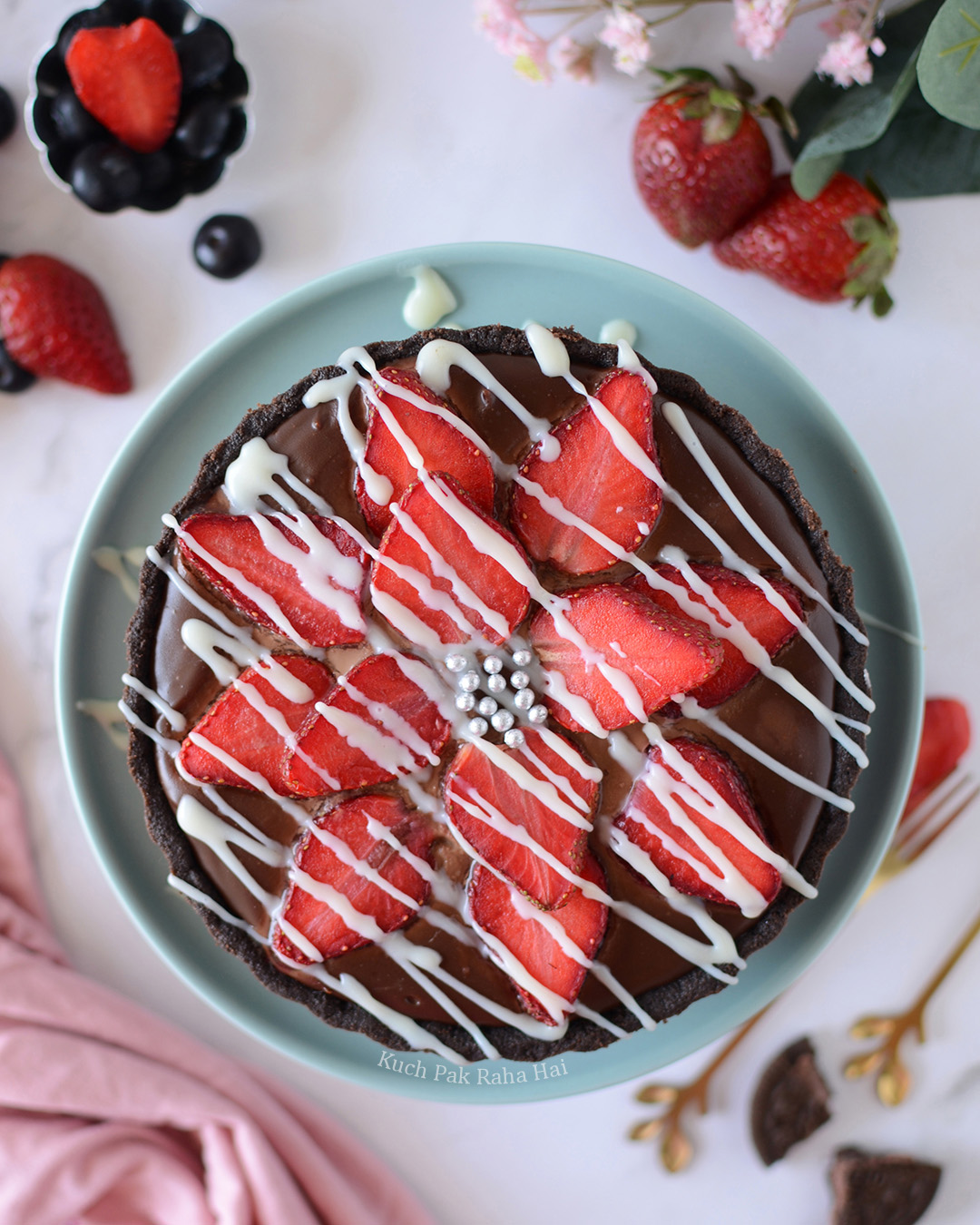 Ingredients to make chocolate tart:
1.Oreo: The tart shell in this recipe is made with classic oreo biscuits. You can even use strawberry oreo, golden oreo or any other chocolate biscuits to make this tart.
2. Butter: Butter is added in the biscuit crust for binding purpose. As little bit of salt enhances the chocolate flavour, you can use salted butter or a mix of salted-unsalted butter.
3. Chocolate: Use premium good quality chocolate as it is the main ingredient of the recipe. If you like less sweet desserts then opt for dark chocolate. I have used a mix of milk chocolate and dark chocolate here.
4. Cream: I have used low fat cream (25%) to make chocolate ganache in this recipe. For a richer taste you can use medium or heavy cream.
5. Strawberries: The strawberries add freshness and gentle sweetness to the slight bitter chocolate flavour. Other seasonal fruits that you can use are cranberry, raspberry, blueberry, cherry or oranges.

6. White Chocolate: I have used white chocolate ganache and silver balls to decorate the tart. If you don't want to use white chocolate, you can even use:
Salted Caramel Sauce
Nutella
Roasted hazelnuts
Roasted pecans
Macademia
Chocolate Chips
Hope you will like this eggless no bake chocolate tart!! I have also shared a youtube video for this same recipe. If you like the video, dont't forget to subscribe to the channel.
Youtube Video:
Variation: Mini Chocolate Tarts
Instead of making one full tart you can even make mini chocolate tarts. The recipe will remain the same, you will have to just divide the ingredients in individual portions. This makes them easier to serve in parties or potluck.
More such no bake dessert recipes you might like:
Ingredients: (For 6-8 portions)
Oreo Biscuits- 15
Butter- 1/4 cup (60 grams)
Cream-2/3 cup (150 ml)
Dark Chocolate-50 grams
Milk Chocolate-100 grams
Strawberries- 6 to 7
For topping (optional):
Cream-2 tbsp (25 grams)
White Chocolate-70 grams
Silver Balls Sprinkles-8 to 10
Notes:
1. Measuring Cup used: 1 cup=250 ml
2. I have used Amul cream (25% fat) for making this tart. You can use any other brand of your choice.
3.I have used 6″ inches aluminium tart pan with removable base to set this strawberry chocolate tart. 
4. For making tart base, chocolate oreo have been used. You can use golden oreo or strawberry oreo too. 
5. For the filling, mix of dark chocolate & milk chocolate has been used. You can use only dark chocolate too.
Directions:
Step 1:
For preparing the crust, add Oreo biscuits to a grinding jar. Grind them to form fine crumbs.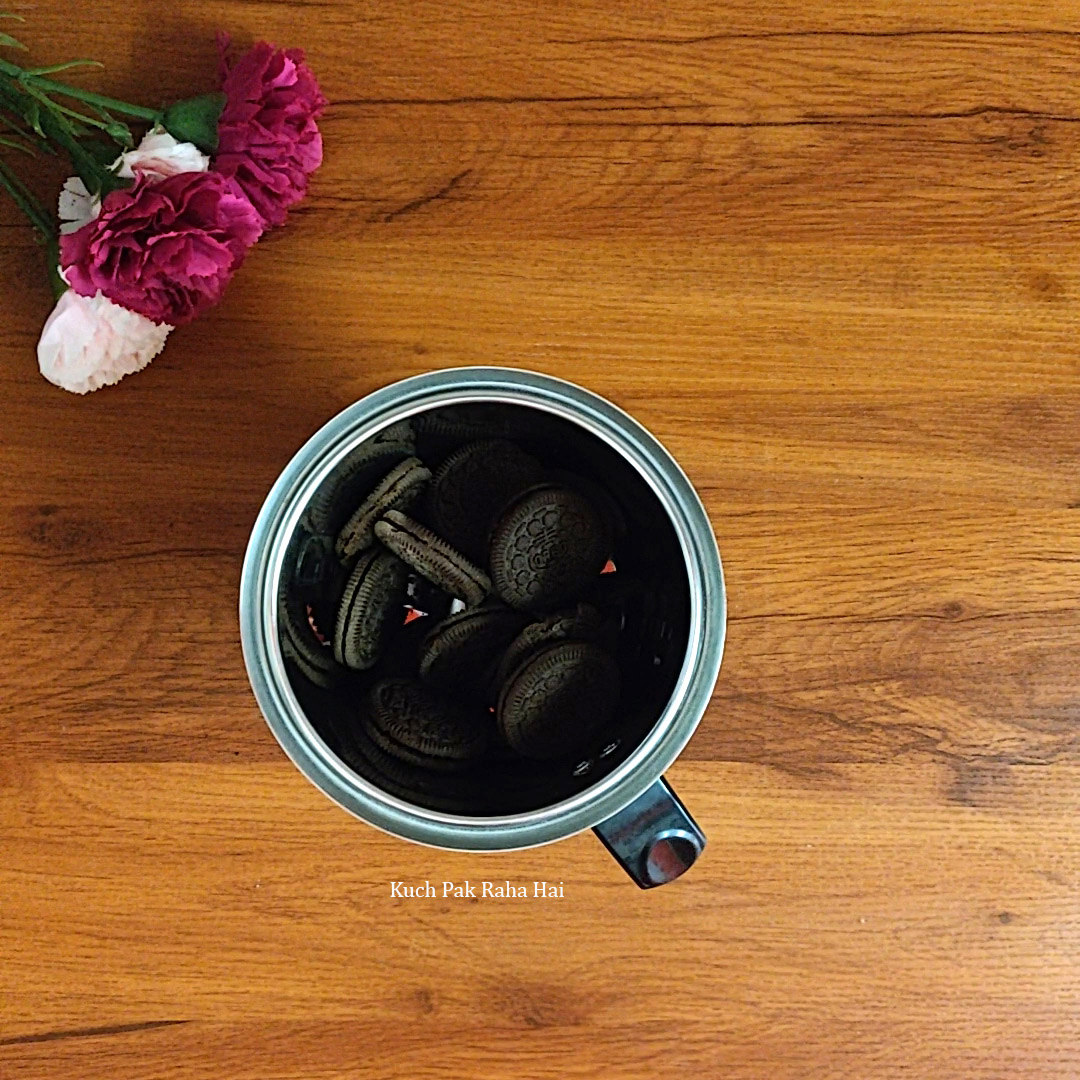 Step 2:
Add the melted butter to the crumbled Oreo biscuits and grind once again.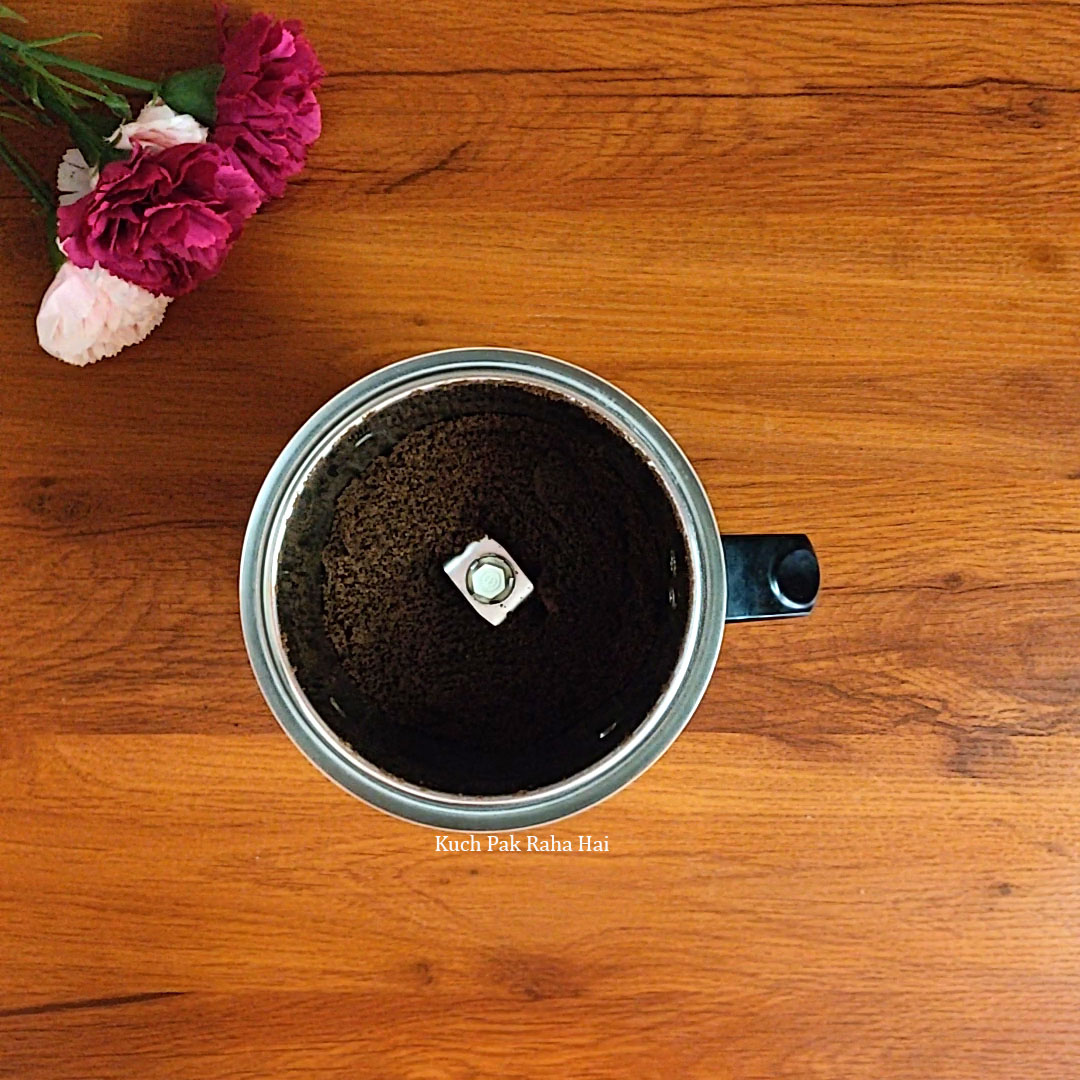 Step 3:
Brush some melted butter or olive oil inside the tart pan. First spread these crumbled biscuits in tart & then press it on base and sides using fingers or back of spoon. Keep it inside the refrigerator for at least half an hour to set completely.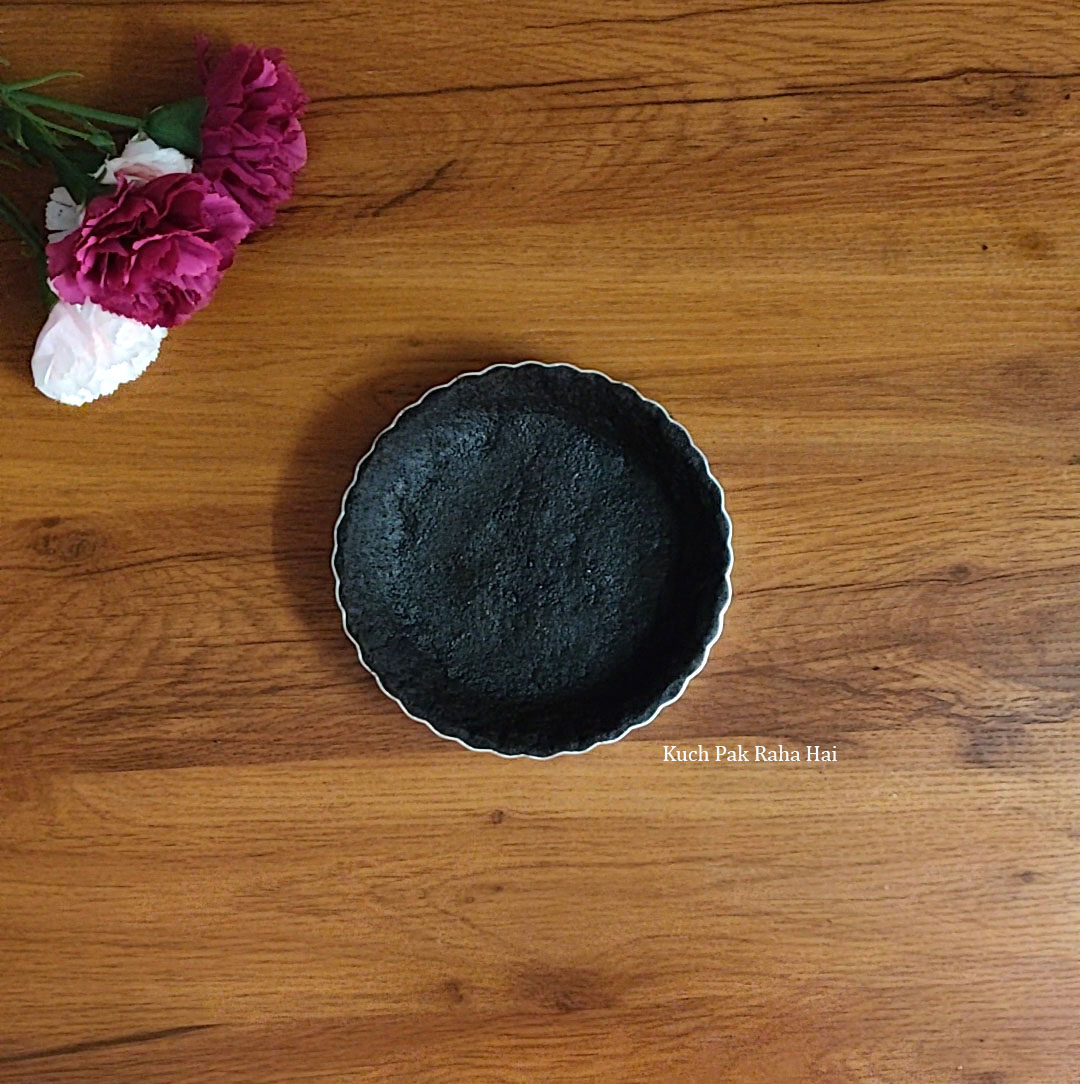 Step 4:
Chop milk chocolate & dark chocolate in small pieces. Chopping the chocolate is important as it increases the surface area and when the warm cream is poured on it, it melts quickly.
Take cream in a microwave safe boil. Microwave it for 45 seconds to 1 minutes. We need to just heat the cream and not boil it. You can heat cream in a non stick pan on stove also. Add this cream to the bowl of chopped chocolate. After 10 seconds, stir with a spatula or spoon till the chocolate is melted completely.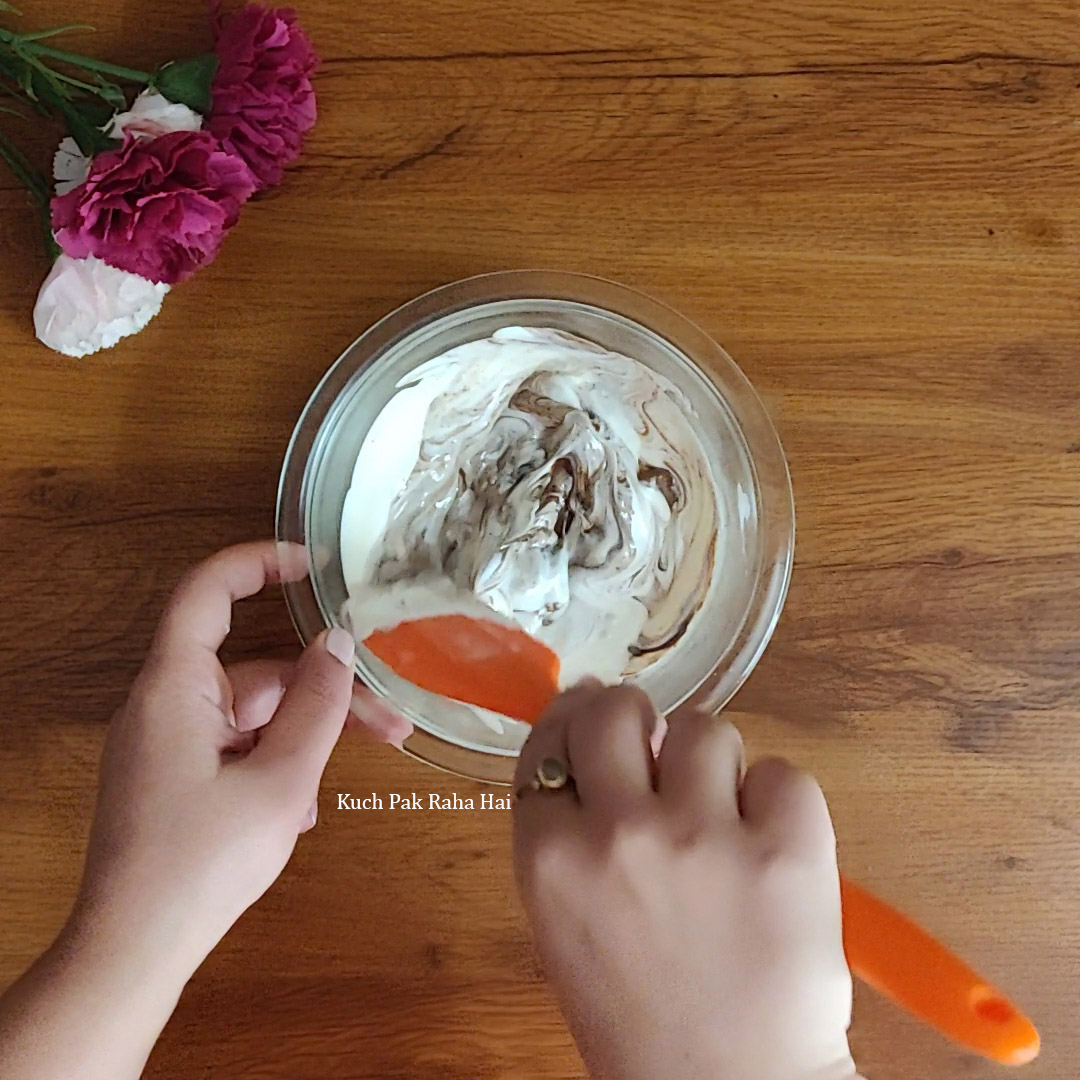 Step 5:
Transfer this chocolate ganache on the oreo tart. For a smoother finish, don't let the ganache cool down completely & pour it while it is still luke warm.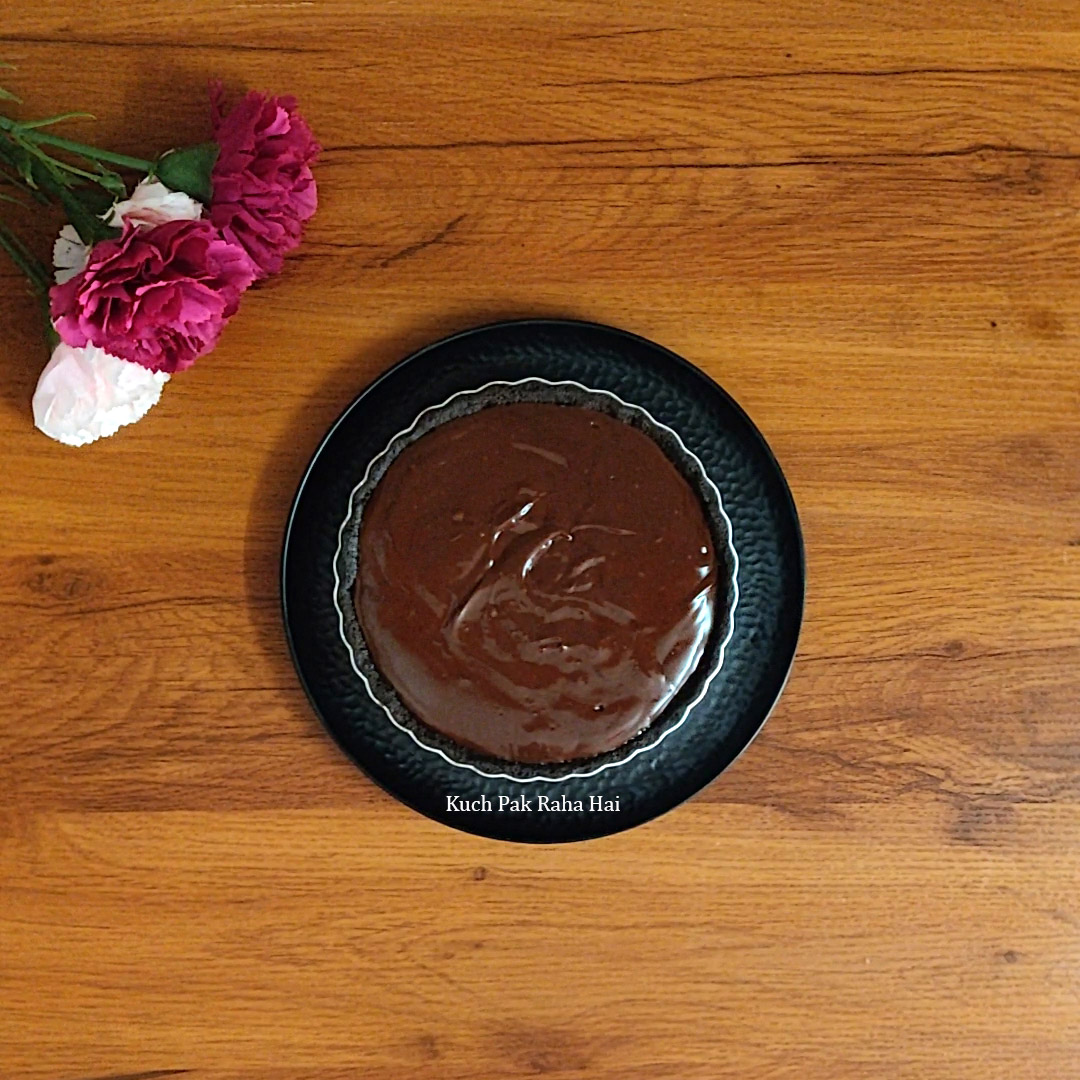 Step 6:
After 1 to 2 minutes, Slice the strawberries and place them on top of the tart. Press the slices gently with fingers so that they are slightly embedded in ganache.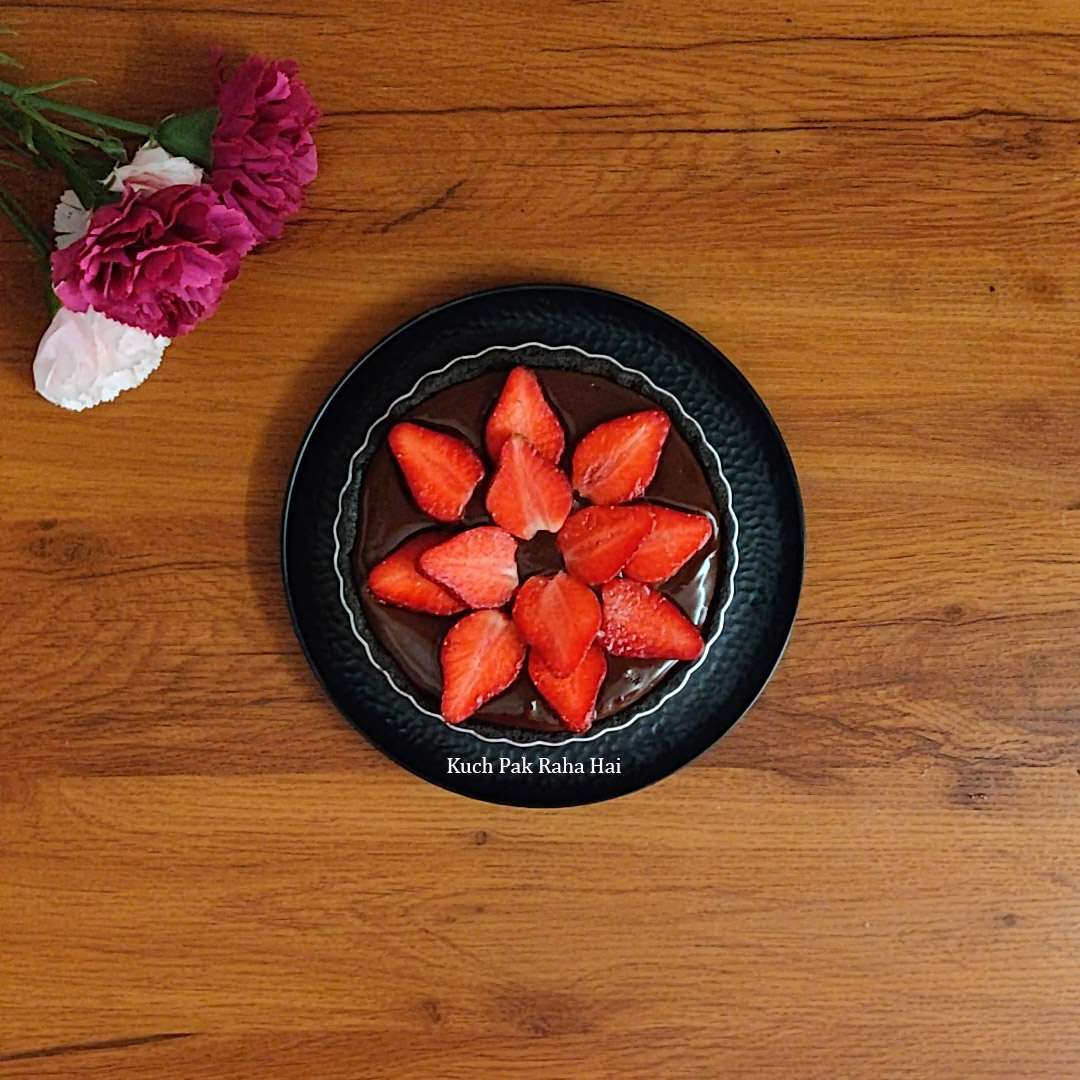 Step 7:
Refrigerate the dish for at least 4 hours before serving to set the tart completely. To de-mould the tart, invert a glass or cup on kitchen counter. Place the tart mould over it and slightly press the ring in downward action. Don't exert too much pressure if it not separating. Let the tart rest for 2-3 minutes on counter and then try again.
Step 8:(optional)
You can decorate the top with some icing sugar, white chocolate ganache or caramel sauce. To make white chocolate ganache, heat cream in microwave bowl and pour it on chopped white chocolate. Mix well. Pour it over the tart using a spoon or piping bag.
Slice and enjoy this delectable luscious strawberry chocolate tart. Bon Appetit!!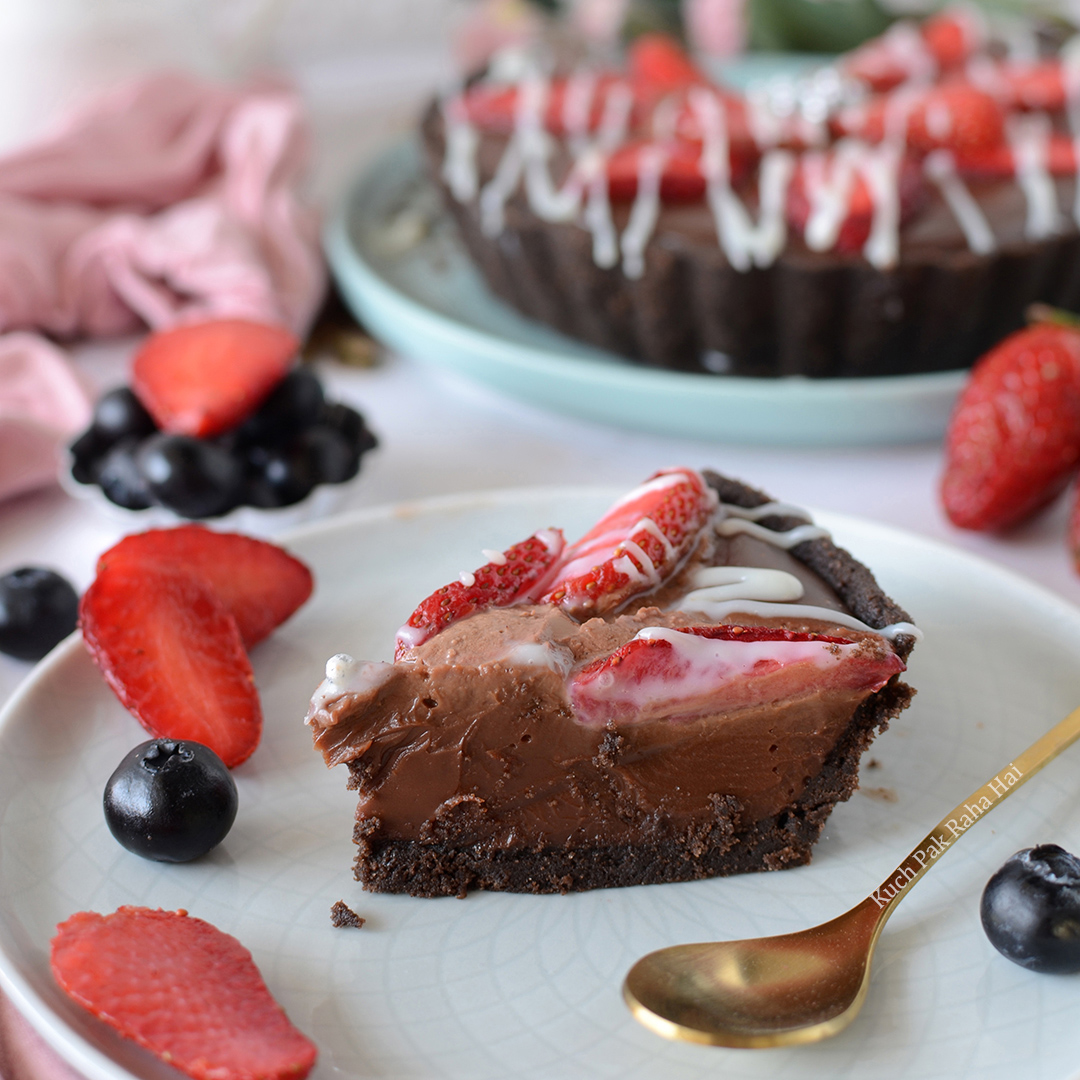 What can be used instead of tart pan for setting oreo tart?
You can use spring form tin for setting this tart or can simple line the insides of cake tin with cling film (use excess on sides so that you can lift it later on) and then set tart over it. Once it is set, lift the cling film from sides and remove it.
More strawberry recipes: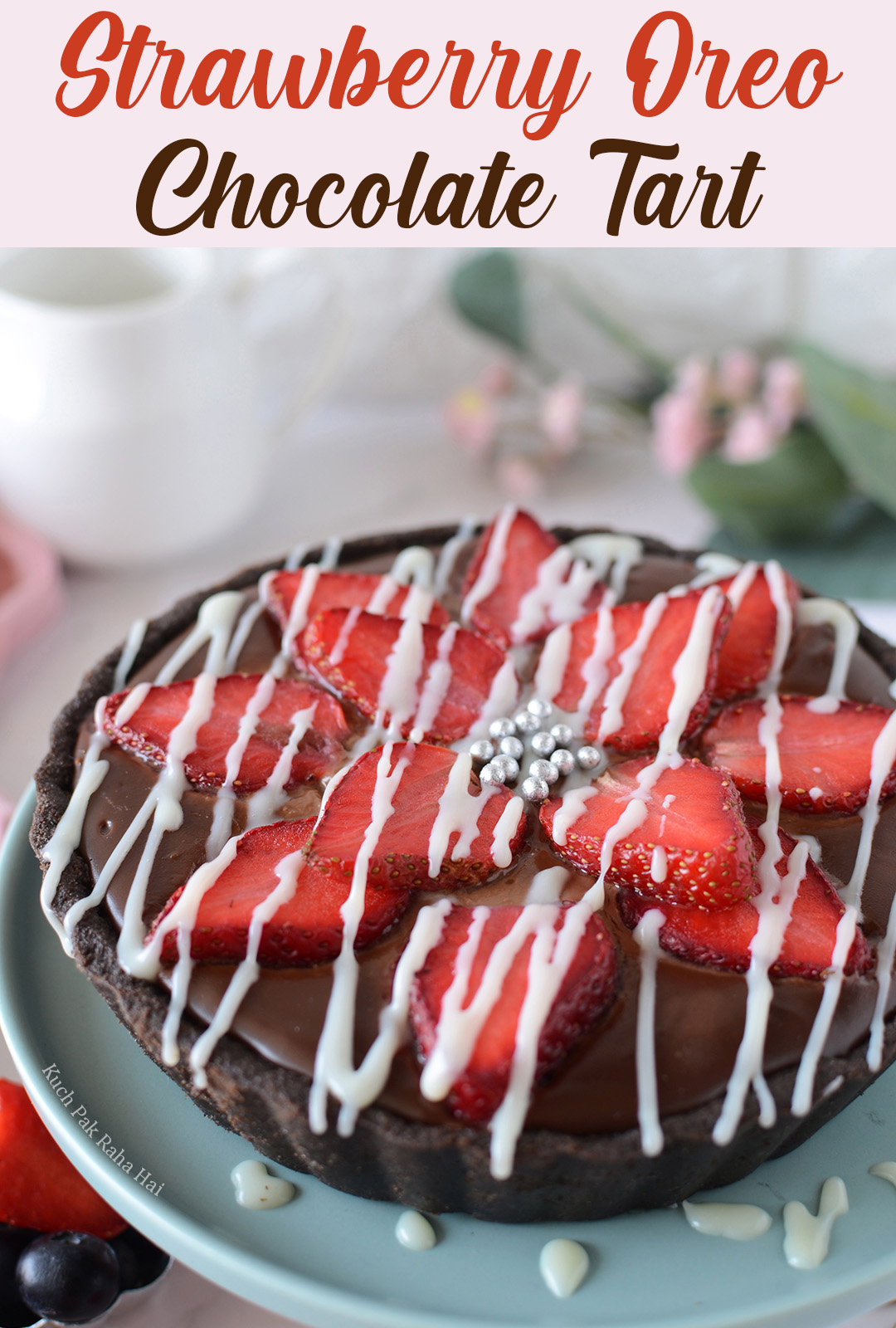 If you try this chocolate strawberry tart recipe then don't forget to tag us on Facebook, Instagram or use #kuchpakrahahai.