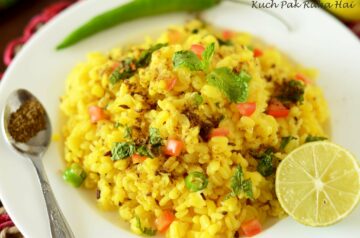 Dry Moong dal is a delicious, healthy, protein packed recipe made with boiled moong dal (yellow lentil), vegetables, lemon juice & a few spices. It is light, refreshing and can be served as breakfast, snack or salad.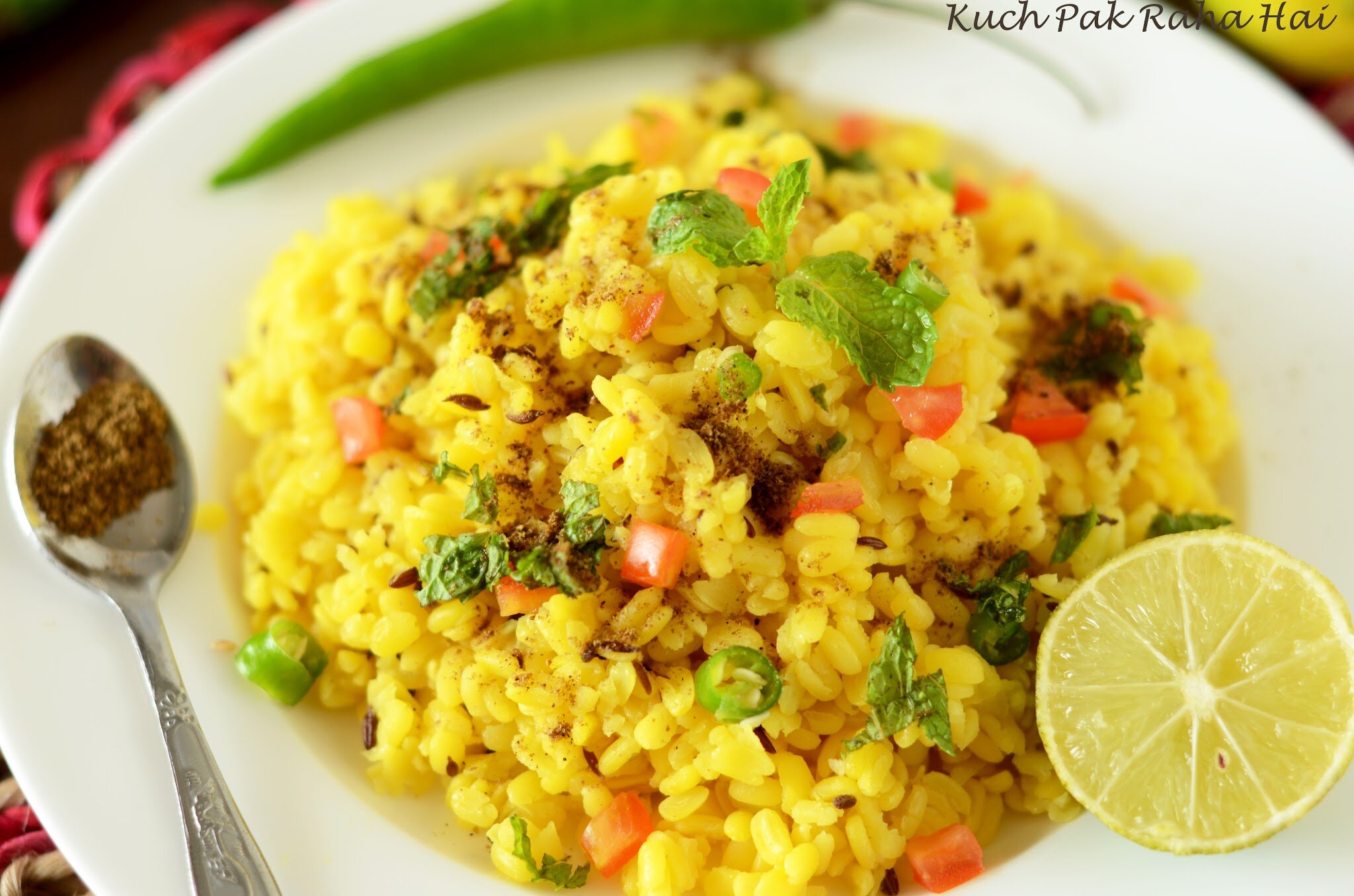 As most of the lentil or dal recipes are soupy or gravy like, this yellow moong dal recipe is made without any gravy and hence also known by other names like 'Sookhi Moong Dal' (sookhi means dry), dried mung dahl or moong dal chat etc.
This dry yellow moong dal recipe is :
Vegan
Gluten Free
Low in Fat
High in Protein
It can be served slightly warm or cold depending on the weather. For a wholesome breakfast you can accompany it with a toast. It can be consumed as evening snack or even packed in kids tiffin box. For a light dinner you can serve it with hot chapatis (roti) or paratha.
What is moong dal?
Yellow Moong Dal, also called 'small yellow lentils' in english, is basically split & dehusked whole green gram (sabut moong). It takes lesser time to cook in comparison to other lentils, is light on stomach and hence easy to digest. A 100 grams serving of boiled moong dal has ~8 grams of protein. So if you are looking for high protein & low fat recipes, this recipe is definitely a keeper.
How to make dry moong dal?
The charm of the recipe is that each moong dal grain should be separate and not sticky at all. The dal should be soft, tender and at the same time not mushy.
To make this recipe, we begin by washing & soaking yellow moong dal (lentil) for 15-20 minutes. Soaking reduces the cooking time and makes the lentils easy to digest. Then we boil the moong dal till it is just enough cooked & not mushy. I have explained open pan stove top method here but you can also boil it in pressure cooker or instant pot.
Once boiled, the dal is allowed to cool a bit. You can add freshly chopped vegetables or seasoning to it while it is still warm or let it cool down completely to enjoy a cold salad.
Ingredients for Dry Moong Dal:
To boiled moong, I have added cucumber, tomatoes, green chillies, boiled potatoes, lemon juice & freshly chopped coriander / cilantro or mint. Then it is finally seasoned with some garam masala & roasted cumin powder to add some flavour & aroma.
Boiled potatoes make it more filling , however if you wish you can skip them. You can also add some finely chopped onions.
Adding turmeric (haldi) is optional in this recipe. It gives a light yellow tint to the dal. Green chillies are added for little bit heat, however you can replace it with red chilli powder or crushed black pepper. The spices in the recipe can be adjusted as per your choice.
Can I make boiled moong dal in advance?
This sookhi moong dal or dry moong recipe does not require much preparation or cooking time. It can be boiled in advance and stored in airtight container in fridge. Just add freshly chopped veggies and season it before serving.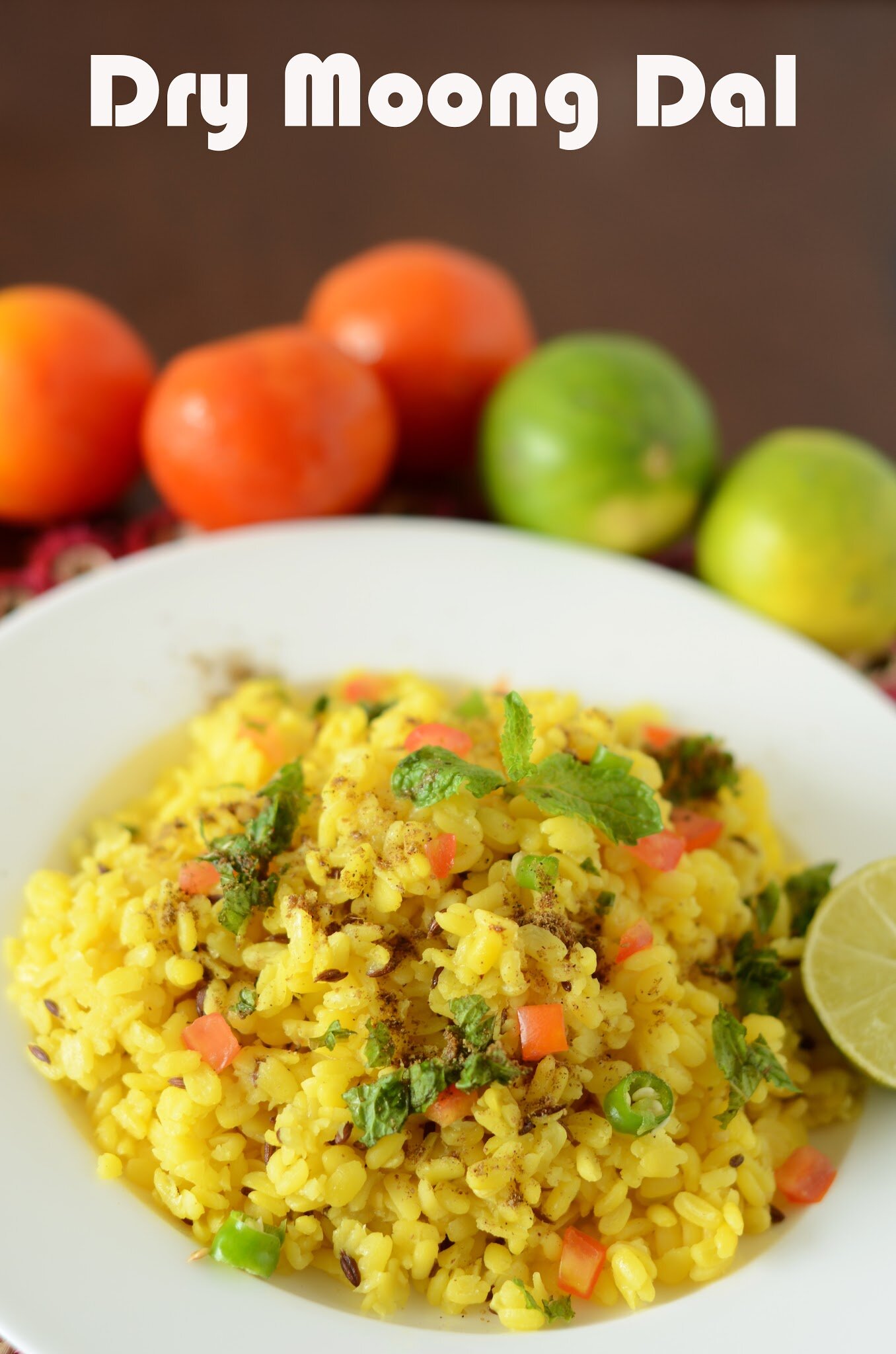 More moong dal recipes:
Other dal recipes:
Hope you would like this simple dry moong dal or sookhi moong dal recipe!!
List Of Ingredients: (Serves 2-3)
Moong Dal- 1 cup
Water-1+1/4 cup (for cooking)
Oil / Ghee- 1 tsp
Roasted Cumin Powder- 1 tsp
Garam Masala- 1/2 tsp
Turmeric (Haldi)-1/4 tsp (optional)
Salt-1 tsp (to taste)
Lemon Juice- 2 tsp
Chopped Cucumbers- 1/2 cup
Chopped Boiled Potatoes-1/2 cup
Chopped Tomatoes-1/4 cup
Chopped Green chillies-2 (optional)
Chopped coriander / mint-For garnishing
Note:
If you are soaking moong dal or lentil for 1-2 hours then you need only 1 cup water for cooking (i.e 1 cup water for 1 cup dal) else take (1+1/4) cup water.
Steps To Prepare:
Step 1:
Wash the moong dal thoroughly to get rid of dust. Soak it in 2-3 cups fresh water for 15-20 minutes. (In the mean time you can chop vegetables).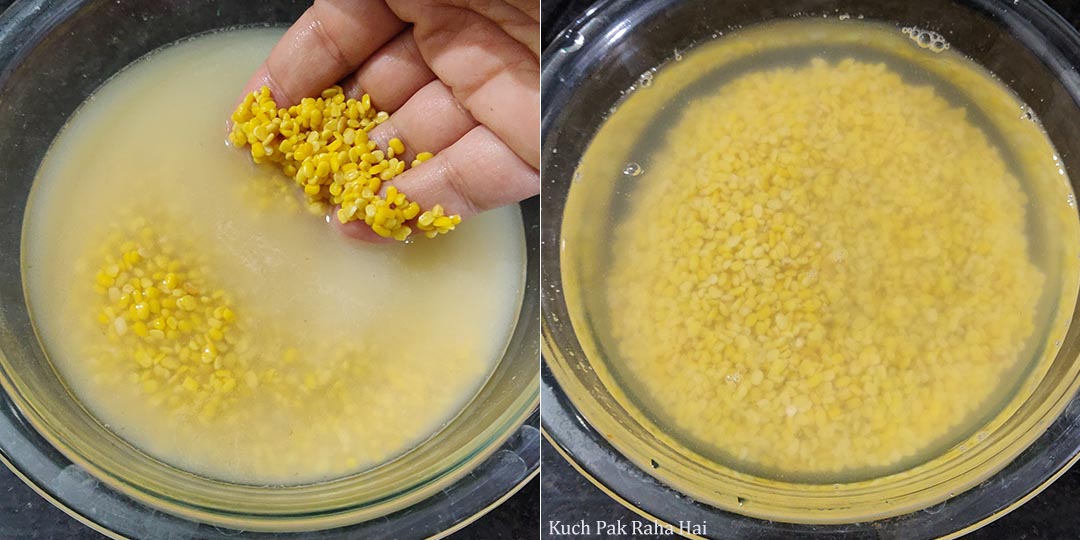 Step 2:
Discard the water in which dal was soaked. In a pan add soaked moong dal, fresh water, salt, turmeric (if using) & oil. Bring it to boil.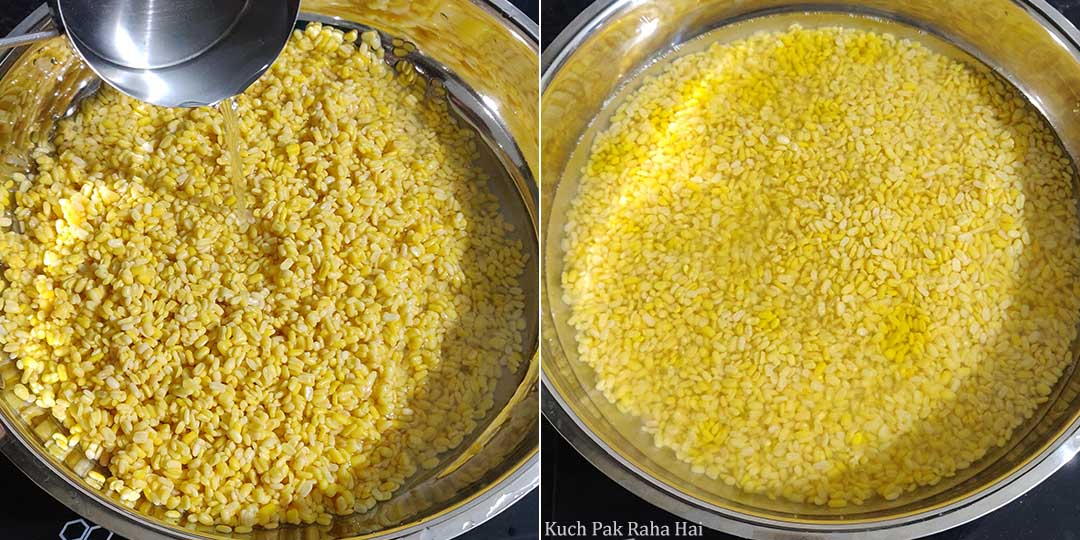 Step 3:
You may notice some white foam on top (created by 'saponins' in lentils). It is not harmful but if you wish you can skim it off. Let it simmer on low flame while partially covering with lid as shown below.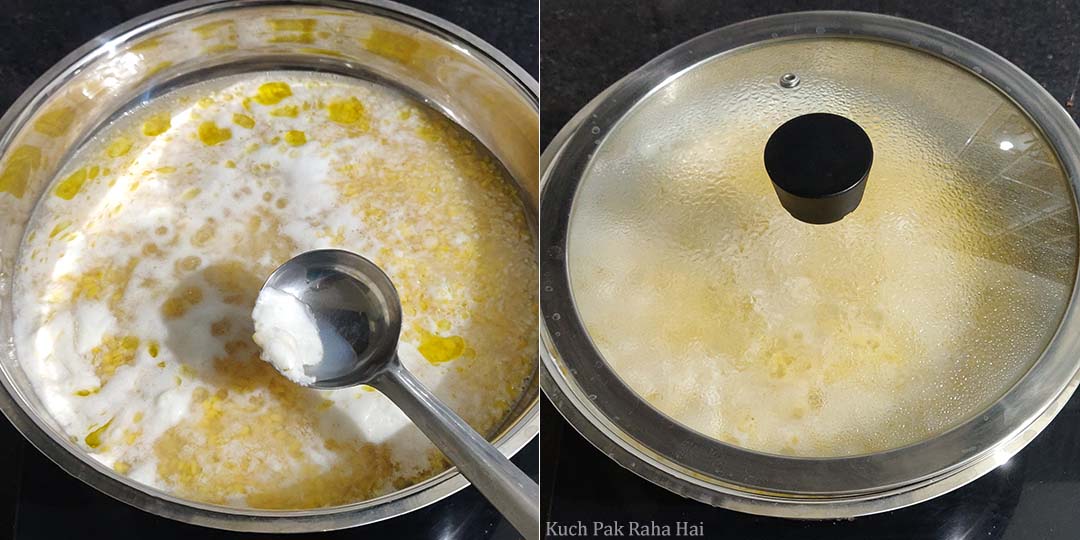 Step 4:
After 12-13 minutes, open the lid & check the water level. If there is no water left, switch off the flame and cover the lentil or dahl completely with a lid for 2-3 minutes. It gets further cooked in residual heat.
Open the lid and gently fluff it with a spatula or spoon.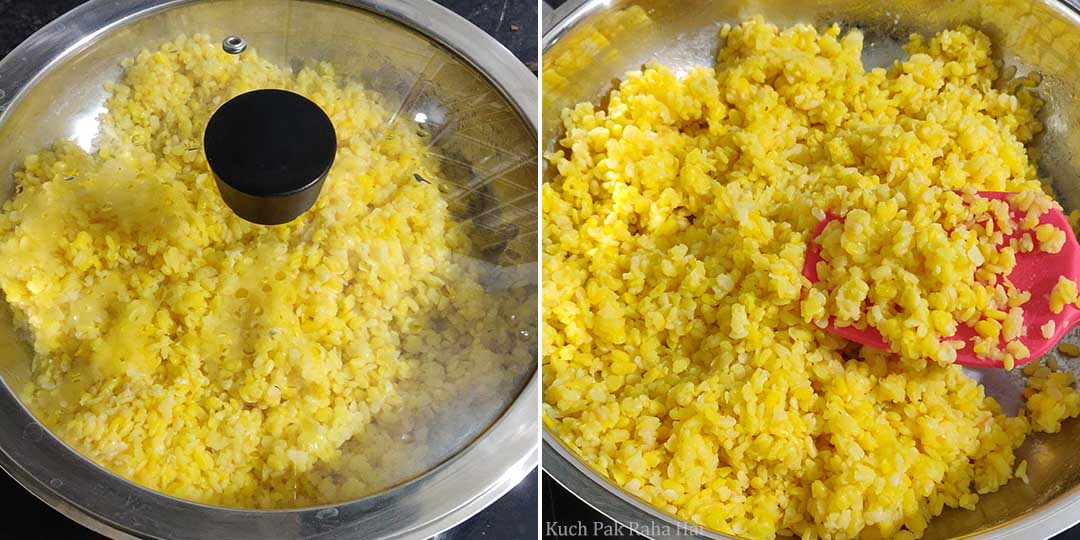 Step 4:
Let is cool down slightly or completely. Transfer this boiled moong in a bowl and add chopped tomatoes, cucumbers, boiled potatoes, green chillies, lemon juice and spices etc. Mix gently, taste and add salt if required.
Garnish with freshly chopped coriander, cilantro or mint leaves and a slice of lemon. Enjoy!!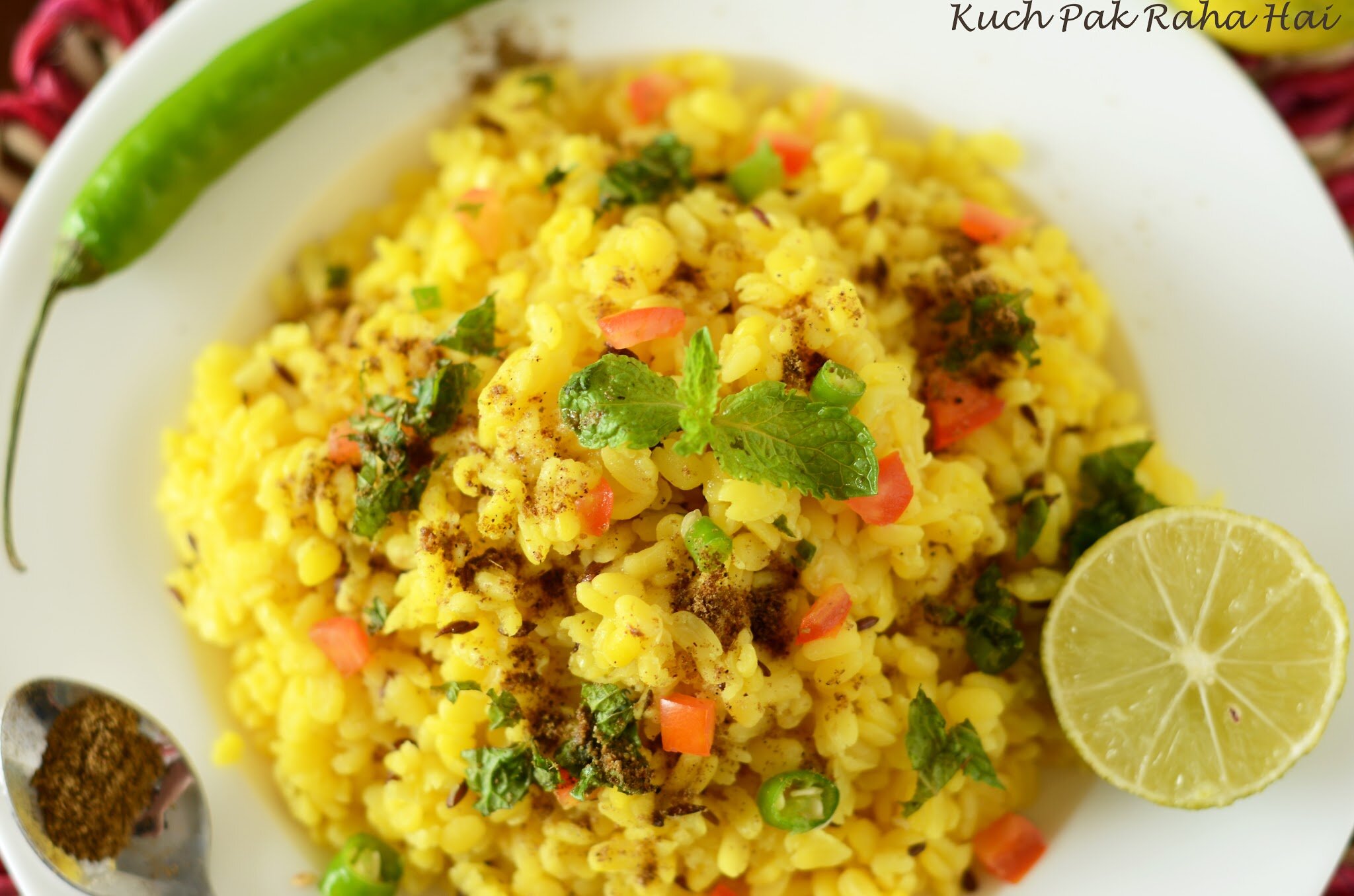 If you try this recipe & share pics on social media, then don't forget to tag us on Facebook, Instagram or use #kuchpakrahahai.
Let's stay connected
Facebook| Instagram| Pinterest| Youtube