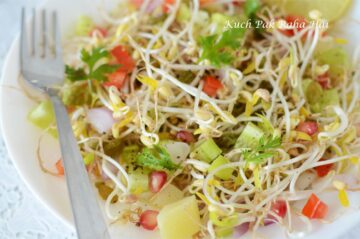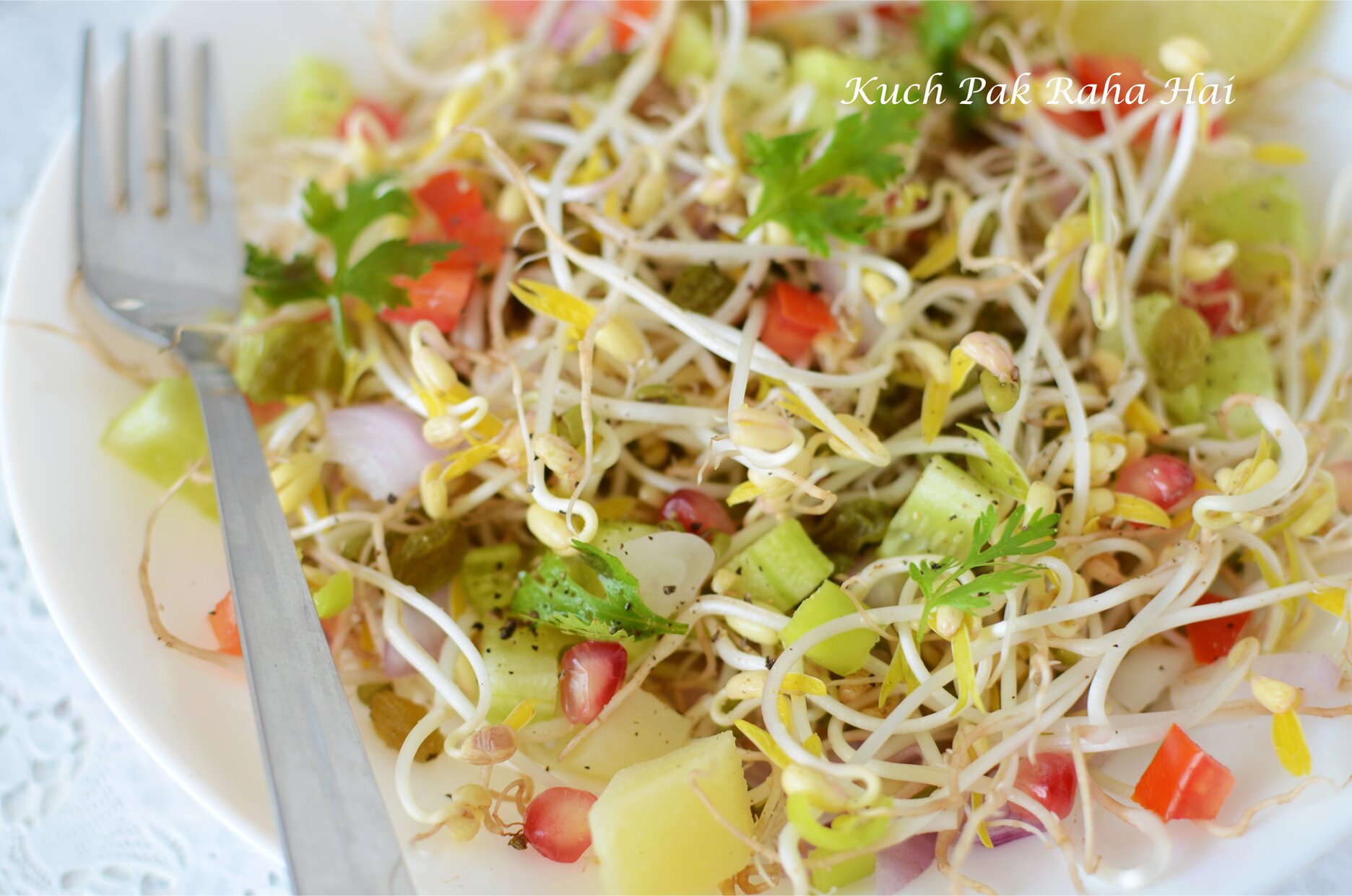 Sprouts salad is a delicious & nutritious salad made using freshly sprouted whole lentils, tossed with fresh veggies and seasoning. We have chosen Sabut Moong Dal or mung beans or 'Whole Green Gram' for sprouting. The sprouts are high in proteins and are perfect for healthy breakfast or evening snack.
This sprouts salad recipe turns out to be fresh, crunchy and colourful. Once you have learnt the art of sprouting, this sprout salad takes no preparation or cooking time. It is high in protein, and other nutrients like folate, iron, magnesium and potassium etc.
It is completely gluten free, vegan & at the same time provides many essential nutrients & minerals to the body. This is excellent recipe for those who are trying to reduce the weight or looking for low fat high protein recipes
The hero of this salad recipe is our sprouted Moong Dal. You can either have it raw or steam it for just few minutes to soften them up. If you are a beginner or making this salad for kids then I would advice to steam the sprouts before making salad out of it. As a kid I always had these sprouts after steaming as I found the flavour of raw sprouts little over powering. I would not suggest to boil the sprouts or steam them for too long as it leads to loss in nutritional value.
I am sure the vibrant colours of this salad will definitely attract the kids. Other Moong Dal (Yellow/Green gram) Recipes shared on this website are: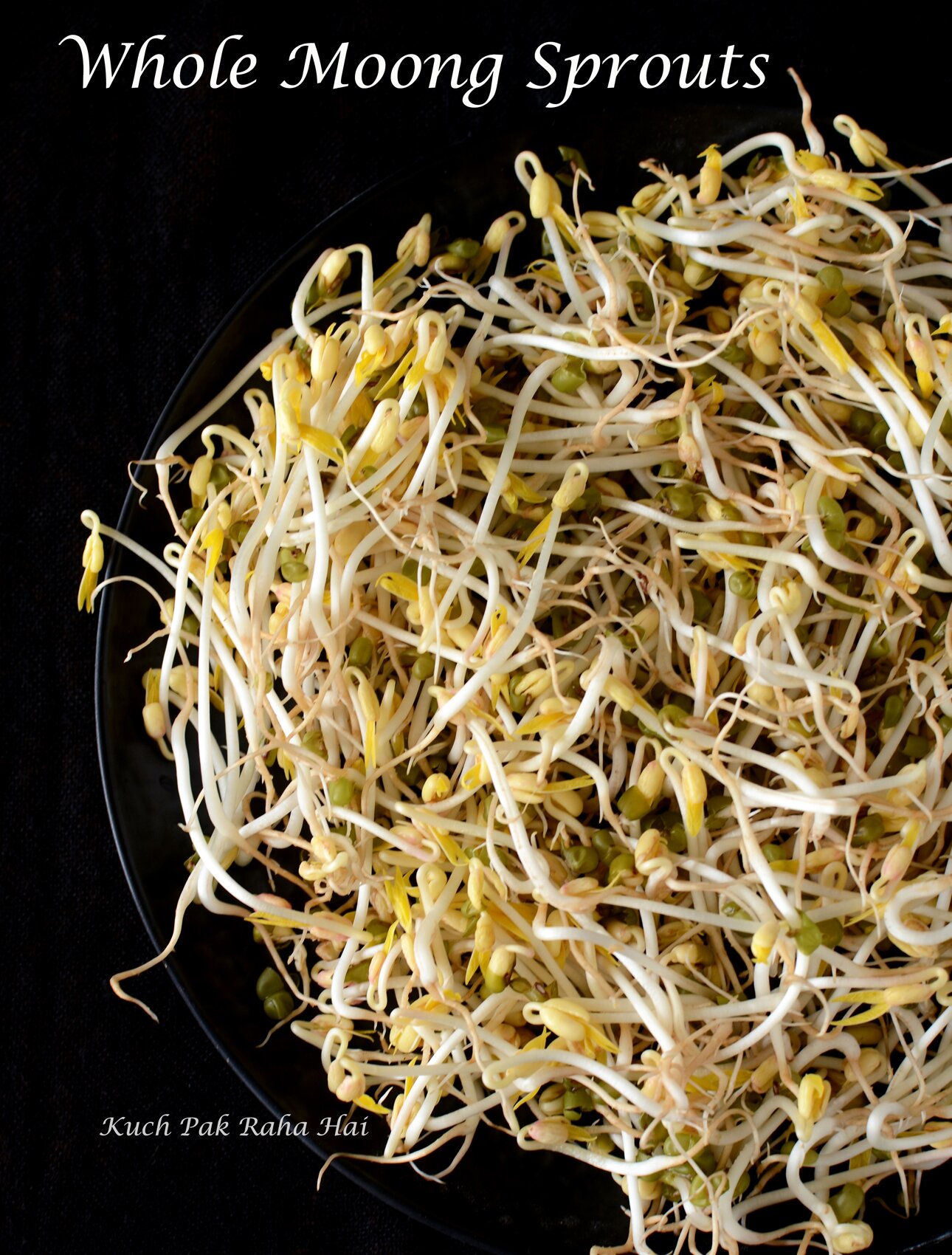 The veggies & spices in this salad can be adjusted/chosen as per one's own liking. I have added pomegranate & raisins also as they give a mild sweetness and add another dimension to the taste of salad.
These whole bean sprouts are rich source of vegan/vegetarian protein. Sharing few ways be which you can incorporate them in everyday diet:
You can add these fresh sprouts in Salads or smoothies.
Swap lettuce for sprouts in sandwiches, burgers or wraps
You can sprinkle some of these on soups, toasts or use in different noodles recipes (like Pad Thai, Khow Suey etc)
The Moong Dal can be sprouted in two ways:
Method I: Using a Muslin Cloth (explained below in images)
Method II: Using a steel container with holes. Method explained in Youtube Video 👇
Youtube Video:
To check out the price/specifications of this product on Amazon, click here. Making sprouts using this box is very easy, as you can see on the above video also.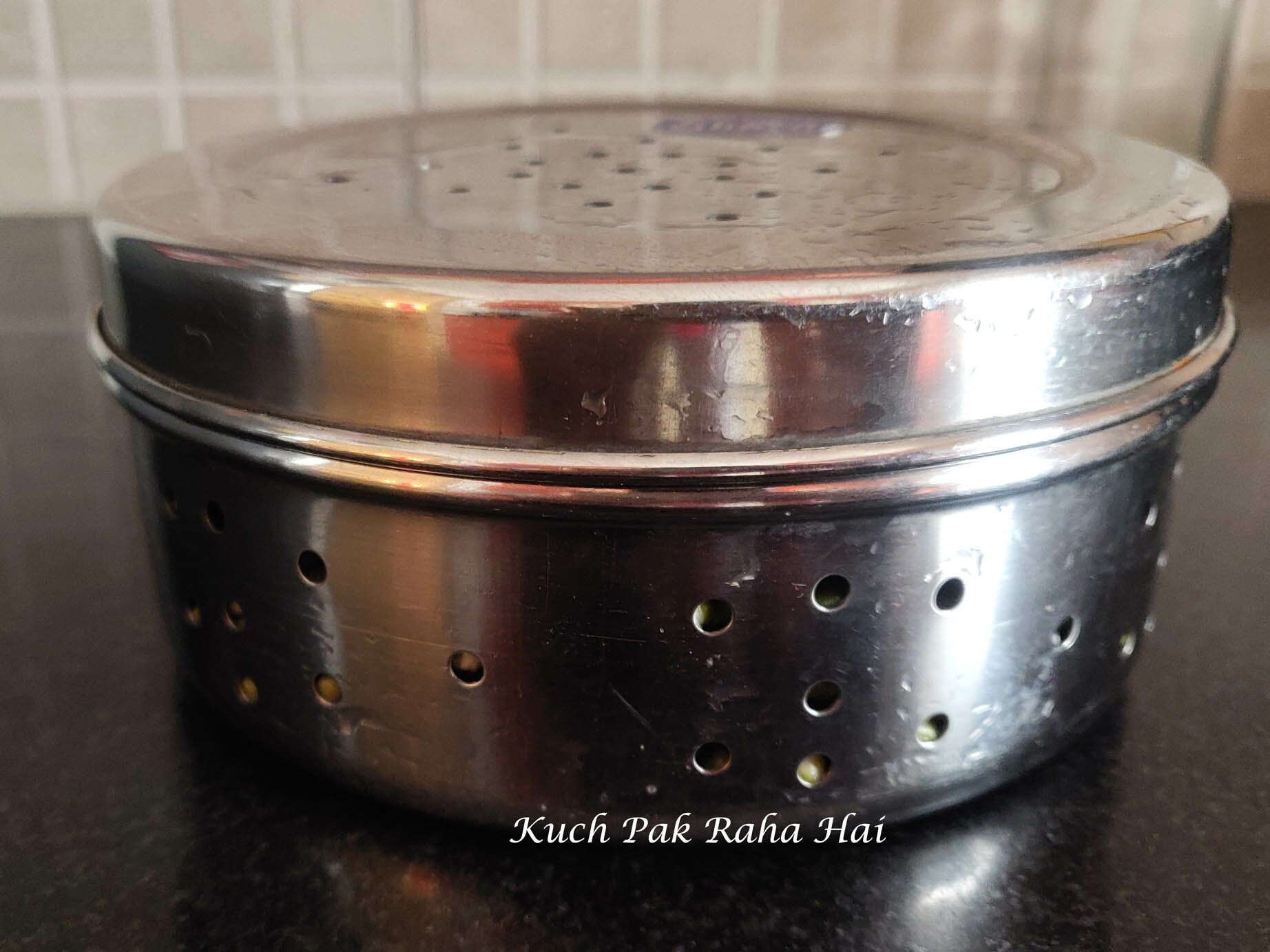 List Of Ingredients: (Serves 2)
Sabut Moong (Whole Green Gram) – ¼ cup
Chopped small onion – 1
Chopped small tomato -1
Diced boiled potato – 1
Chopped cucumber – ½
Chopped green chillies – 2
Pomegranate – 2 tbsp
Raisins – 2 tbsp
Black Pepper – ¼ tsp
Roasted Cumin powder – ¼ tsp
Lemon Juice – 2 tsp
Salt – ½ tsp(or to taste)
Chaat Masala – 1 tsp (or to taste)
Coriander – For Garnishing
Steps To Prepare:
Step1:
Wash moong daal thoroughly under running water. Soak it for at least 5-6 hours or overnight.
Step2:
You will notice that soaked moong dal has swelled in size. Discard the water in which it was soaked overnight. Rinse well with water.  Sprinkle some water over it and cover with a plate for 10-12 hours.
After few hours you will notice that sprouting has started.
Step3:
Wrap this semi sprouted moong dal in a wet muslin or clean kitchen cloth. Leave it like this till next day.
Moong Daal wrapped in Muslin Cloth
Step4:
Next day you will notice that sprouts has increased in size. Rinse them with water. You can use them now or repeat the same step of wrapping them with a wet muslin cloth once again and wait till next day.
Step5:
Moong Dal Sprouts will be ready by now. You can wash them & use them raw in salads or steam for few minutes before using. Below I am showing the method of steaming the sprouts.
Transfer the sprouted moong dal in a steamer. I am using a foldable steamer as shown below. Boil water in a kadhai or any container and keep this steamer inside it. Cover it with a lid for 4-5 minutes. I got it from Amazon which you can check out by clicking here. You can also check out the youtube video above on how does this steamer works.
Step5:
Once the sprouts are steamed, let them cool down completely. Mix all the ingredients and spices in it. Garnish with freshly chopped coriander leaves.
Crunchy-Yummy-Juicy Sprouts salad is ready to be eaten!! 🙂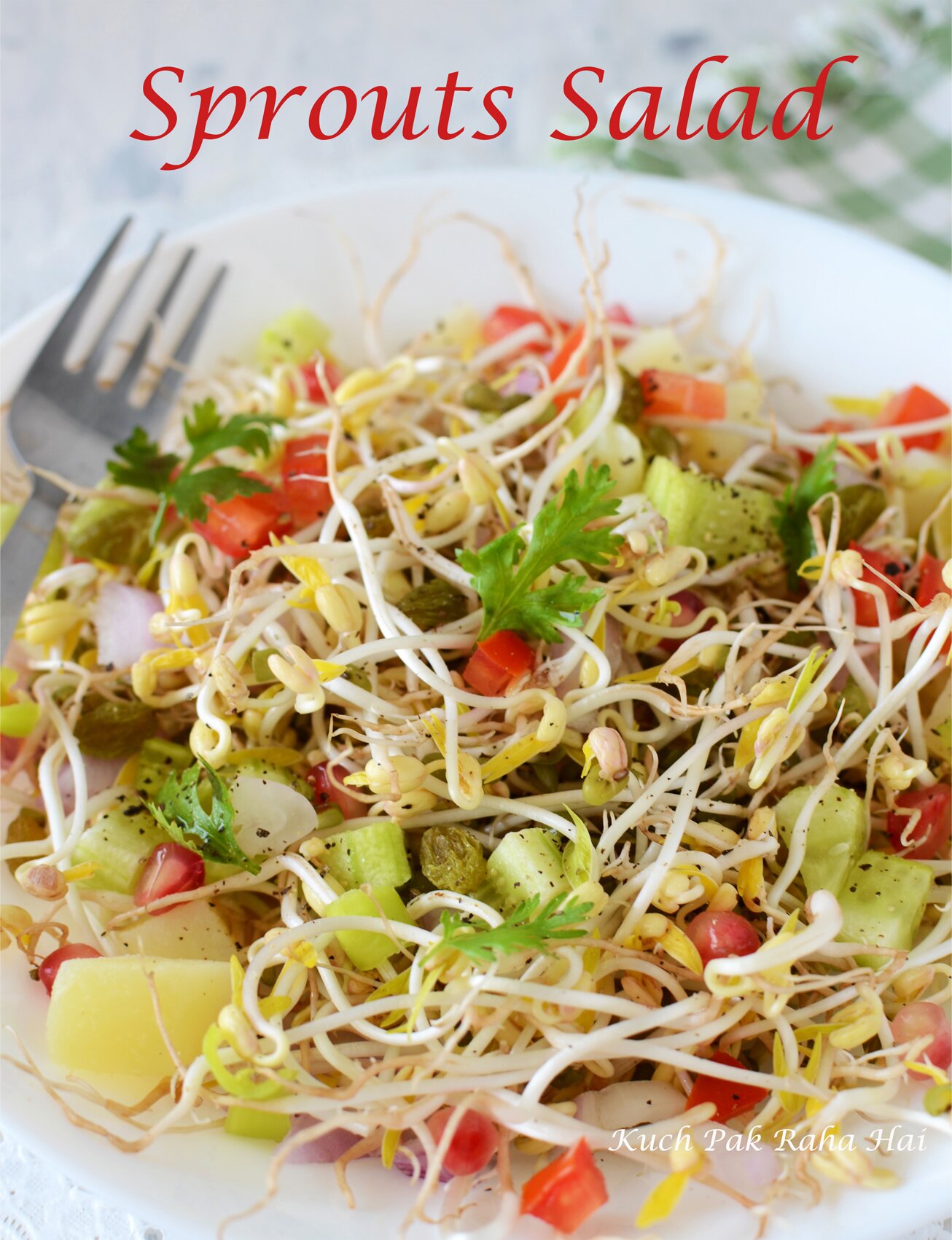 Bon Appetit!!
Let's stay connected