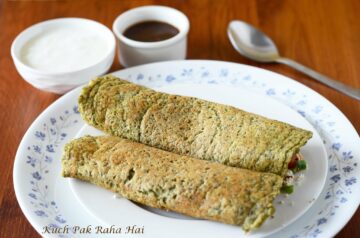 Moong Dal Chilla is a delicious, healthy protein packed breakfast recipe made with sabut moong dal (whole green lentil), ginger, green chillies and cumin etc. They can be enjoyed with plain yogurt, greek yogurt or any chutney / dip of your choice.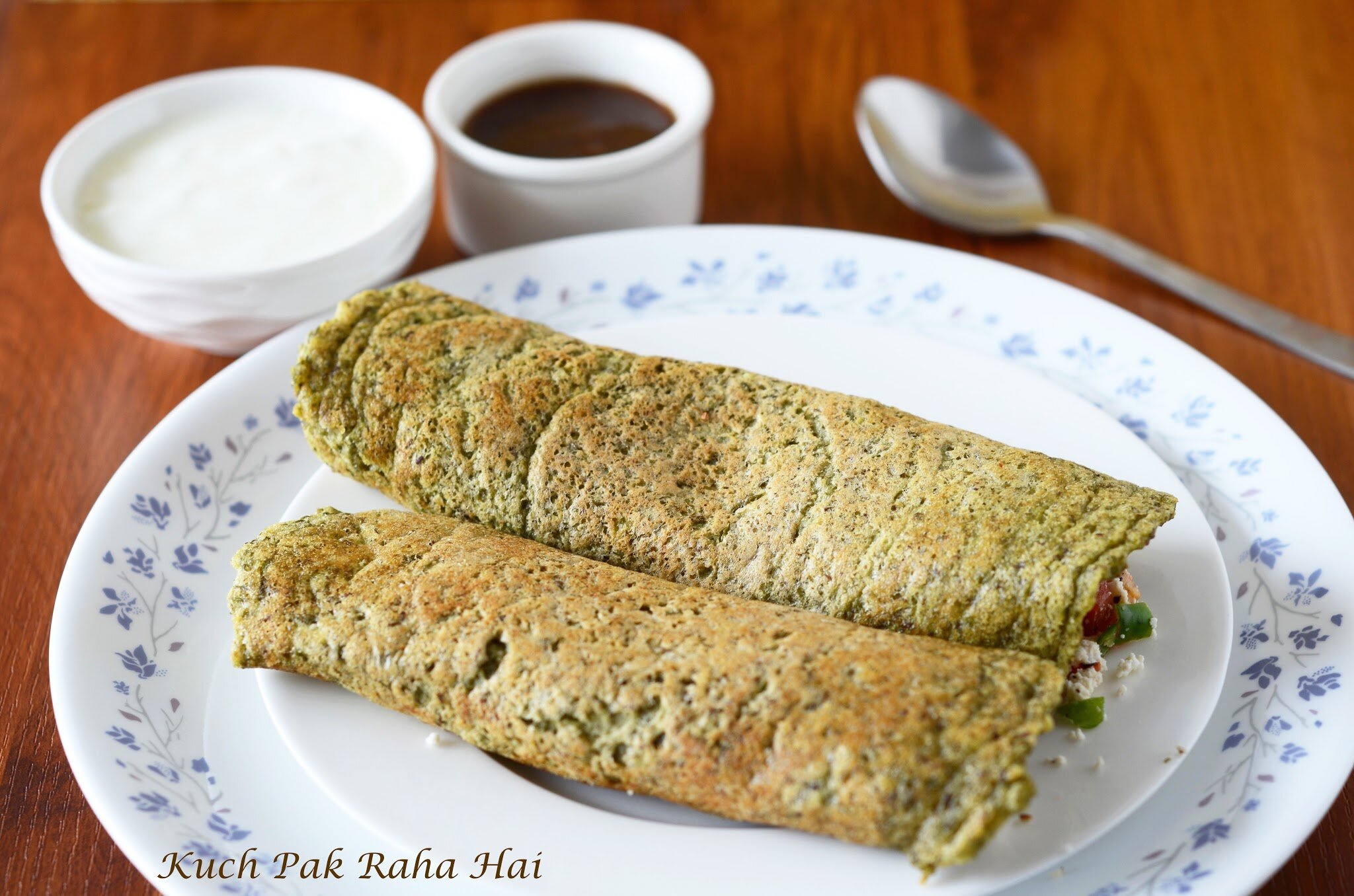 In India, the word cheela or chilla is used for savoury crepes made with chickpea flour or lentil flours. Here we will be making them using whole moong dal (also known as mung beans, green gram, green lentils, hari moong sabut).
The green moong dal cheela recipe shared here is:
Gluten Free
Vegan (Dairy free)
Vegetarian
High Protein breakfast
No Rice & No fermentation
These dal chilla are made for breakfast at my home at least once a week as they are filling, healthy and nutritious. You can even pack them in kids' lunch box as it gives you a chance to make your kids eat lentil even without knowing them.
The batter for these cheela (or lentil crepes) can be made in advance & stored in fridge. Whenever you are ready to make them, just spread the batter on a heated non stick pan. Also, you can have them with your evening tea thus avoiding high calorie snacks or cookies.
You can also make pancakes with this batter by spreading them smaller & thicker just like regular pancakes. After I posted this recipe here, one of the readers messaged me that in South India this recipe is known by the name 'Pesarattu' which means green lentil dosa (crisper version of crepe).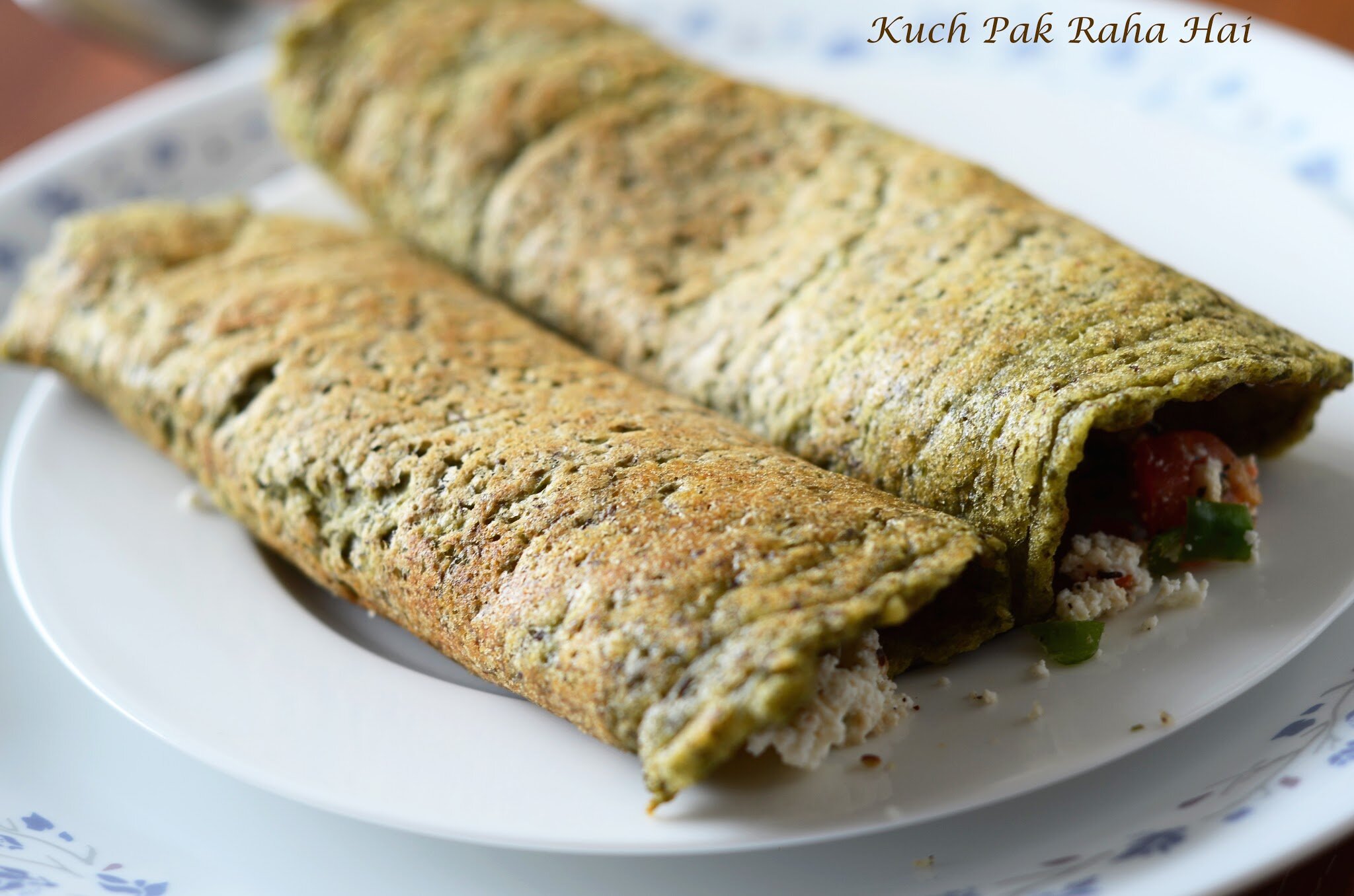 Green Moong Dal Benefits:
Whole mung has number of heath benefits like it is rich source of protein, fiber, antioxidants and nutrients like manganese, magnesium, vitamin B1, Folate, iron, copper and phosphorus etc. Its 1/2 cup (100 grams) serving has roughly 345 calories, 24 grams protein & 16 grams fiber.
Its regular consumption helps in weight loss as it is high in protein and  makes you feel full for longer. All those people who are looking to include moong daal in everyday diet, this recipe is a must try.
Please note in this recipe we will be using this green lentil without cooking. Instead we will be soaking it in water to improve its digestion & making it easier to blend for making the cheela batter.
Can I used sprouted moong dal for making cheela?
The sprouting process increases the nutritional value of dal (lentils). You can definitely use them to make these cheela. If you want to learn how to sprout moong dal at home, do check out sprouted moong dal salad recipe.
(You can also use yellow moong dal or split moong dal in a similar manner to make chilla. Reduce the soaking time to half as split lentils cook faster).
To make these dal chilla for wholesome, I have made a stuffing with paneer (indian cottage cheese) and vegetables like onion, tomatoes, carrots etc. Making this stuffing is totally optional. To make it vegan, replace paneer with tofu. This vegetable filling adds freshness and crunch to these soft chilla.
Ingredients: (Makes 4-5 pieces)
Sabut Moong Dal (Green Gram)-1 cup
Green chilli – 1 to 2 (to taste)
Ginger-1 inch piece
Salt- 1/2 tsp (to taste)
Cumin seed (jeera)- 1 tsp
Water- 1 to 2 tbsp (as required)
Oil-for cooking
For stuffing (optional):
Oil- 1 tsp
Grated Paneer / Tofu-1/2 cup
Cumin seeds (jeera)- 1/2 tsp
Chopped onion-1 small
Chopped tomato-1 small
Grated carrot-1 small
Chopped green chilli – 1
Salt- 1/4 tsp(to taste)
Crushed Black pepper – 1/4 tsp
Notes:
1. Green chillies add little bit of heat to the chilla. Skip them if you don't like spicy food.
2. If you like garlic flavour, add 1-2 garlic cloves while blending the batter.
Directions:
Step 1:
Soak the Moong dal for at least 4 to 5 hours. I generally soak them overnight so that they are ready for breakfast by next morning.
Step 2:
Add soaked moong dal, green chilly, ginger piece, cumin (jeera) and salt in a grinding jar and grind till it attains paste like consistency. Add 1-2 tablespoons of water gradually as required (Don't add too much water in one go).
Step 3:
Transfer this ground dal mixture in a bowl. Mix with the help of ladle. If the batter seems too thick add little bit of water to make it of spreadable consistency. We don't want it too thick or too thin. Keep this batter aside.
Step 4:
Brush some oil on a non stick pan and let it heat on medium low flame. Take a ladle of batter and spread it on the pan in round circular motion using back of a spoon or small katori. In case, the batter is sticking on the pan or cooking too fast, switch off the flame or lower it down and then spread the batter.
Once the cheela begins to cook, sprinkle a teaspoon of oil on the edges and centre. Let the chilla cook on low flame for 2-3 minutes.
Step 5:
Once the chilla leaves the edges and its colour changes slightly from top, flip it. Sprinkle some oil and let it cook in similar manner from other side as well.
Step 6:
After the chilla is cooked from both sides, place some filling in the centre and fold it from both ends.
Enjoy these hot Moong Daal chilla with yogurt, tamarind chutney or coriander chutney!!
How to make cheela stuffing?
(Making stuffing is optional) Heat 1 tsp oil in a pan. Add cumin(jeera) and chopped onions to it. Sauté for a minute. Add rest of the ingredients & sauté for another 1-2 minutes. Transfer this filling in a separate bowl and use while making cheela.
Tips:
1. If you want to make these chilla crispy, add 2 tbsp rice flour while preparing the batter.
2. Use non stick, cast iron or heavy bottomed dosa pan to make these moong dal cheela.
If you try this sabut moong dal cheela recipe & share pics on social media, then don't forget to tag on Facebook, Instagram or use #kuchpakrahahai.