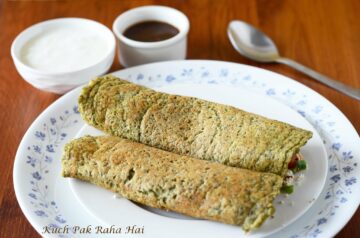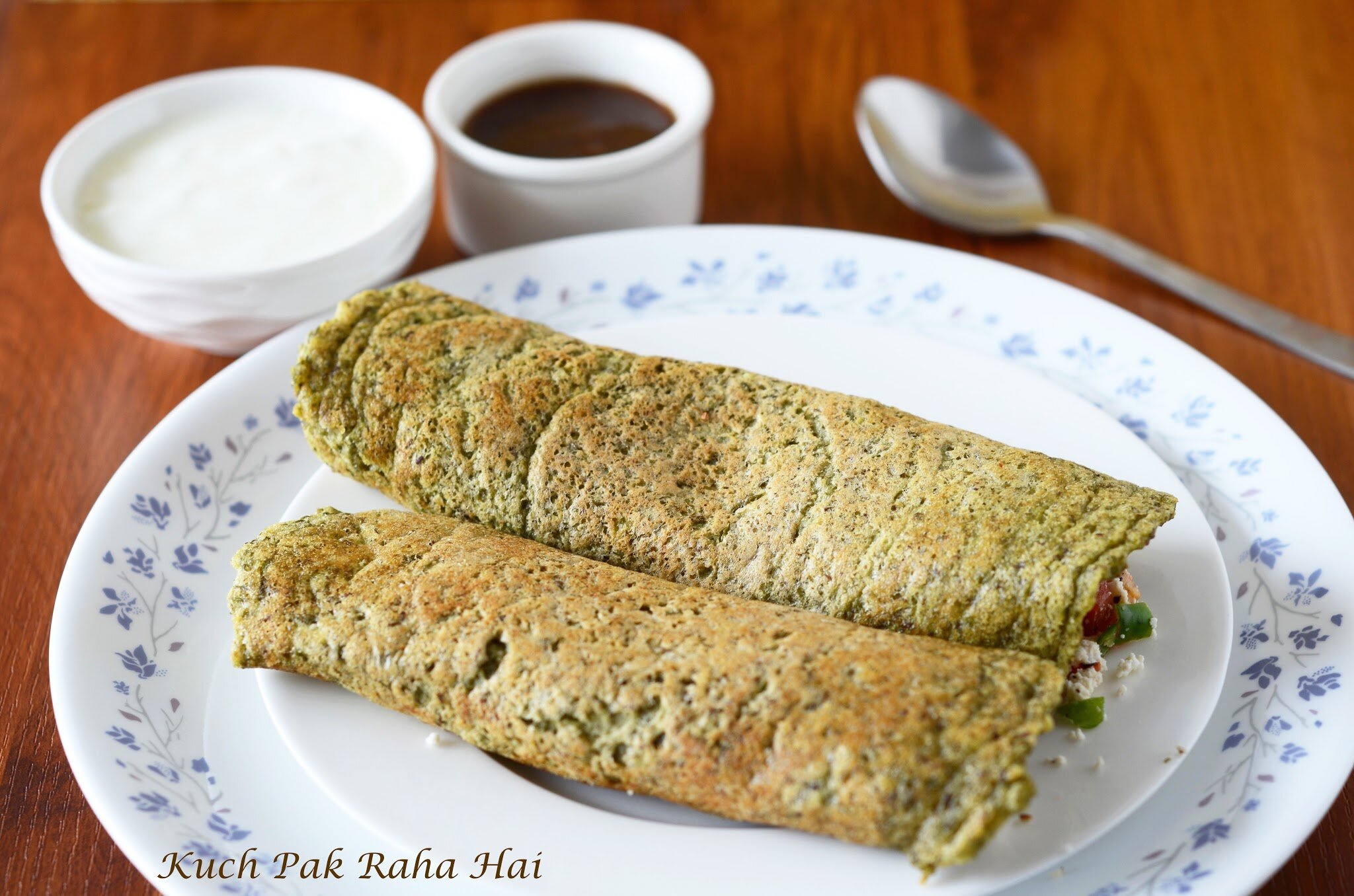 'Sabut Moong Dal Chillas' are delicious savoury pancakes made using sabut moong or whole green gram, green chillies and some mild spices. These Moong dal chillas are also gluten free. Moong Dal has number of heath benefits like it is rich source of protein, iron and other nutrients like copper, magnesium and potassium etc. In addition to this, it helps in lowering blood pressure and controlling weight as it is a very filling food. So all those people who are looking to include Moong daal in daily diet, this recipe is boon. Apart from these pancakes, you can also consume them as sprouted seeds in form of salad. For sprouts salad recipe,
click here
.
These Chillas are perfect choice for breakfast or kids tiffin. They are not only fulfilling but also so healthy and nutritious. It gives you a chance to make your kids eat pulses even without knowing them. You can prepare the batter well in advance and whenever you are ready to make these Chillas, it will not take more than 5-6 minutes as it just requires spreading the batter on a non stick pan. Also, you can keep this batter handy for making these Chillas with your evening tea thus saving yourself from munching those high calorie and salty snacks and biscuits.
For the stuffing, I am using freshly grated cottage cheese, tomatoes, green chillies, roasted cashews and raisins. The filling adds freshness, juiciness and crunch to these chillas. You can also use grated carrots, coriander or any other veggie of your choice. Please skip green chillies and red chilli powder from the recipe if you are making this recipe for kids.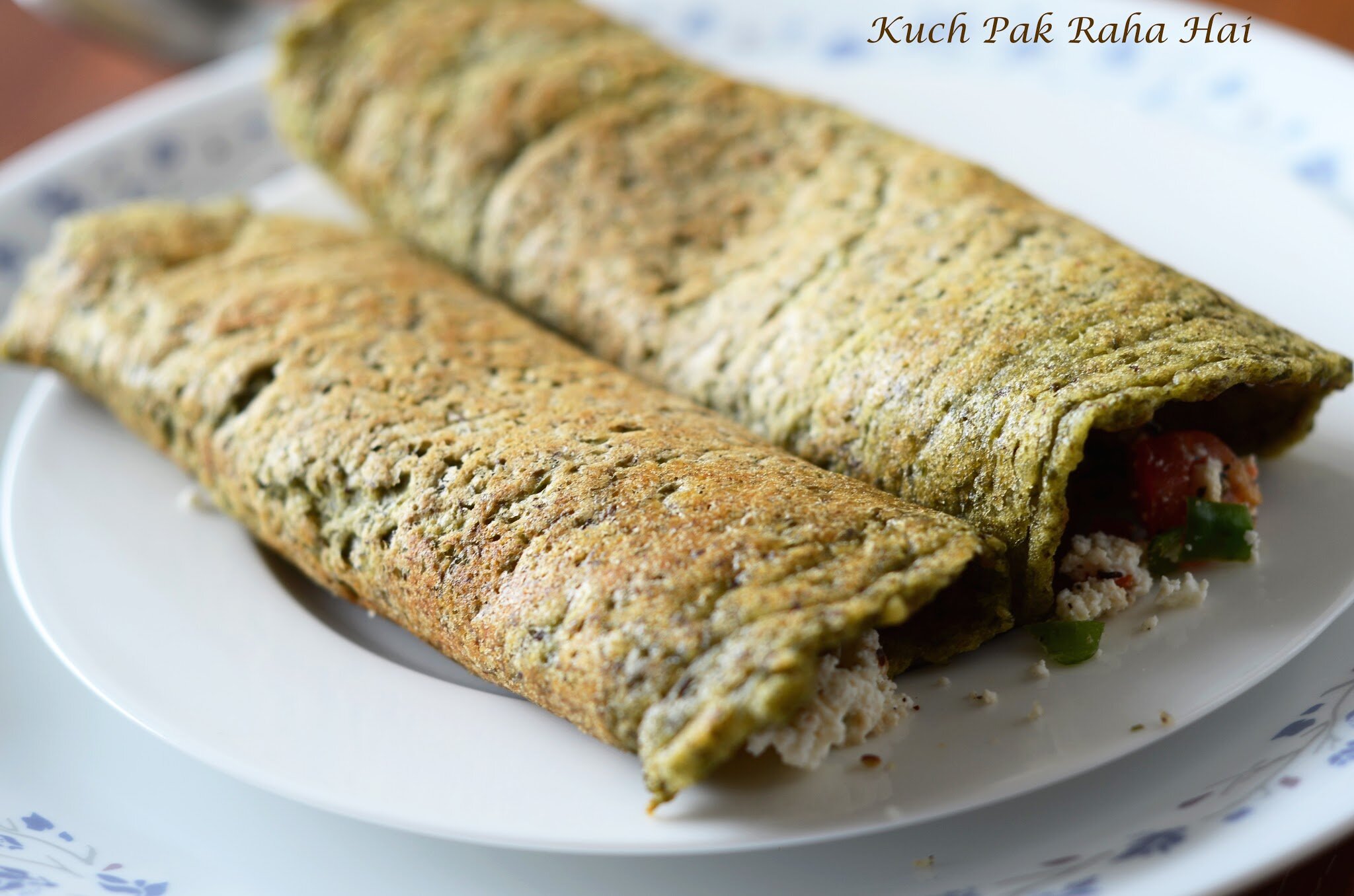 List of Ingredients: (Makes 4-5 medium Chillas)
Sabut Moong Dal (Green Gram)-1 cup
Green chilly – 1
Ginger piece-1 inches
Salt- 1 tsp (or to taste)
Red Chilli Powder – 1 tsp
Oil-for cooking
For stuffing-
Grated Cottage Cheese-1/2 cup
Chopped tomato-1
Chopped green chilly – 1
Roasted chopped cashews- 2 tbsp
Raisins-1 tbsp
Salt- (to taste)
Black pepper – 1/4 tsp
(Please skip green chillies and red chilli powder if you are making them for kids.)
Steps To Prepare
Step1:
Soak the Moong dal for at least 2-3 hours. I generally soak them overnight so that they are nicely swelled and lightly sprouted also. You can even use split green moong dal.
Step2:
Add soaked moong dal along with green chilly and ginger piece in a grinding jar and grind till it attains paste like consistency. Add 1-2 tablespoons of water of required.
Step3:
Add salt and red chilli powder to the dal batter and mix well.
Step4:
Mix together all the ingredients for the filling in a separate bowl and keep it aside. For a ligher version, you can skip the filling part & instead have these cheelas with curd or coriander/tamarind chutney.
Step5:
Brush some oil on a non stick pan and let it heat on medium low flame. Take a ladle of batter and spread it on the pan in round circular motion using back of a spoon or small katori . In case, the batter is sticking on the pan or cooking too fast, switch off the flame or lower it down and then spread the batter. Sprinkle a teaspoon of oil on the edges and centre.
Let the chilla cook on low flame for 2-3 minutes.
Step6:
Once the chilla leaves the edges and its colour changes slightly from top, flip it. Sprinkle some oil and let it cook in similar manner from other side as well.
Step7:
After the chilla is cooked from both sides, place some filling in the centre and fold it from both ends.
Enjoy hot Moong Daal chilla with tamarind chutney and fresh curd!!