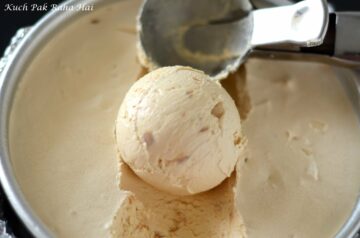 Dulce De Leche ice cream is a rich, delicious ice cream made with heavy cream and dulce de leche (creamy milk caramel). This is an easy, 2 ingredients, no churn ice cream recipe.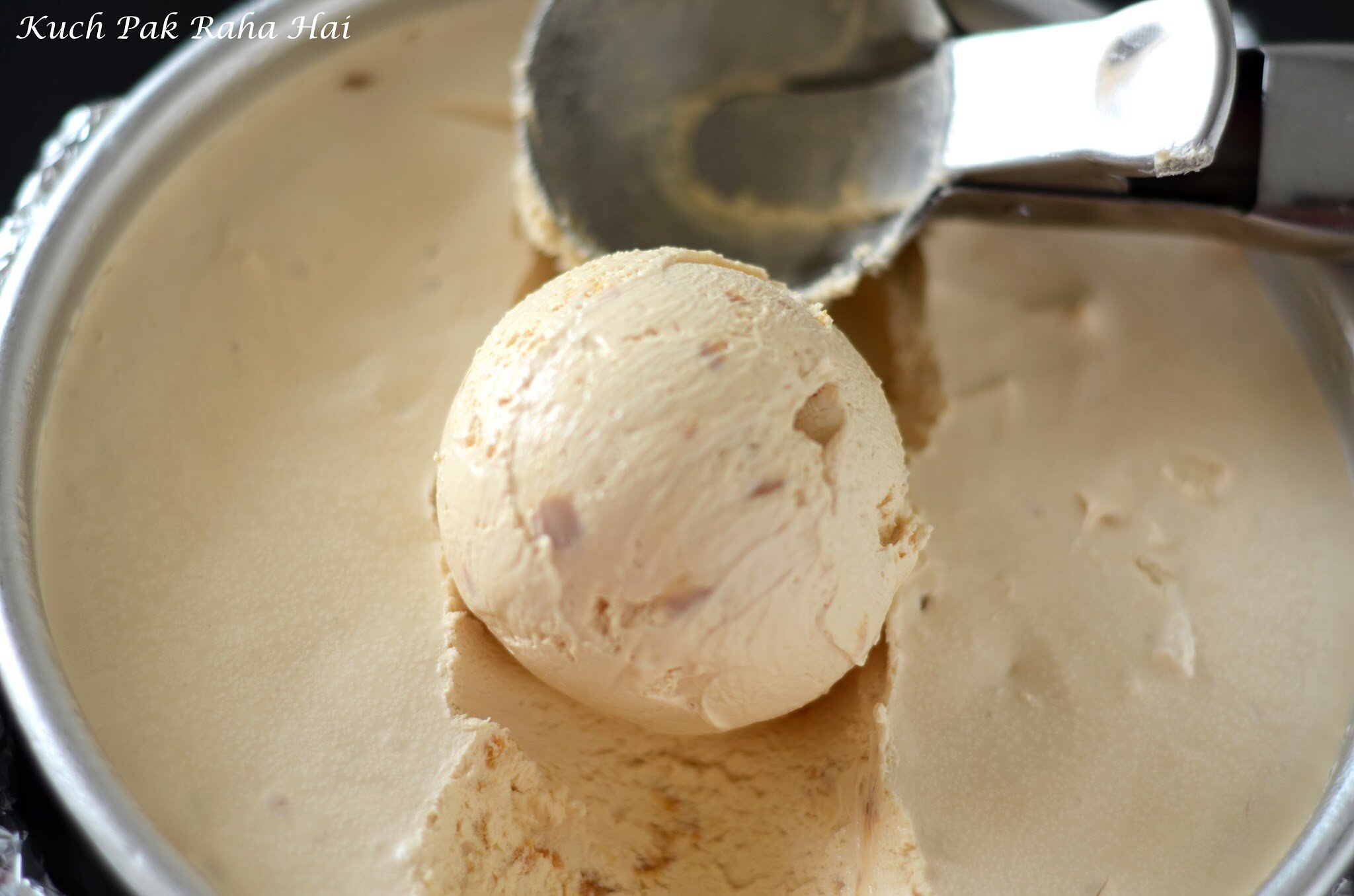 The spanish word 'leche' means milk in english and dulce de leche means 'sweet of milk' which is basically thick caramelised milk. It is golden brown colour, thick in texture with sweet caramel taste.
In dulce de leche ice cream, we combine this lovely dulce de leche sauce with heavy whipping cream. The resultant ice cream turns out delicately sweet and creamy with underlying tones of caramel.
As the sauce is sweet itself, we don't need to add any sugar or if one has really sweet tooth then little bit of sugar can be added. This ice cream is simple to make and does not take much preparation time.
The dulce de leche ice cream recipe shared here is :
2 ingredients
No churn
Easy & quick
Vegetarian (no egg)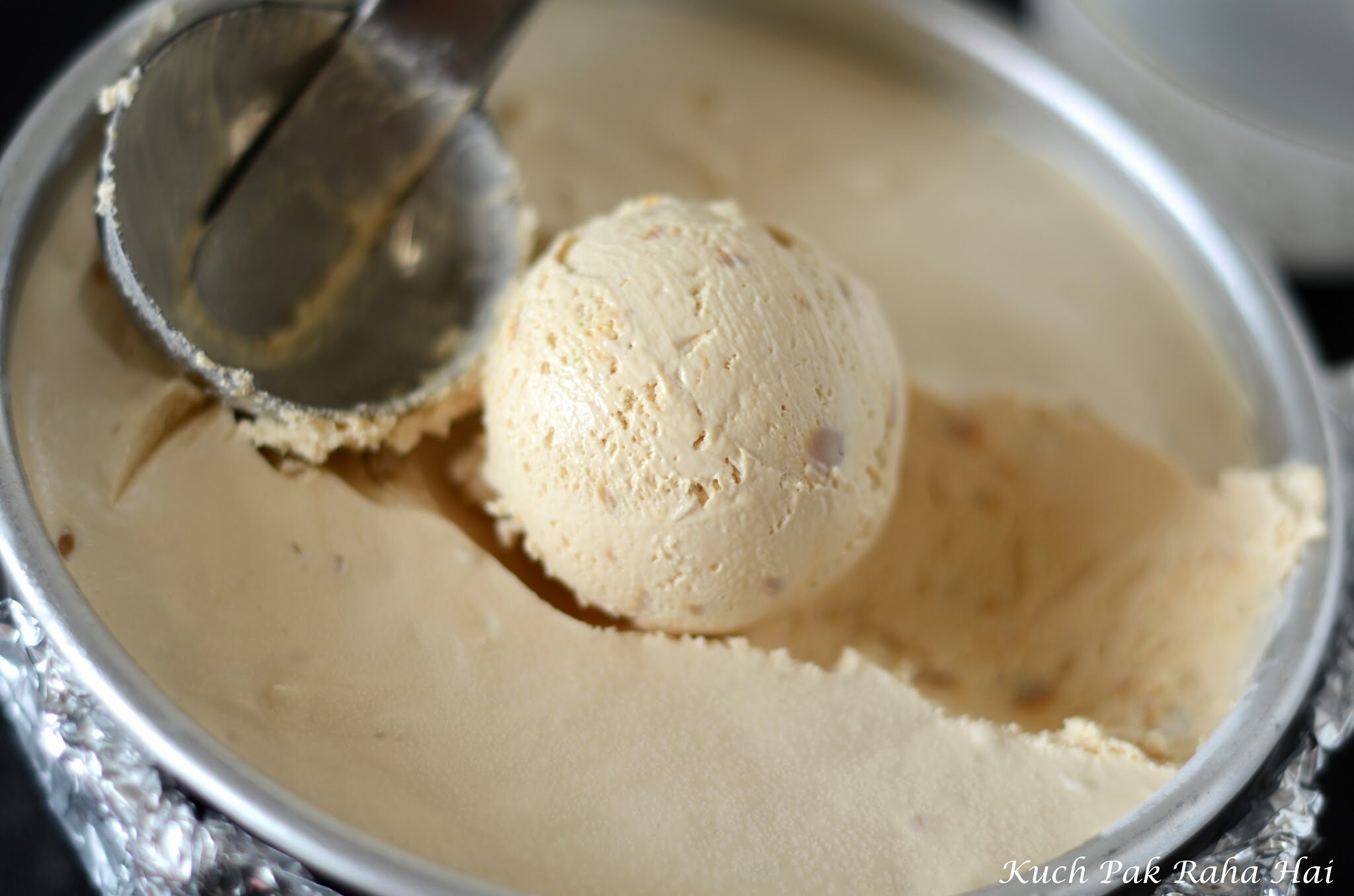 Ingredients to make dulce de leche ice cream:
Heavy Cream / Whipping Cream:
To make ice creams, always use medium or full fat cream (at least 30% fat) for creamy, smooth and rich flavour. By my personal experience, if we use low fat cream in ice creams we get ice crystals after freezing. Chill the cream overnight before you start whipping it. This way it gets whipped faster and its chances of splitting also reduces.
Dulce de Leche:
You can use store bought or homemade dulce de leche for this ice cream. If you want to make dulce de leche with condensed milk can, then do check out how to make dulce de leche post on the blog. You can use Nestle Milkmaid, Amul Mithaimate or any brand's sweetened condensed milk.
If you have extra dulce de leche left, you can even use it to make banoffee pie (no bake recipe) in which dulce de leche is used in filling or use it in kulfi recipes like makhana kulfi (lotus seeds kulfi).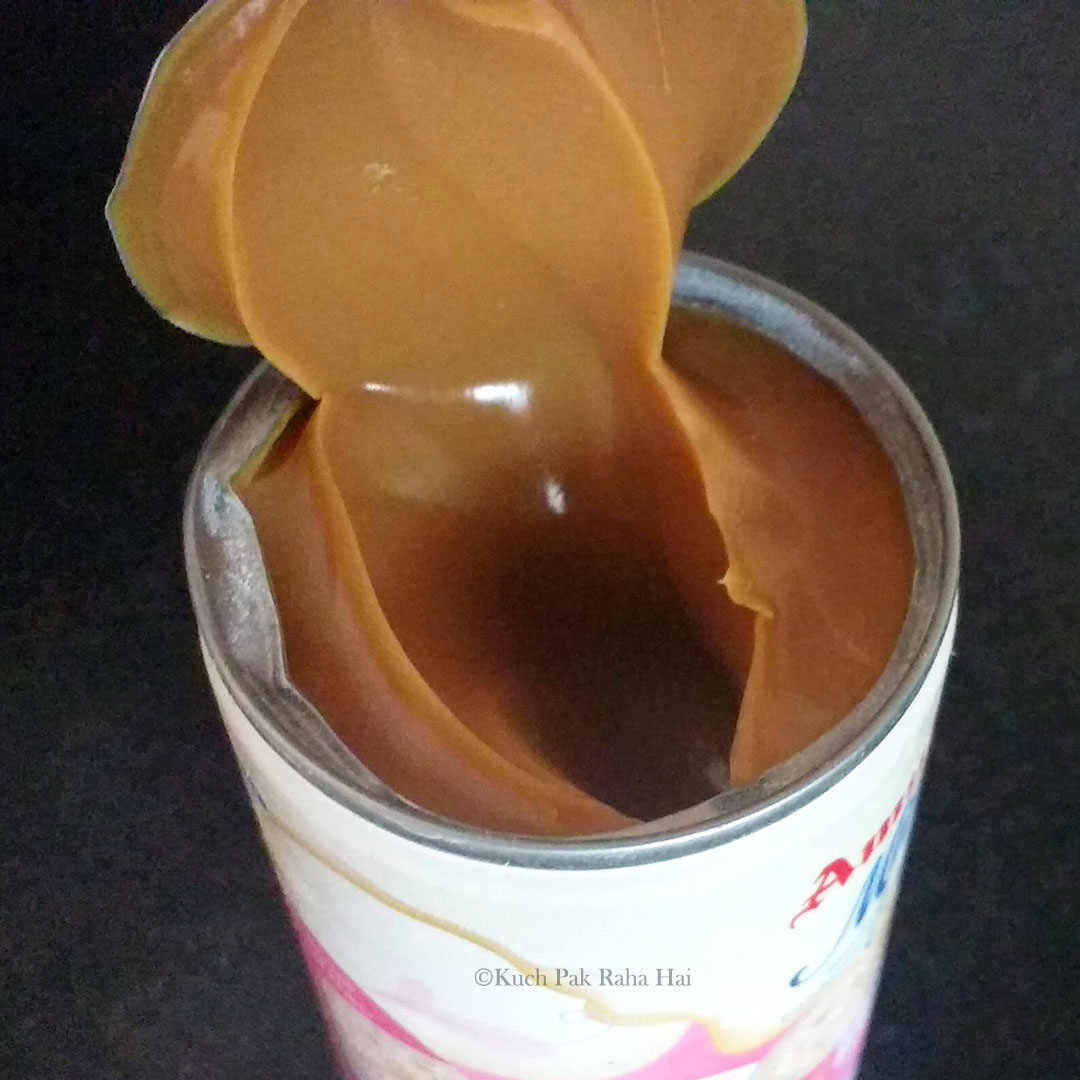 Powdered Sugar & Vanilla Extract:
Both the ingredients are totally optional but can be added as per one's preference. Taste the ice cream mixture once and add 1-2 tbsp finely powdered sugar if you like more sweet ice cream.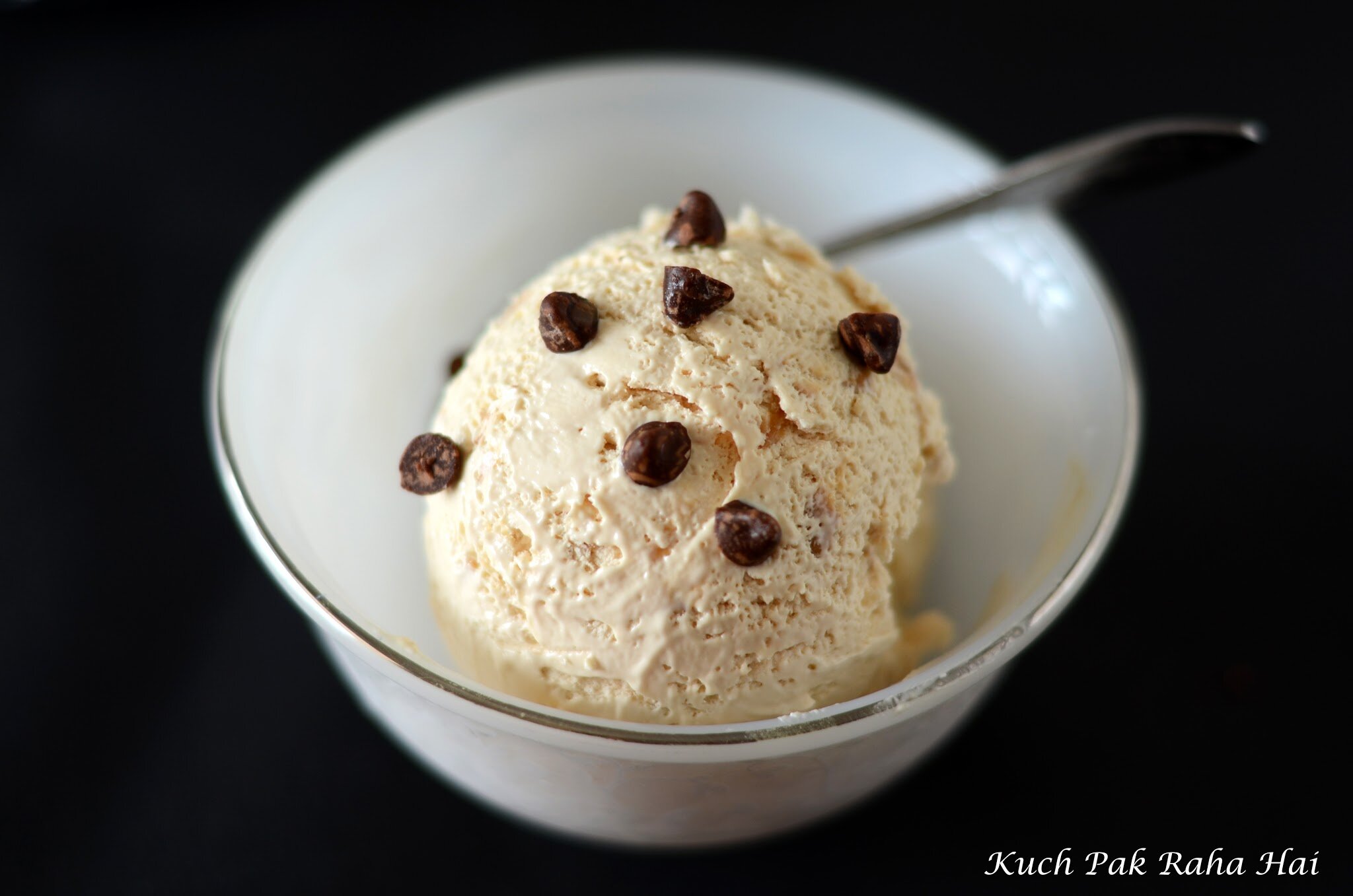 Can I make ice cream with non dairy whipping cream?
Yes I have tried this ice cream with non dairy whipping cream (Tropolite brand) and it turned out fine. As most non dairy whipping cream are already sweetened (& dulce de leche is also sweet), so you can totally skip adding sugar.
Serving Suggestion:
You can add chocolate chips to it, drizzle more dulce de leche before serving or serve dulce de leche ice cream with churros or wafers.
More easy dessert recipes:
Hope you would like this DDL ice cream recipe!!
Ingredients:
Dulce De Leche – 200 grams
Heavy whipping cream – 250 grams (chilled)
Vanilla Extract- 1 tsp (optional)
Notes:
If you like more sweet ice cream, you can add 2-3 tbsp powdered sugar after tasting the ice cream mixture.
Directions:
Step 1:
If you are using store bough dulce de leche skip this step. If you are making at home, then you would need a tin of condensed milk first. Check out the dulce de leche recipe for more details.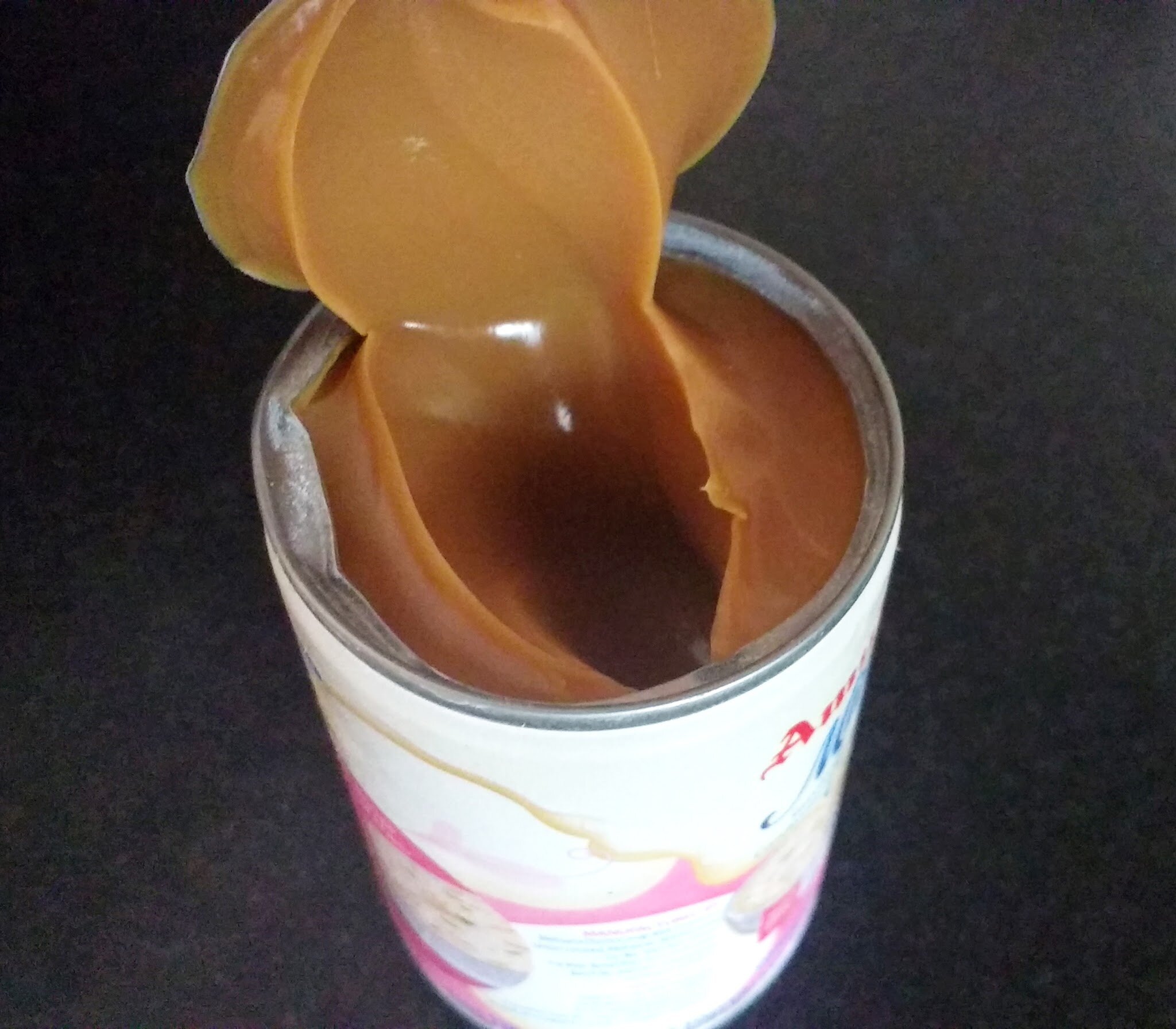 Step 2:
Take chilled heavy whipping cream in a bowl. Using a hand blender or mixer, whip the cream till it is light and soft peaks are formed (I am using here Morphy Richards Vivo Chopper which comes with a chopping and whipping blade.)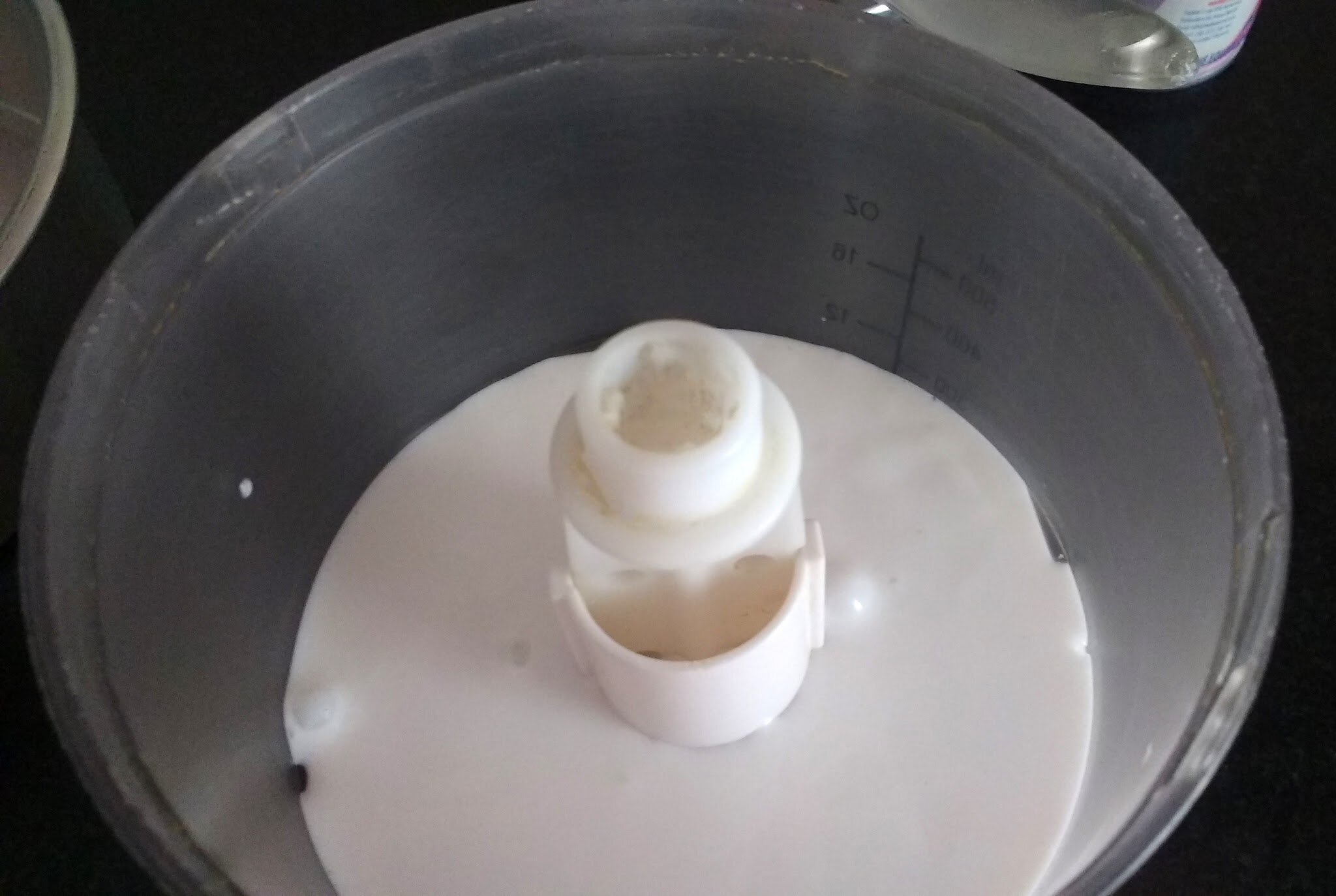 It took me around ten minutes with intermittent pulses to whip this much amount of cream. It has almost doubled up in volume. The soft peaks are formed and cream has turned quite fluffy.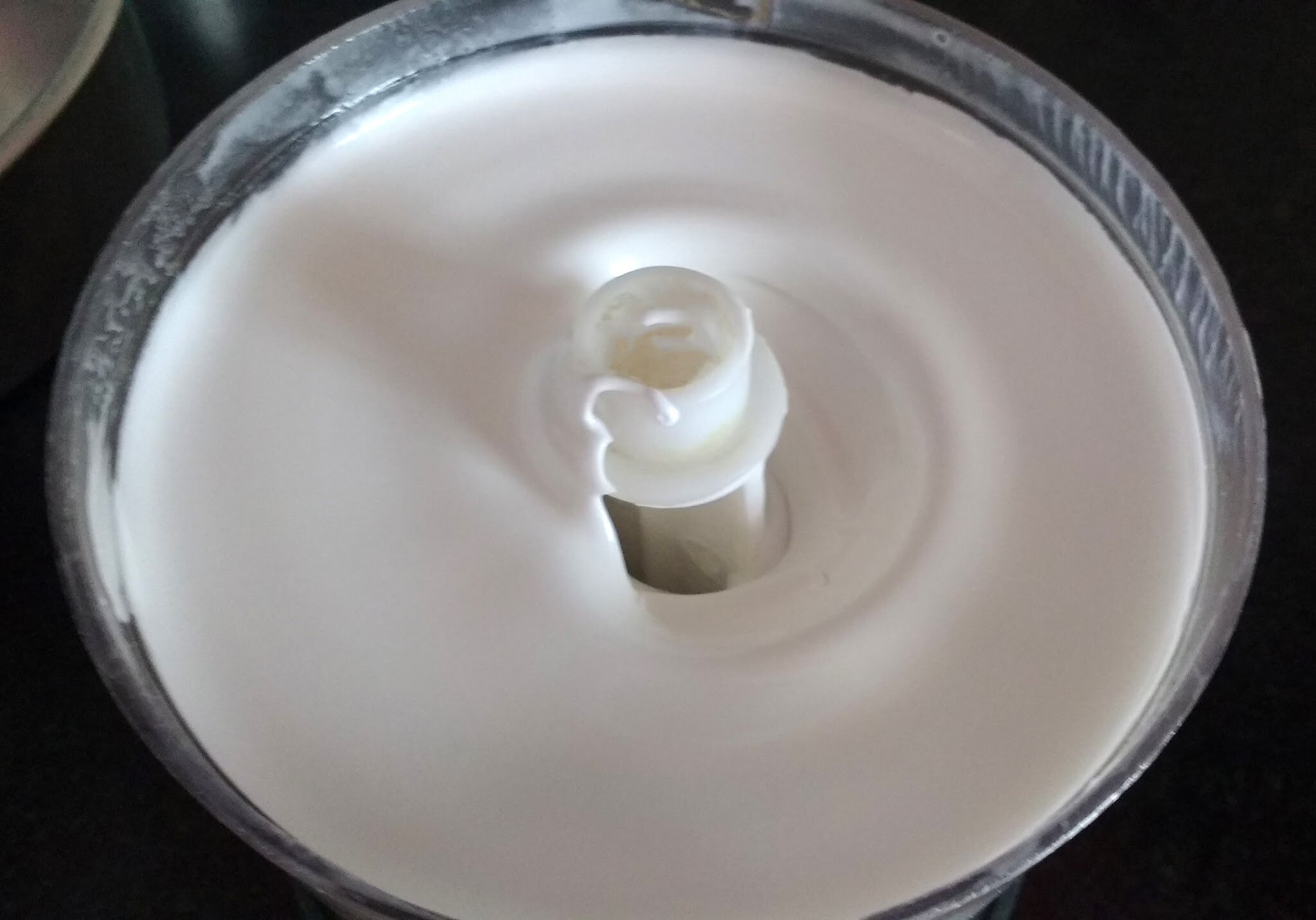 Step 3:
Take whipped cream in a mixing bowl. Add dulce de leche & vanilla extract (if using) and whisk well. Taste and if required add powderd sugar to it. Whisk once again.
(Note: If DDL is too thick, take DDL in a separate bowl and add 1 tbsp of hot milk in it. Mix well using spoon. This will make the ddl soft, flowy & easy to mix. Use it now for mixing in cream.)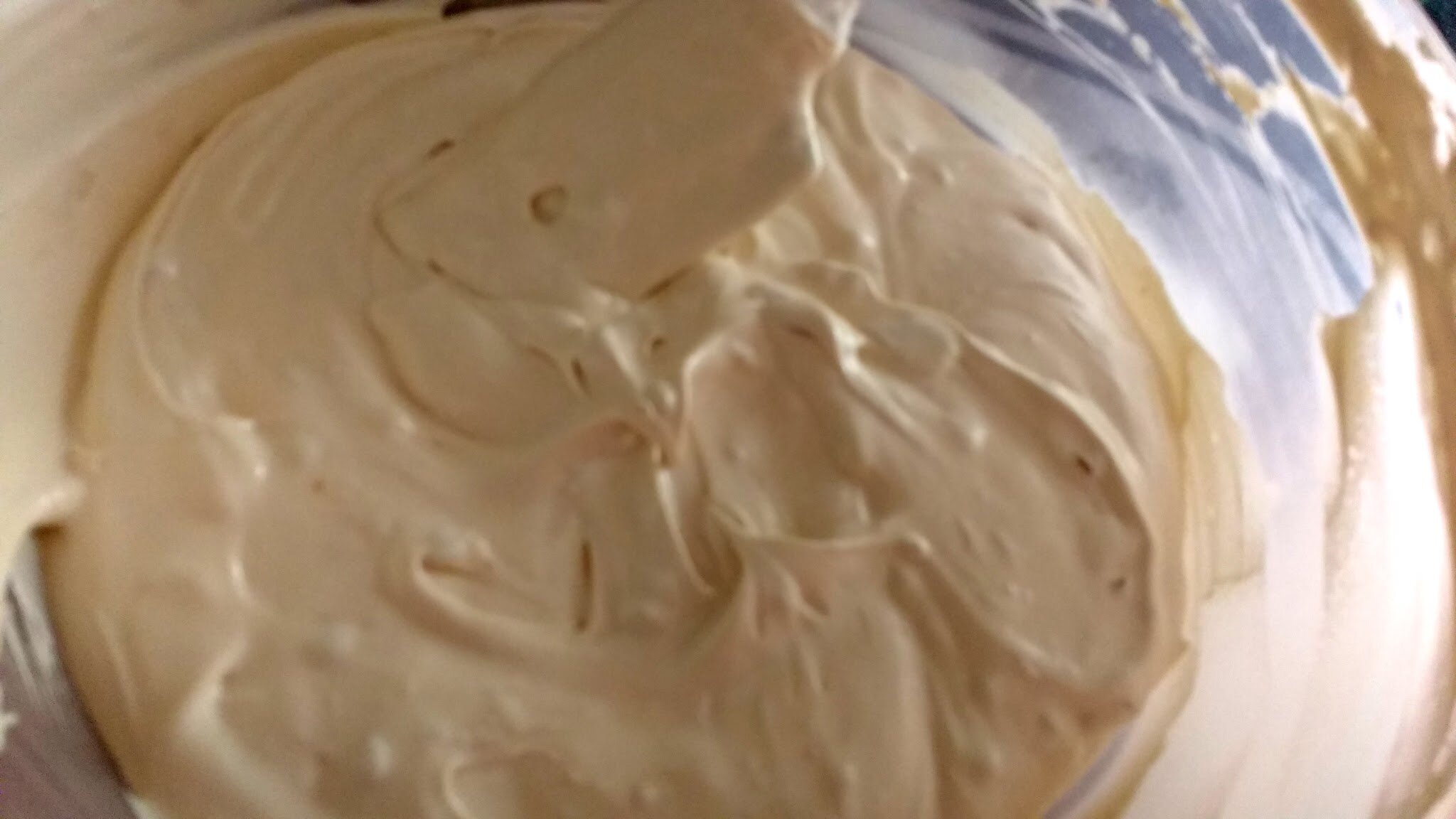 Step 4:
Take any airtight container. Transfer the ice cream mixture into it. Cover it with cling film carefully (the cling film should be slightly touching the top of ice cream). Put on the lid.
Here I have used my regular cake tin for it. I have first covered the ice cream tin with a cling film and then with a aluminium foil. Also, I have put up a rubber band along the sides to secure it.

Step 5:
Freeze the mixture for 6 to 8 hours or overnight. You can see there are absolutely no ice crystals.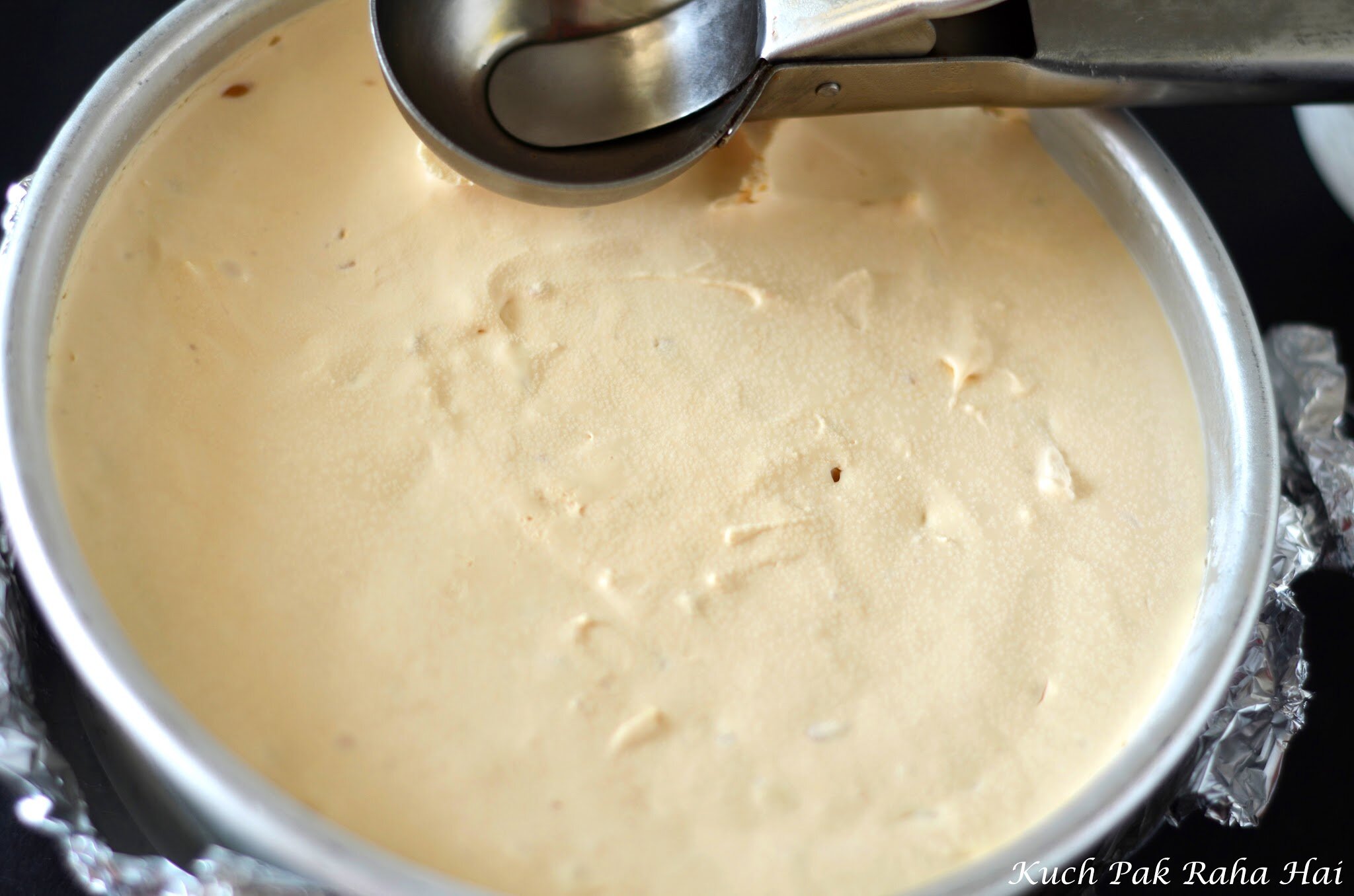 Serve chilled. Scoop and enjoy this rich creamy dulce de leche ice cream. You can serve it with some chocolate chips or more dulce de leche.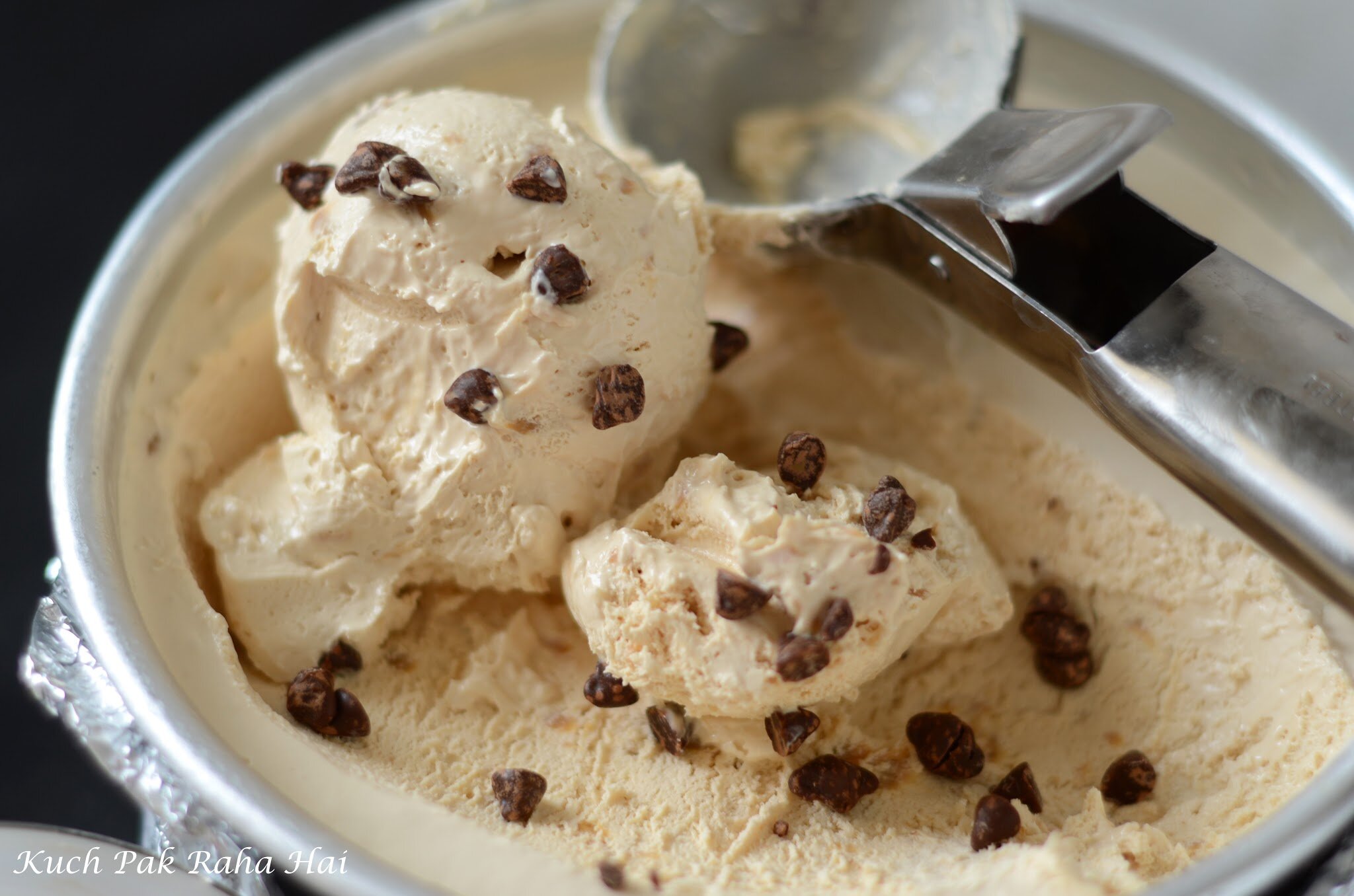 Kitchen items used:
Condensed Milk

Ice cream scooper 
Cling Film 
Morphy Richards Vivo 
Silicon Spatula
(Disclaimer: The links shared above are amazon affiliate links.)
If you try this dulce de leche ice cream recipe & share pics on social media, then don't forget to tag on Facebook, Instagram or use #kuchpakrahahai.
Let's stay connected
Facebook | Instagram | Pinterest| Youtube